Sea Trout Report
by Illtyd Griffiths
September 2018
The season is now drawing quickly towards its conclusion and in the eyes of many sewin anglers - good riddance! It has been a poor season in all the Welsh rivers, the dry weather and low, warm water conditions playing a major part.
Interestingly the Abercothi and Golden Grove beats on the Towy have produced many big sea trout in the teens of pounds during September! Where have these fish been? Maybe they stayed off the coast due to the river conditions as they certainly did not stay in the tidal water as the netsmen in Carmarthen complain that this is their worst year ever. As this seems to be a peculiarity of the summer of 2018 it is impossible to say whether patterns of runs might be changing but some of these late appearing fish certainly do not seem to have been in the river for months. In fact, some seem reasonably clean which would indicate a month at most. We will never know, but it is certainly heartening after such a season to know that there are seemingly a decent head of fish in the river to spawn. Small sewin are in short supply this year on most rivers which does not bode well but logic here is often turned on its head and maybe next year will see a good return of 2-3lb fish. The Abercothi water has produced a decent number of salmon and below these beats salmon have been caught all the way down to the tide in fair numbers during September.
The other rivers of Wales have all suffered to a great extent this year. Night fishing has been very difficult in the prime months of June, July and August. The small rises in water in September have given some excitement to anglers using baits but the rises have been very short live in most cases. Generally speaking, the September fish are well past their best and with the dearth of small sewin daytime fishing has been at a premium.
We now have to look forward to 2019 with some optimism. Sewin do not have to return to spawn annually and although recent research such as the Celtic Sea Trout project has improved our understanding of the sewin, little do we actually know why some fish return nearly every year whilst others stay feeding at sea. For this reason the general dearth of small sewin this year will not mean a shortage of 2-3lb fish in 2019 and all age groups could return next year in good numbers. To choose an example, 1976 was a serious drought year where many of the smaller streams dried up completely leading to a loss of fish from what is of course the "nursery". However, 1978 and especially 1979 were excellent years, the latter being one of the very best for sewin in the last 50 years!
I am therefore "optimistic" for next year and really hope we can enjoy a more "normal" summer with long, warm nights, good water levels and, of course, plenty of fish in the pools. In the meantime I really hope all readers have a good winter whether shooting or fly dressing in preparation for next year or both. Time passes quickly and next spring will come around soon enough when one can get excited about sewin fishing once more. As for me, I will go a long way south again this year to Patagonia to fish for the cousins of our sewin 6,000 miles from where they emanated.
All the very best,
Illtyd Griffiths
AAPGAI Master Fishing Instructor and Senior Assessor for trout, sea trout and salmon.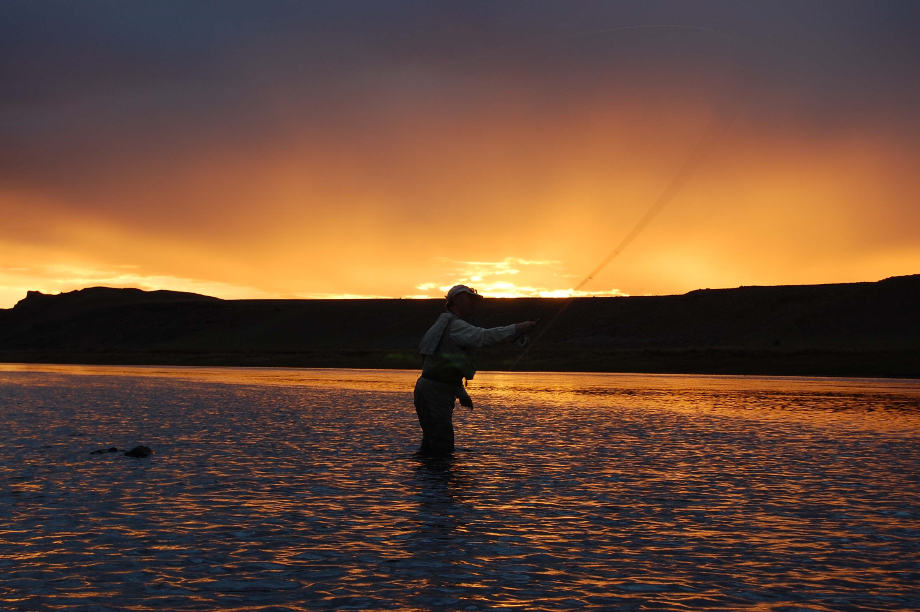 ---
August 2018
This year will certainly go down as the worst sewin season in living memory. On most rivers many local anglers have desisted from fishing throughout most if not all the season due to low, warm water and stressed fish in pools. For those who have ventured out there has been some success, especially after the sporadic rain which fell during August. This led to small rises in water which did little to improve the fishing although the fish must have felt mightily relieved that at last there was a little more oxygen in the water. Unfortunately, the majority of fish caught have been coloured which happens much more rapidly under these conditions.
Surprisingly, this year has fared worse than 1976 although in that year also night fishing was mainly carried out in shirtsleeves and even then it felt uncomfortable. The main difference one can identify was that in 1976 farming practice was very different. Liming of land, which all farmers were encouraged to do with Government subsidies, was carried out in all parts of the country. This had a limiting effect on the acidity of rain and also mitigated the effect of the coniferous planting which affects nearly all the Welsh rivers. The Towy then had masses of ranunculus which was a bit of a nuisance for the fisherman at times but algae on the base of the river was nearly absent. Today the river has little or no ranunculus but the floor of the river is covered in algae. The recent rains have not cleaned out properly as we have not had a 4' flood which would have done the trick. This has meant that the rises have been dirty and that the coloured water has remained for many day - in fact until the rivers have returned to summer level. In 1976 the rains came with a vengeance in August which encouraged both the fish and the angler.
The other worrying effect of such a dry summer is that many streams have run dry or nearly so. This has, without doubt, led to a loss of many juveniles due to their dwindling environment and of course avian predation which take full advantage of the favourable conditions which the weather created. Most of the streams are now recovering although the effect of this year will be felt in years to come.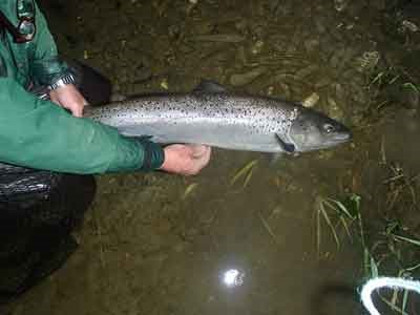 Having painted a pretty depressing picture so far I would like to look at the positives that may be found. Sewin, unlike salmon, have no absolute need to spawn in the year they return to the river. It is therefore likely that this year many fish did not enter our rivers as the conditions did not seem suitable for spawning. These fish will now have an extra year of sea feeding which could lead to some big fish being available to catch next year. In fact, 1977, '78 and '79 were good years for sewin, the latter year being a record year on many Welsh rivers.
There are some small sewin in most rivers now and as I have alluded to in the past, day fishing with trout flies especially in the riffles at the heads of pools might give on some sport. Night fishing is coming to an end and most anglers are now hoping for some rain and hopefully a decent run of Autumn salmon.
I am always reminded by a quote by Bernard Williams - There was never a night or a problem that could defeat hope. I think that when we have endured such a poor season it is quite apt. Hope will keep us going and dream about nights with fish such as in the photo above, caught a few years ago in early June.
---
June 2018
This year is a very poor year for fishing in general and especially in the sewin rivers of Wales. Not having any meaningful rain for nearly three months has meant that the rivers in general are all now flowing at their lowest levels since 1976. The Towy has the advantage of being fed from Llyn Brianne which guarantees a minimum level and with the Rheidol is one of only two rivers which have such advantage in times of severe drought. A few hardy anglers have been out on the Towy and a few sewin have been caught but certainly nothing exceptional. As for most of the other rivers in Wales angling effort has been very low and although there are decent runs of fish in many, these are trapped in the deepest pools.
I would like to address the problems which ensue when we have these low water conditions. Firstly sea trout at night do not usually take well above a temperature of 18°C . At present many of our rivers have had temperatures exceeding this, daily, for many weeks. This would be mitigated with cold nights and a mist which would lower the temperature rapidly and might allow the angler a small window of opportunity as the mist lifted in the half light pre dawn. Unfortunately the night temperatures have remained high (16° at 3am one night last week) which has not given the angler an inkling of an opportunity.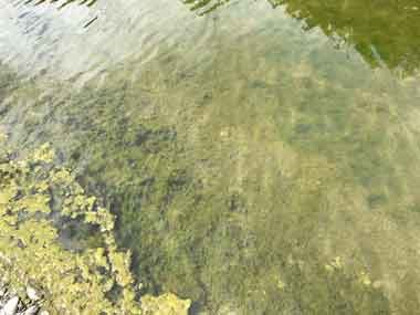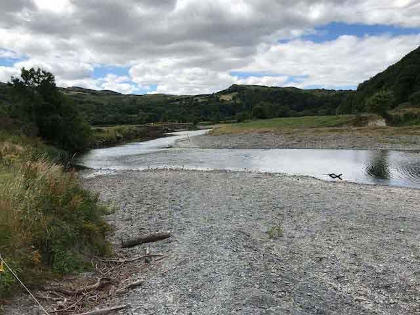 High water temperatures and agricultural practices today bring with them algal blooms. These make fishing even with a floating line and light plastic tubes nearly impossible as this slimy layer soon attaches itself the fly. All our rivers are suffering at the moment which nearly makes all fishing fruitless.
The quantity of algae present this year is great due to the amount of sun and agricultural run off of phosphates and nitrates used extensively in farming which is far greater than was present in 1976 when farming practice was very different.
I have discussed in the past the effect an East wind has on fishing. This year we have suffered a wind from this direction for most of May, June and even today in July. This would normally make fishing very difficult even if we did not have other problems. Even the mackerel fishermen do not get good fishing in this wind as it seems to affect all forms of fishing.
Low flow means that the flies do not swing but the line remains motionless on the surface. This gives the angler a technical problem where his cast will line the target fish. To overcome this, the use of a long leader might help (16-18') and a narrow casting angle to ensure the fly gets to the fish first. I have had some success with this method in low water but only without the above extra problems. It is, however, a technique which can be fruitful.
If one is going to fish at present, anything but a floating line will be useless due to the algae. The method above with light flies, small singles of small plastic tubes are best, fished very slowly over the pools. If there is a run in to the pool with some flow, concentrate for some time in this area as the fish are running at night and will congregate in the necks before moving. The tails of the pools will also give one an opportunity whereas the deeper parts of the pool will be unproductive as the algae will be thicker in the deeper slow water and as the angler cannot use a sinking line should be left well alone. In the event of being the "lucky" angler to catch a fish, please treat it with great care. Do not take it out of the water to take a picture as under present conditions this could be fatal.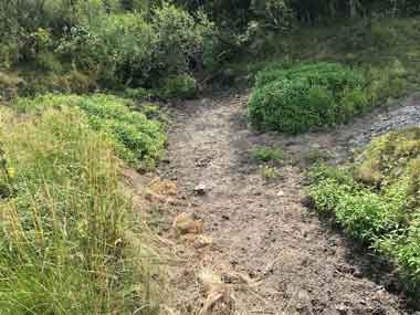 Talking of fatal, many of our streams are drying up like this one.
I have often looked at this stream off this little bridge and seen the parr scurrying away towards safety. Sadly today it is dry as are many others. How many fish have we lost? We will only find out in the future but certainly the long drought of 2018 will have an impact as the fish eating birds have also found the shrunken streams a very good hunting ground with the fish trapped in small pools.
All we can do now is pray for rain. The weather forecast (fortunately, not always accurate) is not good for us anglers in the foreseeable future, but the rain will certainly come eventually! Until then if you go fishing enjoy the riverside and the solitude and look forward to better fishing in the not too distant future.
---
May 2018
The last winter was extremely wet and the weather turned very cold only in late February and March. The rivers ran high from late November until April which was good for spawning. We have now gone from the cold of early April to the heat of late May with no definitive springtime having passed it by. Night time fishing for sea trout is now getting into full swing and one hopes that when this easterly wind moves to the south or west catches will pick up.
Having said that, some good sea trout have already been caught on the Towy including fish of 11 and 10lb to one angler. Fish are now gathering in the pools and the fishing is slowly getting better. The other Welsh rivers tend to be later than the Towy, but fish are now being seen and in some cases caught on most of these sea trout rivers. The low water levels and easterly winds indicate that persistence will be needed.
I am often asked how one should approach a night of sea trout fishing. Firstly I would recommend that you have everything you may need before leaving home. This is a list (although not an extensive one) of requirements:
A suitable rod (with if possible a spare in case of accident). Rods should be from 9' 6 or 7wt for smaller rivers to 10' 7 or 8wt for the larger streams.

Fly lines to cover different depths. A floating line, an intermediate line (which is a favourite go to line for many local anglers) and a sinking line of Sink 2 or 3. Personally I favour sink tip lines with intermediate or sink 3 tips or 15' length.

Leader material of 10lb, 12lb and 15lb the latter if one fishes large flies on sinking lines.

Chest waders, as sitting on grass covered with dew makes it more comfortable even if one does not want to wade deeply.

Clear wraparound safety glasses.

A reliable torch and a spare. The head torches of the LED variety are best.

A wading staff if one is unsure of wading in the dark.

Anti midge spray - they can be a real nuisance on a summer's evening.

A mobile phone in case of emergency and a waterproof bag both for this and the car keys.

Flies.
One can go into many fishing shops and they will have their selection of flies - sadly they often do not specify when or where on should use these. The image below is of a selection of commonly used flies - all of which have caught a lot of sea trout!
The single hooks are used primarily on floating or intermediate lines in the first hour of darkness. Personally I tend to fish two on a cast and will switch the point fly for a Waddington (second row on the left) if the water is a little high or very fast. Although this Waddington is tied with a treble hook, I would only recommend this rig if one is fishing for fish which one is likely to dispatch. One can also tie these with either double of single hooks and they are equally effective.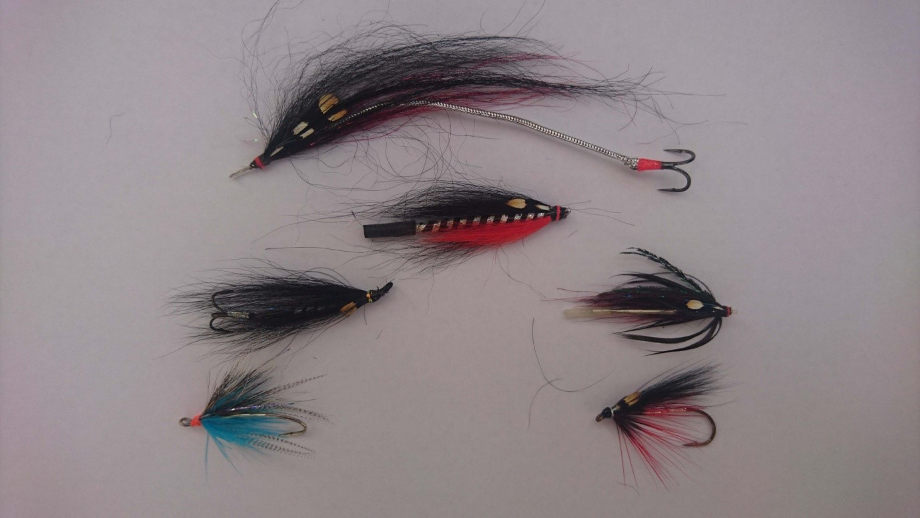 After the first hour (especially if things are getting quiet) one can look at either the intermediate line or a sinker with a tube on the point (second image down) if flow is good or with a needle tube (second row right) if there is less flow. Most of the tubes will be of 1" to 1.5" again dependent on the flow. As this fishing is done mainly in lowish water, the flies will be fished reasonably squarely to cover the pool with a slow figure of eight retrieve being best.
The last fly is a large snake fly. I have to admit this style of fly has not brought me a lot of success although probably I have not had the confidence to fish it as much as I could. Friends and colleagues catch many fish on these (and some very large specimens) usually on an intermediate or sinking line. Maybe one of these days I will have to give them a serious outing for a week or so!
I am now on my out to the river. The east wind does not fill me with confidence, but as I have to convince myself there is an exception to every rule! Good luck with the fishing and we can all hope that the next month will give us, not only good fishing, but plenty of fish showing in the pools to get the adrenaline flowing.
---
September 2017
This season has been in many ways similar in pattern to 2016. We had a dry spell in May followed by frequent rain throughout the summer for those rivers running westwards. The Towy has not had a good season for sewin and although Abercothi and the Golden Grove fisheries have certainly been holding fish for much of the season, they have not been easy to tempt. The Towy has enjoyed better salmon catches in 2017 and historically in rivers where there is a mix of salmon and sewin, a good year for one group often means a reduced run for the other. This proposition is certainly not logical but over the last sixty or so years that I have studied our Welsh rivers and streams it seems to have often been the case.
Other Welsh sewin rivers have also had mixed results. The Teify enjoyed a late run of fish, many of which were big multi-spawners. Unfortunately the opportunity at night to fish for them was limited by the high water levels and although some were caught in this manner many more were caught with the bait in the day. The Dyfi enjoyed a run of big fish in late May and early June followed by smaller consistent runs of fish in the 3-5lb bracket in June/July and a good number of small sewin in August and September. This river again has had a good run of salmon in September. The smaller rivers such as the Rheidol, Ystwyth, Nevern, Loughor, Tawe and Ogmore have all had decent runs of fish although in many of these the runs were a little later than normal.
The North Wales rivers have done quite well with the Glaslyn fishing well and the Conway having good runs of sewin this year. The Clwyd and the Welsh Dee were also fishing reasonably well when conditions allowed. There are lots of opportunities in Wales to fish for sewin, but being in the right place at the right time is still the most important consideration when one is hoping for success.
The Celtic Sea Trout Project which was published in 2016 makes interesting reading and for any angler with interest in sea trout and salmon in Welsh (and English) rivers. It is worth noting that the overall run of salmon remained reasonably consistent in the period 1994 - 2011 whereas there was a decline in overall sea trout stocks. Catch and release figures have also increased steadily and are becoming much more widely practised even in rivers with few restrictions on retaining fish. For the long winter nights ahead of us I commend you to read this important document as it contains some very interesting information.
Sewin fishing is now close to its conclusion for this year and has already finished on some rivers. The fishing season will close in the next week or so on most rivers and although some sewin will be caught (mainly as a by product of salmon angling activity) the majority are already ascending the small streams which the present high water allows. Interestingly for the fly fishing salmon angler, the sewin is not a good taker of the larger flies and although I did catch a big sewin last week whilst fishing for salmon, my size 8 Boyo is normally too big a fly for most sewin!
I have learnt some more lessons this year:
Stripping a small (< 1:5") Suray Shadow in high clear water seems to be attractive for sewin although many more fish show to the fly than take it.

Gold head flies fished conventionally across and down on the point of a two or three fly cast can certainly be worth trying. I have caught fish this year when all else has failed.

The importance of a tapered leader as opposed to an even nylon leader in fishing a surface lure was shown to be very significant. Please beware of using leaders less than 13lb BS to do this as takes can be very hard and the fish might happen to be a big fish.

The use of eye protection is necessary at night. Sadly I did not have my camera with me when I removed a fly from a fellow angler's eyebrow in early August - he had just lost a fish and when the fish jumped and threw the hook it flew back very quickly. An inch lower he would have lost his eye!
I hope you all enjoy the winter. For those who shoot, I hope you have nice frosty days with little wind. For those who fish for grayling ensure you are well insulated for the cold water of winter and for all the other anglers enjoy your winter and we can all look forward with optimism to 2018. As for me, I will go to fish for sewin in Argentina in February which considering that the fish there emanated many years ago from the UK, shows how resilient our brown trout and sea trout are when given a fair opportunity.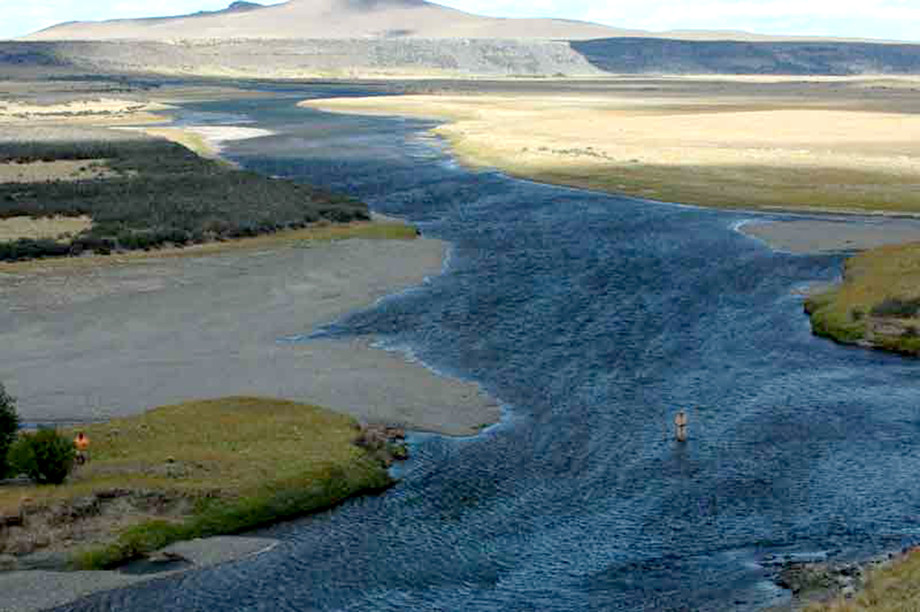 ---
August 2017
The weather in August has been very wet in most of Wales with high water prevalent and most of the fishing being during the day rather than at night. The Towy is still producing some sea trout and a few salmon now, mainly on spinning baits with a few being taken on those nights when conditions allow. Surprisingly this year the nights of August have been, in the most part, quite mild which would have made for some pleasant late summer nights but, of course, the water has been too high!
Other rivers in Wales have also fared reasonably well with some consistent catches both on spinning baits and with fly in the day. There seems to be fewer of the "jumbo" sewin around this year in most rivers although the Dyfi has been an exception to this trend with many of these fish having been grassed. This brings me nicely onto a topic which is well worth exploring a little.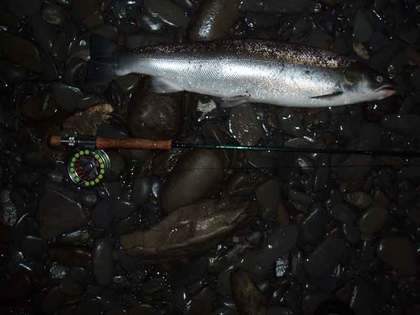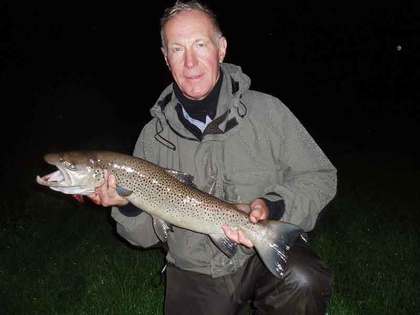 Many people use various charts of length and in some cases girth of fish to give them an "accurate" measure of weight. Having at times used a weigh net (McLean) and also measured sewin over many years I have found some startling differences between the actual weights and the charts. The charts give an accurate weight/length measurement for fresh fish. If one looks at the following images one can see how measurement of length only can be misleading.
The fish in the upper photo is one of 5lb caught in June this year and one can see the near perfect solid body shape - this fish agreed with the chart accurately.
The lower fish was caught much later in the season and although it is possibly an extreme example it would have been in the river for maybe 3 months. On a chart a 29" fish such as this one would be nearly 10lb but as seen the body is flaccid and the muscle has been replaced with fluid due to the long period of fasting and the protein required to produce the milt for spawning. This fish has probably lost at least 25% of it body weight and is likely to weigh approximately 7lb.
Trout fishermen often use the length of fish to describe their catch and in these days where catch and release is practised more and more maybe the length and the time of year when caught would give a more accurate picture.
Back to the fishing! Often at this time of the year I will fish with a 5wt rod for the shoal sewin which can be plentiful and are great fun to catch on light tackle. One can fish confidently with a floating line and three fly cast in the historic down and across method. Trout flies such as Butchers, Peter Ross, Mallard & Claret, Black Pennel and possibly a Silver Invicta are all you need in the box in sizes 10/12 (trout sizes). Add a little movement to the flies with a fairly swift figure of eight retrieve and you should have some fun - try it! Most of the fish will be from .75lb to 2lb and will provide some great late season fishing.
For anglers looking for somewhere to fish next year the fishing on the Edwinsford Estate in the Cothi Valley can now be booked through the Wye & Usk office. This will provide some nice fishing in a most scenic part of Carmarthenshire and although the fishing effort has been very low in recent years there is a good opportunity here to enjoy a fishing break away from the madding crowd with the added bonus of possibly a "jumbo" sewin, for which the Cothi has always been famous.
Many anglers are now turning towards salmon fishing for the remainder of the game fishing season here in Wales. Let us hope that the Autumn run on which many of our sewin rivers depend in late season is better than last year which seemed to be a poor Autumn in all parts of the United Kingdom. As for those who still would rather the sewin be careful with night flies, using only singles in tubes and wake lures and handling these fish carefully as they will be ready to spawn in late October. Good luck!
---
July 2017
The sewin fishing this year has remained a little patchy. The low warm water of June and early July has given way to the high waters of late July and early August. The Towy has provided good sport for some of the local fishermen and for lucky visiting anglers who have happened to be on the river at the right time. The numbers of "jumbo" sewin this year on the Towy have not been great but there is a fair run of 1:50 - 3lb fish in the river now.
Other rivers have also seen some good sport sporadically and the Dovey for instance has had a good number of these large fish although the 5 -9lb class have been less apparent. The Teify has had good runs of late with a smattering of big fish. It is hoped that the runs will remain strong and are this year not blighted (as was the case last winter) by any form of farm pollution before spawning. The rivers of North Wales have also seen some good fishing and the Conway which historically was a major sewin river has had a decent season. There are many good sea trout rivers in North Wales which are mainly controlled by local clubs who welcome the holiday angler.
A question which is often asked regarding sewin (and other salmonids) is when the best conditions to catch fish are. Many eminent fishermen and scientists have put forward interesting and logical arguments regarding this conundrum. It is sometimes easier to predict when it is a hopeless task than it is to expect some success. I do think that we fishermen at times should study a little in this area as it is possibly not only to our advantage but also gives some guidelines as to when we should be concentrating hard on the fishing.
Of the interesting evidence put forward one can start with water temperature. Sewin take best at a water temperature of between 11° and 16° Celsius. Above this the fish become lethargic and a far less likely to take the fly. This is true at night or in the day. At these levels the oxygen carrying capacity of the water is sufficient and the fish are active. This leads us to understand that days of high sun and low water might increase the water temperature above this level and therefore for the night fisherman the best chance of fish is towards dawn under these conditions. Of course, when we have a spate after a long period of low, warm water (as many rivers had in June this year), the water temperature drops quickly back into "good" fishing temperatures.
Barometric pressure is another factor. The book by Andrew Betts "The Barometric Breakthrough" (Published by Salar Pursuits) gives an interesting and informative look at the effect of pressure changes. The gist of the book investigated taking behaviour of all salmonids whilst also taking readings of barometric pressure. The simple conclusion is that a rise in pressure is good for fishing and a sudden drop in pressure very bad! The book has some very interesting ideas and for those who wish to study this phenomenon it makes essential reading.
The pH of the water is another important ingredient. As pH 7 is neutral most of the Welsh rivers have a pH below 7 with few exceptions. At levels down to pH 5 trout, salmon and sewin live and breed successfully although at these lower end of these levels the number of invertebrates needed to sustain a healthy population of parr is insufficient. Below this level successful spawning would be unlikely. Pre 1976 all farmers were subsidised to spread lime on the land. This meant that the vast majority of rivers which came from peat bogs were acid at source but on travelling down through farmland the acidity was neutralised. Anglers 50 years ago went fishing during high water as the pH was good and great numbers fish were caught on all sorts of baits with the fly coming into its own when the water was dropping and clearing. The picture is not as clear today. Although the Wye & Usk Foundation liming policy in the headwaters of the Wye have proved to be a success this model sadly has not been followed on other rivers. The planting of much of the headlands of our river valleys with conifers has potentiated the already deleterious effect of a low pH and the change in agricultural practice of not liming has removed the mitigation enjoyed previously.
Hence high water today is far more acid than it was historically. For the fisherman a pH approaching 7 is always best and fish are more active both at night and in the day. Big floods tend to wash out the rivers well of all algae and debris but also return the pH to "normal" for the particular river reasonably soon. Thunderstorm type rises in water can be very acidic with strong peaty water and much foam on the surface and they also take longer for the pH to recover. An old river keeper told me many years ago that this latter rise was only good for catching eels and he was right!
Lastly, particularly for the sewin we have to consider the moon cycle, large drops in temperature at night and the upriver effect of the tide. One should try not to fish with the moon behind them and if possible fish on pools with tree cover. A sudden drop of temperature will accompany the clear moonlit sky and one will possibly need to fish in a mist where the best chance of success will not come until just prior to dawn. As for the tides try to fish, if possible, after a full tide and avoid fishing for that 1-2 hours when the tide is full. These latest factors should be high on the agenda for the holiday angler booking his or her fishing break.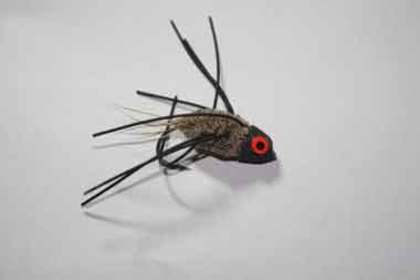 As seen from the above it is difficult to predict when we will be successful although some of these salient points will guide us into a better understanding and hence into hopefully being better sewin fishermen.
I have discussed August fishing techniques in the past and but would still strongly recommend a "mouse" type lure (pictured) this month as it can be not only very exciting but also very fruitful!
Enjoy the fishing this month and I wish all who venture to read this report some good catches.
---
June 2017
There are some positives to report for this season so far. There are a really good number of parr in most if not all our Welsh rivers which bodes well for the future and there is plenty of water in most rivers to ensure that the streams do not dry out as has happened in the past with the obvious fish loss. As for the fishing and adult fish stocks it has not been a great start to the season. The Towy has not had very many of the "jumbo" sewin normally present early on. Whether this is because the high water meant that they travelled through the system very rapidly or whether they are not taking very well this year is open to conjecture. Having said that, there are now good numbers of 2-3lb fish evident in the system and these fish interspersed with some in the 5-8lb class should ensure that the angler has an excellent chance of some good fishing. The small sewin are also arriving in numbers which is very welcome.
This picture seems to be the same in most of the Welsh rivers. Some big fish have been caught, the majority bait fishing in the big water in early June but fortunately the 2-3lb fish are now very much in evidence and being good takers they can provide excellent sport. An exception to this apparent lack of salmon in the 4lb+ bracket is the river Rheidol which seems to be bucking the trend with good bags of sizeable sewin being landed. This is very welcome as the fishing has been difficult on this river for some years.
It is a bit strange that fish are apparently scarce in some age groups as the 3-4lb fish were plentiful last year on many of our rivers but the dearth of 5-8lb class of this year does not follow a logical pattern. We have obviously seen this before and hopefully if we have a good season for small sewin this year which are expected to be coming into the rivers in good numbers during the next month the future should be good.
At present we have to contend with the moon. Whereas the wife and family enjoy the glorious days of uninterrupted sunshine, these conditions are not a good portent for the night angler. Clear nights make it difficult with the obvious drop in air temperature and the surface mist which often ensues. This seems to be exacerbated by the moon with a greater drop in temperature and even more mist on the river.
These conditions have often been seen as hopeless in terms of night fishing but the visiting angler, along with the persistent local, need to feel that there might be a chance of sport so I might try to give a glimmer of hope to anyone who is faced with this dilemma.
Try to fish with the moon in front of you rather than behind or to the side.




Always start fishing in fast running water on dusk as the fish during hot weather are more likely to head for the faster more oxygenated water due to the water becoming uncomfortably warm during the hot days. The shadow of the moon is also dissipated in broken water. (See image right)




Sometimes it pays to fish one fly on a long leader (of 12-14') to minimise the shadow created by the flyline. This is very true of those who always favour floating, intermediate lines or sink tips.




If you are fishing with one of the lines mentioned above it might be worthwhile to cast a longish line downstream to the fish. This will ensure that the fly gets there first before any shadow. This does work but the hooking angle is poor and a sideways strike will be necessary to give one the best chance to land the fish.




In deeper pools the sinking line can be a boon as the effects of shadow are not as evident, i.e. you are eyeballing the fish with the fly. Of course long leaders are not necessary or desirable and 6' should be the maximum.




If the water temperature is very warm i.e. 17°C or even more remember that at night it cools and the best chance of catching might be at 3am in the morning - don't give up!




Many anglers do like to fish flies with a white wing under these conditions and it is well worth having one or two in your box.



Of course even if you do everything I have outlined there is no guarantee of success but if we have persistence and focus on what we are doing it is possible to entice one or two fish even when conditions seem to be totally useless.
Good luck during the next month. There should be fish to be caught on your river and there is no greater time to be on the water to clear the mind of all the pressures of life than in the early hours!
---
September 2016
It is strange how seasons vary without any obvious reason. The season of 2015 in nearly all the Welsh rivers had been one of excellent runs of sewin (especially the multi sea winter/spawners) and most anglers were looking forward in great expectation to this season. As I had alluded to in the past there seemed to be a lack of small sewin (first returners) in 2015 compared to usual numbers and this seemingly has been followed through and had an impact on this year's runs. I spoke to an eminent fishery biologist last year with my concerns regarding the lack of small sewin and he seemed confident that this would not be significant. Whether this has therefore been the reason for a relatively poor run of multi-spawners this year I really do not know and maybe as has happened in the past it is merely a blip - let us all hope so!
The Towy, Dovey, Teifi and Conway all has runs of fish which were probably less numerous than 2015 but the constant high water made it very difficult to gauge exactly how many were about. Anglers on the river at times enjoyed great sport, whilst others fishing the same river on different beats at the same time bemoaned the lack of fish. Day fly fishing was good only in parts and from my own perspective produced less than in previous years for the time spent on the river. Night fishing was sporadic as the water remained high throughout the summer.
The smaller rivers also had a similar pattern and although some good fish were caught on the Ogmore, Ystwyth, Rheidol, Clwyd and Tawe for much of the summer it was quite hard work. Interestingly the Welsh Dee has enjoyed some good runs at times and this river, which is probably best known for the salmon, trout and grayling fishing is actually producing some quality sea trout for those anglers able to commit the time to finding the best places to intercept them.
As I have alluded to in the past, most rivers in Wales are controlled by angling clubs. Club water can at times be difficult for the visiting angler as during the height of the season in low water the best areas are often fished heavily and it is not always easy for the visitor to understand the "unwritten rules" that the locals seem to follow. The fishing here can be very good and in many cases if one is on holiday one can often find untenanted pools after 1am in the morning as the majority of local anglers need to work on the subsequent day. If, on the other hand, one would like to fish under more relaxed conditions, Abercothi and the Golden Grove have control of many miles of prime Towy water and have a strict number of rods fishing at any one time. Local guides are always a great help for fishers new to the night fishing scene and can be hired at relatively low cost from the latter fisheries or through angling club secretaries (especially if the cost is shared between two anglers). For those new to the scene one can still find some interesting information from Sea Trout Fishing by Hugh Falkus or Successful Sea Trout Fishing by Harris & Morgan which will prepare one for the needs of the sewin fisherman.
What, therefore, have we learnt from this relatively lean season?
As long as the river is clear it has been a surprise to me that I and many others have found taking fish even in waters of a foot or even more higher than seemed possible previously.

Persistence has been the keyword this year and it was interesting to hear of and to experience nights of high water when most of the action happened after 1pm.

Although we experienced high water, intermediate or slow sinking type lines seemed to be the best option.

Takes certainly came together - the need to get back fishing as soon as you caught a fish was never more apparent.

In higher water the moon did not damage ones chances as much as in low water.

In higher water we did not seem to suffer the surface mist.

In higher water there was no need to increase the size of flies.
We do live and learn!
Let us look forward to next year. Will it be good like 2015 or slower like 2016? I really do not know but of course I do hope that this year will go down as a blip. We now have plenty of water in our rivers which came on the last day of the season. This will allow the sewin to ascend the small tributaries to carry out essential work.
I hope all readers have a good winter, tie a few flies ready for next year, and start once more rejuvenated in Springtime.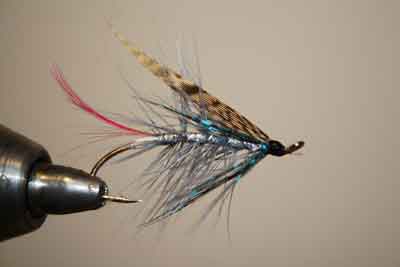 ---
August 2016
It has been a strange season for sewin. The runs of fish have been late in some rivers, sparse in others and overall it cannot be regarded as a good season. We have had plenty of water throughout the summer and although the heat wave which we are told has affected parts of the UK this certainly has not been the case for most of Wales and especially in the west. The plentiful rain has ensured that fish have been able to travel high into the river systems and for once fishers on the upper beats of rivers have at times been more successful than those closer to the sea. Unfortunately many of the streams which are eventually the spawning grounds for our sea trout are only accessible for the worm fisherman and even using circle hooks for the bait it is at times difficult to release fish without damage.
Of course some anglers have enjoyed great nights and days of fishing and maybe cannot understand how others have struggled. I have also struggled for much of the season but was fortunate enough to fish one night in July where I actually landed twenty one fish up to 7lb! This night came "out of the blue" as the previous night in five hours of fishing I actually landed one fish of 3.5lb (pictured below). I think this is an example of small pods of fish entering the river together and if one was fortunate to be on the right pool at the right time then of course one had a "bonanza". The other interesting observation from this year is the lack of fish showing at night, even pools with a decent population of sewin were very quiet. Why is this? I really do not have an idea but hope next year that the behaviour returns to normality.
We need to realise that runs of fish vary greatly and we cannot blame the problems of today in isolation. The diaries of Walter Caddy (taken from the excellent book of Sea Trout Fishing by Hugh Falkus) shows how even over a century ago the runs varied greatly.
"1909: It has been a splendid year for both morts (large sea trout) and particularly smelts (small sewin). Am glad smelts seem as plentiful as ever.......
1912: Cannot help but feeling that salmon are getting scarcer and scarcer. Morts and smelts - a complete failure. Scarcely a mort in the river and the smelts there were mostly quite little ones. Very discouraging but hope for better years."
The Cumbrian Esk subsequently became an excellent river for both sewin and salmon especially during the 1960's and 70's.
This is only a little example of the true lack of knowledge we do have regarding the runs of fish and we can therefore hope that they might be more "normal" next year.
The season is now getting into the late stages and many anglers on our sea trout rivers have already turned their attention to salmon this month. Some sewin will be caught by default whilst fishing for salmon and although they may seem to be "fresh" they will be full of eggs or roe and should be released safely to proceed with their journey. Big treble hooks on spinning lures should be avoided if at all possible as these nearly always damage fish badly. Circle hooks should also be used with when trotting a worm to avoid some of the greater damage.
Night fishing is really only productive for the first hour of darkness and the surface lure (single hook) can give some good sport from the off. Late September sewin do not give a very good account of themselves when stale and of course are of no culinary value.
Day fishing in the lower reaches of rivers can be productive at times with small sewin. The set up I favour for day fishing (in higher water levels) for the smaller fish is a 5wt rod and a floating line with small daytime sewin flies. Fish the flies square and fast on a floating line and fish of .5lb to 1.5lb can at times give great sport on light tackle closer to the estuary. These fish are often late running sewin and are fresh. Please handle them with wet hands as the scales are very loosely bound to the tissue.
I do hope we have good Autumn fishing before the long nights of winter!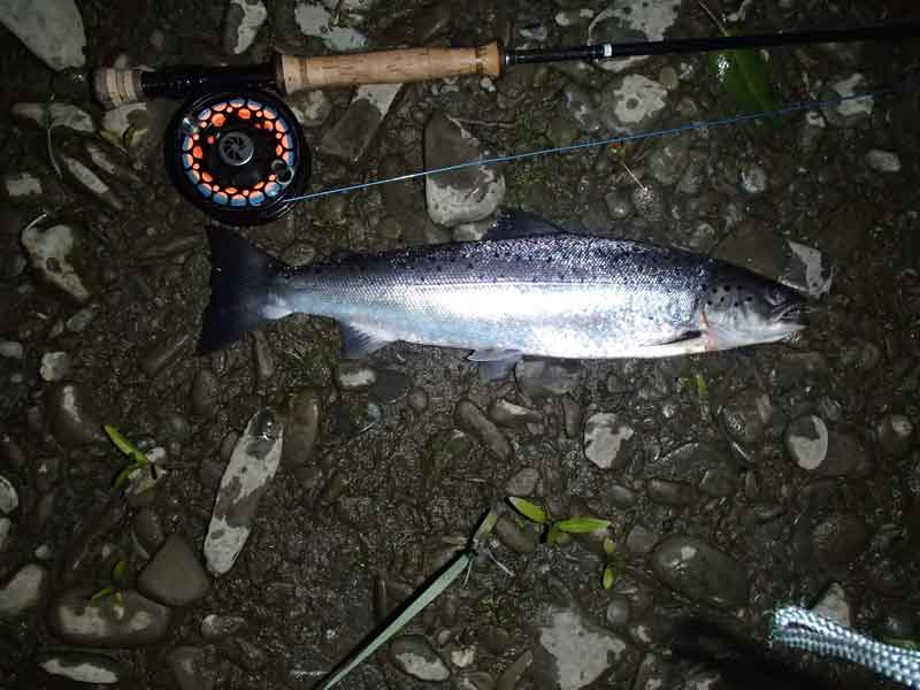 ---
July 2016
It has been a strange season, partially due to the weather and partially due to the runs of fish. The weather has been very mixed with most of the rivers running too high for night fishing for long periods. The day fishing has been mixed with all fishermen reporting days when it is difficult to tempt fish whilst others are reporting some good sport. The numbers of "jumbo" sewin have definitely been fewer this year but most year groups have been present in reasonable numbers. The small sewin seem plentiful and fish from 1/2lb to 2lb weight have given excellent sport during the last few weeks when the bigger fish have been difficult to tempt.
The Towy has fished better in July than previous months and should give some good fishing from now on, especially if the water levels stabilise and allow the night fishers some respite. Other Welsh rivers are also getting some decent catches now and unless we get very cold nights (which we often get in August) some consistent sport should be enjoyed.
As all seasons are different these days the characteristics of fish behaviour can also vary. Why sewin jump or roll at night is not answerable logically but some seasons they do show in this way very regularly. This year has been an exception where the fish have seemed reluctant to show hardly at all even when they have been present in good numbers. I fished a pool a couple of weeks ago with another angler and we both had by far the best night of this season (there not having been many suitable nights due to the high water) and probably between us had thirty or forty "takes" from a pool where hardly any fish showed all night!
On cold nights the mist will often appear quite early into dark. It is essential that one is ready to fish the fast water at the head of pools on dusk and to fish the tail of the pools as soon as it is dark. One should try to choose pools with these characteristics which will give one the opportunity of a fish or two before the mist puts a stop to all activity.
As mentioned before the use of a single of a size 6 or 8 on the dropper will certainly improve one's chances of success. If the night is warm and there are some small sewin about, two singles of this size can be fished on a floating or light intermediate line for the first hour of the night. After 10pm I would normally change the point fly to a small tube, either a plastic 1" tube or a needle tube of 1:25" and fish these on the intermediate line. In August both the small and the big sewing will take either of the flies and therefore I would rarely fish lighter than 10BS. One can also fish the surface lure with confidence in August on these warmer nights.
This latter method has been discussed before but there will be nights when the fish will show to the surface lure but refuse to take it either on a floating or a light intermediate line.A tactic that I have found useful when one is faced with this dilemma is to use two tubes on a floating line but use the dropper tube as a "skater". To do this one should put a hole behind the head of the plastic tube with a heated needle. The leader material can be fed through this perforation and the fly will create a small subsurface wake. Fish will swirl on the dropper (but rarely take it) but will willingly take the point fly whilst turning away from the skated fly. Never tighten on the swirl but wait until you feel the weight of the fish. It is just as exciting as any surface lure fishing and will often get hold of a good fish when all other methods have failed.
The fish in August, apart from the small sewin, will have been in the river for some weeks or longer. They do lose their condition quite quickly in freshwater and if one would like to keep a fish for the table one should always only keep a fresh one of under two pounds where the local rules allow. The colour of a sea trout is not the best way to gauge freshness. A fresh fish will always feel very solid across the back and regardless of how silver it seems if it does not feel solid it is far better to return the fish as its culinary qualities will be greatly diminished.
Here is an image of an August fish. Note the great number of spots on the body and although this fish of about 9lb is "silvery" it is far from fresh run!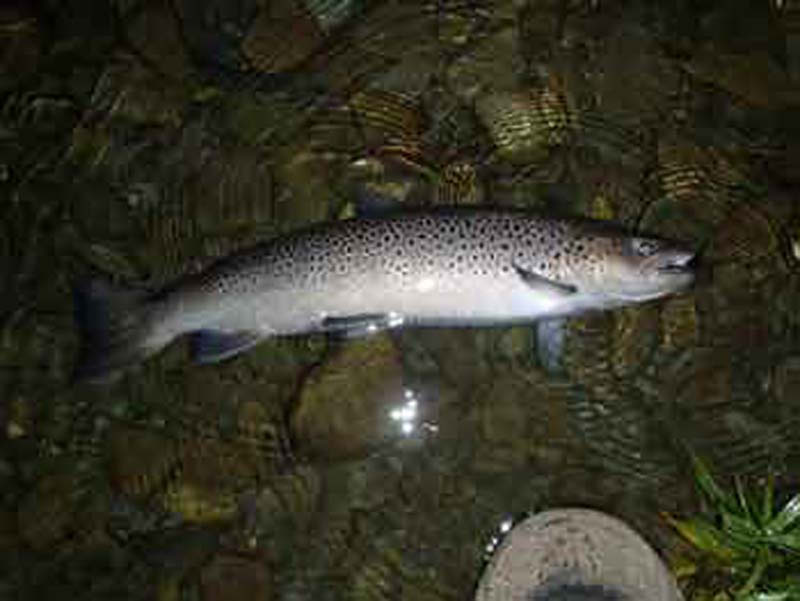 The season for sewin is coming to an end. I was out on the river last night and it turned very cold with an early mist. Take advantage of any nights with good cloud cover as these will be where one is most likely to enjoy some late season sport with the sewin.
---
June 2016
It was often said in the past that a good year for salmon coincided with a poor year for sea trout. Whether this statement was for individual rivers, or said in more general terms, I do not know but without doubt this is a good salmon year for the UK and, of course, for the Wye & Usk in particular. In fact the sewin rivers of Wales have in many cases also had a decent run of salmon and a good number have been caught in the Towy, Dyfi, Teify and some of the smaller rivers. As for the sewin runs they have, on the whole, been poor this year and the anglers have had to work very hard to enjoy some sport.
The heavy runs of sewin expected at the end of May into June did not really materialise and most of the regular anglers found it extremely difficult to tempt the few that were present. Early in the month the conditions were good for night fishing but the water has been running high for most of the remainder of the period making day fishing the only option.
Why there seems to be a lack of sewin this year is open to conjecture. Last year was not a good year for the small sewin (i.e. fish of 3/4 to 2lb). This was probably due to a poor spawning survival in 2012. Having said that, most of the sewin rivers did have really good numbers of 2lb+ fish with all year groups present in pleasing quantities. Although the lack of small sewin last year probably points to a lack of the 2-3lb fish this year the other age groups in a population of multi spawners would have been expected in the rivers by now in greater quantities. Sadly this has not been the case and no one at this stage seems to have the answer.
The Towy did not fish well in May and June was, at best, patchy until the very end of the month. The heavy rain did bring in a welcome run of fish (both salmon and sewin) and some good sewin to 12lb were caught during the last week. Hopefully the runs are very late and we will enjoy some good fishing for the remainder of the season.
Other Welsh rivers have fared patchily at best. There have been some good sewin caught, a few three pound fish and surprisingly more small sewin than is normal so early in the season. In other words the runs are a little topsy turvy this year and we can just keep our fingers crossed that the fish have been working from a different calendar!
Enough of the negativity! I have been out fishing on numerous occasions with some success. I have tried this year to see how a gold head "nymph" would fish in the day in high water as part of a two or three fly cast. This is probably not the best year to do this little experiment but pleasingly, I have been able to tempt some small sewin and two fish of 7lb and 4lb with this "new" point fly. Maybe if there were more fish about one could really evaluate if this was a dependable technique. I have been fishing the nymph on a multitip line with an intermediate tip, the butt end of a tapered leader of about 5' to which I have attached a 2mm ring permanently. To this I attach a 6' or 8' tippet of 8 or 10lb fluorocarbon with one or two droppers.
Night fishing, as I have alluded to already, has been nearly non existent and although I have tried in water of a foot or so above normal night fishing levels on one or two occasions, I have struggled to score. The fish below is one of nearly 8lb which I did tempt fishing a single hooked Waddington of 3" one night at one o'clock in the morning. This was the only offer I had but it was very gratefully received!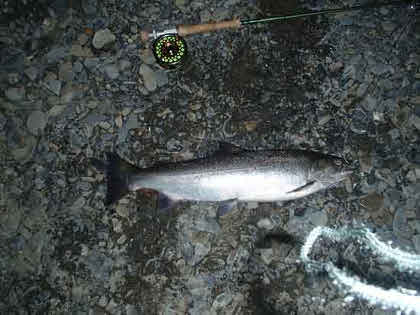 Apart from the handle for my camera which is certainly not in the picture on purpose one should note the nearly square tail usual in big sewin, the excellent condition and if one is very clever the actual size of the fly used - it is very big!
Salmon fishers, especially in Iceland, use skating tubes or hitched flies often to tempt salmon. The tubes used are always plastic and a hole it punctured near the head of the fly to accept the leader. This can also be very productive for sewin late into the night especially when they are showing an interest in a surface lure but not actually confident enough to take it. The tube should always be on a long dropper fished 4' from another plastic tube (attached normally) on the point. Normally I fish a double hook on the point fly and a single on the dropper fly. When the fish are caught with this method 90% are taken on the point fly. To fish with this method cast square with a floating line and as the fly swings lift the tip of the rod slowly towards your bank, when you see (or hear) a swirl at the fly do nothing until you feel the weight of the fish. Give it a go - it can be very exciting and works best on moonless nights similar to the surface lure.
I hope by next month that I will be reporting some improvement in the fishing. The signs are already there that there are more fish moving. Whilst day fishing the other evening I caught six smolts (in late June), most unusual for the time of year. I would normally expect them to have migrated in early May - another sign of a strange year for the sewin. Good luck with the fishing and if the weather now turns a little drier, maybe a chance to do some more night fishing.
---
May 2016
It has been a strange winter and early spring. All the rivers were in flood for most of the winter but with little cold weather. April and into May this year has been colder than most of the winter and although the last week has been dry the nights have been very cold under a cloudless sky. This has of course impacted on the fishing effort put in by the hardy early sewin fishermen. There are some fish in all the major rivers in Wales and a few have been caught despite the cold nights.
Many of these early fish are in the 3-6lb range which constitutes most of the catches so far on the Towy. As yet there are no confirmed reports of "jumbo" sewin although I did hear of one of 12lb caught recently on the Dyfi. On cold nights early in the season the best chance of a fish is early in the night and once the mist starts rising, fishing is usually a fruitless pursuit. At present the rivers are low although the rain has arrived as I write this report!
One of the obvious effects of continued winter high water is the change seen in the pools since last year. I have walked sections of both Dyfi and Tywi this spring and it is surprising how many deep pockets have filled with gravel and how many new interesting areas have been created. This will no doubt change the way some pools fish and for the holiday angler a piece of river which he may have got to know well over many years will need to be surveyed thoroughly on arrival at his favourite pools during daylight to ensure he notes any changes that have occurred. As most of the sewin rivers in Wales run through alluvial land, undercutting of banks and hence river widening and a decrease in depth is evident on all our rivers, especially after this last winter. Historically trees were planted to retain banks, which was a very successful technique and many of these bankside trees are still evident having changed little since Victorian times. Sadly, overgrazing is now evident on many of our rivers, leading to land loss, loss of depth and a reduction in fish holding capacity.
What is also interesting is that those of us who like to watch sewin shoals in pools during low water periods in the summer often do not take into account that the best night fishing spots in that pool may well be devoid of fish during the day. The fish will lie in places during daylight where they feel safe but will often migrate to other parts of pools, often shallower, under the cover of darkness. It is worth noting therefore that a pre fishing observation will not necessarily show any more than the fact that the fish are in the pool, not where they will be located at night.
For the vast majority of sewin anglers mid May is the time to start looking seriously at night fishing. Low water is not a hindrance to the sewin running and pools that were devoid of fish a few days ago will, as if by magic, suddenly have a nice shoal of fish arrive. It is a really interesting way to while away an hour or two watching the wakes of sea trout running just before the tide. When I was younger I used to think that these (at times) large wakes meandering slowly upriver were single big fish. By chance one evening I was up on a bank looking down on the river and was surprised whilst watching a wake to see that the leading fish had another twenty fish running in an orderly manner in its slipstream. It is no surprise therefore that the pools can fill rapidly after one or two tides. The netsmen are an absolute barometer to when and how many fish are running and they will always confess that late evening tides and night tides are best for them. Interesting also is the fact that they catch most of their fish in the lowest of tides and do far less well in higher tides! Suffice to say that all anglers should carry tide tables, not only to avoid being caught on the wrong side of the river if one is fishing near the mouth but more to realise that during a nightime high tide fishing activity will be poor around the time of full tide, even 10 or 15 miles upriver. This means that for about an hour the fishing can be very slow but will pick up again as soon as the tide starts to ebb.
For those who have booked a fishing break for sea trout there are a few things to consider. If you are accustomed to fishing with 8' or shorter trout rods it is important that you spend a little time acclimatising yourself to using a 9'6" or 10' rod before going for your break. Many a time I have heard holiday anglers bemoaning the fact that their wrist and arm are painful after a few hours of fishing. If you have been clever you may have avoided a full moon week. If not please study the pools that face the moon and fish these if possible. Carry two torches as a minimum. Ensure that if you are staying in a local hotel or guest house that they are willing to serve a late breakfast - there is nothing worse than going to bed at 4:30 am to have to rouse oneself for breakfast at 8 o'clock! A change of clothing carried in the car will be a godsend if you happen to fall in - the rule is simple - if you have them there you will not need them.
The holiday angler has one great advantage over the local. Regardless of the fishing he will persevere through the night even if the fishing is slow. The local on the other hand might have work the next day or if the fishing is slow early at night, decide that tomorrow might be better. It is often the case that I see only people on holiday on the river after 1:30 am. Not only is this an advantage that they have more river to fish but, especially in warm summers, the fish become more active as the water cools and the period between 2 - 4 am are the best times.
What sort of summer are we likely to get? Of course I do not know but I am already pleased that the East wind of the last few weeks has shifted to the West. We often get these East winds early in the season and trout (both brown and sewin) are very sensitive to it, interestingly more so than salmon. Let us hope we get little or no wind from the East in the next couple of months. Some rain every 2 - 3 weeks would be nice to give the river a clean, to give us some day fishing, to allow the batteries to recharge, depleted by insufficient sleep, and to allow the fish to travel and repopulate pools upstream.
I will be making my first foray of the season during the next few days. Early sewin fishing is a bit of hit or miss but the chance is there and certainly if I can find a place with a few fish residents I will fancy my chances. I will use normal tactics to begin which for me is 15' intermediate tip line for the first hour - maybe a 1" Waddington tied with a single or double hook on the point and a Size 4 fly on the dropper. If I stay on to fish later, which I will only do if I either see many fish or have had a take or two, I will switch (I usually carry two rods) to a 15' Type 3 sinker with 1:5" Aluminium Tube on the point and maybe either a 1:25" plastic tube on the dropper or a Size 4 fly.
I will be casting at about 70° to the far bank and allowing a downstream belly to form which will aid me in hooking the fish. It is quite rare that I mend upstream and only do so if I want the fly to sink deeply into a specific pocket. The latter method will allow the fly to fish more slowly and to sink deeper at the expense of missing or losing many offers. The retrieve will be usually be a figure of eight retrieve mainly to keep in touch with the fly in faster water and to actively move the fly in the slower pools.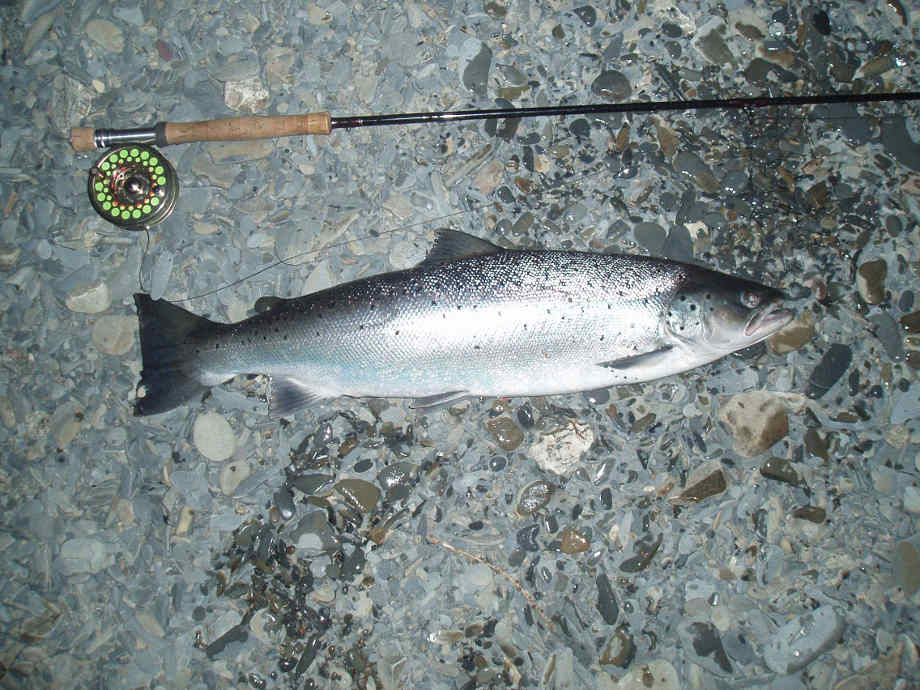 The prize of a fresh sewin in May or early June is worth having and normally many of the biggest fish arrive around this time. The fishing can be hard and one or two offers some nights is a decent result as there are not too many fish about yet but it is well worth it. The fish above of 10lb was one I did catch in May two years ago on my first outing of the year and within the first hour!
Enjoy the fishing for sewin. We always hope the weather is kind to us and that the fish are plentiful. We all at times need a little luck, but fortunately, the sewin can be very obliging to both the fly at night and during the day in suitable conditions. Next month I might spend a little time on minor tactics which can lead to success.
---
September 2015
September has been a month of mainly dry weather with water levels falling steadily during the month. In May or June this would have given us a great opportunity for some really good sewin fishing but most anglers hope to have some water in September to enjoy some salmon fishing.
Fishing effort for sewin is greatly reduced in September and the numbers of night fishermen are far fewer. Even so the Towy is still fished quite hard in parts and once more those anglers who have ventured out have been successful. There is no doubt that the Towy has enjoyed one of the best seasons for some years which hopefully augurs well for the future. It is important now that the rain does come reasonably soon as the majority of these fish will spawn in late October in the smaller streams in the catchment which at present are at a very low level.
All the other Welsh rivers from the Clwyd in the North to the Ogmore in the South have had good runs of sea trout this year and although, as previously discussed, the summer weather has not been always conducive for comfortable night fishing there has been great sport enjoyed on most rivers. The major Welsh rivers, Towy, Teify, Dovey and Conway have all seen excellent runs of fish with double figure sewin being common. The smaller rivers such as the Rheidol, Nevern, Ogmore and Tawe have also been "full of fish" as have many I haven't mentioned. All these rivers have reasonably easy access as much of the water is controlled by angling clubs and a search online will give the relevant contact details.
The Golden Grove and Abercothi fishing needs to be highlighted in this regard. Where much of the club controlled fishing is quite busy during the peak period of late May until the end of August, the former fisheries are private and have strictly controlled numbers of rods on the river. This ensures that the visiting angler has the opportunity to fish the pools in comfort and in both cases for a little extra cost will supply an experienced guide, which, for those new to night fishing will not only make the experience more enjoyable, but will more than likely lead to some early success!
After this "good" sewin season one can look forward to 2016 with some confidence. For those wishing to fish during the peak months I would get in early to book the fishing. There are limits on visiting rods on many fisheries in Wales and if one wants a particular week one needs to book early. When? One should try to avoid the full moon and if one is fishing close to the tide avoid the big night tides. June is a good month with predominately bigger sewin in the pools, July has more of a mixture of sizes with of course more fish all of which should be fresh, August also sees often a big run of small sewin and the surface lure becomes animportant method. The choice is often based around work and/or family but one should try to fit into these three months to enjoy the best of the sport.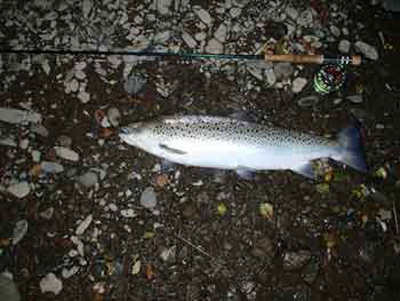 This cold summer has taught me many things:
The windy cold nights although uncomfortable for the angler still produced some quality fish. The takes have often come in clusters of four or five in less than an hour followed by a long quiet spell.

A year with little mist on the river is a godsend to the night fisherman.

More fish are now being returned carefully than I have ever experienced before.

The single hook is just as good (if not better at times) than other hook options.

There are more big sewin today as a percentage of the run than there were many years ago. I remember many sewin anglers in my early fishing years that although very experienced had never caught a double figure sewin!
Sadly the rain which we need for the salmon fishing has not materialised – in fact we seem to be in an Indian Summer and with most Welsh rivers closing in mid October many anglers are already packing away their tackle.
We anglers are dreamers. We enjoy the peace and solitude of our sport and are always hopeful that next year will once more give us the opportunity to catch "super" sewin as the one shown on the right caught this year in early June!
I hope all readers of this report have a good winter and I will restart again in March/April.
August 2015
The weather for much of August has been mixed. Early in the month conditions were good for night fishing - in fact, better than for much of the summer as we had calm nights with little winds. The last two weeks have been wet and many rivers have been unsuitable for night fishing but, of course, this has given opportunities to fish in the day and there have been notable catches of both sewin and salmon in the last two weeks. Most of these fish have been caught spinning or on the worm although at times the fly has worked very well on the falling water.
Fishing for the first half of the month was good and the Towy fished well with sewin being caught on all the beats right up to Llandovery. The Golden Grove had logged 430 fish by the middle of August (which is much better than the previous two years) and seems to be heading for the best return for many years. The Dyfi also produced well and it is interesting to note that the quality of the fish this year has been outstanding with over 50 double figure fish caught on this system alone. I have also heard that many other rivers in Wales have had an excellent year with big fish being caught on all systems.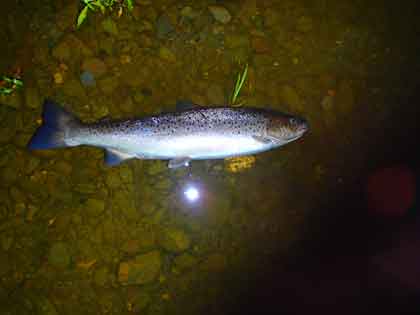 As I have discussed in the past, late season fishing can be both productive and exciting but the great majority of the fish are of no culinary value at this time and should be carefully returned. Don't be fooled by their colour - late season fish often seem to be "fresh" by their coat but in fact are full of eggs or roe. The image on the right is of a fish of about 4lb I caught myself in the middle of August. It looks remarkably fresh but it is certainly not as solid as one caught in May or June and such fish should be returned.
All flies can be fished with single hooks. This year I have fished exclusively with singles (on flies), having decided to try this out to gauge how my personal catches might be affected. I have, in fact, lost very few fish using singles and, of course, they are easier to remove both from the fish and, at times, from the net. They also have the advantage that a fish hooked deeply can have the hook left in situ if it is to be returned. I have a personal rule that any hook hoId deeper than a line drawn across the tongue at the scissors (for fish to be returned) is left in situ, avoiding further damage to the fish. I have used the single in all my tubes and Waddington type flies and found that as soon as a fish remains attached for a few seconds I very rarely lose them. I strongly recommend that you try this out.
| | |
| --- | --- |
| These are three examples where the single is applicable: a tubefly (right); a surface lure (below) and a Waddington mounted fly (below right). | |
| | |
The nights are now drawing in quickly and most of the best fishing will be found in the first couple of hours of darkness. It is rare to find that the fishing improves later in the night at this time of year and certainly dawn, which can be productive in midsummer, does not seem to hold the same prospects. One can also fish a surface lure from dusk onwards in September and the fish can be "on the case" from the off. Please remember that fish that take the surface lure often fight very high in the water and jump and thrash a lot. Stout leaders are needed to ensure that one is not broken and to land the fish in a timely manner before releasing them. It is very important to play fish firmly as many of the stale fish will need to conserve as much energy as possible for spawning and prolonging the fight is not desirable or necessary.
Many of the sewin fishermen will turn their attention to salmon this month if we get some suitable water for day fishing. Most of the Welsh sewin rivers enjoy a late run of salmon which can give some good sport. For those visiting the Towy, Teify or Dyfi or other rivers this month, always ensure that when preparing for your trip pack some salmon tackle with your normal sewin kit - it might well turn out to be very useful!
---
July 2015
The sewin fishing this year has been an improvement in most rivers, despite the miserable weather the night fisherman has had to endure. You will remember that cold, clear nights with mist on the water is very bad for fishing - well, we have not had to endure any of these! This year has been notable for cold, windy nights with at times heavy westerly winds making casting a real challenge. The fish on the other hand have run in large numbers in practically all the Welsh rivers and have been giving good sport for those who have been willing to work hard for their fish. There have not been many nights when the fish have been "on" this season, but catching one, two or three a night has been possible. The fish have been of excellent quality and thus far the majority have been fish upwards of 2lb with a small number of exceptional specimens in the middle teens and above. The school sewin will now build up in numbers in August and will give good sport on suitable tackle.
The Towy has fished well and very well at times with all the beats getting good quality fish. Abercothi and the Golden Grove fisheries have a good head of fish in all the pools and give an excellent opportunity for the visiting angler to enjoy some first class sport. Guides can also be requested on these waters and I would strongly recommend any angler new to night fishing to employ a guide for one or two nights to understand some of the details needed to be successful.
Many of the other rivers have also enjoyed good sport with the Dyfi, Ogwr, Tawe and Teify reporting good catches. Of course there are numerous other streams which this year have good sewin runs and could give the visiting angler some surprisingly good sport. The rain, unlike last year, has arrived during July in most Welsh rivers and many fish have been caught with the spinner and the worm during the high water periods. I do wish more anglers would use single hooks on their spinners and use circle hooks for worming. If one wishes to return the fish alive and well it is nearly impossible if it is hooked deeply with a big treble. A single hook on a split ring will expedite removal or to leave the hook in the fish if it is very deeply hooked. Single hooked spinners can be obtained from Gary Evans of Cardiff and probably from other retailers.
August is an interesting month for sewin and is very dependent on the water levels. If we have water at least 6" above summer low the school fish can be caught in streamy water with small flies on a floating line. My normal rig for this type of fishing is to attach 5' of the butt end of a tapered leader to my flyline and attach a 2mm ring to this leader. I then attach my tippet of 6' to this and tie on a dropper at the 3' point. Sometimes I will actually tie another dropper to the ring! I normally do not use monofilament or fluorocarbon of more than 8lb B.S. and sometimes 6lb if it is a little bright. I would fish a 5wt 10' or 9:5' rod and avoid wading as much as possible. Any trout flies can work although a Silver Butcher or similar double Size 14 (Trout) fly on the point and droppers of Mallard & Claret, Peter Ross or Black Pennel in size 12 will be pretty reliable. If the Westerly wind becomes strong (typical conditions this year) then one can fish this cast upstream in the waves on the tails of pools and retrieve just a little quicker than the current which can be exciting. You can also at times encounter a big sewin whilst fishing in this way which will give a great account on light tackle although with patience it should not present one with an impossible task of successfully landing the fish.
Night fishing will also popular still and with good numbers of fish in the pools, should give excellent sport. Any method will work but the surface lure will be certainly one of the "go to" flies in August. As the nights are getting longer one may have colder nights which (if there is no wind) will bring the mist in clear conditions. The best of the fishing on these nights will be early before the mist becomes blinding and one should concentrate on fishing hard for the first hour or two. The surface lure rarely works when there is a mist and the wet fly should be the method of choice.
Generally speaking the sewin will take smaller flies in August. I always fish a dropper and have noticed (not for the first time) that as the season wears on a single fly on the dropper becomes the catching fly. Early in the season a tube, snake or large Waddington lure fished on the point with another smaller tube on the dropper can be deadly, whereas in August a small Waddington or tube on the point and a fly of size 6 or 8 on the dropper will be all that is needed. Not only are the latter easier to cast but the single is an exceptionally good hooker of sewin as long as one has a good hooking angle.
Enjoy August. The fish are there and great sport can be enjoyed (weather permitting). Go out as often as you can, try things out such as new flies and methods, fish both by day if the water is amenable and by night to make the most of the greater numbers of fish in our rivers. One would like to think that next year also we will have healthy runs of fish but such is the fickle nature of our sport we will never know until it arrives!
---
June 2015
June has been a strange month. Although the water levels in most rivers have been favourable for night fishing, the earlier half of the month was a period of cold, windy nights making for uncomfortable fishing. Later in the month the temperature shot up and suddenly during this last week one has been able to fish in shirtsleeves at night for the first time this year.
Catches have been good on most rivers and as seen from the Towy report on WUF's "Sea Trout Blog" there have been good catches with the Golden Grove beats getting a credible 135 for the month and Abercothi also getting a similar number. Fish have been caught up and down the river and although the bigger fish seem to get the publicity it is nice to see that all year groups seem present in good numbers.
The Towy, along with a few other sewin rivers, are fortunate when there is a potential drought that a minimum water level is maintained. It also has the advantage that water leaving Llyn Brianne is cold to help overcome the high water temperatures which are the inevitable consequence of simultaneous sunny days and low water. Sewin do not take well over 66°F and all those rivers which are at present suffering these high water temperatures need rain to both give fresh water and, of course, to cool it.
The two pound fish are now in evidence on most rivers and these do give the angler (and visitor) a great chance of enjoying good sport. They are good takers and will generally take what is on offer be it tubes, waddingtons or flies. I fished the Towy on Sunday last and caught half a dozen fish between two and three pounds and all took a Size 6 Black and Silver single on the dropper fished above a tube on the point. I was fishing an intermediate sink tip, casting square and fishing the fly reasonably fast. This method gives a very good hooking angle and I only lost one fish during my two hours on the river.
Generally speaking any method will work in July. I know anglers that always fish floating lines but many (myself included) favour a sink tip of some form whilst others favour a slow or even, on occasion, a fast sinking line. The best advice I can give is to be persistent with your favoured method and generally the fish with give you some opportunities. I have never found that changing lines and flies is generally very productive once on the water as these anadromous fish can go through periods of inactivity and short periods of activity during the night. I usually find that one does best if one concentrates on the heads and tails of pools post dusk and also in the hour before dawn as this is when sewin are most likely to move on. I fish the fly with a fast figure of eight retrieve at these times whereas in the middle of the night I do fish much more slowly and concentrate more on the resident fish in the main parts of the pools.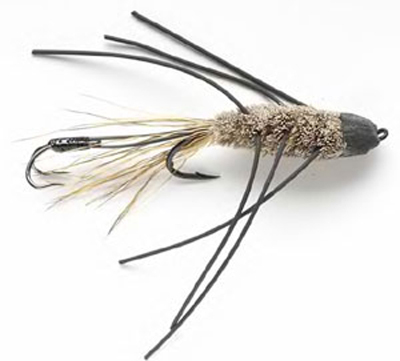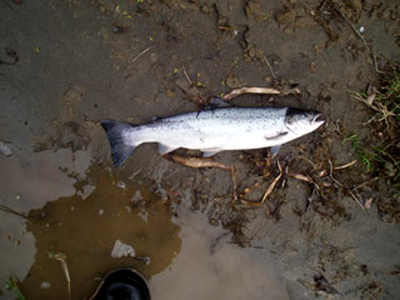 From the middle of the month the surface lure will become a very important part of the armamentarium. I do like fishing this method and although it is not always productive it certainly seems to stir up the fish. If one is fishing with a friend it is wise that the first fisher goes down the pool with the surface lure followed closely by the second fishing conventional wet flies. At times the first fisher scores well in which case both should change to this tactic but often the first fisher will have stirred up the fish sufficiently to give the second angler good sport. In the interests of a long lasting friendship the two anglers should swap tactics if the wet fly is the working method!
Always cast the surface lure slightly upstream and retrieve a little until you deem that the fly is opposite where one is standing. Then make a slow steady retrieve and keep your nerve if a fish moves to the fly until you feel its weight – then and only then tighten into your own bank. Fish the surface lure either on a floater, a hover type sinker or an intermediate - they all work although I prefer an intermediate tip. It is also an advantage here to have a tapered leader of at least 12lb breaking strain as it allows for the fly to land in a straight line which makes it more effective.
Any surface lure will work. The Jambo is a great favourite on the Towy and I have great success with my Llygoden Nôs (Night Mouse) seen below. Faulkus used cork and polystyrene type mounts and although no doubt successful, they are more difficult to cast.
What is important is that the trailing hook is not tied too close to the leading hook.
The fish in July will vary from fresh fish off the tide to fish that have been in the river some time and have lost most (or all) of their silver sheen. If you are fishing where it is acceptable to take a fish for the table please choose a nice 2 - 3lb fresh fish – they do taste so much better.
---
May 2015
June is always seen as month when the sewin fishing starts in earnest on all the Welsh rivers and streams. The Towy is the exception in that it will have some sewin present from the beginning of the season and although other rivers will all report some catches by the later part of May the vast majority of fish (and fishermen) will arrive from early June onwards.
Thus far this season has been notable for the number of cold, windy nights especially in May. This has made night fishing both difficult and hard work. Some fish are being caught on the Towy, but only in small numbers thus far, although the quality is still exceptional with many prize double figure specimens. The other rivers are now starting to get a few fish and the Dyfi produced a few in the high water mid month although night fishing is still not too productive. All the other rivers will now start producing quality, fresh run sewin - so it is time to get out there!
As this season has already started with fluctuating levels of water it is probably apt that I concentrate a little this month (as I had promised previously) on how to catch in the day. Some "wet" seasons my catch record will contain more day fly caught sewin than at night although the overall number and quality will be similar. As I have not spun for sewin since 1989 the methods which I will explain here as a real alternative do work really well but are methods which I have learnt from a number of anglers who share my preference for fly fishing.
Falkus was not much inclined to fly fish for sea trout in the day although he did use a large tandem style lure on a fast sinking line at times with some success. This will still work today if persisted with although a tube or a large weighted double hook (with dumbbell eyes) and a lot of flash in a long wing has worked for me in very dirty water. It is hard work and not too productive in my mind and it is probably better to wait for the dropping water after the spate to give at least 2' of clarity before concentrating on flyfishing.
Under the latter conditions one can catch fish on small flies with either floating or light intermediate lines. My personal rig would be 4' of the upper part of a 9' tapered leader attached loop to loop to my flyline to the end of which I would attach permanently a casting ring (2mm). To this ring I would attach my tippet of 6ft 8lb fluorocarbon and tie in one dropper about 4ft from the point. Although I am not fan of knot strength on fluorocarbon it does seem to work better than monofilament for this application.
The flies need not be special, I normally fish with a size 14 or 16 (salmon size) double on the point and a single size 10 (trout size) on the dropper. The flies would be a Stoats Tail or Haslam on the point (with maybe a little flashy material in the wing) and a Peter Ross or Mallard and Claret type fly on the dropper. I do not think the actual fly is critical as I have a flybox of flies which have, at times, proved to be irresistible to the fish and at other times not too attractive. It is a matter of confidence, if you tie your own flies it helps to tie whatever you may fancy and often you will be surprised.
These flies should be cast square to the current in the runs between pools. These are the places with 3 – 4' of depth during a spate but would not hold fish in any numbers during low water conditions.An added retrieve should be in the form of slow stripping or a fastish figure of eight, which is my personal preference. Before I have people telling me that to cast square under spate conditions will lead to the fly "skating" round - this does not deter the fish and they can often be seen with their dorsal fin furrowing the water as they follow the fly. The downstream belly is a must as the take usually takes place towards the end of the swing as the fly changes direction. On a floating line you will often see a swirl - this is where patience is a must, wait please for a contact and then pull firmly towards your own bank. The latter manoeuvre is to ensure that one pulls directly against the movement of the fish back towards the middle of the river and to thus get the best hooking angle.
I do like to fish the floating line for this form of fishing although on windy days the intermediate line not only casts better but gives a better drift against upstream waves. Using this method I have caught lots of sewin in the 3 - 8lb class and have also caught the odd specimen up to 16lb! You should give it a go especially on days when you meet spin fishermen on the bank who will say that the fish were taking this morning but are only following the lure this afternoon - this is the time when the fish will most definitely take the fly.
Windy days will also give us another slightly different opportunity to catch sewin under low water conditions. Where one suspects that a few sewin are sitting in the thin water at the tails of pools an upstream approach with a three fly (size 12 trout) on a floating line can be deadly. The flies should be cast up and across and retrieved a little faster than the current. The wind will be upstream which makes the casting easier and a leader set up of about 12' will be needed. The flies can be trout wet flies, Butcher, Peter Ross, Black Pennel or Mallard and Claret with possibly a small double on the point (14 trout) to settle the flies. This again can be productive especially where there are a number of fish present as catching one or two invariably does not seem to upset the shoal.
Of course there are those who catch some fish on dry fly and nymphs. Welsh sewin do not feed in freshwater and although the small sewin of up to 2lb can be caught on these methods (possibly the early inwater feeding habits have not been forgotten?) these are methods confined to late July and August when the smaller fish make an appearance. Day fishing for sewin is far more amenable to a normal life than night fishing and the body clock quite likes it! Let us hope now to have some day fishing (where I will be going this afternoon) in the dropping spate and some nice nights for some serious night fishing to make this a sewin fisher's season completely enjoyable.
---
April 2015
The new season has already started in earnest on the Towy and although the nights at this time of year can be exceptionally cold, a few hardy night fishermen at Golden Grove have been out catching fish up to 15½lb - it is hard work though! The numbers will increase steadily, especially if there is a rise in water which might put the coracles in the lower river out of commission for a few days. I saw a picture of a 22lb sewin caught two weeks ago by a lady coraclewoman - a truly beautiful specimen that, sadly, was destined for the smokery and not to continue its journey to spawn.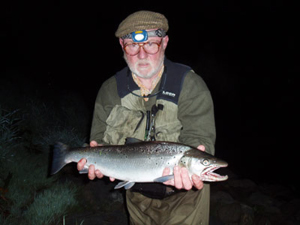 For the vast majority of sewin anglers the months of May and especially June, July and August will be the time to be out on the river at night. It is therefore time to organise tackle, replace, mend and to ensure one has sufficient flies in the boxes (as tying in the summer when one would rather be fishing is a frustrating business).
For the beginner, one should firstly identify where he/she is likely to fish this year. A rod of 10' 7wt rod is ideal for the Towy, Dyfi or Conwy whereas a shorter rod of 9' or 9'6" 6wt is all that is needed on some of the smaller streams such as the Ystwyth, Ogmore, Aeron or the Clwyd. There are runs of sewin on most of the rivers and streams in Wales and most of these are controlled by clubs which allows the visiting angler excellent access to some really good, productive water.
As for flylines, the vast majority of night fishermen do not need to cast any great distance. A 25 yard cast will cover nearly all the pools in the Towy and on the smaller streams not much more than half this distance. It is therefore a good idea to up the line weight by one for night fishing i.e. 10' 7 wt strung with an 8 weight line. This will give greater feel when night fishing and will allow the angler to cast big flies at night without problem. Early in the season a sinking line might be necessary, especially on the bigger rivers and when the water is a few inches above summer level. It is rarely necessary to use a line with a sink rate of more than 3" per second and although this can be a successful approach, it will need deep wading at times to ensure that when the fly ends the swing it does not snag the stones below where one is standing. It is a technique which needs to be mastered and although today the running line for most sinking lines is floating, making it more user friendly, casting big flies from a deep wading position is difficult.
From the middle of May most anglers would prefer using either floating lines (or sink tips) or the favourite of many Welsh anglers: intermediate lines. The sinking lines will then only be required late at night in the deeper pools as most of the fish caught will be caught closer to the surface.
The reels need not be expensive. Although the "tackle tarts" amongst us will always want the latest (and best!), I would not want to take an expensive reel out at night. A standard large arbour reel with some backing (the condition and joins should be part of ones checklist) will suffice.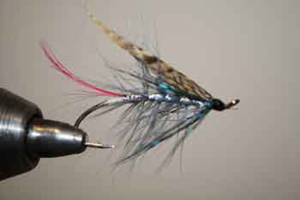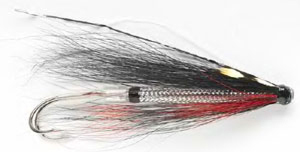 As for flies, I must admit that I have flyboxes full of differing patterns, although I spend most of my time using the same patterns! 20 years ago I spent a season using only black and silver flies at night in both singles, Waddingtons and tubes. I caught as many fish as any other year and of course it made fly selection easy. I would say that for most Welsh rivers, black and silver flies in sizes 4,6 and 8, Waddingtons of up to 1¼", tubes both in plastic and aluminium of up to 1¾" will cover most eventualities in many rivers. In North Wales some lighter flies of squirrel blue and silver are popular and there are favourites on most rivers which one can usually find by talking to local anglers. Snake flies are very popular with some anglers and although I have caught with them I, personally, would rather fish tube flies. Tandem type flies are also popular on some rivers and are excellent hookers of fish. Surface lures are also a must especially from July onwards. Please arm your tubes etc., with a single or double hooks as these are easier to either remove or, even if the fish is hooked deeply in the throat, to leave in situ rather than risk damaging surgery before releasing the fish. Of course it is not necessary to release all fish but one should be careful to only keep a handful of fish each season.
As for leader material, standard monofil is probably the best. I always carry spools of 10lb BS 12lb and 15lb for night fishing for sewin. The latter I only use with sinking lines where snagging the stones can be a problem at times. This allows the fly to be retrieved more often, albeit with a damaged hook, which is easy to replace on a tube!
We have now covered some of the tackle required and need to look at other items which are essential. Chest waders are either constructed of breathable or neoprene material. The former are excellent in the day and if one layers well at night will keep one comfortable on most nights, apart from the coldest. They are comfortable to wear but are not a good choice if one has to overcome brambles, thistles or other damaging plants around the riverbank. If you know your river/beat well or if it is well manicured they are ideal but if not, neoprene waders are more hardy and require less layering to keep one warm at night. The opposite is true on a hot day when they can be unbearable. Personally I wear (not too expensive) breathables for all my night fishing and hope/expect to get about 70-90 days wear from them. Thigh waders are not suitable for the larger rivers but might be useful in smaller streams where the need to wade is not great - please remember one cannot sit down with these on wet grass!
Head torches are in vogue and are most useful. There are many types, all of which function well, but the LED lights are an upgrade and the batteries last much better than previous torchlights. Personally I use the LED Lenser lights which, although expensive, compared to many are excellent and recommended for those anglers who spend many nights on the river. All torches have the propensity to let one down when least expected so my advice is to always carry a spare.
Although most anglers will wear Polaroid sunglasses for day fishing it is surprising how few wear eye protection at night, when it is probably even more dangerous. A pair of shatterproof clear glasses which wrap around the outside of the eyes are essential and can be bought very cheaply.
A waterproof camera can be useful and should be carried where it can be easily accessed when fishing. Please keep the fish in the water at all times and if there is need for a photo please lift the fish carefully without squeezing the area of the pectoral fins. It is easy to damage the internal organs in this area. The fish should be kept out of the water for a minimal time as their gills need water to support the thin membranes. When out of water, although there is plenty of oxygen in the air, they can't therefore breathe and prolonged exposure will definitely damage the sensitive organs.
On summer nights it is not unusual to be attacked by hordes of "noseeums" or, at times, midges and mosquitoes. Some midge repellent should be in one's bag. There are many types and although many anglers "swear" that one is better than the other I do not think it really matters unless one has very sensitive skin. If you have, those containing DEET should be avoided. Whichever you use it will make your fishing more enjoyable.
If the night is envisaged to be cold and clear a flask of hot tea or coffee can be most welcome, but do avoid the hip flask - spirits are not good for maintaining body temperature.
Lastly, please make your wife, girlfriend, partner aware that you will arrive home around dawn, cold and tired. Not everyone likes a cold hand, cold feet treatment at 5am in the morning and my wife of 36 years still complains every morning on my return, although by now I would hope that she is well accustomed to the whiles of the night fisherman!
For those of you who are starting out at this most enjoyable branch of flyfishing, I am certain you will find it both enchanting and most enjoyable. To you and to those already well immersed in the sport - the best of luck this season and let us all hope that we avoid long dry periods and that the sewin will run in good numbers.
Next month I will talk in some depth on day fishing for sewin - the hours are more civilised and there is excellent sport to be had at certain times.
---
September 2014
Most sewin fishermen have now put away their tackle until next season, disappointed that the rains which are normally incessant in September have not materialised. It has been a strange season on the rivers of Wales. Whereas the Towy started very well with some superb specimens in April and May there was a dearth of fish in June, which is normally the best month. Even July was patchy although the smaller sewin did make an appearance to improve the sport somewhat. In low water the rivers which are legally netted for sewin (the Towy, Teify and Dyfi) do suffer as the netsmen take a disproportionate number of fish, especially in smaller tides.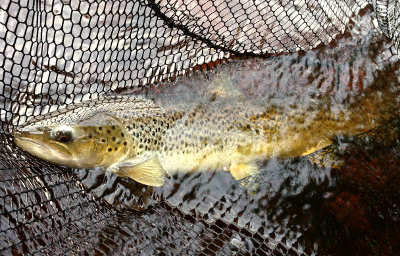 Until next season ...
The fishing in August picked up once again and the catches improved dramatically during the month and the good fishing extended into September. It is difficult to know why this happened but the lack of water and the high water temperatures played a part and the little rain we had in August probably mitigated this somewhat.
The moon cycle in June was also a little strange as I cannot remember another June moon cycle when we had continuous cloudless nights. Not only does this make the fishing tricky due to the shadows, but clear skies most often give cold nights and river mists which also make the fishing very difficult. This was followed by two weeks of easterly winds which often make the night fishing hopeless. Generally speaking the prevailing westerly winds in summer disappear at dusk unless there is a storm. The easterly winds on the other hand are not controlled by the same rule book and often strengthen as the night develops. For some reason trout and sea trout are really difficult to catch in this wind in the day or the night, although salmon seem to be affected less and are still catchable under these conditions.
This, of course, all happened during a period of drought and by the end of June many of our rivers had been reduced to very low flows and high water temperatures. The fishing was getting close to impossible as the sewin do not take well over 17°C and I recorded temperatures over a period of six weeks well in excess of this. Rain would have rectified this situation but for the second year in succession we had a very dry summer. Many anglers desisted from fishing due to the conditions but for those who tried the fishing was difficult and a brace of fish was a good catch under the prevailing conditions.
Some rain did arrive in August and this reduced water temperatures and gave the rivers some life with many anglers enjoying their best fishing for the season. The Towy fished well, as did the Dyfi and Ogmore and it was nice to hear of so many very big sewin being caught. I would hope these great fish have now located their spawning grounds as they will be gravid by now with only a few weeks to go. Normally spawning for the sea trout takes place in the smaller tributaries but at present many of these are inaccessible due to continued low water and unless we get substantial rain in the next few weeks it will be main river spawning for many sewin; a very rare event indeed.
Catches on most rivers will be well down this year. In some cases this will be due to a lack of fish, whilst in others it will be due to greatly reduced angling effort due to the dire conditions at peak time. This is why relying on catches as the benchmark for calculating numbers present is a flawed methodology as some rivers this year enjoyed good runs of fish but the fishermen stayed away.
I will now take a winter break but will be back in the springtime when we can discuss tackle choice and planning for next years fishing. We will hope to have a more "normal" summer and, of course, good runs of fish which will allow us all to have some stories to tell.
---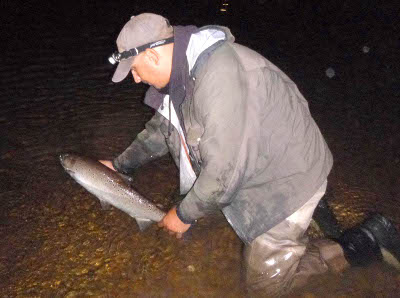 A good August sewin from the Golden Grove beat is returned to the Towy.
Photo: Jamie Harries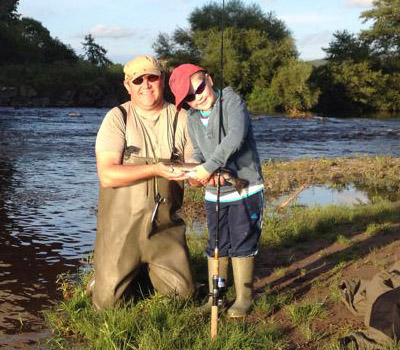 Young Ifan Davies from Llandeilo (on the right!) with his first ever sewin; a one and a half pounder he caught at a Llangadog Angling junior fishing lesson in August. See here for further information on lessons.
August 2014
The weather did break in the middle of August but strangely the precipitation was very local and whereas some rivers did have a small dirty flood, others seemed to miss it altogether. Despite this, longer nights and the many cloudy days have ensured that the high water temperatures of June and July are now history and most rivers are running more freely, making fishing more pleasurable.
The fishing has been good on the Towy and for those anglers who have not as yet found time to do some night fishing this river is still a good bet for some late season sport. Big fish have been caught although one needs to be careful with weight/length charts with August and September fish as they do lose a percentage of their weight after some time in the river. Better is to have a weigh net if one wants to keep an accurate record of their fishing exploits.
Other rivers have also done quite well including the Ogmore and the Dyfi where a number of good quality sewin have been caught. It is heartening to see that catch and release is now becoming increasingly popular on many of our rivers and an improvement in the handling of fish is being practised more widely. One will still need to be vigilant when fishing and I would recommend any sewin fishermen to use single hooks in tubes when night fishing and especially if they intend to spin with Flying Condom type baits in high water. Even when primarily fishing for salmon, sewin will often take these baits and the use of trebles should be avoided. Catches on single hooks are very good and although I was sceptical at first, my reservations were banished when I caught a number of jumbo sea trout in Patagonia on smallish single hooks with few losses many years ago.
The sewin is an enigmatic creature and one of its quirks is that in contrast to salmon, fish that have been lying in the river for some months are often better takers than when fresh. Fishing in August usually produces many more sewin per session than May, June or July, but of course the quality of the fish cannot be as good as earlier. In the main the run of adult fish tails off towards the end of July although small school sewin still enter our rivers up to the middle of September. Fortunately for the angler these smaller fish can be caught in the day with small flies on a floating line and can give excellent sport on a 5 weight rod.
As September moves on the nights become much colder and of course longer. The best of the fishing at night will be in the first couple of hours of darkness which makes it more sociable than in mid summer - one can at least get to bed without sleep deprivation. Please remember to layer well for the cold and take a hot flask with you, something you will need if you are going to do a lot of wading. We will also probably get some rain and the majority of anglers will then target salmon as the majority of our sewin rivers have a decent Autumn run of fish. The larger sewin do not usually take salmon flies in the day but the school sewin can often be caught then. At odd times, however, one will contact a big sewin which should be played very firmly and returned quickly to the river. By late September these fish will be gravid as they normally spawn in late October.
Please use single hooks and return all the fish with the minimum of fuss. Otherwise, good luck with the late season sport - it can be exciting!
lltyd Griffiths
---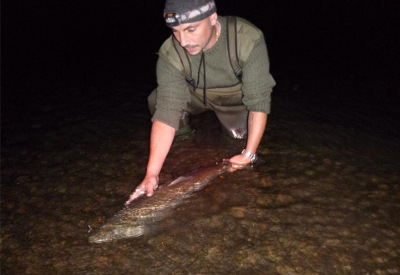 Nathan Probert returning a magnificent 14lb+ sewin on Golden Grove (Towy) last weekend. Photo: Jamie Harries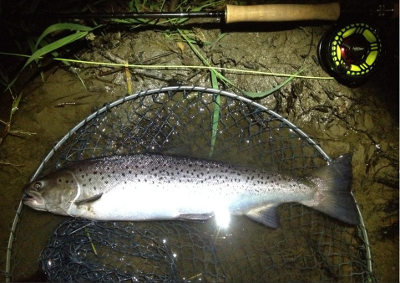 A fresh Teifi sewin caught and photographed by Steffan Jones on 15th July.
July 2014
This has been a bit of a curate's egg of a season. Initially the signs from the Towy were good and many big sewin were caught in May and early June. The first moon cycle in early June was totally cloudless on moonlit nights leading to low air temperatures, mist and difficult fishing conditions. This was followed mid-month by easterly winds at night which also makes the fishing difficult. Despite all of this fish were caught in most rivers up to the end of June even though by then the water temperatures due to a lot of sun and low water were rising into levels where sea trout cease to be interested in the fly. Temperatures above 66°F are regarded as being very difficult and during July the temperatures exceeded this daily on the majority of rivers. July was therefore a difficult month for the sea trout fisherman. The odd shower did little to mitigate the situation and many streams are now extremely low. Having said that, we have some hope for water as the forecast is for some wet days very soon. Let us hope that these come to fruition!
The Towy is luckier than most rivers as the compensation flow tends to maintain a "fishing" level. Some fish are still being caught but one needs to work hard to catch them. The Dyfi fished well until early July when the pools were getting nearly static with very little flow. The pools have good numbers of fish which sadly have little interest in the anglers' offerings although the odd one is still caught by the persistent fisher. Fishing is almost completely confined to floating line tactics as the floor of our rivers is covered in algal slime. Other, smaller rivers have found the conditions difficult and fishing has ceased on some due to the lack of water.
This piece must sound terribly negative to the visiting angler! There are fish, but they are not too interested, so how do we try to catch them? We have to apply a little logic here. If fish are not really interested they are definitely not going to chase our fly therefore dead drift with a floating line is probably our best ploy as this will keep the fly in front of the fish longer and there is a chance that it will take it softly (probably out of curiosity). Be aware that the take is going to be very soft as the fish will have not moved to take the fly and if you feel any resistance you should tighten towards your own bank to create a hooking angle. One or two flies can be fished in this manner and the initial cast should be square across the stream. Give it a try. As I detail below, it can really bring results.
I have a friend who is a camp manager in one of the famous sea trout lodges in Patagonia staying this week. I took him on Wednesday last to the Towy with no great expectation. I fished as detailed above with two plastic tubes and was lucky to land one of 9lb (which seemed surprisingly fresh) and an "older" fish of five pounds along with three school sewin. Having told my guest not to expect too much, he was quick to remind me that if this is how a river fishes when the fishing is bad, how good is it when the fishing is good!
Hopefully the rains will arrive very soon and with the drop in temperatures and the fresh, oxygenated water the fishing will improve. The initial flood will be terribly dirty and one should keep the kit dry until this has cleared. Sewin can be caught in a falling spate by many methods but the fly is equally as effective as the spinner or the worm. Fish small flies on floating or intermediate lines in the runs (not the pools) and move the flies quickly. Small flies including salmon doubles 14 and 16 on the point and two traditional trout flies in 10s or 12s on the droppers work well. Peter Ross, Mallard and claret for the droppers and a silver stoat on the tail can be a killing combination. Don't be fooled into thinking that this tactic only works on small sewin I have caught many big fish up to 16lb in the day on such a setup.
After the spate we should have nice water levels for night fishing and the mouse or the Jambo come into their own at this time. I prefer to fish these on hover lines or light intermediates and prefer a tapered leader for this fishing to aid accuracy between bushes and trees. Cast them at a slight angle upstream, take in the slack when you deem that they are opposite you and then retrieve slowly on the drift. Forget all movement to the fly until you feel the weight of the fish.
I hope the season for sea trout is going to end on a high note as do most other fishers. Many of the fish have had to endure weeks of low oxygen conditions and one should really be careful. If you want pictures at all, only take those of exceptional fish and please keep the fish in the water and don't move up the bank for the photo opportunity.
Illtyd Griffiths
---
June 2014
The season is moving on rapidly and all rivers are now holding a head of fish. Some of the smaller rivers are suffering from lack of water and also high water temperatures. The pattern is becoming similar to last year when a long drought affected the fishing badly.
The Towy continues to produce some good fish and now there seem to be numbers of 2:50 - 3.5lb fish in the system night fishing gets a little more exciting. These fish are usually ready takers when fresh and as the Towy water temperature (and level) is partially controlled by Brianne in the headwaters the fishing is probably better than some of the smaller streams. Fish of this size often take a fly on the dropper in preference to the tube or Waddington on the point of the cast. Single hooks are very good hookers of sewin and normally one probably lands more hooked fish on these than trebles. My preference is for double hooks on the point tube and a single on the dropper. Others do swear by the Secret Weapon and of course they can also be very successful. The small school sewin are now entering the lower end of the Towy and their numbers will increase into August. They can give great sport on lighter tackle and if they are present in some numbers I would advise that one should try for them with 5 weight rods to get the best enjoyment.
Other Welsh rivers are also producing good fish although as the water falls the fishing is confined to the deeper pools and runs. Small rivers such as the Ogmore have produced double figure sea trout and the majority of our rivers and streams have at least a small number of big fish now resident. Water temperatures of more than 19°C or 68°F are nearly hopeless conditions but one must remember that the water will cool at night. It is often the case during these protracted periods of dry, warm weather that the best of the fishing will be in the early hours and into dawn. Save your energy early in the evening and keep focusing on working hard after one o'clock.
If you get the opportunity to study the water in the day you might be lucky to see a good number of fish in the area you intend to fish. Don't be fooled into thinking that these areas are the only ones worth fishing as the fish move at night and often areas devoid of fish during daylight are the best taking places in these pools. Unless you know the water intimately this is where an experienced guide can be invaluable in ensuring that you are fishing the most productive areas.
Unfortunately the surface lure (Jambo on the Towy, mouse on the Dyfi) is best fished over water of less than 4ft deep and flowing well. This allows the angler to target areas some yards away from where the fly lands. This type of fishing is the only one where I believe a tapered leader is preferable as one often wants to cast a large fly accurately, a 9' leader made up of 7' of taper and a 2' 12lb tippet is ideal. At the moment the flow in most rivers is negligible which makes it less effective but one should always give it a try and even if unsuccessful it can have the positive effect of waking dormant fish. One should therefore go through a pool immediately after fishing the surface lure (unsuccessfully) with conventional weapons - one can be surprised. Even better, get a friend to fish the water 20 yards in front of you with the surface lure and follow to catch some fish!
There are many otters on our rivers at present. The numbers have increased greatly and the majority of anglers are of the opinion that these animals are being released. I have to admit that they seem to be "tame" and quite willing to walk around the banks at night quite close to humans. I have this year had a sea trout "stolen" by an otter and have heard of others suffering a similar fate. If you wish to keep a fish please be careful where you keep it as the otter is more than willing to help you eat it!
I think most of the anglers in Wales would like some fresh water - something we have no control on. While the water stays low and warm please remember to play the fish as firmly as possible to ensure that those you return have an excellent chance of survival and those you retain are despatched efficiently.
Illtyd Griffiths
---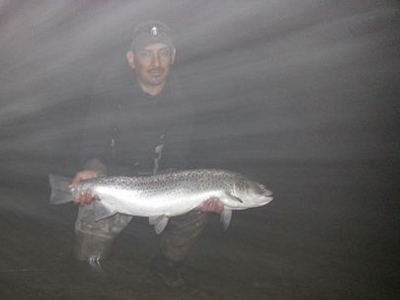 Rene Alleyne with an impressive 16lb sewin from the Golden Grove beat (R. Towy) in May. The fish was caught on a misty night, illustrating that fish can be caught even in what are normally considered "unfavourable" conditions.
May 2014
The season for sewin is now underway on all the Welsh rivers and cars can be seen into the early hours when driving along rivers all over the country. June and July are the cream of the night fishing when the majority of adult sewin will enter our rivers from the estuary.
The season so far has seen some impressively large sewin caught on the Towy, some at night and some spinning in daylight during short periods of high water. So far the numbers have not been great and hopefully we will see more 3lb fish enter the river soon as they tend to come in greater numbers and can give excellent sport. Salmon have also been caught during the freshets and I heard of one angler flyfishing above Nantgaredig Bridge catching one of 21lb and one of 15lb on consecutive days!
Fish are also appearing on the Neath and Loughor in South Wales and on the Dyfi and no doubt some of the other sewin rivers. All the Welsh rivers should be holding a decent head of fish by mid month and are all well worth a visit.
Many people new to fishing after dark ask "what is the best night?" This is really difficult to answer as the fish have a propensity to surprise and not follow human logic. In my own experience the week following a summer flood is best, on a warm night with some cloud cover and little or no wind. An East wind is very much a damper on aspirations as is a mist coming off the river in a cool night following a hot sunny day. The moon not only makes life difficult with shadows but is also very much a culprit in causing a steep drop in temperature on clear nights. Warm water, as we experienced in July last year i.e. over 64°F or 17°C will tend to put the fish off the take and one often will not get any activity until the early hours when the water has cooled a little. But as I already intimated, the fish are sometimes active for instance on a wet, windy night when one thinks one's chances are hopeless. Never give up if you are on the river – I managed a 14lb sewin two years ago in a storm, soaked to the skin and probably the only person fishing the river that night!
Fish will be caught on flies, tubes, Waddingtons and snakes as I mentioned last month. The surface lure, or Jambo on the Towy, Mouse on the Dyfi, will start picking up fish this month when the water temperature is above 56°F (12°C) and the weather is stable. The use of these will increase from now to the end of August as they become more effective. They are fished on either floating or light intermediate lines – I must admit that I prefer the latter as I tend to move less but hook more using this line. Some people like to fish the "secret weapon" type flies in June with a small flying treble situated a little way behind the single hook. Be careful with these as I have removed the treble from a number of anglers who have grabbed a fish in the dark without realising that the treble is outside the mouth. When the fish has wriggled they have been hooked in the hand by the weight of the fish and of course cannot easily get the fish unhooked let alone their own hand!
Lastly, I would advise that you carry some bug spray as both mosquitoes and "noseeums" (midges) can be very annoying, some clear safety glasses and at least two torches!
Illtyd Griffiths 1 June 2014
---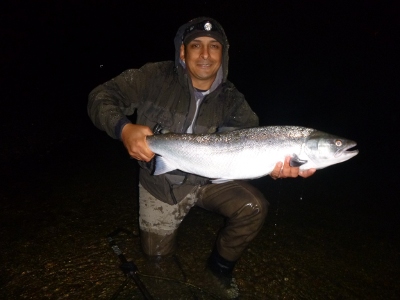 Rene Alleyne with a 12lbs sewin he caught from the Rofawr Beat of Golden Grove (River Towy) on 22nd April.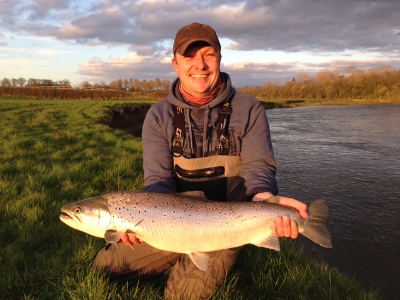 Berwyn Morris with his 11½lb sewin from Golden Grove on the 10th April.
April 2014
The sewin (sea trout) season has already commenced on some of the rivers in Wales. The Towy is always the earliest of the major sewin rivers and it has started promisingly, especially in the lower river below Llandeilo. Fish up to 15lb have been caught on the Golden Grove with both salmon and sewin showing in the catches. Earlier in the month fish were caught in the mid month flood spinning but with the warmer evenings and the present low water some re- ally good fresh double figure fish have been caught by the night fishermen. Abercothi have taken several fish to 9lbs and there have been a few fish reported from around Carmarthen. It is encouraging to see the majority of these fish being returned to conserve future stocks.
Night fishing is a very exciting form of fly fishing and still gets my adrenaline surging although I have spent an inordinate amount of my life chasing this (at times) elusive fish. The Towy is already producing and all the beats from Carmarthen to Llandovery are likely to hold some fish and are therefore worth a night or two. Early season fishing is rarely plentiful but the prize of a fresh big sewin makes up for the lack of numbers. Don't be surprised at not seeing much showing – the early fish rarely show much but this of course does not mean they are absent! One should concentrate on the runs and tails of pools at dusk and dawn and fish the deeper water in the pools in small hours. Simple sea trout lures on flies tied on 4 or 6 can be used on dusk and dawn whereas tubes, Waddington lures or snakes can be used in the pools with lures up to 5" being popular with some Towy regulars. The use of the famous "Jambo" or other wake lures is normally not used much this early in the season but becomes more effective as we come into July.
Flylines of floater, intermediate, sink tips and sinkers can be used. The intermediate is a good general purpose line as are some sink tips. The visiting angler should bring his reservoir kit and he will not be left wanting. Rods of 10' are the norm but a 9'6" rod will work equally as well. Of course fishing the Towy which is "big" compared to most sewin rivers does at times require some longish casts of 20 yards + and a capability to make these casts at home with your eyes closed will be useful. There is nothing more frustrating than arriving without putting in some time ensuring that you can fish effectively at night. The Towy has a mixture of club water and private fishing available. Abercothi and Golden Grove are some of the best beats on the river and can be booked through the Wye & Usk Foundation. There is also a lot of club water which although the fishing pressure is often heavier, especially during the best periods, but they can provide some excellent fishing at modest cost.
If you are going to fish for sewin for the first time, a good guide will be a blessing and if you are unsure of your casting a visit to a fishing/casting instructor in advance of your visit would be beneficial. Many clubs and private beats will provide (at a cost) guides.
The other Welsh rivers start fishing in June and there is a lot of club water available on most rivers. In fact in Wales the majority of sewin fishing is on club water and contacting club secretaries a good time before your visit would give the angler the best chance of getting on the river at the time he/she wants. Many of the club secretaries could put you in contact with a guide for one or more nights.
I will report on more rivers next month. I hope you have an enjoyable time fishing for sewin and please remember to treat this "Welsh Prince" with respect and return as many as possible - our rivers need your help.
Illtyd Griffiths, April 2014