Coarse Fishing Report By Adam Fisher
September 2017
September is a busy month for anglers on all UK rivers and for just about all species. Not only is the river environment a stunning place to be in early autumn, but salmon fishers are out in force as the fish come on the take again in cool water. Meanwhile, trout anglers are making the most of the last month of their season. For coarse anglers it's the month when many start making their first few trips in earnest as other river users drift away e.g. canoes, dog walkers, picnickers, swimmers etc.
Cooler conditions, higher oxygen levels and winter round the corner means the fish are getting plumper and fighting harder. Some species only really start to become catchable as they venture out from dying-off weed beds and bankside cover - chub, bleak and dace shoal up, with predators not far behind them.
Looking back at 2016, and through the 70 odd pages of catch returns from last month, angler volume clearly peaks in September. Having spent several hours wading through the feedback, I've extrapolated the following highlights - some teeing up further discussion, but the majority positive and all of interest. Thank you for taking the time to fill out your feedback.
The standout theme was that no two days were the same and as I write this at the beginning of October, the situation remains. A perfect example was from CS of Brentwood's group, who, when fishing Middle Hill Court at the start of the month, expressed indifferent conditions over 3 days but with varying results. They near enough blanked on day one, then reported fish being caught steadily throughout the following 2 days with the tally for the 3 days being 36 barbel and 22 chub. In this instance it may infer that swims were built up to become steadily more productive but throughout the month other anglers' experiences were similar, with the river seemingly devoid of fish one day and fishing superbly the next, and vice versa.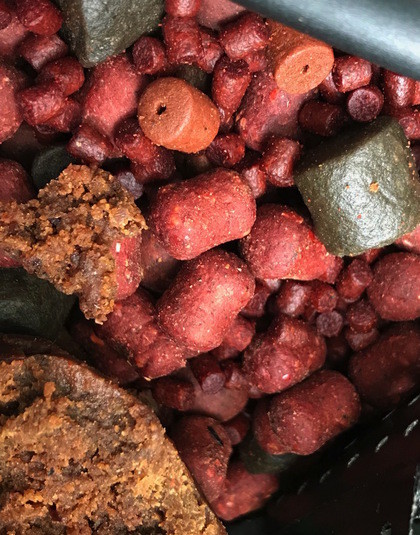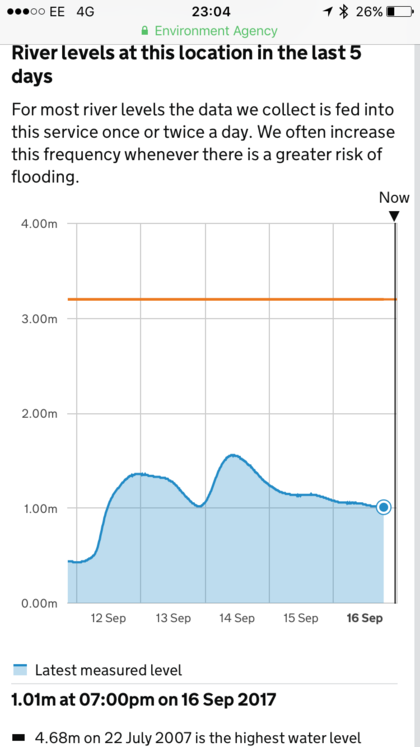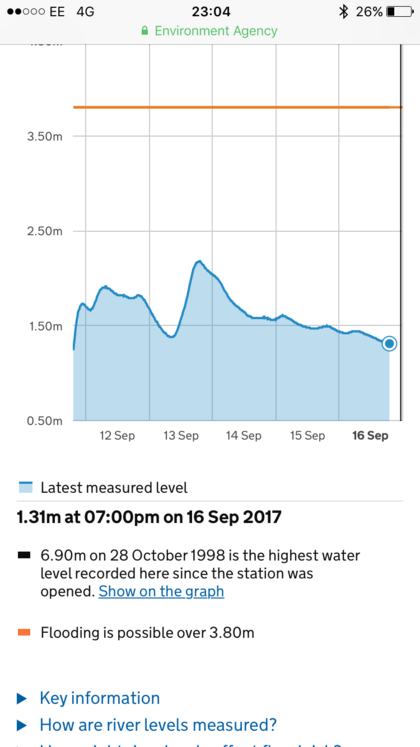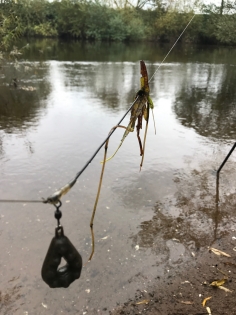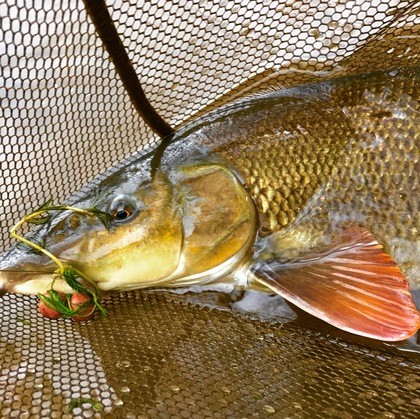 It's been a hit and miss season in general. There are always numerous theories to why such inconsistencies occur, but I just think that's the way it goes, as fish adjust to the changeable temperatures and flows that we've had, ultimately becoming fussier as to what attracts them food-wise. It could be pellets and feeders one day, single baits and leads the next, then only trundled meat and marginal feeding the next. Is it fishing pressure or do their dietary demands vary and feeding habits differ from day to day? I know carp prefer fish meal early season, post spawning, but what makes luncheon meat more favourable to pellet when to us it gives off less attraction? It's this that keeps us guessing and one of many things that's so alluring in our pursuit to catch fish. Isn't what we all do before and during each session is work out what they might be feeding on as well as where and when? As the fish can't talk then that's pretty much all we've got to go on, and when we don't catch, there must be an excuse! I know I have an armoury of them!!
Early in the month the river was low and clear and, like August, most reports were of action limited to the last hour or so as the light faded. It's hard to resist the temptation not to fish through the day and wait for the best time. Just being there watching the river environment go through its diurnal rhythm is enough to keep most enthused but proving the theory that timing is key was TD and friend from the Wirral - they fished only 15:00 to 19:00 on Lower Backney and the result was 16 barbel in just those 4 hours. Conversely, there were reports of people going home biteless by 15:00 as they just felt it wasn't going to happen. As I've encouraged before, fish early, then at lunchtime go for a wander and bait a few likely swims. Take your Polaroids and watch the water (even on dull days it's surprising what you might see). Then, after lunch and perhaps a nap, return with renewed hope - you almost get 2 days in one that way! Backing up this approach were numerous reports of a few barbel caught early, then a lull until mid afternoon when, like a light switch, the fishing would pick up again.
The usual fisheries still fished well despite the generally inconsistent sport: Courtfield produced a good stamp of fish if not the numbers, whereas a few hundred yards downstream Wyebank was producing up to 46 barbel in a day. The biggest was around 6lbs with most in the 1-3 lb bracket, which is great for the future and testament that Wyebank is clearly a schooling ground for barbel. Perhaps then the larger fish move up into Courtfield to grow on in the deeper and slower water? LW's party of 2 anglers from Canvey Island were cleaning up on the Creel and Backney, however. The results were pretty impressive:
5th - The Creel, 24 barbel, 11 chub. Upper Backney 25 barbel, 1 chub
6th - The Creel 31 barbel, 13 chub. Upper Backney 21 barbel, 1 chub
7th - The Creel 28 barbel, 6 chub, Upper Backney 19 barbel, 6 chub
8th - The Creel 36 barbel, 5 chub, Upper Backney 2 barbel, 2 chub
An angler then followed on Upper Backney on the 9th and had not one bite. Regardless of tactics, this is another example from this month of how a fishery can just switch off overnight.
As the seasons go by I'm concluding that some beats are more susceptible to changing levels than others, especially low levels. I think the fish move and shoal up more depending on the morphology of the river bed - certain stretches having more defined 'honey spots' as the levels drop.
I gave Whitehouse a mention a couple of months ago - a fishery that was one of the most popular in the Passport a few years ago. It's seen a steady drop in angler bookings over the last few season however, no doubt due to negative reports of anglers on the far bank and, of course, that notorious diesel pump. There were a few negative reports again this month but I'd like to reiterate that access is good and if you move away from the opposite bank presence (mostly confined to the middle of the beat) there's still some very peaceful and productive fishing on offer. One angler contacted me directly and I did my best to put him on fish - the report was positive and that they had plenty of barbel and chub from top and bottom limits of the beat, with no interference from other anglers.
By the 2nd week of September the whole river felt in need of a flush through…again. We got some rain around the 9th and even though the rise was small, it was enough to release all the flotsam (weed and early leaf fall) that had built up in the eddies and slacks. Reports then were of anglers struggling to hold bottom for anything more than about 10 minutes. This continued on the 10th as strand after strand of the vibrant green ranunculus weed made its way downstream. Many anglers ask me why this is and there's that much of it that most conclude there must be cutting going on somewhere upstream. Yes, there's some cutting in the height of summer, when it's so dense the rowing regattas have to manage it, but this time year I believe it's a lot do with swans. Often in groups of 30 or more they rip it up, or at least damage it. The signets are about big enough in September too and they are being taught to do the same. With the weed becoming brittle as temperatures drop, then so the slightest extra push on the river and downstream it comes.
On the 12th September there was a good metre or so rise on the Wye. Much of this came down as cold water from the upper catchment (peat stained and black tea coloured). As such the fishing literally died in places. However, on the 14th, just after the levels started falling, another pulse of over a metre came through - see image. This time it was coloured (turbid), which is evidence of lower catchment run off from the fields - usually this is similar temperature to the main stem and so has no effect on the fish - in winter it usually improves things. I was starting to question the distinct lack of chub caught this summer as usually they're active all year, but faith was restored with catches picking up considerably in this coloured water.
The river again ran off steadily over the following few days and reports were of "good colour" in the river. I've always said the Wye fishes better in the run off and this was certainly the case over these few days. Nothing really stood out but catches up and down the river consistently improved. This said, as the spate fully ran off, the inconsistency returned but with earlier unproductive fisheries picking up! HCC produced 15 + barbel for a couple of days, Middle Hill Court too giving up 17+. Fownhope 5, that had fished well right up to September but then dropped off, also picked up again with 22 barbel reported here on the 21st. Conversely the more consistent stretches were struggling again. Even The Creel and Backney only threw up a handful of fish over a few days that week.
This pattern generally continued right up to the end of the month. Some stretches only fished well in the evening, others fished throughout the day, but just like the beginning of the month this varied from day to day. To be honest, this is what we'd expect as we really enter autumn anyway - I'd be happy with a good solid day of just a few chub and barbel.
Moving on, as already mentioned, chub numbers picked up by the end of the month, and nearly everywhere had reported a few good days, including the expected good chub beats of Foy Bridge, Holme Lacy 3 and Sugwas Court - the latter not being far from Perryhill above Hereford. This is a wild beat, and it's the owner's wishes to remain that way. We describe it as such and it always pleases me to share a report from any angler who accepts and enjoys it for what it is:
D. G. from Haverhill
Saturday 23 September 2017 (1 week ago)
Area: Middle Wye
Beat: Perryhill
Fishing: Coarse
No. of Anglers: 2
A very wild, but beautiful section of the river. The cows look intimidating, but are harmless. Access to swims is very limited, jungle warfare, very steep banks. Only a few canoeist.
Fishing was OK, feeder fished with mashed up luncheon meat, hemp and micro pellets in the feeder with pellet as hook bait. Landed 4 barbel 4-6lb and 4 chub 3-4lb. I will definitely return.
4 Barbel, 4 Chub, 2 Other
Marsh Court is a fishery that has received some negative reviews in its first season. Despite best intentions that anglers would relish the wildness and find their own swims, I apologise on WUF's behalf that it's been "a bit of a jungle". I discovered the fishery some years ago and after lengthy negotiations with the owner, they were fortunate to be able to offer it to you this year. Knowing the banks during the winter I was confident anglers would find their way even in summer - there are dozens of ledges and perches along the mile + of bank. I was wrong, and the disappointment conveyed to the booking office has been clear. Marsh Court has great potential though and this year has been notable for the density of bankside vegetation right throughout the river. This is exacerbated on such an isolated and wild fishery and the hope is with more positive reports such as the following, more anglers will fish there and so the more productive swims will become apparent.
Friday 15 September 2017 (2 weeks ago)
Area: Middle Wye
Beat: Marsh Court
Fishing: Coarse
No. of Anglers: 3
Fished maggots, river still high but looking good. Other species were Dace. Small Pike took maggots. Most of the Chub were small but several over 3lb. Barbel caught on pellets, best 9lb 5oz.
Only one Angler fished, others did not fish. Excellent day's fishing, but gardening required and banks steep and tricky.
1 Trout, 3 Barbel, 16 Chub, 1 Pike, 11 Other
---
B. S. from Bourne
Saturday 23 September 2017 (1 week ago)
Area: Middle Wye
Beat: Marsh Court
Fishing: Coarse
No. of Anglers: 1
First time here at marsh court, good access to the river if you wanna risk it to car park 3, the ground was dry so I took a chance, got out ok.
Another beautiful stretch , I fished the faster flowing water not far from the hut , nice to see some colour in the water. Took a while to get a bite, after a lot of casting around, but once I found them the bites came nice and steady, usual pellet /feeder tactics, fished from 11am till 7.
Both chub about 3lb, biggest barbel 9:80 and couple of other chunks, great days fishing definitely coming back, so peaceful didn't see a soul all day
5 Barbel, 2 Chub
We've received increasing reports of trailing hooklengths found in fish. Now, whilst the majority of criticism is that people are not using stout enough tackle (6lb), there have been reports of fish trailing heavy hooklengths too (25lb). Over clean gravel and with a well actioned rod, there's no reason why you couldn't land most barbel on 6lb line. However, if there is any damage to the line through abrasion, then 6lb will part like cotton. If using, say, 10/12lb line, it will have better abrasion qualities and even if damaged will more often than not still hold out for most sized barbel. 25lb hooklength should have even more, and so on. However, if we're talking about line grating on rocks rather than abrasion on weed, branches, or gravel, then even 50lb braid will part like cotton. Abrasion resistance is what we're really trying to achieve when it comes to fishing the Wye, not resistance to cut offs from rocks/boulders.
I use 10lb fluorocarbon most of the time - it's got great abrasion qualities and although stiff compared to braid, this anti-eject property for me seals the deal, especially on a running rig. Also, whether the line is 6 or 60 lb I think makes little difference to the fish shedding the hook. Barbed and barbless is another matter, however with WUF rules, of course, being barbless only.
It's not always big barbel that cause the problem either. Often the 'shoalies' - 4-6lbs will tear line off you before you know what's happening. This turn of speed is why they're known as the freshwater bonefish. Big fish generally hang in the water and more often than not swim upstream. This action of swimming upstream allows them to swim up and into weed beds, also to drag the lead and feeder around if pressure's not kept on. Of course, every fish that's lost seems a big one but in my experience it's the smaller ones that test the tackle, the big ones test the line's abrasion resistance.
What's for sure is that despite reports of trailing hooklengths, all fish seem to be in as good a condition as they can be. One angler reported the following: "Whilst noting previous comments regarding fish with hooks or line attached I can only say that in numerous visits to this venue I have yet to see anything other than fish in pristine condition."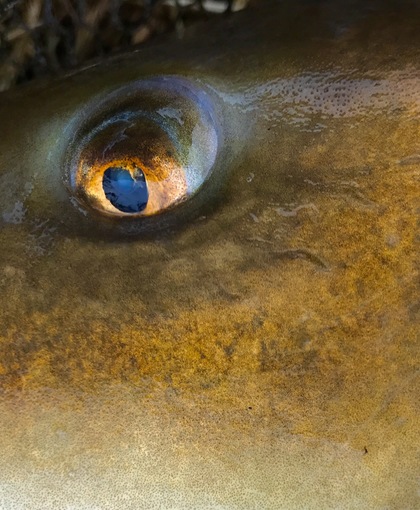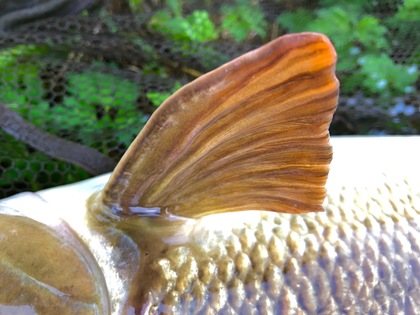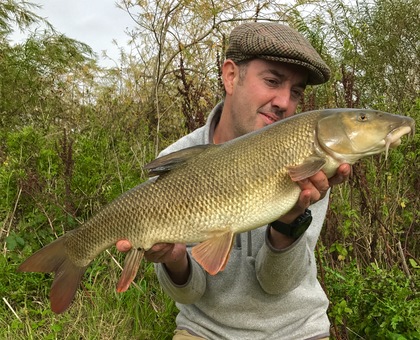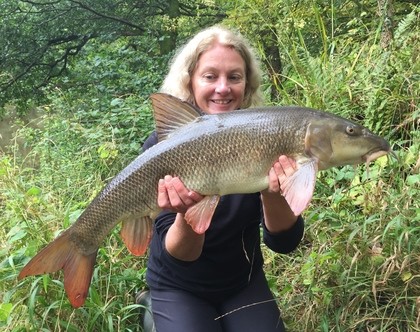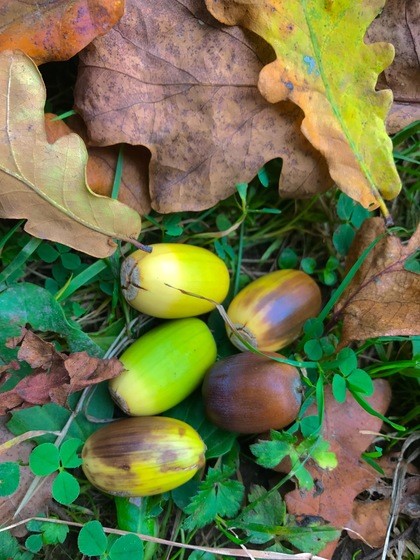 The fish are taking on their autumn colours too - deep bronze with orange and coral colours to their fins. The red spots left by lice that got so many anglers worried about, have gone too. As expressed before, lice are an annual occurrence in summer, and seemingly of no detriment to the fishes' welfare.
Either way the big barbel have certainly started to put in an appearance. Results from the month as follows:
10lb and 11lb from How Caple Court
10.90 from Upper Backney
10.40 from The Creel
11.10 from Wyebank - considering it's doing mostly small fish this is a superb specimen - the mummy perhaps? Or the daddy even?!
Congratulations to MK from Boston too - he had his first Wye double from Sugwas Court at 10.2
I've personally heard of many other large barbel being caught on private stretches, with even a couple of verified 13 lbers. (7899) Wye barbel are getting bigger and it really is the time for them, so I encourage you to get out there before it gets too cold. Tactics? A big piece of meat or a 'donkey choker' halibut pellet cast in the margin at the end of the day or at the tail of your swim as the light fades.
We started to get far more pics in with catch returns by the end of the month. This feature was new for the OBS in 2017 and I really don't think it's being used to its full potential. Please take a look through some of them in the catch reports and please keep them coming. Grip and grins are great but I'm not encouraging them all to be trophy shots. I think we'd like to see more scenics of the rivers, wildlife and of anglers in swims etc - this gives other anglers more of an idea of what to expect. That said, I love the image shown here - a very happy angler!
Going into October, we're traditionally into the start of the predator season. However, we've had a distinct lack of reports of pike or perch striking on preyfish or stalking a hooked fish to the net. Last year wasn't great for pike fishing but I put that all down to conditions. Let's hope there isn't some other sort of lull in populations.
Much like chub catches going up last month when the weed etc died off, I'm expecting that the other predators will follow suit soon enough. There's certainly enough minnow and other fry life around, which I'm sure you'll have noticed - the river is teeming with small fish! What to expect barbel and chub wise? Well, after many autumns on this river I'd say a good solid day would be 3 or 4 chub and a few barbel. Then again, nothing's guaranteed…a warm flood could have you sacking up, a harsh frost could leave you biteless - the only way to find out is to get booked up and go! It'll be an adventure whatever, just as Chris and Steve describe below.
Beat: Middle Ballingham & Fownhope No.8
Fishing: Coarse
No. of Anglers: 2
Difficult day fishing wise with one barbel and a few chub landed between us, bright sunshine and the colour dropping out through the day might have had something to do with it I think, this beat has great potential When conditions are perfect. However, and this is a BIG however! what a stunning place to enjoy a days fishing! One of the most picturesque places I have ever fished. The wildlife and scenery is unbeatable in my opinion and the fish were absolutely immaculate specimens. all chub ranging between 3 to 5lb mark and the barbel was a shade over 8lbs so a big barbel for the wye and a new wye PB for myself. Many thanks to the wye and usk foundation from us both for a very enjoyable day in simply breathtaking surroundings.
Chris and Steve.
If anyone finds the rod below, I'm sure the angler would be most grateful. Sadly it's not the first time and certainly won't be the last. Please contact the booking office if you find anything.
Until next month, when autumn will be in full flow, I wish you tight lines and whatever you fish for I hope you enjoy!
Adam - Angling Dreams
FINAL FEEDBACK
R. M. from Berkhamsted
Sunday 1 October 2017 (4 days ago)
Area: Middle Wye
Beat: Foy Bridge
Fishing: Coarse
No. of Anglers: 2
A nice day's fishing in good conditions. Nice colour in the river and rising slightly throughout the day. Between two anglers we caught eight barbel and numerous small chub. The average size of the barbel was smallish but it was good sport and I would book it again.
My fishing partner had an unfortunate accident in that his rod and reel were both pulled into the river by a passing tree branch while he reached into his bag for his flask. If anyone happens to turn up a Korum Neoteric rod + Shimano Baitrunner he would be very happy to be re-acquainted with them.
---
August 2017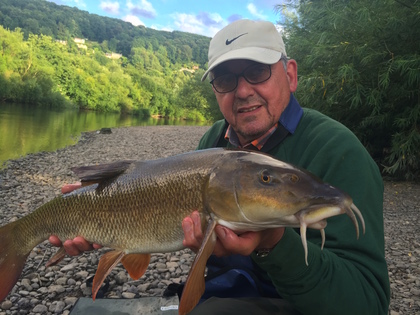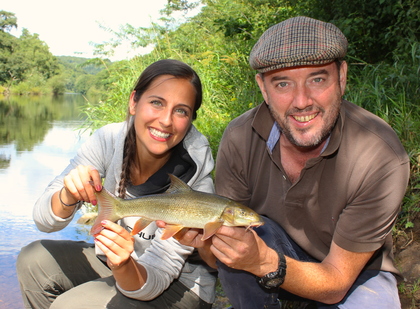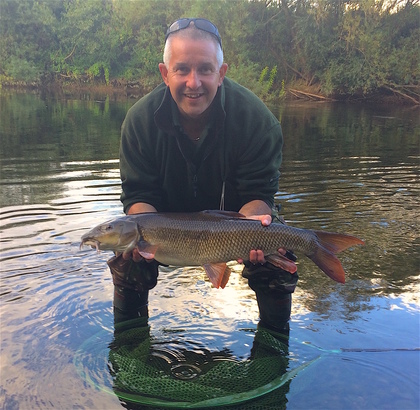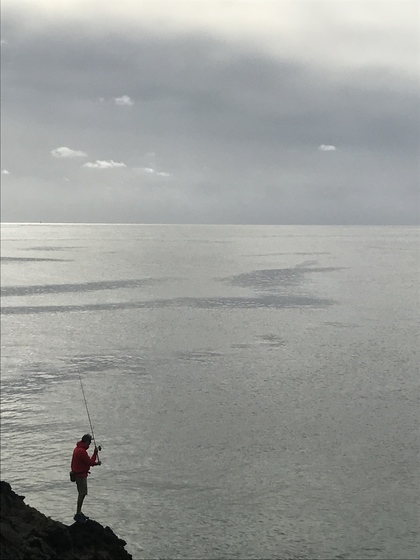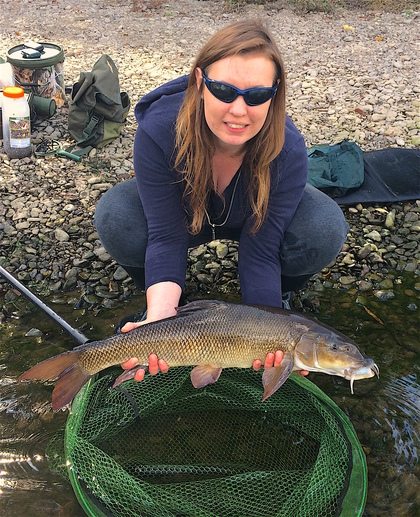 As I've expressed before, August can be a real hit and miss month for fishing. You can get low conditions, lots of canoes, and finicky bites from fish. This August, however, the feedback was generally positive, with the exception of canoes of course - they're definitely growing in number! Just about everywhere fished well during the month though and although the river was low, it was great to have the water gin clear for most of the time. Looking into the depths you see the ranunculous weed waving in the current and the longer you stare the more things come into view - the rocks, the gravel, mussels, minnows, gudgeon etc etc. Just in the margins there are mini environments and on a bright day I can stare for hours watching a bustling underwater world. A certain Hugh Fearnely-Whittingstall thinks the same and it was a joy to spend yet another day with him and his team filming underwater - the show is called "Hugh's Wild West" and is due for airing this autumn/winter. I'll keep you updated. Also on TV this month starts "Fishing All Stars" with Dean Macey and Adam Rooney - one of the episodes is on the Wye and having been part of it I know it's sure to be a good show.
As the month went on the fishing took a distinct turn to being better early and late, with many bites not coming until after 4pm - it was described as if turning on a light switch, where after a biteless day up to a dozen fish could be caught in just a couple of hours. If you're fortunate enough to live close to the river this is ok, but for those that travel I know it's frustrating - my advice is then to fish early and late and take the middle of the day for a long lunch and siesta. I haven't had a chance to do so much fishing myself this month though, so the pictures in this report consist mainly of other happy anglers, with some nice fish amongst them too. What pictures are of me are from rock hopping down on the Pembrokeshire Coast - I was amazed at the clarity of the water and although no bass on this occasion, I caught some stunning wrasse. It's this diversity in my fishing that always allows me to come back and see the Wye as I do, and hopefully interpret the feedback and convey in the reports as I do. At the end of the day it's all fishing, no matter where you do it.
We had some decent fish reported with one chap having double figure barbel in consecutive days, the largest of the 2 weighing over 11lbs. As with the rest of the summer though the story is of lots and lots of smaller barbel. I heard of one chap having over 30 of under 1lb. This is great for the future, but it would be encouraging if other species followed suit - we've had chub population explosions before, now barbel, perhaps perch too, but what's next? Maybe dace? Now that would be good.
To get the negatives out the way we did have a lot of canoes, they don't seem to be going away. The notorious diesel pump at Whitehouse is still going - although catches of barbel still remain good. There were many reports of barbel with lice - many people exclaiming how this can't be good for the fish and they remove them. This is not a new thing though, and I never take them off - they're there for a reason and they don't seem to be doing the fish any harm. My advice would be to leave the lice where they are. We had a number of reports of litter and faeces - I put this down to the time of year and hopefully as we enter autumn this sort of thing should get better. There's no excuse for angler's litter though and as always we must all do our bit and pick it up if we can - the fishing gods will pay you back!
Around the 20th of the month there was some rain in the catchment and the river began to rise. This really got the fishing going and with the best tactics being pva bags and leads, lots of barbel and chub were reported, with most beats producing 20 + fish days.
Towards the end of the month, as we had a few cooler evenings, meat became the stand out bait. I remember this happening last year too - when pellets couldn't buy a bite. Meat is a really versatile bait. You can make it into all different shapes and sizes and fish it numerous ways too, from rolling/trundling it along the river bed, to fishing it static, to fishing small chunks under a float. I'm not sure why it's so effective at this time if year - maybe it's something to do with the colour? The oil content?
Going into September we're really getting into the keen coarse anglers time. The river gets quieter with other users and as the leaves change and the mornings get misty, the river takes on a whole new majesty. I'll be getting out on the float for chub and trying to find some dace, and overall look forward to every day in September as my favourite time of year.
With maggots permitted from the 14th of the month I encourage you to do the same, and look forward to the catch reports this time next month. Until then tight lines and enjoy your fishing.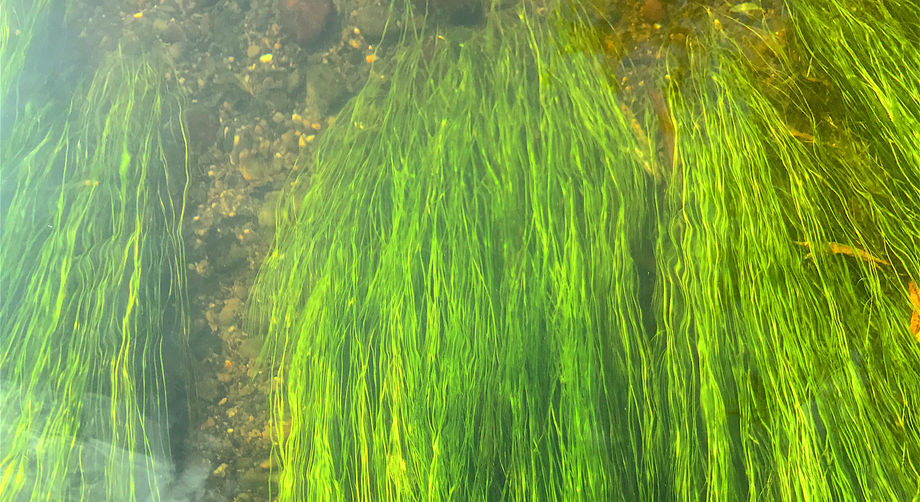 ---
July 2017
The headline of the month has to be the clearing of the filthy algal bloom that has coloured the Wye this spring and summer. I make it over 6 weeks of less than 8 inches visibility, and this is unprecedented. Apart from a brief flush that resulted in a very little rise but clear water, there has been nothing in the way of a true spate that we needed to fix the problem. There was a considerable rise towards the end of July, but this was followed by a day of warm weather and yet again another week or so of a miserable looking river.
This algae bloom is a common occurrence in spring these days but to go on as long as it did was really frustrating. It's left a horrible slime on the gravel and rocks too - until we get a good flush through please take care when wading. In fishing terms it doesn't really affect fish feeding on scent, but of course it means running a float is nearly impossible as the fish just don't see the bait. I think that overall it affects the angler by just being pretty uninspiring.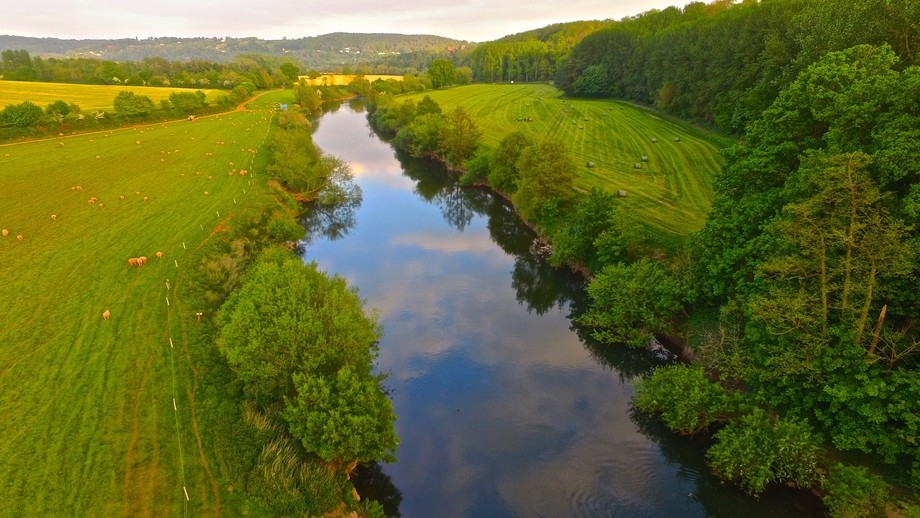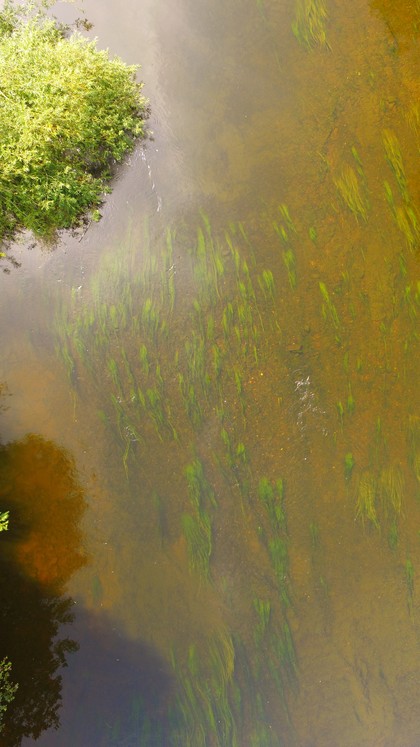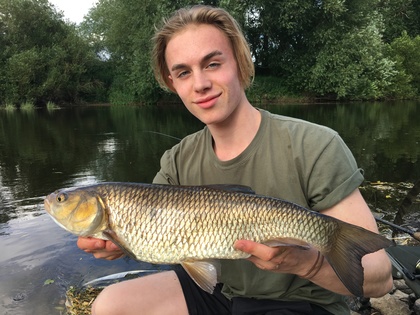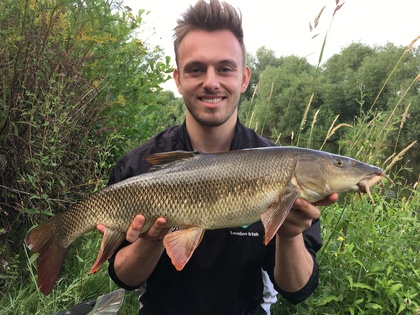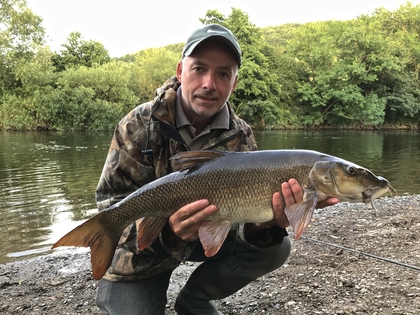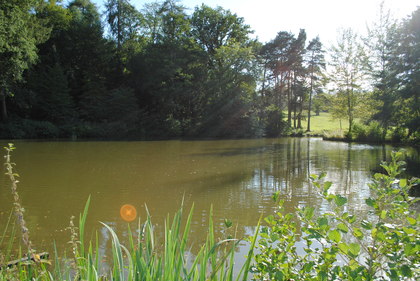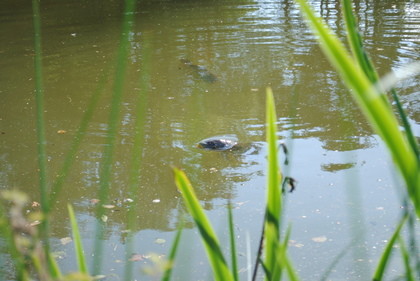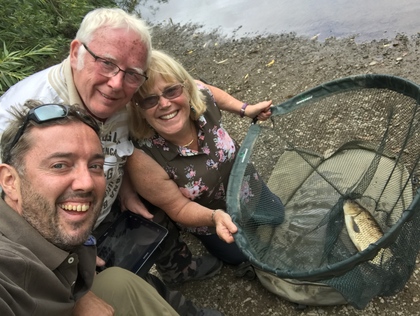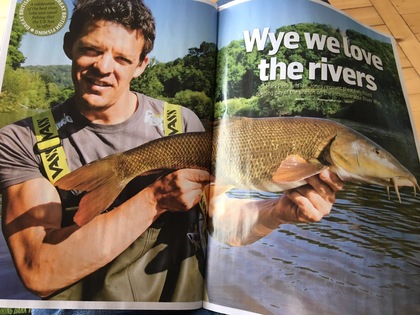 Eels are no stranger to filthy water, maybe that's why we've seen an increase in catches of these over recent seasons. I'd like to think they're on a comeback of sorts, certainly the elver runs have been reported as strong over the last 3 or 4 years (2017 sadly an exception though). It seems that just as we get excited about a few eels turning up in catch returns, you then don't hear of one caught for a while. Good to hear all the same. We even had a few late shad still appearing towards the early part of the month. What's certainly been on the increase is the number of small barbel - I've had several midday sessions where all I've caught is 4 or 5 barbel of about 1lb. Looking back through my reports I know that a few have always turned up on the float but this season they've almost become a pest! It's a good sign obviously, not just for future barbel stocks but for the health of the river as a whole. You actually get a great sense of how powerful these fish are when you hook one as a 1lb fish gives the same bite as an 8lber, and even takes line now and again. Their strength is quite astonishing - they're proper freshwater bonefish.
Whilst we've had one or two double figure barbel reported, there's been nothing really notable. Ok, it may not be the time of year but I would still expect some large fish to show up, especially as rod effort (angler numbers) is greater than ever. It's not all about size though and although on a certain social media forum people are moaning that the Wye has gotten "tough", the sport is still as good as anywhere in the UK when it comes to numbers.
Despite the aforementioned algal bloom and consistently low levels, July fished pretty well, albeit in patches. On the 2nd July PE from York proved Fownhope 5 to be one of the consistent beats for this year - they caught 19 barbel and 15 chub between 2. On the same day KP from Bristol banked 9 barbel and 20 chub from Courtfield. On the 3rd DC from Molton banked 20 barbel from Upper Backney, whilst DW from Cirencester had 12 barbel from How Caple Court - there were continuing good reports from here as the month went on, it's a fishery back to form almost but it's confusing when we hear the following...
"Disappointing. Very hot day. Followed tactics employed by recent anglers ie. variety of pellet hookbaits fished on the lead with loosefeed. Barbel all under 1 lb, largest chub about 2lb. Although it was a pleasant setting, I cant say I saw or experienced anything that justified the £23 day ticket price tag. Some swims were unfishable due to their incredibly steep nature, and others involved such a steep step down to the flat level that I (as someone with limited access due to knee injuries) was unable to fish."
All I would say to this angler is please consider that you fished the river when it was extremely low and in tough conditions. If you had added a couple of larger barbel to your catch, like those who had recently fished the beat, would you have then considered it worth the price? It's sometimes hard to remember, especially after a tough day, that even the most expensive fishery can turn up blanks to the best of anglers if the conditions aren't favourable. Access can change in different water levels too. Beats that have decent access in normal flows can become difficult in low or high water. Yet again it's another example of how varying conditions can have impacts that are in complete contrast to expectations.
On the 5th 22 barbel were caught from The Creel, followed by another 20 from How Caple Court on the 7th. Most reports over these few days were of fish being caught after sunset, which is typical with summer fishing. There were several highlights over this period: LS from Bury St Edmonds catching 38 barbel from Lower Backney, 22 barbel from Holme Lacy 4 and 50 odd from Wyebank. Many reports however stressed the need for rain to freshen the river up.
Sugwas Court has been a fishery that has come back into form and this is a perfect example of how stretches fluctuate from year to year. On the 10th GP from Basildon reported 14 barbel and 18 chub, whilst earlier in the month we'd had complaints about the quality of the fishing. The second of the following reports keeping things real though, reminding us of what it's all about.
"Directions for Orchard not very clear..multiple choice of gates.. we chose the wrong one first of all and wasted 30 mins .Parking at river then requires Anglers to navigate a style not mentioned in description. Then access footpath not suitable for a trolley or barrow. steep in places not suitable for older anglers. No access to pegs downstream from parking point in orchard.No way to even get down to rivet All overgrown ! Decided to fish lower section but again layby not clear and had to ask at a small farm house to be sure we were in the right place. River low and clear..no depth only 12 inches deep. 2 Barbel caught all day between 3 Anglers..disappointing. Nice scenery but wont be coming back much better day ticket stretches with better access."
Then, "We love 'Saggers Court' for the setting and wildlife. The fishing suits a roving style so that's what we do. We located a few barbel but they were literally between a rock and a hard place and so tricky to tempt although we did get one of them out which was satisfying. A few droppers of hemp and pellet were popped in a few swims and duly fished after a rest and they produced some action on a steady day.Wildlife today, green woodpecker, kingfisher, buzzard, tree creeper, and bird that acted and looked like a dipper but was the wrong colour so we named it 'The Twerker'. A great day down the river."
On the 11th July we had heavy rain, enough one would have expected to flood and clear the algae. Well, it hardly rose but it did flush some of the algae out. The following day temps were back up, the sun was out and, almost immediately, the algae returned. The river was still slow then and catches were really confined to after sunset. You can really tell when the river's low as only certain beats continue to fish well - Backney, Wyebank and Fownhope 5 for example. Holme Lacy 4 continued to fish well during these conditions too and on the 11th it gave up 22 barbel and 18 chub.
I mustn't forget to mention Trelough Pool too - this is an idyllic stillwater between Abergavenny and Hereford. I've spent many hours here in the past and caught some really good fish. On the 14th of July an angler here managed lots of bits and pieces and a few nice carp - see pics. When the river is low and tough, these stillwaters can be just the job to get your fix, or to just enjoy a day in the countryside.
By the 16th July the river was extremely low again, with many reports across the catchment using the term "river on its bones". Backney, Holme Lacy 4 and Sugwas produced though - 18, 23 and 20 barbel respectively.
On the 21st the rain returned but this did bring a drop in temperatures as the rain fell mostly over high ground. This can really knock the fishing about and although many anglers are filled with hope at this sort of flush through (including me), it does take a couple of days for things to settle. You could tell from the catches how the river fished ok on the rise, then poorly for 48 hours before improving again on the other side. This pattern could be followed down the river along with the pulse of water. Even Backney, Fownhope 5 and How Caple Court experienced blanks during this Trelough's carp surface feeding time, with Wyebank having a blank on the 24th! The river then rose properly on the 25th and off the back of it we experienced the aforementioned hope that catches would improve. This wasn't the case though: conditions were hot and bright and the river dropped to be low and crystal clear within a few days. At least the algal bloom was gone though and sight fishing came back into play.
On the 27th catches improved everywhere. Notable reports were 30 barbel from Wyebank, 10 barbel at Middle Hill Court and 32 from Fownhope 5. Things continued to the end of the month too, with 44 barbel from Wyebank on the 30th, 31 from the Creel and 12 and 21 from Upper and Lower Backney.
During August, poaching is usually at a peak as tourists descend on the lower river. If you spot anything suspicious please give the Environment Agency a call on their emergency line (0800 80 70 60) as soon as you can or, if on the other side of the border, Natural Resources Wales on 0300 065 3000. If it is on a Passport beat, please also give the WUF office a call. Vegetation starts to die down now but Himalayan Balsam does start to flower and grow fast - be careful treading on the roots of this plant as they are very slippery.
Canoes continue to be a pain of course and as we head into August their presence will be at a maximum. Whilst in general they seem ok, there's always a few that spoil it for everyone but on a positive note this doesn't last forever and if you can't make it early or late to avoid the bulk of the traffic, then at least it's only a few weeks to early autumn and the steady decline in these less respectful river users.
As we head deeper into August I expect a few misty mornings. This is a wonderful time of year to be by the river - the drop in temps and the shorter days make the fishing window more sociable, the fish feed more readily during the day and you're not still on the bank at 8pm. Continuing on from July, I've got a fair bit of guiding on this month and, hopefully, I'll be able to put more smiles on faces such as those in the pics. Also I aim to get on the float now the water's cleared - armed with corn and pellet, I'll see if I can't winkle out a barbel or two. Also, look out for an article on Wye barbel in the next edition of Improve Your Coarse Fishing.
Whatever fishing you're doing, I wish you good luck and please don't hesitate to contact us if there's anything we can do to get you out on the bank.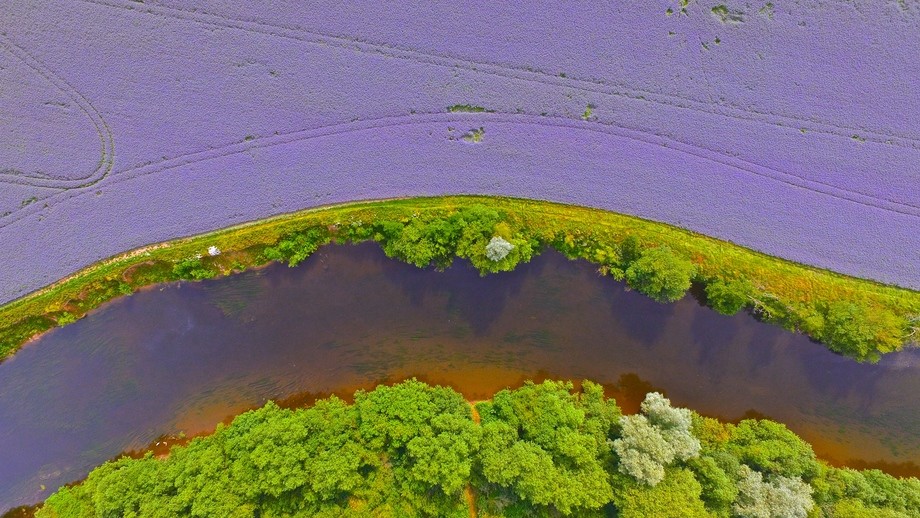 ---
June 2017
April was hot, May was chilly, and as we got into June we were in need of a flush through on the rivers. The three month wait may have been arduous, but the arrival of the glorious 16 th is always welcome, even when faced with varying fishing conditions. I'd been watching barbel spawn on the gravel in April, and during the sunsets of May the chub were shoaling up and supping mayfly and other flotsam beautifully from the surface. It's a mesmerising sight. I actually managed to capture quite a few minutes worth by drone - I hope to have this footage available for viewing soon.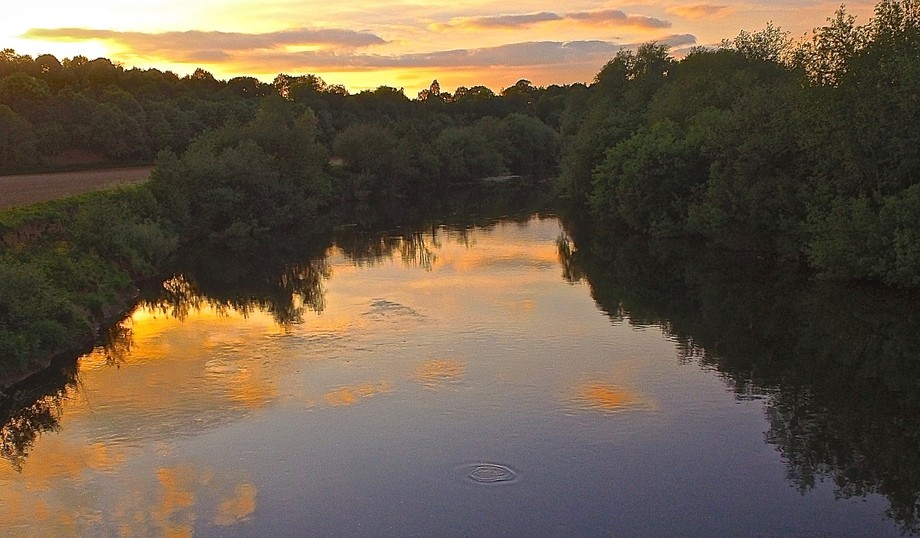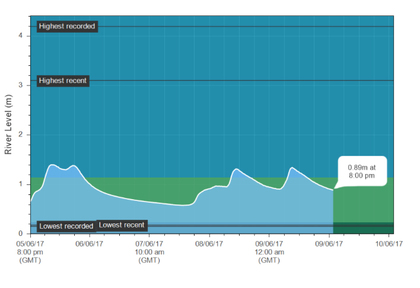 Right on cue, the beginning of June delivered showers and river levels that fluctuated almost daily (see hydrograph images). As I've said before, you have to be so careful what you wish for with weather. Yes, we needed the rain but then, all of a sudden, we wanted it to stop and settle ready for the 16th. Well, it did stop and within a few days we were experiencing record high temperatures with Wednesday the 21st being the hottest June day for 40 years. The results of this were an algal bloom that gave the river the most disgusting brown turbidity. The fishing was off for a few days but generally, the June sport was as good as ever.
The highlight of opening day from the reports was MA from Axbridge - he managed an 11lbs barbel from Sugwas Court, an awesome catch for the start of the season. Numbers-wise there were plenty of barbel and chub too: CW from Swindon caught 22 chub from Foy and LM from Neston had 14 barbel and 20 chub from Wyebank. The following few days were productive too, LM from Neston again caught 10 barbel and 15 chub from The Creel. Notable captures as the month went on were from Fownhope 5, a fishery that has taken a few seasons to get going. Initially there were EA gauging station on the Wye at Ross complaints about access, poor fishing, parking etc. However, with perseverance, we are now starting to see catch returns that reveal its true potential - 33 chub caught on the 19th June to PT from Dewsbury, 8 barbel and 20 + chub to NS from London on the 27th. Their description was "fishing incredible", another angler describing it as a "great place to spend a day, plenty of fish about". The highlight however has to be for SG from Cirencester - 10 barbel and 65 chub!!
There were further decent catch returns, Lower Carrots and Luggs Mouth producing 27 barbel and 18 chub to DB from Nottingham. Backney, of course, produced plenty of fish too with LP from Brentwood catching 32 barbel. Holme Lacy 3 also continued its 2017 form with 13 barbel and 25 chub to KC from Leeds.
A mention for Holme Lacy 4 too, a fishery that was new on the Passport last year. We're getting plenty of positive reports not just about the fishing, but about the management too - I'm yet to meet Monty but I'd like to take this opportunity on WUF's behalf to thank him for giving the booking anglers such an enjoyable experience.
Another fishery like this, which I believe will also get there eventually, is Marsh Court. Also new on for 2017 it has received mixed reviews. I know this beat reasonably well, have never had much issue with vehicle access and, having put in a little effort, know there are 20 or more natural swims over the mile or so. There's also plenty of barbel and some pretty decent chub and pike too. The problems encountered are mainly of access. Well, as I say every year and almost every month, it's impossible to open up an entire fishery. One angler said there were only 8 swims but I would ask him, how many do you need for a day? The point on swim numbers is that there could be 500 of them but somewhere along the lines some of them will get neglected by anglers, will become overgrown, and then it looks like neither WUF nor the owner have lifted a finger. June and July are the richest months for vegetation density - this has to be considered too if making a judgement on access on one of the wildest rivers in the UK. This is also a fishery that has been untouched for years - we're still learning about it as much as the anglers are and I urge people to concentrate on the fishing more than looking for excuses on why £pound;20+ isn't justifiable. It's taken years for us to persuade the owner of this fishery to entrust it with WUF's management and now we're getting mixed reports on access without anglers considering the bigger picture. The following conflicting returns say it all:
"Track down not that bad and fine in dry" and 2 days later "track down is very rough and you have to go all the way with no turning areas apart from rutted craters in corn fields". This is another example of contradicting opinion which makes it difficult to know how seriously to take a reported problem. If I can respond to the second angler's comments, no turning area is the norm for farm tracks (why would you need to turn round until you've reached the end of the track anyway?). Being in the countryside, which is one of the things that makes Wye fishing so enjoyable, entails a degree of acceptance that agricultural changes will affect access to the river. The track down may be through a cornfield this year but could be turf the next and be the best access on the whole river! Anyway, we hear your comments and are trying our best to manage expectations, as this is ultimately where disappointment with a fishery stems from.
One angler, however, has an approach I would always encourage:
"Only two anglers fished. Marsh Court is set in beautiful surroundings and you do have choices of swims available. Didn't catch and had few bites not sure if that's because we have a low fish population in this stretch as saw very little fish movement or my own shortcomings as an angler. Will have to see how this beat develops as more Anglers fish it."
A further comment on the fishery was "nice setting with not a soul around" - this is largely what we're all paying for. The next angler suggested the beat is not conducive for good barbel fishing as a lot of it is deep and slow. The top end of Whitehouse is like this, as is the Rope Pool on MHC, as is lower Wyastone, as is the top of HL3. These all produce very healthy numbers of barbel and, from personal experience, the barbel are there, trust me.
The last point to respond to is that of Wyastone Leys - it's suggested the top is tight and needs clearing. This was done heavily last season, and it just simply cannot be done all the time. There's a handful of swims that produce, dependant on species and levels, but if they don't get fished then it looks like no one's been there. To remind any anglers considering booking this beat, there's half the fishery that's in open, grassy fields, full of fish and with good access.
Away from catch returns, 'The Big Fish Off' paid Passport waters a visit in June. The celebrities included Linford Christie and Katharine Merry, who enjoyed a lovely day trotting for chub on HL3 and a day barbelling on The Creel. It was a tad hot though and things were not easy. We'll have to wait until it's aired to see how they all got on.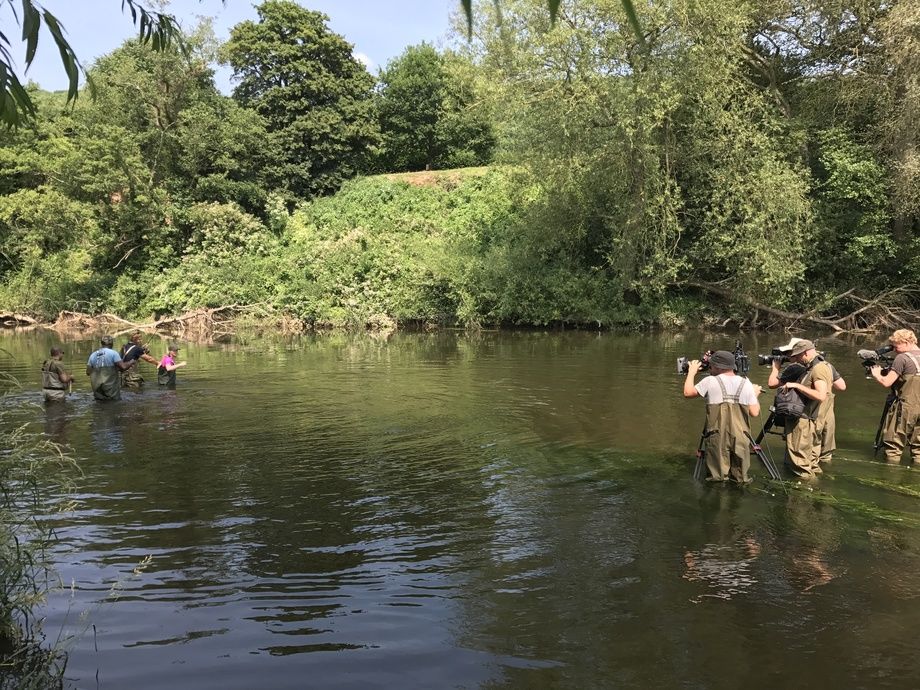 Highlights of the season so far for me have been working with Hugh Fearnley-Whittingstall for a new series on BBC 2, an appearance in Fallon's Angler magazine where I write about early season tactics and a recent surface-caught carp, and a particularly memorable capture from Redmire during opening week. I'd like to share this as it really was a magical moment. After 2 days/nights of blanking I was feeling at a bit of a low ebb - nothing to stop me enjoying myself but I knew that if I were to have another 24 hours without a fish the sorrow would set in. We had been there since Thursday night (16th) and the Sunday happened to fall on Fathers' Day. This filled me with great joy and after a barbecue and a walk around the lake with Mum and daughter, I retired to my bivvy to tell my daughter a story. She's not quite 3 but at that age the enthusiasm she shows for the wackiest of tales, gives a sense of fulfilment only those who have children will know. We rolled around on the bed chair giggling with our new puppy (Rudi) - these magical moments never last however and soon she became too hot for fun and games, it was time for Mum to take her home. I've read and heard it many times that female pheromones have fish attracting qualities and know that some of the largest salmon recorded have come to female anglers. I don't know what made me think of it on this occasion, and the resulting rubbing of my hands in Daisy's armpits did receive some undescriptive look from her Mum. "Just wait and see, I'll send you a picture" I said as we closed the famous wooden 5 bar gate.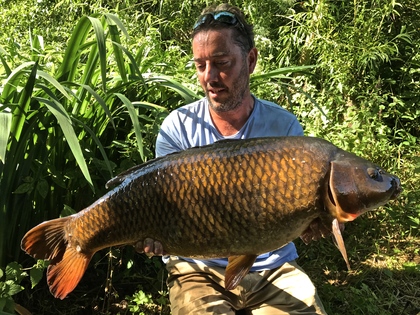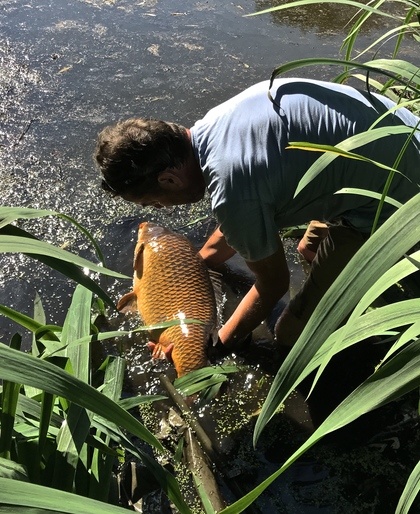 Rejuvenated from lunch and visitors, I made my way up to the shallows with a handful of pellets, a soft action carp rod with 12lb line straight through to a size 6 hook, and a net. The water was already clouded, evidence that fish had visited the area not that long ago, and after pinging the odd pellet here and there I was quietly smug when 2 decent fish started circling the baits and then tilting head down, tail up, to take the pellets. I under-armed my bait just off a bush which they seemed to favour, and after a minute or so, one of the fish cruised in. Its head went down, a plume of orange silt rose from the bed but, somewhat disappointingly, there was no trickle of line across the surface as the fish moved off with the bait. Instead the rod nearly ripped out of my hand and as I regained tension the fish tailwalked across the shallows. There were plumes of red mire all over, coots screeching and fleeing, and me shouting to one of my mates for help! After an epic battle I revealed the carp in the folds of the muddy and weedy net - 21 and ¾ lbs it weighed and although not my largest from Redmire, was one of the prettiest. Every capture there is special, and for some reason there's always a story to the big ones. This is one story I'll never forget.
This report has arrived late in the month, so there's little point in suggesting how to move forward, to be honest the algae bloom was so bad I wouldn't have known how to! July's report won't be long behind this but whatever fishing you get in this last week or so, I wish you tight lines. In the meantime if there's anything we can do to help please do get in touch.
www.wyeuskfoundation.org
www.anglingdreams.co.uk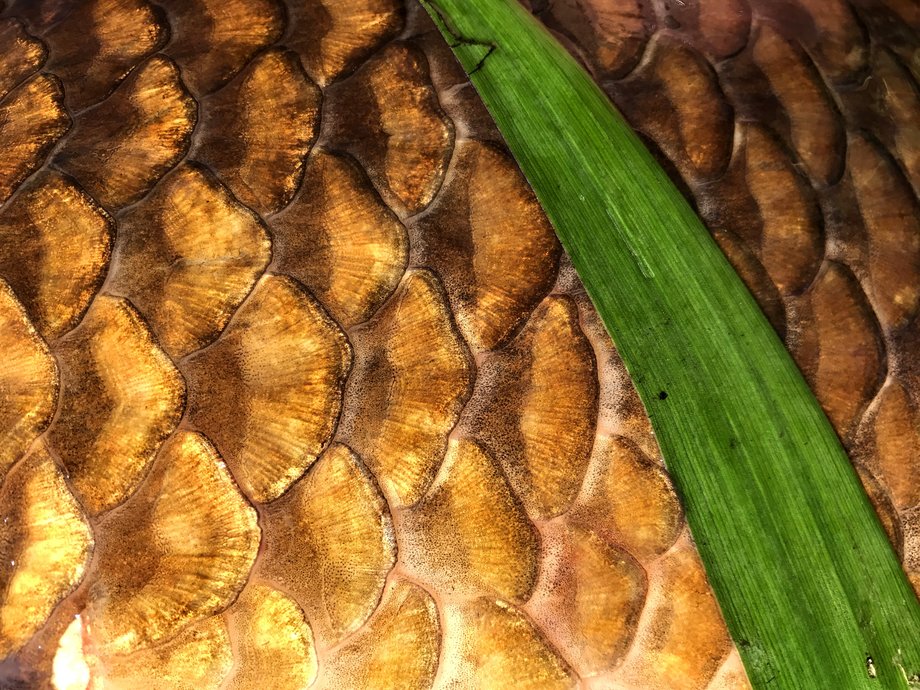 ---
December 2016 to March 2017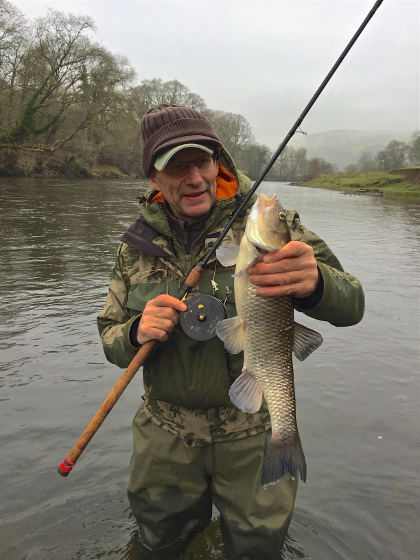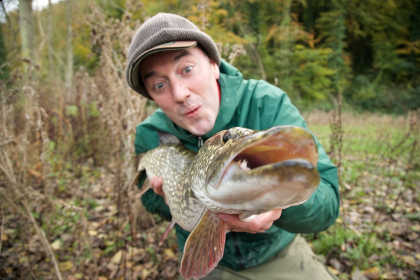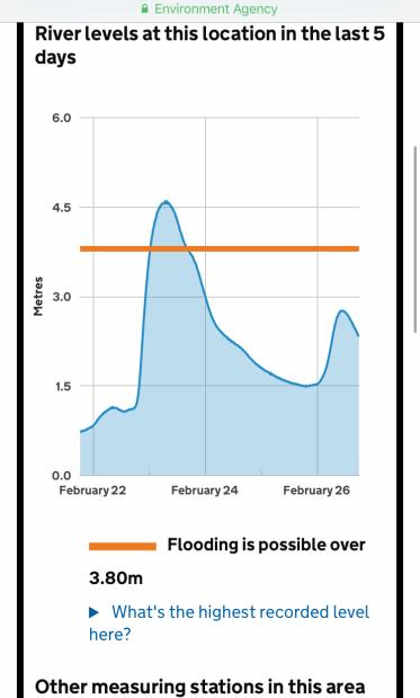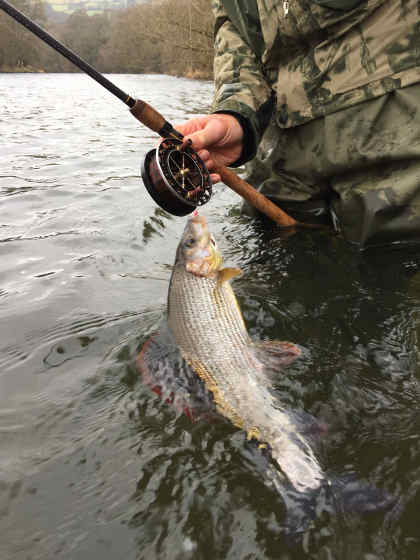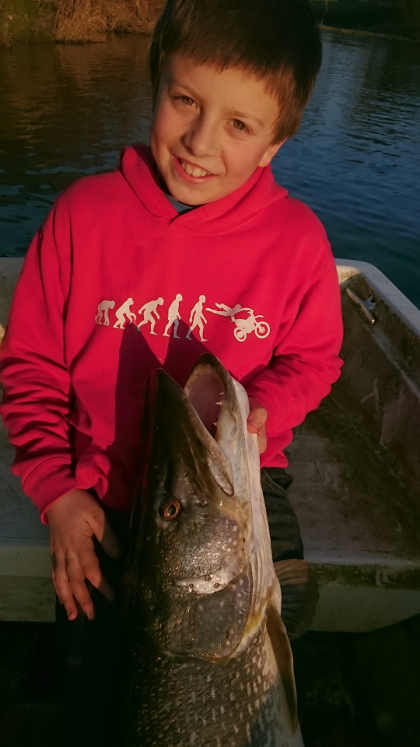 My last coarse report was in November 2016 when the river was low and clear and the fishing not particularly productive. A good flush through would have livened things up then, but you have to be careful what you wish for! It took until the end of Feb for the river settle to a level where it was sensibly fishable, and might offer some consistent sport.
For what might seem obvious reasons, not many day ticket anglers fish through December and especially the Christmas period. Combine this with poor fishing conditions - cold flood water, high pressure, easterly winds, and it's no wonder reports were thin on the ground. We remained positive, however, and hopes were pinned on Janaury and the New Year. Well, that delivered sub zero temperatures and although this is normally good for pike and chub fishing, such conditions should also be welcomed as an important part of the river's annual cycle. However, cold air temps combined with a coloured and dirty river from melted snow, is just about the kiss of death for fishing on any river. You may ask why did the snow melt if it was so cold? Well, it wasn't quite cold enough for the snow stick around and as soon as it fell it pretty much went straight into the system. Yes, here and there the adventurous angler was rewarded with the odd pike and some chub, but there was nothing of any real note. I don't wish to sound blasé as catching a fish is no mean feat in such conditions, but it just wasn't what we expect from what is normally a very productive winter river.
The cold snap peaked at the end of January, with a couple of days approaching -6 or -7. We thought we may be in for the long overdue and much discussed "Big Freeze", but as quickly as it came it then warmed up, followed by more cold rain and a subsequent dirty flood. It wasn't until the 7th or 8th February that things became fishable again and along with it a few reports of barbel coming out. No pike or chub to speak of though - there's a few mutterings around about why this was such a poor winter for those species. Personally, I think it's cyclical, like most things in nature. There was another cold flood up to the middle of the month, but then followed another brief spell when fishing picked up....
C.W from Gloucester caught 10 chub from Courtfield. The beat also produced some steady catches of 3 or 4 barbel in a day, along with Backney, Fownhope 5, The Creel, Middle Hill Court. This is good fishing for the time of year, when anything but a blank is welcome.
The 20th Feb was a good date for PL & friend from Spalding on The Creel. 16 barbel and 10 chub came to their net - that's fantastic fishing anywhere you might go.
As we looked forward to a steady run up to the closed season, along came Doris with shower after shower and a consistently rising and falling river. These winter storms from the Atlantic usually arrive delivering warm air and rain and although it wasn't particularly warm, it certainly should have been enough to raise temperatures to get barbel to feed. However, this didn't really happen and we were left scratching our heads as to why. The reason eventually became clear - The Elan dams were already brim full, and due to the power of the storm there was a surge towards Caban Coch dam - a wave of water was then forced over the lip of the dam wall and came crashing into the Afon Elan, before reaching the Wye. Yes we had a lot of rain, but the spike was tremendous as can be seen - some 3:5m in just a few hours. With the flood came the usual trees and branches. The silver lining I always consider with a flood is that it clears a lot of debris from the system.
The river didn't make it over the banks this winter, which is unusual in any year, but I think it was consistently high and cold for longer than I've ever known.
Just before Doris I was aware of a few anglers up and down the river doing rather well fishing maggots. Barbel were caught from swims that haven't produced for a few seasons, and at steady intervals too - 4 or 5 in a day was modest expectation. I rarely barbel fish in winter unless we have a definitive warm flood and all other species are off but during these few days I had to see it for myself. Armed with a couple of pints of mixed maggots, a handful of hemp and groundbait for each maggot to be coated in a little added attractant, I headed out and caught several fine conditioned barbel. Maybe I'll rethink packing the barbel rods away in future winters! The thing about fishing maggots is if there are any dace and grayling around, you'll probably hook them too, not to mention chub. Grayling are certainly more ubiquitous in lower river catch returns the last couple of years - I'm not sure fishing for them will ever be as prolific as upstream, but there's definitely an increase in the population.
Onto the end of season catches and it certainly was very productive for some...
MK from Boston followed catching 5 barbel from Fownhope 5, with 12 barbel from Courtfield the very next day. Courtfield always fishes well in the winter, and along with the Creel, fished well again last winter. Middle Hill Court also continued its return to summer & autumn form, MG from Little Hadham catching 7 barbel on the 10/3, RW from Cadman catching 10 on the 11th . At the same time NH from Aldershot was catching 7 barbel from Backney. It's great to see someone reporting back catching a few on White House too, AP from Woodford Green catching 7 up to 9.5lbs. I've always liked this fishery, and would fish there any day of the week, but for some reason popularity has waned. Access is good, fishing is good, scenery spectacular. If you haven't fished there I highly recommend it.
Courtfield finished the season well with an 11lb 3oz barbel to CS from Yatton. How Caple Court also producing an 11lb 10oz fish. Middle Hill Court produced 14 barbel to NS from Shepperton on the penultimate day, LM from Wirral caught 9 on Sugwas Court, actually just about everywhere got a taste of the winter barbel action by closing date on the 14th March, which was great to hear.
Probably the catch of the winter was Thomas Macdonald-Ames's pike from the upper river, un-weighed but surely upper 20s. It was a beast of a fish to such a young man, well done to him.
Now the long wait to June, but it will be upon us before we know it. If you haven't booked any fishing yet I urge you to do so as it will be all but gone by the start. In the meantime there's some stillwater action to be had for sure - Trelough and Quabs is where I'll be hoping to catch some tench and carp from. As always I strongly recommend that if you haven't already, pick yourself up a fly rod and have a go for some spring trout - a whole new world of fishing and guaranteed adventures await.