Coarse Fishing Report By Adam Fisher
August & September 2018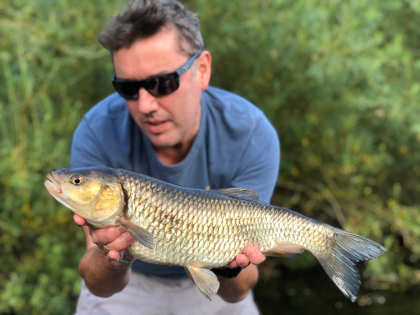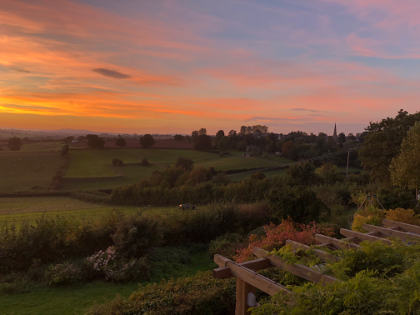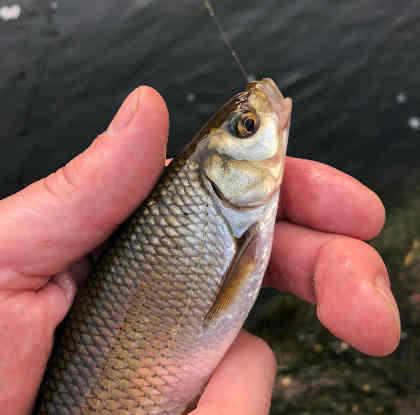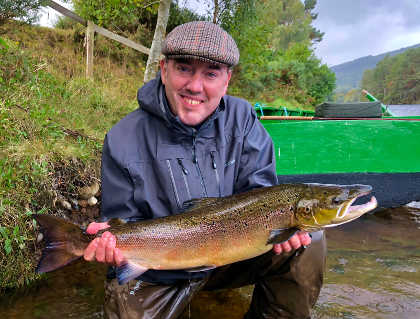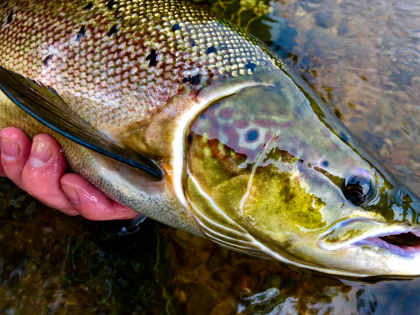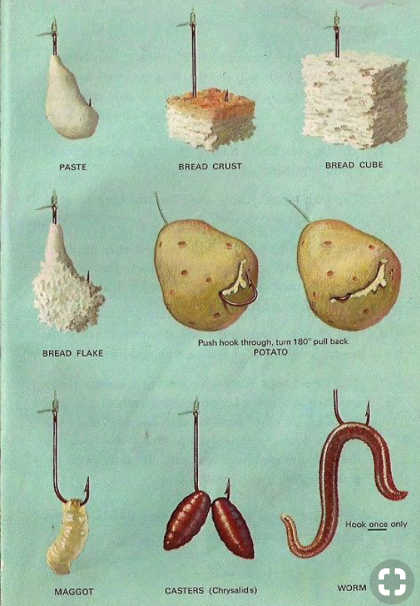 Following my reference to Mars in the July report, it seems we may well have had a few people visiting from the red planet after all! After very little fishing effort in June and July, many anglers made their return to the rivers last month. Disappointingly, there were quite a few complaints of poor access, banks being overgrown etc. Well, I'm afraid this is what happens when swims aren't fished for a month. We then received the first real rain for months and so the vegetation lushed up again too.
With the rain came a rise, albeit small, and all the flotsam and months of debris that had built up all along the margins on the exposed (dry) areas and in the slacks, got flushed down the channel. This, along with the untrodden banks and still relatively low water levels added up to a slight air of negativity along the river. Conditions weren't great in fairness, but I would have thought everyone would have just been happy to get back fishing after such a desperate summer!
The first rise was small so it disappeared as quickly as it arrived. Another 2 or 3 followed but still failed to give the river the flush it so desperately needed. Eventually, however, along with storm Ali we got it - 4.5 metres in just a few hours and it blasted every leaf, twig and negative comment from the summer out into the estuary! The fishing picked up at first, but on the peak of the flood it was just too dangerous and anglers retreated to claim a wash off. The good news was the river fell as quickly as it rose (until it reached ditch height which is when the fall starts to plateau - see images). The amount of weed and other debris was unprecedented - if you managed to keep your bait in for more than a couple of minutes you were either lucky or snagged!
What this big flood also left behind was the usual alluvium, which leaves the banks like a skid pan. We warned all anglers that came into the shop and posted warnings on social media. In winter I dread to think of what could happen if an angler slipped in. These days there are some very affordable buoyancy devices and I strongly recommend one if you're thinking of spending any particular amount of time next to a swollen winter river. We have them in the shop by the way and we'll be offering a special deal on them in encouragement of getting you into one.
The fishing after the flood was good and to be honest, this lasted right through September too. Without listing the dozens and dozens of reports here, I can assure you they were very, very good. All the fisheries were getting a bit of the action too, with just about everywhere below Hereford and down to Monmouth producing catches of 20+ barbel and chub at some point. It seems the low conditions of the summer that caused such a furore amongst some didn't do any harm after all.
During the middle of September the bigger barbel started showing too, with doubles again coming from just about every fishery below Hereford. The standout beats had to be Courtfield and Wyebank though - both fisheries returning catches of over 40 barbel and 30 chub in a day. Backney and the Creel did too, while our waters and Ross AC gave up some truly excellent sport. Sadly, from Hereford there were reports of litter and poaching - not the club's fault but sad to hear all the same.
We really are experiencing bumper times when it comes to fish numbers, especially following such a hot summer with such low conditions. It seems difficult not to tread on fry when walking in the margins and as we enter October the float anglers are reporting big bags of dace in places too - proper dace. There's also reports of some big chub. Having done a bit of reading and looking back at old records, a warm summer is often followed by some big chub in winter. Growth and survival rates for the fry are increased and as a result, those fish that feed on them grow too.
I'm excited about what this autumn and winter will bring. The only worry for me is pike populations - we've had a couple of poor winters. 2016/17 I put down to conditions (warm and wet). I only managed half a dozen sessions and this was testament to the conditions just not being right. I didn't catch a pike all that winter if I remember correctly but considering how few and short the sessions were then it's understandable. Last year we had the cold - remember the snow? This led to a lot of snowmelt too. Although there's always one or two caught, the consensus is that pike populations are poor right now. Either way, I always like to look forward to winter and have a freezer full of deadbaits ready to go. We're fully stocked in the shop for pike and perch fishing now, the latter species showing up in the 3lb category in the Wye all the time. I must give these a go at some point!
Apologies for the lack of report in August - I was away filming with Korda in Italy fishing, which didn't really seemed like 'work'! I also set out 12 months ago with the goal of summiting the Matterhorn. Months of physical and mental preparation were involved but, sadly, on summit day the weather closed in and that was the end of that. I was gutted but onwards if not upwards!
I was then back in the UK fishing and actually dusted off the salmon fly rod after an honoured invite to join some friends in Scotland. Away I went and 3 days later 2 stunning salmon from the River Ness had been netted, admired, and returned strongly. I'm back to the Wye now and pleased to hear how the river has fished. As I write this report at the beginning of October the fishing has slowed but I'm happy it's just a transition between seasons. The bigger barbel are coming out even if the catches of shoal fish has slowed. Following a couple of sessions with Dean Macey we managed to get him 4 doubles in 2 visits, even one for Talk Sports Nigel Botherway, who I've just not seen enough of this year. With pike ahead no doubt there'll be more adventures for us so please watch this space. Chris Yates will be due his annual pilgrimage any day and with Drennan Cup Winning Dai Gribble a regular along with Martin Bowler, the Wye really is the river to fish right now. The booking system makes all this so possible and it's such a pleasure to hear direct feedback through the shop angler's tales about the food, their accommodation etc.
The maggot ban is now lifted on the Wye and so I encourage you to get out on the float whilst you can. Being a wild river it's not always possible to float fish from the bank, but with waders just about anything's possible. I suggest you give it a try now before it gets too cold! Caster and hemp are a deadly combo, and these days the type I prefer over maggots. At the end of the day you can switch over to the lead and fish over the bait that would have been depositing during the float session. It's a great approach, given the right swim.
As I say nearly every month, the valley is a truly magical place right now, with canoe traffic almost non-existent, the trees changing into their autumn oranges and reds, the stunning dawns and dusks. It's dream fishing for anyone. Bookings will start to be taken for next year very soon, so make your enquiries to the relevant organisations for exact dates.
Good luck and enjoy your fishing.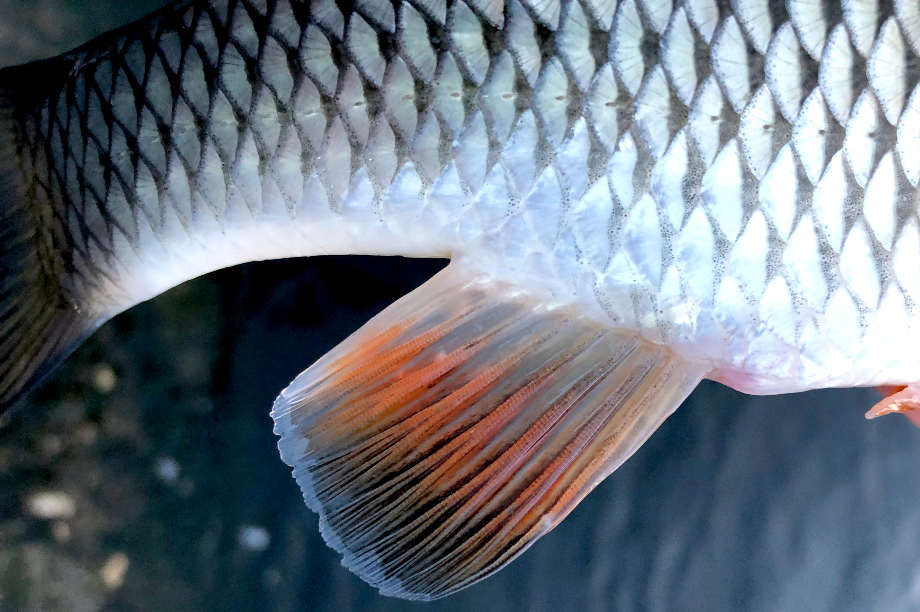 ---
July 2018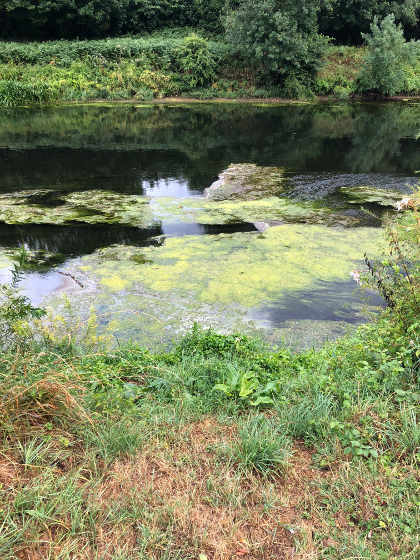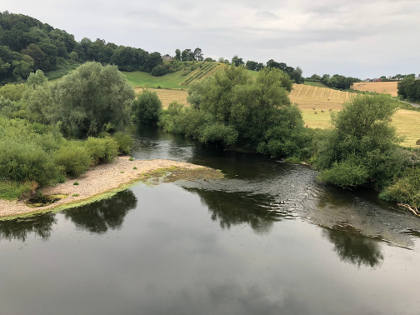 Examples of the measures that promote welfare all year round:
By leaving the river largely wild (not hacking out swims left right and centre) - this gives fish cover and "places to hide" from anglers as well as predators

Reducing the volume of anglers - 4 day tickets on a stretch keeps the pressure on the fish to a minimum. It also allows anglers to be treated individually, ensuring they are aware of conditions and the dangers

Higher day ticket costs give a higher value to the river. Anglers and owners are more likely to value their fishing and look after it

No night fishing

One rod only per angler

No keepnets
Only those living on Mars would be unaware that the UK has been basking in a heat wave throughout July. There were pleas for rain from the first day of the month and even though the long term forecast was predicting a repeat of one of the driest Junes on record, I don't think any of us would have believed just how hot it turned out to be.
Social and angling media was dominated by a handful of vociferous and furious individuals, outraged that people continued to fish on in these conditions. Maybe it was the heat and lack of fishing getting to them but it was quite shocking to see some anglers turn on others in such a way, instead of facing the bigger, perhaps harder questions of how we manage climate change and our environment. Did any of those people complain to the EA/their MP about all the irrigation pumps sucking precious water out of the river throughout July?
So the conditions in July were poor and there was pressure to close stretches. Some clubs did so, which is fine: their decision entirely.
Fish welfare, of course, should always be considered and good practices followed in all water/weather conditions. There is a well established code of conduct for barbel handling and, where booking systems operate, measures are in place which protect the fisheries and fish year round. For me, July was an opportunity to raise awareness of good practice to all anglers.
There are some other points that need to be made on the subject. When we make a booking it's not a catching ticket, it's a fishing ticket. It permits us access, to drive along, to picnic, sleep and explore a beautiful river in wonderful surroundings. While the barbel are off, the silver fishing has been superb. The fishing is a bonus on a lot of these Wye stretches but it is something that many seem to take for granted.
Anglers Mail got involved, publishing an error-ridden article about the heat and a supposed argument on the river. The weather has a strange way of making fools of people - we all remember Michael Fish's famous "hurricane, what hurricane?" so I think we should all express our sincere gratitude to Anglers Mail for sticking their necks out and guaranteeing a change in the weather!
There were some shocking images of rivers doing the rounds in July that perhaps portrayed the situation to be worse than it was. The upper Teme dried up (again) and was all over the BBC news. Then there was a tweet from EA staff showing a temperature reading of a dangerous 26.4 degrees from Ross on Wye, taken from the margins in very shallow water when their own and WUF's monitoring was showing 23 degrees for that location. There were photos of gravel beaches below Kerne Bridge and at the Old Bridge, Hereford that were used to back up the notion that those still fishing were irresponsible. HereFORD is named because there was a ford by the old bridge.
So why did we still allow coarse fishing? With the correct education and by numerous measures already in place to protect no matter what, and regular monitoring of water temperatures we were happy to allow people to continue, while at the same time raising awareness of the conditions.
Shall we move onto the fishing? Despite the conditions it was actually a fab month for many with plenty of chub and barbel caught up and down the river. The weather was gorgeous, if a little hot, and reports in the shop were of anglers out in the water watching fish, studying the river bed, in awe at the amount of fry in the margins.
It was generally very positive!
Some anglers chose not to fish, such as SC from Oakley;
"River very low and slow. Weather was hot and sunny. Walked the beat a few times and then decided not to fish."
Some of those that did give it a try did very well, with numerous reports of 20+ barbel. I'm not an advocate of catching so many personally but I know it's hard to stop when you get into the fish. However, GB from Liphook applied the kind of common sense and restraint that I know exists in most anglers.
"Another beautiful beat secured by the Foundation. Very hot and low river conditions. I stopped fishing after barbel number 3, there were more fish in the swim to be caught but I felt uncomfortable putting them under any more pressure considering the conditions. All swam off strongly after a period of rest."
DM from Leatherhead made the most it, and reminded me about the football! It's all a distant memory sadly, very much like this drought will become when the autumn arrives! DM also pointed out that he was looking for deep gullies and fast water - something we've been advising to do all along - and it paid off.
"It proved to be the perfect place to settle the nerves after the England v Columbia penalty shootout! The river is low but this stretch always has fast deep gullies close in that hold plenty of fish. Hooked up within 5 minutes and caught steadily during the day in the hazy sunshine. Feeder and pellet proving as reliable as ever. Most fish were between 6 and 8 lb. Beautiful stretch of river with easy access and plenty of decent swims, will definitely be back."
20 Barbel, 5 Chub
Every stretch was different of course, some anglers saying the fish were struggling others saying all went back strong. It will be interesting to see what the reports are when conditions improve. I'm confident the river will fish as well as it always does.
There were many reports of eels, pretty much daily in fact. This could be due to the dry ground forcing them to move and make their way to the main river? It's good to hear whatever.
Lots of anglers expressed that they'd never seen so many canoes. They'd appear to be right as one operator informed me he reckoned 700 canoes launched from a single spot below Ross one Saturday, with half of these being privateers. Companies telling their clients that fishermen are grumpy is one thing but privateers launching, picnicking, boozing, defecating where they like is another level of disrespect for us anglers. One angler had a particularly unpleasant encounter and I hope anyone thinking about wild swimming the Wye might think twice after reading this report!
"Later a pair of kayak's beached on the island. From one, a middle aged gent disappeared into the trees to perform his ablutions. He reappeared, walked to the middle of the stream, dropped his shorts and proceeded to clean his backside, charming."
Looking forward I think we can all learn from the low levels of July. If you do fish please don't take the fish out of the water for pictures. Unhook them in the water and never weigh them - it just isn't necessary and puts real pressure on the fish.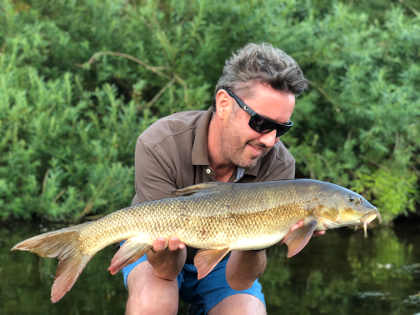 August can be a busy month for canoes but with the best fishing being early and late you should miss most of the traffic anyway. The nights will get longer and the mornings dewy and cool. With September not far off, this is coming into prime fishing time.
Having not fished for a while (can you tell from this report?!) I am looking forward to getting back out and the bit of rain forecast should freshen things up. When it does I'll be heading straight to the float rod for a mixed bag and maybe a few barbel. As a spate river a good deluge for a few hours will make all the difference to the Wye but if we have a day's worth we'll all be moaning about fast water, floods and that we can't see through the turbidity!
As always, you just can't please all the people all the time, and you know you're probably doing something right when people are knocking you from both sides. Personally the support has been overwhelming and, fortunately, the majority see through the crap. They trust those who work on the river and they go and enjoy their fishing. I encourage you all to do the same - nothing lasts forever and right now (August) the coarse fishing on the Wye is as good as any point I remember in recent years.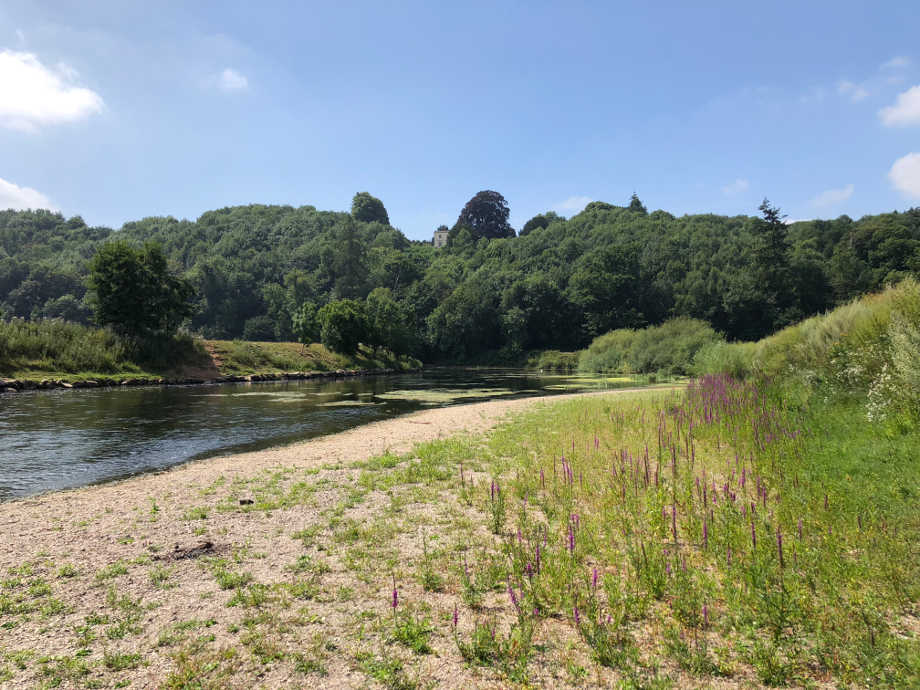 ---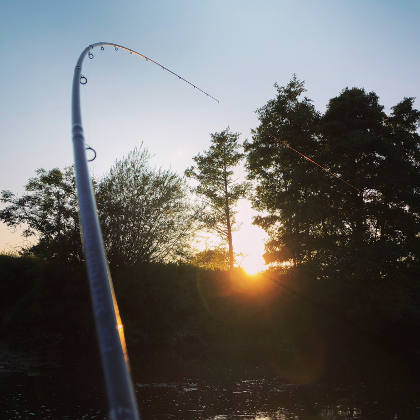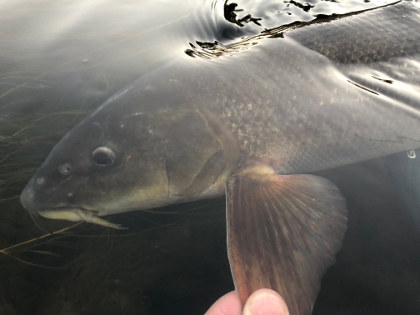 June 2018
Well what a year for weather! After flooding over most of the winter and the river having a good flush through, spring was unseasonably cold - we still had snow in April and even frosts in May.
Despite this, things looked good at the beginning of June. In fact the moisture followed by some warm and sunny weather meant the bankside vegetation exploded. It was as lush as I've know come about the 10th June. The barbel and chub had been seen spawning, and hope filled the air for a good start. The lushness of the vegetation, however, did mean we needed to do more than usual to keep the banks clear. So, armed with strimmers, WUF and others from Angling Dreams set to making the fisheries fishable - we hope you found the hard work worth it. Certainly the majority of report were pleased, but as always one or two found things "inaccessible" when the day before an angler on the same beat "had more swims than we knew what do with, thanks WUF for improving the access". It just shows how varied expectations are when it comes to fishing and whatever you do, you cannot please everyone all of the time!
Given the time constraints not everywhere on a beat gets done, but after trimming 18 swims on one venue we had a party of 4 who still found the beat "like a jungle". I wonder if they went to the right fishery at all?!
In the 30°C heat we encountered at the end of the month I'd have been happy wading out and stood in the river, a tactic that makes much of any fishery fishable. But, of course, one man's meat and all that.
On about June 12th the dreaded algal bloom began and with a float fishing feature booked in for the opening day we felt doomed. In the shop there was a general buzz, however, with lots of anglers popping in to chat about tactics etc. After an appearance from Martin Bowler on the 15th we headed for a bankside bbq (on a private stretch) to chat all things fishing, and what a memorable evening it was. At 4am on the 16th and there was a tap on the window of my car and through my bleary eyes I saw the figure of Martin Bowler, ready for action - had he even slept with excitement? Whatever, he smiled and made it clear he'd had breakfast and was ready!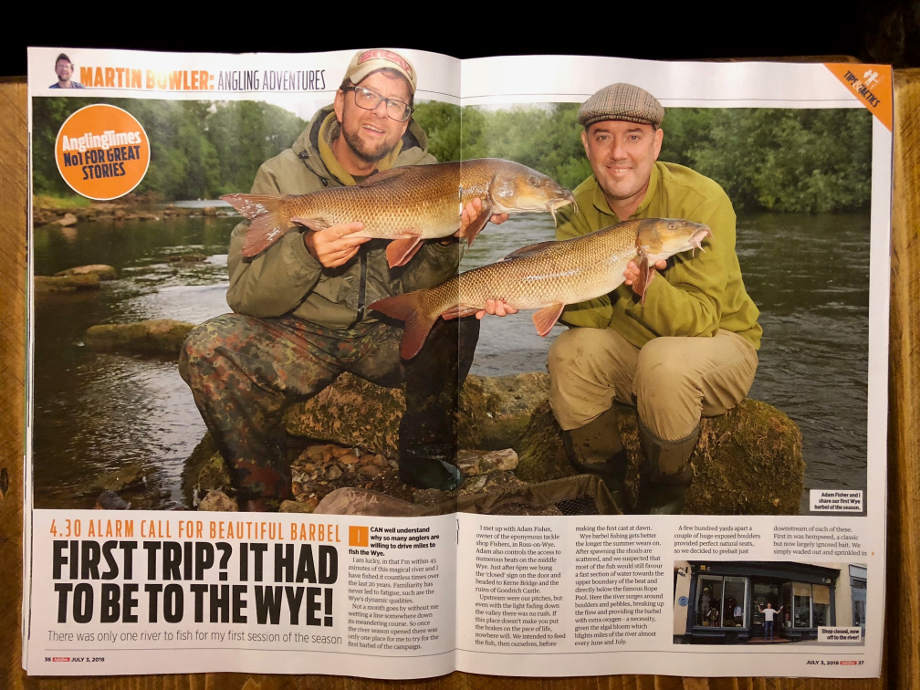 "Stay sleeping if you want mate, come down about 4.15" - A 15 minute lie in was all he offered, but I knew if I nodded off again it would be another hour or more.
Besides I was awake, it was June 16th! By 7am we'd had a couple of barbel each and the feature was 'in the can'. Like a couple of school boys we carried on fishing though. My mates Chris & Rich were chub gods for the day even if the barbel eluded them. Another couple of friends Dean and Roger lost their barbel virginity and even managed to beat their PBs. You can read Martin's article in the AT, or through the Angling Dreams website in due course.
Although the start of the season never really fishes well and the algal bloom leaves the river looking a bit grim, June 16th is filled with hope and optimism and it's just nice to be back by running water. Up and down the river reports were mixed as you'd expect, but where it was good it was very, very good. In fact I'd say it was possibly one of the best starts to a river season I can remember. There were chub galore, many anglers catching in excess of 20 in a day - when anglers got amongst the barbel, they got well amongst them, catching right through the day too. As the opening week went on, the algae bloom was expected to intensify as the weather warmed up. However, the opposite happened and as we entered the second week of the season and with temps approaching 30°C, the Wye ran as clear as tap water, fresh and fast, and most certainly with more weed in the channel than we've seen for a few years. This was a welcome sight - the pretty white flower of the ranunculus covering the channel from bank to bank in places.
All fish love weed - they can seek shelter from predators and sunlight, the frongs acting as sieves for their larder - snails, invertebrates, fry. My theory is this also acts as a filter for the algal bloom. Perhaps the recent poor years for this has been as a result of no weed allowing the bloom to, well, bloom. The low light levels then reduce weed growth and so the vicious circle begins.
The other interesting point to consider is this increase in weed has followed a persistently flooded winter. One might think that 2 months of persistent flood would rip up all the weed. I personally think the weed is used to it, designed for it, and the heavy flooding only cleans the river out rather than damaging it. Is this why we had such a seemingly healthy start then? Perhaps the summer floods of 2007 and 2010 started a cycle of damage - the more weed from summer meaning the more resistance and so more for the water to "grab onto"? Has the lack of summer flooding in recent years allowed the established weed beds to thrive?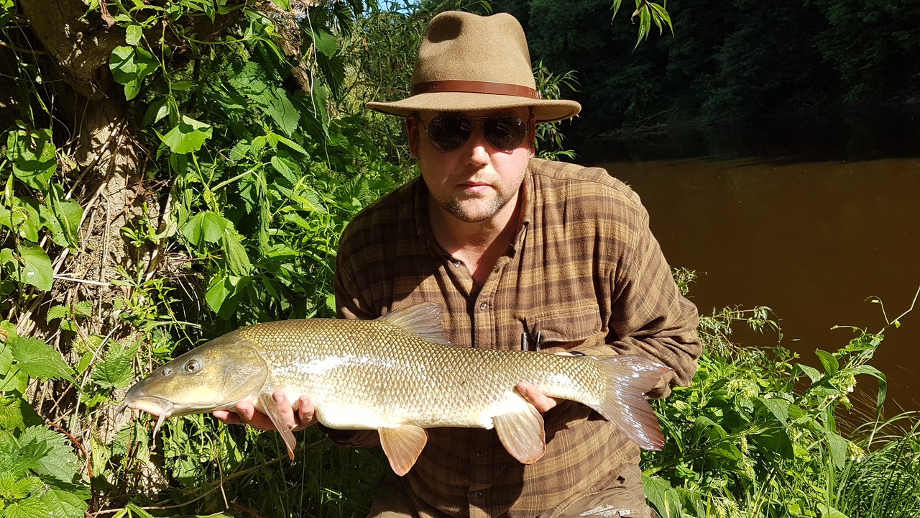 As the month went on the heatwave didn't seem to affect the fishing - bumper catches of chub and barbel continued, with plenty of eels and small stuff to keep the trotting angler occupied. A few were disappointed they couldn't fish maggots (it's an EA Byelaw that WUF enforce), but in my experience corn with plenty of hemp, introduced to create a rain of bait through the water column, brings fish up off the bottom, and I've caught as many barbel on corn as on maggot.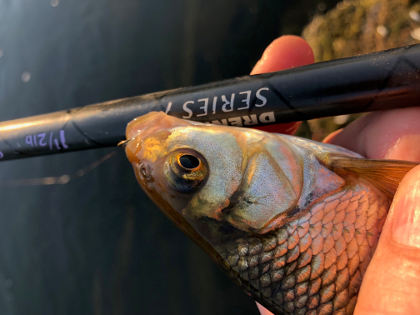 It wasn't all good though and we feared the algae would return with the persistent hot weather and lack of rain. The river kept dropping and as we approached the last few days of the month the fishing got really tough. Early and late became the only real times for catching fish and even then anglers found it tough. At the turn of the month the only real way to catch them was on trotted baits during the day. Still, some excellent fishing was to be had - several anglers reported to us in the shop of 15 plus barbel in a session on the float, with the odd double figure fish too.
Sadly there's already been a massive numbers of canoes reported, worse than ever I feel. There have also been many more people than I've known before camping the night and saying they saw it from some nutty woman on social media and TV suggesting all and sundry should stash their kit in the bushes and swim, wild camp, trespass and defecate to their hearts content. All very well but as I've expressed before, this is not Canada or Alaska. We are a small, densely populated country and there is only one such river where you can do these 'wild things' - the Wye. Encouraging people to do what they want is selfish and totally unsustainable. Moreover, it does little help the environment, dissatisfies the paying members of the public and landowners who earn their living from their sporting rights. It's part of what identifies us in the British countryside and why we have rod licences etc. We pay to use the river and support our Governing body the EA. Why should these 'free spirits' get away with neglecting this?
Although we have turned the corner of the month, I would like to take the time to offer some barbel handling guidelines. Fish are not going back well due to low dissolved oxygen levels, and many places have even stopped fishing altogether until conditions improve. If you have to go fishing, please unhook and return fish without taking them out of the water at all.
Barbel Handling
Below is a set of guidelines for dealing with barbel at all times of year, and especially in summer. It often takes anglers by surprise when what seemed like a revived fish appears belly up shortly after release. By following the below this should nearly always be prevented.
Leave a netted fish in the water for a few minutes before unhooking

Have a pre-dipped unhooking mat close by

If you wish to photograph a fish then make it as swift as possible - good preparation helps. Try and rest a fish again between photographing/weighing

Find a suitable place to release - look for gentle flow and ideally where both hands can be used to support the net and/or fish. If releasing from a net use gentle encouragement to keep the fish upright - an upside down fish is not reviving

Never release a fish until it can keep itself upright without your support

Please resist weighing fish that are not considered to be above the average Wye stamp - we suggest this to be about 7lbs

Double figure fish can take up to 20 minutes to revive. Before releasing make sure they are upright for several minutes without your support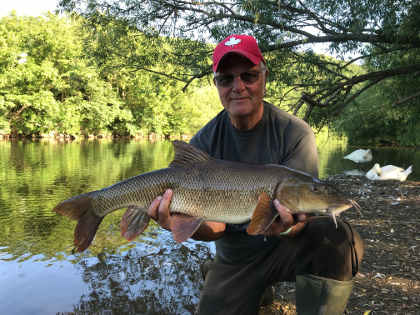 This fine weather has meant there's been some fantastic sunsets and, as always, it's not just about the catching. A low clear river is the perfect chance to study the river bed, take some notes, see if you can observe some fish and give them some bait. Sometimes I prefer to watch them rather than catch them and, of course, in these conditions it's better for all. Your study will also help come your next visit - if the river is coloured or flooded you'll know your way around much better.
All the shad are gone now but it's been a great year for them with dozens seen kiting around in the tails of pools. They left the river early though - a sign of the heat wave on the way? The fish always seem to know more than we do.
Until the next report please do a rain dance and enjoy your fishing.
Adam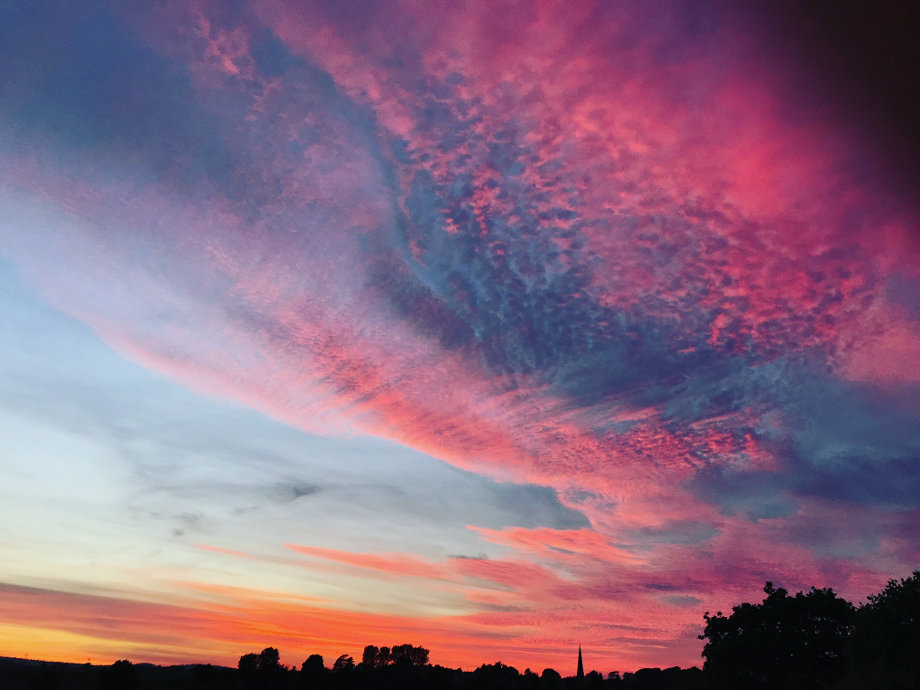 ---
April 2018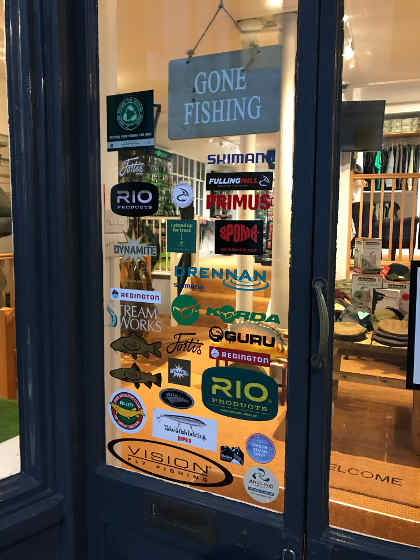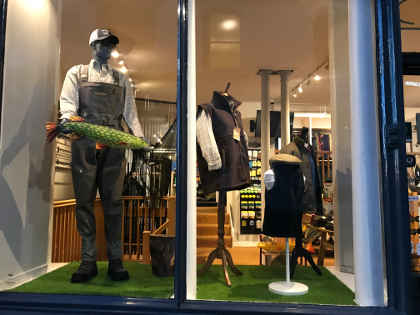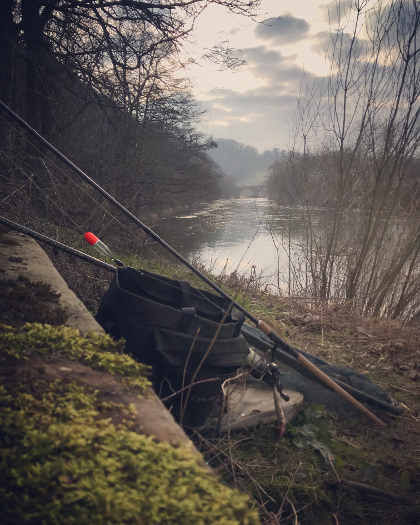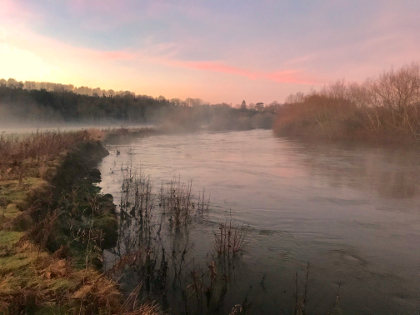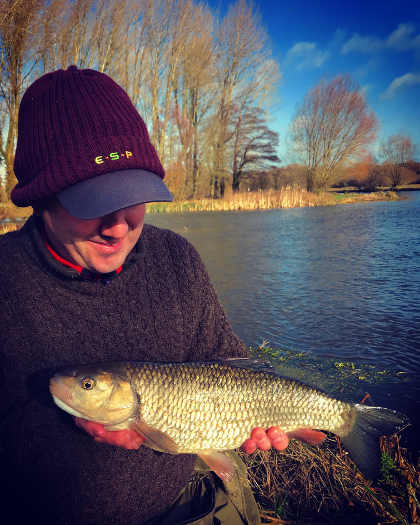 First things first, my apologies for the lack of reports over the winter and in the run up to the end of the season. There were two main reasons for this. Firstly, it was such a dire winter for rivers where there either wasn't much fishing going on or when there was, nothing was being caught. So the reports were held off each month in anticipation of some good and consistent fishing news but this never came!
So that was excuse number one. The second is that when we did get to the end of the season, I was busy setting up our new fishing shop in Ross on Wye. As some of you may know I've been running Angling Dreams for several years now. We share a few fisheries with the Fishing Passport, offer guiding services, packages, journalism etc. Whilst doing this for several seasons it became clear that the Passport angler, as well as ours, wanted more from their tackle shop and, quite simply, this just wasn't around. So over Christmas time the decision was made - move the Angling Dreams office and add a retail arm to our operations. Obviously high street retail is tough due the internet but done right we felt there was still the space for a traditional and quality tackle shop. With Ross on Wye having so many old and quirky buildings we went for it. Two and a half months later on May 1st we opened "Fishers".
The shop stocks coarse and game tackle, as well as bait (no maggots yet sorry!), artwork, books and fishing novelties such as Billy Big Mouth Bass! There are tackle brands such as Drennan, Korda, Sticky, Rio, Vision, Reddington, Fulling Mill to name a few. We also stock a range of outdoor supplies such as insect repellant, first aid kits, batteries, clothing, energy bars, as well as a comprehensive range of clothing, waders and wellies. We have also obtained accounts for Barbour and Alan Paine, and along with an Eley cartridge account pending will be able to supply the shooting fraternity come the autumn.
So thanks for allowing me to plug this! We are very proud of the venture and hopefully will inspire the present and encourage the future of angling.
The Passport angler will benefit too, as there is nowhere around the lower Wye that caters for the salmon and trout angler sufficiently. For the hundreds of coarse anglers that stay in the area, we can look after you too and instead of lugging your bait and tackle around before getting here or digging around on the internet, we welcome your visit for some "finger on the pulse" tips and advice.
We display daily river levels, conditions and prospects, and will be offering prizes for fish of the week/month. We have "Passion for Angling" playing on a loop and even trout fishing from remote rivers in New Zealand, so come on in and take your time to soak up the fishy vibes!
On to the reports and to be honest the overall picture from the winter was of flood after flood. Just as the river became sort of fishable then another spate would be on its way - just take a look at the hydrograph images! No wonder then that pike catches were low, chub too. And with a lot of snow melt and cold water barbel were not an option either. The beast from the east even slowed the grayling fishing as ice hung around in the margins of rivers all day. It was freezing that one - even 2 sets of thermals didn't allow me a full morning's wading.
I managed one or two short pike sessions but they resulted in blanks. So overall it was a winter to forget for fishing on the Wye catchment. If it's any consolation, the salmon anglers endured the same and only one or two fishable days were had until right up to the beginning of May.
Looking forward then, the new season is around the corner and it's mental how quick it suddenly arrives after staring the 3 month break in the face. The rivers have finally dropped, the vegetation is getting lusher by the hour, and the chub and barbel have already started spawning. Looking at the river banks there are loads of fallen trees from the sustained winter floods. This will no doubt have changed the topography of the river bed too. Ok, some of your favourite swims may be filled in, but new ones will appear and the fish will move until they find a comfortable flow. The banks will still have a layer of silt from flood too and it won't take much rain to make them slick again, so please go careful if we have some rain.
Overall I'd say prospects are good - a harsh winter has benefits to this kind of ecosystem, clearing out the weak and leaving only the strong. I think it also gives the silt and gravel a good flush through too. WUF have a couple of new beats that are well worth a try: Dean & Chapter and Strangford first class middle Wye coarse fishing on offer here. As with all of the beats they get booked up pretty quick, so I suggest you take a look at The Fishing Passport page and see what's still available. Whilst you're there you may want to check out the new Wye and Usk Foundation webpage - lots of interesting information on the Foundation's work. We'll be keen to see your catch returns coming in from June 16th, and my next report will follow then. I'd be interested in any shad or eel captures too.
Tips for opening week - fish small and feed light and do your very best to enjoy the surroundings of the glorious river Wye in June. On opening day I'll be out on a feature with friend of The Foundation and Angling Dreams, Martin Bowler, and we'll be back in the shop for lunchtime if anyone wants to pop in and see us. Live updates on timings will be available through our Angling Dreams Facebook page.
Until then, good luck if you're out after tench and please be respectful if any carp are spawning.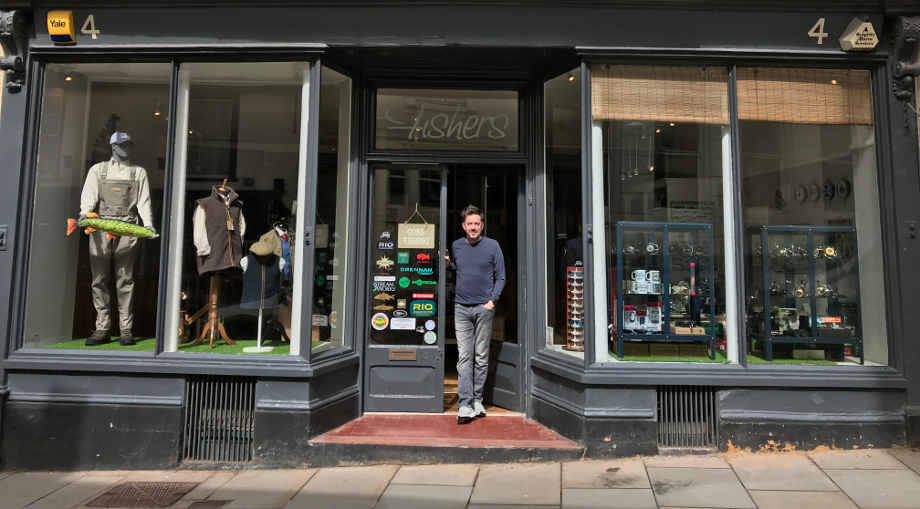 ---
September 2017
September is a busy month for anglers on all UK rivers and for just about all species. Not only is the river environment a stunning place to be in early autumn, but salmon fishers are out in force as the fish come on the take again in cool water. Meanwhile, trout anglers are making the most of the last month of their season. For coarse anglers it's the month when many start making their first few trips in earnest as other river users drift away e.g. canoes, dog walkers, picnickers, swimmers etc.
Cooler conditions, higher oxygen levels and winter round the corner means the fish are getting plumper and fighting harder. Some species only really start to become catchable as they venture out from dying-off weed beds and bankside cover - chub, bleak and dace shoal up, with predators not far behind them.
Looking back at 2016, and through the 70 odd pages of catch returns from last month, angler volume clearly peaks in September. Having spent several hours wading through the feedback, I've extrapolated the following highlights - some teeing up further discussion, but the majority positive and all of interest. Thank you for taking the time to fill out your feedback.
The standout theme was that no two days were the same and as I write this at the beginning of October, the situation remains. A perfect example was from CS of Brentwood's group, who, when fishing Middle Hill Court at the start of the month, expressed indifferent conditions over 3 days but with varying results. They near enough blanked on day one, then reported fish being caught steadily throughout the following 2 days with the tally for the 3 days being 36 barbel and 22 chub. In this instance it may infer that swims were built up to become steadily more productive but throughout the month other anglers' experiences were similar, with the river seemingly devoid of fish one day and fishing superbly the next, and vice versa.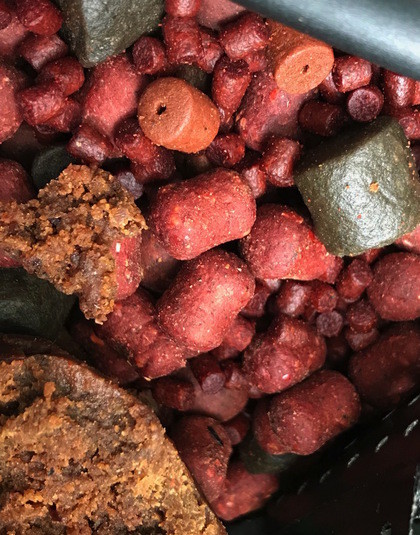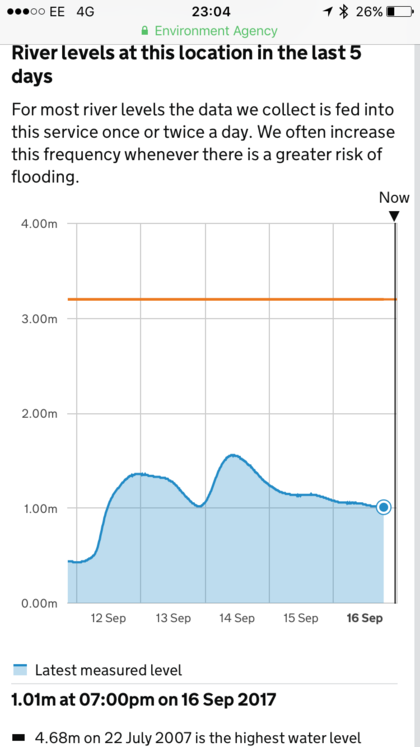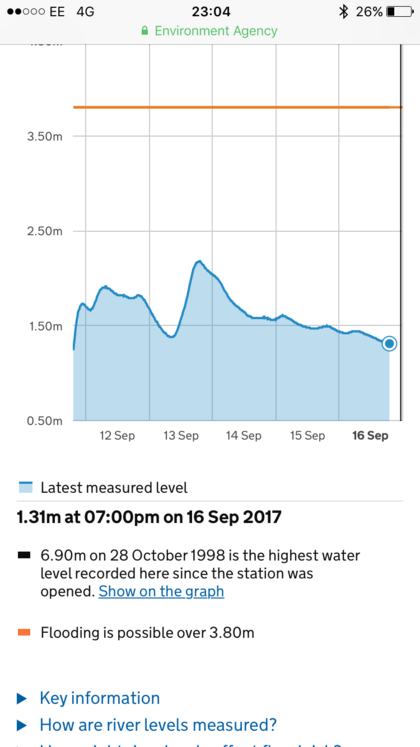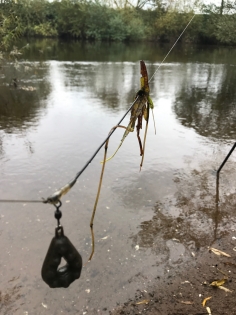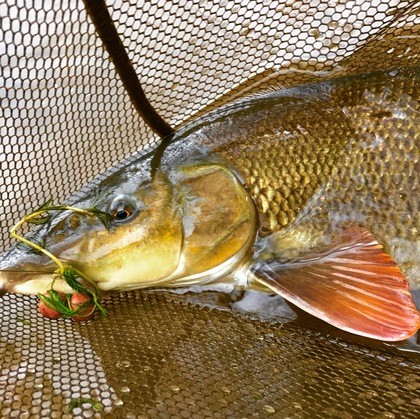 It's been a hit and miss season in general. There are always numerous theories to why such inconsistencies occur, but I just think that's the way it goes, as fish adjust to the changeable temperatures and flows that we've had, ultimately becoming fussier as to what attracts them food-wise. It could be pellets and feeders one day, single baits and leads the next, then only trundled meat and marginal feeding the next. Is it fishing pressure or do their dietary demands vary and feeding habits differ from day to day? I know carp prefer fish meal early season, post spawning, but what makes luncheon meat more favourable to pellet when to us it gives off less attraction? It's this that keeps us guessing and one of many things that's so alluring in our pursuit to catch fish. Isn't what we all do before and during each session is work out what they might be feeding on as well as where and when? As the fish can't talk then that's pretty much all we've got to go on, and when we don't catch, there must be an excuse! I know I have an armoury of them!!
Early in the month the river was low and clear and, like August, most reports were of action limited to the last hour or so as the light faded. It's hard to resist the temptation not to fish through the day and wait for the best time. Just being there watching the river environment go through its diurnal rhythm is enough to keep most enthused but proving the theory that timing is key was TD and friend from the Wirral - they fished only 15:00 to 19:00 on Lower Backney and the result was 16 barbel in just those 4 hours. Conversely, there were reports of people going home biteless by 15:00 as they just felt it wasn't going to happen. As I've encouraged before, fish early, then at lunchtime go for a wander and bait a few likely swims. Take your Polaroids and watch the water (even on dull days it's surprising what you might see). Then, after lunch and perhaps a nap, return with renewed hope - you almost get 2 days in one that way! Backing up this approach were numerous reports of a few barbel caught early, then a lull until mid afternoon when, like a light switch, the fishing would pick up again.
The usual fisheries still fished well despite the generally inconsistent sport: Courtfield produced a good stamp of fish if not the numbers, whereas a few hundred yards downstream Wyebank was producing up to 46 barbel in a day. The biggest was around 6lbs with most in the 1-3 lb bracket, which is great for the future and testament that Wyebank is clearly a schooling ground for barbel. Perhaps then the larger fish move up into Courtfield to grow on in the deeper and slower water? LW's party of 2 anglers from Canvey Island were cleaning up on the Creel and Backney, however. The results were pretty impressive:
5th - The Creel, 24 barbel, 11 chub. Upper Backney 25 barbel, 1 chub
6th - The Creel 31 barbel, 13 chub. Upper Backney 21 barbel, 1 chub
7th - The Creel 28 barbel, 6 chub, Upper Backney 19 barbel, 6 chub
8th - The Creel 36 barbel, 5 chub, Upper Backney 2 barbel, 2 chub
An angler then followed on Upper Backney on the 9th and had not one bite. Regardless of tactics, this is another example from this month of how a fishery can just switch off overnight.
As the seasons go by I'm concluding that some beats are more susceptible to changing levels than others, especially low levels. I think the fish move and shoal up more depending on the morphology of the river bed - certain stretches having more defined 'honey spots' as the levels drop.
I gave Whitehouse a mention a couple of months ago - a fishery that was one of the most popular in the Passport a few years ago. It's seen a steady drop in angler bookings over the last few season however, no doubt due to negative reports of anglers on the far bank and, of course, that notorious diesel pump. There were a few negative reports again this month but I'd like to reiterate that access is good and if you move away from the opposite bank presence (mostly confined to the middle of the beat) there's still some very peaceful and productive fishing on offer. One angler contacted me directly and I did my best to put him on fish - the report was positive and that they had plenty of barbel and chub from top and bottom limits of the beat, with no interference from other anglers.
By the 2nd week of September the whole river felt in need of a flush through…again. We got some rain around the 9th and even though the rise was small, it was enough to release all the flotsam (weed and early leaf fall) that had built up in the eddies and slacks. Reports then were of anglers struggling to hold bottom for anything more than about 10 minutes. This continued on the 10th as strand after strand of the vibrant green ranunculus weed made its way downstream. Many anglers ask me why this is and there's that much of it that most conclude there must be cutting going on somewhere upstream. Yes, there's some cutting in the height of summer, when it's so dense the rowing regattas have to manage it, but this time year I believe it's a lot do with swans. Often in groups of 30 or more they rip it up, or at least damage it. The signets are about big enough in September too and they are being taught to do the same. With the weed becoming brittle as temperatures drop, then so the slightest extra push on the river and downstream it comes.
On the 12th September there was a good metre or so rise on the Wye. Much of this came down as cold water from the upper catchment (peat stained and black tea coloured). As such the fishing literally died in places. However, on the 14th, just after the levels started falling, another pulse of over a metre came through - see image. This time it was coloured (turbid), which is evidence of lower catchment run off from the fields - usually this is similar temperature to the main stem and so has no effect on the fish - in winter it usually improves things. I was starting to question the distinct lack of chub caught this summer as usually they're active all year, but faith was restored with catches picking up considerably in this coloured water.
The river again ran off steadily over the following few days and reports were of "good colour" in the river. I've always said the Wye fishes better in the run off and this was certainly the case over these few days. Nothing really stood out but catches up and down the river consistently improved. This said, as the spate fully ran off, the inconsistency returned but with earlier unproductive fisheries picking up! HCC produced 15 + barbel for a couple of days, Middle Hill Court too giving up 17+. Fownhope 5, that had fished well right up to September but then dropped off, also picked up again with 22 barbel reported here on the 21st. Conversely the more consistent stretches were struggling again. Even The Creel and Backney only threw up a handful of fish over a few days that week.
This pattern generally continued right up to the end of the month. Some stretches only fished well in the evening, others fished throughout the day, but just like the beginning of the month this varied from day to day. To be honest, this is what we'd expect as we really enter autumn anyway - I'd be happy with a good solid day of just a few chub and barbel.
Moving on, as already mentioned, chub numbers picked up by the end of the month, and nearly everywhere had reported a few good days, including the expected good chub beats of Foy Bridge, Holme Lacy 3 and Sugwas Court - the latter not being far from Perryhill above Hereford. This is a wild beat, and it's the owner's wishes to remain that way. We describe it as such and it always pleases me to share a report from any angler who accepts and enjoys it for what it is:
D. G. from Haverhill
Saturday 23 September 2017 (1 week ago)
Area: Middle Wye
Beat: Perryhill
Fishing: Coarse
No. of Anglers: 2
A very wild, but beautiful section of the river. The cows look intimidating, but are harmless. Access to swims is very limited, jungle warfare, very steep banks. Only a few canoeist.
Fishing was OK, feeder fished with mashed up luncheon meat, hemp and micro pellets in the feeder with pellet as hook bait. Landed 4 barbel 4-6lb and 4 chub 3-4lb. I will definitely return.
4 Barbel, 4 Chub, 2 Other
Marsh Court is a fishery that has received some negative reviews in its first season. Despite best intentions that anglers would relish the wildness and find their own swims, I apologise on WUF's behalf that it's been "a bit of a jungle". I discovered the fishery some years ago and after lengthy negotiations with the owner, they were fortunate to be able to offer it to you this year. Knowing the banks during the winter I was confident anglers would find their way even in summer - there are dozens of ledges and perches along the mile + of bank. I was wrong, and the disappointment conveyed to the booking office has been clear. Marsh Court has great potential though and this year has been notable for the density of bankside vegetation right throughout the river. This is exacerbated on such an isolated and wild fishery and the hope is with more positive reports such as the following, more anglers will fish there and so the more productive swims will become apparent.
Friday 15 September 2017 (2 weeks ago)
Area: Middle Wye
Beat: Marsh Court
Fishing: Coarse
No. of Anglers: 3
Fished maggots, river still high but looking good. Other species were Dace. Small Pike took maggots. Most of the Chub were small but several over 3lb. Barbel caught on pellets, best 9lb 5oz.
Only one Angler fished, others did not fish. Excellent day's fishing, but gardening required and banks steep and tricky.
1 Trout, 3 Barbel, 16 Chub, 1 Pike, 11 Other
---
B. S. from Bourne
Saturday 23 September 2017 (1 week ago)
Area: Middle Wye
Beat: Marsh Court
Fishing: Coarse
No. of Anglers: 1
First time here at marsh court, good access to the river if you wanna risk it to car park 3, the ground was dry so I took a chance, got out ok.
Another beautiful stretch , I fished the faster flowing water not far from the hut , nice to see some colour in the water. Took a while to get a bite, after a lot of casting around, but once I found them the bites came nice and steady, usual pellet /feeder tactics, fished from 11am till 7.
Both chub about 3lb, biggest barbel 9:80 and couple of other chunks, great days fishing definitely coming back, so peaceful didn't see a soul all day
5 Barbel, 2 Chub
We've received increasing reports of trailing hooklengths found in fish. Now, whilst the majority of criticism is that people are not using stout enough tackle (6lb), there have been reports of fish trailing heavy hooklengths too (25lb). Over clean gravel and with a well actioned rod, there's no reason why you couldn't land most barbel on 6lb line. However, if there is any damage to the line through abrasion, then 6lb will part like cotton. If using, say, 10/12lb line, it will have better abrasion qualities and even if damaged will more often than not still hold out for most sized barbel. 25lb hooklength should have even more, and so on. However, if we're talking about line grating on rocks rather than abrasion on weed, branches, or gravel, then even 50lb braid will part like cotton. Abrasion resistance is what we're really trying to achieve when it comes to fishing the Wye, not resistance to cut offs from rocks/boulders.
I use 10lb fluorocarbon most of the time - it's got great abrasion qualities and although stiff compared to braid, this anti-eject property for me seals the deal, especially on a running rig. Also, whether the line is 6 or 60 lb I think makes little difference to the fish shedding the hook. Barbed and barbless is another matter, however with WUF rules, of course, being barbless only.
It's not always big barbel that cause the problem either. Often the 'shoalies' - 4-6lbs will tear line off you before you know what's happening. This turn of speed is why they're known as the freshwater bonefish. Big fish generally hang in the water and more often than not swim upstream. This action of swimming upstream allows them to swim up and into weed beds, also to drag the lead and feeder around if pressure's not kept on. Of course, every fish that's lost seems a big one but in my experience it's the smaller ones that test the tackle, the big ones test the line's abrasion resistance.
What's for sure is that despite reports of trailing hooklengths, all fish seem to be in as good a condition as they can be. One angler reported the following: "Whilst noting previous comments regarding fish with hooks or line attached I can only say that in numerous visits to this venue I have yet to see anything other than fish in pristine condition."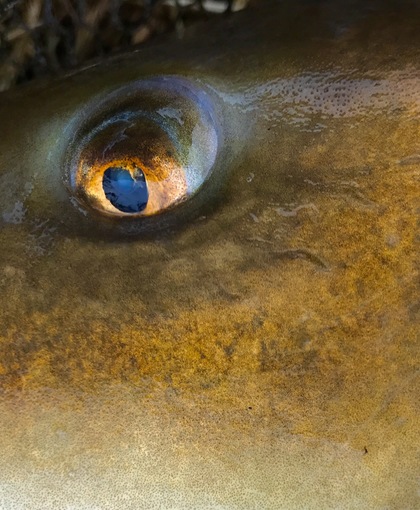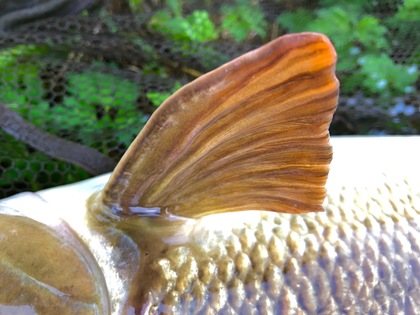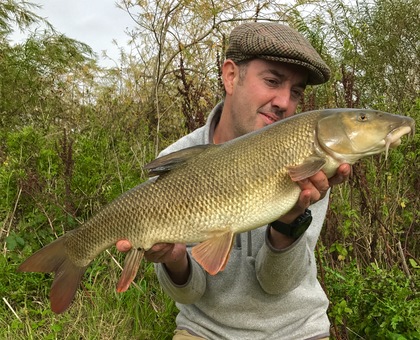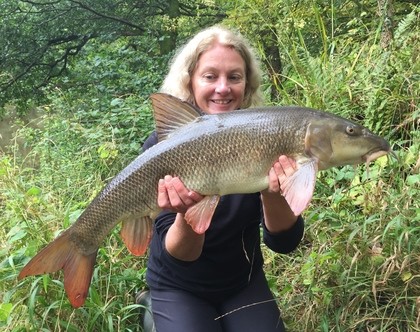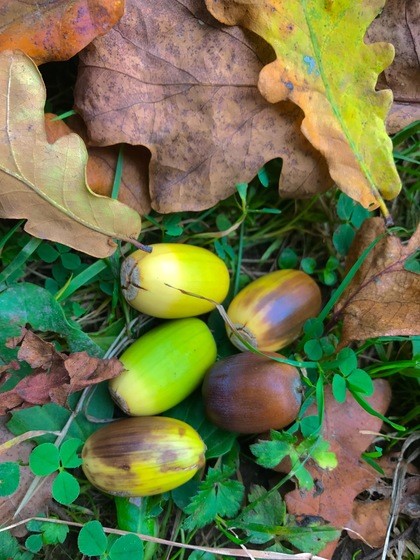 The fish are taking on their autumn colours too - deep bronze with orange and coral colours to their fins. The red spots left by lice that got so many anglers worried about, have gone too. As expressed before, lice are an annual occurrence in summer, and seemingly of no detriment to the fishes' welfare.
Either way the big barbel have certainly started to put in an appearance. Results from the month as follows:
10lb and 11lb from How Caple Court
10.90 from Upper Backney
10.40 from The Creel
11.10 from Wyebank - considering it's doing mostly small fish this is a superb specimen - the mummy perhaps? Or the daddy even?!
Congratulations to MK from Boston too - he had his first Wye double from Sugwas Court at 10.2
I've personally heard of many other large barbel being caught on private stretches, with even a couple of verified 13 lbers. (7899) Wye barbel are getting bigger and it really is the time for them, so I encourage you to get out there before it gets too cold. Tactics? A big piece of meat or a 'donkey choker' halibut pellet cast in the margin at the end of the day or at the tail of your swim as the light fades.
We started to get far more pics in with catch returns by the end of the month. This feature was new for the OBS in 2017 and I really don't think it's being used to its full potential. Please take a look through some of them in the catch reports and please keep them coming. Grip and grins are great but I'm not encouraging them all to be trophy shots. I think we'd like to see more scenics of the rivers, wildlife and of anglers in swims etc - this gives other anglers more of an idea of what to expect. That said, I love the image shown here - a very happy angler!
Going into October, we're traditionally into the start of the predator season. However, we've had a distinct lack of reports of pike or perch striking on preyfish or stalking a hooked fish to the net. Last year wasn't great for pike fishing but I put that all down to conditions. Let's hope there isn't some other sort of lull in populations.
Much like chub catches going up last month when the weed etc died off, I'm expecting that the other predators will follow suit soon enough. There's certainly enough minnow and other fry life around, which I'm sure you'll have noticed - the river is teeming with small fish! What to expect barbel and chub wise? Well, after many autumns on this river I'd say a good solid day would be 3 or 4 chub and a few barbel. Then again, nothing's guaranteed…a warm flood could have you sacking up, a harsh frost could leave you biteless - the only way to find out is to get booked up and go! It'll be an adventure whatever, just as Chris and Steve describe below.
Beat: Middle Ballingham & Fownhope No.8
Fishing: Coarse
No. of Anglers: 2
Difficult day fishing wise with one barbel and a few chub landed between us, bright sunshine and the colour dropping out through the day might have had something to do with it I think, this beat has great potential When conditions are perfect. However, and this is a BIG however! what a stunning place to enjoy a days fishing! One of the most picturesque places I have ever fished. The wildlife and scenery is unbeatable in my opinion and the fish were absolutely immaculate specimens. all chub ranging between 3 to 5lb mark and the barbel was a shade over 8lbs so a big barbel for the wye and a new wye PB for myself. Many thanks to the wye and usk foundation from us both for a very enjoyable day in simply breathtaking surroundings.
Chris and Steve.
If anyone finds the rod below, I'm sure the angler would be most grateful. Sadly it's not the first time and certainly won't be the last. Please contact the booking office if you find anything.
Until next month, when autumn will be in full flow, I wish you tight lines and whatever you fish for I hope you enjoy!
Adam - Angling Dreams
FINAL FEEDBACK
R. M. from Berkhamsted
Sunday 1 October 2017 (4 days ago)
Area: Middle Wye
Beat: Foy Bridge
Fishing: Coarse
No. of Anglers: 2
A nice day's fishing in good conditions. Nice colour in the river and rising slightly throughout the day. Between two anglers we caught eight barbel and numerous small chub. The average size of the barbel was smallish but it was good sport and I would book it again.
My fishing partner had an unfortunate accident in that his rod and reel were both pulled into the river by a passing tree branch while he reached into his bag for his flask. If anyone happens to turn up a Korum Neoteric rod + Shimano Baitrunner he would be very happy to be re-acquainted with them.
---
August 2017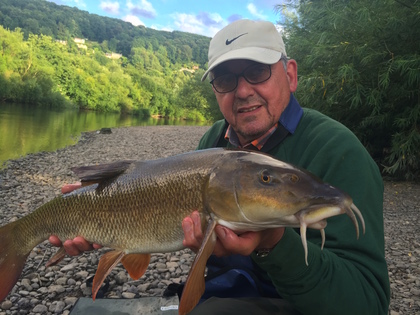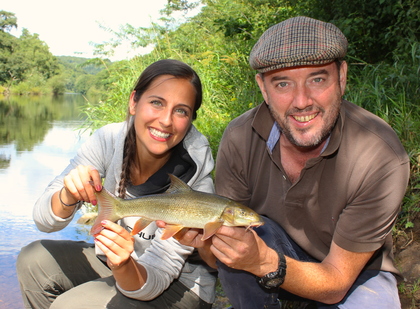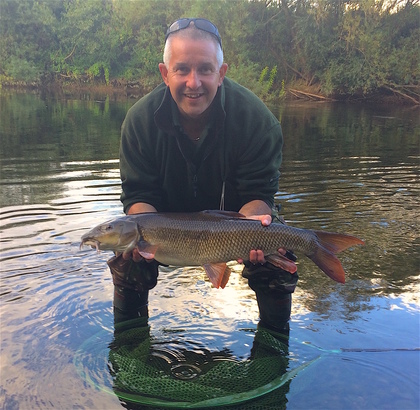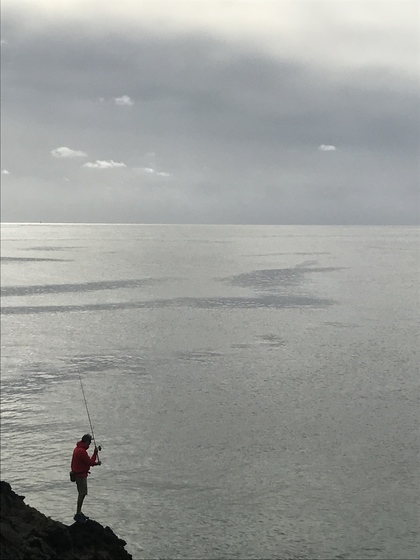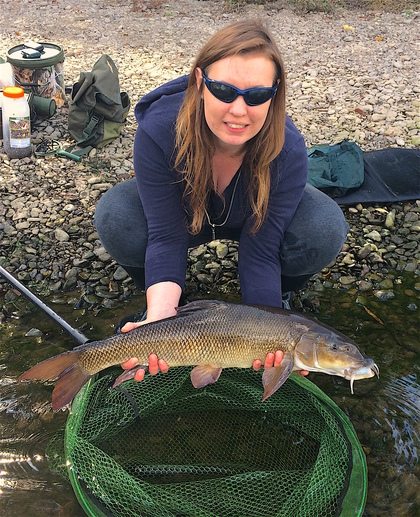 As I've expressed before, August can be a real hit and miss month for fishing. You can get low conditions, lots of canoes, and finicky bites from fish. This August, however, the feedback was generally positive, with the exception of canoes of course - they're definitely growing in number! Just about everywhere fished well during the month though and although the river was low, it was great to have the water gin clear for most of the time. Looking into the depths you see the ranunculous weed waving in the current and the longer you stare the more things come into view - the rocks, the gravel, mussels, minnows, gudgeon etc etc. Just in the margins there are mini environments and on a bright day I can stare for hours watching a bustling underwater world. A certain Hugh Fearnely-Whittingstall thinks the same and it was a joy to spend yet another day with him and his team filming underwater - the show is called "Hugh's Wild West" and is due for airing this autumn/winter. I'll keep you updated. Also on TV this month starts "Fishing All Stars" with Dean Macey and Adam Rooney - one of the episodes is on the Wye and having been part of it I know it's sure to be a good show.
As the month went on the fishing took a distinct turn to being better early and late, with many bites not coming until after 4pm - it was described as if turning on a light switch, where after a biteless day up to a dozen fish could be caught in just a couple of hours. If you're fortunate enough to live close to the river this is ok, but for those that travel I know it's frustrating - my advice is then to fish early and late and take the middle of the day for a long lunch and siesta. I haven't had a chance to do so much fishing myself this month though, so the pictures in this report consist mainly of other happy anglers, with some nice fish amongst them too. What pictures are of me are from rock hopping down on the Pembrokeshire Coast - I was amazed at the clarity of the water and although no bass on this occasion, I caught some stunning wrasse. It's this diversity in my fishing that always allows me to come back and see the Wye as I do, and hopefully interpret the feedback and convey in the reports as I do. At the end of the day it's all fishing, no matter where you do it.
We had some decent fish reported with one chap having double figure barbel in consecutive days, the largest of the 2 weighing over 11lbs. As with the rest of the summer though the story is of lots and lots of smaller barbel. I heard of one chap having over 30 of under 1lb. This is great for the future, but it would be encouraging if other species followed suit - we've had chub population explosions before, now barbel, perhaps perch too, but what's next? Maybe dace? Now that would be good.
To get the negatives out the way we did have a lot of canoes, they don't seem to be going away. The notorious diesel pump at Whitehouse is still going - although catches of barbel still remain good. There were many reports of barbel with lice - many people exclaiming how this can't be good for the fish and they remove them. This is not a new thing though, and I never take them off - they're there for a reason and they don't seem to be doing the fish any harm. My advice would be to leave the lice where they are. We had a number of reports of litter and faeces - I put this down to the time of year and hopefully as we enter autumn this sort of thing should get better. There's no excuse for angler's litter though and as always we must all do our bit and pick it up if we can - the fishing gods will pay you back!
Around the 20th of the month there was some rain in the catchment and the river began to rise. This really got the fishing going and with the best tactics being pva bags and leads, lots of barbel and chub were reported, with most beats producing 20 + fish days.
Towards the end of the month, as we had a few cooler evenings, meat became the stand out bait. I remember this happening last year too - when pellets couldn't buy a bite. Meat is a really versatile bait. You can make it into all different shapes and sizes and fish it numerous ways too, from rolling/trundling it along the river bed, to fishing it static, to fishing small chunks under a float. I'm not sure why it's so effective at this time if year - maybe it's something to do with the colour? The oil content?
Going into September we're really getting into the keen coarse anglers time. The river gets quieter with other users and as the leaves change and the mornings get misty, the river takes on a whole new majesty. I'll be getting out on the float for chub and trying to find some dace, and overall look forward to every day in September as my favourite time of year.
With maggots permitted from the 14th of the month I encourage you to do the same, and look forward to the catch reports this time next month. Until then tight lines and enjoy your fishing.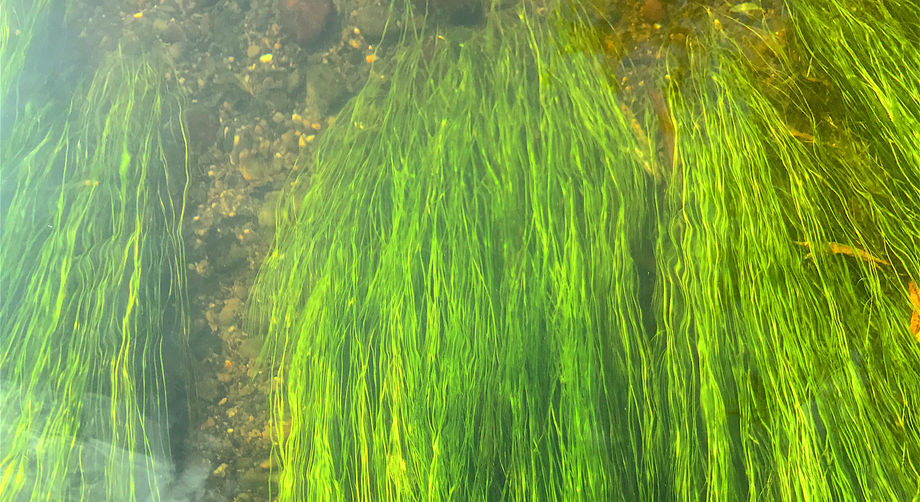 ---
July 2017
The headline of the month has to be the clearing of the filthy algal bloom that has coloured the Wye this spring and summer. I make it over 6 weeks of less than 8 inches visibility, and this is unprecedented. Apart from a brief flush that resulted in a very little rise but clear water, there has been nothing in the way of a true spate that we needed to fix the problem. There was a considerable rise towards the end of July, but this was followed by a day of warm weather and yet again another week or so of a miserable looking river.
This algae bloom is a common occurrence in spring these days but to go on as long as it did was really frustrating. It's left a horrible slime on the gravel and rocks too - until we get a good flush through please take care when wading. In fishing terms it doesn't really affect fish feeding on scent, but of course it means running a float is nearly impossible as the fish just don't see the bait. I think that overall it affects the angler by just being pretty uninspiring.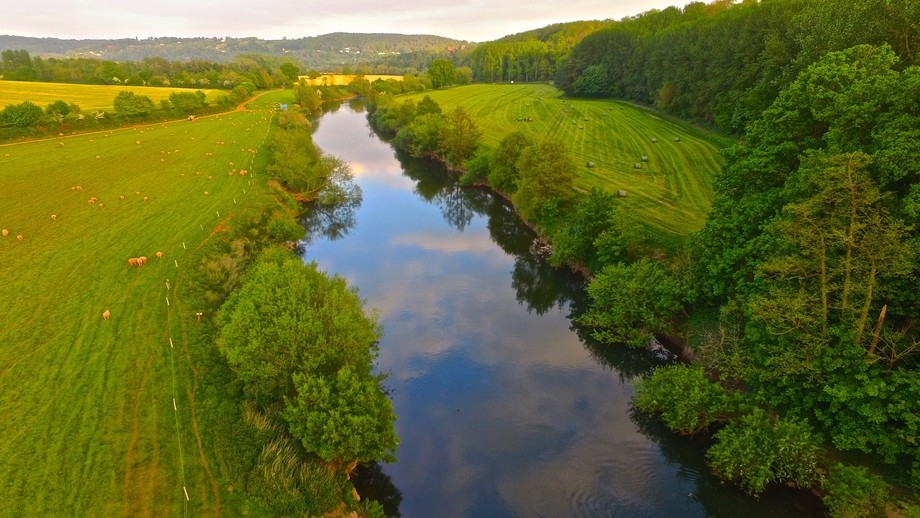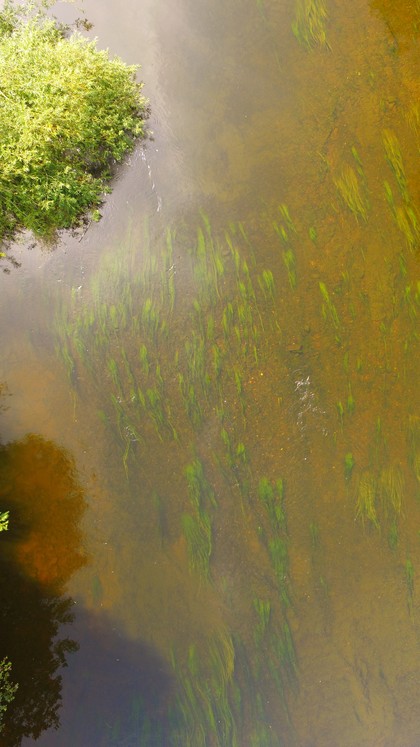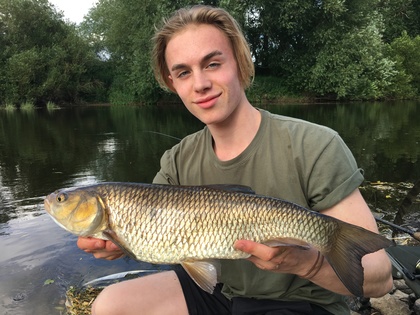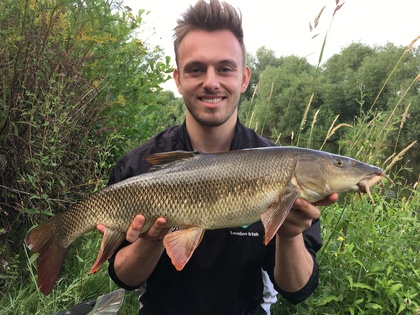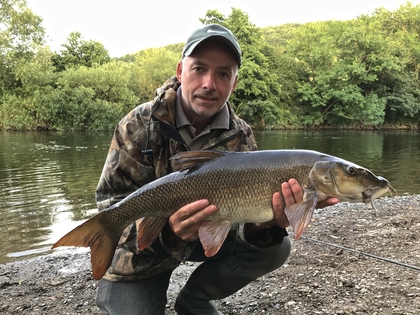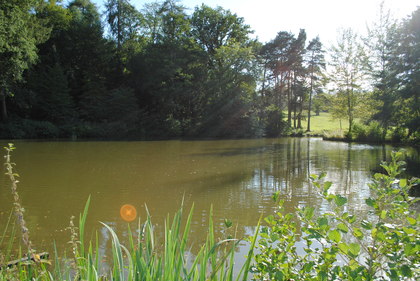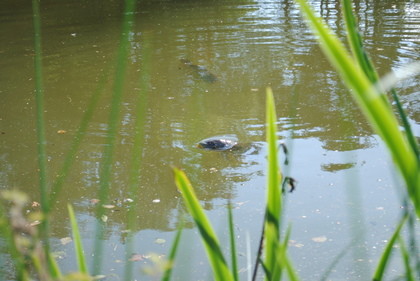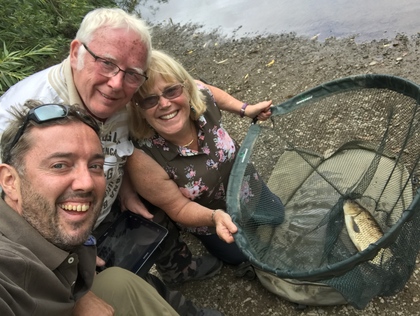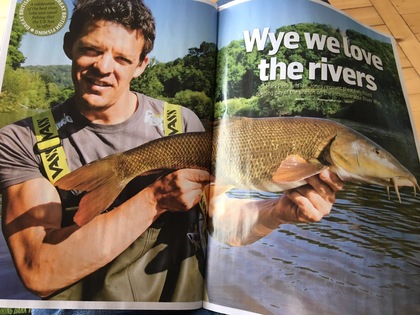 Eels are no stranger to filthy water, maybe that's why we've seen an increase in catches of these over recent seasons. I'd like to think they're on a comeback of sorts, certainly the elver runs have been reported as strong over the last 3 or 4 years (2017 sadly an exception though). It seems that just as we get excited about a few eels turning up in catch returns, you then don't hear of one caught for a while. Good to hear all the same. We even had a few late shad still appearing towards the early part of the month. What's certainly been on the increase is the number of small barbel - I've had several midday sessions where all I've caught is 4 or 5 barbel of about 1lb. Looking back through my reports I know that a few have always turned up on the float but this season they've almost become a pest! It's a good sign obviously, not just for future barbel stocks but for the health of the river as a whole. You actually get a great sense of how powerful these fish are when you hook one as a 1lb fish gives the same bite as an 8lber, and even takes line now and again. Their strength is quite astonishing - they're proper freshwater bonefish.
Whilst we've had one or two double figure barbel reported, there's been nothing really notable. Ok, it may not be the time of year but I would still expect some large fish to show up, especially as rod effort (angler numbers) is greater than ever. It's not all about size though and although on a certain social media forum people are moaning that the Wye has gotten "tough", the sport is still as good as anywhere in the UK when it comes to numbers.
Despite the aforementioned algal bloom and consistently low levels, July fished pretty well, albeit in patches. On the 2nd July PE from York proved Fownhope 5 to be one of the consistent beats for this year - they caught 19 barbel and 15 chub between 2. On the same day KP from Bristol banked 9 barbel and 20 chub from Courtfield. On the 3rd DC from Molton banked 20 barbel from Upper Backney, whilst DW from Cirencester had 12 barbel from How Caple Court - there were continuing good reports from here as the month went on, it's a fishery back to form almost but it's confusing when we hear the following...
"Disappointing. Very hot day. Followed tactics employed by recent anglers ie. variety of pellet hookbaits fished on the lead with loosefeed. Barbel all under 1 lb, largest chub about 2lb. Although it was a pleasant setting, I cant say I saw or experienced anything that justified the £23 day ticket price tag. Some swims were unfishable due to their incredibly steep nature, and others involved such a steep step down to the flat level that I (as someone with limited access due to knee injuries) was unable to fish."
All I would say to this angler is please consider that you fished the river when it was extremely low and in tough conditions. If you had added a couple of larger barbel to your catch, like those who had recently fished the beat, would you have then considered it worth the price? It's sometimes hard to remember, especially after a tough day, that even the most expensive fishery can turn up blanks to the best of anglers if the conditions aren't favourable. Access can change in different water levels too. Beats that have decent access in normal flows can become difficult in low or high water. Yet again it's another example of how varying conditions can have impacts that are in complete contrast to expectations.
On the 5th 22 barbel were caught from The Creel, followed by another 20 from How Caple Court on the 7th. Most reports over these few days were of fish being caught after sunset, which is typical with summer fishing. There were several highlights over this period: LS from Bury St Edmonds catching 38 barbel from Lower Backney, 22 barbel from Holme Lacy 4 and 50 odd from Wyebank. Many reports however stressed the need for rain to freshen the river up.
Sugwas Court has been a fishery that has come back into form and this is a perfect example of how stretches fluctuate from year to year. On the 10th GP from Basildon reported 14 barbel and 18 chub, whilst earlier in the month we'd had complaints about the quality of the fishing. The second of the following reports keeping things real though, reminding us of what it's all about.
"Directions for Orchard not very clear..multiple choice of gates.. we chose the wrong one first of all and wasted 30 mins .Parking at river then requires Anglers to navigate a style not mentioned in description. Then access footpath not suitable for a trolley or barrow. steep in places not suitable for older anglers. No access to pegs downstream from parking point in orchard.No way to even get down to rivet All overgrown ! Decided to fish lower section but again layby not clear and had to ask at a small farm house to be sure we were in the right place. River low and clear..no depth only 12 inches deep. 2 Barbel caught all day between 3 Anglers..disappointing. Nice scenery but wont be coming back much better day ticket stretches with better access."
Then, "We love 'Saggers Court' for the setting and wildlife. The fishing suits a roving style so that's what we do. We located a few barbel but they were literally between a rock and a hard place and so tricky to tempt although we did get one of them out which was satisfying. A few droppers of hemp and pellet were popped in a few swims and duly fished after a rest and they produced some action on a steady day.Wildlife today, green woodpecker, kingfisher, buzzard, tree creeper, and bird that acted and looked like a dipper but was the wrong colour so we named it 'The Twerker'. A great day down the river."
On the 11th July we had heavy rain, enough one would have expected to flood and clear the algae. Well, it hardly rose but it did flush some of the algae out. The following day temps were back up, the sun was out and, almost immediately, the algae returned. The river was still slow then and catches were really confined to after sunset. You can really tell when the river's low as only certain beats continue to fish well - Backney, Wyebank and Fownhope 5 for example. Holme Lacy 4 continued to fish well during these conditions too and on the 11th it gave up 22 barbel and 18 chub.
I mustn't forget to mention Trelough Pool too - this is an idyllic stillwater between Abergavenny and Hereford. I've spent many hours here in the past and caught some really good fish. On the 14th of July an angler here managed lots of bits and pieces and a few nice carp - see pics. When the river is low and tough, these stillwaters can be just the job to get your fix, or to just enjoy a day in the countryside.
By the 16th July the river was extremely low again, with many reports across the catchment using the term "river on its bones". Backney, Holme Lacy 4 and Sugwas produced though - 18, 23 and 20 barbel respectively.
On the 21st the rain returned but this did bring a drop in temperatures as the rain fell mostly over high ground. This can really knock the fishing about and although many anglers are filled with hope at this sort of flush through (including me), it does take a couple of days for things to settle. You could tell from the catches how the river fished ok on the rise, then poorly for 48 hours before improving again on the other side. This pattern could be followed down the river along with the pulse of water. Even Backney, Fownhope 5 and How Caple Court experienced blanks during this Trelough's carp surface feeding time, with Wyebank having a blank on the 24th! The river then rose properly on the 25th and off the back of it we experienced the aforementioned hope that catches would improve. This wasn't the case though: conditions were hot and bright and the river dropped to be low and crystal clear within a few days. At least the algal bloom was gone though and sight fishing came back into play.
On the 27th catches improved everywhere. Notable reports were 30 barbel from Wyebank, 10 barbel at Middle Hill Court and 32 from Fownhope 5. Things continued to the end of the month too, with 44 barbel from Wyebank on the 30th, 31 from the Creel and 12 and 21 from Upper and Lower Backney.
During August, poaching is usually at a peak as tourists descend on the lower river. If you spot anything suspicious please give the Environment Agency a call on their emergency line (0800 80 70 60) as soon as you can or, if on the other side of the border, Natural Resources Wales on 0300 065 3000. If it is on a Passport beat, please also give the WUF office a call. Vegetation starts to die down now but Himalayan Balsam does start to flower and grow fast - be careful treading on the roots of this plant as they are very slippery.
Canoes continue to be a pain of course and as we head into August their presence will be at a maximum. Whilst in general they seem ok, there's always a few that spoil it for everyone but on a positive note this doesn't last forever and if you can't make it early or late to avoid the bulk of the traffic, then at least it's only a few weeks to early autumn and the steady decline in these less respectful river users.
As we head deeper into August I expect a few misty mornings. This is a wonderful time of year to be by the river - the drop in temps and the shorter days make the fishing window more sociable, the fish feed more readily during the day and you're not still on the bank at 8pm. Continuing on from July, I've got a fair bit of guiding on this month and, hopefully, I'll be able to put more smiles on faces such as those in the pics. Also I aim to get on the float now the water's cleared - armed with corn and pellet, I'll see if I can't winkle out a barbel or two. Also, look out for an article on Wye barbel in the next edition of Improve Your Coarse Fishing.
Whatever fishing you're doing, I wish you good luck and please don't hesitate to contact us if there's anything we can do to get you out on the bank.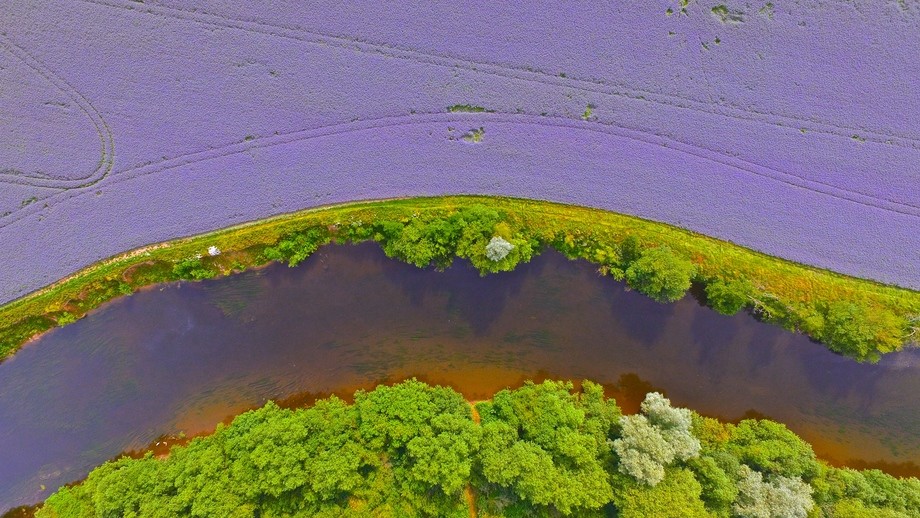 ---
June 2017
April was hot, May was chilly, and as we got into June we were in need of a flush through on the rivers. The three month wait may have been arduous, but the arrival of the glorious 16 th is always welcome, even when faced with varying fishing conditions. I'd been watching barbel spawn on the gravel in April, and during the sunsets of May the chub were shoaling up and supping mayfly and other flotsam beautifully from the surface. It's a mesmerising sight. I actually managed to capture quite a few minutes worth by drone - I hope to have this footage available for viewing soon.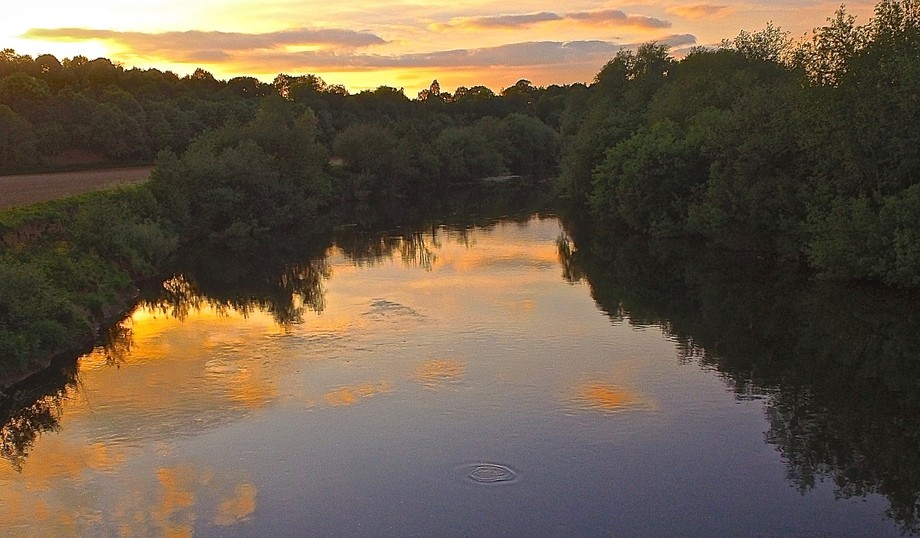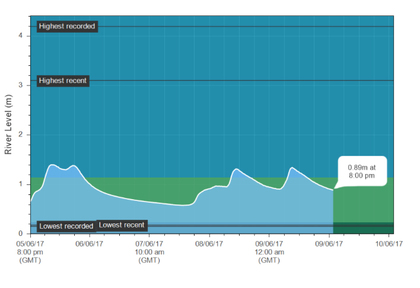 Right on cue, the beginning of June delivered showers and river levels that fluctuated almost daily (see hydrograph images). As I've said before, you have to be so careful what you wish for with weather. Yes, we needed the rain but then, all of a sudden, we wanted it to stop and settle ready for the 16th. Well, it did stop and within a few days we were experiencing record high temperatures with Wednesday the 21st being the hottest June day for 40 years. The results of this were an algal bloom that gave the river the most disgusting brown turbidity. The fishing was off for a few days but generally, the June sport was as good as ever.
The highlight of opening day from the reports was MA from Axbridge - he managed an 11lbs barbel from Sugwas Court, an awesome catch for the start of the season. Numbers-wise there were plenty of barbel and chub too: CW from Swindon caught 22 chub from Foy and LM from Neston had 14 barbel and 20 chub from Wyebank. The following few days were productive too, LM from Neston again caught 10 barbel and 15 chub from The Creel. Notable captures as the month went on were from Fownhope 5, a fishery that has taken a few seasons to get going. Initially there were EA gauging station on the Wye at Ross complaints about access, poor fishing, parking etc. However, with perseverance, we are now starting to see catch returns that reveal its true potential - 33 chub caught on the 19th June to PT from Dewsbury, 8 barbel and 20 + chub to NS from London on the 27th. Their description was "fishing incredible", another angler describing it as a "great place to spend a day, plenty of fish about". The highlight however has to be for SG from Cirencester - 10 barbel and 65 chub!!
There were further decent catch returns, Lower Carrots and Luggs Mouth producing 27 barbel and 18 chub to DB from Nottingham. Backney, of course, produced plenty of fish too with LP from Brentwood catching 32 barbel. Holme Lacy 3 also continued its 2017 form with 13 barbel and 25 chub to KC from Leeds.
A mention for Holme Lacy 4 too, a fishery that was new on the Passport last year. We're getting plenty of positive reports not just about the fishing, but about the management too - I'm yet to meet Monty but I'd like to take this opportunity on WUF's behalf to thank him for giving the booking anglers such an enjoyable experience.
Another fishery like this, which I believe will also get there eventually, is Marsh Court. Also new on for 2017 it has received mixed reviews. I know this beat reasonably well, have never had much issue with vehicle access and, having put in a little effort, know there are 20 or more natural swims over the mile or so. There's also plenty of barbel and some pretty decent chub and pike too. The problems encountered are mainly of access. Well, as I say every year and almost every month, it's impossible to open up an entire fishery. One angler said there were only 8 swims but I would ask him, how many do you need for a day? The point on swim numbers is that there could be 500 of them but somewhere along the lines some of them will get neglected by anglers, will become overgrown, and then it looks like neither WUF nor the owner have lifted a finger. June and July are the richest months for vegetation density - this has to be considered too if making a judgement on access on one of the wildest rivers in the UK. This is also a fishery that has been untouched for years - we're still learning about it as much as the anglers are and I urge people to concentrate on the fishing more than looking for excuses on why £pound;20+ isn't justifiable. It's taken years for us to persuade the owner of this fishery to entrust it with WUF's management and now we're getting mixed reports on access without anglers considering the bigger picture. The following conflicting returns say it all:
"Track down not that bad and fine in dry" and 2 days later "track down is very rough and you have to go all the way with no turning areas apart from rutted craters in corn fields". This is another example of contradicting opinion which makes it difficult to know how seriously to take a reported problem. If I can respond to the second angler's comments, no turning area is the norm for farm tracks (why would you need to turn round until you've reached the end of the track anyway?). Being in the countryside, which is one of the things that makes Wye fishing so enjoyable, entails a degree of acceptance that agricultural changes will affect access to the river. The track down may be through a cornfield this year but could be turf the next and be the best access on the whole river! Anyway, we hear your comments and are trying our best to manage expectations, as this is ultimately where disappointment with a fishery stems from.
One angler, however, has an approach I would always encourage:
"Only two anglers fished. Marsh Court is set in beautiful surroundings and you do have choices of swims available. Didn't catch and had few bites not sure if that's because we have a low fish population in this stretch as saw very little fish movement or my own shortcomings as an angler. Will have to see how this beat develops as more Anglers fish it."
A further comment on the fishery was "nice setting with not a soul around" - this is largely what we're all paying for. The next angler suggested the beat is not conducive for good barbel fishing as a lot of it is deep and slow. The top end of Whitehouse is like this, as is the Rope Pool on MHC, as is lower Wyastone, as is the top of HL3. These all produce very healthy numbers of barbel and, from personal experience, the barbel are there, trust me.
The last point to respond to is that of Wyastone Leys - it's suggested the top is tight and needs clearing. This was done heavily last season, and it just simply cannot be done all the time. There's a handful of swims that produce, dependant on species and levels, but if they don't get fished then it looks like no one's been there. To remind any anglers considering booking this beat, there's half the fishery that's in open, grassy fields, full of fish and with good access.
Away from catch returns, 'The Big Fish Off' paid Passport waters a visit in June. The celebrities included Linford Christie and Katharine Merry, who enjoyed a lovely day trotting for chub on HL3 and a day barbelling on The Creel. It was a tad hot though and things were not easy. We'll have to wait until it's aired to see how they all got on.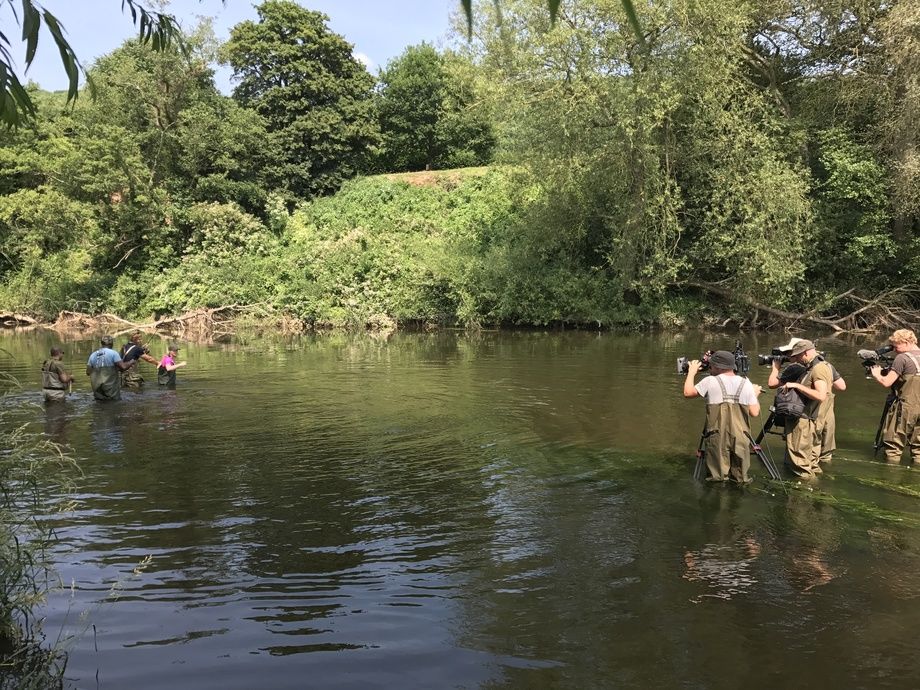 Highlights of the season so far for me have been working with Hugh Fearnley-Whittingstall for a new series on BBC 2, an appearance in Fallon's Angler magazine where I write about early season tactics and a recent surface-caught carp, and a particularly memorable capture from Redmire during opening week. I'd like to share this as it really was a magical moment. After 2 days/nights of blanking I was feeling at a bit of a low ebb - nothing to stop me enjoying myself but I knew that if I were to have another 24 hours without a fish the sorrow would set in. We had been there since Thursday night (16th) and the Sunday happened to fall on Fathers' Day. This filled me with great joy and after a barbecue and a walk around the lake with Mum and daughter, I retired to my bivvy to tell my daughter a story. She's not quite 3 but at that age the enthusiasm she shows for the wackiest of tales, gives a sense of fulfilment only those who have children will know. We rolled around on the bed chair giggling with our new puppy (Rudi) - these magical moments never last however and soon she became too hot for fun and games, it was time for Mum to take her home. I've read and heard it many times that female pheromones have fish attracting qualities and know that some of the largest salmon recorded have come to female anglers. I don't know what made me think of it on this occasion, and the resulting rubbing of my hands in Daisy's armpits did receive some undescriptive look from her Mum. "Just wait and see, I'll send you a picture" I said as we closed the famous wooden 5 bar gate.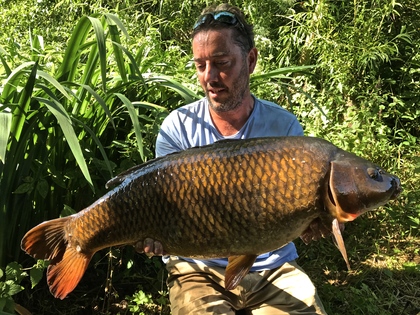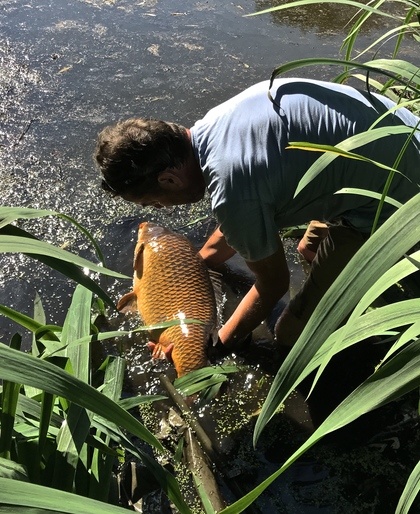 Rejuvenated from lunch and visitors, I made my way up to the shallows with a handful of pellets, a soft action carp rod with 12lb line straight through to a size 6 hook, and a net. The water was already clouded, evidence that fish had visited the area not that long ago, and after pinging the odd pellet here and there I was quietly smug when 2 decent fish started circling the baits and then tilting head down, tail up, to take the pellets. I under-armed my bait just off a bush which they seemed to favour, and after a minute or so, one of the fish cruised in. Its head went down, a plume of orange silt rose from the bed but, somewhat disappointingly, there was no trickle of line across the surface as the fish moved off with the bait. Instead the rod nearly ripped out of my hand and as I regained tension the fish tailwalked across the shallows. There were plumes of red mire all over, coots screeching and fleeing, and me shouting to one of my mates for help! After an epic battle I revealed the carp in the folds of the muddy and weedy net - 21 and ¾ lbs it weighed and although not my largest from Redmire, was one of the prettiest. Every capture there is special, and for some reason there's always a story to the big ones. This is one story I'll never forget.
This report has arrived late in the month, so there's little point in suggesting how to move forward, to be honest the algae bloom was so bad I wouldn't have known how to! July's report won't be long behind this but whatever fishing you get in this last week or so, I wish you tight lines. In the meantime if there's anything we can do to help please do get in touch.
www.wyeuskfoundation.org
www.anglingdreams.co.uk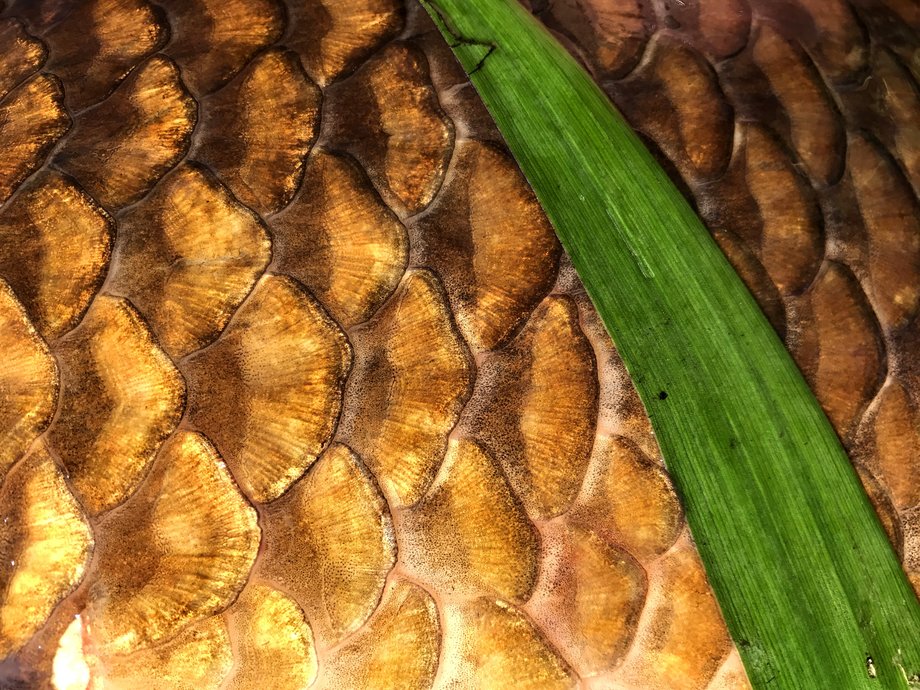 ---
December 2016 to March 2017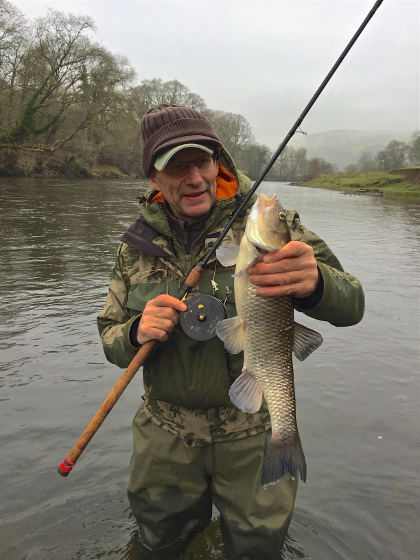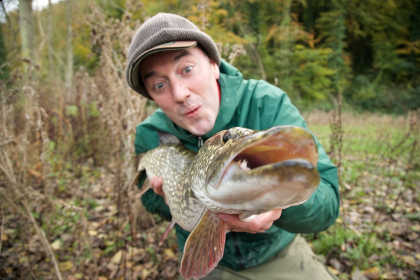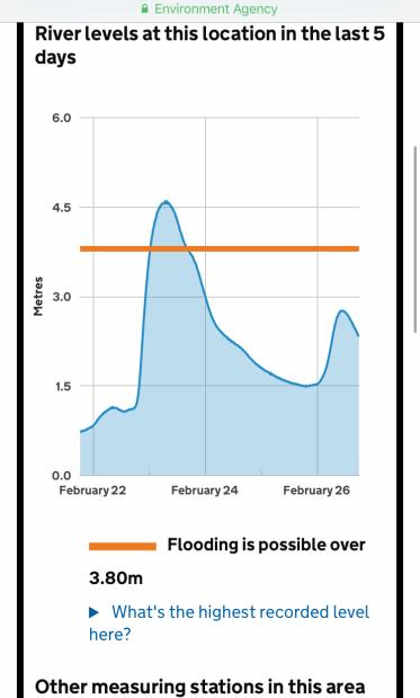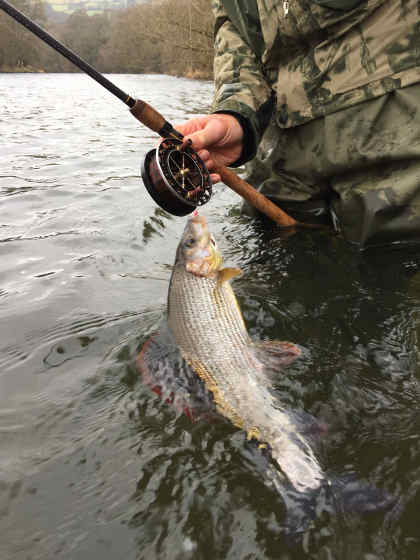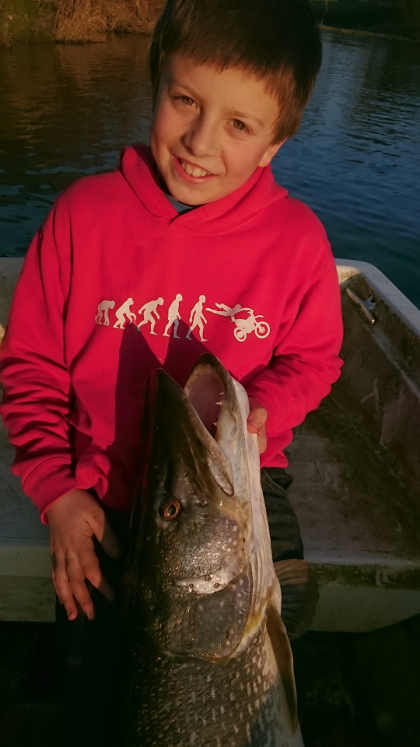 My last coarse report was in November 2016 when the river was low and clear and the fishing not particularly productive. A good flush through would have livened things up then, but you have to be careful what you wish for! It took until the end of Feb for the river settle to a level where it was sensibly fishable, and might offer some consistent sport.
For what might seem obvious reasons, not many day ticket anglers fish through December and especially the Christmas period. Combine this with poor fishing conditions - cold flood water, high pressure, easterly winds, and it's no wonder reports were thin on the ground. We remained positive, however, and hopes were pinned on Janaury and the New Year. Well, that delivered sub zero temperatures and although this is normally good for pike and chub fishing, such conditions should also be welcomed as an important part of the river's annual cycle. However, cold air temps combined with a coloured and dirty river from melted snow, is just about the kiss of death for fishing on any river. You may ask why did the snow melt if it was so cold? Well, it wasn't quite cold enough for the snow stick around and as soon as it fell it pretty much went straight into the system. Yes, here and there the adventurous angler was rewarded with the odd pike and some chub, but there was nothing of any real note. I don't wish to sound blasé as catching a fish is no mean feat in such conditions, but it just wasn't what we expect from what is normally a very productive winter river.
The cold snap peaked at the end of January, with a couple of days approaching -6 or -7. We thought we may be in for the long overdue and much discussed "Big Freeze", but as quickly as it came it then warmed up, followed by more cold rain and a subsequent dirty flood. It wasn't until the 7th or 8th February that things became fishable again and along with it a few reports of barbel coming out. No pike or chub to speak of though - there's a few mutterings around about why this was such a poor winter for those species. Personally, I think it's cyclical, like most things in nature. There was another cold flood up to the middle of the month, but then followed another brief spell when fishing picked up....
C.W from Gloucester caught 10 chub from Courtfield. The beat also produced some steady catches of 3 or 4 barbel in a day, along with Backney, Fownhope 5, The Creel, Middle Hill Court. This is good fishing for the time of year, when anything but a blank is welcome.
The 20th Feb was a good date for PL & friend from Spalding on The Creel. 16 barbel and 10 chub came to their net - that's fantastic fishing anywhere you might go.
As we looked forward to a steady run up to the closed season, along came Doris with shower after shower and a consistently rising and falling river. These winter storms from the Atlantic usually arrive delivering warm air and rain and although it wasn't particularly warm, it certainly should have been enough to raise temperatures to get barbel to feed. However, this didn't really happen and we were left scratching our heads as to why. The reason eventually became clear - The Elan dams were already brim full, and due to the power of the storm there was a surge towards Caban Coch dam - a wave of water was then forced over the lip of the dam wall and came crashing into the Afon Elan, before reaching the Wye. Yes we had a lot of rain, but the spike was tremendous as can be seen - some 3:5m in just a few hours. With the flood came the usual trees and branches. The silver lining I always consider with a flood is that it clears a lot of debris from the system.
The river didn't make it over the banks this winter, which is unusual in any year, but I think it was consistently high and cold for longer than I've ever known.
Just before Doris I was aware of a few anglers up and down the river doing rather well fishing maggots. Barbel were caught from swims that haven't produced for a few seasons, and at steady intervals too - 4 or 5 in a day was modest expectation. I rarely barbel fish in winter unless we have a definitive warm flood and all other species are off but during these few days I had to see it for myself. Armed with a couple of pints of mixed maggots, a handful of hemp and groundbait for each maggot to be coated in a little added attractant, I headed out and caught several fine conditioned barbel. Maybe I'll rethink packing the barbel rods away in future winters! The thing about fishing maggots is if there are any dace and grayling around, you'll probably hook them too, not to mention chub. Grayling are certainly more ubiquitous in lower river catch returns the last couple of years - I'm not sure fishing for them will ever be as prolific as upstream, but there's definitely an increase in the population.
Onto the end of season catches and it certainly was very productive for some...
MK from Boston followed catching 5 barbel from Fownhope 5, with 12 barbel from Courtfield the very next day. Courtfield always fishes well in the winter, and along with the Creel, fished well again last winter. Middle Hill Court also continued its return to summer & autumn form, MG from Little Hadham catching 7 barbel on the 10/3, RW from Cadman catching 10 on the 11th . At the same time NH from Aldershot was catching 7 barbel from Backney. It's great to see someone reporting back catching a few on White House too, AP from Woodford Green catching 7 up to 9.5lbs. I've always liked this fishery, and would fish there any day of the week, but for some reason popularity has waned. Access is good, fishing is good, scenery spectacular. If you haven't fished there I highly recommend it.
Courtfield finished the season well with an 11lb 3oz barbel to CS from Yatton. How Caple Court also producing an 11lb 10oz fish. Middle Hill Court produced 14 barbel to NS from Shepperton on the penultimate day, LM from Wirral caught 9 on Sugwas Court, actually just about everywhere got a taste of the winter barbel action by closing date on the 14th March, which was great to hear.
Probably the catch of the winter was Thomas Macdonald-Ames's pike from the upper river, un-weighed but surely upper 20s. It was a beast of a fish to such a young man, well done to him.
Now the long wait to June, but it will be upon us before we know it. If you haven't booked any fishing yet I urge you to do so as it will be all but gone by the start. In the meantime there's some stillwater action to be had for sure - Trelough and Quabs is where I'll be hoping to catch some tench and carp from. As always I strongly recommend that if you haven't already, pick yourself up a fly rod and have a go for some spring trout - a whole new world of fishing and guaranteed adventures await.
---
November 2016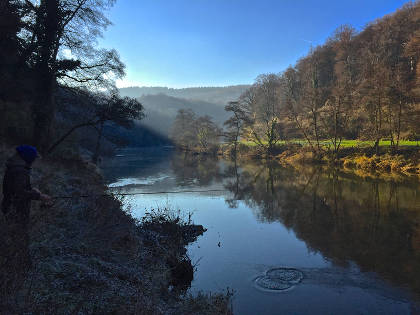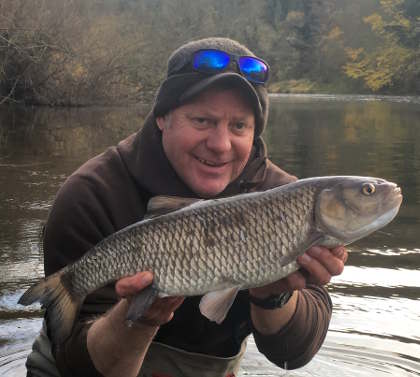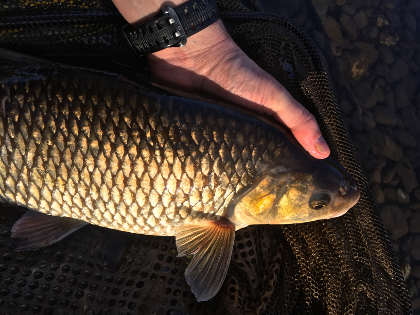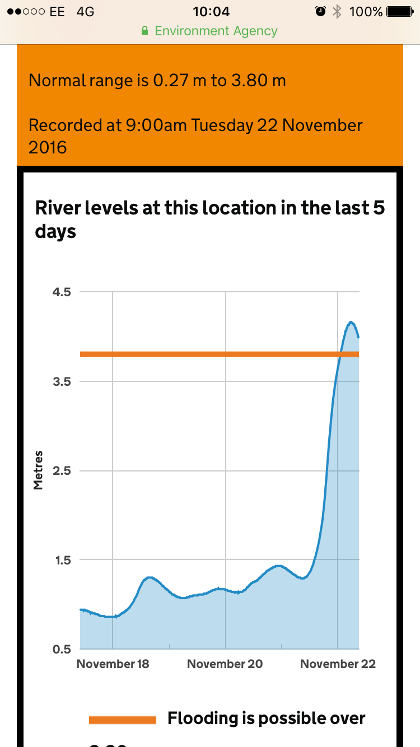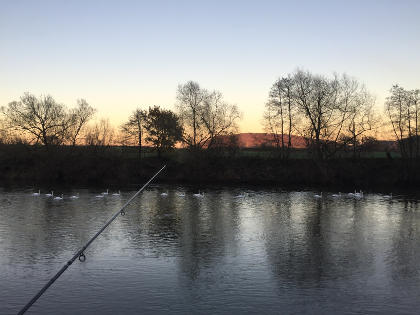 If we get a good flush through in October, then November can be a very productive time for coarse fishing on the Wye. The barbel feed on through the autumn, the small fish get shoaled up making the trotting good and the pike that prey on them are not far behind. If, however, you get what we just had - low, clear, cold, and in need of that flush through - then the river can appear pretty lifeless. This was one of the most spectacular autumns I can remember, but the fishing didn't follow suit. A theory behind that is the sheer quantity of leaves and twigs in the water - surely a variety of bugs and insects come with this so providing the fish with a decent larder to feed on?
Contrary to this there are those notable days when the river comes "alive." Deer may pay a visit while you're on the riverbank or you may come across them en route to your venue. Pike attack bait fish, owls hoot in broad daylight, salmon crash and kingfishers flash past. On these days the fishing anticipation is heightened and why shouldn't it? It makes perfect sense. All of nature is "having a go". We had a few days like that this month and I should take more notice of them. I remember saying many times in the past that it's as if we've got some cold weather on the way and all of nature is getting prepared - and what happened a few days later? Minus 6 for several days, hale showers, snow, frosts etc.
Chub fishing did pick up for a short time and I experienced a particularly good session on the float. Back in the summer I spotted a shoal of big chub under a rather large bush. Hoping they were still there, I fed maggots mid river for over an hour expecting to pull them from their cover and to trip them up on a double maggot or piece of flake. One fish later and another bumped and it was clear something wasn't right. To cut a long story short I had to cast upstream of the bush and literally allow the float to clip the branches on its way through the swim. But the results were pretty awesome - half a dozen fish later I'd banked a chub that was an ounce short of my p.b. and in the most fantastic condition. Bronze as a bronze thing, shiny and bright. "Fresh" I think is a good description. The cold weather does lead to fish moving around less and with it sometimes more finicky bites, but when you work it out it's so much more rewarding!
So, the catch reports for November were predictably a bit quiet. The Creel fished well (as always this year), as did Backney, but otherwise the river generally slowed down. We had a huge flood at the end of the month (there's a graph below of one of those spikes) but it was all a bit late and combined with snow melt, all but killed the fishing off. If we'd had it in October then I think it would have been an awesome November. Instead it's left us all a bit deflated and winter is here all of a sudden.
There's been a notable increase in bankside trees falling in. I think this is just coincidental and what we really need is a good hard winter flood to flush all the half broken willow out. I think this is cyclical and just like the weed, which I hope will come back in full bloom next year. What the lack of weed in the last couple of seasons has meant is the fish have pushed into the margins more and catch returns back this up - perhaps something to think about next time you get out on the bank? Combined with a few more fallen trees there's a whole rake of marginal swims that have perhaps previously been overlooked. The Wye has never really been a marginal river when it comes to barbel, but I think this has changed for now. Another recent change we've noticed is that grayling have started showing up in catch reports further down river - I've always caught one or two but there's definitely an increase this year. Don't get me wrong, they're not prolific and it's not reasonable to target them specifically yet, but they are on the increase and this is good to see.
It was the Wye Champs at the start of the month and although "peggy", there were some pretty impressive catches, the winning weight being 125lbs 6oz to Peter Goulding. This competition is always an interesting measure of how the coarse fish stocks are and perch make up a lot of the weights in matches these days. There's also some decent roach showing up and this is exciting for the trotting angler. Perch in the reaches outside of the towns are harder to come by, but they are there and a recommended method is to rove and rove with a tub of lobworms. The problem with perch is they're either really on or really off, so just because you don't catch behind a fishy looking bush doesn't mean they're not there. It's something I plan on doing more of this winter so hopefully there'll be some pics for you in the New Year. Dawn and dusk are the best times for perch and fishing at this time of year in general is great because the two witching hours are far more sociable than during the rest of the year. Although the days are shorter, you get to fish the two best times of the day, which you may not be able to do in the summer. Yes, the cost of the day ticket is the same for a shorter day but it's relatively as good value in my opinion.
Nearly all WUF beats are now open for bookings for 2017 and the beats I look after are too, so please check your diary and start getting those dates in. The popularity of the booking system and the Wye is going from strength to strength and dates are booking up quickly, especially in the summer. One exciting new fishery to explore is Marsh Court, a few miles upstream of Hereford. This one has huge potential and I look forward to reporting on my and others' experiences from there over next year.
I expect my next report will be after January now as December and January will combine. There will then be an end of season report in April and a pre-season one in June. On that note I'll say good luck if you do manage to get out over the festive period. Watch out for slippery banks following any flooding and please keep the feedback coming in.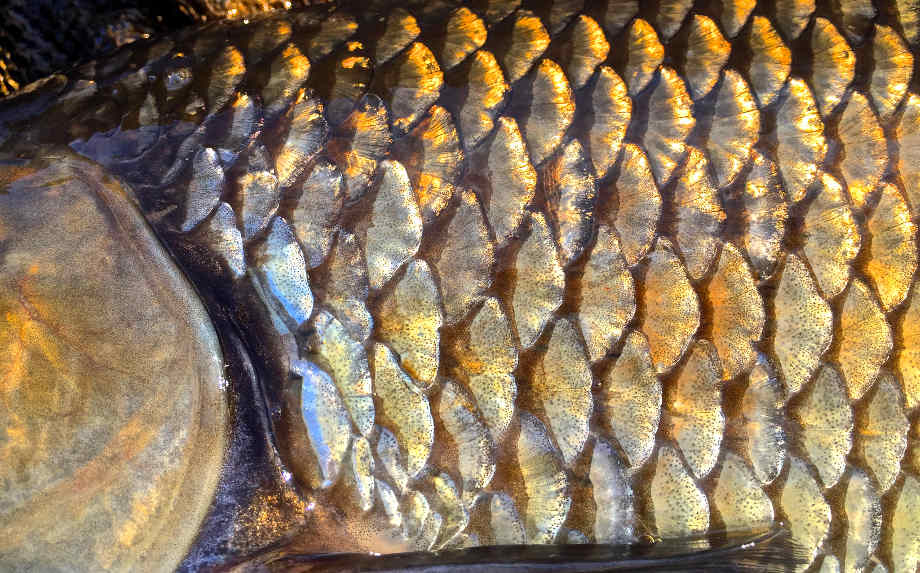 ---
October 2016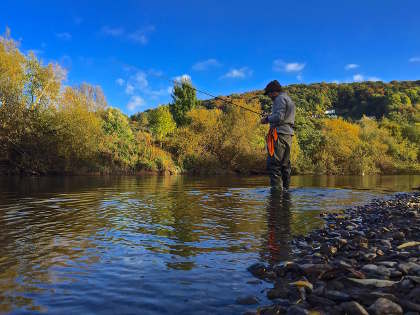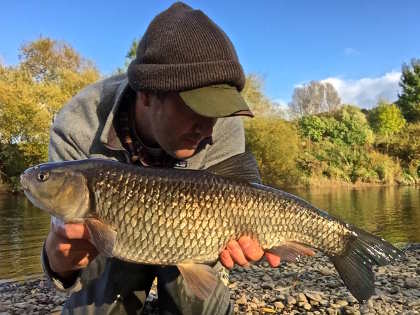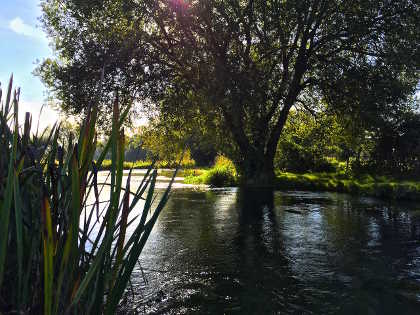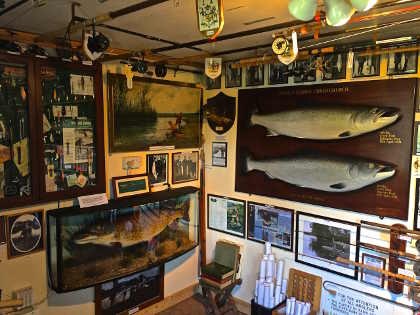 This time last year we experienced low water with incredibly clear conditions. Well, this year we had pretty much the same and for coarse anglers, it makes things tough. Whereas last year the barbel still fed well and were catchable on the float, this year that didn't really happen. I tried, other anglers tried, and no matter what we did, the barbel really didn't get going until the last hour or two of light. The catches were still steady throughout the river though, as one would expect, but there were only one or two really outstanding reports - TW from Preston caught 45 barbel and 16 chub at Fownhope 5 and ME from Stanwell reported 50 barbel from Perryhill. Otherwise, there weren't many double figure catches of barbel or chub and the size was not notable either, with one or two low doubles here and there. By no means was the fishing poor and I guess this just goes to show how unpredictable it can be. There was a drop in temperature and a small flood but fishing neither really slowed down or picked up - it was just steady. The temps did pick up on the 18th/19th and despite seemingly lovely fishing conditions the catch rate still didn't increase. Dace fishing never really got going, nor did the chub fishing and although there were a few anglers fishing for them, the pike didn't really put in an appearance either. There were two beats that perhaps stood out and that was Middle Hill Court and the Creel - they've both fished really well this year.
We received the following report from an angler at Whitehouse, which is really a true reflection of what it's all about and, I think, well worth a read:
"First time on this stretch. Booked as part of anniversary weekend for me and my wife Becci hoping she could finally catch her first barbel. Track down the field was a bit ropey in my estate car and better suited a 4x4 but we managed - a bit of wheel spin on the way back up so I'd think twice before heading down there in a non-4x4 in wet weather but I'm sure the farmer would let you park at the top and walk down if you asked nicely.
Read a few reports about lack of swims - I can assure people that there are plenty of swims, at least in the relatively low flow conditions we had. Some towards the upper end are a little bit difficult but there is more accessible water than a couple of anglers could fish in one session without question. If you want perfectly manicured swims I suggest you stick to commercial fisheries. Absolutely nothing wrong with this beat.
Now the fishing - first fish out was an 8lb 3oz barbel to my wife. Hearing her nervous giggling as the reel screamed was an absolute delight. After that it all went very quiet apart from the odd salmon jumping and a few pike hitting fish at the surface so we moved downstream a bit - wish we'd done that earlier! 5 mins after moving my wife had her 2nd barbel and shortly after that I had one at 7lb 1oz. We finished with 4 barbel each, lost a couple, had a 4lb chub and then a few dace and a wee troot on trotted maggots - if you could be tempted away from the barbel (all caught on pellet) you could have great fun trotting on this stretch. If we'd moved earlier / had longer before dark we would have certainly added another couple of barbel to our tally. Also watched a kingfisher feeding throughout the day. One of my best fishing days ever and over the moon that my wife managed to catch her first barbel and that it was such a good size fish. Barbel ranged from 4lb up to 8lb 3oz. Great day, thanks to beat owner and WUF."
As winter approaches and numbers of legitimate anglers on the river drop, we sometimes get an increase in illegal fishing and poaching activity. It is worth noting the difference between the two - poaching is generally thought of as someone who is fishing with a rod licence and with legal methods but without the permission of the fishery owner whereas "illegal" fishing is usually where the law is being broken - i.e. no licence, illegal methods, taking fish where and when not permitted etc. In recent years, EA and NRW bailiffs have really only been concerned with the latter, leaving poaching incidents to be dealt with by the owner or fishery manager. However, I'm glad to say this situation appears to be changing with the statutory authorities seeming more willing to respond to "fishing without permission" incidents and bringing prosecutions under the Theft Act (effectively theft of fishing rights). In times of The rod room of the Royalty Fishery on the Hampshire Avon dwindling government resources, it remains to be seen whether this trend continues or amounts to any serious deterrent to poachers. In the meantime, here is WUF's advice if encountering either type of offence:
"Coming across poachers is, unfortunately, a risk on any fishery, however many signs are put up. There is little that can be done about these incidents several days afterwards. We therefore urge anglers to call the EA/NRW incident line (0800 80 70 60) immediately if you come across people fishing illegally or without permission. If the incident is on a Passport beat, please also report it to us as soon as you can on 01874 712074. If you feel threatened in any way, please call the police on 101 or 999. Advice on poaching incidents is given in the "What To Do Guide" issued with every booking."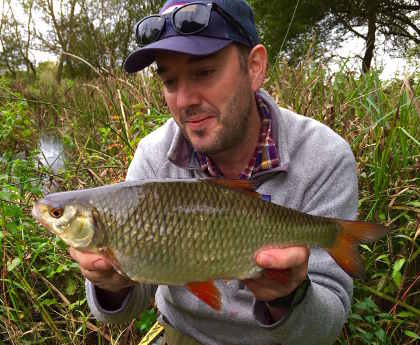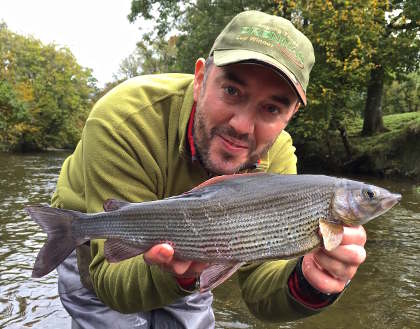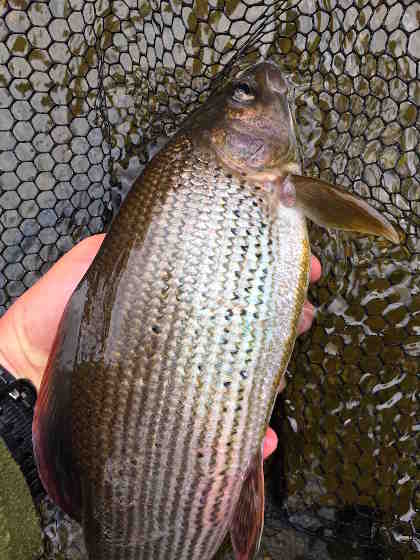 Towards the end of the month the chub fishing did get going and there was some great sport to be had on the float with maggot. This boded well for the annual Wye Champs but you'll have to wait for next month for me to talk about the result there.
My mojo to fish has certainly been affected recently by the loss of my fluffy little dog. However, when offered a few days away on the southern chalk streams I thought it was the perfect opportunity to renew my enthusiasm. What I do know is a change is as good as a rest, so armed with a gallon of maggots and centrepin off I went. I revisited a stretch of the Kennet on the way down which was an old haunt from back when I was a student. I had the whole beat to myself and caught some cracking chub. They looked different to Wye fish- smaller heads, more dense and dark but they were, of course, a real pleasure to catch. I then had a day on the Itchen as a guest and although it was low and very clear my instincts told me to persevere in a swim that just screamed out to have something special in. An hour later and the roach pictured showed up, amongst bream and plenty of grayling. The 3rd day was a real treat and I must thank John Stack and Nigel Gray for setting it up. If you've never been to the rod room on the Royalty Fishery I highly recommend it! Combined with a day in the punt on the Bridge Pool, it's something every river angler should do. To be honest, that was enough fishing to last me all year, but although the chalkstreams have a majesty all of their own, I was recharged to get out on the Wye and lose myself in wilder surroundings. The fishing was good and I can only think the amount of trotting I'd had in those 3 days down south had fine-tuned my skills - I had an epic day on the float towards the end of the month, fishing single maggot to land chub up to 6-1. I also visited the upper Wye area and caught some stonking grayling - less numbers of fish than the chalkstreams but, again, wilder and this annual autumn pilgrimage was certainly one to remember. My thanks to Rich for his company and pep talk to get me up there! All that fishing really did get me over the hurdle of losing Belle but I can't help but think she was there in spirit - she'd have loved every cast.
Speaking of the upper Wye, I'd like to take the opportunity to point you towards a couple of interesting films I made for WUF during September and October, one of them reintroducing gravel to the Afon Elan and the other removing a weir on the river Lugg. Both rivers have good numbers of grayling and, along with salmon and trout, the work aims to help successful spawning in future years. Please do have a look at these videos via the links at the bottom of my report.
Heading into November the conditions were starting to really get chilly and next month we'll see what that did to the fishing. Until then I suggest you continue to enjoy this wonderful autumn we're having and try to be patient when all the leaves eventually flush through - it'll be a nightmare for a couple of days but will eventually give way to a fresh winter river.
Whatever you fish for in the meantime, enjoy and good luck.
Reintroduction of gravel to the River Elan.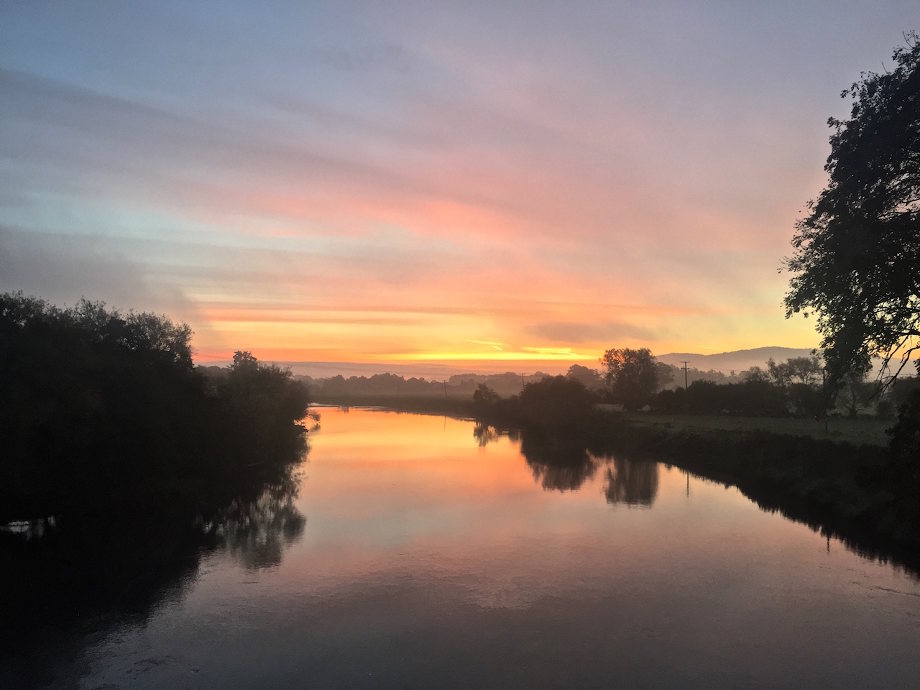 ---
September 2016
NEWSFLASH! Sandwiches stolen by dog at Lower Canon Bridge! Although this may not seem a big deal to you, during a long day's fishing, sustenance is important, especially with the walk to and from LCB!
This is not the first incident of sandwiches or bait being nabbed by a hound this September either. Another angler had some pellets disappear from White House and another reported sandwiches being scoffed at Wyastone by a passer-by. I'm not sure which is worse; no lunch or no bait. I'm not a fan of pellets personally but luncheon meat or sweetcorn has kept me going many a time on the bank when I've forgotten my lunch. Either way, you have been warned!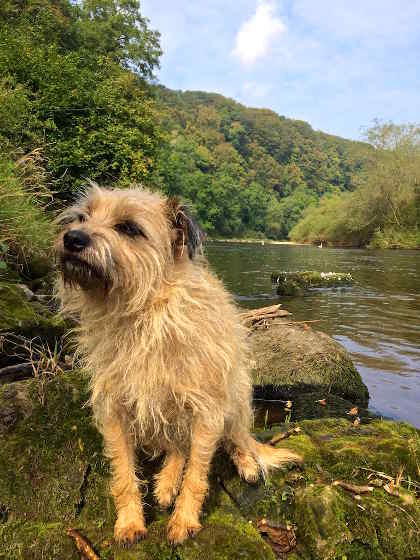 September is my favourite month for fishing but sadly this year it will be marked by the loss of my dog, Belle. She was 6 in May and having had her from a puppy she's been everywhere with me and was a great riverside companion. Rarely on the lead she wouldn't dive in the water for anything (even sandwiches) and she was an excellent pike angler - she'd watch a bung for hours and as you may have heard about other dogs, she had a sixth sense when it came to a run, often licking my ear just as the first twitch would come to the line.
Anyone who's ever lost a dog at a young age I'm sure can empathise - I can honestly say I've never been so sad. Fortunately my daughter is too young to notice and, in time, I may consider a replacement but at present it's hard to imagine how another dog would be the same. But then, they never are I guess. I'll keep you posted and if anyone knows of any terrier puppies (not from a supermarket car park!) then I may be interested.
The start of the month went off with a bang as far as fishing was concerned, with some fantastic catches up and down the river. The conditions were good - a falling river following a small spate, still warm at night and not much weed and flotsam coming down. LW from Oldham made the most of Fownhope 5 with 19 barbel and 28 chub - the most productive catch I've hear of from here. Middle Hill Court too continued its recent form with 15 barbel and 10 chub to RP from Leicester. We receive few reports from Wyastone these days, only ones to say how few swims there are even though I supervised the clearing of approximately 20 in August, many towards the downstream limit that the complainants never even walk to! 10 barbel and 6 chub were reported here to N from Carmarthen. It's no surprise to report Backney doing well too - 16 barbel and 28 barbel on the 3rd and 4th, with Holme Lacy 3 continuing it's form with 30 chub to CD from Langport and 21 barbel to DC from Morton on the 5th.
Kerne Brige receives a few complaints about access and although this is understandable to a point, it's more daunting stood at the top of the bank than once you're down by the river. It's worth the effort though, RS from Merstham catching 21 barbel and 9 chub on the 5th.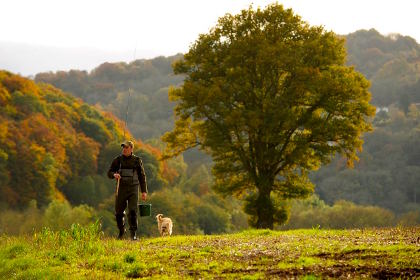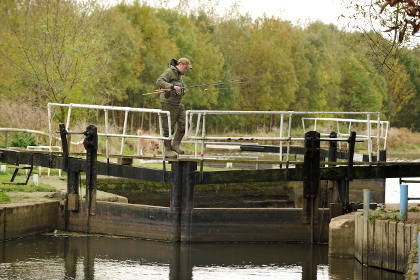 This was a particularly good few days for the whole of the river actually, with the highlights being the Creel and Backney producing 13 barbel and 18 barbel respectively. Lower Ballingham also returned to a bit of form with 17 barbel to PM from Cheltenham, and 16 barbel at White House to NW from Biggleswade. During this period if you weren't catching lots of barbel then something was seriously wrong and although the Lower Hill Court fishery has fished consistently well the last few years, a report from MA from Somerset is worth mentioning as they caught 91 barbel over 4 days.
On the 6th September there was another small rise in the levels and this kept the sport going -
Courtfield - 18 & 12 barbel in consecutive days
Holme Lacy 4 - 15 barbel
Backney - 24 barbel 12 chub
Wyebank - 50 barbel over 2 days
How Caple Court - 23 barbel
Fownhope 5 - 26 barbel
Foy - 17 barbel
A few anglers continue to report MHC not having enough swims - the top swim at the Vanstone Pool being joined with the salmon fishery above putting 2 anglers off completely. That was a shame as they reported catching 7 barbel and the day after PH from Hastings caught 21!
Sport continued right through the fining down and Fownhope 5 again produced a great catch for MK from Bourne with 24 barbel and 10 chub. MHC again gave a good day to PH from Hastings catching a further 22 barbel, with Kerne Bridge producing 22 chub on the same day and PD from Ascot catching 35 barbel at Backney. Foy Bridge and the Creel also gave up more good fishing with 33 barbel / 60 chub and 20 barbel / 8 chub respectively.
Foy Bridge, The Creel and Fownhope have one thing in common for me - the more they get fished the better the fishing gets, and this is classic of so many previously underfished stretches. I think the fish get used to what bait is and when it starts to go in they switch onto it faster and stay on it in more due to lack of pressure. The Creel fished well at times last year, but this year it's really got going and the following few catches prove this:
19th - 19 barbel 9 chub
20th - 26 barbel 4 chub
21st - 19 barbel 8 chub
22nd - 18 barbel 7 chub
That's quality fishing no matter where you go and just upstream of this is Foy Bridge, which produced 25 barbel and 18 chub to IJ from Grays on the 24th. It's an interesting pattern and there's no doubt that the Backney to Foy area is the most productive stretch of the Wye right now.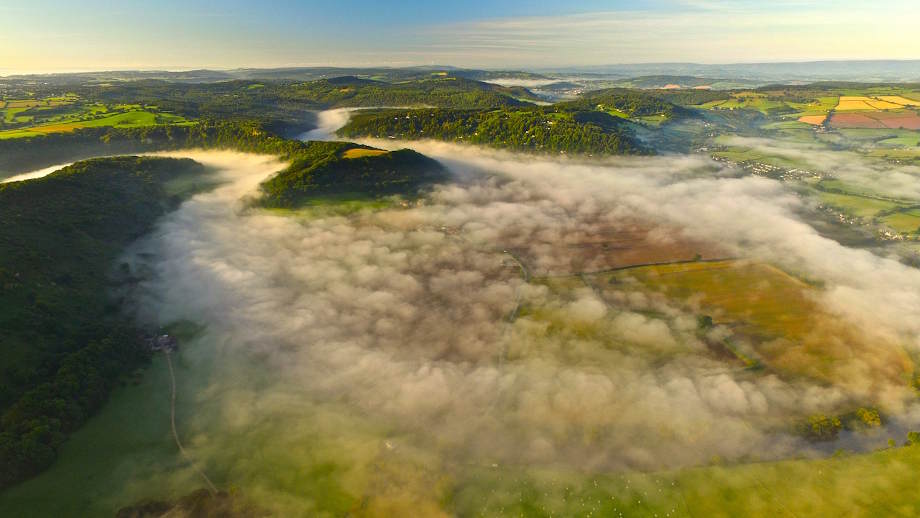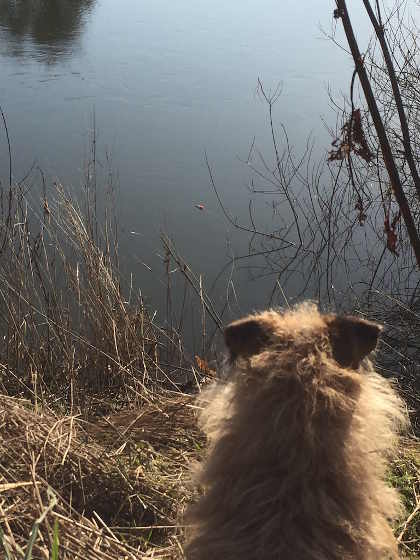 Catches still continued elsewhere but as the river went low and clear the fishing definitely got tougher with only MHC and Holme Lacy 3 producing the big catches we had got used to. As the month closed we had another short spate and this did bring a flurry of catches throughout the river - most notable perhaps was the presence of a few doubles in the reports. Does this mean the big fish are starting to feed now? Courtfield produced 2 doubles to MD from Somerset and the opposite bank at Home Fishery (fished via Angling Dreams) also produced two 11lbers, one of which was taken on a float on the last day of the month. What a way to close for us in this area and as October came in the cold nights hadn't really started to set in, but they were forecast. We'll have to see what next month brings with hopefully a few reports of some predators and some lovely pics of the Wye Valley in its autumn splendor. The misty mornings have already started though and there's a few photos attached of these.
Enjoy this time of year. It's lovely out there and as the nights draw in and the clocks change the summer will all be behind in a flash. I like it and although my little dog won't be here to join me this autumn she'll be with me in spirit and hopefully will bring me some luck with a few chub & dace on the float. I'll end with the catch returns below - a couple of the best I've ever read!
C. D. from Langport , Saturday 3 September, 2016
Area: Middle & Lower Wye
Beat: Sugwas Court (Booking Office), Fishing Type: Coarse, No. Anglers: 1
No action today and do you know what?... It really didn't matter, just being here it's just a privilege to on the bank of this glorious river thank you WUF.
D. C. from Norton, North Yorkshire, Sunday 25 September, 2016
Area: Middle & Lower Wye
Beat: Perryhill (Booking Office), Fishing Type: Coarse, No. Anglers: 2
First visit to Perryhill and shorter than ideal due to travelling home after a weekend on the Wye.
We were in a 4X4 which is advisable for the track. The cattle were ok and didn't bother us at all. The barbed wire fencing bordering the field is manageable. The banks are steep so our ropes were used to get up and down safely.
The fishing was steady for the time we were there but we found a few fish in a couple of swims with barbel to 9:6.
A truly wild beat. Don't sit there wondering what it's like, get it booked and give it a go.
3 Barbel, 3 Chub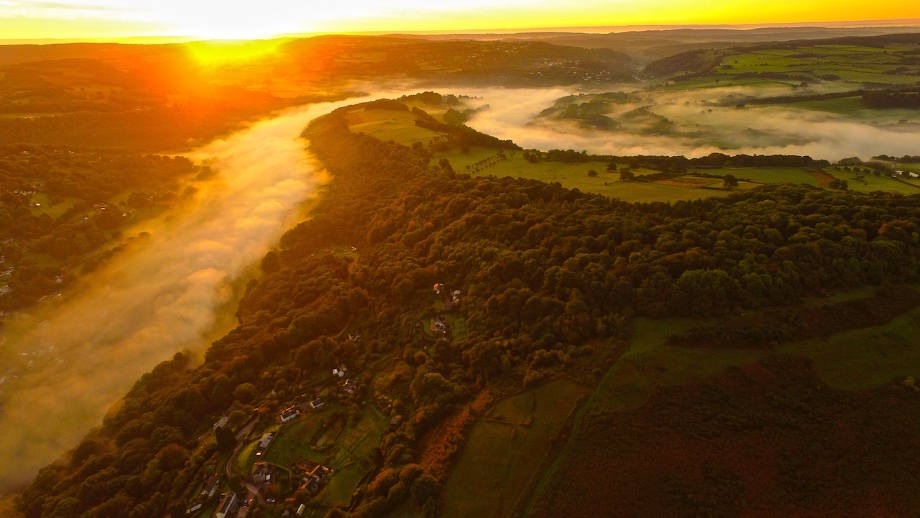 ---
August 2016
August is often referred to as the "dog days" by anglers with low water and oxygen levels, maximum weed growth and fish not feeding until low light levels of dusk or sunrise. Also, being the holidays there are more non-angling people around. Canoe traffic peaks and boat after boat can arrive your swim from mid morning to mid afternoon, one after the other after the other, the clanging of paddle on hull audible for some distance before their arrival, and well after. Then there's the screaming and shouting....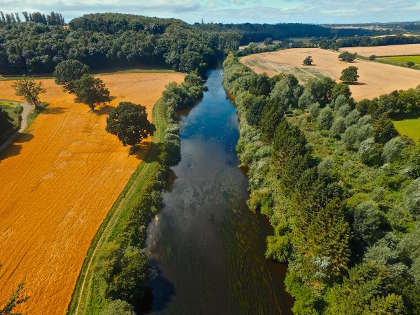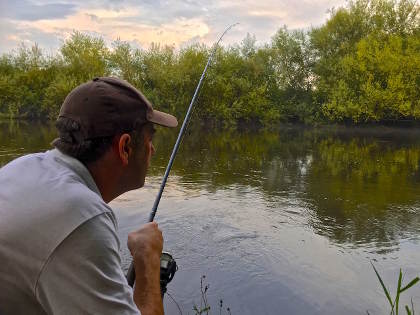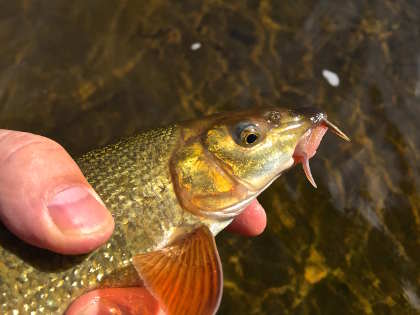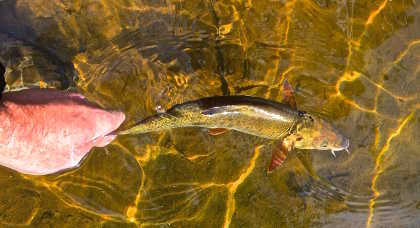 When guiding for a client recently, I encountered an adult and 2 children in a canoe who came downstream and then turned and stopped in front of us, only for the Dad to throw a ball in the water which they chased around. I said nothing as I've seen it all before, just looking on in disbelief. They then asked the usual question "caught anything?" "Had a few but doubt I'll have many more" I replied. "Come on" said the father, "let's move away from the grumpy fishermen who want to spoil our fun." Well, they were spoiling my fun and they came into my space, with the river as far as the eye could see upstream and down to have fun in. It was really quite bizarre and was so blatant I thought it must have been on purpose.
Anyway, onto the fishing. Holme Lacy 4 & The Elms is a new fishery for WUF this year and has been fishing really nicely for those fortunate enough to get one of the 3 days available there a week. The Creel too has continued in good form - LS from London catching 11 barbel and 12 chub on the 3rd, and 10 barbel to LF from Lancaster on the 2nd. The same party then fished Middle Hill Court and stated that because of the fee that "upkeep should be paramount" and many swims unfishable. They managed to catch 18 barbel and 20 chub this day so I'm not quite sure what the problem was! Also, as has been explained dozens of times, there are large areas with no swims in many beats because much of the water is just not conducive to good fishing (too shallow, very snaggy, or weedy). If the time and expense goes in to putting swims here then it will be wasted as anglers just won't fish them and they'll grow over once more.
It was great to hear reports of White House fishing well again. To me this beat has never really dropped in standard. People just stopped fishing it as much, possibly because of the sometimes noisy irrigation pump there (which isn't usually a problem outside the summer months. LH from Worcester Park caught 14 barbel here on the 4th. Still, you get the same conflicting reports, and below is another perfect example of how difficult it is to please everyone! I think the lack of fish caught might have been a motive though...
H. R. from Leicester, Tuesday 16 August, 2016
Area: Middle & Lower Wye
Beat: White House (Booking Office),
Fishing Type: Coarse, No. Anglers: 2
1 fish in 3 days didn't help with the bright weather and low river. I've got to say I'm very disappointed in the Wye and Usk Foundation. Could only fish a quarter of the stretch. No effort made to cut out any pegs. When your paying £22 a day to fish you think it would be the least they could do. Will certainly not book any fishing with the WUF again. You can fish the opposite bank of there stretches for half the price or even less and night fish.
1 Barbel
N. W. from Bristol, Monday 29 August, 2016
Area: Middle & Lower Wye
Beat: White House (Booking Office), Fishing Type: Coarse, No. Anglers: 2
First trip on this beat and was very happy with the water available. Very hot and bright with 2 fish coming between 6:30 and 7:00 am with the rest in the evening. 12 Barbel and one Chubb all caught on pellet. It would be nice to see the riverside path cut back as it becomes overgrown and impassable after about 100 meters and there looks to be some lovely swims if it was cut back. This aside having walked only the section from the parking to the down stream limit there is more water easily available than can be fished in a day. Huge thanks to Wye and Usk as this is a fantastic beat and a pleasure to fish.
12 Barbel, 1 Chub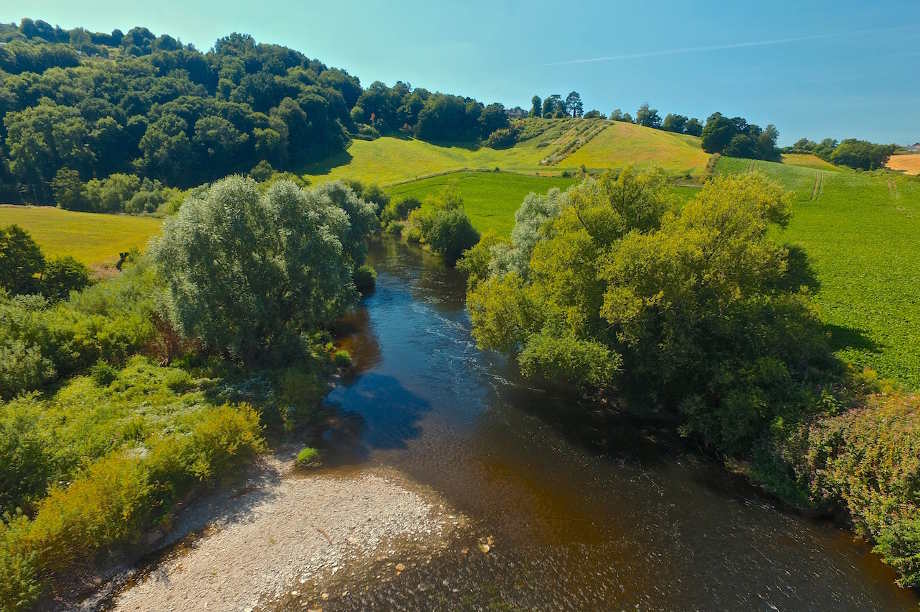 The sport continued for the next few days, with Middle Hill Court and Wyebank producing 14 barbel and 24 barbel respectively. On the 9th Holme Lacy 3 was kind to 2 anglers from St Helens - 26 barbel and 60 chub the tally here!
By the middle of the month the river became very low and the fishing all but died apart from early morning or late evening. Coinciding with this, anglers found that meat outfished the pellet and the amount of anglers I converted back to the lead was astounding. In fact I've just done a feature on this for Improve Your Coarse Fishing, out next month! My mantra here is don't do what the guy who was there yesterday did i.e. bombarding the river and the barbel with feeder after feeder.
Towards the end of the month we had some much needed rain, and with this the barbel catches predictably picked up - just about every beat produced a dozen barbel at some point, with beats like Backney producing 20+ fish daily. Middle Hill Court is definitely back from a couple of quieter years, with 28 barbel and 13 chub to one angler - not bad considering the beat is "overgrown" and we've "lost the best bit" to the salmon fishery upstream.
Another point on swim clearance is that sometimes swims are not manicured one year due to other factors - a farmer's pump can appear, a nesting swan or other birds will be left alone, and more often than you might think, wasp nests. I have been caught out by this before and it is not pretty! It's hard to run with a strimmer attached to you, visor on, and who knows how many wasps chasing. I've had to dump strimmers before and come back a few days later - so spare a thought before you wonder why last years flyer swim is this year left un-strimmed!
Litter was mentioned a couple of times. This makes my blood boil - I know I have to take it with me because no one else will. We are all guardians of the river and unfortunately people who drop litter are one of those things we will never rid the earth of. My advice is to grit your teeth, don't let it ruin your day and just pick it up. In the end I'm sure the fishing gods will pay you back!
The pools fished well in August too and this is good to hear as by and large they are forgotten about and not as popular as they should be. Pant Y Llyn is still throwing up beautiful wildies, with Trelough containing bigger carp and Quabs with some decent rudd and some pretty impressive chub. If you haven't given them a go I can recommend it.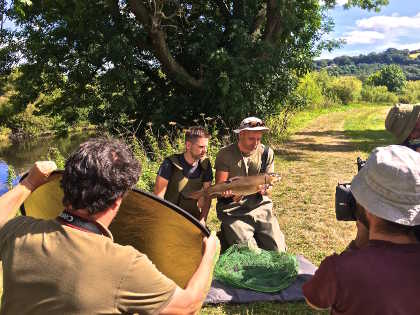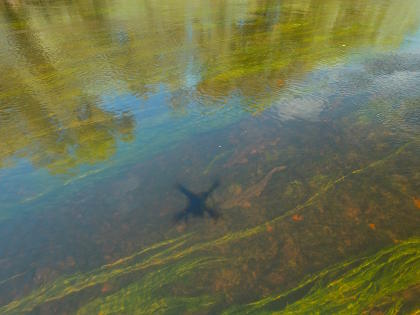 The Gurus, Dean Macey and Adam Rooney, were down late on in the month and they had a couple of great days fishing the Wye. These guys are firm supporters of the Wye and Usk Foundation and the passion they have for fishing this wonderful river and the WUF fisheries always shows through. I'm not entirely sure when this new episode will be aired but I will keep you posted.
So the misty mornings have started. September is my favourite month and there's so much good fishing to be had. Micro barbel are still very much in on the action and there's been a few reports of multiple captures of these. The larger barbel are in superb condition, bronzed from the summer sun and low levels. Chub fishing has slowed (exception HL3!) but I expect this to pick up now and with perhaps a couple of chilly nights then thoughts should move to predator fishing.
We'll be out on features with Improve Your Coarse Fishing and Angling Times and with the acquisition of Permission for Commercial Operation in drone flying, I should be producing more aerial imagery such as the ones you see here. I'll be working with the Foundation in the coming months too and we aim to bring you some interesting images of their operations. For more information please visit www.fromanotherangle.co.uk
In the meantime enjoy September and good luck!
Adam Fisher - www.anglingdreams.co.uk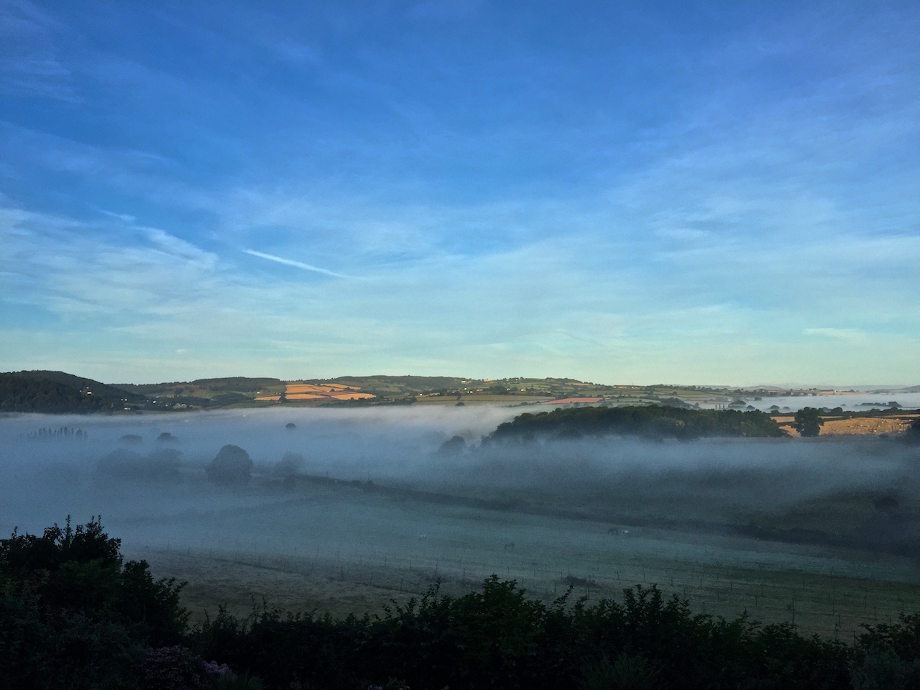 ---
July 2016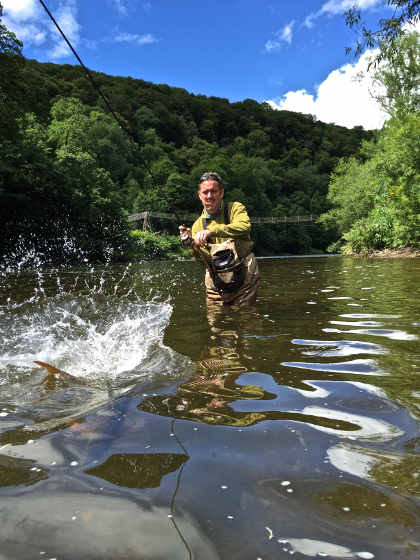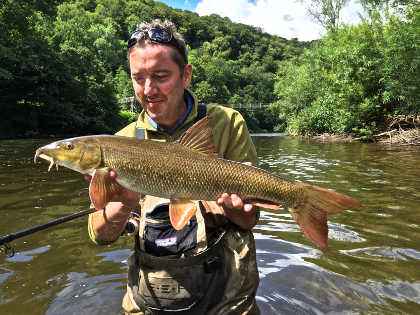 As with July last year there's been pages of anglers' feedback to go through this month - thank you all for taking the time to submit the form emailed to you by WUF. Not only are they interesting to read, but they give the opportunity for other anglers to see how each stretch is fishing and what they might expect from each fishery. Also, without these reports the Booking Office would have little feedback to what's going on and between us we wouldn't be able to compile this report each month.
July is a month when the catches usually pick up after the start of the season but as the month goes on the river usually drops to summer levels, or even lower, and the fishing can start to get a little more difficult. Following steady rain showers in the upper catchment however, this July the river levels remained up by a few feet for most of the month. What was noticeable, however, was the colour of the water, which was not quite like a full flood river, laden with sediment but with a consistent tinge that resembled algal bloom - visibility was never more than a foot. This colour should have meant that barbel catches were good and, in fact, they were better than good - it was actually one of the best Julys I've ever known, for chub fishing too!
I am not an advocate of catching as many fish as you can for a few reasons. There are long term adverse effects on fish welfare and it also sends a message to anglers that the Wye is easy and that catching lots of fish is the norm. As an angler on Backney pointed out:
"Had some concern about recent reports of catches of 30 to 50 barbel in a day. Fish welfare must be compromised surely. Barbel need to be played with care and recovery must be ensured before returning to the river. How many fish do you need to catch to have a good days fishing anyway?"
However, whilst I agree with the sentiment, it is your fishing at the end of the day and the idea of fishing is to catch fish! I would hope that average summer river conditions where the river becomes low and clear should protect the fish making them harder to catch. This, combined with weed growth for the fish to hide amongst and a general slowing down of visiting anglers during August, should also be a natural protection against "over fishing". Besides, if they don't want to eat I guess they won't! This said, returning barbel safely is paramount. If you do this correctly, fishing one rod and taking your time, then this sport should continue sustainably, just as it has done to date.
From the numerous reports I have to pick a few highlights as always and on this occasion it's going to be of the big catches, as they really are worth mentioning and are just testament to the quality of the Wye as a barbel and chub fishery. I don't believe there's a river in the country that compares right now. Some complain about otter sightings and I know on other rivers this has sadly been a cause of their demise. With the Wye, however, they appear to live in balance with the environment - I just hope I don't come back in months to come with reports of otter damage...at present it is clear that there is no problem as some reports of otter sightings coincided with 30+ catches of barbel!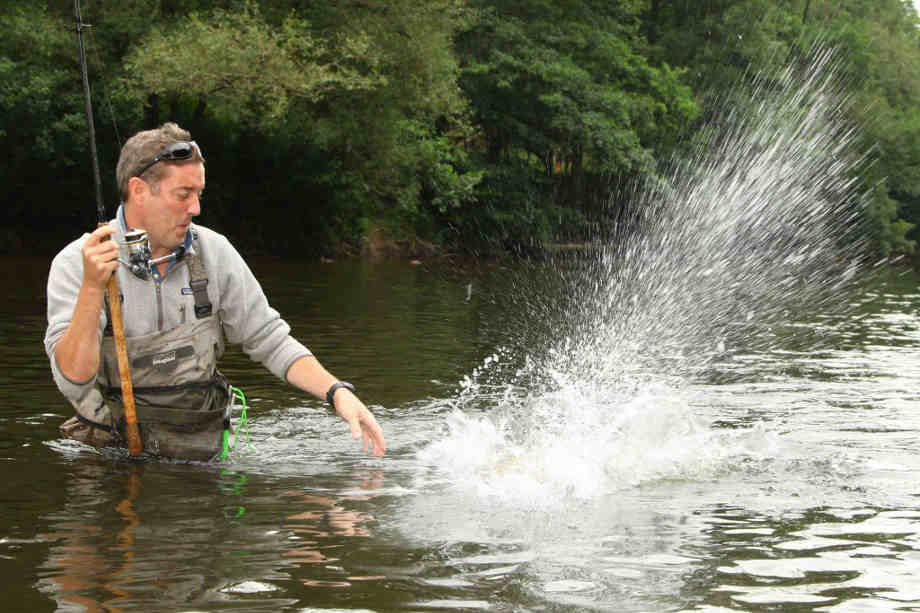 I've listed some of the catches below as there is nothing really worth saying about them individually, the numbers speak for themselves!
1st - KP from Bristol - 25 barbel - Courtfield
2nd - KP from West Mids - 12 barbel - Foy
3rd - BS from Crawley - 26 barbel 29 chub - Sugwas Court
3rd - CP from Buckingham - 14 chub - Foy
4th - RS from Merstham - 12 barbel 25 chub - Kerne Bridge
4th - MY from Lydney - 25 barbel - Caradoc
5th - MS from Hoddesden - 17 barbel 44 chub - Wyebank
5th - RS from Merstham - 14 barbel 16 chub - Courtfield
6th - RS from Merstham - 52 barbel 60 chub - Wyebank
9th - TA from Steyring - 35 barbel - Caradoc
11th - HT from Aylesbury - 18 barbel 5 chub - Middle Hill Court
13th - PH from Hastings - 24 barbel 11 chub - Middle Hill Court
14th - PH from Hastings - 26 barbel 8 chub - Middle Hill Court
15th - PH from Hastings - 36 barbel 11chub - Middle Hill Court
15th - IW from Chelmsford - 50 barbel 50 chub - Backney Lower
16th - PN from Ferndown - 20 barbel 70 chub - Backney Upper
16th - ST from Stoke - 15 barbel 30 chub - Fownhope 5
18th - PN from Ferndown - 22 barbel 21 chub - HL3
23rd - MS from York - 41 barbel 39 chub - Fownhope 5
27th - AJ from Windsor - 33 barbel 37 chub - Backney Lower
28th - JW from Warwicks - 41 barbel 12 chub - Wyebank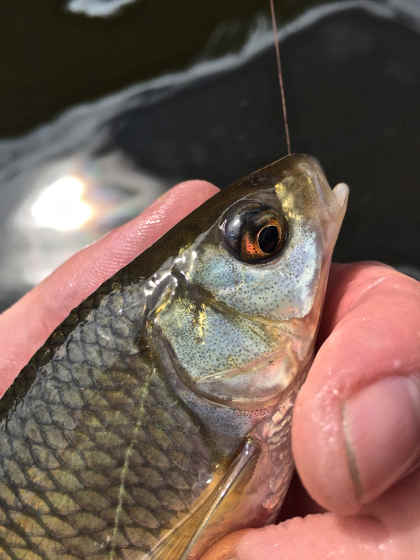 Looking at the above reports (and the trend did follow in the lesser catches) sport did slow down towards the end of the month due to the aforementioned usual conditions when the river cleared and the level dropped. This was expected but it was by no means poor fishing I'm sure you'll agree.
There have been a few reports of dogs entering the river in swims, with owners (also of canoeists and walkers) perhaps not considering anglers as one might expect. All I can say is that it is school holidays and overall river use is at its maximum. Anglers have to consider other river users too. Come the end of August there will be less of them and the peace and tranquility of the river should resume.
A real positive since the start of the season is the number of small barbel caught - during a feature for Angling Times and a social the day after, I had over 40 of about a 1lb on the float. This was along with some really nice dace and I will look forward to fishing for these in earnest this autumn, hopefully they'll still be there.
Included in this month's report are a few pics of float fishing for barbel and as the catches inevitable slow down in August, I really suggest you give this method a try. It will keep you cool stood out in the river wading. Although canoe traffic can be heavy, a lunchtime break will mean you avoid the peak times. As I've suggested before, find a nice oak tree and have a snooze to recharge the batteries, ready for the evening action. The leaves start to show their autumn tinges now and the mornings will start to get chilly, so make the most of what summer we have left and enjoy your fishing.
Good luck and please keep the catch returns coming in.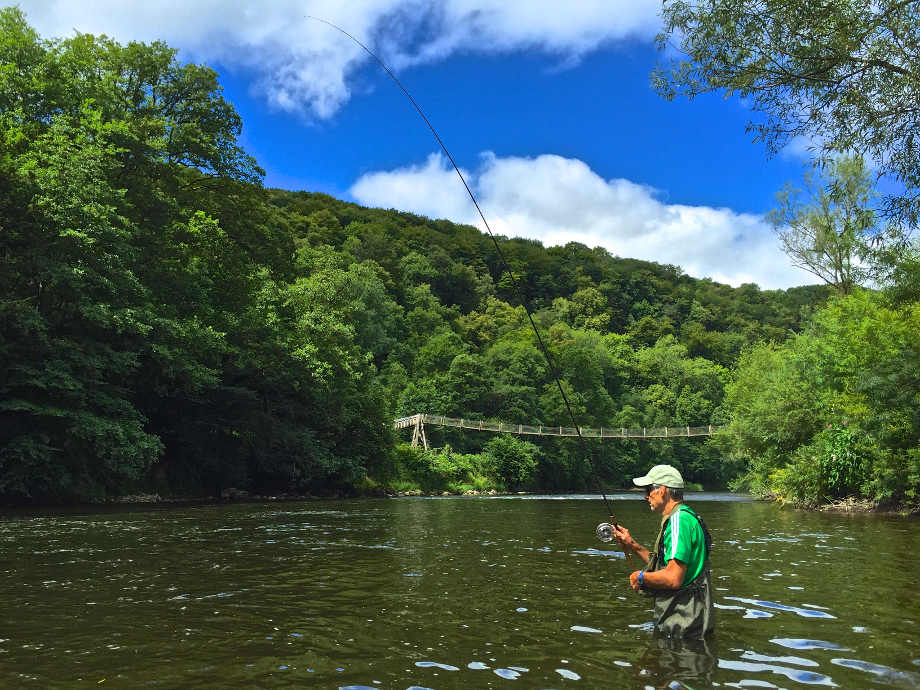 ---
June 2016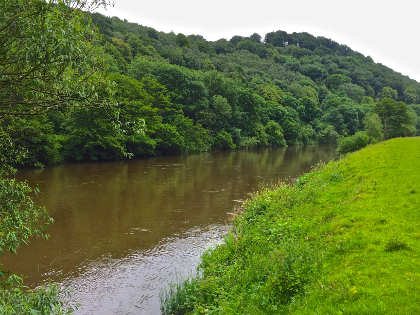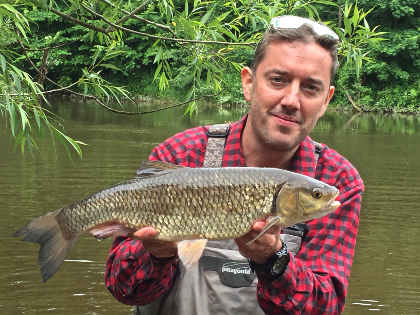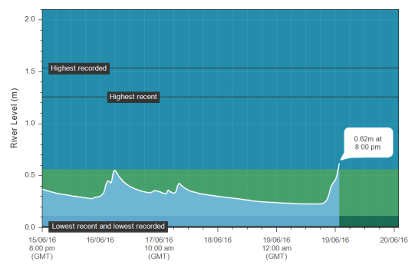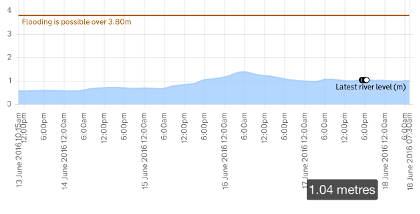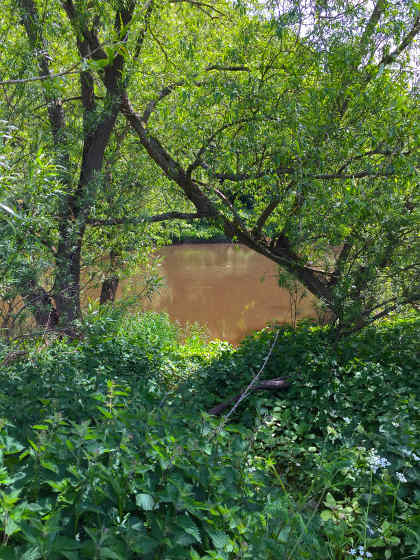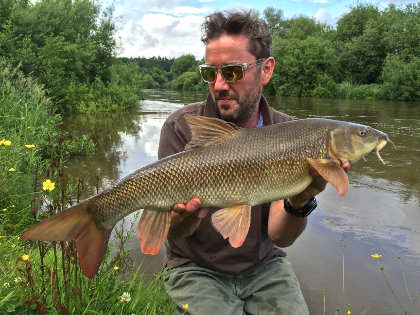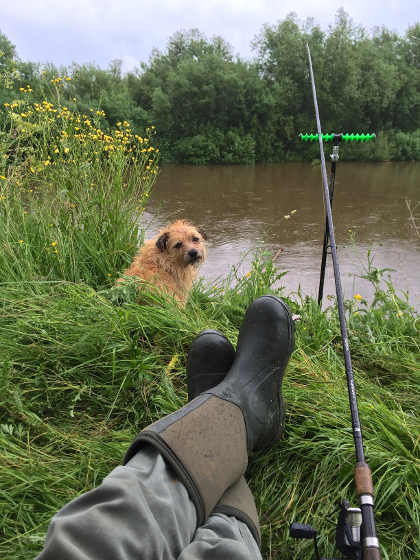 Yet again the start of the season was affected by heavy showers and, as a result, a flooded and coloured river. It was affected in a good way though, especially if you're a barbel angler! Coloured water and higher than normal levels means barbel will move further for a bait and will feed more readily throughout the day. Where the river has been fining down and clearing but still retaining a tinge of colour, the chub fishing has been good too. My theory is that when the river clears the chub tend to split up and take cover for much of the day. The conditions early this season, however, have kept them shoaled up and less spooky. Normally, just before the start of the season they seem to be everywhere, taking mayflies and swirling readily at any flotsam. They then perform a disappearing act come June 16th. The start of this season was different and I caught plenty of chub on bread flake under a loafer float. This provides great sport, especially when you've pre-baited a couple of barbel swims - rather than sitting on your hands waiting for the first cast, you can chub fish for a few hours whilst the barbel are getting confident over your baited swim. I did a feature with improve Your Coarse Fishing on this subject and we caught plenty for the camera - this should be an interesting article and hopefully will get the juices flowing prior to next season. All in all then conditions couldn't really have been better for the June 16th start, and so it proved in the catch reports with all beats seeing some decent action at some point in the first 2 weeks of the season.
Before I get onto the catches, I hope you'd find these images from the NRW and EA gauges interesting. They clearly show how just one heavy shower can raise the river level and in these examples you can see the effects of one after the other. The gauges are a crucial tool in seeing what rain has fallen where and, therefore, what to expect further downstream. From the images you can see the effect of each rainstorm and thus the accumulated level of these storms further downstream. The hydrograph with the sharp spikes is from the River Irfon running into the Wye at Bulith Wells, while the lower image is the Wye 25 miles or so downstream at Bredwardine. If you don't already use the webcams and EA/NRW gauges I urge you to learn how to do so. They will give you a much clearer picture of what kind of river to expect and what changes might occur during your day/week. Such preparation will also give you a better idea of what tactics and gear you might need.
A question asked frequently is "which is the best beat for barbel?" Well, the answer is pretty straight forward: they're all good on their day but it depends what the angler classifies as "best". There are multiple factors such as access, type of water and scenery, not just the quality of the fishing. Some produce the goods for some anglers and not others, and a lot depends on your requirements and expectations. Barbel are prevalent from the tidal reaches right up to above Hay-on-Wye and any beat in between can provide a day to remember when on song. My advice is to select your fishery on the other factors mentioned above. There will probably be some beats that you don't enjoy but there will others that suit and once you have caught a few fish from one, your confidence will be high next time you visit and you will be more likely to be successful.
It wouldn't be an early season monthly report without the mention of vegetation and access! It was a cold spring and everything was late to green up. However, about a week before the start it warmed up and things went mad, leaving a very small window to clear swims ready for the start of the season. Sadly, some anglers saw this as poor management, when the fact is that the conditions just didn't allow us to carry out the necessary work. Where we did people were grateful, but this still didn't stop conflicting reports that just go to show how different people's expectations can be! With regard to Wyastone Leys, anglers are just not fishing downstream far enough. Most head to the upper swims in the wooded area but there's almost a mile of fishing that's not getting a look in and here, in the fields, the banks are as open as they could be without being gravel beaches (see image). Please read the maps carefully and make sure you look at the whole beat, not just a small section and making your judgment from there. Otherwise you're missing out!
From June 16th one angler commented that at Wyastone Leys "it was difficult to actually get to the river" and that "the beat now represents poor value for money". The very next day another angler fishing the same beat wrote that there were "enough swims to allow a bit of moving around to keep in touch with the fish."
Two other reports from Kerne Bridge were equally as conflicting. On the 26th June an angler wrote that "We felt the access to the pegs was dangerous, particularly in the weather conditions we had. At £15 per day ticket, the Wye and Usk could install some sympathetic measures to make the banks safer, particularly in wet conditions." Another angler fishing the same beat on the same day then posted the following comments: "The stretch has better access than many, with steps cut into the banks and ropes in the steeper spots. I have no idea what other anglers are expecting when they complain of poor access, the Wye has mostly natural banks and is not a commercial fishery with nice, flat wooden platforms."
I also saw the following comments on the WUF site from someone fishing Middle Hill Court: "My only word of warning to roving anglers is that only one bank of this beat is fishable and this is just a long field, approx 1/4 mile long, so a more appropriate description should be single bank fishing of approx 1/4 mile!" MHC is one of the best beats on the river and is actually 3 fields and a small wood, totaling about 2/3 mile. The lower end around The Rope Pool is an extremely productive area and there are 4 or 5 swims here along with 4 or 5 at the top end and some fantastic wading (in lower water conditions) halfway and at the bottom end. The far bank is steep and overgrown and although under the same ownership, enabling access to fish here is not necessary to get the best from the fishery. Anglers can rest assured there will be no one (legally) fishing the opposite bank so it is a double bank fishery!
After a report about poor access at the Home fishery, I received this feedback: "Well it was just to say to people not to be put off by the walk as its only half a mile to the beat. Also there are some good swims if you look for them. And also I would have advised people to travel light you don't need a lot of kit! Once we got going the fishing was very enjoyable. Canoeists were generally fine apart from the odd stag do. Our group had 12 barbel and 12 chub. One eel. Most of these fell to stalking tactics. 3 of the barbel were between 11-12lbs. And we had several pushing doubles. My friend reckoned he lost one even bigger at the net!
It was all positive and I only wanted to post something as sometimes people are so negative and gives people the wrong idea."
Moving on to the other catch returns, it's been good to hear of a few different double figure barbel so early in the year. Courtfield produced 4 to 10-7, including 2 on opening day, one of which was JA from Somerset's first double from the Wye. The Creel also produced a stunning fish of 11lb 1oz to SG from Newark. Well done to the anglers who banked these fine specimens, but also to the below:
- DC from Fleet, 4 barbel, 3 chub on opening day from How Caple Court
- GW from Milton Ernest, 5 barbel from Backney
- AM from Dorchester with 14 barbel
All the beats fished well on the opening few days actually, especially Sugwas Court, Whitney, Perryhill, Middle Hill Court and Caradoc. From there the catches continued and on the 19th and 20th things really got going:
- RM from Selsdon caught 10 barbel from Backney
- SS from Berkeley caught 20 chub at Fownhope 5
- Middle Hill Court and Holme Lacy 3 really stood out by producing 25 barbel & 25 chub
Wyastone, Courtfield and Fownhope 5 also continued to fish well, with catches of 12 barbel, 18 barbel, 8 barbel & 13 chub.
Levels were high, which would normally make Foy Bridge a little tough, but PT from Dewsbury who went there hoping to float fish but had to change to feeder tactics, duly caught 9 barbel and 4 chub.
As the month moved on, and the river levels rose and fell, the Creel and Courtfield stood out, with catches of 10 barbel in a day a regular occurrence. On the 24th the fishing peaked at Backney, where LP from Brentwood caught 32 barbel from the Monument - that's some going.
Towards the end of the month there were some even better catches elsewhere. Backney Upper & Lower produced 19 and 20 barbel in a day respectively, the Creel produce 24 and RH from Manchester had a cracking day at Wyebank catching 20 barbel and 15 chub.
So, to sum up this year's opening month, the fishing up and down the Wye has been excellent and I expect this to continue into July as the river remains topped up.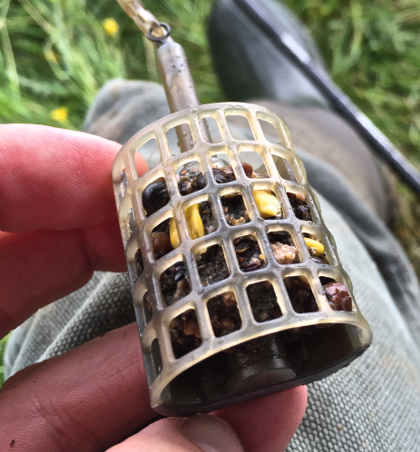 A tip for July would be on consistency of a feeder mix. I like to make sure my mix is wet, so once on the river bed it breaks down and feeds the swim very slowly. An ideal consistency is such that when you've played a fish the mix is still in the feeder cage (see pic). This has several benefits:
In high flows it doesn't wash away well downstream and gets the fish to "come up" to the feeder.
It adds as extra weight so that you don't have to use 4oz+ feeders. A 2oz feeder full of groundbait probably weighs more like 3 or 4oz.
You don't overfeed the swim and just enough gets washed out in a trail to attract the fish.
The barbel are more likely to eat your hookbait, not the loose feed.
Also, a quick word on canoeists, who have been out in force this month. Although this a lovely pastime it seems the hire companies don't encourage the customers to have any regard for other river users and there have been numerous groups using the river recently screaming, shouting, playing loud music, defecating, urinating into the river in front of anglers, dropping litter, trespassing, fishing from canoes, etc - the list of bad behavior seems endless.
If we are to all get along, identification of these boats is essential. At the moment, and despite there being a licencing scheme for boat hirers in Herefordshire, there is literally no way of identifying miscreants or the company they hired the canoe from and this is the main problem as I see it. Some have a pathetic little sticker on the back which is barely legible over a distance of about 2m, let alone from the bank. If there was an accident there is no way of identifying them to the emergency services. If they give an angler a mouthful, hurl abuse or breach the Navigation Authority's code of conduct in some other way, they can drift on downstream wrapped in the safety blanket of anonymity. How hard can it be to have every craft registered with a clearly identifiable number, like all other vehicles?
I don't wish to sound like a certain habitually gloomy salmon fishing blogger who posted the following on the weekend, but he has a point:
"Transgressions by the ever increasing number of canoeists continues to escalate with ever increasing numbers using the river on a yearly basis. Some of these people camp overnight on the banks and often have fishing rods with them 5 were recently found fishing among a party of about 15 who had hidden canoes in a maize field on the Whitney beat. Not for the first time either that camping has taken place there. Were aggressive when asked to move off which they reluctantly eventually did. They were apparently eastern Europeans (And before anyone asks does that make a difference - NO that's just the fact).
Someone, somewhere has to get a grip on a situation which is becoming untenable in many areas and will only get worse unless some form of control is exercised."
I fully agree the situation has got to be got under control. It's affecting my business and that of many others, let alone the damage it's doing to the environment and the tranquility of a river that is designated SAC &SSSI. We pay the EA to have a rod licence, which we must carry on our person when fishing so that we can be identified. Can't they pay the Navigation Authority (EA) to have a boat licence so that the river can be more effectively policed? Other river users (not just anglers) are being negatively affected by boat loads of people who contribute nothing to the long term sustainability of this environment. It just doesn't make sense. Gggrrrr!!. Rant over.
To finish on a happier note...... the river is performing as well as it can and with two or more months of summer ahead, there's so much fishing to look forward to. Good luck and Enjoy!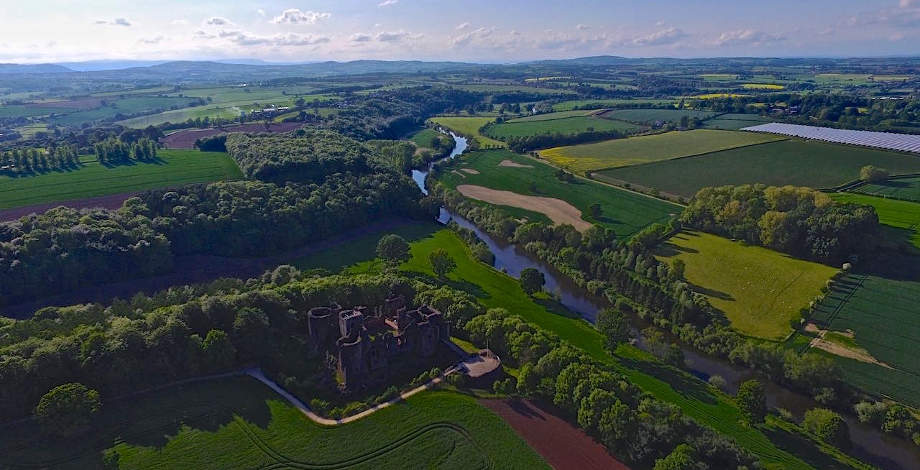 ---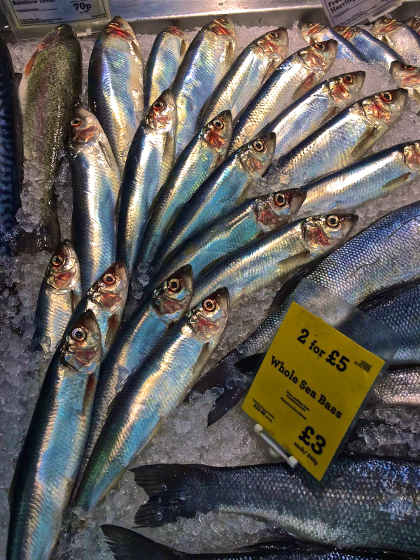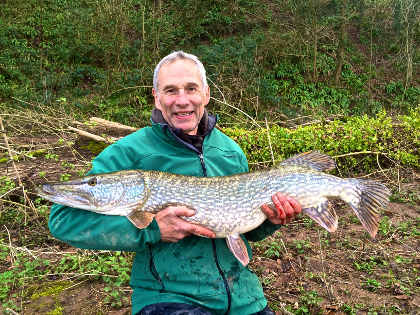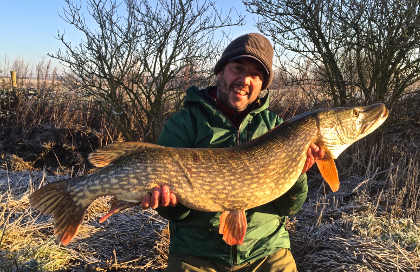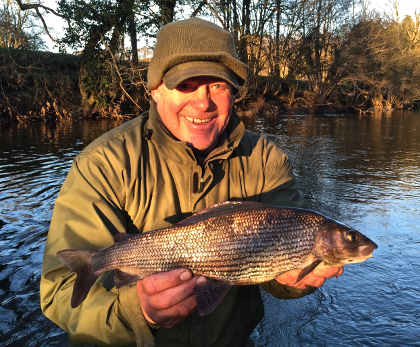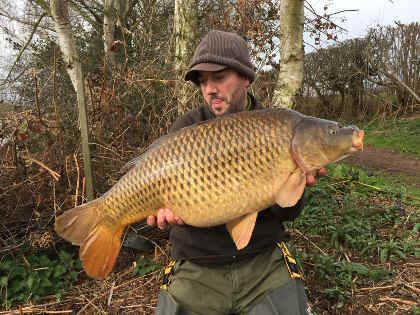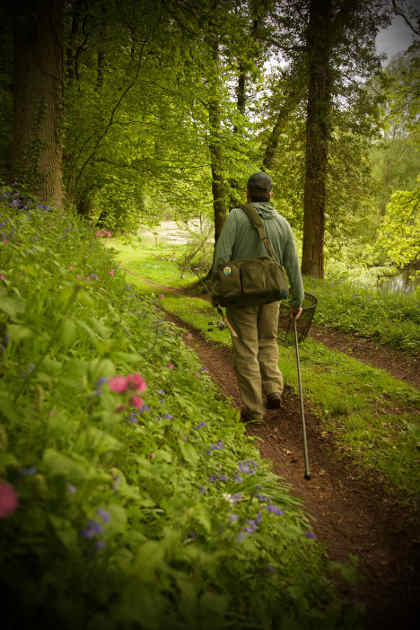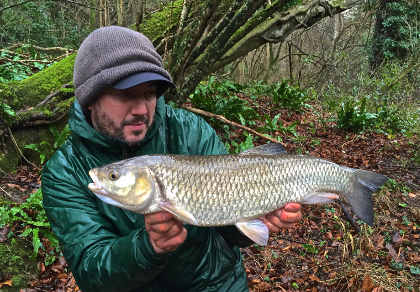 March 2016
Apologies for the lateness this month - not only was I waiting for all the end of season returns to come in but a suspected case of leptospirosis has had me in quite a knot. For those of you who are not familiar with this horrible bug, please make sure you wash your hands during and after being waterside. Fortunately things didn't develop into full Weil's disease and so I escaped full internal organ failure. It was, however, equivalent to a crash diet and all I have to do now is keep the weight off ready for my summer wardrobe!
Normally, the end of the river season can be quite productive and a look back at the reports shows this to be especially so last year. But with chilly winds and a weather front that fell as snow on the upper catchment, March 2016 went from looking ok to not very good at all, in just a few days. When the sun does break through at this time of year it can be enough not only to warm the heart of the angler but to also penetrate the water layers and kick the chub and the barbel into some sporadic feeding. I think rather than warm the temperature of the water though, the sun's rays actually get down to the fish and warms them directly (just like us). The middle of the day is often best and I always encourage anglers to fish this time rather than disappear for a pub lunch. Dusk is always worth a go too and the witching hour is the witching hour wherever and whatever you're fishing for.
The turn of the month did see the river lower and clearer than it had been for months but this soon changed the moment I even looked at the trotting rod in the garage! A deluge of snow and rain hit the catchment and a dirty, flooded river followed. Fingers remained crossed, however, and with a good forecast for the last few days hopes were high. After the warm spell arrived on the 10th there was an initial flush through from the snow melt but as this cleared towards the 14th the catches improved.
I managed one of few pike trips with good friend Nigel Botherway, and I was lucky enough to witness a fabulous brace of pike to him, both fish over 20lbs and well deserved after seasons of hiking and driving and cancelled trip after cancelled trip this year. It all came good in the end though and due to a shortage of sardines at the local supermarket we ended up using herring - the new bait for Wye pike? They are now! Along with catching a decent pike myself (on herring), I witnessed another good mate Rich Attewell catch a pb grayling, 2oz short of the magic number at 2-14. We caught some good chub that week too and these were as obliging as ever, despite the cold, flooded water. Since the 14th I have spent some time carp fishing and these fish has started to get their heads down now, so lakes such as Trelough and Quabs are worth visiting this spring.
Although the start of the month was cold there were a few barbel caught (3 from Backney, 3 from the Creel, 2 from Courtfield) and although the chub were not really showing up here they certainly were up river where SW from Walsall caught 8 from Sugwas. There was then a dead period where the aforementioned rain and snow stopped play but on the 11th there were the first signs of things picking up. How Caple Court produced 6 barbel and as we went onto the 12th things got even better. MK from Boston landed 4 barbel and 7 chub from Middle Hill Court, Wyastone produced a couple and Fownhope 5 gave up a great March days fishing to SK from Tenby with 5 barbel and 4 chub. Courtfield became fishable for pike at this time too, and JB from Bracknell landed 4 to 12lbs - this is a great sign of things to come as pike fishing in this part of the river has been unusually hit and miss the last couple of seasons. For up to date reports on fishing this area of the river there's an excellent website and blog here http://www.lowerwyefishing.co.uk
Sport continued into the 13th with RW from Cadnam landing 8 barbel from Backney and PB from Havant with 4 barbel and 4 chub from Sugwas Court. Meanwhile How Caple Court produced nothing, proving that it can still be very hit and miss. More consistent were the catches of grayling. They appeared from just about every lower Wye beat and although I wouldn't say they're in numbers enough to be targeted as specifically as in the upper reaches or on other rivers such as the Irfon, it is always pleasing to hear of them being caught anywhere. As a boy I used to find them all through the Garren Brook and even now I believe the odd one should still be caught on the fly.
The last day was one of the best for years and beats such as White House produced the goods again - 15 barbel were caught to an angler here last spring. This is a well underfished beat considering the quality of access and although you do get rods on the opposite bank occasionally, there's enough water here to avoid them. It's always been a kind fishery to me and anyone who hasn't yet ticked this off their list then I recommend they do. PS from Stroud caught 5 barbel on the 14th, with Middle Ballingham also producing chub and barbel that day. Sugwas Court threw up grayling as well as chub and barbel but by far the most notable captures were from the Creel and Fownhope 5, where DW from Cirencester and LS from London caught 11 barbel each from these stretches. By St Patricks day the river was in perfect trotting condition, bottle green and witha haze of hatching insects and rising fish - typical!
So despite it all looking grim there was some good fishing to be had towards the end of the season. Granted this wasn't as good as last year but following such a miserable winter it was just nice to be out there and enjoying the early spring sun. Looking forward, there's the stillwaters waking up and I have an article out in Improve Your Coarse Fishing which should get the juices going.
If you're looking for somewhere for the start of the season then I suggest you don't leave it too much longer as most beats are booked up. Bookings are being made for right into October too, so again don't delay if you can make a date to work to. Things will be pretty lush come June 16th but have patience, the vegetation will die back and with a little effort you could find a whole new world of fishing rather than getting wound up expecting steps and railings and swims the size of your car worn out ready for all your kit. Relish in the fact you are one of the first there and if you don't do too much damage then no one else will find your swim for weeks. You could get saving for those waders now too, and if you want some guidance on using them and getting the most from fishing this way then please don't hesitate to get in touch with me - I love fishing this way and take great pleasure in showing others.
When booking Wyastone Leys next season, please take note that Boys Rocks pool is no longer part of the fishery. Although this has been a productive area in recent seasons, there is plenty of good fishing in the swims at the top of the new limit, and downstream into the meadows is some of the best fishing available. Occasionally these losses do happen and it's actually the beauty of the booking scheme for owners: adjustments to beat limits or parking arrangements can be made at the drop of a hat. On a lighter note I hear on the grapevine that there are new Wye coarse fisheries lined up for the 2016/17 season, so watch this space for more information.
The next monthly report will be at the end of June, hopefully after a great start to the river season and not too many canoes!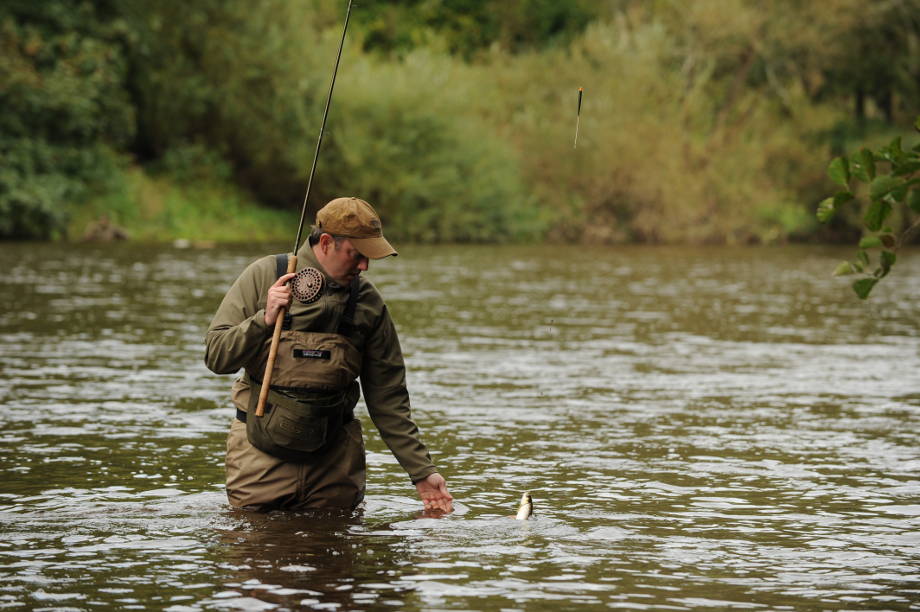 ---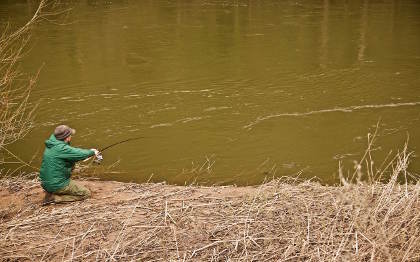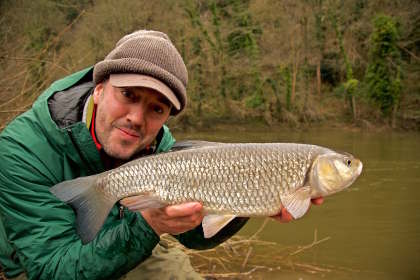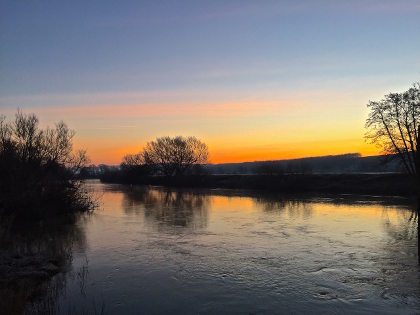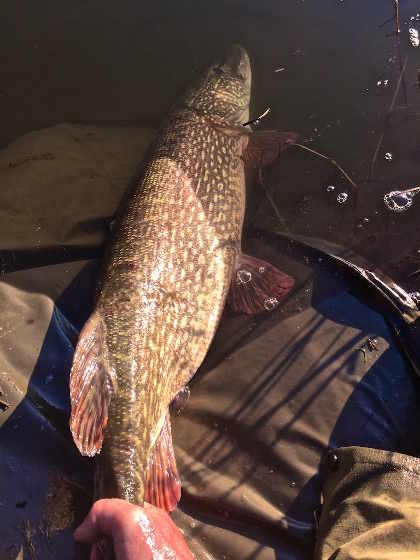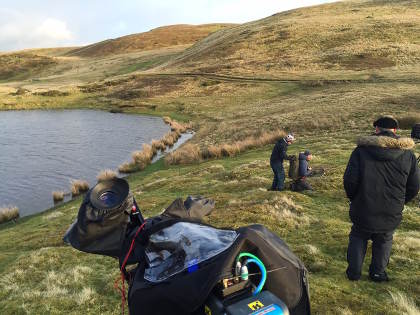 February 2016
February 2016, the month when winter finally arrived! Although we have had such a prolonged warm and wet spell, it doesn't take long for a change in conditions to take place, and what a change it was. There were days when temperatures barely got above freezing and if not properly kitted up, the cold was a bit of a shock to the system. Despite the improving river conditions not many anglers' reports came into WUF and to be fair, it seemed not many fished at all across the rivers. It's interesting looking back on my report from last year to compare what happened then, and just as I was about to type I found I was going to repeat myself - February really can be an all or nothing month for catching fish!
Between long spells of no fishing I managed to get out and catch a few nice pike, the fish again being in excellent condition following months of floods. A good number of chub were caught too, including during the afternoon after last month's report was submitted. I suggested then that when the river is in between floods (especially when it is fining down) these fish can almost crawl up the line, especially when using home made cheese paste or even just good old bread. The bites are usually gentle but you still need to hold onto your rod and be ready to strike. As the bite develops give the fish line so it doesn't feel the resistance of the rod tip, then make sure you hit and hold as they know where every snag in the river is! This is a really rewarding way of fishing that can be extremely productive in this type of river condition.
During the main icy blast of the month I was stood in a freezing river having one of the best grayling sessions I've ever had. Between us we caught some superb fish, the biggest a monster that although looked every ounce of 3lbs, fell just 2oz shy. I'd like to say well done to my mate Rich for that capture.
Anglers' reports were mixed with Courtfield giving up 4 pike to JB from Bracknell. This shows the fishery's true potential as although it can be moody it has plenty of good days. Preston Court has not featured much in reports this winter, which is a shame as it's one of the higher up coarse beats that being slow and deep, should produce during the winter. DB managed 4 chub from there describing it as a "truly wild beat" and saying that he couldn't wait to return. AF from Crewe also had a cracking day on the chub at Fownhope 5 on the 29th , just as the river reached its lowest for months and the water had turned a bottle green colour. 15 chub were banked from Fownhope 5, all on my favourite of chub baits - bread. Nicely done!
On the days I could fish the dawns were beautiful and the river was in great shape again and, to be honest, after the winter we've had any chance was welcome. I was reluctant to go out at the start of the month however, as on a cold and snowy Tuesday I was asked to join a film crew up at Pant Y Llyn to try and catch the wild carp up there. Carp fishing in February? We must have been mad. It proved that way too as between 3 of us we blanked. Still, the show was about fishing in harsh conditions, so with that in mind it worked out perfectly! I'm not sure when or where it will be shown but will flag it up in future reports when I know more.
So, with just 2 weeks left of the season you may wonder where it's gone. I know I do. It only seems like yesterday I was planning a winter pike campaign. Now I won't fish for them again for another 8 months or so. Coarse fishing attentions will be on a big barbel between now and the 14th but with snow still on the hills and an extremely cold wind, this could be a few days off yet. The sun is certainly getting higher in the sky and there are bird calls that I've not heard since September. I'll be keen to get out just to see the greenery poking through and buds about to burst. My tip for the last couple of weeks would be to look really hard at the bare river banks and the swims, committing them to memory because when you return on June 16th the vegetation will be head high and ledges and steps will be obscured.
All is not lost come the 14th of course. The salmon season starts this week, as does the trout and fishing for either species will take you to some great venues at a time of year when perhaps you normally wouldn't venture out. There's plenty of guides out there who can set you up and the Booking Office will give you valuable advice on where to fish and the conditions etc. From now until the stillwaters get going it's a great way to stay next to running water, and your watercraft can only benefit.
Whatever you fish for I hope you enjoy and I wish you the best of luck!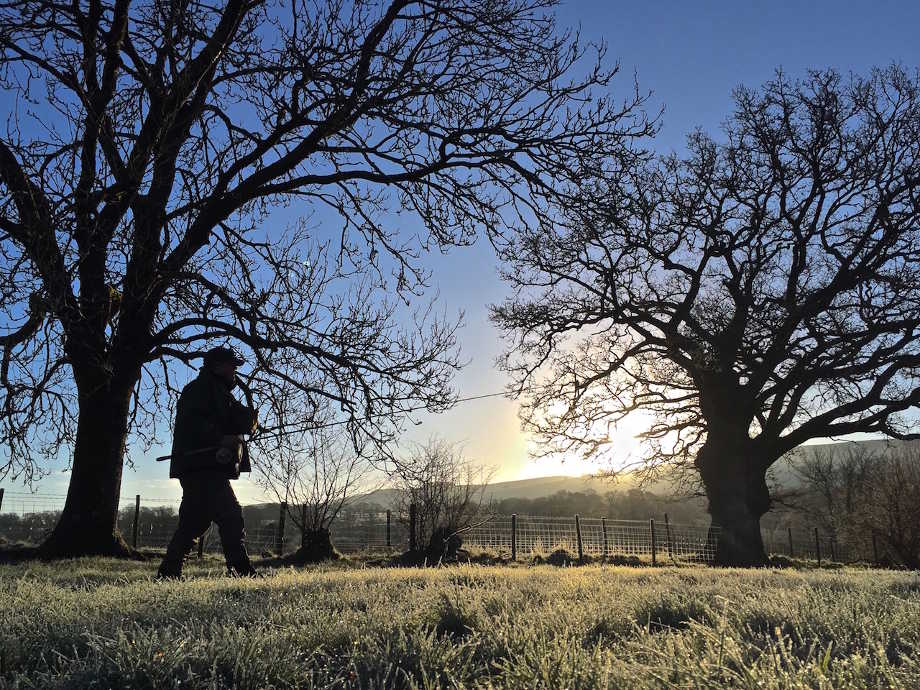 ---
January 2016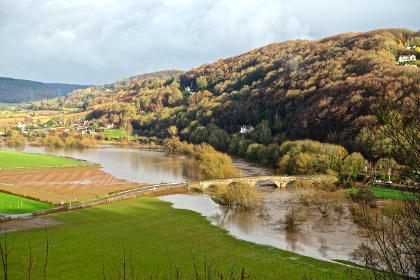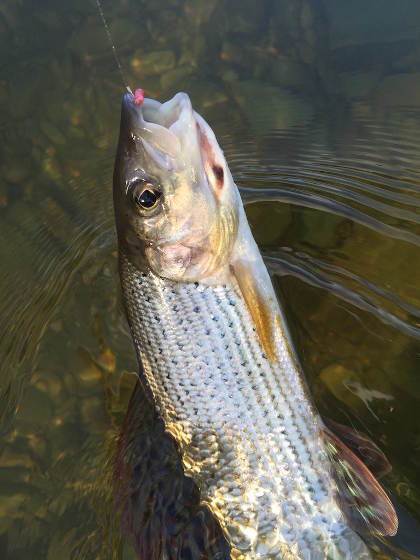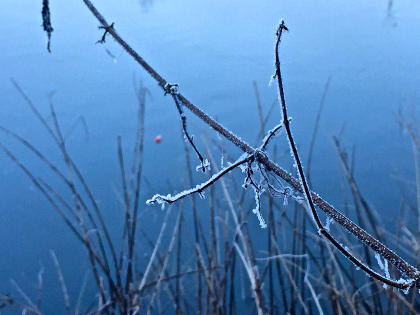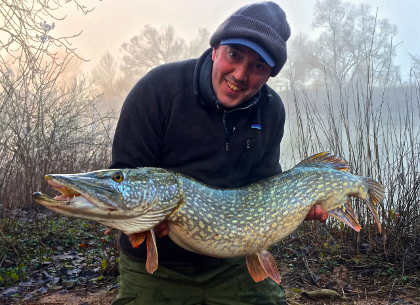 New year, new hope! For most anglers it was for the rain to ease, the frosts to kick in and the rivers to drop and clear. The story in January, however, was similar to most of the winter - just when there looked like enough of a break in the rain to allow conditions to improve, another band would come in from the west and, literally within hours of the rivers being fishable, they would start to rise and colour again. As well as the Wye, the Lugg and Arrow offered virtually no chances. The exception perhaps was the Irfon, which usually runs off relatively quickly but even here, there was only a day or two of realistically fishable conditions. I fished the Wye well upstream of Rhayader and even there the river was icy cold and running fast. Scudding showers left snow settling on the tops of the hills and the glare of the winter sun and cloud caused me to squint all day. The bright orange tip of my float did bury occasionally, as did that of my mate, and we had a fantastic couple of days exploring new water and catching grayling in the wilds.
I love fishing for grayling and although trotting is my preferred method to catch them, for the big, solitary fish it is no competition when compared to using a heavy nymph to explore every inch of the riverbed in deep gravel pools. Oliver Burch's grayling report is well worth a follow for more information on both bait and fly methods for grayling, with a few tales to entertain too.
The 3rd week of January delivered the most exceptional hoar frosts. After such a wet winter the moisture within everything was surely the main contributing factor. There were 2 consecutive days when temps didn't get above freezing and on the second day it didn't get above -5 near Hereford. It was a winter wonderland and although the fog that came with it was thick enough to send even the hardiest angler batty after a while, to be out on the riverbank in those conditions was magical. I was lucky enough to net a mid twenty pound pike on the first of those 2 cold days and fuelled by that capture I prepared for a mission the following day with high expectation........every possible lair covered over 3 miles of river with a trap of the most tempting oily sea bait, but not a twitch on the float! I've yet to experience a more perfect example of how you've never got it sussed in fishing.
What was encouraging was that the one fish caught in those 2 days was in exceptionally good condition. It always leaves me in a state of admiration how nature adapts to surviving what we perceive as a hard time, when we wonder how any fish could survive such conditions for such prolonged periods.
A day later another front came in from the Atlantic and again it was back to this winter's story of rising rivers, the difference this time being the influx of melting snow and ice from the cold snap - aka the "kiss of death" for river fishing.
Reports from January reflected the windows of opportunity I'd experienced with only a handful of anglers managing to fish around the middle of the month. Whitney Court was the only stretch to produce anything worth mentioning, with a couple of pike to TW from Leominster. Whitney Court is made up of a fantastic succession of river beats and following a flood is one of the first middle stretches to clear and become fishable. There's plenty of chub to be caught here but it's the pike that draw my attention. Many big fish are reported as throwing the hooks at the net, or seen following a bait or lure in, but reports of these encounters converted to fish on the bank are scarce. There is an ongoing pike fishing competition on this stretch with prizes from Sportfish up for grabs.
Towards the end of the month one regular WUF angler, SS form Berkeley, caught a couple of barbel from the Creel and again on the 31st from How Caple Court. With no other reports than this, it goes to show that you need to be in it to win it.
Looking ahead, February is the shortest month - 1 day less so this being a leap year - but still from now to the end of the season always flies by. When we reflect on our season I think all anglers wish they'd taken more opportunities to fish, so here's my opportunity to prompt you to grasp a day or even a few hours before March 14th . Imagination is key to getting motivation levels up, that and an hour in the shed going through your tackle. Just from writing this report my inspiration levels are on max. I'm off chubbing this afternoon - the cheese paste in my freezer at its best after defrosting and re-freezing over and over during the last couple of seasons. It's a dull and overcast day (perfect for chub fishing) and the river is clearing but still carrying enough colour for the chub hopefully to be confident. Tomorrow we are due yet another deluge and although I have other things I should be doing, this is one of the few fishing windows that have been offered this winter.
I'll let you know how I get on next month but in the meantime, enjoy your fishing and good luck!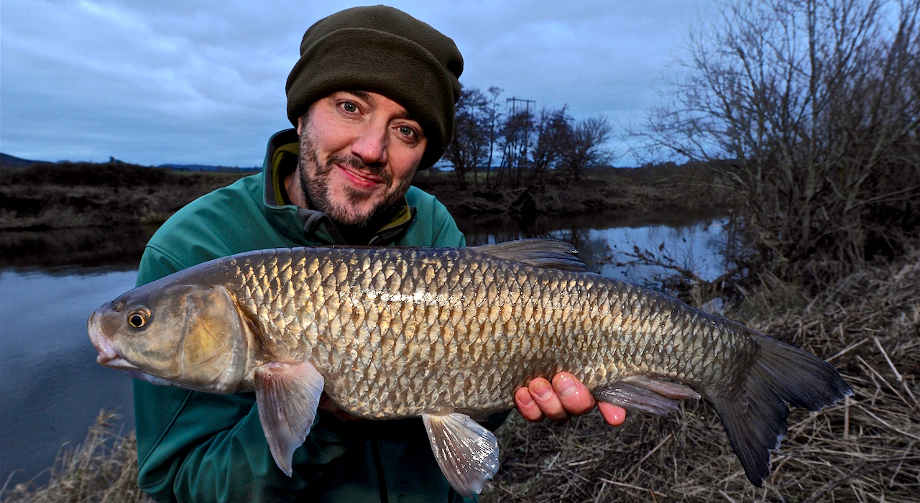 ---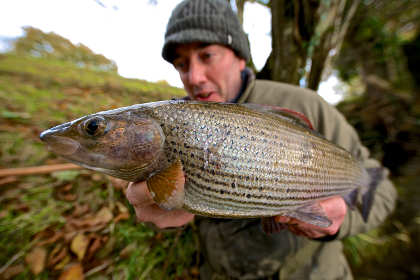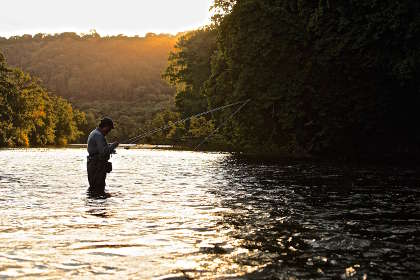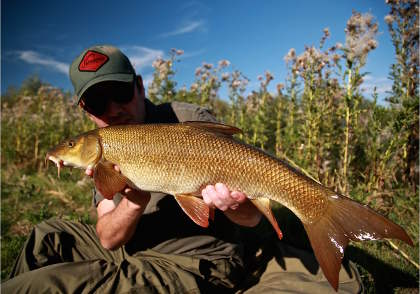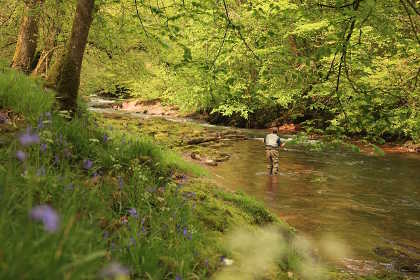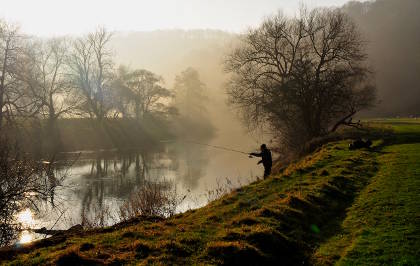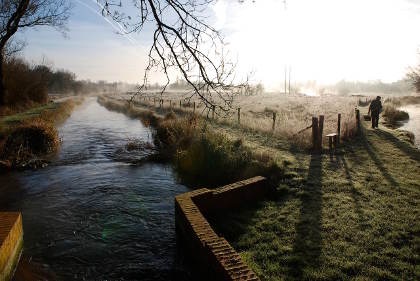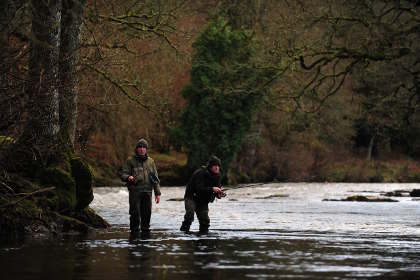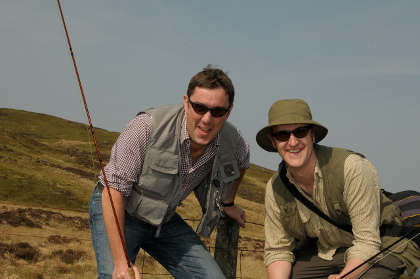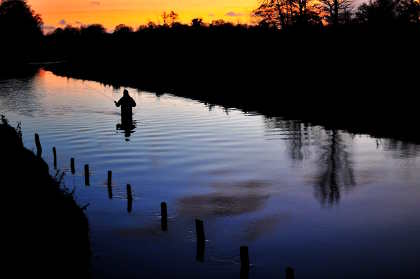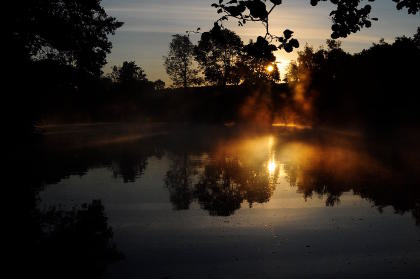 November/December 2015
Following 2 months trout fishing in New Zealand, I was looking forward to getting back to Blighty and watching a pike bung in the margins, the fresh winter air and a warm and cosy pub after a long day in the wilds. Instead I have been asking myself: will it ever stop raining? We decided to hold off the November report due to a low number of catch returns and the forecast was so dire that reports for early December looked like they were going to be very few and far between too. Well, I don't have to tell you how poor December was for river fishing. We had 7 reports from several very "dedicated" anglers, one of which managed a 10lb 1oz barbel from The Creel on the 7th – well done! Others either blanked or managed to put one or two barbel on the bank. Certainly the conditions were warm enough; the problem was simply getting near enough to the bank in relative safety. The Wye has not been on its own though: the Warwickshire Avon has been unfishable a lot of the time, the Severn too. River fishermen everywhere have had it tough.
November actually fished quite well considering. Whereas I would normally exchange the barbel rods for the grayling or pike rod, had I been here I would have barbel fished almost exclusively - it was so mild that sport continued well into the month for many. With temperatures more like October, those who got out there had some very good fishing indeed. During the first week anglers on Backney, Holme Lacy 3, Creel and Middle Hill Court all caught anything between 4 and 12 barbel. The catches continued and the trend for the 1st half of the month was for anglers to be catching 3 or 4 fish in a day. Warm and flooded are the ideal conditions to catch barbel and if the opportunity arises again between now and the end of the season I urge you to take it.
Predator fishing has been pretty non existent – pike cannot sight feed in the coloured water and presenting a smelly, static bait is near impossible in the turbulent margin. This said there were a few reports of pike captures – a 17lber from Middle Hill Court, a 9lber from Lower Canon Bridge, and an 11 & 15 from Courtfield. The window of opportunity was small and I know that all predator anglers are chomping at the bit to make the most of any respite in the rain that will allow the river to drop and clear.
By the 20th of November barbel and chub sport was still good and SM from Grayshot managed 12 barbel to 10-10 from Backney. That's great late autumn/winter fishing. From the 27th November to the 7th December there wasn't a single report and as I looked out of my home office window down onto the Wye I could understand why. I don't think the river dropped below 2 metres above normal levels for at least a month. On a daily basis it seemed up and down like the proverbial and thick with sediment.
As we move into middle January there is an "Arctic Blast" forecast and, hopefully, this means a good dry spell allowing the rivers to return to a more consistent winter level. It's been a miserable 2 months and as the time between now and the end of the season always seems to fly by, I'm sorry it's not good news. There are always theories of the high flows doing damage to the ranunculus beds and I hope that this sustained flooding hasn't caused too much of an issue there too. It does give the river a good clear out though. Fallen trees and rubbish gets washed away and although land based predators such as otters can do some damage to pike populations as they are forced to seek refuge tight to the margins, the avian predators should have struggled. Perhaps this is why a couple of pools that were due in the Passport next year have had to close – they have been literally wiped out by cormorants that have had to move away from the rivers in search of food.
I hope then that the floods have protected some fish stocks but only time will tell as the spring & summer comes around.
Something I've been meaning to do for a while is to acknowledge a good friend of mine and fellow brother of the angle, Dougal Ziegler. Perhaps better known for his role with the Environment Agency, Dougal has been my fishing buddy for some 15 years. We first met on a University field trip in the Swiss Alps and immediately our shared love for fishing and the outdoors became clear. Dougal is a model family man and works hard too, so time on the bank these days is limited, but when we do get out it's always a great day with plenty of banter. My philosophy with fishing and reporting is that pictures speak a thousand words and one of my main drivers to try and make non-anglers appreciate what we do. Images therefore have to convey as many elements of what fishing is all about as possible. Fortunately Dougal is a super photographer and without him capturing the moments then so much of our journey wouldn't exist as it does. We have worked together formagazines, where he receives high praise for his work, and you'll always see a few of his images in the Passport and in this monthly report. I hope you all enjoy his images as much as I do. Opportunities to thank him properly are rare but this is one and so thank you Dougal. I would prefer to avoid pictures of flooding this month – winter can be hard enough on the angler's spirit as it is – so will instead show a selection of some of the best moments the Dougal has captured over the years.
As always, we hope it inspires you.
A final word on escapism comes to you with memories of my recent trip to New Zealand. I covered 4,600 miles in search of trout utopia but on this occasion I didn't find it. I'm sure it's there but every time I got a sniff of it, nature's force (this particular year being El Nino) would scupper things. From strong winds making casting and fish spotting impossible, to lashings of rain colouring the water – I was expecting gin clear water and breathless days wherever I went of course. I did manage some perfection however, where 5lb browns rose freely as far as the eye could see, supping anything put in their path however poorly presented. Days when every step I took was as deliberate as hunting leopard. I was invisible for brief moments in time and it was brilliant, not a care in the world and at one with my surroundings. I grew very attached to my campervan too and living so simply was hugely liberating. Sleeping where I wanted, I often had the sound of running water to help me off to the land of nod, not that I needed much rocking after a full day wading! It was good for the soul and if ever you need that real escapism then I highly recommend fishing in NZ. It's got me going for the spring already and I can't wait to get on the Usk as a more experienced trout fisherman. Surely I'll hook every fish I cast at...? The difference will be it won't be happening from my home on wheels but maybe this will only be temporary because as much as I said I'd never do the motorhome thing, I can see absolutely what it's all about. With this new found open-mindedness I might even end up on a cruise, when there's no more fishing to do that is.
Good luck if you manage to get out this January but please be very careful as the river will be treacherous with a layer of silt covering the banks and vegetation. Try and fish with company and don't take any risks to net a fish. Don't let me put you off though, a day on the bank at this time of year is as invigorating as it gets!
Please follow me on Twitter and Facebook by searching for Angling Dreams. Thank you.
Adam Fisher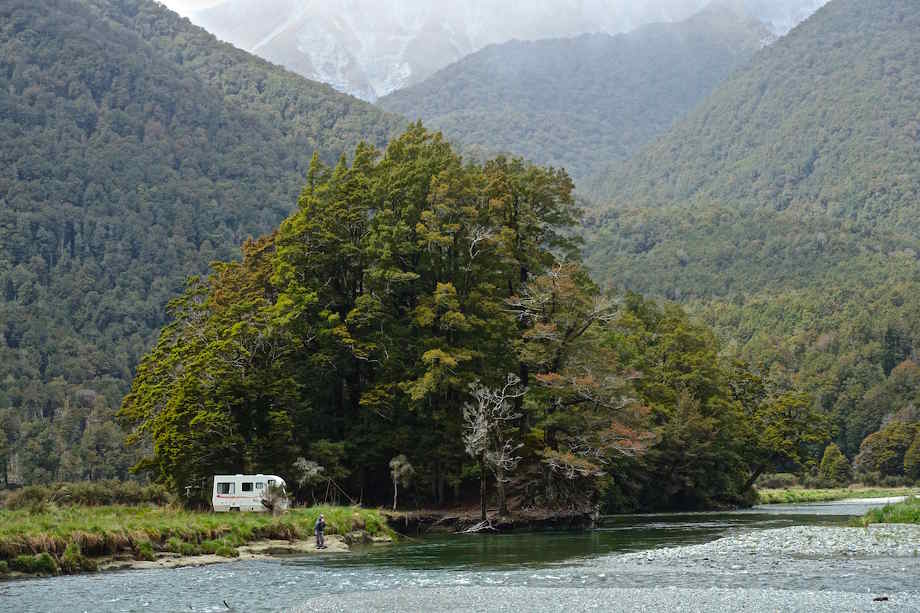 ---
October 2015
This month was marked by extremely low river levels for the time of year and a lack of any real cold snap that we would expect with the change of season. Although the leaves have changed colour beautifully, much earlier than my records of previous autumns, the chill just hasn't quite been in the air to get the predator juices going for me and October is a month when the traditional predator season starts. What actually happened was barbel appeared to go through another "finicky" stage like the ones they have in summer, when high pressure accompanies low flows and leads to them shoaling up, only to come onto bait as dusk falls or if there's a flood. There was a way around it, however, and this was to fish for them on the float i.e a moving bait. Although this is enjoyable in the summer (wading is a good way of keeping cool!), I have never really done much of it in the autumn specifically targeting barbel. Usually October is a month when the trotting rod comes out, but really only to get a mixed bag together to get an idea of stocks. Dace, roach, bleak, perch, minnow, chub are all welcome and make for an enjoyable day stood waist deep in the river before it gets too cold. In the past I have also caught small barbel this way but after venturing into deeper water looking for some larger chub this month, a few larger barbel surprised me. The more maggots were sprayed, the more they fed, and so now I can't wait until next October for the "barbel on the float season"! Joking aside, what's been learnt is that when the fish became finicky to static bait, even late in the summer and into autumn, then a moving bait seems to be an unexpectedly productive alternative. Even though I've done a fair bit of guiding for barbel on the float, I took great pleasure in sending a few mates on their way for them to work it out themselves - what they considered to be one of the more difficult disciplines to master for any fish became suddenly easy, and the smiles on their faces said it all.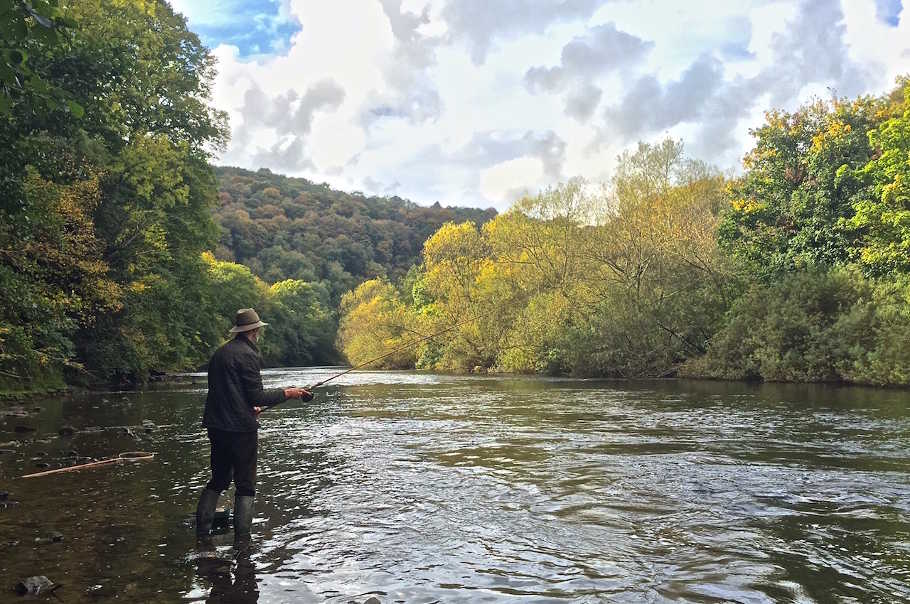 In October maggots were the reported choice of bait for a feeder and although you can run corn or even pellet under a float at barbel, a constant rain of white grubs is hard to beat. However, the fishing was generally finicky throughout the month and although I never pay much attention to the barometer unless pike fishing on the river, high pressure is the excuse I offer for the patchy sport. How patchy? Well, while 3 anglers were blanking on Sugwas Court, down river at the Creel 2 anglers caught 14 barbel on the same day. This was a similar story throughout the river as anglers on some beats did brilliantly whilst others struggled. The feeding patterns of barbel will now start to slow down as the colder temperatures set in, and maggots should continue to be a go to bait.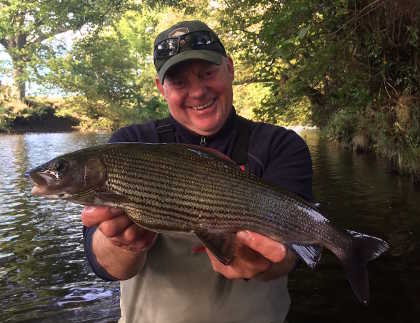 I made my annual pilgrimage to the upper Wye and her tributaries at the end of the month. October is the start of grayling fishing with bait on many rivers and is a wonderful time of year to be on the Upper Wye catchment. The leaf colours are breathtaking and with the low, clear water you can get an up close and personal experience of how wild the rivers are up there. Boulders are as big as armchairs, made smooth by flows strong enough to move them about and round them off. Little patches of gravel are deposited behind each one and the slack flow allows fish to shelter behind them as food is also deposited here. There are big slabs of bedrock, with sheer drop offs into deep water. Such bedrock is lethal to wade over without the right soles on your waders - it too is polished clean with very little weed growth for standard rubber soles to grip to. The deeper runs are usually very deep, but also gravel-filled and this is often where the grayling are. During the day it was still warm enough for grayling to rise to blue winged olives and pale wateries, and this makes trotting bait difficult. Often the grayling will boil where your maggots hit the surface. As you release your float to the stream you invariably get bites before everything is in a straight line and you have the space to strike. Although satisfying once the fight is under way and you've landed them, it can be frustrating not to get the whole experience of long trotting the float and waiting for it to disappear before giving a sweeping strike.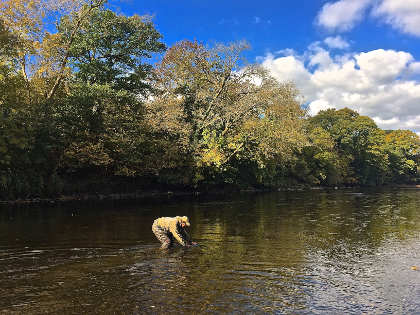 During the middle of the month I spent some time with Martin Bowler helping out on a feature for grayling, which will be upcoming in Angling Times in the next few weeks. He caught plenty of grayling, including a few decent ones, and it was a pleasure to see how someone who lives for fishing is still so passionate and dedicated to producing such interesting material for other anglers to enjoy. It should make good reading so look out for it on shelves soon.
Catch returns indicated that the big catches of barbel had slowed down. Not only does this happen as it gets colder but, as mentioned, the high pressure and low conditions certainly had a role to play this October. That said, Fownhope 5 yielded 18 to DSH from Berks on the 9th , and 12 to A from Didcot on the 22nd. The Creel produced 16 barbel to CM from Moreton in the Marsh on the 17th and Backney gave up 15 to PN from Ferndown on the 21st . Good to hear a positive report from Lower Ballingham once again, JD from Fulham catching 12 barbel on the 7th .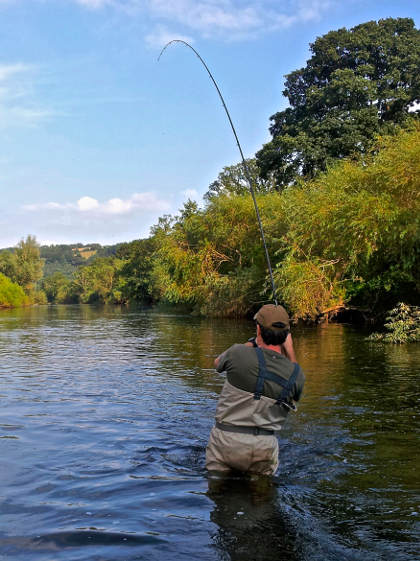 I mentioned last month that a few more anglers brave the Perryhill beat at this time of year. As the vegetation starts to die back then access becomes easier. CC from Cwmbran described the fishery perfectly in his catch return saying it was "Bushes, Barbed Wire, Bullocks and Barbel" the latter of which he caught 8. Some good perch were spotted by other anglers too.
As highlighted, maggots are great bait in low and clear conditions and NS from Basildon proved this with 10 barbel and 4 chub from Sugwas Court. This is a great fishery, never failing to surprise me with the captures there, especially the big perch. There is the odd complaint about the top part being overgown. Well, I suggest those anglers put the waders on and get out in the shallow water between the willows. Some of the best fishing on the beat is up here. The reason? Because it is left wild and effort is required to get the best from it. For those preferring not to put so much effort in, there is a mile of river to go at and plenty of swims. Again, we have the "one man's meat is another man's mutton" cliché with the below reports ...
P. P. from Harpenden, Saturday 10 October, 2015
Area: Middle & Lower Wye
Beat: Sugwas Court (Booking Office), Fishing Type: Coarse, No. Anglers: 3
X1 barbel and x3 chub caught here. Disappointed about access to river bank - above orchard only one possible swim. Woods dangerous to access and no fishing available here!
1 Barbel, 3 Chub
S. F. from Reigate, Wednesday 7 October, 2015
Area: Middle & Lower Wye
Beat: Sugwas Court (Booking Office), Fishing Type: Coarse, No. Anglers: 3
Another fine day greeted us and fearing the worse after three days of rain we were surprised to find the river in fine form, little bit of colour but perfect for fishing. We fished the bottom section and two of my friends were rewarded with 3 and 5 barbel all caught on pellet. The fish came throughout the day. I fished the top section and preserved with the pellet but couldn't buy a bite so float fished for a couple of hours and was rewarded with two perch of over 2lb and lost a bigger one which I managed to get to the surface but lost as he made a final dive for freedom ! I estimated him to be between 3 and 4lb.
It's a super stretch of water with many accessible swims lots of kingfishers flying low across the water buzzards with their cry gliding overhead such a wonderful place to be.
We have the same issue with Wyastone Leys, where I personally have easily identified 8 different pegs from Boys Rocks downstream for 400 yards. The river then goes extremely shallow, but this section is only about 2/5ths of the beat. As you leave the woods and get into the meadows, the river bends and deepens and stays deep until the lower limit of the stretch at the Mally Brook. Here the bank is open and you could get a 20 man match along it. We therefore find it very difficult to answer feedback such as the below;
M. M. from Halesowen, Sunday 11 October, 2015
Area: Middle & Lower Wye Beat: Wyastone Leys (Booking Office), Fishing Type: Coarse, No. Anglers: 2
Hi, whilst we enjoyed our day a lot, I would have the following comments to make. The fishing pegs are very very limited. Not having fished the stretch ever before I decided to walk it from top to bottom. I counted probaly 8 pegs in total that could be fished but 3 of these were really really awkward to fish and in fact most anglers wouldnt have even contemplated looking at them. 2 others at the lower end were in extremely shallow fast water and not really an option. With any water on then one of these would have been a no no so in reality there were about 4 pegs. I believe 4 anglers are allowed on it so possibly okay but then no options to move at all. We were lucky enough to be the only 2 anglers so we could move a bit but at £22 each we thought its very very expensive for the options available. With a little bank work the difficult pegs could be made better and a couple more created at the upper end. I suppose the question would be, would I return? The answer is only possibly if I knew we were the only 2 on there as 4 is to many for the stretch as it is.(from an angler thats seen a lot of river over many years). Thanks.
WUF note: Wyastone Leys, like many Passport fisheries, is a 2 person beat with an option of a party of 3 or 4 to book. 2 groups of 2 or 4 individuals would not be permitted.
1 Barbel, 1 Pike
If the maps are followed correctly the following is possible.
P. P. from Harpenden, Friday 9 October, 2015
Area: Middle & Lower Wye Beat: Wyastone Leys (Booking Office), Fishing Type: Coarse, No. Anglers: 3
x3 barbel from rocks- 8, 8:60 & 9:60 x6 from 1st meadow- sheep drink swim-all between 5lb & 9.6lb. All caught on pellet.
9 Barbel
I'm sure the barbel in the Wye are getting bigger but discussion of this I will leave for another time. All I know is the following big fish were reported this month ...
MP from Didcot fished Wyebank and caught his 1st Wye double at 10-1 - well done! RD from Hillingdon caught 3 doubles from Backney in a day! PP from Kenilworth caught an 11-2 from Courtfield and MY from Lydney caught an 11 lber from Tresseck & Red Rails - an awesome fish for there. Sugwas (my fishery of the month!) also produced an excellent barbel of 10-8.
So now October is out the way, attentions will turn more to pike and chub, unless we have a warm flood to bring the barbel back on the feed. If the river is low then lures could still be an option for pike, especially as snags will be identifiable in the clear water. If the river rises and colours, then catch it on the drop to find pike behind marginal bushes where the small fish hold up in a flood. People have written to me asking where the chub have all gone, Holme Lacy 3 being the perfect example of their disappearing act. Back in July people were catching 30+ chub in a session whereas on the 4th of the month only 2 fell to 4 anglers. I have no fear for these fish as, like I mentioned last month, they seem to vanish at this time of year. Some cold weather and dusk falling at a more sociable hour should allow the chub angler to target them with big, smelly baits and I hope to hear of some good catches next month.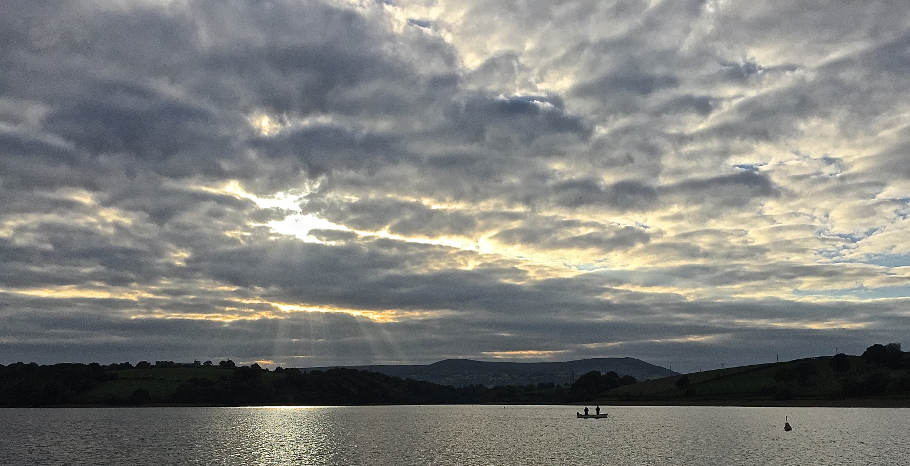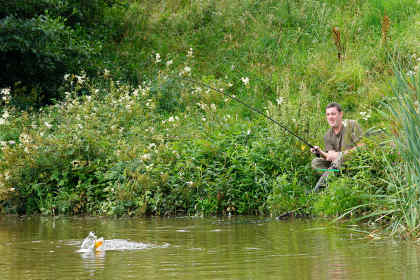 Last but not least, a mention for the stillwaters - Llandegfedd is back open for pike fishing and the home of the British record pike has produced a couple of decent fish. Nigel Botherway and I had a thoroughly enjoyable day there towards the middle of the month, but alas we blanked. As with the finicky barbel, high pressure was our excuse! I should mention other WUF waters that haven't really been fished much this year, possibly due to lack of summer flooding of the rivers? These waters shouldn't just be explored when the rivers are out of condition though. They are good fisheries in their own right and the following report sums them all up ...
T. P. from Ledbury, Wednesday 7 October, 2015
Area: Stillwaters Beat: Trelough Pool (Booking Office), Fishing Type: Coarse, No. Anglers: 1
2 bream only today - lake still one of the better stillwater venues with much potential for those who are prepared and able to make regular visits - really needs to be fished more to really unlock the potential of this lovely water.
Good luck whatever you're fishing for in November and please keep the catch returns coming in.
Adam Fisher
---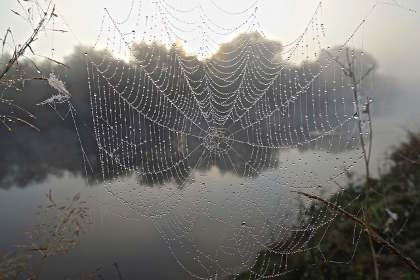 September 2015
September is a fine month. Usually the second or third weeks can be guaranteed to have some sun with pleasant temperatures and we experience the first of those still autumn days when there is literally not a breath of wind. Inevitably the temperatures drop at night and according to the rule book, so the fishing improves. With the EA byelaw restriction on maggot use lifted on the 15th , catches of dace and roach always start appear in reports and with this the predator action picks up as a few cold nights shoal up the bait fish. It certainly is a beautiful time of year to be waterside with the tips of the trees near the water changing colour first, as if scalded by cold mist. The stillness, combined with everything just quietly becoming damp and starting to die back, fills the air with a thick smell of soil and vegetation - autumn is on the way.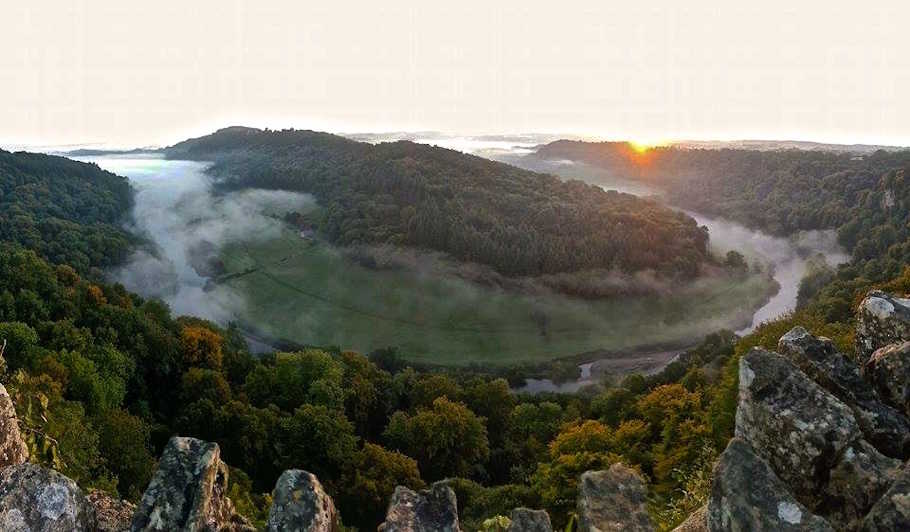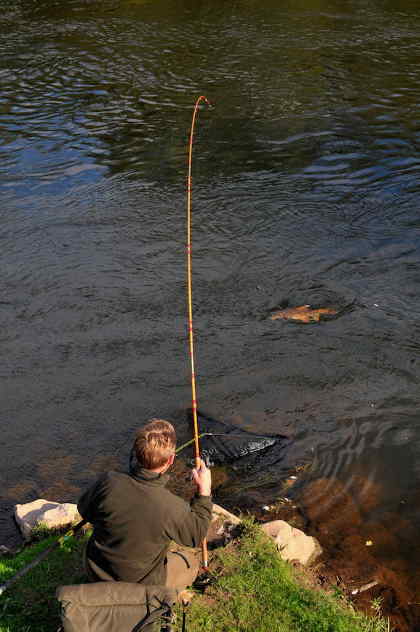 Barbel fight extremely well during September, no doubt down to increased dissolved oxygen levels. They go back well too, which is some relief after episodes of perhaps taking 10 minutes or more to revive during August. They start to get fat now too and as will be revealed in the catch returns later, the doubles start to show with some regularity. Chub on the other hand do a disappearing act, not really coming back out to play until the cold weather sets in. Where they all go is anyone's guess but I suggest perhaps they go predatory for a while, feeding on the last of the fry, also familiarizing themselves with the margins in preparation for autumn/winter flooding. Perhaps I'm anthropomorphizing there and really they've switched on to falling nuts, berries & slugs.
Perch are fattening up too. With the clear water and abundance of fry, September is the time of year for the angler to walk the banks and locate them by sight. There's some special fish in the Wye and in the feedback there are reports of sightings of these specimens. Perryhill's perch particularly get a mention every autumn and this month they were highlighted by more than one fishing party. Perryhill also contains some good barbel and now the vegetation is dying back it's a bit easier to access.
A. W. from Lowestoft, Suffolk , Monday 28 September, 2015
Area: Middle & Lower Wye
Beat: Perryhill (Booking Office), Fishing Type: Coarse, No. Anglers: 1
A great day on the Wye. A challenging beat as described but the rewards are there and the barbel fed all through the day for me including 4 to over 8lb, the biggest a fraction under 9lb. All caught on pellet and groundbait tactics! Thanks WUF.
16 Barbel, 3 Chub
T. B. from S.W London, Wednesday 30 September, 2015
Area: Middle & Lower Wye
Beat: Perryhill (Booking Office), No. Anglers: 3
A gorgeous day. A river that was running low and clear, so we weren't sure how it would fish in the bright sun. But we had a good day with 3 PB's, biggest 9lb 8oz. All fish taken on maggot. We must have looked like a mountain rescue team heading to the water, but we needed all the ropes etc :) There was plenty we didn't see so plenty to explore another time. Thanks WUF.
12 Barbel, 2 Chub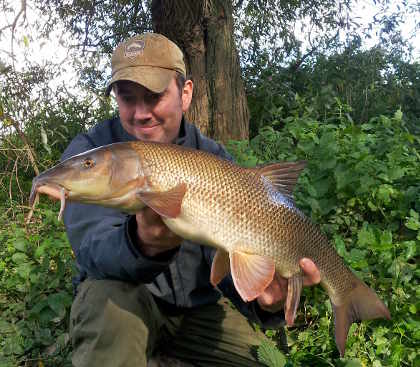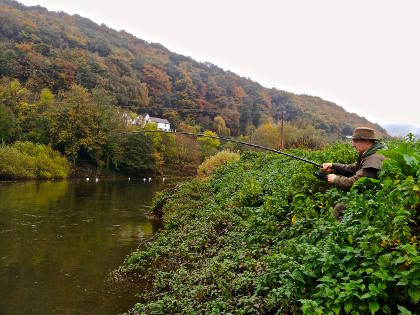 Looking at the catch returns there were still many bumper sessions in September, especially following the flood and flush through at the start of the month. MHC has really returned to form and RC caught 25 barbel on the 2nd . On the same day Backney produced 21 barbel to PD from Windsor, Fownhope 5 giving up 16 to GP from Basildon. The river then fined down and beats such as Kerne Bridge became fishable again - on the 7th RS from Merstham caught 18 barbel from the Bridge Pool. White House has also seen a return to form lately but I think this is just because people are fishing in the right areas again. DW from Milton Keynes caught 15 barbel and 13 chub there on the 8th , with DW from Lutterworth catching 12 a few days later. Not far downstream LW + 2 from Canvey Island were fishing The Creel - they caught 30 barbel between them.
Around the middle of the month the clarity really came back in the river and although the days became quite warm, a couple of cold nights meant the deeper stretches started to come back into form. Courtfield, for example, produced several doubles in the second half of the month, the biggest being 11-14. Backney also produced some very special barbel with several doubles to 12-4. Fownhope 5 also produced its biggest barbel of the year at 10-6.
Speaking of large barbel, there was a report of a dead fish that was estimated around 12lbs.
Distressingly, there have actually been numerous reports of fish trailing other anglers' hooklengths this year. My recommended set up for Wye barbel is simple and pretty indestructible, but there are one or two things you can do with your existing set up to reduce your chances of lost fish.
The 2 main reasons for snapping line will be damage to it or use of the wrong knot. 8lb mainline is actually plenty on the Wye, but always check your hooklength and mainline above the feeder/lead after each fish/cast. Any damage should be noticeable by roughness or curling of the coating of the line. Your hooklength will undoubtedly be higher breaking strain than the mainline, especially if using braid or fluorocarbon. Remember though, both of these materials require the correct knot - a strangulation knot will not work under pressure and whilst playing a fish, will pull braid apart like cotton. A blood knot will weaken fluorocarbon too and again the fight of a barbel will make this line seem to break inexplicably. These days I always go for a really simple knot like the Palomar. It's as strong as they come and it's really simple to tie, it also works with every line material you could choose. See this website for some interesting reading on knots.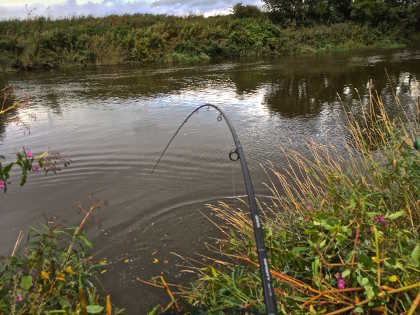 Huge feeders/leads are not really necessary either (4oz +). What happens is that if you do not apply enough pressure to the fish, the weight can drag bottom. Even when playing barbel on a light feeder or lead, you must apply pressure to keep a fish that's designed to be on the bottom, up off it. They will pull back hard, and you must always be prepared for the 3 or 4 lunges as they reach the surface to be netted. If you are not ready on the clutch, this is when fish are often lost. Getting the balance right is the overall point, and if you use too heavy a rod (as many anglers I meet do) then you will only add more pressure to your mainline - I personally would much rather the rod do the work.
The alternative to worrying about losing fish from damaged line with heavy feeders/leads, is to fish light and under your rod tip - sometimes the biggest fish cruise the margins, especially in a flood, and a giant piece of luncheon meat is one of the best barbel baits known to man. Another alternative is to fish the float - there was some excellent sport to be had just last week and next month I hope to show you some images of this in October's report. Like dace and roach, barbel love maggots too and a bunch trotted tight to the river bed, combined with regular feeding, should get you a few fish.
P. W. from Great Rollright, Friday 18 September, 2015
Area: Middle & Lower Wye
Beat: Foy Bridge (Booking Office), Fishing Type: Coarse, No. Anglers: 2
What a lovely little stretch of river. Easy parking very close to the nearest swims. Swims were good for access although might have to be taken during wet weather as they may get muddy/slippy. Only one 'decent' fish - a 4.5lb chub but one good barbel lost. 10 very small (<1lb) barbel caught though and they were great to see - a good sign of active recruitment. Spent a good deal of time trotting small baits and caught a constant steam of smaller chub, dace and bleak and a single gudgeon. Lots of kingfisher sightings and a Daubentons bat appeared at about 5:30 pm which was very unusually early, nice to watch it hunting though. I think a lot of people stick it out on the Wye with big baits for big chub and barbel but they are missing a treat with the quality of the trotting sport for smaller chub and dace - it was literally a bite a chuck! Will be back one day soon.
10 Barbel, 60 Chub, 50 Other
The absence of chub through the month was notable and although some decent fish came to float at Foy, there was little mention of anything over 4lbs anywhere else. This, as previously mentioned, is just what happens at this time of year - it's a transition for the chub it seems. Then again, the fishing can still be hit and miss no matter what you fish for, as LJ from Gloucester expressed from his trip on the 29th to Upper Home Lacy - "New beat for me. No fish, not a single bite. Bright sunshine, low river, no flow, east wind - fishing as hard as it gets! I would say there was no fish there but I had eight lovely barbel the previous week on my first visit. The difference was 18 inches of extra water, that's all it needs."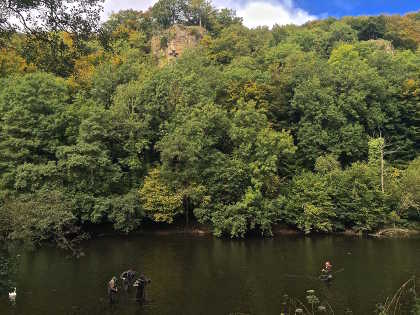 There was another round of filming on the Wye for "Fishing Gurus" midway through the month - Dean Macey loves it on the Wye and grayling and chub were the target species this time. I was fortunate to be involved again and I'm pleased to say both days were a success. With the stunning weather, turning leaf, and Dean's endless enthusiasm, it promises to be good viewing - due to air as episode 5 on Sky Sports in November.
Looking forward to October, this is the month when the traditional pike season starts. For me, it's still just a little too warm for pike. Although many prefer to wait until it's freezing to fish for grayling, it's such a beautiful time of year to be on the upper reaches of the Wye catchment. With the trout season over, grayling are the perfect excuse to be there. Good luck whatever you fish for and enjoy.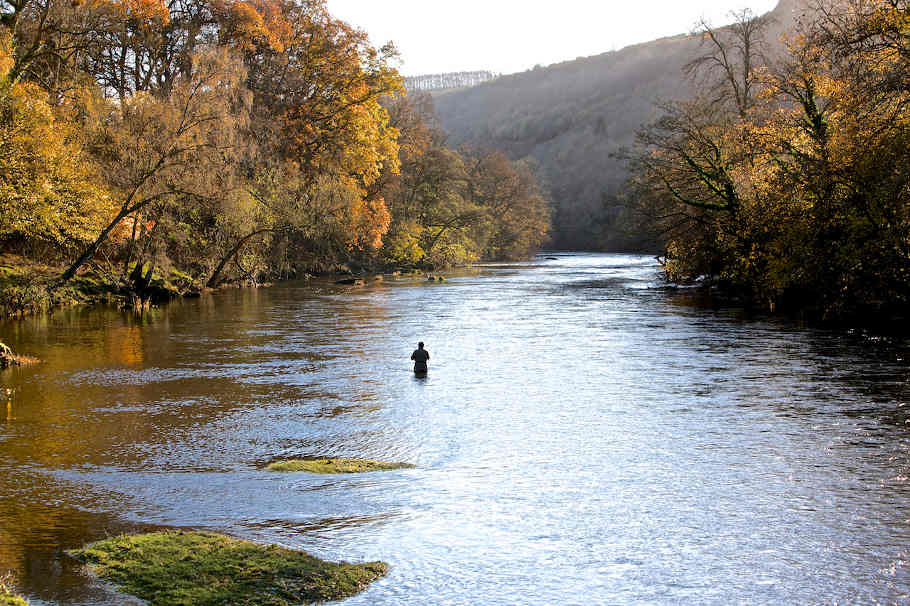 Adam Fisher
---
August 2015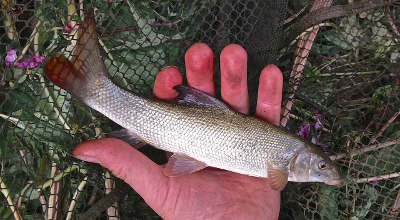 I'll kick off this month by mentioning what for some are the devil fish of the river - barbel. In the past there's been claims in some quarters that barbel are a menace to the Wye and should be wiped from the river. Well, I'd like to provide some evidence that coinciding with the improvement of the salmon run over the last few years, is healthy barbel recruitment too. I have caught 4 fish under a pound this month. These smaller fish rarely take a static bait but there's always the odd one to catch on float. I'm mesmerised by their form at this size. It could just be that man is fascinated by anything in miniature, but maybe it's their stark contrast to an average sized fish of about 5lbs. So, although some fisheries may see a bit of a downturn in catches some years, it seems the future is bright for the Wye's barbel population.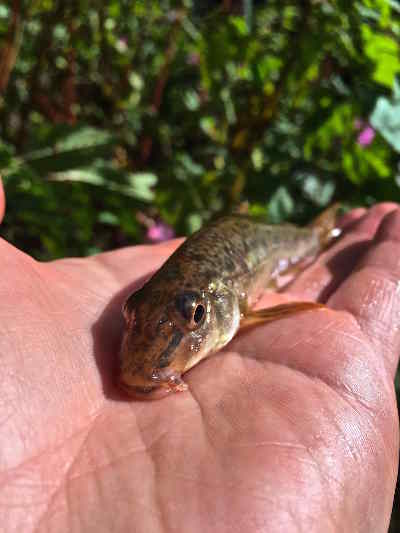 I've also noticed an excellent head of micro barbel - aka gudgeon - in the margins. I used to love catching gudgeon as a boy and they're the first fish caught for many an angler. The similarity between gudgeon and barbel is not only their down turned mouth and shark like fins, but also their fondness for porpoising or leaping out of the water. Redmire is famous for its "farting gudgeon" as they leap around! Barbel do this too, just on a slightly different scale. If you don't see the fish you can tell it's a barbel leap by the noise - usually several very quick beats of the tail followed by a "slap", a splashy type of rise. When you have a small barbel on the line you may wonder what on earth it is. There isn't the dull, kiting pull back of a chub, or the locking to the riverbed strength of the barbel. Although a small barbel wriggles on the line like an eel it's not quite the full on jagging and twisting sensation coming from the same general direction. If you could guarantee bags of them they'd make tremendous sport float fishing with light tackle. On the feeder and 1.5lb test curve rod it's a bit of overkill. Although smaller, they must still be handled with care - they seem to play dead on the bank so make sure they're good and ready to go back before releasing them.
Up to a few weeks ago I was under the impression that canoes weren't too bad this year. However, as we got into August it just went crazy and reports from anglers confirmed this. Personally, I have never seen so many. The issue for fishery manager is not just the disturbance to anglers as they head through swims. Even on the busiest of days, an increasing proportion show consideration for anglers' lines. It's more to do with seemingly total disregard for the angler (not to mention wildlife and private property) as boats moor up on gravel beaches or start playing around in areas right in front of anglers. It's also the picnicking and leaving of litter. You'd be shocked at some of the things that people leave behind. The worst thing, however, is the faeces up on the top of the riverbank, and the paper that goes with it. Stepping in dog mess is one thing...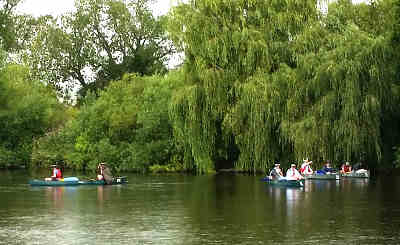 How do we explain this to anglers? Well, we can't. Fisheries have started to place signs up with wording such as; PRIVATE LAND - strictly no mooring or stopping. I've had 2 signs ripped down already this summer. When politely asked to leave the area most people think you're out to ruin their fun. Sadly, the good have to pay for the bad and although many are children enjoying our wonderful river environment, supervised by perfectly polite adults, I always have to explain the message that they are sending to the less considerate. When I get a call or text at 3am from someone on the hillside nearby telling me there's a fire and lights down on the riverbank, I have to head down and investigate - it's part of my job. On these occasions I am often confronted by a group of folk whose excuse is that they went past last year and saw people picnicking there and that there were fire ashes already there. So as you can see it is hard not to be frustrated when innocent folk, although just trying to enjoy the outdoors, are sending a message that has knock on effects that take others from their family at unsociable hours. The problem would be nothing like what it is if there weren't so many of course, but due to lack of regulation and ignorance from the governing bodies, the quantity of canoes is just outrageous. At what point will the impacts on this Site of Special Scientific Interest (SSSI) be considered? It's a question that Natural England will never answer. Adding to the frustration is that when required infrastructure to allow better access for the angler, such as chopping a willow bow that's causing bank erosion, is prohibited without their consent. One of the hardest things to swallow is when people say "it's all our river and we're free to do what we want. In other countries they don't have these restrictions." What is not considered, however, is that when it comes to exploitation of these areas, we are not in Canada or Alaska. We are a very small, densely populated country and there is only one river Wye!
Reading the August reports I don't think any other form of outdoor activity gives such one on one invasion and environmental threat. SD from South Yorkshire, fishing Backney on the 16th August commented: "What did cause issues though was the canoeists. We arrived just after lunch to fish until late and when we arrived it was like the D-Day landings, there were canoes beached/ landed everywhere. We even witnessed them landing on crib 1 then proceed to climb on the roof of the hut and jump up and down yelling and shouting. We had to walk along the banks and politely remind them that landing was not allowed in this area, most just accepted this and carried on their way although there were a couple of exceptions to this. Don't know what the answer is to this as the owners of the beat have posted clear signage all along the beat indicating that landing is not allowed. The canoeists seem to find the signs just a convenient place to sit! I should say that all the major canoe companies on the Wye were represented."
Earlier in the month AS from Newent came across a similar incident when fishing Wyebank. "Waste of 20 quid. Boat traffic constant from 10 a.m till 7pm totally destroying fishing. Capsized boats, people swimming in your swim, stopping for lunch all down the swim all day. Told a few I had payed to fish, they moved and within 2 minutes the next few canoes were moored up. The arrogance of a few ruins it for so many. A few were more river wise paddling fast to pass through but mostly a bunch of arrogant idiots who quite honestly could not give a hoot.. and at their age, oh dear.. I have had this on other beats, people throwing stones in your swim and had them hitting the banks you are sat on. Mindless idiots.
WUF Note: July and August is the peak time for canoe traffic on the navigable sections of the Wye. Although we appreciate it is not always convenient, the advice to anglers is to concentrate fishing effort early morning and late evening at this time of year. Canoe traffic is less then and the fish are often more active."
SM from Swindon was fishing Fownhope 5 at the beginning of the month..... "Very warm sunny day that seem to bring out every canoe on the Wye. We had a few parties of blokes coming down, obviously tanked up. These fine gentlemen totally disregarded our position on the river and just spread themselves right across the river. I saw 3 gents during the day, standing up in the boats, urinating, oblivious to any other persons. We all pay for the right to use this beautiful place only to be ruined by the few who don't care. I watched as one of these gents just emptied his litter into the river. Crisp bag and beers cans, once again, he was another one oblivious to my calls to stop. To be honest, I did note that the red boats were letting most of the idiots in them. Someone will get physically hurt soon if this does not get better control. Children and families will see what I saw today and I don't believe that is right. The Wye should be used, not abused. I love to canoe as well, but these people should not be allowed. More control needed from these companies rather than just take any idiots money. We still had a great day as usual, so a big thanks to the W&U again. See you soon, SM."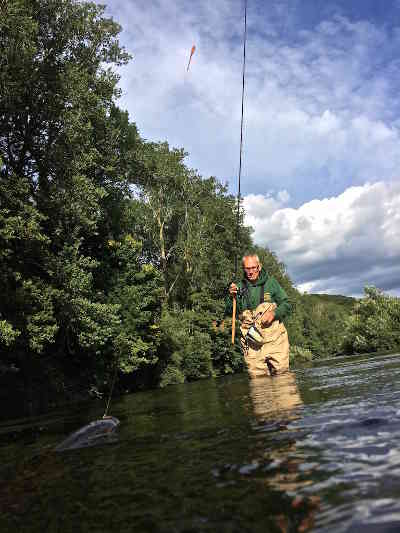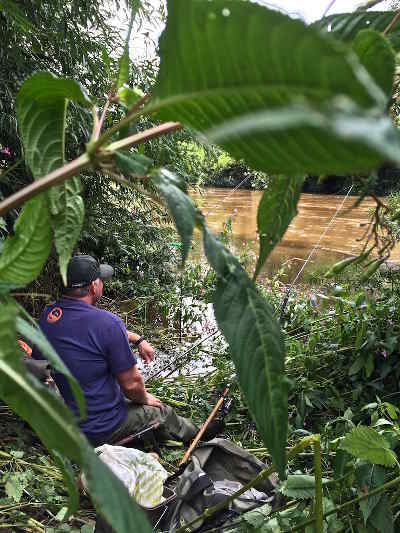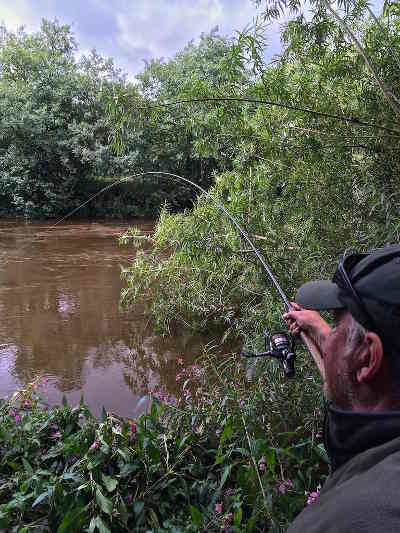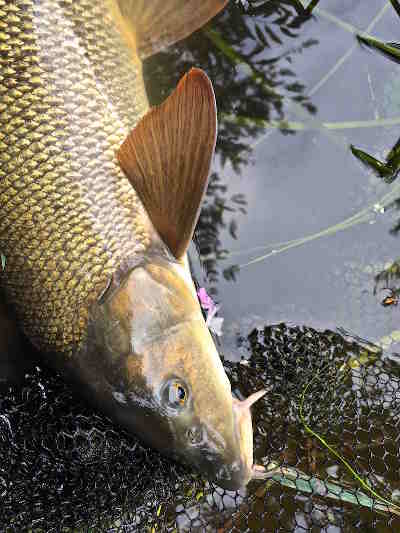 The river was low at the beginning of the month, really low. Catches were generally a bit slow, and my fishing was nearly all for chub on the float. Bait was mostly breadflake and armed with a pair of waders you can cover so much water. One of the most exiting things about this time of year is that chub feed on the surface with gusto. As you mash the bread up in the water to feed the swim, inevitably some of it floats and as your eyes are fixed on your float downstream, or as you're baiting your hook (basically, not watching the rest of the water), you hear slurps as the chub take the loose bread off the top. It's really exciting fishing and you can see rises for hundreds of yards down river, giving you a good idea of really how many chub are in there. I recommend it.
During the middle of the month we had the biggest flood since the start of the season. This was much needed and with it came coloured water and the expected increase in catch returns. I fished for barbel and managed one or two. I can see how the Wye's banks can seem overgrown to many but it took me just 5 minutes to push my way through some nettles and Himalayan Balsam without having to "beat" anything down (see photos right).
Middle Hill Court has really returned to form this year. JH from Oxford had 21 barbel on the 30/8. Sugwas Court too has "come back to life" and catches of 11 barbel in consecutive days by DU from Marlborough followed a catch of 28 barbel and 16 chub by TM from Heptonstall. Backney really can turn up the goods and this month it has fished superbly, with catches of 38 barbel and 21 chub to one angler on the 10th , followed up on the 11th with 25, the 14th with 28 and the 15th with 20+. These sorts of catches didn't slow down with the extra water and the 22nd was the real red letter day with JS from Sutton Coldfield catching 32. Wyebank seems to have come back into a bit of form too with KS from Bridgend catching 31 on the 3rd and SWP from Chertsey catching 20 on the 10th . The same angler also added to the mixed reports from Fownhope 5. I'm chosing to mention this one as it has nothing to do with access or number of fish caught - "really feel privileged to be able to be on such a beautiful stretch."
To back up this I'd like to take the opportunity to highlight this catch return from a client who fishes with his friend for the Golden Maggot Trophy;
R. H. from East Peckham, Thursday 20 August, 2015
Area: Middle & Lower Wye
Beat: Wyebank (Booking Office), Fishing Type: Coarse, No. Anglers: 2
We arrived early in the morning for our first visit to Wyebank and made our way down to the bottom pool to bait up. The river was clear and very low, we were a little concerned that we might struggle in the conditions. We trotted floating crust for a couple of hours starting from the shallows working our way down to the bottom pool. I was pleasantly surprised to find the Chub most obliging and of a good average size. We landed 13 Chub to 5lb 3oz (PB for me) and most fish were over 4lb. We fished the bottom pool through to about midday and landed 4 small Barbel. Canoes had started to arrive and we decided to leave and come back for an evening session.
Arrived back about 5:30, baited up and went for a pint and returned about 7:00. Fished the bottompool where we had a fantastic evening session landing 12 Barbel. Some very small ones but also fish of 4lb 8oz, 4lb 11oz, 6lb 12oz and the last fish of the evening 9lb.
I would like to add that in the build up to fishing at Wyebank I read many of the catch reports from the beginning of the season. For the most part the fishing had been prolific. This however had not stopped a number of people moaning about SMALL BARBEL (surely this is such a positive) the PATH which yes is a little tricky but it is on a river bank which through the winter I suspect is in many places under water, this obviously makes it very difficult to maintain. CANOEISTS, they have a right to the river as well, we avoided the peak times but found those we encountered to do there best to avoid us and all were polite. It is a privilege to fish the River Wye and I would like to thank the WUF, keep up the good work.
1 Trout, 16 Barbel, 17 Chub
The Creel continued to fish well too and there's been multiple catches of barbel and chub there. This monthly report seems to never go without mentioning yet another red letter day on Holme Lacy 3 - IP from Torquay catching 35 chub on the 16th , well done. Kerne Bridge has picked up this month too with BG from Taunton catching 11 barbel followed by 18 barbel the next day. Lower Carrots & Luggsmouth pleased a couple of anglers from Wiltshire on the 13th as they caught 18 barbel and 9 chub.
Out of the stillwaters, Trelough is giving some good fishing with some very positive feedback. There's been plenty of carp caught up to 20lb and a few roach and bream. The other stillwaters should pick up again too as cool nights push the fish down, only to become more active through the day.
On the 14th September the maggot ban lifts from the Wye - this should see mixed species catches pick up. We've received already one from CW of Gloucestershire who fished Foy and had a lovely mixed bag of chub, dace and barbel on corn. September is always one of my favourite months for fishing and as we start to get the misty mornings, just being out on the bank does wonders for the soul. Sometimes you go through phases where you wonder what on Earth is wrong with you, not being bothered to get your fishing tackle out. I know I'm not the only one. You just can't put your finger on it and before you know it weeks have gone by and you haven't fished. When you finally push yourself somewhat reluctantly to see what it's all about again, it becomes clear quite quickly what you've been missing. If you've been missing something this summer, give fishing a try again. Good luck.
Adam Fisher
---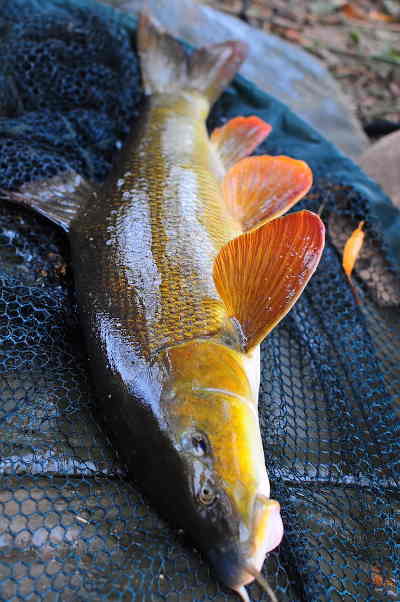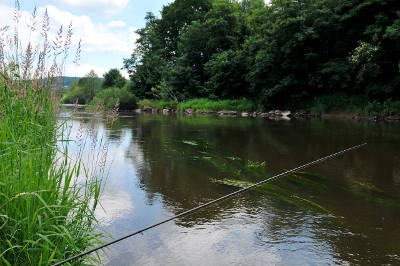 July 2015
This month's report has been helped by a remarkable level of angler feedback, with around 300 coarse fishing catch returns to go through. Thank you to all who've taken a few minutes of your time to respond to the automated email from the Booking Office. The catch returns are an opportunity to let us know not just how the fishing was, but also to notify other anglers of the good and bad points you've experienced with access, directions, canoe traffic etc. If, however, there is anything that is an issue in real time, then please let the Booking Office know as soon as possible - issues relayed after the event are hard to act on. Any suspected illegal activity should be reported to the EA hotline as soon as possible on 0800 807060. Anyone who doubts the efficacy of this service (and sometimes, it'd be difficult to blame them!) should know that persistent illegal fishing on the Usk in the Brecon area was cracked down upon by Natural Resources Wales officers after it had been reported a few times.
At the end of June temperatures were into the 30s and at this time of year the fishing can hit a bit of a slump, usually requiring a good flush through to get the fish moving again (barbel especially). The temperatures continued to rise into July and on the 2nd an angler reported that it had reached a sweltering 37C at Preston Court! Elsewhere on the river anglers were experiencing the hottest July day on record and it was no surprise to hear that they hadn't had a "knock" on some beats.
Being a "man on the ground" I receive a fair bit of feedback face to face on the riverbank. As can be expected with fishing, this isn't always positive! At other times it comes through what is receiving a growing opinion of one of the downsides of modern day fishing - website forums. I have to confess it hurts when so much effort goes on behind the scenes, at all hours of the day, with the overall intention of providing pleasure. Some don't agree with the higher prices to fish the Wye compared to other rivers and when anglers have taken the plunge to pay higher sums, they often assume that this equals instantly hungry fish! What is being offered primarily is the opportunity to access and fish some of the most beautiful river our country has to offer, access to much of which may otherwise be closed off to the public. This is offered in combination with a certain level of exclusivity to your day - on most beats on most days you won't see a soul. A higher fee isn't supposed to mean more work to access the banks either - there won't be swathes of natural vegetation flattened to make way for steps, with swims every 20 metres. Where this is done, it gives the impression of benefit to the angler. However, the majority of swims on these kinds of stretches will be over shallow or snaggy water, which after a season has gone by with no anglers fishing them, will grow back over anyway.
The point is that although first impressions may be of inaccessibility and of few swims, not everywhere holds fish. It is simply not worth putting swims in when the water beyond this undergrowth is not conducive for good fishing. There are worn swims for good reason and there are yards of overgrown bank for a reason too. In between, however, there are plenty of fishy little pockets for the pioneering angler (at the risk of completely contradicting myself!).
So, as I elude to nearly every month, you sometimes have to work at Wye fisheries to get the best out of them. The following 2 are perfect examples of this from Fownhope 5.
G. M. from Leominster , Monday 27 July, 2015
Area: Middle & Lower Wye
Beat: Fownhope 5 (Booking Office), Fishing Type: Coarse, No. Anglers: 3
A fairly good day. The lads battled into the wood, they were not impressed with the dangerous nature of the wood and disappointment with the fields below and inaccessibility of the river. Upper pools produced later in the day. Again another beat where work is needed to improve the fishing experience or reduce the cost of the ticket. The boys had to contend with people walking the beat and pestering them for information too.
C. B. from Cardiff, Sunday 19 July, 2015
Area: Middle & Lower Wye
Beat: Fownhope 5 (Booking Office), Fishing Type: Coarse, No. Anglers: 2
Lovely beat with lots of different swims. Caught two Barbel & one chub, all putting up a great fight. Barbel to 8lbs. A pleasure to be on the river with some friends....
I will probably then continue to mention it every month as we receive conflicting reports of some anglers finding access tough, whilst others find exactly what they want, proof again below that you just can't please everyone! There's bad, good, and indifferent.....
G. M. from Leominster, Tuesday 28 July, 2015
Area: Middle & Lower Wye
Beat: Middle Ballingham & Fownhope No.8 (Booking Office), Fishing Type: Coarse, No. Anglers: 2
A very disappointing beat and a huge let down after early success on other beats. There is serious investment needed here in opening up the water. Either that or a serious rethink on pricing this beat. I paid for majestic scenery not majestic fishing on this beat as there are not the pegs on the beat. POOR!
D. C. &. S. B. from Norton, North Yorkshire, Wednesday 1 July, 2015
Area: Middle & Lower Wye
Beat: Middle Ballingham & Fownhope No.8 (Booking Office), Fishing Type: Coarse, No. Anglers: 2
Lots of swims cut out on this fishery so plenty to go at however we made our own after my professional barbel spotter took a wander and found some in a very inaccessible area where we have found them before. Our rope came in handy today.
S. T. from Stoke on Trent, Saturday 25 July, 2015
Area: Middle & Lower Wye
Beat: Middle Ballingham & Fownhope No.8 (Booking Office), Fishing Type: Coarse, No. Anglers: 2
7 chub caught from various swims, most coming from the faster water towards the top of the beat in the first hour. Struggled for fish the rest of the day despite trying numerous other spots. However, really nice place to spend a day despite the lack of fish.
You don't have to be Bear Grylls though. There is an approach where perhaps you could take a little more patience and think outside the box, rather than expecting every barbel in the river to hang itself because those before you may have had such good fishing! A good example this month was from JK from Peterborough fishing Sugwas Court. Their party experienced a slow start, perhaps due to high expectations, but then "heavy baiting followed by a long lunch paid off", as when they returned to the river they revisited the baited spot and banked 15 barbel and 7 chub before dusk.
The moral is had they continued to bombard the river with feeder full after feeder full, changing hook lengths and trying different baits, perhaps getting frustrated at the lack of action, then they may have fooled one or two more fish. However, by allowing the fish to get confident over a baited patch they caught more in a few hours than they would have done in the whole day. Give it a try next time, and as I nearly always suggest to anglers I guide, bait a few spots and return later.
Enough of the excuses! The early part of the month, however hot, fished well, and from the 3rd July for the following 10 days I can highlight the following reports:
KP from Dunstable - Backney - 14 barbel & 8 chub
GH from Staines - Wyebank - 9 barbel & 7 chub
GP from Basildon - Sugwas Court - 12 barbel
LS from Stevenage - Caradoc - 32 barbel to 3 anglers
DA from Evesham - Lower Canon Bridge - 8 barbel & 8 chub
DC from N Yorks - Courtfield - contradicting another angler who said there were very few swims, he said there were plenty and caught several barbel to 10lb 5oz.
PE from Stillington - Wyastone - only caught 1 eel but said "some times it's your day and sometimes it's not, but it's still a great river to fish!"
NW from Stroud - How Caple Court - "Tough going and some fantastic fishy battles - an experience neither of us will forget soon!"
BS from Crawley - Sugwas Court - 22 barbel
CN from London - Lower Canon Bridge - 20 barbel
SS from Berkeley - Creel - 10 barbel and 14 chub
Things slowed down at the middle of the month and this is when some describe the river as being in its "awkward stage": 1 or 2 barbel caught in quick succession and then the swim dies. Maybe contradicting what I highlighted earlier, and just to emphasise again that it's fishing not "catching",renowned areas can be baited heavily and returned to full of expectation for the evening session, often only to produce a chub or two.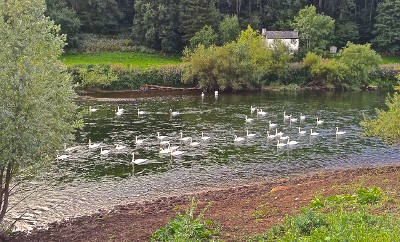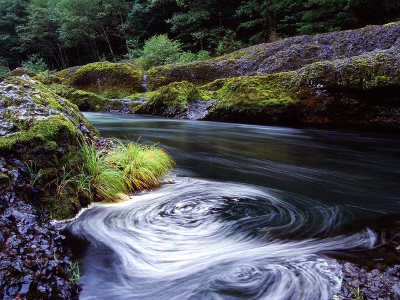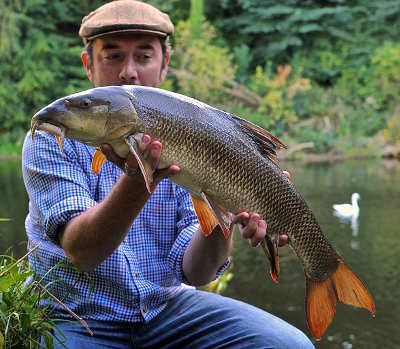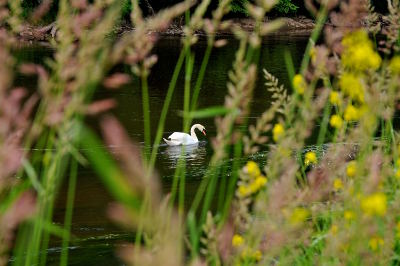 Mid July saw a small rise in river levels and this brought with it a monumental amount of weed and debris. What happens over time is that weed and debris collects in the slack areas created in the margins, behind bushes and fallen trees etc - a lot of this is natural breakdown but it's also cut in some areas to allow for rowing, but more often it is ripped up by swans. The smallest of rises then allows the main current to start reaching these slack areas again and the water begins to move. This movement is known in fluid dynamics as an "eddy". All it takes is one strand of weed from the accumulated weed raft to catch the main current, and it pulls with it the knotted body of debris. This can take several goes, but once momentum builds and the weed raft itself is eddying, it eventually gets caught in the flow, and before you know it there's huge slugs of vibrant green weed and swan feathers, some as big as cars, making their way down river. One strand caught on your taught line and you may think you've got a bite. If left, the pressure will often pull your feeder/lead into a snag, and before you know it your rod is hooped over with the line singing under tension. My advice in these conditions is to always keep an eye upstream, and if there's anything headed anywhere near your line, then take the rod off the rod rest and either drop or lift the tip to guide the line away. Sometimes this is impossible due to sheer quantity of weed, especially when it is loose strands and not in rafts, but the idea is it may buy you a bit more fishing instead of just recasting a heavy feeder only to put fish off, or even giving up altogether and heading home.
During this dirty spell for fishing, CP from Oxford fished Wyebank and caught 24 barbel. About 300 yards away on Courtfield, however, the report was of unfishable conditions. Sometimes you can get way with a sheltered spot. On the same day well up river after the weed had cleared, Sugwas Court and Backney produced nearly 20 barbel each, with rolling meat being the successful method to get bait amongst the weed beds. Interestingly, Wyebank did fish sporadically - on the 8th July one angler had 4 barbel, the day after another caught 52!
Following a small rise in levels we would normally expect catches to pick up and on some beats they certainly did; PH from Hastings fished Middle Hill Court and had 19 barbel on the 15th July, followed on the 16th with 23 barbel and 24 chub. I know this beat intimately and this is a tremendous catch. The chub obliged on these 2 particular days too, with KS from Cardiff catching 24 chub from Foy on the 15th and SH from Leeds catching 31 on the 16th . The successful technique for both anglers was my favourite chub bait - bread.
Towards the end of the month the catches continued, and the usual positive reports came in from Holme Lacy 3. This a superbly kept fishery by Colin the ghillie and anyone looking for real treat should book here. The fishing's not bad either! AJ & DP from Windsor caught 29 barbel and 59 chub one day, and on another GM reported 25 barbel and 88 chub! We don't hear many reports from Lower Carrots and Luggsmouth but PB from Crewe hit it just right on the 19th catching 22 barbel.
What's also worth mentioning this month is the number of eels caught. Just as we've had a good spring for salmon, shad, lamprey, and plenty of fry in the river, the eel catches have been noticeably up on previous years. JM from Charlton caught 13 eels over 4 days. This is more like eel catches of 20 years ago, where you couldn't even get away from them on bread!
So July fished well and with another good flush of fresh water at the end of the month, August should fish well too. Canoe traffic will be heavy and you may experience other river users due to school holidays but the fish don't really mind so be patient and pick either end of the day to give your utmost concentration on that rod tip. We'll soon be having misty mornings and getting a few hours in after work will be tight, so make the most of it. Good luck and tight lines.
Adam Fisher
---
June 2015
Firstly I must apologise for the lateness of this report. In combination with leaving it to the last minute due to forecasted thunderstorms and the anticipated improvement in catch returns, I have been hospitalized with a knee infection following a tumble off a mountain bike. I should stick to fishing. It's surprising the lack of any sort of network for sending/receiving emails in Hereford hospital too, so this has had to wait until a return to the home office. One might think that I'd have had time to write some sort of masterpiece following this time laid up – the truth is, as most will know, hospital is absolutely mind-numbing and with the frustration of being unable to fish, inspiration is hard to find. Thankfully, the catch returns have been flooding in and so I am able to report from the first glorious weeks of the season.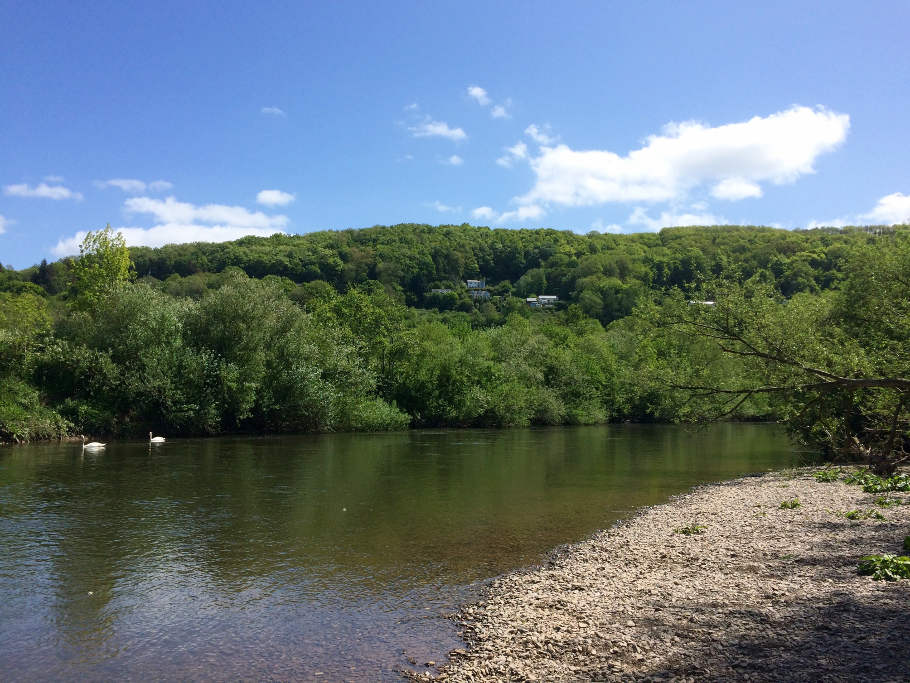 We've seen more weed than in quite a few years in the Wye, following a distinct lack of it in recent years. Its vibrant green presence, wafting in the crystal clear flow, has stimulated the senses to remind me of summers gone by, wading amongst it as a boy, getting my nose as close to the water as possible to be as amongst that watery world as possible - I always said I wanted to come back as a fish! The sound of babbling water over shallows and around your cooling legs, the smell of the water...it's indescribable. Although chilly, it has been sunny and perhaps the lackof algal blooms has been due to the increase in weed? It would coincide with the lack of the weed in the last two years, two of the worst years I've known for algal blooms.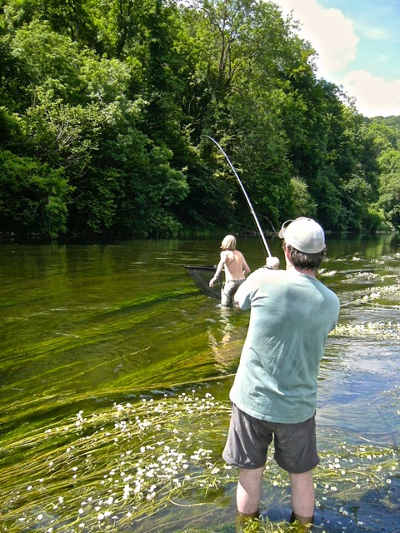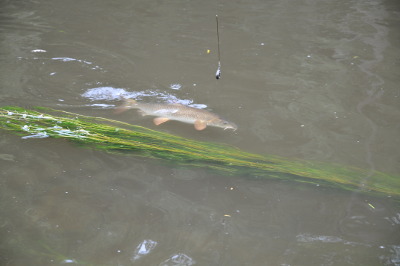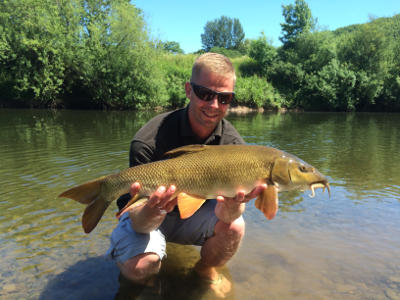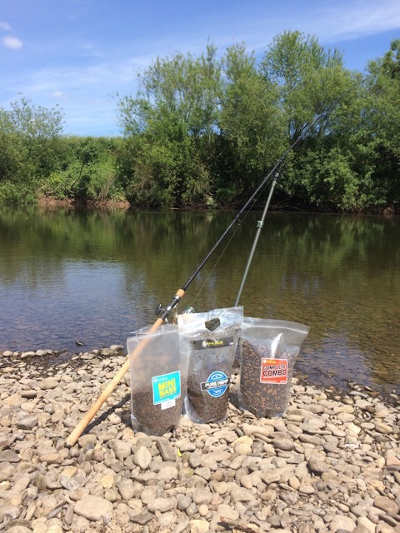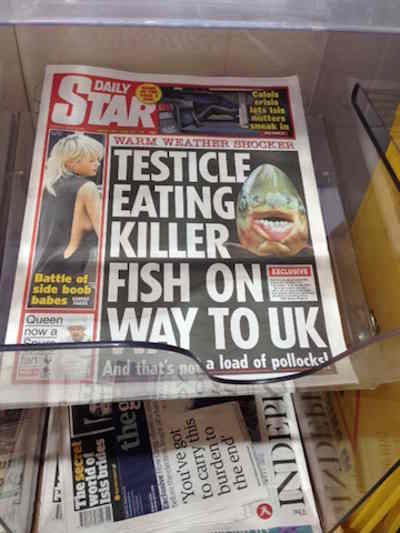 I love a weedy river. It acts as a sieve for hemp and pellets and the barbel love to live under it, kiting between the weed beds and gliding across the gravelly channels to intercept trundling bait. They root through the gravel in the slower flow created behind the main bulk of weed, where most of the bait and natural food will have deposited - it's just like in the textbooks. The weed also stops your bait washing miles off downstream and it keeps the barbel closer to where you introduced it. Where they would normally take a bait and peel off in the flow, amongst the weed it's more fierce, perhaps as they snatch the opportunity as your bait speeds up when it finds a channel. If static fishing it can be a nightmare however, as the barbel feed with such gusto that the rod tip bangs around all over the place from their flanks brushing the line or when they're really having it from them headbutting the feeder!
Shad were reported in huge numbers, again more than for many years after their populations have reduced, primarily through overfishing, pollution and habitat destruction. Although we always see a few "May Fish" they are not in the abundance they once were - as a boy we were allowed to fish for them, and eat them. A tiny blade spinner with a single hook was sold as a "shad spinner", but it always needed a swan shot or more to get it down and as you drew it back up through the water column and it came into view, so did dozens of big eyed, oversized herrings (alosinae), flashing silver as they turned away after they'd taken a bite and missed. The shad numbers seem to correlate somewhat with the salmon numbers, and it's been a magical return to form for the Wye this spring - see here for more details.
A huge quantity and mixture of fry species were notable too. At dusk the river has been alive from bank to bank with the dimpling of baby fish, with the odd bigger wave as they were harassed by chub and perch. Word was also around the local pubs and amongst dog walkers that they'd never seen so many anglers, if not fishing then walking the bank in preparation, baiting up, cutting in swims etc.
So the river was in perfect nick for the start of the season, despite the late spring most barbel spawned back in April, the chub in May. Levels were perfect and there were no excuses. Returns then proved very good with the best June 16th I can remember for a while, for the chub as well as the barbel;
- TU from Bristol caught 11 barbel from Backney.
- TM at Middle Hill Court had 18 barbel and 9 chub, followed up on the 17th with 17 barbel and 6 chub from Sugwas Court.
- CT & JT from Tring fished Lower Backney and caught 14 barbel and 16 chub.
- LM from Wirral had 10 barbel and 33 chub from Wyebank on the 17th , with the 18th producing 24 barbel and 28 chub for RM from London. Wyebank fished well opening day too with 10 barbel and 16 chub.
- KC from Leeds 40 chub from Holme Lacy 3
- LM from Stoke on Trent– 26 chub from Foy
It wasn't only the river that fished well on opening day, PK from Hinkley caught 26 wild carp from Pant Y Llyn - well done!
For the rest of the month the form continued, with catches of over 20 chub a common occurrence, and even a 6lb 7oz specimen from Lower Canon Bridge, which I've always thought has the potential to produce this stamp of fish. Some beats took a while longer to come into form for barbel but when they did it was worth the wait - JJ from Swindon fished the Creel on the 21st and caught 20 barbel. Towards the end of the month the thunderstorms arrived but not in time to include into this month's report. This should have freshened the river up as just on the turn of the month following some extremely hot weather, things were starting to show signs of slowing down. The size of the fish was not particularly notable for the start of the season, but then chub and barbel are at their lowestweights. This said, someone fishing Courtfield reported a "13 Barbell" as their biggest fish along with "some others 10lb+" - let's hope this is sustainable and Courtfield being 4 individual rods doesn't get too pressured.
What a start I'm sure you'll agree! Bare in mind this is just a few of many returns from June and my apologies to those I haven't mentioned this time around. Going forward, we are into the toughest month for anglers and fish alike, especially with water levels painfully low. Yet gallons of nature's finest is still being sucked out to water potatoes that probably don't even stay in our country! Blimey, I'm starting sound like a certain salmon fishing blogger! Anyway, the point is that canoes will become an increasing issue as school holidays kick in and with low levels means slow progress for them, especially along weedy stretches. Warm and low water will affect the barbel once caught too - here's a brief recommended code of conduct:
- Once netted keep the barbel in the water for a few minutes before unhooking.
- Make sure you have a decent size unhooking mat not far from the waters edge.
- Forceps to hand make unhooking safer and quicker.
- Rest the fish in the margin again before taking pictures.
- Don't weigh fish under 7 or 8lbs, it really isn't necessary - most good barbel anglers don't weigh fish unless they may be a double.
- Rest the fish again before gently releasing it, making sure it's kicking consistently - one kick of the tail doesn't mean it's ready.
- If it looks like the fish can't keep itself upright without support, don't release it.
Lastly, I'd like to mention the "wild" nature of the Wye, something that, in my opinion at least, is one of the river's most endearing features. One angler this month insisted that its fisheries needed to be of better quality, after catching 11 barbel! Any angler wanting relatively pristine fishing is going to have to accept a greater degree of bankside foliage, especially early in the season. The Wye is a Site of Special Scientific Interest (SSSI) too, so there are legal considerations before the Agent Orange can be deployed! One recommendation was to bring a machete with you - please don't, if only because you will have some questions to answer if stopped by the police on the way to your fishing! The opening weeks on the Wye are always booked up months in advance yet there is no extra cost for these early tickets, despite this high demand. It might be worth bearing this in mind before grumbling about having to push one or two nettles back before getting the water's edge.
Enjoy your fishing and good luck!
Adam Fisher
---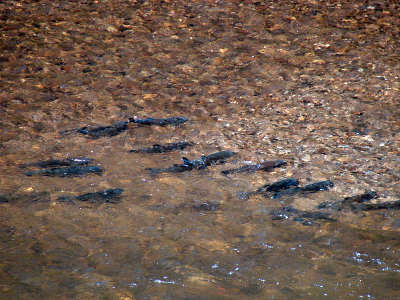 May 2015
May has been more like April in terms of weather; a blustery north and/or east wind, the odd hailstorm, and a generally chilly feel to the air. There have been some decent catches from the stillwaters but with cold nights I personally have struggled with the tench fishing. Most stillwater fish generally start to think about spawning in May but while the carp and tench are yet to spawn, they've also been a bit finicky due to the cool temps. Quabs tench certainly have and only one or two have had their heads down to feed, and then only for a few minutes at a time rather than for good spells. The chub have been as obliging as ever though and along with a few nice rudd, fishing at Quabs has provided a few very pleasurable evenings fishing.
Fortunately it's a productive time of year to see all nature in action and if you spend enough time looking you should see a good amount of fish movement. As the weed and lillies start to break surface, they disturb the lake and river bed and the fish tend to hang around these areas as a food source. Due to the lack of full cover the fish are more visible, and even if not feeding they can be quite tame to your presence, allowing you to get really close to study their behaviour. With the huge hatches of flies comes fish feeding up in the surface layers too, and just about all species will have a go at an emerging insect.

The rivers are looking good - there was a small algal bloom towards the beginning of the month, identified by the colour from a small spate not clearing quite as quickly as it should have. There were other small spates to follow though and these soon cleared the colour out. The continuing good flow has resulted in some pretty decent salmon fishing throughout the river - see salmon catches on the WUF website. Some pretty exciting trout fishing has been had on the Usk and the tribs too and I will take the opportunity again to plug the quality of fishing available, not as difficult as you might think and a great opportunity to improve your water craft.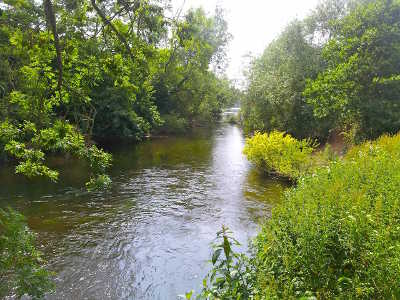 Bankside vegetation has been slower than usual to reach jungle status, but this will no doubt accelerate the moment we get a good spell of the currant bun. This will bring with it the inevitable early season frustration from a few who find the undergrowth troubling and complain of an unkept fishery - most coarse anglers I know would sell their grandmother to feel they're first in a swim, or at least one of the first! If you have the privilege of being on the river in the opening week, please don't just smash your way though the long grass, snapping branches to make yourself comfortable. Take your time and try to blend into your surroundings - the fishing can often be slow early season and clearing enough space for yourself and the rest of your street won't put more fish on the bank!
All of the main coarse beats in the Fishing Passport are booked for the opening week, with the odd exception. Upper Clifford, for example, is still available for the opening day - this is surprising as the Cae Mawr Pool is one of the best barbel swims on the river. The wildlife has it's variations further up river, and it's a whole different experience, so if you've missed your chance at fishing on the lower river this could be the opportunity to try somewhere different.
Tips for the start of the season? The barbel are never too far from pacey water due to their spawning habits. Although most of them should have finished spawning by now, I suggest there may be a few stragglers so please handle them with extra care. In my experience the chub usually do a disappearing act the moment the clock strikes midnight on the 16th , up to now they are shoaled up in numbers sipping mayflies relentlessly - see pic attached. Also you may catch the odd shad and good numbers are reported this year. Again, please be careful handling one if you do catch one, they are protected and do not "go back" quite so easily as other fish.
The continuing small rises in water level should keep the river pretty fresh and although it's been cool, I'm expecting a pretty decent start to the river season. As I write the temperatures are forecast to rise significantly in the next week. Let's hope I haven't jinxed it but either way it's always a long 3 months and the anticipation levels are building nicely. Good luck to all lucky enough to be out in the first couple of weeks and I look forward to seeing the catch returns filter in.
Adam Fisher
---
April 2015
Predictably, this is a short report this month. The rivers are closed for coarse fishing and the few stillwaters fishable through the Passport have seen infrequent action. It was a warm month, perhaps a little too warm - bright days and cold nights are not the favourite weather conditions for the stillwater angler, and despite this, stillwaters appear to have taken some time to warm up. The high temperatures combined with low river levels have meant that the barbel have had a go at spawning and over 60 were spotted near Monmouth earlier on in the month. During May you should start to see the chub doing the same and if you're at the right pool this really is a sight to behold - I've seen more than 100 fish in 50 yards of river in springs gone by.
I've suggested before how a bit of sun makes it all too easy to think summer has arrived and can lead to expectations of tench fizzing all around your float at dawn. Realistically, that never happens until around early May, however, and with spawning to think about a blank is a stark reality! This said, I have been watching tench feeding as the month ends, and with a few warmer nights forecast then perhaps tinca tinca will put in an appearance soon.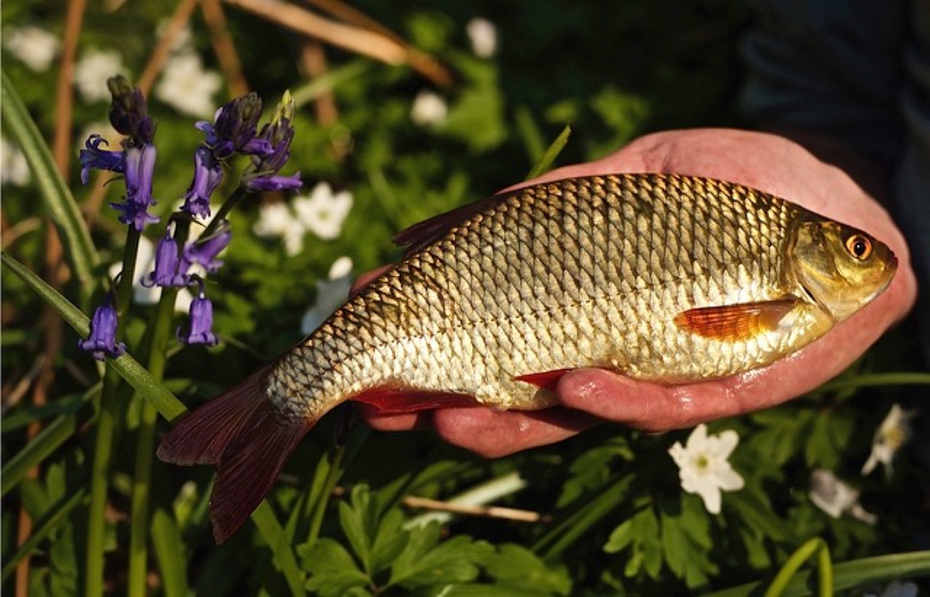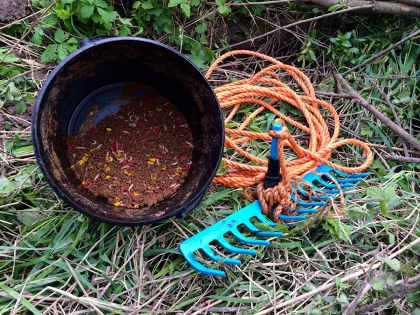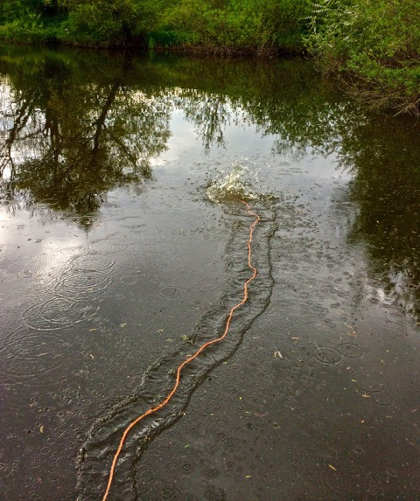 Those who have taken the time to put in a catch return have reported plenty of rudd, Quabs producing the best of these (pictured), and RM from Kington catching a few at The Trout Pool too. Trelough Pool, being shallow, usually responds quite well to early season sun, and the catch reports have proved this. KW from Tredegar caught several carp to just under 20lb over 2 visits, including other fish of 15 & 16lbs. SK from Tredegar also caught some decent carp and a bream towards the end of the month. Trelough is a beautiful lake and, having it all to yourself with a booking of 2, it's really worth a visit. No one has fished Eccleswall Court yet this spring, and I wonder if they're put off by catch returns of last season? It's a shame more don't give it a try. I was there one evening last week and you could see the carp cruising around on the bottom pool. There does only appear to be rudd in the top one but a few of these looked a decent size. Priory Pool has been fished by a house rod a couple of times, who had a screaming run off a carp and plenty of nice rudd. The bigger ones lie under the small ones so it can be a bit frustrating getting through them. I find feeding 2 spots at once can help get your hookbait through the smaller surface fish.
Going into May more stillwater fish should start waking up. My advice is to get there at dawn or dusk is, not least for the increased likelihood of seeing fish moving about. On getting to the water, the first thing I always do is rake up the bed. A rake on a rope such as the one pictured is easy to make at home. These stillwaters are not heavily fished so after blustery conditions you may encounter debris on the bottom making presenting a bait difficult. Believe it or not the splash of a rake doesn't always spook the fish and the stirring up of the bottom can pull fish in from the other side of the pool. A few balls of groundbait over the top and the dining table is set! An alternative tip at this time of year is to fish up in the water column with maggot and caster - as the upper layers warm first then so the fish come up in the water too.
Good luck for May and fingers crossed there'll be some tench to report this time next month!
Adam Fisher
---
March 2015
These coarse season reports started in June 2014 with an emphasis on how fishing is about spending time with friends and enjoying the time of year. The end of the season carries much the same sentiment for me. I fished with 6 different mates in the last 2 weeks, a couple of whom hadn't been on the bank since October 2014. I suspect it was the suggestion of big Wye pike and perhaps some barbel feeding rather than my company though!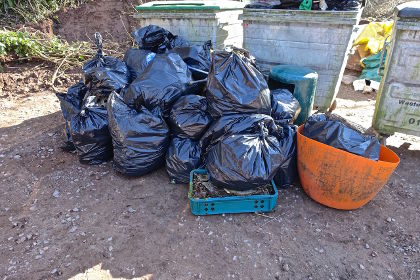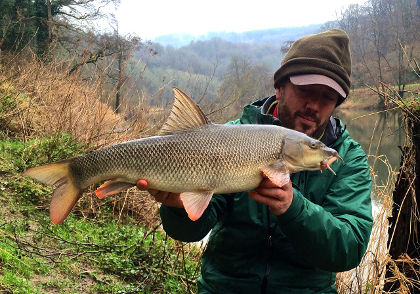 The beauty of having these friends is that we all have one blindingly obvious thing in common – fishing. What to fish for, however, is a harder thing to agree on. Despite best intentions, with heart set on a particular species, the sap rises and what you feel like fishing for changes. It's a perennial decision but treating any trip as a bit of a social takes away the angst, and a simple choice most Wye anglers leave themselves with is barbel if warm, pike & chub if cold and a retreat to a still water if a raging spate!
It was a strange end of season for many barbel anglers. At the beginning of the month the water was freezing and was full of snow melt. It may have looked promising carrying colour but with the freezing water, hopes were low. The barbel thought differently though and local reports were of good numbers of fish, in excellent condition too, really plump and fin perfect. I heard of 8 barbel to an angler near Symonds Yat on the 3rd, then 11 and 12 respectively to 2 different anglers just below Hereford. On the 4th March we had a small flood and as the river dropped the water temperature rose to a healthy 47C. This would have most barbel anglers attempting to pull off any white lie to get out on the bank. However, the reality was that those same anglers who had done so well suddenly started struggling – it was the wrong way around, and a few rule books went in the bin as a result. Anglers on Wye and Usk Foundation waters did well though. Some were filing their boots whilst a large group of us were litter picking somewhere near Symonds Yat East - thank you again to those who volunteered! More information on the litter clean up can be found on the Wye and Usk Foundation website.
The last week's barbel sport on the Wye was impressive. RW from Southampton had 7 barbel and 4 chub to pellet tactics on Backney on the 7th, with anglers the following days catching 13 barbel from Holme Lacy 3 and 10 from Backney again. AP from Woodford Green had 15 from Whitehouse on the 10th, the same day the Creel fished well as did Sugwas Court, with double figure quantities caught there. There were numerous fish approaching double figures or just over, but the fish of the last week for me was caught by SM from Grayshot, an 11lb 5oz specimen from Wyastone Leys - an awesome fish for the Wye, well done.
Whitney Court has fished well all season for chub and this was no different for the last couple of weeks with double figure quantities caught to individual anglers. Luggsbridge on the Lugg fished well throughout the season too and I'm surprised more anglers don't take advantage of this great little river. If you love the wild and overgrown nature of the Wye then the Lugg may just make you think you've died and gone to Chub heaven. AS from Newent had 10 to 4lb all on float fished maggots one day and lost 2 heavier fish.
The cold March conditions had me chasing big pike initially, and a good choice it was as 3 x 20lbers found my net on the 5th & 6th March, with another on the 12th. We actually had 4 fish in a mad half an hour, which is typical for the time of year as the males all shoal up behind the females looking for a "bit of action". Our big fish came from completely different stretches of river. My chums were not so lucky but good banter was had and we said goodbye to the river season in style. My last venture out was after a barbel and despite confidence levels being a bit low, a few of us managed to catch. The barbel were, as had been reported to me the week before, in perfect condition, I'm sure you'll agree.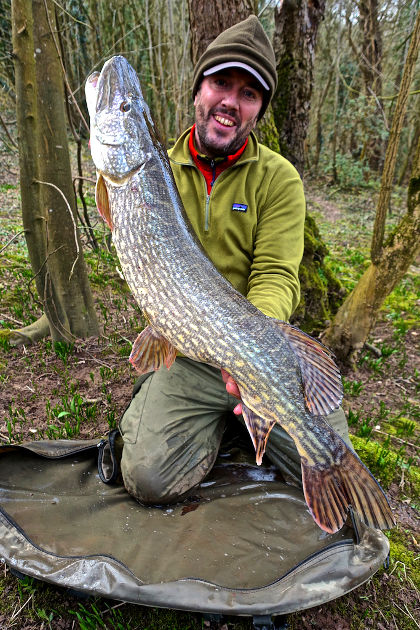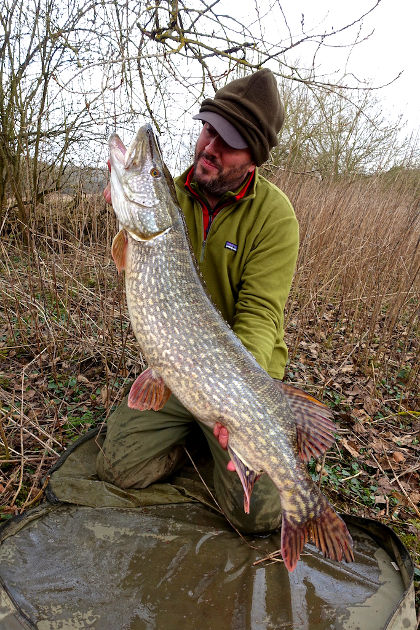 In summary, it's been a stand-out season of numerous large barbel (double figures), with some excellent chub fishing, even if the specimens over the magical 6lb mark didn't really put in their usual winter appearance. Pike fishing remained as good as ever on the Wye and it is still the river to come to for a fish of a lifetime. The roach and dace sport has still not notably picked up, except for one or two reported catches – how long will it be before the cycle comes back round to offer us some quality roach sport on the Wye once more? The match catches were good and the river seems to have just peaked for big perch. Numerous 2lbers were caught right through the Hereford area and I'm sure there's the odd surprise knocking about somewhere. Searching out the water could take a lifetime however, as big perch don't like moving far for bait. Looking to next season I predict we may have a Wye barbel record shaker on our hands - the big fish are subject to repeat captures and anglers are starting to suss out the better locations. They report these fish in fantastic condition, so I suggest that if the bait keeps going in then the fish will just keep getting bigger.
On a different note (and one that will become more relevant with still water news coming up in April and May), this report is not exclusive to the Wye, nor is it exclusive to waters participating in the Passport scheme. But when reporting on the Wye I try to include news on matches and from individuals fishing other stretches of river, to give you as much of an idea of what's happening up and down the river as I can. For whatever reason, some fisheries don't want their catches publicised so if there are any that don't want to be mentioned specifically, please let myself or WUF know.
Suggestions for the river closed season? If you just need to be near running water and don't fancy fly fishing for trout (you're mad if you don't!), use the public footpaths to explore the riverbanks, armed with polaroids and perhaps some bait. It's not uncommon to see spawning fish, as well as an opportunity to identify underwater features and snags before they're obscured by foliage or weed. There's some fabulous still water fishing out there too and with Easter approaching we should be due a warm enough spell to get some tench on the move. With the brilliant white hawthorn blossom amongst the hedgerows and the smell of wild garlic hanging in the air, spring is here and I know where I'll be over the next few weeks – either on a quiet still water somewhere hoping for tench, or exploring some wild mountain stream with my trout rod. Good luck and enjoy.
Adam Fisher
---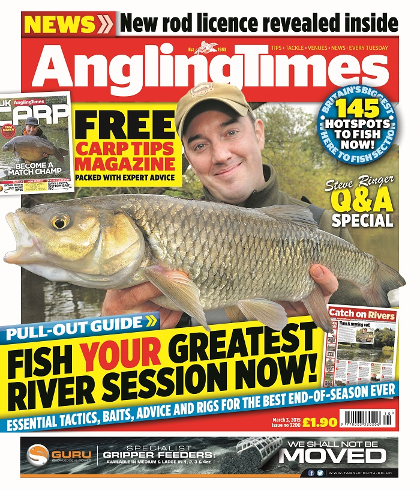 February 2015
February can be an all-or-nothing month for coarse fishing. If you get a big flood and some snow melt, or just really cold conditions, it's all over before you know it. If the conditions are in your favour then a p.b. is on the cards as nearly all species are approaching their biggest weights of the season. My timing just hasn't been right this February. I have had to plan my fishing days and when they've come around the river has been high, coloured and very cold. I had a chat with Martin Bowler this morning and he said there's nothing worse than a high, cold river. He's still managed to winkle a few fish out though, as any good angler would. Martin will no doubt have some excellent tips in this week's Angling Times - I've been fortunate to contribute this issue and there's a great pull out section on end of season river fishing tips - make sure you pick up a copy.
There have been some good catches though. January ended with ML from London catching a 1lb roach from How Caple Court - always great to hear of roach being caught on the Wye. The same day RH from Melksham landed an 18lb pike from Wyastone Leys. It then went really cold at the beginning of February and it was the second week before the Wye dropped and became fishable again. Chub fishing picked up first and at Preston Court SS from Berkeley banked 9 of them on bread. NR from Worcester followed up a week later with 12 chub from Whitney Court. As the rivers dropped further the pike fishing came on and in-between spates EE from Thatto Heath caught a 25lb beauty on lure from Huntsham Bridge. A 22lb fish was also caught at Hay Castle by LM, although it's a secret that it was caught on 6 maggots, a size 14 hook and 7lb line! The highlight report of the month for me was on the 27th when LD from Cranfield fished Backney and caught 6 barbel to 11lb, all this after a frosty start - well done that man.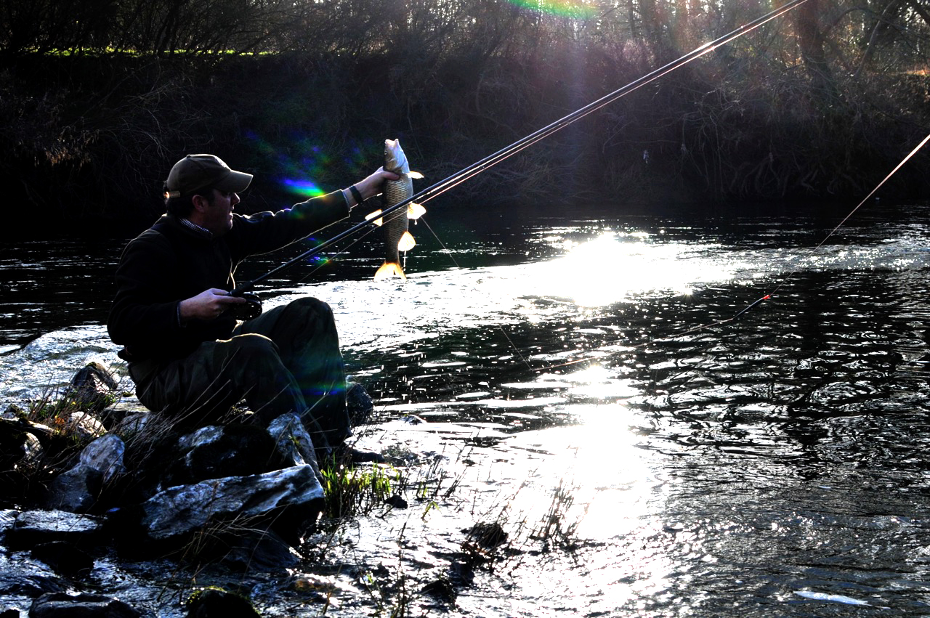 There have been some suggestions for a while now that postcodes should be included in beat details. First of all it is impossible to put a postcode on a gate, a tree or a layby in the middle of nowhere! The alternative would be to put the postcode of the nearest property, but in past experience this leads to knocking on doors at all hours asking where the river is. This would not reflect well on the Booking Office and they would risk losing fisheries I'm sure. The WUF beat maps are very clear in my opinion, and much time and care is taken to make sure the instructions are as concise, yet understandable as possible. If you have any recommendations on how they could be improved once you followed them, then please let the Booking Office know.
At this time of year when vegetation is at its least, it's easy to see just how much litter gets dropped, washed, blown etc into the river channel. Tony Norman has been leading a litter picking project for some time now. There are various days scheduled up and down the river so please click on the link at the bottom of this month's report and get yourself involved - who knows, the fishing gods may pay you back with a nice fish before the season's out!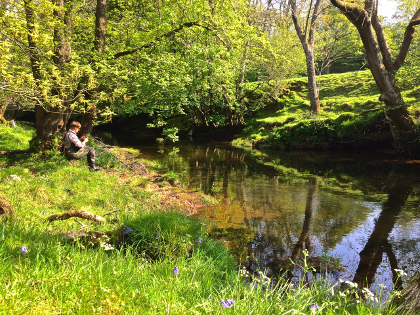 So there's only 2 weeks left of the coarse season - how it flies around after Christmas. The daffodils are poking their heads out, snowdrops are all around, we even had double figure temperatures at night last week. We have a long way to go and there's still plenty of snow on the Welsh hills, but spring is definitely around the corner. I'll be reporting from the stillwaters come April, hopefully with a few early season tench and carp to talk about. In the meantime, if you find yourself going nuts after March 14th I can highly recommend getting a little 6ft fly rod and venturing up into the Welsh hills after some wild brown trout - it's one of the truest adventures you'll have in these isles. If casting a fly isn't your thing, then get your salmon licence off the EA and head out after a Wye springer (salmon). They go like a train if you're lucky enough to hook one and at least you'll be by the river. Whatever you're up to I wish you all the best for the last couple of weeks and without wishing time away, it won't be long until the glorious 16th June - bees buzzing around, sweating in a t-shirt, and the smell of sweetcorn and hemp on your hands. Lovely. :)
Adam Fisher

For more information on the 2015 Wye Litter Clear-up, please click here.
---
January 2015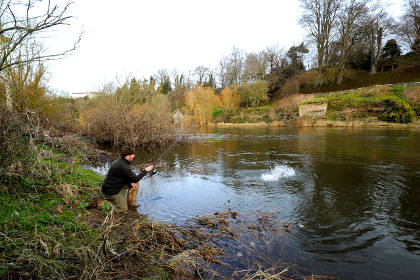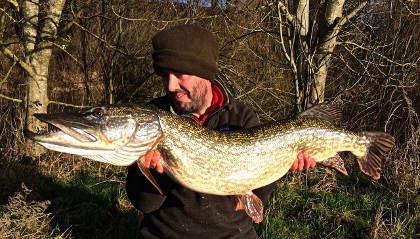 When a river goes bottle green in winter you know there's been a few hard frosts, most of the weed's died back and the fish are hungry. For the Wye this January we've had a tinge of green for 2 days and that's the lot. The rest of the time it's been up and down like the proverbial, with just a heavy rainstorm or the melting of a heavy frost on the Irfon catchment throwing the level up and making the usually slack water of the best pike swims unfishable. When the current is boily and welling up off the bottom it makes it hard for the fish to rest, or hold station. They constantly have to work and this is not what a pike wants to do, nor many other fish it seems. A winter fish wants to conserve its energy for what could be weeks of flood and cold when food is more scarce than usual. I like to think that a high river pushes all the bait fish to the bank, probably into fallen or flooded trees where the current is at its slackest and they are safe from predators. This helps the pike angler though as downstream of a bush are usually the slackest areas, and pike can rest up here, with the perfect window to watch their prey as they eventually filter out from these bushes or make a mistake.
What happens when the river comes up is that although some larger slacks become boily and unfishable, new slacks are created elsewhere. With this in mind, it is restricting to go pike fishing, or for chub and perch for that matter, without being prepared to rove and on beats like White House or Preston Court, there may be some 20 odd swims to have a go at. This is more than enough for a day's piking, 20 minutes a swim, 20 swims, that's 6:50 hours. If you then return to a couple at the end of the day, ones that looked really promising or where you may have even had a dropped run, then there's more than enough for a days fishing. My top tips for roving for pike (chub and perch too) are: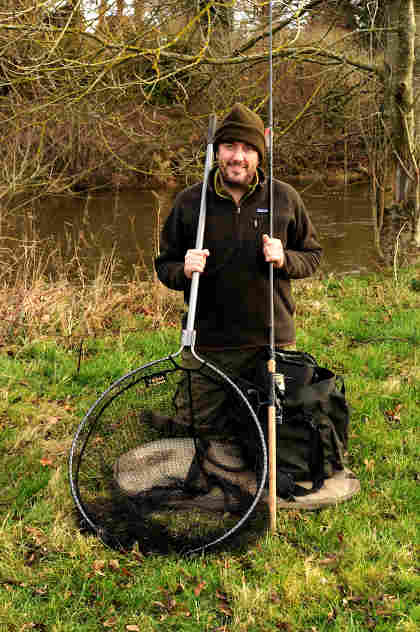 Waterproof trousers - great for sliding up and down the banks, sitting down, kneeling, dealing with unhooking a fish, and, of course, keeping you dry and warm.

Stick with one bait: just sardines for pike; cheesepaste for chub; worm for perch. This takes an extra element of doubt out of the equation. When there's so many other variables to consider I'd rather move swim than change bait.

Give yourself a set time in each swim, 20 minutes, half an hour, whatever you want, but stick to it accurately and you'll fish efficiently. For added drama you can count from 10 to 0 before lifting the rod and reeling in - it's a great feeling when a fish takes in this time!

Travel light. No chair just a good unhooking mat to sit on and a net. No rod rest - there's very little vegetation so your rod can lie on the ground (baitrunner on of course). And hold your chub rod - you'll hit more bites than if you wait for the tip to wrap round.

Try everywhere. As you're controlling time in each swim and keeping it brief then have a cast in that spot you would normally say doesn't look fishy - you may be surprised.
The only upside of the river Wye being out of sorts is that it forces me to fish other venues. I was down on the river Test last week, Kennet and Warwickshire Avon before that. Although some fair travelling is necessary, it sharpens your skills when you fish other rivers and when the Wye does come back into condition you appreciate it more too. It seems that everyone might have been off fishing these rivers in January as angler feedback has been very quiet, the only notable captures really being some good chub fishing on the river Lugg and at Sugwas Court on the Wye. However, Backney again produced some good pike fishing and by contacting the owner when you make a booking you'll get pointed in the right direction for a fish or two.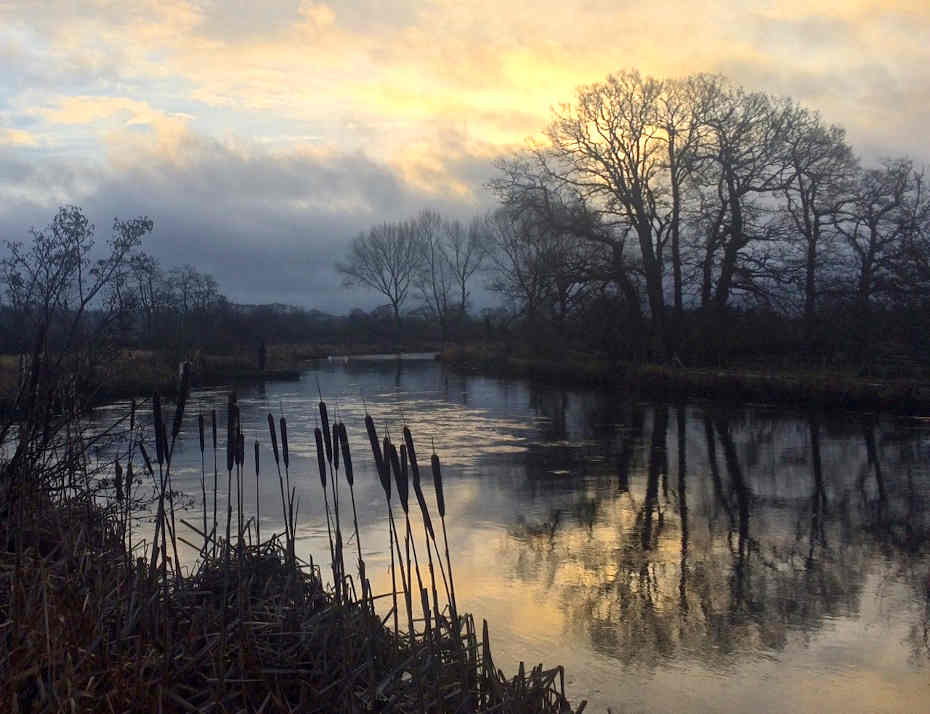 Prospects are hard to suggest at this point. There's snow on the hills and bitter cold rivers are still running above normal levels. As mentioned earlier, I suggest you rove and find the fish rather than waiting for them to come to you. I'll be out chub fishing through much of February, armed with cheesepaste and a sensitive hand to hit those gentle pulls. Can't wait!
Adam Fisher
---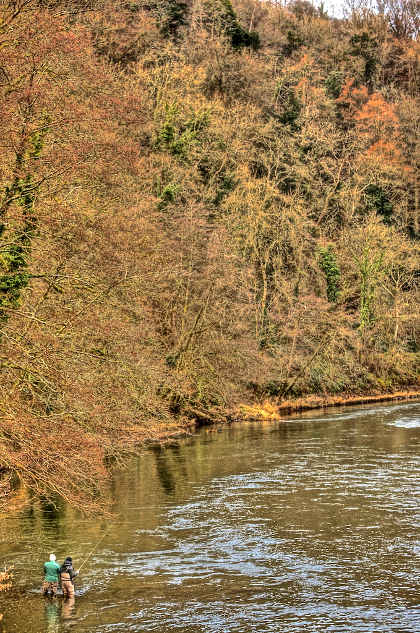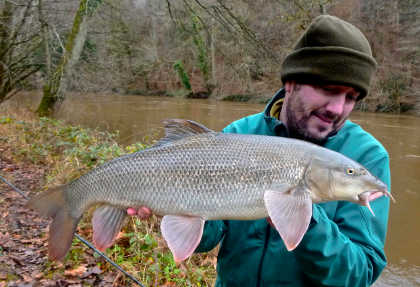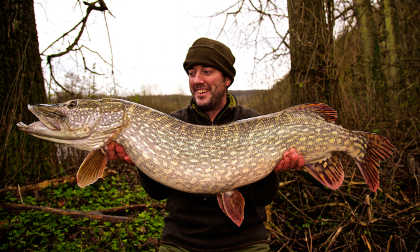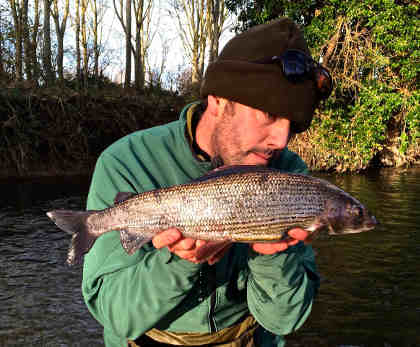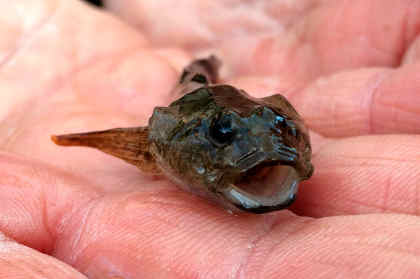 December 2014
December is a month when one can usually grab a bit of time for fishing especially during the Christmas break when, for some, it's a tradition to be armed with a hipflask and a relative who hasn't fished since the same time last year. For others it's a chance to escape the madness! Ok, the conditions were a bit up and down this year but on the whole the reports over the festive period have been disappointingly thin on the ground.
The fish of the month has most certainly been the grayling, especially on the float. 60 odd fish to KK from Newbury from the Stone Catch at Abernant on the 6th, in excess of 20 caught on numerous other occasions. Cefnllysgwynne has remained consistent too and there were several reports of good days there, OB from Gloucestershire catching 12 & 13 on respective visits. Lower down the Wye has been kind to the grayling fisher too - Whitney Court is usually noted for its chub, barbel and pike captures but on the 7th LR from Port Talbot banked 15 grayling. I have heard of the odd one caught further downstream too, with Rob Leather from Ross on Wye catching a 2lb + fish from Wilton Bridge area at the beginning of the month. I wouldn't advise going out to target them specifically this far down the river but if you approach a pacey and deepening run over gravel, with an open mind on catching dace, chub, bleak etc then you may be fortunate to hook a grayling as the bait can draw a fish up from hundreds of yards downstream.
The start of the month still fished ok for barbel, with a few out at Backney and lower down the river below Ross. After a few heavy frosts though the water temp dropped and so with it the quality of sport. A warm spate came through during the middle of the month and even I had a cast for a winter barbel (to be in Angling Times later in January). I also did a feature on simple pike fishing at Canon Bridge and managed a couple of nice low doubles. The highlight for my pike fishing in December, however, was catching one of a brace of 20's on the day of the "weather bomb". This kind of sudden drop in pressure after a week of high pressure really does turn the pike on.
I did catch a fish that trumped the large pike earlier in the month though, and it was 22lb 3oz less in weight! I was on an annual pilgrimage to the Leen on the Arrow, fishing for grayling and after a good 18" fish weighed at exactly 2lb 15oz, I thought my day couldn't get any better. However, I gave the float several trundling runs along a gravel run that I knew, the float dipped slightly and after an incredible amount of fight for what looked like a 3" leaf skating across the top of the water, I brought to hand a bullhead! It was a magical little thing that opened its gob and gave me a right telling off for removing it from its home. After a quick snap, he was returned no worse for wear.
One fish that will feed right through the season is the chub and I've heard reports of a few quality fish (6lb +) out along the lower river. We don't often hear reports from Preston Court but it's a great fishery with plenty of pike lies and some good chub spots too, it seems. DJB from West Midlands caught 6 chub to 4 1/2lbs on good old fashioned bread, a top bait for chub even on a cold winter day. If you haven't tried Preston Court before I highly recommend it. There have been plenty of new swims created and it's the sort of water you just never know what will turn up. Towards the end of the month the river has been hit and miss - up and coloured, then dropping but cold. You could have fished for barbel, pike, chub or grayling in the last week and this was proven in the catch returns when 4 barbel and 7 chub were caught at Backney on the 23rd for JP from Woking. Less than a week later KM caught 4 pike to 22lbs from the very same stretch.
Prospects? Keep an eye on the weather as a cold flood can appear from heavy frosts melting in the Welsh hills. The upper river and the Irfon drop fast though, so don't be too despondent by any recent lift in water levels - anything under 0:78m on the Cilmery gauge leaves the Irfon safely fishable. On the Wye, anything below the red line on the Llanstephan webcam leaves Gromain and Abernant fishable to the float. Flood water from this high up the catchment often has good clarity too, and so beats above Hereford (upstream of the Lugg) can still be fishable with a bit of extra flow on. Good luck whatever you fish for and please keep the catch returns coming in. Last but not least ... RL where's my medal?
R. L. from Lower Lydbrook, Monday 1 December, 2014
Area: Wye - Irfon
Beat: Cammarch Hotel Middle (Booking Office), Fishing Type: Grayling, No. Anglers: 1
"10:00am to 15:45pm, 18 grayling mostly 10 to 12 in but one male at 16inch, 3 oos WBT one at 19inch. Pin and Trotting red/white maggots on soft action 10ft old kevlar rod that allowed me to net all fish hooked, that's a first for grayling fishing for me.
WHOEVER GOT TROTTING ARRANGED ON THIS BEAT DESERVES A MEDAL! Spoilt for choice with plenty of variety and depth and relatively easy wading.
Dipper sat on rock 20 yds upstream, sparrow hawk comes upstream under my rod and hits dipper, big splash, dipper flies off and sparrow hawk in stream, got it in my landing net to the bank where it sat on branch drying out for half-hour then flapped off.
I will return to this beat next winter."
Adam Fisher
---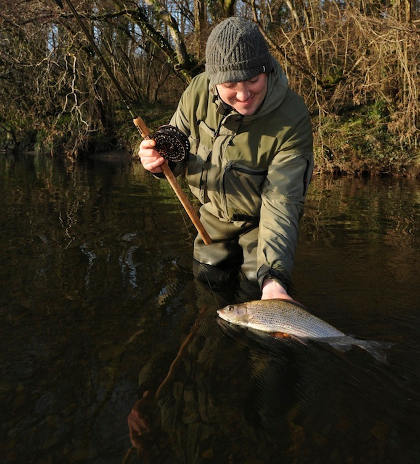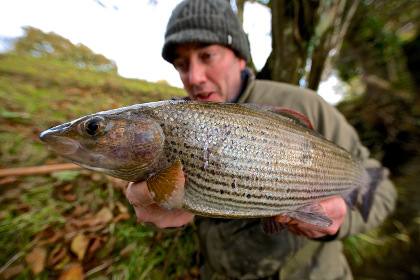 November 2014
October ended with the warmest Halloween on record; it was 21C in Builth Wells on that Friday (warmer than your average summers' day in Builth!) and the grayling in the Irfon were doing backflips. Well, not quite, but insect life must have thought it was still summer - the margins were alive with fish rising to them as they dropped from overhanging tree boughs. That's the scene I was faced with on the Irfon and these conditions continued for the 1st week in November at least. Grayling follow a coarse season in their spawning pattern but I've never quite understood this, as in simple terms any fish with an adipose fin is classed as game. Grayling have a huge adipose fin and are fished for by game anglers. But they are also fished for by the coarse angler, responding well to trotted maggots. The ultimate fish for the all round angler then? Either way, I love them and although many wait until snow is on the ground to fish for them, I think this is a waste of such a lovely time of year to be next to water. So why wait until the leaves have all disappeared and the Crown Jewels shrivel a little when wading? This month I have written an article on grayling for Improve Your Coarse Fishing, this will be out on the 23rd December and contains some fabulous photography - I hope it gives you some enjoyable Christmas reading!
Fortunately, there are other species to fish for at this time of year and you just need the conditions to be on your side. This month, however, they have not. That said, the first week of November did fish well for barbel as the warm nights stayed with us. Around the middle of the month we had quite a substantial flood. This too was warm and barbel catches were good - great if you still want to target them at this time of year but if you've got a pike head on or fancy sitting around at last knockings for the chub to come out to play, then it was getting a little frustrating. There were a few doubles reported out of the barbel caught, a notable one from Middle Hill Court on the 15th from SM of Greyshot:
"Having struggled the previous day on Backney, the ever increasing river level did not bode well for this session. River up over two feet on previous day. From past experience we knew the beat would not offer many opportunities to present a bait, other than the odd spot right in the edge. Which is what we did. My buddy MH managed a PB 10 lb barbel from under his feet. After a short nap to help recover from the previous nights over indulgence in Ross, MH had another one of 7 1/2 lb. Both on pellet. Proving the point that no matter how unfishable the river can appear at times there is always the chance of mugging a beard or two if your willing to put the effort in! This beat is also one of the most scenic I've fished and I look forward to returning soon."
Testament then against those who claim a wash off when there's a few feet of water on - yes it may appear daunting, but these conditions are still fishable and until that river is nearly over the banks then you're still in with a chance. A lot of the time these flooded conditions can actually be the most rewarding and some anglers I know can't wait for these conditions!
The levels did drop on the 21st and the lower river looked in good shape. This was short-lived, however, and by the Sunday it was back up and the colour of milky coffee. The window of opportunity to fish for anything other than barbel has been small then. Following the most recent flood at the end of the month, which was delivered by squally hail storms and with a couple of heavy frosts, the river has all but died for barbel fishing. We may have the odd warm flood between now and February but realistically it'll be March before expectations can be raised for a 3ft twitch.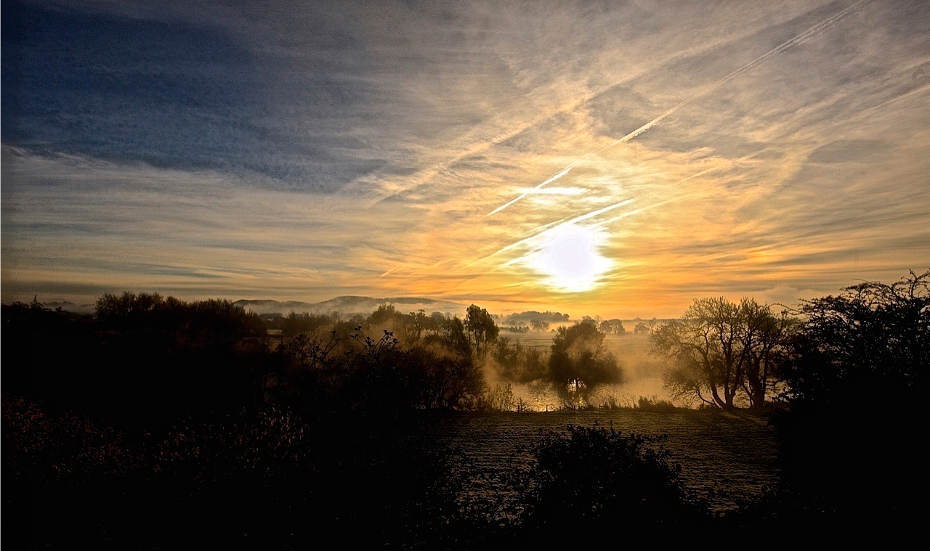 A frosty morning in the Wye Valley.
I missed the opportunity last month to report the result for the Wye Championships, which were held on the 26 th October in Hereford. 140 anglers were battling it out for a £12k first prize. There were some excellent weights with the overall average at 16lbs per angler. The winner was Richard Candy with just short of 62lb of chub. In the middle of November the Angling Trust's Riverfest was also held at Hereford, with some of the best match anglers in the country present. The winning weight over 2 days was 49lb to Steve Sadler, considering there was nearly 7ft of floodwater the fishing was pretty good with plenty of roach and perch caught. Well done to all and great to hear positive reports of the river fishing well for the match angler. For more information on match fishing the Wye you'd do no worse than to speak to Woody at Woody's Angling Centre in Hereford – 01432 344644.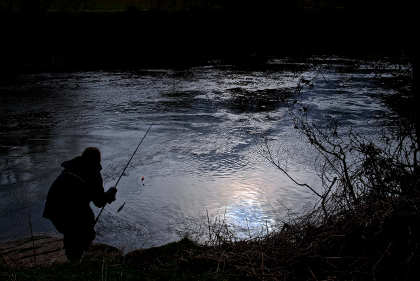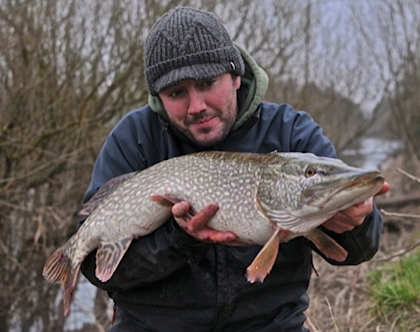 Looking forward we have no considerable amount rain forecast for the next 10 days. The lower river is clearing nicely and if it weren't for the general wind direction from the East, I'd say pike fishing should be as good as it can be. After a few weeks of being in the office I can't wait for some substantial fishing time and I'll be hoping to report back next month with a few decent captures. This time of year for me is as much about the reward when you get in from a day's fishing, I always feel like I've earned my bowl of hot stew or a tipple in front of the fire after a cold and muddy day's pike or chub fishing. However, please be careful and try to fish in pairs if possible as the banks of the Wye can be lethal when wet and a big pike or snagged up chub could put you off balance. Some of the access is Conditions could be good for winter pike fishing in the next week or so.muddy too, and on beats like Lower Hill Court it is not permitted to drive along the river bank at present. Please read your beat documents carefully as there may be changes, especially as it's shooting season and some areas are off limits.
If you're looking for gift ideas then the Foundation will sort you out with a voucher for some fishing. There's the 2015 Wild Stream permit to think of too (it's on my list) and of course take a look at my website for other ideas www.anglingdreams.co.uk. The local tackle shops are a good place for inspiration too, and the likes of Bankside Tackle near Tewkesbury or Sportfish will help you out. Either way I hope you manage some enjoyable time on the bank over the holiday period. Good luck, wherever and whatever you're fishing for.
Adam Fisher
---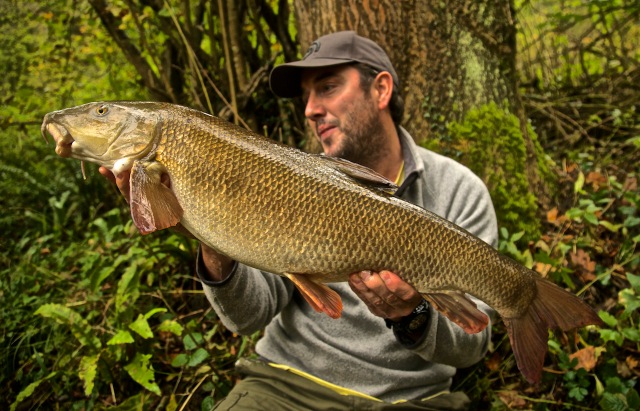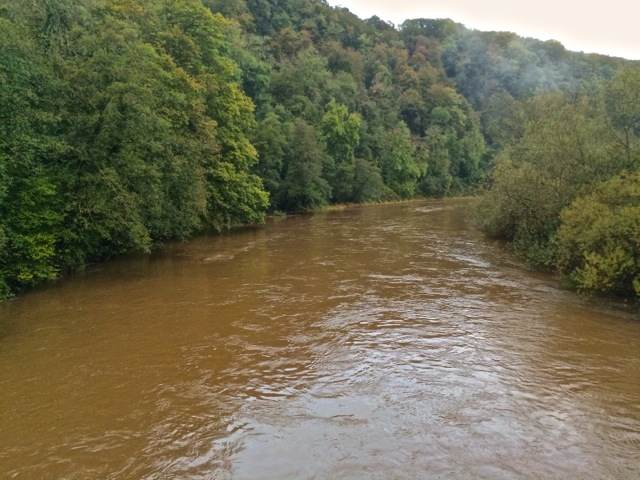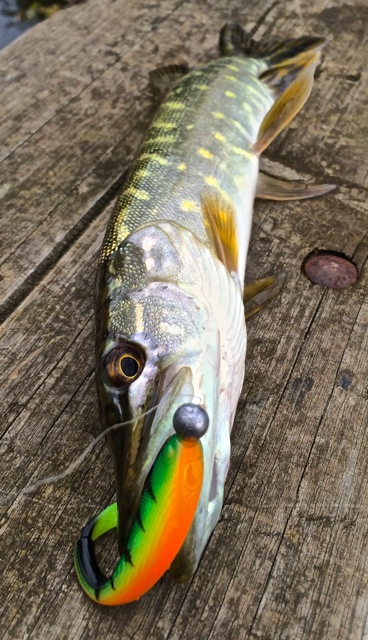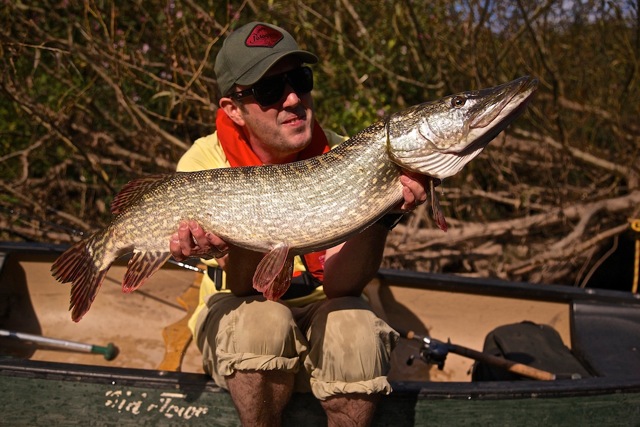 October 2014
I've got start this month by blowing my own trumpet - this time last year I achieved a barbel p.b. that had stood for nearly 10 years and now, a year later, I have upped it by nearly a pound to 12lbs exactly! Obviously I am still feeling quite smug about the whole affair! Picture right - a stunning fish I'm sure you'll agree.
We had the first frost on the 5 th October but this did little to drop water temperatures. To be honest, I wish it was colder and we had started pike fishing by now. However, I did get chance for a few lure-caught esox whilst searching out some new water ready to target this winter. Some very small "versions" put in an appearance too - good for the future or signs there are no bigger fish around to cannibalise them?
The facts are that it's 19C at the end of October and at long last we have had some rain. During the last month there were two significant rises, the first of which was dirty with all the rubbish that collects in eddies over the summer: tennis balls; Ribena bottles; plastic bottle caps; windscreen ice scrapers etc. The second flood was around the 17 th and it brought branches and trees that had been blown down by the recent high winds. I saw no feet-up sheep on this occasion but there were a few doors and fence panels!
Some beats have really come back to form as a result of this fresh water - Lower Carrots and Luggsmouth fishes well in a flood anyway and the access is particularly good compared to other beats at this time. On the 20 th October one angler had 12 barbel there. Backney too has given some excellent fishing with 17 barbel to TJ from Wantage on the 3 rd October, and a huge barbel to AB from Suffolk of 11lb 6oz on the 8 th October 2014.
Perryhill is a beat that often gets ignored - yes, the access by vehicle is a little dicey and yes, the bankside growth is challenging at times but the fishing along this stretch can be very rewarding. Catches of 7 or 8 barbel are possible with favourable conditions and I've heard of some big pike in that part of the river too. No monthly report would be complete without mentioning some whopping fish from Courtfield and Wyebank! Where do they keep coming from? There were three notable double figure barbel over 11lbs in October and a huge 6lb 3oz chub - a fish that could be well over 7lb come February.
Below are a couple of examples of feedback from anglers that would put a smile on any angler's face. These reports are crucial to those that work on the river so please take just a couple of minutes of your time to fill in the automated email form sent to you a few days after you've fished - we all enjoy reading them!
D. H. from Blandford Forum, Sunday 19 October 2014
Area: Middle & Lower Wye
Beat: Kerne Bridge (Booking Office),
Fishing Type: Coarse,
No. Anglers: 1
Had a great day out in stunning scenery - the river, woods, hills, and Autumn colours were amazing as was the backdrop of the castle ruin. Fished next to a good friend and enjoyed his company and netting skills...oh and caught some good barbel as well. Thank you Wye and Usk.
T. B. from SW London, Thursday 23 October, 2014
Area: Wye - Lugg
Beat: Luggsbridge (Booking Office),
Fishing Type: Coarse,
No. Anglers: 3
Having been washed off the main river, WUF were fantastic in their efforts to find us some fishable water and we ended up at Luggsbridge on the Lugg. A delightful stretch that reminded us of the rivers we fished in our youth. Nothing would come to large baits, but we did have some great sport on maggot with Dace, and Chub to 3lb.
There were some interesting captures in October too - a 10lb river carp from Whitney and a 10lb bream from Symonds Yat, for example. An angler fishing at Lower Hill Court said that the dace fishing potential there led him to believe that in 2 to 3 years' time it could be like it was 40 years ago when 70lb of dace won matches! Let's hope that's the case and a good sign of the improving quality of the river Wye and, perhaps, predator control.
One of the notable things about October is the lack of canoe traffic. However, there are always one or two groups out there to spoil the ambience - MT from Solihull was quite happy to say it how it is:
"Canoe traffic was light but a party in the afternoon made up for it. I always make myself visible when I see them coming and in the past have had polite canoeists go right over the other side to minimize inconvenience. No such luck. These decided to come towards me a third of the way across. Rising above it I wound in to avoid my line being touched and was ignoring them as they came right in front saying something about "Mr Fisherman" so I suggested they could have gone over the other side. This prompted a comment I didn't hear which was met with laughter before they carried on splashing around, shouting and hooting on top of about 10 quids worth of bait. I assume they had hired them as they looked the canoeing equivalent of "noddies" and hope the hire company can better instil good practice in customers in future. I am sure some canoeists are just oblivious and mean no particular harm but the "we don't care" attitude of this group was frustrating."
Looking forward, one would expect a cold snap anytime soon which will probably put the barbel off a little but with the witching hour now at a much more sociable time of around 5pm, it's well worth hanging on for a "wrap around" from a big chub. The stillwaters will be all but shut down for the winter. If none of you have tried grayling fishing now is a good time - even try the fly if you haven't before. Grayling are much less spooky than trout and a clumsy cast can still get you a bite.
Tight lines for November!
Adam Fisher
---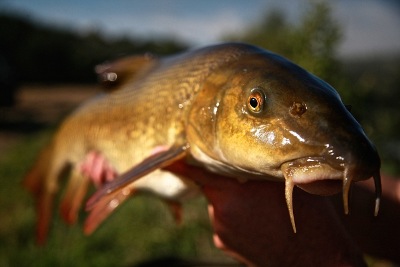 A fine September barbel. Photo: Dougal Ziegler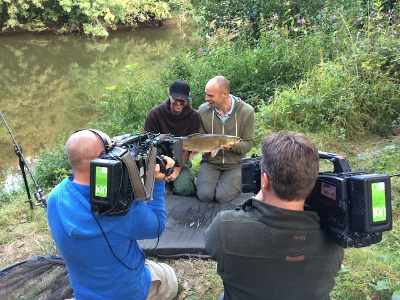 Filming with Dean Macey (right) on the banks of the Wye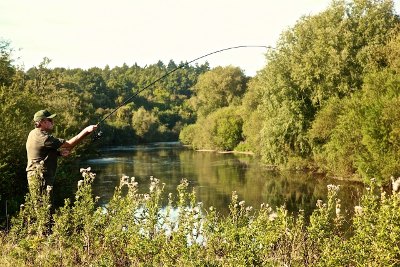 Playing a Wye barbel (above) and below, a 5lb+ chub. Photos: Dougal Ziegler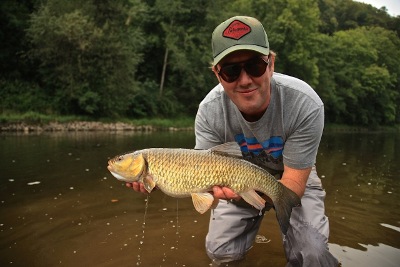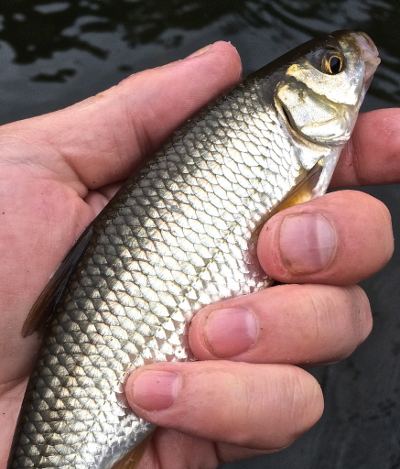 September 2014
Well, after waxing lyrical about how good September can be as a fishing month and how it's my favourite time of year, it has officially been pants! I'm sure the seasons have shifted over the last few years – certainly autumn has. As we end the month we are told it is the driest September since records began, not helped by what little compensatory flows we've had being sucked out and onto the fields before they've reached Ross. Just as would be expected for August, not September, fishing has been slow too. A few visiting anglers have reported that they've been disappointed with the lack of fish. Well believe me, we're all feeling it!
It wasn't all bad though. Starting off the month I was fortunate enough to guide former Olympic decathlete Dean Macey to an 11lb 3oz barbel on his 1st cast while filming the new series of Fishing Gurus, due to air on Sky Sports later this autumn. Kenny Parsons got amongst a few doubles at Courtfield too, with several during September. The middle upper river fished well for chub and some eyebrow raising perch were caught at Sugwas Court and Lower Canon Bridge. Here are some notable captures from September, sorry if I've missed any out:
RL from Lydbrook - 1 x double and 2 x 9lb barbel in an evening session
CA from Preston - 2 double figure barbel from Middle Hill Court
MS from Carsholton - 37 barbel to 10lb 40z from Wyebank
TR from Chelmsford - double figure barbel from The Creel and Middle Hill Court
MB from Merthyr - 12lb barbel from Holme Lacy 3
RG from Newcastle - 11 barbel and 11 chub from Holme Lacy 3
Please can all anglers continue to put catch returns in. It's crucial for the Foundation to feedback to owners how their stretches of river are fishing and it gives a good measure of the fish stocks too, especially when we can use them to feedback to you again at the end of the month with the fishing reports.
I only did a little barbel fishing in September, sticking mostly to trotting for chub. The bug for watching a 6AAA loafer disappear at such a rate that it leaves rings behind has really gripped me this year. I did find a new shoal of barbel though, happily rubbing up against each other in a gutter I didn't even know existed. Fortunately on that day I had chosen to trot for dace, the no maggot period having ended. After several trots through a crease, identified by the differing pace of white foam on the surface, a barbel "porpoised" over my float. I knew it was a barbel, firstly because I was staring straight at my float and it obscured my view of it and, secondly, there was no mistaking the golds and browns in contrast to the shimmering reflection of blue sky.
After steadying myself and adjusting the clutch, a reaction rather than preparation (I was on 2.4lb bottom), I deepened the float and trundled the double white maggot through the gravel gutter. On the 3rd run through the float went under as if caught on the bottom, I held back and then lifted until the line became taught. At that point I could tell it was not the bottom - there was a definite amount of fishy tugging through the line. I won't go into what happened next (I'm sure you can imagine) but needless to say I don't have a photo of a fish to prove it!
The dace fishing in the second part of the month has been fantastic. One of the benefits of low flows is that the shoals of dace are huge and I've had well over 20lbs on a couple of occasions. There have been some really good ones too, I would say getting on for 10/12 oz. I like to use a small avon float, perhaps with big shoulders to facilitate holding it back, allowing the line under the water to straighten and the maggots on the hook to flutter up off the bottom enticingly. This is made all the more possible by spacing the shot shirt button style so you can ride the bait through the swim at varying depths and over uneven bottom - the slightest hold back will allow you to fish a foot or more shallower (depending on flow of course). One of the most important bits is to use a swivel to attach your hooklength to - not only does this make things easier to change a hooklength but it stops the double maggot "windmilling" in the flow and twisting up your fine line. As a bonus it can act as the bottom shot.
October is the traditional start to the pike season, although again it feels just a bit too early. That said I have heard of numerous feeders being attacked in the last week or so, and several good pike and perch have been caught up river (where it tends to be a bit cooler). Please take care if fishing for predators in these low conditions. It's a harsh winter and they'll need all their strength and fitness now in preparation for the wild conditions the Wye will undoubtedly be throwing at them.
The clocks go back at the end of the month so make the most of the post work couple of hours. If you're lucky enough to have a day off, the river is an awesome place to spend time outdoors right now. Please follow my adventures throughout the month on my Facebook page and good luck whatever you fish for.
Adam Fisher
---
August 2014
August can be a flat month for fishing. Rivers are usually experiencing low levels and a lack of oxygen, an early autumn wind can chill the air and make it feel like the long lazy summer days are a million miles away. Boat traffic can be unbearable and with school holidays the rivers and lakes can appear as one big playground. Thankfully, due to schemes such as the Fishing Passport, one can book a stretch of river where just being there makes up for the slower than usual fishing and the only other people around to bother you are on floating craft. Reports such as MB from Merthyr are the perfect example -
"Canoes, canoes and canoes, canoes again. Very promising place but not for now. Risky because the people in canoes, struggled to fish up to 8pm."
Evening chub fishing on the lower Wye.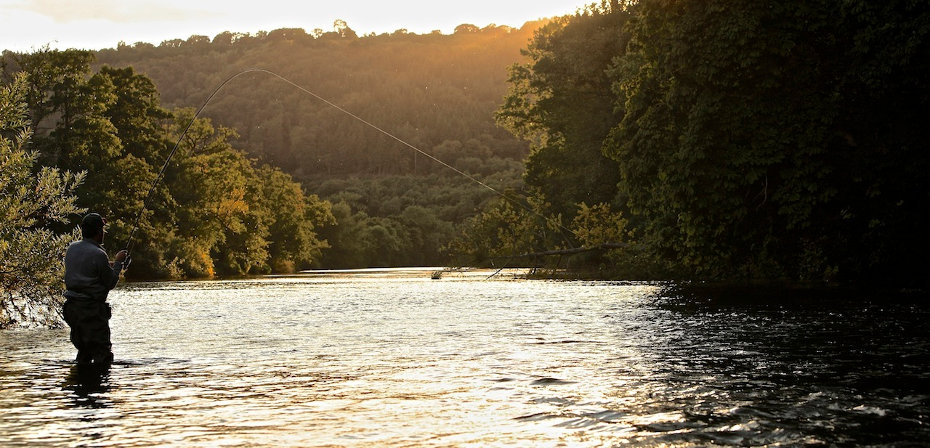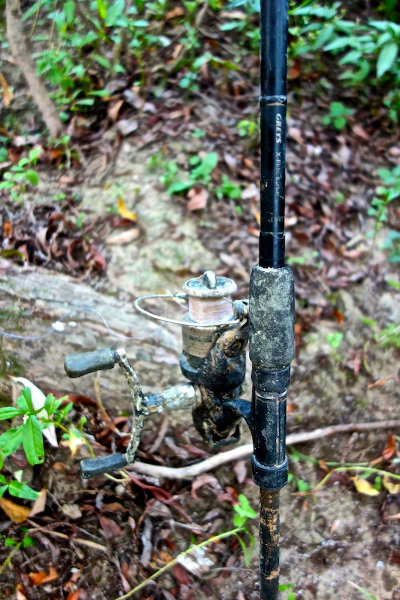 A rod and reel taken out of the Wye in August. To help prevent this sort of thing from happening, anglers must only use 1 rod at a time when fishing Passport beats.
However, once these have 'gone through', it's just you and your stretch of river and as the light fades, so the fishing picks up. Also, if you get a bit of water in the river or a dull day, the fish don't know it's August. MY from Lydney banked a 12lb barbel from the Creel earlier in the month, not bad considering his goal was to catch an American visitor their first barbel! Holme Lacy 3 and Wyastone have been consistent beats this season and in August they continued to fish well, with Holme Lacy again producing over 50 chub to 2 anglers on numerous occasions. There were some good catches at Lower Hill Court too - 19 barbel to an angler on the 12th who had to stop fishing because he ran out of bait! I don't expect this to change and as the temperatures drop, the fish will go on the feed and beats that have been quiet will start to come back into form. The barbel especially will start to put on weight now and stretches such as Courtfield and Wyastone are a good bet for a double. The big fish that are already there, such as an 11lb barbel and a near 7lb chub (6lb 12oz, to be precise) caught on 13th August, will be getting fatter!
Many anglers believe that fishing two rods is a good way of improving their chances when the fishing slows in August. Personally I don't agree with this and in any case, you can only use one rod at a time if fishing Passport beats. The image to the right is of a rod and reel someone extracted from Middle Hill Court earlier in the month - it had been in the river for some time and I can only assume it was dragged in at some point in the past. This usually happens when either an angler is having a snooze or when someone is using two rods and not paying attention. Either way, a sure way to avoid this is by using one rod and keeping an eye on it at all times - the "three foot twitch" could cost you an expensive new rod! In addition to the one-rod rule, please make sure that you are aware of and abide by all WUF coarse fishing rules, individual beat rules and EA byelaws.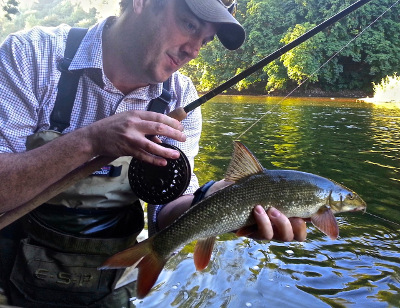 Catching small barbel on trotted maggot - great fun and good signs of things to come!
On the subject of rules, something to really look forward to next month is the end of the maggot ban on the Wye. From June 16th to September 14th non-aquatic pupae are prohibited to be used as bait (see page 11 of the byelaws). Some clubs do apply for dispensation to this rule but otherwise it's a byelaw that is in force. Although there are less of them in the middle reaches of the Wye these days, the rule was understandably put in place to protect salmon parr, who love a maggot and tend to swallow small hooks. For me it's all part of why September is such a good time for fishing, getting out on the float towards the end of the month catching quality dace and chub in the early evening autumn mist.
Using maggots will get you amongst the smaller barbel too. There is already the odd one being caught on corn and small pellets. They're great scrappers on light tackle and a lovely fish to admire in miniature - good news for the future of barbel populations too.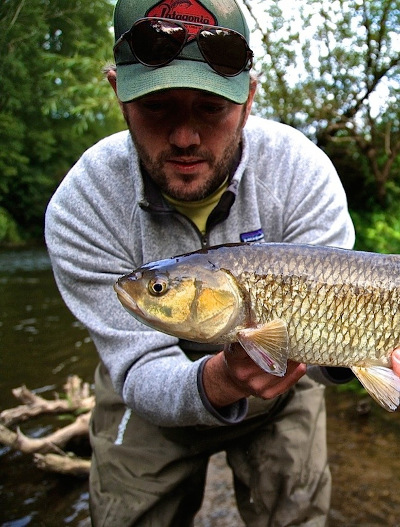 A quality Wye chub that fell to bread flake (above) and below, September is pellet and paste time!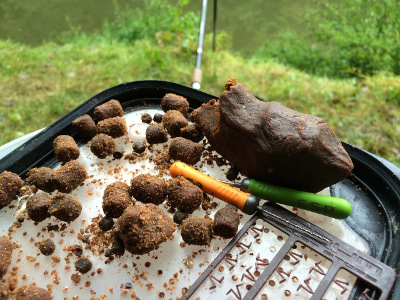 I've spent most of August chub fishing on bread flake. This is one of my favourite ways to fish and always gets results. With September ahead of us though I will be moving more over to pellets and paste, searching out a few bigger fish. There's so much water to explore so I suggest anyone with the time should get out there now whilst the river is still low and work out where the deeper areas are and where fish might go in a flood. The Wye contains some very good perch too and I suggest an approach of chopped worm and caster will find you a few. Last autumn there were several reports of multiple captures of 2lb + specimens. However, you will rarely catch big perch unless you are targeting them so it could be worth investing some time changing your tactics if you want to try for this species.
I've got some interesting work lined up this month, commencing with "Fishing Gurus" for Sky Sports. The guys from Guru love the Wye and I'm really looking forward to working with them again. They use the Passport for their social fishing too, often bringing friends and family and make a proper trip of it. September is also my busiest guiding month and I'm looking forward to seeing beaming smiles as anglers get into a few barbel and chub from some fantastic locations. A few hours guiding can make the world of difference to your fishing.
A few of the Passport beats have had some bankside vegetation clearance work in the past few weeks, with photos added to the galleries on the website. Clearing the Wye's banks is hard work and the effort is not always appreciated. It's also sometimes a hard job trying to meet the expectations of many different anglers that come to fish, some of whom prefer the banks to be left completely alone, others who expect never to have to push back a nettle! Please remember that there are also legal restrictions as to what can be done. The Wye is both SSSI and SAC and anything but very light clearance can only be done at certain times of year and only with permission of statutory authorities. If wooden platforms and neatly manicured swims are what you require, I think the Wye isn't for you. In my experience, wooden structure and any bankside modifications just get blasted down to the estuary on the first proper flood anyway. Take a bank stick and clear a few swim if you like. 8ft tall Himalayan balsam may appear daunting but it actually clears with ease. As the banks are so soft underneath this balsam, due to the nature of its root structure loosening the top soil, you can easily dig your heels in and get down the bank. You should always be careful around the riverbank and not endanger yourself but my point is not to be too easily defeated by the sight of the undergrowth. Besides, catching fish from a swim you've made is a very satisfying experience.
Good luck to all of you who can get fishing this month and please, if you have any fishy tales to tell then drop me a line through my website or for any general advice that the Booking Office can't give, I'm happy to help... www.anglingdreams.co.uk or find me on Facebook.
Adam Fisher
---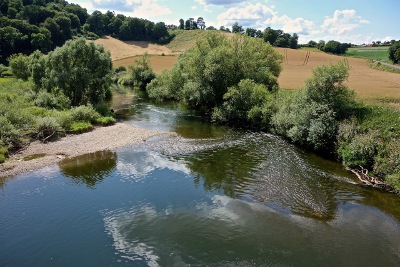 The Wye at Kerne Bridge in the very low water levels of July and, below, a little further upstream at Middle Hill Court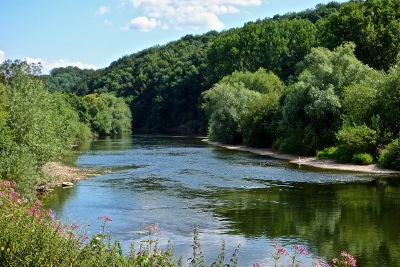 July 2014
Following the hottest July for many years you might think I have very little to report on. Only mad dogs and Englishmen would have been fishing a whole day - in temperatures more often found in the Med than Herefordshire. Following day after day of heavy abstraction the river dropped like a stone, with just a small rise of a few inches mid-month. An algal bloom developed at the end of June, stayed with us for most of July and just last week returned again. The algal bloom causes poor visibility in the water and a silty slime over the river bed - it's hard to say whether the fish mind but it doesn't fill you with confidence when staring into it. Fortunately the Wye has a relatively cool source of water from up in the Welsh mountains and with thick bankside vegetation (overhanging willows) there are plenty of places for coarse fish to take cover. During the long summer days, anglers are also able to fish well into the evening and this is when sport is at its best at this time of year.
Despite the conditions there was some good fishing and, interestingly, lots of eels caught. This is great to hear as their numbers have been declining since around 2000. On the 19th July, one angler had 5 eels from Kerne Bridge, a remarkable catch.
At the beginning of the month the big chub catches of June continued. A fish of 6lbs 2oz was caught from Wyebank and one of a 5lb 8oz from Backney. The large quantities were notable too, with around 30 fish caught on 2 different days on the Foy Bridge stretch. Most notable has been the chub fishing on Holme Lacy 3, where several reports came in of 50 + chub in a day, with one angler reporting over 100 chub (and 49 barbel!).
Barbel catches started to slow down as the month went on; even the reliable Courtfield experienced a few blanks. Holme Lacy 3 was an exception, as was The Creel, a new beat for 2014. There were a few reports of some beats being overgrown and fishless but anglers who were prepared to explore the entire length of a beat found swims they wouldn't have otherwise known about. One such example was Middle Hill Court where I came across some anglers who thought there was only one good barbel swim on a mile of river - they certainly didn't expect to be hand feeding barbel in swims further downstream by lunchtime! Having said that, finding the fish is only one part of the equation. One day last week a friend and I were on the same beat watching a shoal of around 30 barbel feeding hard at our feet - an awesome sight but we blanked and left the fishery with more questions than answers! The fish were obviously feeding but they were spooking off our rigs. My tip is to scale right down and get as much line pinned to the river bed as possible, especially if you're fishing middle of the day when the high sun can reflect your line angling into the water. If the hot weather continues I still recommend getting out into the water and walking your stretch with polaroids. Here's another video from the guys at Guru to give you some tips on approaching the Wye in this fashion.
Wyastone Leys fished well last season and has produced some incredible sized fish recently - M.Y. from Lydney caught a 10lb and an 11lb barbel at the beginning of the month, followed up just last week with M.Y. reporting 3 x 10lbers and a fish of "just over" 14lbs! The Wye record is 14lbs 9oz so I do hope the "just over" was recorded accurately. There was some scrutiny over the catch as the fish being held at waist height over rocks. I'm afraid this is poor practice for holding any fish, especially a fish of a lifetime.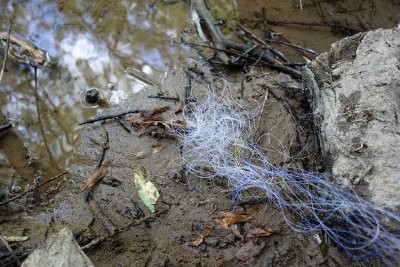 Discarded tackle on the riverbank is unsightly and is dangerous. Please ensure you take all your old tackle and other litter home with you.
It is worth stressing the importance of barbel handling - at this time of year with low oxygen levels and high temperatures, anglers should take more care than usual in treating and returning these fish. Barbel put everything into the fight. I recommend the fish is rested in the net before unhooking. The fish then must be out of the water for as little time as possible and, if under 7 or 8lbs, please do not weigh them. Barbel of 5 and 6lbs are ten a penny and it really is unnecessary to weigh them. When returning the fish, make sure they are upright and can 'right' themselves if nudged around - if they do not right themselves and go belly up, they will stay belly up. It can take as much as 20 minutes or half an hour to revive barbel in these conditions, so please bare this in mind before dropping the net to release a fish.
Unfortunately, there have been a few reports recently of discarded tackle being found on the riverbank with one especially horrifying case involving a dog swallowing a hook. The poor terrier had to be operated on and only just survived its ordeal. Please ensure that all litter and tackle is taken home with you, even if it is not yours.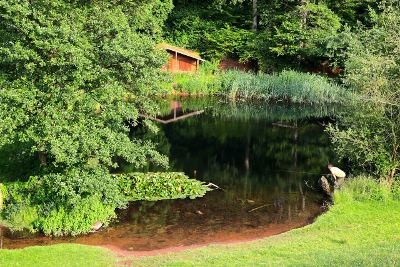 Fishing for carp in Quabs Pool, one of several intimate still waters available to anglers on a day ticket.
On a lighter note the weather has cooled and we have had some rain in the system to freshen things up a little. If you just feel the river isn't the place though, there's some cracking carp in Eccleswall Court, and the picture to the right might just inspire you to get out there.
It's amazing to think that back in March everything was saturated, and on the www.anglingdreams.co.uk website I even posted "we don't want mention of a hosepipe ban this year!" - if we don't get some rain soon then we're going to have one! Without wanting to wish time away, next time I write we'll be into September - arguably the best time of year for coarse fishing. Pike fishing will be in our sights and the grayling beats will be open for trotting soon after - time to book some fishing...
Adam Fisher
---
June 2014
Last season coarse fishers were faced with an unseasonably cold June 16th. Barbel and chub were still spawning due to the late spring, the river and air temperatures were more like April. It was well into July before catches got going and even then fish caught were in poor condition. This year was an entirely different story - a warm winter and spring was followed by a warm flood and "flush through" at the beginning of June, which was expected to fine down ready for opening day. June 16th arrived for many anglers with an above average level of excitement and anticipation and conditions on opening day were to be the best for many years.
From the start there was just enough colour in the river to give the barbel and chub confidence to feed throughout the day, with enough clarity to run a float through without the fish missing the bait. During the first week there were some excellent chub catches through the main beats below Hay on Wye, with some fish quite big for the time of year. A 5lb 10oz fish was reported from Courtfield, with another angler reporting a pb chub of over 6lbs from Wyastone Leys. Wyebank and Courtfield produced the most notable catches, with numerous reports of over 20 chub in a session - 31 chub and 26 barbel in a day on Wyebank on the 25th! Also, an angler fishing The Creel on the 20th caught 18 chub between 2 and 31⁄2lb. My theory behind the good numbers of chub this year is the lack of weed causing them to shoal up - sustained winter and spring flooding removes weed from the bed of the river and coloured water from regular storms denies fresh growth.
The quality of barbel fishing has also been above average for the time of year. Normally it doesn't get going until July but there have been numerous reports of double figure fish from Wyastone Leys, Courtfield, Wyebank and Foy Bridge. I witnessed a 10lb 4oz fish caught on opening day - a pristine fish, fins undamaged and in perfect proportion. I'm sure the barbel are getting bigger in the Wye with, perhaps, the big bags less of a possibility. This is not to say that good numbers aren't still possible, at Courtfield anglers were experiencing catches of 20+ barbel, with Holme Lacy 3, Lower Canon Bridge and Fownhope 5 reporting 15 barbel to one angler. If any of you are struggling to imagine how this is possible, or just want some inspiration for your next trip, check out this video from Dean Macey and Guru, filmed at Lower Canon Bridge on the 19th and 20th June.
On stillwaters the tench spawned late this year. Good fish were being caught right up to midsummers day but from then they will get a little more finicky as they gorge on daphnia. My tip is to feed sparingly and to fish light. The carp had spawned early though and my annual pilgrimage to Redmire resulted in 2 fabulous fish of 24-8 and 28-1. If the river doesn't do it for you during this busy summer spell, or your fishing is restricted to middle part of the day only, remember the stillwaters. Floater fishing for carp doesn't come much better than right now and Trelough Pool is a great venue for this approach.
If the bright weather continues the fishing may slow with static baits but running a float through can still produce some action. Get your waders on or, if you're feeling brave, get out in the water in your shorts. A big piece of bread flake run under an overhanging alder branch, or skirting a willow will often entice a big greedy chub to snaffle your bait. Fishing bread punch, corn and pellets should also get some interest from other species such as roach and dace. You can also use these low river conditions as reconnaissance for later sessions when the river is flooded or light levels too low to see much - polaroids are your most vital piece of armoury. If you want to know more on this method, this month's Improve Your Coarse fishing has a feature with yours truly on trotting the Wye.
As we head into July the river is experiencing an algal bloom. A thick slime covers the gravels and there's a brown tinge to the water that reduces visibility to about 1 foot. A good flush of water is required when it's like this. However, the fishing is still decent and as the bright conditions continue the barbel and chub will favour the early and latter parts of the day to feed. I wouldn't be getting to the river much before 5pm if I had the choice.
Vegetation will be a little easier to get through too, with the most popular and productive swims well worn. Lots of water still doesn't get covered on the WUF stretches, but I strongly recommend you to explore – there are still virgin shoals of barbel out there.
Canoe traffic will increase from the middle of the month, to coincide with school holidays, again fishing early and late in the day will alleviate any rage associated with their presence. This said, there are increasing positive reports of conscientious canoe groups and I personally do my best to speak to the organisers on dry land and encourage a mutual respect between canoeists and anglers during the summer months.
This time of year is not all about catching fish though (save that for late September and October) and the never-ending summer days should be soaked up. I use this time of year for fishing with friends, drinking some locally brewed cider, picnicking with family, napping under an oak in dappled sunlight, satisfied that I'm not missing much and that the best time of day is still to come. The plucks and rattles on the rod tip increase as the light goes and the witching hour seems to last forever.
Adam Fisher