Trout & Grayling Report
by Oliver Burch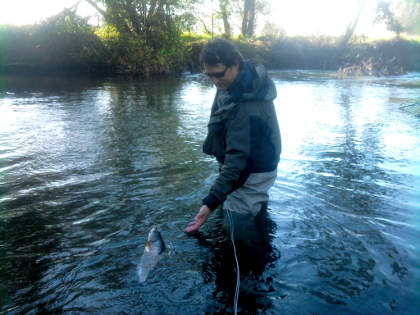 December 2014
We had some proper grayling fishing in the first part of December at least, and good days were reported by a number of anglers on the upper Wye and Irfon. Water levels were rather high, so in most cases trotting a maggot was the favoured method. On the first of the month, ND from Gloucestershire had a dozen from the Irfon at Cefnllysgwynne. On the same day, my Forest of Dean neighbour Rudi Lighert (read his regular reports on Wyebank and Courtfield) came up to the Cammarch Hotel middle beat on the Irfon and took 18 grayling. Significantly, he was using an old Kevlar trotting rod with a soft action and thus kept himself connected to all the fish he hooked. He also netted and released a sparrow hawk, an event which I am prepared to bet was a first in the Wye and Usk Foundation records. On the 5th I was out with a client, CM from Bristol, who took 27 grayling by fishing maggots at Abernant on the main Wye. Once the shoal was located, a lot of these were got by whipping a single maggot on a Tenkara rod, a method which has really been proven this year. Roger Smith from Malvern and a friend were out on the same beat next day and got some 60 grayling between them with trotting rods. Also trotting on the 6th , CB from Swindon took 16 from the Cammarch Hotel's middle beat. On the 7th we had a slightly unusual report from Whitney Court on the middle Wye, where LR from Port Talbot and a friend took 15 grayling on the float along with some chub. I am not quite sure if this was intended to be a chub-fishing expedition or not, but the result was certainly a reminder that pods of grayling can be found in odd places all the way down the Wye, at least as far as Monmouth, even though coarse fish predominate in the middle and lower river. The same is true of brown trout, which turn up right down to the tidal section at Bigsweir. Welcome news from the Monnow at Skenfrith came on the 8th , where IR from Stratford on Avon with a friend got a dozen grayling by fishing nymphs with the duo method. After this good fishing week, the rain came back and the rivers rose quickly, the ground being more or less saturated already. Dave Collins from Moccas, a fellow gauge watcher, was one who saw his chance and fished the Irfon on the 16th , this being a brief window of opportunity before the waters rose again with heavy rain. He got 13 grayling with trotting gear from the Cammarch Hotel's middle beat.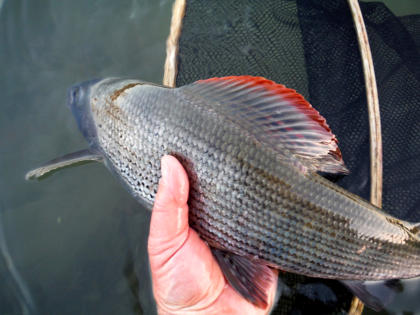 Personally, the trip I enjoyed most this month was to the Lugg at Eyton. This fishery is something like 1.5 miles long, and I just about managed to get the upper 2/3 done on a short winter day. By the time it reaches Eyton, the Lugg has left the characteristic narrow wooded valleys upstream and is entering the flatlands around Leominster. We are still in the grayling zone however, and despite slightly high and turbulent water I managed to get a decent bag by fishing a pair of heavy nymphs close under the rod top. The last one was a good grayling, gun-metal grey, taken from a deep channel just as the sun set after a cold and clear day. Every one of them took a Pink Shrimp.
That takes us as far as Christmas; at the time of writing I don't have the holiday reports to hand, although I doubt that very much fishing was done, given the high water levels. In the last days of 2014, the Irfon and Monnow are just now coming back into condition. As we go into January and February, in some ways the toughest fishing months of the year, I tend to look towards smaller grayling streams like the Lugg and Arrow. For one thing they give the angler more shelter; the open reaches of wider rivers, particularly the upper Wye, can be very bleak when a sub-zero wind is blowing and standing waist deep in a big current is the fastest way to become chilled. When the mesh of your landing net freezes to your wading jacket, you can be sure you have a problem. Personally, I have a view that the smaller streams are best fished with heavy nymphs rather than trotting, as most of the deep holes can bereached quite effectively with a team of bugs, especially if you use a shorter rod to lob them under the alders. There is more activity involved, which will keep you warmer! I tend to use an 8 foot rod for the Arrow and one of 9 feet for the Lugg. Unfortunately, neither of these little rivers runs off quickly once the aquifers are charged and we have suffered from high levels during recent winters.
Thinking back, I have had good grayling days while snow is falling (although once I had trouble finding a tackle bag left on the bank which became buried) and also while snow lies on the ground. If you can stand it, the grayling usually can! Bear in mind that trotting during sub-zero air temperatures becomes very difficult due to rod ring icing. On such a day, fishing nymphs on a short line is generally less frustrating. However, I have never done much good during a big thaw, although I couldn't say whether this is due to snow-melt water in the river or the effect of road salt washing in. Again, cold and dry is the weather I am hoping for. Expect the grayling shoals to be concentrated now we have reached the coldest part of the winter.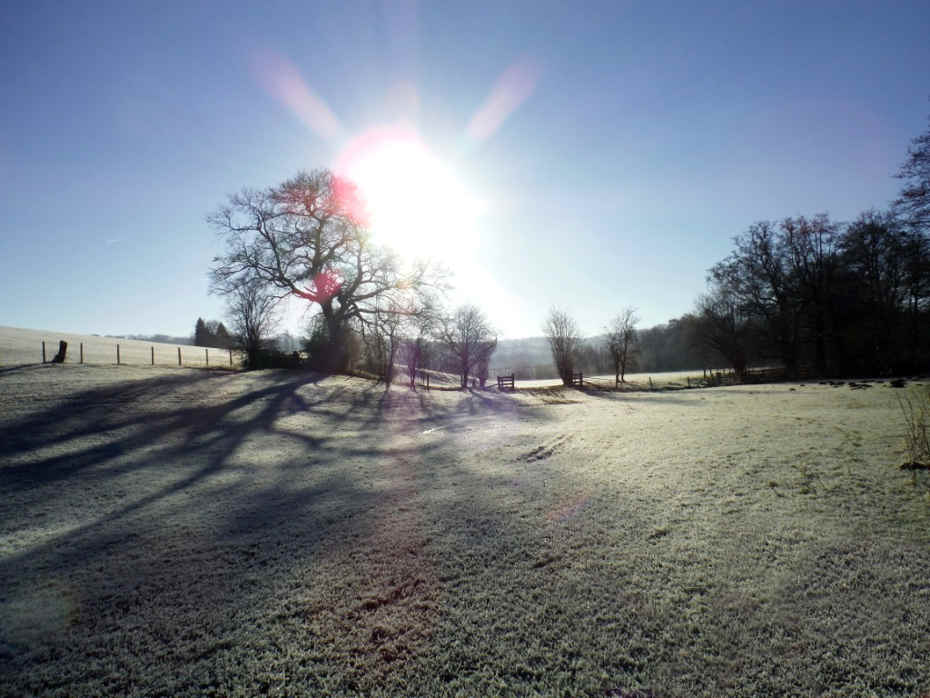 A frosty morning in the Monnow valley
Now that we have come to the end of the year, I'm reminded of that "there's more to fishing than fish" motto and something which happened back in the summer. I was tackling up by the old stone bridge on the Bideford Brook when a very nice chap walking his dog came by, stopped for a chat, and was keen to tell me that he had recently seen a kingfisher on one of the Welsh streams. "It was wonderful," he said, "the first one I have seen in years." I smiled inwardly, knowing that we anglers see kingfishers almost every day. About 10 minutes later, as I was taking my first casts,our resident bird came flitting past and it showed a couple of times more during my morning on the stream. The point is that of course the little electric blue and orange bird, like the dipper and several others, is more often seen up and down the river channels than out on the open fields. And yes, I have had a kingfisher perch on a rod tip, just for a moment. Anglers moving slowly and carefully by or in the water get themselves a most wonderful view of the natural world. On a simple and daily level, I'm thinking of the plants and flowers, for all of which my grandmother would have known the old English names, while in most cases I unfortunately do not.
While the rivers were high and there wasn't much to do but cast for rainbows in pools or sit indoors tying flies, some fishing memories from a very long time ago came into my mind. The sound of church bells coming across a frosty marsh on a winter Sunday morning while I'm shivering and roving among the reed beds for pike with a wobbled sprat, dropping it into likely bends in the sluggish, winding river. The sun is bright, but I'm wishing the wind was not coming from the east. We had learned by then that it didn't matter how cold it was; provided that the sun was shining the big pike would follow the bait through the greenish water and take it quite gently. Dark days of cloud were no good. We had split cane rods in those days and winter clothing was barely adequate: a roll neck sweater and a waterproofed jacket were about it. Months later we would hear the weird sound of snipe drumming above the reed beds. In high summer we came to the marsh to fish for chub during the evening, and then eels by night. Sometimes at dusk a nightjar could be heard and seen in the yew trees of the graveyard bordering the river. Perhaps a roe deer would be down there in the long grass and we would play the game of stalking it, seeing how close we could get.
There are many pleasant surprises in an angler's life, such as encounters with otters, which are not seen so very often by day, although you do come across them now and again in remote places, ransacking the stones of the stream busily with their front paws. More likely you will get a glimpse of them during a day of flood, turning over with a swirl in the coloured water, searching after the fish sheltering under the bank. This autumn I spent half an hour watching a family of otters giving an upper Wye pool "the works," catching small trout and grayling right in front of the fishing lodge. I was quite charmed and didn't begrudge them their fish at all - few modern anglers do. It's interesting that old Isaac Walton, renowned as a gentle Christian man, harboured quite murderous thoughts towards otters of all sizes. I suppose we live in a more anthropomorphic age, certainly since Kenneth Grahame and The Wind in the Willows. If you wade out into the Towy for sewin in darkness, you will become aware that otters, even whole families of otters, will come close to you on two nights out of three. I was even "bumped" by a fast swimming otter one night on the Loughor. This was slightly unnerving, but I think he was more shocked than I was. More sinister was a dreadful screaming in the river near me which began at one o'clock in the morning; switching on the torch revealed a large otter killing a mink.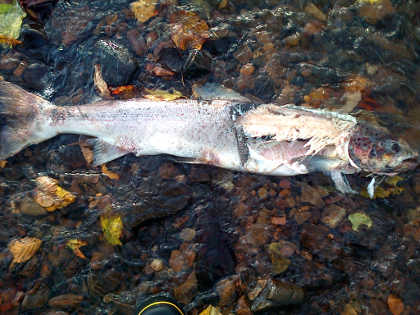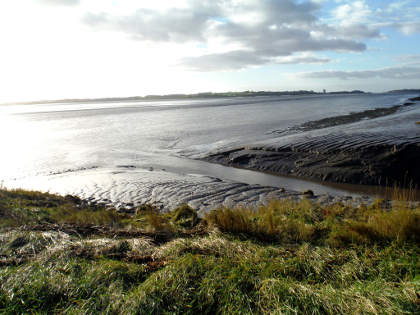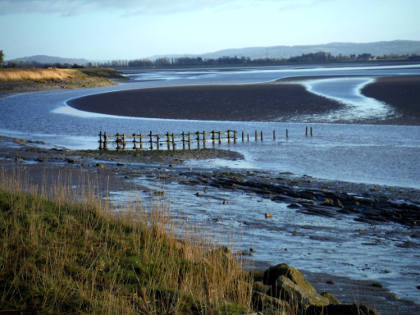 Then there are the odd and sometimes apparently inexplicable events: a grass snake swimming in the river, once common enough, or a grey squirrel for some reason plugging its way doggedly right across the main Wye to emerge looking distinctly bedraggled. Why had it crossed from Radnorshire to Brecon? Did it do so regularly? The friendly little water vole which I used to see every day when I was a boy is sadly a rare sight now, although a friend recently found one in the stomach of a 6 pound sewin. That gave rise to some interesting theories about fishing the surface lure. Usually a sea trout's stomach contains nothing. A fox cub, strangely unafraid, once came up to sniff the tackle bag and handle of my rod leant against a Carmarthenshire fence while I lolled in the grass nearby, waiting to begin sewin fishing at dusk. The following occurred on an early autumn morning a few years ago. I was wading in the Usk, casting my way down a favourite run beneath beech trees which had just begun to turn rusty gold. It all looked so good that I stopped for a moment, the double handed rod propped upright in my arms, to take a photograph. Suddenly a late martin appeared, weaving and twisting, pursued barely 6 inches behind by a fierce little hawk. The two birds pivoted round the tip of my vertical salmon rod like a pair of air race contestants banking round a pylon. The dog-fight scene only lasted for a couple of seconds; then the martin was safely away and the little hawk, with a flash of white and russet, had also disappeared up into the beech hanger. People who know tell me it might have been something unusual, possibly a merlin. If memory serves, there was also a hen salmon later that morning, beginning to show autumn colours just like the trees, turning a good day into a perfect one. Deep joy...as Professor Unwin would have said!
Where floods allowed, we have started work already on cleaning the wild streams for next season and last week I trimmed the Blackpool Brook in the Forest of Dean. In thick woods just by the ruins of the old pumping house, I started a wild boar. Blundering along through the stream-side bushes with a pole saw, I must have disturbed his daytime sleeping. He jumped up and we had a look at each other, his eyes somewhat more bloodshot than mine. This was certainly one of the big ones: I would estimate at least twice my weight, which is saying something. Thankfully all I got was an old-fashioned look and a snort, after which he took off, which is what our Forest pigs mostly do. The other find of the week pleased me much more, although you may find it slightly grisly. Half way up the WUF's beat on the Bideford Brook, lying out on a gravel bank, was the corpse of a spawned-out hen salmon, which might perhaps have weighed 8 pounds when it first came into the brook. The spot is only about 3 miles from the salt water of the Severn estuary, where once there was a big salmon fishing industry. Nor was the find entirely unexpected, because we have caught salmon parr in the brook over the years. Still, it was rather wonderful to find the evidence lying out there in plain view. There it was: the great fish in a tiny stream. The predator which ate from the salmon's shoulder may have been an otter, a rare animal in the Dean although I have seen the foot prints on occasions. Happy New Year and good fishing in 2015 to everybody.
Oliver Burch
---
November 2014
November was another difficult fishing month for anglers, conditions being dominated this time by rainfall and high water over an extended period. The Wye was very high for most of the month, although often running clear, the Irfon was hopping up and down almost daily, as it so often tends to be during rainy periods, while the Lugg and Arrow, once the Radnor Forest headwater springs were charged, rose to a height which made grayling fishing very difficult.
At the same time it was an exceptionally warm month, at least until the first sharp frosts arrived at the end of the third week. On the last day of October I fished the Lugg at Lyepole, in slightly higher water than I would have liked, doing my best to search the deep holes carefully with a pair of heavy nymphs, and catching a few here and there. However, the air temperature was around 17 degrees and just an hour before dark I came to a whole run full of rising grayling. By changing the tackle to a tapered leader and a small Grey Duster, I was able to take the last five fish on a dry fly as a delightful finish to a fine autumn day.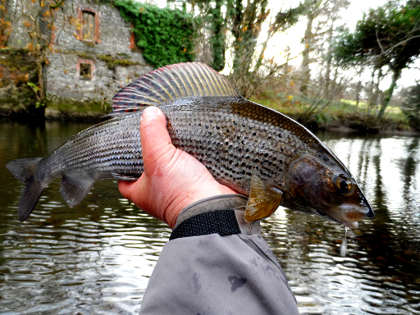 17th November on the middle beat of the Cammarch Hotel's Irfon fishery was much colder and due to high water I was already committed to trotting. It was one of those rather miserable days with intermittent rain and low cloud. But after lunch the large dark olives began to appear on the tail of the Pumphouse Pool and for half an hour there were grayling rising right next to me. Alas, I had left my fly rod in the car and for that short period these fish were not interested in maggots at all!
With a few exceptions, however, the high water conditions of November generally favoured trotting a float (where allowed) over fly fishing. Provided the water is clear enough (it often was this month), even in high water it may well be possible to find asafe stance near the bank from which the float may be run a long distance into moderately paced water which may hold grayling. This compensates for the near impossibility of wading into places where the fly rod can be used. GW from Milton Ernest was one who fished the main Wye at Abernant with the trotting gear and took a fine bag of 40 grayling during the morning of 1st November. On the 20th, Dave Collins from Moccas float-fished the same beat and took 20 grayling (Dave claims his skills with the centre pin reel are rusty after years of fly-only fishing, but I don't believe it). In the high water levels Cefnllysgwynne on the Irfon also performed reasonably well with the trotting rod: CD's party of three from Chessington had 25 using this method on 1st November, AG from Rhiwbina had 10 on the 9th, and GF from Nuneaton with a companion had 15 on the 23rd .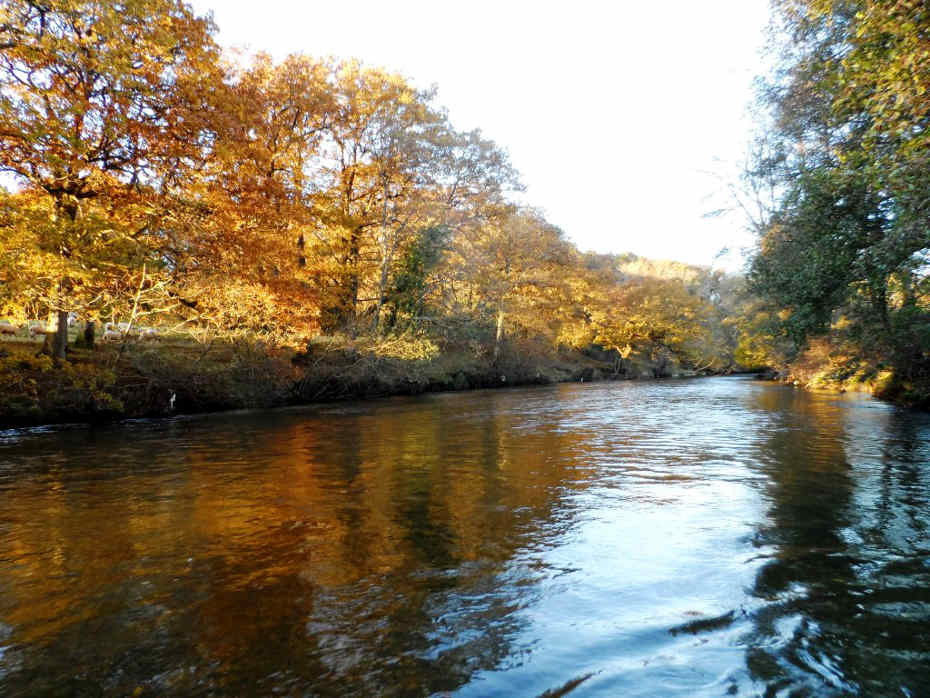 The River Irfon at Cefnllysgwynne in full autumnal splendour. The beat produced some decent returns in November.
The fly-fishing exceptions are worth recording. CT from Redditch had 13 grayling from the Lugg at Eyton at the end of October. On 5th November while fishing the little Dore at Abbeydore Court, RC from Wiltshire had 6 grayling on a dry fly. That will be a late autumn day to remember, I am sure. On 9th November, LE from Usk with a companion took 17 grayling on heavy nymphs from the Irfon at Cefnllysgwynne. Roger Smith from Malvern, looking for somewhere to fish during floods on the 15th , wisely chose to head a long way upstream to Tyllwyd on the Ithon tributary and got 5 grayling with the duo method. On the 23rd, MB from Cwmbran fished heavy nymphs on the Irfon at Llanfechan and took a dozen, losing a few flies in the process. However, I think the award of the month for effort and cool nerves must go to NS from Worcester, who took 6 grayling on the fly from the Lugg on 1st November, after having been nearly flattened by a speeding vehicle on the bridge at Lyepole. I do sympathise with him as such an event is about the last thing one would expect in this quiet spot.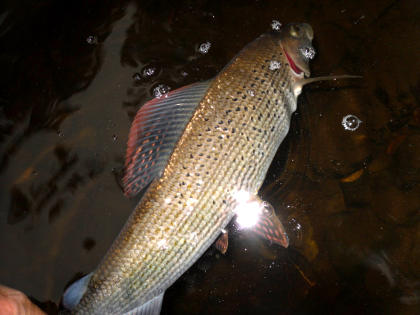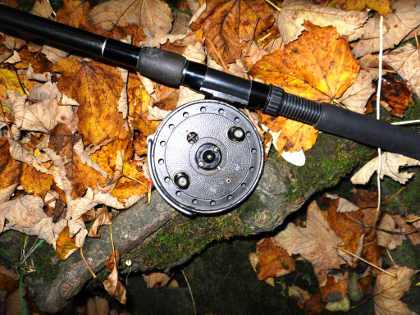 I wish I knew what to predict for December, but I don't want to tempt fate. Cold and dry are the conditions we would all like to see, I am sure. My own feeling is that we suffered quite enough during the floods of last winter, which precluded river fishing altogether for a couple of months, and quite enough rain has fallen during this November to be going on for a bit. Some frosty weather now, once the grayling are accustomed to it and gather in shoals, should make for some good sport with heavy nymphs, or possibly the trotting gear if the water is not too low and clear.
I have had some questions this month about the gear I use myself for trotting, so I'm happy to reproduce the answers here. I use a 14 float rod on the Wye and a 12 foot rod for smaller rivers with overhanging trees like the Irfon. Float or match rods need to have very small rings with a high stand-off so that the line does not drag on or cling to the rod. (This, I am afraid makes them vulnerable to icing for which I do not really have a good solution). Match rods tend to have a tip action, but try to buy one which has at least some give in the middle section. You will need this when playing a big grayling carefully up against a current, bearing in mind that small hooks pull easily from the fish's soft mouth. The arguments for using a centre pin over a fixed spool reel are well-rehearsed; use a fixed spool if that is all you have (closed face type is better), but I promise that once you have used a "pin" a few times you will not want to go back. Having a really free-running and perfectly balanced reel is more important than the rod in this type of fishing. The spool should be at least 4 inches in diameter and 3⁄4 or 1 inch in width. There should be a simple on-off check mechanism. The weight is obviously a consideration, as is whether the reel has a line guard (which tends to avoid tangles), or is cageless (to facilitate Wallis casting, which can be roughly described as the trotting equivalent of hauling in fly casting). I have a couple of Youngs reels, one vintage and one modern, which are expensive, but I have also recently been shown a cheap modern one, the Stillwater Pro-Pin, which will at least do the job, although it is heavy. The reel should be loaded with 100 yards of nylon of no more than about 3 pounds breaking strain, which will not drag the float off line. You can buy a co-polymer coated line designed for trotting now which will stay on the surface and thus avoid any need to apply grease. Make sure that when mounted the reel is properly aligned with the butt ring, so that the line does not pile up on one side of the spool.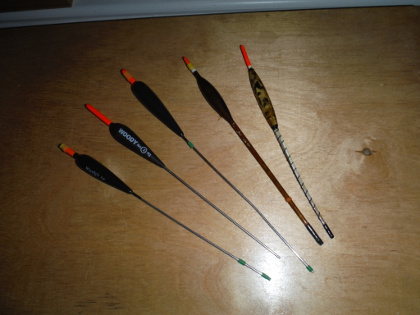 The float is another important part of the tackle. We used to fish with big porcupine quills, but when Reg Righyni brought out his book Grayling, in 1969 I think, we all rushed to model shops to buy piano wire and balsa wood in order to manufacture partially self-cocking wire stemmed floats to his design. The results were brilliant to fish with, as I recall, but I am no longer patient enough to be sanding down balsa and painting floats – and I am afraid those currently sold by the Grayling Society don't impress me. The type you should buy now is called a Wire Stemmed Avon, and the best ones I have seen lately are designed and sold by Paul Woodward of Woody's Tackle Shop in Hereford. These come in sizes to carry weight from 2 grams up to 6 grams; long trotting on the open Wye I tend to use the 5 gram model more than any other. In fact all floats vary very slightly in the weight needed to balance them. Make sure it is carefully shotted until only the painted antenna part shows above the surface. Three rubber rings will be needed, one on the antenna, one at the top of the wire stem and one at the bottom, to ensure that the float can be slid up and down the line to adjust height, but will not move during striking.
I fit a very small swivel (size 24) to the end of the reel line below the float. This is because double maggots tend to spin when being retrieved up-current, eventually twisting the terminal tackle into an awful mess. The swivel solves the problem. I usually attach the shot in a bunch directly above the swivel, which makes casting easier, but in a case when you want to hold the float back before dropping the bait into a hole downstream, you may find it best to attach the shot spaced out shirt button-style. I use a hook link of about 12 or 15 inches below the swivel, occasionally using an extra dust shot on this if I think the bait is waving around too much in the current. After trying out lots of purpose designed spade end maggot hooks whipped to nylon, I have generally been disappointed with them when fishing for grayling. It's very easy to lose these fish when contacted a long way downstream in a powerful flow. Currently I make up my own hook lengths from 6X Grand Max fluorocarbon and eyed Varivas 2100 dry fly hooks, size 16 and 18, which I tie on with the same tucked half blood knot I use for flies. Incidentally, be very careful when unhooking grayling; they have smaller and more delicate mouths than trout and unhooking devices like the Ketchum Release can easily do damage. Small forceps are much safer if you have to go inside, even if you have to put on a new hook link afterwards. Red maggots have always worked well for me as bait and I find half a pint is plenty for a day of winter fishing. I was surprised to learn the other day that it is, in fact, legal to bait fish with a worm on the Wye from 1st November until 2nd March, so that should be an option. I remember an old angler who used to advise us when boys: "If it won't take a girt big worm, it ain't worth catching." Small red worms are what you will need for grayling, though, and be very careful when near salmon. It might also be worth experimenting with sweetcorn, which is a popular bait for grayling on the upper Severn.
Finally, in a Eureka moment, I have at last found a use for the Tenkara rod. Now that statement should produce a few messages from the Tenkara fans! It happened like this. You may well find yourself in a situation where you have taken quite a few grayling from a shoal, but after a while the bites begin to dry up. You may get one or two more by using a single rather than a double maggot, but even then things may slow down again, except, perhaps, for just a couple of fast and nervous bites under the rod top, with which you fail to connect. Now the reason may be that a larger predator has come bullying its way into the swim and the numerous but more timid grayling have simply backed off. In which case you may very shortly catch a large trout, unwanted and out of season, or perhaps an even larger chub. More likely is that the grayling have become nervous of the regular trotting tackle, the big float and the bulk shot, and have educated themselves to avoid such abominations. If you have been trickling in free samples of maggots, or even discarding sucked ones into the water in front of you, it could well be the case that a couple of large grayling heading the shoal are lying on the bottom right there under the rod, picking off every free-falling maggot, but carefully ignoring anything which seems to be attached to a line of shot or a float. In these circumstances I used to tackle down to 2 gram floats and smaller hooks, but now I just put the trotting rod aside and whip through the top of the swim with a Tenkara rod, short leader and a single maggot ona size 18 hook, perhaps a dust shot and something like a match stick as a float. You might be surprised at what is lying there when the tiny indicator darts beneath the surface and you strike with a downstream sweep of the rod. With luck you might find yourself attached to a big grayling on a long flexible rod hooped over in an arc and a fixed line, which is always an interesting situation. This is a minor tactic, but it often gets a couple of extra fish and good ones at that. To be quite honest, this is not really an original idea. Coarse fishermen have been taking roach and dace for years "on the whip" as they call it, using a 4 metre rod and no reel, a lightweight alternative to the pole.
Tight lines and let's hope for some good fishing days before Christmas.
Oliver Burch
---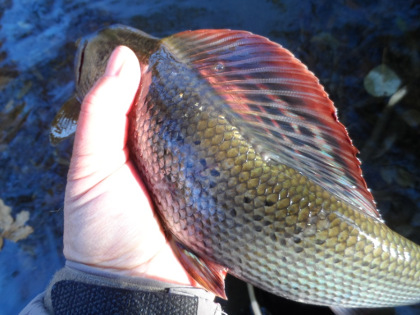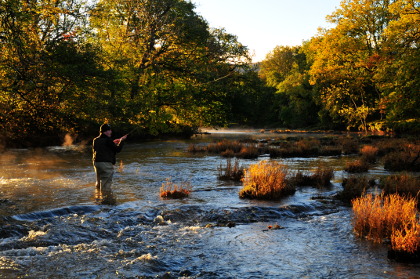 October 2014
October began with a continuation of the September drought. On the 3rd I found myself fishing the Irfon at Cefnllysgwyne, tasked with collecting DNA samples from grayling for a scientific survey. With the Cilmery gauge showing only 0.21 metres, the river was more like a chain of still pools littered with dead leaves, from among which, with some difficulty, I picked off the odd fish with a tiny dry fly. Then days of rain finally brought the rivers up into the long awaited high water and at last a full flood. This change was very welcome to those hoping to take a late season salmon but, with a few exceptions, grayling fishing had to be suspended for a long period. I should apologise again to those clients whose grayling days had to be delayed or cancelled. The rivers did not come back into reasonable fishing condition until the end of the month, and as usual the Irfon was first to come down, dropping to 0.60 on the Cilmery gauge by 26th October.
I mentioned a few exceptions. Several reports were filed during the month which indicated success despite difficult conditions. MB from Cwmbran came to fish at Doldowlod on the 19th, while the upper Wye was in full flood. The centre section of this beat consists of a deep gutter, known to contain big grayling, flanked by wide slabs of rock under overhanging trees. MB found the main current running down the gutter like a race track, but the side flats, normally dry or only ankle deep in water, were now well covered and harbouring grayling sheltering from the central flow. He was able to take 10 of them to 16 inches. On the 23rd, NG from Sutton St Nicholas took a break from his late salmon fishing in high water on the Irfon at Cefnllysgwynne, and spent an hour taking 9 grayling with the dry fly from the Glaslyn Pool. Considering he also fished every salmon pool on this long beat, some of them twice, he must have spent an energetic day!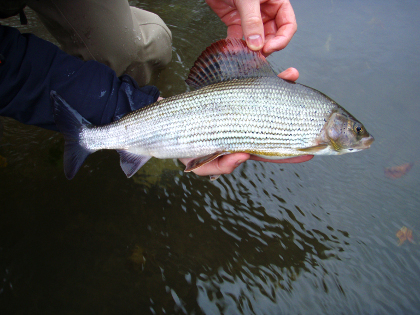 Several others tried their luck with the Lugg and the Arrow, despite the high water. On the 21st, PS from Leominster fished the Lugg at Mortimer's Cross with heavy nymphs in what must have been far from ideal conditions given the flow and took 7 grayling, including a superb fish of 20 inches. I think this proves just how fine the grayling fishing can be on some of our rivers. 20 inch or 50 cm grayling are much rarer than some would have you believe and, if we are discussing length rather than weight here, we are getting close to the size of the British record fish. PM from Abergavenny was another who had a good day at Mortimer's Cross, taking 18 grayling with nymphs.
What next? It has been a difficult autumn for the angler so far, but certainly a very warm one; the air temperature as I write is 18 degrees and we are already on winter time. As we reach November, however, the days are becoming shorter. If we see the sun it will not be strong enough to have much warming effect on the water, and very soon we will need to accept some changes in method. There may be a few more days in which the dry fly can be used - and to be fair a hatch of large dark olives on a sunny afternoon in January can bring a few grayling to the surface briefly - but in general the fish will soon become focussed on bottom feeding and less and less prepared to rise. With the exception of the occasional dark olive or willow fly seen above the floods, natural hatches have already dwindled and during recent trips I found a team of wet fancy flies more useful than the dry. I'm prepared to use patterns with lead under the dressing or incorporating a tungsten bead when I want to go deeper.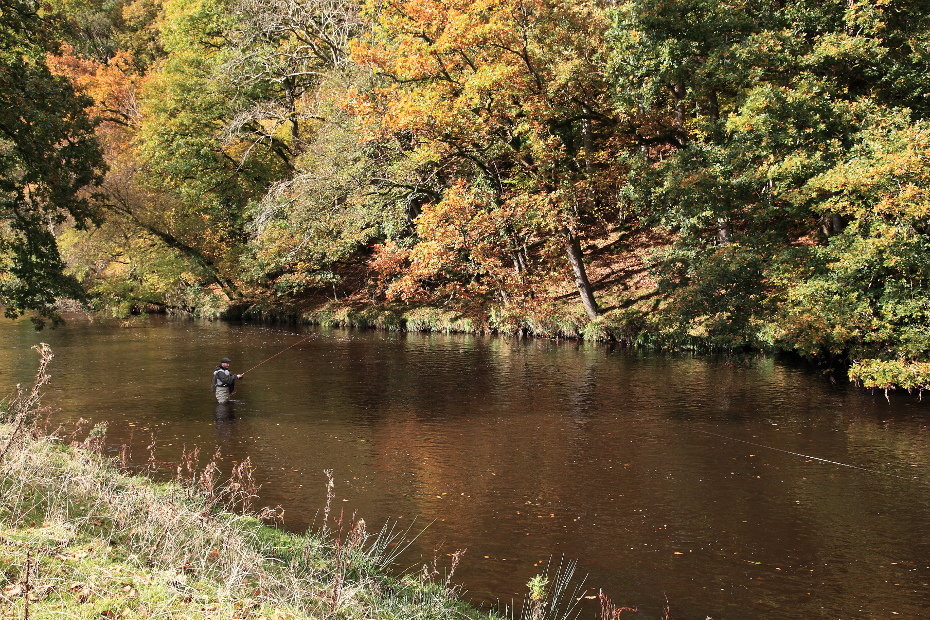 Trotting with a centre pin is a wonderful way to fish for grayling in the autumn. Photo: Rod Calbrade
When the cold really does start to bite and the grayling are fixed on the bottom, most fishing days will involve a choice between trotting bait under a float down to the fish on those beats which permit it, or fishing heavy nymphs under the rod top in the East European style. Now we all have our preferences and comfort zones and some friends tease me for being fond of some relatively old-fashioned fishing methods. Trotting with a centre pin reel is probably one of these, but in its defence I would point out that it is a wonderfully extensive method for searching large areas of river to find the fish, particularly suited to the open Wye. It's also a delicate method using very fine tackle at a long distance, demanding on line handling, eye sight and reaction. Somehow I can't bring myself to use the word coarse about long trotting for grayling with a float.
A generation ago, game anglers either went winter trotting for grayling or hung up their fly rods until the spring. Then in 1990 Czech and Polish competition anglers came over to fish the Dee in North Wales and showed us something completely new, winning the World Championship in the process. Yorkshire's Oliver Edwards, probably our best wet fly fisherman and a traditionalist if ever there was one, was early to recognise the importance of what he saw - the effectiveness of leading a team of weighted nymphs downstream, tripping along the bottom behind the tip of a long, soft rod. It opened up possibilities for fly fishing, particularly in winter, which simply had not existed before. Ever since, this aspect of game fishing has been in a flux of development which has been driven very much by the competition scene and some innovative young anglers. New rods and lines have been devised and experiments are being made in a number of interesting new directions, including theFrench Leader system and lately Japanese Tenkara fishing, without a reel. I do meet some very skilled anglers who seem to use the nymphs all the time, summer and winter. Personally, I like to use other methods such as dry fly and spiders when there is a chance to do so, purely because I enjoy fishing in that way, but I must admit that the new heavy nymph techniques have opened up some wonderful opportunities for winter fishing. Karel Krivanec's book Czech Nymph (despite some slightly eccentric translation) is a pretty good summary of these styles and their development.
If you are lucky enough to find yourself with a choice of methods for a winter day on a beat which permits both fly fishing and trotting, I would be inclined to choose fly fishing with nymphs for low water and trotting when the river is high or coloured. A final point: as the temperature falls, grayling which have been relatively spread out will tend to gather in fewer but larger shoals and some will contain very good fish. Nor do they much mind cold weather: a sudden cold snap may switch them off for a few hours or even a day, but once acclimatised they will usually come back onto the feed with enthusiasm. Grayling in winter are in the best of condition and a big one is a true challenge to play up from downstream in a powerful current, especially with the knowledge that a hook pulls very easily from the soft part of its mouth. They seem to know instinctively how to use the current against you, tacking from side to side with that big dorsal fin raised like a sail, and (as you will see if you get a look from above) the whole of the muscular body bent into an S-shape of resistance.
Tight lines!
Oliver Burch
---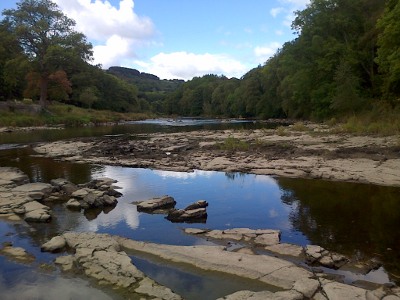 Low water conditions have prevailed throughout September.
September 2014
I feel a bit of a fraud. In last month's newsletter I confidently predicted a wonderful fishing September - it's going to be dry fly heaven, boys and girls - and the weather gods responded by turning the water tap tightly shut. The sunshine has been wonderful but it simply hasn't rained to any significant extent in our catchments. Fishing conditions became steadily worse as the month went on. The rivers are now down on their bones, in the worst places looking like a connected chain of stagnant pools. Fish were certainly caught during September, but they were hard won.
The Usk is never easy during low water conditions at the back end. Slow glides and pool tails punish anything but perfect presentation. Trout will usually be rising in a few places, but rising at what? A typical September day might see a number of flies in small quantities on the water: pale wateries, the odd medium olive, grey willow flies here and there, maybe some sedges later in the afternoon. One of those might be creating interest, but it's also as likely that trout will be smutting on tiny midges or similar. Generally it is a time for extending tippets with 6X or finer nylon, carefully degreased, and experimenting with flies down to size 18, 20 or even less. A very small nymph suspended below a dry fly works at times. I often try to spot whats on the surface and put on a tiny Grey Duster if it's white, or a Williams Favourite if it's black - a simplistic approach if ever there was one! A very small Griffith's Gnat sometimes works when trout are taking midges, or see the 22nd September report from Dave Collins about miniature CDC patterns used on the Usk near Gilwern. There is also a good article on the same subject by Paul Proctor in the October edition of Trout and Salmon.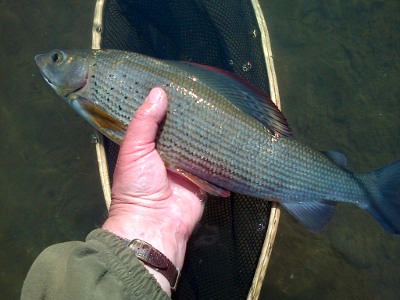 Above: A good grayling from the Lyepole beat on the River Lugg, shown in the photo below.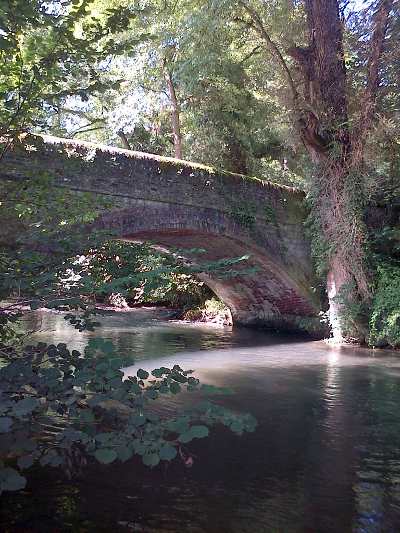 On the Wye below Rhayader, the river benefitted from extra compensation water from the Elan Valley dam complex, and this kept the level on the Llanstephan gauge from going below about 5 inches. Above the Elan junction, the river became very low indeed and there seemed to be little movement in the pools when I looked over the bridge at Llangurig. Although the dam water, taken from far beneath the surface, is distinctly cold, the grayling seem to have grown used to it and they were rising happily enough on some of the warm cloudy days during September. Most anglers fishing the Builth Wells and Erwood beats caught a few and there were some good bags early in the month. A nice example was Paul Madden from Oxford who took 17 grayling to 16 inches from Abernant on the 6th September. Throughout the month, I and a number of clients seemed to be able to get results fishing dry with flies such as Grey Duster or Grayling Steel Blue in size 18, with a few fish taking spiders. The Irfon, always the first part of the system to react to rain, or to the lack of it, eventually became desperately low, although Dave Collins was one of several who had a good day early in the month. This is a great pity, because the Irfon should be at its best right now.
Despite the drought, some of the other tributaries fished surprisingly well during September. I joined others in having good grayling days on both the Lugg and the Arrow, spending my time plumbing the deeper holes with heavy nymphs. I am not sure why, but even on warm days of late summer I find the dry fly is often a disappointing method on the middle and lower parts of these delightful Herefordshire streams. I tend to approach them in much the same way as I would during the frosts of winter, flicking a pair of tungsten loaded nymphs under the trees with a short rod of 8 or 9 feet, making sure to follow the flow right down into the depths. There are big grayling in those holes and lurking around the alder roots.
There were also good results from smaller streams. Jonathan Dabernig from Porthcawl, fishing on the 9th, took 10 trout from the Usk system's Middle Cilieni, including two fish of 14 and one of 16 inches. Of the smaller brooks, the Edw particularly stood out. The Edw is almost always fun to fish; the Foundation offers no less than four beats between Aberedw and Hundred House above the upper Wye valley. Several anglers recorded catches of over 20 trout in a day. Ross Weatherburn from Portishead, who lost count of his fish, wrote: "I have no explanation, but my goodness what a Grand Day Out!"
Let's be optimistic; it has to rain sometime and the autumn is still only just beginning. We say goodbye to the trout fishing now - this species in any case tends to fade from the scene as spawning time draws near - and can turn our full attention to the grayling. October should be another glorious month for catching grayling on the surface; we don't yet have to turn to the heavy bugging tactics. However, as the days and nights become cooler, the hatches of natural fly will inevitably lessen. This can be the time to turn from imitative artificial flies to the so-called fancy grayling patterns, the "flame tails" with a dash of glowing colour added. Nobody quite knows the reason for it, but, as the weather grows colder, grayling seem to develop a weakness for certain interesting colour combinations. These colours are certainly more vivid than you would expect in nature: glistening green bodies of peacock herl, tags of red or orange, even weighted shrimps as pink as a bowl of strawberry blancmange (I know a dedicated nymph fisherman who swears by the colour purple). Once you have located a grayling shoal, it can be great fun to work through the dry fly box and try a few different ones out. It's common to find that after catching two or three grayling, the shoal becomes nervous of that particular pattern, fish come short and swirl or flash under it without taking. Put on a new pattern and you catch two or three more before the nervousness returns and you need to change again. You may end up after half a dozen changes taking grayling once more on the fly you started with. I always try to play hooked grayling out of the swim as quickly as possible to reduce the tendency to spread panic, but changing the fly pattern is often as good as resting the shoal to get the grayling taking again.
Here are some autumn dry flies which I have found useful on our rivers. Grayling like a small fly, so I tie them in size 16 and 18. I use Partridge Captain Hamilton hooks when I can get them, but the Varivas 2100 is a pretty good modern substitute: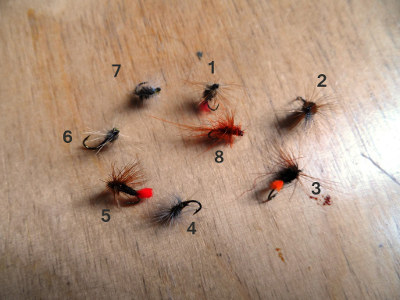 Autumn grayling flies. 1. Sturdy's Fancy; 2. John Storey; 3. Treacle Parkin; 4. Grayling Steel Blue; 5. Red Tag; 6. Brooke's Fancy; 7. Yellow Bumble; 8. Orange Otter
Red Tag: Probably the most famous of Yorkshire grayling patterns, but it originated from our border rivers under the name of the Worcester Gem. This is a most wonderful fly for taking grayling.
Treacle Parkin: You might need to come from the North to know that the name means treacle tart – it's the same fly as the Red Tag but with a tag of sticky treacle orange.
Grayling Steel Blue: Designed by Roger Woolley, recommended by Reg Righyni (and there is no higher recommendation), this is duller in colour than most of the fancy flies, very insect-like, and I think it probably gives the impression of a hatching olive. I use it a lot, both dry and wet.
Orange Otter: This invention of the Rev Edward Powell for Shropshire streams, supposedly imitating a soldier beetle, really is quite vivid and rather unusually has the hackle in the middle of the body. It certainly doesn't look like anything natural to me, but I suppose it is difficult for the grayling to ignore and it has a well-earned reputation for bringing up fish which were not rising before. On its day, it works very well.
Yellow Bumble: A first class grayling pattern with a palmered hackle, originating from David Foster of Derbyshire.
John Storey: Another Yorkshire fly, named after a famous river keeper on the Rye. This is another one which looks more like a natural fly, although it has an unusual forward slanting wing. Wye grayling are certainly very keen on it.
Most of these patterns also make good wet flies, provided they are dressed with a soft hen hackle in place of the stiff cock hackle of the dry version. I dress them on size 14 and 16 hooks, slightly heavier in the wire. A reliable wet fly cast I can recommend for fishing into November would be Red Tag on the point, Yellow Bumble on the middle dropper and Grayling Steel Blue on the bob.
Oddly enough, some may think, I have had less success on our rivers with those famous white hackled flies designed for chalk streams, such as the Grayling Witch family by Rolt, Green Insect, Sturdy's Fancy etc. Perhaps I should have given them a longer trial. Others may differ and there is certainly plenty of room to experiment. What about trying out Brooke's Fancy, invented by a Ludlow postman and with a white hackle and a purple body? A large number of local patterns are listed in Roger Smith's book Fly Fishing the Welsh Borderlands.
Tight lines!
Oliver Burch
---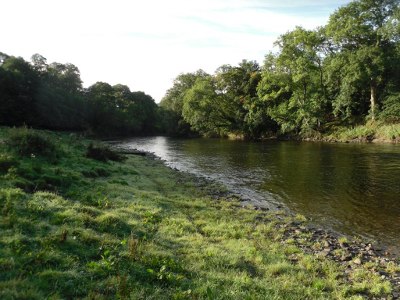 The Abernant beat of the upper Wye in low water.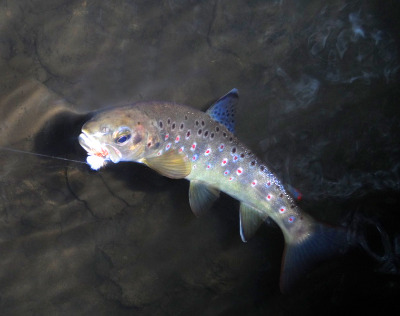 Forest of Dean streams have a good head of wild browns. This one was caught from the Cannop Brook.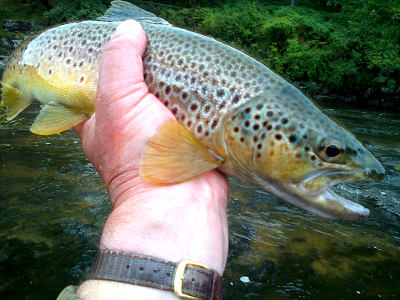 A good August trout from the Pwll-y-Faedda beat on the upper Wye
August 2014
"Dog-day August" is notoriously the worse trout fishing month of the season although, as it is also a holiday month, it tends to be a busy one on the river. In fact, this year's August turned out better than most of us had expected. Temperatures were cooler, cloudy days were the norm and there was at least some rain after the heat and drought of July. Admittedly the heavy precipitation and prolonged high water which the salmon anglers have been hoping for never quite arrived. Instead, there were patchy showers in various parts of the catchments over a long period; rivers and tributary levels were hopping up and down and sometimes muddy water spoiled a planned fishing day. Some tributaries didn't receive enough water to move much at all. By the end of the month, the upper Wye at least was up to around 12 inches on the Llanstephan gauge and showing a tinge of colour; these are near-perfect conditions for trout and grayling fishing and a great improvement on the 3 inches which the gauge was showing for a long period during July.
And anglers were out and about catching fish, particularly on some of the smaller streams which really showed what they can produce. PR from Belgium (staying at Clodock, I think) during a couple of visits caught over 40 trout from the Monnow at Lower Longtown including quite a number of 14 inch fish. He used a little Hair Wing Sedge, a fly which has also been kind to me this month, and I think the ghost of old Canon Eagles would have been smiling on him. JD from Porthcawl caught 19 on the Middle Senni; AS of Newent had 17 from the Olchon with a nymph; ST from Stoke on Trent took 15 in the gorge of the Clettwr where JL from Bedfordshire also got 10 to 14 inches with a Tenkara rod (and somebody reported reaching the top of this beat, which certainly shows stamina). JL also had a successful day on the little Dore at Abbeydore, taking 11 trout and 5 grayling with a weighted nymph while SE from Somerset using the same method got 11 trout and 6 grayling from this very overgrown stream. Many anglers had fine catches from the Edw. Forest of Dean streams were producing little trout as usual.
The main rivers also accounted for some good days. MB from Cwmbran took 25 trout and 5 grayling from the upper Wye at Gromain. CK from Stourbridge made a catch of 18 grayling and 7 trout from the Irfon at Aberbwtran. Given the time of year, it's perhaps no surprise that fewer large fish than usual were reported during the month. However, HW of Penclawdd took 13 trout including one of 18 inches from the upper Usk at Trallong and Abercamlais, using French leader and the duo method, while JM from Birmingham had a fish of 17/18 inches from the upper Wye at Clochfaen on a dry fly. Meanwhile on the Irfon at Llanfechan, AP from Cheltenham had a 16-18 inch trout on a bead head GRHE at the back end of August. Even I managed to get a couple of respectable trout, from the Monnow and the Wye, using that little Hair Wing Sedge.
What is the outlook for September and October? For me, this should be the cream of the fly fishing year, particularly on those of our rivers holding grayling. Flies should continue to hatch and fish will normally be very ready to rise to the surface. Expect to see dark olives again (but slightly smaller versions of the fly we knew in the spring months), medium olives, pale wateries, various sedges, the willow fly bumbling about in clumsy flight, and possibly some blue winged olives which have been rather lacking so far this year. On the upper Usk, if you fish a beat like Fenni Fach, you might see an unusual creature: the autumn or august dun, which is a big handsome fly with a rich chestnut coloured body, very like a march brown with which it used to be confused. If you do come across it and the trout are taking notice, whatever you keep in your fly box to imitate a march brown will do just fine. It is perfectly possible to encounter a really good Usk trout during September, but these fish will not be as naïve as they were during March and April.
On the Wye and its tributaries, it is the grayling which will extend our season through the autumn and into the winter. Already they are coming into condition and becoming more prominent in catches. It's very much a matter of personal choice, but I like to fish the top of the water when I can, reasoning that there will be time enough for heavy nymphs later when the fish stop rising. So I see these months as quintessentially the time to a fish a dry fly on the surface or a team of spiders just under it. Usually I take two rods to the river, one made up for each method, and see what works best for each pool. While natural insects are still hatching, I use more or less the same dry fly patterns as for trout, but, remembering that our grayling like a small fly, mine are nearly all tied on size 16 or 18 hooks. Most general purpose imitations work nicely, so carry on with Adams or Parachute Adams, Elk Hair Caddis or any other in which you have confidence. I very often do well with a little Grey Duster, which is extremely easy to make and a Welsh fly to boot. Usual suspect patterns in size 14, 16 and 18 for the North Country spiders, which take grayling as well as they do trout. There is much to be said on the subject of grayling fancy flies, the so-called "flame tails" which come into their own when natural fly hatches dwindle, so more of that next month.
Oliver Burch
---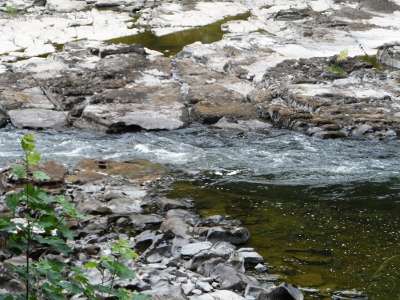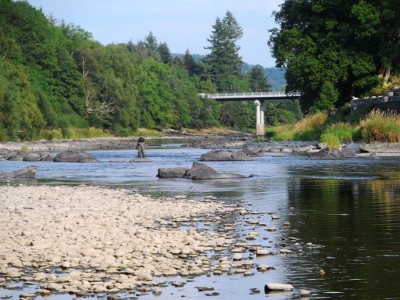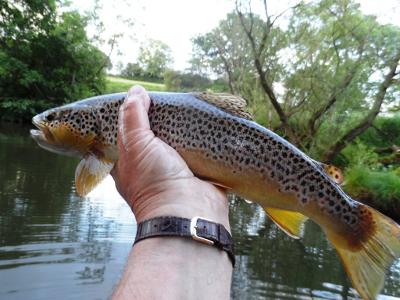 July 2014
There have been showers at times but, overall, very little rain in our catchment. I will remember this July for some of the lowest water levels seen on our rivers, particularly the upper Wye. At times the authorities were persuaded to let in some compensation water from the Elan valley dams, but it does not seem to have made a huge difference. With the Llanstephan gauge hovering between 0 and 3 inches, whalebacks of bleached shingle were exposed and seemingly acres of bare rock, while the current set in unfamiliar directions across the sluggish pools. At Erwood, I watched a friend ford the river in calf length wellington boots and stay dry.
However, a fishing trip under drought conditions is far from wasted. For one thing, it's an opportunity to learn details about the bed of the river which are normally hidden from sight. At Pwll y Faedda and Abernant I found myself wading in places I had never been before and probably will not reach again. And in fact the river fishing this last month has been better than you might have expected. Admittedly the larger fish stayed away, but trout and grayling have been prepared to rise to both dry fly and spiders, even during bright sunshine. Careful release was necessary in the warm water and a lot of fish in the Wye were afflicted with fresh water lice - a parasite which probably explains the irritated leaping seen lately. Elsewhere, there were reports of good trout fishing on the upper Arrow during early July, many of the shaded brooks were still in reasonable condition and the main stem of the Monnow has fished surprisingly well throughout. Despite the heat, both alone and with clients, I had some interesting evenings fishing a small Hair Wing Sedge pattern on the Monnow with plenty of trout in good condition prepared to rise.
It seems that the warm and dry conditions are to continue for a while. Here's an idea to try out as darkness falls, after what may well have been a difficult summer evening using more conventional methods. Bustard fishing originally hails from Cumbria where the dialectical word "bustard" refers, not to a large and very rare bird, but to the common or garden sedge or caddis flies which are seen more and more on the surface of our rivers as the summer moves on. The method works as well in Wales as it does in the north-west. The plan is to cast a fairly large wet fly, size 10 or even 8, right across the river and bring it at back at a brisk pace so that it furrows across the surface. I usually scale up from my usual river trout tackle for this somewhat unsubtle game and bring along a 6 weight rod usually reserved for rainbows in still water, equipped with a floating line and a fairly short strong leader. In fact, the whole process is not much removed from fishing a surface lure for sea trout. Some anglers strip the fly back quickly in a series of pulls; I prefer to figure of eight it steadily about as fast as I can go. Point the rod down the line and wait for the line to lock up before lifting into the fish. I have a favourite pool for this on the middle Usk where I can make my way up the tail looking directly west into the after-glow where the sun has just set. As a result, I can clearly see my waking fly on the gliding surface and the bow wave of following fish as they close in on it. The fun might last for half an hour before the river goes quiet in full darkness. The same idea can also be used very effectively in lakes during these hot months. I even caught a grass carp once on a Bustard Fly cast from the dam of a Gloucestershire pool at the stroke of midnight. Imagine my shock when I switched on the torch and saw what was in the net! (Whatever you may be thinking, this was in fact a legal expedition).
Still, I have to admit that Frederic Halford, originator of the dry fly code, probably would not have approved of what I have just suggested to you. Is it lure fishing? Well, the fact is that wild trout can get quite interested in chasing as the light fades. The big Bustard Fly may imitate a caddis fly or even a moth – you could use a Balloon Caddis on lighter tackle if you prefer to be slightly more imitative. It's really surprising how a brown trout you have marked rising on one spot earlier in the evening, the "picky" one which kept ignoring the dry patterns you were presenting to it while continuing to take naturals...yes, that very same difficult fish... will whirl round on its tail after dark and chase a Bustard Fly half a dozen yards before nailing it hard. If you can suppress any ethical qualms, here are some Bustard patterns you might like to experiment with: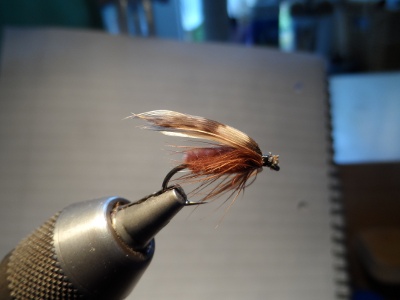 Red or Brown Bustard Fly:
Hook: 10 or 8 wet fly
Thread: brown
Body: crimson red or worm brown chenille
Throat hackle: soft brown hen
Wing: mottled hen pheasant wing, rolled and swept back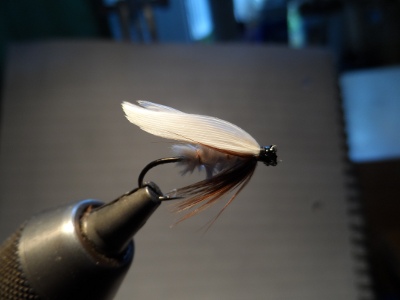 White Bustard Fly:
Hook: long shank 10
Thread: black
Body: white chenille, tied short (half shank length)
Throat hackle: soft brown hen
Wing: duck or any white feather, rolled and swept back

Oliver Burch
---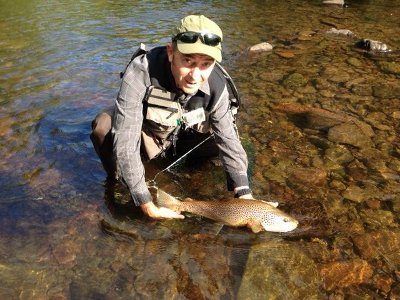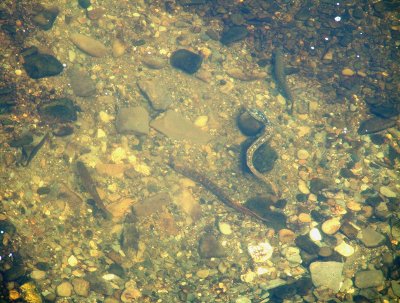 June 2014
June was an interesting month. We started with floods and for a few days it was a matter of finessing between the beats in an attempt to find fishable water anywhere. As the levels dropped, trout fishing became generally very good indeed and those of us who hoped for one last try at mayfly-feeding trout were rewarded. For a couple of weeks anglers were enjoying excellent sport from most areas, including various small streams. There were reports of more good days than I can list here, but one very nice and enviable example came from SJ of Llandysul, who on the 14th at Pantyscallog on the upper Usk had two trout of 18 inches in his bag of 11 fish. Also on the upper Usk, a visiting angler from Madrid managed a 4 ½lb wild brown from the Trallong & Abercamlais beat. I was also impressed by a 16 inch trout taken by CP of Swansea in a good catch from the Clettwr gorge. He was thrilled, as I would have been. Read his dramatic report dated 1st June on the Anglers' Feedback page.
However, from around the middle of the month as the showers stopped and the sun shone more regularly, both main rivers began to drop quite quickly. At this time of year, nearly as much water transpires into the air from trees in full leaf as drains into the river. Trout and grayling catches dropped off accordingly, although you will see from the coarse fishing report that chub and barbel anglers were doing very well on the Wye during this period.
Visiting anglers fishing the Wye or Usk during June may have accidentally come across two curiosities, both of them rare enough to have strictly protected status. One is the twaite shad, which usually arrives into the Wye first - one took a salmon fly I was fishing on the upper river on the 15th May this year - but they are usually piling into the lower Usk by the first week in June. The silver scaled shad is a species of herring, with that same sulky lower jaw you see on its larger cousin the tarpon, and it comes into fresh water to spawn. Twaite shad in our rivers usually weigh from 1.5 to 2.5 pounds and they are quite ready to seize almost any wet fly or even a Flying C intended for salmon. Even though your hook-up was accidental, if you catch more than one or two, move on, because they are a shoal fish, quite delicate, and do not recover easily after being played and released.
You are not likely to catch one of the big sea lampreys which also arrive to spawn in fresh water during June, but you might well see one moving over the bottom if the water is clear. Like a great eel, a sort of mottled olive above and with a yellowish belly, it may measure 2 feet or more in length. Like the salmon, it builds a kind of redd in the gravel for its eggs, usually circular in shape, about the size of a dustbin lid, and white in colour where the stones have been moved. It's interesting to watch a female lamprey do this, attaching herself to a stone with her sucker mouth and then swimming in reverse to pull it out of position. Meanwhile, two or three smaller males will wait nearby. By all means watch, but don't stand close enough to disturb the process.
What are the prospects for July? In a typical British summer (if there is such a thing), I wouldn't expect the main river stems to fish so well by day in July and August. The sun is high, the rivers are likely to be low and warm, and the dog days are approaching. Consider an evening session with blue winged olives in mind, or perhaps make a very early start and get on the water before the sun does. If you have a short rod and some casting skills you would like to hone, this would be a good time to try out some of the small shaded brooks on the passport scheme. A small dull coloured dry fly is probably all you need. Alternatively, these are just the months to fish the mountain lakes. If you have a day to spare – it's a long expedition for most of us – I can thoroughly recommend Llyn Bugeilyn high on the Cambrian moors as a wild trout experience you will not forget. Try an evening on the beautiful Talybont reservoir off the Usk valley and hope for a little breeze and a ripple to bring the trout inshore. Upper Neuadd reservoir, surrounded by the Beacons peaks, has one of the most spectacular panoramas as background for a day of upland fishing I can think of. Tight lines!
Oliver Burch
---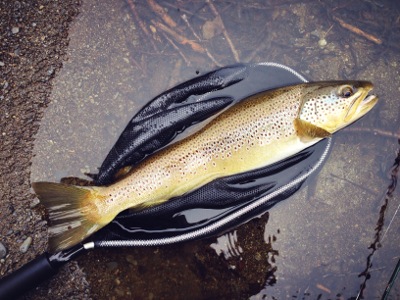 Another good sized wild brown from the Clochfaen water on the upper Wye. This one was around the 3lb mark.
Photo: Sean Afnan Morrissey.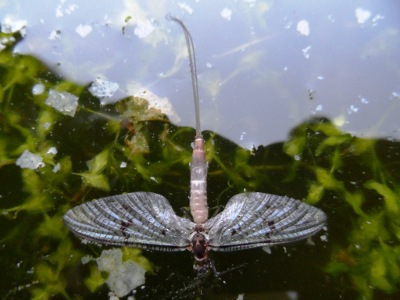 Mayfly spinner found in the water butt.
May 2014
In the April report I complained about somewhat disappointing spring fly hatches, particularly the lack of grannom. Hatches during May have been more impressive and many anglers reported rising fish and good catches. A few individual reports which caught my eye this month included another big trout from Clochfaen (22 inches by Sean Afnan Morrissey from Reading), a number of good days on the upper Arrow, and mixed opinions about the new Taff fishing around Merthyr Tydfil. Much of this is urban fishing, it cannot be denied - you may well find yourself working upstream between a bus stop and a supermarket car park – and the river is stocked in places. On the other hand, the Taff is wonderfully restored, full of fly life, and it does grow some big trout, including some wild fish. Lower down there are grayling too. Give it a try and see what you think.
I shall remember a day in early May on the middle Usk with a client new to river fishing, when for once all the stars were in conjunction. A little overnight rain had raised the water level by a couple of inches and there was just a tinge of colour in the river. The sky was clouded, the light was soft and, while there was a breeze, it was not unduly cold. We had no dramatic large scale hatch at any time, but instead up-winged flies were trickling off steadily all through the day: mostly pale coloured olive uprights and the smaller, darker medium olives, a few large brook duns for a while, and the odd yellow may dun. Trout were rising to feed in every pool, and they went on rising all the way through to 6 o'clock. It was an indication of what the Usk can do when she smiles on you, and every fish in the river seemed to be showing itself. Right place, right time and right weather had somehow combined. We had a fascinating time, casting and catching fish on the usual leash of spiders and a simple Adams dry fly, varied occasionally with a Deer Hair Emerger.
Another morning trip, fishing for myself this time on the lower Usk, was more thought provoking. Olive uprights and medium olives were either fluttering about a wide gravel flat or drifting downstream, a few good trout were showing steadily and a Parachute Adams seemed to be acceptable. At first it was only a matter of getting the presentation right. But on my second trip up the pool, hoping to repeat early success, something seemed to be wrong. The fish were still rising here and there, but with gentler sips, and the Adams was now being ignored, time after time. It was only when I took a closer look at the surface gliding past me and saw little inky coloured flies in the film that I realised I had made one of the classic angling mistake. Iron blues had begun to hatch and the trout were showing a definite preference. I did have an iron blue imitation, but it was in my car, nearly a mile away! I rummaged through my box and found a little dark grey F-fly which eventually fooled a couple of fish.
As with all hatches this year, the mayfly was early. The first sightings came around May 10th and soon anglers were reporting good catches from the Monnow system, the upper Arrow, Llynfi Dulas and numerous smaller brooks over both catchments. It's a curious fact that, while you might see the mayfly almost anywhere on our rivers (and the other day I found a spinner in my water butt, a good mile from running water), it is on the tributaries rather than the main stems where trout are more likely to be seen reacting. Look out for the big white fly followed by those unmistakable "ker-splosh" rises from late morning on. There are a host of wonderful mayfly imitations available, but I find myself fishing just a couple of impressionistic rather than accurate imitations these days: Mike Weaver's Hackle Mayfly and an Irish wet Gosling (fished awash), both in size 12. A large Deer's Hair Emerger, representing only the 45 degree angled wing of the natural fly, also works surprisingly well as does Peter Deane's Shadow Mayfly, also without a tail. Some people fish a Grey Wulff or even a big Grey Duster. The main thing is to offer a larger fly on a thicker tippet. Judicious top and bottom pruning with scissors will turn most hackled patterns into spinner versions if needed later in the day.
On the 23rd May some very heavy rains brought flooding to the rivers and the mayfly fun came to a halt for a while. At the time of writing, just before the end of the month, levels are still high with more rain predicted. Salmon anglers may be rubbing their hands thinking of running fish, but extended summer floods are frustrating times for trout fishers. We can hope, perhaps, for a week or two more of the mayfly when the river levels fall; meanwhile, it is probably warm enough for the mountain lakes to provide some sport. Talybont Reservoir in the Beacons, one I usually reserve for July or August dog-days, is already fishing well during the evenings.
Oliver Burch 29th May
---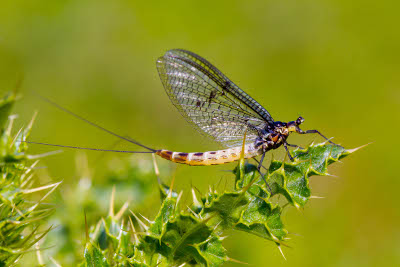 E. Danica - one of the mayflies expected to start hatching in the Wye & Usk catchments next month.
Photo Steffan Jones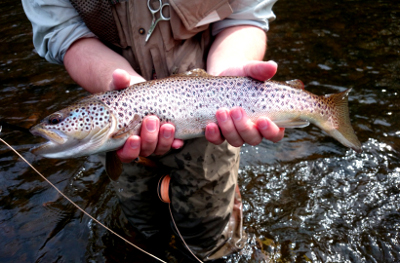 A 20" brown trout caught by James Bullock from the Ashford House beat on the Usk on 24th April.
Photo: Phil Bulloock

April 2014
Over the six weeks since the last report, main rivers continued to run relatively high, buoyed up by the reserves of ground water. On a couple of occasions, quite modest amounts of overnight rainfall produced a quick rise and colour in the river, this resulting from still saturated soil and the fact that there is not yet full leaf cover for water to be transpired away by trees. Water conditions like these are usually good news for the spring angler. However, the combination of cold nights and very bright days before Easter, while it favoured the mountain bikers and canoeists, it didn't suit trout fishermen so well and catches only picked up when we began to experience more cloudy days. When conditions were right, some good trout catches were made with dry flies and spiders on both Wye and Usk.
Fly hatches have been rather disappointing and our "resident entomologist" Dave Collins suspects the amount of gravel moved around during winter floods is to blame for damaging the more delicate nymphs. Early spring large dark olives were few in number and the grannom were a great disappointment. While there were a few around during most days in mid-April, I never saw the kind of "blitz" hatch we have got used to in recent years, with the little creatures taking to the air in their millions and every trout in the river showing itself. The happy exception was the march brown, and at the end of March I saw two really good hatches on the upper Wye and plenty were showing on various parts of the Usk. Not long ago, we were being told that this famous fly was extinct on our rivers; now it seems to be making a very welcome come-back. All hatches have been on the early side, in line with the warm winter, and we are already seeing medium olives, yellow mays and the first iron blues.
"The first flood in May, takes the smolts away." Large numbers of salmon smolts are now in evidence on some of the gravel flats of both main rivers, silvering up and getting ready for the sea. Do move on if you find yourself catching the little fellows, which will seize any small wet fly and do themselves no good in the process. Better by far to meet them in three years or so.
Small streams take time to warm up, and it's always tempting to rush things and try too early, although nymphs dropped into deep holes can save a cold early season day. Good advice is to go by altitude: Forest of Dean streams, not much above sea level, are reliably early in producing rising trout (although, as Severn tributaries, they open on the 18th March); the Usk tributaries in the high valleys around Sennybridge are likely to be the last to come into condition. Some anglers have already had good results. NW of Bromsgrove took around 30 trout with a nymph from the upper Arrow at Kington. NC from Warwickshire had a good day on the neighbouring Hergest Court (booking office), which is another reliable spring beat. The Escley Brook also fished well, with Dave Smith of the Monnow Fisheries Association making good catches. The fish of the month must surely be the 20 inch brown trout caught with a dry fly on the Irfon at Gofynne by SS and his son from the West Midlands.
From the last week or so of May and into June, we can look forward to the excitement of some mayfly fishing. The big white fly can appear almost anywhere there is enough silt to accommodate the nymphs, but generally the tributaries and brooks provide better mayfly fishing than the main river stems. Consider the Lugg and the Arrow, top of the Edw, the Llynfi Dulas, or almost anywhere on the Monnow system including the Dore and the Dulas. Indeed you can have mayfly fun on some of the smallest brooks such as the Garren and Cannop in the Forest of Dean.
Oliver Burch
27th April 2014
p.s. A belated thank you to Dave Collins for the use of his photo of a march brown in the previous report.