Trout & Grayling Report
by Oliver Burch
December 2017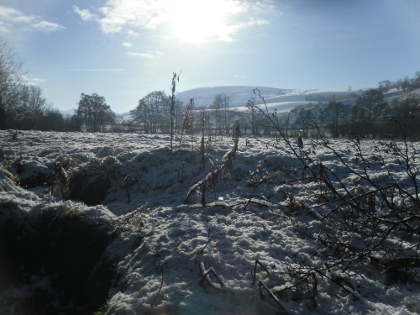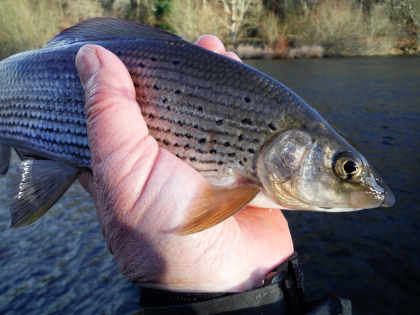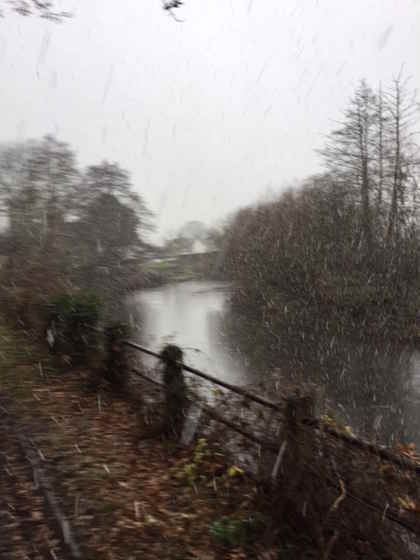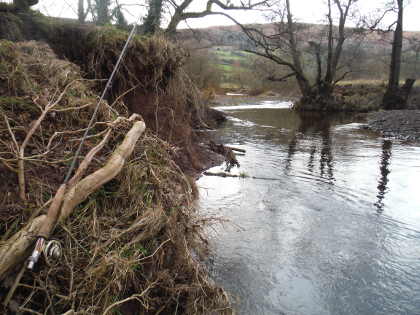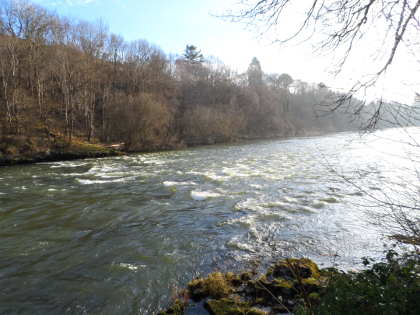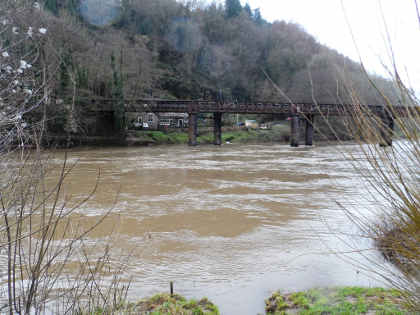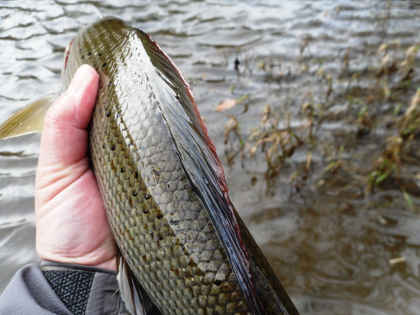 "Any idea what you want for Christmas?" I asked our grandson Eddie at the beginning of December, speaking in what I hoped was an off-hand and artless sort of way, hoping to get a clue from him.
"Just get me Father Christmas's phone number" was seven year-old Eddie's response. "I will handle the rest."
I'm sure that boy will go far. And as it turned out there was plenty of time for Christmas shopping during this last month, because there was precious little fishing to be done. December opened with a few days in which the main Wye was much too high, but a grayling day was certainly possible on some of the tributaries. Next came heavy rain which put all our rivers without exception into flood, then equally heavy snowfall and a severe cold snap which seemed to disrupt life in the Welsh Marches more than any other part of the country - Shawbury Airfield in Shropshire recorded minus 13 degrees one night with a northern wind blowing. All this precipitation was followed by warmer weather, but the steady thaw kept all our rivers running full for quite a while. It was not until Christmas Eve that Lyn Davies and I managed to find the Irfon down to 0.60 on the gauge, still running high, cold and clear, and caught a few grayling from the Cammarch Hotel waters. It was a brief but welcome respite and quite a warm day, despite continuous drizzle. More rain fell during Christmas night and the river quickly rose again. After Boxing Day, more snow, more rain, then a gradual thaw which kept the rivers running fuller than ever; there were no more fishing chances during 2017.
*******
Let's look at the river reports we do have. On the 1st of December PA from Bridgnorth was unlucky enough to lose a rod with reel and line somewhere below the bridge at Lyepole. As I recall, the Lugg was already going quite hard then, but I'm sure this should turn up sooner or later. The rod was a 7ft 6 inch Snowbee and PA can be reached on 07976 22631. On the 3rd SC from Landeilo Graban fished the Irfon at Llanfechan. It was a relatively warm day, the gauge at Cilmery was on 0.58 and he caught 13 grayling. I was interested to read that 8 of them were taken on the dry fly. (However, now that we have reached December, can we all agree that grayling reported are assumed to be caught on the nymph, unless I state otherwise? It will save much space). On the same day, LS from Walsall with a friend booked Doldowlod, but something went wrong with the system (the folks at WUF are checking) and they didn't receive the map and directions upload link. They also experienced rising fish and of their 8 grayling, 3 were on a dry Griffiths Gnat.
At this point the weather became really difficult, with first heavy rain and then snow. On the 8th RH from Bath fished at Skenfrith in zero temperatures with fresh snow on the bank. He blanked for grayling, but did see salmon in the Monnow. It's encouraging to see salmon which have managed to pass the high Osbaston weir and its turbine at the bottom of the river. And of course there is the Bell Inn, invitingly present by the bridge at the head of the beat, so that it is difficult to go home without popping in to check the taste of the beer. RH also saw a dead eel, which is less encouraging (I'm assuming it was an eel, not one of the last post-spawning lamprey corpses). On the 9th AS from Newent had a really super day at Lyepole, again with the temperature around zero but with the sun shining. He had 30 grayling from 7-16 inches. Given the difficult weather conditions before and after, combined with fairly high water on the Lugg, I think this was something of a triumph.
According to the catch returns, nobody was able to fish any of our rivers due to the floods for the following 10 days. We don't often experience such a gap. Then on the 19th AB from Bromsgrove tried the Irfon's Colonel's Water. Although this is relatively near the head of the river, the gauge at Cilmery downstream was still showing something like 0.75 metres. AB described the current as very fast and strong, as I can imagine, and he managed just two grayling. CP from Clevedon tried Craig Llyn on the following day with the Rhayader gauge registering 2 feet and also managed a brace. Next day JH from Hereford managed a brace from Doldowlod before the level rose even higher. The Irfon was just fishable on Christmas Eve, but rose again that night. So the 2017 season ended with nothing more to report, although there may just possibly be something submitted after the holidays.
*******
"A Day in the Life...a fishing guide's diary:
Up early as usual, pack the car and get going just as it gets light, heading today for the upper Wye near Erwood. Across the Forest and over Monmouth Bridge where I take a glance left to the dead tree overlooking the river. Three cormorants are there today, sitting hunched like undertakers on a cigarette break. This tree is a roost and a fishing platform; it's never empty. While fishing later on I see three more flying up the main Wye channel and I think I get a distant sight of some goosanders. On the Abernant beat, while approaching slowly along the bank, I get a chance to count the goosanders on the water in Stone Catch. There are no less than 13, which move off downstream from the grayling run as I approach."
Each generation of anglers and river keepers seem to have their own worries about predators. It's the case that cormorants used to be rare birds, and birds of the coast at that. I remember, as a schoolboy, having one pointed out to me. It was sitting on a rock off the Devonshire coast, in that characteristic pose with its wings spread out to dry. I had seen nothing like it before, certainly not inland. Writing nearly 70 years ago in Keeper of the Stream, Frank Sawyer averred that cormorants along with ospreys, eagles, gulls and the like had once been a threat to fish, but one which by then belonged to the distant past. In Sawyer's time, the avian predators he had to worry about were confined to kingfishers and herons. He would be shocked to see what I have seen on his beloved Wiltshire Avon recently! AH Chaytor, writing in 1910, was more worried about sea gulls, particularly the black-headed gull, which had taken to attacking salmon parr and smolts in the River Tyne. Sea gulls seen inland were a recent and surprising phenomenon then. Apart from cormorants, goosanders are another relatively recent arrival to inland British waters, but they seem to have established themselves with remarkable success. An ornithological paper estimating that there are no more than around 10,000 individuals regularly present in the UK seems to me quite unbelievable. You might ask why so many anglers are delighted by the sight of a fish-eating otter, but not a cormorant? To my reasoning it is simple enough; otters are rare and cormorants are all too common.
Where is this leading? Well, last month the Angling Trust re-opened their Cormorant Watch scheme, by which anglers can go online to record their sightings of cormorants and other fish-eating birds. You can find Cormorant Watch 2 at:
http://www.cormorantwatch.com/?dm_i=3XSU,AHMK,2NFO0X,12HQW,1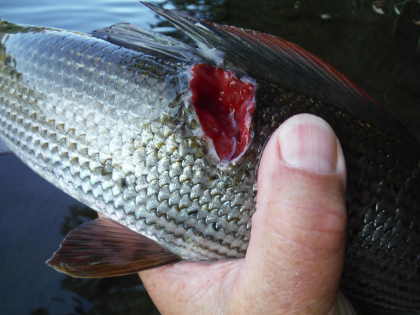 You may be one of those who wonder why anglers are being set this homework again. It must be obvious to anybody who spends time on rivers and lakes that inland cormorants and goosanders long ago reached numbers which must surely dispel any argument that either of them are threatened or vulnerable species in need of protection. I'm sure the NRW and EA bailiffs or anybody else who works on the river will vouch for the numbers; I certainly see them on a daily basis. Since the cessation of predator control many years ago, both species have multiplied with tremendous success, to the detriment of fish stocks. Cormorants generally hunt alone, but with deadly effect, using bills like serrated daggers to rip up many fish more than they actually swallow. They swim fast and often attack from below. Goosanders, if you get to watch them, work in a team, using a line of birds to herd the fish rather like the old game of fox and geese played on a draughts board. Their co-operative fishing method is also very efficient. Meanwhile repeated demands from some bodies for ever more evidence that cormorants and goosanders are present and doing harm before any significant action is taken to control them do seem rather like expecting a farmer to be happy with foxes in his lambing fields or in his chicken runs. If he doesn't like it, it is left to the unfortunate farmer to prove somehow that foxes are not only there but also harmful to lambs or chickens.
According to the Angling Trust, the first Cormorant Watch produced over 80,000 sightings recorded during one year. (According to another account 120,000 sightings were recorded). Those recordings add up to a lot of time spent by busy people who probably have plenty of other things to do. Of course many of these may be multiple sightings of the same birds, which naturally opens the figure and methodology up to challenge. Nevertheless, the number of birds licensed to be shot during 2016 (again according to the Angling Trust) was around 3,000 cormorants and, I was very disappointed to read, exactly 283 goosanders, despite many more applications having been made. This hardly makes any significant impact on the problem. Let's just check those figures one more time. Research sightings of 80,000 or 120,000, depending on which figure you take, has resulted in permissions to shoot a little over 3,000 birds. I don't know how many were actually shot, but presumably some number less than that. I think this tells me that the bird-watching organisations' lobbying of government has been very successful in delaying and reducing efforts by anglers to obtain the right to control these predators in any effective way. It's a classic example of single- species preservation leading to a nonsensical situation.
The Angling Trust will be arguing for licences for 6,000 birds this time round. I'm wondering if that is an adequate target. It seems to me that rather than accepting complex licensing schemes which are surely designed to reduce the effect of our efforts to re-impose effective pest control, we should now be insisting that these species are taken off the protection register completely, at least on inland locations, and treated in much the same way by landowners as, for example, wood pigeons are. To be fair, the Angling Trust have expressed that goal as their preference. Realistically, will a bird cull capped at 6,000 over the whole country make a huge difference? Protection orders were intended for rare or vulnerable species, and this no longer applies to either cormorants or goosanders. It's a personal view, but I think if anglers are being asked to go back to even more evidence gathering with Cormorant Watch 2, it is incumbent on the Angling Trust to use the results this time to achieve for us a really substantial change in policy on these species, one which will achieve effective predator control. We all appreciate what the Angling Trust has done for the sport, but this challenge will require a really determined advocacy effort.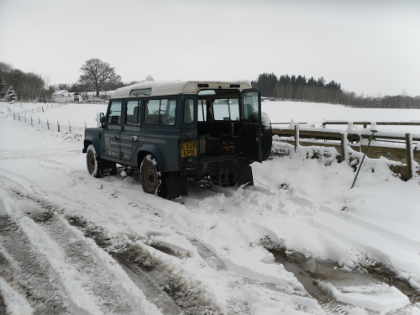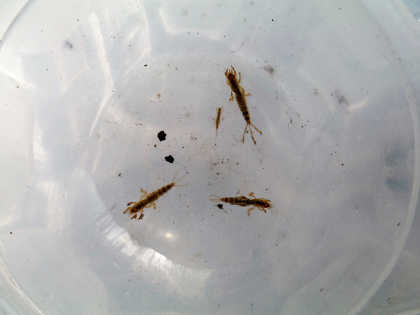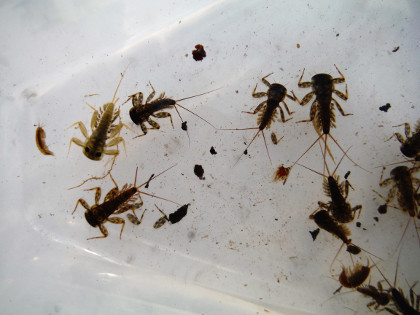 "Diary entry 2...another day, another dollar - the next day in fact - and I am on the road again just after first light with a car full of fishing tackle. This time there 7 cormorants on the tree below Monmouth bridge. I think I see another one flying above the Usk valley and maybe I would see more, but I should be keeping my eyes on the A40 and the traffic. The Irfon at Cefnllysgwynne is my destination this time. But when the clients and I come down to my favourite pool, the very first thing we see is yet another flock of goosanders, 5 or 6 of them this time, scattering in panic from the surface. So it goes on, day after day."
*******
There seems no end to the threats to our precious wild fish stocks. In December's Fly Fishing and Fly Tying Mike Handyside tackles the particular problem of dairy farm slurry and its disposal, an activity which caused a whole series of pollution incidents in our area over the last year. The growing problem seems to be caused by a combination of ever more intensive stock rearing, in itself caused by pressure by supermarkets on milk producing farmers. This, Handyside argues, is combined with the perception by less scrupulous farmers that it is likely to be cheaper to pay the fines levied for the odd pollution incident, rather than investing in expensive containment systems. Meanwhile, they hardly know what to do with the stuff. Advice to farmers is to avoid spreading slurry on fields just before predicted rain, to avoid it washing into water-courses. But some of them may deliberately do just that, as the rain will wash the evidence away to the river. Slurry contaminated water is not only poisonous to fish and invertebrates; it is harmful to anglers or swimmers. The Angling Trust's CEO Mark Lloyd has taken NRW to task on this issue, and in a letter to the Welsh government he complains of negligible fines and a general lack of willingness from NRW to take a firm line on pollution incidents, following a policy of advising rather than prosecuting and so risking offending the powerful agricultural lobby. Handyside makes the additional point that the Riverfly Partnership, a scheme involving volunteers checking non-vertebrate life on a monthly basis, should provide an early warning system for future incidents. I am one of those volunteers and can confirm that most of the others are anglers. Whoever said that anglers don't work harder than almost any other group for the environment? Handyside's article is well worth reading.
*******
The Angling Trust has been in action again defending the future of trout fishing at Chew Valley Reservoir, an activity which Bristol Water Co. has threatened to scale down quite drastically. This is rather a sad state of affairs. Bristol Water Co should be proud that it pioneered the whole sport of reservoir trout fishing in the UK, initially with Blagdon and much later at Chew. I accept that reservoir trout fishing is a commercial enterprise, and that therefore it cannot continually run at a loss. But it does seem extraordinary that wonderful trout fishing in beautiful scenery such as Chew provides cannot be financially viable and one wonders how the calculation is being made. The proponents of continuing fishing are emphasizing the secondary financial advantages to the region of trout fishing at the reservoir. I note that local MP Jacob Rees-Mogg, a gentleman whose pronouncements I always find most interesting, is on-side with the initiative. Meanwhile, perhaps we should all make a note to enjoy a day on Chew next season - it is one of the truly great boat-fishing reservoirs with extensive shallows to drift and renowned for use of the dry fly.
*******
At this time of year, fishing clubs are preparing for their AGMs in which the past season and the future prospects will be discussed with the wider membership. I can't remember the mood in SW Wales being quite so gloomy before. It's no secret that we have had a very bad sewin season on the Loughor, which is of course a little river known for its big fish. This decline didn't happen suddenly. For quite a few years we got used to the idea that there might only be one or two takes in a night. On the other hand, on this particular river there was always a good chance that such a take would involve an aggressive trout of more than 2 feet long (my first one was 8.5 pounds and the club record is 17 pounds), so the sense of anticipation was real enough. For a long time there was much agonising on how to improve the chances of a hook-up, experimenting with different fly patterns and tubes, discussions of rod angles, lines and striking techniques. The run hasn't quite disappeared and last month chairman Eifion, who spends more time on the banks than most, saw a hen sewin of about 7 pounds accompanied by two smaller males waiting to spawn. But through the summer there have been an awful lot of blank nights and very few catches. Committee members, many of them very experienced anglers who live locally (I guess I'm the exception), compared notes on a depressing 2017 season and shrugged their shoulders. I won't rehearse the possible causes again, all of them much discussed previously, but we wait now to see what by-laws NRW will recommend for game fishing during 2018. We also worry about how many members will find it worth- while to join next year and what will be the effect on the club's finances. We are even giving some consideration to taking on a lake to organise put and take rainbow trout fishing. A few years ago such a project would have been unthinkable for a club of members dedicated to wild sea trout and salmon.
Meanwhile debate continues to rage about how rod and line fishing for migratory fish should be governed in Wales. Everybody I know has taken the time to fill in NRW's consultation on the by-laws. (We do seem to be continuously filling in consultation procedures lately. I do hope that the organisations which launch them take note of the opinions expressed, rather than just use consultations as a means to wear down their critics). My own view (and that of the WUF) is that river catchments should be considered individually, rather than applying blanket regulations to the whole of Wales. Where there is any doubt about sustainability of stocks, I am fully in support of total catch and release for migratory fish. I made my own decision about this some years ago although I am regularly invited to sign petitions pleading for catch and kill to continue. I think anglers have a right to be very vocal about various causes which damage our fish stocks, but we should not have a blind spot about the damage we do ourselves. Otherwise, I'm a selfish fly-fisherman, so personally I don't mind at all if further restrictions are imposed on spinning and worming. However, I do appreciate that there are some small rivers which can hardly be fished with a fly rod, so that there might be a case to allow other methods on them. Similarly there are some deep main river beats which only suit spinning. The choice here might be between continuing to allow spinning or stopping fishing altogether.
The subject of hooks to be used is a controversial one and I have heard a variety of arguments. Again, here are my own views, assuming that compulsory catch and release will be imposed. A very easy rule to apply would be to ban double hooks above size 6 and treble hooks above size 8. My selfish reasoning is that I have a preference for using Esmond Drury trebles for flies tied size 10 and down, as I never think small doubles have quite as much gape as I would like. When using a tube fly for salmon in the spring, I don't believe that size 8 trebles do much harm, although I would be happy to substitute tube doubles. My sea trout tubes are usually armed with size 10 or 12 trebles which give a surprisingly strong hold. I do believe that big trebles on Flying C lures can be very damaging and they should be banned. I don't have strong thoughts on single hooks as I don't use them in large sizes much.
I want to keep the barb, although I prefer a small one combined with a short point. Trout and grayling anglers who fish nymphs tied on barbless hooks with long in- turned points argue that these are just as good as hooks with barbs. So they are, when you are playing fish at close quarters on a long rod with a very fine, flexible tip. However, a "hot" salmon, which begins the contest with a long rush downstream to drown the line and get well into the backing before jumping a couple of times and then coming back trailing a loop of line with the angler winding frantically to keep up, is a very different matter. I know you should keep the rod up and never lose direct contact, but it doesn't always work out that way and enough of them come off as it is! Salmon and sea trout are most of them big, strong fish with large mouths and I think that generally the way they are treated once brought to the net or the beach is much more important than whether hooks are barbed or not. A surprising number of mine lose barbed hooks in the net with a mere shake of the head and without any intervention from me. After the hook is out, a quick, safe return is much preferable to fiddling around trying this way and that for an impressive photograph to show your friends while the fish is left gasping in the air.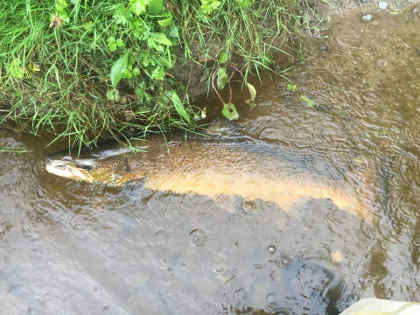 See opposite for a "responsible" photograph of a big salmon taken by Robert Wheatcroft this year - it's a nice shot and I'm guessing Robert took his chance to get it quickly before the fish kicked off a few seconds later.
An interesting set of by-laws has just been introduced by the EA for the River Camel in Cornwall, where salmon must be released, but brown and sea trout may be kept.The regulations state that all hooks, singles, doubles and trebles, measured from shank to point, must have a gape of no more than 8mm. That will just about accommodate a size 6 double or a size 8 outpoint treble. Hooks used on artificial flies are permitted to have barbs. This would fit with my suggestions above. Where it all gets slippery on the Camel is the rule for fishing bait, in which case a barbless single of no more than 8mm gape must be used with a single worm. How a bailiff on the bank is supposed to work out whether an angler is fishing with worm for salmon or sea trout when both are in season, I cannot imagine. And salmon do like to swallow a worm.
*******
Down here in the Forest of Dean, I have a new worry concerning the local wildlife - beavers! You would think the boar straying all over our woods and ripping up the ground would be enough to deal with for a while. But a proposal to introduce beavers to the valley of the Greathough Brook above Lydbrook is likely to be realised in 2018. It seems that almost everybody involved has been persuaded: Michael Gove likes the idea, DEFRA is on-side as is Natural England, while the Forestry Commission, local councillors and the villagers of Lydbrook are equally keen. Beavers are such cute, cuddly looking things, great for photo-opportunities for politicians and "good for the environment" ... whatever exactly that means. The WUF, however, has some reservations and I certainly do. Nobody seems to have asked the opinion of anglers or even considered possible negative effects.
Briefly, this is the story so far. The steep valley of Lydbrook runs down from the Forest rim to the Wye and is drained by the Greathough Brook, which enters the main river at the top of the Wyebank beat. Historically, Lydbrook was for centuries a busy iron-working site as most of our forest valleys were and the Greathough Brook drove numerous mills and trip-hammers. The stream, therefore, is still closely entwined with the village, running over falls and through the mountings of former water wheels, under the road through tunnels, and besides and around the old cottages which are built into a steep slope. In recent years, this brook and its man-made channel has been the cause of some very destructive floods in Lydbrook - 2015 was particularly bad. Climate change may be having some effect on the problem, but when rainfall is sufficiently intense, it just does not seem possible to get the volume of water safely through the village and away to the Wye. Instead it floods over the road and through the houses.
After deciding that not much could be done to enlarge the brook's channel down the valley, engineers concluded logically enough that a solution might be to try to increase the absorption capacity of the forest above the village by creating some wetlands or ponds at the head of the valley. A tracked digging machine deployed up there for a few days could have done just that by blocking off some ditches and banking up soil to divert the stream from delivering all water directly and immediately downhill. The alternative plan, which now seems to be agreed by all concerned, is to release a family of four beavers into a 16 acre enclosure over the upper stream in order to create the necessary dams and ponds in a natural way.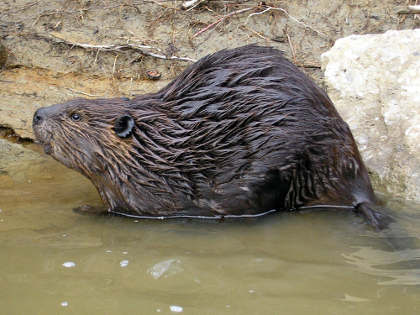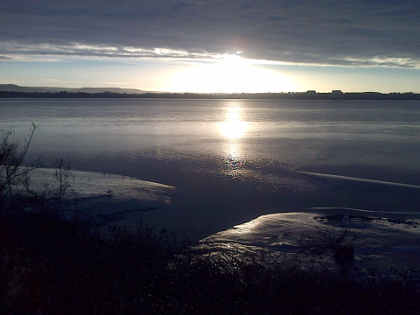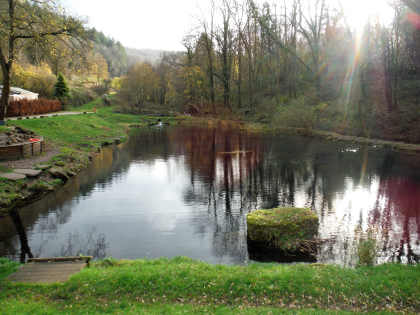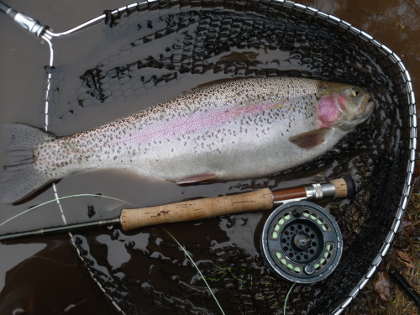 Currently we have both planned and illegal beaver reintroductions in the UK - the best known are in Devon and on the River Tay in Scotland. From what I read, the public reaction in those areas has been mixed and farmers are certainly not happy. Beavers certainly make radical changes to the landscape. Angling advice from North America on the effect of beavers is, as far as I can tell, generally rather negative. Any extra dams on a watercourse remove the possibility for fish to migrate upstream to spawn. Beaver ponds are of course potential habitat for trout, but in practice they tend to be full of dead wood and rather acidic. You might wonder why I should be worried about the little Greathough Brook, where as far as I know there are no opportunities for angling, although it certainly contains trout and other species. My concerns are more about our other forest streams, the Cannop, Blackpool and Bideford Brooks, once the beavers have escaped. Despite assurances about a secure enclosure, I am pretty convinced they will escape and spread sooner or later, perhaps beyond the forest. Beavers have no natural predators in this country, so man will necessarily be the only controller. Given the current mood of political enthusiasm for this project it seems likely that other introductions will follow Lydbrook. To summarise, it seems to me that the digging machine option would be an easier and quicker one to modify the flow of this stream. Meanwhile my wife is now all for the introduction of wolves, which she argues could cull the boar and beavers both. "And why not have some bears while we are about it?" she asks, doubtless thinking of her home country. It would certainly make a walk in the woods more interesting.
*******
In the January 2017 letter I wrote about winter rainbow trout fishing in those still water pools originally created by flooding open pastures. Here the stocked trout are predominantly interested in feeding on the millions of midges harboured by the silt of the shallows and various kinds of bloodworm and buzzer imitations are at a premium. There is another kind of water, usually longer established and more acidic, often surrounded by trees, where a population of coarse fish has been established for a while. The old iron-working hammer ponds in the Forest of Dean are of this type, with a population of small roach or in one case bright-eyed rudd. In my experience, trout stocked into such waters waste very little time in learning to feed on the coarse fish naturally present, both fry in different stages of development and adults. The trout are aggressive predators measuring 17, 18 inches and upwards; why wouldn't they help themselves to smaller prey? If you spend some time watching these pools, you will probably see evidence of attacks, particularly during the autumn and winter around the decaying weed beds. However, be aware that even if you kill and spoon your fish, you may not find the expected evidence of fry feeding as the bodies of small fish are much more rapidly digested than the hard exoskeletons of insects which may survive for quite a while in the stomach acid. Only tiny skulls or pinhead eyeballs may remain as evidence of fry feeding. But these waters are invariably the ones where various lures or long-tailed flies are particularly effective. And while it may be called a damsel nymph, a large olive coloured pattern with a long marabou tail is probably more than likely to be taken for a small fish, and to be just as effective outside as inside the June damsel hatching season.
Lure fishing for rainbows has changed a lot over the last 50 years. When I began on reservoirs, it was generally thought necessary to construct a lure pattern around a longshank 8 or even 6 hook to provide enough basis for the body. And many of these designs were certainly out and out lures, in that they had little resemblance to any living thing but were intended to appeal to the fish's aggressive instincts alone. A good example would be a bright orange lure like the Whisky Fly designed to be fished fast near trout feeding on clouds of summer daphnia, a food source which is also vaguely orange. In fact nearly all the lures of the 60s and 70s had to be fished fast, simply because they were constructed from stiff hair and feathers which had very little natural movement in still water. I can remember stripping an Ace of Spades up from the bottom on a sinking line as fast as my aching arm could move, having learned that this was the only way to provoke a follow and take. The big change came with the introduction, by Bob Church I think, of turkey marabou plumes. This material, tied into tails and wings, produces a most attractively sinuous and wriggling movement, even when the fly is retrieved very slowly. Somebody also realised that a standard size 10 hook would make as good a basis for tying up a lure as a longshank 8, in fact a better one as the shorter shanked hook was less likely to lever out of the trout's mouth during play. And so we moved from an era during which lures were invariably stripped back at speed, to one in which they were retrieved very slowly, and perhaps with erratic pauses and stops. Which, if you look down at the surface of the pond, is just the way that the shoals of little roach and rudd go about their business, usually dawdling on their way unless something has frightened them.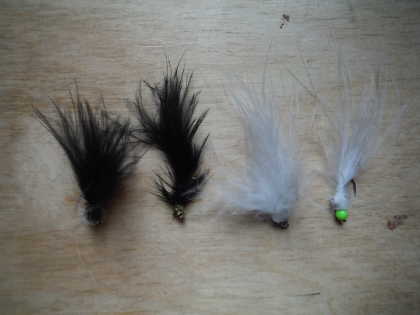 Bob Church once designed a roach fry imitation called the Appetiser, combining that all important marabou tail in white with other material to mimic a green back, silvery flanks and orange fins. This pattern really is a pretty good imitation of a roach: one which I used to fish a lot and successfully too. Nowadays I opt for a simpler approach, while always making sure of that important marabou tail, and I find something designed in white/green (Cat's Whisker) or something in black/gold or black/silver (Black Widow or Humungous) is usually more than good enough for the job. I construct not only weighted versions (a 3mm or 4mm brass bead is quite enough for still water) but also unweighted versions because a very slow rate of sinking or even floating at the surface is sometimes important. For the same reason, I pay a lot of attention to the fly lines used in lure fishing. If you try to do it all with a floating line with the idea that you can obtain depth when you need it with nothing more than heavily weighted lures, you are going to miss a lot of opportunities. I have fast and medium sinking and two different intermediate lines for use from a reservoir boat, along with 15 foot and 5 foot sink tip lines, as well as a floater. When a boat is on the move, it can be quite a business to get the depth right. From the bank I use a floater occasionally, but the line I use more than any other, and definitely would not wish to be without on a smaller water, is a very slow sinking, clear, weight-forward intermediate. I used to like the old Airflo Delta when it was available but currently I am using a Cortlands Clear Camo which I fish with a 10 foot 6 weight rod. The leader consists of nothing more complicated than 9 feet of straight 4X fluorocarbon.
The important thing to remember is that is the vertical path of the lure which is important, and casting around from the bank with a combination of weighted and unweighted lures, floating and slowly sinking intermediate lines, you can produce almost all the possible variations of trajectory. With the floating line and a weighted lure running below the surface, you can make the fly bounce up and down and waggle its tail by incorporating pauses and speed variations in your retrieve, whether steady figure of eight or tweaks. Even more useful, with the intermediate line and unweighted lure, you can cast it out to lie for many seconds motionless on the surface (where it will often be taken, just like a dry fly); if you wait longer, there is a good chance at times that the lure will be taken as it flutters slowly down "on the drop" pulled down by the line; and finally you can begin a slow retrieve during which the lure will follow the line down from the surface towards the depths on a long shallow dive. This last tactic takes more fish than any other.
Takes with the intermediate or any other type of sinking line will require some getting used to. For rainbows you should nearly always retrieve with the rod pointing down the line and the tip near the surface until the fly gets very close to you, when you raise the rod tip to avoid a smash take occurring at the last minute. If the fish are enthusiastic and aggressive, the line will suddenly go tight and you feel something like "bump, judder, judder," as you connect with fish. Such takes are ideal and, truth to tell, whether you try to strike or not doesn't much matter. The fish, having taken the lure with speed and determination has already hooked itself against the weight of the sunken line, and whatever you subsequently tried to do makes no difference whatever. The hook-hold is either good or bad and there is nothing you can do to change it now. However, such confident and solid takes are often the exception. You will start to get short knocks and pulls without connection, and often there will be a series of these all through the retrieve. You realise that a fish is following and attacking the lure, but apparently without full commitment. You will strike, probably by lifting the rod up as you are accustomed to do in other kinds of trout fishing, but connect with nothing, time and time again. "Ah, those are tail tweakers, nervous fish," other anglers will tell you. "It's one of those days. Just do your best with them." In a sense they are right, because the culprits are indeed tail tweakers and I have seen all sorts of suggestions intended to combat this problem. One was to follow the tactics of sea trout fishers and incorporate a tiny flying treble into the dressing of the lure behind the main hook. It doesn't seem to be particularly effective and extra treble hooks generally don't fit with the catch and release instructions of fishery owners. Another idea which I used to follow is merely to shorten the overall length of the lure by nipping off part of the marabou tail. In my experience, as often as not this merely results in a reduced interest from the fish and the tweaks and knocks diminish or cease altogether. I have an idea that the popularity of the Blob series of flies with rainbow trout anglers is due to the fact that they have very little tail and that if there is a take at all, there is very often a solid hook-up.
But why does this kind of behaviour arise in the first place? If you accept the premise that trout take these slow and erratically moving lures for small fish or other creatures which might be eaten, it might be worth studying how they operate as predators. In my youth I spent a certain amount of time pike fishing with live and dead baits, some of them quite sizeable, and I learned that a pike would almost always seize a smaller fish transversely across its jaws. It would then move, usually quite slowly, to another spot, turn the prey head first preparatory to swallowing, and then move again. The start of the second run was the time to strike and a large single hook to wire would usually get as a good a hold as traditional snap tackles incorporating several trebles. A large perch, on the other hand, was best fished for along the line of sedges at the edge of the canal with a float suspending a small gudgeon hooked with a no. 6 single just in front of the dorsal fin. When the float went down you could strike pretty well at once. Similarly with a chub, which would engulf a lip-hooked minnow without delay.
Trout, both rainbows and browns, have their own ways of going about attacking smaller fish and a little time spent watching the pool as the season progresses can usually reveal what is going on. Watch the areas where the shoals of prey fish gather, particularly the weed beds and shallows at the head of the lake and also around structure if there is any, such as at the corners of stone dam walls. By mid to late summer, the hatchlings of that season's roach and rudd spawning should be recognizable as little fish and might even have reached an inch or so. These are pin fry which the trout will chase and swallow whole. Many a time I have seen a trout dashing into the margin with some tiny flashes of silver showing just ahead of their open jaws. You can certainly take advantage of this behaviour by using a floating line and a little pearly thoraxed Pheasant Tail Nymph. Tweak, tweak, tweak...pause... is the way to draw attention when retrieving.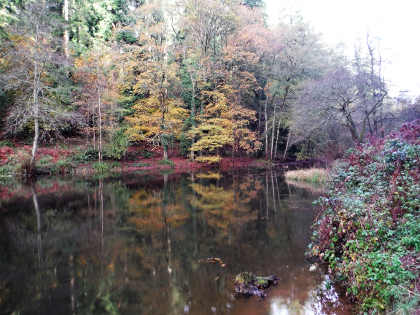 By autumn there will be shoals of larger bait fish around the weed beds and with luck you will see some attacks made by trout on them. Very rarely I have seen a whirling bait ball over deep water being harried by a number of trout. This is reminiscent of those marine documentaries in which we see fierce tuna attacking shoals of sardines or whatever, but we would be wrong to imagine it is the trout's habit to chase, grab and swallow individual prey. It is much more common, as far as I can tell, that trout will charge through the shoal with enough force to stun a few as they go through. Watching from the bank, look out for little roach floating on their sides, either quite still or fluttering weakly. Back comes Mr Trout, as quietly as you like, cruises around to see what he has done, and just tips up quite gently to the surface in order to suck in a prey which is now helpless. The process is quite relaxed, like a dry fly being taken confidently. And this, I would suggest, is why a predominantly white lure like a weightless Cat's Whisker is so often taken from the surface while you are waiting for the line to pull it under. Floating Fry is a more complex dry fly pattern designed just for this purpose.
Most common of all, I believe, is the trout which follows a small fish which is making uncertain progress as if injured or sick. Rather than a full on attack or an attempt to swallow it from the tail end (he wants it head first at the end of the day) the predator puts in one or several disabling nips at the tail. What he expects and hopes to see is the little fish, now definitely injured, stopping its progress and perhaps feebly fluttering as it falls in the water column - easy prey. Now consider your own actions, fishing a lure at the other end of the line. You feel a knock or a bump as the initial attack is made and you try striking. The little fish/lure shoots a yard forward under the water. That is not what the predator is hoping to see. He might try one more attack on the tail, but then again he might be totally discouraged and turn away.
Instead, try this approach. Make your casts with an intermediate or slow sinking line, varying the angles and retrieves as necessary, keeping your rod pointing straight down the line. You feel that unmistakeable knock or bump as a rainbow trout nips the lure in the tail. Whatever your instincts may tell you to do, let go of the line with your retrieving hand. Just drop it. Now watch the 12 inches or so of line between the rod tip and surface like a hawk. The lure has stopped dead after it was nipped and is now very slowly sinking, just like a seriously injured fish might do. After about 3 seconds you will very likely see the line depending from the rod tip twitch and then begin to accelerate forward. What has happened is that the rainbow has made a quick circle, concluded that its attack was successful and its prey has become disabled, engulfed it and is now making off, almost always swimming away from you. You now have to set the hook, but I would strongly recommend that you do not try to do that in the usual way by lifting the rod. This tends to be highly ineffective with a sinking line, the curve of which will absorb most of the force. Instead, reach up with your retrieving hand to grab the line again at the butt ring (it might already be accelerating through the rings) and make a firm yard-long pull down to level with your thigh. You will feel yourself tighten into the trout as your hand comes down. This is a strip-strike, which salt water fly fishers learned long ago was absolutely necessary when fishing at distance for hard-mouthed fish. I have never found that this technique leads to deep- hooked fish; almost invariably there is a solid hold in the lip or the scissors. Try this out; it works time after time.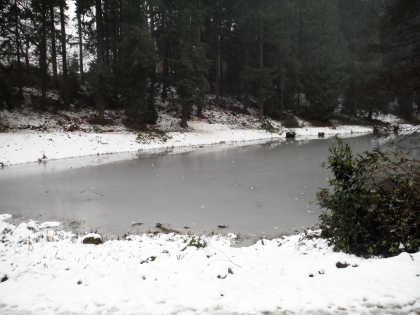 The fry feeding habit goes on through the autumn and into the winter, while the weed- beds gradually die back. This is the only time of year I regularly wade in our forest syndicate pool, most of which is surrounded by yellow flag iris. This makes a brave sight when the big yellow flowers are nodding in an April breeze, but for 6 months of the year once the flag shoots are fallen, you have a water-level fringe of very tough matted rhizome roots one or two yards wide, which itself makes a good casting platform. An alternative, when the trout are working the weed beds close in, is to climb off the root platform down onto the bed of the lake and cast parallel with the bank and through what is left of the weeds. On our lake these beds consist of delicate water milfoil, easily removed from a hook and thin enough to play a trout through without much risk. Getting right into the weed bed in this way gets me the occasional trout hunting at close range.
Incidentally, although I am still a big fan of double tapered lines for my river fishing, I don't find much place for them when fishing lures in the forest pools. This is because most of these waters have the back cast more or less obstructed by trees. You see our syndicate members looking over their shoulder most of the time when casting, and "firing the back cast into the gap" is perhaps one of the main fishing skills on these waters! We do what we can during the annual tree pruning sessions, but the main secret of success in a tight space when trying to combine a restricted back cast with a long distance forward throw is to use a line tray with a shooting head or a short- headed weight forward line and to put a good haul into the final delivery.
*******
Have you noticed the recent increase in the price of single handed trout fishing rods, particularly at the top end of the market? I used to tell beginners that, if they wanted, they could spend as much as 650 pounds on a trout rod...before going on to warn them they should have a very good reason before spending that much, because there are excellent rods available for less than half the price. For that 650 pounds, you can now substitute 800 to 900 pounds in today's market. Currency fluctuations may account for the sudden change in the case of the American imports. At the same time, double-handed rods seem to have been affected much less and 1,000 pounds will still get you a really super salmon rod. However, and this bears repeating, very expensive rods are a bit like high performance cars and probably not needed by or suitable to the average user. If you find yourself tempted, make sure you try the rod out in a proper casting situation and be certain that you really like it before making a commitment.
*******
So much for 2017. The Christmas holidays are over finally and the last visiting relatives have wended their way. "I promise you, the Burch family will be legitimate within 5 years," my wife told them as we waved them off from the drive. They looked a bit mystified, but off they went. So now it's back to a normal, quieter life and hopefully some more serious winter fishing.
Oliver Burch www.wyevalleyflyfishing.com
---
November 2017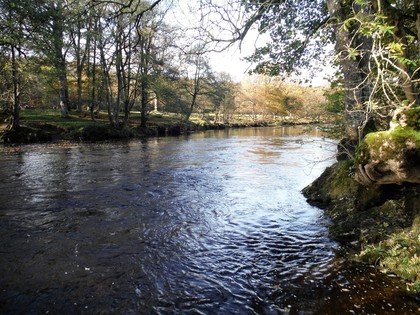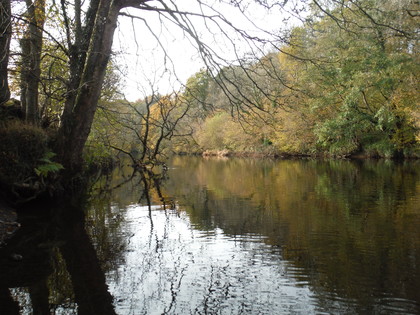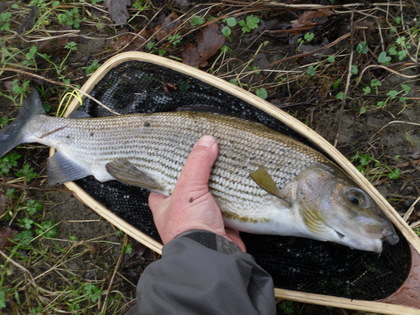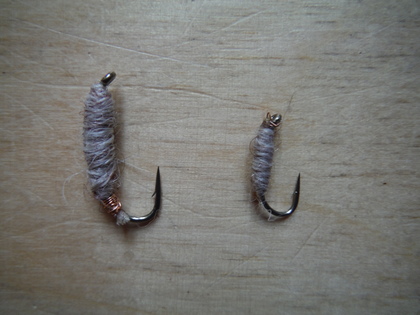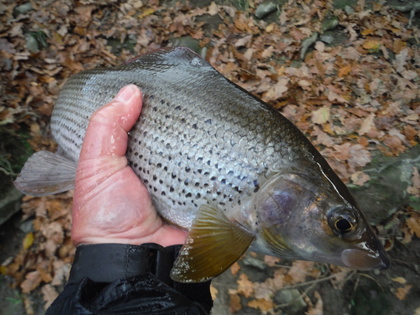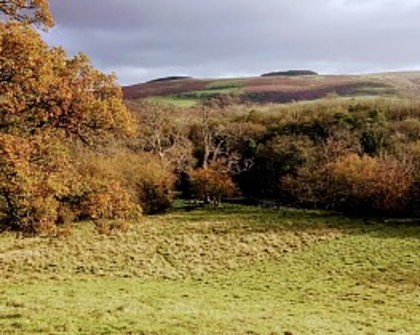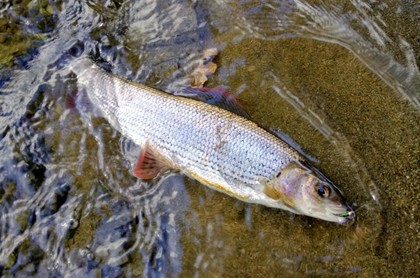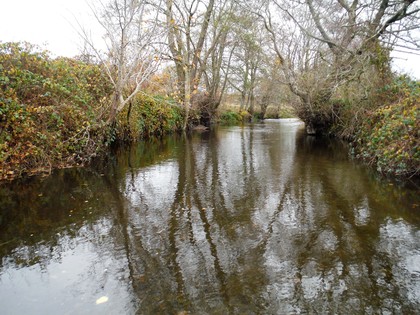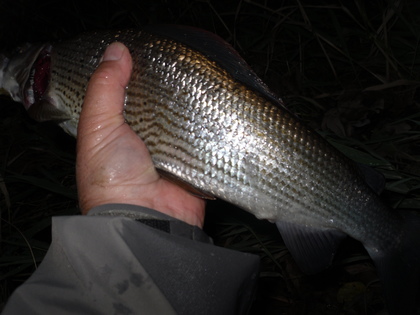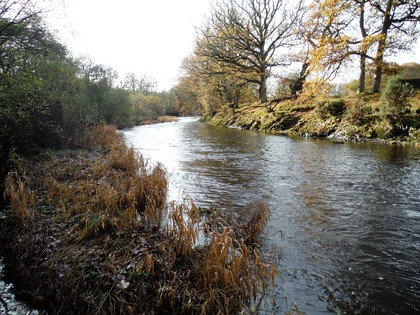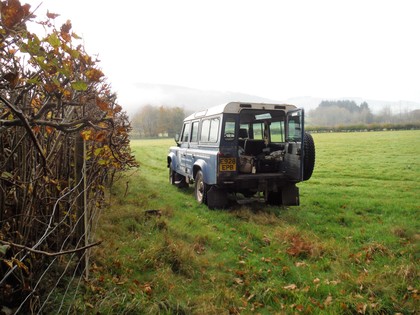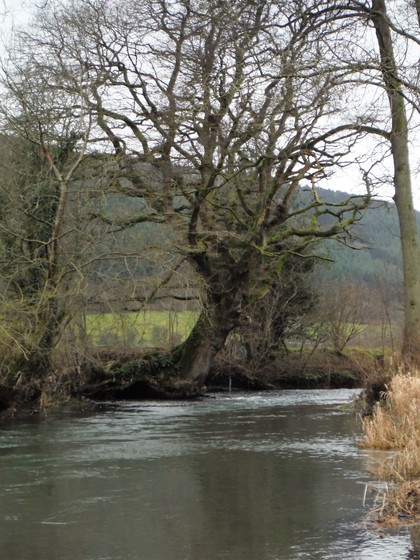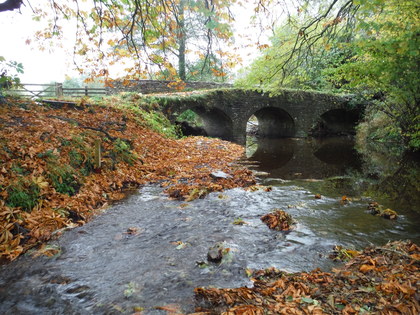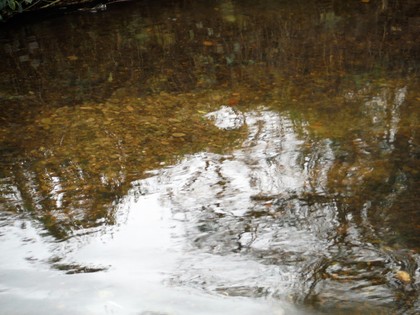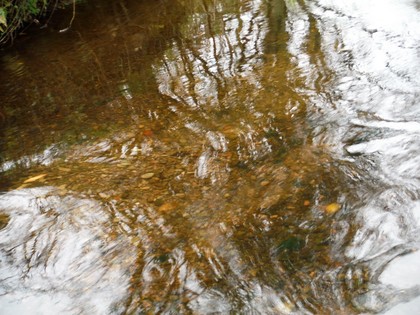 We had enough rain during November to keep the Wye running high right through the month, and only a small amount of fishing could be done on the main river beats. It's worth reminding that once the ground is saturated and without leaves on the trees, it does not take so very much rain at this time of the year to send the levels up. However, by watching the gauges anglers found plenty of opportunities to exploit on the tributaries and some good grayling catches were reported from the Irfon, Lugg, Arrow and Llynfi. A relatively warm autumn inevitably changed to some sharper weather bringing frosts later in November and the first snow fell on the Welsh hills. One day driving along the A40 towards Abergavenny, the snow streaked cone of Sugarloaf Mountain looked almost like Fujiyama.
Starting on the 27th October, GW from Bedford experienced the first frost of the year and, with the Wye running cold and clear, took 15 grayling trotting at Abernant. It was also nice to see that our friend AG from Harleston in Norfolk was back again and on the 30th he began on the Colonel's Water of the upper Irfon, taking 11 grayling on another cold day. On the 31st he fished the Lugg at Dayhouse and had 15 from the fast water. On the 1st he was at Lyepole and had the unfortunate experience of driving over a rod and reel left at the parking place the previous day by VC from Holmfirth, who was back home in Yorkshire before he missed them. Sadly the reel was squashed, but at least VC now has his rod back. Meanwhile AG went on to take a big catch of 40 grayling from Lypole using nymphs. PM from Llanwrtyd Wells fished Abernant on the 2nd November and had 9 grayling. DW from Cheltenham also took 9 on the Lugg at Dayhouse. On the following day RW from Portishead, one of our regular anglers, had a catch of 6 grayling from the Llynfi at Pontithiel, including a very fine fish of 18 inches taken from a deep hole. JL from Hereford was fishing the Lugg at Eyton and had 7 grayling to 1:75 pounds. I was interested to read that they were taking a Killer Bug nymph well. AG of Harleston was still in action and fished the upper Wye at Doldowlod for 8 grayling to 15 inches. Further north, H from Wales fished the River Dee at the Glyndwr Preserve and caught 20 grayling on nymphs. Meanwhile on the 4th, TH from Brecon fished the Rectory on the upper Wye, covered a good deal of the beat and also got 20 grayling on small nymphs. AS of Newent was out on Lyepole and took 15 grayling from 7-12 inches. And KJ from Abercynon with a friend got 45 between them at Cefnllysgwynne, also using nymphs. (KJ, if I am not mistaken, is a very well-known competition angler. And I have it on good authority that there is a misprint in his earlier catch return for Cefnllysgwynne on 28th October, which should read not 7 grayling but 70, no less!).
BP from Pembridge fished at Court of Noke on the 6th and got half a dozen grayling including one of 16 inches, which by any standards is a nice Arrow fish. The following day PB of Cheltenham was fishing in the next valley, the Lugg at Lyepole, and had 17 on nymphs. On the 8th AP from Worcester went trotting on the Arrow at The Leen and took 9 grayling. AW from Salisbury, also trotting, had 11 of different sizes from Cefnllysgwynne on the 9th. He was broken off by a good fish on this occasion, but the same 2 pounder was subsequently caught a couple of hours later, still with AW's hook and maggots attached to its lip, by fellow angler WM from Stroud. WM was nymphing nearby and scored a dozen for his day. I have had the same experience in the past and you do wonder about a fish which allows itself to be deceived twice on the same day - the "Tim Nice But Dim" of the grayling world, I suppose. On the 13th, CT from Cardiff and TH of Brecon, fishing with a magazine article in mind, had 23 grayling to 16 inches at Cefnllysgwynne. JM from Stourbridge fished the Lugg at Dayhouse Farm on the following day and took 8 grayling. On the 17th NW from Bromsgrove took 30 grayling to 40cm at Lyepole, mostly on nymphs but a couple fell to the dry fly. AB from London started out in a frost on the Colonel's Water, but went on to catch 9 grayling to 15:50 inches. He also noted evidence of poachers' visits in the form of spinners caught in trees. Poaching seems to be the curse of the Irfon once late salmon get into it.
On the 18th AS from Newent caught 17 grayling to 16 inches at Eyton, while KD from Swansea had 11 from the Irfon at Cefnllysgwynne, all of these on nymphs. JD from Hereford was fishing the main river at Abernant and had half a dozen on a Stewart's Black Spider. MW from London also had 6 at Craig Llyn while ME from Towcester fished at Lyepole for 25 grayling. KL from Bristol with a friend had 13 at Dayhouse. AC from Nailsea was fishing with trotted maggots at Cefnllysgwynne on the Irfon and got 18 up to 16 inches before a rising river killed sport. He reported a dead cock salmon on the margin here with the usual meal taken out of its shoulder - an otter I would imagine. This would be a common enough sight in January, but mid-November seems early, especially for a warmish autumn without much frost, and one can only hope that it had already spawned. On the following day AG from Cardiff had 15 grayling from the same beat and LE from Usk had 8 from the Llynfi at Pontithiel. From this point, renewed showers and already saturated ground quickly produced high water making fishing difficult or impossible almost everywhere for the rest of the month, tributaries as well as the main Wye. Even the "gauge junkies" were forced to stay home for a bit now. The odd grayling was taken here and there and I see AS of Newent managed to get half a dozen from Dayhouse with the Lugg gauge at Byton right up on 1ft 6 ins, but otherwise fishing was mainly suspended waiting for the floods to subside.
As happens every year, several grayling anglers had unwanted contact with out of season salmon during November. This can't always be avoided, but do please be careful and move away if you find yourself in close proximity. Similarly, please, we aren't supposed to be fishing for trout at this time of the year, even though they may well come barging in when not wanted. Move away if you are catching too many. As the winter advances, watch out for redds of both salmon and trout while wading - disturbed pale gravel is the obvious clue.
*******
It's a poor sort of angling chap who doesn't anticipate the arrival of Christmas in a spirit of something like hopefulness - I mean what are families for, after all? Sportfish, Fishtec, Glasgow Angling and the rest of them will be getting ready for the rush. Coch y Bonddu Books in particular takes on extra staff at this time of the year because we all know there is nothing like the pleasure of receiving a good fishing book for Christmas. Some of the more fortunate among us actually get to hand the beloved a wish list round about now, while others of course decide they are worth it and just treat themselves. With this in mind, I gave some thought recently to trying to compile a list of "best ever reads" for the armchair angler. It turned out to be more difficult than I had guessed. Since the beginning of publishing, certainly for several centuries, the trade has been well aware that books on angling sell like hot cakes. Our chosen pastime really is a very reliable subject for sales with a large and willing readership always eager for more, and so there is an enormous catalogue of books out there. Some of them are classics, many are not, but most provide some interest for those of us afflicted with the disease.
The problem is that there are so many different categories of books, even on fly fishing alone, from which the very best could be included in a reading list. I accepted from the beginning that this list really should be of books at least partly about trout and grayling, so immediately out must go such gems as Sea Trout Fishing by Falkus or Successful Sea Trout Angling by Harris and Morgan along with Letters to a Salmon Fisher's Sons by Chaytor. Similarly Confessions of a Carp Fisher by BB, delightful as it is, has nothing whatever to do with game fishing. To begin with, I thought we should perhaps have an eminently practical division entitled "How to do it books" for trout and grayling fishing. I quickly realised that it would be easy to identify outstanding works of the past such as Grayling by Reg Righyni and even The Dry Fly and Fast Water by the American GML La Branche, which is more than a century old but in my opinion still extremely useful. The modern ones in this category are more difficult to decide on but I would definitely include The Pursuit of Wild Trout by Mike Weaver. Then I put these ideas aside for a moment and gave consideration to another section: the historically important books about the development of angling methods, which would certainly have to include the main works of Halford, Skues, Sawyer, Kite - and moving on to the Northern angling traditions, we would also have to include Stewart, Pritt, Walbran, Edmunds and Lee, and more. Books by river keepers, Sawyer and Lunn, would make an interesting sub-section. Then there are books specifically about the local area, our own border streams, which would include CV Hancock's Rod in Hand and perhaps James Evans' Small River Fly Fishing for Trout and Grayling. Leading on from that would be another section entitled something like "locally historically important" which I guess would include my friend Roger Smith's Fly Fishing the Welsh Borderlands and Christopher Knowles' Orange Otter. Another heading might be "classic and important even if not of huge practical use for the angler today." There we can surely place Walton's The Compleat Angler, which many of us own, but read little. This book is of course about fishing, but also about religion, philosophy and a veiled complaint against the Protectorate and the politics of the day. A few more early works should go here, not forgetting the fly-fisher Cotton's additions to Walton. Then we certainly need a section on entomology, beginning with Ronalds and going on at least as far as Goddard. There are dozens of books of fly patterns, beginning with Courtney Williams' famous Dictionary. And of course there are books on fly dressing techniques. We also have excellent, if specialised, books on lake fishing in Ireland and Scotland and other branches of the sport. There is by now a whole list of books on grayling alone, beginning with Walbran and going on through Rolt and Carter-Platts right through to Broughton and Roberts. And there have been the great anthologies of angling writing, some of them quite superb: Sheringham and BB (Denys Watkins-Pitchford) stand out as editors who compiled wonderful collections in this category. There are books on ichthyology, on stream management and even books on casting. I often find myself looking with interest through old copies of Where to Fish (the original one published by The Field, not the modern one).
So you can see my problem in coming up with one short recommended list for Christmas, even for somebody new to the sport who hasn't yet read much about it beyond the magazines? Some of those mentioned above are out of print, but many more have been reprinted and with the help of the internet you can usually find what you want sooner or later. In the end, I put all these to one side and settled for a category I entitled "sheer angling pleasure," simply because in all cases the authors wrote so well that their enthusiasm and the charm of their fishing days almost leaps from the page at you when you sit down with their book. First among these would certainly have been Harry Plunket Greene's chalk stream masterpiece Where the Bright waters Meet, but I already recommended that one to you in the February 2016 newsletter. Now to follow it are three more, all of them currently in print and I think equally distinguished. Interestingly, along with powers of description, a wonderful use of the English language is what commends all three books, but only one of the authors was an Englishman, and he migrated in his youth to Canada where he spent the rest of his life. So this is if you like a "western" trilogy, beginning now with Ireland.
A Man May Fish, by Kingsmill Moore, deals with trout, salmon and sea trout fishing over a lifetime spent on Irish rivers and lakes. Much of it is about the fishing of the far west, particularly lake fishing in Connemara, and there are theories galore about the control of boats, methods and flies. Nobody could read this book and avoid being left with an enduring interest in the Delphi fishery or the Cashla system of rivers and lakes with their white trout. Much of this is about a kind of fishing which I have not done - I admit to wishing that, just once perhaps, I could experience catching migratory fish with a team of flies from a drifting boat, ideally with a big wind blowing and confused white water breaking on the skerries. Rather sadly, it seems clear the best of this western fishing belongs to the past. But at the same time the book also paints a wonderful picture of the landscape around the big limestone waters, the professional fishermen who worked on them, and the general scene of rural Ireland during the early and middle part of the 20th century. What shines through it all is the humorous character of Kingsmill Moore himself, who served in the Royal Flying Corps before becoming a barrister and eventually a high court and supreme court judge....you can imagine him in a Dublin courtroom dreaming of being on the river when a case became a little dry and counsel's speeches dragged on. His description of "the Great House" is a most sympathetic portrait of the slow decline of an Anglo-Irish family, no exploitative absentee landlords as so often described, but an ancient family embedded in rural Ireland and its sporting life of fishing and shooting. It reads almost like the fall of the house of Usher. Kingsmill Moore himself, schooled in England, might have been described as Anglo-Irish in background. It would be interesting to understand more about his public career, before, during and after the troubles, from British Ireland to the Free State and then the Republic. In his legal career he was often dealing with the deadliest of matters - political murders, accusations and counter-accusations. I was once told of a most unpleasant accusation made against him in the Senate that he had maintained a relationship with British CID during the years of rebellion. Was it his natural sense of humour or was it the fishing which carried him through? It seems he weathered that one without a qualm and fished on, generally loved and respected by those who knew him. He was involved in the governance of Amnesty International and CONCERN before his death in 1979.
Roderick Haig-Brown in A River Never Sleeps describes, or rather celebrates, one of the most interesting lives I could imagine. He was born in 1908, lost his father in the Great War and was brought up in Dorset by his mother and grandfather, a former headmaster of Charterhouse school. All the surviving family seem to have been wedded to field sports, so his childhood when away from school seems to have been a joyous mixture of shooting, ferreting, and fishing in the Dorset Frome where he learned to catch salmon, pike, trout and every other kind of fish. There is also an account of some poaching during a visit to the Itchen. Every now and then, perhaps as an intellectual counter balance to the sporting side of Dorset life, his grandfather would take him off to have tea with Thomas Hardy. When Haig-Brown was 17 he travelled to the Pacific North-West of the USA and Canada, where he spent most of the rest of his life. During the early years in what must then have still been something like frontier country, he worked as a logger and surveyor, a trapper, a professional cougar hunter at one point, and eventually a writer. Settling in British Columbia's Vancouver Island beside the banks of the Campbell River where he brought up a family, he served in the Royal Canadian Mounted Police during World War II, subsequently becoming Chancellor of the University of Victoria and a respected magistrate.
Throughout his life, he fished with admirable intensity, and wrote a series of books on fishing, nature and a remarkable account of the Columbia River system and its salmon run. This was a good choice of subject for the time. The Columbia is not the kind of river most of us would easily get on terms with, due to its sheer size; every description seems to rely on superlatives. It was certainly once the world's greatest salmon river. Ocean going ships make their way into it; upstream at Steamboat Rock there was once a falls 5 miles wide and 400 feet high. Haig-Brown and his wife travelled the Columbia in the year the great Grand Coulee dam was finished (1942) and while the salmon passes and lifts of the Bonneville dam downstream were already in operation. At the time, the Grand Coulee, backed by Roosevelt, was the biggest structure man had ever built and the Columbia Basin Project was intended to tame a river which drains half a continent in order to irrigate over a million acres of dry scrub. The great project understandably caught the attention of the nation struggling to escape economic collapse; somebody even had the idea of engaging Woody Guthrie to write songs about it. Haig-Brown approached the task as an optimist, but today the project might serve as an example of man's dilemma when trying to reconcile development with the natural world. Some of the consequences, both positive and negative, were unanticipated. On the plus side: many thousands of jobs provided during the great depression, a desert turned into a fertile garden, hydro-electric power for West Coast cities from Seattle to San Diego, the basic power support for aluminium and world-beating aircraft industries, and arguably a major contribution to winning the Second World War. On the minus side: the loss of thousands of miles of salmon spawning habitat and the end of an economy and way of life for native American tribes. Haig-Brown was not to know it for sure then, but, just as the buffalo and the associated Cheyenne and Sioux plains culture had gone, most of the salmon and the salmon culture of the north-western tribes were to follow. The Columbia system once had an estimated run of 10-15 million Pacific salmon, mainly chinooks, along with sturgeon and steelheads, and (again estimated) the native catch may once have been as high as 19,000 tons. Today there are a total of 227 dams on the system altogether and salmon do not pass the Grand Coulee, despite experiments with hatcheries, lifts and trucking fish upstream. The lower part of the Columbia system is still important as a salmon fishery, but the best estimated run in recent years was 3.2 million (1985). Some old black and white film exists of pre-dam tribal fishermen on rickety platforms dipping the great 50 pound chinooks from swirling waters. That sight must be consigned to history, along with that of rod and line sportsmen hooking great tunnies alongside the British herring fleet in the North Sea at about the same time.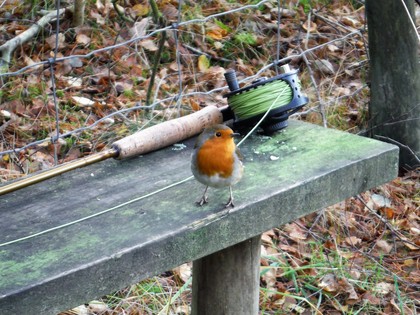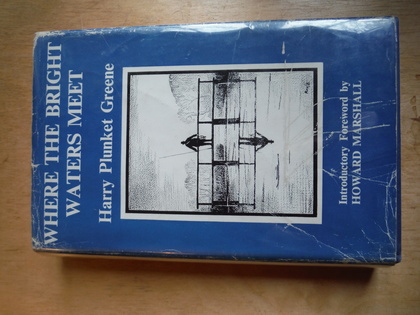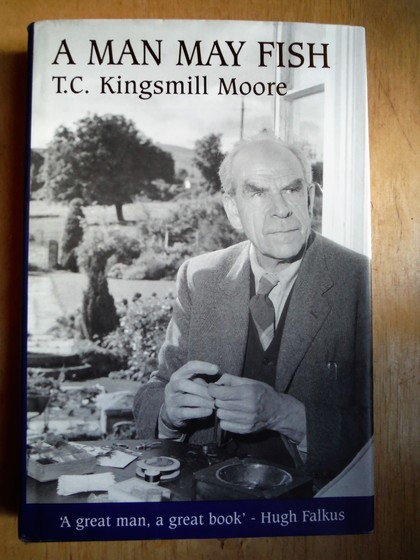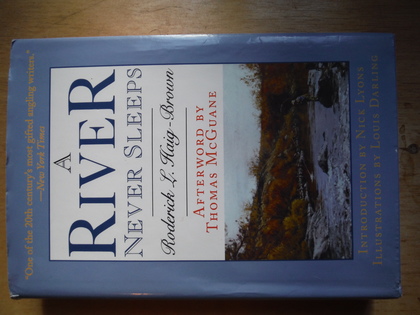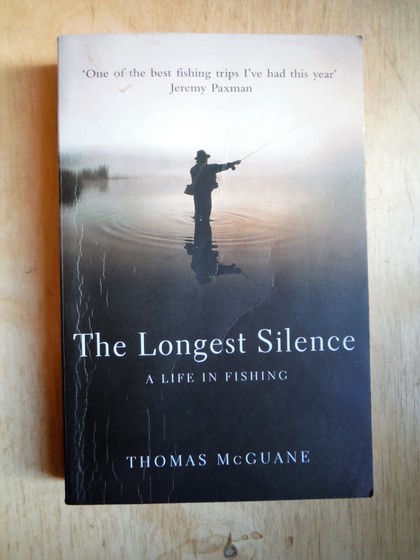 Haig-Brown returned to the quieter subject of his own fishing and life. A River Never Sleeps is set out by the months of the year, which enables him to introduce vignettes of his sporting days, in no particular order, always grounded in his deeply ingrained sense of season, weather, migrating fish and birds. The fishing is as interesting as you might imagine, from winter steel-heads from the river at his door where you might see a bear on the opposite bank, to the big river chinooks, rainbows and cut-throats. Considering the enormous effort and expense anglers from all over the world undertake now to experience the thrill of steelhead fishing, just imagine a life spent with the fish running past your house and the option to take a rod to the water at any time. During the 1930s Haig-Brown is said to have introduced long-hackled Spey-style salmon flies to British Columbia rivers, where steel-headers still use the Lady Caroline Haig-Brown as an adopted Canadian had become western in his writing of the language - an axe is an ax and a plough is a plow - but what seems quite remarkable is the way in which he slips seamlessly from adventures on a Dorset chalk stream to fishing the great American continental rivers running to the Pacific. Haig-Brown, who died in 1976, was a practical conservationist who had seen at first hand some of the effects man was having on a once pristine wilderness and his books are extremely conscious of the changes caused by, for instance, the logging industry. I suspect his vivid and descriptive writing may well have influenced Rachel Carson's famous Silent Spring. At the same time, his sense of humour is always there: "Our tradition is that of the first man who sneaked away to the creek when the tribe did not really need fish." It is almost surprising to note that Haig-Brown wrote this book before he turned 40, which I personally recall as a wonderful age to be, an age at which one is inclined to think that nothing is too much to take on, or ever will be. Remarkably then for one so young, and even before the term was invented, he comes up with a "bucket list" of rivers to be fished before his death, despite the impressive number he already has under his belt. This includes Cotton's Dove, the Test at Stockbridge, the Tay in January, ideally with a snow storm blowing, Wood's Dee at Cairnton, at least one of the big Norwegian rivers, Eastern Canadian rivers from a canoe, the Neversink and the Beaverkill in the Eastern US, the Rogue and the Deschutes in Oregon, "...I should like to hook and release a sailfish, perhaps two, and one big marlin." It's rather flattering that, at the end of this glamorous list, and no doubt impressed by news of Doreen Davies' big fish, he comes up with a desire for our own Herefordshire Wye, surely a reminder of the glory days of salmon fishing in our river when it had a world-wide reputation. Haig-Brown suggests he would like to fish "...a deep slow pool such as I imagine the Cowpond to be...I should hope for a forty-pounder, but I would settle for anything over twenty-five so long as he took deep down with a slow quiet stop that burst, a moment later, into a tearing run that rapped the reel handles on my knuckles."
My copy of the reprinted A River Never Sleeps (Coch y Bonddu 2010) contains an afterword by the American writer Thomas McGuane, who visited and interviewed Haig-Brown shortly before his death. He commented then: "Haig-Brown is a conservationist - and not, I was to learn, one of the everlastingly whining walking-wounded of the ecology movement." I think that says at least as much about Tom McGuane as it does about Roderick Haig-Brown. McGuane, who is still with us I believe, thankfully doesn't mince his words and his 1999 book The Longest Silence is my third Christmas recommendation. This is another story about an angling life, from a man who seems to have fished in virtually every famous angling destination the world has to offer. McGuane's writing is good on fish and fishing, and good on nature too, but he is above all a people watcher and capable of being quite viciously funny about the human species in the most engaging way. I admit that personally I would be pretty nervous about being interviewed by Tom McGuane the journalist. The obviously privileged life style which emerges from the book is slightly perplexing at first until you finally figure out for yourself that his family had a certain amount of money from the off and understand also that McGuane is a successful if controversial novelist who had a period as a Hollywood screen writer and director. The western Missouri Breaks which starred Jack Nicholson, Marlon Brando and Harry Dean Stanton is memorable for the wit of McGuane's dialogue as much as anything else. I haven't read McGuane's novels, but critics have remarked that his non-fiction writing is his best work and this book, really a series of essays on his experiences with a fishing rod, is in my opinion superb. What has made it possible is that McGuane invested his earnings from publishing and the movies in a Montana horse ranch, surrounded by famous trout fishing rivers. There he has lived for many years, and when he isn't fishing or riding cutting horses at home, he is off on a fishing trip somewhere else in the world. This then, is the story which resulted.
After early fishing memories from Michigan and a trip back to his Irish roots with a Morris Minor during the sixties, much of the book is much taken up with a period in his youth when McGuane lived in Florida's Key West, apparently working at least part time as a flats fishing guide. There is a lot of detail about saltwater fly-fishing for bone fish, permit, tarpon and the rest along with maintaining and driving a high powered flats skiff between shoals and mangrove swamps. All of this is very good reading, but more interesting by far is the description of a Latino culture and the rivalry and back-biting between the guides, jealously guarding their knowledge and racing to get their clients into good spots first. By his own admission, McGuane and his friends partied pretty hard along with their fishing. His description of their life in 1960s Key West, in those days a definitely lively place somehow seeming closer to Cuba than to the United States and displaying a sort of demi-monde sub-culture which has apparently now largely vanished, reads like something straight from the pages of Hemingway. In fact there is a moment of wry humour in the book when a written invitation to a birthday party is received from Patrick Hemingway, headed: The Son Also Rises. There is an interesting account of the Golden Gates Casting Club in San Francisco, an institution where the likes of young Steve Rajeff were then receiving their instruction. He writes about Montana and Idaho fishing within reach of his home, describing searching for cutthroats, rainbows and browns in a way that gives the reader a sense of what it means to fish the headwaters of great continental rivers which will end up in the Gulf of Mexico, and of how the fishing is necessarily defined by dry seasons and snow melt run off. Then there are the tales of modern destination fishing, to Argentina, to Russia, to Iceland, and to the north-western steelhead rivers such as the Dean. On the Atlantic salmon, or rather on those who fish for it, he is superb, describing the various categories of salmon anglers and their ways of obtaining access. He claims that these include the New Rich, who actually own the fishing, the Old Rich who sold it to them and somehow think they still have rights over it (beware the retained rod), the Time Sharers, the Poachers, and the Spongers. McGuane includes himself as a shameless Sponger, and in fact his wife passes on messages about telephoned salmon fishing offers with the suggestion he might like to put on fish net tights and high heels before ringing back. There are also now the Corporate Groups. The last is a new phenomenon and McGuane conjures up the vision of a Gulfstream jet whose existence and purpose has been incompletely explained to the shareholders in the company budget. It heads for the Arctic tundra loaded with hard working executives in need of a holiday while 9 weight fly lines are stretched in the aisle, the hostess serves another round of drinks and Debbie does Dallas plays in the lounge area. (Come to think of it, I could mention another group, best described as the Blackmailers. To join this group you need to find, according to RD Peck in Spinning for Duffers and Salmon, a man with a good river and an evil past, the details of which are known only to the two of you). And there are names coming up in McGuane's stories which you might imagine you recognise; there can't be that many Atlantic salmon anglers called Tarquin.
Fishing with sons is something which has been important to many of us. McGuane examines it from both angles. Very familiar to me is the description of his own son, who disdains to listen to fatherly advice, pooh-poohs the supposed difficulty of the task, and then picks up the fly rod and succeeds at once with effortless and delightful grace. McGuane was not close to his own father, who was said to have neglected his family to build his business, who apparently had a problem with alcohol and who died young. However, he did introduce his children to fishing. Years later, a question occurs in McGuane's mind and he asks his uncle at the end of a fishing trip if his father had been a good angler. The uncle replies that no, actually he was not, but that whenever his father did go fishing, nobody had more pleasure from the day. This book has chapters on flies and fly rods, which only tells me that, like many of us, McGuane has far more of either than he actually needs. No surprises there.
And finally there is a thoughtful chapter examining the significance of Izaak Walton's Compleat Angler and revealing to some extent how, for Walton and probably McGuane and others too, angling was more than a pastime, more than a ritual, but also in a sense an aid to a balanced philosophy of life - about being more than about fishing. Unfortunately it is difficult to get permission from Random House to quote directly from McGuane's book, but the man is on record elsewhere with the following statement, which in a way sums up almost everything you need to know about the sport. "Angling is extremely time consuming," he once remarked. "That's sort of the whole point."
Thanks to Coch y Bonddu Books, and Colin Smythe Ltd for permission to quote from A River Never Sleeps and A Man May Fish.
Happy holidays to everybody and do try to get out fishing if you can manage it.
Tight lines!
Oliver Burch www.wyevalleyflyfishing.com
---
October 2017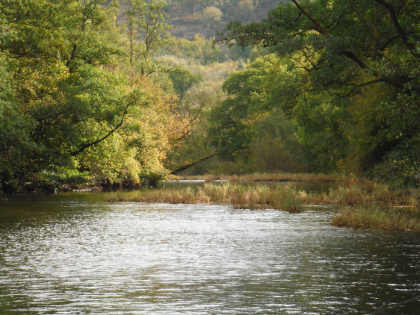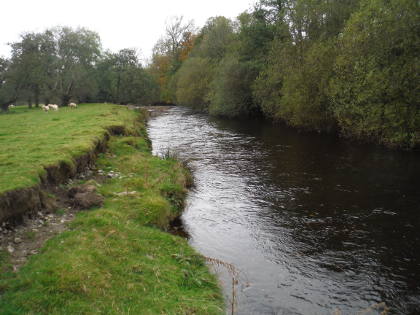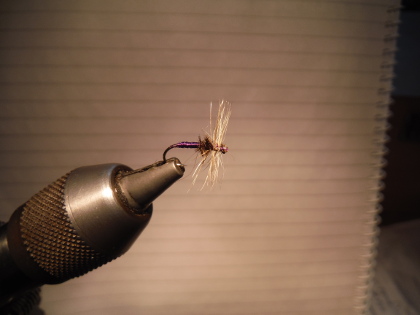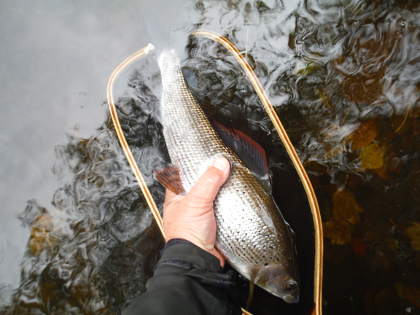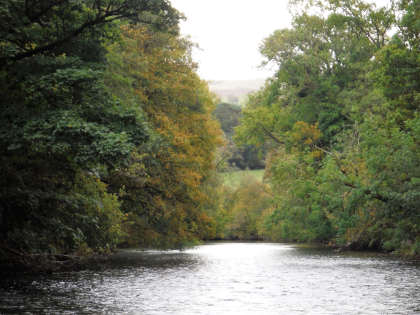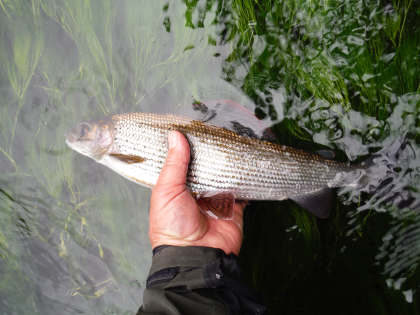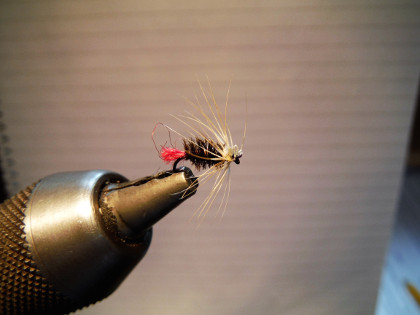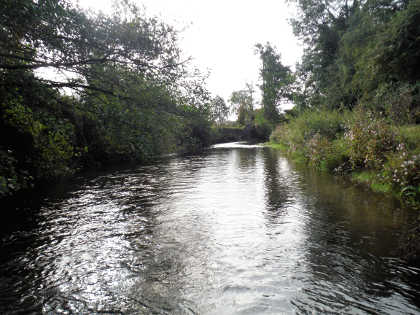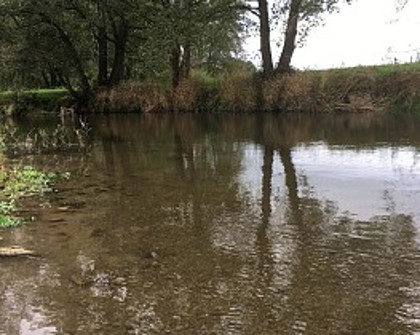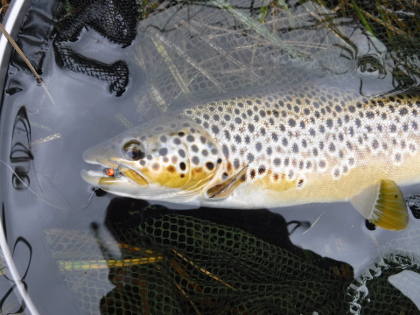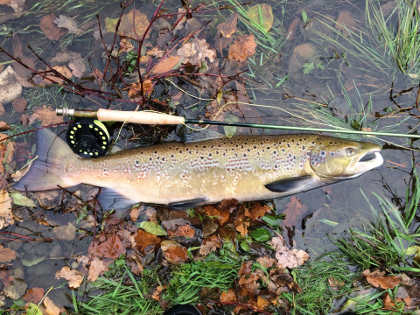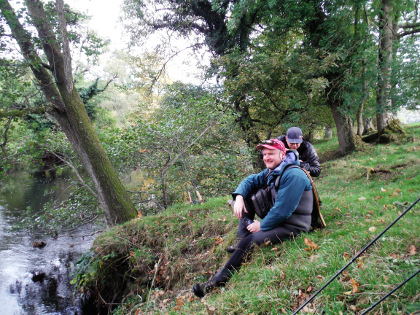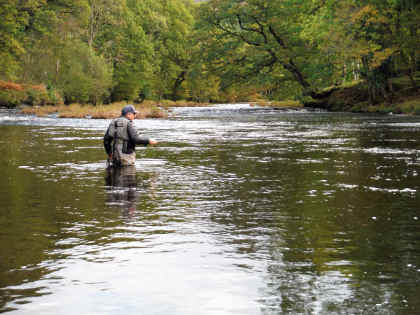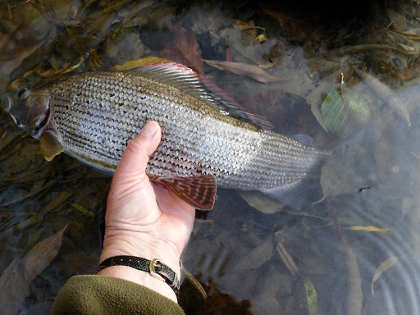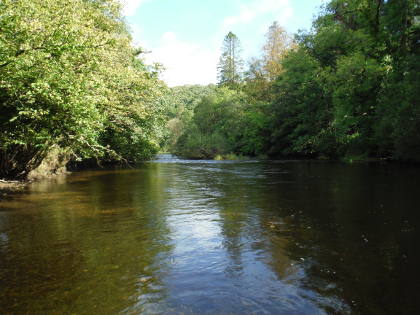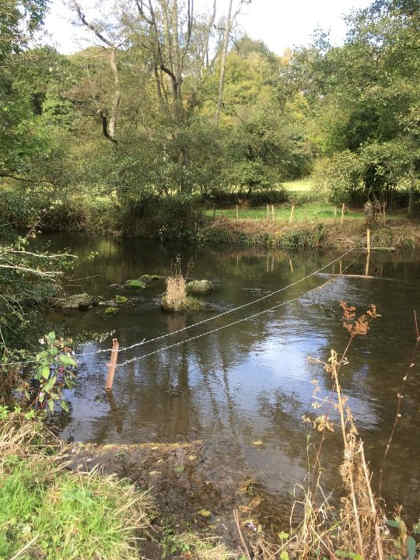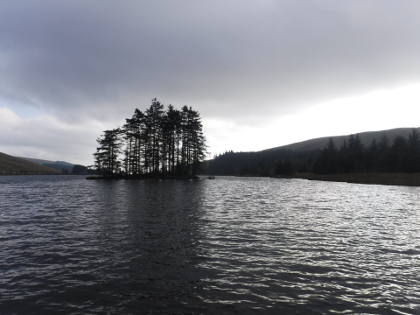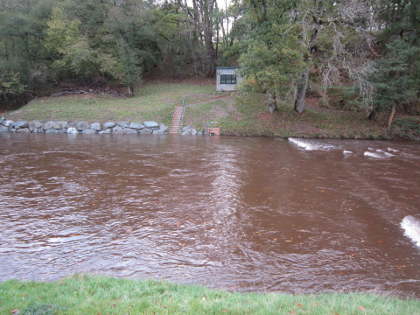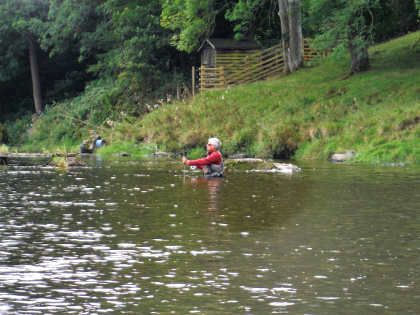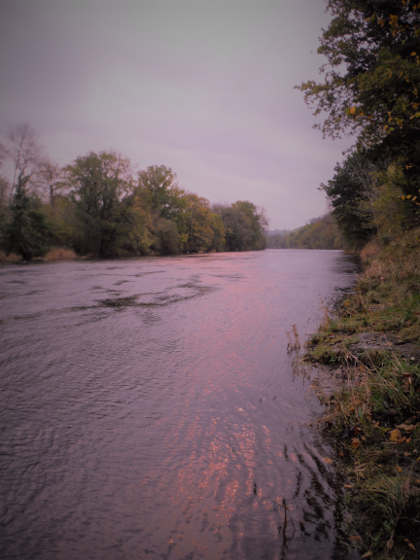 I expressed a hope for something called a "Golden October" in the last letter. I must stop doing this sort of thing; it's clearly unlucky because there was much more storm than sunshine during the October of 2017. The weather was at least unusually warm, which is about as much as I can say for it. The high winds of a couple of major gales combined with constant rain and drizzle inevitably produced problematic high water on the upper Wye and Irfon. There were a few more fishing days available on the Lugg and Arrow which remained in condition for longer. The last couple of days turned cold with the first frosts. For all the difficulties handed to us by the weather, there were some opportunities for those who looked for them, including good dry fly fishing in places as well as those times when close nymphing methods really scored.
Before we look at the reports, I have another grayling dry fly pattern for you. Grayling anglers used to talk about "white hackle rivers," meaning those water courses where fancy dry flies tied with a distinct touch of white colour to them work, as opposed to the ones where they don't. I never heard any explanation as to why this might be; as in so many things, the decision was left up to the grayling. Possibly the best known of them, HA Rolt's White Witch, one of a family of patterns which he developed from the Green Insect, was of course designed for his south country chalk streams. Tom Sturdy was a river keeper at Masham, so his off-white hackled Sturdy's Fancy has always been associated with Yorkshire. And a Ludlow postman named Brookes tied a very eye-catching fancy fly with a purple abdomen and a white hackle, so I suppose the Teme must be a white hackle river. In fact all three of the patterns just mentioned use Pearsalls purple gossamer silk as a tying thread, which when mixed with green peacock herl certainly gives a rich appearance to the dressing.
On the other hand, I always supposed that our grayling bearing tributaries of the Wye were not "white hackle rivers." Somehow I seemed to do better with duller coloured flies with greyish coloured hackles such as the Grayling Steel Blue or Yellow Bumble, varied on occasions with a flame tail dash of colour such as provided by the good old Red Tag and others. The Grayling Steel Blue and the rest still do a fine job, but over the last couple of seasons I seem to have been finding some use for the ones with white hackles. Maybe the grayling are changing their tastes. There was that autumn day last year on one of the Cammarch Hotel's Irfon waters when putting a Sturdy's Fancy on the leader suddenly seemed to bring reluctant grayling onto the take. The same thing happened on the Colonel's Water this year. And there is the additional factor that, as we get older and our eyes weaken, it is easier to actually see a white hackle fly. This year we have had an autumn of low cloud cover, drizzle and dull light, while the peat stained river raced along with its surface encumbered with dead leaves and clusters of foam. Grayling often sip in a dry fly with surprisingly little disturbance on the surface and in such circumstances if you take your eyes off the tiny grey blob of the size 16 Grayling Steel Blue out there, you won't find it again. You won't see it disappear when the critical moment comes. A Sturdys Fancy on the other hand, provided the grayling are prepared to accept it, shows up well enough with that hackle of off-white or cream and a tiny red tag as well. "At least I can see the darned thing now," a client declared as he started to make connections with grayling. Here is the dressing:
Sturdy's Fancy
Hook: 16 or 18 dry
Thread: Purple Gossamer silk
Tag: Bright red wool, but very small
Body: Peacock herl, fat
Hackle: Off white or cream cock.
Let's take a look at some of the reports. On the 29th September MD from Cardiff had 9 grayling from the Lugg at Dayhouse. AS of Newent on the 30th fished at Eyton and got 11, noting that while it was pouring with rain all day, the Lugg remained stubbornly low and clear. On the 3rd October SC from Landeilo Graban had 9 grayling from the Irfon at Llanfechan. On the same day, AG from Harleston in Norfolk took 12 grayling to 16 inches fishing the upper Wye at Doldowlod. Mention of sleeping in the car jogged my memory; I believe I have met AG, who pays us an annual visit for a week, camping in the car overnight between beats. Which, you must admit, shows an admirable dedication to fishing our waters. On the 4th he fished the Colonel's Water on the Irfon and had 11 grayling to 12 inches. On the next day he had a dozen from Abernant on a rising river (never easy). Having heard no rain rattling on the car roof through the night, he blamed rainfall upstream on the high ground of the catchment. On the 6th he fished Doldowlod again for 10 grayling to 14 inches. I'm glad he enjoyed his autumn trip to the Wye system.
On the 5th, AM from Dorridge had another large catch of grayling to 16 inches from the Lugg at Lyepole. On the 7th, CT from Cardiff with a friend fished the Talybont Reservoir (which is open until the end of the month) and they had 11 trout to 16 inches using floating lines with long leaders and black lures. It seems that the trout of Talybont are showing signs of autumn aggression. I remember watching a rather spectacular episode of fry-feeding near the bank here late one season. SF from London had an adventure on the same day at Llanfechan on the Irfon, taking 10 grayling before a cock salmon of 8 or 9 pounds grabbed his nymph. Be warned that this does happen at this time of the year and when the salmon come into the Irfon you will find yourself at close quarters with them. He had a struggle but managed to release it unharmed. JD from Hereford caught 22 grayling to 14 inches from the main river at Llangoed and Lower Llanstephan using a team of three wet flies. AP from the Wirral fished at Lyepole, was not dissuaded one bit by falling into the Lugg, and went on to take 23 grayling to 14 inches with nymphs and dries. HW from Penclawdd fished at Llanfechan for a large catch of grayling on nymphs and dries. BP from Pembridge fished the Llynfi at Pontithiel for 9 grayling, all around 10 inches. It will be remembered that this is the beat which is recovering from a pollution incident. JM from Sombreffe near Namur with two friends fished the Irfon at Cefnllysgwynne for 20 grayling, one of which was a very good one of 47cm (18:50 inches in old money). They told us by the river at the end of the day that they usually fish in the Ardennes, but visit our waters annually. And on the 9th JC from Tamworth had 11 grayling from the Lugg at Eyton. Meanwhile the Belgian party of three led by JM from Sombreffe took 21 grayling on the Colonel's Water of the upper Irfon. MB from North Shields with a friend took 35 grayling on nymphs and dries at Lyepole. SC from Llandeilo Graban had 9 grayling between 10 and 13 inches with a dry fly on the Cammarch Hotel's lower beat of the Irfon.
Talybont Reservoir, open late for brown trout, continued to perform remarkably well this autumn. On the 10th, FM from Colchester had a half a dozen trout to 1:50 pounds on a slowly fished Stick Fly (a caddis grub imitation dating back to the fifties). CT from Cardiff had 5 trout to 15 inches on the same day. FM was back on the 12th and had 6 trout again, this time using a Hare's Ear Nymph. JP from Tenbury Wells fished Lyepole on the 12th and complained of a newly erected double barbed wire fence right across the Lugg in the section above the bridge. I have to comment that I have seen some fairly chaotic stock management in this area lately, including nervous bullocks breaking down a bankside fence while a client and I watched. I hope there is way through for anglers. On the 14th, AS from Newent fished at Lyepole and had a great catch of 40 grayling including a big one. RD of Blackwood took his turn at Talybont Reservoir on the same day and had 5 trout to 1:50 pounds. Meanwhile CT of Cardiff fished at Beacons Reservoir, the other wild brown haven of the area (although there is also some stocking of rainbows), and had 7 fish to 17 inches. On the 15th, WP from Presteigne investigated the middle Lugg at Lyepole and enjoyed himself with 15 grayling to 12 inches while SF from London had a large catch of grayling on a dry fly from the Irfon at Llanfechan. On the 18th AW from Salisbury fished Lyepole for 9 grayling and, in his turn, went on to fish the Irfon at Llanfechan the following day to take 8 grayling on nymphs and spiders.
By this time, continuous showers had produced their effect in saturating the uplands feeding our rivers. Both the main Wye and Irfon rose into a big flood and other tributaries including the famously "stable" Lugg and Arrow eventually followed. On the 21st AS from Newent was out on the Lugg at Lyepole, fished a rising and colouring river, but got 26 grayling to 15 inches. He was using tungsten-weighted nymphs. There wasn't much to be done on the main Wye at this stage, but JL from Bigglesworth also fished Lyepole on the 23rd and got 14 grayling from coloured water. On the 26th GS from Milton Keynes got 10 grayling from the Wye at the Rocks while the gauge at Llanstephan showed 2ft 4 inches. The Wye was at least now running clear as the level fell off slowly. On the 28th TH from Brecon had a large catch of small grayling from Llangoed and Lower Llanstephan using nymphs. AS from Newent managed 10 grayling from Craig Llyn but found it very hard work with not much moving. And on the same day, I watched beginner CE of Cardiff take 22 grayling at Abernant, variously by dry fly, wet fly and trotting. Fish of 15, 16 and 17 inches were included in his catch and the Llanstephan gauge stood at just under 2 feet. Six members of the Charfield Angling Association fished main river beats Ty Newydd, Gromaine and Llangoed and Lower Llanstephan on the 29th after taking breakfast in the Gromaine fishing hut. (Is that why all the beer bottles are in the hut, gentlemen? I'm only teasing). The gauge was now on 1ft 9 inches and they caught 34 grayling to 14 inches, all on nymphs. On the 30th J from Yarpole took 9 small grayling at Abernant. Also SC from Llandeilo Graban was sent off by mission control to get a grayling for the table from Aberbwtran, where he caught 3 fish at 10, 12 and 16 inches. I wonder if it was one of the small ones which he took home?
So much for October 2017, a difficult month with much fishing lost during the second half. Apologies are due to those whose days or even holidays were spoiled by the weather. Have some sympathy, too, for the stress undergone by the poor guides who in these conditions are running up and down trying to find some fishable water somewhere, anywhere. While driving home from a flooding river one day, a programme on the radio was discussing the events of October 100 years ago. It crossed my mind to wonder how the weather was when the Russians had their "ten days which shook the world." The histories of the October Revolution don't mention the weather much. Nearer home, the awful Passchendaele offensive was going on, so nothing but rain and mud in Belgium a hundred years ago. There's no comparison to be made with a lost week of fishing.
It was a strange end to the salmon season for me, one way and another. On the 15th of the month, a client and I were struggling in very high water to extract a few grayling from slack water to the side of the main current of the Wye at Abernant. We eventually managed a few as the day went on. Meanwhile, salmon were sloshing in the pool regularly. Regular salmon angler KG of Birmingham was also on the beat and, as is his wont, soon got to grips with them and caught a couple - who says salmon don't show at Abernant. Next day was an unusual one, very warm and still to begin with and with strange coppery coloured clouds looming above the valley and obscuring the hills. Humid air had the car demisters working overtime. On this occasion I had a day for myself, the last chance of a salmon for me, booked at Llangoed and Lower Llanstephan. The talk on the radio that morning had been all about the approach of the Ophelia storm and the weather certainly seemed curiously tropical. Warm gusts began fitfully and when the sun finally appeared through the low clouds it was a dull orange, dim enough to be viewed directly and casting a lurid glow across the water. We now know that Sahara dust and smoke from fires burning in Portugal were the cause of these strange atmospheric effects. Eventually it became quite dark, almost as if during an eclipse. Once, just like Arthur Ransome, I had fished through a solar eclipse in an experimental sort of way, wondering what effect it would have on the fish. I caught nothing on that occasion, just as I caught nothing now. Then the sky began to clear, giving the day the appearance of normal autumn light rather than a sand-storm in the deserts of Iraq and the wind began to blow with greater strength as the storm came on, frustratingly sending my best effort Spey casts all over the place. What finally made me give up were the leaves, which eventually became so thick in the river that even with a single hook fly I was catching something whirring and twisting the leader on almost every cast. Ophelia was on the way.
In frustration I wound up and headed for home, wondering vaguely about the system for naming hurricanes. I supposed we had reached the letter "O" and as male names are now also used, might there eventually be one named for me perhaps? All I could remember about Shakespeare's Ophelia was that she had been in love with Hamlet, who didn't treat her very well, so that she drowned herself. And of course there is that famous pre-Raphaelite picture by Sir John Millais of The drown'd Ophelia, with the lady in the water rather tastefully arranged on a bed of bright green ranunculus weed. When I was an art student we were told that Millais persuaded a model named Elizabeth Siddal to lie in Surrey's Hogsmill river for his picture, a procedure which must have been pretty uncomfortable unless the great man worked with great speed. Modern research claims that Ms Siddal was allowed to use a bath and that even the water was heated by candles placed underneath. This news was a great disappointment, or so it seemed to me. The picture itself and the details of the river always struck me as evidence that during the mid-19th century the Hogsmill must have been quite an attractive little chalk stream. A century later it was little more than a concrete channel through south London's outskirts with a few sticklebacks and a dubious smell; as such it was no place for a lady of taste to drown herself. Today, they tell me, it is being restored and there are all kinds of fish. Anyway, so much for Ophelia and her storm (it blew hard that night, although much worse on the coast) and that was the end of my salmon season, although some of the tributaries and the upper Wye stayed open until 25th March. And of course the trout fishing is all finished now, to reopen for the new season on the Wye and Usk systems on 3rd March 2018, and on 18th March for Severn tributaries. As an afternote, DJ from Evesham, unlike me, pressed on through that day despite wind and leaves and got himself a 33 inch salmon from Chapel Catch with a tube fly and a sink tip. This was his first one I believe, so congratulations to DJ. That should serve as a reminder that perseverance often has its reward!
******
Don Stazicker has another article out on fishing knots (October edition of Trout and Salmon), this time covering knots to join nylon, attach droppers and create loops. The knots he investigates for joining two pieces of nylon end to end are the Double Grinner, Blood (or Double Blood), Surgeon's or Three Turn Water knot, the J knot, and one which initially seemed new to me which he calls the Seaguar knot. All of these, potentially, can also be used for forming a dropper extension to the leader if one tag is left untrimmed.
Stazicker's assessed winner for joining nylon is the Surgeon's knot which he scores at 16 out of 20 and which has a tested strength of 90% of unknotted tippet. I concur with this absolutely as this one has for a long time been my preferred knot for joining nylon, provided the difference in thickness of the two pieces is not unduly great. He also scores the J knot at 16 out of 20, as while the strength of this one is slightly less at 87%, it picks up a few points for reduced bulk. The Blood knot (the name has a gruesome history as given to the knot once made in the cat o nine tails) only achieves 13 points due to a strength tested at only 70% of straight nylon. Personally I never liked the Blood knot as a distinctly fiddly one to make although it was much used in the past by professionals to make up wet fly leaders. I have a tool which can make the job easier, but I am still not keen on the Blood knot. I was surprised to read that the Double Grinner scores only 14 as the strength is apparently only 82%. I would have guessed that it might be stronger although this is another slightly bulky knot. However, I suggest this one might have its uses if for some reason you wish to join nylon of differing thicknesses.
The one which surprised me is a knot which Stazicker calls the Seaguar knot. I realised when I saw the diagram that this is the knot which I have for years been calling the Improved Dropper knot. Stazicker rates its strength at 87% which, together with its bulk, dropped the points score down to 13. Personally, after much experiment, I am quite convinced this is in fact the strongest dropper knot, at least with the monofilament materials I use, and I employ it all the time for wet fly fishing. I disagree with Stazicker that it is difficult to make, although there may be a knack to learning it. Meanwhile Stazicker seems to favour the Surgeon's knot for forming droppers. Again, after much experiment, I disagree with him. I believe the Surgeon's knot is very slightly weaker for droppers although it is certainly easy to make and I have used it experimentally on numerous occasions... and been duly disappointed. The method Stazicker really likes for making droppers is to use one of those little metal connecting rings for the junction, with the three pieces of nylon all attached to it by Grinner knots. I concur that this arrangement would probably be ideal and very strong; it just seems an awful lot of trouble to make up wet fly leaders in that way - I get through a lot of them and making them up in the office is a regular chore!
His section on making loops in nylon surprised me. The Dropper Loop idea to make a piece of nylon stand out from the main line always struck me as too bulky and Stazicker's test confirms that at 70% it is weak. The Surgeon's Loop for the end of the nylon is reasonably strong (90%) but bulky and it invariably forms at an angle to the main line. The Perfection Loop, which many people like, avoids that problem but only has 75% strength. Those are the only three which Stazicker mentions, but he did not assess the Blood-Bight Loop, which is the one I favour. I have found it to be very strong and reliable and it also results in the loop being in line with the nylon stem. Finally, Stazicker warns against the habit of tying a piece of nylon, tippet perhaps, directly onto a nylon loop as if it were the eye of a hook. I see this done all the time, but apart from looking untidy it is dangerously weak. One piece of nylon cuts into another. Loop to loop connections are the way to go; if you already have a loop in one piece of nylon, make another loop into anything which it is to be connected to it. When pulling any knot tight, don't jerk it quickly until it locks up dry. Always lubricate it (and saliva is the obvious medium), do the tightening slowly and if necessary manipulate the coils into the correct shape (usually a figure of eight shape) before it tightens home. Somebody told me once that saliva contains a digestive enzyme which weakens nylon; I don't know about that, but there are special knot lubrication products if you can be bothered with them. Stazicker suggests you tighten slowly and then hold the tension on hard for 20 seconds to complete the task, which is surely good advice. Don't leave it for a big fish to do the tightening and test the job for you.
I think it's worth emphasizing that different anglers surely get different results according to their preferred materials and brands of monofilament and everybody seems to have their own likes and dislikes. Just try parting a committed salmon angler from his favourite Maxima. For the record again, here are the ones I generally like and use:
Straight nylon: Bayer Perlon, occasionally Stroft in finer sizes
Flurocarbon: Riverge Grand Max and Seaguar
Copolymer: Hardy Marksman or Greys Greylon, occasionally Orvis Superstrong.
******
They were on the move again. It was five o'clock on an early autumn morning, while travelling back from a night of sewin fishing in Carmarthenshire. Still in darkness, I was driving through the forest into the outskirts of my home town when a sounder of maybe 20 boar suddenly rushed across the road in front of the car. I just about stood on the brakes in time. You see unusual things in the headlights while driving very late on roads empty of traffic. Apart from a few trucks off the night ferry from Ireland and heading east towards the Channel Tunnel, there won't be many vehicles around even on the main A40 (my way home is via Llandovery, Brecon and Monmouth). A barn owl down on the tarmac with wings covering its prey is surprisingly common. Despite their famed silence and flying skill, they also quite often fall victims to cars in the late hours of the night; this year near Sennybridge, sad to relate, one flew suddenly into my car roof. There is a roaming badger now and then, hedgehogs of course, foxes and rabbits all the time. Often a domestic cat gives a guilty glance over its shoulder as it goes about its nefarious business. Once, towards the end of such a journey in the early hours, I came across one of the white fallow stags (albinos are quite common in the local herd) with a wonderful head of points grazing quietly on a Dean Forest verge. I stopped across the road with the engine idling and for some reason it ignored me and just carried on grazing.
Accidents with animals are not uncommon on the Forest roads near where I live. We have always had free range sheep here in the Dean, not so many now as before the foot and mouth epidemic, but still quite a few thousand of them. Either for presumed warmth or the opportunity to lick salt from the tarmac, they often hang around or lie down on the roads. Our Forest sheep are untidy looking creatures, nothing like the sleek merinos of richer southern pastures. By the crossroads in the village of Bream they usually loiter around the bus stop with a kind of stupid and insolent stare, like delinquent youths with time on their hands. I wouldn't be totally surprised one day to find the sheep around the Bream bus stop are intimidating old ladies, drinking cans of cider, smoking strange substances from a bong and cat-calling the passing girls. Nevertheless, although sheep aren't the brightest of creatures, they generally manage to avoid the traffic. They rarely run suddenly in front of cars.
The mainly fallow deer of the Forest are somewhat more of a worry, particularly during the autumn rutting season. Although they often show up in the headlights at night, they do not usually dash across in the dark. Instead, the experience of a stag trying to round up hinds, the chase and the sudden unexpected bound downhill and into the road in front of the car is one usually encountered during daylight. It is surprising how fearless these normally timid animals can become during October and November. In the gorge of the lower Wye, where there are also a few red deer, you may hear the stags roaring. One autumn afternoon my wife followed a big stag which marched unconcerned and totally unafraid right down the village street of St Briavels, his antlered head erect as if daring anybody to challenge him and the hooves going clip clop on the tarmac. Today there are small numbers of muntjac and roe deer in the Forest as well. I would hate to run into a beautiful deer on the road, but unfortunately accidents with cars are quite a common occurrence.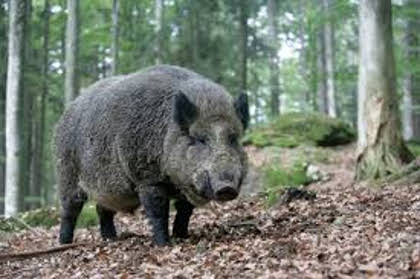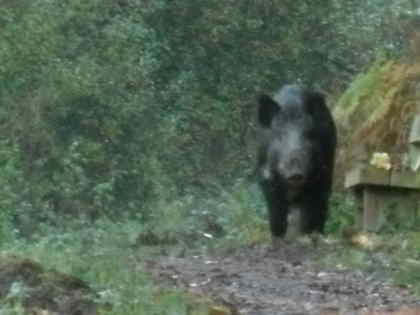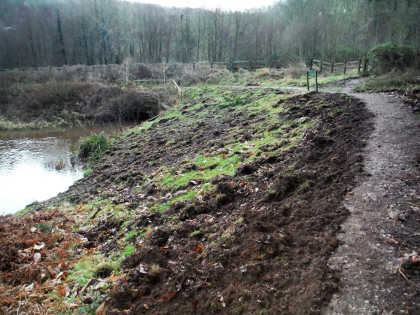 The feral boar of the Forest are something new, present only for the last dozen or 15 years. Some were said to have been dumped; others escaped from a farm where they were being bred for the exotic meat trade, and originally they made their way into the dark and thick woods which tower rather impressively on a hill over the village of Weston under Penyard, near Ross. Weston is a quiet place where one of our sons and his family live and where our grandchildren attend the village school. Penyard Woods provided a good foot-hold for the boar; they consolidated their population there for a few years before making a break-out, expanding rapidly into the much larger area of the Forest of Dean nearby and also to various wooded parts of Herefordshire, crossing the Wye without trouble. Estimates of numbers now range from one to two thousand, despite attempts to cull them. The local human population is quite divided on the subject of the boar. Some look on them as an interesting addition to our wild-life and point out that they were certainly present a few centuries ago. Others, either worried about dogs while walking in the woods or infuriated by the damage to village cricket pitches, are for exterminating every last one. They certainly do make a mess; only a tank reversing on the grass verge could plough it up with such devastating efficiency. Our Forest Syndicate lake used to have beautiful grassy banks, which we would strim neatly on a regular basis. Now, during the wet winter months, there is something like a mud-slide leading down into the water. They even plough up a hard-rolled gravel path, which gives you an idea of the power in their necks and snouts.
It isn't that pigs were unknown in the Forest. I'm old enough to remember visits to grandparents when Foresters in many of the villages used to keep domestic pigs and in the autumn they would be turned loose to eat up the acorns in oak woods, fattening them up for Christmas. This is the ancient right of pannage which was accorded to the Forest-born, or as they say locally, "born in the Hundred" (of St Briavels), and a right which still exists in theory. Such domestic pigs from the sty were nose-ringed, so they would not moot up the ground and I can't recall that they were much of a problem to traffic, not that there was much traffic then.
The large and hirsute boar which live in our woods now are very different; they move quickly and just charge out without looking or thinking, particularly during the hours of darkness. Every day on my way to fishing I drive across the Forest morning and evening, and the trip is usually in darkness both ways during the late autumn and winter. After a couple of near misses it struck me that I am rather vulnerable in this respect and last December my fears proved well founded. I was driving my Bosnian mother-in-law back from Ross one evening and as we turned into the unlit forest road along the Cannop valley, I said brightly: "You might see a boar here with luck." Good Muslim as she is, I had just overheard mother-in-law muttering to herself in the Mostar dialect of Serbo-Croatian which she thinks I don't understand well enough, "...what does he think I want to see a dirty pig for..." when a few yards ahead a large grey boar ran across the road, clearly showing pale in the headlights. We were doing about 30mph at the time and there was plenty of room. "What did I tell you!" said I swelling with pride, showing off this fine example of our British wild life. Unfortunately I completely failed to anticipate his wing man. This was the other, much closer, boar, which a split second later ran out of the woods into our near side front with a great bang, followed by silence. Dust, I presume from the dried mud on the animal's hair, hung in the lamplight. I got out to inspect the damage, not relishing one bit the idea of dealing with a wounded boar. But the pig jumped up, gave itself a shake and dashed off again without leaving any insurance details. The front panel of the car, plastic like all the modern ones, was completely wrapped around the near side wheel. We were going nowhere. An expensive affair indeed and the car was in the coachworks for a week! I must be more careful this year.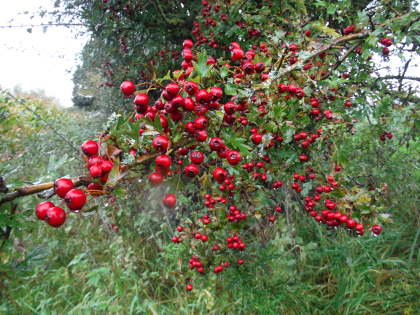 Into darkest November we go now and there must now be very few days of surface fishing left. By all means have a go with the dry fly rod if you have it ready and you find grayling rising somewhere, probably to large dark olives, on some mild winter afternoon. But the chances are that you will find them looking down for food on the bottom and a team of heavy nymphs or the trotting rod will provide your best chances. Tight lines!
Oliver Burch www.wyevalleyflyfishing.com
---
September 2017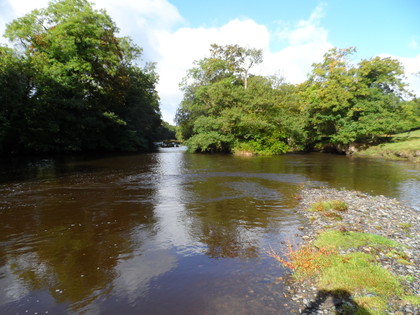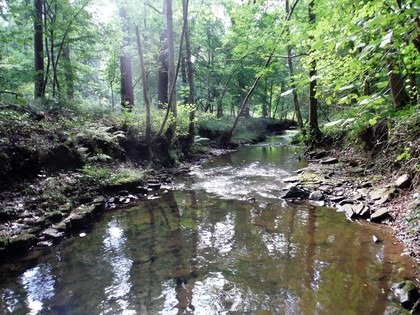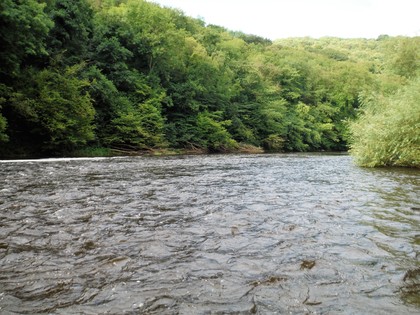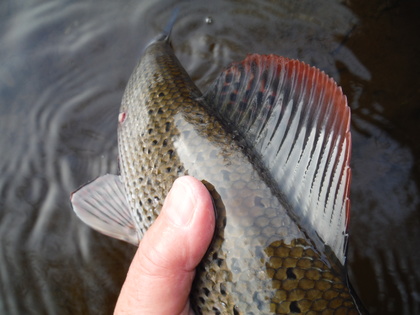 Most people, if asked, would make a guess that we had more than enough rain during September. In fact the showers, which were clearly difficult enough for the weather agencies to predict, were intermittent, very localised, and at first there seemed to be little effect on our rivers. What did fall mostly arrived on the high ground of the Cambrian Mountains and the Brecon Beacons and by 10th this generated some proper floods at last. In the catchments at the heads of our main rivers at least the showers were now falling on saturated ground and a 4 foot flood began on the Wye, which remained too high for trout and grayling fishing for days. The Irfon, which might have provided a useful alternative, was also high at this time and the Usk was quick to follow. I must apologise once more to those trout and grayling clients whose booked fishing days were washed off and delayed. At the same time the showers seemed to have missed some other catchments which actually remained quite short of water. The whole Monnow system stayed affected by drought and thus very difficult to fish while the spring-fed Lugg and Arrow were also unduly low and clear. This situation continued more or less right through September. Thus we had the odd situation that salmon anglers were capitalising on a series of spates on the main rivers while those after trout and grayling found themselves hindered, either by the main river floods or else by tributaries stricken with a lack of water. To give one minor example, my local Forest of Dean streams were among those brooks which remained stubbornly dry. At the end of the month, by the Rising Sun Inn at Mosely Green in the middle of the Forest, the old pond which once supplied a colliery pit-head steam engine with water was still half empty, just as we are used to seeing it in mid-summer. The spring in the corner had dried and the level was now a foot below the overflow in the dam. The pub's gold fish and carp which live in this one did not seem to mind. However, a client and I, washed off from the upper Wye, found one of the local trout fisheries similarly suffering from the failure of its spring and fish were actually dying in one of the pools. Gardeners planting bushes nearby remarked that they found nothing but dust 3 inches down. Despite these disadvantages, there were those who managed to find a good fishing day on our rivers here and there.
Now to the reports and firstly an update on the 21 inch grayling reported from Abernant at the end of last month. This prompted a flurry of excitement in the office about a potentially record breaking fish. We contacted the captor, AR of London, who advised that in fact this grayling was a bit of a disappointment to him, in that it fought little and was extremely thin for its length. The fish wasn't weighed, but he estimated it might have weighed 3 pounds at the most. For that reason, he thought we might consider this as perhaps an old one going back in condition. If so, it must have been a magnificent creature once. This is not something we often see with grayling for some reason, although elderly trout losing condition before death are common enough. European grayling, like Atlantic salmon, are relatively short-lived, rapid growing fish. Arctic grayling, although they reach larger sizes on occasions, are believed to be relatively slow growing and long-lived. The Alaska Department of Fish and Game in a recent appeal for careful catch and release advised that their grayling over 18 inches might be as much as two decades old. The Alaska record is currently 5 pounds 1 ounce from the Fish River on the Seward Peninsula, and was taken by Surrey's Peter Cockwill. It was a fish just under 23 inches long and estimated to be possibly 30 years old. Has that got you salivating perhaps? The British grayling record has recently been held by a succession of portly chalk stream fish from the Dorset Frome weighing over 4 pounds, but 19-20 inches in length. AR was using a 7 foot 3 weight rod when he took the big fish, so perhaps it was fortunate that it came in relatively quietly. He seems to have had a great holiday week, fishing a variety of WUF waters, from the Clettwr brook to the main Wye and border stream tributaries.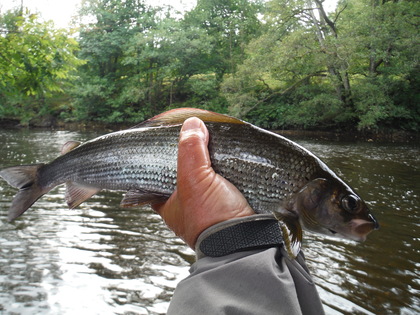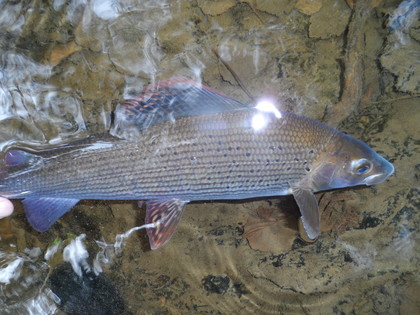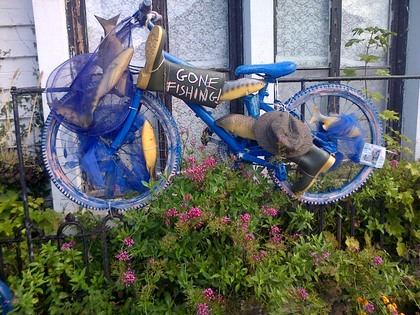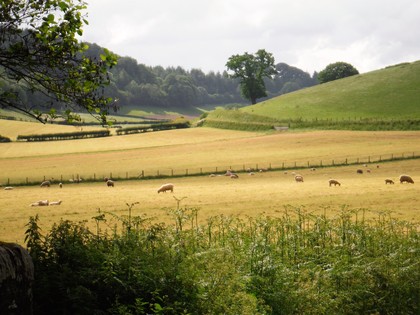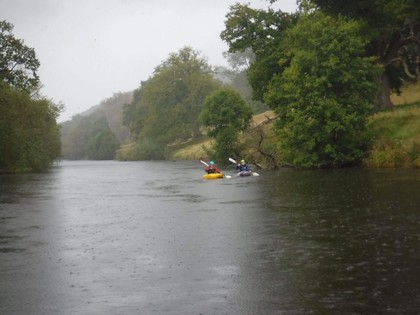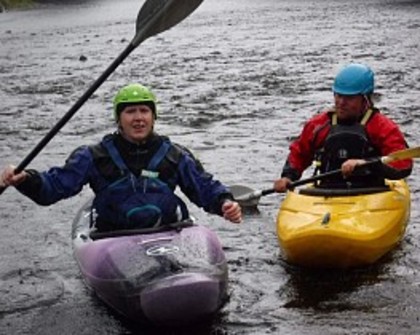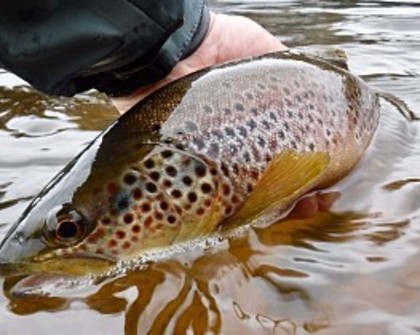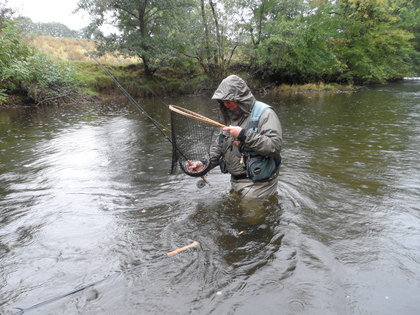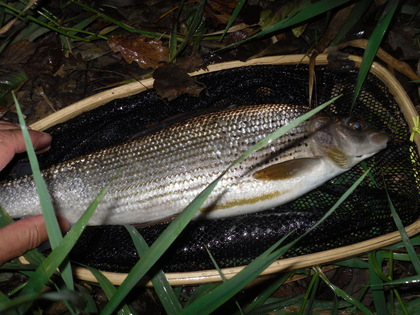 Still on the subject of grayling and sizes, early September reports from the main Wye seemed to indicate a preponderance of small fish in exceptional numbers on some of the beats. It seems to be in the nature of grayling fishing that a particularly successful spawning season results in one single year class dominating catches for a while. Consider these reports from the 2nd September, which was a pleasantly warm and mostly cloudy day, with the Wye still running low at about 8 inches on the Llanstephan gauge. JD from Hereford was out on Llangoed and Lower Llanstephan, working his way down from the top with spiders. Apart from 4 trout he returned no less than 65 grayling, and nearly all of them were in the 6-8 inch range. He must have been exhausted with unhooking them. Meanwhile, Dave Collins and Glyn Williams (West Herefordshire and Little Comberton) were fishing upstream at Abernant and had 4 trout and 74 grayling fishing on top of the water. Almost all these grayling were in the 9-10 inch range. MG from Hereford fished at Ty Newydd during the evening and had 1 trout and 50 grayling - in an hour! That must have been something like speed fishing. At the same time, some of the tributaries and the narrower and rockier main river above Builth still seemed to be housing some of the earlier year class fish. AS of Newent was at Llanfechan on the Irfon and apart from 3 trout had 32 grayling ranging in size right up to 16 inches. On the same day I had a few decent ones further up the Wye at Doldowlod. The day before SC from Llandeilo Graban had fished the Colonel's Water on the upper Irfon and had a mixed bag of 13 grayling of 8-13 inches and 1 trout. The general consensus is that results involving lots of small grayling are not anything much to worry about if you take the long view. Small grayling now are likely to mean a few (or possibly more than a few) good ones in a couple of years.
The Usk seemed to be fishing reasonably well after the relatively cool August just past. On the 1st September AL from Brecon reported a trout of 2:25 pounds from the new beat at Upper Tower. On the 2nd, MW from Ashford took to East European style nymphing in the fast water at Dinas and got 15 trout up to 16 inches. I was also rather intrigued by a report from MW from Ashford, who on the 1st fished the upper Grwyne Fawr brook with a short line and two spiders weighted down with a Pheasant Tail Nymph on the point. He got 5 trout with his team of three which is not something you will often see on the narrow brooks these days. TH from Brecon was out salmon fishing at Gromaine on the 3rd, but although he got a pull on a tiny Silver Stoat at one point, the low water conditions did not seem hopeful. Instead he fished in front of the hut with a trout rod during the evening and got 1 trout and 13 grayling. TL from Kingsland fished the Lugg at Lyepole on the 4th for 7 trout and 12 grayling and saw mink on the beat. That is slightly surprising as otters have been long resident there and the two species do not normally get on with each other. AS from Germany fished the brook at Aberedw with the water low and took 10 trout. On the 6th, AW from Salisbury fished the Irfon at Llanfechan and got 2 trout and 12 grayling with spiders. On the 7th, NW fished the Lugg at Dayhouse and caught 8 trout and 15 grayling with upstream nymph. Two days later, AS of Newent fished the same beat for 4 trout and 8 grayling to 14 inches. Also on the 9th, DS and LE from Dymock fished the Usk at Ashford House and had the later part of the day spoiled by illegal canoeing. The trespassing canoeists apparently made a point of splashing the water when they were hailed. DS and LE state accurately that this is quite an exclusive beat with excellent fishing on a famous trout river, but not cheap. Sharing it with boat traffic makes a world of difference to the experience - the photographs make the point more eloquently than I am able to do, but I will warn again that we can expect a lot more of this in perpetuity if the current proposals being placed in front of the Welsh Assembly are accepted. So do make you your views known on the open access proposals - see last month's newsletter. Meanwhile, I'm pleased to mention that DS and LE did get 15 trout including a nice one of 1:50 pounds - which actually looks rather bigger than that in the photograph to my mind!
On the 10th, JC from Portsmouth shared a rod with his son on the Edw at Hergest. There are different ideas about how two anglers can fish a small stream, including splitting the beat in half and meeting at the end of the day, or leap-frogging each other between pools. Were the choice mine, I would always opt for sharing a rod, taking turns to fish each pool so that one casts while the other watches. Thus the day becomes a joint venture, truly social angling, in which you discuss each problem and how to surmount it as it comes up. I'm happy to fish alone, but I do find rod sharing very enjoyable - it provides something of the same pleasure which a guide can get from a good day with a client. They found fish rising to olives and took half a dozen with a Parachute Adams. DM and SW fished the upper Wye at Craig Llyn and got 2 trout and 19 grayling. MM from the Netherlands was fishing the Irfon at Cefnllysgwynne the same day and got 5 trout to 40cm and 3 grayling, all on a dry fly. Meanwhile AB from Hereford was salmon fishing at Abernant, eventually turned to the single handed rod and got 3 trout and 6 grayling on a size 18 Grey Duster. He also saw an osprey and a peregrine. That was all well enough, AB remarked, but he clearly felt a bit disappointed that he doesn't seem to see salmon on this beat. In fact, if you check the records, there have been some red letter salmon days at Abernant and if it is fished often enough it produces quite well. KG from Birmingham is one regular who used to fish and catch quite often at Abernant and the boys from Trout and Salmon certainly had a good salmon day there last year. In the past I have bumped into salmon quite by accident at Abernant while fishing for trout and I had a grayling fishing client there recently, a new angler on his very first try at the game, who found himself unexpectedly attached to a salmon by one of a team of spiders. I suppose if this tells us anything, it is that autumn salmon often like quite small flies. Of course the accident can happen the other way round. NC from London was fishing the Usk at Chainbridge, also on the 10th, took a salmon and reported also a very large trout (one of 3) taken on the double handed rod. MB from Cwmbran reported a sea trout while salmon fishing at Gromaine.
By now floods were well on the way down the main Wye and Irfon, while the Usk was rapidly following suit. Salmon anglers were naturally enough rubbing their hands in anticipation and the barbel men were also doing remarkably well as they often do in a warm flood. However, those focussed on trout and grayling were either struggling with high water on the main rivers or with drought-stricken tributaries in those valleys which had not, as yet, received anything like sufficient rain. On the 15th, B and JJ from Malvern fished at Lyepole and found the Lugg still low though now slightly coloured. They managed 3 trout and 18 grayling to 12 inches. On the 16th LK from Presteigne reported a large grayling from the Ithon at Llandewi taken with a tenkara rod. Another large grayling was reported by JH and AB from Epsom who took 7 altogether from Craig Llyn with Grayling Steel Blue dry flies. MN from Bristol fished the Colonel's Water of the Irfon for 6 trout and 10 grayling to 13inches and felt himself in a quandary as he found himself sharing the water with two young poachers fishing with worm. The only advice I can give is that telling the owner about it in hope of subsequent action is not going to help much. It's my own view, but I think that if ticket purchasers tolerate poachers fishing alongside them with illegal methods, we are all going to see a lot more of them than we already do. There is plenty of cheap fishing legally available in the area for young people and - again personally speaking - I would have kicked them off, politely if possible, but definitively! Unfortunately the Irfon valley has a rather bad reputation in this respect, particularly for taking salmon out of season. In the circumstances, a quiet word is really the kindest approach considering the alternatives. The theft of fishing rights offence would or should have been of interest to the police. The NRW bailiff would surely have been much less accommodating about the illegal worm fishing...or the likely lack of an EA licence. I speak as one who, in boyhood days, used to look for "free fishing" (although of course there's actually no such thing) wherever I could find it. Some farmers were remarkably kind to a couple of small boys with fishing rods and bikes and it never hurts to ask, but when told to leave by rural authority, usually in no uncertain terms, we didn't need telling twice!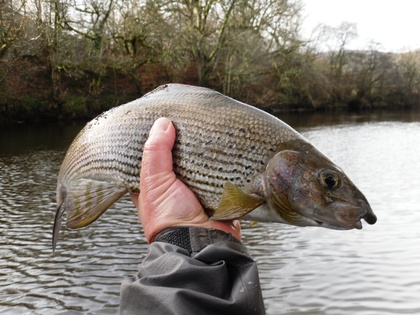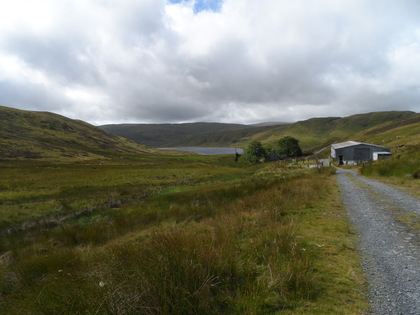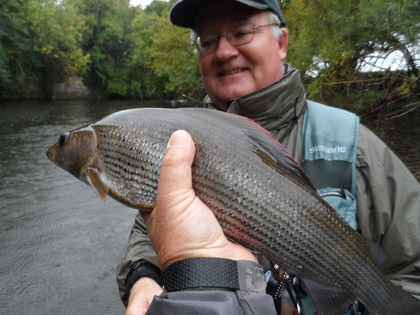 On the same day AS from Newent tried out Abbeydore Court, where he found the Dore very low and unaffected by rain, but reported 2 trout and 5 grayling, including a 16 inch fish, which is a good one for this little river. If anybody could extract them, I believe AS could! He still had problems accessing the upper third of the beat. On the 17th, DM from Hereford fished at Craig Llyn and reported 18 grayling and 2 trout, including a large one. JH from Epsom fished the Colonel's Water for 10 grayling between 12 and 14 inches. On the next day HW from Swansea found the Irfon in condition and had a "great day" at Cefnllysgwynne where he took 6 trout and 21 grayling on nymphs and a dry fly. I was slightly confused by a report on the 20th by MI from Bristol and a companion who booked both Dinas and Abercynrig on the upper Usk and took either 12 or 24 trout. On the 21st TB from Penkridge fished Lyepole for 3 trout and 8 grayling. JD from Porthcawl (Jonathan Dabernig, one of our Wild Stream volunteers) was washed off the Usk and instead fished the Edw at Porthcawl (possibly with a friend - the report is unclear) for 14 trout around 10 inches. On the 22nd DS from London was salmon fishing in coloured water on the Usk at Glan y Cafn; there was no result for salmon, but he caught 10 brown trout to 1:50 pounds. JD was out again, washed off the Wye this time, and reported 21 trout from the Edw at Cregrina. On the same day JA from Leominster made another trip to Bugeilyn, caught 10 trout and commented on the bad state of the gravel road towards the far end. This one has always been a track for 4WD vehicles really, not because it is slippery or traction is likely to be lost, but you do need plenty of ground clearance in the last section.
Also on the 22nd, ND from Framilode fished the Usk at Penpont after the water level dropped sufficiently and got a 16 inch trout on spiders. On the 23rd GW from Pershore fished the Hindwell Coombe for 9 trout and complained of difficult access to the upper section. SF from London fished at Dayhouse where he found the Lugg still very low, but using a duo system managed 4 trout to 16 inches and 15 grayling, also to 16 inches. ZS from London reported a truly remarkable trout of 22 inches (which would be about 4:50 pounds) in a mixed bag from Monnow Valley taken on nymphs, and sent in some photographs of smaller fish. On the 24th, DM and SW from Hereford tried some salmon fishing at Craig Llyn, but turned eventually to the single handed rods and got 1 trout and 27 grayling. SF from London moved on to Lyepole, where he got 5 trout and 25 grayling. Meanwhile JD from Porthcawl was on the Edw at Aberedw and took 9 trout on a Parachute Adams. By now the Irfon had dropped enough to allow AC from Brighton to take 1 trout and 15 grayling on dries from Llanfechan. And on the same day NS from Reading reported a dozen trout from the Taff at Merthyr, including several stock fish. (The MTAA do stock the Taff and have done over a long period). On the 25th, Dave Collins from West Herefordshire fished his Gwent AS middle Usk beat at Gilwern, as the flood was dropping off and the colour in the water fading. Trout were prepared to rise and he got 18 to 1:50 pounds on various dries. Dave emailed me after this trip and advised he was pretty sure he had seen a few autumn duns on the water, although they were rather smaller in size than he expected. It would be nice to think this rather rare fly is now on the middle as well as the upper Usk. It is certainly a handsome creature with abdomen segments of a rather attractive chestnut colour. On the 26th JM from Yarpole was out on the Wye at Abernant and had 1 trout and 19 grayling, mostly on dry flies. He made the point that the gauge was on 1ft 9 inches and that, as the water was relatively clear, it was just about possible to fish Lady Alexander Catch and thus save a day which might have been a wash-off. Most other upper Wye pools and beats would not have been viable for trout and grayling fishing at this height. AC from Brighton was able to fish the Irfon at Cefnllysgwynne on this day (with the Cilmery gauge not more than 0:60 if I remember right) and got 2 trout and 20 grayling by prospecting with a dry fly. SC from Llandeilo Graban fished his favourite Ithon beat at Llandewi and got 3 trout and 3 grayling including a nice one of 16:50 inches (a length which, knowing SC, I am sure he had the good sense to measure rather than guess). On the 27th AL from Bromsgrove fished the Lugg at Eyton. Like others found it very low (he called it skeletal), but got 14 trout and 18 grayling with a single nymph. On the 29th, RW from Portishead fished at Maes y Beran on the Honddu, which had risen at last and showed a tinge of colour. Sometimes, if the level is falling back, these can be the very best of conditions and during the afternoon RW finished his season off in style with 18 trout between 8 and 14 inches, all taken on a Parachute Adams.
******
Some more thoughts on the past summer, which was a more attractive one than usual (I am writing now strictly from an angling point of view), and one which produced several thought-provoking experiences. One was at my Forest Syndicate lake, where I went down early one morning to give a casting lesson for a member. After it was over, I thought I might as well have a fish for a while myself, although members already present told me the lake had been fishing badly for weeks and that rainbows were not taking the usual lures or nymphs. In August, this story of poor fishing is not so unusual. Our main lake is the lowest of a chain of pools which are exposed to the sun; during most years the water becomes warm and fish go off the take. For this reason we often suspend stocking during July and August and I certainly don't visit often at this time of the year. By contrast, for a stocked rainbow fishery, this provides excellent sport during spring, autumn and especially the winter. Still, summer is the holiday season and it is surprising how much attention the syndicate fishery receives from members now compared to the winter months. The water is fished quite hard and trout get to see a lot of flies towed past them at this time of the year.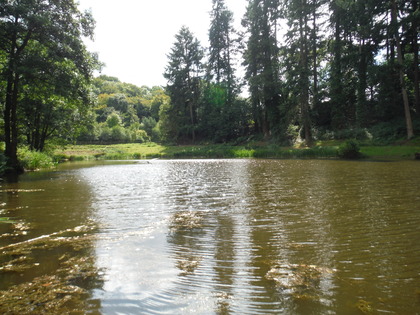 On the other hand again, except for early July, this summer had not been so very warm. On this particular morning there was a nice breeze creating a ripple pushing up to the head of the lake and rainbows were showing quite regularly at the surface as debris from the surrounding trees moved along on top. This looked promising enough to me. People had been fishing lures and nymphs without success; maybe the fish had simply seen too much of the usual patterns and methods. Why not a dry fly, I thought to myself? So I put on a size 12 Chocolate Drop, an Irish dry fly created by Dennis Moss with sedges in mind (see December 2015 newsletter for the dressing) and began by letting it drift round very slowly across the centre of the lake with the wind. The first rise was not long in coming and was an extremely confident one: a rainbow could be seen tilting its snout slowly up and the fly disappeared with hardly a disturbance of the surface. I waited a second before tightening and there it was, solidly hooked. I had to move position a few times and I varied tactics between just letting the fly drift round, giving it an occasional twitch to draw attention, or a very slow figure of eight retrieve, but by lunchtime I had taken and returned 8 fish on the Chocolate Drop. Rainbows love to investigate the surface for drifting terrestrials or sedges, and yet it is surprising how reluctant many still-water fishermen are to employ a dry fly. I rarely see the other members doing so, even during the daddy longlegs season. I'm not claiming that there is anything particularly magic about the Chocolate Drop; I have learned in the past that the Sedgehog, designed as a top dropper pulling fly for wild trout by Stan Headley, also works very well here even when left completely static on the surface. It certainly has that same triangular outline reminiscent of just about every species of sedge fly.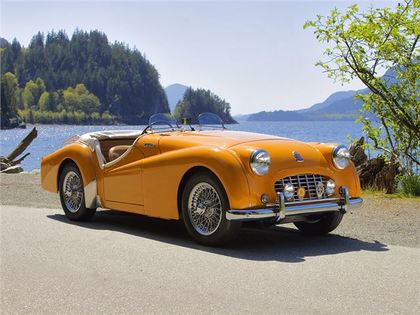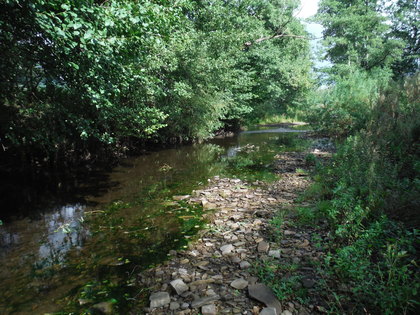 I'm reminded now of a summer evening, many, many years ago, when a friend and I were anchored in a boat in Dunster Bay on the newly opened Bewl Reservoir in Kent. We were young then and mad keen to learn the trade of reservoir fly fishing, but in July and August we had found the sport very slow. However, I had learned that on the hottest of days, rainbows would sometimes put their heads up for a dry fly and I had tied a batch up for the occasion. Believe it or not, they were Red Tags for some reason, crudely made in size 10. So far, we only had a couple of fish to the boat after many hot hours of fishing. There we sat in a flat calm as the sun sank towards the horizon. There were bank fishermen lined up on both sides of the bay, but nobody seemed to be doing any good. Then, as the shadows lengthened and I began to think about the long row back to the dock on the far side of the reservoir (we couldn't afford to rent an engine), a big hatch of sedges began quite suddenly in the bay. Before we knew it, there were fish moving on the surface all round us and in half an hour of frantic activity we had both completed our 8 fish limits, all on those over-sized dry Red Tags on the surface. There were mutterings to be heard from the shore, where nobody was catching anything. (If somebody had shouted to ask what we were doing, we would happily have told them, but we had already learned that proffering unrequested advice makes you extremely unpopular). After came the row in darkness across a mile of water towards the flickering lamp on the dock, and then a well-deserved ticking off from the water company's staff for being late back. And finally a quick pint in the Brown Trout before it closed and a drive home in my old black Triumph TR2. This had a near-open exhaust and no roof so we drove it on aero-screens like some ancient biplane and hoped it wouldn't rain. If it did rain, your best bet for keeping dry was to drive faster. It was a memorable day. Afterwards, mindful of the fact that sedges had definitely been the interest of the trout on that evening, I had the bright idea of designing a new version of the Red Tag, which of course is really a grayling fly. This involved the addition of a prominent backward sloping wing of deer hair, in the style of the G and H Sedge, which was famous at the time. This looked much more realistic to my inexperienced eye, yet at least on Bewl this concoction proved completely ineffective. Perhaps the hint of red caught by the dying sun had been the reason for the original fly's success. Trout fishing is a great mystery, I thought to myself (and still often do).
Even if my "Red Tag Sedge Special" failed to work, there is a lot to be said for deploying sedge patterns once late summer is reached, assuming you don't know what else to do. Recently I fished the upper Monnow with the river very low and not much in the way of natural fly to be seen. However, prospecting with a Hair Wing Sedge (size 14, I think), brought a few fish up and it seemed obvious that the particular delta-winged sedge shape, easily produced with deer hair, was already familiar to them. This usually works to some extent at this time of the year. It was also the case that a little movement of the artificial on the surface, perhaps a little drag on the leader, something which earlier one would avoid like the plague, had now become quite attractive. Sedges scuttle around on the surface a fair bit and trout get used to this. A Hair Wing Sedge is one of the easiest of flies to make, being merely Al Troth's Elk Hair Caddis without the palmered body hackle. This is not mere laziness; I am actually convinced that the fly is more attractive without the body hackle. I usually dress mine with light or dark coastal deer for the wing, hare fur for the body, and with a little amber butt to add a hint of colour. Use a strong tan 6/0 tying thread, thicker than usual, so that you can pinch and loop, followed by a hard pull-down to lock the deer hair fibres in place and leave a prominent head when trimming.
On another late summer day on the Usk, I was surprised to find quite a significant hatch of iron blues and the trout did seem to be reacting to them. The iron blue is a tiny little thing, just about the smallest of the up-winged flies, so it is easily overlooked. The colour is actually a very dark grey, near to black when seen in some lights. It is famous in classic angling literature (particularly Plunket Greene's Where the Bright Waters Meet), but rather less commonly seen in modern times. Also, there is not really a season or a time of day when it can be confidently expected; usually it comes as something of a pleasant surprise. It has a reputation, however, for hatching on cold or rainy days, and this was just such a day. August 2017 this may have been, but the air temperature was low, a blustery wind was blowing black clouds racing overhead and the showers of rain came and went. I was fishing a team of spiders and a size 16 Dark Watchet on the middle dropper, best described as purplish grey in colour, was the one selected almost every time. In this case, working the flies very slightly under the surface seemed to encourage the takes.
******
In the autumn edition of Trout and Salmon, Don Stazicker has an article about the different options for knotting tippets to hooks. Occasionally you read something about knots in general, but Stazicker confines himself in this case for knots to attach nylon to the eye of the hook. It is really surprising how little attention is usually paid to this subject, yet on reflection what could be more important? This is, or it should be, the weakest link of the whole tackle, from the backing knot attaching to the reel, itself attached to the rod which is gripped by the hand, all the way down to the mouth of the fish. We don't want to be broken off, but if something does break, the minimum of tackle should be left attached to the fish. A hook in a fish is shameful enough. Yet at the same time we can't afford for this link to be inconsistent, or at any rate weaker than we plan it to be. Most of us begin our fishing days by being shown or finding out a hook attachment knot, make a few painful mistakes and eventually from experience end up with something which we regard as "good enough," at least if we tie it carefully. For the most part we stay with what we know, except perhaps when experimenting with new tippet materials. Meanwhile, it's surprising to find how many different ways there are to tie a strand of nylon to a ring formed in a piece of wire. I'm always hearing about a new one. Reports on exactly how reliable each knot is are mainly anecdotal and different anglers seem to have different experiences with the same methods and materials.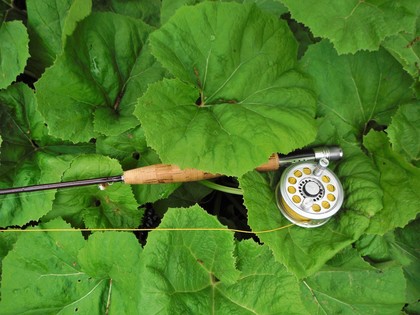 Don Stazicker tries to take a scientific approach to the subject and has examined a series of hook attachment knots, the names of some at least of which should be familiar: Davy, Orvis, Trilene, Tucked Half Blood or Improved Clinch, Double Turle, Grinner or Uni-knot, Pitzen, Fish-n-Fool and World's Fair. He rates each of them by four criteria: ease of tying; percentage of original line strength remaining; length of line used up in tying; and how easily it can be used with small hooks of size 16 or less. Performance in each of the criteria scores up to five points giving a theoretical maximum of 20. He also notes whether the knot results in nylon projecting straight from up-eyed or down-eyed hooks - and only the Double Turle reliably achieves that of course.
I was more than pleased, pretty much smug in fact, to find that my own two favourite knots, the Tucked Half Blood and the Grinner, came out with the top scores, both at 18 out of 20. The Tucked Half Blood is easy enough to learn, doesn't use up much nylon and looks well with small hooks. Nor is the loss of strength greatly problematic; with this knot Stazicker calculates the remaining strength as 86% of that of an unknotted tippet. I tend to use a five turn Tucked Half Blood with hooks up to size 10 and nylon up to about 8 pounds in breaking strain. Incidentally there seems to be a general consensus that the tucked half blood, if carefully made, has better strength than the plain Half Blood. The exception is the Kureha Company of Japan, who have warned against using the tuck with their Grand Max fluorocarbon. I can't say that I agree, and I continue to put a tuck in Grand Max and every other type of monofilament after making the Half Blood.
The Grinner knot also scores 18 and Stazicker measures a very high strength retention of 99% against unknotted tippet. He tested a five turn version. I use this one with four turns in monofilament above 8 pounds breaking strain for salmon and sea trout fishing and I do feel that this knot is very strong indeed. When there is nothing to do but pull for a break in 15 pounds BS fluorocarbon after a strong salmon double hook gets properly jammed in a rock on the other side of the river, what usually happens is that the hook gape opens up. In Stazicker's survey this knot loses a few points for the amount of nylon used in making it, but with care the difference is not so very great. It's also easy to make also; a sewin fishing friend of mine can make them by feel in the dark without using a torch. It has the occasional advantage of being a slip knot, so that if you wish you may have a small fly articulating on a loop rather than being fastened up tight. Till now I have desisted from using the Grinner on fine nylon and small hooks, on the basis that it is slightly more bulky than the Tucked Half Blood. However, comparing the two side by side now, I admit the difference is actually pretty small. Given the very high retained strength figure for the Grinner in this test, I'm wondering whether I would be better off using the Grinner for everything.
Meanwhile the Orvis scores quite well in the test (17) and, while it is slightly more awkward to make, has a retained strength reading of 97%. The Davy, Fish-n-Fool, Pitzen, Double Turle and Trilene knots all manage retained strength readings over 90% despite other disadvantages. I know quite a few enthusiasts (both trout dry fly and salmon anglers) for the Double Turle knot, on the basis that this is the only one which absolutely ensures the fly projects and swims in line with the nylon tippet. However, this only works with up-eyed or down-eyed hooks, and it is essential that the fly is dressed in such a way that there is room for the knot to be securely seated behind the eye of the hook or behind the built-up head of the fly. I once lost a salmon when a (single turn) Turle knot slipped under pressure, so I'm wary about this one. To be fair, I think the Single Turn Turle was designed for gut, and with slippery nylon I should have been using the version with two turns, but now once bitten I'm twice shy.
I should also record bad experiences with spade end maggot hooks tied to nylon with nail knots or similar when either buying or making up hook lengths to be used when trotting for winter grayling. The knot looks neat enough, but grayling are very muscular fish. A big one in the net can and does break off a hook tied in this way with a couple of violent shakes of his head, all before you get a chance to unhook it properly. Instead, I get on much better using eyed fly hooks of about size 16 for this job, and tying them to the hook length with Tucked Half Blood knots. Maybe I will use a Grinner knot for the next batch.
Thankfully, all of the mentioned knots are described on the internet, so there is no need to provide drawings here. Note the general rule that knots only work if there is enough friction to lock the turns and that there is generally a need for more turns if the nylon is finer. However, if you put in too many turns, there is a chance that the knot will not form properly and spread the loading as it should. Stazicker importantly makes the point that all knots should be lubricated (with convenient saliva of course) and pulled down slowly and carefully so that there is no momentary heating or burning of the nylon to weaken it. And for heaven's sake test the knot once it is made! Cut off and remake the knot after playing a strong fish or if the nylon near the fly becomes frayed or kinked. Don't permit wind knots, that is to say bad casting knots, to remain in tippets.
The same edition of Trout and Salmon contains an interesting update from Jon Beer on the saga of Salmo nigrippinis, the so-called Welsh black-finned trout sub-species associated with Llyn Bugeilyn. You will remember that during the summer we came across some evidence that these trout may have been stocked, possibly from the River Aeron, about 150 years ago? Well, it seems that Jon and some of his scientific friends now have the same concern, and consider that maybe the trout of Bugeilyn are not the best examples for study. In any case, there is some confusion about exactly where pioneer ichthyologist Dr Albert Gunther obtained his original specimens in 1864, because the good doctor wrote about somewhere called Llyn Beguilin. (I actually like the idea of calling our mountain fishery Lake Beguiling, but that is neither here nor there). Anyway, Jon set off on an expedition to another remote mountain lake near Snowdonia's Cader Idris where a specimen of a tiny dark trout was obtained, to be pickled in a jar and sent off to the Natural History Museum. There the scientists will examine the little creature's vomerine teeth and presumably cogitate on its genetic status. The saga continues and Jon's article brings you the latest news.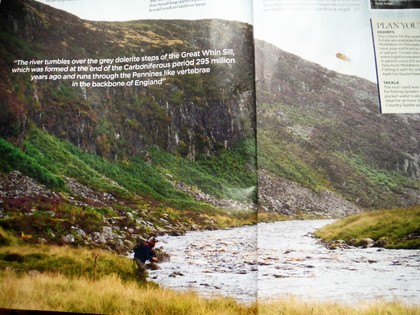 A third article in the same edition by James Beeson is also recommended and in particular I suggest you look at the accompanying photographs by Matt Eastham who seems to have used a wide angle lens to good effect. James is one of the keenest angling journalists and one of the nicest blokes you could meet, and I guess he was pleased to be given the assignment of fishing and writing about the Upper Tees above the famous High Force falls. Quite a number of well-known anglers have fallen in love with this wild stretch of river, including the writer Geoffrey Bucknall, who after a lifetime spent around Kent and London (a born and bred Weldishman no less) eventually went to live up in Barnard's Castle for what I suspect must have been angling reasons. I think Mr Bucknall is still with us, although I calculate he must be quite an age by now. He adored fishing the upper Tees and also for the wild trout of the Cow Green Reservoir, the "Big Cow" as it is known locally. The Pennines are known for limestone, but the Tees is no limestone stream cutting its way down through soft rock, but as James points out it flows here over black basalt and dolerite, which is tough rock and doesn't erode. Instead it breaks up into vertical steps so that the river goes tumbling over steep falls while its bed is a mass of broken rock. Just look at the gradient shown in the photograph of the Great Whin Sill where the Tees in near flood goes thundering downhill past James over its rough bed. Believe it or not, those great Middle Eastern rivers, the Tigris and Euphrates, both originate on the same black basalt rocks of upland Eastern Turkey, a truly bleak landscape, and look much the same in their uppermost courses. Up there on Asia Minor's high crossroads there is not a tree in sight and you are within a day's drive of the frontiers with Georgia, Armenia, Iran, Iraq and Syria. Trout live up there too, just like on the Pennines, and during the spring snow melt you might imagine these tumbling rivers holding salmon...if only they were heading for the Atlantic rather than the Persian Gulf.
Bear with me. The point I am coming to first is more or less the same point which James makes: upland water like this anywhere in the world, brawling white between boulders, pocket water as it is called by Americans, is ideal for tenkara style fishing with a very long rod used at close range. I understand that it is the kind of upland stream for which tenkara was originally evolved in Japan. It is also exactly the right place to fish spiders upstream, which is a very similar affair. As with tenkara, the upstream spider method involves a long rod and a short line, rolling the flies onto the water, drifting them down for a couple of yards and flicking them once more into a new spot. You recast literally every couple of seconds, so it is busy work. Stewart fished his spiders this way and advised that a take can come at any moment, but the first fall of the flies to the surface generally produces most reaction. Geoffrey Bucknall himself, perhaps the biggest fan of the Tees, has written at great length about upstream fishing and how to tie spiders with "kick" for upstream use.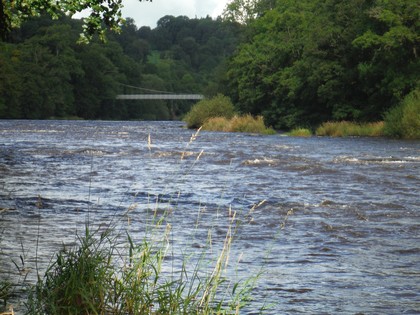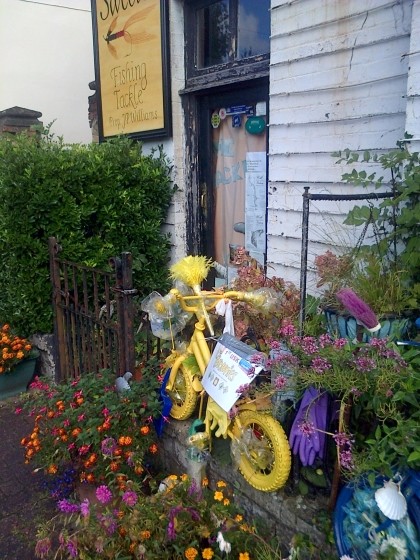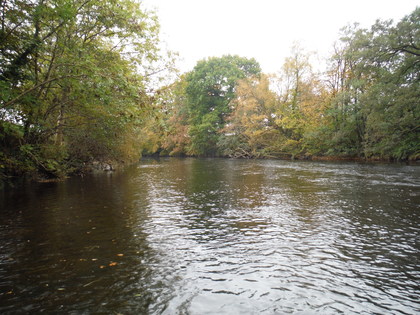 The second point I want to make is that we too have fishing like this in places where the geology has produced the same kind of pocket water. Consider the Usk at Glan yr Afon, which I have mentioned before in connection with tenkara, but also many large areas of the Upper Wye between the main pools in the Glasbury to Builth section and higher. The wading is usually difficult, but the fish are there. And the third point I want to make, and perhaps the most important one, is that we also have a lot of water on our rivers which is quite different - deeper runs, pools and glides over gravel, well populated with fish - where other quite varied ways of fishing our flies are appropriate. Depending on circumstances, you might fish spiders across and down rather than up, maybe a dry fly downstream for grayling, perhaps a duo, maybe even a team of weighted wet flies or a streamer. We should try to be as flexible as possible about what we do; there is no one method which can be counted on in all circumstances. One of the problems with fly fishing, particularly as we get older, is that once some success is had with a method it's all too easy to evolve a comfort zone from which we are reluctant to depart.
******
Did you see that a small card of Chadwick's 477, the famous fawn-coloured yarn for making Frank Sawyer's Killer Bug, is being offered on E-bay for 70 pounds plus 20 pounds postage and packing? This stuff is more than hard to find nowadays; otherwise civilised and refined chalk stream men have been known to fight each other in the mud for it. I can only remark that I have a spool of material which works reasonably well and no, I'm not for giving any of it away. Anyway, the Killer Bug works better on chalk streams than it does on our rain-fed rivers. Sawyer reported that he even managed to catch a few Avon salmon on it, lobbing it upstream as a nymph and watching the fish for the take.
******
The outlook for October? We should reasonably be able to hope for another 4 or even 5 weeks of top of the water sport - dry flies, spiders or maybe fishing with the duo - before we are compelled to get down to fishing the bottom with the winter's nymphing and trotting tactics. I'm writing this now on the 1st of the month, with the Wye properly in flood (which will bring more opportunities for salmon anglers), but some of the tributaries are certainly still fishable for grayling. Yesterday was one of those somewhat unsatisfactory days. In pouring rain my guest unfortunately twisted his knee while walking through the fields to salmon fishing at Llangoed. Fellow guide Lyn Davies just about managed (at 1 foot 6 inches on the Llanstephan gauge) to accommodate a family grayling fishing party at Ty Newydd. Right now I'm wondering if we can yet hope for a "Golden October?" In the right conditions, autumn grayling can be the best fishing of the season in a landscape flaming with colour. We are of course finished now with the trout, except for a few Severn tributaries which are open a few days longer. More rain is predicted but the weather should stay warm for a while. If this somewhat difficult September has taught us anything it should be to watch the water gauges and take our opportunities where we can find them.
Tight lines!
Oliver Burch www.wyevalleyflyfishing.com
---
August 2017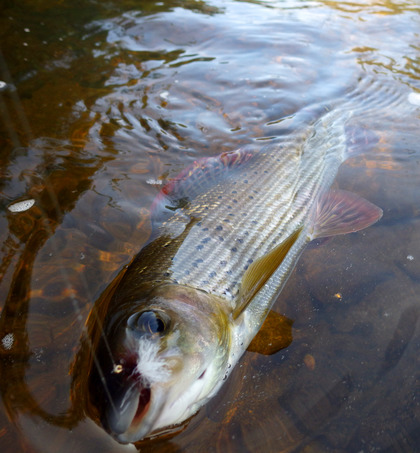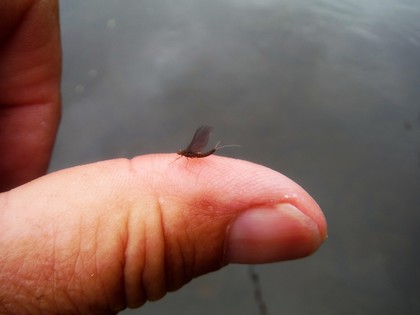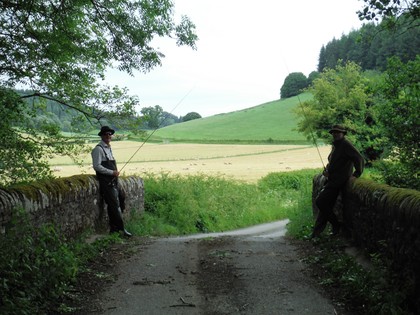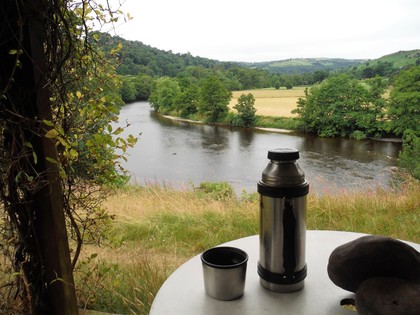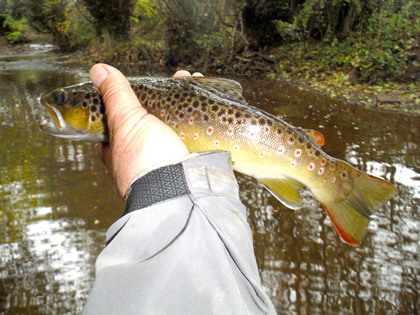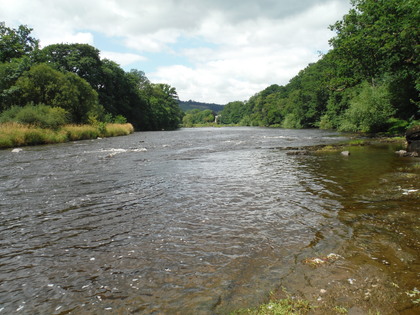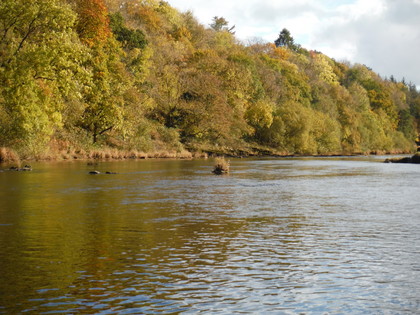 I think it's safe to state that this was not a typical August. It was a cool and breezy month for the most part, characterised by cloudy days, occasional sunshine and rather than solid days of rain some rather unpredictable and localised showers, many of which were quite intense for short periods. At least we can count the extreme drought as having come to an end. By the 20th we had a proper flood on both main rivers, due to heavy showers on the Cambrian Mountains and the Brecon Beacons, although many of the tributaries were almost unaffected. Some more rain, for example, would have been appreciated in the Monnow catchment.
Certain things about late summer, of course, don't change from one year to another: nights getting colder, early morning mists and dew, beech leaves already starting to show yellow, blackberries in the hedgerows and harvesters getting in what they can in between the showers. Some of the trout and grayling fishing was really quite good and in fact it was the kind of fishing I associate with September. The fly life on the river certainly seemed to be of the kind we expect during the early autumn, with lots of sedge flies, pale wateries, and a few of the clumsy little willow flies were already wobbling around in the breeze. If most of the fly life on the river is rather small and grey, it seems logical that a small grey-coloured imitation will work and it was interesting to see the old Grayling Steel Blue pattern scoring well in the reports. Other species of river fly were in evidence as well: a few late may flies were still being reported along with yellow mays, and on one wet and windy day on the Usk I found trout reacting keenly to a big hatch of iron blues. The month ended with a hot and sunny spell for the bank holiday, which most of the population (excepting anglers of course) will surely have enjoyed.
Now for the reports. On the last day of July, JH from Usk fished at Lyepole for the first time and caught 8 trout and 5 grayling, mostly on nymphs. Like everybody else, he was very impressed with the scenery in this charming valley. On 1st August GP from Bath sent in a (coarse) fishing report on Courtfield and was much less happy. The reason for his distress was what he called "...the charge of muppets in canoes," although he stressed that some canoe companies seemed to instil better behaviour towards anglers by their clients than others. MG from Little Hadham later in the month described canoes in the same area as "relentless" while AB from Cheltenham, fishing upstream at Goodrich, found himself beset by canoes and what appeared to be cavorting native tribes complete with tepees in the riverside meadows. Of course both Courtfield and Goodrich are on the lower Wye, a historically navigable waterway, and canoes are something we have to live with here. And August is, of course, the silly season. However, there is now a real possibility that we might one day have to live with canoes everywhere - more on this vexed subject below.
On the 4th August, JD from Hereford came to fish at Dayhouse and took 4 trout and 5 grayling on dries, although he found the Lugg still lacking in water despite the showers. DM from Hereford fished the upper Wye at Craig Llyn, where he found the water up slightly and took 21 grayling and 2 trout by various methods. The same angler fished at Dolgau the next day and took 17 grayling and 1 trout, mostly on a French leader outfit. CL from Chippenham had 6 trout and 15 grayling from Ty Newydd, largely by nymphing. DK from Welling reported that he could not fish the Dore at Chanstone Court at all, due to obstacles impeding access. On the 6th, MD from Barry fished at Gromaine for 20 trout and 1 grayling. TD from Stowbridge reported a rare sea trout from the same beat on the same day. On the 8th RW from Portishead, one of our regulars, reported a good day at Aberedw with 11 trout taken on the dry fly. JM from Yarpole fished at Abernant on the 10th and had a good day with 27 grayling, many of them on a dry Grayling Steel Blue. Like me he quite appreciates the low flying military "air show" which appears daily above or more accurately within the Wye valley. Noisy of course, but it is, after all, usually only once a day!
Also on the 10th, Dave Collins of West Herefordshire, another regular, was out on the Lugg at Dayhouse. He found conditions difficult with surprisingly low water levels and a cormorant plundering the beat. I should also comment that the new beat at Dayhouse has been fished awfully hard this season. He got 2 trout and 5 grayling. Another regular, AS of Newent, was out on the 11th fishing the Lugg at Lyepole, another very hard-fished beat this year, and also commented on the low water levels. Given all the showers lately, one does wonder where all the water went? AS used a very small nymph trickled along the gravel and got 8 trout and 21 grayling. He fished the main Wye at Llangoed and Lower Llanstephan the following day and got 17 grayling on nymphs. Meanwhile, SC from Llandeilo Graban fished the Irfon tributary at Llanfechan -reminding us perhaps that there are other beats on the portfolio apart from Lyepole and Dayhouse to be explored - and enjoyed himself while catching 1 trout and 17 grayling, all on dry fly.
Two interesting reports were filed for 13th August. Dave Collins again fished the upper Wye at Abernant, where pale wateries were hatching along with yellow mays, sedges, and even a few late mayflies coming out of the mouth of the Edw. He got a fine catch of 2 trout and 38 small grayling using a little pale Duck's Dun and "good old Grayling Steel Blue." On the Upper Irfon beat above Llanwrtyd Wells, KL from London also had a surprisingly good catch of grayling, taking 21 of them along with a single trout. Grayling do seem to be making their way steadily up into this beat, which has previously suffered from flushes of acid rain caused by the dense stands of conifers planted upstream. This is encouraging news because grayling are, if anything, slightly more intolerant of poor water conditions than trout. On the 13th JS from Beckenham was out on Ty Newydd with guide Kim Tribe, studying heavy nymphing techniques and catching 2 trout and 3 grayling, surprised at what apparently fast and shallow water these methods can garner fish from. RW from Hereford fished Doldowlod on the same day and reported 6 trout and 15 grayling. On the 14th, AG from Bognor Regis was out on Llyn Bugeilyn and caught 16 trout using a Diawl Bach. JA from Leominster fished the same lake on the 15th and recorded 14 trout using some of the flies listed in Plu Stiniog, Emrys Evan's book on North Wales lake patterns. AH from New Tredegar was out with his son on Usk Reservoir on the same day and they had half a dozen rainbows. JG from Ross on Wye caught 7 trout and 8 grayling from the Irfon at Cefnllysgwynne, using various methods. This day was one of sun, cloud and rain, typical for the month.
Also on the 15th MD from Barry fished the Wye at Abernant for 4 trout and 4 grayling and, prompted perhaps by Dave Collins' earlier report, had a request about vegetation growth at the top of the beat. Could the "WUF gardening elves" be deployed was his question? I'm not totally sure who the gardening elves are, although it's a nice idea - I wish we had one here at home. However, if it's the wild stream volunteers he has in mind, I'm afraid we have quite enough to do with the wild stream part of the portfolio during the winter. At this time of the year those particular elves are busy fishing! Meanwhile owners and income recipients of the significantly more expensive booking office beats on the main rivers are expected to carry out or fund their own maintenance. Some of them may choose to pay the WUF professional teams to do maintenance work, but there will be a fee. In the case of Himalayan balsam - which grows in a very few weeks, but in my experience should not obstruct access to anywhere - I'm sure nobody would mind if any visitor who is annoyed by it volunteers to deal with it on the spot. Be our guest, go right ahead and pull it up! More or less on the same subject, the owners of Abbeydore Court, another booking office beat, but this time on the little River Dore in the Golden Valley, have instructed WUF teams to carry out some clearance work on the upper part of the beat. This is very welcome news as this beat has been overgrown for years. The Dore, around which overhanging alders cluster closely in most places, is always going to be a tight little river to fish, requiring a short rod, quiet approach and careful casting. There are also some deep holes to be negotiated. However, this section certainly contains some very nice trout. It should be well worth trying when the clearance is completed.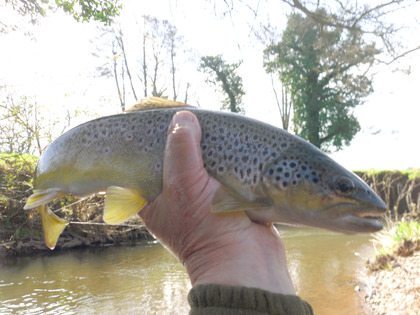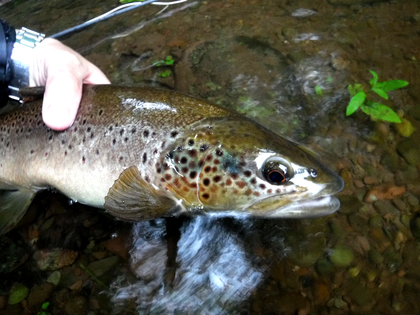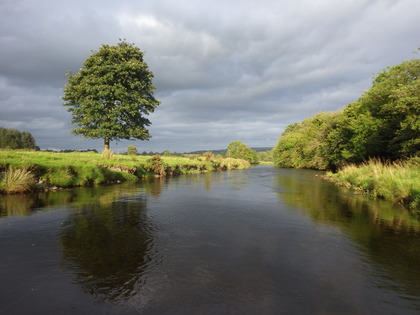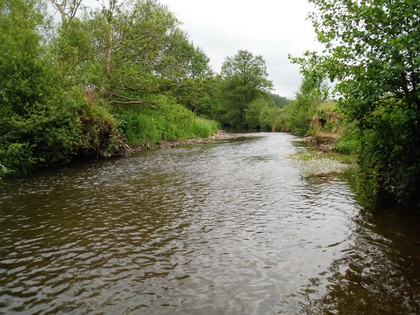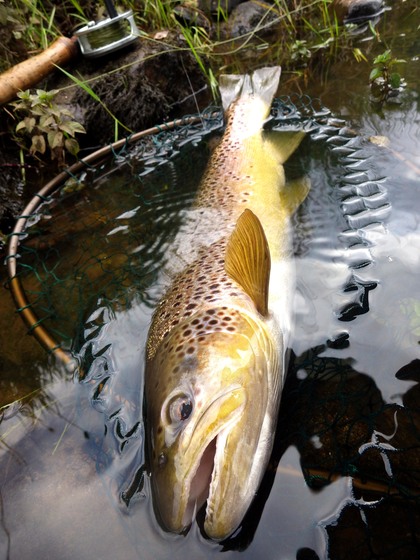 AB from Hereford enjoyed himself on the 16th with 3 trout and 7 grayling from Ty Newydd, despite a lost wallet (later found) and a soaking in the river. IP from Brighton fished the Rocks on the same day and reported 15 grayling on small nymphs. We don't so often hear from the Rocks, a fishery which has some dramatic pools on the main river just above Builth. TL from Kingsland enjoyed himself on the Arrow at Hergest Court, taking 8 trout and unfortunately losing a net. Hergest Court is slightly unusual for a small stream beat: like Abbeydore Court it is on the booking office list rather than the Wild Stream scheme. It is a delightful stretch of small border river trout fishing. On the following day, AM from Dorridge fished the Lugg at Lyepole for 9 trout and a large catch of small grayling. PL from Midhurst had 18 trout from Llyn Bugeilyn. And CT of Cardiff had an excellent trout of 18 inches from the River Tarrell. For those who don't know it, this is a steep little river which runs in what is almost a gorge down to Brecon where it joins the Usk, and it is certainly not easy to fish. Apparently heavy rain was falling and the brook was just in the process of rising. On the 18th, RB from Redditch had 7 from the Usk at Ashford House, 3 on wet fly and 4 on streamers. On the 19th, despite the main rivers rising now into flood, MD from Cardiff and a friend managed 6 in coloured water from the Usk at Cefn Rhosan Fawr including a trout of 3 pounds 3 ounces. AS from Newent fished the Lugg, still low and clear at Eyton, and got 3 trout and 10 grayling using a tiny Black Gnat. MG from Wrexham fished at Lyepole for 1 trout and 7 grayling, but was another reporter who complained about the access to this beat.
The 20th was another busy day. RW from Hereford fished at Glan yr Afon, where the Usk was coloured, but managed 20 trout. MG from Evesham fished the Lugg at Dayhouse for a large catch of small trout. AT from Kington fished at Whittern, where he had 8 on size 16 emerger pattern. HW from Swansea caught 7 trout to 14 inches from the Beacons Reservoir. On the 22nd, MI from Bristol caught 12 trout to 1:50 pounds from the Usk at Dinas. JS from Tonbridge Wells reported what must have been an unusually well-conditioned trout from upstream at Trallong and Abercamlais. It measured 17 inches, but weighed 3 pounds and was taken on an Alexandra. RW from Hereford had 17 trout from the Arrow at Titley, mostly by fishing nymphs on a French leader. Dave Collins fished the Gwent AS Usk water at Gilwern and took 15 trout to 15 inches. On the next day, SC from Llandeilo Graban had 7 trout to 12 inches plus a grayling from the Ithon at Llandewi. On the 24th DJ from Cardiff and a friend fished Llyn Bugeilyn and they caught 38 trout for the day. And SJ from Herefordshire fished the Colonel's Water, the new fishery on the upper Irfon, and caught 38 grayling and 7 trout, including a fish of 2:50 pounds. This new beat looks interesting, very open and rather unlike the Irfon as we know it further downstream. PR from Mitcheldean and a friend were on Bugeilyn the following day and they had 30, mostly on daddy longlegs patterns. The natural crane flies were apparently blowing off the heather and the trout were going hard at them. AS from Newent had 3 trout and 8 grayling from Craig Llyn on small midge patterns. Meanwhile, HW from Swansea took his turn on the Colonel's Water and got 8 trout to 16 inches and 30 grayling, also running up to 16 inches. He was also rather surprised to get 5 small chub on the fly. I have to comment that the Irfon, like the Ithon and nearly the whole of the main Wye, has quite a good population of chub and some of them are large. A dry fly is a good bet for any chub you see rising, easily spooked as they sometimes are. Although I say this as shouldn't, I used to consider myself a bit of a dab hand at catching chub on the fly (from a skiff anchored in a Thames backwater). Use a big bushy dry fly, give the fish plenty of time when you see those rubbery lips closing over it and don't be in a hurry to strike.
CK from Stourbridge fished the Irfon at Aberbwtran on the 27th and caught 20 grayling to 15 inches with nymphs. AR from London described an absolute marathon on the following day, fishing first Lyepole and then Middlemoor. I can't remember the details of what he caught, but the main drift of his slightly sorrowful report was the inability to find any establishment in the area ready to serve him a meal in between his long hours of fishing. I am not sure what to suggest about that, except that there is an American-style diner on the A49 north of Leominster. You know the kind of place - shiny aluminium, burgers, waffles, coffee and milk-shakes. My daughter uses it on her way up to Shropshire and she invited there for a coffee the other day. I found myself looking around inside expecting to see the cast of Pulp Fiction. Meanwhile MR from Chepstow had his fishing disrupted by illegal canoeing on the Monnow at Skenfrith (again, see below). AB from Hereford fished at Abernant and caught 16 grayling, mainly on a small Klinkhammer. On the 28th AS from Newent fished the Colonel's Water for 25 grayling and a few trout. AR from London was out again fishing at Eyton on the 29th and had a 14 inch grayling despite various other trials and tribulations. Dave Collins from Hereford fished at Doldowlod on the 30th and found the fish moody, but managed 2 trout and 15 grayling to 14 inches. But the undoubted catch of the month must be the extraordinary 21 inch grayling reported from the Wye at Abernant on the 30th by AR from London. This must surely have made up for all his problems in the previous few days. I can't think when we had a 21 inch (54cm, which would put it at nearer 4 pounds than 3) grayling before. The fish was taken on a Hare's Ear pattern dry fly. Doubtless there will be a few more late entries to catch up on next month.
*****
"Give me one good reason," the young man said, "why you are still using double tapered lines for your river fishing?" So, feeling rather like Father William in the Lewis Carroll poem, I told him that I could give him several reasons for my preference, but I would like to turn his question back on him: "Exactly why do you insist on using a forward taper?" Oddly enough, he didn't have an immediate answer. The fact is that the market is moving more and more towards forward tapered lines and away from double tapered designs, which some manufacturers have given up making altogether. And yet, each type has very definite advantages for different fishing situations. I would hate to be confined to just one of them. This is a subject which is worth looking into more closely. Let's begin with how we reached the situation which exists today.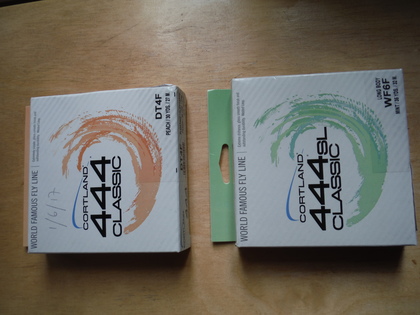 Believe it or not, my very first fly fishing line was a floating parallel line. Fifty and more years ago, you could still get these from tackle shops. At reasonably close range, surprising as it is to recount, it worked reasonably well at flexing a soft split cane rod and delivering a couple of wet flies across Exmoor streams. I eventually graduated to a double tapered line (the only other option then) and realised at once at how more effective the taper was in gradually dissipating the power of my clumsy forward delivery so that the leader rolled out and delivered the flies gently to the surface.
At around the same time, reservoir bank anglers like Tom Ivens were looking for something which would give them more distance. Reservoir fishing then was much tougher than today; rainbows and browns were stocked at 6 inches to be grown on naturally and there certainly weren't so many of them. You had to cover a lot of water to make contact. The key to solving the problem of distance, the pioneers quickly realised, lay not in lifting huge amounts of line in a series of false casts, but to shoot as much line as possible on the final forward delivery from either coils held in the hand or lying on the surface. Fine line or even nylon, provided it didn't tangle, would shoot through the rod rings with less friction and therefore much more easily than thick fly line. The solution they came up with would be typically about 30 feet of taper cut from a conventional fly line, to the thick end of which was whipped a shooting line made from something like 50 pounds breaking strain sea fishing nylon. The idea was that you false cast until the 30 feet of fly line was a foot or so outside the tip ring and then you let fly. This was the great age of shooting head development, which was entirely in the hands of amateurs. Making and then fine tuning a shooting head was and is quite a skilled business, because it has to be trimmed a few inches at a time from the back until it just loads the rod perfectly. Take off too much and you have spoiled it. Note that two heads could be made from one commercial double tapered line. There was much experimenting with different kinds of shooting line, including some flat-sectioned nylon known as tape worm. Line baskets were also developed in an attempt to avoid tangling shooting line. The double hauling method of loading a rod even more to extend its casting power was evolved during the same period.
Much of this striving for distance involved some pretty heavy-weight trout fishing even by modern reservoir standards. A typical head might end up being constructed of 28 feet cut from a 9 or 10 weight sinking line. Some of the single handed rods used to deliver these missiles were brutal indeed. Ivens had one specially designed known as the "Iron Murderer." I still have a 10 foot 6 inch fibre glass 9 weight rod, originally described as suitable for sea trout and grilse, with which during the seventies I used to launch a length of lead core shooting head across the Queen Mother Reservoir at Datchet. This hit the surface with a tremendous crash, after which it was intended to trawl the bottom for brown trout with a tube fly, coming round in a curve while drifting the boat downwind on the rudder. Believe me, after 10 hours of that sort of activity, your right arm knew all about it. In general, there wasn't much that could be called subtle about shooting head fishing; distance was everything and presentation had to go hang.
The next step was obvious. Manufacturers have always appreciated that what the vast majority of anglers (and in particular beginners) are mainly worried about is getting more distance out of the cast. The shooting head idea was certainly a good way to achieve that; the next step was to build a head in one piece seamlessly joined to a thin shooting line and sell it to members of the angling public who were reluctant to be involved in the complication of "making their own". The marketing of "forward taper" or "weight forward" lines of course has been a tremendous success. Fifty years on they are available in almost every kind of format you could imagine, quite apart from floating, sink tip, intermediate, sinking and the different AFTM line weightings. The main variations are length of head, long or short front tapers, and long or short back tapers. Lines with a short, steep front taper can be designed to deliver a heavy fly into the wind, while a long, fine front taper can provide a more delicate delivery although it may not turn over so well into the wind. Whatever the variation of detail, these are all shooting heads built in one piece with a thin running line, and they are all ideally cast with the back of the head just outside the rod tip. And the basic underlying advantage of the forward taper / shooting head design is still the original one....it casts further because the rod is loaded quickly and the thin running line behind the head shoots through the rings with the minimum of friction.
Meanwhile, most manufacturers continued for many years to provide double tapered lines for those anglers who liked them, perhaps because they cared more about presentation than distance. Originally it was possible to find double tapers matched, like for like, for every size and weight of weight forward line - marked accordingly as DT and WF. Hugh Falkus, for example, used double tapered lines, floating, sink tip and sinking, for his sea trout and his salmon fishing. Gradually, the double tapered lines dropped out of the catalogues as the market for them shrunk. Double tapered sinking lines were not much in demand and were soon deleted from the lists. Specialist Spey casting lines, which Falkus had asked for and which can really be described as long-headed weight forward lines, took over the salmon market. These long heads were typically 55-75 feet and on occasions as much as 100 feet. Eventually these were followed by shorter shooting heads (around 40 feet) or even shorter so-called Skagit options (around 25 feet). The other day I went out with an occasional salmon angler still using a 15 year-old DT 10 floater on his 15 foot rod and mostly overhead casting. He liked my 40 foot shooting head outfit when he tried it with single Spey casts. He hooked a fish too.
Finally the DT format became virtually restricted to a light-weight trout fishing format - river fishing floating lines from 2 to 6 weight - and there were plenty of manufacturers who didn't bother with double tapered lines at all. Fortunately, the big manufacturers such as Cortlands, with their industry standard 444 range which goes back to the sixties, recognised that there is a significant group of double taper fans who can be relied upon to keep purchasing light weight floating lines for trout. Up to now, we have been able to buy most of the double tapered designs we need.
So just what advantages does a double tapered floating line have over a weight forward line? Firstly, you can just about bet that a double tapered line is going to have a long, fine taper, ideal for delivering small trout flies with the minimum of disturbance at the surface. In theory, a weight forward line can be designed with the same long front taper and good presentation characteristics. In practice they often are not quite the same, even when the same brand and model is offered in alternative WF or DT versions. A weight forward line is more restrictive on the caster. An angler using a weight forward line has to take care always to retrieve to the sweet spot in the shooting line just before the back of the head before lifting into the back cast, thus balancing the rod before the forward shoot. If the line and the rod are not perfectly matched, even this will not produce a good result. In the case of the double tapered line, the angler is not restricted to just one point on the line for his casting. He can feel the rod reaching its good loading point and choose to some extent to lift either more or less line into the air. Therefore a rod/line mismatch is slightly less of a problem. For the same reason, a double tapered line is more useful to an angler in a hurry - he can lift off and reposition the line quickly without retrieving the head back to the rod tip every time. To this day I have a double tapered no 7 floating line, which I was persuaded by a friend to buy for fishing the surface of reservoirs from a boat. You could have a dry fly lying out on the water somewhere and a fish would show many yards away to one side. It was no trouble at all to lift the line off the water straight away, throw it once behind you and "repark it" to intercept the moving fish, all in a couple of seconds. With a weight forward line, it would have been necessary to retrieve back to the head before beginning the process. Double tapered lines can be roll cast to different distances much more efficiently than weight forward lines and this is a facility very important to the river trout fisher, especially on small streams. Double tapered lines make the practice of mending the line upstream or downstream to control the drift of flies much easier. In fact this applies equally to salmon fishing as well as trout fishing and the salmon angler who may be enjoying the casting advantages in a tight spot of his new shooting head will also have had to accept a slight loss of facility in line mending.
Most important of all, double tapered lines are a great help in turning over leaders, particularly long leaders. This is because the thick centre of the line drags in the rings very slightly more than the thin running line of a weight forward fly line. Using a free-shooting weight forward line at distance, I often find that there is a tendency on the final shoot for the head to try and overtake the leader and fly or flies, resulting in a messy presentation. I get over it by feathering the shooting line slightly with my line control hand as it flies out, but I rarely need to do this with a double taper. I do like a long leader, particularly when fishing a team of three flies, and the double tapered line makes it easy to do that without tangles ensuing. Finally, and not really an important point because fly lines are such a vital part of the fishing process that saving money on them as a main objective would be foolish, double tapered lines are an economical proposition. When you wear out the taper on one end of the line, you simply reverse the line on the reel and start to use the other taper.
The disadvantage of the double tapered line? Well, it's the one we started with - the weight forward line can normally be cast slightly further due to less friction in the rings from the thin shooting line section. In the case of river fishing for trout and grayling, this rarely seems to be a problem. As I have mentioned before, all my river trout fishing lines (normally 4 weights) have a black mark added at 30 feet. This is to remind me, should the mark appear beyond the rod tip, that I am fishing at an inefficient distance and that I ought to wade closer if possible. "Long distance sniping - this won't do" I mutter to myself. A 10 foot rod plus 15 foot leader plus 30 feet of fly line already equals 55 feet between me and the fish, and it's difficult to connect reliably with fast biting wild brown trout and grayling at very much greater distances than that. In the sense of striving for distance, I have never felt that the double tapered line has put me at much disadvantage. When I really need distance, I lengthen the casting stroke slightly and put in a haul and I can get where I want to.
For other kinds of fishing and where it seems appropriate, I'm more than happy to use weight forward tapers. All my sea trout lines (where leaders tend to be shorter) are weight forward and I now use shooting heads nearly all the time for salmon. For rainbow trout, I fish with lighter tackle than I used to. Fishing lures, even from a boat as well as the bank, I tend to use a weight forward 6 line on a 10 foot rod. The intermediate and floating lines I use at my Forest syndicate fishery are size 6 forward tapers, because I have a limited back-cast with the trees behind me and for that reason I need to shoot line as much as possible. At closer range for nymphs and dries I will use a 5 weight rod and line, this time double tapered for the presentation reasons outlined above. I use a double tapered 5 weight line fishing a team of 3 wet flies on the open mountain lakes for wild brown trout (the 5 weight, rather than a 4, selected because there are often high winds to contend with). I do fish with forward tapered lines for river trout at times - for example the Snowbee XS which I liked and I'm currently experimenting with Charles Jardine's weight forward "presentation taper" line. Now and again I try out whatever is new on the market, but I keep coming back to those double tapered Cortland 444 floaters, which still seem to me to be as good as they get.
"Yes" said the young man, "but I still don't really understand why you insist..." Back to Lewis Carroll and Father William again (I feel even more like bald, white-whiskered Father William whenever I look in the mirror lately): "That's quite enough. Be off with your questions or I'll kick you downstairs!"
So, what is your reason for selecting a weight forward line?
*****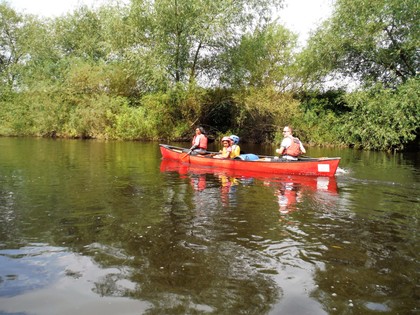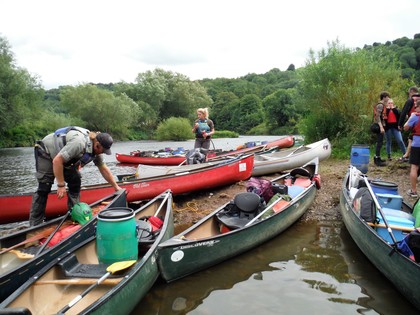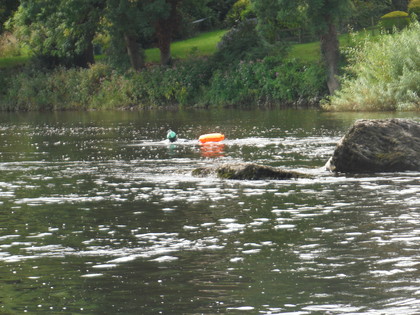 I have a confession to make this month. Our son was down with his family the other weekend and the grandchildren wanted us to go canoeing, Grandad included. This was legal canoeing, I must hasten to add, between Ross on Wye and Symond's Yat, which comes to about 13 miles. Some 20 canoes were launched in a batch at Ross and many other boats were launched that day; in summer this is a significant industry. I can report that the company's representative in his prelaunch briefing said nothing whatever about making space for anglers on the river beyond cracking the joke that if a salmon jumped into the boat, we could legitimately keep it. I suspect this may have actually happened in the past! "I'm pretty sure you are wrong about that...." I started to pipe up from the back of the audience, but my protest was brushed aside. Admittedly I had already seen a brief line in a notice posted on the office wall advising paddlers to give anglers plenty of space.
Anyway, off we went, a group of mainly unskilled crews on a very windy day, so that boats veered from side to side all over the river. I was embarrassed at the idea of meeting angling friends. In fact my wife suggested I take along a paper bag to put over my head and so hide my identity and shame in the case we came across any game fishers I knew, but in fact there were none. There was a car in the park at Goodrich Court but they must have been eating their lunch by that time. We came across quite a number of barbel anglers, their leger lines stretched out beneath our keels; we duly apologised for the disturbance and I must say that all of these gentlemen were the soul of patience and politeness. And of course it was fun. I admit that by the later stages I had decided that 10 miles would have been preferable to 13 miles and my knees, normally decently covered from public sight by waders, became sun-burned to a bright red. Still, the children loved it and I got a new view of familiar places, sliding down famous pools such as the V and Dog Hole, peering through the water at the lies.
However, while anglers and canoeists can probably manage to get along with some effort and good sense on relatively large navigable rivers like the Herefordshire Wye, the prospect of unfettered boating access to all fresh water in Wales is a frightening one. The hard-line canoe lobby has not been discouraged by the failure of previous attempts to achieve this. They still claim that the law is "unclear" despite an extensive legal review finding against their position. They are still unwilling to engage in voluntary agreements and they still push their point with regular acts of trespass, as anglers' reports will testify. The real risk is that they will actually provoke a change in the law and I fear that their chances of achieving this are good unless anglers and landowners speak with a loud voice on the matter. Currently a new consultation is under way within Welsh government: "Taking Forward Wales' Sustainable Management of Natural Resources." This includes the suggestion that the Countryside Rights of Way Act 2000 be revoked to permit universal access of canoes and rafts to all fresh water in Wales. Try to imagine the effect of unrestricted canoeing on the Monnow, the Irfon, the Towy or the Loughor? If we thought that the challenge posed by open canoeing access to fishing in Wales had been seen off a couple of years ago, we were wrong. There is another group, which appears to be closely allied to the canoeists, and which might be causing us some worries before too long. These are the wild swimmers, who like to make their way downstream through our pools in wet suits. My personal view is that wild swimming is unlikely to become as popular and therefore potentially as troublesome to anglers as open access canoeing, but you might have another view?
Currently SACC (Sustainable Access Campaign Cymru) with support from Angling Trust and Fish Legal, Countryside Alliance, Country Land and Business Association and Welsh Salmon and Trout Angling Association, is suggesting that all Welsh anglers and Welsh fishing clubs should respond to the consultation to explain their position on this subject and also write to their regional and constituency assembly members. It is also suggested that anglers who live outside Wales should write to the regional and constituency assembly members responsible for the area where they do most of their fishing. I hope it won't seem too lazy, but I'm going to paste SACC's suggested points to be made to the Consultancy and other political interlocutors below:
Question 15
Canoeists pay no licence fee or permits and yet they demand free access
emphasise that amending or revoking the law will not provide consistency, but will unjustly penalise the angling community which has no right to go and fish anywhere without paying
many fishing clubs have taken out loans to buy fishing rights and the value of these rights will be significantly eroded by proposals to allow access which could drive them to insolvency
the fact that anglers pay a rod licence ranging from £30 to £80 a year and this pays for fisheries management. Anglers contributed over &1m to NRW from the sale of over 53,000 licences in 2016/17
anglers pay subscriptions to clubs, and for day tickets, to get permission to fish short stretches of river
how much your club pays for its angling, either as an owner or a lessee and, if your club sells day tickets, how many it sells each year
many anglers also donate funds and their voluntary time to support River Trusts who use this money to generate substantial additional external funding to restore rivers
changes in the law should not cause unreasonable interference with the rights of landowners and leessees to enjoy their property
highlight the importance of angling for employment and economic activity and how this might be damaged as a result of unfettered canoeing
evidence of the economic benefits of angling: how much you spend as an angler, or if you run a business how much it turns over and how many people it employs
that the Welsh Government's 2008 Wales Fisheries Strategy stated that "for recreational freshwater anglers, the value of tourism angling to Wales in 2008 was estimated to be well over £100m" and that "the results of the economic success of Fishing Wales have shown that angling marketing work generated £80 for every £1 spent on marketing - more than for any other tourism-related activities". Given inflation since 2008, and the fact that angling participation is still very high in Wales and England, this value is likely to have increased, and angling on inland waters will still now contribute hugely to the Welsh economy
Question 16
Our community has tried very hard to reach agreements (and renew existing agreements) whichallow some canoeing, but the resistance of the canoeing governing bodies to sign up to agreements with reasonable restrictions, coupled with their erroneous claims that the law is not clear, have frustrated these attempts
That NRW could make a beneficial contribution (with agreements), but SACC organisations believe that sustainable access to land and water must:
be agreed locally between the relevant parties to reflect the particular local conditions and pressures rather than being generally imposed by national regulations;
be managed to avoid conflict between users
respect the rights of people to continue to enjoy existing legitimate activities without disturbance
not cause unreasonable interference with the rights of landowners and lessees to enjoy their property
not damage the natural environment or the ecosystem services it provides by causing unreasonable damage to wildlife and habitats and unnecessarily heighten the risk of the introduction of alien aquatic species, a risk that increased canoe traffic will pose
salmon, sewin and trout stocks are in decline across most of Wales. Our sector wants to see action to address the widespread and endemic problems of agricultural pollution, habitat damage, over-abstraction and unsustainable predation, rather than having our fishing damaged by yet another threat
Question 17
an open access model similar to Scotland, where it has caused significant problems to a number of fisheries, and where there is much more space, is inappropriate to Wales
Wales and its rivers are much smaller, and much nearer large population centres, than Scotland
canoeing on small rivers has a very bigimpact on fishing and even one or two canoes can make fishing pointless for hours; report your personal experiences of this if possible
Question 40
make any further comments you may wish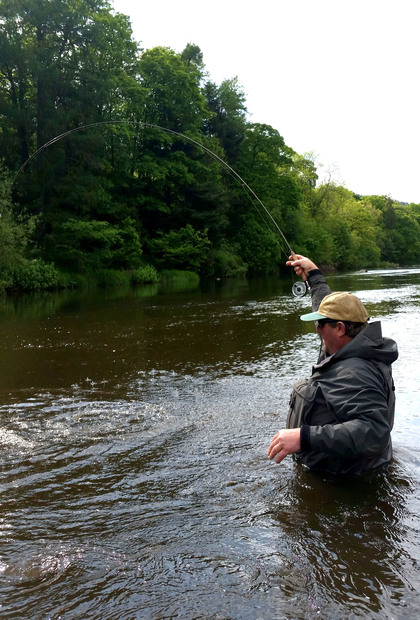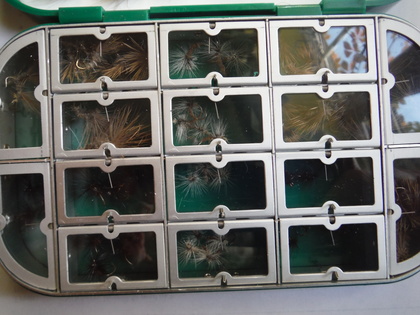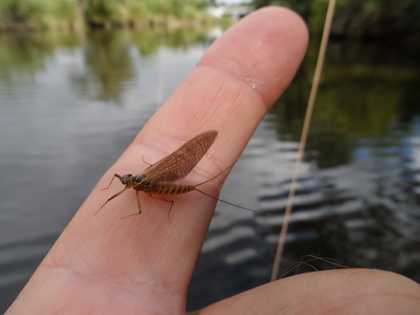 If you live outside Wales, please write to both the relevant constituency and regional Assembly Members for the area where you do most of your fishing, and don't forget to highlight how much you spend when you visit.
Please send your response to them by 13th September and encourage every other angler who cares about the future of fish and fishing to do the same.
NB: I believe the consultation is actually open until 30th September (OB)
*****
Tell me, are the good folks at Private Eye magazine still continuing their Pseud's Corner feature? I ask because I have been thinking lately we should introduce the same tradition to this newsletter. As a first entry, I am going to suggest this line culled from an advertisement for Hardy fly rods: "With the accuracy of a sniper rifle and the power of a sledgehammer, the jaw dropping Wraith is a true top performer." No? Well, if you think you can make a living as an advertising copy-writer, see if you can do better. I am sure the Hardy company would be pleased to hear from you.
While on the subject of rods, I see the Uttings company (01 603 619811) have for a while been offering a significant discount on the Greys GR70 Streamflex range for rivers. Thus a 7ft 3 weight suitable for brooks can be had for 164:99 instead of 209:99, a 9 foot 4 weight just right for dry fly fishing on the main river will be 179:99 instead of 229:99 and a 10 foot 4 weight suitable for a team of wet flies is available at 194:99 instead of 249:99. These are all excellent value. And of course there are lots of other sizes for those of us who have convinced ourselves somehow that we need to own a forest of carbon.
*****
For me, the onset of September and autumn is a time of year when I sit down and write out a list of all my favourite WUF grayling beats, the ones which I want to visit and fish at least once during another season of leaffall. Sewin have been forgotten for another year now and autumn salmon fishing, I suppose, will be confined to the periods when the water level justifies the effort. I know in advance that I won't get round all the grayling beats, because somehow there never seems to be enough time. Back in the spring, I made a similar list of desirable mayfly beats and, as it turned out, I barely did half of those this year. Still, it's better to have too much of a good thing rather than too little; hopefully the weather will be kind and mild and there will be free time to spend on the Wye, Irfon, Ithon, Lugg and Arrow. There should be quite a few weeks to come of insect life on the surface. My box of size 16 grayling dry flies Grayling Steel Blue, Grey Duster, Red Tag, John Storey, Sturdy's Fancy, Yellow Bumble and maybe Orange Otter - will ideally be the mainstay of my autumn grayling fishing, but there will be space also for a long soft rod and a team of spiders and wet fly versions of the flame tail grayling patterns. There will be days when the heavy nymphs work better, but with luck we still have a couple of dry fly months. If you decide to take the last month of trout fishing on the Usk, again small and greyish coloured patterns are likely to be the useful ones. The one exception to the usual diet of pale wateries, willow flies, sedges etc is that you might come across trout taking the autumn dun or august dun, quite a large but rare fly, and sometimes to be seen on the upper Usk. In that case you will need a larger imitation and I would suggest that whatever you use for march browns in the spring will probably turn out to be acceptable.
Tight lines!
Oliver Burch www.wyevalleyflyfishing.com
---
July 2017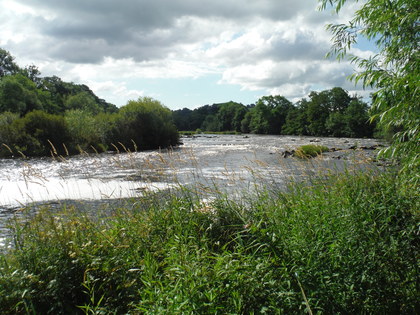 The drought of spring continued into mid-summer and most of our rivers and streams were affected by low levels during early July. At this time we also had a heat wave to contend with. Then from the 11th to the end of the month we had days of rain and showers, but the effect on the rivers has been surprisingly little. Although some of the showers were intense, to begin with the rainfall was being soaked up by thirsty ground and trees, hardly reaching the streams. There were a couple of the notorious "quick and dirty" floods on the Wye and Usk, but these events are not so useful to the salmon fishermen, even if they wake up a few resident fish. A short pulse of floodwater will run down the Usk from the headstreams to the tide in not much more than a day (in the case of the Wye it takes 2 days), but something rather more sustained over a longer period is needed to assist fish from the estuary right to the upper river. Tributaries such as the Monnow and Lugg seemed to be hardly affected by the rain at all. We came to the end of the month with a salmon catch of less than half the five year average. In many places trout fishermen struggled, although realistically one does not expect July to provide the best fishing of the season. However, some of the catch returns showed very good results on more shaded beats here and there, for both trout and grayling. If the British summer is notoriously unreliable, other parts of Europe can suffer more; there have been fires along the Mediterranean and the current daytime temperature in Mostar is 42 degrees in the shade. We talked to my brother-in-law on Skype last night and he looked as if he were melting.
As usual there are a few late reports from the end of last month, and these came at a time when a drop in temperature and cloudy skies had definitely improved the fishing. There was a little rain, but not much. On 29th June PB from Gloucester and a friend fished the new Ithon beat at Bryn Ithon, just below Llandrindod Wells, and although they reported that access was difficult due to bankside growth, they got 10 trout and 3 grayling. The fish were of all different sizes, but one of the trout was an impressive 18 inches. Meanwhile, MR from Monmouth had a red-letter day on the Lugg at Lyepole, catching 13 trout and 38 grayling using a nymph under a Klinkhammer. DH from Penarth was out on the Rectory beat of the main Wye. I think this was meant to be a salmon day, but he used the trout rod instead and got no less than 30 trout to 2 pounds plus a grayling, reporting a significant hatch of fly at 5 pm. NN from Newnham was also meant to be trying for salmon upstream at Abernant. Instead he took up the smaller rod and caught 6 trout and 15 grayling with both wet and dry flies. RA from Holme Lacey fished the Arrow at Whittern and had 7 trout. On the 30th DP from Tewksbury tried Abernant and got 4 trout and 8 grayling to 15:50 inches. JD from Hereford fished the Irfon at Aberbwtran and got 3 trout and 12 grayling to 15 inches, mostly on dry flies. At the time the Cilmery gauge was at 0:30 metres, which is very low for the Irfon. I'm guessing he concentrated on the deep pool below the island on this pretty piece of water. During this time the main Wye was running on compensation water from the Elan dams which was keeping the Llanstephan gauge up to about 11 inches. In fact the occasional salmon was also being taken from the upper river by anglers using low water tactics and small flies and some of these were bright silver fish.
AS of Newent tried Abernant on the 1st July and got 3 trout and 14 grayling between 6 and 12 inches using nymphs. He reported that the fishing died abruptly when the bright sun came out early in the afternoon. HW from Penclawdd had a superb day at Doldowlod on the upper Wye, taking 7 trout to a sizeable 18 inches, plus no less than 34 grayling, also to 18 inches. Whether it is a trout or a grayling, 18 inches makes a very nice fish. On the 2nd, PS from Hereford used a Tenkara rod to get 9 trout to 10 inches from the Clettwr gorge. JD from Porthcawl got 8 trout to 10 inches from the Llynfi Dulas middle beat. I especially enjoyed the report from TL of Kingsland, who got 2 trout and 6 grayling from the Lugg at Dayhouse and described a trout which rose from the depths and then drifted downstream for about 3 seconds watching the dry fly at close range before engulfing it. Memories are made of such stuff! On the 4th, GC from Worcester had 15 small grayling from Eyton. On the 5th AM from Dorridge had a large catch of trout and grayling to 14 inches from Lyepole. And on the 6th, yet another hot day, HW from Penclawdd fished Doldowlod again and this time had 5 trout and 27 grayling to 15 inches. Doldowlod is a beat where low water levels favour access (much of the wading is difficult) and also well shaded from the sun. DM and SW from Hereford fished Craig Llyn on the 7th and caught 9 trout and 17 grayling.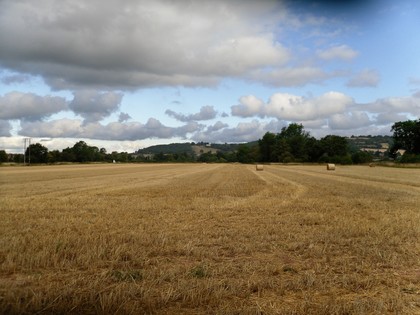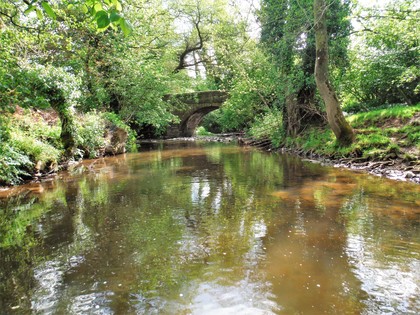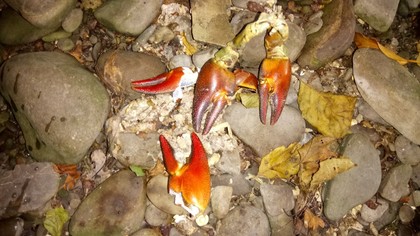 Some of our visitors were enjoying themselves on the 9th. RB from Redditch caught 6 trout and 3 grayling from Ty Newydd and "...can't wait to go back." SM from Dubai fished Lyepole for 2 trout and 3 grayling, "...such a lovely day. Thanks WUF." RW from Hereford with a friend had 5 trout and 10 grayling from Dolgau, "....beautiful day on the river." On the 10th, SE from Chard wasn't so happy with Abbeydore Court where he took 4 trout: "This beat needs some attention...I expect some level of bankside clearance for a &20 ticket fee." I can appreciate that sentiment, but on the other hand the same angler had similar feelings about Abbeydore immediately downstream, which he fished on the 12th. Abbeydore is a wild stream beat and half the price - and as we mention quite regularly, wild stream beats are well named and anglers should expect a bit of scrambling around obstacles. Generally speaking, the Dore is a tight little river and not easy to fish. Still, there is something in the portfolio for everybody's tastes. On the 10th AL from Bromsgrove had a big catch of small trout and grayling from the Lugg at Lyepole. On the 11th (the day of rain), PB from Cheltenham also fished the Lugg at Dayhouse and got 1 trout and 9 grayling. On the 14th, NR from the West Midlands, despite the low water, got 6 from the Monnow at Lower Longtown using a foam beetle imitation. On the 15th, BP from Leominster took a couple of trout from a shrunken Hindwell Coombe beat and sent us a photograph of the remains of an otter's meal. Otters just love crayfish. Come to think of it, who doesn't? Finnish Battalion in post-war Bosnia used to invite us to their mid-summer crayfish barbecue. The delicacy from Finnish rivers was imported by refrigerated truck, cooked, served on a bed of ice with bowls of Russian salad and washed down with generous supplies of vodka. There would be a wee bit of Sibelius on the speakers to keep the few intellectuals amongst us happy, after which Swedish Battalion, who had a rock band, would treat us to a concert of mainly U2 covers. Everybody's breath smelled terrible the next day. There is apparently an insult in Finnish which means something like "crayfish breath."
Right, back to fishing reports. Also on the 15th MW from Ashford fished the Wye at Gromaine and got 4 trout and 8 grayling from around the Llanstephan Bridge. On the following day HW from Pencawdd fished Doldowlod again and got 5 trout and 33 grayling. There were some more comments about access, which is perhaps unsurprising as by the beginning of July the natural summer growth of brambles, balsam, nettles, bracken and everything else which gets in the angler's way has about reached its height. For the rest of the year it will be gradually dying back until at last the frost really burns it down. On the 16th BS from Bristol fished at Lyepole and caught 8 trout and 15 grayling, but was very critical about access arrangements including barbed wire where you don't want it to be. He finished by stating that, despite the obvious good head of fish, "...I won't return there." Possibly because I have known Lyepole over a long period, I find it easy enough to get around, but I do appreciate that it might not be everybody's cup of tea. On the 16th Jeremy Mantle of Kingsland spoke out in defence of Court of Noke, which, while it tends to become overgrown in summer, is a very local beat to him and where he had just caught 6 grayling. In a nutshell, his advice is to take a wading stick and just beat down the balsam to make a path to the water, for your own sake and that of those who follow you.
Regular Dave Collins of W Herefordshire had a good day on the 17th, starting by fishing at Abernant for 31 small grayling and trout. Relatively small dry flies seem to have been the key to success here. In the evening he went over to his club water on the Usk at Gilwern and was surprised to find himself on the river just at the end of a fall of flying ants. This is a rare event but unfortunately Dave was just too late for the action on the river. He noted that on the same day flying ants had also been seen at Chainbridge and over at Cardiff. Oddly enough, I can confirm that we had them too that hot and sultry afternoon, whirling in the air all over the Forest of Dean hill on which our house is built. All kinds of birds seemed to be going mad for them. There must be something about the atmosphere on a hot mid-summer day which triggers this behaviour. However, like Dave, I have never managed to be at the water at the right time to take advantage with a fly rod. JA from Leominster fished Bugeilyn again for ten brown trout, mainly with the ever reliable Kate MacLaren, and was then shocked to find a Cats Whisker lure resting in the heather. JA even paid me back in his report for teasing him in the last newsletter - he added yet another line of exclamation marks! Ah well, David Train's Cats Whisker certainly has its moments and a row of them live in one of my rainbow fly boxes - it might even work at Bugeilyn for all I know.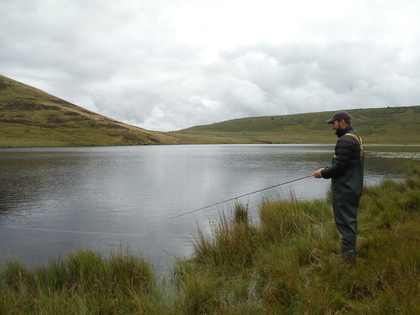 The drought continued and on the 17th RM from Wolverhampton with a friend expressed shock at the condition of the Ithon at Llandewi: "There were stretches where the whole river bed was dry. Never seen it like this before and I have fished this river since 72". On the same day, EM from Hereford with three friends fished the Usk Reservoir and caught 16 rainbows on Pheasant Tail Nymphs, Damsels and Daddy Long-Leg patterns from the deeper south side of the lake. On the 18th D and G from Worcester fished Ty Newydd for 6 trout and 7 grayling. They also wondered about the disturbed nature of the lodge and parking area and whether the 100 year old bungalow is due for redevelopment - I would also be interested to hear about that. On the 19th, AL from Bromsgrove, possibly with a companion, had a large catch of trout and grayling from Lyepole and on the 23rd AM from Dorridge had some number more than five trout and grayling from the same beat. RW from Hereford with a friend had 30 grayling and 2 trout by fishing nymphs on the upper Wye at Doldowlod. The following day PJ from Ammanford fished the same beat mostly with dries and found a rise to sedges during the early evening, catching 20 trout and one grayling. (That's curious, isn't it? You might conclude the Doldowlod grayling were looking down while the trout were looking up during that particular period). On the 25th, AP from Cheltenham on a nice breezy day with broken cloud had 10 trout up at Llyn Bugeilyn. On the 29th, TL from Leominster had 10 trout and 23 grayling from Lyepole, mostly with a PTN under a dry fly. The resident otter passed him while he was eating lunch. Incidentally, the bottom of this beat is where the river (looking downstream) approaches and then bends away from the path on the far (woodland) side. On the same day AS from Newent fished at Dayhouse for 8 trout and 4 grayling on nymphs. SC from Pontypridd was out on the Taff Fechan above Merthyr, and took 15 trout to 8 inches, mostly on dries. On the 30th LE from Usk fished the Llynfi at Pontithiel and got 12 trout and 1 grayling. As this beat was cleaned out by pollution last year, he was pleased to find it teeming with small fish.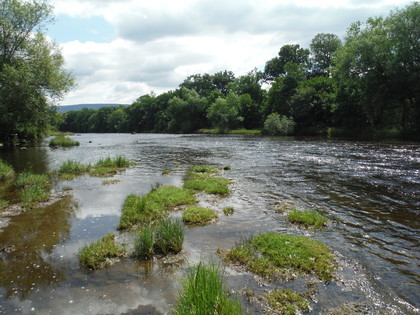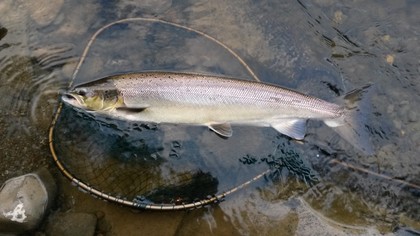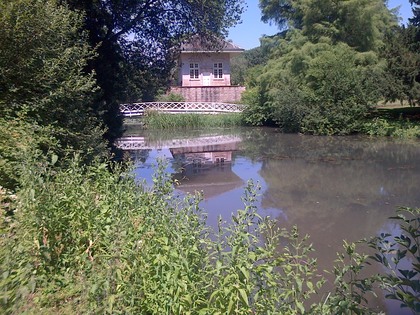 It's outside my remit (as if that ever stopped me!) but I have been impressed by the tactics employed in low water by some of the salmon fishermen on the upper river. Believe it or not, it's not that difficult to catch a salmon or even several of them when fish are taking and conditions are just so, but to be able to extract a fish when the river is down on its bones is quite an art. We had just enough water in June to get some surprisingly fresh fish into the upper river and there was good fishing for a while. Since then the drought continued through early July, yet occasional salmon were still coming steadily, one, two or three a day and, again surprisingly, some of these fish were almost silver. Most of these seem to have been taken from the remaining fast pools or gutters. Some compensation water from the Elan Valley dams may have helped and, on occasion, a very small rise in river level of a couple of inches. To take a couple of examples, on Tuesday 11th we did have a day of quite heavy showers and by mid-afternoon there was some hope that the river was going to rise properly the next day. Salmon anglers were watching the gauges and growing restless. In fact there was already a 6 inch rise up at Llangurig. But most of that rise seemed to dissipate as it spread downriver and the rain itself stopped at midnight. I was out trout fishing with a client at Ty Newydd next day and although the river still seemed very low we caught a few grayling. About mid-morning I realised the river was rising just very slightly and a few pieces of debris were afloat (checking the web-cam record later it was just a 3 inch rise which was dropping again by mid-afternoon). My client left at the end of a reasonably successful day. About 7 that evening I was just packing up the gear by the car when Andrew Kelton, a lawyer who works several days a week at Fish Legal in Leominster, arrived at the lodge. Andrew planned to spend a couple of hours trying for a salmon before driving back to East Anglia. We had a chat and, being a nosy sort of chap, I had a happy rummage through his fly wallet which was full of miniature patterns and little tubes for riffle hitching. He announced he was going to fish a dropper and I mentioned that the late Stuart Jarvis had always recommended a dropper not far above the point fly for fishing at Glanusk Park in these summer conditions. Anyway, I finished packing the car and wished him luck before leaving. Next day I saw that he had got one, a nice looking fish of 12 pounds from the Spout at the bottom of the beat, caught on a size 10 Cascade in the dropper position. Oh well-fished, I thought to myself! And it was the next morning, I think, on the Gromaine beat immediately below, that George Ottewell hooked a very big cock salmon on fly from the fast running Spring Pool gutter, a fish which took him 100 yards downstream. He was fighting it for nearly an hour apparently. I imagine that both these catches will provide happy memories for years to come for the anglers concerned.
Somebody asked me how I got on with the Defence Academy's new trout lake last month? Well, I don't think I will be revealing any military secrets if I state an opinion that it won't be rivalling Grafham or Chew in the near future. The extensive Shrivenham estate has several more or less ornamental pools connected by a rather sluggish lowland stream. There is very little through-flow, particularly during summer, and I suspect this is a matter of some significance during a heatwave. One hot evening, rather than sit in the mess with a cold drink like a sensible chap, I went looking for the lake which has been stocked with trout as an experiment. Eventually I found it tucked away in the woods between Beckett House and directing staff's married quarters. It is certainly very pretty, with an ornamental bridge and summer pavilion, looking altogether rather like a Japanese water garden. It only lacks stepping stones and koi carp. However, the colour of the water was opaque brown with a few rising bubbles and great lily beds grew out from the banks. My immediate reaction was that it looked just the sort of place to go tench fishing early on a summer morning and watch a float as the mist came off the surface. As the air temperature was now nearly 30 degrees and the water felt almost as warm, I decided that any trout surviving in it had better be left alone, so I never put a rod together. Kerry, the trout fishing warrant officer at the staff college who had just come back from fishing a match at Grafham, concurred that the fish were better left in peace.
The subject of weights and measurements of fish came up in the bar of the White Horse the other day. My own view is that it matters little whether you weigh or measure, but whichever you do, if you are making a report for others to read it will be appreciated if you can be accurate about your results. Personally I measure, mainly because I like to travel as light as I can and I begrudge carrying the extra weight of scales, whether in my pocket or built into the handle of the net. Of course there are conversion scales with theoretical accuracy at least and the discussion in the bar turned to the Sturdy Scale, probably the best known method of estimating weight from length. The Sturdy Scale is now rather discredited in the case of salmon, as it was evolved from measurements taken on one particular Norwegian river with short, thickset fish, heavy for their length. Unless you are rather lucky, you can probably take it that that your 36 inch British salmon is rather less than the magic 20 pounds - but still it's a jolly good fish and much cause for celebration! In the case of wild trout, I believe the Sturdy Scale is rather more accurate. Thus, it is likely that a 14 inch trout is something like 1 pound and 3 ounces, a 17 inch fish is likely to be 2 pounds 2 ounces, an 18 inch fish very likely is 2 pounds 8 ounces, and a 28 inch sea trout is also likely to be around 9 pounds 8 ounces. The same scale holds fairly accurate for grayling also. Of course there are variations; fish are just like people and there are thin individuals and fat individuals, and good feeding and lean commons to be had at different times of the year. There are more accurate conversion charts if you want to take the girth, but please don't compromise the well-being of the fish by taking too long over it. A very well-conditioned Usk trout reported from Penpont a while ago measured just 16 inches, but was also weighed at a genuine 2 pounds. The weight usually comes in the shoulders and a big cock grayling can have shoulders like a bull.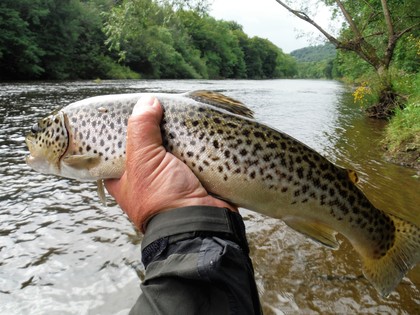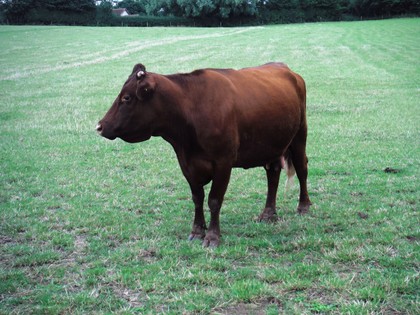 Which, with a somewhat self-conscious segue, takes me back to the bar of the White Horse where anglers were regaling each other with bull stories, another favourite subject. The relationship between bulls and fishermen is perceived by the public as much like that famous one you used to see on sea-side postcards between old boots and fishermen, or the relationship everybody is supposed to have with their mother-in-law - a matter for automatic laughter. Personally, rather than bulls (or even mothers-in-law) I have had more trouble with groups of large steers, which can sometimes grow quite pushy and aggressive in fields where they don't normally see walkers. However, I can remember a couple of encounters with bulls long ago which seemed funny afterwards at least.
For example, I once went on a club outing to fish the Dorset Stour at the famous Throop Mill Fishery. I admit I was not a particularly good coarse angler, certainly the youngest and least experienced of this group - pretty well every other member on the trip was better equipped than I. On an autumn day with the river running high, but still a nice colour, we all decanted from the coach and spread enthusiastically along a mile of bank, everybody but me equipped with bait buckets, seats and all sorts of paraphernalia. I just had an Avon rod, a net, rod rest and a canvas shoulder bag with my lunch. Barbel was the hoped for species but, as it turned out, the fishing was slow and only a few chub and roach resulted. After a couple of hours a very large and well horned bull appeared on the opposite bank, looking sort of restless and snorty as he trotted up and down. "Just look at the size of that beast," the angler next to me said. "I'm glad they can't swim."
You can guess what happened next, can't you? In an instant and with a tremendous splash he was straight into the water, just as if we had dared him, swum across the current with great aplomb and virtually bounded up onto our bank leaving the river behind him rocking with waves. Anglers on either side scattered in all directions clutching rods and nets. At that moment I was glad that I had not brought much kit. From a distance we looked back at the giant and menacing creature and realised that in fact he was not interested in us at all. The heifers in the next field back were the attraction as far as he was concerned. After about half an hour the farmer appeared, picked up a sizeable oak branch which was lying under the hedge, walked up to the bull and gave it a whack on the head. "What are you doing over here you old b****r," he said, before driving it back across the nearby bridge. The bull had a somewhat contrite look on his face and did what he was told, although he didn't hurry.
Another time my friend John and I were fishing the Ockham Mill Stream in Surrey. This is a fascinating little river, a carrier stream of the Wey, which in those days at least housed a surprising variety of fish considering its size: chub, perch, roach, dace and even the odd trout. A mobile approach, dropping in a bait here and there, was tremendous fun. On this occasion we were sharing a float fishing rod and trotting a worm down one of the open sections with pastures on either side. It was John's turn and he had just seen a big swirl off some sedges a few yards down from our own position kneeling together on the margin. As he prepared to present the worm to the crucial spot, we became aware of a very large bull making its way slowly up the opposite bank. The stream, although tolerably deep, is only about 12 feet wide here and there was no cover at all. "Don't worry about him," said John, keeping his eyes on where we thought the fish was lying. John was a veterinary technician, so I thought he might know what he was talking about. The bull passed the fish, which swirled again, apparently unconcerned by its presence. "Anyway," John continued as it approached, "he probably can't see us. Most of them have rotten eyesight." The porcupine quill float was already on its way downstream. I was thinking to myself that the bull was a Hereford, a famously placid breed, which was good, surely? On the other hand, it seemed to be alone in the field, which was perhaps not so good. At the moment the bull was right opposite us, the float disappeared and John swept the rod back in a strike. That movement certainly caught the beast's eye. He turned round to have a look at us as the rod tip bucked and a great commotion began on the surface downstream. He shook his head and snorted, then strolled slowly on his way as if thinking to himself: anglers in my field again, what do they think they are up to? The fish turned out to be an 8 pound river carp by the way.
Of course there is a serious side to this matter and accidents occur occasionally. I won't claim to be particularly brave on the subject of potentially aggressive cattle, only to remark that familiarity eventually breeds, if not contempt, perhaps a slightly more relaxed attitude. There are several farms where I fish along the middle Usk, one of them with a public footpath, each of which keeps a massive Charolais bull in the meadows along with the cows. I have learned that these white monsters never seem to take much interest in anything, hardly even the cows most of the time, and certainly not passers-by, with or without fishing rods. They graze away placidly enough, or lie down to chew the cud: expressionless white statues against a green background. I have also learned over time that the bull which accompanies the herd of Welsh black cattle at Abernant is a pleasantly dozy fellow who never takes any notice of visitors.
Still, you do hear stories. I have certainly seen cows with calves upset to a state of definite aggression by a dog allowed to run around in their field. John, the veterinary technician mentioned above, once while on a field trip was chased over two fences by a very determined little Welsh black bull. And I attended enough Spanish corridas in my distant youth to know just how aggressive a brave bull can be bred up to be. Once we found ourselves camping in a Castilian field separated by a high chain-link fence from a ranch with the "dangerous cattle" signs showing. Under the blazing Spanish sun of mid-summer a group of young black bulls grazed under cork oak trees, ignoring the neighbouring camp site beyond the fence, having become accustomed to it. A herdsman showed up on horseback and dismounted 100 yards away to mend a water tap, but as he did so I noticed that he kept the horse to hand and kept also a wary eye on the group of beasts. If you can believe the stories, a fighting bull never sees a dismounted man at close quarters until in the ring. But then the tranquillity of the scene was interrupted by a domestic cat which came sneaking across the grass on the ranch side of the fence. The movement caught the eye of one of the young bulls and suddenly he was onto it like lightning, turning to chase and hooking down with the sharp horns just inches behind the flying creature. The cat only just made it to the safety of one of the cork oaks where he eventually sat on a high branch trying his best to look dignified while the bull trotted round in a circle beneath, shaking his head and snorting with anger at whatever had just eluded him. Rather you than me, I was thinking, looking up at the cat. Another time in Extremadura, we were standing with other loafers on the roof of the bull ring pens the day before a corrida, watching fighting bulls being let out of the delivery truck and allowed to run down a narrow passage about 7 feet below us. Some-one's movement caught the eye of one of the beasts, which reared up on its hind legs and with a horn slash hooked a brick out of the top of the passage wall, to the consternation of those standing within inches. It was the suddenness and speed of the attack which was so disconcerting.
I used to wander about Spain a fair bit in my younger days and it was in Extremadura too that I learned that there are those who can and those who can't hold their ground when an aggressive bull approaches. This is a matter which the writer Hemingway was famously obsessed with. It was at one of those bucolic festivals where a small town lets a bull loose in the main square which has been carefully barricaded off with farm carts, and all the young bloods would show off their recklessness by jumping in and running around the beast. It's actually quite dangerous and, rather like the Isle of Man TT in motor cycle racing, the tradition and supposed glamour of the event offset the effect of the annual casualties. I believe most of them are banned by the police now. But on that day I was standing outside the barrier, and wondered for an impulsive moment if I had the nerve to jump over and join the other young fools already in there with the bull. I didn't wonder for long. Some movement in our corner caught the bull's attention, it tossed its head and came trotting over looking for trouble. I can remember the murderous look in its eye to this day. Anyway, I froze in terror and stayed right where I was, safely behind the barrier. If I was embarrassed by my fear, the embarrassment didn't last long, because in a moment all those brave young Spanish guys came piling over the fence on top of me, now equally afraid and looking for a safe haven.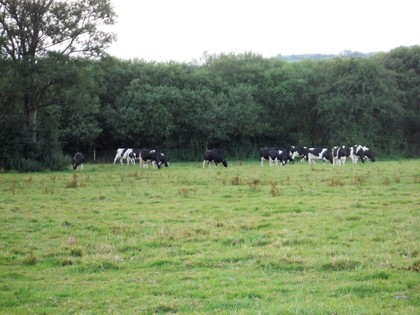 You can ask farmers' advice about safety with cattle, but I have noticed that while generally trying to be reassuring, they often hedge their bets a little in the reply. My limited understanding is that beef breeds are reckoned to be safer and more placid than dairy breeds and that bulls accompanied by cows are much safer than bulls left in fields alone. Farmers have a legal duty to maintain a level of safety in fields with public footpaths - for example dairy bulls may not be left in such fields unless accompanied by a certain number of cows. It should be noted, however, that anglers are often accessing the river through fields in which there is no public footpath.
I was fishing last year in Herefordshire with a herd of dairy cows in the riverside field when I realised that I had overlooked a young Friesian bull amongst them who was now showing a definite interest in my movements. He was stalking me quite closely by the time I crossed the river and, rather thankfully, rolled under a fence leading into the farm on the other side. As it happened, the next farmer was no great distance away and, possibly because he didn't wish to miss a chance to bad-mouth a neighbour, advised me: "You can never trust a Friesian." The same breed caused a certain amount of trouble among sewin anglers in Carmarthenshire last summer. The Towy valley has always been full of dairy cattle. One river bailiff told me of a bull which got him cornered on a peninsula with a very steep drop into deep water behind him. On that occasion, shouting and stick waving persuaded the bull to back down before he had to swim for it. On several other occasions anglers were chased by a Friesian bull in the meadows near the Towy. Very late at night, while we were standing together in the river, I questioned a lifelong Llandeilo sewin angler on this subject. "Odd times Friesians will charge at you," he said. "But so long as you stand your ground, they always stop short." Hemingway would have loved him. Fortunately, in the darkness he could not see the facial expression of disgust with which I received this (to my mind) not very helpful information. There is a nice example of Welsh machismo I was thinking to myself, totally unconvinced. And again, rather you than me.
My amateurish conclusion is that the more human movement cattle see in their pastures on a day to day basis, the more relaxed they become about it. If you have to walk right through them, a confident attitude and a reassuring voice go a long way: "Hello boys/girls." Some would advise to carry a stick and you may well be doing so anyway if you are going wading. A dog may be a problem when cows and young calves are together. Once when my son and I were walking through a field with his very docile retriever on a lead, an old cow trotted up and made a rather ritualistic mock charge at the dog. This was a field with regular walkers and I think she was just delivering a message to behave ourselves whilst near calves. Herds of young cattle in numbers, either heifers or steers, tend to be naturally and harmlessly curious when somebody comes into their field and will follow them around. You may well be mistaken for the man who comes every morning to bring them supplementary feed. Herds of steers left to grow large late in the season may not be quite so harmless in their curiosity and can sometimes show signs of aggression. The fact is that there are a few fatal accidents with cattle every year in most countries where stock are reared. So my humble advice, at least the advice I follow myself, is to pay attention to the demeanour of cattle when entering a field and behave accordingly. I certainly have no plans to go near a bull left on its own. If in doubt, stay well clear.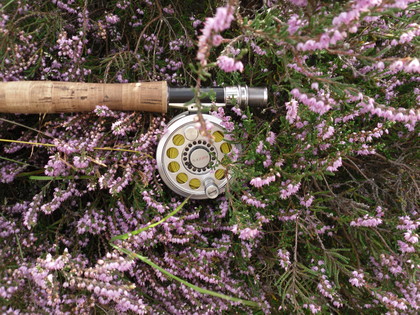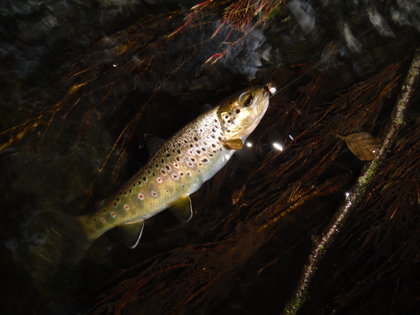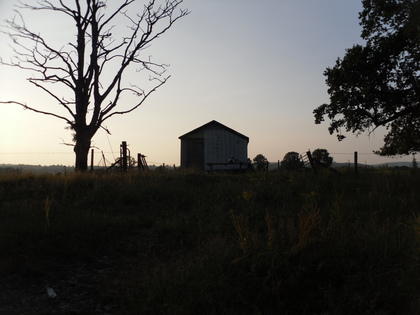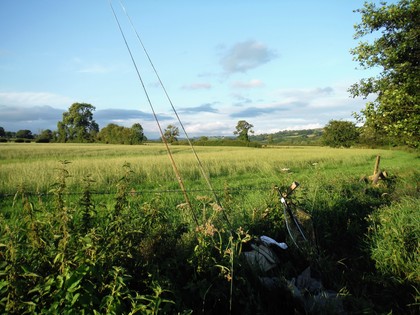 More talk in the White Horse, this time on angling photography. I don't consider myself much of a photographer - although my friend Lyn Davies certainly is and just look at the glorious pictures of the Wye which Adam Fisher provides for his coarse fishing report. However, I do have some views about welfare of the quarry in these catch and release days. Occasionally you see a picture of a live fish laid out on grass or even dry gravel, perhaps against a rod handle to show its size.The fact is that big fish especially are liable to kick around and injure themselves if treated in that way. Grayling, large or small, rarely lie still for long. I suggest it is much safer to photograph your catch in the net while lying in the shallows. Alternatively, a fish weighing up to about 2:50 or 3 pounds can be lifted from the surface on a wet hand for a couple of seconds while a photograph is taken with the other hand. Whatever you do, don't grip it or squeeze it, just lift from below. If the fish wriggles or kicks, it will merely fall back into the water and no harm done - and never mind about losing the picture. There is a lot to discuss about angling photography, perhaps for another occasion.
The Golden Grove sewin fishery on the lower Towy is up for sale again and the asking price is rumoured to be over 4 million. Along with Abercothi, this must be the most famous sea trout fishery in the UK. "If I won the lottery," said Eifion our chairman, having drained his glass and with a dreamy look coming over his face, "I would definitely buy it. And there would be none of this nonsense about running a sporting business. It would just be reserved for me and my mates." "Yeah, right, Eifion, that kind thought is much appreciated by all of us. You had better start by buying a lottery ticket then, hadn't you? And isn't it your round this time?"
So for now, while waiting for Eifion to win the lottery and acquire the Golden Grove for us, we must content ourselves with slightly less prestigious fisheries. What with low water levels, it has been a slow start to the sewin season. Our little river Loughor was affected twice last month by dirty grey water from a sewage outfall and twice Eifion had to call in NRW and the water company manager who arranged for emergency pumps to be brought on-site. There has been no sign of fish casualties, but as Eifion questioned, apart from the spawning impulse, why on earth would sewin choose to swim from a big estuary into a shrunken river sour with ammonia? We would wait for rain and meanwhile fish the Towy at Llandeilo instead. At the same time, there are more stories circulating about the amount of slurry being spread on Towy valley fields. It seems that dairy farmers in the area have amassed more of the stuff in their ponds than they know what to do with. We began fishing a low and sluggish river. Here is a morning after email sent to friends which captures the mood of my first trip of the season:
"Hi Guys,
Not an easy night, very bright with a full moon. Very little flow on the river. No other anglers out.
However, there were some sewin in the lower pool at Manorafon, with fish of different sizes showing before dusk. I marked down the spot of one good one and went through the pool first time with short sink tip and a Lyn's Secret Weapon. Nothing touched it but the big fish jumped right in front of me, stirred up I think by the fly going over it. Near to double figures I would have said, very fat in the belly.
After fishing the tail out (one brownie), went through again with same line and an Alexandra Tube - said to be good for moonlight - but nothing doing.
After midnight now and no more fish moving. Changed to a slow sinking line with a big Black Lure and fished the deeper part very slowly. Nothing doing. Moon riding high.
One o'clock. Tried Surface Lure on the switch rod, rolling it under the trees into the shadows away from the moon. Nothing doing. Moon still bright.
Two o'clock. Clouds came over the moon and it was quite dark for about 20 minutes. One fish boiled at the Surface Lure under the far bank, but didn't stick. Tried stripping back from the same area (as the natural current too slow to move the lure), and a sea trout of just over a pound locked on properly and was netted. Moon came out again and nothing more.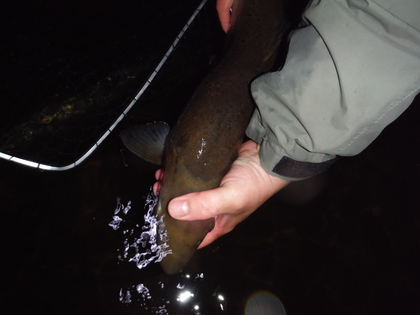 Three o'clock - heading for home.
Hard work eh? Towy nights!"
August has a bad reputation as a fishing month and anglers tend to mutter about the Sirius star and those notorious "Dog-days of August". However - and this will please only anglers, I suppose - this year's August is projected to be a cool and wet one. The ground is now pretty soaked, so we expect the new rainfall to reach the rivers quickly. Anything is possible in the days after a flood. Otherwise, shady beats and small streams may be able to provide good sport, just as they did in the month past. And in September, we should be able to start in earnest on the best of the grayling fishing.
Tight lines!
Oliver Burch www.wyevalleyflyfishing.com
---
June 2017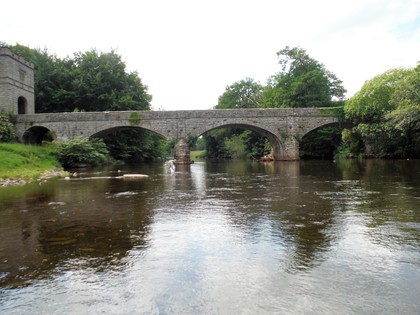 We have had another busy month on WUF waters while the June weather and associated fishing was of the varied kind you might reasonably expect. The mayfly season carried on well for quite a while longer, just as we had hoped. The extended spring drought finally came to an end with showers of rain in the first week, which eventually built up to one of those "quick and dirty" summer floods on both rivers. This certainly gave them a good clean out and moved a few salmon upstream. As the levels dropped again, a proper heat-wave arrived and lasted for nearly a week. This involved night temperatures around 20 degrees and day temperatures as high as 30 degrees. The water began to heat up and, as you would expect, fishing became generally difficult, although there were a few exceptions. The last week of the month was much cooler, mostly cloudy with some light showers, and the fishing began to improve once more.
Starting with a few late reports from the end of May, NG from Dilwyn had a good day on the Lugg at Lyepole on the 27th, taking 16 trout between 6 and 12 inches. The same angler fished the Arrow at Whittern on the following day, taking 8 trout from 6 to 10 inches on dry mayfly patterns. On the 29th, AD from Richmond fished at Lower Glanwye and had 15 trout between 9 and 14 inches with various methods. On the 30th, PW from London with a friend had 12 trout between 12 and 24 ounces on the Glanusk Ty Mawr / Canal and Rivers Trust beat of the Usk, mostly on nymphs. On the 31st, RG from Llandrindod Wells took 11 at Llyn Bugeilyn, fishing in wind and rain. JT from Maclesfield had 14 trout at Skenfrith, a Monnow beat which is really at its best at mayfly time. And on the 1st June he was out again, this time on the Usk at Ashford House, where he had fine 18 and 16 inch cock fish in a bag of five taken with a Deer Hair Emerger. LJ from Hereford fished for 6 rainbows from Llyn On, using a variety of methods, MR from Monmouth took 10 brown trout from Upper Longtown by fishing a nymph under a dry fly, while PB from Gloucester with a friend fished the Lugg at Eyton during the evening and between them got 12 trout to 14 inches during a rise to mayfly spinners. On the 2nd AB from London had 7 trout including a very fine fish of 16:50 inches from the Arrow at Eardisland, mostly on a small Pheasant Tail Nymph. AB from Epsom reported 8 trout from 8-10 inches during a mayfly hatch from the Middle Llynfi Dulas beat, having earlier fished the lower beat for three fish.
I was intrigued by a report on 3rd June by MD from Barry, who had a 1:50 pound Wye shad as a by-catch while salmon fishing at the Rectory. This fish apparently had a rainbow or pink stripe down its side. I can't imagine what that must have been, although shad normally have very bright silver scales, almost with a mother of pearl reflection to some of them. Shad shoals tend to be divided by sexes, and if the weight was 1:50 pounds I would make a guess that it was probably a male (females are more often 2 pounds or even 2.5 pounds). In the United States they call these buck and roes and the clash when the two shoals meet for mating, usually at nightfall, makes quite a sight. The pool immediately below the bridge at Usk Town is one place you can see this during early June. There is no attempt at red cutting; the extruded and hopefully fertilised eggs float freely down to lodge wherever they will and when the mating reaches its height you will see every eel in the pool on the move looking to make a free meal on drifting eggs. It bears stating again that while shad as an accidental by-catch are almost impossible to avoid (they will on occasions take everything from tiny trout flies to Flying Cs), you should not target them deliberately as they are a protected species.
Also on the 3rd, BS from Bristol had 6 trout while prospecting with a dry fly on the new Lugg beat at Dayhouse (nothing was rising). MD from Surbiton also had 6 from the Usk at Fenni Fach. On the 4th, JA from Leominster had a couple of small trout from a private section of the Pinsley Brook, fishing during the evening with a spent mayfly pattern. I have to state that I think that the little Pinsley Brook, gin clear and overgrown as most of it is, represents one of the most challenging small streams I know. It is really very like a miniature chalk stream, but on the other hand some of its trout are not small at all. Of our regulars, NG from Sutton St Nicholas is one angler who seems to have the knack of extracting a few. On the 4th another regular angler, AS from Newent, fished the Dayhouse Lugg beat and reported a large catch of trout from 6-15 inches on nymphs.
The weather now changed and on the 5th we had a gale of wind and the first real rain for many weeks. AS from Germany braved the storm to take 10 trout from 7-14 inches from the Edw at Hergest. 14 inches is really a pretty good trout for a stream the size of the Edw. MD from Surbiton had five good fish from 1 to 1:75 pounds from Usk at Trallong and Abercamlais. A short and very dirty flood now began to run down the main rivers, which really did need flushing through. However, the Lugg and Arrow only rose about 3 inches before dropping back quickly and the Monnow was also relatively unaffected. On the 7th, AM from Hereford had 7 trout between 7 and 12 inches from Whittern, mostly on nymphs. AS from Germany followed up with 10 more from the Hergest beat of the Edw on the 7th and another 11 from the Llynfi Dulas middle beat with a mayfly pattern on the 8th. JL from Mynddbach came to fish the little Blackpool Brook in the Forest of Dean the next day and had 13 with small nymphs in slightly high and coloured water. On the 10th, NG from Godalming took 9 trout on dry flies from the Usk at Glan y Cafn. On the same day AS from Germany fished at Aberedw again and took 10 fish to 13 inches with nymphs. AS from Newent fished the Lugg at Eyton the same day, finding the water slightly coloured and the winds strong. He fished with nymphs and "with utter disgust" put a bite indicator on his leader which "helped no end." I expect it did and I am not sure of the reason for the "utter disgust," because it is probably what I would have chosen to do. He caught 16 trout from 7 to 16 inches. On the 11th, BP from Pembridge was also assailed by a big wind on the Ithon at Llandewi and caught 5 while nymphing with a French leader. Unfortunately he broke his rod during the session. On the same day JM from N Herefordshire was out on the Lugg at Dayhouse and caught 5 on double nymph with no fish rising. D and G from Worcester fished Dayhouse on the next day and caught 20 trout between them, still with a big downstream wind blowing. Cattle are now in the field, as they reported, but alternative parking arrangements have been made (never leave your car unattended in a field with cows). Also on the 12th, JA from Leominster braved the wind to take 21 trout from Llyn Bugeilyn ... and used an even larger number of exclamation marks in his report (!) AC from Crickhowell with a friend had a dozen rainbows from the Usk reservoir on the 13th, while Dave Collins from W Herefordshire took 25 trout from 8-16 inches during morning and evening sessions on the Gwent AS water of the Usk. NO from Woking reported having a great day on the Usk at Fenni Fach, taking 12 trout during an afternoon hatch and spinner fall until dark.
Something rather strange happened on the 13th June at Dayhouse, which has one rod day ticket available or two by arrangement. RB from Bromyard reported somebody who should not have been there fishing the upper part of the beat ahead of him, while the rest of his day was spoiled by the boisterous Labrador belonging to the farmhouse. Meanwhile NW from Bromsgrove reported a big catch of trout taken at Dayhouse on the same day using dry fly and nymph. On the 15th PB from Gloucester reported for a party of three salmon fishers at the Ty Newydd upper Wye beat. There were no salmon to report, but one angler who spent his day with a trout rod got 6 to 17 inches. DH from Penarth had 15 trout to 2 pounds from the Rectory beat using nymphs. MR from Monmouth had 11 from the Maes y Beran beat of the Honddu. Meanwhile DA from Brecon with a friend took an evening ticket on the Usk at Penpont and got 10 fish during a spinner fall.
The weather was by now extremely hot and we were experiencing the beginning of a proper heat-wave. This is not untypical weather for the second half of June and I think it is wise to consider early morning or late evening fishing once the sun has become really powerful. 16th June is also the start of the coarse fishing and of course grayling now come into season. I usually find June and July grayling still quite weak after spawning, so it is worth taking some care when releasing them if the water is warm. (By the time we reach September of course it is another matter and autumn grayling will really be coming into their full condition and strength). On the 16th, HW from Penclawdd had 14 trout from 9-14 inches from the Usk at Trallong and Abercamlais, using a nymph suspended below a dry fly. AT from Lincoln had 19 at Fenni Fach, mostly on nymphs, while DW from Wellington caught 7 from Dinas. TJ from Leominster led a party of 4 up to Llyn Bugeilyn where they caught 28 trout on various wet flies. However, the heat was really starting to take effect now and of the following day LH from London wrote ruefully: "Oh the shame! A nil return from Llyn Bugeilyn!" I am not really surprised; LH and his friend experienced a day of blistering heat, windless and cloudless. Such days are even worse for fishing lakes than they are for rivers and I am sure the fish just went down and stayed down. You might do something with a sinking line in such conditions. The Wye received some compensation water from the Elan Valley dams about now, but all other rivers were low. While such conditions are not much good for salmon, trout or grayling which are essentially arctic species, the chub and barbel thrive much better in warm water and some good catches were certainly being taken downstream during the early days of the coarse season.
On the 17th AT from Lincoln with a companion took probably the best approach to the heat by fishing on into the darkness at Dinas. The day had been difficult, but there was an evening rise and they took 26 trout altogether including a 2:50 pound fish caught at dusk. HW from Penclawdd also fished the Usk at Trallong and Abercamlais and got 14 on nymphs. SB from Burton on Trent on the same day found a row of coarse anglers poaching Orchard Pool at Lower Llanstephan. That is rather surprising as this part of the upper Wye is pretty well known as hallowed salmon territory - hardly a place to make a mistake! I wonder what excuse they gave before they left? KG from Birmingham, who I think fishes for salmon regularly at Abernant, took the smaller rod this time and caught 5 trout and 4 grayling. On the 18th CT from Cardiff got 13 trout including several good ones at Teifi Pools. LW from Hythe with a friend got a pair of 2 pounders in a bag of 8 from Abercynrig. The air temperatures were really building up by now and the water temperature was inevitably rising steadily also. On the 19th JJ from Stourbridge with a friend found very few fish rising at Abernant, but nevertheless got 12 trout and 18 grayling on nymphs and spiders. On the 20th MR from Monmouth tackled the Honddu at Lower Henllan by fishing morning and evening sessions and had 14 trout from 6-12 inches. On the 22nd, with the heat-wave just ending, JG from Ross on Wye caught a dozen trout from 7-12 inches from the Edw at Hergest using a size 16 Adams - creditable in the circumstances I think we would all agree. RO from London had 10 trout by spinning on the Taff. Dave Collins from West Herefordshire was out on the Wye at Ty Newydd on the same day and recorded 9 trout and 4 grayling, mostly on various dries and emergers. Now I know that Dave habitually carries a thermometer and on this occasion he recorded a water temperature of 19 to 20 degrees, which is really getting near the stress point for most salmonids, so a change in the weather and reduction in air temperature was welcome. He noticed plenty of Argulus lice on his fish, something which usually happens when Wye is warm. You see them like brown lumps, mostly clustered on the dorsal area and spoiling the look of trout and grayling. Similarly, white fungus has been spotted on a number of Usk fish. Cooler water will be the cure.
On the 23rd KL had a dozen trout to 10 inches from the Bideford Brook, using a Klinkhammer and PTN. A day later NR from the West Midlands had 8 from the Llynfi Dulas middle beat while LB from London took 10 from the Usk at Glan yr Afon. On the 25th, BW from Cardiff had 20 from the Taff Fechan using a Parachute Adams. DM and SW from Hereford had 12 trout and 33 grayling from the Wye at Craig Llyn. Dave Collins fished the Wye again at Builth Wells (GPAIC water) and took 13 trout and 9 grayling, mostly small. On the 27th JM from Yarpole took 2 trout and 20 grayling at Abernant. The same beat was fished two days later by NN from Newnham, who took 6 trout and 15 grayling. Most of the Wye fish taken at this time were on the small side, but welcome nevertheless. On the 29th AL from Bromsgrove fished the Dayhouse beat of the Lugg again and caught 7 trout and 13 grayling to 15 inches.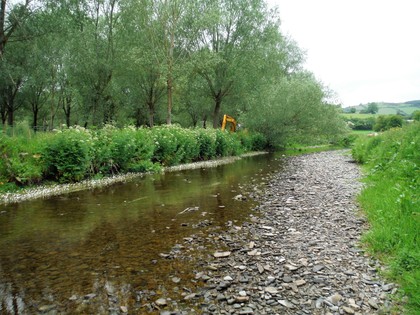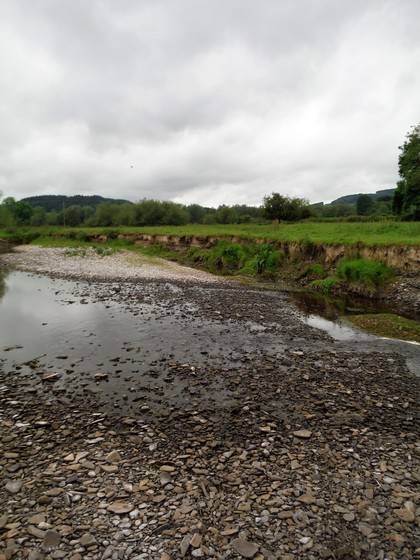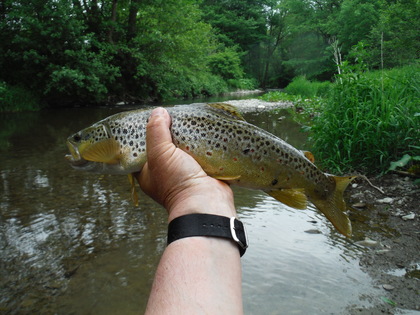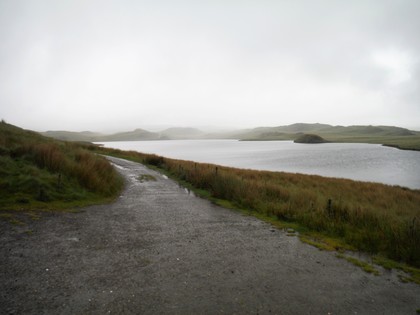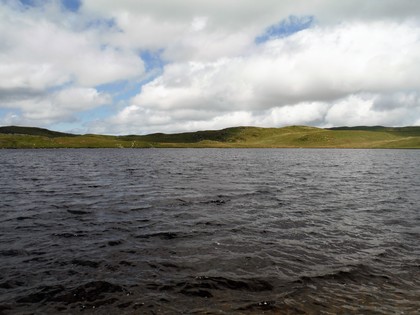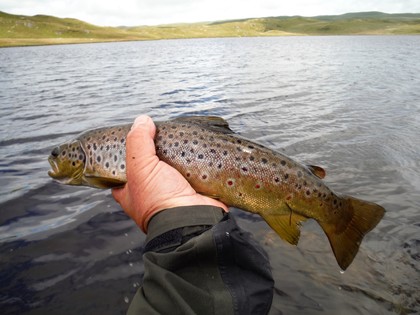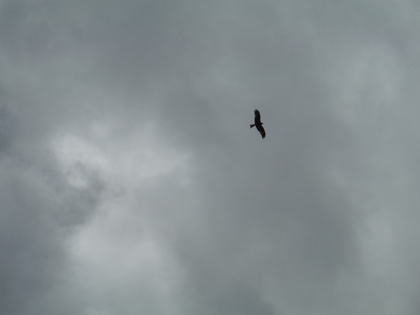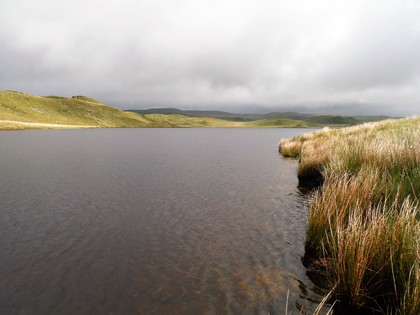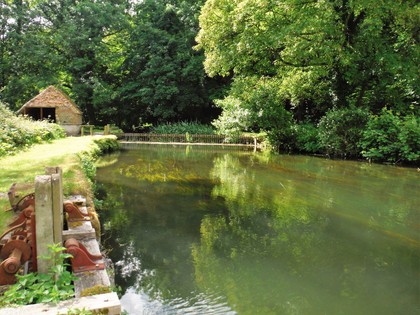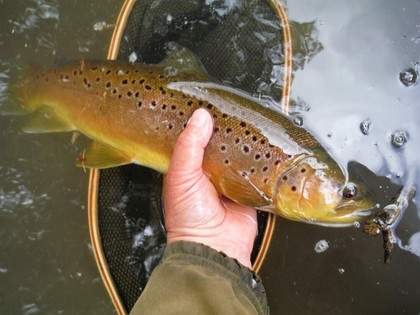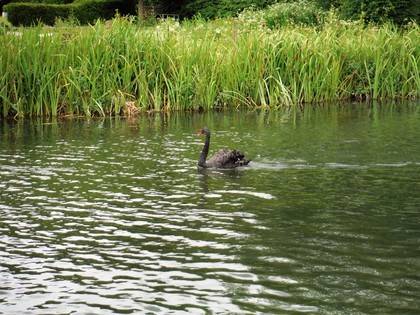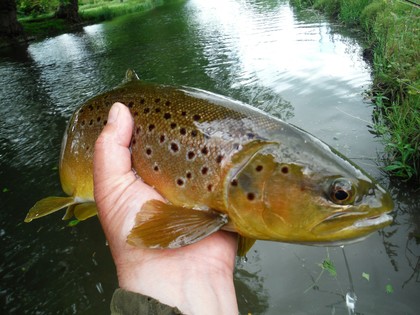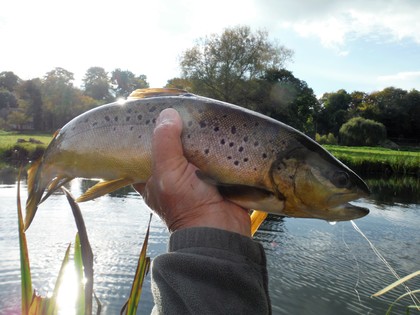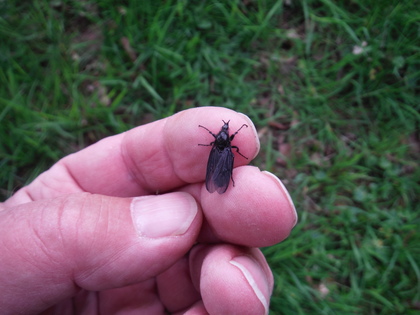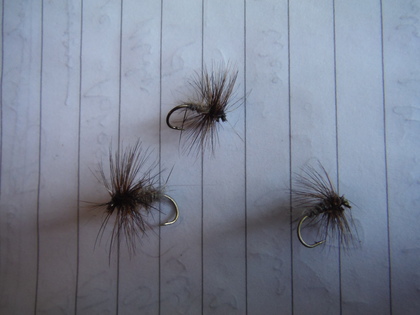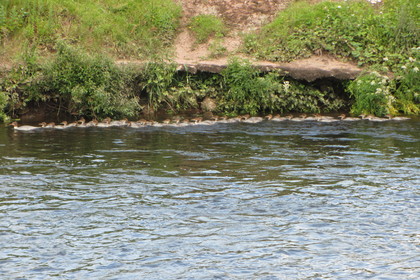 Before war games and a Shrivenham syndicate room swallowed me up for three weeks, early June gave me three very different fishing experiences to my own rod, each of them interesting in their way. To begin the month and more than conscious that the mayfly was still hatching, I thought I would have one last try this year and see if the Teme at Bucknell could produce a big trout. I had visited once during early May and found the river already shrinking, but with a Parachute Adams hooked a good fish still feeding above one of the isolated pools. It jumped and then broke my tippet a few seconds later on the first dash for cover. This time, still waiting for rain as we were, the situation of the river looked much worse. I walked down to the bottom end and saw that now there was hardly any water running across the gravel between the still pools as most of the remaining flow had become subterranean. There was no sign of aquatic life. This part of the Teme is notorious for suffering in this way during dry spells. I found a chap with his car down there walking around looking at the river, or what was left of it - and after suspecting for a moment I had encountered a poacher - realised it was the local Environment Agency representative. We had a chat and he told me they were on the point of making a decision for a fish rescue operation, before predators capitalised on the situation. For the EA, netting this section has become almost routine during a dry year. In the circumstances it hardly seemed sporting to fish the lower section, so I walked back up to the top where the flow was still reasonable. The odd fish was rising here and I took three small trout with a mayfly pattern before going home early.
Another visit was to Teifi Pools, now on a day with clouds and rain arriving low over the hills on westerly winds. Lyn Davies always tells me he likes a "dirty day" to fish here and he is quite right; bright sunny skies and a calm surface are almost always the enemies of loch-style fishing. These are classic upland lakes on a wild moor, similar to Bugeilyn, although the altitude is lower. I arrived in rain and experienced drifting cloud and mists all day, walked right round Llyn Egnant through the peat bogs, casting a team of three traditional flies, Kate Maclaren, Silver Butcher and Grouse and Claret, wherever I could get good access and cast across the wind. I must have fished about half of the shore over 6 hours. I carried my lunch with me and sat for a while eating it amidst clumps of bog cotton and watching a red kite overhead. I never tire of watching these birds in a strong wind. A kestrel can hover as accurately as if it is strung on a wire, holding its position with rapidly beating wings. But the larger kite does the same thing without beating its wings, just balancing on the wind and adjusting its trim with very slight adjustments made with the spread feathers, just like the flaps on an aircraft. There is a very slight wavering of position when the air is turbulent, but not much. Like the kestrel the extended head of the kite is quite still and looks intently down, the sharp eyes scanning the ground. I hardly saw a fish move on the surface all day, but occasional fish were prepared to come up to a fly and eventually I found a small concentration in a bay at the bottom of the wind. I ended up with 7 trout including one of 16 inches, all of which took the wet flies with a wonderfully satisfying thump, and I thought I had done well enough for the day.
My only problem with the Tregaron area of West Wales is that it is so far away from my home in the Forest of Dean. My choice, whether adopting advice from map or satnav, is between taking a convoluted minor road over the Abergeswyn Pass, or going further south along the A40 and another slow road via Lampeter, or right round to the north via Llangurig at the top of the Wye. You are very near Cardigan Bay on this drive and in the valley of the Rheidol for several miles. Using the faster roads I clocked up 240 miles on the round trip and although I only had time for a one-day visit, reminded myself that it would be much more sensible to spend at least one night in Tregaron. This charming country town has the most interesting fishing around it in a most unusual landscape, with the Teifi flowing from upland lakes in the mountains, the great grey and brown Tregaron bog above the town and green pastures in the valley below it where the river looks almost like a chalk stream full of bright weed. It has been fished in the past by some famous names, including Dai Lewis, Moc Morgan, Oliver Kite and the Reverend Edward Powell. Once you have a day ticket, for no extra charge you can roam around all of it, including the lakes and 8 beats of the Teifi. I think you could spend a very pleasant week exploring all of this.
The next day I found at short notice that I was free again. Now that some truly heavy rain had arrived over 48 hours, our rivers had come up in flood and begun to fall off slowly. The idea of a Wye salmon fishing day was the obvious one. Alas, I was too late; other syndicate members had booked in ahead of me and there were no places left. I was just feeling rather sorry for myself and thinking about trying a club water on the Usk with the salmon rod, when a message arrived from David Burren. He was spending three days fishing his syndicate water on the Salisbury Avon where the mayfly were still going strong and would I like to join him for one of them? That seemed like a very nice idea, so early that morning I found myself travelling through a very different landscape from that of Tregaron, driving now over rolling chalk downs, passing tank crossings and thinking to myself as always that Salisbury Plain is badly named because it not really a flat plain at all. I passed Stonehenge, met up with David at his motel and in a few minutes we were dropping from the bare uplands into the valley of the Avon. Famous Netheravon and Figheldean are upstream; here at Heale House by the Woodford villages we were beside a slightly larger river (a salmon had been caught in one of the hatch pools during the week). (We spent the rest of the day buried in a world of green water meadows, quiet waters, leafy trees and thatched cottages with tall chimneys. The clear waters of the Avon with its waving weeds seemed unaffected by recent rain. The wind was fairly strong all day, something which often seems to upset chalk stream anglers, but David and I were happy enough. We fished dry fly all through and I would be embarrassed to tell you how many big trout were caught. I think David would be embarrassed to tell you how many he caught over three days. I was fishing a 9 foot 4 weight rod with a Model Perfect mounted on it and that delightful reel seemed to be making its famous buzz almost continuously as near grilse-sized fish sucked in the size 12 Monnow Gosling and made off with it.
You might say this sounds like dry fly paradise and in one sense you would be right. There is about five miles of fishing at Heale House, all of it in charming scenery with private access, and which has been looked after assiduously for 30 years by keeper Peter Major. Every time I see Peter his young son Ben is with him, and I would be prepared to bet that one day Ben will take over the management of the fishery from his father in the tradition of the area. At the same time, you need to accept that this kind of chalk stream fishing, if it is to be commercially viable, depends almost entirely on stocking with large trout. "That's a heffalump" I remarked to David when I had the first one in the net. Penpont on the Usk may have its "porkers," but I think Heale can definitely claim to have its own breed of "heffalumps." In fact Peter and Ben produce in their carrier stews some wonderful looking stock trout of a rich bronze colour and at mayfly time a majority of the taking fish in the river seem to be in the 18-20 inch range. They aren't all idiots by any means and quite a few of them refuse the fly until the drift is quite right or the pattern is changed - as we were able to watch with the polaroid glasses. Although I carry them, polaroids are not much used by me on my regular streams, except sometimes on the Lugg and Arrow when the water is low and clear. Nevertheless, by lunchtime we were both slightly embarrassed by a plethora of relative monsters which had thrashed the surface to foam for a while before coming to the net. I was slightly surprised that I had only lost one in the weeds.
By mutual consent, we spent the afternoon on the remoter, lower section, where you can wade and where the fish population is slightly more mixed, to see what we could find. So along with more big trout, I caught a decent out of season grayling which came out of the blue to a size 16 Parachute Adams I was trying on a very visible refusenik trout, a big fellow which had turned its nose up at three different mayfly patterns in succession. This was the only time I used a small fly during the day. A couple of quiet rises turned out to be from large chub which certainly like mayfly and I also caught a handsome dace of around 8 ounces. Big dace seem to thrive in southern trout streams. David found what turned out to be another rising chub which would only take a tiny fly after many presentations. The smallest trout of the day at 12 inches was, I think, a genuinely wild Avon fish with a markedly silvery colouring to it. At the end of it all, there was a sense of deep satisfaction. Upstream dry fly and when appropriate single upstream nymph are not just methods enforced by archaic rules and traditions as is often implied; in the case of the chalk streams they are the most logical ways to fish. We finished sitting under the plane trees, talking to Peter and Ben across the river from the faded brick facade of the great house. It was a charmed day in a magical place and hopefully there will be another opportunity to fish Heale at grayling time.
Dave Collins was one who turned in some good trout fishing results (see above) from the Usk in mid-June, just as the heat-wave began to intensify, and he sent us a message extolling the virtues of the Baby Sunfly which had accounted for most of them. This is one of the Reverend Edward Powell's famous dry fly patterns and like all the fishing clergyman's flies it has a certain "presence." The design is simple enough, using rabbit fur taken from the animal's mask between the eyes and the nose and coch y Bonddu hackles, two of them in the larger sizes. Powell's flies usually had very thick hackles, 10 turns in some cases, but I suspect from David's photograph that he dresses his own version rather lighter than that for the Usk. Baby Sunfly was Powell's development of an even bulkier "Sunfly" by Dai Lewis, which had a cree hackle in addition to the two coch y bonddu and was used on fast water sections of the Teifi in sizes as big as 10. Baby Sunfly in theory imitates a black gnat and should be good for early summer. I'm decided to give this pattern a longer trial myself when I get the opportunity and if you would like to do the same, here is the dressing:
Hook: 12-16
Thread: brown or black
Tail: three fibres black or coch y Bonddu cock...or none
Body: dubbed whole rabbit fur from the mask above the nose
Hackle: One or two coch y bonddu cock hackles.
David also sent us the attached photograph of half-grown goosanders swimming along the middle Usk. He counted 34 of them no less, oddly enough with only one adult in attendance, so surely we will soon have an even larger number of predators competing for our fish.
The Wye and Usk Foundation's newsletter for spring 2017 arrived last month. It's a very interesting read from Simon and his team about what they are doing, but it also struck me as a reminder of how complicated and varied the threats facing our rivers have now become: climate change, acidity, abstraction, over-intensive agriculture and the rest. There is a long history of concern from anglers about the state of our rivers, but up to about the mid-twentieth century it must have seemed relatively simple. Apart from over-fishing, the enemy was industrial pollution and, bad as that was in areas of traditional heavy industry, pollution was about it. Clean up heavy industry, keep predators down and poachers away, and good fishing everywhere would return, or so anglers believed. I have a copy of Where to Fish from 1950 (the proper one, compiled by The Field) which mentions that our little River Loughor in South Wales had a good sea trout run and that the Pontardulais club were making great efforts to improve damage from mining pollution. A few of our committee members can remember those days - many older club members worked underground themselves - and recall that if the coal washing screens at the Ammanford Colliery upstream were not managed properly, the river would turn black. I have been told of nights when you could not see the moon reflected in the water. And yet the sea trout runs were wonderful then, distinctly better than today, when the river runs at least clean to the eye. Now, the same members are having to get used to the idea that the river is being damaged by phosphates, agricultural chemicals, lack of access to good spawning gravels and excess livestock in riverside pastures. We are confronted with too many cattle and sheep in too little space, too much agricultural production, above all too many water-consuming people and more and more houses built on formerly green land - how to manage it all better? It all makes the concept that the rivers were damaged merely by coal washings or too many predators seem refreshingly simple - and in fact it was over simplified of course, even then.
If I take one message from the WUF's newsletter, it is that over the next several years everything will be up for grabs. Whether you believe that the Common Agricultural Policy was harmful or not, whether you believe that the Water Framework Directive was effective or not, indeed whether you voted for Brexit or not, now matters little. The fact is that on the subject of our rivers and the planning and legislation for their protection, we will shortly find ourselves standing in front of a blank page. We can reconfirm the EU's Water Framework and Habitat Directives or where appropriate we can decide to improve on them with something more appropriate to our own needs. As the newsletter points out, the barrage builders and the abstractors are surely preparing to lobby for new and more relaxed regulations which will suit their interests. A great weakness of anglers as a group is that we sing to the choir a lot. By which I mean that on various fora we discuss (or rather moan) about our problems continuously amongst ourselves, but we are not very good at transmitting our concerns to the wider public. A letter to Trout and Salmon may relieve our own frustration but I wonder how much it achieves. To take an example, we have all been very clear in our minds for a decade or more after reading numerous magazine articles that lice from salmon farms in West of Scotland sea lochs has done immense damage to wild salmon and sea trout runs. But how many members of the general public - for example that lady there, heading for the supermarket chilled fish counter with the "Scottish salmon" sign on it - how many people like her do you think know about it? Try the question about sustainable salmon production on a non-fishing member of your own family as an experiment. The general public, including people who think of themselves as "green," make a lot of assumptions and sometimes strange ones about rivers and wild life, mostly through lack of knowledge or familiarity. The urbanised (or suburbanised) public, which is now most of the UK's public, have taken on board the big messages about global warming and carbon emissions, but they know very little about managing the countryside, which they experience mainly from occasional weekend visits in summer and TV documentaries. Judging by my local paper, one idea which is quite popular lately seems to be "let's put lots of turbines in our streams to generate clean energy" and there is no trace of suspicion that there might be a down-side to that plan. We all could do a lot more in this regard. Above all, even with the election over, this must be the time to speak with a loud voice to our politicians and ensure that protection of our beautiful rivers and rural environment is given due prominence in the busy days ahead. I once met the chap who has just been appointed Secretary for the Environment and I can't say I'm tremendously encouraged by anything I heard on that occasion, but let's try to be optimistic. I am sure the WUF will be among a number of organisations to take a leading role in publicising environmental concerns about our rivers and fisheries, but meanwhile why not write a letter to your newly elected MP emphasizing your own view? The Angling Trust has already produced a "Manifesto for Angling" which last month was sent to the major political parties and which is planned to be sent to all MPs. See what you think of it.
What next? For myself, once I have disentangled myself from Shrivenham I will take a choice between night sea trout fishing if the rivers are low and trying for salmon if the waters rise. Mountain lakes should be good if skies are cloudy and there is enough wind to produce a ripple. Evenings might be best for fishing the Usk and look for blue winged olives. Shady brooks should still be an option. Maybe try out that Baby Sunfly? And for sure we need some more rain.
Tight lines!
Oliver Burch www.wyevalleyflyfishing.com
---
May 2017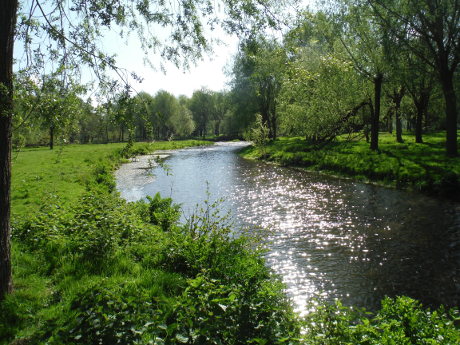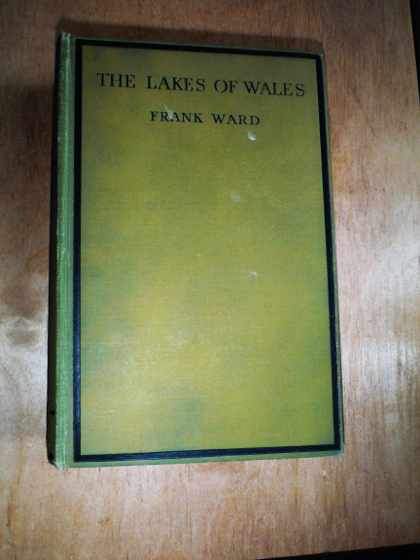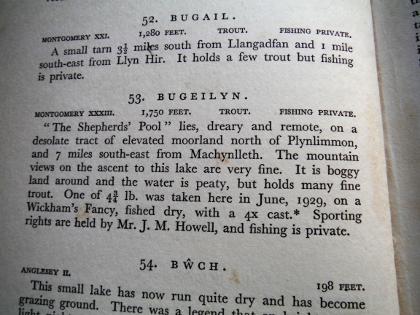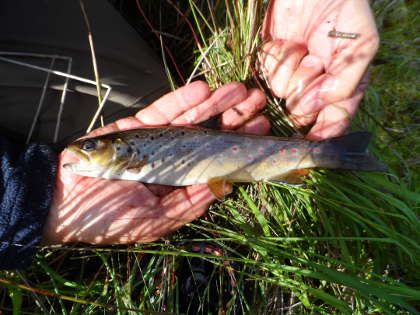 If we don't get good trout fishing during May, I don't know when we should get it. And after a difficult and rather chilly April, a good number of anglers had successes to report during May as temperatures rose and hatches increased. In fact at the end of the month we had something like a heat-wave which slowed down sport very slightly on the main rivers. The mayfly started early again and the usual tributaries produced some very nice fishing indeed to the dry fly, so that many of us enjoyed ourselves tremendously. However, the most notable feature of May was a general lack of rainfall in both catchments, despite dark clouds scudding over us and the odd short-lived shower. We finished the month with most of our rivers lacking water.
The fishing was still generally hard during the first bank holiday weekend. On the 29th April, HW from Penclawdd got 7 at Fenni Fach with a number of fish rising to olives and large brook duns. On the same day LH from Crew with a friend had a dozen fish to 1:50 pounds from Dinas on dries and emergers while sporadic hatches went on through the day. On the 30th IC from Gloucester very creditably got 14 trout to 10 inches from the little Dore at Chanstone Court, using a nymph fished under a dry fly. The Arrow started to appear in the reports on 2nd May. PS from Hereford had 6 trout between 10 and 12 inches from Mowley Wood while fish were rising to hatching olives. On the same day he stopped in at the nearby Court of Noke fishery and had an exceptional Arrow trout of 18 inches, found rising under a tree. Meanwhile MT from Evesham fished at Titley, another very beautiful beat as he accurately states, and found fish apparently feeding on terrestrials blowing out of the trees. Interestingly, he got most of his half dozen that day on a Bibio, a pattern choice normally more associated with lake fishing. I note that Paul Proctor in a recent article suggested using the black and red Bibio during a hawthorn fall, so he and MT may have something there. On the 1st May, AS from Newent had 7 trout from Llangoed and Lower Llanstephan, while TM from Braunston had 6 trout around 10 inches from the Lugg at Lyepole. He mentioned some problems with the directions to the beat, which the WUF have corrected. As regulars, some of us tend to overlook glitches like this which must of course be frustrating for visitors. I reckon my old car could find its way to Lyepole without me!
On the 3rd PH from Langnau am Albis had 6 trout from 10-12 inches at Ty Newydd, using French leader methods in fast water. On the next day, JA from Leominster had another day of 10 trout at Llyn Bugeilyn. In his report he quoted from Frank Ward's Lakes of Wales. Have you seen that one? It's a remarkable work, published by Herbert Jenkins in 1931. My ancient copy belonged to a Newport vicar in 1932, according to the fly leaf inscription. Ward managed to survey every single piece of still water in the Principality and missed none, at least I have never caught him out. The indexing takes some getting used to, but otherwise he faithfully lists the fishing opportunities, description, altitude, together with the history and the folklore attached to many of them. I doubt there is much chance of a reprint, but don't miss a chance to get hold of a copy if one comes your way. On Bugeilyn, the Shepherd's Pool, Ward mentions a fish of 4:75 pounds taken on a dry Wickham's Fancy by one Francis Awdry in 1929. Not, I'm afraid, a typical Bugeilyn fish, but Mr Awdry must have had the shock of his life when that rose out of the peaty depths.
The 6th was a red letter day for AS from Newent, who fished the Usk at Dinas, mostly with nymphs, and had 13 fish running from 10 inches up to 22 inches. A 22 inch trout is likely to be in the region of 4.5 pounds, so I imagine that will be one to remember. It's not strictly within the remit of my newsletter, but J from Bristol fished for salmon at Lower Symonds Yat (and saw a fish roll over in the Smokehouse Pool), but found himself totally frustrated by the number of canoes in the area. A number of the lower Wye salmon anglers complained about the numbers and behaviour of some of the canoeists. It's worth reminding that there is no debate about this; the Wye up to Glasbury/Hay is historically navigable and there is no question about the canoeists' right to be on the river. You can get over the worst of it in high season by avoiding weekends, start off by fishing early, then spend the busy middle of the day stretched out in a pub garden somewhere, then come back for the evening to fish again until dark. Personally I find this a not unpleasant routine. J also mentioned two huge boars he encountered coming down the forest line towards dusk. I will have something to write about those in a future letter.
On the 9th, PT from Kidderminster had 6 Arrow trout from the fast water at Mowley Wood. Trout from the Arrow are certainly beautiful creatures. Have you noticed how even quite large specimens seem to retain the blue parr marks on their flanks? Meanwhile, J from Yarpole had 7 from the Wye at Gromain. On the same day, Dave Collins from West Herefordshire fished the Usk at Penpont, where he persevered during a long day with the river now extremely low. It was what the Americans call "technical" fishing - by which they mean "extremely difficult". By various methods Dave got 11 including a 16 inch fish which was plump enough to weigh 2 pounds. On the 10th, ME from Towcester with a friend had a dozen from the Monnow at Skenfrith, while AG from Helston had 10 on a duo fished with French leader on the Usk at Glan y Cafn. JG from Ross on Wye caught 8 from the Edw at Hergest.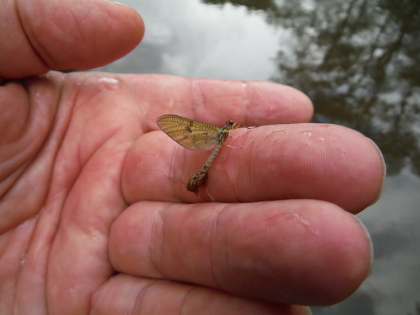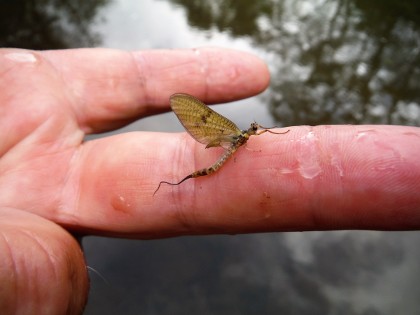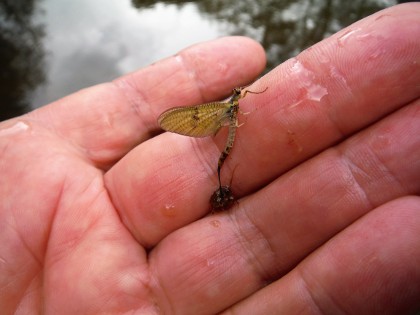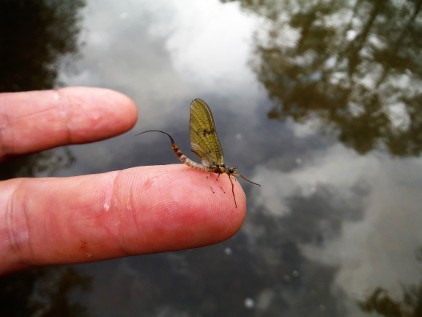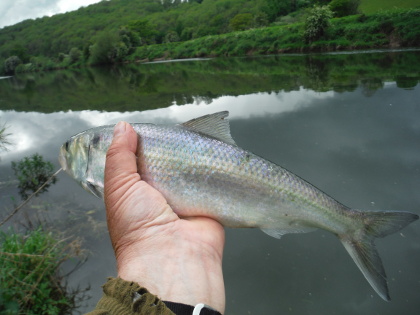 By this stage, a drought which had already lasted five weeks really was starting to take effect and the upper parts of the main rivers had become very low. However, the lower Wye at Redbrook did not quite reach the level which would trigger agreed extra water releases from the Elan Valley dams. At the same time, the Lugg and Arrow were still running at reasonable levels, sustained by the springs in Radnor Forest, while the Monnow, another important tributary, was not quite in desperate case yet. Also, inevitably the weather was becoming warmer which made the fishing a little easier and resulted in better catches. For the first time in many weeks the wind now switched around to the south and west, black clouds began to come over from the sea and the first hints of showers began slowly. Above all the nights were warmer. On the 11th BE from Longfield and a friend had 15 trout from Gromain and Upper Llanstephan, while CH from Grantham had 11 to 10oz from the Llynfi Dulas middle beat and noted that the mayfly were up. The following day I was spinning for salmon on the lower Wye in the deep, slow pools of Aramstone. The weather was warm with drizzling showers and I witnessed a huge mayfly hatch during the afternoon, the first I saw this year, although only the ducks were taking advantage of it. Not for the first time I marvelled at the colour variation in mayfly duns according to the light: some almost white; some with a green or yellow tinge; the smaller and blackish grey drake males; variations of brown or golden brown; in some of the naturals you could definitely see the orange tinge incorporated in certain mayfly imitations. I was also pestered by half a dozen twaite shad attacking the spinner, the spring run of these herring-like fish (which are protected) having now arrived in the river.
Also on the 11th, regular angler JD from Porthcawl had 10 from the Edw at Hergest on various dries. Meanwhile SW from London fished the Usk at Glanusk ty Mawr / Canal and Rivers Trust water for 8 trout; PD from Abingdon fished the same beat on the next day and had 13. Showers were coming regularly by now and the fishing was definitely looking up. The rivers seemed much livelier and the catch returns reflected an increasing level of activity. On the 13th, JE from New Malden had 8 from the lowest Edw beat at Aberedw on various dries, AS from Newent had 5 to 16 inches from the upper Wye at Dolgau, all on nymphs, while RW from Bristol fishing with his father had 8 from Dinas, including two superb fish of 19 and 20 inches. JP from London had half a dozen from the Edw at Hergest (and noted the need to leave gates clear for the farmer's tractor when parking) while JD from Porthcawl took 13 fish up to 12 inches from the little Duhonw. Simon Evans of the Foundation and a guest fished Greenbank again with various hatches going on during the session and they had 20, including some sizeable Usk fish. The 14th was another busy day: RW from Bristol had a 17 inch fish in a bag of 4 at Abercynrig; WG from Teddington had 14 from the Lugg at Eyton; AT from Kington caught 11 from the upper Lugg at Pilleth; WRP from Presteigne had 9 from the Lugg at Middlemoor and IC from Gloucestershire had 8 from the upper Grwyne Fawr beat. JP from London had a large fish in a bag of 4 taken on a Parachute Adams at Trallong and Abercamlais.
On the 15th JA from Leominster fished Llyn Bugeilyn again for 16 trout and this time he gave us another quote about the remote lake which, believe it or not, rather sets the cat among the pigeons! This one was from John Henry Cliffe, who apparently published a book in 1870 called: Notes and recollections of an Angler: Rambles among the Mountains, Valleys and Solitudes of Wales. Now that is a wonderful Victorian title, up there with George Borrow's Wild Wales, and I will admit right away, JA, that I haven't read it. But here's the thing. JH Cliffe relates that, apparently about 50 years before him, two sportsmen who used to shoot grouse on the surrounding moors had the fancy to stock the pool with brown trout from the River Rheidol. Before that, he says, the lake contained nothing but horse leeches. Once the trout were established, the leeches disappeared. Now there is nothing like the sport of angling to encourage the telling of stories or even legends. But this account, if true, is distinctly problematic for those ichthyologists who have been arguing for many years that Bugeilyn is one of a small number of lakes containing an ancient race, Salmo nigrippinis, or the black-finned trout, which has supposedly held out there in splendid genetic isolation since the last ice age. Salmo nigrippinis is more generally known as the sonaghen or black-finned trout of the Irish Lough Melvin, a strange creature which lives in deep water and feeds mostly on plankton. 19th century ichthyologist Dr Gunter also cited the same species as inhabiting Bugeilyn and one other lake on Cader Idris and this, naturally enough, became known in English as the Welsh, as opposed to Irish, black-finned trout. Jon Beer wrote an article about this a few years ago, but I always understood that opposing groups of taxonomists (the lumpers and the splitters) were at times almost duelling with pistols at dawn over whether this is genuinely a separate species from the normal brown trout, Salmo trutta. Some Victorian scientists delighted in identifying different variations in trout and even to accord them species status. Up to 50 variants were identified; this was the heyday of the splitters and doubtless they went too far. I have an old book which illustrates something called a "forest trout," distinctly green in colour, which looks just like the little fish living in my local Forest of Dean streams. It's a charming idea. Then the modern view (the lumpers in ascendancy) moved to the position that there is only one brown trout, Salmo trutta (fario indicates the river variant), with numerous colour variations, "a single polytypic species." However, the latest decision was in favour of once more declaring Salmo nigrippinis as a truly separate species, both in Ireland and in Wales; this on the basis that it will not interbreed with Salmo trutta and produce fertile offspring. Hearing about this decision, a few of us straight away made a celebratory trip up to Bugeilyn to congratulate the little fellows on their recently re-acquired species status. But if Mr Cliffe was right and a couple of early Victorian shooters merely introduced some common or garden Salmo trutta brown trout from the Rheidol, which over time became darkened and stunted by poor upland feeding, where does this leave the scientists and their theories? My friend Rob Evans, who fishes in the hills a lot, claims that many of the wild upland lake trout of Wales look similar to him, with a distinctly blunt head, a shortened and almost deformed jaw, large eyes for their size and generally dark colouration. The mouth is also large and looks as if it is adapted for surface feeding. Fins are not exactly black, but definitely without colour and the few body spots are a deep, dull maroon colour. He thinks these characteristics are caused merely by peaty water and poor feeding. If there are good spawning opportunities in streams running to such lakes, there will soon be large numbers of small fish whose size will be stunted by the restricted amount of food in acidic water. For that matter, I wonder which researcher tried to persuade brown trout and so-called Welsh black-finned trout to inter-breed and exactly how he went about the task.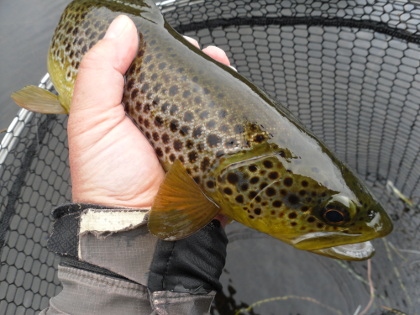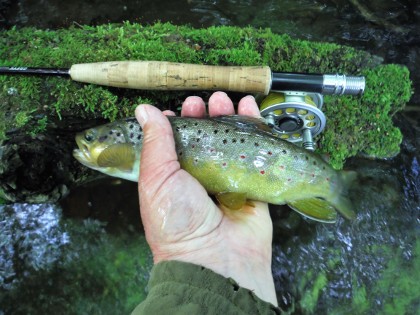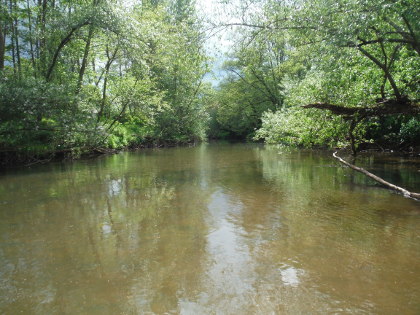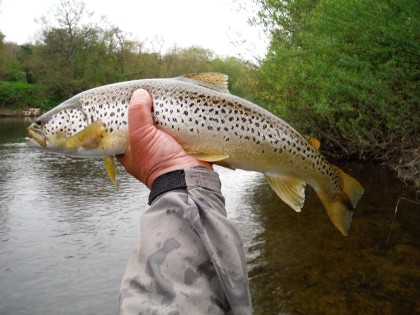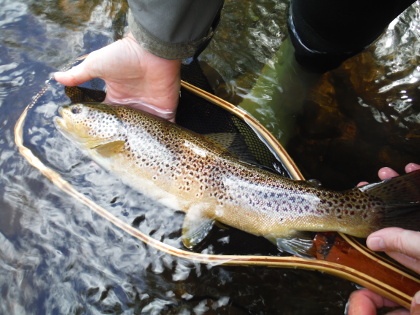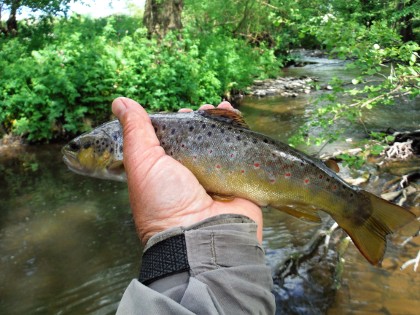 I'm afraid I have now wandered rather a long way from my original purpose of reporting the May fishing and that's the job set for me, after all. On the 16th, RW from Portishead took 10 trout to 14 inches from the Honddu at Maes y Beran by fishing a Parachute Adams through the fast water. On the 17th, BC from Verwood took 8 from the Usk at Dinas on dries and TM from Bristol with a friend caught 20 trout from the Monnow at Skenfrith during a mayfly hatch. On the 18th, MR from Monmouth had 18 from the Monnow's Honddu tributary at Pandy. Hopefully our fears about damage by last month's pollution in this stream were not justified after all. On the same day RT from Newport had 6 upstream at Lower Stanton and JC from Barry caught 18 from the Usk at Dinas. The following day Dave Collins of West Herefordshire was out on his local Wye beat at Red Lion / Moccas and had 14 trout to 16 inches during mixed hatches. It's not so often we hear about trout fly fishing in the middle and lower Wye, but trout are certainly there to be caught and some are specimens. I'm sure Dave knows this beat and where to find them very well. Also on the 19th, ND from Framilode had 6 between 6 and 10 inches from the Edw at Hergest. RC from Bordon got 6 from the Monnow at Skenfrith using a Mayfly pattern and BW from London took 8 up to 1:50 pounds on the Usk at Glan y Cafn on a dry fly. BP from Pembridge got 6 from the Arrow at Court of Noke and AB from London got 7 to 13 inches upstream at Titley. Incidentally, AB has a piece of fly rod found at the Canal and Rivers Trust Usk beat; if anybody has lost a section of a travel rod, please contact the Foundation. On the 20th, AS from Newent fished the Lugg at Eyton, found it quiet at first, and then experienced an intense mayfly hatch for about an hour beginning at 4 o'clock in the afternoon. He got 13 trout between 10 and 14 inches. Meanwhile, MB from Seaton got 15 from the Dore at Abbeydore Court. AS from Cheltenham, who was fishing with me, got a lovely 18 inch trout on a Parachute Adams from the Usk at Ashford House.
The 21st was another busy day. RS from Upton on Severn with a friend got 15 from Llyn Bugeilyn. BP from Kingswinford had 7 small trout from the Titley Arrow while JP from Hereford had 8 from Court of Noke. NR from W Midlands had 6 on dry flies from the upper Monnow at Longtown. On the 22nd, HC from Wales was up at Bugeilyn and had 10, mainly on a small Silver Butcher, while AM from Worcester had 7 trout to 12 inches at Titley during a mayfly hatch. MAJ from Horley had 20 trout from the Escley No 3 beat while watching for birds - kingfisher, dipper and buzzards all being likely enough sightings, but also a tawny owl and a hobby hawk. CH from Bromsgrove got 7 between 6 and 13 inches from the Glanusk Estate water. JL from Hereford had 20 trout from the Llynfi at Pontithiel, which again is most encouraging as this stretch was badly affected by pollution last year. I was then tremendously excited to read GL from Stroud reporting on fishing the Honddu at Maes y Beran on the same day: 16 inch and 19 inch wild brown trout is what I saw on the page and good heavens what a wonderful brace from a small stream that must have been! But then I looked closer, noted gaps in the text, and concluded that 1 fish at 6 inches and 1 at 9 inches might have been intended. Perhaps GL will kindly put me straight; it's either a remarkable result or quite a modest one! Well fished, anyway.
On the 23rd, DC from Worcester fished the Lugg at Eyton and caught 8 during a rise to mayflies. MC from Newport found iron blues hatching in the Usk at Glan y Cafn and caught a fine 18 inch fish on a size 18 imitation of the same little dark fly. JB from Horley had 12 trout from 9-15 inches from the Monnow at Upper Longtown. MR from Monmouth had 7 trout from the Honddu at Half Moon. On the 24th, AT from Kington had 6 to 12 inches from the Whittern beat of the Arrow. GW from Pencoed caught 8 trout from Talybont Reservoir while a light breeze was blowing ...which must have helped with a ripple ... and all of them on a dry midge pattern ... which must have been fun. JB from Horley was out again, this time on the Olchon, and he had half a dozen including 13 inch and 15 inch fish. He also recommended the Crown at Longtown as a place to stay and I concur; this friendly village pub is everything a good fishing inn should be. CK from Stourbridge fished the Ithon at Disserth for 7 small trout and SC from Llandeilo Graban had 11 to 9 inches from the Hergest Edw on size 18 dry flies.
So far, so much pretty good, and you can see from the above that many anglers had excellent days during the warmer weather of May. However, the lack of rain was again making itself felt by this time and our main rivers had once more become very low. The earlier showers had simply not added up to enough total rainfall, certainly not enough to please salmon anglers although they continued to take the odd fresh fish from the lower and middle Wye. There was certainly a chance of finding a taking salmon if you didn't fish too far upstream, but overall numbers this spring are down compared to recent years. Also, for both trout and salmon anglers, the sun was now really becoming too hot for the best fishing with afternoon temperatures in the mid-twenties and higher. Much time was spent scanning the sky hopefully for any sign of clouds. On the 26th the Elan Valley dams began releasing extra compensation water into the Wye. Once more the problem caused by the sun and nutrients in the water causing brown coloured algae in the middle and lower Wye seemed to be back, to the annoyance of salmon fishers. Meanwhile the Lugg and Arrow tributaries were still holding up levels reasonably well due to the capacity of their springs.
On the 25th, CN from Berkely reported 5 trout from the Usk at Abercynrig and mentioned seeing several fish with white fungus infections on their heads. He wondered whether this presages a serious or wide-spread disease problem. From similar sightings in the Usk during previous dry springs, I suspect that it doesn't. Obviously the low water levels are far from ideal and probably are the cause of the problem, but there is every reason to believe it will disappear when reasonable flows are restored. On the 26th JS from Beckenham reported 8 trout from Ty Newydd on the Wye and he added good words about the Old Vicarage B&B in Erwood where they are very used to looking after anglers. I agree with that praise and would add that it combines perfectly with the Wheelwright's Arms, which is a couple of hundred yards down the road and seems to be able to serve you a hot meal at any hour of the day or night. (Why aren't all pubs like that? No, please don't bother to tell me if you happen to be a member of the Licensed Victuallers Association). On the 27th, MD from Cardiff had 16 from the Edw at Hergest. Meanwhile MN from Bristol fished the Usk at Cefn Rhosan Fawr on the same day and reported 7 fish. However, he was less than happy that the owner's "extra rod" on this occasion consisted of no less than three anglers making a great deal of noise between them. Cefn Rhosan Fawr would not have room for those numbers. I'm always rather dubious about the "retained rod" idea (read what Frederic Halford had to say about it more than a century ago) because it seems to me rather like renting something out for a profit and trying to retain your own use of it at the same time - better settle for one or the other, but not both. At the very least, I think paying clients should be given priority and not inconvenienced on the water. On the following day IG from Pontypridd was on Cefn Rhosan Fawr, presumably had a more peaceful time, and reported 11 trout to 14 inches. IC from Gloucestershire reported 8 trout to 11 inches from Escley No 4 beat. the 29th, AS of Newent had 8 trout from 10-14 inches on the upper Wye at Llangoed and Llanstephan and noted salmon in the lower part of the beat - they have taken their time getting there, methinks. CJ from Fleet had a 2:50 pound trout from the Usk at Greenbank, while BP from Bristol had 6 small ones from Dinas with an F-fly. On the 30th, JT from Glasbury had 8 from the Llynfi Dulas middle beat, while PS from Hereford had a 15 inch fish in a bag of 5 from the Arrow at Court of Noke. P from Bath had 9 from Talybont Reservoir over the day and noted a cuckoo was calling continuously in the woods opposite. It's a funny thing, but a few years ago cuckoos seemed to have deserted the Forest of Dean (although they have been back during the last couple of years), but whatever happened elsewhere, I could always be sure of hearing them at Talybont. We finished the month with the cloudy weather clearing; there had been a few showers, but not really enough to affect the low levels in the rivers.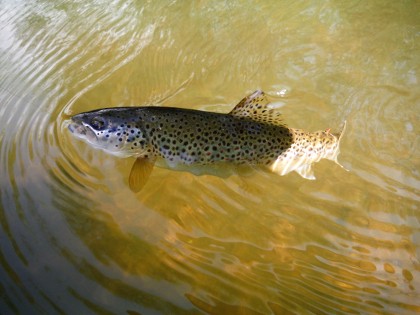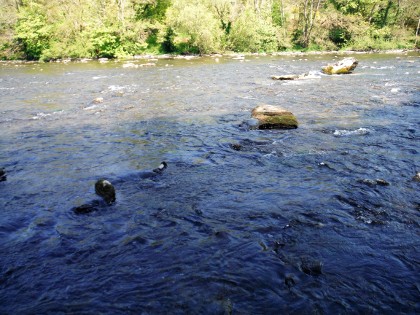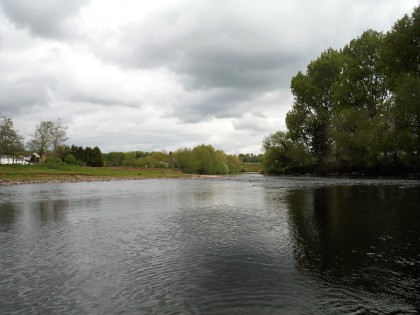 Have you ever cast a fly line in the Annan? A lot of English anglers do, because it is one of the first Scottish rivers you reach as you head north, one of a number of fascinating border streams running into the great Solway Firth. The Annan is quite similar in nature to our own freestone rivers on these Welsh borders and while it has always been known for its migratory fish, it is now building quite a new reputation for its brown trout. The June issue of Fly Fishing and Fly Tying carries an article by Martyn Haynes about the river and his tactics for fishing it for brown trout during the spring, which is thoroughly recommended. Martyn likes to "stalk upstream" with a dry fly looking for rising fish where he can, but he will also search fast water with spiders. The hatches and his approach are described in very helpful detail and could certainly be applied to other, similar, rivers such as ours. Brown trout to 8 pounds have been caught during recent years in the Annan and I note with interest that the management board have operated mandatory catch and release for the last decade.
Finally, and this is with beginners in mind, I have added some notes about caring for tackle which I hope might be helpful. Personally, I wince when I see fishing tackle mistreated, whether it's the latest word in expensive kit or tired, cheap old gear. I always feel like saying: "If you can't look after it, there is surely somebody else who would appreciate it." A while ago I watched a salmon fishing video which featured a particularly flamboyant presenter enthusiastically fishing an arctic river. Every time he hooked a salmon, which was frequently, he would look over his shoulder and shout wildly at the camera: "This is better than sex!" Maybe it was, but I don't know what his 12 year old son watching from the bank made of it. Let alone his wife, if she ever got to see the video. For myself, I just reflected while watching that this was something to bear in mind if thinking of booking one of those expensive lodge holidays; you might find yourself stuck with such an individual for a week. But the part which really upset me was when he decided he needed to cross the fast flowing river to get a better casting angle and plunged across using his Sage Z-Axis double-hander as a wading staff, stabbing viciously at the rocks with its cork handle. I can only assume, given the guy's prominence in the angling world, that he hadn't actually bought the rod as the rest of us have to do. I wonder what the Sage people thought when they saw it. For myself, I have always adored fishing rods as precious and delightful possessions.
When I started, back in the days of split cane, I was advised that a good rod looked after properly would last a life time. This was perfectly true and it applies just as much today in the days of modern carbon. Rings may wear and need to be replaced, but given sensible care, practically everything else about a rod should last as long as you will. Probably longer in my case. Here are my suggestions for looking after carbon rods. I do appreciate that experienced anglers will have their own systems, but those new to the sport may find what follows helpful. I will begin by stating that I think rods should be supplied with a protective tube and a rod bag. Manufacturers are getting into a habit recently of supplying rods in a tube only with dividers. However, as well as a tube I like a bag for the purpose of hanging a rod up to dry after fishing. Also, I think rod tubes should be round, not triangular. Triangular tubes tend to put stress on the zips at the angles. What in fact is the purpose of a triangular section rod tube; to avoid it rolling downhill?
I think I am getting ahead of myself here. The first point to make is that great care should be taken to avoid grit getting into the tapered joints, whether they are of the over-fit or (rarer nowadays) spigot design. Don't put the sections down in gritty or sandy places and keep the inside of the rod bag or tube clean. When you assemble the rod, start by wiping clean the male section of each joint with a piece of towel, and then rub it over quickly with a stub piece of an ordinary paraffin wax candle. Several of the American rod manufacturers recommend the addition of a very fine layer of paraffin wax in this way, and effectively it means that the two tapered carbon surfaces of the joint are separated and avoid wear. They will not come loose while fishing, but it will be possible to separate the joint without too much trouble at the end of the day. Fit the joint together, rotate the sections until you think the rings are in line, lift up to the sky and sight along the line of rings to make sure you have the alignment right, then press home firmly but without excessive force. Do the same with the next section and so on. Personally, I work down from the tip section and finish with the butt. Note that a rod of 4 sections or more will probably not have a ring on the butt section, so you may have to fit the reel temporarily to make sure you have the alignment right. A recent development which makes me smile is the provision of alignment lines or dots on each section. What can be the need for this when you already have rings on each section to use for alignment purposes? Worse than useless are alignment dots or arrows which are not actually aligned with the rings, which is a situation more common than you might think. Getting the rings into line is what matters. And does it actually matter so very much that the rings are perfectly aligned? Well, I can't prove it to be so, but I certainly want to shoot line with the minimum amount of friction, so why not have it so.
In the case of salmon Spey casting rods, I still believe in taping the sections together once the joints are aligned and fitted and I use ordinary PVC insulating tape for this, once up and once down over the join. This is because roll or Spey casting can impart a considerable twisting force to the sections and on some rods they have been known to come loose while casting. Unless you catch the fault at once, the usual result is a cracked female section of the joint. The use of tape avoids this risk. This problem should not affect ordinary trout rods used for overhead casting, but I have been told of a few cases where anglers using long fine rods such as those by Hanak for roll-casting a French leader forward have experienced problems with loose joints. Again, taping is the cure. If the rod is a good one, the tape should not affect the finish where applied. Put the reel on, ensuring that it is secure, because the experience of a reel which falls off to the bed of the river while wading is extremely frustrating. Check it again after a few casts.
Very, very rarely (and not lately) I have seen a carbon rod apparently built with a flaw break while casting. If it is going to happen at all, it will probably happen during the first session of use. To the best of my knowledge, this was a problem which very occasionally affected some of the early carbon models and is now practically eliminated. Basically it is people who break rods, not the manufacturing process and certainly not fish. Get into an automatic routine to avoid the obvious accidents. Carbon rods are very good at resisting bending forces applied at the tip, but not crushing forces applied to thin sections of tube. Do not have rod sections protruding from an open car door or tail gate. So many rods are destroyed by the closure of car doors, whether by wind or unthinking human agency. When ready to thread the line and make up the tackle, I like to prop the rod up against a hedge or some bushes giving me access with safety. It is always asking for trouble to lay a rod down flat on the ground. When "parking" the rod, make sure it is somewhere it will be both visible and where no-one will inadvertently stand on it. There was a time when rods were provided with reversible spears in the butt section which was not a bad idea. I like those nice rod stands which good fishing huts offer. Short of that, propped up in a clump of sedges with the tip overhanging the river or lake is ideal. Marginal sedges might have been designed as rod stands. Be particularly careful of the situation where you catch a fish and then lay the rod down flat on the bank while you bend over the net to unhook your catch. If interested by-standers cluster round to see what you have caught, you can just bet that somebody will tread on your prized rod.
Now this will seem an obvious point, but fishing rods are designed to be held by the thick end, not the thin end. When wading therefore, if you find the leader tangled round the tip, hold the point fly off to one side with your free hand, keep holding the rod by the handle with your other hand, and rotate the rod until the leader comes free and can be drawn out from the tip ready to fish. If you have a long leader and a braided loop or any bulky leader to line connection which is reluctant to pass through the tip ring, rotate the rod by the handle until the reel is horizontal and pointing away from your body. Then give a slow pull to the leader holding your other hand out on the far side and the joint should pass out through the ring. This is because the tip ring is mounted at 45 degree to the rod and the action just described will give the joint an easy passage. You might also bear in mind that a needle knot to fasten the butt of your leader to your line, the neatest way of all, will completely sidestep the problem. Alternatively, if you are standing in a fast current, drop the leader down in the stream, point the rod downstream waving the tip gently and let the water draw out the joint. If you really must, you could drop the reel and butt section onto the bed of the river, work your way up to the tip of the rod and sort out any tangle which has occurred there. But please, please, don't do what so many people decide to do. I am referring to the awful crime of standing in the river working your way hand over hand from the butt to the middle section and finally reaching the situation where you are holding the rod by the tip section trying to sort out your tangle with the weight of the reel overhanging above the surface. Crunch goes the top section! It will be quite sudden, but what else do you expect? So many times I have watched this developing situation from a distance in horror, my cries of alarm drowned out by the noise of the river. You can do this to your own rod if you must, but please not to one of mine! If you can't sort out the leader, go ashore and prop the butt safely on clean ground while you resolve the tangle.
The traditional advice is to carry any fishing rod butt foremost when moving around on the bank. This is certainly the safest way, but when making my way through tree branches and bushes I tend to find the tip and the leader get hitched up behind me. So in that case, I do carry the rod tip foremost, threading the tip carefully through the clear gaps and following through from behind. One very serious risk when walking with the rod tip foremost and parallel with the ground, is that if you should stumble or trip forward, the rod tip will be the first thing to dig into the ground with a disastrous result. So if you do want to walk along the field carrying your rod tip foremost, carry it at high port, pointing up at the sky.
When fishing is over, make sure the rod is clean (you might like to wave/wash it briefly below the surface if you have been fishing on a lake with muddy margins), take the sections apart with a twisting movement, use a clean rag to clean the wax off the male part of the joints and put the sections away in the bag. If you used wax, a simple twist while holding each section firmly and close to the joint should suffice. Do not hold either section by the rings unless you want to distort or misalign them. Under no circumstances use penetrating oil on a stubborn joint; it seems to have a welding effect on carbon. Put the bag in the tube to protect the rod on the way home, and once arrived hang the bag up on a nail in a reasonably warm and dry place for 24 hours. Then put the rod and bag back in the tube for storage, but leave the end of the tube open so that air can circulate to some extent.
If I can buy a rod with a good action, I will of course accept the rings which the maker provides, although I will express a preference for double legged snakes (whipped to the rod in two places) even if there is a slight weight penalty. Single legged rings, if you are unfortunate enough to knock the section against something (which of course you should avoid like the plague), tend to get knocked or bent out of alignment. A really good recent development is the provision of flexible rings which spring back to the original position if knocked. Some of these make a bit of a hum when certain fly lines are worked through them, but this is not really a fault. Most rings, particularly the tip ring, will eventually develop grooves if the rod is used hard enough for long enough and should then be replaced. It is the fly line carrying specks of abrasive dirt which does the damage, and it is the fly line which in turn will be damaged by a grooved ring. So keep the line reasonably clean and certainly do not drop coils of it in the mud while casting/shooting. This is a good reason to use a line tray when fishing from the muddy margins of lakes. As a matter of interest, certain coloured streams draining sandstone country are notorious for causing premature ring wear. Tiny particles of silica and quartz suspended in the water column are responsible.
One part of the rod which has not changed is the cork handle, although some substitutes are being experimented with. Cork is very good in its way, feels comfortable in the hand and resists wear reasonably well. Water does not damage it, although it will make it expand and contract like any other wood. One problem is that the quality of cork provided for most modern rod handles, even of expensive makes, is nowadays not that good. Even when new, there are many flaws and fissures. I would need to know more about the Portuguese cork market and the biology of the cork oak tree to understand why this is. Oddly enough I possess a relatively cheap Greys trotting rod provided a very long cork handle of far higher quality than those on Loomis salmon rods costing much more. Cork will develop an interesting patina over the years of use, and the fissures and imperfections can be ignored provided they do not allow water to enter the interior of the handle. If water does leak inside, very likely a wooden reel seat will swell and distort until finally the reel cannot be fitted and a new butt section is needed. When you buy a new rod, the first thing to do is to tear that shrink-wrapped plastic off the handle. It's there to keep the handle looking clean and new while people try the rod out before sale, but if you leave it on it will trap moisture underneath. Incidentally, you may read of methods to restore worn cork handles by sanding them down and adding filler to cover the holes. In my opinion, this is a waste of time. Filler has a temporary cosmetic effect, but the problem is that nobody has yet come up with a filler which expands and contracts when wet and dry at the same rate as natural cork. The cork expands and contracts and the filler drops out, sooner rather than later. One way in which you can avoid excessive wear on the handle is not to stick the point of a mounted fly in the cork. Park it in the keeper ring provided, or alternatively in the butt ring.
I cannot prove this, but I believe most carbon rods naturally "mellow" to some extent with use. A new rod which feels at first somewhat harsh or tippy in its action will be slightly softer and easier in use, pleasanter in fact, after a year or so. However, I have also seen it claimed that storage in a particularly warm place damages and softens the action of carbon in time - just as it used to damage split cane. So it would be wise not to lean your rod tubes against a radiator.
Similarly with reels, which do inevitably get wet, whether by being immersed below the surface when wading deep or just from water riding up the line or from rain. There was a time when it was absolutely necessary to take a silk line off the reel and dry it out at the end of the fishing day. Plastic fly lines should not come to any such harm, but I still like to take the reel out of its case and put it on a shelf to dry out overnight after each fishing trip. Check the front taper of the line for cracks and the condition of the leader joints. If you are going to need a new braided loop fitted or new leader needle-knotted to the line, now is the time to find out. It is the work of a few seconds to do all this along with hanging up the rod bag. Most spools are drilled to aid the drying of the line and backing, but you might like to bear in mind that solid plastic cassette spools are not ventilated and therefore the backing mounted on these may well remain wet for years at a time. In the case of modern nylon braided backing which will not rot this should not matter much, but somehow it still bothers me. In any case, the rest of the reel should be dried out at the end of the fishing day. If you have a drag system on the reel, it's worth pointing out the value of paying the extra cost to have a sealed drag. There is nothing as annoying as a drag which gets wet when the reel is immersed and then without warning aquaplanes - suddenly runs completely free when a pull is applied - and then locks up again. The reel should be dismantled at regular intervals, checked for correct operation and wear, and then lubricated according to the manufacturer's instructions. If you have one of those expensive American reels with a cork drag, you will need to apply neatsfoot oil to the cork at intervals to keep it working properly. But the hell with that, say I, because in my youth I had quite enough trouble with oil lubricated cork clutch plates on British motorcycles! Life is too short for such tasks and again a sealed drag is the answer. You need a very light oil like 3 in 1 or sewing machine oil for the metal working parts of fishing reels, and some much lighter kind of grease than the car wheel bearing lubricant sold in the high street auto-shops. I like something called white rifle grease which I get from a gunsmith in Ross. A good reel could and should last you a life time without developing wear, except perhaps in items like check pawls which should be available as spares from the manufacturer. It is infuriating to be given a reel to handle where the lubrication has dried up and the grease is stiff with age and grime. Preserve the function of the drag by only applying it when fishing if you think you need it. At all other times, and particularly during storage, the adjustment should be backed right off, thus extending the life of the spring and avoiding any tendency of the plates to stick together. And by the way, I have come to the conclusion that I like all my reels, whether or not they have a disc drag (arguably only necessary for sea trout and salmon, even if then), to have an audible and reliable check mechanism working in both directions. I want to hear when line is coming on or off the reel. In particular, if I am in the process of netting a fish for somebody else, I want to hear if the fish starts taking line.
While I have the reel drying off on a shelf, I often leave the fly box open next to it overnight if there is any chance that damp has got inside. I don't want to be faced with a row of rusty hook points a week later. Flies can last a hundred years, provided damp and moths are kept away. Anglers usually don't, of course, with or without damp and moths. Good fly boxes should have a water tight seal, but many of mine lack that. I also make sure that the sheepskin patch on my waistcoat gets a chance to dry off thoroughly.
I tend to have my waders turned inside out to air them in the back of the car on the way home. Don't screw them up wet in a stuff bag. Once arrived, they need to be turned back the right way and hung up to dry along with nets. Give your net a quick wash in the stream before coming home. A fresh-caught grayling may smell a little like sweet cucumber in your hand, but grayling slime on a net smells truly awful after a few hours. Rain jacket and waist coat similarly should be hung up in a dry place and if this is a garage or shed, make sure that it is rodent proof. Wading boots and neoprene socks go next to the radiator indoors to dry out as best they can.
Spools of nylon, when not in use, are stored in the dark and marked with the date of purchase. In fact I am realising that I have become slightly autistic in my old age about the way I store tackle in the office and adjoining garage. Everything has its appointed place. There are drawers and boxes marked: "rainbow trout", "brown trout and grayling", "salmon", "sewin", "spinning", "trotting," "fly-tying" etc. After a few senior moments and omissions, I now have checklists to work against when loading the car at the beginning of the day, which are similarly headed: brown trout, salmon, and so on. It is on record that a forgetful angler of the past made up a similar checklist including everything he had to put in the car before leaving, along with a final thoughtful item: "Kiss wife." He wasn't going to be accused of lacking a romantic streak. Then it struck him that as the checklist now existed, he could simply give it to his wife and get her to perform the chore of loading the car while he took his time over the breakfast she had cooked. It was what they call a traditional sort of marriage (meaning that she did everything). After some more thought, he then crossed out the final line and replaced it with: "Kiss husband."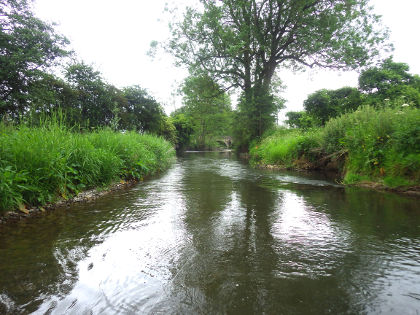 I would hope that we should see quite a few days more of mayfly fishing during early June. The problem I always find is that the WUF has more mayfly beats available than you can get round in a single mayfly season - and in truth that is hardly a problem, is it? We are lucky in this part of the world. I have just heard from Seth and Chris at the WUF that they have taken on another Lugg beat. This is Dayhouse near Kingsland, which should be well worth a visit. Of course Seth and Chris had to have a few casts at the end of their scoping visit to this new fishery and they tell me there were trout rising for mayfly all over the place. In general, June should be a very good month to try the smaller streams and tributaries as well as the upland lakes. Much depends on the weather; anglers will be about the only section of the population hoping not to experience another heat-wave. Certainly we should hope for rain. Otherwise, I saw the first fox-gloves in flower the other day, which is a reminder that sea trout nights are not so very far away. For myself, I'm afraid it's war-game time again, so with some reluctance I will have three weeks indoors this month and next, either talking to student officers in a staff college syndicate room or following the game on a computer screen. However, the RAF warrant officer who processed my paperwork this year tells me they now have trout stocked in one of the lakes in the grounds and that he spends most of his free time by it. Sandhurst has always had fly-fishing and so why not Shrivenham? So there is some hope of light recreation in the evenings and I'm taking a rod, net and fly box.
Tight lines,
Oliver Burch www.wyevalleyflyfishing.com
---
April 2017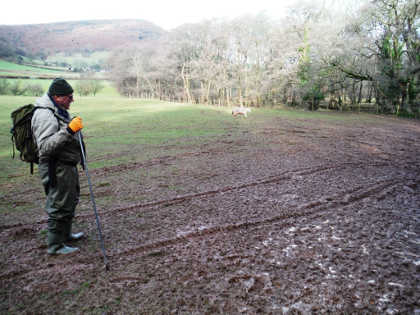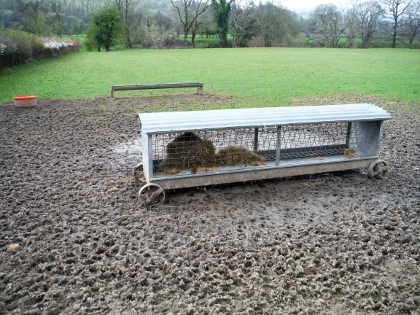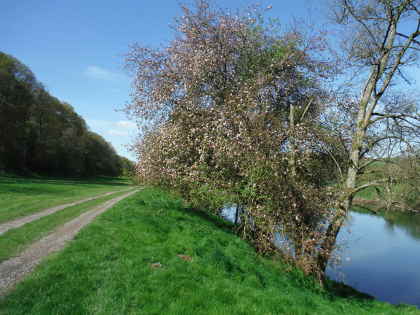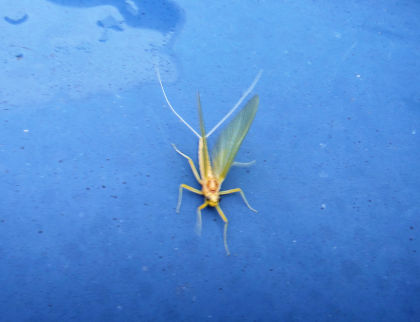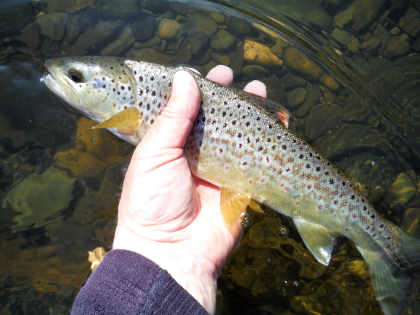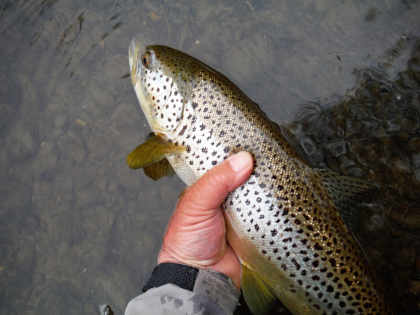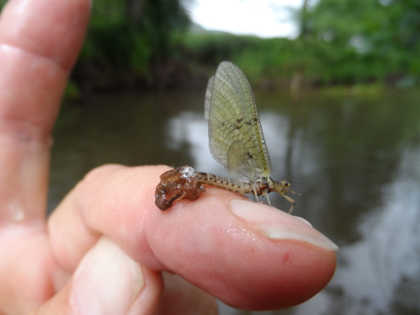 It has happened again! Late on the evening of 4th April I received an email bearing news of a pollution incident on the Honddu. It seemed that the wall of a farmer's slurry lagoon had failed and caused what was described as a major pollution incident affecting this beautiful trout fishing tributary which runs out of the Black Mountains and into the Monnow. As bad luck would have it, I was due to guide clients on the main Monnow below the junction on the following two days. On the first day the river, high anyway with spring flow levels, was strangely black. We saw (and duly missed) exactly one rising trout. On the second day, fishing on the clients' own water, the river was running clearer but seemed absolutely dead. This might mean something or nothing at all. Fishless days are not unknown, nights had been cold and the Monnow can take some time to wake up in early spring. We saw no corpses. Perhaps in the circumstances we should have rescheduled. Meanwhile, the press releases were full of reassuring words. The farmer had telephoned news of the breach rapidly to NRW, which in turn had energetically dug ditches and deployed booms to limit the pollution. At first we had a "significant discharge." Later came a wonderful if rather bewildering sound-bite: "Up to 3/4 of the 450,000 litres of slurry in the lagoon has been prevented from entering the Honddu." That is damage control by the press officer if ever I heard it! The fact is that this kind of accident, involving either slurry containment or muck-spreading, is happening much too often and a layman like me cannot help wondering whether the legislation controlling this activity of dairy farmers is adequate. One of my sons is currently doing a consultancy for British Nuclear Fuels up at Sellafield - I can ensure you that the legislation covering their containment activities is highly demanding!
Let's look at the April results and there was certainly a big angling effort. However, this was not an easy month for trout fishing and it turned out to be distinctly more difficult than March. This year's April weather was defined by high pressure conditions, which tend to result in clear skies at night and cold early morning starts, often with a white frost or fog. Often this would be followed by a big temperature swing up to a very hot and bright afternoon. The April sun is almost high enough to burn you in these latitudes and such days are usually not the best for fly hatches and fishing. At other times the cold temperatures remained all through the day, usually accompanied by very cold winds. In the dry conditions the water levels also came down steadily until many of the brooks were distinctly low and clear. There were some hatches and those who managed to be in the right place at the right time had some reasonable catches, but many of us experienced fishing which could be described as patchy at best. "Tough day" appeared in many of the fishing reports and somebody coined the new phrase: "the dog-days of April"! Oft-times it was just plain darned difficult - there is no other phrase appropriate. Lacking rising fish, some anglers saved their day by concentrating on heavy nymphs in the fast water. The month went on with some very cold winds from the general direction of the Arctic - somehow always downstream on the river of course - which again inhibited hatches and rises. On occasions, really very much a matter of luck, the insects did hatch and the fish did put their heads up and the Wye was just a little easier than the Usk, or so it seemed to me. What was strange or certainly interesting, was that despite icy winds the aquatic fly hatches have all been early. I suppose we can attribute this to the warm winter. Large dark olives were to be expected, but march browns were also present right from the beginning of the season. Grannom were with us by late March and kept going to some extent all through April, although not quite in the numbers we sometimes see. I only found one group of Wye fish feeding on grannom during an unusually warm afternoon early in April, but on several occasions, march browns appeared for a time during a slow-burning grannom hatch - and of the two insects it was the march brown which the trout wanted. We normally expect the yellow mays, olive uprights, and large brook duns to join us during the month of May, but in fact all these had turned up at least in small numbers on both rivers by the 20th April. I have it on good authority that an adult mayfly has already been seen and the other day I saw a big white mayfly nymph which was so ripe that it seemed close to bursting. Only the terrestrial hawthorn flies, the little black ones with trailing legs which are famous for appearing on St Mark's day (25th April), arrived right on time. By now some of the tributary streams were almost at drought level and the weather seemed to become even colder. I arrived at one brook at the end of the month with the air temperature at 5 degrees, water temperature at 10 degrees and my breath smoking on every exhalation. Needless to say, nothing was rising.
Let's go back to the reports and to begin with, here are some late ones left over from the end of March. MC from Arsenal fished at Abercynrig on the 28th and caught 8 trout with spiders and a dry Adams. He noted an impressive hatch of olives. JJ from Stourbridge with a friend was fishing downstream on the Glanusk Ty Mawr / Canal and Rivers Trust beat and they had 9 trout on PTNs and a Greenwell Spider, including a fish of 2.5 lbs. DR from Truro fished at Glan yr Afon, where once again the day was spoiled by canoeists practising in the white water. DR did report the trespass at the time. On the same day MD from Barry was fishing at Chainbridge (for salmon I think) and reported a problem with foul or chemical smells around the bridge, possibly from a septic tank. That certainly is not normal. PD from Buckingham fished the Taff at Merthyr Tydfil on this day and would have liked much more information about how to access the river. On behalf of those who are not actually from Merthyr, I suggest he has a valid point and more detailed mapping and directions would be very helpful. Also on the 28th, PT from Kidderminster came to fish the Bideford Brook and got 7 trout with the duo method. He remarked that his 8:50 foot rod was a bit of a handicap and I can imagine that it was. 7 foot is generally the more useful length for these little streams. On the 29th, PW from London fished the Usk at Glanusk Ty Mawr / Canal and Rivers Trust, and took a fine 2:50 pound trout.
At this point, I feel a need to apologise to JL from Mynddbach, who on 30th March came along to fish at Bideford Brook shortly after I had left off fishing it during the morning. It didn't fish well for him and JL realised what had happened when the catch returns were submitted. A collision between two season ticket holders rarely happens; normally if a car is already on the designated parking spot it's easy enough to implement Plan B by going to a neighbouring stream. Not so if the first angler has just left, unknown to the second. This does spoil the water, I do appreciate, and although it certainly isn't intended, it is one of the risks of season ticket holders visiting wild streams which have not been reserved in advance. If it's any consolation, the same thing has happened to me on occasions and I can usually tell by the way the stream fishes. You wonder why the fish seem so "stiff" today and then you see a fresh boot print in the mud. Interestingly, JL had a small trout on a Black Streamer while he fished the brook.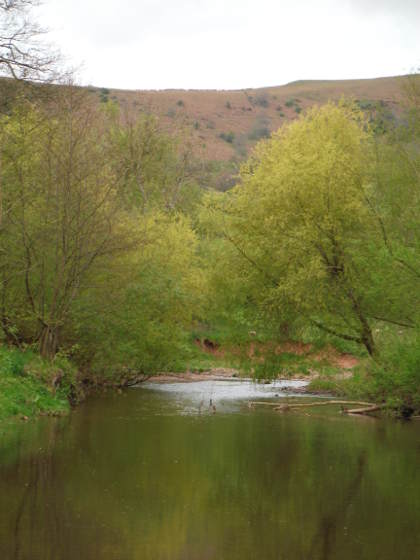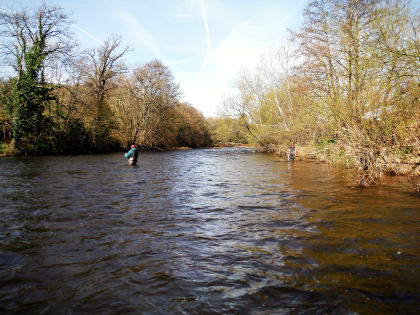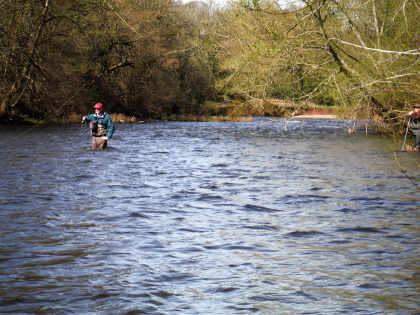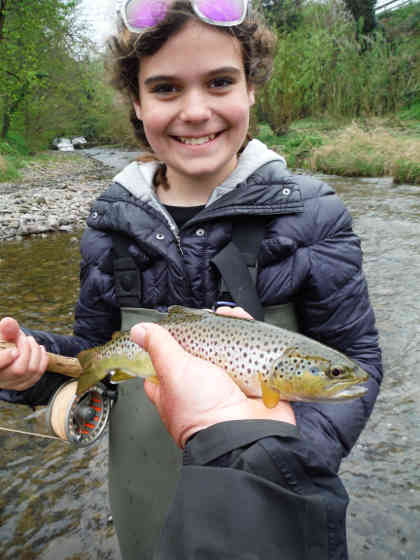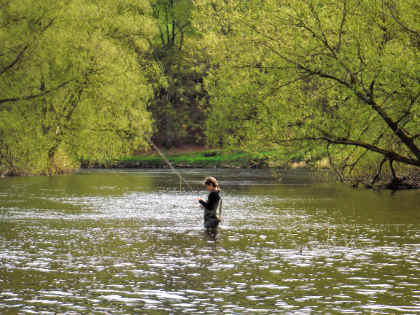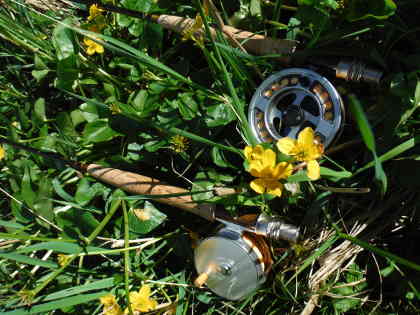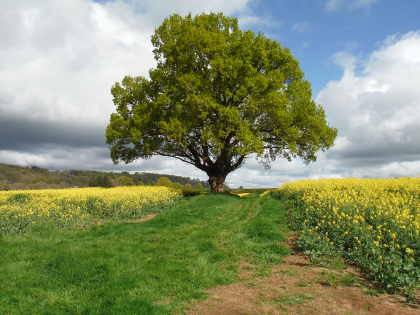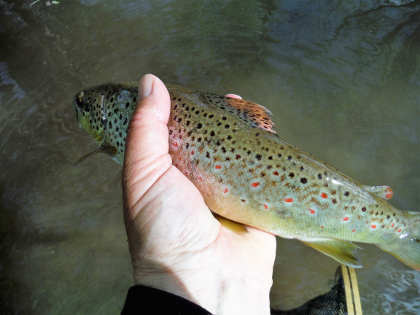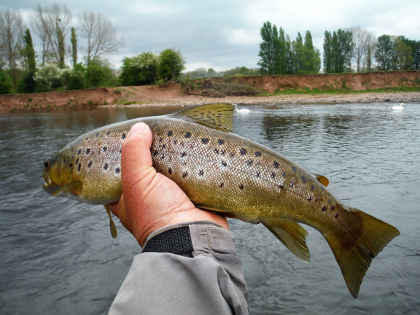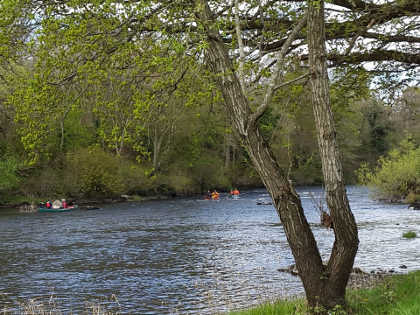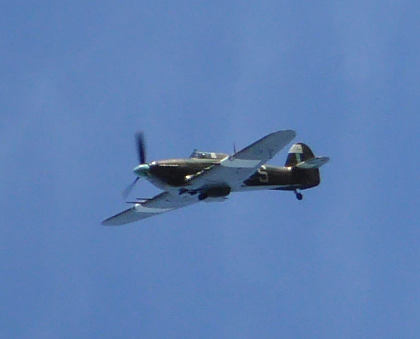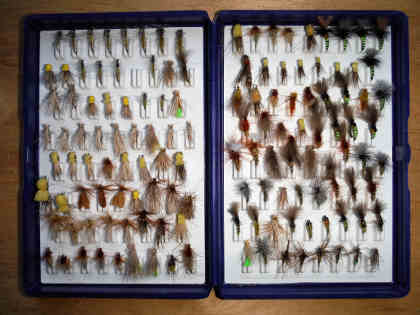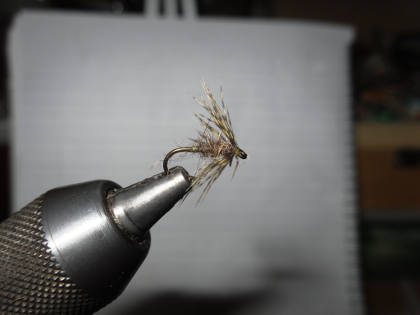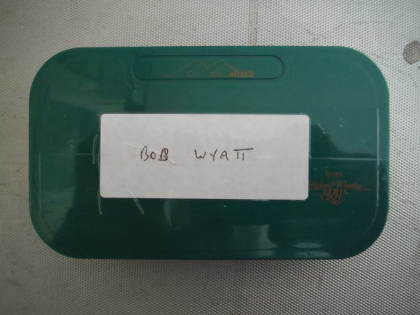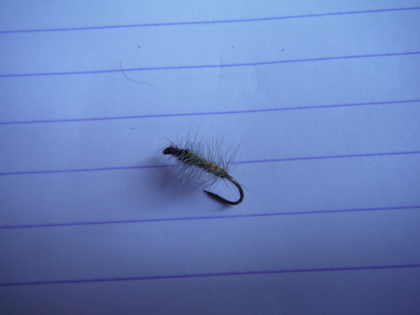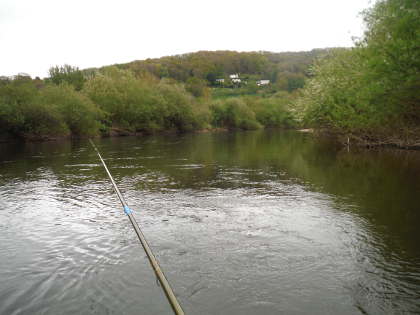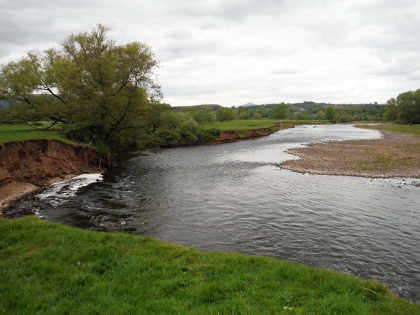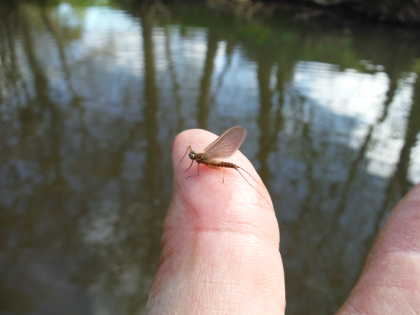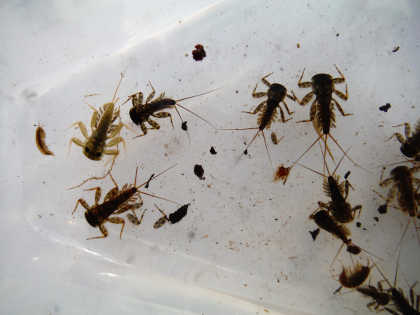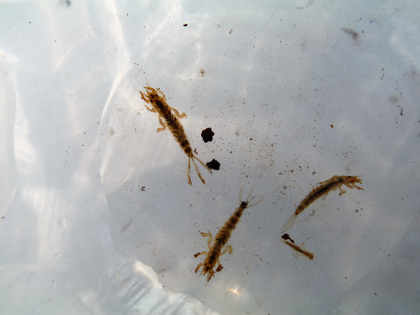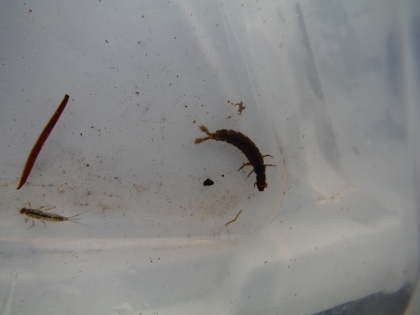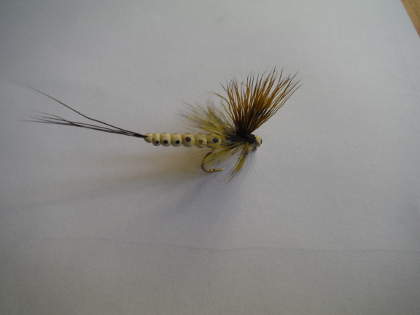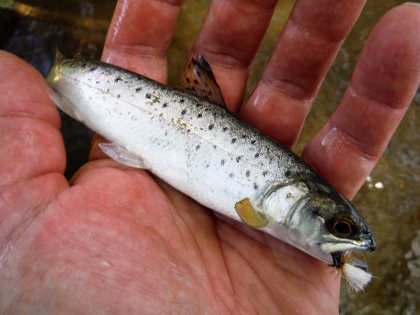 On 1st April JD from Cardiff fished the bank at Llandegfedd Reservoir and had 10 rainbows with a sinking line, short leader and booby flies. On the same day AP from Merthyr noted the very bad condition of the access road to Usk Reservoir which he thought might easily have damaged his car. Obviously care will be needed with 2WDs. One of the big Usk brown trout turned up on the 2nd when FB from London with a friend had a 23 inch fish in a bag of 5 from Cwmwysg Ganol. On the 3rd, SH from Birmingham with a friend had 10 from Abercynrig using various methods. HW from Penclawdd was out on Trallong and Abercamlais on the 4th and had 10 fish to 14 inches and noted a particularly spectacular march brown hatch. The next day VC from Ashford was out on Dinas without much hatching on the river, but over the day managed to persuade 5 trout up to 1:50 lbs by plugging away with dry olive patterns. On the 6th RK from Beech Hill fished at Glan yr Afon and had a bag of 5 nice fish, all of them between 1 and 2 lbs. VC was out again on Fenni Fach and had just 3, all taken over a short period when the dark olive hatch intensified.
On the same day RA from Holme Lacey fished the Llynfi at Talgarth and didn't catch, but noted a small dead pike on the bank. I'm told this stream also contains perch and there are certainly good trout and grayling. This is a new beat and we have high hopes that this year it will fish as well as its tributary the neighbouring Dulas. Much work was done on pruning it last winter, although you will find it still requires some effort to fish, with a certain amount of scrambling up and down the banks where the stream is too deep to wade. There is also a section in the middle consisting of deep pools choked with fallen trees, beyond our efforts to remove, which most people will want to skip. At the very least it's all good fish cover and the silt in some of the pools should mean mayfly latter in the spring. On my first try it took me 6 hours to work up the whole beat. The Llynfi is hardly a typical Wye tributary as rather than coming out of the hills it drains the great lake at Llangorse, which is certainly famous for its pike. According to legend, there was also a distant time when salmon would ascend this little stream and even appear in the lake on occasions. Note that this part of the Llynfi is above the section affected by the pollution incident last year.
Dave Collins from West Herefordshire was fishing his club water at Gilwern on the 6th, found conditions difficult with grannom and march browns hatching here and there, but managed 8 trout to 15 inches. On the 7th, AL from London was out with a friend on Glan yr Afon and they got 9, including a couple of 2 pounders, using dries and spiders during a mixed hatch of all three expected species - large dark olives, march browns and grannom sedge. DH from Swansea with a friend fished the Glanusk Tymawr / Canal and Rivers Trust water and got 8. Grannom were in the air but nothing seemed to be rising. AH from Sherborne had to use heavy nymphs in the fast water to get 4 from Abercynrig, one of them being an 18 inch fish. The same angler had 5 trout on the dry fly from the Penpont beat of the upper river on the 8th, while AS from Newent used a French leader outfit and nymphs to fish the streamy water at the head of Glan y Cafn to catch 11.
On the 9th, RG from Llandrindod Wells went up to Llyn Bugeilyn and got half a dozen trout on an Alder Fly despite a cold NW wind making conditions difficult, "...but a special place." On the 10th I was encouraged to see that GM from Exeter with a friend fished the Monnow at Skenfrith and had half a dozen trout, so hopefully that river is cheering up after its pollution incident. On the 11th, KB from Bath also tried Llyn Bugeilyn, and he too got half a dozen, using flies like Bibio and Mallard and Claret which were intended for exactly this kind of fishing. On the 12th LB from London got 6 from the Usk at Fenni Fach while AG from Helston had a dozen small trout from the Wye at Gromain and Upper Llanstephan. NG from Dilwyn fished the Usk's Cefn Rhosan Fawr on the 13th and had three super fish - 15, 15 and 19 inches - using a Tungsten Hare's Ear nymph in the fast water. On the same day my friend SC from Llandeilo Graban started with a morning on the Cammarch Brook, where he found very little doing. After lunch he switched to the Edw at Hergest where he had 8 trout on the duo method. The Edw is a great little stream and has been producing good fishing consistently since the early days of the Passport. GW on the 14th reported on what I think must have been a block booking: four anglers on Dinas and Abercynrig had a total of 34, mostly on dry fly. Two more anglers fishing Fenni Fach had 18 between them, mostly on nymphs.
On the 15th, HW from Penclawdd had 6 on nymphs from Cwmwysg Ganol. On the 15th NB from Chelmsford reported 3 trout from the Clettwr gorge and also wondered about the bodies or shells of two white clawed crayfish he found up there. Given the location, I would be prepared to bet that an otter had something to do with that. On the 16th, IC from Gloucestershire managed 6 trout from the little Dore at Chanstone Court. On the same day JL from London found better conditions on the Usk at Dinas, with an overcast sky and march browns hatching. He managed 9 trout to 15 inches on a Jingler dry fly. On 17th BP from Pembridge took 11 from the Edw at Hergest on nymphs and dries.
On the same day, MD from Barry reported another infringement of the canoeing agreement, this time at the Rectory on the Upper Wye. So many of the canoeists I meet on the lower river are charming people, interested to ask about the fishing as they pass you and concerned to avoid spoiling it. But then there are those who just don't care, either about the law of trespass or other people's sport, and this group, it seems, was one of the second kind. I often wonder where this disagreement about our non-navigable rivers will finish up. Clearly the canoe lobby have no legal case for the free access everywhere which they are seeking and an attempt to prove otherwise in court has already proved expensive for them in legal costs. However, the risk is that they may eventually convince politicians hungry for votes that anglers and riparian owners represent a sort of small and reactionary patrician elite, whereas canoeists represent the urban masses (with lots of votes) desperate to enjoy the countryside and the fresh air. That would hardly be the case in much of Wales, where a good deal of fishing is club water, available to everyman at a very reasonable price. Still, there is a concern that the law of access might eventually be changed, possibly following some mass action like the Kinder Scout Trespass of 1932 which resulted in the opening of the Pennine moors.
On the 19th, TD from Amport found better conditions at Abercynrig, where he found march browns hatching in the middle of the day. He got 5 to 15 inches, using nymphs and a dry Jingler. On the 20th Dave Collins fished the Usk above Gilwern again and got, I think, 8 by various methods. On the 21st RW from Hereford had half a dozen from Craig Llyn. On the same day, JE from Cheltenham reported a fine catch of 6 wild trout from Talybont Reservoir, all of them between 1 and 2 lbs. On the 22nd, Simon Evans from the Foundation went to fish the new Usk beat at Greenbank with his 6 year old son. In difficult conditions, he was very happy to take 7 trout, the best three fish weighing 1 lbs 10 ounces, 2 lbs and 3 lbs 4 ounces. The big ones were taken with a nymph fished under a dry fly in the fast water at the head of a pool. And the catch return for young Master Evans? Simon didn't tell us. On the 23rd DH from Gloucester got 9 from the Bideford Brook, mostly on nymphs. PL from Monmouth with a friend fished the Usk at Penpont and had 12 trout in difficult low water conditions. On 26th CH from Bromsgrove had 6 from Glan yr Afon, including a large one, while DP from Barrow fished the Wye at Abernant, also for 6 trout. One of these he caught on a spider during a hailstorm while four F16s screamed overhead. For those who visit us and may not know it, low-level military training flights are a familiar feature of the valley and may include anything from fast jets to Chinook or Apache helicopters. I must admit I rather enjoy these as I look up from the river, particularly the big C130 Hercules heavy lift aircraft from RAF Lyneham which come banking from side to side and rumbling between the hills. It is noisy for a few seconds but, after all, it normally happens only once a day. The fish don't seem to mind and I know for a fact the pilots enjoy themselves. Once we had the treat of seeing a Spitfire and Hurricane from the Battle of Britain Flight, which I think were headed for the Royal Welsh show.
On the 28th, CH from Bromsgrove had a large catch from the Wye's Abernant beat on the dry fly with plenty of trout rising, but on the 29th AS from Newent found almost no rises and resorted to nymphs to take 7 trout from the fast water. Llyn Bugeilyn continued to fish well. On the 26th, JA from Leominster had 11 up there and on the 29th RS from Upton on Severn, inspired he tells us by George Barron's book At the End of the Line, reported 14. It strikes me as interesting that Llyn Bugeilyn has fished so well, so early. Here we are struggling to find rising fish on the rivers and blaming the cold weather for it, while up at Bugeilyn, which is around 1500 feet higher and certainly colder, those little black-finned trout are apparently keen to hit flies on or near the surface. At any rate, although it may be a long trip up to the lake, there is something special about the Bugeilyn experience; reporters seem to be bubbling with enthusiasm and you have the idea that they returned from the hill with a broad grin on their faces. Those are the reports to hand at the time of writing; no doubt there will be some more from the bank holiday weekend.
There are three rather interesting articles in the April edition of Fly Fishing and Fly Tying. One is by Malcolm Greenhalgh, a widely experienced northern angler, on the subject of rare fly dressing materials and the law. Malcolm is a spider fisher supreme - he was brought up on them - and he is at least as interested as I am in some of the older fly dressings. The problem is that a number of the animals and birds used for their hair and feathers in older patterns are now protected by law. These creatures are not necessarily so rare today - conservation law having been relatively successful in many cases - but it was always my understanding that you would be on the wrong side of the law and liable to prosecution if you were found in possession of their plumage or pelts. Malcolm, backed up by Steve Cooper of Cookshill Fly Tying, tells us this is not so, and what is in fact illegal is trading in such materials. Provided you don't buy and sell them, it is perfectly legal to pick up what you may come across: heron feathers found by the waterside for example, or material snipped off accidental road-kills (if you don't mind the slightly grisly task). So that unfortunate young badger which was hit by a car last night might donate some bristles for an old sea trout pattern, or that tawny owl lying in the roadside gutter could provide the wing feather originally defined for some of the Bustard flies.
Malcolm is a game shooter and a wild fowler as well as a fly-dresser, so has always been in a good position to pick up plenty of material from hares, pheasants, partridge, grouse, woodcock etc, for which there has never been legal protection. However, he does add the slightly discouraging note that in the case of finds or road kill, you might be wise to remove all doubt by providing some kind of proof that you did so legitimately. Apart from the fact that I always thought you would be innocent until proved guilty under British law, that idea of the need for proof worries me slightly and I would not like to find myself under suspicion from the environmental protection agencies or the police who probably have better things to do.
There are a couple of points to make here. The first is that the amount of material actually needed to make fishing flies is very small compared to the amount on the animal itself. Even in the case of materials legitimately sold on the market, pressure for fly-tying materials alone is unlikely to have much effect on a species. To look at the lower end of the scale, a single mole skin from which is scraped grey dubbing fur for spider bodies lasts me for many years. A flight feather from a large bird like a Canada goose to make herl bodies will provide hundreds of flies. The second is that there is almost always a substitute, in fact a substitute so like the original as to make little difference in the performance of the fly. Marabou plumes, sold in vast quantities for making modern rainbow trout lures, these days don't come from the Asian marabou stork at all, but from domestic turkeys. I tie some emerger patterns which call for strands of condor herl to make the body; however, fear not, the brown dyed material doesn't come from the famous Andean bird but something like goose. Starling wing feathers substitute acceptably for blackbird and stocks still seem to be available. Hen pheasant wing usually substitutes for owl. There is no need whatever to make an Orange Otter from dyed otter fur (although Malcolm Greenhalgh did so as an experiment, using road-kill), but a mixture of orange and claret seal's fur will do the job equally well.
Seal's fur itself is a slightly odd one; we thought at one time it would become unavailable, but today there is plenty to be had as a few seals are legally culled. Again, the quantities used are very small. Waterhen (moorhen) wings used for the famous Waterhen Bloa are an ongoing problem; there are never enough of them on the market, mainly because it is a friendly little bird which countrymen are so fond of that nobody wants to shoot it. However, you can use coot as a substitute, although in that case you should use the upper rather than the lower wing coverts and, to be honest, the fibres are coarse by comparison with the original. Golden plover is a problem and I have read that during the 19th century this charming bird was made almost extinct by overshooting, partly for the fly dressing market. Hare's Lug and Plover is the spider pattern I like to make from this material, but a speckled Brahma hen cape dyed golden olive seems to make a perfectly good substitute and the cape I bought a few years ago will see me out, I am sure.
The same magazine also carries an article by Bob Wyatt on the evolution of modern fly patterns. Bob Wyatt, it will be remembered from his book What Trout Want: the Educated Trout and Other Myths, reviewed in the March 2016 newsletter, is one who believes in working on presentation rather than imitation and who carries no more than a handful of patterns in different sizes. The general message of this latest article is that there are very few really original ideas in fly pattern design. I suppose I would have to agree with that and I certainly haven't come up with any original designs myself. The slight modification of an Irish mayfly pattern, the Gosling, for use on our rivers is as much as I can claim. Bob Wyatt, famously, claims his recommended patterns - Deer Hair Emerger, Hair Wing Sedge, Hare's Ear Nymph, Snowshoe Hare Emerger, Dirty Duster, Grey Hackle and Grey Boy are all you will ever need. Mr Wyatt is very fond of deer hair and hare's fur as you can see, but presumably doesn't need to spend so much on hackle capes! However, he fishes now in the New Zealand back country and I wonder if his trout see as many artificial flies as ours do. Can they in fact be as darned awkward as Usk trout sometimes are? After reading his book, I tied up an experimental box containing nothing but Bob Wyatt's flies in different sizes. It even has his name written on the front of it. One of these days, I'm going to pluck up the courage to go out with the Wyatt box alone and see how I do.
Finally, there is an article by Yorkshireman Oliver Edwards, probably the best wet fly fisher we have in this country. His DVDs are certainly the best demonstration on film of the several ways in which spider fishing can be tackled. This latest article is about the grannom sedge hatch, which can be notoriously difficult to fish at times, and he suggests no less than 10 different patterns, his own and others. Oliver Edwards has spent a lot of time making close observations of British aquatic insects and is in touch with many others doing the same. And while he ties and fishes with impressionistic classics like the old spiders of the North, his own fly designs are usually highly imitative and therefore quite complicated to tie. This makes me smile somewhat, as he is a great fan of the upstream wet fly fishing style of the 19th century angler WC Stewart as expressed in The Practical Angler. And yet Stewart himself mainly relied on three simple impressionistic spider patterns. At least one of the Edwards patterns given here is still at the experimental stage and the article itself is to some extent an insight into work in progress. Take it as an honest attempt to understand the complicated business of the grannom hatch. What interested me about it is his explanation that there is can be a vulnerable stage in the grannom's emergence, lasting no more than three seconds or so, when it lies flat in the film before fluttering off. This brief stage of inactivity is very attractive to the frantically feeding trout. Which prompts me to think I could suggest one more pattern, the Super Pupa of Lennart Bergqvist, tied small in an olive/grey colour, which sometimes works for me when the grannom are coming off. Personally, I have spent a lot of time trying out different caddis patterns with grannom in mind, but this year I did well enough with a little Hair Wing Sedge when flies were clearly being taken at the surface, and with Hare's Lug and Plover or Louis Noble's Grannom spiders when I think pupae were being taken below the surface.
Some more good news worth pointing out, although this is mainly for salmon anglers. Until the coarse season opens on 16th June, Upper and Middle Hill Court have been combined into one large beat in two sections, now to be known as simply Hill Court. These come either side of Goodrich Court (reserved all season for salmon) and together the whole thing comprises nearly all of Robert Pashley's old fishing haunts. These now include such famous catches as Hom Pill and Pashley's Crib at the top end and the Rope, Parson Stream, Ford Stream and Marl Bed at the bottom. In comparison with much of the lower Wye, this particular part of the river is remarkable for the amount of fly water it includes. Another good one, I predict, will be new lower Usk beat at Greenbank. As a salmon or a trout rod is the same price (25 lbs), you can make your choice and bring along tackle for both species. I suspect it will generally be of more of interest to the trout anglers and there are certainly plenty of trout in it. Simon Evans from the Foundation tried it this month and had a superb leash of trout in his catch - see above - even while conditions on the day were generally difficult. I tried it a few days later and, on arrival, realised that years before I had fished the top end of it from the opposing bank. This was an early spring trip with David Burren, on a rather expensive Llanover day ticket, and as I recall we did quite well fishing dry flies and spiders with an exciting large dark olive hatch after lunch. On this occasion, fishing from the Greenbank side, rises were suppressed by a cold wind so there was nothing doing with the dry fly, but I had some nice fish on spiders in the fast runs. It is a very easy beat to wade and fish with some very wide and open gravel pools and the sort of foamy, swirling corners where duns get trapped on the surface. Given some rising fish over those pool tails, I imagine it would be difficult to get through it all in a day. There is also a civilized charm about a beat where the river runs around three sides of one enormous sheep pasture. Wherever you are on the water, you are never too far away from the car, lunch and the coffee flask. We older anglers appreciate such personal comforts! Unfortunately this one is only available weekends and Mondays.
Let's try some practical advice for trout fishing next month. If the climate will only behave, we should finally have some easier fishing in warmer weather as we get into May, together with some different aquatic flies to imitate. It's also reasonable to hope that the smaller streams will open up. Olive uprights, already with us, are likely to be the mainstay on the Monnow and many other rivers. Despite the slightly misleading name, this one is not so closely related to the baetis family of olives but to those flies with the flat bodied stone clinger type of nymph, so in fact it is a closer cousin to the march browns and yellow mays. Look for a medium or largish up-wing with a straw coloured body. I find an Adams or, even better, a parachute Adams, usually works for trout interested in these. You may also encounter something which looks very like a march brown, but has a yellowish tinge to the leading edges of the wings. This is the large brook dun - again, already appearing in places - and any march brown imitation you have faith in should work on fish which are interested in the natural. Try a March Brown Jingler or a large Deer Hair Emerger. Sometime from the middle of May onwards, hatching from those tributaries with pockets of silt (needed for the nymphs to make their burrows) we should start to see the true mayflies. The Monnow and Lynfi systems stand out together with the Herefordshire and Shropshire streams, but mayflies are found in many other places. These large white flies, where they exist, should carry us through until mid-June and even beyond. There is a plethora of mayfly patterns available, but I am going to put my faith in the Mohican Mayfly (which I like to put on because it is so big and so much fun to see it attacked and taken) and also the smaller, duller, but very deadly Monnow Gosling (scroll back to the April 2017 letter for a dressing). One more insect to watch out for is the little iron blue, which has a tolerance for bad weather and is quite easy to miss on the surface as it is one of the very smallest up-winged flies. However, when it shows up trout often show a definite preference for it over anything else which may be hatching. There are plenty of nymph patterns available; for the dun I get on well enough with a little F-fly dressed with a mole fur body on claret thread.
Finally, we already have salmon smolts on the gravel flats in our rivers, silvered up and ready to go to sea on the next flood. They are very willing to grab little flies, wet or dry. Move your location if you catch more than one or two. Meanwhile, unhook them as carefully as possible, and pop them back kindly with a wish to meet again in two or three years.
Tight lines,
Oliver Burch www.wyevalleyflyfishing.com
---
March 2017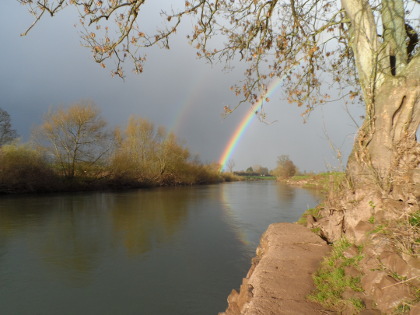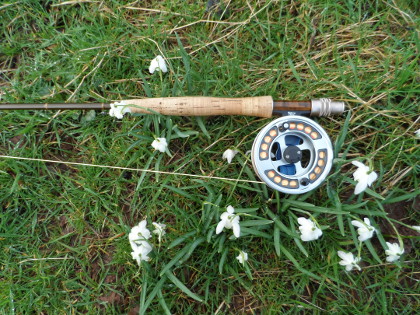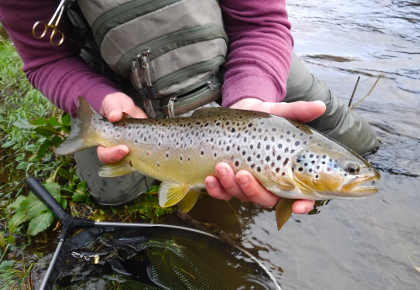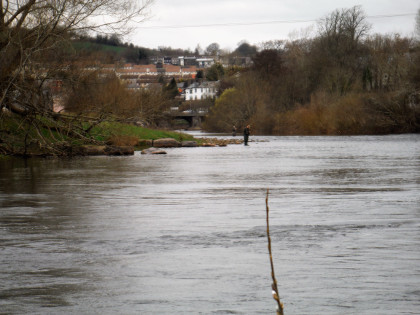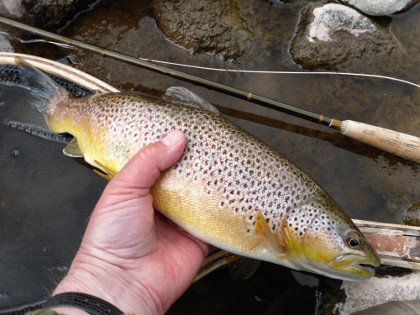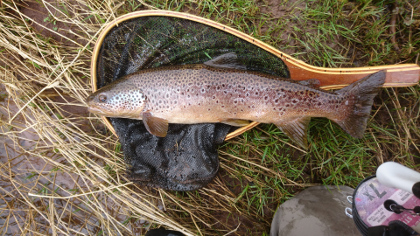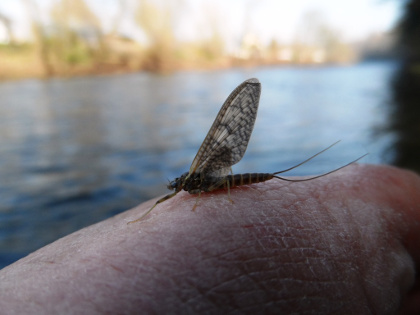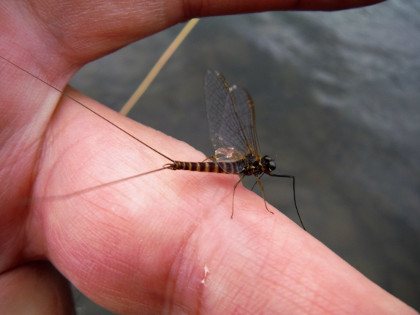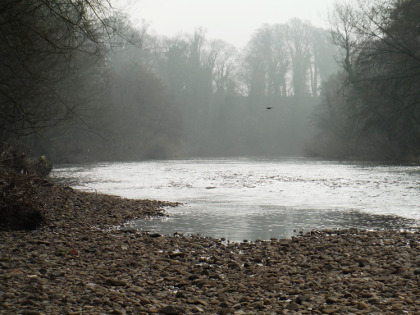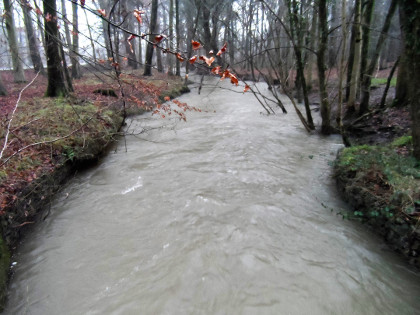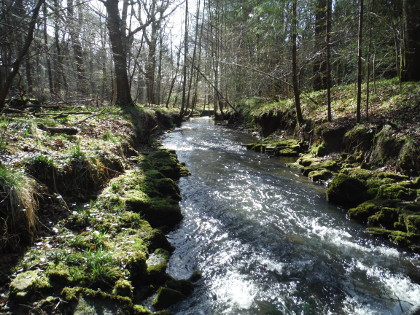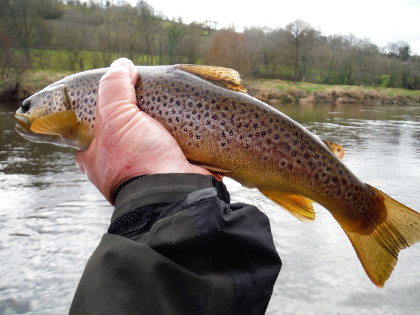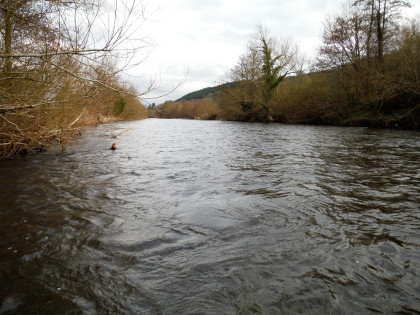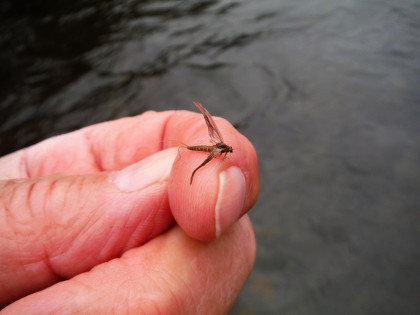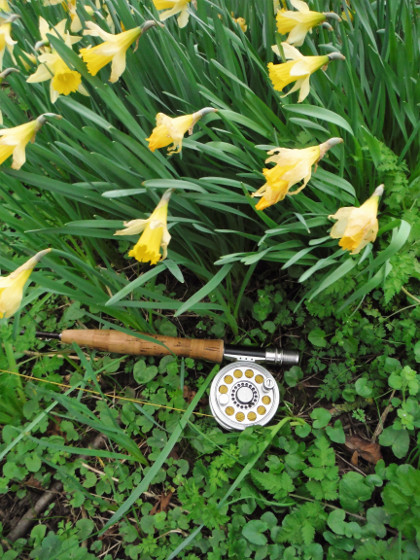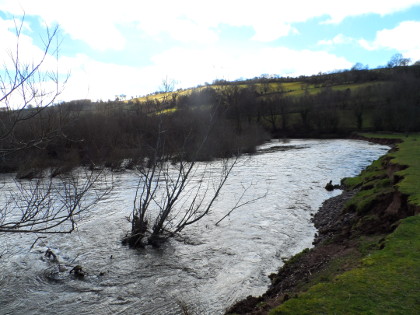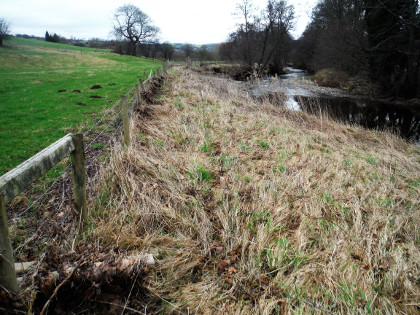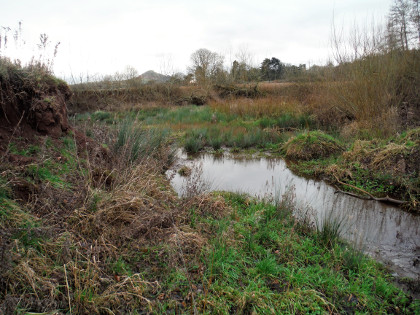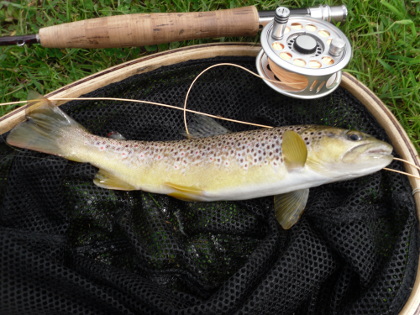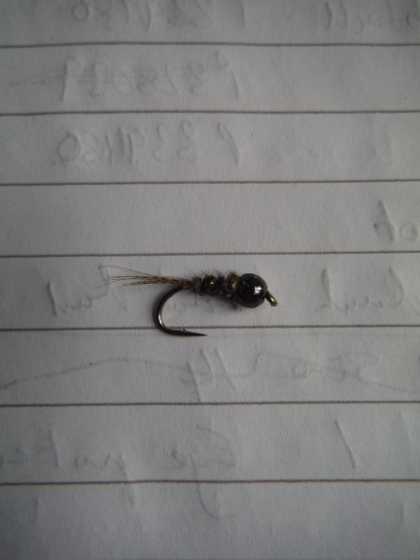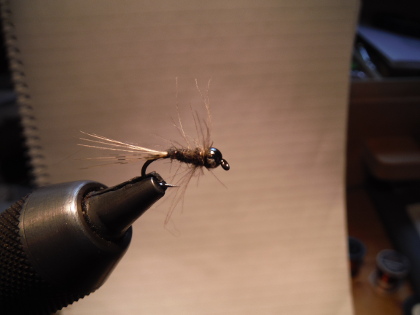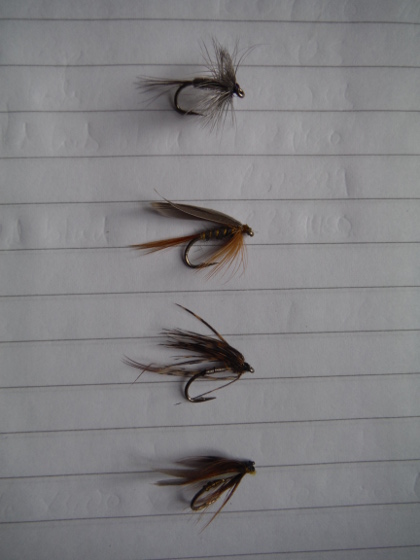 For most people in my part of the world, March can be defined by birdsong, nesting rooks, the first green appearing in the hedgerows, daffodils, Cheltenham races and Irish voices around the pubs and B&Bs. For anglers like you and me it's also a matter of watery sunlight on the river, blustery winds at times and with luck the sight of flotillas of duns floating down the swollen Usk. To make everything just perfect, the surface will be marked by excited and splashy rises from the first trout of the year. In fact our 2017 season opened with flooded rivers everywhere, and for days it seemed there was nothing much to do but sit indoors tying up more flies. At the same time I was marvelling at how well the barbel fishermen manage to succeed in conditions which would be impossible for game anglers. This of course was at the end of their season on the middle and lower Wye. Provided the water is not too cold, they seem to be able to catch even when the level is many feet above normal and muddy to boot. The rainbow trout reservoirs of South Wales were open by this time and plenty of reporters seemed to catch their limits fishing from the banks.
During this period of waiting, along came a message from the WUF with at least one reason to be cheerful. It turns out that Llyn Bugeilyn is going to be available on the Passport this year, contrary to earlier information in this letter. I am so pleased about this! An expedition to this remote mountain tarn is an experience thoroughly to be recommended and I will look forward to that in the summer. Another piece of news heard via the Merthyr Tydfil Angling Association is that all fishing for wild browns on Talybont Reservoir, another remarkable water, is to be catch and release this year.
While floods were slowly subsiding on the Usk and Upper Wye, the Taff and some of the other Valleys rivers came first into fishing condition, and thus their anglers were on the water and ahead of the rest of us by a couple of days. There was a report of a remarkable 6 pounds fish taken on a Pheasant Tail Nymph from the Rhymney and Daniel Popp and Ceri Thomas sent in some pictures of excellent Taff trout in peak condition. Also, it turned out that two sportsmen who did manage to start early on the Usk were AL and AT from London who contrived to fish successfully at Dinas on 4th March. As I recall, the river level then must have been pretty high, but they did well with 23 trout during a hatch of large dark olives during the morning and march browns after lunch. This seemed a very good early result, but the rest of us waited through another week of floods until the level dropped and river catches started again in earnest.
From around the 10th, fishing on the middle and upper Usk became practical at last. We were blessed then with some mild and cloudy days, and both large dark olive and march brown hatches were in evidence at once. These weather conditions produced sometimes extended hatches as fly slowly trickled off and this was just what was needed. On Friday 10th AH from Sherborne had 3 to 1:75 pounds at Ashford House, using an Olive Nymph. AL of London was back at Dinas on the same day and took 11 fish to 1:75 pounds. On the 11th, AH from Sherborne fished Ashford House again and had a 2:50 pound fish in his brace of trout, taken on an Olive Emerger. And AL of London fished Glan yr Afon for 3 fish, including a 2 pounder, taken on dries, again during large dark olive and march brown hatches. On the same day, one very large trout in a bag of 7 was reported by HW from Swansea, who was fishing the upper river at Cefn Rhosan Fawr. It was taken with a nymph and HW was justifiably thrilled with it - see the photograph. On the 13th, a very windy day, Dave Collins from Herefordshire was out on the middle Usk at Gilwern, again with some large dark olives and march browns about, and took 7 trout to 1:50 pounds by various methods. Also on the 13th, BS from Bristol had half a dozen trout from the Monnow at Skenfrith using nymphs. On the same day and the same beat, JH from Usk fished nymphs through the fast water to get 9 trout and 3 grayling.
It's outside my remit, but about this time as the Wye was coming into condition, the first 2017 salmon began to be reported from the upper/middle section of the river. These were multi-sea winter fish in the high twenties and low thirties of pounds, proper Wye springers. One fish of 32 pounds was taken at Wyeside by 88 year old Mr Ernest Coleman. I like the sound of that and his example would be one for us all to emulate if we are spared for later years of fishing. Mr Coleman, when I grow up, I want to be just like you! Another of the big spring salmon, a cock fish estimated at 35 pounds, was taken by Terry Ward fishing at Lower Winforton in the Cow Pond. This was the slow deep pool, part of a fishery belonging to her father, where in 1923 Doreen Davey took the record Wye fish of 59:50 pounds. Ms Davey was just 18 years old at the time, the gillie had to light a fire to see by when the fish was landed after nightfall, and she became a celebrity overnight, with several offers of marriage received through the post. It's worth noting that Ms Davey used a minnow, while Mr Ward caught his on a fly fished with a floating line and sink tip after seeing it move. Before we knew it, more fish were being reported from as far upstream as the Nyth and down below Monmouth at Wyesham. TS from Brecon was also salmon fishing upstream at Llangoed and Lower Llanstephan on the 15th. He had a take to the salmon fly at the foot of Llangoed Rapids, which turned out to be a trout of 23 inches - possibly 4 pounds. It is remarkable how often salmon anglers bump into large trout, especially at this time of year. I was fishing the beat downstream (the Rectory) on the same day and saw plenty of trout rising to olives and march browns, but sadly my salmon fly, a Black and Yellow tube, remained untouched. On the 16th, NG from Hereford came for his salmon fishing day on the Rectory and saw a great hatch of Large Dark Olives. Wisely perhaps, he changed rods and took 8 trout on a dry CDC Olive.
On the 17th, AL from London was back on the Usk, this time at Glan y Cafn just above Abergavenny. He took a dozen trout using spiders and a dry CDC Dun, but also voiced some reservations about the ticket price of 35 pounds for a trout fishing day, especially given the poor access and rickety condition of the walkway along the beat. That walkway has been quite precarious in places for a while, and I think I saw from across the water recently that there has been a landslip halfway down the beat. Glan y Cafncan certainly produce a large trout on occasions, but then so can most Usk beats. I suppose market prices are all a matter of opinion, availability of money, supply and demand. However, I will weigh in on behalf of the punters with my own humble opinion, which is that I would still like to see the normal ticket price for a day of main river trout or grayling fishing in this part of the world pegged at 20 pounds. If it's more than that, I would like to think there is a good reason, which might include one of the following: there is a resident keeper carrying out bankside maintenance; there is an unusually long stretch of fishing available by comparison with the typical mile or so; the fishing is quite exceptionally good and there are records to prove it; stock fish are being put in (you may indeed not want them, but they certainly cost money!) As stated, this is just my opinion - nobody likes inflation but value is a matter of human perception. And pretty good Usk fishing is still available for a 15 pounds day ticket.
It was all change again on the 17th and 18th as rain and floods returned. A series of wet days produced floods almost everywhere and for quite a period small streams were the only option as we waited again for water levels to fall. J from Mynddbach fished the Forest of Dean's Bideford Brook on the 23rd and got 8 of its little trout using a Gold Bead Hare's Ear. By the 24th the top of the Usk was just about back in condition again and it was possible to fish at Brecon and above. However, the conditions were not as ideal as at the beginning of the month. While high pressure weather allowed the land to dry out, nights were cold, the sun was bright and a cold wind from the East tended to restrict the number of fly hatching. Big temperature swings are never the best background for spring fishing. On some days I found that spiders worked better than the dry fly.
MW from Salisbury with a friend fished at Dinas on the 24th and they had 16 trout between them, mainly during a march brown hatch at the bottom of the beat. The same team fished upstream at Fenni Fach on the 25th and took 9 trout to 14 inches, noting a relatively sparse hatch of march browns and large dark olives. On the same day, LE from Usk with a friend fished Ashford House, John Henderson's famous water, and took 11 trout, again during a 90 minute march brown hatch. Meanwhile, Dave Collins from W Herefordshire fished downstream on the Gwent AS water at Gilwern and took 10 trout, mainly on his own March Brown emerger patterns. He saw the first grannom sedge of the year that day, although the fish did not seem to be reacting. I was elsewhere at the time, but I heard that a little downstream on the Mardy beat one pool had a quite spectacular grannom hatch on the same afternoon and that on this occasion the trout did sit up and take notice. It's curious to note that, for two years running now, the first grannom of the season have been recorded on the 25th March, while this was formerly an insect we associated with mid-April hatching. Also on the 25th, BS from Bristol fished the Bideford Brook and took 7 trout on goldhead nymphs. On the 26th, TP from Burcough was disappointed to catch 6 trout from Fenni Fach above Brecon. On the next day JP from Caerphilly fished at Chainbridge and had 5 during a dark olive hatch with some grannom showing also. Meanwhile SF from Blaydon on Tyne also had 5 on the dry fly from Dinas. BS from Bristol fishing at Dinas on the same day also had half a dozen. MC from Arsenal reported illegal canoeing on the middle Usk at Glan yr Afon, a part of the river where this problem constantly occurred last year. Judging from MC's account, the paddlers were fully aware of the legal situation, but determined to carry on regardless. On the 28th we had our first report from Llyn Bugeilyn. JA from Leominster went up to the lake, fortunately found at least half-way reasonable weather conditions given the early season, and had 6 with a Clan Chief and a spider pattern. Dave Collins was fishing the Usk at Gilwern again that day and found the weather conditions cold and difficult as he took 5 trout. At about this point, the showers came back although the weather was slightly warmer. By the end of the month, both main rivers and most of the tributaries were once more up in flood and yet again we were kicking our heels and waiting to re-start our spring fishing. I think I will remember the fishing of this March of 2017 as occasionally excellent, but for much of the time quite frustrating due to the conditions. Looking on the bright side, we have some dry weather forecast for early April.
Here are a few thoughts which came to mind as I was paddling around with a fly rod this month. Squabbling wild fowl are much in evidence at this time of year. Normally I think trout are familiar enough with the sight of a duck passing overhead and it doesn't do the fishing too much harm if there isn't undue disturbance. But the other day I found myself on a small stream with a menage a trois of two mallard drakes and a duck upstream of me. They were noisily trying to sort out their marital arrangements and they kept moving just one pool ahead of me all the way up the beat. Every time I moved up, they moved up to the next pool and they continued to quarrel and splash, trying to work out who would do what and with which and to whom. Meanwhile I wasn't catching much. Does anybody know a solution for this problem? I suppose I should have skipped a hundred yards or two of fishing to get above them and then rejoined the stream.
Rivers move their beds and sometimes it happens with surprising speed. The results are always noticeable in the spring. The gravel of the main pool at Pwll y Faedda on the Wye changed over the last couple of years to form a new central ridge, and the current now runs diagonally across the pool instead of straight down. Trout and grayling have changed their lies to suit. Several seasons ago at Brecon, when the water was high and rising, I nearly scared the life out of myself trying to cross the Usk at my usual place. The winter floods had eroded the formerly secure ford into a deep and dangerous trench. Small streams, unless they run over rocky ground, change their positon even faster as the water moves gravel and silt around. Deep holes are filled in over a couple of floods and new ones are scoured out in the same time. The sinuous stream moves sideways over the flood plain, the water cutting into an eroding cliff on the side of the current while the land reclaims the slack side, first with silt and then with weeds. Trees are undermined, pushed over, broken up and finally carried away. The Monnow is a stream which, once out of the mountains, runs mostly through sandy pastures and it moves its bed with every flood. Once this river rises, its muddy torrents can be dramatic. On one upper Monnow water where I fish, a peninsula of soft sandtopped with grass, once part of a sheep field, was cut through at the neck a couple of winters ago. We could all see it was going to happen, but when it finally did, events moved with surprising speed. A long curving U-bend of the river was deprived, first of flow and then of open water. Today it mostly consists of mud and the places where we used to cast a mayfly for trout are good for wildfowl and maybe frogs, but not to find a trout. As some sort of consolation, there is a new pool with a fast run where the river made its cut through and there is a good place in it where last spring I caught a couple of decent fish, right by a submerged tree stump.
During the days in which we were beset by floods and not having much else to do, I carried right on in the office tying up new flies. Looking through the fishing literature, I find it interesting how fashions in fly patterns have come and gone. Take the evolution of the wet fly into the modern nymph. The nymph as created by Skues was designed to fish below the surface all right, but was not really capable of sinking far or fast, due to a lack of weight and the inclusion of a hackle, albeit a sparse one, which would delay sinking at any speed. Frank Sawyer and Oliver Kite after him were adamant that they were after depth at all costs, and therefore their nymphs had added copper wire as weight and were without hackles, as streamlined as possible to get down to the bottom without delay. We have gone on in the same direction for years, imitating only the outline of the head, body and tail of the larval insect and finding ways to add more and more weight, firstly with lead wire, and then brass and tungsten beads. Just lately there seems to have been a slight reversal of the process, because fly-dressers are becoming concerned to imitate legs again, usually by adding a sort of fringe of CDC fibres behind the bead. The idea is that these fibres must wave, perhaps in a life-like way, perhaps like moving legs, as the weight of the bead pulls the pattern down towards the bottom. At the same time, they must slow down the sinking process very slightly. Do trout and grayling appreciate them? It's hard to say; I can't claim to have noticed any difference.
In a similar vein, looking through my trout fly boxes the other day, I was turning over some old Usk patterns which brought back happy memories. As I mentioned, fashions come and go with fishing tackle and perhaps with fly patterns more than any other item. Now I am not one for using any vintage fishing equipment just for the sake of it. For example, I cannot imagine wishing to use any kind of wooden fly rod again - modern carbon fibre is just too good by comparison and even today is still being developed to improved performance. There are those who claim silk fly lines had their advantages in terms of lightness and delicacy and they are being manufactured again for a niche market. I have never used one and so can't comment, although the cost and extra maintenance required to look after them don't make the idea very attractive. When leader nylon first arrived on the market, a number of anglers stuck with gut for a while. This was because some of the early nylon brands were quite unreliable. This had certainly changed within a very few years and nylon swept the board. Who wants to tie pieces of drawn silkworm gut together now?
At the same time, there are some items of equipment which have improved in design much less than we like to imagine. I would suggest fly reels come into this category. We convinced ourselves for a time that we needed large arbours and disc drags for our trout fishing. But do we, in reality? What we really need are well engineered reels of a weight to balance our rods and these were certainly available in the past. Whether or not there is a drag, I definitely want a properly made click check which works in both directions. Even now I defy anybody to fish with a Hardy Model Perfect reel and claim that he didn't enjoy the experience. That is why the design is still in production today, 120 years on. I still spend quite a lot oftime in chasing down old hand-made hooks, but purely because I find many of them are better made and certainly better tempered than the machine-made hooks on the market today. I don't think hook design has really been improved much at all, except perhaps for some of the East European heavy nymph patterns. What has changed is that the manufacturing process has been automated, but I don't believe we have a better product at the end of it all.
Fly patterns, I think, come into much the same category. We have some new materials and a host of ideas and theories from fishing writers, which the magazines are certainly quick to publicise. As a result, fly patterns are more affected by fashion than almost any other angling item. But that doesn't mean that older patterns have automatically become obsolete. I will be the first to applaud significant modern developments - PTN, Klinkhammer, F-fly etc - but most of the masters of this sport, if they really know what they are talking about, will also accept the pole position occupied even now by such ancient designs as the North Country spiders. These still nail fish just as efficiently as they did a couple of hundred years ago. I would like to point out that if you read the magazines regularly, you may be getting no more than an early look at some patterns which have not had a very long trial. Angling writers, some of them, just love the idea of getting their name on a fly pattern, and in any case they will likely have an editor pressing them all the time to come up with new ideas. You could certainly call some of these "me too patterns" and many of them will be totally forgotten in a year or two.
On the other hand, if you are keen to fill your fly box by tying up patterns which really do work, you could do worse than look into the angling history of your local area for designs. Have due regard for how they were intended to be used and the season in which they were intended to be used. Courtney Williams' Dictionary of Trout Flies is one very good source, and is definitely still unsurpassed as a wide-ranging survey of trout and grayling flies which have been, or were, in use for a long period of time. When in doubt, why not check with the local tackle shop? I know for sure that Jean Williams at Sweet's Tackle Shop in Usk would suggest some reliable flies for our local rivers. Anyway, it's always good to call in on Jean and find out what is going on. Arthur Ransome once wrote: "The pleasures of fishing are chiefly to be found in rivers, lakes and tackle shops and, of the three, the last are the least affected by the weather." To return to the main subject, I would rather put my money on a fly pattern which established a reputation as a fish-killer over 50 years of use, than one I have just read about in a magazine. To summarise, if you are an experimental fly dresser, don't miss trying out some of the old well-proven ideas along with the new ones, which may or may not turn out to be important.
Spiders, in the strictly North Country sense, were not much used on the Usk in the past, but some down and across wet flies certainly were. Many of these had throat hackles and stream-lined wings designed for easy entry through the surface, the kind of fly design which today mainly survives for loch-style fishing for wild brown trout. There is still something to be said for fishing a team of three wets down and across, particularly in the spring when the water is high, and the wide gravel pools of the middle and lower Usk do suit the style. Here then are a few old-timers which I have found useful over the years:
Greenwell's Glory
There must be few anglers who don't know the story of the invention of this fly by Canon Greenwell, and eventually it became world-famous. It's an olive imitation of course and certainly works well when thelarge dark olives are coming off the Usk. What isn't always appreciated is that, while it became famous as a dry fly and Canon Greenwell who survived and fished until 1918, when he was 97 years old, must have lived to see that, the original version from 1854 must surely have been fished wet and would have been intended as such. The important points about the dressing are the coch y bonddu hackle and the colour of the body which combines pale yellow silk darkened with brown wax and a glint of gold wire. When wet, this has a perfect brown/olive effect. Here it is:
Hook: 12 or 14 wet fly
Thread: Yellow silk (Pearsall's no 3) well waxed with dark brown cobbler's wax to give the olive effect.
Rib: Fine gold wire
Throat hackle: Coch y Bonddu hen
Wing: Hen blackbird or substitute starling
Crawshay's Olive
This is a very interesting pattern which I discovered by chance. I would really like to find more about its history, which is slightly obscure, so please let me know if you can add to or correct the information I have here. The folk at Glanusk Park did not know about it when I gave them one. My understanding so far is that it was invented by Captain Alfred Crawshay of the famous iron-master's family and used for fishing at Dan y Parc and Glanusk during the 1920s. Capt. Crawshay had been in the Royal Flying Corps during the First War and I believe he was killed quite young in a flying accident around 1930. I tend to think of this pattern as the "Millionaire's Fly" by virtue of the inventor's family background; be that as it may, I promise you that it is a wonderful fish-taker. Like the previous fly, it is intended for olive feeders. There is something very effective about the blend of dull grey mole fur and yellow rib in its colouring:
Hook: size 12 wet fly
Thread: Yellow
Tail: Honey dun hackle fibres
Rib: Thick yellow silk
Body: Mole fur
Throat hackle: honey dun hen
Wing: Starling or coot
Usk Naylor
This is probably the best-known of the old Usk wet flies. Sometimes it is misnamed "Nailer" which is not surprising because it certainly works with great efficiency. However, my understanding is that it was invented by a Mr Naylor who was associated with the Worcester Cottages section of the middle river. This is another one for the early olive hatches. Interestingly the colours used in it - blue, purple, dun, gold - are distinctly similar to Oliver Kite's Imperial dry fly, also intended to be used during the large dark olive hatches:
Hook: 12 or 14 wet fly
Thread: purple
Tail: Blue dun fibres
Rib: Fine gold wire
Body: Strands of bronze mallard
Hackle: Blue dun hen
Grouse and Silver, Grouse and Gold
These are two general purpose wet flies by the late Stuart Jarvis, former river keeper at Glanusk Park. Stuart had charge of the estate's shooting as well as the fishing, and he once told me he thought a good river keeper should be able to construct a fly entirely from materials locally to hand. Pheasant tails can be picked up on any shoot; Welsh grouse, always good for sourcing a wet fly hackle, came from the high country of the estate; the shiny body materials were obtained by Stuart from family Christmas decorations. We can get it all from Veniards or one of the other specialists. Use the silver bodied version when the river is clear and the gold for when the water has some colour.
Hook: 12 wet fly
Thread: Brown
Tail: Cock pheasant tail fibres
Body: Silver or gold tinsel
Hackle: Grouse body feather
Cob flies
Around Brecon, the march brown insect was once known as the cob - a name I always associate with sturdy Welsh ponies. Moc Morgan in Trout and Salmon Flies of Wales gives three wet fly versions to imitate the march brown. The famous Leslie Peters of Brecon always recommended the Yellow Cob, but it is the Brecon Cob which I have found most useful of the three, usually fished on the point. Claret rather than red seal's fur seemed to work best for me in this pattern.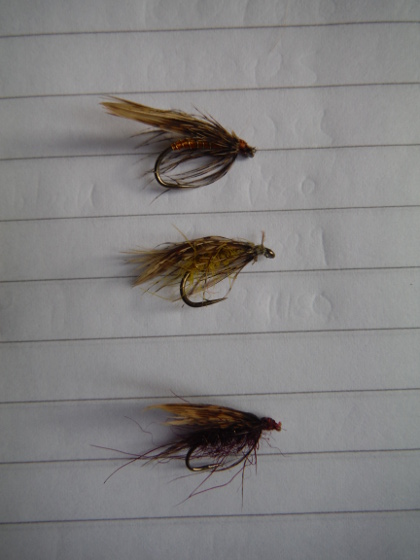 Yellow Cob
Hook: 12
Thread: Yellow
Rib: Fine gold wire
Body: Yellow seal's fur
Hackle: Brown partridge
Wing: Hen pheasant wing
Orange Cob
Hook: 12
Thread: Orange
Rib: Fine gold wire
Body: Orange floss silk
Hackle: Brown partridge
Wing: Hen pheasant wing
Brecon Cob
Thread: Claret
Rib: Fine gold wire
Body: Dark red silk or seal's fur (claret)
Hackle: Brown partridge
Wing: Hen pheasant wing
In the days before internet and mass media, development of fly patterns was a parochial matter, discussed at length between local anglers on the bank or in the pub, but dissemination of the knowledge was slow, particularly between regions. Slow but eventually sure - once an angler has taken a number offish on an unfamiliar pattern, the conviction tends to last. I remember an early riverside conversation with Stuart Jarvis during which we discovered that we both had a well-founded faith in the northern Waterhen Bloa spider for spring fishing. "A gentleman from Yorkshire first showed it to me," said Stuart. "I tried it out, found that it worked, and I've never looked back really."
Those are just a few of the old Usk patterns which have given me pleasure, but there are many more and if you really want a really comprehensive list of local flies, look in the pages of Roger Smith's Fly Fishing the Welsh Borderlands or Moc Morgan's Trout and Salmon Flies of Wales. I doubt there is time, even in a long angling life, to experiment thoroughly with them all. However, I have often thought it would be nice, remembering that old story by Skues of Mr Castwell, to spend eternity below some really difficult and picky trout, steady but choosy risers. I'm thinking of those Lugg fish in the deep hole by the ruins of the old footbridge at Middlemoor. Eternity would be spent working through boxes of dry flies trying to get a result. Some would find that experience fascinating; others infuriating. Would it be heaven or would it be hell? I think I would need a success just now and then to make it heaven.
I suspect I was one of many anglers who will have been pleased, if rather surprised, to read of the 20 million pound fine imposed by a Crown Court judge on Thames Water Co for a series of sewage pollution incidents affecting the Thame and upper Thames. On the way to Oxford, I used to peer over a bridge at the Thame, a pretty little river, although I never fished it. Downstream on the Thames, the polluted Marlow and Henley reaches were once the inspiration for The Wind in the Willows. We have become used to the idea that the wishes of angling and wildlife conservation lobbies are usually shouldered aside by "greater" needs: in particular the need to build more housing estates and supply water and other services to them. Once the problem was industrial pollution; today that is largely solved but instead we have the pressures of a growing population. Privatised water companies, today, are more reluctant to make long-term investments in assets such as reservoirs and new treatment plants. Thus, in a country with a naturally plentiful supply of water, we have become used to the idea that it is a more and more precious commodity. We are certainly getting less than our share of it as urbanisation continues and the schemes proliferate for abstraction, drilled boreholes in the water table and water transfer between rivers. Dams and reservoirs themselves have their downsides when we consider the needs of migratory fish. The problem of sewage pollution should have been resolved many decades ago. And yet we constantly hear the refrain that "exceptional flooding" resulted in a raw sewage overflow into a neighbouring river. Note that the overflow pipe always leads into the river - the fall-back scenario - although personally I would like to see the overflow pipe poised above the water company CEO's office carpet! In this case, it seems that the water company had a history of non-cooperation with the regulation process and for once the judge decided to impose an appropriate fine, one which could not be regarded by the company as just part of the cost of doing business. We are informed that measures will be taken to ensure that the cost of the fine is not handed on to the customer, but will come out of profits. Bravo, is my reaction to that decision! I suppose there might be an appeal.
Following the pollution incident on the Llynfi last year, the WUF's Llynfi Sirhowy AA beat above the tributary's junction with the Wye will be open this spring, but anglers are being asked to return everything caught. Also, those responsible for the Llynfi's fishing would be very pleased to read in the reports any information about fish seen rising or fleeing, quite apart from those caught. Hopefully this excellent fishing tributary will soon recover as new fish move in.
Two events for your diary: on Saturday 13th May the WUF and LAFA are holding a Wild Streams open day based on the Radnorshire Arms at Presteigne; and on Sunday 2nd July a Tenkara fishing event will be held at the Caer Beris Hotel near Builth Wells. Details can be had and bookings made via the WUF at www.fishingpassport.co.uk/shop or call 01874 712074.
Oliver Burch
www.wyevalleyflyfishing.com
---
February 2017
After what has been, so far, a relatively dry winter with plenty of opportunities for grayling fishing, February opened with a fairly sustained period of high water on all our rivers. A little bit of rain at this time of the year goes a long way and once the Elan valley dams began to overtop again, the Wye kept high for quite a while. I'm not sure I would describe this period as a raging flood, but fishing had come to an end almost everywhere for the first half of the month. The Lugg and Arrow kept up above fishing height with the springs now running full. Only the Irfon, as usual, dropped off quickly into fishing condition, although not many anglers seem to have taken advantage. I admit it was pretty cold during early February and I certainly spent more time indoors tying flies for the coming season rather than on the river.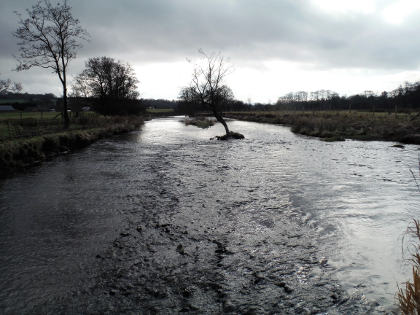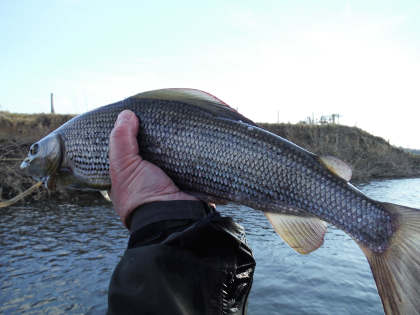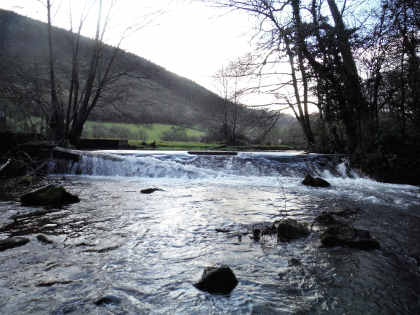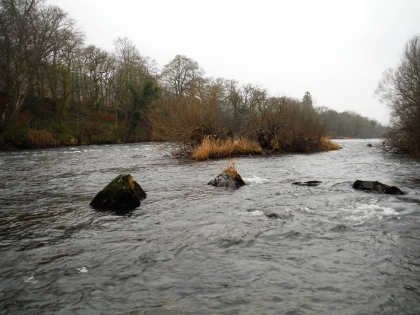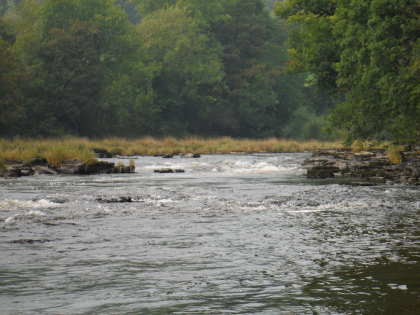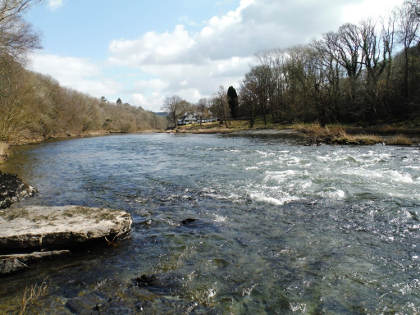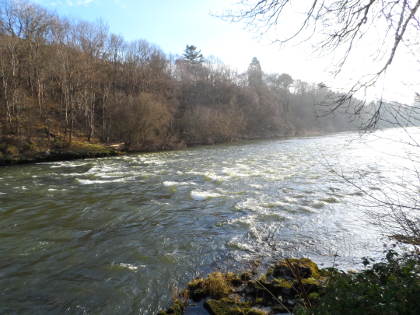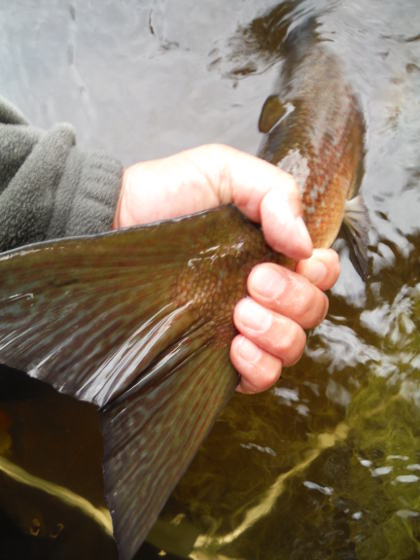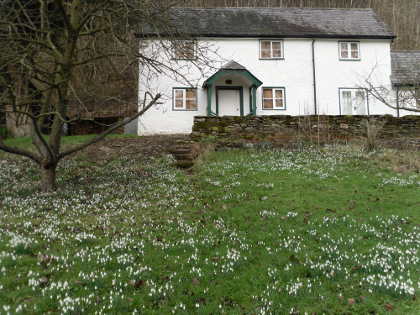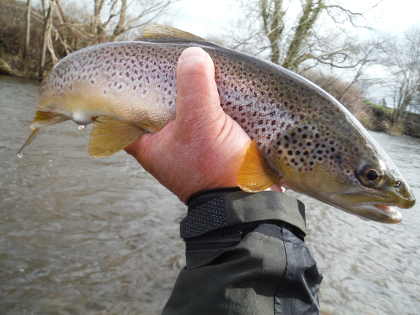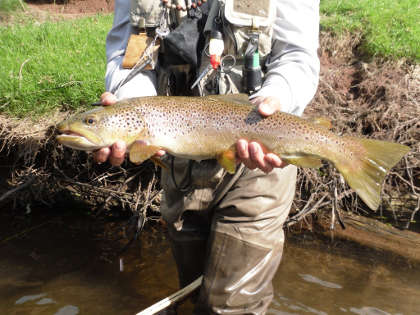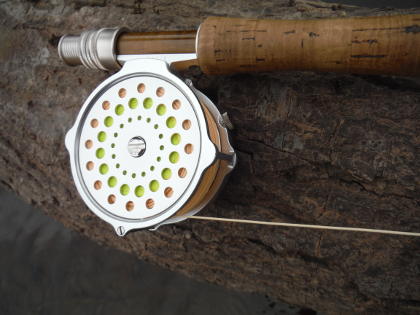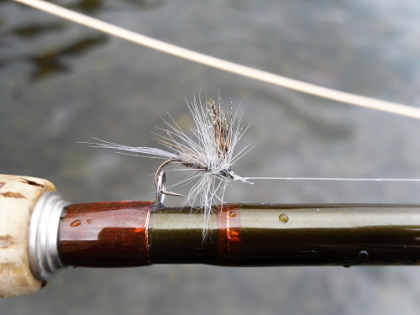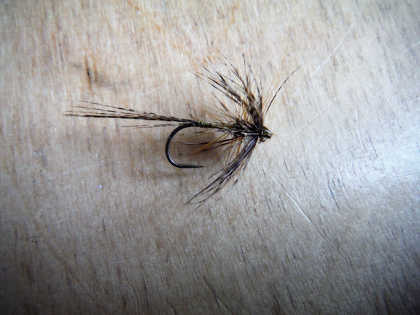 Halfway through the month temperatures rose and we were treated to some halcyon days, the kind that really make you want to go fishing. A few of us did and it was great fun, although the grayling had to be worked for. With some local advice, I got several good grayling from the Ithon, which was a first for me. Meanwhile the rivers were dropping steadily so that the Irfon became quite low and the upper Wye was at a good spring fishing level, as indeed was the Ithon. Only the Lugg and Arrow, slow as always to change their levels, remained stubbornly turbulent, green water swirling around their pools to make it difficult to sink nymphs effectively. On the 22nd it was all change again: although still warm, we had heavy rain in central Wales and a very sudden and steep rise in the upper Wye, Irfon and Ithon to a real muddy flood. The Doris storm swept in and the subsequent showers kept the rivers up so that no fishing would have been possible. The Monnow too, which had escaped the earlier rain, was now in flood. Balancing the water levels with the weather forecast at the end of the month, there seems to be every chance that we will start the new season with high water.
High water also called a halt to pruning activities on the wild streams. That was not so much of a problem as we were already quite well ahead with the work schedule for this winter. What has turned out to be especially helpful this time is the surprising number of people who have volunteered to "adopt" a favourite stream and to make pruning visits. I can recommend this approach as my experience is that if a stream has been trimmed once, subsequent annual light maintenance visits are relatively easy, particularly if you live close by. We all have our favourite or local streams and under this system it seems that much work has been achieved. Thank you to all who volunteered to adopt a stream or to join the main work parties. Particular thanks to the two volunteers who have adopted the whole Monnow system - a not inconsiderable task.
An era has come to an end for me. After a few years fishing the upper Wye at Pwll y Faedda near Erwood, I'm not taking a rod for the coming season, but will try some fishing a little further downstream at Gromaine and Boughrood instead. I will certainly have happy memories of the private fishery at Pwll y Faedda (the Churning Pool), where a magnificent black and white lodge in Arts and Crafts style was built by Lord Glanusk during the 1920s. This is a dramatic half mile of river, with a steep fall, fast gutters and wide pools - in fact almost every kind of upper Wye river characteristic in a short space. I have seen the original fishing log, a very elegant leather-bound volume provided by Harrods, which is still kept in the house. 1928 seems to have been the best of those years in which everybody was concentrated on springers; Lord Glanusk and his guests took 100 salmon averaging 18 pounds by the end of June. Those were the days! Some fishing with worms and prawns went on later in the season it seems, but not so much. There are many stories about this house, including the one that the King and Mrs Simpson were simultaneous guests, but I found no evidence for that in the fishing records - at least there is no salmon in the lists with either E or W written against it! Guests would have arrived by train in those days, the old Erwood station having been just across the river from the house (it's now a cafe). It is said that Lord Glanusk and his gillie used to drive across the pass from the family's Usk estate and his other fishing in a Morgan 3 wheeler. Traditionally much of this beat was fished by boat, but in recent years we have made the best of difficult wading on slippery rock to cover several hotspots on pool tails and in the mouths of rushing gutters. There are also some good gravel flats for grayling and trout. I seemed to lose a lot of fish last year (fellow rod Brian Skinner did better) but I will certainly remember the last salmon I took at Pwll y Faedda, in the final week of the 2016 season. It took a size 6 Bann Shrimp a very long way down in Isaacson's Run, went down further into the backing and jumped three or four times, a big black shape against foaming white water. Rather surprisingly, this one did not come off and subsequently allowed itself to be persuaded to my stance at the head of the pool: a 35 inch hen fish. Brian once described Isaacson's to me as "a flatterer," meaning that it "flatters to deceive," or is not quite the piece of salmon water that it looks to be. I have seen an old photograph showing Isaacson's with a series of useful stone cribs on the Brecon side, now mostly washed away, as well as a boat moored ready for use. It is not so easy to fish now, but salmon certainly still lie under that rush of water.
The coming month? In case anybody doesn't yet know it, we start the new trout and salmon season for the Wye and Usk on March 3rd. Every year, I find it quite difficult to sit down and write on a cold day at the end of February about what is going to happen in March, because so much is about to change. The signs of spring are there all right in February, from snow drops in clusters on the banks, to swelling buds which give distant woods a purple tinge on bright days, lambs in the pastures, early morning birdsong and of course the squabbling and frisky mallards on the pond. There is now noticeably enough power in the sun, when it shines, to warm the inside of the car through the glass. All this is encouraging and yet February itself can be the coldest month of all. Compared to other parts of the country, 3rd March is a relatively early start date for trout fishing. 1st April is more normal in Hampshire and the Home Counties and I can recall individual trout fisheries where the management felt 1st May was quite early enough. It follows that much, or even everything, will depend on the early spring weather and the fly hatches. You can very easily score a blank during our opening weeks. You might also be pleased to score a brace and if you do, they are likely to be very nice fish. Some of the best ones are caught at this time.
Those in the know usually look first towards the Usk for trout fishing at this time of year (the Wye tends to be just a little bit later in warming up, as do the small streams). Now the Usk, often cited as the favourite trout river of Welsh anglers, is a game river from top to bottom, although there are a few coarse fish, chub and barbel, in the lower reaches. I suppose that we could consider the Usk in three sections: the lower part from the tide around Newbridge up to Abergavenny; the middle river from Abergavenny to Brecon; and the upper river from Brecon to Sennybridge and on into the high hills beyond. The main characteristic of the lower and middle river is very much one of a steady gradient and easily fished gravel pools, and for the most part the valley is wide and pastoral. The exception is a rocky section of pocket water and gutters where the stream finds its way through deep gorges around Bwlch and Buckland. Above Brecon the Usk is different, with very little gravel and a steep gradient pouring water between deep salmon pools over sandstone slabs and tumbled broken rocks. Some very fine oaks overhang the water in what is now a narrow upland valley. "An overgrown version of the Escley Brook" somebody described this part of the Usk to me recently and small stream aficionados will understand what is meant by that. Even here there is an exception in the Penpont beat, which certainly includes some rocky sections, but also has gravel pools which are reminiscent of the lower and middle river.
To repeat, likely development of temperatures and possible fly hatches are the important considerations when planning spring fishing, particularly during March and early April. The altitude has a considerable effect on the progress of spring and what happens in the river. The lower and middle Usk valley seems to enjoy a particularly pleasant and favoured climate, although it is difficult to understand quite why. It is here, to my annual surprise, that I usually see the very first signs of growth - new leaves, flowers and blossom. This is always at just about the same time as a dusting of green in the thorn hedges along the Severn estuary, which has the obvious advantage of being warmed by the salt tides. However, the pass at Bwlch, where the valley narrows, forms a definite block to any mild breezes. The high mountains on either side have a cooling effect and when driving up the Usk valley it is always visibly clear that the section from Bwlch up to Brecon is several weeks behind. The higher valley to the west of Brecon is colder still so that by mid-April the spring here seems hardly started, while the tributaries above Sennybridge remain fixed in winter for even longer. You can certainly have a good day on the Usk in early March and with the winter behind them the fish can feed quite greedily. However, so early in the year, any hatch and the day's surface activity are likely to be quite short, even on the lower and middle sections. Personally, I would not start my fishing too far upstream during the early weeks. There is a very nice article by James Beeson in the March edition of Trout and Salmon about spring fishing on the Usk just above Brecon at Fenni Fach. Typically, James and his photographer encountered both fish rising to olives and a snow storm - but note their visit was during last April, not March.
Another matter I might mention is the reputation of the upper Usk for producing particularly large trout. I won't deny that some big ones have been taken between Sennybridge and Brecon, but this has resulted in something of a myth, in my humble opinion. The truth is that almost anywhere on the Usk, including the middle and lower sections, can and does produce large trout: 2 pounders are relatively common and 4 and 5 pounders are encountered every year. What is rather missing from the upper section is the population of smaller fish which I would like to see and I suspect that fish eating birds may be largely responsible. The ones I do catch often show signs of attack. There is a general lack of cover in those open rock-bottomed pools. (At the same time and while on the subject of large trout, don't overlook the possibility of a big one from the Wye, and not just from the upper river. The biggest river brown trout I ever saw was in the Wye - and no, I'm not saying exactly where! But the Wye certainly carries large trout, right down to the tide along with its coarse fish and salmon. Any salmon angler who spins or fishes fly on a sinking line in the middle and lower Wye during the spring will very likely tell you stories of superb brown trout encountered by accident. I suspect that, on occasions, what are reported as sea trout / sewin, actually quite rare in the Wye, are in reality misidentified brown trout which particularly after a long winter of muddy floods can be quite pale or even silvery in their colouring).
From March onward, nature is likely to be making some rapid changes which the angler can take advantage of if he plans his day intelligently. There is not much point in being on the water first thing in the morning in a white frost. But with a bit of luck, from 11 o'clock until mid-afternoon there might be some exciting surface fishing, even at the very beginning of the season. Rather than repeat myself in detail, I need to refer you to the newsletters for February 2016 and 2015 which you can scroll back to at the top of this report. The main points to remember are that we can expect three significant spring hatches which, in recent years on the Usk, have followed each other in fairly close order. For that reason we need to discuss them this month. The first fly, one which we been seeing on the surface in small numbers right through the winter, is the large dark olive, Baetis rhodani. This creature doesn't mind cold weather at all and should be around on most days. It's a common sight on all our rivers. Expect it from lunchtime on, although hatch timing may vary between pools. Trout just love them and I always say to myself that by the time I have spotted half a dozen dark olive duns floating down on the surface, a rise is going to start for sure, and normally the individual rises are eager, splashy ones, giving the impression that fish have been starving for months. Even if this only occurs for 20 minutes or half an hour of the day, this is great fun and a sign that winter is leaving us and that another mild season is on its way with more months of dry fly fishing to come. What's more, you might get a big fish because some of the best trout can be almost naïve at this very early stage of the season. Lately for a dry pattern I have been using the Bastard Adams by dear old Stuart Jarvis or the northern Olive Jingler, although others might suggest Oliver Kite's Imperial. Personally, I'm getting very fond of the Jingler. It is one of a family of flies, including the Gosling mayfly patterns, which combine a short stiff shoulder hackle with a few turns of something long and soft like partridge at the head - see also Dai Lewis' March Brown below. There seems to be something very attractive to trout about that slightly messy and tangled combination. And I have always liked the idea of combining two hackles of different colours - look at the success of the Adams. If fishing wet, the Waterhen Bloa is a highly effective spider pattern to imitate large dark olives. Incidentally do not be confused either by photographs which are not to scale or that "large" adjective in the latest English language name of Baetis rhodani. The "large" is only there to distinguish it from another called the small dark olive, and I always thought the earlier description "spring olive" was a better name. (The old anglers and writers, Ronalds for example, knew it as the blue dun although Goddard assigned that name to the medium olive). In reality the large dark olive we are discussing here is quite a small fly (a female might be 3/4 inch from head to tip of tails) and a little grey sailed boat is about the impression of its tilting wing you will get when you spot it on the water.
So we will see what happens in early March, famous as the time of the large dark olive, remembering that we may yet have an arctic blast. I can remember climbing out of the Wye at Goodrich while fishing for salmon during opening week and hearing a distinct crackling sound as the water on my waders froze to ice in the scouring east wind. That was the end of a cold dry winter and the river that year was full of kelts. This year, judging by the river levels now and the rain currently forecast, we are going to be faced with high water on opening day. Never mind, I'm going to be optimistic from the start about the trout fishing and at the first opportunity I will probably be out on the middle or lower Usk with two rods, one of them a 10 footer made up with a team of spiders, two of which will certainly be Waterhen Bloa and either Dark Moorgame or Orange Partridge. I can experiment with the point fly, but a nymph may well be used there if fish are reluctant to come up. A traditional wet fly such as a Greenwell can also work on the point at this time of the year. The 9 foot rod will be made up for dry fly with an Olive Jingler or similar. Hopefully there will be a little bit of sun, a few dark olives will come tricking down the foam line and I will be watching for the first rising fish of the season.
Next we should hope to see the march brown. As every year I will be holding my breath for the appearance of this famous fly, once thought to be extinct on the Usk and in any case more generally known in Britain as an April emerger despite its name. For the last few years, it has appeared on the Usk in good numbers, and presumably due to recent mild winters it has kept true to its name and hatched from about the middle of March onward. It comes in a series of flushes and several hatches of about half an hour each may occur on the same day. It is has also been appearing on the Wye lately and hopefully we will see it on both rivers again this year. Now this one is a large fly, the dun being about 3/4 of the size of a mayfly or 1:25 inches from head to tips of tails and the dark speckled brown colour of body and wings should make it unmistakable at this time. (The large brook dun, sometimes confused with the march brown, comes much later in the year and has a yellowish tinge to it which should make the difference clear even at a distance once you have seen it a few times). The Usk does not have much of a mayfly hatch, but the march brown makes up for it in every way because the fish react with the same kind of enthusiasm associated with the white mayfly. The artificial March Brown designed by Dai Lewis works well as a dry fly, but a large Deer Hair Emerger, although a generalist rather than a strictly imitative pattern, seems to do even better. Woodcock and Hare's Lug seems to me to be a better spider pattern than some of the specifically designed March Brown wet flies. There are also some local traditional down and across wet fly patterns, such as the Brecon Cob, which certainly do work.
I am going to mention a third natural fly here too, because while the grannom sedge is commonly associated with sunny spring weather and mid-April hatching, we have seen it on the Usk during March on a few occasions recently. Again we assume the warmer winters are also responsible for this earlier appearance. The Test used to be famous for its mass hatches of grannom, a fly which Halford and his contemporaries used to find very exciting. On the Usk, it has lately been slightly uncertain, but you have a good chance of coming across it on the middle or lower river at some time during the spring. This fly does appreciate a sunny day and hatches can develop quite suddenly, anywhere from morning to afternoon. The action can be frantic but is also likely to be brief, and accordingly you need to be ready. A mass hatch of this little caddis fly measuring less than 1/2 inch is unforgettable, like a storm of whirling scraps of brown paper. It is likely to start suddenly and to end suddenly. However, a trickle hatch which lasts for sometime might be more useful from the angling point of view and you also see these on occasions. I see from the notebook that last year on 25th March (Greek Independence Day, why not?) I saw a good hatch after lunch at Chainbridge on the lower Usk, in the fast broken water above the bridge. This was while I was salmon fishing but an F-Fly got a few after I put the big rod away. Dave Collins has designed some emerger patterns for the grannom to target them on the surface; personally I like to try fishing a team of spiders during this hatch. Hare's Lug and Plover works well enough, but recently I discussed with Louis Noble a version of his own spider design which I will try out this year. See below:
Louis' Partridge and Green
Hook: Size 14 Kamasan B405
Body: Green Pearsall's silk
Rib: Brown Pearsall's silk
Hackle: Greyish-brown partridge
That should be enough to be going on with for the Usk during March. The small streams, at the beginning at least, will probably need to be fished with a nymph for a while until fish begin to rise. On the brooks I keep this operation very simple, casting a single weighted nymph upstream on the dry fly outfit, watching a greased leader butt for takes, chalk stream-style. The upper Wye should also be in action before the month ends.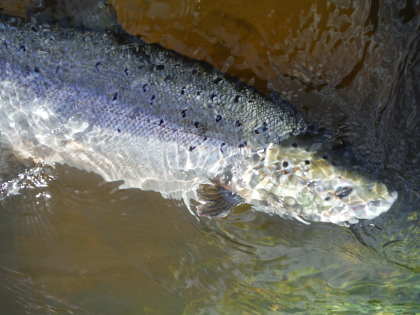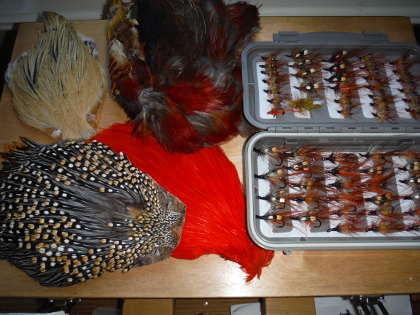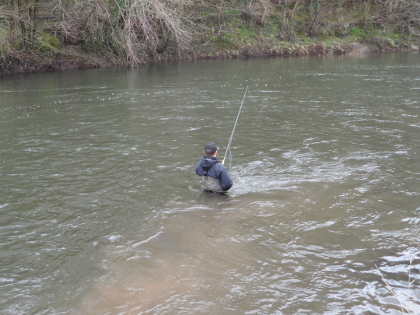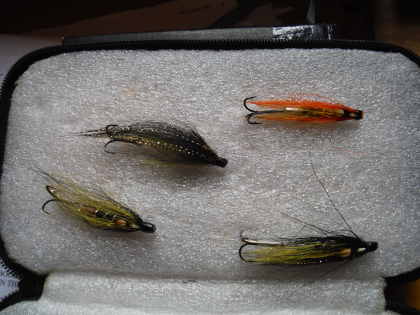 Alternatively, there is the chance of a spring salmon from the Wye. A few years ago, I wouldn't have troubled about this on the basis that the odds against success were very long and that it made much more sense to go trout fishing. Today, it seems like a plan which might just work out. The Wye has been improving and it is the spring run, that for which the river was once so famous, which has been creating most interest. Springers run slowly and the big question is how far up have they travelled and what part of the river to try? The first part of the winter was cold and dry, presumably good for effective spawning, and then many will hope that the high water of February will have been enough to help some springers move well upstream. The 2015/6 winter, of course, was one of extensive floods, and last spring the first fish was a big one taken on the upper river after the waters receded enough to permit fishing. It's possible that springers will have moved so far up as Erwood in the present high water and certainly the upper river will come into fishing condition first. If I had to put money on it, I would guess that this year the lower or middle river, below Hereford at least, will be your best bet for a March or April salmon fishing day, but let's see what happens. The Usk is a slightly later salmon river, but a few should be arriving in the lower sections before too long.
And finally, still on the subject of migratory fish, all through the last year Welsh angling club members have been arguing amongst themselves about the situation of salmon and sea trout stocks in the principality. The debate has been provoked by the consultations invited by NRW and the revised conservation by-laws that are under consideration. By the beginning of this year, it seemed obvious that there would be no regulation changes in time for the 2017 season. Now NRW have issued a briefing to local fisheries groups confirming that there will be no changes for 2017 (really because consultations, necessarily complex, have run out of time), but emphasizing the reasons for concern. These include poor salmon results in almost all Welsh rivers, excepting the Wye which shows some signs of improvement,and poor sewin results in around half of Welsh rivers, particularly in the south-west. The low parr counts of 2016 in a number of Welsh rivers only add to wider worries about migratory runs on rivers in England, Scotland, Ireland and France. The NRW brief makes it fairly clear that extended catch and release legislation will be coming in 2018 and adds a plea to anglers that meanwhile no salmon be killed during 2017.
A big problem here is that NRW's statistics, based on submitted catch returns, are certainly inaccurate and therefore open to challenge. A large number of anglers fail to fill in the returns. (One might suggest that NRW decline to issue new rod licences to those who have failed to submit returns in previous years, but I doubt the organisation would take any action likely to reduce the revenue stream). In fact any catch figures we have from any source are likely to be below the true ones. Unfortunately there is a long tradition among some anglers of playing cards close to the chest and thus avoiding revealing good fishing to competitors. From the information we do have it seems pretty clear that fishing for Welsh salmon and sea trout is getting worse, but it is almost certainly not quite as bad as the NRW figures indicate. Another subject which may be problematic is that of hooks and fishing methods. There are certain small overgrown rivers in Wales where fly fishing or even spinning have never been really viable methods, but continued worm fishing is surely not going to be possible with a catch and release regime. NRW will also be considering acceptable hook patterns for C&R. I have no doubt that the outrageously large trebles which have been used on Flying C lures in the past have killed numerous deep-hooked salmon and many or most anglers would like to see those banned. But is it also the case that smaller trebles used on Devon or Quill Minnows are so harmful? Similarly, the Rapala lure equipped with small trebles usually seems to be taken sideways and I don't recall seeing a salmon badly injured by one of these. Tube fly trebles to size 10 or 8 also seem to come out quite easily and the low water double or small treble fly fishing hooks most people use during the warmer months, barbed or not, seem to get a good hold without doing undue harm. In the case of sea trout, there seem to be some nights when almost any hook combination can be avoided by the quarry with infuriating tweaks. So will NRW be insisting on barbless singles? These are only my own observations, not those of the WUF, and I'm open to advice; most salmon and sea trout anglers, whether they fly-fish, spin, or both, seem to have their individual and strong opinions.
Game fishing in Wales for migratory fish has a distinctly conservative aspect to it, even by the conservative standards of British game fishing as a whole. While voluntary catch and release figures have improved, there are plenty who feel angry at the idea that the decision whether to keep or release fish is going to be taken away from the angler, whether responsible or not. "If I can't keep the odd fish for the pot," you hear, "well the hell with it, I'm not going to take up a licence next year." The same aggrieved lobby will also protest that if fish cannot be kept the membership of angling clubs will fall away and thus threaten their financial future, and also that the wider rural economy will suffer. The NRW invariably comes in for a good deal of stick, due to the feeling that anglers are being unfairly punished while the fault lies elsewhere: commercial fishing in the Atlantic, estuary netting, seals, fish eating birds, agricultural pollution and all the other worries. There is also an idea that paying the NRW licence fee somehow entitles anglers to keep fish, as if they were being purchased: "What did the NRW ever do for us?" Well, I could answer that one at length, just like with the Romans in the Monty Python sketch. I will confine myself to stating that I do support catch and release and have done for some time, if only because it puts anglers on slightly higher moral ground in the blame games which are doubtless to come about fish stocks. And obvious as it seems to state the point, it's a lesson of life that people very often do not do what they threaten to do. I do hope that those talking about hanging up their rods in frustration will think again, because I'm pretty sure that those I know, most of them very good anglers, actually fish for the love of the sport rather than for obtaining food for the table, whatever they may be saying at the moment. And I would finally point out that the same kind of threats were being made a few years ago at the time that a total ban on killing salmon was applied to the Wye. There was an idea that salmon anglers would abandon the Wye en masse and move to the Usk where salmon could be killed later in the year. It didn't happen. In fact, while the Wye is moving against the trend and showing some improvement in catches I am fairly certain that sales of salmon fishing tickets on the river will continue to rise. While there are fish in our rivers, there will be anglers keen to fish for them.
Tight lines for March!
Oliver Burch www.wyevalleyflyfishing.com
---
January 2017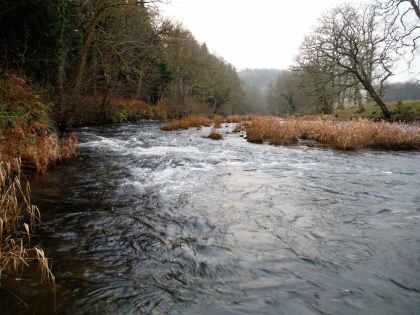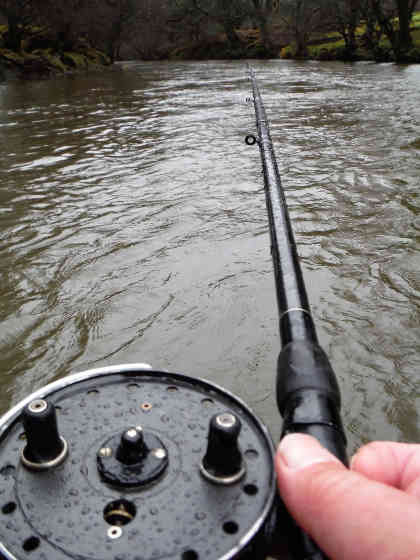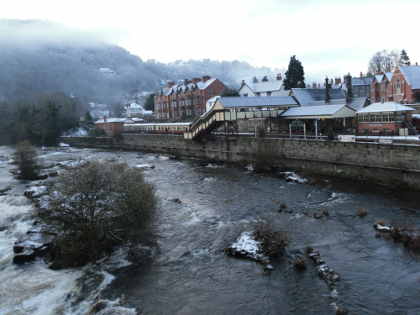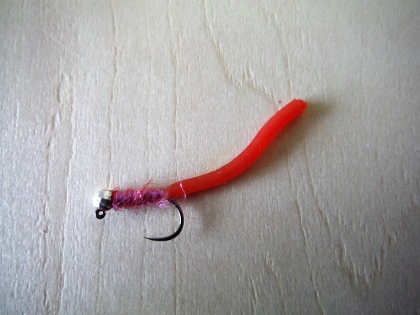 It is probably fair to state that grayling fishing is rather more difficult during the late winter period compared to the weeks before Christmas, although there are certainly exceptions to that rule. There always are in angling, aren't there? This is not just because of the January and February weather, which despite the slightly longer days is likely to be harsher on average with lower temperatures, but rather because grayling do tend to coalesce into tighter shoals now and they forage around much less. This is great if you manage to find yourself in front of such a pack of grayling, but you can find yourself roaming over large areas of river which are virtually untenanted until you locate them. Nor do the shoals necessarily show up in the same places every year. I recall a wonderful afternoon in January, albeit a cold one, a few years ago. I was on the Glaslyn Pool of the Irfon's Cefnllysgwynne fishery when I stumbled upon a huge shoal of good grayling right under the water falling in from the falls at the top. This is not what you would call a typical grayling lie, involving a rocky bottom under a waterfall with at least 6 feet of water over it. I was trotting maggots, but hooking fish under the rod top in the foaming water right in front of my position at the head of the pool. I connected with fish after fish and eventually worked up to catching 20 grayling from that one spot. Unfortunately I must have lost at least another 10 when hooks straightened out and they kicked off. I was experimenting that day with some little coarse fishing maggot hooks, spade hooks to nylon, which may have been good for roach and dace, but not for hefty grayling to be tackled in a big current. I called an end to play at 20 fish netted, which seemed more than enough disturbance for one shoal on a single day, although the bites were still coming. And of course I hoped this might be repeated during subsequent seasons, but I never again found the grayling in that particular place in such numbers.
This particular January to some extent lived up to my expectations for a dry, cold winter. We had a couple of halcyon days during which temperatures struggled up to double figures, the sun shone for a while and birds were singing. But mostly it was a month of raw, cold weather, often with thick fog and clouds over the valley. There was a gale of wind on the 11th, when continental high pressure relaxed its grip for a while. There were a few showers in central Wales to produce short-lived rises on the Upper Wye and Irfon, but overall it remained fairly dry until the last few days. The Lugg, Arrow and Monnow remained in good fishing ply for weeks on end with plenty of opportunities for those minded to try for some late winter grayling. Only at the end of the month did steadily increasing rains bring fishing to a stop.
I have seen the report for the European Grayling Festival which was held on the Welsh Dee at Llangollen during early December, with the river apparently in excellent condition. During three fishing sessions, 36 teams each consisting of three anglers took a total of 1009 grayling over 20 cm, the best fish of the match being a wonderful specimen of 49 cm (just over 19 inches) taken by Belgian angler Thierry Hockers. The winning team was Ireland's Iron Blues with a total of 74 fish, including 39 for team member Peter Driver. Personally, I'm not a huge fan of match fishing as a pastime, but I did compete in this event a few years ago and enjoyed myself. "Oliver's Army" as some wag called our team came somewhere in the middle of the field and not particularly due to my efforts. If you fancy dipping a toe into the match fishing scene, the Festival might be a good place to try it.
Let's go on with some reports of holiday fishing which didn't make the cut for the December newsletter. On the 30th of the month JD from Hereford, one of our regulars I believe, had 5 small grayling on a nymph from Llangoed and Lower Llanstephan. On the same day, PB from Cheltenham had 14 grayling from Lyepole. In fact PB, whether he knows it or not, passed a milestone with this report: to my knowledge this is the first recorded instance of an angler admitting to the use of a certain nymph pattern known as a "Squirmy Wormy" on WUF waters. Now surely, I thought on reading the report, this is going a step too far? Whatever can we expect next after PB's momentous confession? People will be fishing our rivers with Alexandras, I shouldn't wonder. In fact I'm not really well positioned on the higher moral ground in this case and probably I should apologise to PB at once. This is because I must now admit that I also have had a rubber Squirmy Wormy living in my fly box for a while. This was given to me by Rob Evans, who lacks moral fibre of course and has rows of the things. For a long time I didn't use it (my conscience was troubling me for even thinking about it), but everybody in competition fishing was telling me that as soon as I did, all inhibitions about them would vanish because they work so darned well! Now comes my own confession. A couple of weeks ago I found myself struggling on Lyepole, where conditions looked reasonably good, but none of the usual tactics seemed to be working. Eventually, mindful of PB's earlier success, I felt more and more tempted to look at the Squirmy Wormy lurking there in the corner of my box. It seemed at that moment to be actively coiling like a snake around its mounting hook. "Get thee behind me, Satan," I muttered under my breath, but then, being more or less desperate for a fish or two, I succumbed and tied it on. It would be good to report that I caught a huge bag of grayling thereafter, but in fact I lost it on a snag within 5 minutes. So that is twice at least that the SW has been used on WUF waters. More on the notorious Squirmy, the Evans fly boxes, and indeed other kinds of worms later in this letter.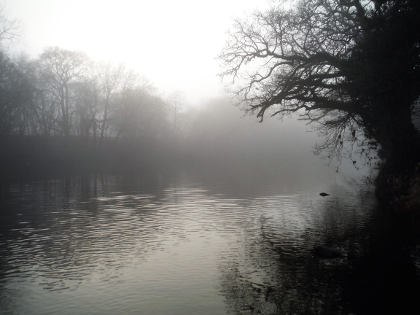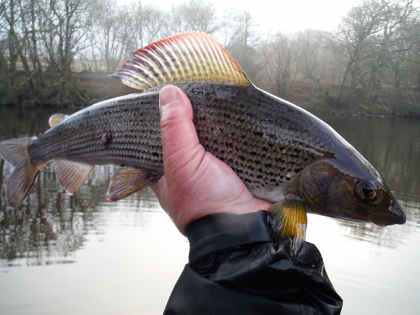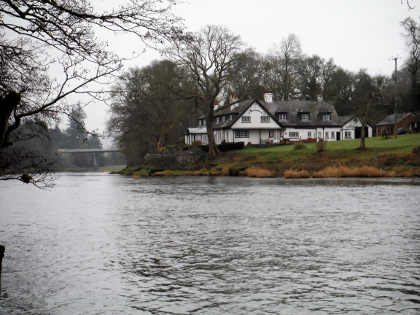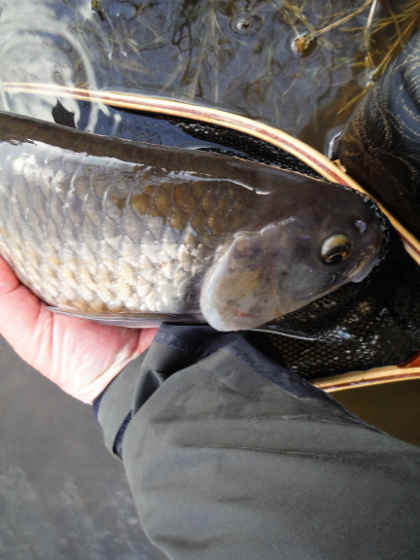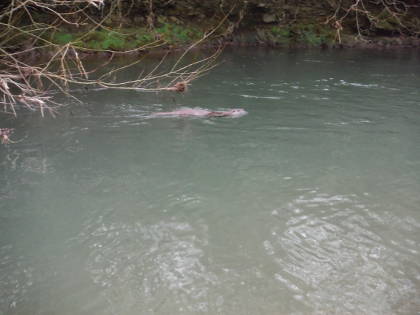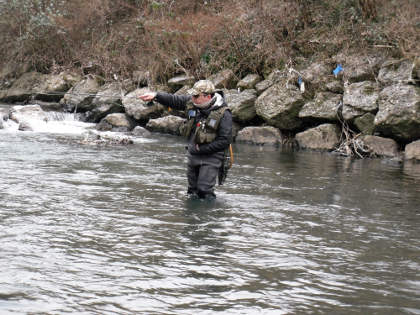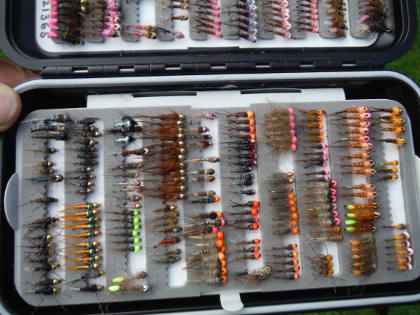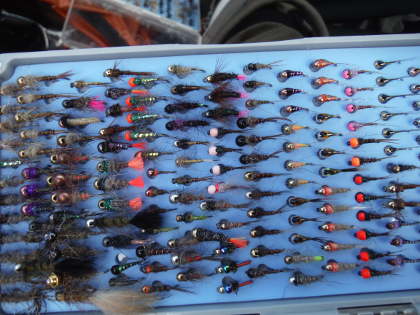 Back to the reports. DJ from Evesham fished Lyepole on the 2nd January and scored 8 small grayling with a nymph. Also on the 2nd, DM from Redditch (now there is a classic fishing address for you, as Redditch was once the beating heart of Britain's tackle industry) used a stick float and maggots to get 4 grayling from Court of Noke. Not a huge number, but with two at 16 inches, one at 15 and one at 14 inches, an impressive bag of grayling for a little stream like the Arrow. He also saw the otter and also got his car stuck for a while on the icy grass of the car park - which all sounds rather familiar! On the 3rd, in very difficult and cold conditions, PJ from Abercynon fished Craig Llyn with three other anglers and between them they got 6 grayling. Again, that may not sound so impressive for four anglers, but 5 of these fish were taken on dry flies during a large dark olive hatch. You must admit that any ephemerid which goes for a hatch during a January frost is a plucky little creature; full marks to the grayling for rising to the occasion, and full marks also for the anglers who managed to do the same. Here comes this month's exception. On the 7th, AS from Newent had a really superb day in good conditions on the Lugg at Eyton, taking 15 grayling on small baetis nymph imitations. Five of these fish were between 16 and 19 inches. Before reading this one, I was about to remark that Eyton and other beats are being rather under-fished this winter. Lyepole isn't the only grayling fishing option in North Herefordshire, you know! Similarly, Craig Llyn is not the only option for the upper Wye and nor is Cefnllysgwynne the only place where the Irfon is worth fishing. Perhaps it might pay us all to spread the angling effort around a little more.
On the 11th, AM from Worcester tried trotting maggots at Court of Noke for a few hours without result, but then repaired to the fly rod and got a fine grayling of 17 inches with a Hare's Ear nymph. I would have been very happy with such a fish from a small stream like the Arrow. I remember the 11th as the day of the big storm. During the morning I was trotting, or trying to, on the upper Wye at Pwll y Faedda, but gusts of wind to 50mph were making it more and more difficult to stand up in the river without being blown over and disappearing downstream. Occasionally there was a loud crack as branch came down. Moreover it had obviously rained to some extent in Central Wales and the Wye was coloured and rising slowly. I did catch a 14 inch grayling and then one of 10 inches, followed by a loggerhead chub of something over 3 pounds, but then I just had to try a safer spot before the gale toppled me in the river. This new place was just off the steps running down from the French windows of the house, not normally known as a grayling spot, but at least the exposure to the wind was slightly less. Here in the House Pool I hooked something large in deep water. Through the murky current there was a sight of a bronze flank and big scales so that I quickly realised it was not a grayling, but yet another large chub. Oh dear, that's not good, I was thinking, I do hope this isn't one of the pet fish the lady of the house has a habit of feeding from the terrace steps? Once secured, it only just about fitted into the net headfirst and as I took the size 16 maggot hook from its lip it promptly coughed up about a slice of fresh white household bread which it had obviously eaten that morning. I apologised profusely to the fish as I released it with an additional guilty glance over my shoulder at the windows of the house. I gave the struggle up by lunchtime as the wind showed no sign of calming and the river was still rising. As a tree had by now blown down across the drive, thus blocking my car inside the property, I was more than grateful when a chain saw team arrived to clear the road.
On the 14th, AS of Newent fished at Eyton again and had 9 grayling to 15 inches, reporting that all the action took place during the hour after midday. Eyton was fished again on the 21st by BR from Abergavenny, who had just two small grayling, but experienced the charming sight of no less than three otters emerging from their holt. At the same time he couldn't help but wonder what effect the resurgence of otters is having on the fish population? I wonder the same thing sometimes, but any evidence on the subject is likely to be anecdotal. Our tolerance of or dislike for predators is, after all, rather illogical and anthropomorphic in origin. Thus most of us like otters, quite like kingfishers, are probably ambivalent about herons, hate mink and goosanders, and really hate cormorants. If we are realistic, they must all be doing a certain amount of damage. For myself, when I see an otter I smile and try to comfort myself with the idea that what they really like eating are eels. It's a nice thought, but I have seen an otter with a trout or a grayling often enough. Also on the 21st, ST from Swansea with two friends had a dozen grayling from Gromaine and Upper Llanstephan. On the 23rd, MN from Bristol had 6 to 14 inches from the same beat. And on the 25th, BS also from Bristol had 5 small grayling on nymphs from Abernant. After this, the increasing rains resulted in more difficult conditions through most of the system. On the 28th, SC from Llandeilo Graban and AC from North Somerset were two anglers who did their best, SC on the Ithon at Llandewi and AC on the Irfon at Cefnllysgwynne, but were stymied by rising floodwater. SC noted a dead sheep on an Ithon sand bank. Somehow there's always a dead sheep drifting along when a river comes to a proper flood, isn't there? January ended with fishing at a halt again due to high water.

Once a month, by tradition Lyn Davies, Rob Evans and I meet in the Black Horse Inn for a glass and a dinner before the committee meeting of the Pontardulais Angling Association. Lately Lyn and Rob seem to be talking constantly about the hunt for exotic materials needed to construct more and more weighted nymph patterns. Although I used to experiment with a lot of nymph patterns, these days I'm known for my "all you need is a few good tools" approach to tying nymphs and other flies too. However my friends, particularly Rob, are far from convinced. "Matches are won on the fly-tying bench" he is in the habit of remarking sagely with a very serious expression. Every time I see him he seems to have a new magic nymph pattern. I fall back on history and point out that an expert such as Frank Sawyer used just three nymph patterns and Oliver Kite after him never felt the need to go much beyond one good baetis imitation - Sawyer's famous Pheasant Tail Nymph. "I only use this one pattern of nymph," wrote Kite referring to the PTN, "the one I began with... I have not found any other necessary." Eventually he graduated to using an even simpler ball of copper wire on a bare hook and still had good results. For myself, after a lot of experimenting, I came to the conclusion that baetis nymphs of various kinds and gammarus shrimps in numbers exist in all our waters, and also that I'm quite certain that no trout or grayling is likely to miss investigating anything which looks like either of them which comes near. So by all means let's have a good pattern for each. But in which case, why do we also need to imitate peeping caddis, rhycophila, hydrospsyche, stone fly creepers, heptagenids and every other type of crawling beastie in colours both natural and distinctly weird? There is an answer to that posed question: because it pleases so many of us to do so! Besides, this simple fly selection philosophy of mine or my quoting of angling history impresses Rob not a jot. And Rob's colourful fly boxes are a sight to behold: the one I published in the September 2016 newsletter (Purple Haze) attracted a lot of attention. So, purely in the interests of you, the reader, the other day I had a private discussion with Lyn, after which he held Rob down and suppressed his wild cries while I went through his car boot and photographed the rest of his nymph boxes. Here they are for your attention. And the only further comment I can make is that Mr Evans seems to catch plenty of fish with them.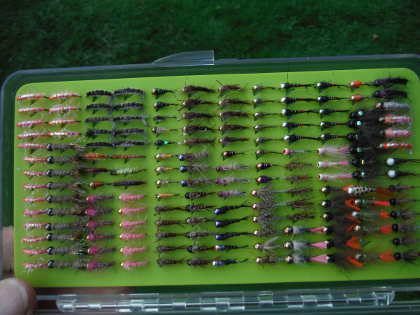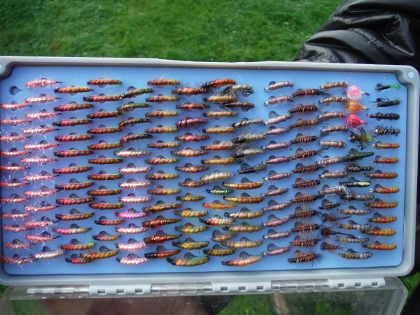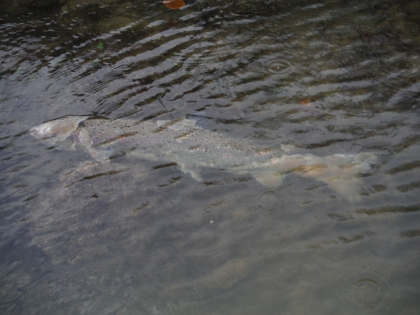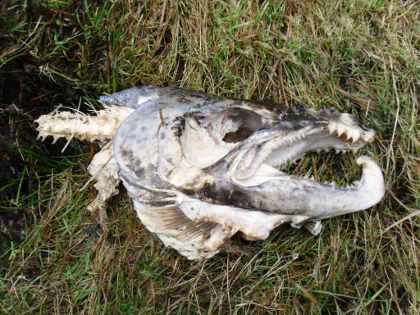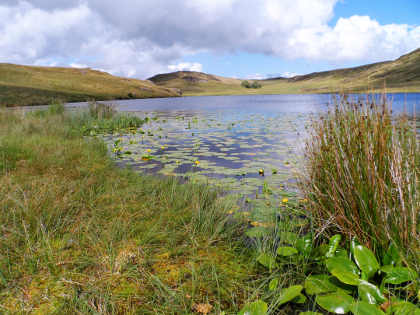 After an episode such as the Teifi pollution reported last month, you perhaps wouldn't expect me to be encouraged by the sight of rotting fish along our river banks. But in the case of the salmon, it's exactly what we hope to see and even to smell in January; it's after all only evidence that nature has completed the life cycle of this remarkable creature while so many circumstances conspired against it. A couple of years ago during January I was grayling fishing at Abernant, taking fish steadily with the trotting rod. Early on in the day I became aware that a large hen salmon was wallowing around the slack water at the head of Stone catch. Half covered in fungus, the fish, which judging by its girth had spawned successfully, was now in the last stages of life. It was in one way a sad sight, but there was also in it something of grandeur if one could appreciate the sacrifice made by the individual for the species. By lunchtime she was upside down in the shallows, gills still working convulsively; by mid-afternoon she was dead. In fact a significant number of female kelts of Atlantic salmon do survive, eventually to make a second spawning run. Before they regain the sea we catch them by accident in the early spring of a low water year, silver again now ready for the salt, but unnaturally thin. However, most of the male kelts, which remain longer up-river in the region of the newly created redds, are dead before January is out. The corpses are quickly cleaned up by various scavengers, but heads and tails remain for a while as evidence of the giant fish which visited us from the ocean and whose descendants are now alive and growing in the gravel.
The WUF rolled out the new Passport website on the 23rd, and I have been exploring it since. Essentially this takes the various activities which used to be under the "Booking Office" section and places them on a separate site linked to the original WUF one, displaying the information in a new and rather more pictorial way. I had to call the Foundation a couple of times for help when I got into trouble but, elderly technophobe as I am, even I now seem to be able to navigate around it. Try it out and see what you think. I gather that once any initial glitches are ironed out, some new features and capabilities will be introduced. One bit of bad news, actually pointed out by a client, is that Llyn Bugeilyn is no longer on the Passport for 2017. Apparently the sporting rights were auctioned last year and the new owner is not minded to market tickets via the WUF. The owner may change his or her mind in time as new owners often do, but in the meantime I am going to miss this one. Not exactly an easy place to get to - 110 miles from my front door and you need a 4WD for the last section - but it was always an adventure going up to Bugeilyn, even when the weather was horrendous. As a compensation, the Passport does now have other upland lakes for those feeling like an adventurous trip, perhaps over a weekend or longer. These are the lakes at the head of the Teifi around Tregaron and a greater number around Blaenau Ffestiniog in North Wales which were once the home of a school of mountain fly-fishing developed by slate quarrymen - read Plu Stiniog: Trout Fies for North Wales by Emrys Evans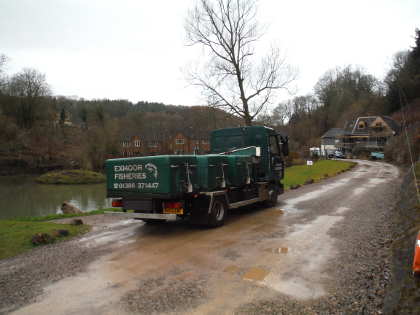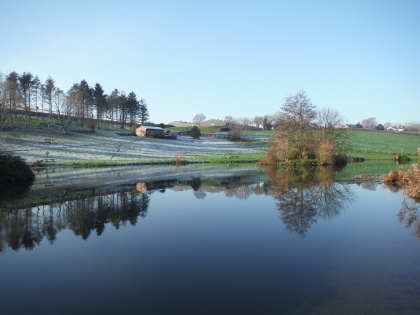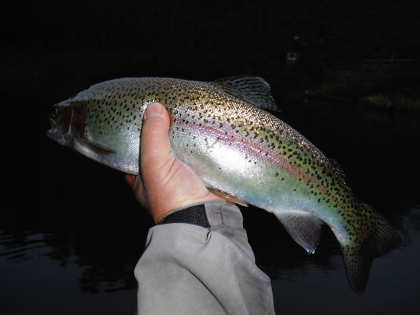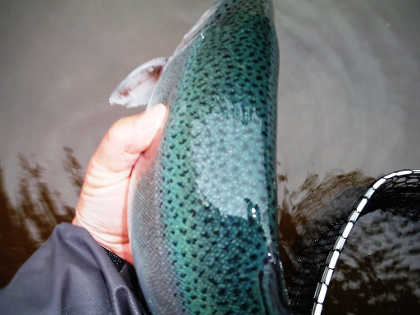 There are of course times when there is no river fishing to be had due to floods, and normally this happens more often in winter than during any other season. Having no dog to walk and being unreasonably obsessed with a need to go fishing somewhere, somehow, even if grayling are not on offer, I generally start such wash-off days by at least a few hours of chasing rainbow trout. We are well-placed for this in the Forest of Dean, with two private syndicate fisheries stocking Exmoor-bred trout into old hammer ponds in wooded valleys. I belong to one of these, but when a change is needed, there are also some quite nice commercial waters open to anybody, such as Woolaston Court where lakes lie in open country with a distant view of the Severn estuary and then of course the fisheries notched into side valleys of the lower Wye, such as Ravens Nest near Tintern, Fairoaks up at St Arvans, Broadstone above Monmouth on the Staunton road and Big Wells near Redbrook. Most winters I encounter at least one longer period of floods when I do the rounds of them all. The stream-fed pools will eventually colour up for a while during very heavy rain, but it's worth remembering that the spring-fed pool at Big Wells stays clear whatever the weather. And also, by the way, when the weather turns really cold it remains reliably ice free as the incoming spring runs at a constant temperature. I can remember a chilly day here a few winters ago when Hywel Morgan came all the way to Redbrook from West Wales with a cameraman to make a fishing documentary, having no closer option.
Since the advent of triploid rainbows some years ago (effectively all the fish are neutered females), there is no spawning or loss of condition during the winter, a time when the fish in the pools are actually at their best. Trout are normally stocked at 2:50 pounds, a size which is relatively cormorant-proof, but owners will normally try to please their customers, at least the impressionable ones, with a few larger fish up to double figures. You come across the occasional stocked brown or the rather attractive blue trout, which is a rainbow colour variant. The fisheries themselves are invariably friendly places and in most cases include a heated fishing hut with tea, coffee and maybe bacon and eggs on offer. This is the social aspect of fishing and the clientele tend to be retired working men who treat themselves to maybe one fishing trip a week spending a morning in the fresh air, then enjoying the chat with a bacon butty and a mug of tea before taking a couple of rainbows back to cook at home, assuming they don't take the catch and release option. For the most part these won't take their fly fishing any further, but you also meet the odd youngster, new to the sport and keen as mustard, who will probably get into river fishing and wild fish sooner or later.
There are many more such fisheries in the Cotswold side of Gloucestershire, based on old gravel pits. More recently, similar establishments have opened to accommodate the local clay pigeon shooters and the format seems to be much the same - an opportunity to shoot at 50 or 60 clays on a frosty Sunday morning, a cup of tea, bacon sandwich and a pleasant chat. Overall, the commercial lakes are excellent places at which to introduce beginners to fly-fishing and casting practice on grass is possible at many of them before starting on water. For some reason I am feeling the need to be slightly defensive when writing about this kind of fishing, but on reflection I am not sure why. I accept that commercial fisheries with their stocked rainbow trout are far from natural, but they do keep a lot of anglers happy. As indeed do the chalk streams, where many or most of the beats are similarly stuffed with stocked fish. There are almost certainly more fly fishers these days than wild-fish rivers can cater for.
I dropped into Big Wells during the New Year holiday and found that they were engaging in a single malt tasting session in the fishing hut. Given that it was 7:30 in the morning, this was something of a surprise, although a very seasonally appropriate one. Somebody had a bottle which, he explained, came from an island distillery where the tide regularly invades the cellars and over the years somehow imparts a slight iodine flavour to the liquor through the wood of the barrel. A bit far-fetched, I thought while sniffing and sipping, but if true it would be another reason apart from trout fishing to head north to the Machair lochs of the Outer Hebrides. One day, perhaps.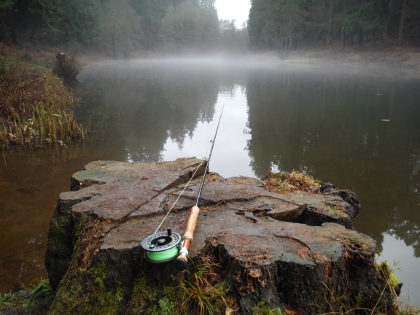 The chat went on and it was slightly later than usual when we all piled out into the cold to make up tackle, scratch our heads and address the rainbow trout of different sizes clearly to be seen circling in clear pools. As usual, these haughty fish had an air of great aloofness. They were "I've seen it all" fish who must have studied Courtney Williams' Dictionary of fly patterns from A to Z. The angler got a very good view of each new fly he had tied on being approached closely when it was presented, and then the fish turning off in apparent disgust. It was a still day without a breath of wind to ruffle the surface, so that everything seemed to be visible with almost painful clarity. Nevertheless, fish were moving steadily and occasionally taking small objects at the surface. As so often in winter, I opted to take AH Chaytor's advice given to his sons and try "..to begin with, an absurdly small fly." So I mounted a size 16 Black Speck nymph to 5X fluorocarbon (which is probably quite fine enough when double figure fish are present). And, while there was not exactly a take to be had every minute, using this little nymph and finally a tiny shuttlecock dry fly, by lunchtime I had returned my 10 fish limit, including one of the big ones ambushed on the shallows.
Chaytor was writing about salmon fishing of course, but a reduction in fly size is very often the solution when dealing with stiff fish of any kind which are reluctant to take. If you are not familiar with stocked commercial fisheries, the main difference from wild fishing is that there will certainly be a much greater density of fish present, but these will have been cast over continually on a daily basis and will have early in their career decided that lines slapping on the surface above are no good for them, any more than are the various artificial flies which are towed past at different speeds and different depths. Clear water and a fishery catch and release policy only intensify the feeling of nervousness among the stock. Most anglers will respond by trying various lure patterns at different speeds and angles until a fish is annoyed enough to make a mistake. Alternatively, many more will fish a static fly with an indicator to give a second of warning when a fish investigates it before he feels the weight of the line and ejects.
However, there is still a place for straight line nymphing with light tackle and you can have a very interesting day if you can make such tactics work. In these lakes you can usually see natural feeding going on through the winter, an activity which even recently stocked fish seem to take to quite quickly and one which you should take advantage of. In the case of small still water pools with a silt bottom, the main food item of the inhabitants is almost certainly going to be one of the forms of the chironomid midge, which account for about 80% of the food intake of trout in most lakes. You can see hatching midges (which presupposes there must also have been pupae) on most winter days, particularly if the sun shines at all, but bear in mind that at this time of the year these can very small indeed, almost microscopic. The superglue buzzers tied on hooks size 14, 12 or even 10 which you may have used during the warm months are unlikely to be effective now, even if you hang them on a "washing line" with a floating fly on the point. In the December 2015 letter I gave the dressing for some small Pheasant Tail Nymphs (Black and Olive) which can fished round in the wind through a rippled surface. If you are a spider fisherman, it is surprising how often a small Snipe and Purple from your river fly box, if fished slowly, can attract midge feeding rainbows. Here are some more ideas for winter fishing, depending on the conditions you may encounter, which involve some fly patterns, several of which are so delightfully simple that any novice will be able to tie them without difficulty. For this kind of fishing, I normally use a 9 foot 5 weight rod with a double taper floating line and a relatively long (14 or 15 foot) tapered fluorocarbon leader.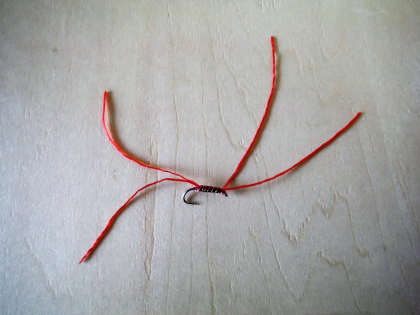 Bloodworm: This might be the best approach for a cold period with no sign of activity by fish near the surface. Bloodworms are the larval form of the midge which live in the silt of the bottom anywhere the depth is less than about 12 feet and trout are very ready to feed on them. Scoop up some mud and you will find that the naturals come in olive colours as well as haemoglobin red, but I have had much more success with a red imitation. Artificial bloodworms lately come in all shapes and sizes, such as the spectacular Apps Bloodworm which has 4 or 6 trailing tendrils up to 6 inches long. That may look like a bunch of lobworms on a hook and it certainly makes a good lure, but I cannot seriously believe that it imitates a chironomid midge larva! The pattern I recommend to you here is much simpler and should be about 1:25 inches long overall, which is in itself about double life size, but seems to be taken with confidence. I used to tie them with red rubber bands, but now we have Flexifloss.
Hook: size 14 Kamasan B110 strong grub hook
Thread: Red 6/0
Tail and body: Red Flexifloss trimmed to 1:25 inches
This is fished on a floating line with a long leader. Cast it out into a likely area and just allow it to sink very slowly. When it reaches the bottom, let it lie for a minute or two (takes often occur on the drop and trout also pick the fly off the bottom at times). If nothing happens, bring the fly up from the bottom and towards you at a very slow rate of retrieve. Takes are usually also very slow and confident. Winds and surface currents can complicate this kind of fishing, but persevere because a moving surface will help you in other ways.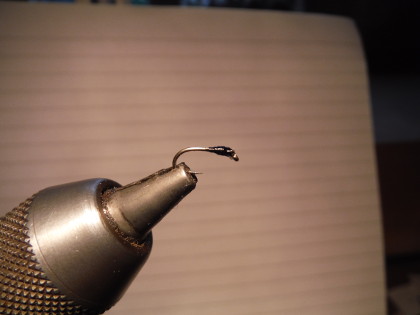 Black Speck Nymph: At some point in the day you are very likely to see fish in numbers cruising under the surface and - with luck - breaking the surface with slow head and tail rises. This last will indicate that a hatch is under way and that emerging midges are being taken. If you actually see an emerging or adult midge at this time of year, you will probably find that it is very small indeed, so that even a size 30 hook would be too large as the basis for an imitation. I would suggest that you don't even try, but (here comes another salmon fishing analogy) follow the line taken by AE Wood and his low water salmon patterns such as the Blue Charm - in other words tie a small fly on a (relatively) large hook. I usually use a size 16 Kamasan B175, which once it is driven home gets a surprisingly secure grip on a rainbow's jaw. However, the dressing is only made on the front third of the hook and it consists only of a little hump made with black tying thread and then given a coat of varnish. It is in fact no more than a black dot or speck but, believe me, on the right day it can be absolutely deadly.
Hook: Size 16 Kamasan B175
Thorax: Hump of black tying thread on the front third of the hook, varnished.
(That's it and that's all folks!)
Cast this little dot over the area of activity, ideally where a shoal is working so that you can exploit the element of competition amongst them. It will sink very slowly, but do not allow it to go down too far before retrieving it back with a very slow figure of eight. Look for a twitch or a draw on the leader. In clear water you may be able to see the take even if you can't see the fly. What you should be looking for is a fish which accelerates behind the fly with a slight wriggle of its fins. When it turns aside it will probably have the fly in its mouth, if only for a moment, and you should tighten. As always, a little wind or drift on the surface will help.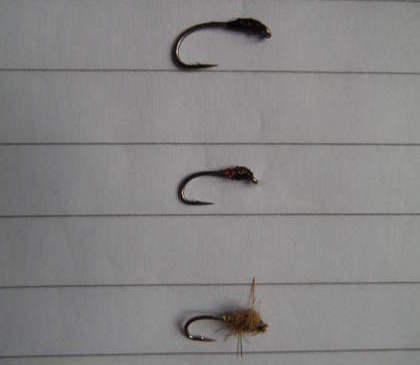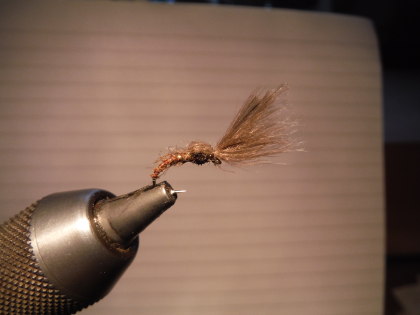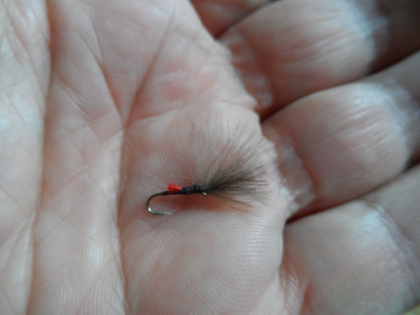 There are some variants on the Black Speck theme, all of which are tied only on the front third of the hook, such as the Hare's Ear Speck and the Copper Speck which, obviously enough, are made with hare's ear dubbing and fine copper wire respectively. (The last one is also known in the North as the Brassie and please note that it is almost exactly the same thing as a weighted fly, the Barehook Nymph, which Oliver Kite used to cast to trout and grayling on the chalk streams to provoke his famous induced take). Occasionally on a cold winter's day without fish showing, I would fish with a team of three: a weighted copper wire PTN on the point with Black Specks or Copper Specks on the droppers, again drifted round in the wind with a floating line. This enabled different depths to be explored, but I would not be very keen on fishing such an outfit where there is much weed growth.
Which brings us, if rainbows are still moving near the surface, to a floating fly option. It's surprising how often you can get a rainbow off the top during the winter, particularly in the middle part of the day. A lot of patterns might work, but as a first choice for midge feeding fish on small still waters I would put my money on one of the CDC "shuttlecock" emerger designs. For some reason, on still water CDC as a wing seems to be more effective than the versions with a deer hair wing (DHE) I like to use on rivers. Cul de Canard feathers, of course, become wetted relatively easily even on still water, so be prepared with some tissue paper to dry them off. There are so many good variations on this theme, such as the Yellow Owl, but Bob Carnill's CDC Shuttlecock is one of the best. This can be constructed in different sizes and colours (black, olive, brown) but the one I find most useful is:
Hook: Kamasan B100, size 14 or 16
Thread: Brown 8/0
Rib: Narrow pearl Lurex
Body: Dyed brown condor herl (substitute)
Thorax: Wound strand of peacock herl
Thorax cover and wing: 3-4 natural CDC plumes, tied forward over the eye
However, even in size 16 this can prove to be too big a fly. If you get a few refusals (swirls under the fly should be obvious enough) keep to the same theme but reduce the size of the fly still further. This tiny Shuttlecock Buzzer by Simon Robinson works well:
Hook: 16 or 18 dry fly
Body: Black silk
Rib (optional): Fine silver wire
Wing buds: Tuft of red floss
Wing: 2-3 natural CDC plumes, tied forward over the eye.
So much for silt-bottomed lakes created in open pastures, where the midge and the buzzer reigns supreme. Some of the older tree-shaded lakes and hammer ponds in the Forest have a population of coarse fish, usually small roach (rudd in one case), and stocked trout invariably learn to feed on these and their young. A different approach is needed for such fry-feeding trout, but more of this later.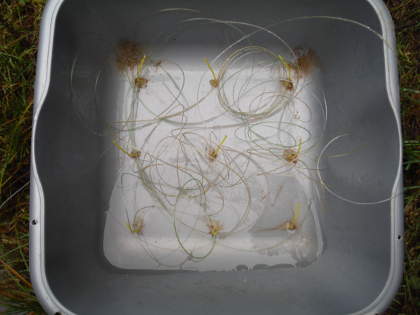 There is one particular piece of kit which I find very useful when fishing from the bank on small stillwaters or reservoirs, particularly during the winter. This is a line tray, a simple device which will preserve your soft plastic fly line from being trodden into the mud and grit at your feet. That will extend the life of the line itself and the rod rings also. Used correctly, it will even help you to cast slightly further. You can spend up to 50 pounds on a purpose made one, of course, but not many of those on the commercial market are very well designed. Bear in mind that a mere container into which you retrieve the line will be very little use, because the coils will invariably bunch together in one corner and tangle when you try to shoot the line out again through the butt ring. Once it was the fashion for reservoir bank fishers to wade far out in the shallows and drive the handle of their landing net diagonally into the mud, so that the head of the net could act as a line tray. Believe me, it didn't work very well. To prevent tangles, it is essential that the base of the tray contains several rows of spikes or pillars which will keep the coils separate, so that they shoot out in reverse order to the one they were retrieved in. If you care to save yourself 50 pounds and spend just 5 or so, you can make a highly effective line basket for yourself. What you need is a simple square or oblong plastic washing-up bowl, not too large, some elastic luggage cord with hooks at the end, a couple of feet of very thick (100 pounds BS) sea fishing line or alternatively some plastic strimmer cord, some Araldite glue and a hole punch or fine drill. Cut 9 lengths of 3 inches each from the thick nylon or strimmer cord. Turn the bowl upside down and punch or drill holes, three regular rows of three, in the bottom. Insert the 3 inch sections of stiff nylon so they project upwards into the interior of the bowl and secure with a dab of glue on either side. When that is dry, drill holes in the bowl rim so that the luggage elastic will secure it around your waist and you are ready to go. I wear my basket with an inch or so of water in it, which means the line stored therein will always be wet and slick, even on a hot day, which is probably worth an extra yard or two when it is shot. The water in the basket also works as a continuous line cleaner of course, which is useful when the surface film of the pool is dirty. When you have played your fish to the net, retrieving line into the basket if you play it off the hand rather than with the reel, just twist the basket round on to your right hip, and you are ready to kneel down for unhooking and release. Incidentally salt water fly-fishermen will tell you that such a basket is absolutely essential for fishing off a rocky shore, where waves and tide will wash your precious line into tangles around sharp stones. I even experimented with it once for night sea trout fishing when I found the loose coils of a sinking line were being washed by the current into tangles on an uneven bottom with snags. That exercise, however, proved to be all too complicated; better to hold the retrieved line in coils at the surface.
Here is something which caught my eye, should you be thinking of giving yourself a treat and still have some money lying around after Christmas (a circumstance which certainly doesn't apply in my case). Fishtec of Brecon are selling off the now superseded Sage One rod, 9 foot for a 4 weight, certainly a lovely trout fishing tool if you like a fast action, at a reduced price of 399:99 pounds. If 400 pounds for a trout rod seems to be a lot of money, I should point out that the retail price was formerly 689 pounds. Looking through the catalogues over the last months, it seems that the price of fly rods in general has risen considerably compared with a year ago. One middle price contender which continues to stand out as an exception is the Grey's Streamflex range of river rods, now sold under the GR70 label. 200-250 pounds depending on the preferred size should buy you one of these workman-like river rods, and I predict that you would enjoy using it for many years. An alternative to the discounted Sage might be one from the Hardy Jet range which have been giving good service for a long time. Meanwhile, for a trout fishing reel to go with it, Glasgow Angling are offering the perfectly practical and no-nonsense Orvis Access reel in black for 65 pounds. Model no 2 for a 4 weight line is the one you want.
Let's hope for a few more grayling now as we approach the end of their season - tight lines for February!
Oliver Burch www.wyevalleyflyfishing.com
---