Trout & Grayling Report
by Oliver Burch
June 2019
June, I suppose, is the last of the spring months in this country. At least, by the time we have reached the end of June it is high summer we have to look forward to, holiday time of course, but a period which is not normally the very best of the trout and grayling fishing. There are always compensations and more of this later. Once again this June – at least until the rains arrived - the problem of algal blooms reappeared on the main Wye even as far upstream as Builth Wells. This has become an annual event, caused by high phosphate levels in the water combined with strong sunlight, and the Usk is also showing signs of the same problem. Sewage treatment discharges and agricultural practices are the main cause of the phenomenon, but of course low water levels also contribute. See the WUF newsletter "Onion Soup" dated 7th June for details of the problem and some actions being taken to combat it.
The month began with the rivers low after some weeks of drought. First some of the tail-end Charlie reports from the end of May; on the 29th PB from Hampton had 11 at Trallong and Abercamlais using a Pheasant Tail Nymph or variant thereof. On the following day PB from Gloucester with a friend experienced the attack of a heavy trout on a tiddler being played in at Cefnllsgwynne. SR from Richmond fished at the Rocks for 9 trout, but stopped using a French leader when too many out of season grayling were being taken – thank you for that SR. TH from Brecon had 9 trout to a pound at the Rectory. Meanwhile AP from Cheltenham fished at Aberedw for 4 trout and passed on the welcome news that the Seven Stars in the village is now open again, at least on Thursday and Friday evenings and weekends. It's always good to have a hostelry available close by for apres peche. Meanwhile there was another great report from JA of Leominster, who took 9 trout from the Arrow at Titley. I always enjoy JA's reports and I'm learning new verbs here. For example: "to bimble." I presume this goes: I bimble, you bimble, he bimbles, etc. A typical usage, JA tells us, would be: "I bimbled down to the start of the beat." To my surprise, the Oxford Dictionary tells me it's 1980s origin slang meaning to wander along in a vaguely relaxed manner while looking around you and in no kind of hurry. I never knew that, but now I'm feeling my age because on asking I find all my children seem to know what bimbling means. And friends say I myself have been bimbling around with a fishing rod in a thoughtless sort of way for years.
A welcome report came from DR from Bristol, who fished at Skenfrith on the 31st, and recorded 10 Monnow trout to 15 inches, mostly on nymphs. They were not really reacting to mayfly during the afternoon, he tells us, but there was a decent rise late in the evening. On the 1st SF from London took 15 trout on dry flies from Llangoed and lower Llanstephan.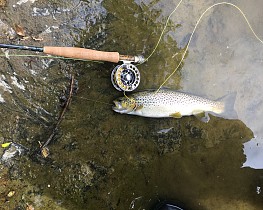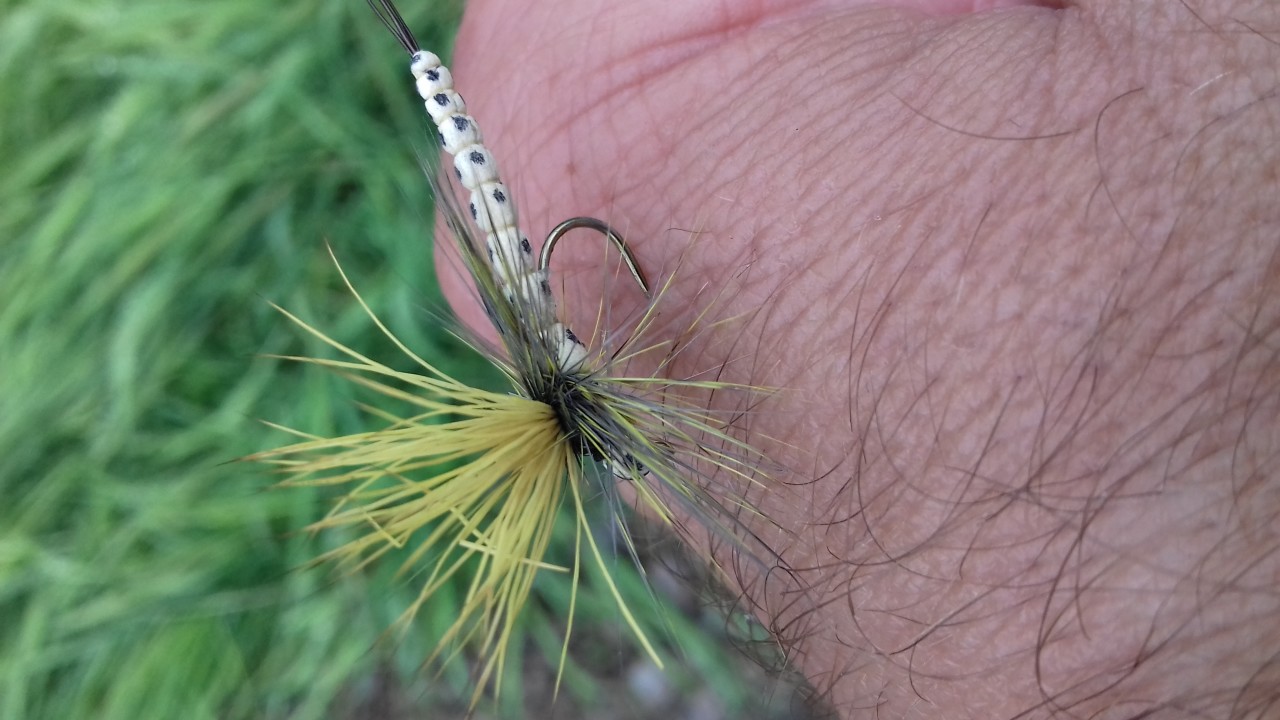 AS of Newent reported 11 trout from 11-12 inches from the Abbeydore beat. AS is one of our most successful anglers and over the years I have noticed that he is prepared to use very small flies on occasions. On this day he was using a tiny size 20 F-Fly to pick off midge feeders. JA from Leominster was out again at Litton the next day and had 23 trout using Grey Wulff and Mohican mayfly patterns.
That must have been a great day and this time JA tells us he was quaffing "amber nectars" with Mrs A in celebration later. OK, JA, I'm already up to speed with that one, which was introduced to the UK by Barry Humphries and should strictly refer to Australian Fosters Lager. This was a brand which, back in the day, we had to drive to London's Earl's Court to find. But don't mix it up with your Stowford Press which is another beverage entirely.
Leaving the beery theme aside for a while, it did seem that while the mayfly arrived a little late this year, we were having some pretty good trout fishing days by early June. SJ from Herefordshire (Seth from the WUF) reported 14 trout from 7-13 inches on dry mayfly from the Arrow at Whittern.
He congratulated the farmer on the upper section of the beat opposite Lyonshall Wood for leaving a wide buffer strip between his crop and the river. I can echo those plaudits, but not in the case of the farmer on the next field down, who sowed his crop to the very edge of the water, not an inch of ground being left uncultivated. In fact he was lucky his tractor didn't topple into the river! SF from London had 15 trout from the Upper Wye at Llangoed and Lower Llanstephan.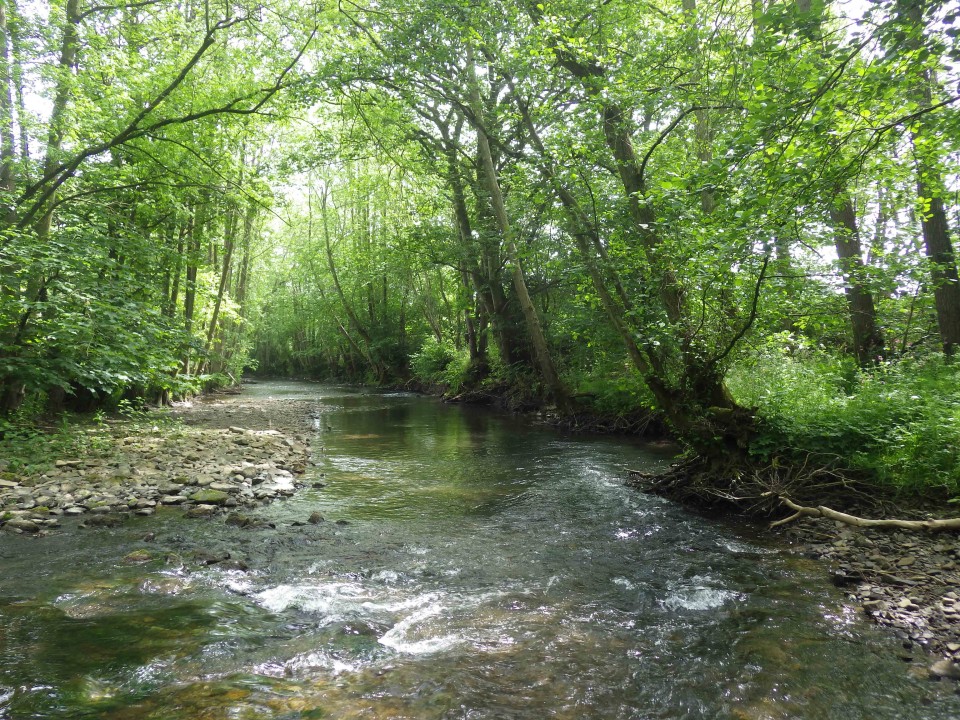 Next day IC from Gloucestershire used a dry mayfly to take a 17 inch trout in a bag of 4 at Monnow Valley. Apparently the two pounder made a very determined attempt to reach the alder roots. On the same day CH from Bromsgrove reported a heavy trout from the top of the Wye at Lower Clochfaen, although unfortunately we don't have an accurate measurement for length or weight. On the 4th, JH from Redditch reported 8 trout including fish of 1 pound and 1 pound 10 ounces using mayfly patterns on the middle Wye at Wyecliff. JJ from Stourbridge with a friend took 19 trout to 1.5 pounds on dry flies from the Usk at Dinas. AS of Newent fished at Abercynrig for 11 trout to a very creditable 18 inches (2.5 pounds). TH of Brecon had 12 trout during an evening session at the Rectory with blue winged olives and yellow mays on the river. AS of Yorkshire fished with me on the Arrow at Whittern and found a good mayfly hatch through the afternoon, taking 18 trout with a Monnow Gosling. A session for NC of Warwickshire at Ty Newydd on the 5th resulted in 7 trout to 1.5 pounds on a Griffiths Gnat. I take it these were brown trout rather than sea trout as reported?
AS of Newent fished the Usk at Glanusk Ty Mawr / Canal and Rivers Trust on the 6th and caught 10 trout. He was not very happy with the access to the lower parts of the beat and I must agree that I also find this section pretty difficult. TD from Leighton Buzzard recorded 20 trout on a small Goldhead Hare's Ear nymph from Aberedw, "the best small stream fishing I have ever experienced." JA from Leominster had 14 trout from the top of the Arrow at Kington and SL from South Ockendon had 12 from Rectory on the main Wye. On the following day PL from Llanbrynmair had a dozen of the dark little trout of Llyn Bugeilyn high on the Cambrian moors. I'm guessing that must have been a wet and windy day in the hills because by now some serious rain was affecting Wales at last. Another welcome mayfly season report came from Skenfrith, where CM of Bristol and a friend had 20 Monnow trout on large dry flies. MR of Newport fished the Honddu at Lower Stanton on the 8th and wondered whether the old trout farm alongside the beat has been reopened. The fact that one of his 3 fish was an 11 inch rainbow indicated that it almost certainly has recommenced operations. On the 9th AP of Dudley had a wonderful "once in a blue moon day" on the Forest of Dean's tiny Cannop Brook, which was apparently running high and slightly coloured from the rain, with trout to be seen chasing mayfly everywhere. He returned 32 small trout, which is a big number even for Cannop. JB from Shobdon and GW from Berkhamstead both had good days on the upper Arrow. On the 10th EH from London took 13 trout to a pound from Dinas on the Usk, before heavy rain set in at the end of the day.
This was the point when rain and floods began to make our fishing really difficult. Perhaps I shouldn't complain because we really needed the water. There had been localised showers for quite a few days, but now, after a long dry spell, the ground had become saturated and the rivers reacted quickly. Heavy rain on the 11th put all our running water into flood and afterwards each relatively minor shower sent the levels hopping back up again and new colour into the water. The lower Wye looked a bright orange colour with liquid mud. A few salmon were taken from upper waters in the early stages of the rise and when the coarse fishing opened on the 16th June barbel were taken take in numbers from the middle Wye. High water is no bad thing for the barbel fisherman! Otherwise, conditions continued pretty difficult for trout and grayling fishing although a few were finessed here and there from upper tributaries when the levels allowed. With clients I had a really difficult couple of days on the upper Usk, as conditions varied from just about viable with wet flies to near-impossible as a few showers within a couple of hours changed a falling and clearing river to a rising and colouring river. I will re-emphasize my view that there are usually some possibilities when the river is on the way down, but trout and grayling angling becomes very difficult when it is rising. Salmon fishing is a different matter and for salmon the first 6 inches of a rise can be very useful indeed.
On the 17th LK from London reported 8 small brown trout from the River Prysor in North Wales. JC from Barry fished the Usk at Dinas on the 18th and reported 13 trout. The following day he was booked at Fenni Fach, where the wading is never easy, and decided that discretion was the better part of valour. The river on this day was just too high to get into the water safely. However, he wisely moved upstream to Penpont and took 11 trout from more easily waded pools there. JA from Leominster had 7 trout to 11 inches from the Arrow at Kington using big dry flies, and on the 20th had 8 more from the Lugg at Litton. JC from Barry fished Dinas again on an evening ticket on the 21st and took 10 trout.
By the weekend the rivers were falling again and the salmon anglers began to get some long-awaited sport on the upper Wye. LR from Swansea struggled in order to fish Ty Newydd in high water, but managed 16 trout, 6 grayling (now in season of course) and a chub, mostly on a Pheasant Tail Nymph. JA from Leominster had a dozen trout from Hundred House on the Edw. RW from Steyning had a good day on the Honddu at Lower Henlan, taking 15 trout and a grayling, mostly on a Peeping Caddis nymph. If memory serves, that is the highest beat on the Honddu from which we have had a grayling reported. On the 23rd SJ of Herefordshire (that is Seth from the Foundation again) had a salmon day booked on the Usk at Greenbanks. One of the charms of this beat is that the salmon fishing and trout fishing tickets are the same price, so you might as well put your name down for salmon. If salmon fishing is slow, you can go for trout instead, which is exactly what Seth did while blue winged olives were hatching late in the afternoon. He dug his single-handed rod out of the car and took 7 trout to 2 pounds on a small winged dry fly. IW from Pontyclun found few fish rising at Dinas, but nevertheless took 19 to a pound, presumably on sub-surface methods. JO from Oloron with two friends had a very good evening at Ashford House on the 24th, taking 30 trout and fishing on until dusk.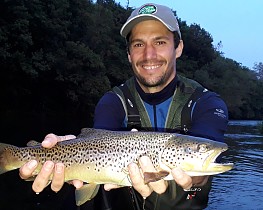 AB from Colchester fished at Lyepole, where the Lugg was somewhat high and coloured, but took 7 trout and 2 grayling.
The 25th brought back thunder storms and dramatic showers, but only to the lower areas of our two main catchments. Here in the Forest of Dean and in Monmouthshire we had very localised flooding and even power cuts for a while, but on the other side of the Black Mountains and the Brecon Beacons, nothing very much seems to have fallen. As a result, the Forest streams and the entire Monnow system was in muddy flood, as was the lower Wye affected by red colour below the Monnow junction. On the other hand, the upper Wye and the Usk were still quite fishable, as were their upper tributaries. Generally results were modest. Salmon anglers continued to pick up a few fish, although not in the sort of numbers we hope for in June. On the 26th, AS of Malvern had 6 rainbows and a brown (returned) at the Usk Reservoir. GP from Cardiff with a friend took 16 trout and 1 grayling from Lyepole using nymphs. The same team fished Gromaine and Upper Llanstephan on the following day and had 22 trout. BG from Stourbridge and a friend fished at Lyepole for 6 trout and 10 grayling. JA from Leominster made a very early visit to the Edw at Hundred House and took 16 trout on various dry flies.
As the days went past and the floods dropped away, the air temperature began to build and we ended the month on something like a heat-wave. At least it was the warmest weather experienced since February and enough for the newspapers to put up those traditional "Phew what a scorcher!" headers. Where would any British summer be without those? The heat seems to have induced bees to swarm into the fruit trees in our garden. Looking through the window now I can see figures shrouded in white veils and suits, puffing smoke and looking strangely like astronauts gliding about on the moon. Meanwhile my wife and daughter, currently on holiday visiting relatives in Mostar and Sarajevo, have just sent messages about temperatures in the 40s and how they are looking forward to a return to temperate British weather.
Looking back at this spring season since March, it was an unusual one, colder than most overall and presumably for this reason with the arrival of expected flowers and insect hatches somewhat retarded. Fishing was certainly difficult at times. On the other hand, we also had a large number of super trout fishing days reported along with some really beautiful fish.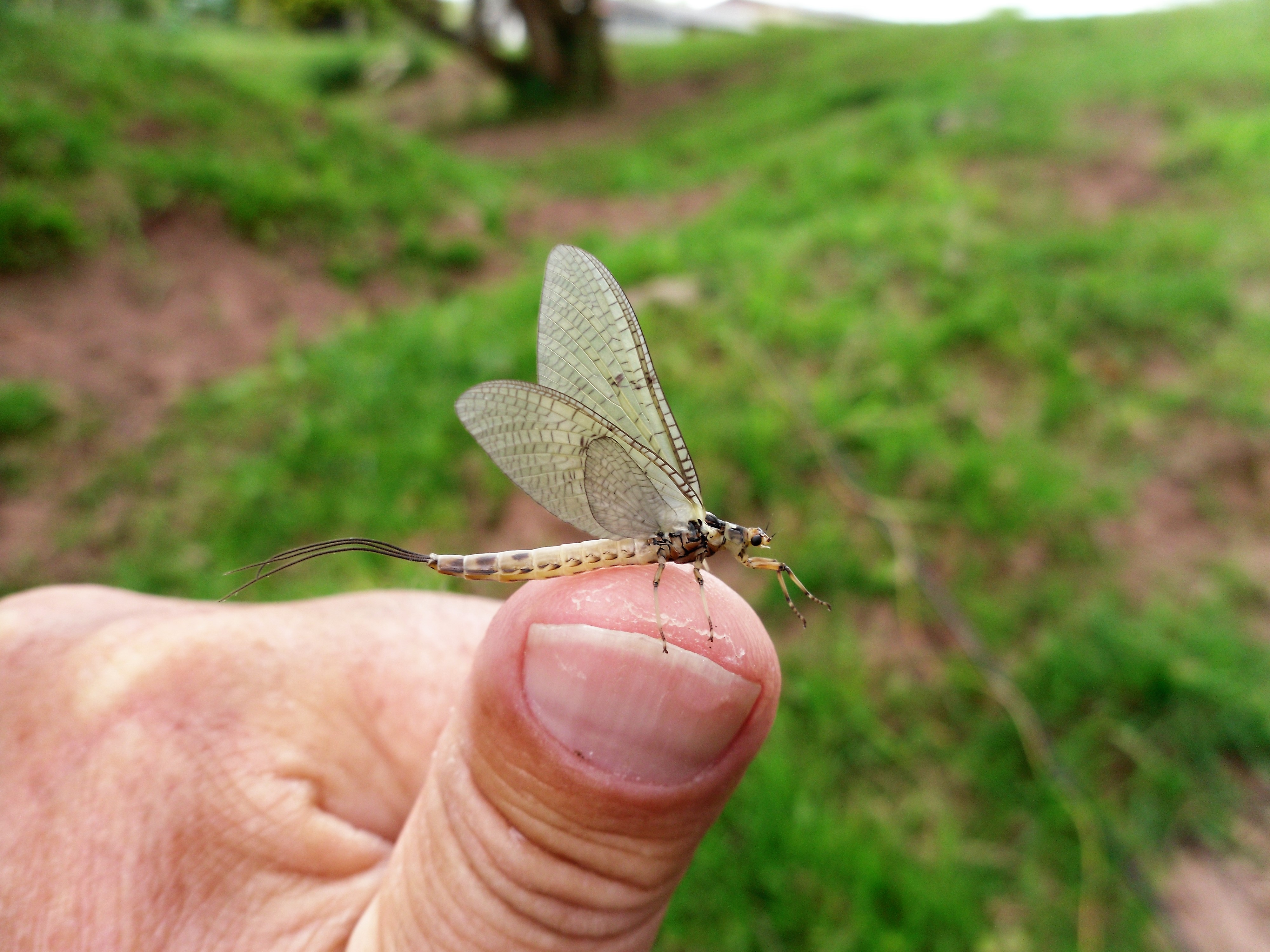 I saw some spectacular hatches of olives and March browns during the first two months. The Usk excelled itself and the mayfly, when it finally arrived, was also good. Salmon anglers, I imagine, will have been pleased by the quality of some of the spring fish (including two 30 pounders), but disappointed by the numbers.
*****
On the 14th June the English Environment Agency surprised us by announcing an emergency bylaw aimed at protecting salmon in the Severn and the Severn Estuary. This was due to the salmon population having fallen below what is believed to be a sustainable level and will completely outlaw fixed engine fisheries such as putcher ranks and also draft nets. Lave nets will be allowed to continue, but only on a catch and release basis as will apply to all rod and line fishing. Essentially the EA move affects the estuary and the River Severn. Natural Resources Wales is expected to follow suit regarding the Usk and of course the Wye is already under compulsory catch and release measures. I don't want to rehearse all the arguments on this subject which have been going on for a very long time, but I note the EA's statement that "…fishing is only one of a number of factors that have led to the fall in salmon stock in the Severn." I am certain that the angling lobby will challenge the idea that rod and line fishing is even one factor, given the much larger toll which we believe is taken by other menaces to the salmon's life cycle, both out at sea and in fresh water.
I have no objection myself to rod and line catch and release for salmon, having adopted it long before the law required me to. However, it does seem ridiculous to impose catch and release on lave net fishermen, who are using what is essentially a commercial method and large mesh nets which certainly mark fish. Similarly, it seems to me to a mistake to completely ban the use of putcher ranks and draft netting methods. My reasoning is that I like the idea that the few remaining families who still do this are able to hand on their knowledge. In a few years we will lose for ever the skills required to fish this dangerous estuary. Tradition is worth something, is worth a good deal in fact, even if a few precious salmon a year are involved as a price. There are still retired salmon fishing professionals living in my Severn-side town as a reminder that the estuary once supported a whole industry which has already been trimmed down to a shadow of its former self. Salmon fishing was a way of making a living, along with stone quarrying, mining and forestry. A century ago our Gloucestershire poet Will Harvey wrote about it while pining for home in a German prisoner of war camp:
I love the men of Minsterworth,
The salmon fishers and the cider makers,
And all who laugh and labour on that land.
Once home, Will Harvey worked as a solicitor and rarely left his beloved Severn-side and the Forest, where he died in 1957. My grandmother knew him. And I can remember celebrating her 90th birthday with a Severn salmon supplied by an estuary fisherman and carefully poached in a long fish kettle. Those were the days of plenty.
*****
There are three articles in the July edition of Fly Fishing and Fly Tying which should interest many of us and which are very relevant to the coming period of high summer. One is by Ceri Thomas describing the mountain lakes controlled by the Aberystwyth Angling Association, which are now accessible on a Fishing Passport ticket. There are 11 of these lakes, all of a different character. As I suppose for most of us, a visit to one would make a long drive for a single session, why not consider staying a week up there and sample most or even all of them? Apparently the Association can rent a caravan to visitors at a good weekly rate. In the same edition, George Barron has an article on how to fish these llyns of mountain Wales with a few fly patterns to boot. And Alan Liddle has an article about dry flies on the Scottish lochs, including trimmed down patterns such as Dirty Dusters and Half Hogs. In fact there are quite a few books available on the very specific art of fishing upland lakes, be they in Scotland, Wales or Ireland, of which my favourite must be Stan Headley's outspoken The Loch Fisher's Bible.
*****
Here is an idea if you are thinking of buying another fly rod. There have been a number of special offers on the Greys GR70 Streamflex rods for river fishing lately, which leads me assume that dealers are unloading stocks before a new range comes onto the market. On the other hand, the latest rod doesn't always turn out to be the best rod, so why not treat yourself to a known good one now? Look around; you might find one at half price.
*****
I always enjoy the Monnow system when mayfly time comes around. I know that lately some disappointments with the lower part of the main river have been voiced. Still, if you sat down with a large sheet of paper and set yourself, god-like, to design and draw for us all the perfect medium-sized trout stream along with its surrounding landscape, you would be proud to come up with a plan anywhere near as good as the Monnow.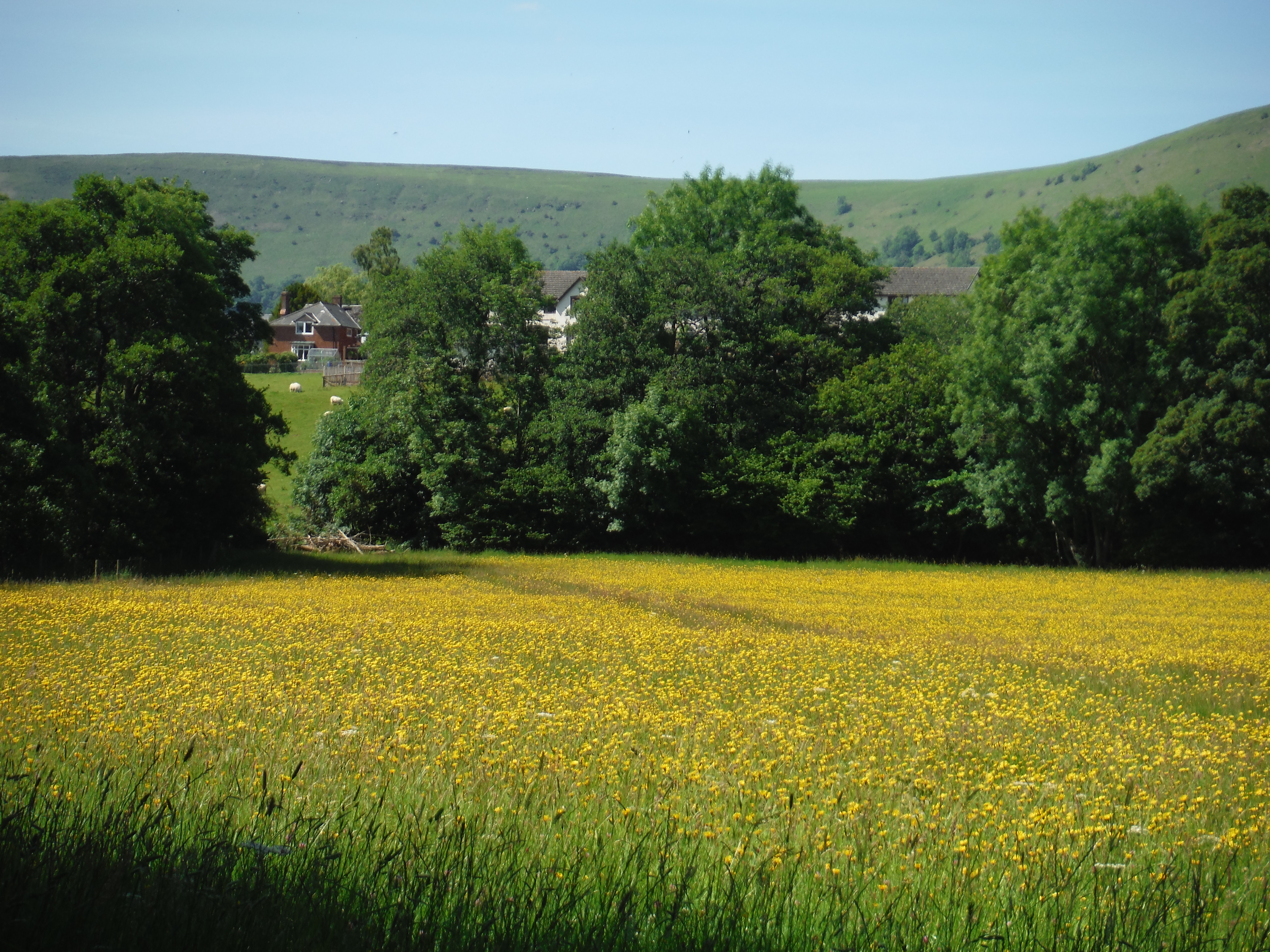 It nurtures pretty trout and a few grayling too, although, sadly, not in the numbers of the past. The main springs arise from wild mountains, it flows through the rolling wooded hills of border country, and finally joins the mighty Wye at a county town, Monmouth, named for itself. Monmouth is the only town of any size along its course and the villages are mostly smaller than they used to be. The Monnow is a river of quiet and even secret places, a stream not easily viewed from a distance but needing to be hunted out in its narrow valleys. Much of the system is in Wales, but it flirts with England too and important tributaries are entirely in Herefordshire. In fact the Monnow tributaries are the most remarkable part of it, fanning out from the upper part of the river like finger bones from the skeleton of a hand: Honddu, Olchon, Upper Monnow, Escley Brook, Dulas and Dore. These valleys are not widely separated and you can drive across them all in a short time, but each one has a different character, ranging from Welsh mountain to English lowland. The upper Monnow landscape is dominated by the giant shadow of the Black Mountains which form such a steep barrier here that it seems to separate two worlds.
The Herefordshire Dore is really the odd one out. The parallel valley of the Escley Brook only a couple of miles to the west is also in Herefordshire, but somehow that landscape has a Welsh character to it because there the Black Mountain wall is already looming close overhead. The Escley valley is steep and winding and almost entirely used for pasturing sheep and cattle, while the bed of the little stream is composed of the dark rocks from which the local farm-houses were built. Drive that couple of miles back east across a low ridge to the Dore and you are in a different world. Here the valley is wide and fertile, you will see wheat-fields and orchards as well as cattle pastures, and the Black Mountains are mostly hidden by closer, gentler hills. This is rich land, very much so by comparison with the upland slopes towards Wales, and the mediaeval name of Golden Valley seems perfectly justified.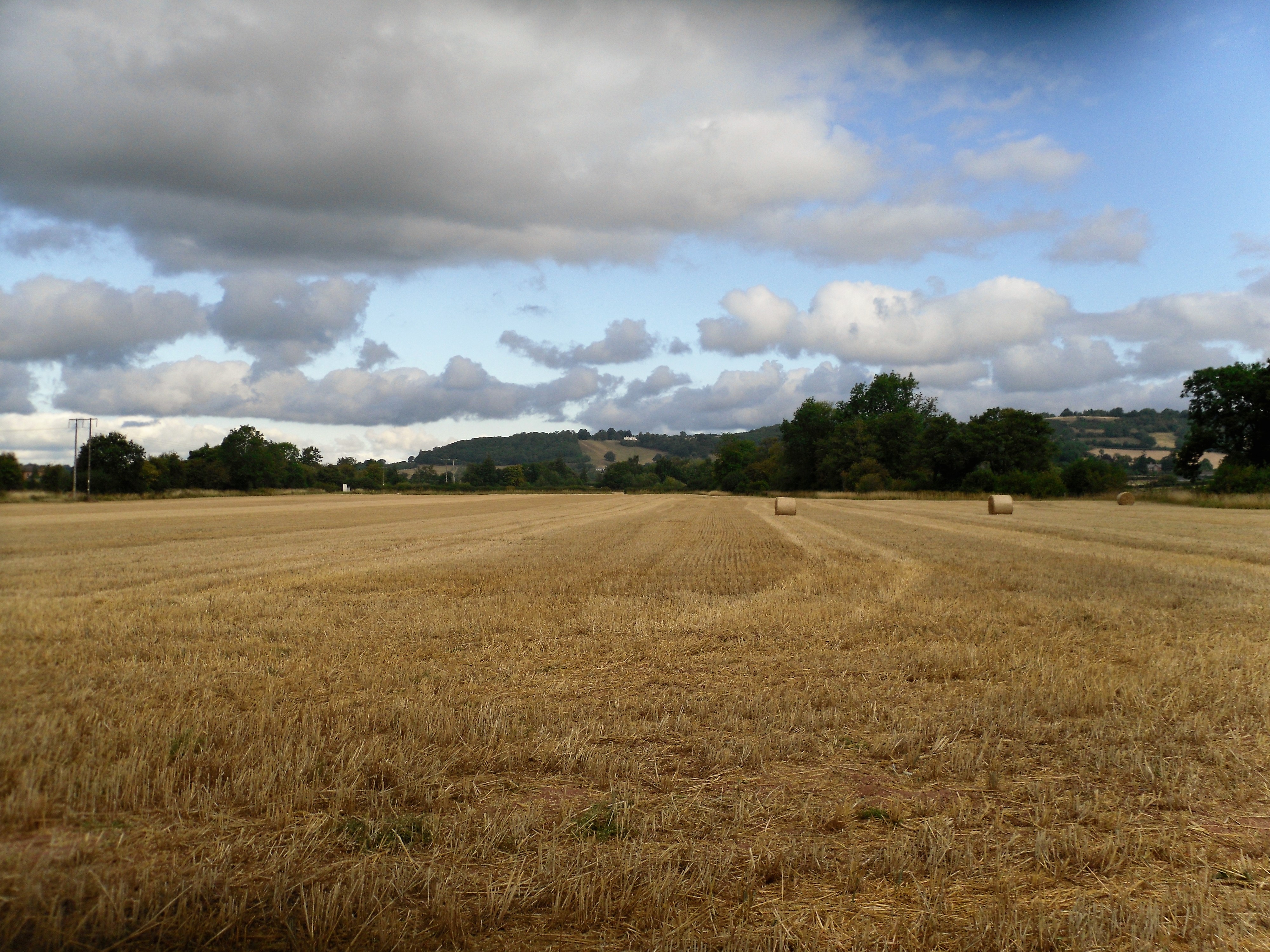 Unlike the others, Golden Valley with its farming population aspiring to a comfortable life and good living was even once graced by a steam railway line from Hay and Dorstone, funded by local donations. This joined to the still existing Great Western line at Pontrilas; however, the brave venture never made a profit. The last section, used by the Ministry of Defence for a storage depot near Abbeydore, closed in 1969.
Our present subject, the Dore, is a gentle little tributary, winding around the flat valley floor and trickling over a gravel and silt bed with occasional deep pools. Often it has a bit of colour to it. No building stone was to be had here from the river free of charge and haulage; the building in this valley, naturally enough, is mostly of brick. It's an important point this: rural Britain's appearance is still defined by its local building materials. The architectural writer Pevsner produced a map of Britain divided into "upland" (building with stone) and "lowland" (building with brick). My own Forest of Dean falls clearly into the upland section and near an old Forest house you will usually find the pit from which the grey/green sandstone to build it was taken. Nearly all of Wales was built with stone and slate. In the nearby valleys of the Olchon, Upper Monnow and Escley they built mainly with stone taken from the beds of streams. However, carting stone is an arduous business and so in the Golden Valley (and for more than a hundred miles to the east across the Midland plains), red clay bricks were the easier choice. Today the resulting weathered and mellow bricks of farmhouses and cottages in the Valley glow in the sunshine.
The Dore, a classic lowland stream with a mayfly hatch, produces mainly small trout, golden as the name of its valley suggests, with bright red spots.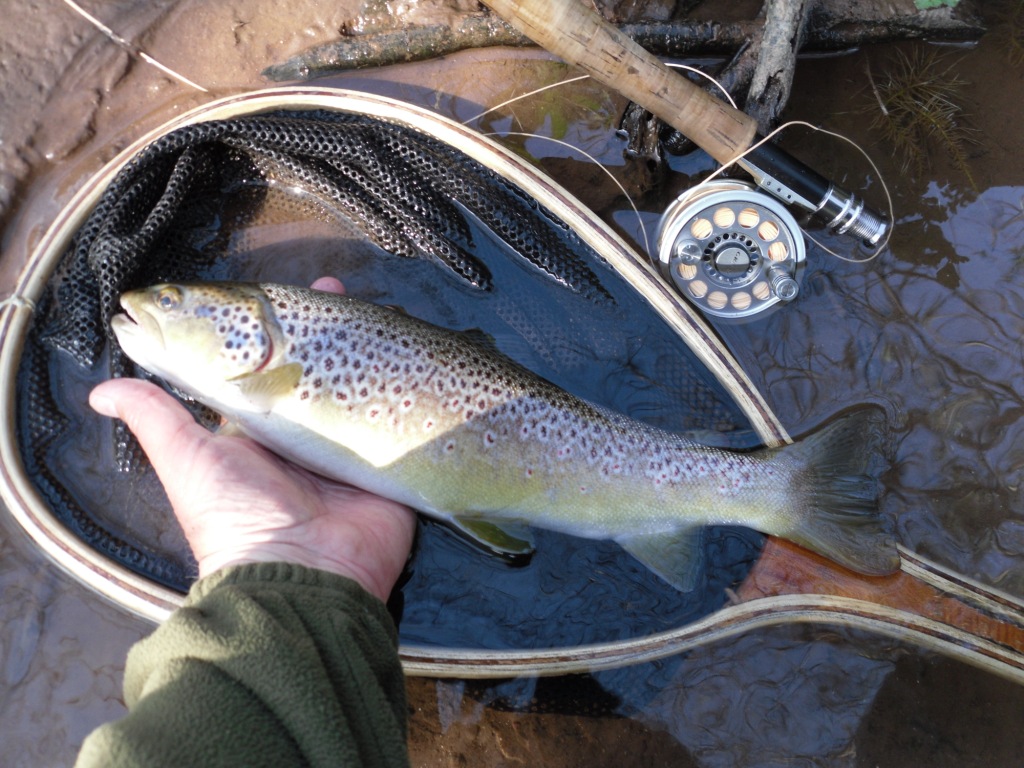 There is a nice story that the valley got its name because a trout was once taken from the river with a golden ring in its gills. More likely is that the river was named Dwr meaning no more than water in Welsh and the Normans adapted that to Dore. These days the little stream is rather over-grown in many places. A day fishing on the Dore is mainly a quest for 10 inch trout and a matter of struggling upstream under the overhanging shoots of the alders and willows which line the bank closely on both sides. The shoots would have been coppiced once for baskets and hurdles, but given half a chance, these growths block the stream completely. In fact there is a lesson here: if you are going to coppice, thin out a few of the bankside trees and allow the remainder to grow tall creating a high canopy. If you cut everything alike off to short stumps, the resulting shoots within a few years become a thick barrier. Be in no doubt, the Dore is the place for a 7 foot rod and when fishing it I like to make a simple choice between using a dry fly or a single upstream nymph. To be fair, I sometimes wonder if the name Dore may have come from "dour," because this river can be moody at times. Personally I generally get on better with the dry fly, especially if fish are rising, but others do well enough with nymphs.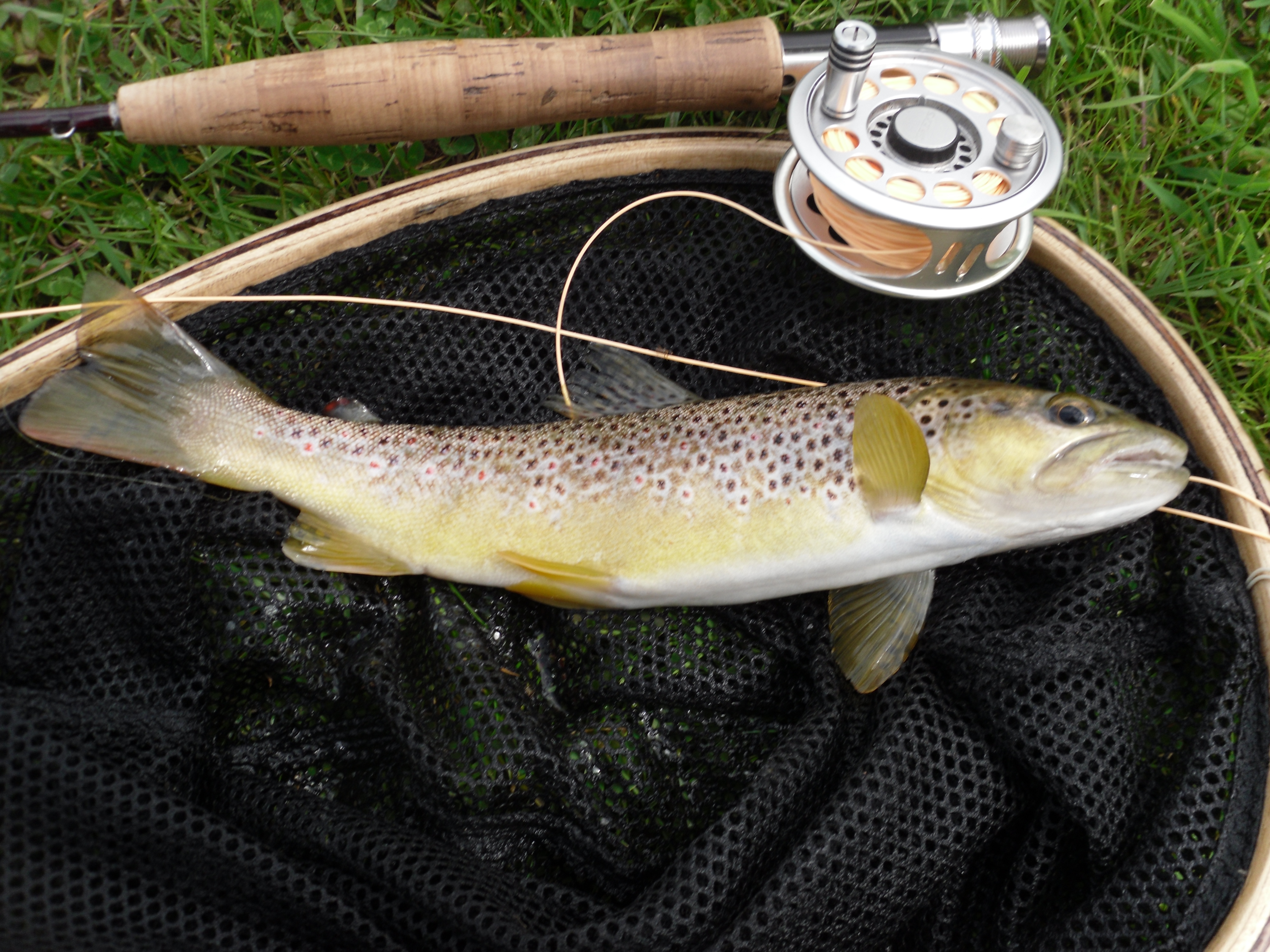 The Wye and Usk Foundation has managed to maintain a good foot-print on the Dore over the years, although there are a couple of retired beats I wouldn't mind seeing back in the portfolio. One of these was Ewyas Harold at the lower end of the valley which I remember as being superb at mayfly time.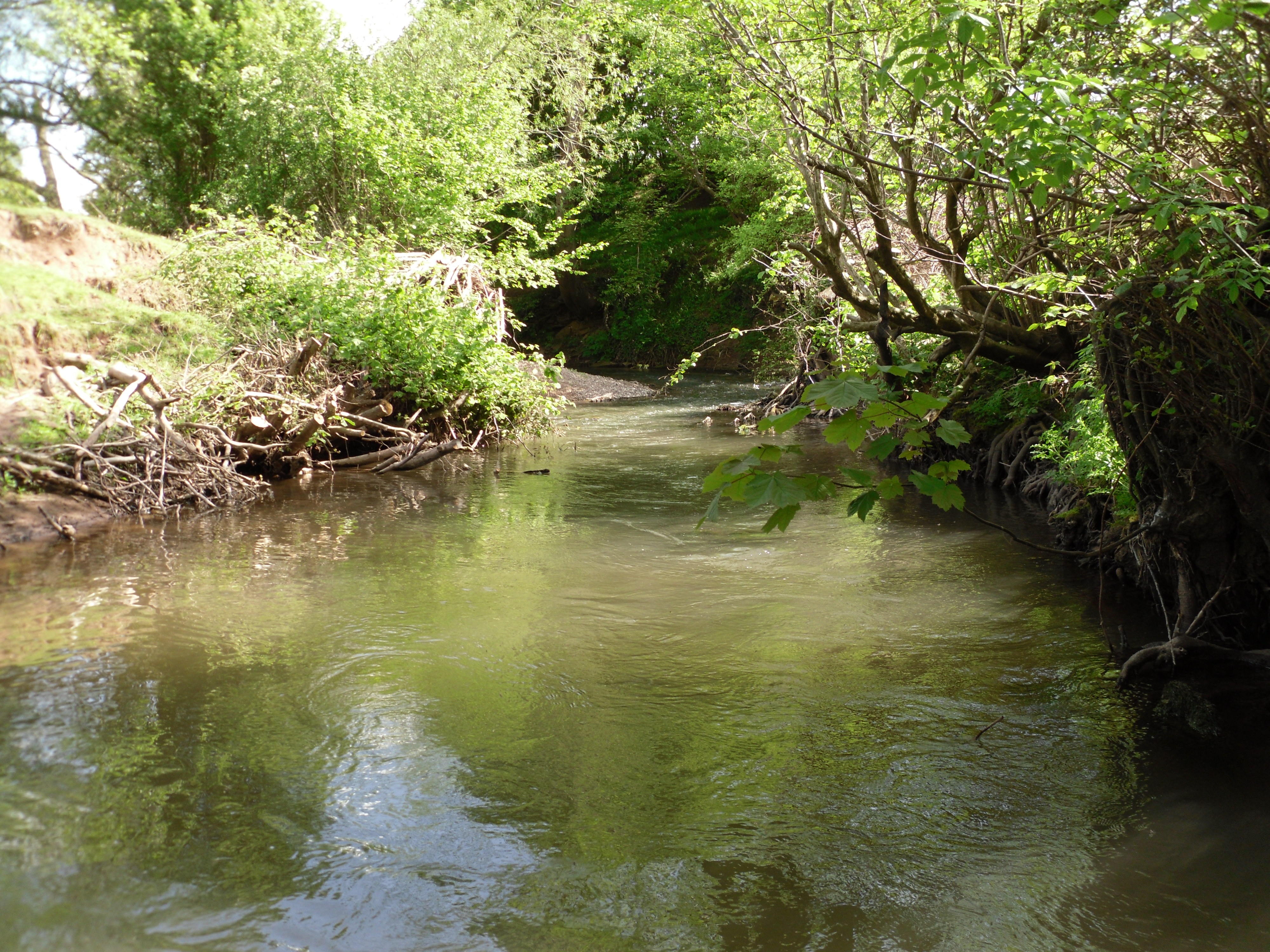 This fishery included 400 yards of the Worm Brook, which I never did get to explore. It would be unfair to characterise the Dore as a stream producing only small trout, because there are some remarkably deep holes and very occasionally a 16 inch trout has been taken from the lower reaches. I have heard it claimed that some of the great trout of the main Monnow run up into the Dore to spawn in its clean gravels. Most of the Dore also contains grayling, which are shy but undoubtedly present.
At this point I should mention the Dulas, which is no more than a tributary of a tributary, a little offshoot valley which joins in at Ewyas Harold.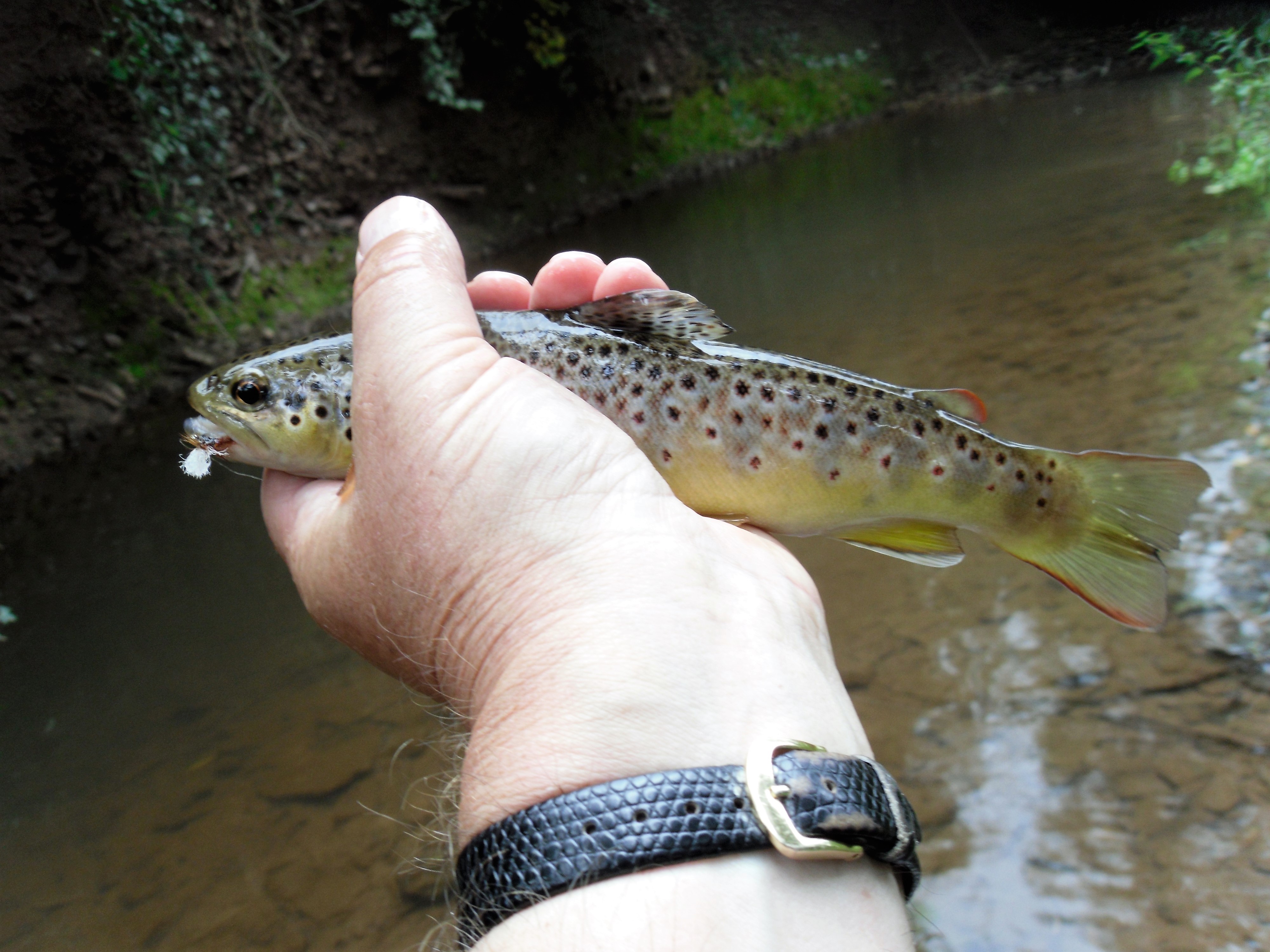 There is just one Wild Stream permit beat on the Dulas, which is one of the smallest streams we have on the scheme, but there are occasional deep pools and the fishing is surprisingly good. Personally I like to start at the bottom end, in the recreation ground just above the church, and head upstream a mile or so to the weathered farmhouses at the top of the tiny valley, casting at everything I see moving. This is absolutely 7 foot rod and close range dry fly territory, really at its best when the mayfly is up. After a morning on the mayfly, make your way back to the village along the road and make sure you have enough change in your waders for a pint at the Dog as you pass it. The Dulas is the tiniest of streams, but it rarely disappoints and it even boasts a mayfly pattern of its own. This is Ron Pomfret's Dulas Brook Mayfly, one of those back to front designs which used to be so popular in this area, and Roger Smith in Fly Fishing the Welsh Borderlands gives the pattern:
Hook: Dry fly, size 10
Whisks: A bunch of blue/olive dun hackle fibres, as long as the shaft of the hook and projecting over the eye.
Body: Sisal, dyed green/yellow in 10% picric acid
Hackles: Two long blue/olive dun hackles, tied in at the bend of the hook
I admit that I haven't tried the design, having plenty of reliable mayfly patterns already in my box. But this one looks as if it ought to work; if anybody is minded to experiment, let me know how it goes!
Back to the Dore proper and the next one upstream is Abbeydore, which you can also fish today on the Wild Stream permit and a delightful experience it is. You park at Tanhouse Farm and walk down to the river across meadows dominated by the great mediaeval Abbey built by the Cistercians. This is a wonderful place to be on a sunny morning at any time of the year (the presence of grayling means that the fishery is open through the winter). The beat itself is a short ¾ mile running in a straight line, so this represents about 3 or 4 hours of small stream fishing during which you will scramble up and down the banks to pass some very deep holes which cannot be waded. Curiously enough, the land beyond the chain link fence on the other side is used by Special Forces as a training ground. This may seem like a jarring note, but usually all is deserted and quiet.
Abbeydore Court Gardens are immediately upstream of Tanhouse Farm's water described above and the gardens may – or there again may not – be included in a day ticket for fishing the Abbeydore Court beat.
This next fishery is marketed through the Passport Office rather than Wild Streams and up till now has not been a favourite of mine although I remember catching at least one very nice trout when I first tried it. This was because, as far as I could see, no maintenance was ever done on the water. Upstream of the house there was about a mile of unpruned alders mixed up with barbed wire blocking most of the river and dissuading all but the most optimistic, while the gardens section – which is kept cleared – may be available to the angler if the owner sees fit on the day. So my view was that it would be a very nice piece of fishing if it were looked after, but the relatively expensive ticket for the upper section only did not seem to me to be justified. However, I'm told that professional clearance work was at last done on some of it during 2018, so this fishery might be worth re-visiting.
Chanstone Court, a Wild Streams beat again, is a good few miles further upstream and I think this one is a real pleasure. Surely it is overgrown, although not currently impossibly so (I have worked on it myself in years past). At least you are being charged a very fair price for it and at 1.5 miles it will keep you busy all day.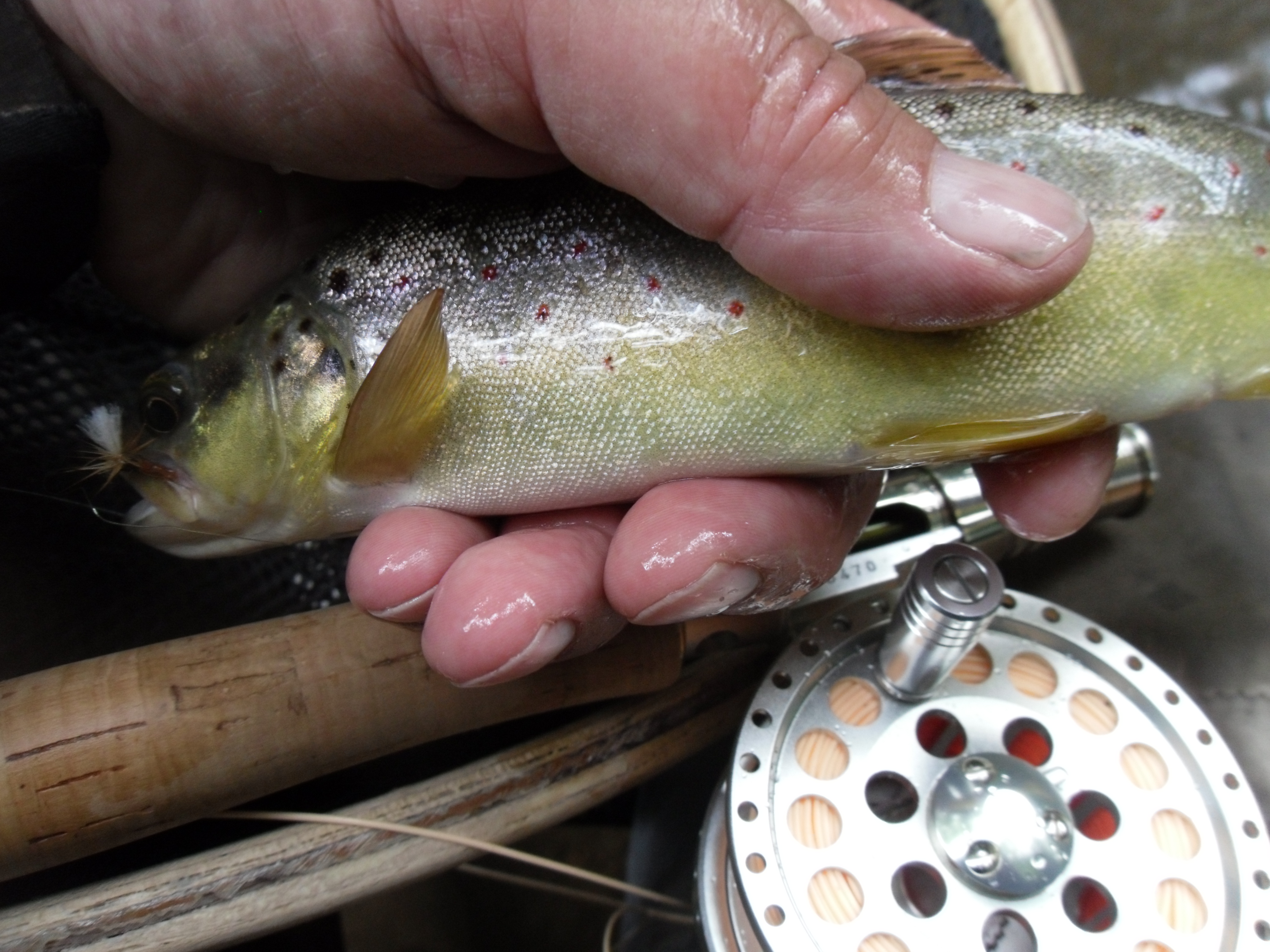 You park in the middle by a little stone bridge off the main road. At the top of it all you pass the ruins of a mill dam and find yourself alongside peaceful Vowchurch with its graveyard and vicarage. Here below the little weir you can find the highest pool to which I think grayling have reached on the Dore before hauling yourself out by the church, crossing the road bridge and wandering (or perhaps it should be bimbling) back to your car along the old railway line.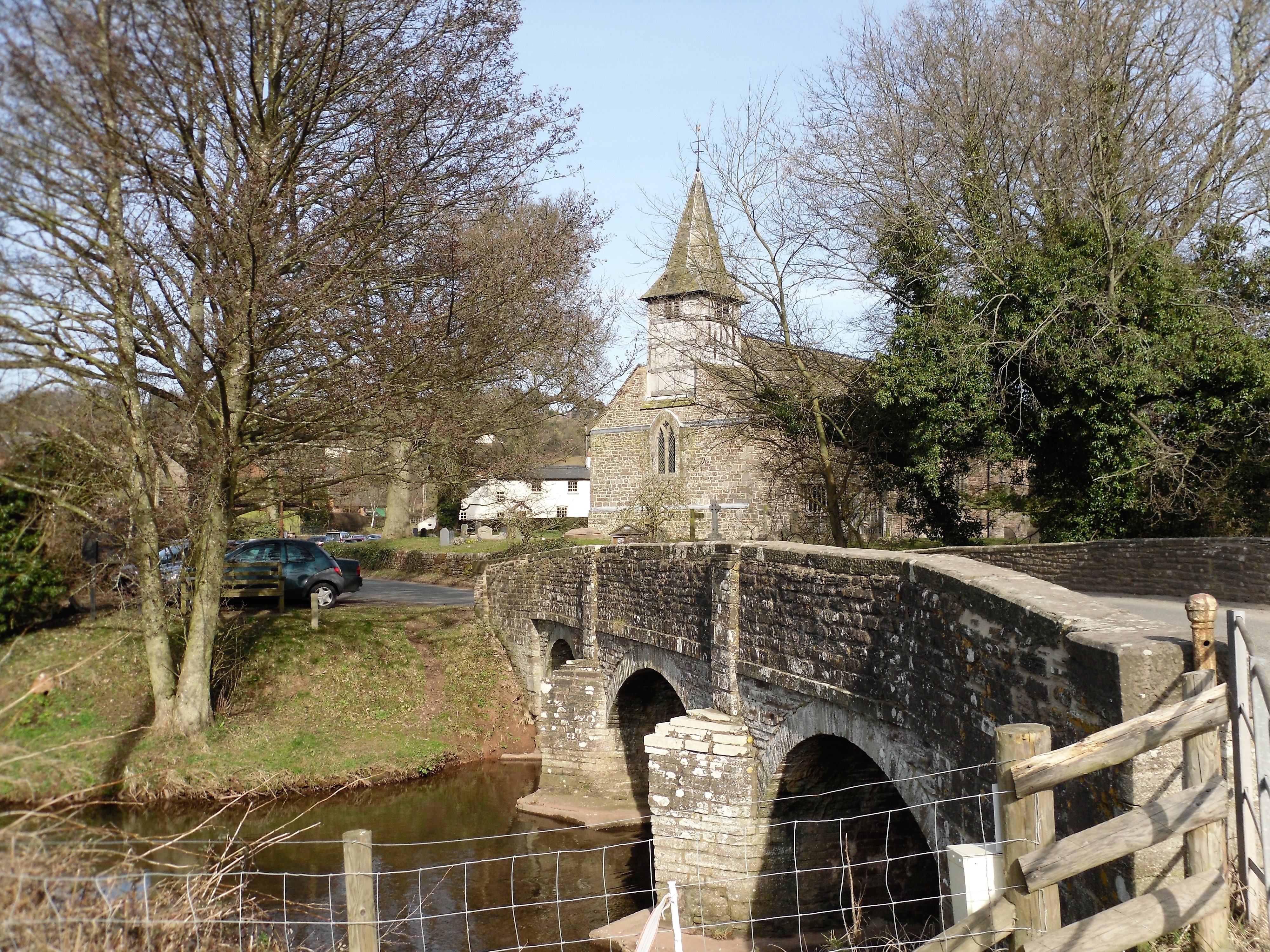 Turnastone is immediately above and unfortunately no longer available on the WUF scheme. I think 2012 or 2013 was the last year I fished it. This used to be great fun though and I remember casting on a windy day under the willows, catching trout after trout on a foam beetle imitation. The stream runs close under the brick wall of the old manor house at Turnastone, an empty and rather gloomy building when I fished there, although now restored. Eventually, after making your way round a series of bends, usually with a trout rising on each, you emerged in the grounds of a camp site where the river has been canalised to run in a straight line. I always used to think that this straight and open part, so untypical of the Dore and without much cover, ought to be devoid of trout. In fact the opposite seemed to be the case and we used to catch lots in the campsite section of the river before reaching the end of the beat at the foot-bridge.
Then there is the matter of what to do after fishing, which adds much to the charm of the day. The Dog at Ewyas Harold, already mentioned, is the best pub. Golden Valley is a place to buy cider (a farm shop near Chanstone) or home-made jam (look in the porch of Vowchurch). If you have fished at Abbeydore (Tanhouse Farm), you will probably spend a good half hour chatting to the farmer, who likes to pass the time of day. Afterwards walk into the great abbey built by the Cistercians, look up and around and wonder.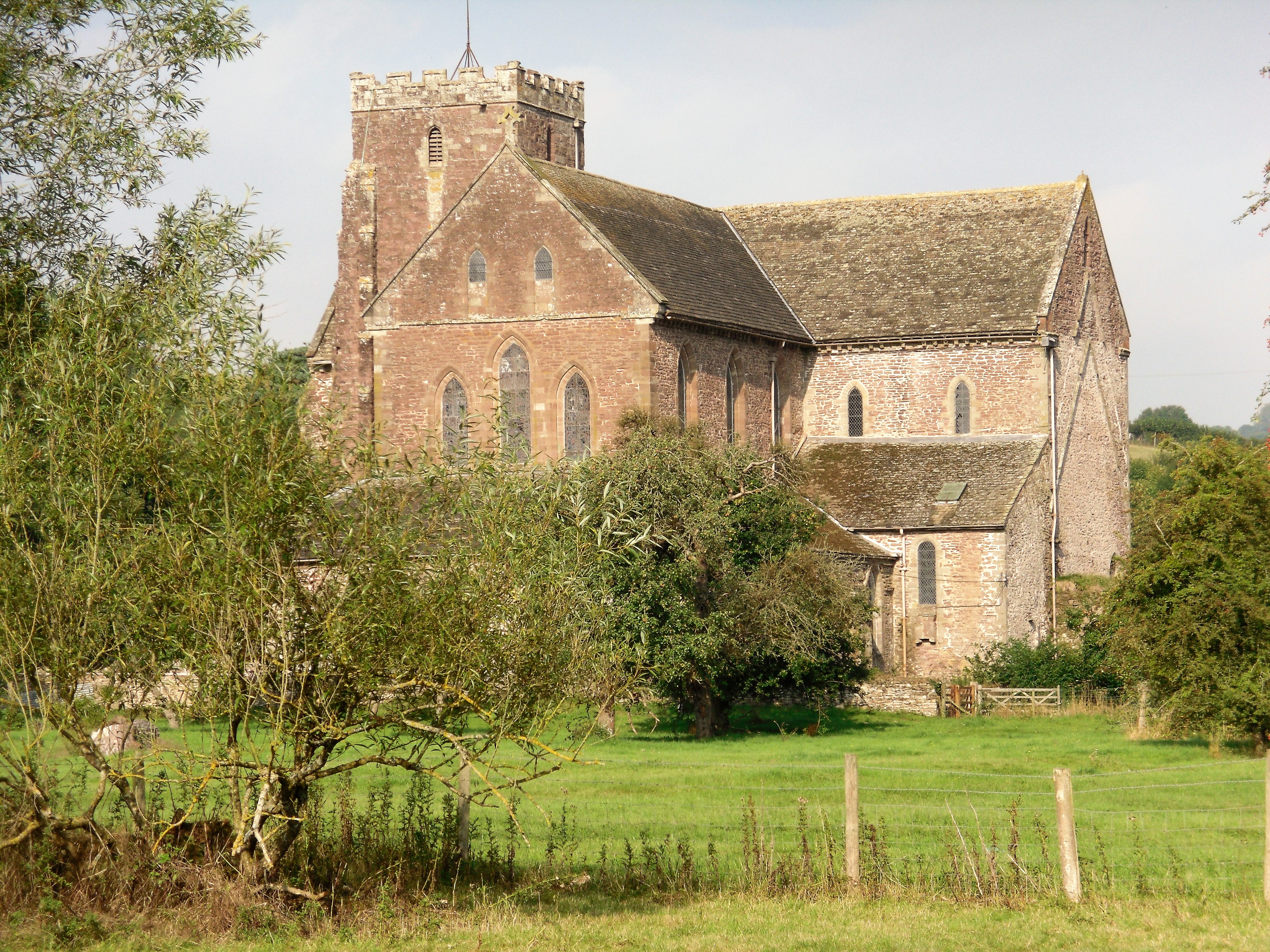 It was razed by Henry VIII during the dissolution, but more than a century later restored as a parish church. The story here is that local landowner Viscount Scudamore and his wife, who had then lost all their children in infancy, were advised by their friend Archbishop Laud to undertake the restoration as a penance and a prayer. In fact a son subsequently survived to adulthood. Before the Reformation a dozen Cistercian monks once prayed here. Is it possible that the people of the later parish were ever numerous enough to fill such an enormous church? Last time I was at the Abbey, two workmen were in the graveyard, laboriously removing and resetting an 18th century tombstone which had been pushed over by a tree root. On the section of the stone below ground, protected from the weather and hidden for centuries, you could clearly see the signature of the original mason, as sharp-cut as when it was originally carved.
A visit to Vowchurch is a more intimate experience.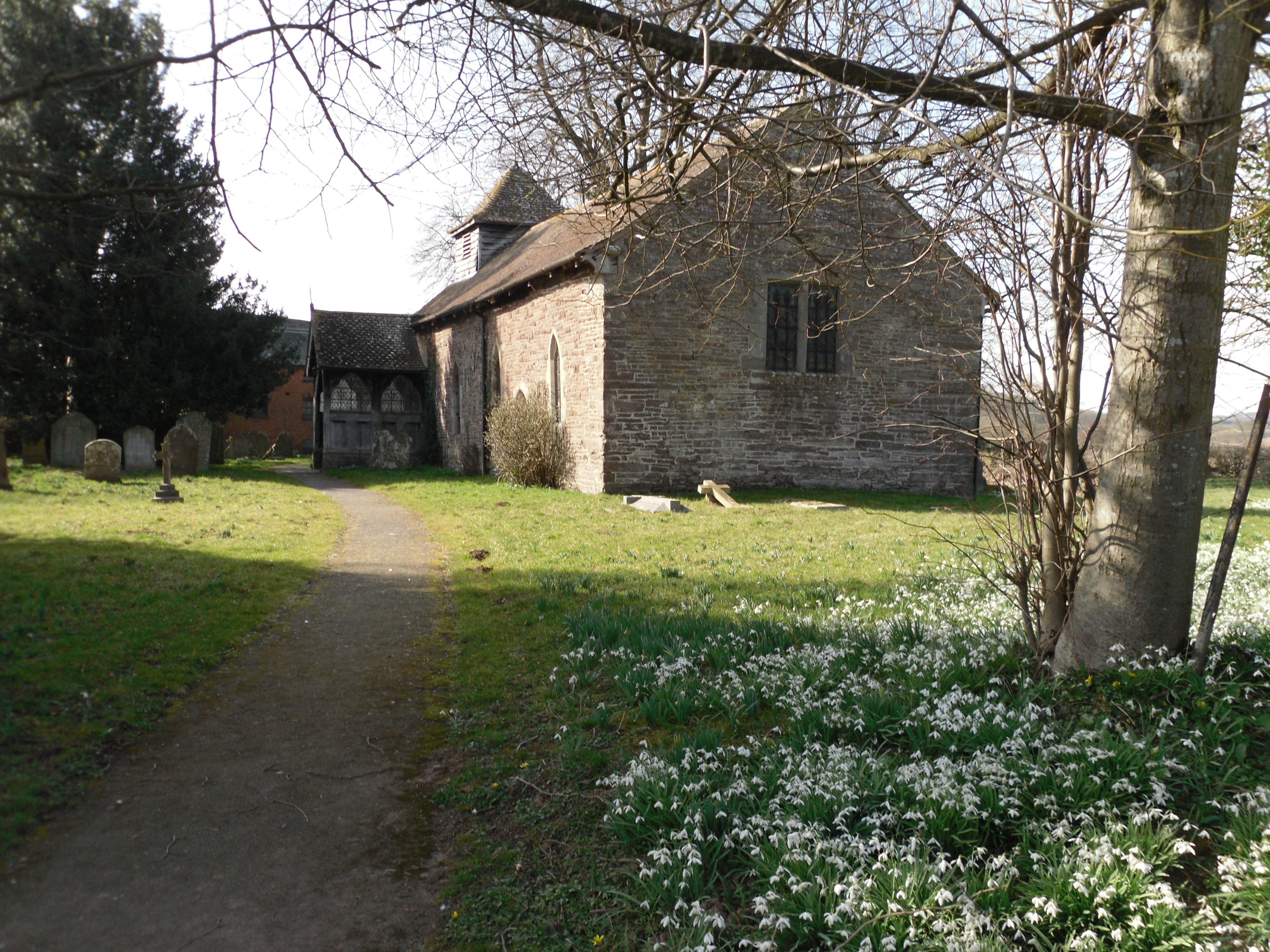 Inside you find some old photographs of the incumbent at the turn of the 19th and 20th centuries, along with his family. This was the Reverend Dodson, who is shown fishing the Dore from the churchyard with the old black and white vicarage in the back-ground. Clearly the trees were kept much more closely trimmed in those days. There are also a couple of rather charming pictures of the vicar's teenaged daughter, playing with a kitten and then at the railway station riding an early motorcycle equipped with a wicker-work trailer. Around this time, in the first years of the new century, the vicar's brother Charles visited them at Vowchurch. Charles Dodson? Does that ring a bell? Charles Dodson used the pseudonym Lewis Carroll to write Alice in Wonderland, but before any links are assumed to his niece and the family at Vowchurch, the dates are wrong. He was already a famous author by then. Dodson's famous story originates in a tale told to the three daughters of Henry Liddell, Vice-Chancellor of Oxford University, during a rowing boat trip on the Isis during the early 1860s. Alice in Wonderland was first published in 1865 – and it has been in print ever since.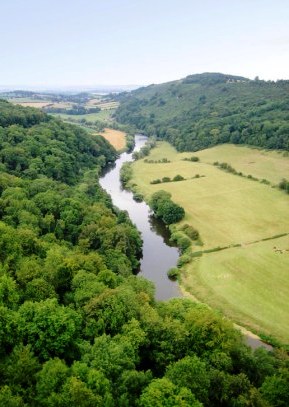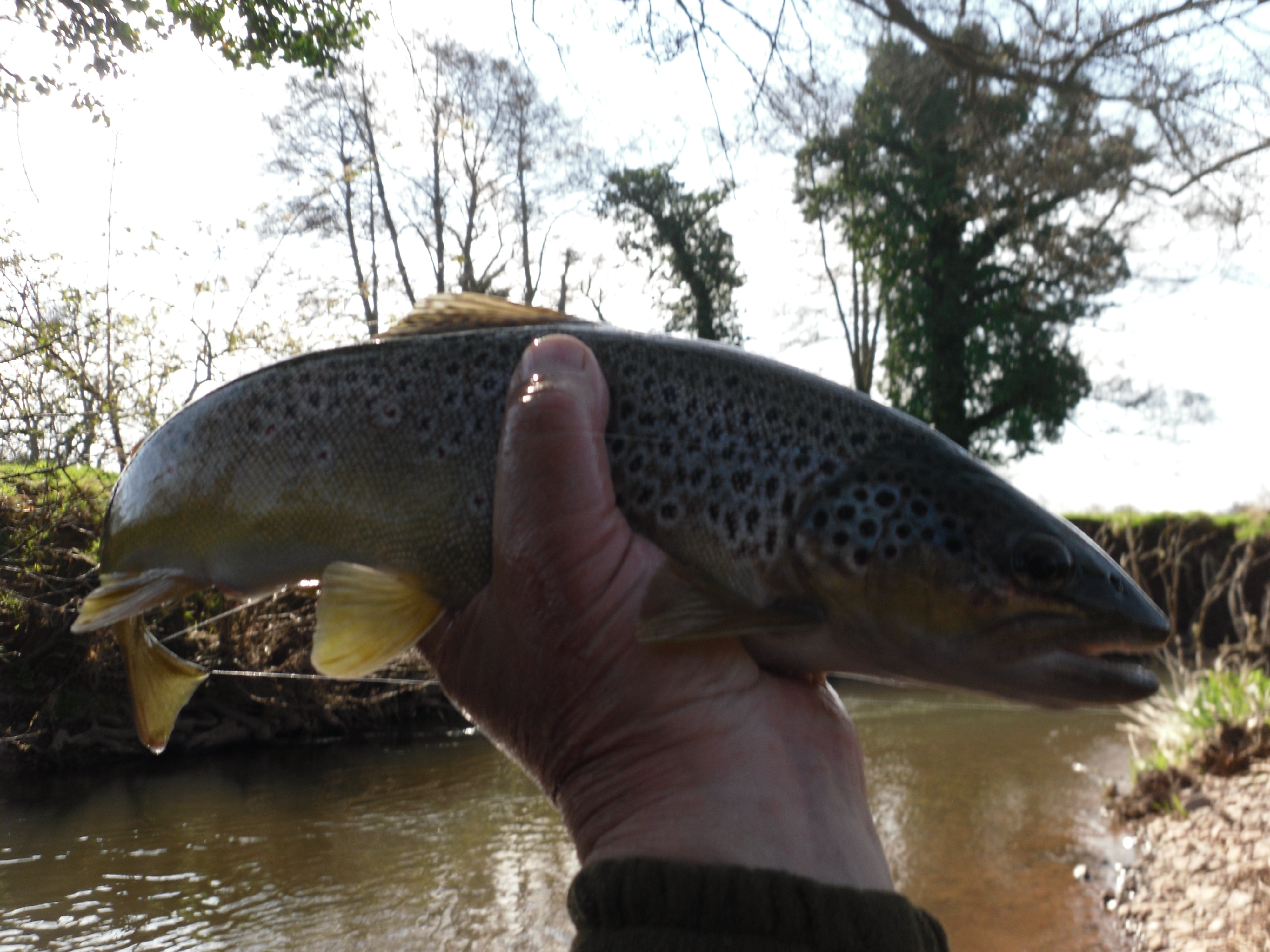 Oddly enough, the idea if not the reality of the Golden Valley plays an almost pivotal role in the 1993 movie Shadowlands. Towards the end of the story, the intensely Christian writer CS Lewis with his American wife Joy, who is already by now dying of cancer, set out from Oxford to Herefordshire in order to find it. So far the Valley and its River Dore have only been known as an idealised painting in a childhood nursery, but to the couple it has come to symbolise human happiness, even heaven. Thus we follow actors Anthony Hopkins and Debra Winger, searching through the lanes in a Morris Minor, finally to be confronted with and charmed by the sight of…well, that famous view of the lower Wye from Symonds Yat in the Forest of Dean.
Everybody knows that particular view; it's even on my website. I suppose that director Richard Attenborough and his locations manager just didn't consider the real Golden Valley, which is just a few miles away, either grand enough or photogenic enough to use. So, wrong river and wrong valley. Never mind, it's a good movie.
*****
What happens in July? Much depends on the weather, but it's likely to be a good month for heading into the mountains and fish some of those upland lakes for wild brown trout. If the weather is hot, you may well be advised to look at the Wild Streams list and try some of the small brooks under the trees.
The post-spawning grayling are back in season now on the Wye, although to my mind these do not reach their best condition until September. The main rivers are likely to fish better late in the day and it might be a time to take advantage of those evening tickets where available. The Usk can be interesting when blue winged olives are hatching during the evening and if you feel like staying right on into the "opal dusk" and then darkness as the sun sinks, try imitating sedges with some bustard fishing – see July 2014 letter. If it rains and the river rises, well there will be a chance of a salmon and further west some I know will be spinning for a sea trout. On the other hand if the rivers of West Wales stay low and clear, a warm night in July or August is the time to get a sea trout on the fly.
Oliver Burch http://wyevalleyflyfishing.com
---
---
May 2019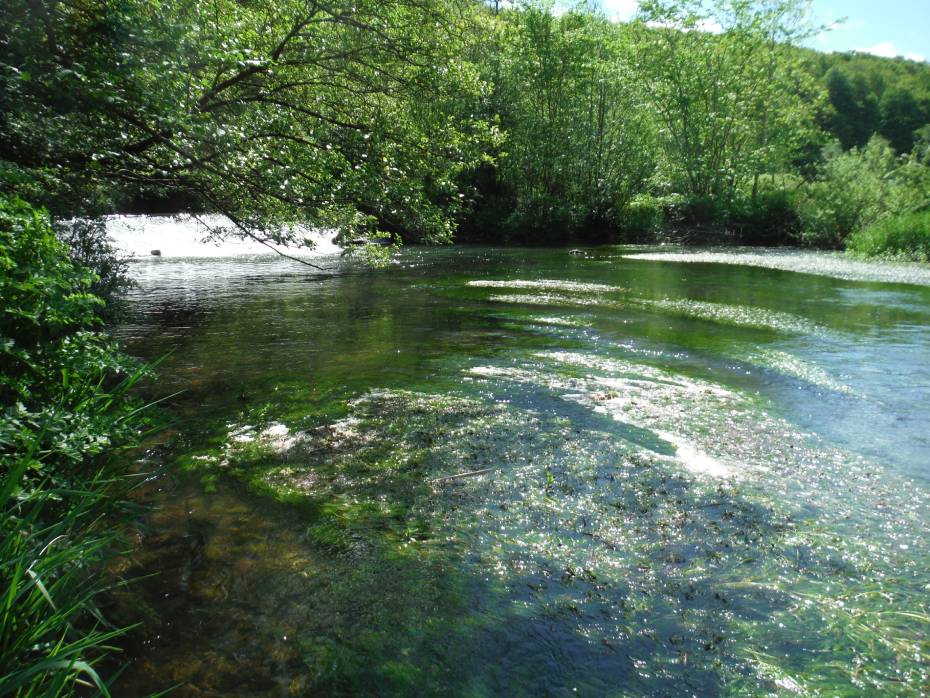 Trout anglers had mixed results during May. The weather continued to be somewhat unusual, with some very cold winds blowing down our valleys at times which restrained fish from rising and made fishing difficult. Nymph fishing continued very much in the picture and I think you could describe the spring weather development overall as rather backward, with key events delayed by a few days. We had a long wait for the mayfly, although it had definitely arrived by the end of the month and eventually the fish noticed also. Despite problems, there were also quite a number of super fishing days reported along with some really fine trout. The main conclusion I drew at the end of the month was that although there were many cool and showery days, the total rainfall had not amounted to very much. Thus we finished with both main rivers at dead low summer levels and most of the tributaries were also suffering, with the particular exception of the Lugg which still had plenty of water entering from the Radnor Forest spring.
Before we look at the river reports, did anybody else notice the extraordinary number of non-biting midges around this spring, both on running water and still? Something about the weather conditions must have suited them and at times there really was a buzz to be heard in the air as they whirled in millions around our heads. As a result some good fishing was to be had on the lakes with the likes of Crunchers, Diawl Bachs and smaller imitations. Rob Evans wrote to me about the Swiss Valley Reservoir near Llanelli, where apparently huge buzzer hatches and evening rises have been enjoyed by rainbow trout anglers and are said to be the best for 10 years.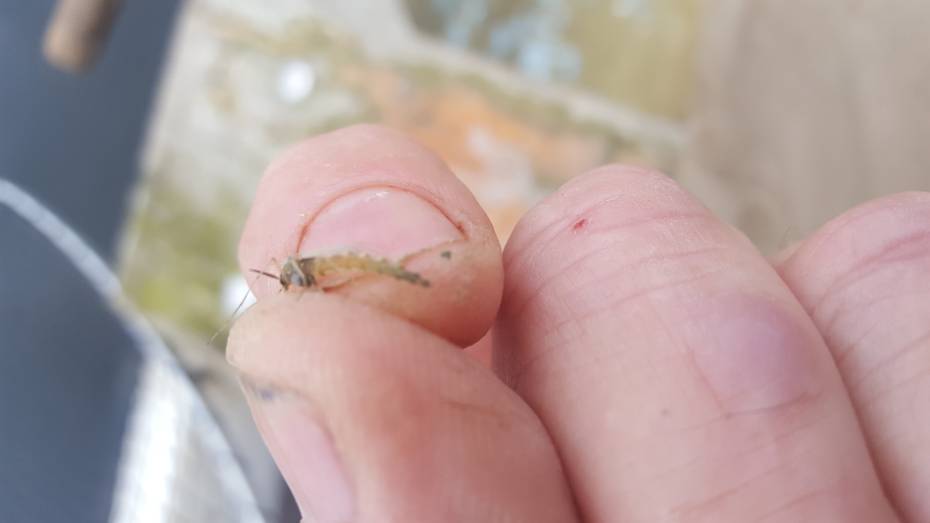 He sent me a photograph of the pale orange bodied midge responsible, although I am not sure I can identify exactly which one it is.
Now to the reports from our rivers: RB from Redditch kicked off the month on the 1st with 9 trout from Penpont. This scenic beat with its fine mansion and bridge is a good starting point for those wishing to explore the upper Usk. PF of Derby reported an afternoon mayfly hatch from the Escley Brook, also on the 1st May and apparently caught some fish with mayfly imitations. That was the first mayfly report this year and it seemed remarkably early indeed, but then it has been a very strange spring. (And do you know what, two days later I could swear I saw a grey drake fly past me on the Arrow, so that I rubbed my eyes and did a double take? It was quite a few days before I saw another one). RL from Tenbury Wells – which is a town with an interesting angling history - had a good day on the Edw at Hergest on the 2nd. He took 8 trout on a Parachute Adams, so I gather the fish were looking up on that occasion. On the same day PB of Gloucester with a friend reported a brace of big fish in a catch of 3 at Penpont. A day later MN from Bristol used nymphs and a long leader to take 5 good trout to a creditable 18 inches from Cefn Rhosan Fawr, just below Sennybridge. Fishing upstream at Pantyscallog on the 4th, he was confronted with a party of 8 kayakers from Suffolk who planned to canoe down the Usk. You wonder how a group of that size could travel so far without obtaining information about rights of access - or were they deliberately misinformed? On the same day IW from Pontyclun with a friend fishing downstream at Dinas shared a catch of 22 trout to 2 pounds, all on nymphs. AS of Newent had 6 to 14 inches from the greyish waters of the River Lwyd at Llantarnam Abbey, also using nymphs. CB from Droitwich took 6 on dries from the Lugg at Lyepole on the 5th, but in cold weather he had to wait until after lunch until fish were prepared to rise.
AP from Dudley seemed to have had a good day on the 6th fishing the tiny Cannop Brook, where he recorded 14 trout and saw a lot more. He experienced the same effects of the cold weather as others reported at this time: trout were best taken on nymphs during the morning, but were prepared to rise to a dry fly after lunch. He also noted that even the little Cannop Brook trout were capable of over-powering the ultra-light 2 weight rod he was using after he hooked them at close quarters and they dived for the tree roots. I'm going to register a slightly controversial opinion here, which might upset some rod builders and light tackle enthusiasts. Personally, no matter how small the brook, I can never see the value in a rod shorter than 7 feet or with an action assessed as below 3 weight. You get plenty of fun playing even small trout with a 7 footer. I have tried out quite a number of the 5 and 6 foot 2 weight toothpicks, but never found one I liked much. Granted, you will mostly be working at close quarters while fishing small streams, but occasionally you come to an open pool and you don't want a rod which will buckle and collapse when you try to throw 30 feet of line. You might also consider whether your 2 weight rod is capable of setting the hook promptly when a fish rises at a distance.
Dave Collins of West Herefordshire was out on the Gwent AS section of the Usk at Gilwern on the 7th and took 8 trout from 12-15 inches, variously on nymphs and duns as the cold temperatures permitted. Seth Johnson-Marshall from the Foundation fished the Rectory beat of the upper Wye on the evening of the same day and found fish rising, taking 10 trout to a pound on dry flies.
He hooked and lost a big trout which was showing regularly in Gravel Catch and watched another large trout chasing in a 7 inch fish which he had hooked. RL from Tenbury Wells was back in our area fishing the Clettwr on the 7th and had some difficulty finding his way down to the start point of the beat. I can advise that this is tricky and I think the old white poles have disappeared by now. You have a very steep descent, more of a climb than a walk with no clear path to follow, and then you find yourself making your way up a steep gorge. Again, it's a clamber over slippery rocks and lots of opportunity for falling in and getting wet. The footbridge is about half way up. The Clettwr is really one for the young and fit, although I managed it a couple of years ago and I felt rather proud of myself! Meanwhile PR from Cheswardine reported access problems to reach the Teme at Bucknell from the upper parking place. This one I find hard to understand, as it should be a simple matter of walking down a track and opening a single gate. If you bring a 4 wheel drive you can actually park at the bottom of the track. A query about the river in this section running dry during the previous summer leads to a matter which has already been discussed a few times. Agreed that there is little point in fishing this part of the Teme immediately after the flow has dried up or after a rescue operation, but experience shows it tends to become restocked, sometimes with quite big fish, during the floods of winter. For this reason, if conditions are otherwise right, there is every point in giving it a try during the following spring.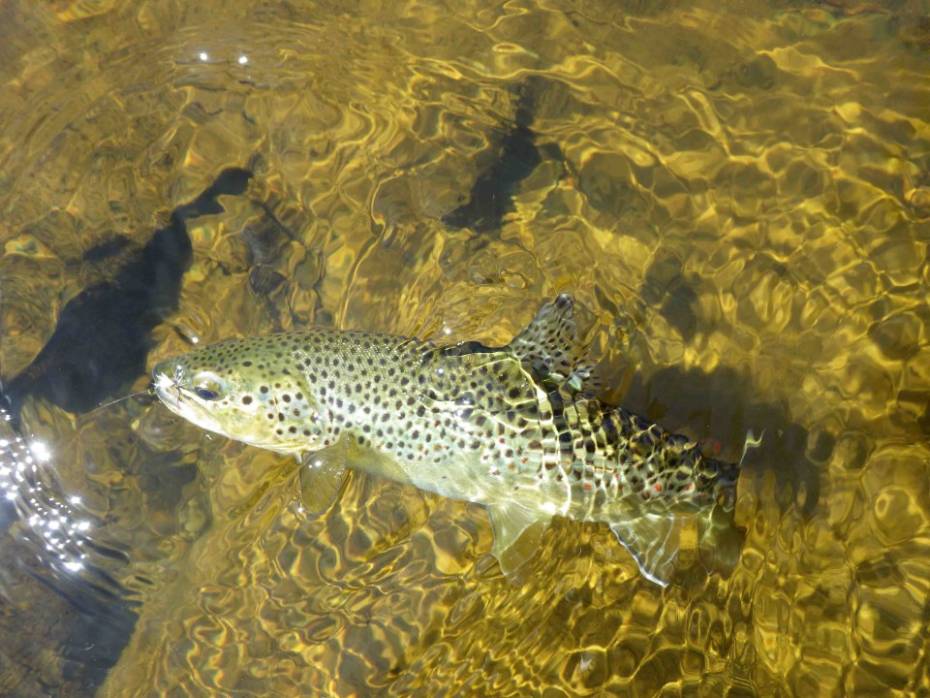 JB from Horncastle recorded 7 trout from Llyn Bugeilyn on the 8th while BS of Langorse with a friend caught 18 trout from the Usk at the Glanusk Ty Mawr – Canal and Rivers Trust water. He also mentioned encountering an unfriendly neighbour in the mill-house on the opposite bank. This sort of thing is always rather depressing, but remembering that nobody ever wins a disagreement with a neighbour, the best advice is to smile and be very careful not to wade or cast beyond the half-way point of the river. Meanwhile DC from Shrewsbury took 7 trout with nymphs at Glan y Cafn. The following day, if I read the reports correctly, GA from Chelmsford with a friend had Dinas and Abercynrig booked together and took 19 trout to 2 pounds, mostly on dries. RB from Redditch recorded 11 trout from the Rectory on the upper Wye.
On the 10th, GN from Carmarthen who reported 4 rainbows to 2 pounds 10 ounces from Usk Reservoir, "fished worm under windjammer float at 1 metre depth…" I'm intrigued by that; can anybody tell me what a windjammer float is? Meanwhile DC from Bristol had 8 trout from Dinas and DA from Brecon had 6 from Trallong and Abercamlais. BS of Llangorse had a dozen small fish at Penpont during "great mixed hatches" from late morning. SE from Abergavenny led a party of 4 at Fenni Fach and they caught a total of 28 trout to 16 inches. On the same day, JL from Street with three companions fished the Ithon at Disserth and found a lot of rising fish after midday when the sun went in. They recorded 31 trout for the day. On the 11th the same party fished the Wye at Llangoed and Lower Llanstephan and recorded 27 trout to a very creditable 2 pounds. RE from Northampton with a friend caught 16 trout at Dinas, but reported an "armada" of illegal canoeists passing through at noon. The canoe incursions seem to be an almost daily problem on the Usk this year. MS from Kings Langley visited Talybont Reservoir and asked if there is any bank fishing to be had on the eastern side? Well there is, but you need to wade for most of it and you will be tucked in tight under overhanging trees. It's all much easier when the water level is down slightly and more shore is exposed. AS of Newent took 8 trout with nymphs from the Hindwell at Knill and found himself "bewildered at the lack of rising fish." Well AS, me too. I also admit to having been bewildered myself at times this spring. PAC from Lanzarote had 8 trout at Ashford House, while JC from Barry had 9 at Trallong and Abercamlais. ST from Galway City fished with a friend at Ty Newydd on the Wye and recorded 14 trout on dry flies. TR from Derby fished at Lyepole and asked how we are supposed to know whether the holiday cottage is occupied by guests or not? The best advice I can give is to assume it is occupied if you see cars on the drive, otherwise it probably is not.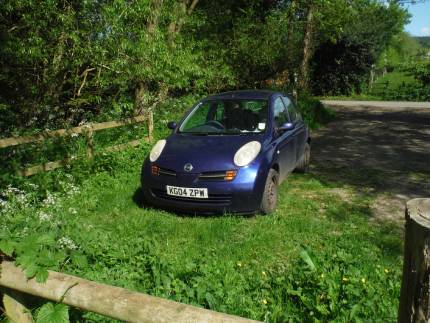 TR also felt that a day ticket charge of 28 pounds (plus booking charge) is high for a beat on a river of this size. By local standards it is quite high. In fact a lot of our reporters have been querying higher ticket prices this spring. My only thought, speaking for the punters (and particularly the older ones) if I may, is that if we are paying more for our fishing, we should be insisting that the bank maintenance and access work is kept up to date. Salmon anglers pay more for their tickets, but they expect more for it. I'm not expecting fishing huts and toilets and the opportunity to drive my car along the bank, but at the very least trout and grayling anglers paying higher prices should ask for safe parking and space to make up tackle. Laybys on main roads with traffic roaring by are not ideal. Access gates should open please, but more importantly stiles across fences should be in the right places to access the water and kept in good order with wader ripping wire suitably banished. A wobbly stile on a rotten post can be more than irritating or even dangerous. Safe steps cut down the banks and a certain amount of judicious pruning would not go amiss. Which leads me to BS from Llangorse and his report from the Usk's Upper Tower on the same day. He caught 4 trout, but queried access problems and the fact that steers in the field were running at him continually while he tried to concentrate on fishing. The beat notes state: "There is sometimes livestock in the field, but this should not impede access." Of course it should not, but it does, doesn't it? I am not sure if there is a solution for this one given that the farmer will have to graze his animals somewhere. (I'm reminded of another remark on another set of beat notes, presumably put in by the owner, that "anglers should avoid disturbing the horses." I took this carefully worded and placed marker as a signal that if any incident occurred between angler and horses, it would be regarded as the angler's fault). SJ from Ceredigion's report on the 12th from Trallong and Abercamlais echoes the remarks made above. Stiles on this beat, he argued, are broken and dangerous. He also thought boundary signs would be a good idea, given the slightly complicated nature of this two part beat. I would have thought it would be in any owner's interests to mark his boundaries.
JS from Horsham reported yet another canoe infiltration at Dinas, while IG from Pontypridd with a friend caught 15 trout at the Breconshire Fishery immediately upstream. AM from Romsey wanted to know who owns the opposite bank from the Greenbank fishery, because he likes the look of it. I do too and I think most of what he covets is part of the Llanover Estate water, which is certainly available at a price. See the details under Season Rods on this site, grasp pen and cheque book, stiffen the sinews and summon up all your courage! Meanwhile Seth of the Foundation (SJ from Herefordshire) was minded to try a day at Craig Llyn on the upper Wye.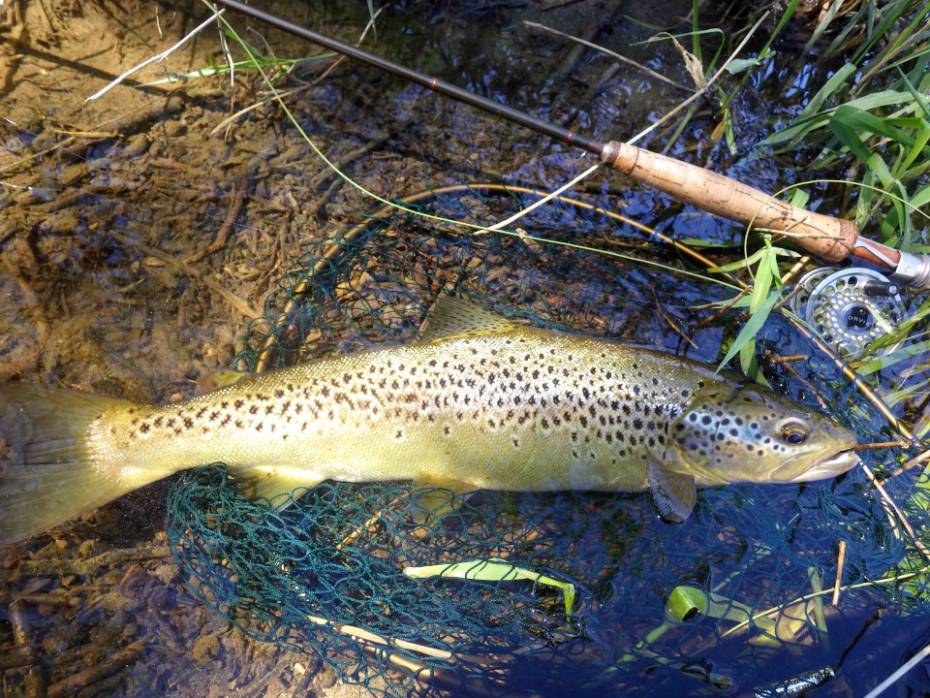 This beat has a deserved reputation for its autumn and winter grayling and the occasional late season salmon, but we don't hear so very much about it in the spring. Seth was determined to prove otherwise and he took 9 sizeable trout to an impressive 2.5 pounds, using a small CDC Shuttlecock Emerger. On the 13th we had the first report of success on Llyn Teifi where MF from Redditch took 15 trout on a weighted Hare's Ear nymph.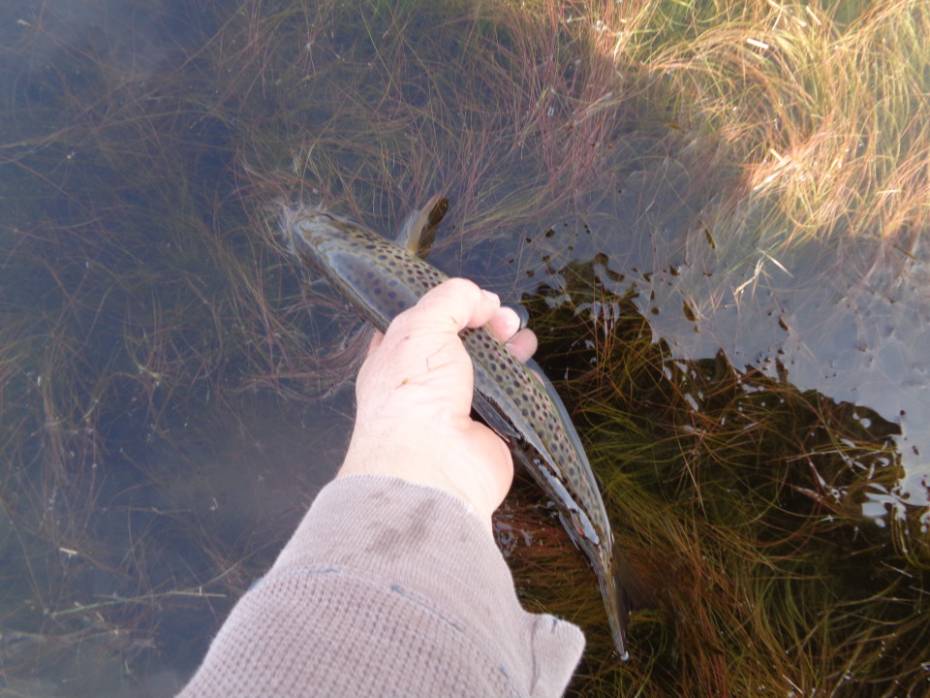 MN from Bristol had an excellent day on Trallong and Abercamlais, taking 10 trout on various dries and nymphs. Four of these were very good fish: one at 18 inches, one at 17.5 inches and two at 17 inches. Even by the standards of the Usk, a session including four wild 2 pounders must be a memorable one. On the 15th AH from Sherborne had 14 trout on dries during a big hatch of olives at Ashford House (he had 5 more the following day). AM from Stockbridge with a friend had a 17 inch fish in a bag of 5 from Abercynrig. Dave Collins of W Herefordshire had 8 trout to 14 inches on dries at Penpont. CH from Bromsgrove had 6 trout on dries at Abernant on the Wye. By now some of our other summer visitors, apart from the salmon, had begun to arrive. There were soon reports of large numbers of twaite shad in the Wye, a shoal of mullet just above the tide, and the big sea lampreys spawning below Boughrood Bridge.
For a change on the 16th David Burren and I made a trip to fish the Wiltshire Avon at Heale.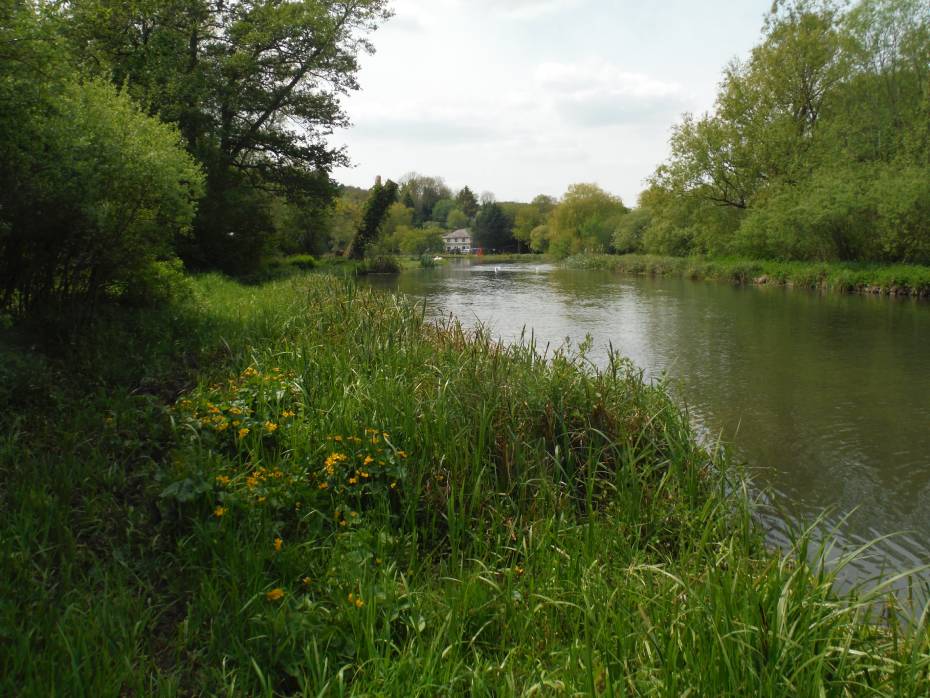 "No mayfly yet, but probably any day now" had been the advice from keeper Peter Major. The slow and steady glides above the Turbine hatch are classic dry fly water, but we were faced with a difficult morning of bright sun with very few fish showing, and those apparently sipping something very small. The Avon was slightly high with a greyish colour and has been so all season we learned, while somebody upstream seemed to have been weed-cutting early as a few mats were floating down. Natural olives were few and far between. I saw two fish come up and refuse a tiny Goddard Emerger before finally persuading one of them to take – of all things - a Grayling Steel Blue which happened to be on my fly patch. However, by mid-afternoon clouds came over and a few of the big white mayflies began to be seen. The trout were not reacting visibly yet, but David sat down in the sedges with his feet in the water, cast along the margins on both sides and persuaded a number of fish to take a large balloon winged Mayfly Emerger pattern he had found somewhere. It was a clumsy thing in appearance, but it seemed to work. I put on a Monnow Gosling (it had been tried earlier without success) and now that worked also. It was noticeable that many fish showing were cruising around rather than on station so it was necessary to cast well ahead. By the end of the afternoon we had taken 16 heavy trout of 2 pounds and up between us, most of them last year's stock fish at a guess.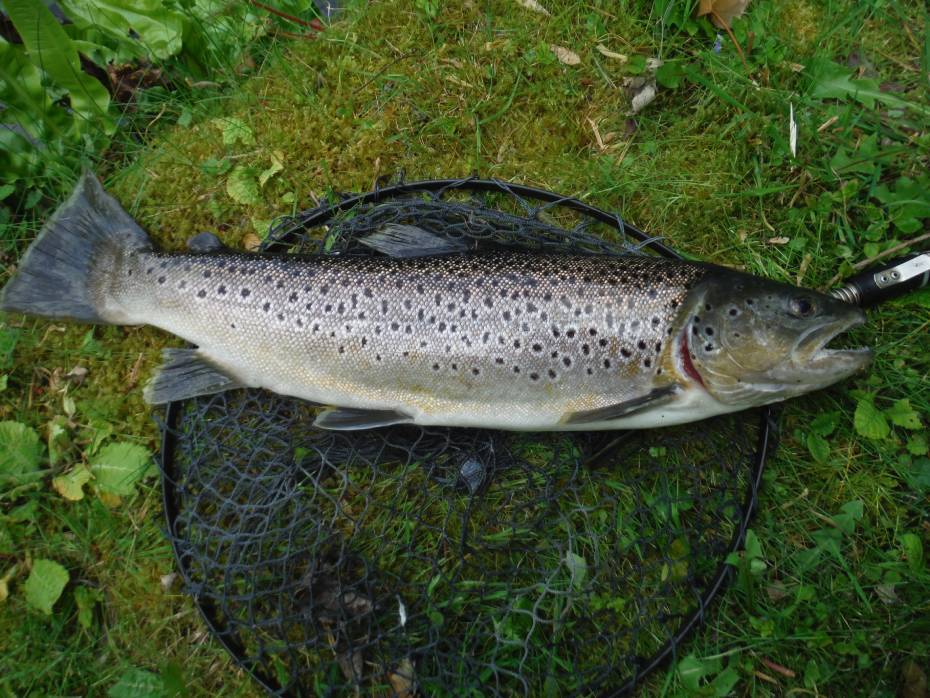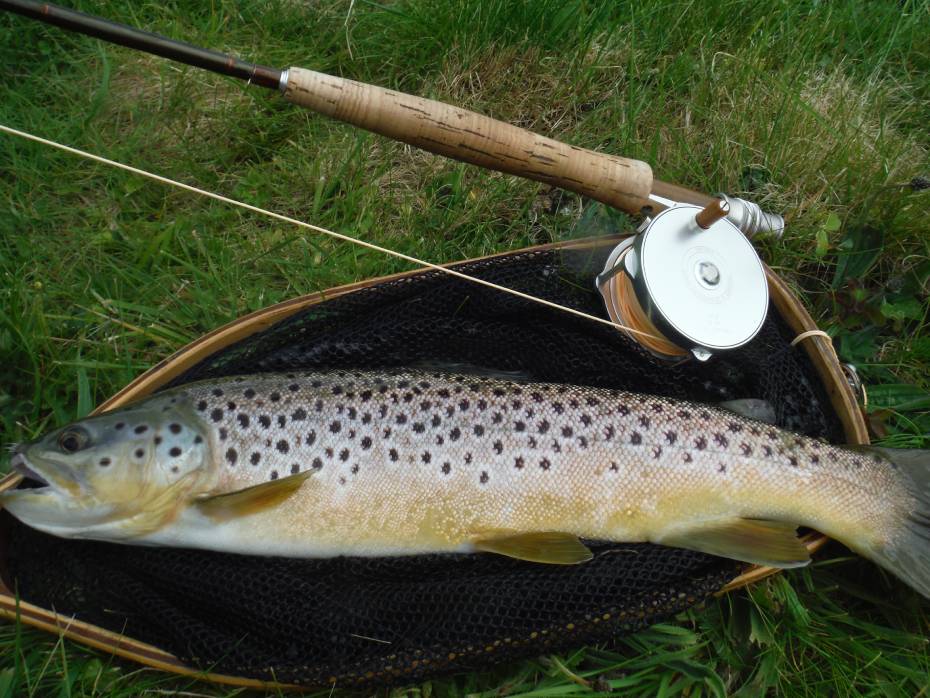 The best of them was a 4 pound bruiser which had taken David's pattern so deeply into its throat that it had to be killed and kept for the kitchen. It contained no mayfly nymphs, but quite a collection of water snails. The beat was taken by a corporate group on the following day and the fishing was again, apparently, tough.
Let's get back to our fishing in the Welsh Marches. On the 16th NR from W Midlands took 10 trout on a Parachute Adams from the Lower Llynfi Dulas, but remarked that there were no mayflies yet. MD from Barry with a friend fished the Wye at Ty Newydd for 29 small trout, while JA from Leominster reported 12 on dry flies from the Arrow at Kington. HE from Swansea reported on excellent dry fly fishing at Eglwys Nunedd Reservoir where anglers have taken many catch and release limits of 15 fish.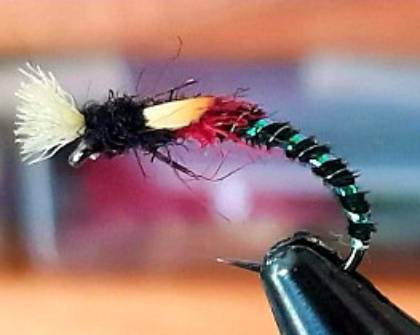 He himself had taken two grown-on rainbows of 5 pounds on dry flies during a short session. This shallow reservoir with its rich feeding can provide exceptional surface sport in the right conditions. On the 17th MN from Bristol reported 13 trout to 15 inches from the Glanusk Ty Mawr / Canal and Rivers Trust beat of the Usk. He noticed some larger fish feeding on iron blues. JD from Portcawl had 13 trout to 12 inches from a slightly coloured Llynfi at Pontithel, mainly on an Iron Blue Dun and Parachute Adams, while GL from Stroud had 6 on nymph from the Edw at Hergest. SR from Richmond also fished the Hergest beat on the following day and took 12 trout on a Klinkhammer and a small Adams. AS of Newent fished the Lower Llynfi Dulas and took 21 trout using both nymphs and dries. This time he did witness a short-lived mayfly hatch. JA from Leominster took 14 trout from the Arrow at Kington with a Parachute Adams and also noticed mayfly on the water. On the 19th JE from New Malden with two companions were on the Wye at Ty Newydd (10 trout) and expressed some concern about access to the new parking from the busy A470. He has a point. Going into the parking is not too bad, unless, I suppose, you have a very large vehicle. With a big car your front bumper is almost touching the gate when your tail is only just off the road. Coming out, however, you need to be careful due to proximity of the brow of a hill to the right. The main road is under national speed limits, and traffic can come over that blind brow from the direction of Builth at quite a pace. Keep your eye on it as you pull out, gun the engine and get moving quickly once you make the decision to go! LH from Ealing reported a Greys reel case lost at Abernant – contact the WUF if it is yours. K from London took 5 trout from Talybont Reservoir and expressed interest in the colour variation. A lot of us have noticed this, in that there seem to be the golden ones and the silver ones.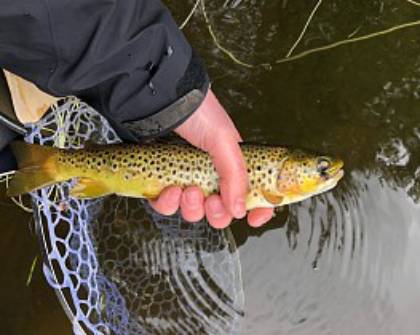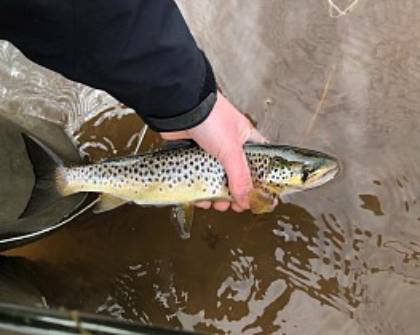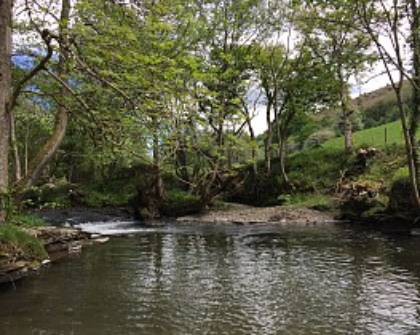 Fishing late on a summer evening you might get a sudden pull on the wet flies and as you hook up, there is either a golden or a silver flash deep in the dark waters. Either is welcome, but it is difficult to predict which type it will be. I imagine the colour change must be due to varying backgrounds on the bottom of the reservoir? You can see similar variations in wild Usk fish and I suppose the ancestors of these are indeed Usk fish. Just look at the tail in the photograph of fish B.
The Edw was still fishing well at this time, with a report from JD of Porthcawl of 15 trout to 10 inches on dries from Hergest while BP from London used a Tenkara rod to take 8 from Hundred House. Dave Collins was out again on the Usk's Gwent Angling water on the 20th and saw a variety of small flies, with fish apparently feeding on small olives or smutting. He took 14 trout to 14 inches. On the same day TH from Brecon described the Wye at Llangoed and Lower Llanstephan as "alive with shad." There are times when it is difficult to regard this as a threatened species – which it is – but shad are a shoal fish and where there is one, there are usually many. The shoals are composed separately of male and female fish, and mating takes place communally when they come together, usually at dusk. Orgies on the Wye!
AP from Cheltenham fished Aberedw on the 21st to take 9 trout varying from extremely small to 10 inches. On the 22nd JG from Monmouth had fished at Chanstone Court in the Golden Valley for 8 trout between 8 and 12 inches. A 12 inch trout is a good one from the little Dore. About this time I did my regular kick sample on the Bideford Brook for the Riverfly Partnership and found unusually large numbers of mayfly nymphs among the shrimp and other species. Some were small, obviously not due to hatch until next season, but a few of them were just about ready to burst from their skins. Surely, I thought, some big mayfly hatches must be due soon? On the minus side, most of our rivers were now getting very low and as we started the last week of May reporters were starting to talk about difficult days and the drought. Intense but brief showers early in the month had not amounted to much. The Wye and Usk and many tributaries had dropped almost to summer levels, which had certainly done nothing for the salmon fishing, and many of the trout anglers referred to a lack of rising fish. On the other hand, the Lugg and several other streams, buoyed by well-charged springs on the Radnor Forest uplands, remained at a healthy level. Mayfly had certainly started to appear on some of our beats, but the trout seemed slow in switching on to them.
Drought brings many problems and fish can be vulnerable. DP of Loughborough referred to numbers of fry trapped by drought in shallow Wye pools at Ty Newydd and asked if anything could be done about it. Given the size of the river and scale of the problem which must exist along most of its length, it is difficult to see what. The mathematics of fish reproduction dictate that in the normal course of affairs large numbers of fry perish from all sorts of causes, including predation, for each one which makes it to adulthood. That is why the numbers of eggs laid by each hen fish is so large. Nearly everything the WUF does on the river is designed to maximise fry and parr survival, but of course resources are finite. On the 23rd LS of Villemomble leading a party of four had a nice 17 inch trout in a bag of 10 taken at Glanusk Ty Mawr / Canal and Rivers Trust. The following day MN from Bristol found Doldowlod difficult with the level so low, but used a French leader and nymphs to take 6 trout including a specimen of 18 inches. The Edw was one of the streams still performing well and AS of Newent had 19 trout to 11 inches from the Aberedw beat at the bottom end. JA from Leominster fished Hundred House at the top end of the same stream and got 14 on dries. LR from Swansea had a dozen trout from Ty Newydd, but reported that the salmon planks (at the upper end, I think) are now rotted and dangerous. One other reporter mentioned this, and it is certainly a place overlooking fast water where a sudden collapse could be dangerous. I gather the WUF are addressing this with the owners.
Many anglers were out on the 25th. JD from Hereford had a dozen trout from Llangoed and Lower Llanstephan, AA from High Wycombe had 7 from the Usk at Penpont, MR from Winchester had 9 on nymphs at Abercynrig, AD from Monmouth took 8 on dries from the Middle Llynfi Dulas, while AS of Newent took 10 to 9 inches using nymphs on the Olchon. RS of Bristol walked the little Escley Brook and warned that this one was now very low. On the 26th LS of Villemomble with his party fished the Usk again at Cefn Rhosan Fawr and had another fine 17 inch trout in an otherwise modest bag. He noted that the river was rising slightly with showers. GM from Oxford had a fairly good day on the Llynfi at Pontithel, taking 10 trout from 8-10 inches on a Duck's Dun. However, he queried the 2016 pollution incident which he heard about while he was on the river and suggested that the river will take a few years longer to recover properly. I'm not sure I agree with that. 10 inch fish are not a bad average for the Llynfi in any circumstances although there are of course bigger ones. There certainly was a serious fish kill in 2016, but in the case of a stream like this one, not far above the Wye junction, in practice new fish of different sizes move in quite quickly to take up empty space. Trout are quite mobile and it isn't a matter of waiting for a whole new class of trout to grow up to maximum size. In the case of Pontithel, I seem to remember we were encountering 17 inch grayling within less than a year of the fish kill. On the 27th AS of Newent had an excellent session on a rather shrunken Bideford Brook, taking 25 trout with nymphs from fast water. JA of Leominster had 9 on dries fishing the Arrow at Kington, while AM from Worcester was fishing downstream at Titley, also taking 9 trout to 10 inches and in this case noting that trout were starting to be seriously interested in the mayfly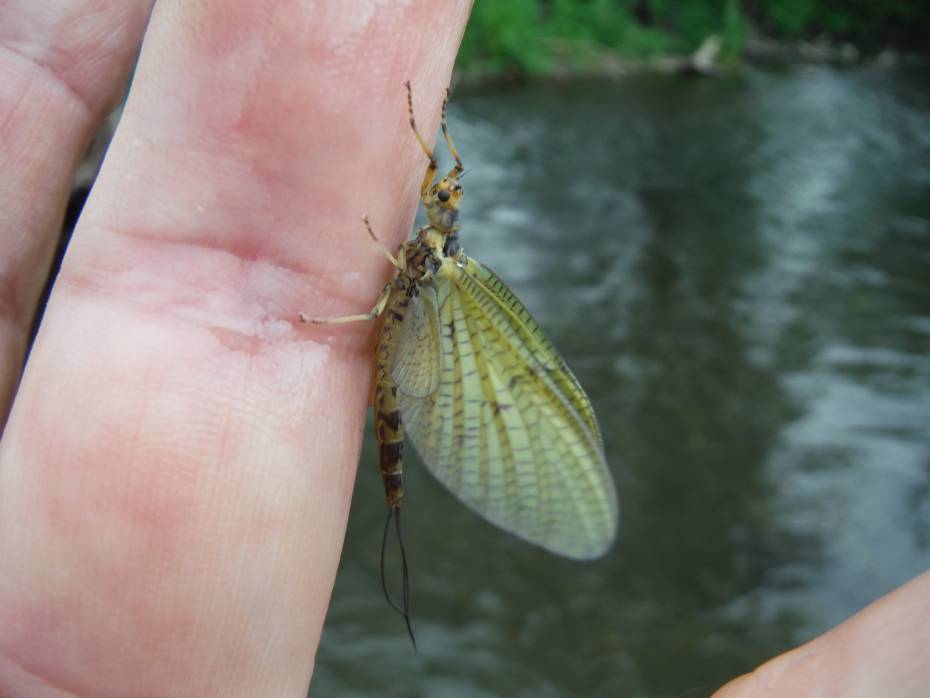 I was out with a client on the Arrow that afternoon and, although earlier a Parachute Adams had provoked the interest, we also saw the gathering of mayfly duns in larger numbers and the beginning of splashy rises. We proceeded to take one on Peter Dean's Shadow Mayfly, that rather strange pattern with wings but no tail. MB from Coventry caught 9 from Swan Meadow on the Usk. GD from Imperia thought he saw small grayling rising on the Usk at Fenni Fach; I don't think that can be right, at least not on the Usk. On the 28th MT from Evesham reported 11 trout to a pound from Abernant. JR from Innsworth fished the Rectory on the 29th and reported 10 trout to a creditable 16 inches using nymphs and dries. It was also encouraging to read a good report from Skenfrith on the main Monnow where AK from Blakeney had 10 trout to 15 inches using a Blue Winged Olive pattern. It's early, of course, but we are seeing some natural BWOs already. On the following day JA from Leominster reported a full-on mayfly hatch on the Arrow at Titley, during which he took 9 trout. WD from Hoar Cross caught 8 trout at Aberedw, "Idyllic setting. And idyllic fishing". And AT sent in a one-week report from Cefni Reservoir in Anglsey. That one is a bit beyond my regular graze, but it makes interesting reading.
BH from Oxford fished Talybont and Lower Tarrell on the 29th and sent in a report containing objections to the WUF's booking charge, objections which I'm afraid I don't understand. The first point to make is that the percentage relationship of the booking charge to the fishing ticket is of no relevance. The booking charges, either through the website online or person to person on the telephone, are at fixed rates for each transaction. What would the suggested changing of the name of the charge achieve? Obviously the booking charges goes to support the WUF, either to pay for the website, which is quite complicated and expensive, or to pay for the people who answer the phone during office hours and sort your fishing out for you. Looking at the broader picture and the way the WUF (which of course is governed by the rules affecting all British charities) needs to operate, given careful writing of project proposals and detailed reporting, it's possible for the organisation to attract grants from various sources for specifically defined work on the rivers and with various partners. However, donors are usually less willing to fund the so called "core costs" including administrative staff, rents, phone bills etc, despite the fact that these are essential to keep the office functioning. All charities are familiar with this problem. So a very good solution is that the WUF acts as a marketing agent for fishery owners and takes fees for doing so. The reason that most of us accept a charge and book our fishing through the passport office is for convenience and because it gives us access to a range of fishing which is unparalleled elsewhere, but also because we want to keep the WUF as an organisation present, working on our rivers and speaking out on our behalf. There are other ways to find and book fishing of course and anglers should make up their own minds. It is worth pointing out that the booking charges are made per transaction rather than for each fishing ticket, so with planning it is certainly possible to save money by booking a lot of fishing with one call or online visit.
---
What do you think when you find a corner of your favourite brook piled up with the ragged plastic of farmer's feed sacks, or – worse still – the plastic trays in which kebabs or chips were once dispensed? The WUF tells us that most of the upstream waste is agricultural while downstream it is the domestic items which predominate. This is certainly sad to hear, but logical enough. Nobody ever liked the ugly reality of discarded plastic on land, river banks or beaches, yet it seems we have only recently learned the true extent of the damage being done to marine life by islands of plastic in the oceans.
Perhaps we should have known more about it. 30 years ago, during one glorious spring, my family roamed the beaches, mountains and plains of North Cyprus – the part of the island occupied by the Turkish Army. I don't think I have seen such a beautiful coast anywhere else in the world – although Trincomalee and the coast of Sri Lanka where elephants swim in the Indian Ocean must run it close. Behind us lay the jagged 100 miles of the Kyrenia range, guarded by the ruins of three crusader castles: St Hilarion, Buffavento and Kantara. The Knights Templar once owned estates here, in the days when the Lusignan Kings of both Cyprus and Jerusalem reigned over the island. Closer to the coast road were the domes of abandoned Byzantine churches, some of them more than a thousand years old, and away beyond untended olive groves and banks of rich-scented flowering gorse and asphodel were stretches of white sandy beach. There were Roman and ancient Greek sites to be found here and there, dozing in the sun without either guardians or visitors. On a clear day, looking north across a quiet blue sea you could see the white snows of Turkey's Taurus Mountains. Above all there was a sense of great emptiness and peace, despite or even because of the tragedy of the island's recent history and a land abandoned by most of its population. There was almost nobody to be seen. Occasionally somebody was hunting partridges, or a shepherd who, simple minded perhaps, had chosen to lie sleeping on the tarmac of the road for the sake of its reflected warmth, while the bells of his sheep tinkled gently by the water. You could drive 50 miles in either direction, to the Akamas or up towards the Karpas peninsula pointing like an accusing finger towards Syria, and it was all the same. We were far from the Green Line across the centre of the island, and even the Army rarely bothered to mount checkpoints.
We swam, of course, and we picnicked most days. I would put Turkish Efes beer to cool in the sea and gather drift wood to grill halloumi cheese and spicy loukanika sausages I had bought in Kyrenia. There was never any shortage of wood along the shore; bleached and twisted branches scoured by the salt and the sun would soon flicker into flame. But what shocked me was what lay beyond the wood, some of it still heaving slowly up and down as the waves lapped the white sand of the beach. This was a continuous band of mainly white plastic articles, aged but not destroyed by the sun, drifted here into this corner of the Mediterranean between Turkey, Syria, Lebanon, Israel and Egypt, and obviously going nowhere in a backwater of minimal tides and slow currents. It was the one discordant note spoiling a scene which might have looked like paradise. Every domestic item you could imagine was there and quite a few you might not have thought of, along with a few military-looking items like sonar buoys. I had never seen anything like it before. Lately we have all viewed scenes like this on our television screens. Recently there was a historic voyage by submersible to the bottom of the Mariana Trench, deepest point in the world's oceans. In that terrifying blackness and pressure, 7 miles beneath the surface and a place almost as unknown to man and as difficult to reach as the moon, the lights were switched on to reveal…a plastic bag and sweet wrappers.
30 years on from Cyprus and it's become fashionable, these days, to be concerned about the way our environment is becoming overwhelmed by plastic, particularly when it gets into our rivers and seas. This time the media and the public really seem to have taken the subject on board, at least for now. Here are my three-halfpence on the subject of plastics and a few other environmental matters. I don't intend to be disparaging about such causes, but I would like to point out that we have a habit of appearing to be very worried about environmental threats, talking big about how serious and damaging they are, but over a short time moving on to the latest "matter for concern" rather than adopting any significant change which might affect our own life style. Again, I don't want to denigrate any initiatives to improve the situation but the effect on the environment of the plastic culture we have created over the last 50 years will require more to counter it than a few media-savvy coffee companies trumpeting about re-cycling schemes for their cups. Just take a look at the shelves in your local supermarket or, for that matter, look into your own kitchen and bathroom.
Here are a couple of examples. When "I were a lad," a slightly exotic fruit like pineapple arrived from the greengrocers already very well packaged, in its own conveniently tough and unfriendly skin. It was a bit of a treat for the family. Mother would cut it into slices and everybody would get some of the sweet and slightly acidic fruit to enjoy and sting their tongues with. A slice might go into my school lunch box, (which was certainly plastic, but used again and again). Today, in the supermarket you can buy just one slice of pineapple, sitting in a plastic punnet and covered with cling film, with a throw-away plastic fork in there to eat it with. A perfect finish to an office lunch in front of the computer. "One of your five a day" is written on the outer packaging along with all sorts of nutritional information which nobody ever reads. One slice of pineapple and then the packaging gets dumped…somewhere.
Another example: soap used to arrive as a bar or tablet wrapped up in a simple square of grease-proof paper, easy to dispose of in itself, while the soap itself would stay with you until it was eventually all washed away. Apparently the modern consumer finds distasteful the idea of washing hands with the same bar of soap with which somebody else has washed their hands. Instead, we now have liquid soap, possibly containing tiny plastic balls to make it feel smoother, dyed a fetching colour such as violet, advertised as containing coconut oil, but more seriously arriving in a plastic pump which includes a container, spring-loaded plunger and one way valve, all of which will have to be discarded or land-filled as soon as the half litre of soap is used up. And the same again, after the next half litre. The tiny plastic balls are about to be banned, but not the plastic pump.
While we all continue to engage in this kind of nonsense, there is not much chance of reversing the environmental degradation created by use and discard consumer societies. Oddly enough, there are a very few parts of the world which have so far avoided much waste pollution, but only because they are so poor. You will not see much in the way of cigarette or sweet packets littered around Afghan villages, simply because nobody there has the money to spend on cigarettes or sweets. Still, Afghanistan has its own more immediate problems and one day the pollution problem will come too, just as soon as there is a little money circulating around. To be quite fair, we should probably make a distinction between discarded items in the landscape which are actively harmful to life and those which are just plain ugly. I get pretty annoyed by the number of trailer wheels and motor tyres which seem to find their way into our rivers, but it doesn't follow that they are particularly harmful to wild life. Some artificial reefs constructed with discarded motor tyres in the Gulf of Mexico have attracted immense numbers of fish. Any sea angler will tell you there is nothing like the wreck of a ship to achieve the same clustering of sea-life. According to the American angling writer Tom McGuane, while Pennsylvania and other East Coast streams are kept in a condition as near natural as possible, in the Western states wrecked cars are as likely as anything else to be rolled into rivers to stabilise the banks. I suppose it's a matter of the general mind-set locally. That certainly used to be the case in Bosnia where I imagine you might nowadays hear post-fishing conversations like this: "That's a good trout; so where did you get it?" "Usual place – I saw it rising a bit up from the Volkswagen Beetle but below the baby Fiat." I don't suppose anybody bothered to drain the oil before contributing their old car to the river. Different societies have different values when it comes to such things. When I was in Greece for a while, I could never understand why everybody repainted their house a pristine white every year, and yet continued to dump their rubbish into the stream at the bottom of the village. The rivers of southern Spain contained some real horrors. I mention these matters only in an attempt to reassure those concerned about our own rivers that it could be worse.
As anglers, I like to think that most of us, all of us hopefully, are concerned about the natural world around us. However, it seems to me that today we are facing, but somehow at the same time avoiding, a series of uncomfortable decisions about the environment although the answer to the underlying problems are really quite obvious. Homo sapiens as a species is very prone to self-delusion. Take the now quite familiar carbon emission and climate change subject. Down-town the other day I heard a lady who was engaged in diligently distributing her rubbish between the various recycling bins, "doing her bit for the environment" as she described it, berating a fellow who was doing the same, because he left the engine of his car ticking over. The poor chap had to explain shamefacedly that the battery was flat, he had just had to jump-start the car and he didn't want to switch off until the alternator recharged it. I was tempted to ask the self-righteous lady if she had taken a holiday that year, maybe more than one, and if so, did she take a flight? In which case she would have been responsible for more fuel burning off into the atmosphere than her victim probably used in a year's motoring. According to the Department of Transport, a return flight to New York deposits 1.2 tons of CO2 per passenger into the atmosphere. In the case of a one-way flight from London to Manchester, 185 miles, a short haul jet (if completely full) would deposit 44.7 kg per passenger. An efficient modern car making the same journey would deposit 4.6kg. So, unless absolutely necessary, we shouldn't be flying these days, should we? But I see no sign of individuals or organisations restricting their flights, either for business or holidays, and that includes an NGO I once worked for which had "taken up the torch" of global advocacy to restrict climate change. Senior management seemed very wedded to constantly attending international conferences to discuss the subject. Here we are now as a nation, planning extra runways for the UK. My own family is as guilty as any other; our daughter flies back from Belfast every two or three weeks to spend the weekend (to my great delight) and the rest of them seem to be constantly flitting away on city breaks.
Those concerned with climate change, particularly governments, are very keen that we should all drive more fuel-efficient cars. So we should, and I should also be embarrassed about my own mileage. Between fishing and fishing-related work, I'm clocking up more per year than ever before. Having made that admission, I would like to point out that there is nothing the motor trade likes quite so much as a tax-payer funded scrappage scheme. The idea of course is there should be a financial incentive for motorists to get rid of their old fuel-inefficient model to be scrapped, probably several years before strictly necessary due to wear and tear, and take on a brand-new and more fuel-efficient model. Dealers just love it! Why wouldn't they? The fact is that the environmental impact of building a car measured in CO2 is roughly the same as the CO2 emitted from the exhaust pipe over the whole life of the vehicle. Think of all that metal which has to be mined as ore, smelted, cast, pressed and assembled, the paint, the plastics, the tyre rubber and every other part which is involved together with the energy expended in driving the whole process. Manufacture of a small hatch-back involves about 6 tons of CO2, a medium sized saloon 17 tons and a large vehicle like a Landrover Discovery as much as 35 tons. What we should really do if we are serious about emissions is restrict the number of new manufactures taking place while extending the life of the existing fleet. If drivers really care about the environment, they should treat and service their present vehicles carefully to make them last as long as possible and try to get 200,000 rather than 100,000 miles from them. When they really are worn-out, by all means replace them with the most fuel-efficient, hybrid or electric new vehicles then available. That is the reality of the situation, but you can see what I mean when I suggest that nobody is likely to be very enthusiastic about such a policy: not motorists looking forward to having a new car, not government, and certainly not motor manufacturers or motor trade workers. The fact is that we aren't yet really serious about climate change, at least not in large enough numbers to have an impact.
Politicians of course hate difficult decisions and try to push them down the road; this is the great disadvantage of democracy - not that I know of any better system. In fact we are all of us cowardly when it comes to difficult decisions. Moving away from climate change or the environment for a moment, the sight of a US president sitting down with a group of tearful and emotional teenagers who had experienced yet another American school shooting was pretty exasperating, if unsurprising. The best he could come up with was a suggestion that maybe their teachers should have been armed. I can well understand that in the late 18th century a new nation which had just gone through a colonial independence war and was beginning to settle a dangerous western frontier where qualities of self-reliance were at a premium, might well decide to enshrine the right to bear arms in its constitution. The fact that the British king had recently tried to tell American colonists not to bear arms was probably the main influence in that decision. A couple of centuries later in a very different environment, the situation that in certain states an 18 year old who turns out to have psychiatric problems can apparently buy a semi-automatic rifle designed for military use seems a cause enough for concern. I don't know what more we can say about this; it's a decision for the Americans to make (I was going to write "bite the bullet" here), whether they finally adopt restrictions to gun ownership, look more closely into the mental health of youth in their society, or take the NRA's advice and move even larger numbers of weapons into the hands of the population. But the answer seems pretty obvious to me.
Let the Americans worry about their guns. I query whether our society is capable of making a decision at the moment, even about plastic. The fact is that for a long time the retailers, particularly the supermarkets, have been catering to our laziness. Just look along the supermarket shelves and the mass of packaging shining back at you, nearly all of which is totally unnecessary for the relatively simple job of containing food items eventually to be delivered into your shopping bag. It's a nonsense, isn't it? The much vaunted schemes to charge for plastic carrier bags are a nice bit of window dressing, but hardly make much impact on the problem. "Bags for life" have turned out to be nothing more than larger, heavier bags to add to the existing discard mountain. Serious legislation to make changes would bring the government into confrontation with the packaging industry and the whole supermarket shelf shopping system, predicated in turn on our own laziness. I suspect that is not likely to happen soon. Right now I see no sign of the packagers and supermarkets ending their love affair with plastic – which of course is very useful stuff, but it doesn't have to be used for everything. The alternatives come with a price. For example we could take our groceries from the shop in brown paper bags, as traditionally was done in the United States, but trees would have to be planted and replanted to provide the paper in a sustainable way. That idea deserves serious consideration. If there is going to be a change, we the consumers will have to demand it. I think we could try to make a start by choosing not to buy goods which are unduly packaged and telling the retailers why.
Meanwhile in exasperation and disgust we can of course pick up a sack, clear up that corner of our favourite brook and take the offending items off in our car for recycling. Many WUF supporters have chosen to do just that. It's certainly a good start and we, at least, will then feel better about the situation for a while. However, a much larger and more general effort to confront the problem is needed and facing up to this will be quite painful. What else can we do, about this and other environmental problems? I ask the question without really knowing the answer. Put on a red nose and go on a fun run? Go on a demonstration maybe? A lot of people have been doing that lately. Every generation of students, dissatisfied with the boring educational grind, seems to rediscover the liberating activity of demonstrating against something or another. Thinking back, I don't seem to have done much else during 1968. Youthful idealism there may be and nobody wishes to discourage that, but I also believe a bit of anarchy and running around on the streets is very attractive to the young –it certainly beats revising for exams, at least while the weather is fine. At the end of the day, most of the rest of us and perhaps our demonstrators in future will be restricted to the routine and rather dull activity of dropping a form in a ballot box. There are some signs at least that society is now starting to take notice of the damage which is being done to our surroundings – if it's on television, the problem must be real!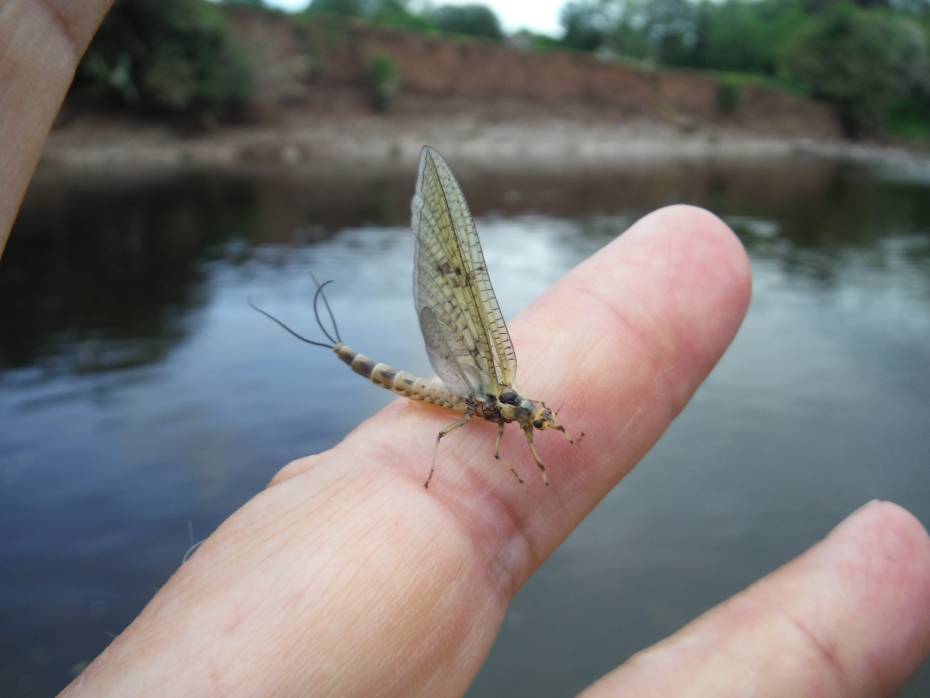 Our main environmental problems have emerged in a period of time not much longer than the last century. This period included the development of the internal combustion engine, road transport and heavier than air flight leading to dependence on oil, and, most significant of all, the human population explosion following the discovery of antibiotics. None of these scientific advances seemed like anything but triumphs at the time they were made, but will we always look at them as such? World-wide we have an economic model totally committed to the constant expansion and growth of human activity, while the containing environment remains static. There is no other model but growth which a politician could currently sell to the electorate, so maximising growth will continue to be the concern of the day. Today the question keeps coming back to me. Do we have any real commitment to protecting our environment beyond the steps already taken, or will we continue with mere token gestures, lip service to the cause, led by politicians with a short-term focus on the next election. Is it even possible to defend the environment while the human population continues to grow at such a speed? The other day somebody pointed out that in the medical field they do have a word for unrestrained and uncontrolled growth. That word is cancer. I am not arguing that "all is lost," but that if we are really going to defend the environment in an effective way, the costs to all of us in terms of life-style changes will be quite considerable.
For June, I think I'm going to be hoping for some rain, and I'm sure the salmon anglers will be even keener to see the same. At the time of writing, last day of May, significant rain is not forecast for some days yet. If June turns out to be a hot one, remember the small streams under tree cover away from the sun. We should get a couple of weeks more mayfly fishing, mainly to be found on the Wye tributaries and other small rivers with silt included in the bed. Tight lines!
Oliver Burch http://wyevalleyflyfishing.com
---
---
April 2019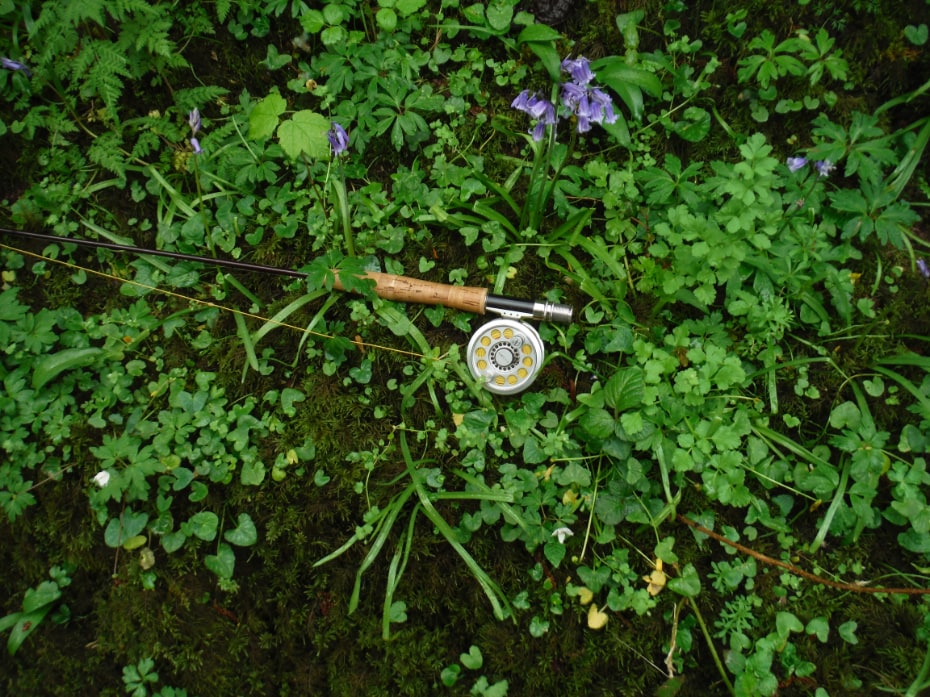 Normally we expect the fishing to improve steadily as the spring advances and April can be a pretty good fishing month as a flush of new green spreads up the wooded sides of our river valleys. This year it wasn't clear at times whether the spring was advancing and we experienced a confusion of weather – a very cold snap with some mountain snow, followed by the Easter heat-wave, high pressure and east winds, and then Storm Hannah with associated showers and a small flood on the Usk with a larger one on the Wye. Low, clear rivers and a bright sun are never very good for fishing and the high water certainly improved our fishing for a while. I suppose the showers at the end were what we should expect for April, but nature seemed slightly confused by it all. Instead of a progression of spring flowers, we seemed to have primroses, daffodils and bluebells all out together. In the rivers, hatches of aquatic insects also seemed more jumbled than usual. Through the month, grannom sedge were around in small numbers and trout reacted at times. I personally did not witness a really big hatch of grannom, although others did. The faithful large dark olives continued to trickle off and there were some intermittent hatches of March browns, which seem to be becoming more widespread geographically – making their way up the Monnow now.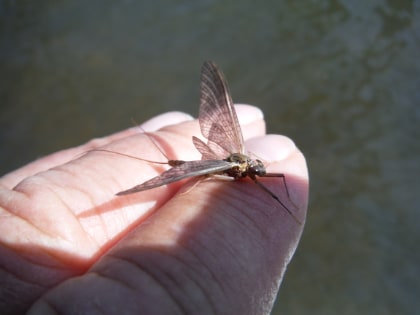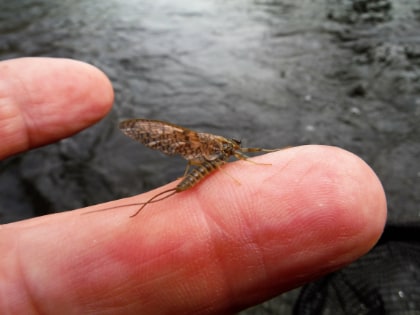 Later in the month I was gratified to see falls of hawthorn fly, smaller olives are already up and yellow mays and olive uprights along with a few large brook duns are with us already. Nevertheless, there were also days in April with nothing much hatching and nothing much rising. The small streams seem to have been slow to wake up and nymphs were usually being deployed by the successful anglers. Despite some notable exceptions, many of us had difficult or unproductive days to report. Having stated all those reservations, the mini-flood produced by Storm Hannah seems to have cheered the Usk up no end and there were some red letter days at the end of the month.
I was lucky enough to see a few spectacular March brown hatches on the Usk during April.
These are exciting occasions on which you get to see just how many trout and of what size live in your favourite pools. The problem is that these hatches are not totally predictable, although sometime between 12 and 3 on a day with just a little sun-shine should be a reasonable expectation. I find myself torn between two strategies at this time of year. The first is to go down to the river late morning with a dry fly rod made up ready, sit down by a known good pool, watch and wait. Don't start casting until you see the fish come up and be careful about it when you do. In truth, you might have a long wait and this idea might not suit those who have bought a day ticket, travelled some distance and want to explore the water. On the other hand, if your time is your own and you are on a regular club or syndicate water near home, this way you might learn something about the pool and its inhabitants. Recently on a middle Usk pool, I waited nearly 3 hours after arriving (and wished I had brought a book along) before March browns began to come off and fish to show at the surface. I caught just three of modest size during the next half hour, but I noted a place on the far side where big fish were showing regularly. Unfortunately I could not cover the spot properly from my position and it was not possible to ford the river nearby - but the knowledge should be of future value. I know where they live!
The second idea and probably the more effective one is to start earlier with one longer rod made up with a team of spiders and the other ready as a spare with a dry fly, and cover plenty of water prospecting likely runs and pools with the spiders. It's surprising how many fish you can pick up this way although no rise is visibly in progress. The dry fly rod remains safely stored on the bank until rising fish are seen, in which case you swap tools and try to take fish from the surface (although bear in mind the spiders are also quite likely to take these risers if presented correctly). All this can keep you busy through a spring day and will probably produce a larger catch overall.
It's worth mentioning as an aside that the latest type of trout net with a very fine fish-friendly mesh is also rather good at picking up insects drifting along on and below the surface. Make use of this tool while looking for hatches; try holding it in a run for a minute or two at intervals and see what you catch in it. Most of us are familiar enough with looking for duns on the surface but the hatch has already been underway for some time by then. At times you might just pick up empty nymph shucks from hatches which occurred earlier. However, a series of half-emerged nymphs drifting downstream mid-water and caught in your net will give you early warning of a hatch which is about to occur on the surface and to which the trout are already reacting below the surface.
Here are some late reports from the end of March. On the 29th LK from Warminster with a companion caught 14 trout from the Usk at Dinas. RH from Broadwas, also fishing with a friend, reported 10 trout to 2 pounds fishing with Czech-style nymphs on the Wye at Ty Newydd. PK from Billingshurst with a companion had a very good day at Ashford House on the Usk, reporting 22 trout from 0.75 to 2 pounds taken with dry flies during an afternoon March brown hatch. On the following day the pair moved to Penpont where March browns were also hatching, but few fish were rising naturally. Nevertheless they managed to catch 11 by prospecting with dry flies. CT of Cardiff and a companion had half a dozen from the Abergavenny Town Water with a few grannom around on the river.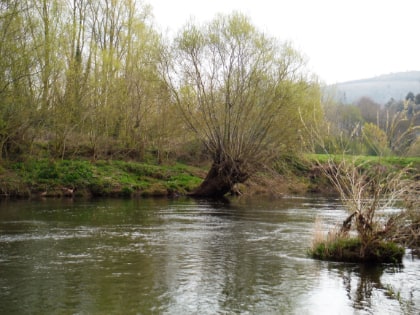 On the 31st, TH of Brecon had 6 trout using nymphing tactics on the Breconshire Fishery. GN from London had 9 from the Dinas fishery on 1st April. AP from Dudley had a good day on the Edw at Hergest, taking 13 trout with the duo method. It was good to hear that this small stream is waking up. On the following day, AP moved to the Llynfi Dulas middle beat, where he took 6 trout with heavy nymphs. Also on the 2nd ST from Galway City with a friend had just 4 trout from the Glanusk Ty Mawr / Canal and Rivers Trust water of the Usk; however, this catch included a brace of good fish at 2 and 2.25 pounds.
At this point adverse weather moved in to spoil the fun, although many angling days had been booked in what should be one of our prime months. The 3rd was a very cold day with showers of rain and hail and the fish reacted as you might expect. The 4th was worse, very cold with more rain and snow too in some parts of the catchments. Overnight showers were localised but unexpectedly heavy and our waters quickly became affected by very high and dirty floods. The lower Wye was running bank-high and a sort of livid orange colour, while the water gauges for the Monnow and Lugg disappeared completely from view for a while. Only the upper Usk came into fishable condition by the 6th, although the water was high, cold and stained a sort of peaty brown colour. TB from Pontypridd fished Talybont Reservoir on the 6th and during an overcast spell with a good ripple took 8 trout on dry flies. On the 7th TM from London with a friend fished at Dinas and they had a 17 inch fish in a bag of 6. BP from Pembridge found the little Duhonw tributary of the Wye in reasonable condition and got 8 trout with the duo method. PT from Kidderminster enjoyed himself on the Bideford Brook where he got 5 on dries and nymphs. The weather remained rather cold, although the Usk was fishing well when the hatches were on. MN from Bristol fished at Penpont on the 8th and noticed large dark olives, but no March browns. He got 5 trout to 16 inches using a size 14 Olive Para-Emerger. DR of Bristol had a fine time on the Forest of Dean's Cannop Brook on the 9th, taking 24 little trout from 6-10 inches using a nymph under a dry fly (duo method). This was a miserable wet day, although all to the good as far as DR was concerned, because he found there were no dog walkers/swimmers on the bankside path. JC from Barry had 15 trout at Dinas on the 10th. HEE of Swansea extolled the virtues of Port Talbot's Eglwys Nunydd Reservoir on the same day, when he caught just 3 rainbows. However, he reported many big catches being made by anglers off the Borg Warner Wall by fishing teams of buzzers and Diawl Bachs just under the surface. (This fishery came to mind a few days later with news of the explosion at the nearby Tata steelworks, fortunately with no serious injuries reported). Moving away from my reporting remit to the matter of salmon for a moment, Simon Evans had a large cock fish at the bottom end of Llangoed on the 12th. This salmon was the highest caught on the Wye at that time. The fish took a Black and Yellow tube fished into the gutter on a fast sink tip and after being hooked ran off 100 yards downstream before being brought to the net. I'm wondering – and I'm sure Simon must be wondering – if this is the same fish which gave him a good hard pull in the same place the previous evening.
AP from Dudley fished the Bideford Brook on the 13th – a chilly Saturday morning on which he just beat me to the designated parking place!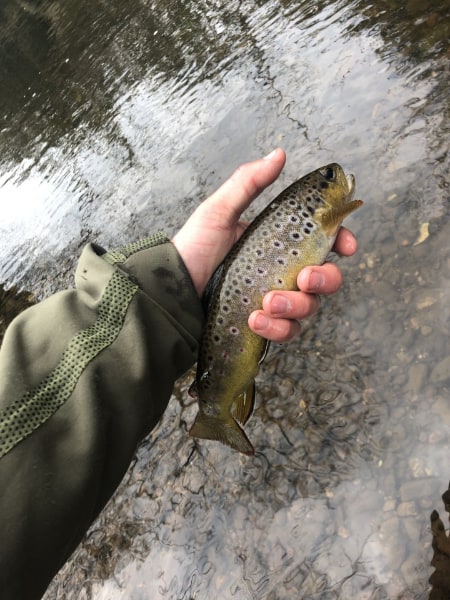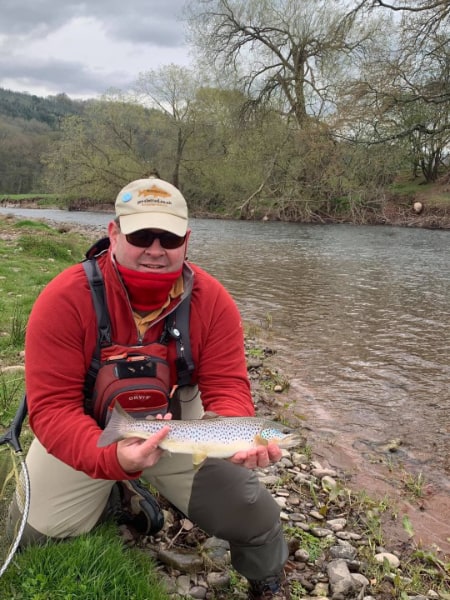 He went on to get 7 trout on nymphs…and AP, I'm more than glad you enjoyed yourself. The 14th was even colder, with an icy wind blowing down from the Gulf of Finland. I recorded a temperature swing from 2 degrees to only 8 degrees during a difficult day on the upper Wye with very few rises. IG from Pontypridd with a friend caught 8 trout at Dinas, but remarked also on the new price of the beat and how unfriendly the weather was.
JC from Barry had 6 trout from Dinas on the 16th. On the same day Hugh Young of London, one of our teen-aged anglers and a regular visitor, had 14 trout, most of them around 10 inches, fishing spiders at Ty Newydd.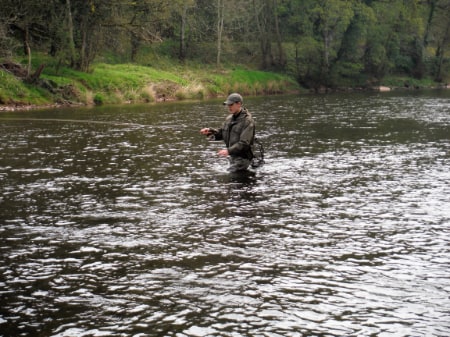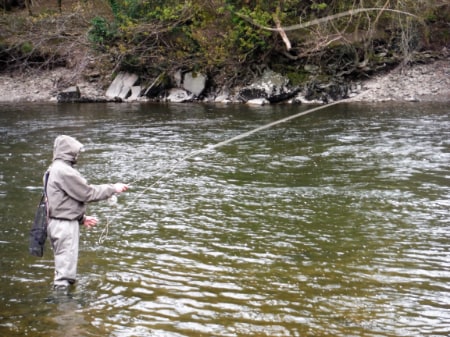 SC and JT had 15 trout to 14 inches, also using spiders at Ty Newydd on the 17th. On the 18th, with the weather now warmer, AS of Newent found some action on the Olchon Brook, taking 13 trout from 7-13 inches on nymphs. AW from Salisbury had 6 on spiders from Abernant while KG from Bath made the long trek up to Llyn Bugeilyn, where he caught 7 trout on wet flies in a big wind.
KG reminded that if you are going to take a car down the Llyn Bugeilyn track, you need one with a good ground clearance. It is the last bit by the ruined farm which is tricky.
Now came the Easter holiday, with bright sun and a heat-wave which pleased most of the country, but wasn't so good for anglers although there was a considerable fishing effort. The problem was that we were still having big temperature swings, with single figures at night, but up to nearly 25 degrees by the middle of the afternoon. AS of Newent was out on the middle Llynfi Dulas beat on the 19th and had 14 trout fishing nymphs in the fast water at the heads of pools. FC of Bristol was salmon fishing at Chainbridge, unsuccessfully I'm afraid, but he did see a rare goshawk over the Rock Pool during his day. PT of Kidderminster tried out the new Hindwell beat at the Rodd. He caught 5 trout but commented that the access for anglers needs some work.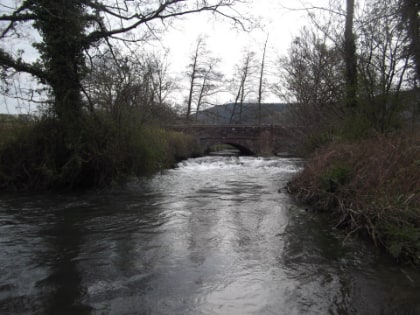 AC from Walsall reported a good brace from Pantyscallog. AW of Salisbury was another who did well at Ty Newydd on the 19th, taking 14 trout on spiders. Also on the 19th, JE from New Malden with his 15 year old son drove the 400 mile round trip to fish the Edw at Hergest and they had half a dozen trout. I do admire these visitors, refugees as you might think of them from the great trout deserts of central and southern England, who are determined to travel such distances for our fishing and the scenery of our river valleys. Some of the salmon anglers also make huge journeys - I know one coming regularly from Surrey. By comparison, those of us who live nearer seem rather spoiled.
On the following day JL from London had three fish from 13-14 inches at Fenni Fach on dry flies while BP from Pembridge caught half a dozen to 10 inches from the Edw at Cregrina using a Deer's Hair Emerger. The Dinas fishery of the Usk performed again, producing 6 trout for GN of London on the 22nd and 7 for JC of Barry on the 24th. Penpont fished well about the same time also – JL from London with a friend had a modest bag of 8 between them on the 23rd, but one was a 17 inch fish. AB from Colchester led a party of 4 anglers to the same beat on the 24th and they had 23 trout in total, mostly on nymphs. The following day the same party booked the adjacent Dinas and Abercynrig beats and scored 46 trout altogether, again mostly on nymphs. The Dinas and Abercynrig pair, to my mind, would benefit from being marketed together as they used to be. The joint package used to make a wonderful piece of private middle Usk fishing. TC from Exeter had 5 from Chainbridge on the same day.
The 26th and 27th gave us the Hannah storm and very high winds. Down on the Severn Estuary where I live we had the howling gale coming up the Bristol Channel but almost no rain; the Forest of Dean streams were unaffected. However, rain was certainly heavy in Wales to our North and West. The Wye rose up very quickly into a dirty flood which affected the whole river for several days. In contrast the Usk had one of those quick up and down floods, which washed several anglers off on the 27th but only lasted a few hours. HD from Abergavenny went off to fish Talybont Reservoir and got 11 trout as a fall of hawthorn flies drifted onto the lake by the old bridge pillars. It's a reliable one, the hawthorn fly. I think Mark must be a particularly potent saint because while other insects may waver about timing and be early or late, Bibio marci always turns up punctually in time to greet the apostle's name-day on 25th March. AB from London fished at Glan yr Afon with colour still in the water of the Usk and had 7 trout to 15 inches. SJ of Herefordshire (I think we all know who that is, Seth) got it just right at Abercynrig as the high water dropped off and caught 22 trout to over 2 pounds, nearly all on the dry fly.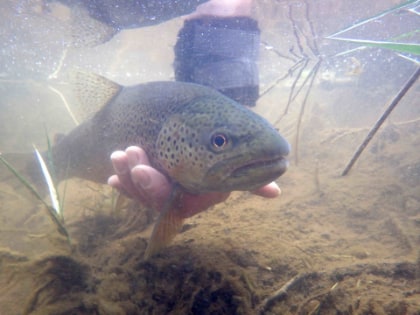 AS of Newent fished the Cannop Brook on the 28th and got 11 trout on nymphs. In answer to his query, a lot of work at Cannop has recently been done by the Forestry Commission thinning trees, and also by local villagers opening up a bankside path. PJ of Newport fished the Abergavenny Town Water and took 11 trout with dries during a large dark olive hatch. The same angler visited Talybont Reservoir on the following day and caught 8 trout with a Coch y Bonddu dry fly, noting again that hawthorn flies were on the water. PJ queried that other anglers were on the water, knowing that he was the only one who had booked online. The answer is that this fishery is also available without booking to members of the Merthyr Tydfil Angling Association and in this case the WUF does not have exclusive access. Still on the 30th, final day of the month, the middle Usk really seemed to be improved by its recent flood. AK from Blakeney caught 9 trout to 13 inches at Glan yr Afon, all on a blue winged olive dry fly pattern. Seth and Chris from the Foundation shared a glorious day at Ashford House between themselves and had 38 trout to 1.5 pounds, all of them on dry fly.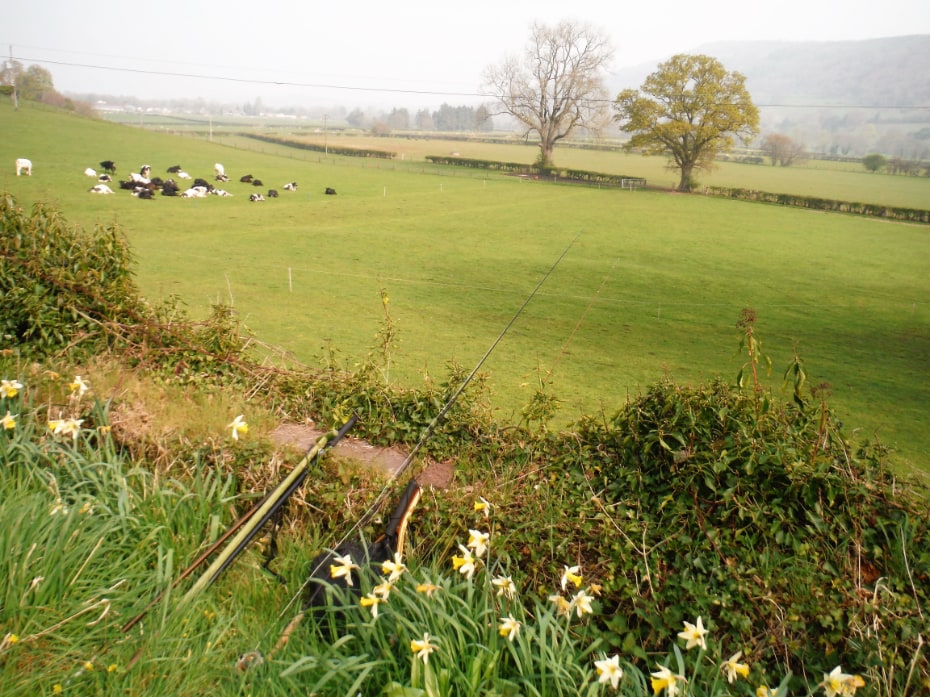 ---
The subject of losing fish is one which I tend to think about in terms of newspaper headlines. It's a bit like the famous "Dog bites Man" versus "Man bites dog." A headline "Man catches Record Fish" seems appropriate enough, particularly if accompanied by one of those "grip and grin" hero photographs which the undiscerning media and public seem to expect. But how do you feel about "Man hooks Huge Fish but then Tragically Loses It?" This would not be likely to make the newspapers at all, would it? And yet, how poignant, how sadly familiar, that very situation is to any angler worth his salt. Believe me, an angler who tells you he doesn't lose many fish doesn't hook many. And if you really have the bug it takes a lot of fish under your belt before you can lose a good one with a smile. I can remember near heartbreak as a small boy when I lost a chub which came unhooked. Up to that point I had only caught gudgeon, jolly little fellows with whiskers which took a piece of bread paste and made the float bob before being swung out of the water, but here was a grey monster pulling down my rod top and, almost as quickly as he appeared from the depths, he shook his head on the surface and was gone for ever. Losing a nice fish, in those early days, seems to be the ultimate personal failure. And yet, as the years go by, it is those fish which were lost, not the ones which were caught, which continue to glide mysteriously through the shadows of the ageing angler's memory.
The novelist Ernest Hemingway (as I'm always mentioning) famously had a passionate interest in fishing and introduced the sport into many of his works. The Sun also Rises (Fiesta) includes a charming vignette of summer trout fishing in the Pyrenees during the 1920s. Here angling is a pastime, not too serious, something which forms part of a memorable and romantic mountain landscape along with the country wine and the great stone-walled Basque farm-houses. A decade later, To Have and Have Not portrays the life and troubles of a sport-fishing skipper in the Caribbean. The story begins with the hero scratching for a living, irritated by, but dependent on the whims of the very rich who can afford to pay him for big game fishing. (Never mind feeling too sorry for him because he will eventually be played by Humphrey Bogart in the movie and Lauren Bacall turns up). In 1951 Hemingway published The Old Man and the Sea, a short story which is probably more widely read than anything else he wrote. An old Cuban professional fisherman, after a long streak of bad luck which causes his fellows to turn their backs on him, hooks a marlin which is apparently, improbable as it sounds, 18 feet long. After an epic battle during which his small boat is towed far from land by the great fish, a fish of courage and dignity with which he feels he has a mystic bond, he succeeds in killing it, which is to the fisherman an act of the greatest reverence. But while towing the fish to land it is found and attacked by sharks and, despite the efforts of the exhausted old man, when he reaches harbour little more than a skeleton tied alongside his boat remains to show what might have been. It is a story of success, failure and redemption, of honour and of human kindness.
Islands in the Stream, also set in the Caribbean and which was published posthumously after Hemingway's suicide in 1961, is definitely not regarded as one of his best novels. However, the part I always liked is the first section of the book which is dominated by a great fishing failure and how that affects all the characters aboard a private big game fishing boat: the rich artist father who clearly personifies the writer, friends, crew, and the young son who fought a very big marlin for many hours and lost it. All the big game fishing drama is there: the heat exhaustion, blistered feet and hands, helpers pouring water on the reel drag to cool it. On reflection, I'm not exactly sure that it does describe a fishing failure. "16 year-old Boy catches World Record Marlin" would have made a good headline. But there again, apart from the obvious and general jubilation, in that case Hemingway the writer would not have had much subsequent material to play with. Instead, his reflections on the great fish lost and how human beings deal with what seemed immediately tragic are much more interesting. I always thought to myself that, after all, where would a teenaged boy go in fishing after catching the world record marlin? Everything afterwards would be an anti-climax to him.
Sewin are fish that, in darkness at least, can lend themselves to the foundation of legends. Soft mouthed as they are, they often come off. You may not see them, but you certainly feel them. I can remember more than a few heart-stopping encounters (and I hope for one or two more if I am spared). Long ago there was a September night on the Loughor – which turned out to be the last night of that sea trout season for me – when I experimented with a surface lure for the first time. The fly was called the Towy Intruder and the hook consisted of a flying treble well behind a body of black deer hair built on a dummy shank. The night was dark, thickly clouded, with rain obviously coming. Just before midnight I cast across a quiet, triangular shaped pool without much current, aiming in the general direction of a splash which I had heard earlier. It was so dark that I could see nothing, but as I began a steady figure-of-eight retrieve, suddenly there came a tremendous wrench which pulled the rod down to a horizontal position. An enormous surge of power followed, but after a few seconds the line suddenly went slack. I retrieved the fly, my heart pounding at double speed. A couple of minutes later, when I had recovered some of my composure, I cast out again into the same general area of darkness. Another violent wrench followed, but this time the fish was even more quickly gone. I kept casting, there and into other parts of the pool, but something had changed. The river seemed to have died; not a sound was to be heard and not a touch to be felt on the line. About that time the expected downpour began and rain was soon streaming down my face and neck. I went back to the parked Landrover where I eventually rolled into a sleeping bag to spend the rest of the night, but not before I had switched on the lamp and looked at the lure. Of the three prongs on the treble hook, two of them had completely straightened out. When constructing my lure, I had obviously selected hooks made of wire too fine for the job.
I could and did blame myself for that experience, but it was not the last tackle failure and lost fish which I might have avoided. One night on the same river, I overcast slightly and got properly hooked up in a tree on the far side. I was using a small tube fly with a size 10 Kamasan treble hook in it, and it clearly was fairly well embedded – it just did not want to come clear. So I put the rod aside, averted my head as protection against the hook coming suddenly free and pulled directly on the line which was attached to a strong 15 pounds leader. I distinctly felt something give slightly and duly got the fly back. I had the sense to switch the red beam torch on for a moment to check the condition of the hook, found that one of the points had opened slightly and so tied on a new treble. I was ready to fish on and did so without event until about one in the morning, by which time I had worked my way up to join Lyn Davies in the Gutter Pool. This pool often gives you a chance of a late fish, and it was due to be our last shot before heading for home. Sooner or later one of us would surely get tired and suggest "whisky at Cragg Cottage?" Among our group of friends this is a Falkusian code for "let's give this up, go back to Lyn's kitchen and drink a glass or two of single malt." Lyn and I fished side by side that night and I was casting up and across – the Gutter Pool has an unusual swirling eddy – and after a while the line tightened and I got into a sewin. It went round and round, while Lyn got a sight of its silver side in star light and reckoned it was a good one. He prepared his net ready for the final moments, but unexpectedly my rod sprang straight and, just like that, the fish was off! I felt my way up the line to see what was wrong at the business end and found – nothing at all. No fly, no leader …. and no braided loop, which had slipped off the end of the line. Obviously the strain put on the loop when pulling out of the tree earlier had moved it slightly, super glue notwithstanding. I had checked the fly and hook after the incident with the tree, but had failed to check the rest of the leader. Some might also remark that a 15 pounds breaking strain leader is very strong to use with a single handed 7 weight rod and a size 10 hook; consideration needs to be given to where the weakest point of the tackle will be. I have very rarely had a braided loop fail, but since that sad event I have made a point of using salmon size braided loops on my sewin lines.
We all have stories to tell. Eifion has a tale of an encounter with a very big Loughor sewin, which he did see for a moment. It was hooked on the Golden Mile, a tight and dangerous place under high banks, and it tore up and down before he made several attempts to net it. He couldn't get it into the net, so eventually he switched his head torch on and had a momentary view of how big it really was. He describes the adipose fin as the size of his palm. And then, of course, it came off.
The stories of lost salmon are legion. The one which I think I regret most was the fish which my son hooked in the Lines at Goodrich Court while I was attending him. We never saw the fish, although I had the idea that it was a big one for some reason, but we seemed to be well in contact when the fish made a steady run diagonally downstream for a distance. My son worked it back, seemed to be making progress, when suddenly the hook let go. Malcolm didn't seem to mind, took it like a man and just gave a rueful grin. I was upset for a while though, on his behalf, because I had been all ready to net what would have been his first salmon and a delight for us both. Of course this sort of thing happens all the time.
You can almost lose a fish without actually hooking it. Once, while working at the staff college in the middle of a military training exercise, I invited a colleague back from Shrivenham for the weekend. He didn't fish, but expressed himself as very keen to try it. I took him to the upper Wye's Pwll y Faedda on the Saturday and he had a great time wading around the pools and practising on trout. It was early July and the river was not at salmon fishing height, but my friend was also interested to see how the big double-handed rod worked. With this in mind, towards the end of the day I made up a 15 foot salmon rod with a floating line and an Irish shrimp pattern, sat him on the steps over the House Pool and began to demonstrate some casts. To be honest, I was showing off a bit. I certainly didn't think anything would happen. "Now this cast is called a single Spey," I told him, and threw a long line diagonally downstream. "There's a hot spot down there, in the deep water just in front of that rock, which the fly will cover, but I don't want it to come round too fast. So this movement I'm making now is called an upstream mend, which will have the effect of slowing it down." I extended my arms and demonstrated the named semi-circular movement, and by doing so managed to pluck the fly away from a large silver shape just as it rose to the surface to take. "Hell! Did you see that?" The fish didn't come again either.
Pwll y Faedda and the House pool was the scene of another sad loss. The river was running very high on this occasion and I was spinning with a single hook Flying C. There is powerful suction in this pool tail as the water accelerates into a constricted gutter below, and my own wading position was somewhat precarious. I got into a fish and, probably through good luck rather than judgment, managed to keep it away from running down the gutter and out of the pool. However, there was an extended period, really much too long a period, when it was just hanging below me in the surface of the fast-streaming current. It looked wonderful down there in the sunshine, the dorsal fin breaking the surface and the big tail beating steadily. I'm loathe to put a measurement on a fish I didn't catch, but it was a cock fish and looked like a good one – OK, not a 48 inch monster, but more than 36 inches, I would have said. And yet I knew as I watched it, that this situation was a terrible strain on the hook-hold. I just couldn't seem to persuade the fish upstream of my own position. The inevitable happened just as the fish came over the rim of the net: one last head-shake and it was gone.
Grayling often come off the hook of course, particularly if contacted at long range downstream in a big winter current. They have soft mouths, so this isn't surprising. However, I can't recall being particularly upset by the loss of a good grayling. This must be because there is usually the chance of another one, so if a fish is lost I keep hopeful and fish on. Perhaps one of the big Lugg or Arrow grayling, hooked on a difficult winter day in a deep hole, might cause some extra anxiety. A big grayling is a wonderful prize but on reflection, grayling hooked at close quarters with a soft rod tip usually stay on the hook. I refuse to take stocked rainbow trout too seriously these days; they can be great fun, but whether they release themselves at long range or I do the job in the net and say goodbye is much the same to me.
Wild brown trout can break your heart, however. A big brownie, hooked on the sort of light-weight tackle we normally use on the rivers, can move with tremendous speed and power in the early stages of play. I think it's fair to say that if you survive the first couple of runs, you have a good chance of eventually netting the fish. On the other hand, big brown trout are rare and prized creatures, even on the Usk.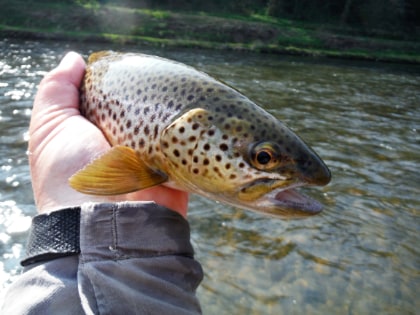 I can remember a couple of lost fish from the top of the Irfon which caused me some regrets. I used to make a point of fishing the upper Irfon at least once a year, with the idea of assessing stocks which in those days suffered from regular flushes of acidic water caused by upland conifer plantations. The WUF have done much to improve this situation in recent years, but in those days the acid episodes would kill off the smaller fish, including salmon parr, while a few big brown trout would survive. For this reason, everybody was always interested to know exactly what was to be caught on the uppermost stretches of this fascinating tributary. I can remember one summer session on the WUF's Wild Stream beat (Upper Irfon) during which I caught little or nothing over the first mile.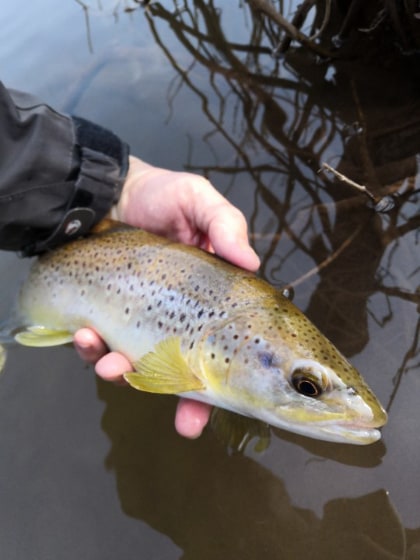 Then, in a certain pool, I caught sight of a very big brown trout slipping downstream past me. Apparently it wasn't alone; a little further up I spotted a steady riser under my own bank. I was fishing a little 7 foot 3 weight rod at the time and, after a bit of manoeuvring to get the angle I wanted, I managed to pop a dry fly up there. The fish sucked it in on the first pass. I set the hook, the fish jumped, just the once so that I could see its impressive dimensions, and then of course it came off! That was the main event of the day, as it turned out.
Another time, again in a mood of experiment, with Jeremy Jacquet (former owner of Pwll y Faedda), I fished even higher up the Irfon, right in the Abergeswyn Pass. The river here cuts down through the rock to make swirling pots and there are almost subterranean channels where you have to listen for the water gurgling below. I think some of these strata must be of soft limestone, so easily does the water cut through them. We caught nothing all morning in what seemed like a barren stream until, in one of the deepest and darkest of these pots, something powerful seized my Tungsten Hare's Ear nymph. I found myself playing a large and really handsome-looking brown trout, which made determined lunges for the depths before eventually shaking the hook just before the net. There have been several more incidents like that, especially on the Monnow, now that I think back. In fact, it doesn't really matter, does it, because all I had wanted was a photograph in these cases – another kind of trophy hunting, and a habit which perhaps, with sufficient maturity, I should outgrow. "San Fairy Ann," as my maternal grandfather used to bark at me in his harsh Norfolk accent, meaning that I shouldn't worry. Grandad was deaf, so that the family had to shout at him and he would shout back, but he had a heart of gold. And in case you don't get this reference, this was because he had served in the trenches of the First World War where, apart from being partially deafened for the rest of his life by high explosives, he had heard French soldiers say "ca ne fait rien" for when something really didn't matter very much at all. "San Fairy Ann," I say to myself now, for all lost fish.
---
Like many of us, I've been watching parliament during the evenings lately with a sort of horrified fascination. "Parliament must have a voice" was the cry I seem to remember hearing a couple of years ago. It certainly has been doing that. However, looking on the bright side, I've been truly impressed by the new interest my Forest of Dean neighbours are taking in our nation's democratic processes, which as we all know are the envy of the world. That is true, isn't it? The other afternoon, my wife, daughter and I decided to pop into the Rising Sun for a quick drink. I was looking to see if there was any frogspawn in the pond (amphibians seem to have failed this year) but a bellowing could be heard from inside even before we reached the door. "Jimmy's here," I said. "Come to think of it, where else would he be?"
The thing about Jimmy is that somewhere back in the mists of time my family used to rent his family a couple of small fields. On the basis of this tenuous connection, he seems to think that I owe him a drink when we bump into each other. And it's frankly difficult to go into any of the local pubs without bumping into Jimmy at some point. I remember his old pick-up rolling one day into the car park of the Miner's Arms. It was still moving at walking pace when he stepped out, a diminutive figure dressed in clothes faded to a sort of indeterminate colour by years of exposure to weather, a roll-up stuck to his lower lip and an irrepressible grin showing under the same battered and ancient cap he always wears. "Hello old butt," said Jimmy. His abandoned pick-up hit the wall at the bottom of the car park with a sort of "crump" as the front bumper collapsed a little further. "Hand-brake's gone" explained Jimmy as he headed for the bar.
Jimmy and his mates are what are called in the local dialect "ship badgers," which means they have commoners' rights on Forest land. You can read sheep for "ship." The general pattern of their day is that they spend the morning trying to work out where their free-range animals have wandered off to, after which they withdraw to whichever of the local pubs is open through the afternoon and drink whisky and chasers. By 3 o'clock they are usually singing. Only today it was not so much singing as bellowing. "Division! Clear the lobby!" Jimmy was shouting as we walked in through the door. "Ayes to the right, Noes to the Left!" his mates chorused merrily in unison, waving their glasses in time. The bar-maid looked exhausted. Forest landlords, of course, have the option of opening during the day in hope of attracting some extra custom. What they usually get is Jimmy and crew. "Unlock!" went Jimmy. "Order, order! Whose round is it?"
---
May is to come, and who cannot get excited by the idea of mayfly fishing? It's the one occasion (except perhaps for the March browns), when you can use a proper big artificial pattern on our streams. In recent years the hatches have come early and we have being seeing the big white flies on Wye tributaries – Monnow, Lugg, Arrow, Llynfi etc – by the middle of the month, so they may already be up when you read this. Enjoy and tight lines!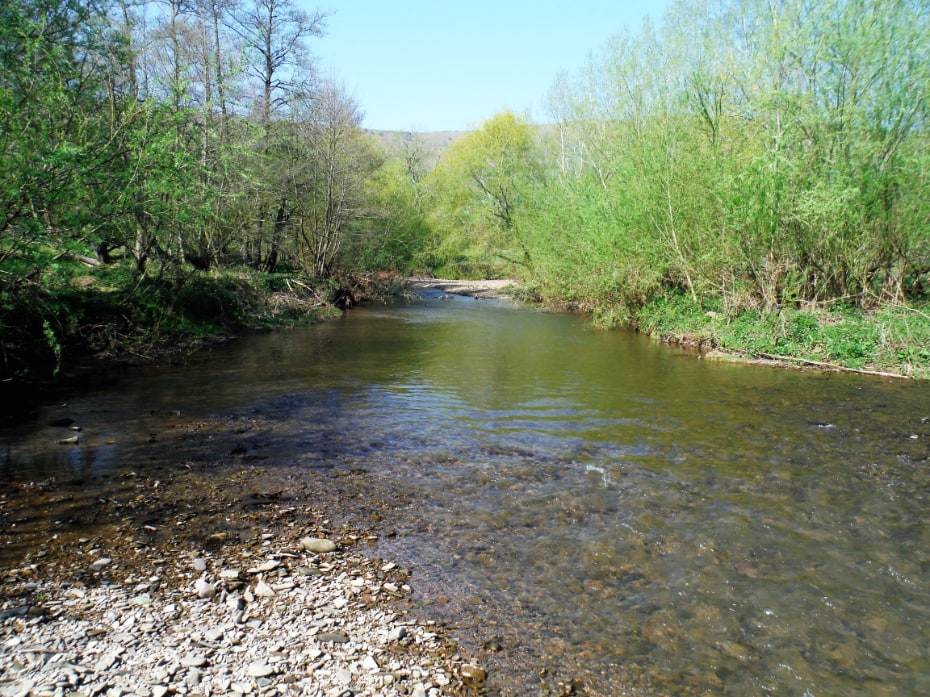 Oliver Burch http://wyevalleyflyfishing.com
---
---
March 2019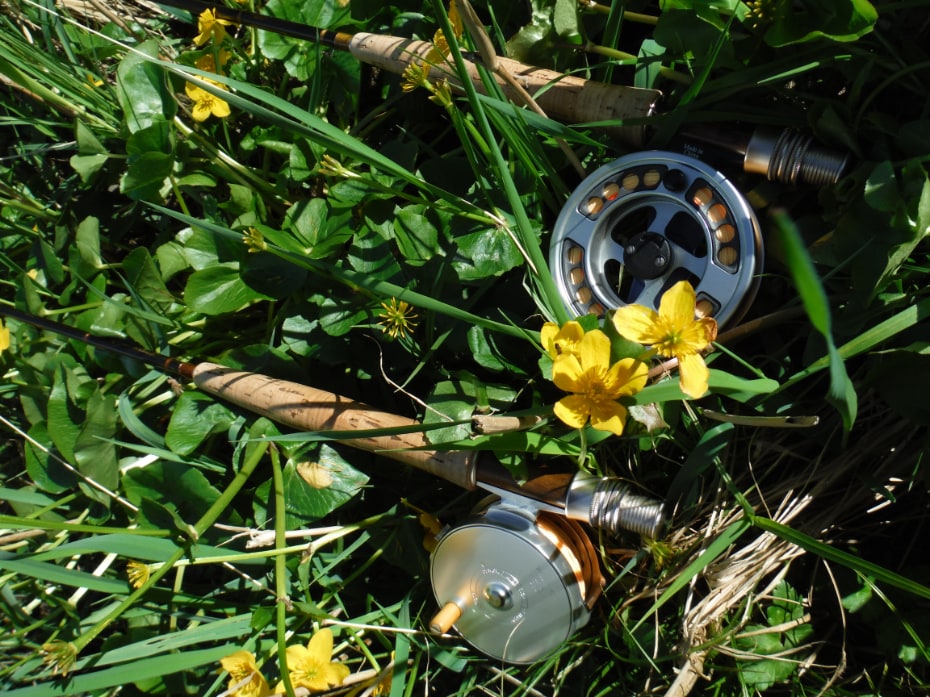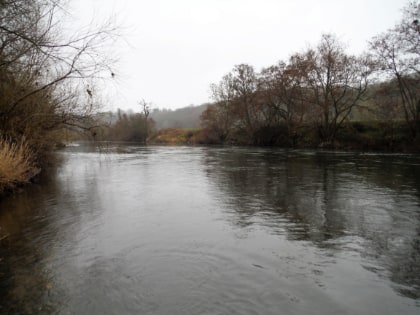 It's become a tradition with me to try for a salmon on opening day, 3rd March. According to known statistics from past opening days, this attempt might be rather a long shot, but I have the idea it somehow shows willing, a sort of homage to the god of the river, and maybe will turn out to be a good omen for the rest of the season. Who knows, pouring a shot of whisky in (to the river) might help too? I had a fish on the second day of the season a few years back. Last year we were blocked by snow; this year we were confronted by the coming of Storm Freya with predictions of rain and high winds. I hummed and hawed about the idea for a while, but at the last moment I made my mind up and booked on at Goodrich Court. I was glad I did; the river height was about ideal (0.55 on the Ross gauge) and running relatively clear. I didn't mind a morning fishing in drizzling rain, which is at least better than a day of bright sunlight in mid-summer.
The V, the Stones, Dog Hole, Island Stream, Gabions, Maddox and the Vanstone were all covered as assiduously as I could, but without a touch. Never mind, it was good to be out casting again with the big rod. I noticed sprays of hawthorn already in leaf on the bank, which seemed very early for the first days of March.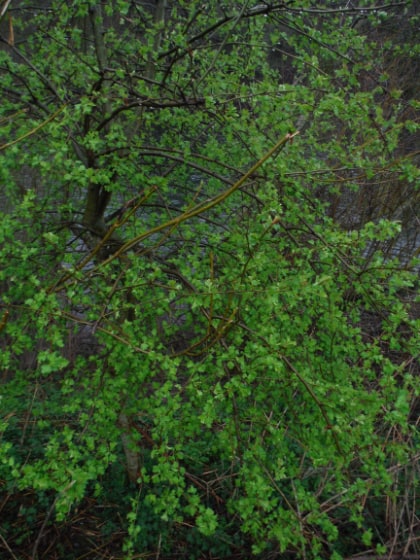 The day became more difficult later as the storm came in. At lunchtime I had to turn the Landrover round to shelter from the wind blowing heavier rain into the open tailgate and once back on the river my casts started to go all over the place. I don't fancy my chances much when I can't deliver the fly or mend line properly. A change to the spinning rod didn't help either as Freya in a full rage now tossed the lure back in my face. Eventually the water did start to rise and colour up as the rain affected tributary streams and ditches. So I was eventually defeated, but later that evening, when I checked the results for the river, I realised it hadn't been such a bad idea to try. No less than four salmon had been caught on the Ross AA water just a couple of miles upstream (one of them with the fly), then a small one from the Dean and Chapter pool, a fish of 15 pounds at Courtfield downstream, while Stan Turner and Lawrence Birkin had fish of 13 and 18 pounds up at Aramstone. Best of a very good opening day was a salmon of 31 pounds taken with a Red and Silver Flying C by Nathan Jubb from Coedithiel at the bottom of the river. Not many of us were out trout fishing, but conditions were (briefly) just about perfect around Brecon. MH from Stourbridge had 5 at Fenni Fach. I had a nice day at Brecon on the 5th fishing with spiders before the Usk also flooded.
After that quite reasonable start for 2019's game fishing, everything seemed to go wrong. I had a feeling we would be made to pay for that easy and sunny weather in February. A series of storms with heavy rain now swept in from the west and they kept on coming.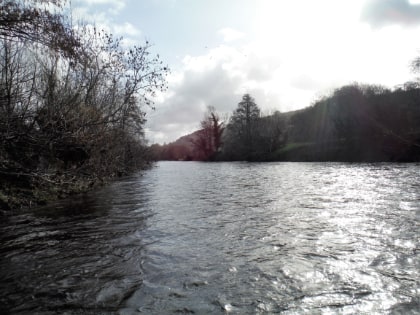 These not only created floods, but kept them going. There was no good trout or salmon fishing to be had on any of the rivers, although rainbows could be caught on still waters and buzzer fishing worked well on the pools. Coarse anglers on the Middle and Lower Wye struggled on through the last days of their season and a few fish were caught: a barbel here and a couple of chub there. This was mainly a matter of attracting fish by smell to baits lodged in the slacks at the edge of muddy currents and far from easy fishing. By 17th March the river levels had reached their peak, while the weather seemed to have settled at last into a dry pattern. Further north there were some serious floods, but hopefully it would now just be a matter of waiting for the levels to fall to enable fishing again. While we waited for the rivers to drop, trout fishing was confined to the reservoirs. On the 17th MG from Hereford had 8 rainbows spinning at Usk Reservoir, while NM from Hergoed had 5 at Llwyn On. MJ from Treorchy had 6 at Llwyn On and TW from Kidwelly had 6 more from Usk on the next two succeeding days.
We usually have to wait for the uppermost tributaries and small streams to come into condition. The higher the altitude, the later the start, is the general rule. The Forest of Dean streams, which are not far above sea level, fished well with the nymph from their opening day (18th March) and the trout seemed surprisingly plump and healthy for so early in the year. I suppose they had taken advantage of that mild weather in February. Meanwhile sprouting green leaves, new grass and flowers gave us every indication that the spring was well advanced. On the 19th AM from Bromyard fished the tiny Pinsley Brook and queried the access and its described similarity to a chalk stream. "Not a managed beat," was his comment. I can only respond that Pinsley Brook is absolutely not a managed beat, it is a Wild Stream and a challenging one at that. The comparison with a chalk stream (which it is not of course) was not suggested because the banks are regularly mowed, but because of the PH value and clarity of the water, the nature of the flow and the marginal vegetation, and because it can grow large trout. They are certainly difficult to get at, though!
The main rivers were dropping slowly. Simon Evans from the Foundation was out on the Wye's Rectory beat with the salmon rod on the 21st (after work, I'm guessing). The gauge at Llanstephan was still showing 2ft 7 inches. That is a big river by any standards, but he managed to cover Bridge, Ty Mawr and Gravel Catch pools. By the 22nd AL from London was able to fish the Usk for trout at Dinas where he found some flies hatching and took 13 to 1.5 pounds. RO from London tried the Taff at Merthyr and was depressed by the amount of rubbish in the river. He caught three trout on spinner however, and had some more the following day. Meanwhile, SJ from Crickhowell had half a dozen trout on dry fly from the Usk at Fenni Fach with a few large dark olives and March browns hatching.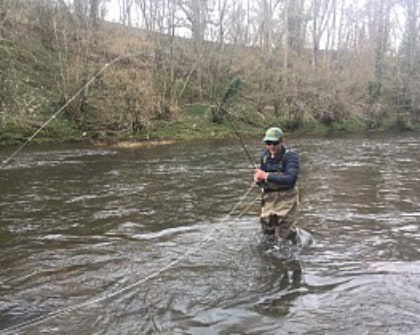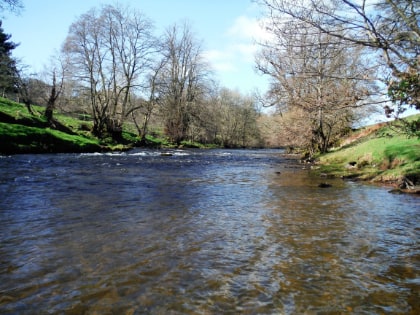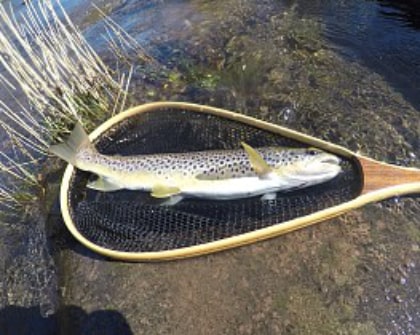 A few miles upstream, AS from Newent fishing with nymphs had 8 from Penpont.
Over on the Wye at Abernant, SF from London had 8 trout on dry flies, so it seemed our sister river was waking up also. SM from near Leominster made the trip west to Lyn Egnant on the 24th, fishing loch-style flies on an intermediate line. He didn't succeed, but sent us a picture of this mountain lake. So far, there is very little sign of spring up on those bleak moors. Salmon angler JP from St Davids encountered illegal canoeists on the Wye at Gromaine, as did DJ from Evesham on Llangoed and Lower Llanstephan immediately below. That particular problem has started early this year. On the 25th IG from Pontypridd had 8 trout on nymphs from the Usk at Penpont and commented negatively on the rise in ticket price, as did AP from Cheltenham who fished at Glan yr Afon on the 26th.
I was rather pleased to see that AP used a Kite's Imperial dry fly to catch a nice trout during a spring olive hatch – see photograph.
AH of Swansea fished the Breconshire Fishery on the 26th and noted that the vehicle access by lane to the lower end of the fishery on the Showground has been barred off. I am not sure what advice to give day ticket holders on this access, but I do know that season ticket holders have been given the code for the padlock. AH also queried the Foundation's administration charge for selling the 15 pounds ticket. I should make the point that the WUF's website and ticket office need to be paid for and there is the alternative of buying the ticket on the day from several addresses in Brecon, including the Westend Service Station or the Fishtec shop. Or why not buy a season ticket from the WUF in any case, which is very good value at 40 pounds for a non-resident? Make three visits and you are already ahead!
GC from Worcester took 5 brown trout on dry fly from Gromaine and Upper Llanstephan on 27th March. The following day RB from Redditch had 9 trout on the Rectory beat just downstream. RW of Worcester with a friend fished at the Breconshire beat of the Usk for 11 trout to 1.5 pounds while March Browns and large dark olives were hatching. JG from Monmouth tried the Dore at Chanstone Court where he got 4 trout from 9-12 inches by various methods. He thought this beat could do with a trim. JT and SC from Bristol made the same comment about Pandy (Honddu) on the previous day. On the 29th MN from Bristol fished the top of the Usk at Trallong and Abercamlais and had 6 trout from 14-17 inches on a size 12 March Brown Emerger. JR from Innsworth fished the Forest of Dean's little Cannop Brook and had half a dozen trout from 5-7 inches on a Pheasant Tail Nymph. On the 30th AF from Nailsworth caught 5 trout on dry fly and spiders from the Wye at Abernant. BW from Abergavenny saw an otter on the Llynfi at Pontithel on the 30th, caught five trout – and two poachers, spinning. I am not clear from the report what was done about that at the time? TH of Brecon fished his local town water (Breconshire Fishery) on the 31st and caught 6 trout to 12 inches with nymphs.
To summarise March, we lost half the month to floods, but that was followed by a couple of weeks of high pressure and sunny days. Days which change from an early frost or fog to a bright midday sun at 15 or 16 degrees are not exactly ideal, but the fish were not totally discouraged and some really quite good surface fishing on the Usk and the upper Wye followed. Water conditions were about right for spring and I saw some wonderful hatches on the middle Usk at the end of the month. Large dark olives kept going every day, while the big March browns were also a regular feature, seemingly on all parts of the river. It's strange to think that only a few years ago we had given up on the March brown as extinct on the Usk. Also the grannom sedge came early this spring, just as happened last year. I think it's fair to conclude that the dark olives quite like cold, dull weather, even with a chilly wind blowing, but the March browns and grannom appreciate a bit of warmth and sunshine. A Welsh spring can provide all of these conditions in a morning!
There is everything to hope for in April on the main rivers, although the hatches will gradually change. The grannom should continue for a while. Dark olives will gradually fade from the scene to be replaced by some of the smaller baetis species. March browns will also continue for a bit before being replaced by the large brook dun, which is more or less the same thing from the angler's point of view, because the same fly patterns should work. At some point the olive upright, a most important fly in our area, is going to put in an appearance. If you find yourself stymied on a cold, grey day, with fish rising to something but no hatch obviously visible, look closely at the surface. The little iron blue, easily missed by the human eye but apparently sweet-tasting to trout, could be responsible. Try a very small F-Fly. It's easy to jump the gun on small streams – they take longer to come to life – but some warm April weather should do the trick and we should see some rising fish there too.
There are two very interesting articles in the April edition of Trout and Salmon. One is about the big grayling caught on "a southern chalk stream" by Neil Stephen of Maidenhead. If anybody wants to know what a really big grayling looks like, have a glance at the for once uncontrived photograph which accompanies this article. The fish, which took a Killer Bug, was 21 inches long with a 14 inch girth and weighed 4 pounds 3 ounces – not quite a British record. The colour of the beast is almost black with a very slight peacock blue tinge.
The other article is about the remarkable 87 year old Maurice Hudson who has taken so many salmon from the lower Wye. At 2,400 odd fish, I imagine his score from the river must be greater than that of any other living angler. And he is still doing it, every summer – look out for MH of St Briavels in the fishing reports.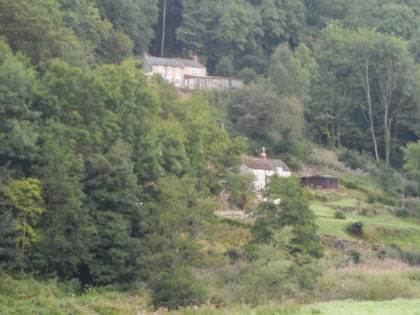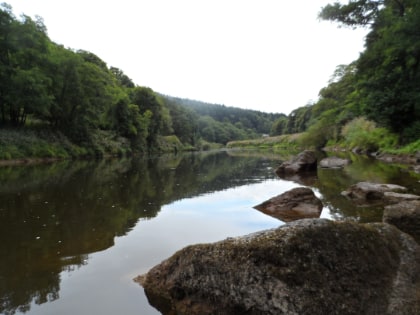 He mainly fishes his own water by Cadora Pool just above the tide and his success, as is so often the case with older anglers, seems to be rooted in a deep knowledge of the river and the lies. He doesn't wade, but uses various cribs and perches which suit his water. His equipment is no more than workman-like and his flies look quite straight-forward, even old-fashioned some might say, but he deceives fish after fish with them, particularly using small patterns in summer. Maurice likes an Usk Grub, he tells us. Interestingly he objects to Spey casts and the noise they make on the surface, but generally prefers to make overhead casts square across the river with a double tapered trout line. This certainly started me thinking. I enjoyed my hot summer day on Cadora Backs, casting over deep water from various cribs and overhanging rocks. I could see a number of residents I was covering which weren't in the mood to respond. But what was I doing there with a 15 footer and a 38 gram shooting head? Maurice, no doubt, would have dropped his little fly lightly with his double tapered line and then hand-lined it across in front of the fish to provoke a response.
Maurice was interesting on the Wye's famous run of very large salmon, fish which were particularly significant during the early years of the 20th century, although much rarer today. By "very large" we are speaking of 40 and 50 pounders here, the kind of fish which modern anglers are unlikely to see in a long lifetime of fishing. You sometimes hear a romantic theory that this strain of large Wye fish originated from the 1869 introduction by the eccentric naturalist Frank Buckland of smolts taken from the Rhine. According to different versions of the story, Buckland may have introduced anything from a couple of dozen to 700 juvenile Rhine fish, but whichever it was, it doesn't seem likely that the whole genetic structure of our river was so quickly altered. As Maurice recounts, the Duke of Beaufort's netting rights on the Wye from 1890 to 1901 were rented by Alexander Miller and his sons, who came from Scotland to live at Llandogo. These rights involved 30 miles of river, from Symonds Yat to the Bristol Channel and the Miller family were energetic and skilled netsmen, taking a huge toll of the river's salmon over the next decade. In their best year (1892), they seemed to have caught and marketed 12-13,000 fish, sent by rail from Chepstow to Billingsgate, although the number fell off rapidly as the run declined. It was by then obvious that the river was being over-netted. In 1901, the end of the Millers' lease, the Wye (and other) netting rights were sold by the Duke of Beaufort to the Crown, but on condition that a new 25 year lease should be made to the Wye Fisheries Association. In a stroke the rights had been transferred from commercial netsmen to the conservators and this act by the Duke made possible the resurrection of the river in the years which followed. Returning to the period of the Millers, they were able to net efficiently and probably cream off most of the year's run while water conditions were normal. However, the nets were necessarily withdrawn during heavy spring and autumn floods. As a result, the grilse and two sea winter salmon were being taken during the summer, but many of the three and four sea winter large fish were able to run through to the spawning grounds. Maurice argues that this was, therefore, a positive selection system favouring the survival of large fish genes and the effect on the overall population lasted for many years after freshwater netting had ceased. This is almost like a Just So story. And that, children, is why there were so many big salmon in the Wye 100 years ago!
---
The Foundation has announced that the office will marketing tickets for the Abergavenny Town Water of the Usk this year.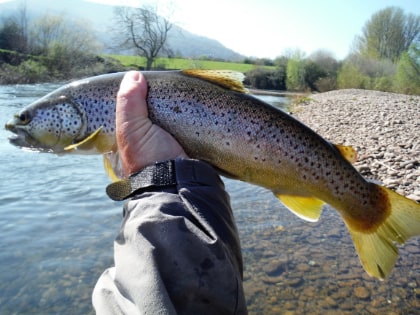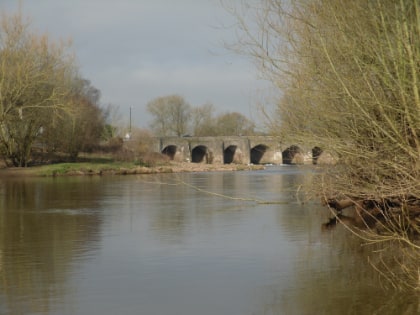 This seems like good news. Like most of the regulars on the river, I have fished the town waters a fair bit and have had a great deal of pleasure from doing so. Town waters are effectively clubs, set up to give local anglers good fishing at very reasonable rates, and most of them nowadays are keen to sell day tickets also. Clients for guiding, I have found, become a bit dubious if I suggest a day on a town water, but I am not sure why. Maybe this is because of a wish for exclusive access on what for them might be a carefully arranged holiday. The fact is that in the case of the Usk, and the Wye too, the town waters include some of the best parts of the river and while you certainly might meet other anglers, it's unusual to feel crowded. It's a social kind of fishing and a cup of tea from the flask and a yarn with another angler met on the bank is all part of the day. You might need to grit your teeth and smile a bit while walkers swim their dogs near you on a sunny day, but you can avoid that by getting on the river early or picking a quiet corner. And this is not urban fishing or anything like it. You generally have a mile or more of a classic game river to play with and the same possibilities of hatches and rises that more expensive beats offer. I can't think of a nicer place to fish in spring than the Breconshire Fishery, the lower end of which shares a pool with Dinas. Abergavenny, newly added to the Passport, is also really excellent with very productive pools below the bridge alongside the Town Meadow. This part is quite busy in a friendly sort of way – occasionally there is even the excitement of hang gliders landing on the meadow from the mountains above – but very good fishing also. The lower section is much quieter and more intimate and adjoins with some fishing of the Merthyr Tydfil Alliance on the other side of the A40. Usk Town Water has a different character with extensive wading on wide gravel flats and it's a wonderful place for fishing spiders. In that case you buy the tickets from Sweet's Tackle Shop in Porthycarne Street, which is a pleasure in itself.
"Don't the town waters put in stock fish, though?" people ask. Well, they do at times, but of course some of the private fisheries do that also. The town water committees naturally enough respond to the demands of their members for consistent sport. Usually there is a single stocking and this might go in at the beginning of the season. A more usual and I think better approach is that towards the beginning of the summer, when the best of the spring fishing is naturally starting to slow down somewhat, some appropriately sized brown trout are introduced to keep the water lively. There might be some "silly" fishing for a few days but the new trout seem to naturalise and grow on quite readily. By this time many of us will have moved on to other options such as mayfly waters, small streams, club waters and private beats on the main rivers. What you will find in the town waters by the following March will be wild fish mixed with a few overwintered stock fish, which after many months in the river are good-looking and doughty opponents.
We have another new offering on the passport for this year. This is the Eglwys Nunydd Reservoir, a fishery which I can pretty safely claim is like no other. Everybody passing Port Talbot on the M4 gets a view of this one: acres of water stretching below the road in the direction of sand-hills and the coast, but with a backdrop of British Oxygen, the Tata steel works and other large enterprises, gantries, railway tracks and chimneys, one of which often sends a burning plume of fire and smoke drifting into the sky. In the late hours of the night I used to drive back from sea trout fishing on this road and the fires of Port Talbot shining across the water were a memorable beacon on the way home. Steel and therefore money was being made. The reservoir surrounded by concrete banks was originally built as a cooling pond for the steel works and I used to look down at it from the dual carriageway, wonder whether it was really fresh water and think to myself that surely it must be polluted. Well, the fact is that it is not polluted at all and, being relatively shallow, grows a remarkable crop of invertebrates of all the usual kinds. The summer hatches of caddis are particularly memorable. Tata Angling, the steel company fishing club, control the fishing and stock it with rainbows at around 3 pounds, which quickly grow on if they evade capture. There is excellent top of the water dry fly and nymph fishing to be had during the warmer months and fishing for fry-feeders later in the year. A day on the water in front of the smoke stacks is recommended.
We also have some new beats in the Wild Stream section. It was good to see the Honddu beat (an Usk tributary, not to be confused with the Monmouthshire Honddu) is back on the list. This one, a mile or so above Brecon town, has some deep pools and there certainly used to be good trout in it. (The private beat immediately below it is known as the Cathedral Water and I always imagined encountering the ghost of an old angler in clerical garb pottering away down there in the woods with a wicker basket and a split cane rod – just as you might on the Wye's Dean and Chapter Pool). Further upstream on the Usk, Parc Fishing at the bottom of the Cilieni is likely to be worth investigating. Oakfield is a new offering at the top of the Ithon and over in North Herefordshire, the Rodd is a new Hindwell beat.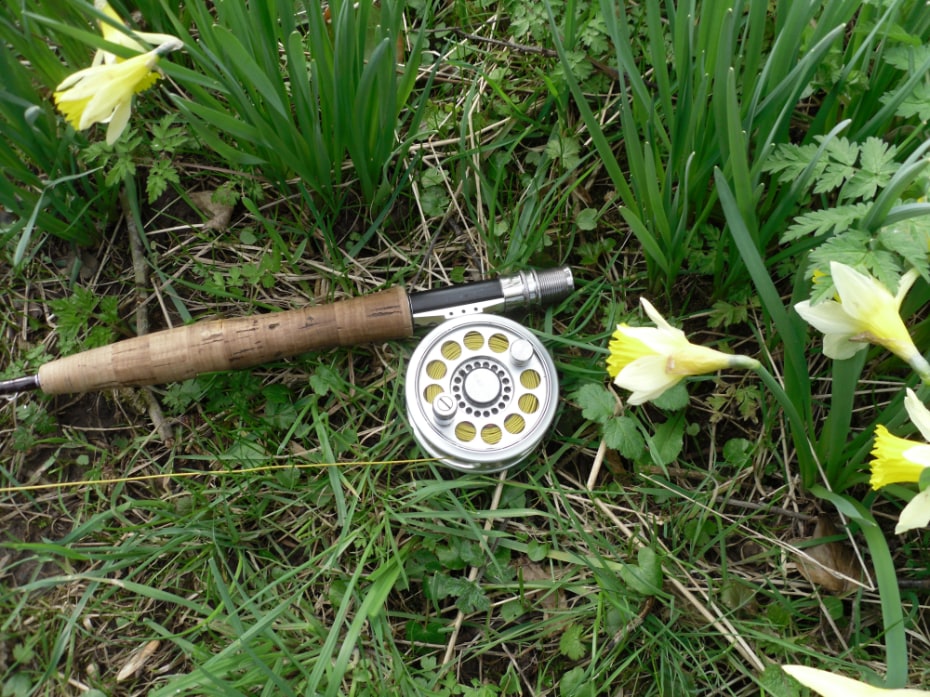 ---
I'm fussy about tapered leaders. Not so fussy as to go back to making the butt sections up from spools of thick nylon again, but I'm convinced selecting a tapered commercial leader to achieve the right turn-over and presentation is quite important. For river trout and grayling fishing I'm currently fond of the Varivas (standard trout version) leader, although they are becoming difficult to find. For lake fishing I have recently gone back to using Airflo's well known Poly-leaders. I was using tapered braid leaders on still water, but the trouble with those if used over a very long period is that I am almost certain that they lead to accelerated wear on the tip ring. They holds grease nicely, which is excellent if you use the wrinkles in the butt section as a take indicator, but in the final phases of playing a fish you can almost hear the braid sawing away on the tip ring. Poly-leaders are made by encasing a length of strong nylon or fluorocarbon in soft polythene, running from thick to thin in order to achieve the taper. The problem with them used to be that the loop connecting to the fly line was so clumsy as to make a nasty bump when passing through the rings. Recent versions are much improved however and the thick end of the leader has been considerably neatened. Poly-leaders are slightly flexible, achieving the same shock absorber protection against a smash take as a piece of Power Gum would provide. The 5 foot version (standard trout size) is claimed to turn over 10 feet of tippet. I would go further than that and suggest that it will turn over nearly 15 feet, making a total 20 feet leader length, if the flies in the team are well chosen and cast carefully. There is a 10 foot version also.
---
Gwent Angling Association are going to hold an open day on the Usk at Ty Mawr on 8th June, including demonstrations, instruction – and a barbecue they tell me. Details can be found and tickets at 40 pounds (with various concessions) booked at: https://gwentanglingsociety.co.uk/gwent-angling-society-2019-open-skills-day
---
Which of us is not interested in the subject of big trout? What exactly do I mean by a big trout? Let's say 2 pounds and above. A few years ago I was somewhat upset to read a report about a very nice one taken from the middle Usk.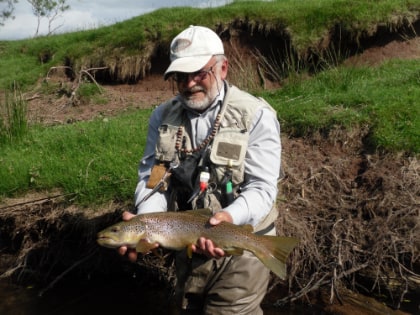 It was apparently something over 4 pounds, took a dry fly on a spring evening, and was very nearly lost at the net, having been secured with a frantic scoop by the angler just as the tippet broke. And then I read that the captor knocked it on the head, "…because it was obviously a cannibal and better out of the water." Now the angler hadn't broken the rules of the fishery in any way (you are allowed to take a brace there if you wish), but the idea that it actually benefits the fishery to kill larger trout on the basis that they eat a disproportionate amount of smaller trout is one I had thought belonged to the earlier part of the 20th century. Halford and most of his accolytes, who killed large numbers of stocked trout on the chalk streams, would have accepted this policy almost without question. However, in the case that a challenge is still needed to the theory that trout in a river can be divided into insectivorous (and therefore desirable to the angler) smaller to medium fish, and large fish only interested in eating smaller trout (and therefore harmful to the fishery), I'm going to try to rationalise that response now. Firstly, I would suggest that the fact that the big Usk trout in question was taken on a dry fly should have given the angler some sort of clue as to its proclivities. Secondly, I am convinced all trout are by nature pretty aggressive creatures and certainly cannibals if given half a chance. Oliver Kite certainly believed so and wrote: "…all trout from yearlings upwards are merciless cannibals by nature." Every experience I have had certainly confirms that. Any decent trout even looks the part, spotted like a leopard and with "born killer" almost written across its jaws. Those teeth are there for a purpose. (Only the pike looks more deadly, because she has assassin's eyes along with bigger teeth and is more than prepared to eat her own children). And thirdly I would like to remind that on most waters it takes a long time to grow a large brown trout, and therefore there is a case for regarding it as a rather rare and precious creature.
Back in schoolboy days on the upper Wey (a Thames tributary with a mixture of coarse fish, trout and a few grayling), I invariably performed autopsies in my parents' kitchen when cleaning trout for the pot. This was a time when, I blush to admit, we killed everything over the size limit with an adipose fin. Most of these were half pounders, but there were few of them which did not contain some small fish, at least a couple of bullheads, along with the caddis cases and the remains of other larvae. Sometimes there were the remains of minnows, small dace and very often there were trout parr. Come to that, on occasions I also found tadpoles, frogs, snails and worms. I had the impression that these trout, nearly all of them wild, were prepared to eat pretty well whatever they could find. During the more recent years of catch and release, there haven't been so many opportunities for autopsies or the use of the marrow spoon – although I appreciate that these can be very instructive. But many and many a time I have netted a fly-caught fish only to have it cough up a half-digested loach or baby trout. On a couple of occasions I have caught a grayling which disgorged a grayling parr.
I was thinking of the minnow and bullhead munchers one day when I was sitting with a pint outside the Dog Inn at Ewyas Harold, enjoying the sunshine and a clear view of the little Dulas Brook beneath my feet. I realised there was a little trout down there, barely 6 inches long, and it was behaving in a rather odd way. I looked closer and saw that it was trying to eat a bullhead tail end first. However, just when it almost had the smaller fish's flat head engulfed by means of convulsive swallows, the victim would make an effort and struggle forward until it had almost escaped. But not quite. The trout would make a renewed attempt and again the bullhead would almost disappear. While watching this, I had in mind that bullheads themselves are pretty aggressive little creatures. Occasionally one gets caught up during the regular kick-sampling of invertebrates I do for the Riverfly Partnership. You would think that, having been trapped in a net and then turned out with everything else into a white plastic sampling dish, the little fish would be at least nervous if not traumatised. Not a bit of it; invariably a bullhead released into the dish quickly proceeds to eating the rest of my sample, a small heptagenid here, a gammarus there, until so stuffed up with insects that it can get no more in. Nature is red in tooth and claw! As for my Dulas Brook drama outside the Dog Inn, the rather grisly sequence of efforts by predator and prey went on back and forth for some 20 minutes, when I finished my beer and left and so never did see the end of the story.
Unlike the relatively short-lived and fast-growing salmon, European grayling and American rainbow trout, slow growing brown trout (including sea trout) can live for a dozen years or more and, if conditions are right, eventually grow to a considerable size. The British record for brown trout is currently 31 pounds 12 ounces, from Loch Awe, and for the sea-faring variant, 28 pounds 5 ounces from Calshot Spit off the mouth of the Test. If you take the jaded and cynical view of international politics, which is to say that large nations behave like gangsters while small nations behave like prostitutes, you are well on the way to understanding the pecking order system which governs the growth of trout and other aggressive species in nature. In fact the Mafia and Camorra tactics make a very good analogy for the behaviour of trout in a pool. Mr Big gets the best feeding lie with the best access to safe cover, and thus gets to survive and eat and thus grow even bigger. Any smaller fry who feel inclined to disagree had better watch out because there is no socialism in the river, at least, not among the trout!
Most rivers and even brooks seem to be capable of growing the odd big one in this way, and the stories about them turn quickly into legends. Fifty years ago on the Hampshire Wey we considered ourselves lucky to get anything much over a pound, but there was the story heard in the school yard of the 4 pounder taken one day from a private mill pool above the shallow stretches where we fished. Supposedly it was ugly and almost black with a great hooked lower jaw, studded with long sharp teeth. Of course it was, we all thought then, because it was a cannibal - must have been. More recently and more locally, we all know that the Usk is capable of producing big fish: 2 pounders are relatively common, 3 and 4 pounders turn up every year and fish larger than that have been recorded on occasions. But what about the Wye and the legendary 6 pounder from the Irfon tributary a few years ago, another 6 pounder reported from a hole in the Worcestershire Frome, and the fish of 10 pounds from the Monnow taken back in the 90s before the mill dam at Skenfrith was washed away? I am sure there is some truth behind all those stories.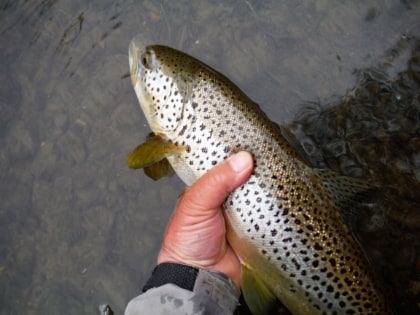 The biggest trout I caught on the Wye – I don't know how big, because I didn't measure it – took a Flying C intended for salmon, came in like a log, and then when I tried to unhook it exploded in a fit of head-shaking fury, neatly transferring the treble of the spinner from its jaw into my hand.
The accepted view of what makes a trout turn to cannibalism, and supposedly away from supping on flies on the surface like a properly behaved fish, and thus in the process making itself unfortunately invulnerable to the angler with an artificial fly, was the onset of age and infirmity. Frank Sawyer wrote that if a two legged, four legged or winged predator doesn't get it, the end of an old trout is a rather terrible one – blindness followed by starvation. On stocked rainbow lakes, you can sometimes see the sad condition of old fish like this, not far from death. The conventional view used to be that a cannibal trout is at a stage in this ageing and dying process. It loses condition rather like an old lame tiger which has lost most of its teeth and can no longer chase down deer. Instead it has turned to man-eating, waiting on the edge of the forest for easier prey. The idea is that the cannibal trout, poorly conditioned, black, large of head, toothy of jaw but thin of body, is in the same condition as the man-eater. In this case it is eating other trout while waiting for some angling equivalent of Jim Corbett to take it out of the river and put it out of its misery. I can see no objection to a fish which is obviously old and sick being despatched as an act of kindness. However, I haven't seen any evidence that such ageing fish, usually very ready to seize any kind of fly or lure, are particularly more efficient predators of smaller trout rather than any other food. I think they are just hungry, understandably so. They might be able to take advantage of sick or injured smaller fish.
There are other reasons for streams being inhabited by a few large trout only. Periodic acidic flushes, such as may be caused by extensive conifer plantations on high land, tend to kill off small fish, fry and parr, while bigger fish survive.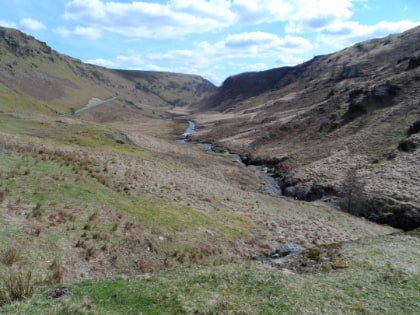 This is a problem which we have struggled with at times on the upper part of the Irfon, where I have encountered some surprisingly large trout in stretches which otherwise seemed relatively barren. A different matter altogether are the Ferox trout of lakes like Loch Awe in Scotland, which seem to have evolved a lifestyle of switching to specialised fish predation when they reach a certain age and size. This switch, almost like a gear change, is nothing to do with old age or infirmity, and such fish continue to grow at an increased rate for a considerable number of years. Meanwhile, I believe, most trout of all sizes in rivers and lakes continue to feed opportunistically on what is most conveniently available to them, from fish to insects to frogs and even mice and voles. It has been suggested that the ratio of 1:3 is important when considering the risk of predation; in other words, when a smaller fish gets too close to another fish three times larger than itself, it is definitely at risk of being attacked.
The largest trout I ever saw in the Wye was at Abernant, one day in September and quite a few years ago. I was near the end of an excellent day of fishing for myself, mostly using a team of spiders and mostly catching grayling. I had come to the tail of Lady Alexander Catch where there are some projecting rocks and made a decision I would have a last cast. Might be a trout there, I thought to myself, as the flies swung through the swirls made by the boulders, and sure enough the line tightened. I could feel a quick rhythm of tugs after I set the hook. It certainly felt like a trout rather than a grayling, but a fish big enough to play and perhaps at the end to need the net. But in a moment, everything changed. The rapid jolts gave way to a big heavy pull and slow head-shakes. I could not now feel anything but a distinctly large, slow-moving fish. Had a salmon grabbed one of the other flies on the leader? I decided that rather the fish which I had first hooked had been grabbed by a predator. I could rule out pike in this fast-flowing part of the river. Perhaps it was a chub, I thought, having several times had the experience of a chub attacking a hooked trout. While I was thinking all this through, the line suddenly became lighter and I could once more feel the panicked tugging of the smaller fish. I played it nearer to my position, and eventually I got a very good view of the trout which I had hooked on the point fly. It was being followed inches behind by a huge grey shadow and as it went back and forth I saw two more attacks made on it. The pursuit went on right to the net, where the predator turned away, but not before I had a close up view of a very large hen brown trout in what looked like excellent condition. The rather fortunate prey fish, wounded by teeth on its flanks, and which I measured accurately before releasing, was 13 inches long. I am not claiming any particular length for the attacker, but what price the 1:3 ratio now, I thought? Needless to say that I went straight back to the car for my box of rarely used streamers, which I then used to work carefully through the whole area. And probably also needless to add that I never saw that big trout again.
There is a theory or perhaps an assumption that large or prey-fish imitating streamers will surely result in a big trout. I can't claim that my own experience bears this out. An unwanted brown trout which makes an attack on a 3 inch tube fly during early spring salmon fishing is as likely to be a half pound fish as anything larger. Looking at the other end of the scale, a size 16 dry fly has caught me some of my best trout from the Irfon and other Wye tributaries.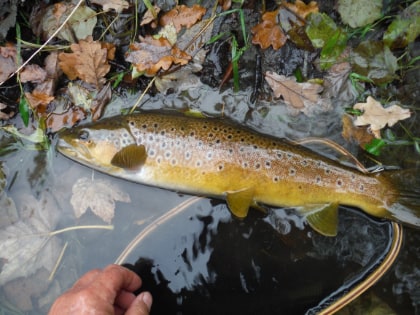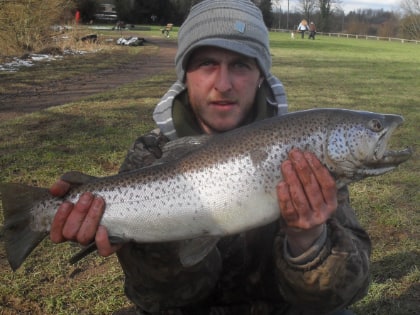 And my best Usk trout, taken near Brecon, took a size 14 Tungsten Hare's Ear nymph. My colleague Frank Williams once told me that he had spent a lot of time working out the best way to fish lures for brown trout and had come to the conclusion that a heavy nymph on the point and the streamer on a dropper about a yard above was the best approach. "And then you mostly catch 6 ounce trout with the streamer," he added rather ruefully.
In rivers which possess a run of sea trout, there is sometimes doubt as to what, exactly, a fish might be. True sea trout are rare in the Wye, but one turns up occasionally.
However, some of the brown trout after a long winter of muddy floods become quite washed out in colour and a sort of silvery grey. I suspect some of these caught in the spring are incorrectly identified as sea trout. The Usk has more of a sea trout run, especially as the season draws on, and I remember catching two in a row while salmon fishing in high water at Brecon. However, the same river has a strain of rather silvery brown trout as well and I dare say that mistakes are made by those who are not familiar with the river. The late Stuart Jarvis, gillie at Glanusk Park, certainly used to think so and believed that Usk sea trout are much rarer than claimed. He recalled being out with Prince Charles, who was using a double hander. His Royal Highness didn't catch a salmon that day, but enjoyed himself and at the end remarked "…that was a nice brace of sea trout, anyway."
"Did you tell him?" I wanted to know.
"You must be joking! Would I contradict our future monarch?"
About 10.30 one September evening we were curled up on the sofa watching a movie and thinking about a night-cap before bed, when the phone rang. It was Eifion, who was at that moment standing with his brother Gwynlais in the River Loughor, and he sounded excited: "Oliver! I've just caught the most beautiful brown trout. At least I think it's a brown trout. It's about 6 pounds." The fly-caught fish was still being held for recovery while we talked. A few minutes later a couple of photographs came over, admittedly not perfect, but then they were taken in darkness with a mobile phone. These pictures, reproduced here, have since been the subject of much discussion.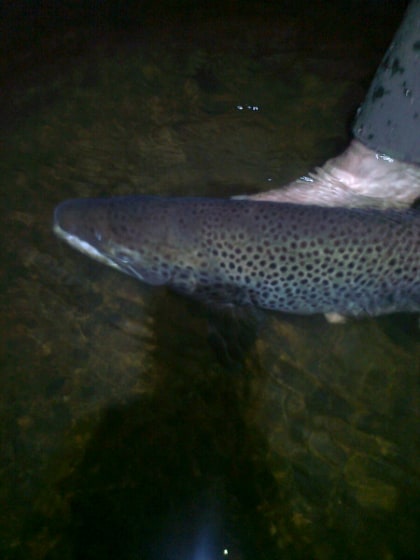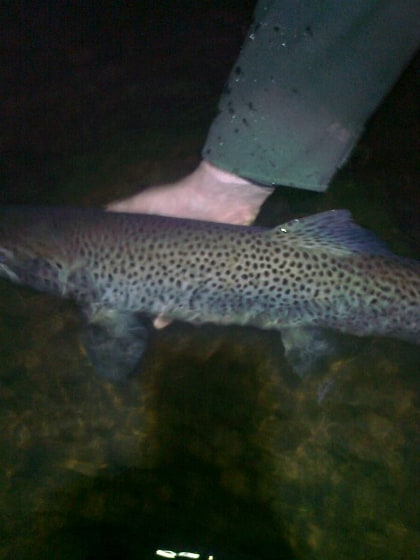 We talked on for some minutes more while the undeniably handsome fish continued to be held in clear knee-deep water, breathing steadily as it recovered. Eventually its strength returned and it was released to wind itself away from the torch-light into the darkness. There are several points to make about this catch. The Loughor is a relatively acidic river and its brown trout are not large. A pounder is rare and a two pounder is very unusual, although not totally unknown. However, like other such rivers with a population of undersized brown trout, the Loughor has a reputation for producing very large sea trout, or sewin as they are known in Wales. The club's record sea trout weighed 17 pounds. Now Eifion is a man who ought to know a sewin when he sees one; in a life time of chasing them by night he has caught a number of large fish up to 13 pounds from the Loughor. However, in the case of this particular trout, he admits to confusion. He hadn't seen another quite like it. The fish was taken about 5 miles above the highest point which the tide reaches. The general colouration and the number of spots on the fish are what is mainly at issue. Sewin of course normally come into the river quite silver in colour and with a much smaller number of spots. Was it a late season multi-spawner? Old females which have made a number of spawning runs generally have a larger number of spots than usual. On the other hand, such old fish which have led long and dangerous lives coming and going from the sea usually bear the scars. I have a photograph of a hook-jawed old male sewin caught by Lyn Davies which looked not unlike a ferox, but it had clearly been in the wars. Eifion's fish, as you can see, looked to be almost pristine in condition. A scale or two for reading might have answered some questions, but they weren't taken. Could the little Loughor really have produced a trout in fresh water which would compare in size and condition to the great brown trout of the Irish limestone lakes?
You might conclude this is all a matter of splitting hairs; after all we know that a sea trout is nothing more than a brown trout which has decided to improve its prospects by migration – like a rich American as an Irish countryman once put it to me! However, just how long and how far this trout had been into the salt to spend its time, if at all, continues to be discussed. Could it be some sort of estuarine fish? The Loughor has an enormous and fertile estuary, but strangely enough "slob" or "bull" trout which have put on their weight in brackish water, common enough in the north-east, aren't known here. I have been shown some photographs of very large trout taken in recent years from the Valleys rivers of South Wales, particularly the Taff and the Ebw. Are they wild fish or grown-on stock fish? There is a theory about the large Taff trout, which is that some of them may take advantage of the brackish water inside the Cardiff Bay barrier to feed on prawns and crabs, before returning to the river quite a few pounds heavier. Modern research has shown that brown trout migrate up and down rivers much longer distances than previously believed. The general conclusion now is that Eifion's fish must have been a sewin, but a very unusual looking one. What do you think?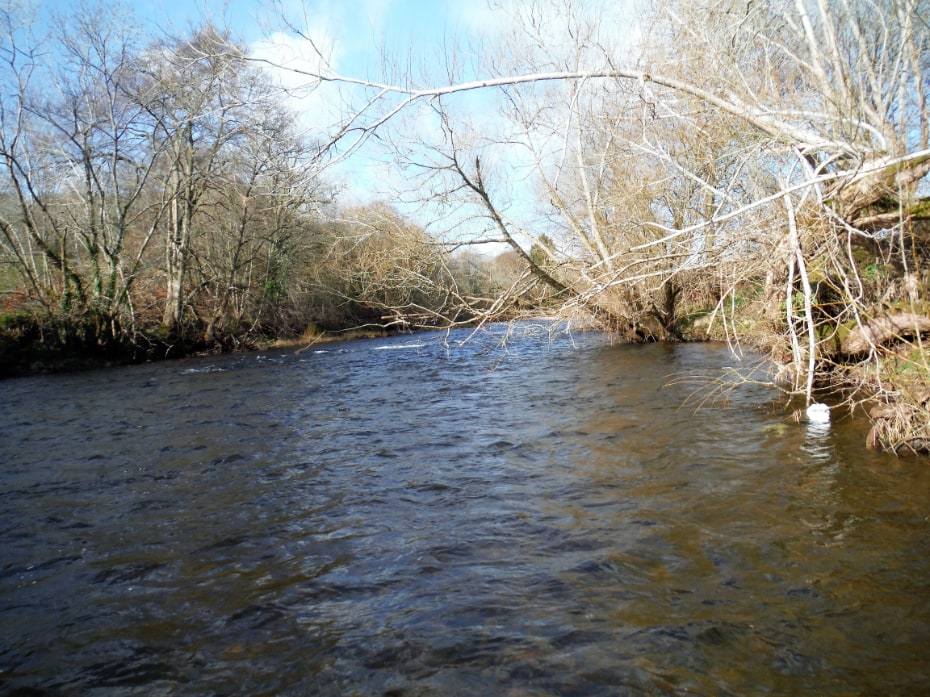 Oliver Burch www.wyevalleyflyfishing.com
---
---
February 2019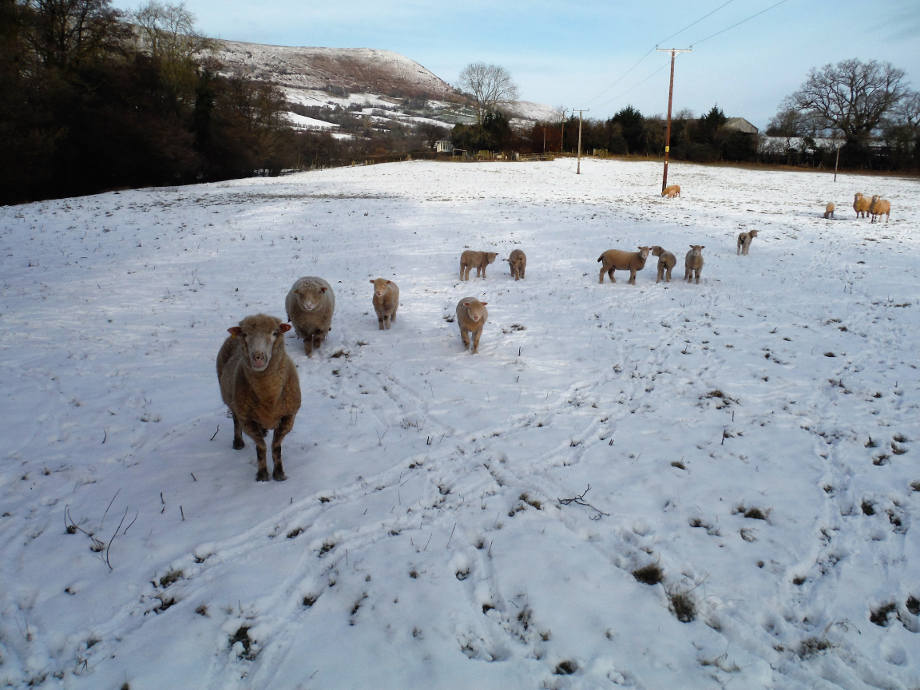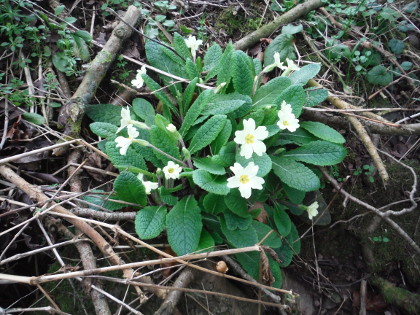 February was a rather disappointing fishing month, starting with a cold spell, after which two weeks of fishing were wasted due to heavy rain and high water. The rest of February, which we expect to be a wintry month, was a real surprise with warm days and no rain at all. After morning frosts, record afternoon temperatures of 20 degrees were recorded in both England and Wales. Something looked slightly wrong about it; maybe it was the angle of the sun's rays which gave a smoky appearance to the light. Still, I must say it was all very pleasant, drinking coffee on the terrace in hazy sunshine and relaxing in warm air drifting up from Africa. Along with almond blossom crocuses and daffodils were out in every garden in town and rooks were gathering at their nesting sites. Forest pools looked glorious and there was some decent fishing for rainbow trout. However, the grayling seemed to have another view and although the rivers eventually came down to what looked to be excellent fishing levels, the results were on average quite poor. The coarse fishermen trying to take late pike, barbel and chub from the middle and lower Wye seemed to be struggling also.
PB from Cheltenham fished at Lypole on the 3rd February during that initial cold snap and took 8 grayling, mainly on Pink Shrimp and a Red Tag nymph. Those Lugg fish do appreciate a bit of colour in the fly! The DM, SW and SB team from Hereford were out on the Wye at Craig Llyn, but the usual heavy nymph methods produced no results at all during the morning. Somewhat disgruntled and wondering if the cold weather was to blame, they went off for a brew of tea in their little wheeled hut. Suddenly they were delighted to see grayling rising right in front of them. I can imagine this very well - I know the place and I think I might even know the shoal, having had some nice dry fly fishing there in October. With fish continuing to rise, they were able in the next period to take 8 grayling from the surface, despite the low temperatures. God bless the large dark olive!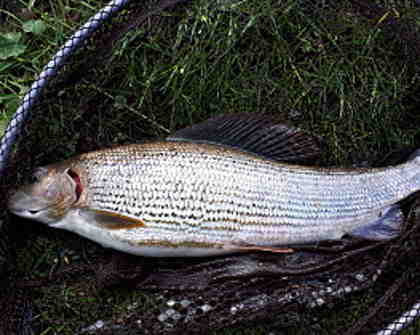 But conditions changed; a lot of rain was delivered by successive fronts and all the rivers rose in flood. Even when sunny weather followed in the middle of the month, we were waiting quite a while for water levels to fall off. A few people tried to fish, but without much success at first. RW of Portishead was one who climbed into the high water of the Llynfi at Pontithel on the 14th, but with the gauge at Three Cocks still showing 0.55 it must have been very difficult. AG of Cardiff managed 8 from the Irfon's Cefnllysgwynne on the 16th. Using both fly and trotting methods MH of Llandrindod Wells fished the GPAIAC water of the Wye on the 18th for 6 grayling, and GG from Wotton under Edge had 5 more by trotting at Cefnllysgwynne. The following day JB from Chepstow managed 9 from the Colonel's Water of the Irfon, concentrating on the deep holes with nymphs. On the 23rd AS of Newent spent a day of warm sunshine on the Lugg at Lyepole and had 6 grayling to 14 inches.
RW of Hereford with a friend fished at Craig Llyn on the 24th for just a couple of grayling and watched a flotilla of canoes passing on their way downstream. This was fine, or seemed to be; Craig Llyn is not on the navigable section of the Wye, but canoe passage during this winter season is in accordance with the agreement. Who minds if they slip quietly past and downstream while only the grayling season is open? But when the two anglers went to the big pool at the bottom end, they found the same boating party were racing up and down it, using poles to propel themselves against the gravel bottom. Quite apart from the fishing, the risk to salmon redds is obvious. This sort of behaviour and the conflict it creates seems so unnecessary. I am reminded of one very cold January afternoon at Pwll y Faedda when I was standing in the river catching a few grayling, when two young fellows in a double canoe appeared above and hailed me. Did I want them to come down behind me, they wanted to know? I thanked them very much and told them yes please, because I had a shoal of grayling in front of me. They told me they were doing the whole Wye, source to mouth, this in the depths of winter. "Good for you," said I, genuinely impressed at their spirit of adventure. They wondered if I could tell them whether there was any kind of inn with rooms downstream at Llyswen. I told them I thought there were two and they seemed much relieved to hear it. Off they went with a wave. They were doing their thing and I was doing mine; I can happily share the river with such people.
On the 26th MD from Barry was out on Lower Glanwye - that's the one we used to call Llyn Em - and also saw canoes, but no grayling. He remarked on the difficulty of getting up this beat and I can only echo that. The middle and upper sections are mostly rock slabs and gutters, very good for salmon for those who know how to fish them, but it is slippery going with overhanging branches and no room for a path along the bank - the main road is close above. On the other hand, at the bottom of the beat is a nice gravel pool and run which can hold some good grayling and is easy enough to fish.
---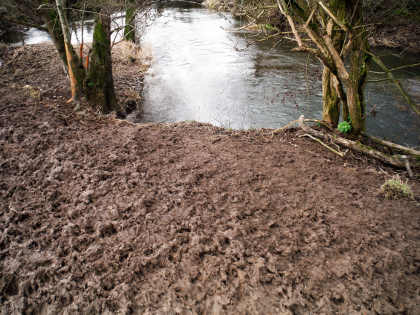 While out and about in the winter months, we sometimes come across the sort of farming practices which we believe are steadily eroding our aquatic invertebrate and fish populations. It hasn't always been easy to prove the connection, but the scientific evidence is building. Quite apart from worries about slurry spreading, and when and how it is done, over-grazing is another major concern. Fields today are often used to hold much more livestock than in the past, and in extreme cases are allowed to be poached right down to trampled mud. Once that has happened, any pollution leaches over the surface straight into the water without any filtering effect from roots and turf. Smaller rivers and tributaries are obviously more at risk than the main stems. Livestock need access to water of course and usually create some mud in the process, but one drinking station per field is all that is needed. The accompanying photographs taken during January of severely poached land beside the Arrow in Herefordshire illustrate the point.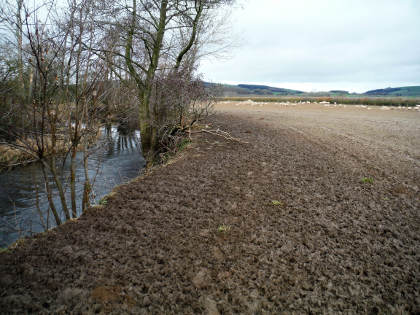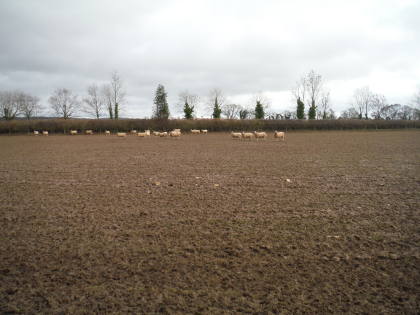 ---
For around a decade now, discussions have been going on about what should be done with the old eel trap weir in Blakeney village on the edge of the Forest of Dean. This obstruction on the Blackpool Brook is close beside the A48 and a little above the village post office (which is actually built on a bridge over the stream), and it involves a drop of about 5 feet. Below the post office the water flows in a tunnel under the main road and joins with a stream from Soudley to form the Bideford Brook which then runs across pastureland to reach the Severn estuary about four miles away. Both Blackpool and Bideford Brooks include beats participating in the WUF Wild Streams portfolio and are known for their healthy populations of small brown trout. What is mainly known to locals, however, while it remains a matter of surprise to many others, is that salmon find their way from the estuary into this tiny system. Above the reed-fringed tidal section running through the salt marsh is one final dam, created for a mill now long disappeared, and which a spring tide will just over-top. This enables salmon to get in and run up the Bideford Brook as far as Blakeney. Thus from this part of the stream we sometimes catch salmon parr and smolts in season. A few winters ago I found the body of a spawned out hen salmon, about 8 pounds, lying on a gravel bank. However, although waiting salmon have been seen in the village by post office customers during November and December, they never run the Blackpool arm above the weir in question. The reason is not the height of the sill, but the wide concrete apron below it. There is no pool below the fall with any depth of water for fish to accelerate from. All this seems a great shame, because the weir today serves no purpose. I don't think anybody imagines there will ever be a possibility to fish for salmon in this brook, but I certainly like the idea that the big fish could exploit it as far upstream as possible.
Some year ago a local employee of the EA along with friends in the village spent much time trying to drum up funding for a salmon passage scheme. Essentially this plan consisted of fitting concrete obstructions intended to increase the depth of water for a few yards on the sill, so that fish would be able to make the leap. Once beyond this obstruction, it was calculated fish would be enabled to travel a long way up the valley, despite the presence of a former undershot mill in the village (the mill-race under the building, now a private house, is open) and a couple more small dams left from iron industry trip-hammers and forges up the valley. Although the river at the weir is confined in a stone channel well below the level of the road, the main problem with the fish pass scheme seemed to be concern about the risk of flooding because there are houses all around. Another difficulty, quite apart from finding 40,000 odd pounds, was the number of agencies which became involved in the matter: Parish Council, Highways Agency, Natural England, Forestry Commission, EA, WUF, Severn Rivers Trust, Severn Trent Water Company and more. As anybody familiar with committee working will appreciate, invariably and at every stage, somebody was taking the cautious approach. Inevitably, time went by and nothing was agreed.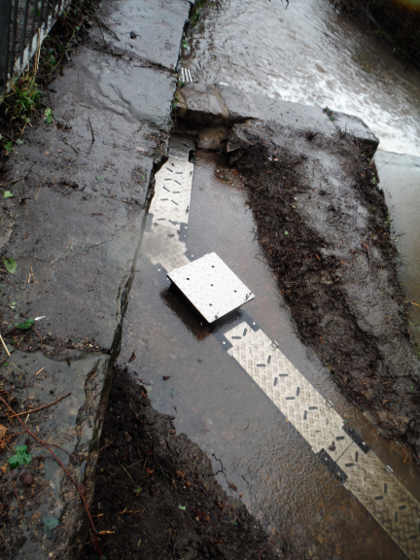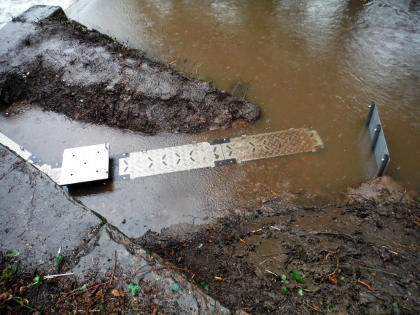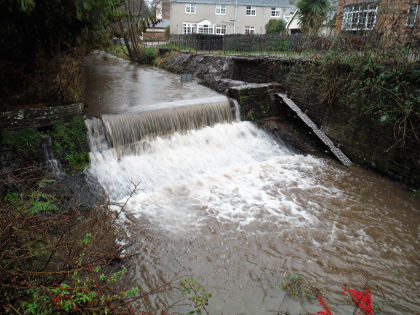 Then last year I bumped into an EA representative who beaming told me: "Good news, we are going ahead with the pass at Blakeney." However, my rejoicing was short-lived. It would be a pass, not for the salmon, she went on to explain cheerily, but for brook lampreys. I suppose, if you are an all-round conservationist rather than an angler, one species helped is as good as another. It's just that I can't get quite as excited about brook lampreys as I do about salmon. To be honest, I have never seen a lamprey in the Bideford Brook, but I dare say they might exist. There are certainly small eels and no doubt any kind of easement will increase the eel population. This week the contractor started work, fitting a clever little covered flume zig-zagging up the side of the weir. Water runs down it continually. It is full of little plastic brushes, rather like artificial grass, up which the elvers and lampreys will wriggle, and covered with stainless steel plates which open for maintenance.
---
Health and safety precautions continue to obsess us these days, or at least the risk of being sued on such grounds do. When was it that our society became so risk averse? Or when was it exactly that we got the idea that there is no such thing as an accident, but that everything which goes wrong must be somebody else's fault? I just received one of my regular fishing tickets for the coming season, which this year has an added three extra pages of safety advice to anglers about how to conduct ourselves and avoid injury while on the river. Nothing has been forgotten. One line in particular caught my eye: "Snakes. Do not touch snakes and do not place any part of your body into burrows, holes, stone walls or other similar openings." Right chaps, I hope you have all got that? However did we manage before being supplied with such essential advice?
---
The WUF's new online passport magazine came out this month - see:
http://wyes.instantmagazine.com/passport/the-fishing-passport-magazine-2019/front-cover.
Volunteers, present and former WUF staff, the Sportfish boys, visiting anglers, I think we all chipped in with something for this one and it's certainly well worth reading. I learned to my surprise that we now have trout fishing on Anglesey lakes and salmon fishing on the Scottish Don in the portfolio. I especially enjoyed Joe Alexander's piece on fishing small streams. Joe's reports are always bubbling with enthusiasm and I learned here that, likely as not, he goes fishing on the brooks straight after a night shift. I often think that, should old age, infirmity or lack of funds force me to give up any of the various aspects of fishing available to us on the WUF passport, it's the small stream angling I will cling to most doggedly. There is also a valuable article by Dave Collins of Gwent Angling Society on the more common fishermen's insects and when and where they are likely to be met with on our waters. This piece is illustrated with some superb photographs (and in fact all the magazine's photography is impressive and makes me think I should buy a new camera). There is more information from Dave about anglers' insects on the Gwent Angling association site – see:
www.gwentanglingsociety.co.uk/category/entomology-143
www.gwentanglingsociety.co.uk/flies
---
Referring again to the Merthyr Tydfil Angling Alliance report on salmon runs featured in last month's letter, Guy Mawle of the Usk Local Fisheries Group wrote suggesting that I should clarify the remark about hatchery stocking having ceased in 2013. This point refers to the Taff, and not the Usk where stocking has not been undertaken since the 1990s. Nor is there any particular evidence that the cessation of stocking on the Usk many years ago has had a detrimental effect on the salmon runs. In the case of the Usk, there has been an increase in the number of larger multi-sea winter fish for some reason. Getting accurate salmon catch statistics for the Usk has always been difficult, and we assume that the NRW report figure will understate the total. However, while we may never know the overall total, by getting accurate returns from a number of fisheries (including the three MTAA beats), and matching them up with the fish reported to the NRW, it is certainly possible to establish a ratio and compare one year with another. It is not the case that the Usk figures indicate a steady decline - the result is more nuanced than that. The numbers have been up and down, although 2008 and 2012 were good years. Everybody agrees that the 2018 results were pretty bad. Since 2015 there has also been concern about the survival of fry and parr in different parts of the system. Mr Mawle, by the way, is another angler concerned about the numbers of trout and grayling in the lower part of the main Monnow. His submissions about Usk salmon stocks to the current bye-laws inquiry for Wales can found via the links below:
http://www.hwa.uk.com/site/wp-content/uploads/2018/11/GM5_Appendix_4_UskSalmonCatchStockStatus2018.pdf
---
March can be a wonderful fishing month, not only on the rivers of course, but on the lakes as well. I have been meaning for some while to write something about buzzer fishing and so here are some ideas for still-water anglers in these coming days of early spring. Oddly enough, I'm remembering a story once told to me by an old Welsh sewin angler. This was one summer evening on the Loughor while we were waiting for dark together and he was shaking his head as if still bemused. Sea trout fishing, as my pal Lyn frequently reminds me, is a skilful and difficult branch of the sport, but also quite a narrow one. There are people in our club who have never done any other kind of fly-fishing. In fact there is a story, perhaps apocryphal, that Lyn's uncle Gwynlais in a long fishing career has never cast a fly in day-light. Anyway, the story here is that this old chap, experienced as he was in all matters connected with sewin and salmon, had that spring been taken by his nephew to a still water and introduced to rainbow trout fishing for the very first time. He had found it all quite strange, particularly when he was given something called a Superglue Buzzer to tie on his leader. "It didn't look like anything really. Just like black thread wrapped round the hook and some varnish on it. All the same, this trout grabbed it, God knows why, and went tearing off. It must have run 50 yards. Quite exciting it was." He shook his head again in the wonder of it all while knotting a size 6 Black and Silver to his 12 lb leader, ready for the coming night. You had the idea the business in hand now was something he did understand.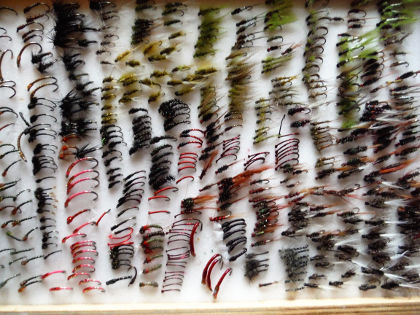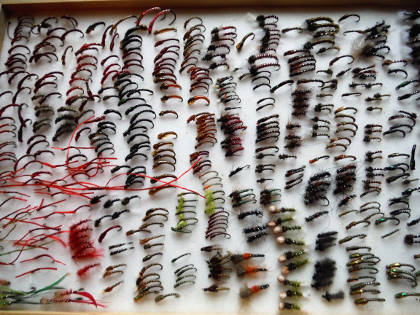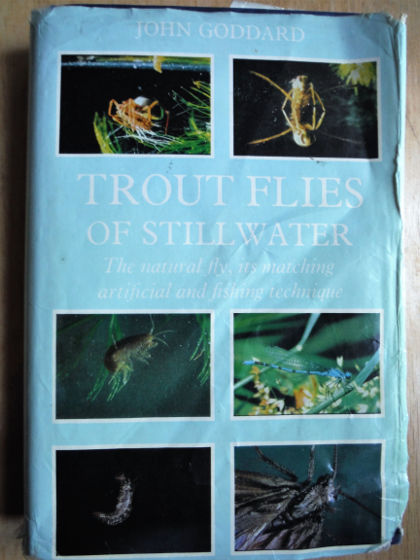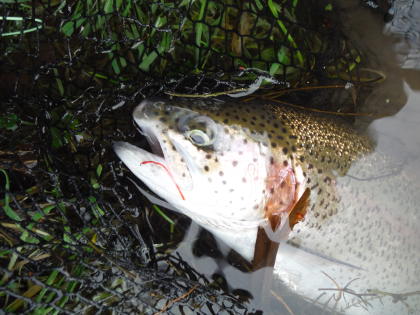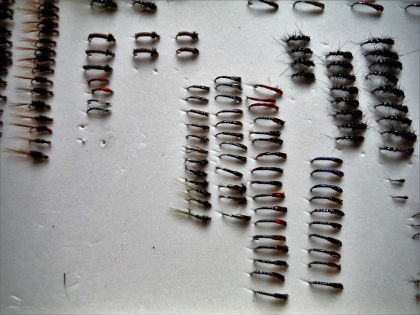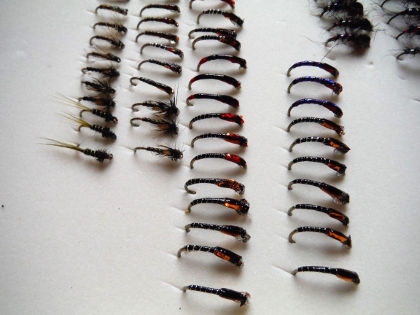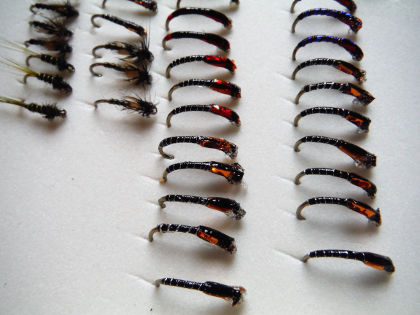 You may have read this before, but it's reckoned that trout in still waters, taking the year round, probably obtain upwards of 80% of their nourishment from various species of just one diminutive creature: the chironomid or non-biting midge. It's also generally acknowledged, by the way, that the same little creature is an important source of trout food in the slower moving reaches of some rivers, although most anglers do not pay so much attention to them on moving waters. "Buzzers" is the more colloquial angling term for these little creatures and this goes back to the days when they were so numerous that on warm evenings a distinct hum could be heard from what looked like columns of smoke above the bushes on the banks of reservoirs, each column representing millions of recently hatched insects. I honestly can't remember when I last saw buzzers collected in numbers quite like that, but that decline is also true of many of the insect hordes which used to obscure the windscreens of our 1960s automobiles.
The problem I used to have with buzzers or aquatic midges lay in trying to identify exactly which species they were, something which was first encouraged in me by reading John Goddard's Trout Flies of Still Water. That idea of exact identification and imitation was pretty problematic, particularly for someone as impatient as me; the number of British Chironomidae identified by science is now over 400. In fact Goddard came up with a list of 10 which he thought it worthwhile for anglers to imitate. After a while I came to the conclusion that even this might not be as useful as the author intended, and certainly it was slanted towards reservoirs which he fished personally, such as Blagdon. I have the same problem with the sedge or caddis flies, of which there are more than 200 species and of which Goddard decided to deal in depth with 16. Still too many, I think. In this case I came to the conclusion that, apart from some famous ones known to everybody such as the grannom and the caperer, it would be possible to deal with sedges merely by colour and size. As this idea seemed to work, it seemed logical to do the same with midges - size: large, medium, small - and colour: black, olive, and occasionally brown or claret.
I suspect I'm not the only one looking for a simple solution here, because many of the flies commonly used to catch midge feeding trout - Diawl Bachs, Crunchers, various Irish Duck Flies - are anything but exact imitations and rely on creating an impression to work. Never mind, they do work and I'm a great fan of fishing Diawl Bachs, particularly during the summer months when trout are near the surface. However, midges of different sizes and types, varying from the near inch-long green giants found in some reservoirs to almost microscopic olive and grey specks found in ponds, hatch on almost every day of the year. Rainbow trout seen rising to a trickle of small midges in a brief hour of January sunshine after a frost will almost certainly require a tiny fly to fool them. When the midge hatches really get going, by March and April, you will be showing them patterns tied on size 10 and size 12 hooks. This is when spring fishing on still waters can get really exciting; overwintered fish are in the prime of condition and feeding hard now to pack on weight.
The life cycle of the midge is a simple one in comparison with the up-winged flies and the main requirement is a bottom of soft silt and water of less than 20 feet deep. Lakes made by flooding former pasture-land are usually very fertile during the early years and commonly produce huge midge hatches for a while before they mature. Silty bays in the larger lowland reservoirs can be equally good. Eggs laid in the water produce larvae known as blood worm, occasionally olive in colour but more usually red, which live in the mud and are of great importance to the winter angler. The pupae form the next stage and the one which is most interesting to imitate, characteristically hooked and then straight as they wriggle to the surface and then slowly fall back in the water column, eventually hanging directly at the surface as the skins split and the adults struggle to emerge. Once the midges are free of the shuck, they usually take rapidly to the air ready for mating and egg-laying. However, before that stage is reached the pupae are extremely vulnerable to fish which cruise around sucking them down one after the other. Be in no doubt that there is some wonderful fishing to be had by imitating midge pupae on their journey from lake-bed to surface. Of course it is possible to imitate the adult on the surface with a dry fly but, generally speaking, the trout tend to put more effort into attacking the slow-moving and relatively helpless pupae. When it comes to getting a meal, trout usually take the easy option and we should accommodate that tendency.
The idea of imitating a buzzer pupa on its way to hatching at the surface goes back a long way, at least a century. Of course John Goddard had his Suspender Buzzer with its tiny polystyrene ball to hang in the surface - although I note that Neil Patterson regularly claims a part in inventing that one. Geoffrey Bucknall gave us the Footballer. As long ago as the 1930s, Dr Bell of Blagdon was experimenting with midge pupa imitations for use in that great lake. Even earlier, in Fly Fishing: Some New Arts and Mysteries (1921) Dr JC Mottram, better known as a chalk stream angler, gave a dressing for a pupa imitation made with a sliver of cork to keep it hanging vertically below the surface of still waters. All these were "light" buzzers made with fine wire hooks, often going so far as to imitate each turn of the segmented body, the bulky thorax, the orange colour of the wing cases on either side about to burst during the emergence of the adult and even the feathery breather filaments at head and tail. These light-weight imitations made with herl and fibres of polypropylene yarn still have their place on the leader. However, what has made modern buzzer fishing really interesting was the invention a couple of decades ago of the so-called "super-glue" heavy buzzers which dispense with the addition of the breathers and which are covered with a transparent coating. Tied on heavy hooks and fished on a long leader, they go down like a bomb and pull any lighter flies down with them. Initially they were used in match fishing, cast in front of a drifting boat in order to create a situation in which, when the boat caught up with the line, the angler had a chain of flies going down vertically from the surface to a depth of 20 feet or even more. Takes, when they came, were famously violent - a hard pull down on the rod tip from a fish which had probably hooked itself.
At the time, this new idea made quite an impact on the match fishing scene. It was dawning on anglers that trout could be very interested in flies of the right colour and shape which were hardly moving at all, hanging there in fact, just like the pupae which they were supposed to be imitating. Quite quickly it led, where legal, to the idea of hanging one or more buzzer pupa imitations below an indicator, a method still much used on hard-fished commercial fisheries. Then we had the "washing line," in which a very buoyant dry fly on the point, doubling as an indicator, is used to keep buzzer patterns tied on droppers just below the surface. John Goddard had already suggested a leader design for three pupa imitations very like this, including the idea of having the buzzers tied directly into the main line rather than on droppers. Alternatively, the dry fly could be used on the top dropper while the pupa imitations were fished at different depths towards the end of the leader. However, there is much more which can be done with light and heavy buzzers, from the boat and especially from the shore. A very important aspect of those experiments of 20 years ago was that in those days many still water anglers had been involved in lure fishing and moving their flies quite fast. The fact is that midge pupae make little kicks, bending and straightening their bodies to move up and down, but they never move fast. This and the fact that light floating lines were usually employed made the new method of fishing attractive as a refreshing change. Buzzer fishing is rarely very hard work and, carried out correctly, it does produce the most impressive and confident takes from fish which seem to be cruising fast. It does seem remarkable that a hard, sharp fly covered in glue, doubtless unpleasant to the touch, is not quickly ejected, but the strong takes usually result in a very good hook-up rate.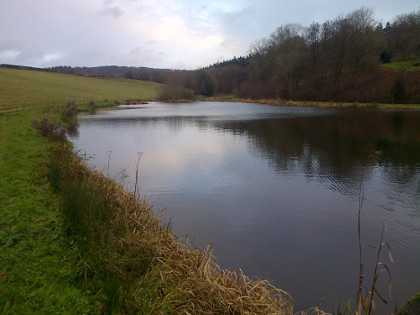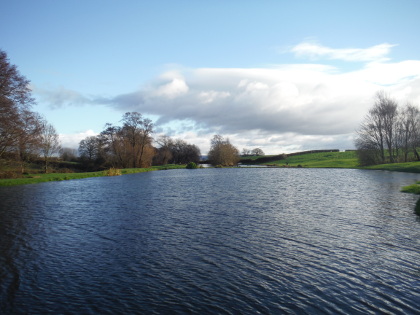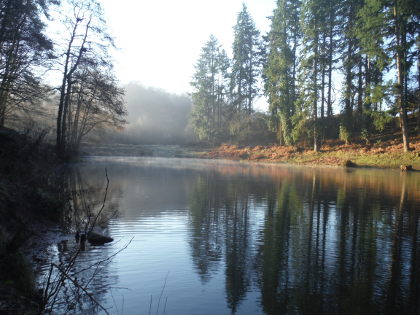 My own favourite buzzer method is that known as "straight-line nymphing" and in the right conditions, perhaps on a warm morning in March or April with a few trout showing intermittently at the surface, it can be absolutely deadly. If I can describe my perfect day of spring fishing, it will be one in which the newly arrived martins will be dipping low over the lake. This is always a very good sign, because they too like to eat midges. Ideally, I would like a warm breeze running left to right in front of me, and I will be casting off the shore with a 10 foot 6 weight rod and a floating line. The leader, including the tapered butt, is nearly 20 feet long, weighed down with a size 10 Black and Copper Heavy Buzzer on the point and with a lighter pair of size 14 Grey Goose Midge buzzers on the droppers. There is a gap of nearly five feet between each of the flies. I make a long cast out, let the point fly dig well in while counting down, and then let the wind grab the floating line and carry it round in a curve, retrieving only just enough to stay in touch. When a trout hits one of the flies there is a sudden and very definite tensing of that curve, so that it is only necessary to sweep the rod tip up-wind and play the fish. In my experience, a spring fish hooked on a midge pupa imitation will fight as strongly as any lake trout you will experience. Never be tempted to use over-fine tippet material when fishing a team of buzzers, because it is very easy to be broken.
If you are fishing a weedy lake, it might be unwise to use a full team and of course you can use two or a single fly quite effectively. I well remember fishing with my son Malcolm on an unusually warm day in late March. It was a wonderful morning, full of birdsong and sunshine, and we were on a clear Gloucestershire pool which had been flooded by building an earth dam across a little valley a few years before. In fact the water level was very nearly up to the top of the dam and in the corner thus formed, quite close to the edge where a few sedges poked up from the grass, we could distinctly see a rainbow of about 3 pounds swirling in circles, obviously feeding hard. Note that nobody had walked along the margin yet that morning. Malcolm was using my sweet little Greys Platinum X 9ft 5 weight rod and just a single size 14 Olive Buzzer on a long fluorocarbon leader. He approached the situation circumspectly, staying well back on the reverse side of the dam (only his head came above the level of the water) and flicked a few cross-country casts over the grass and into the corner. After a few minutes I distinctly saw the line twitch across the grass, Malcolm struck and after some thrashing on the surface the fish was his. We killed that one, and half an hour later took it home where I cleaned it before Sunday lunch. It was full of little olive buzzers, just like the fly pattern and some were still alive and wriggling.
There is a mass of heavy buzzer patterns to select from, almost as many as there are nymph patterns for grayling. There are even some quite weird ones involving colours like pink or bright holographic blue. You can choose between making them with a straight body using a hook like the Kamasan B175, or with a curved body using a grub hook like the Kamasan B110. The real pupae adopt both positions at times, and I have experimented with both types and can't find much difference in effectiveness between them. Common features are generally a black or olive abdomen, made with either tying thread or stretched flexifloss, occasionally stripped peacock quill, segments indicated by a rib of fine wire, a thorax built up with tying thread, wing buds indicated by orange goose biots or strips of gold tinsel as cheeks, possibly some glitter on top of the thorax provided by pearl tinsel. Sizes are normally 10, 12 or 14. The variations are almost endless and I smile to remember one called the "Crisp Packet Buzzer." In that case we made the cheeks from bright orange strips cut from a packet of Golden Wonder crisps. As you can imagine it was a great excuse to consume a pint of cider and a packet of cheese and onion crisps while sitting and philosophising by the pond outside the Rising Sun, and then bring the empty packet home for fly-tying. We used to add head and tail breathers of white fibre, but I have come to the conclusion that such a detail is superfluous. Incidentally, it isn't strictly necessary to use super glue to cover these flies. Clear nail varnish does the job just as well. Years ago I found a product called Sally Hansen's Hard as Nails, and a couple of coats of this applied by the brush in the cap does the job nicely.
Here are a couple of buzzer patterns, which I will vouch to be as good as any, and culled from recent copies of Trout and Salmon:
Black and Copper Heavy Buzzer
Hook: 8-10 heavy grub, Kamasan B110
Thread: Black
Rib: Medium silver wire
Body and thorax: Black thread
Cheeks: Fine copper Mylar
Varnish: Hard as Nails over whole fly

Grey Goose Light Midge
Hook: 14 medium wire grub, Kamasan B100
Thread: Black
Rib: Fine copper wire
Body: Greylag goose herl (or any grey herl from a large feather will do)
Thorax: Peacock herl
Thorax cover: Greylag goose herl
---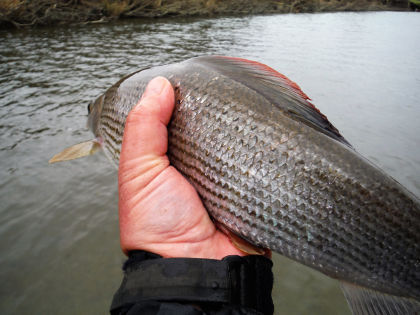 Grayling fishing ends on 14th March although I have to say that I never found the last couple of weeks before the fence season arrives to be particularly exciting. Somebody might prove me wrong. Instead a new trout and salmon season starts on 3rd March and I for one will be looking at trout fishing on the Usk with a team of spiders and maybe some dry flies. Note however that the start date for trout fishing on Severn tributaries is 18th March. The sunshine in late February has been pleasant, but the angler in me is not so keen on clear skies and big temperature swings between night and day. I think some cloudy weather would suit me better for my March fishing. It's not my job to predict salmon catches, but remembering that extended flood we had in early February, it strikes me that any slow running springers from the estuary will have had the opportunity to move fairly well into the Wye, perhaps to Hereford and higher. However, low water temperatures would probably prevent their ascending falls further up. If I were a betting man, I would put my fiver on a first fish coming from the middle river. Salmon on the Usk are usually a little later than on the Wye, although with the trout it seems to be the other way round!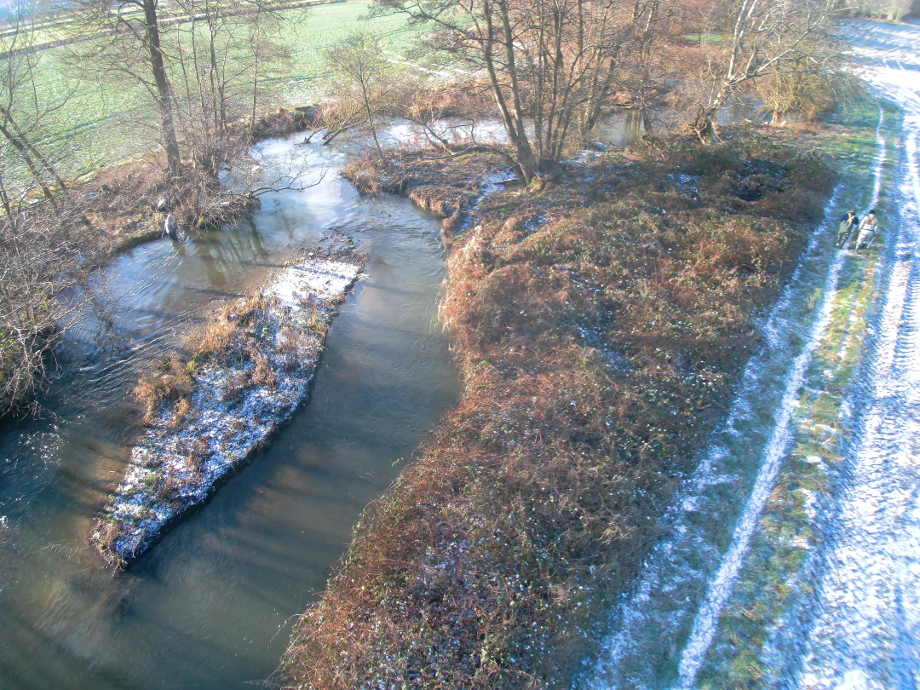 Tight lines!
Oliver Burch www.wyevalleyflyfishing.com
---
January 2019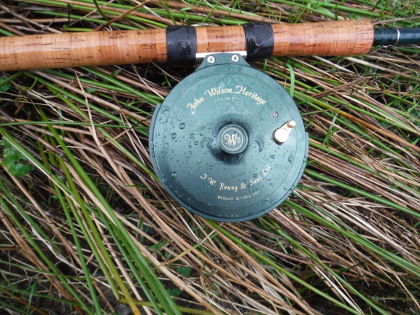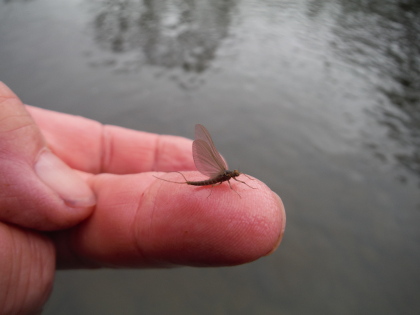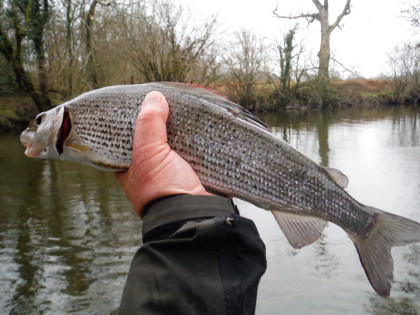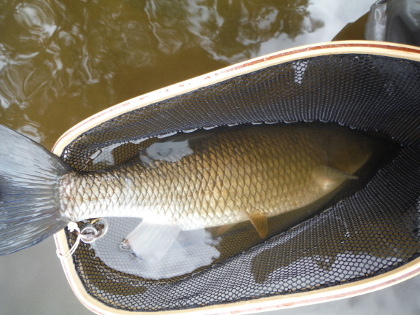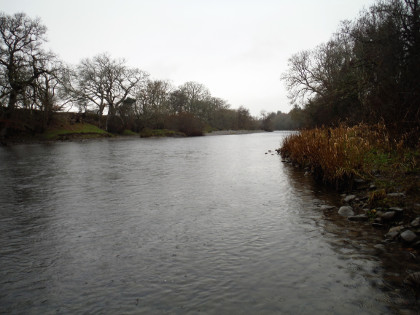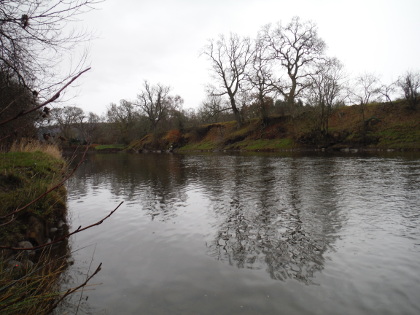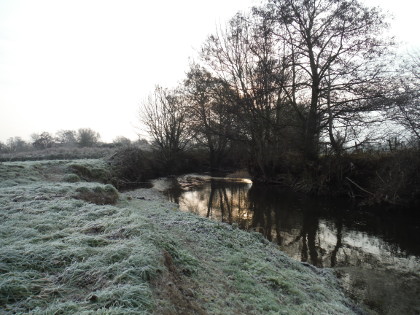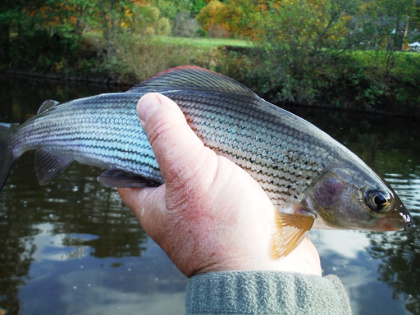 We had some pretty good winter fishing during the first half of January. High pressure weather predominated, there was little rain and some days were surprisingly mild. The high water experienced before Christmas dropped off steadily and there were some nice grayling catches on the Wye and tributaries. I think I saw large dark olives on every afternoon I was out. The second half was much more difficult, as low pressure weather combined now with lower temperatures brought a series of fronts with both rain and snow. I am writing this on the last day of the month with a hard frost on the ground and snow in the hills, while the rivers are relatively high and turbulent.
KJ from Abercynon and a friend had a good day at Ty Newydd on the 30th December, taking 25 mostly small grayling with heavy nymphs. On New Year's Day, with the weather still warm, TA from Gloucester managed a nice bag of 20 grayling from Cefnllysgwyne on the Irfon and enjoyed the sight of an otter on the water. On the 5th AS of Newent, one of several very good nymph fishermen who ply their skills on our waters, had a 17 inch grayling in a leash taken at Lyepole. The 9th was a cold day by recent standards, but SW from Oxon enjoyed himself at Abernant, taking 17 grayling to 15 inches by trotting. Dave Collins of Moccas was also trotting on the 11th, a mild day this time with large dark olives hatching, and he caught 14 grayling to 1.5 pounds from the GPAIAC (which stands for Grove Park and Irfon Angling Club, quite a mouthful) water at Builth Wells. We are seeing a good average size of grayling from the upper part of the main river at the moment. MH from Llandrindod Wells and a friend were trotting the same water that day and accounted for 26 grayling to 2 pounds. Meanwhile GG from Wotton under Edge trotted at Cefnllysgwynne where he caught 7 grayling and a chub of 4 pounds. SW from Hereford fished Dolgau on the 13th with French leader tactics and caught 9 grayling. On the 16th we had some heavy rain, the first for a while, but CB from Droitwich fished on through the bad weather to catch 8 grayling on nymphs at Lyepole. He was surprised to find the fish lying in the Lugg's fast gravel runs rather than in the deep holes. GG of Wotton under Edge fished at Abernant this time and also took 8 grayling to 15 inches, in his case by trotting.
During all this time the rivers had been steadily falling and were running relatively clear. The middle of the month marked a change to low pressure and Atlantic fronts; we then began to experience bands of rain and snow on high ground, while at the same time the air became colder. River levels were now higher. DM, SW and SB from Hereford - I find I type these initials so often I'm tempted simply to call them the Three Amigos... wonder if they would mind - fished at Dolgau on the 20th and had 16 grayling between them using French leader techniques in the gravel runs. Some visitors to Dolgau have described it as more of a late season salmon beat than anything else. I can see why that might be said; a lot of attention has been paid to improving access to the salmon pools on this fishery. However, Dolgau, Craig Llyn and Doldowlod are all of them excellent upper Wye grayling beats in their own right, with difficult wading in some places, but good access to the river bed in others. For those who don't know this part of the Wye, it's much smaller and more intimate than the river at Builth and below as it lacks the major contributions from Ithon and Irfon downstream. Recently a "specimen hunter" from Kent called and asked where he might find a really big grayling on our waters. I suggested this section. On the 21st JA from Leominster had three grayling including a good one on nymphs at Court of Noke. PB from Leicester had 7 grayling to 1 pound 13 ounces trotting at Abernant.
AH of Swansea fished the Monnow at Skenfrith on the 25th for just one grayling. This was his third trip there this winter, none of them particularly successful, and he wondered if the new 25 pounds price ticket is rather high, considering present concerns about catches on the main-stem Monnow. I must say in its defence that the Monnow always seems to me to be at its best as a dry fly river and one where the trout predominate over the grayling. The remarkable thing about the Monnow grayling, elusive as they often are, is that handsome bluish tinge many of them have for some reason. Everybody who visits the Monnow finds the valley and the river beautiful. However, I looked back through the reports to work out when somebody last had a really good fishing day at Skenfrith. In fact I had to go back 18 months, as far as the mayfly season of 2017. On the 17th May that year TM of Bristol and a friend had 20 trout between them on a rainy day, probably perfect mayfly conditions. And a couple of weeks later on the 31st of May, JT of Macclesfield had 14 trout on a Deer Hair Emerger, also with mayfly hatching from the river. I think any of us would be happy with results like those if we can see them again. 2018 was a very bad year for many of our fisheries and hopefully will not prove to be typical. Nevertheless, it doesn't seem an ideal time to bring in a price rise - if there is ever an ideal time! Meanwhile, some of the Monnow tributaries higher up continued to fish very well last year.
While on the subject of Skenfrith, there is also the slightly vexed matter of the parking. Some while ago, an angler reported that the Bell Inn at the top of the beat had taken over the allocated parking space for anglers by the river and placed table and chairs there. But apparently he was told it would be acceptable for anglers to use the main pub car park instead. Oh well, fair enough, I thought to myself when I heard this. Without wishing to go into the ins and outs of ownership of a patch of river bank, provided anglers can park somewhere and make up their tackle in peace, I'm happy. However, last time we were there, the new landlord came over from parking his Bentley and queried our use of his car park. Apparently we should have knocked on the door of the pub and asked permission first. My suggestion instead is to drive over the bridge and park in the long public layby immediately on the other side, where there is always plenty of room. And I know a watering hole on the way home where a pint of beer doesn't cost five pounds!
January came to an end with a really hard frost combined with high water on many of our rivers. There wasn't so much fishing to be done in these conditions and reports of success dwindled away. However, the volunteer team managed to work on the upper Lugg at Middlemoor near Presteigne and trimmed obstructing branches ready for the new season.
---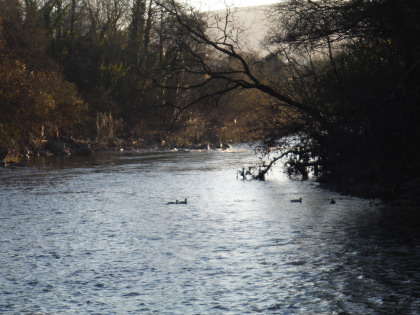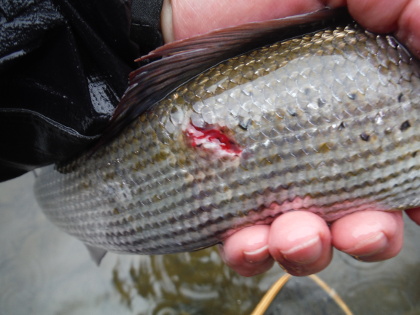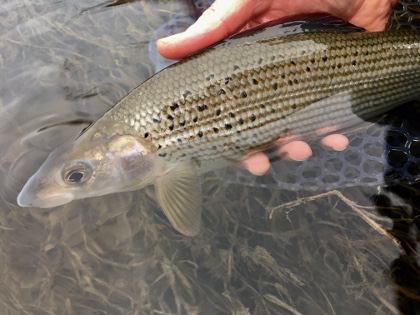 We already know that 2018 was a bad year for migratory fish with Wye catches down to about a third of normal (there are a couple of anomalies involving individual fisheries). On the other hand, we have a lot of data about Wye results and we know that the overall trend in recent years has been upward. Information on salmon numbers from rivers further west has never been quite so accurate, but the annual report from MTAA (Merthyr Tydfil Angling Alliance) still came as a shock. 2018 was the club's worse salmon fishing year since the MTAA first took on Usk water in 1979. In 2018 the club had just 10 fish in total from their three Usk beats, while Kemeys Commander, which is my own favourite one on the lower river, accounted for only three of them. I blanked on the few mornings I fly-fished there this year, even when water conditions looked reasonably good. There was a time, perhaps 7 or 8 years ago as I recall it, when I was routinely doing rather better at Kemeys, a beat which holds travelling/resting fish rather than residents. I am not claiming that I caught a salmon on every outing - we can hardly expect that in this day and age - but every two or three trips there would be a hit, especially as the season drew on. I used to visit early in the morning, hoping to find a new arrival had shown up overnight, and quite often, sure enough, one was there. More recently I have found myself putting the odd accidental trout back at Kemeys while assuming that I was just being unlucky with salmon, or was it the case that winter floods had destroyed the old lies in the gravel pools? It also crossed my mind that, with advancing years, I was quite simply losing my touch - a depressing thought, but likely enough! However, the fact is that three good MTAA waters on the Usk were fished through 2018 by quite a number of club members, some known to me as pretty skilled anglers with spinner and bait as well as fly, for a result of just 10 salmon. Not so long ago, the score for these three beats would have been around 100. Other Usk fisheries have declared similarly poor results for the season past. Llanover had 6 (85 in 2017), Swan Meadow had 3 (26 in 2017) and Chainbridge scored 2 (20 in 2017). Jean Williams at Sweet's Tackle Shop had just 78 salmon reported for the season (typically the number recorded there would be between 200 and 300).
The news from the Taff above Cardiff was even starker. There is a fish trap at Radyr Weir which is normally working three days a week. When the trap is visited, the fish are counted and then released to continue upstream. After 2011 the numbers reported at the trap "fell off a cliff." I think that is the fashionably dramatic Thelma and Louise phrase to use these days when you plan to frighten people, but in this case the problem has proved to be real. For 2011 the trap reported 376 salmon, but the catch has fallen consistently since then and in the whole of 2018 up to late December, there were just 10. The drop in numbers on these rivers more or less coincides with the closure of salmon hatchery programmes in 2013. That proves nothing in itself and does not exactly coincide with the Wye experience. Other factors must be considered, including the number of predatory birds now present everywhere on the water and of course the awful year of drought which was 2018. But it is certainly food for thought. As the old Scottish gillie remarked: "It's verra difficult to catch them when they're no biting. And it's even more difficult to catch them when they're no there."
---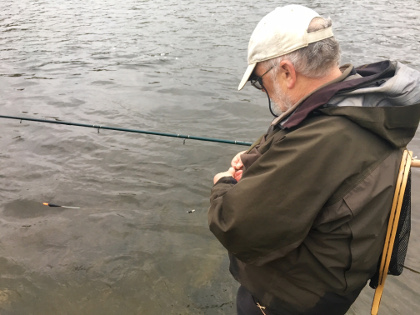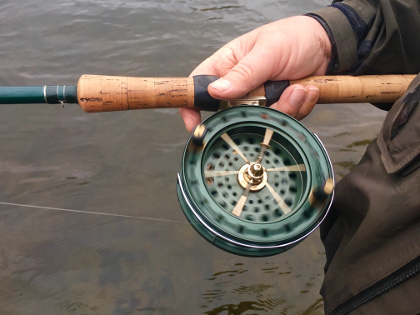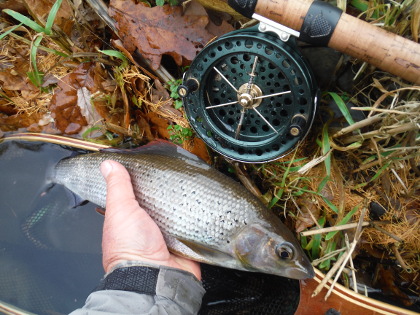 Last month's remarks on trotting for grayling and associated loose feeding provoked some correspondence. Several writers pointed out that of course there are alternatives to the usual local choice of red maggots for winter grayling. There are white maggots for a start, although personally I have a great faith in the grayling's predilection for the colour red. On the Severn and on the chalk streams, sweet corn is sometimes used. I don't have experience with this bait for grayling (although I remember it as very effective for crucian carp), but some anglers apparently do very well with it. On the other hand, I don't see grayling as naturally vegan and I have read advice to avoid loose feeding them with too much corn as they don't digest it well. And of course there are worms, and traditionally in the North a small worm was regarded as the winter grayling bait par excellence with no need for loose feeding, just the possibility of roaming with the hook bait. There may be some reluctance to use worms on the Wye, because years ago they were banned for salmon angling and nobody wants to be accused of nefarious practices. Today it is legal under the bye-laws to fish with a worm for grayling on the Wye after 1st November if you want to try it (but note, however, that most WUF beats insist on maggots and the WUF coarse fishing regulations also exclude worms). If fishing elsewhere and if you are sure you are within the rules, I would suggest that if you use a fairly small worm or maybe half a lob-worm, you are not very likely to attract the attention of out of season salmon. However, it isn't totally unknown and a salmon will occasionally grab a couple of red maggots also, so be careful if the big fish are near.
If you choose to fish with worms, you will also have a reason to go worm-hunting. As boys we used to think this was a great sport in itself. Some may choose to buy worms from the same tackle shop which sells them maggots by the pint, but I think this is missing most of the fun. You can dig for worms of course, but digging in the wrong place in dry weather can be depressingly unproductive. What you need to do is go out on the lawn on a damp night and look for the lob-worms which will then be lying on the surface. There is hardly a fish which swims which won't take a lively lob-worm. A wet night is excellent, or one with a heavy dew, and you need a lawn or a playing field with cut grass so that you can see what you are doing. You need a torch, but not one with too bright a light, or at least showing dim light at the edge of the beam pattern. Walk quietly on the grass and you will see the shining outlines of worms of different sizes lying on the surface half out of their holes. Not completely out, you will note, because the tails are always engaged in their subterranean burrows. Approach as gently as you can and pick a likely worm to attack. Do not shine the bright torch directly on your victim, because worms are light sensitive and it will retract back into its hole with a sudden muscular spasm and be lost to you. Instead, just keep the edge of the beam on the worm so that you can keep the body in view while you slowly lean down until you can suddenly trap its head or middle against the ground with your fore-finger and thumb. The worm's muscles will immediately retract and try to pull itself back into the ground using the tail as an anchor. Pull back in turn, but not suddenly or you will break your worm in half. Just keep up a steady pressure and after a few seconds the muscle will relax, the tail come loose from its grip on the sides of the hole and you have a complete worm bait. Triumph! Pop him in a bait box full of moss and go on to get your next one. It's all a bit like tailing a salmon; that is to say, when you make your move, be firm about it! It's quite surprising how many you can collect in an hour or so.
Of course there are a few stories about worm-hunting anglers who have been approached by policemen perplexed at apparently dubious activity by night on the local sports ground: "What's going on here then?" Have your explanation ready and try to sound convincing. Back in the day, the famous Abercothi keeper Cyril Fox reckoned to have an improvement on this hunter-gathering method. He used to collect his worms for Towy sewin from his own lawn, but had a method of shocking them out of the ground. This involved an electric cable clamped onto the metal tine of a fork stuck in the lawn, and then plugged into a live socket in the house. He would wait for 10 minutes watching the lawn from a window, before switching off and going out to collect his stunned victims on the surface. Then he would move the fork to another place and repeat the procedure. He had friends who wouldn't even switch the power off, but made their worm collection wearing rubber boots, braving the occasional jolt of an electric shock. I could imagine various fuses or even a power station blowing during these antics, but apparently not. Nevertheless, don't try this trick at home, children; I'm sure it is dangerous and definitely not recommended.
---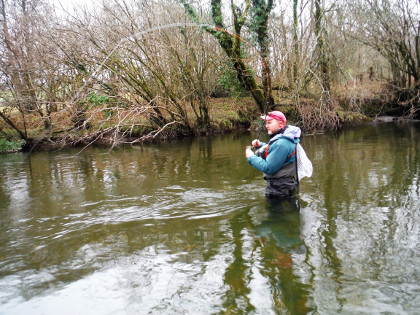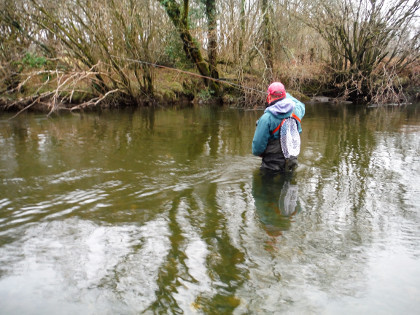 Quite apart from the cost of fishing tickets, the price of fly rods seem to be increasing by leaps and bounds, whether they are imported or home-made. Even allowing for the obvious exchange rate movements, it's sometimes difficult to understand why the marketing people have made the decisions they have. I suppose it's a matter of what they think sections of the angling public might be prepared to pay. For example, there seems to be a tendency at the moment to hold down prices of double handers, while prices of single handed rods are allowed to run away unchecked.
Take the matter of the long fine-tipped rods, usually 10 or 11 foot in 2 or 3 weights, popular now for heavy nymphing in the European style. Let's consider what you need for this work. I would argue that the main attributes needed are lightness, reach and a sensitive tip. Note that the kind of 10ft 4 weight rod used for spiders is not quite the same; there is a significant difference between a 4 weight and a 3 weight tip. As I do a limited amount of this fishing, I'm reasonably happy with the Greys Streamflex 10ft 3 weight I have been using for a while. However, a few years back Rob Evans and I persuaded Sportfish to import a Sage ESN (European Style Nymphing) 10ft 3 weight for him. I thought it might be a little heavy, but Rob loves it and fishes with it all the time. Our friend Lyn Davies now has one also. Sportfish now carry a range of the Sage ESN in stock, but note that they all retail for 839 pounds. That strikes me as a lot of money for a single-handed fly rod, even one built to the excellent Sage standards. Apart from the Greys Streamflex I mentioned, which currently sells for around 270 pounds, a cheaper alternative to consider might be the new Loomis and Franklin 10ft 6 inch IM12 nymphing rod, which is rated at 2/3 weight. (Loomis and Franklin, I understand, is a Taiwan-based company which Gary Loomis originally had a hand in founding). This one retails at 229.99 pounds and is supposed to be very good.
---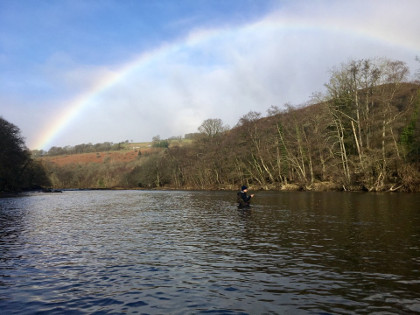 You may be an experienced fly-fisherman, but can you identify by eye every insect or bug you come across on or in the water? No, and if truth be told, neither can I. To be more accurate, I think I can recognise with a level of certainty some of the famous species which are of main concern to the trout, and therefore the angler. These would include the adult large dark olive, March brown, olive upright, iron blue, blue-winged olive, the true may-flies, yellow may, willow fly and a few more. But when it comes, for example, to sorting out the many British species of caddis flies, I am on much more shaky ground. I know what the grannom looks like and probably the big caperer. But for most of the rest I have tended to resort to such crude classifications as size either large, medium or small, and then colour brown or black. For fishing purposes, this was good enough, or so it always seemed.
It also seemed to be good enough to take part in the Riverfly Partnership, a survey carried out by volunteers which aims to provide a nation-wide data-base of the invertebrate creatures which live in our rivers and to monitor their health and distribution on a regular basis. Along with many others, not all of us anglers, I did a one-day course on the techniques of sampling and counting. At the end of this we were each equipped with a net, simple lens, pipettes, collecting containers and a timing device, all of which allowed us to "go forth and monitor." I have been visiting Gloucestershire's little Bideford Brook near my home for a few years now, making the count and sending the results in to the central data-base. It is not a particularly onerous task, involving a couple of hours every month or two. The kick sample process counts larvae and nymphs which are of course much easier to record than the short-lived adult insects. This sampling activity, strictly speaking, does not require much more detailed entomological knowledge than my angling does, because many of the subjects are counted in broad groups. These are currently cased caddis, caseless caddis, true mayflies Ephemeridae, flat-bodied stone clingers Heptageniidae, blue-winged olives Ephemerellidae, olives Baetidae, stoneflies and Gammarus shrimps. I can summarise that Gammarus always seems to be doing well in the Bideford Brook together with a variety of olives and mayflies, but we don't have much in the way of stone flies or blue winged olives in the stream. Occasionally a bull-head or a baby eel appears in the sample to liven it up.
One angler who decided long ago that an amateurish approach such as I have described would not be good enough for him is Stuart Crofts. Many of us will remember the Dave Calvert and Stuart Crofts fishing articles of a few years ago, which explored with more and more detail exactly what the trout and grayling they caught were eating, how the creatures lived and how they might be imitated. In the case of Stuart, I think his use of the microscope and what he found to examine with it, has almost overtaken the fishing rod in his affections -but not quite! Stuart has fished for England on a number of occasions and runs Pennine Guide Services which rather nicely combines fishing with bug-hunting. In fact, quite apart from the fishing, he is prepared to visit your stream and show you in detail what lives there. I was one of the monitors invited by the River Fly Partnership to undertake a two-day species level identification course to be given by Stuart. The class, which was organised by Tony Bostock of the Severn Rivers Trust, was held in a grey stone-walled inn - I still can't pronounce the name of the Welsh village, Llanrhaeder ym Mochnant - in the valley of the Tanat, which is an upper Severn tributary.
Initially I imagined that this work would be very difficult for me in particular due to my deteriorating eye sight at close range. Using a simple hand lens before, I had been worrying quite enough about whether I could recognise a blue winged olive nymph at all. However, I hadn't realised what can be done with an illuminated dissecting microscope having x 40 magnification and in the event I was very pleasantly surprised. In fact I was surprised altogether at the ambitions which Stuart had for our group. As anglers, we might pick up a live fly from the surface of the water, maybe put a hand lens on it, come to a conclusion and drop it back. In our routine monitoring of streams we hadn't really advanced much further than that, with the exception of counting numbers in a systematic way. Now Stuart proposed to us a system by which we could identify any invertebrate which might be found in a UK stream, right down to individual species level. He proved this to us, several times over, by making us do just that for ourselves, using some samples of quite obscure creatures which he provided.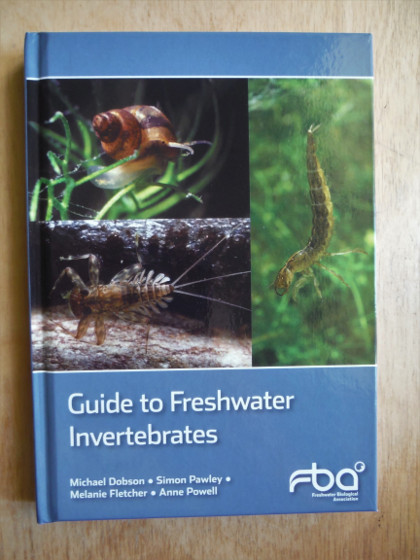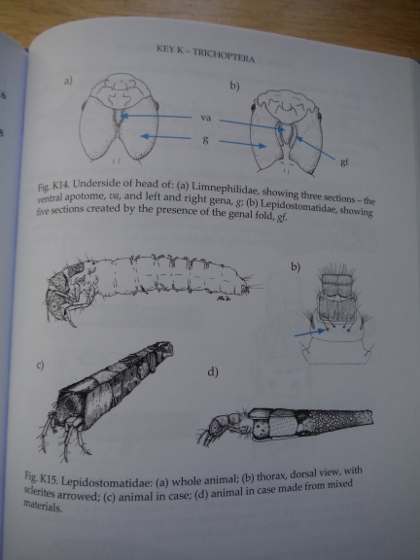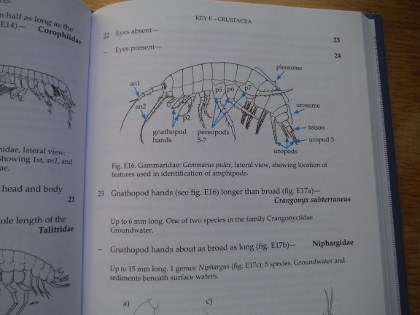 Unlike our counting, this is not an activity to be undertaken by the stream-side using live creatures. Samples are invariably killed, usually by dropping in alcohol. They are subsequently stored in a test tube containing a mixture of ethyl alcohol and water - vodka will do at a pinch. Everything else takes place in the laboratory and there is no real need to explain here the paraphernalia of pipettes, petrie dishes, brushes and probes used to manipulate samples in front of the lens. Watkins and Doncaster of Leominster, who have catered for insect collectors for over 130 years, should be able to help with these. The laboratory standard dissecting microscope is the first of the two essential tools for this work and there is no getting around the fact that a good one is expensive. I gather that, should we be asked to undertake specific tasks, the loan of equipment such as this from the EA may be possible.
The second essential item is a book called Guide to Freshwater Invertebrates by Dobson, Pawley, Fletcher and Powell, published now by the Freshwater Biological Association. This is a modern update of the original A Guide to Freshwater Invertebrate Animals by TT Macan, which was published in 1959 by Longman. The FBA is a charity, founded in 1929 and with a base by Lake Windermere, which for 90 years has fostered research into a fascinating subject about which surprisingly little is still known. As Stuart confirmed, this is a field in which an amateur might well find something quite new. TT Macan, who died in 1984, was one of the pioneers on the FBA staff, typically seen roaming the streams with his collector's knapsack and a faithful Labrador as companion. His Guide is not a book which you could read as such. Instead it is an identification system, which assumes you have a sample and a microscope, and works with what are called keys, couplets and endpoints: "This guide is based mainly on dichotomous keys, meaning that at each point you are given a choice of two options, which either leads you to another numbered couplet or to an end point." Essentially you have to answer a series of questions, depending on what you see, and follow the answer to the next questions. Normally there are two possible answers, but in some cases three or four. Simple line illustrations of the feature which you are looking for are provided. You may be required to manipulate the specimen, for example to change a dorsal for a ventral view. The path may be long or short, but eventually you reach an end point which is effectively the sixth level of classification, the actual species.
The course was quite hard work, but it was reassuring to know that, with the right equipment and a preserved specimen, definite species identification is almost certain in every case. You might find an insect in a river where it has not been recorded before - this sort of thing happens quite regularly. Of course, it's also possible that you might find a new species altogether or even get your name on it! Think of that - you might imagine yourself in company with the likes of Burton and Speke, looking for the source of the Nile! Otherwise, I believe the Riverfly Partnership would still appreciate volunteers for their regular monitoring scheme. It's interesting and useful work, and a monitoring visit takes little more than an hour or so. However, bear in mind you will be expected to monitor regularly and the year round, so you would be wise pick a stream near home or one you fish regularly - see contact below.
Contacts:
Riverfly Partnership www.riverflies.org
Severn Rivers Trust www.severnriverstrust.com
Stuart Crofts www.stuartcrofts.co.uk
Watkins and Doncaster, Leominster www.watdon.co.uk
Freshwater Biological Association www.fba.org.uk
---
Messages arrived thick and fast after my peevish comments on punctuation and grammar last month. Now we are on to syntax and even beyond English to other languages it seems. I was reminded about Harry Plunket Greene's wonderful example of old German in Where the Bright Waters Meet. I studied German, rather unsuccessfully, for a couple of years in school and I never could get to grips with the idea of putting the verb at the end of the sentence or dividing it in other strange ways. Plunket Greene fished in the sunny south of Germany during the golden years before the Great War and in his book he translated this gem from a local newspaper:
"Yesterday there broke, in the town of Urach, the famous health spa patronised by his Serene Highness the Grand Duke of Saxe-Weimar on his hunting expeditions and famous for its wine-grapes and cider-apples, at half-past seven in the evening, at the house of Johann Schlegel, the much-respected butcher, formerly member of the town council and greatly beloved of his fellow-citizens, at the corner of the Alt-Markt, where the Ochsenstrasse enters, fire out."
A British example? In these politically charged days, this header from a newspaper was pointed out to me: Mrs May says Jeremy Corbyn should resign. Or should it perhaps have read: Mrs May, says Jeremy Corbyn, should resign? A plague on both their houses! Clearly somebody is supposed to resign, but which one? A couple of commas and maybe speech marks would make all the difference to the meaning. Meanwhile my English-teaching sister, who obviously feels I treated her unfairly on split infinitives last month, sent this message:
Let me turn around and say to you, I'm, like, COOL with split infinitives. Ever since "to boldly go where no man went before."
---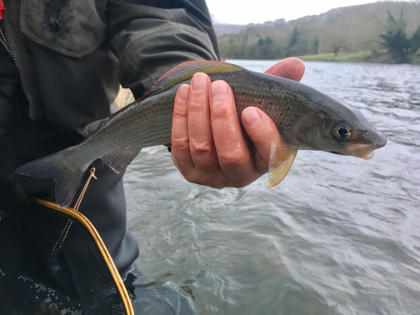 February is usually our coldest month but, fear not, the grayling usually don't seem to mind if the water levels are right. And probably they don't worry about syntax or split infinitives either. Tight lines!
Oliver Burch www.wyevalleyflyfishing.com
---
---