Trout & Grayling Report
by Oliver Burch
December 2016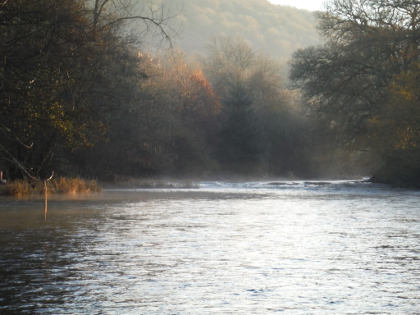 We started December in no doubt that winter had arrived, with hard frosts and sub-zero temperatures lasting through both night and day. "I was stitched up by the weather forecasters today," wrote TU from Bristol reporting on his trotting at Cefnllysgwyne on the first of the month. What was forecast for the 1st were clouds over the Builth Wells area resulting in daytime temperatures which should have been just about the right side of freezing. What TU got was a clear sky and minus 6 degrees. Now don't those forecasters in their warm offices realise that the difference between plus one and minus one degree is everything when it comes to trotting gear and rod rings freezing or not freezing? Anyway, despite the cold TU persevered and was rewarded with 5 grayling, 4 of them nice fish up to 1 pound 10 ounces. The temperature had eased just slightly by the 2nd when GM from Usk and DM from Swansea had a large catch of grayling trotting on the Rectory beat. Dave Collins of West Herefordshire was also trotting upstream at GPAIC (the Builth town water) and had 21 grayling from 10-15 inches and a pair of chub at 3.5 and 4 pounds. Despite his good result, Dave stated his general view is that drastic drops in temperature don't help with grayling fishing. Actually I think he is right if it's the case that the change to cold weather is sudden. After two or three cold days, it seems to me that grayling get used to the new situation and carry on as before. The conventional view was always that frosty weather in itself sharpened up the appetite of grayling and resulted in brisk feeding. I would suggest that grayling are merely a species which will put up with most conditions once they have had a little time to acclimatize. I am not sure if there is a minimum temperature below which grayling cannot be caught (I remember fishing and catching during a competition on the Dee at Llangollen once at minus 10), but low temperatures certainly seem to concentrate the shoals. The times I have almost never been successful are with a rising flood or during a thaw with cold snow-melt water in the river.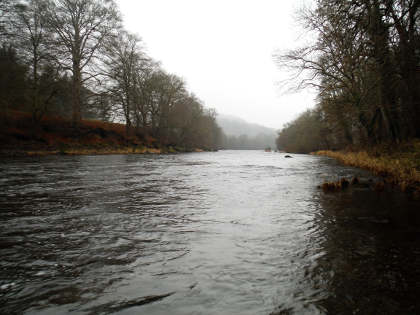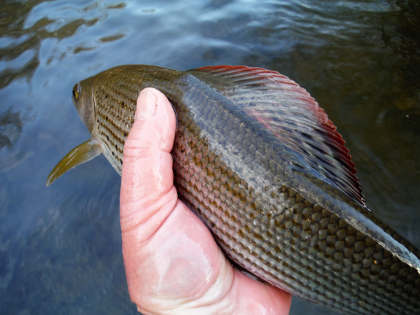 On the 3rd, still during cold weather, AG from Hereford had 8 grayling from the Irfon at Cefnllysgwynne. On the next day SW from Hereford had 14 from the Wye at Craig Llyn, 10 during the morning on various nymphs and 4 more after lunch on a Grey Klinkhammer during a large dark olive hatch. So rises continued, even to the 4th December! Also on the 4th, TH from Brecon fishing despite the cold got 15 grayling from the Llangoed and Lower Llanstephan beat using small Hare's Ear and Pheasant Tail nymphs.
A couple of days later the high pressure weather came to an end, the winds moved to the south and west and we began to have daytime temperatures between 10 and 15 degrees. In fact the conditions now remained generally mild until Christmas. Following last year's apparent failure of salmon spawning in the Usk, I began to worry whether 2016 might also prove a failure due to high temperatures. On the 7th, JM from Staffordshire had 5 grayling on small nymphs from Eyton during a 3 hour session. The warmer winds from the Atlantic also brought showers of rain; on the 9th NW from Bromsgrove found the Lugg at Lyepole coloured, but managed 6 grayling including a super 48 cm fish. On the 16th, HEE from Swansea had 6 grayling from the Wye at Ty Newydd using nymphs. On the 17th, DU from Lichfield also had had half a dozen with nymphs from the Lugg, again with the water on the high side - see his fishing blog at www.thetreetrout.co.uk. And in case you were wondering about the website title, DU is a tree surgeon. On the 18th, GG from Thornbury took a dozen grayling to 2 pounds as well as a chub while trotting with maggots on the Irfon at Cefnllysgwynne. Reporting on the 22nd, AS from Newent expressed disappointment with 9 grayling from 10-15 inches at Lyepole taken on heavy nymphs. On the 27th, SN from Staffordshire with a companion had 9 from the Llangollen Maelor Angling water of the Dee. On the same day, AS of Newent fished at Lyepole again and reported 10 grayling. (I have no doubt there are some more reports from the holiday period not available to me writing on 31st December - I will catch up with those next month).
Temperatures turned colder again during the final days and we had some sharp frosts between Christmas and the end of the year. There was one particularly beautiful day of white ice on roofs and trees combined with bright sunlight, and several gloomy ones during which thick fog never lifted. Overall, December was a relatively dry month and although some showers in Central Wales were enough to produce short rises on the upper Wye and Irfon, most of the grayling streams were in fishing order for most of the time. The Lugg was perhaps a little on the high side, but certainly fishable. We are trusting that, bearing in mind the apparent spawning failure on the Usk last winter, the temperatures will have been low enough for the salmon to have reproduced successfully this time. On the penultimate day of 2016, I came across the corpse of a spawned out hen salmon lying in the Monnow at Skenfrith. Hopefully we are going to see more salmon in the Monnow and other tributaries also.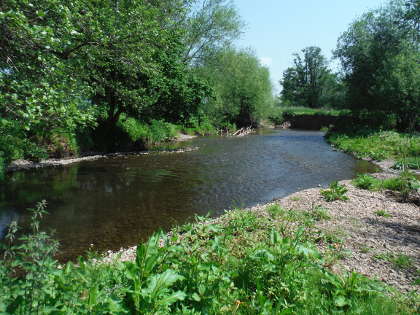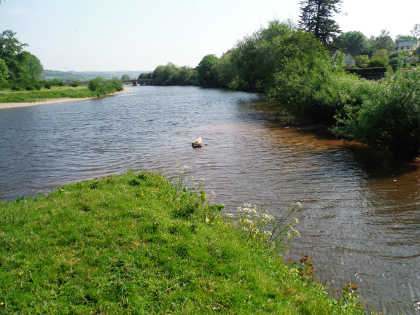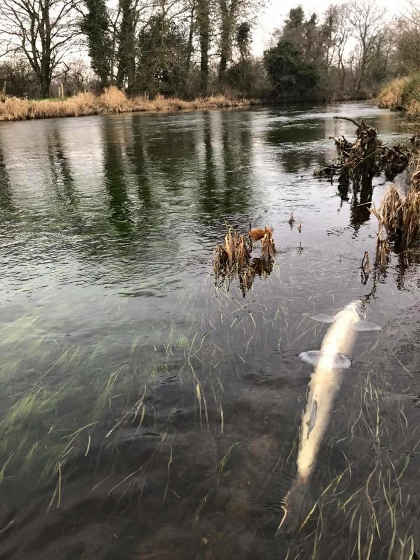 I do not wish to sound a gloomy note as we welcome in a New Year, but one fishing report which depressed me on reading was from JH of Usk who on the 14th December recorded a blank on the Sirhowy AA water of the Llynfi. This beat is the final stretch above this stream's junction with the Wye. Now any blank day may be just bad luck, but JH thought that conditions looked good and tried hard for grayling with a range of methods. The background to this concern is a pollution incident which occurred upstream at Pontithiel this summer and which I reported in the July letter. The details of this incident have been difficult to determine, but the result was a major fish kill on the Llynfi, as confirmed by the EA and by Dave Collins, who as a bailiff for Gwent Angling Association walked their water below Pontithiel a couple of days later. Apparently some very fine fish were lost. I only managed to fish the Sirhowy water once before the incident, at mayfly time this year. I had a good day on that occasion and remember seeing several large trout, one of which I pricked and lost on the first leap. According to NRW policy now, the lower Llynfi won't be restocked by human agency, although nature will eventually do the job over time. It might be quite a while before there are big trout in residence again.
The threat of pollution caused by human activity is always with us. An incident in the Forest of Dean this month involved vandals puncturing some storage tanks which allowed oil or emulsion into a forest pool near the ruins of the Darkhill iron works. The old iron works, possibly one of the first place steel was made, is an important archaeological site. The tiny overgrown pond used to contain a few tench, for which children would fish during the summer holidays, and the overflow eventually leads down the valley through oak woods into the Cannop Brook. The EA were quick to put out booms and absorption mats and when I gave our section of Cannop its annual trim just before Christmas, I could see and smell no sign of oil, so hopefully the damage has been limited. We will find out come March. Minor incidents like this are much more common than you might imagine. Much more serious is the report received this month from the Teifi where a major contamination incident at Tregaron has resulted in a coloured and stinking river as much as 20 miles downstream. See the pictures taken by guide Steffan Jones. Thousands of dead fish have been counted, including spawning salmon and sea trout. At the time of writing, agricultural slurry and an anaerobic digester are believed to be the cause (see WUF newsletter 20th December). The impact of the wrong material getting into our rivers is so great that I personally feel a new commitment to speak up, perhaps a little more loudly in future, every time a problem, large or small, can be seen looming. Some actions just seem to be lazy and stupid, even if not desperately harmful, such as the farmer near Abergavenny who was tipping his thorn hedge trimmings into the Usk, presumably because it was too much trouble to make a bonfire of them. But I'm thinking also of the car wash where the drainage didn't reach the sewers properly but overflowed into the stream, the chap who had a habit of jet-washing his quad bikes on the shallows of the Escley brook, and the farmer who spread slurry on his field so carelessly that it was flying into the Monnow as I watched. A strip of 12 feet, frankly, is an inadequate buffer zone between agricultural activity and aquatic wild-life.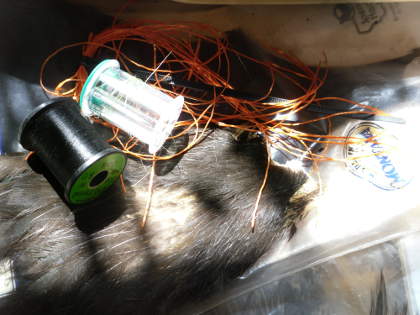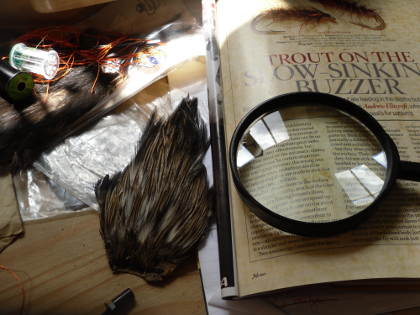 Here's a little job I find myself doing indoors at this time of year. Later there will be batches of flies to tie for the new season, an activity which can be used to while away some days of flood and the long dark evenings of winter. But meanwhile what about all the flies which during 2016 I tied to leaders and fished with for a while before leaving in fly patches or in various day boxes? Some difficult summer evenings resulted in quite a few patterns being experimented with and now there is left only a muddle of bedraggled flies which will be quite a business to sort out. Some of them look they are good for nothing but throwing away. You may already know this, but there is a wonderful method of restoring artificial flies to their former glory, even when hackles are bent out of shape and coated in dried fish slime. What you need is an hour or two with the kitchen to yourself and an old fashioned kettle which can be filled up and set to boil on the gas with a jet of steam emerging from the spout. Plus some forceps or a pair of needle-nosed pliers and, come to think of it, a Christmas glass of wine and a couple of mince pies might be a good addition. Pick the used flies up at a time by the bend with the pliers and hold them each for a couple of seconds in the clear steam. Watch closely, because what happens next is pure magic. Slime disappears, body dubbing fur becomes coloured and flexible again while hackles spring back to their original position. Make a decision then while the fly is still held; any which have been too damaged or shredded (hopefully by the teeth of fish) can go into a discard bin while the rest go to a box or tray for a couple of hours drying off. After which you can sort them back to their original fly box positions, all ready for use.
2016 wasn't a bad fishing year, was it? The Usk fished well in the spring, then very good mayfly as I recall, at least some sea trout, quite good autumn grayling and a wonderful year for the salmon anglers (although I for one didn't get to fish for salmon as often as I had hoped). Right now I can look back on it all while my family are all busy with their holiday activities. One son and his wife are cycling in the Forest with two of our grandchildren, my daughter is on the other side of the hill with ear defenders on banging away at clays, while my wife is curled up in the corner of the living room trying to write haikus or some such. Over this glass of wine in a warm kitchen, thinking back about my year on these rivers and in this rural landscape, it strikes me that it's a very British thing, this affection many of us have for the countryside and villages. Most of the world has a totally different attitude to rural life. For example, you won't find too much love of the countryside in modern Russia or China, where those who make it with relief from the village to the city have no plans to look back. Among the urban tower blocks of Eastern Europe, the recently arrived country bumpkin is still a figure to be sneered at: "Put him on the top floor where he can see his sheep." I came to think of the Bosnian war of twenty years ago as the Great Real Estate Theft War, because it was a conflict in which soldiers were paid with loot and which enabled the people of the countryside to move en masse into town. A large part of my work during the five years following the end of hostilities was taken up with the problem of victorious soldiers of all three factions, along with their families, who had installed themselves in the city centre apartments of the ethnic minorities they had expelled during the years of conflict. They were fiercely resistant to the idea of returning to the forest and mountain villages "behind God's back" from which they had come. Anything but leave town and what they saw as the sophisticated urban life. The rightful owners wanted their property back, but removing the illegal occupants was like levering barnacles off a rock. By contrast in Britain, even those who have never lived in the country or could make any claim to understand it, have an idealised view of it. For centuries now, anybody who made a fortune would rush to invest it in a country estate, ideally with field sports thrown in. Even urban people of modest means dream of "retiring to the country." And we all pay lip-service at least to the idea that the British countryside with its small towns and villages is a unique national treasure.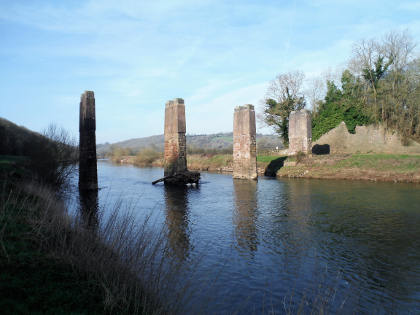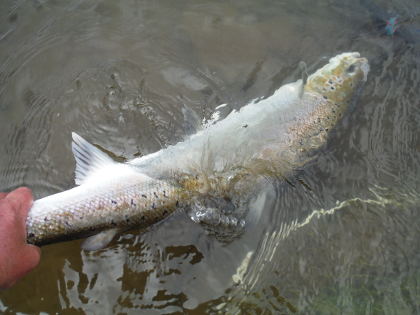 Meanwhile, I think I am getting more parochial as I get older. At any rate, distant horizons seem less alluring than they once did and I have definitely lost any desire to tread the golden road to Samarkand. To tell the truth, I don't care if I never get on an aeroplane again (although I suppose an expenses paid trip to try for sea trout in Patagonia might be tempting). Otherwise, only feelings of guilt about the rest of the family's need for a holiday take me off occasionally. Perhaps this is a function of age, this desire to be grounded in either one's birth place or one's chosen place, enjoying the charm of exploring in greater detail an already familiar landscape and people. I still drive around 30,000 miles a year up and down these river valleys and there is so much of it I don't yet know that it never seems to pall. Truly there is no better way to explore countryside than fishing the WUF wild streams and having a bit of a wander around afterwards. In particular, I never liked the idea that there exists a village pub I haven't visited once at least, so I am working hard on this aspect once the fishing is done for the day. This seems to me to be well within a perfectly good angling tradition because old Isaak Walton was nothing if not a connoisseur of riverside inns. Also of singing songs with milkmaids of course, but I haven't got round to doing much of that.
It's the ability to travel rapidly that has changed most about our countryside. Reading Robert Pashley's diaries, there is an impression between the lines of a quiet life in the lower Wye valley, at a time when most people would have done their travelling by steam railway and slowly at that. My father certainly travelled to boarding school in Hereford by train from the Forest of Dean, taking most of the day over the journey, once in each direction every school term. Sixth formers would have more than a few pints in the waiting room bar at Monmouth Junction to celebrate the start of holidays. Today I can get to Hereford in an hour when I want to. But in those far-off days, while Pashley was fishing downstream, father's train on its way to Hereford would have rattled across the great Aramstone viaduct and its pool where salmon lay beneath the stone piers. Salmon lie by the piers still, although the steel bridge above them has been taken down.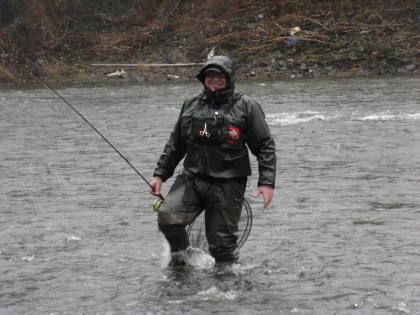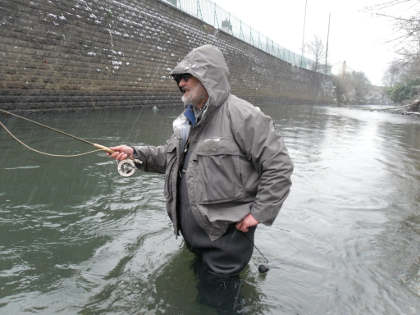 As time goes on, the people and the regional differences seem to have become more interesting and important. Something called "small town Britain" was rather criticised during this year of somewhat hysterical politics, but I don't think I'm alone in appreciating that local character. There is a charm about living in a small country town, which will not necessarily be enhanced by planners turning it into a large country town. Recently I heard a cavalry officer,a lieutenant-colonel in his early 40s, bemoaning the demise of so many regionally raised regiments. "I'm a Devonshire man," he said. "I want to serve with other Devonshire men." I understood exactly what he meant. Cities, despite the so-called diversity and mixture of peoples, in many ways stand for bland homogeneity, the countryside for tradition and also those satisfying and identifying differences. Good or bad, we like our own ways and we certainly like to poke a little fun at the ways of others. Gloucestershire men, for example, will hold that Herefordshire people always go the long way around the barn to tell you what they wish you to know. You can fall asleep waiting for them to come to the point, or so they say on the Gloucestershire side of the county line. The Gloucester way, on the other hand, is to tell you just what they think of you, straight between the eyes. I have heard this tendency explained as the "fierce friendliness" of Gloucestershire, which perhaps is putting the case with too much kindness. And of course the men of Herefordshire will ask in turn how can you possibly take a county seriously which amuses itself by rolling cheeses down a hill?
The friendliness is a lot fiercer in the valleys of South Wales. Welsh friends will hopefully forgive me if I state that I find it hard to like the scarred post-industrial landscape of the valleys with their lines of grey houses and cold mountain climate. It's a long winter up there. One saving grace is that the rivers, polluted sewers once, are today restored and full of life, with a new generation of talented young anglers to fish them. The style becomes gentler again as you travel further west to Swansea and Carmarthenshire and what everybody from outside notices and admires is how very strong and united these Welsh communities are. If a family is in trouble, everybody turns out to help. On the other hand, everybody seems to know everybody else's business - privacy is the one commodity in short supply. "This is the land of the twitching curtain," as a Swansea County friend described his home town. Just as in parts of Eastern Europe, nick-names in Wales tend to stick and they aren't always flattering. Never mind those famous Welsh "Jones the Milk" and "Davies the Post" job descriptions; those sorts of quaint but practical titles are for the consumption of foreigners. I know a chap - let's call him Leonard - who was recently caught by our sharp new NRW bailiff while fishing for sewin without a licence. Inevitably word got out. No matter what explanations and apologies he makes in an attempt to expiate his sin, the nick-name is already there and doubtless will remain. The die is cast and he will be known as "Lenny the Licence" until his dying day.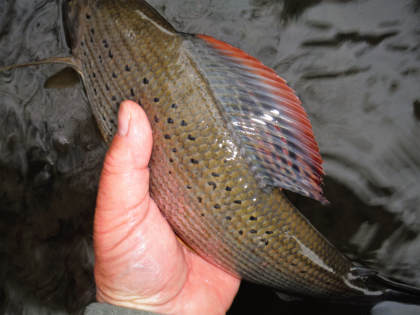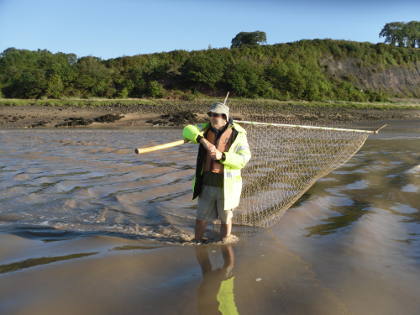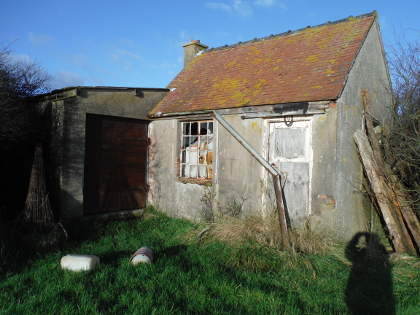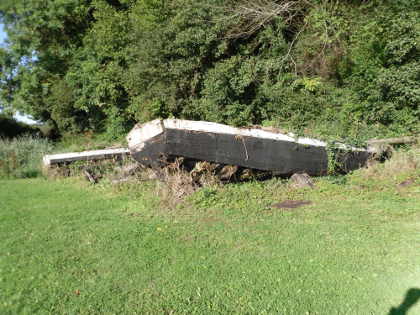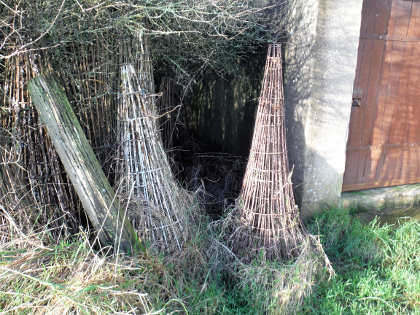 I don't need to describe the landscape surrounding our Welsh Marches rivers, from rolling pastoral hills and valleys to high mountains and moors. If you don't know the sights and colours of this glorious country, you can get that from any number of sources - or better yet put your fishing rods in the car and come and see it. But I do have some fun with the place names. Apparently in Herefordshire, everything belonged at some time to the King: Kingstone, King's Acre, King's Pyon, Kingsfield - there seems no end to them. In fact this is a land where kings were once made by force of arms and in places the landscape seems to retain some sense of the battles which were fought here. 15th century armies met at Mortimer's Cross near the banks of the Lugg at Wigmore with a prophetic parhelion or sun dog in the sky - you can see it in the sign of the Mortimer's Cross Inn - and the Yorkist victory shortly after won Edward IV his crown. Upstream and over the border in Welsh Powys, the dark hill of Bryn Glas where earlier an English army was massacred during the Glendwr rebellion looms over the Lugg at Pilleth. Whatever the season or the sky, the atmosphere of this place always seems sombre to me. Life on the border must have been very different once, although only the castles and ruined towers remain to remind us of a dangerous past. There are several Wye-side villages in Herefordshire where the men were once granted free salmon fishing and certain other privileges in return for agreeing to go and fight the Welsh whenever called to do so by the English king. Some people will do anything for a bit of fishing, eh? However, the drafter of the charter in which these privileges and obligations were defined obviously expected back-sliding, because he was careful to specify in detail that these salmon fishing villagers should be in the van of the army during advances and in the rear during retreats. Needless to say that this land is the quietest of places now. The apple orchards and half-timbered houses of Herefordshire continue without much change across the county border into the low wooded hills of South Shropshire, the main difference being that the streams here run to the Severn. AE Housman famously loved the area and called it Western Brookland. I can think of no better description for it than his: A country for easy livers, the quietest under the sun.
Place names are curiously descriptive in my corner of Gloucestershire, the Dean Forest. In the hills close behind the little Severn-side port where I live we have the Devil's Chapel, which are the remains of Roman iron mines in dark woods, juxtaposed with Heaven's Gate on open farmland, a situation which always reminds me of that "sunlit uplands" quote. The getting of iron and coal since prehistoric times has marked every part of this landscape. Meanwhile the people of the Forest, inhabiting these hills covered with thick trees which seen from the open Cotswold escarpment across the Severn look forbidding and sinister, had a long reputation for being difficult and unruly. Here the Silurians once lived, swarthy men with curly dark hair. "Slaughter Crib" where you can cast for salmon on the Symonds Yat beat of the lower Wye commemorates the spot where a Roman column was ambushed and cut down by a wild band of local Forest tribesmen rushing out of the trees. A mediaeval sword found in the Forest some years ago bears the belligerent inscription: Miner against miner and miners against all other men. "So no change there," many who know us in the Forest might say. But there is a lot to like about the people of this part of Gloucestershire; they are conservative with a small "c" and nowadays more addicted to growing vegetables, brass bands and village carnivals. As this area was affected by decades of high unemployment after the mines and foundries closed, many went to the armed forces and the older men sitting outside the British Legion with their pints is still one of the most common sights of our summer. There was never much of a fly-fishing tradition here, although the little streams are full of trout. Show me a Forester who didn't learn how to catch them with a worm in childhood. I am almost certain I was the first to try them with an artificial fly, but I too used a "garden fly" on the brooks once. Commercial salmon and eel fishing in the Severn is another matter, because it is now more or less finished, just as the coal and steel industries of the area are just about finished. You will see the rotting stop net boats drawn up above the estuary mud, and although there are a few retired professional salmon fishers still living in my town, a mere vestige of the industry remains active. I would be wrong to portray the Forest as some kind of a rural idyll, because high unemployment and a pervasive drugs culture have taken their toll. I once read a description of the town of Cinderford, which is surrounded by beautiful woods and hills: "...appearing like a Tuscan hill town from a distance, but with the remains of some surprisingly heavy industry and looking rather more like the depressed South Wales valleys when seen close-up." Today, possibly half the population of the Dean consists of "incomers" who were surely attracted by low property prices. In Scotland they complain of the new arrivals who "sold a semi-detached in Neasden and bought half a glen in the Highlands." In the Forest, however, it's OK to be an arriviste provided you don't try to change anything about the way things have always been done. I'm an arriviste myself; my grandparents came here from the Cotswolds as school teachers in 1928 and I know that we are still on probation.
The quality and colour of the water was clearly important when many of our Forest villages gained their names: Clearwell, Broadwell, Redbrook and Whitebrook. The more recent and grimy industrial past is reflected in names of towns such as Cinderford or Coleford, while I have my car serviced in a bleak hamlet of grey stone called Steam Mills. Jesus Rock, on the hillside beyond my grandmother's former house in the centre of the Forest, is where folks once gathered in the open to hear non-conformist preachers on a Sunday, while Christ-is-a-weeping is no more than a strange rock formation in a Forest cave. Forest men (not women) would be in the pub if not in the chapel and there are more tales of rural alcoholism than I could tell you. Here is a recent one though. A regular drinker at a Buckshaft inn annoyed the Cinderford police so much by driving over the limit that they got him banned. His solution, it being too far to walk to the pub every evening, or at any rate to walk home, was to borrow an old horse from a farmer friend. This patient animal would wait in the car park all evening until it was throwing out time, when it was the job of his mates to get the rider up into the saddle. The resulting grunting and heaving and shouting, would disturb the poor old horse enough to make it shuffle around a bit, provoking cries of "Stop that yer silly old b****r, I beyunt on yit!" Finally our hero would be more or less in the right position and would address the animal again: "Roight then, old butt. Now yew takes I 'ome." The horse could do the rest without further advice.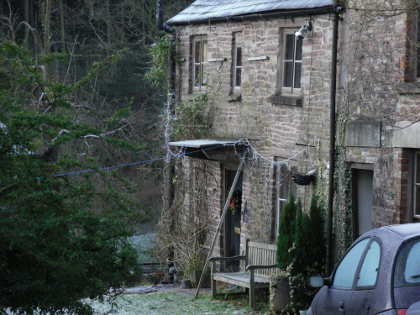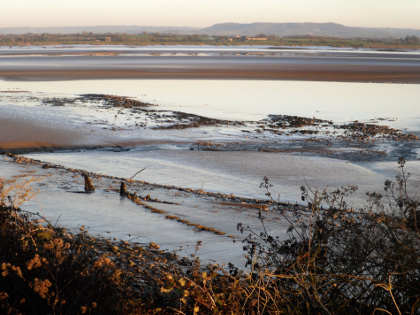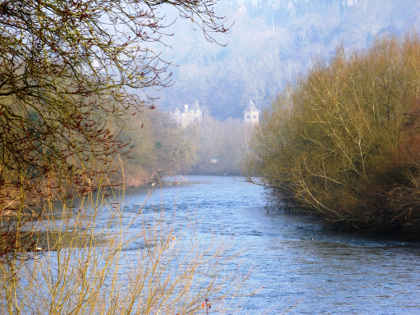 Names of the old cider drinking houses in the Dean were wonderful: the former Tump House which still stands as a private cottage near the start of the Blackpool Brook beat, the Help Me Through The World in Coleford and Lydney's Step Aside Inn. The Tump House was a tumble-down establishment in which as a little boy I sat with my father beneath a grainy photograph of Lloyd George facing another on the opposite wall of the village football team (1926), sucking at the half pint of shandy with which I had been entrusted and trying to understand what was being said in the strong local dialect. We walked down there through the forest on summer evenings, sometimes with Dad's old hammer action gun in case there was anything worth shooting at, which included grey squirrels for the bounty on the tail. A rabbit would be a rare treat. He told me that during the early part of the war he used to shoot roosting rooks from the tree at dusk (anything being considered fair game for the family pot in wartime). The Tump House never had a bar and conversation went on around a table in a single smoky room. When anybody ordered drinks, the landlord had to get up from sitting with his customers and take a tray down steep steps to the cellar. Most of these old places have closed now, but some remain and a couple have even been turned into successful gastro-pubs by enterprising modern landlords. Salmon anglers at Wyesham are more than happy to drive up the hill to Newland for lunch at the Ostrich. Meanwhile we still have more New Inns and Rising Suns here than you could shake a stick at. In the very centre of the Forest you can sit by a pond which once provided water for a pit-winding steam engine next to the Mosely Green Rising Sun. Not far away, if you know where to look, you can find the traces of old concrete roads and emplacements, hastily built and now almost buried in the undergrowth. Here 30,000 American servicemen with their vehicles and artillery camped for 6 weeks waiting for D-day, hidden by the trees from aerial observation. There is the local legend of the military Harley-Davidson motorcycles which were left behind and eventually tipped down a disused mine shaft somewhere nearby. Then we have the Boat Inn down at Redbrook, once the haunt of Wye boatmen taking loaded trows up to Ross and Hereford and the only Welsh pub I know with its car park in England. It's a rather sad thing that, while working examples of such vessels as Thames sailing barges and Norfolk wherries have been preserved, the old shallow draft Severn trows around which a whole transport industry was once based have all gone, except for one hull preserved in the Ironbridge museum. Otherwise, you can see some keels only, lying in the estuary mud off Lydney docks. There are one or two places, Wyebank for example, where you can actually wade and fish through the havens where the trows were once moored as they travelled up the Wye.
On the subject of pubs, I am reminded now of the story of the Holly Tree, a remote house built of moss-covered grey stone tucked away in the trees high above the Wye. You would be hard put to find it without directions. In a moment of madness, my friend Tom once took on the job of landlord at this rather unprepossessing establishment with its small clientele of locals who expected to charge their pints of rough cider to the slate for ever and a day. Nobody could have seen much financial future in it. Now Tom is a born and bred Cinderford man, a former free-miner and secretary of the free miners' association, so in once sense you could definitely put him down as a forester. On the other hand, he went to university in Madrid, speaks a number of European languages fluently and has spent much of his working life trotting the globe selling aero-engine parts. Last I heard of him, he was living with a Brazilian girl-friend in Geneva. His period as landlord of the Holly Tree was never going to last long, but it was considerably extended when some actors from the cast of the TV series Casualty, out on an evening foray from Bristol, somehow found their way to his remote pub. Tom managed to divine that what they were looking for was an experience of backwoods rustic surliness, and he made sure they got it. Tom duly insulted and overcharged them and they loved it. A few nights later the actors were back in larger numbers, this time with a producer or two and some of the technical crew. Having had some time to think about it, now Tom called on his own acting talents and gave them the full Cold Comfort Farm treatment with an added hint of "I saw something nasty in the woodshed" mental instability. Imagine Ronnie Barker rolling his eyes in one of his scruffier character roles and you will have the picture. The pub regulars were also being persuaded to play their part as the visits from Bristol became more frequent. There was much knotting of woollen scarves over collarless shirts and the employment of baling twine to secure trouser waistbands. The local dialect, obscure at the best of times, became more so and the volume was turned up. Nobody had a kind word or a smile for the visitors, but the cash register rang merrily as they paid for grimy glasses of cider which looked and tasted like diesel fuel and for plates of dubious pork pies. "Isn't it wonderful?" the luvvies from Bristol whispered amongst themselves. "So authentic, so marvellously unpolished."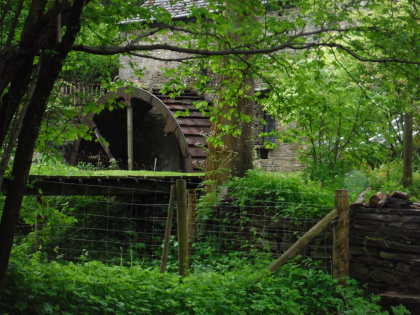 Some of the villages still have the random appearance which betrays their origins: squatter's cabins encroaching into the Royal Forest on which the Navy's ship-building once depended. Dragoons were sent to turn them off during the 1830s, but people kept coming back, authority finally desisted and the foresters had their way in the end. Everybody has to live somewhere, as Spike Milligan once said. Local maps are still marked with the names given to the coal gales and the now-closed collieries: Speculation, Perseverance Levels, Ready Penny, New Fancy and the somewhat dubiously named Strip and At It. I also like those villages named for their open spaces: Bowling Green and Dancing Green, Joy's Green and Camomile Green. There is a piece of public land in the village up the hill from us which has always been known as the Cut and Fry for some reason. There are Staple Edge and Pleasant Stile. I can take my grandchildren to play football on Gorsty Knoll, as Forest kids have always done. The Dean is a wonderful place both for children and for memories of childhood. My sister and I spent all our school holidays roaming in it. Our own playwright Dennis Potter, a miner's son but not always admired in his native Forest, described it best with the title of a BBC play: Blue Remembered Hills.
Meanwhile, like many an Englishman, I'm still working on the Welsh place names and I can understand a few even if I can't pronounce them. Many seem to be based on the names of rivers or their tributaries. My pronunciation does tend to produce hoots of laughter among Welsh friends. My attempt to describe the mountain reservoir Ystradfellte to the committee of a Swansea angling club seems to have been the high point of the evening - "what's he on about, Will?" and then "...nice try, Oliver, nice try." Wales has its quarrels too. Anglers on the Honddu in the Black Mountains will come across an unfinished bridge, just the founding arch spanning the river. Apparently two neighbouring farmers agreed to finance a bridge between their properties for convenience in times of flood. The builder got started and finished the arch, getting as far as putting in the capstone with the date: 1812. But while Napoleon marched on Moscow, the neighbours had fallen out and the quarrel lingered on and on; the bridge never was finished and I presume the mason never was paid. Only sheep use the arch today, which now looks near collapse.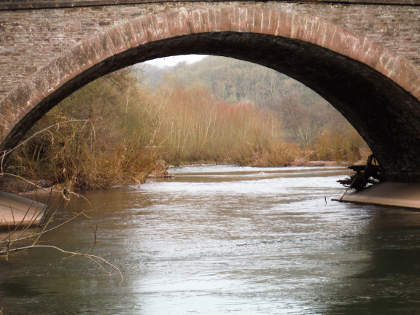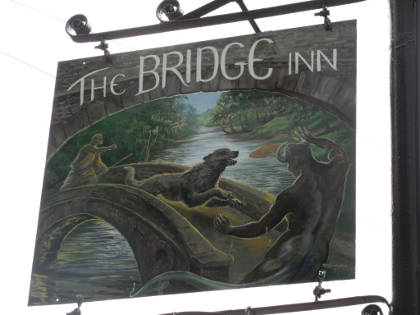 Then there is Monmouthshire, in particular that part of the county lying inside a triangle bounded by Monmouth, Abergavenny and Hay. This is Wales, but a special part of Wales, and another part of the same triangle is actually English Herefordshire. This is an intimate patch of countryside, its character stamped by the charming little trout river with its handful of tributaries which run through the wooded and pastured hills. I have a theory that nobody comes into this land unless they either live on the patch or are planning to fish the Monnow. I mean why would anybody else need to? All the road signs inside that triangle seem to be marked: Monmouth 11 miles, Abergavenny 11 miles or Hay 11 miles, as if they had been ordered in bulk. Ruined castles are littered around as a reminder that this was once uneasy border country. However, since the Anglo-Welsh wars not so very much has happened here, except for the intermittent persecution of Catholics. There was once an idea to run a railway line through the triangle and along the valley of the Monnow, but, typically, they never quite got round to it. Here at Kentchurch the Scudamore family still live, as they have done since they came over with the Conqueror (or even earlier according to some accounts). "And how are you liking it here?" one might perhaps pluck up the nerve to ask, if introduced. They continue to preside over a good 4 miles of the Monnow. This landscape is imbued with legends involving a mysterious and altruistic giant, Jack of Kent or John of Kent, who engaged in a series of struggles with the Devil. The bridge at Kentchurch is an example. John of Kent wished to bridge the Monnow for the sake of the country people living around, and the Devil engaged to help him do this in one single day by bringing stones from Garway Hill. However, the Devil had a price for his efforts, this being the soul of the first one to cross the bridge. John of Kent enticed a dog across the bridge before any human traveller and so the Devil was tricked, as a dog, I am told, has no soul. You can see the story on the sign of the Bridge Inn, which serves as an unofficial headquarters for the Garway Fly Fishers club.
The place names here in the Monnow triangle are more evocative than ever, such as Maypole and St Maughans (the last named for a rather obscure saint who seemed to have shuttled between Wales and Cornwall). Finally, here is a curiosity for you. Patrick Kavanagh's beautiful sung poem On Raglan Road is about a doomed love affair in 1940s Dublin. As Irish a song as you could imagine, generally considered to be on a level of popularity with Whisky in the Jar and Dirty Old Town, it was the Dubliners band who later made it famous. But I get to drive on Raglan Road every day, running along one side of the triangle. Not exactly "a quiet street, where old ghosts meet," some folks know it now as the A40. Amazingly, away on a crest of the lonely rolling hills between the road and the river with a fine view into the distance, you can find a tiny Monmouthshire hamlet actually named Dawn of Day. Just imagine that for a postal address!
Well, there's another trip around the sun done. Good wishes for the New Year and tight lines in 2017!
Oliver Burch www.wyevalleyflyfishing.com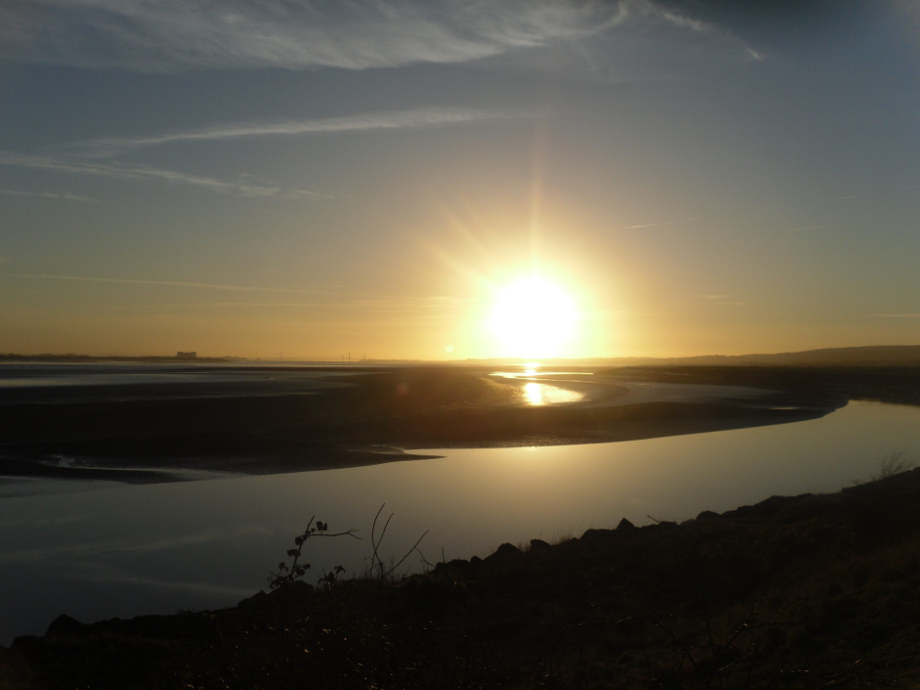 ---
November 2016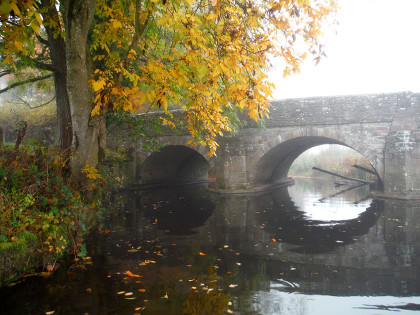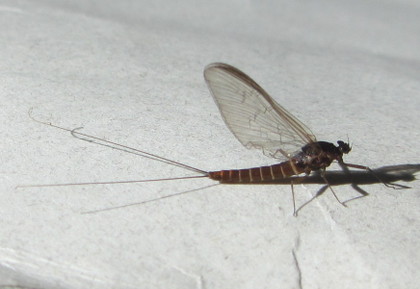 After what was apparently the driest October for 65 years, we started November with all the rivers about as low and clear as could be imagined. The leaves were in colour, but for the most part still on the trees. Autumn fly hatches were still to be seen during the middle hours of the day and although pale wateries and occasional medium olives were just about finished, willow flies were still about and dark olives were hatching as the weather became colder. A few sedges, including the big caperer, were visible before dark. Occasionally there would be rising grayling, but in other cases the hatches were ignored. Many of the days were grey and misty. Then the wind turned to the north, temperatures dropped suddenly, there was ice on the car early in the morning and the leaves began to fall. The cold snap was followed by increasingly heavy showers and the main Wye was running at from high to flood levels by the middle of the month, although some of the grayling tributaries remained low enough for fishing. On 17th, a very windy day when tornadoes damaged roofs in West Wales, we waded the Irfon in alternating sunshine and rattling showers of sleet, somewhat worried about our safety beneath the oak trees leaning and creaking overhead. By now, most of the leaves were in the river and on their way downstream, although hatching flies were still remarkably persistent. On the 19th, after a hard frost had melted, I watched quite a big hatch of large dark olives on the Lugg and grayling were taking them steadily at the surface. The first really big storm of the winter (Angus) came the same night and removed the few leaves remaining. 24 hours later this was followed by very heavy rain and this time the whole catchment was affected and all our waters rose into full muddy flood. As a result there was no grayling fishing to be had for quite a few days while salmon anglers will have been reassured that their preferred species now had full access to the spawning tributaries at last. The wild stream volunteers were pleased too, because we like a good flood to flush the channels through before we start our winter activities. The main Wye was out of action for the best part of a week. As usual, the Irfon was the first of our rivers to come back into condition and trotting at least was possible on here by the 24th. Other tributaries stayed high for quite a time; it's remarkable for instance, how the Lugg and Arrow will keep up once the source springs have been charged and plenty of water was now coming down through the Monnow system. For a while the weather remained cold and hard for the time of year with some cutting winds coming from the east and north – typical high pressure conditions. One mild day of westerly breezes was followed by two more of hard frosts to finish the month and convince us that winter had definitively arrived.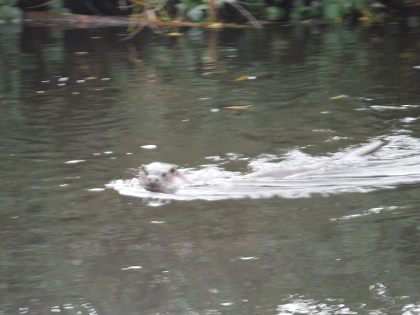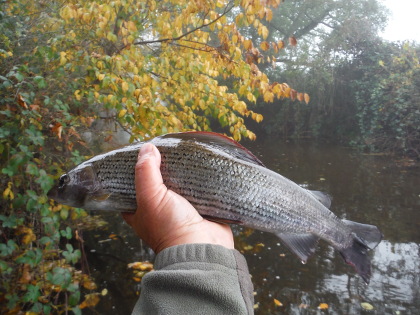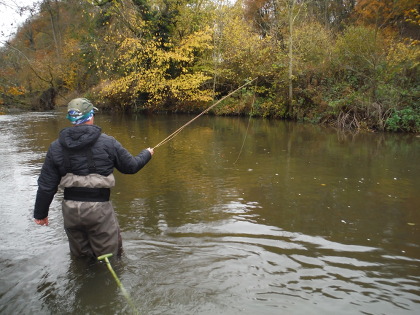 I think my own favourite fishing days of the month involved finding grayling in an all-day mist on the Arrow at Court of Noke, and then another mid-November day downstream at the Leen when brown trout could be seen, not only cutting redds but still rising to dark olives, all within a few yards. There was an otter on that day, no doubt taking advantage of the easy fishing. I saw him coming across the surface of the pool before he saw me, which reinforces my idea that they are rather short sighted, and for once I was able to get the camera into play before the sound of the shutter sent him under. One thing I remarked on during this November was that, without exception and right to the end of the month, every afternoon I was out I saw some kind of large dark olive hatch and quite often one or two trout or grayling were still rising.
Over now to the grayling reports. On the 1st November GB from Slough with a friend got 20 trotting the Leen on the Herefordshire Arrow. On the 3rd, Jeremy Mantle from Kingsland who was fishing at Abernant got half a dozen to 16 inches on the Klinkhammer of a duo setup. On the 4th, HC from Tywyn also had 6 from the North Wales Dee at the Glyndwr Preserve using brightly coloured nymphs. On the 5th, which was a very cold day with a strong northerly blowing, AS from Newent managed to catch an afternoon olive hatch at Ty Newydd and had 11 between 12 and 16 inches. On the same day I was struggling at the Rectory, but SC from Llandeilo Graban (after falling in and getting soaked) also found the olives hatching at Aberbwtran, very creditably got 5 to 15 inches and retired before hypothermia set in! The Welsh Rivers team (I am not sure how many of them) fished at Craig Llyn the same day and had 22 grayling. On the 6th, LE from Usk fished at Lower Glanwye (Llyn Em) for a dozen grayling with the duo method. On the 10th, IB from Kingswinford fished the Lugg at Eyton and had 14 grayling with heavy nymphs. On the 16 th, SC from Llandeilo Graban had a 17.5 inch grayling in a bag of three from the Ithon at Llanddewi. PB from Cheltenham described a good autumn day on the Lugg at Lyepole, changing from mist to sunshine and eventually rain, but with 7 grayling for his efforts. Then came a long gap caused by rain and floods, but on the 26 th AG from Cardiff had 8 grayling from the Irfon at Cefnllysgwynne and he too had an encounter with an otter and described it as a "great day." I think I agree that somehow an otter sighting makes any fishing trip into a good one. On the same day RB from Bromyard enjoyed Abernant with his son; there were no grayling to report but they had a sighting of salmon waiting at the junction to ascend the Edw, lunched well at the Seven Stars, stayed overnight at the Caer Beris Hotel and were out salmon spotting with Louis from the WUF the following day. On the 27th, CD from Northwich with a friend were also trotting at Cefnllysgynne and had 15 grayling between them. And on the evening of the 28th, which was an unusually mild day of sunshine and soft winds, I had a message from JH of Usk about an excellent visit he had to Craig Llyn. The pride of the catch was a 19 inch cock grayling he took from the surface on an emerger pattern during an olive hatch, but there were 7 more on the dry fly to go with it and another 8 on nymphs to make 16 for the day. Immediately after this the cold snap came in and the last couple of days were harshly cold. On the 30 th Sennybridge at the top of the Usk started the day with a temperature of minus 10 degrees. Some of the sunlit uplands of Wales struggled up as far as 3 degrees by late afternoon, but not so down in the valley of the upper Wye where temperatures remained below zero all day and rod rings were blocked with ice.
Despite those memorable rising fish of November, it is likely that for the rest of the grayling season we will have to concentrate on fishing the bottom for most if not all of the time, and the remote possibility that a few dark olives appearing on a winter afternoon might give a dry fly opportunity for half an hour or so is not really something to bank on. Heavy nymphs have been discussed in detail and I am sure that this is what many or most of our anglers will be deploying. Long trotting with float and bait is another option to be considered on beats where it is permitted, and it has the distinct advantage of being an "extensive" method of searching the river. A float fished at distance can be trundled into far-off places which cannot be cast to, while deploying heavy nymphs under the rod top can sometimes amount to searching a limited area, almost inch by inch. If you are interested in trying out the method, you can scroll down to the newsletter for November 2014 which makes detailed suggestions for trotting tackle, but it might be worth repeating some of the salient points.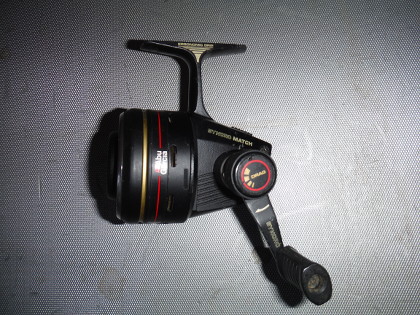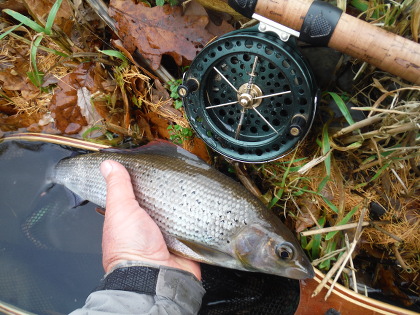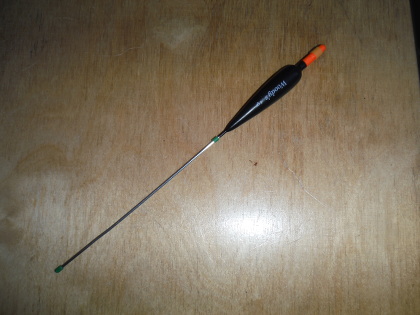 The reel is probably the most important part of the tackle (unlike in fly fishing). If you have a light fixed spool reel for coarse fishing you can certainly use that, but a centre pin is a much better option. You might initially find it easier to use the fixed spool to cast across the river in order to start the trot, but as more and more line is fed off the fixed spool, so the trotting operation becomes less and less efficient. Those who operate a fixed spool often find themselves feeding line by hand and with twitches of the rod tip. The more line comes off a centre pin, however, the smoother it runs and the easier the trot becomes. If you choose a fixed spool, you are probably better off with a closed face "match" type for line handling reasons. If you choose a "pin", it should be at least 4 inches in diameter, ideally 4.5 or 5 inches, well- balanced and almost completely free running (if you flick the spool it should continue to rotate for about a minute and a half or even longer). There should be a reliable on-off check mechanism and I would suggest, again for line handling reasons, a guard to prevent the nylon finding its way behind the reel saddle. Good centre pins are built with very fine clearances to keep the line from getting into the mechanism behind the spool. Take good care to keep the reel well away from dirt and grit while fishing; when you get home take off the spool, wipe it clean and put just one drop of light oil on each bearing and the spindle. 3 in 1 or sewing machine oil is the stuff to use. Do not over-oil; an excess of oil running around inside the tight clearances between spool and back plate can cause the reel to drag.
The float is the second most important item of the tackle. You need something called a wire-stemmed Avon, which you should be able to find in most good tackle shops catering for big river fishing. The important features of the float are that it should be partially self-cocking, that the submerged body should have enough bulk to hold the line of trot when you mend line behind it and that the antenna is bright and prominent enough to be seen at a considerable distance. Much depends on your eye sight and the light conditions on the day, but it is perfectly possible to fish at distances up to 100 yards with this method – provided only that you can see the float...is it there or is it not? Choose the colour to suit your own sight; I get on best with orange. You would certainly be wise to buy a range of sizes. Paul Woodward (Woodie's Tackle Shop in Hereford) has a range of suitable floats specially made for trotting, from examples to take 5 and 6 grams of weight, which I might select for the Wye in a big current, down to 2 and 3 grams, which might suit low water or one of the smaller tributaries. Fix the line to the float with three rubber rings – to the antenna, and top and bottom of the wire stem. This means you can change the size of the float with very little effort. I never could understand why floats used to be made with a wire ring at the bottom, meaning that everything had to be dismantled merely to put a different float on.
The rod, oddly enough, is probably the least important item of kit in that almost any rod made for float fishing will do the job and it should not cost much. It needs to have high stand-off rings (to prevent the line sticking to the body of the rod) with wear-resistant inserts to them. I use a 14 foot rod on the Wye and a 12 foot rod on tributaries such as the Irfon in order to work under overhanging branches. I have experimented on the Wye with a 16 foot rod (designed, I think, for fast-biting fish such as dace), but found the extra two feet more of a hindrance than anything else, particularly when playing and netting grayling. Modern float or "match" rods tend to be very much tip-actioned. If possible, try to find one with a little give in the centre section, which you will find a help when playing a big grayling up a strong current. Grayling have soft mouths, especially if hooked in the scissors, and it is extremely easy to pull out of them when a sudden downstream run or bout of head-shaking begins, particularly if you are using a stiff rod with all the action in the tip.
Disturb the swim no more than you must. This is important when you encounter a shoal. Grayling are famous for their tolerance of anglers wading close. However, a float and tackle racing upstream over their heads every minute or so and hooked fish fluttering in panic are likely to have an effect sooner rather than later. Try to find a different path to wind the tackle back at the end of each trot by swinging the rod over to the side if that is practical. If you are covering and catching fish, try to minimise the disturbance by playing each grayling out of the shoal as soon as possible. If fish "switch off" and bites suddenly cease, try resting the shoal for a few minutes. In a long run, if a shoal is disturbed, it often reacts by moving a few yards upstream. If you lose contact, you might try leaving the river and going in again 50 yards above and working down until you find them again. The largest fish usually lie at the head of the shoal.
The long trotting method, whatever you might have been told, is not necessarily a guarantee of large numbers of grayling whenever it is employed. In almost every case where it is offered, long trotting is an option which is available from about the start of winter time, when grayling are less likely to be rising. In fact I am convinced that trotting takes second place to the fly rod when a hatch is on and grayling are actually taking natural fly at the surface. Under such conditions, grayling seem to lose interest in all other feeding opportunities. Trotting does not work so well in conditions of low and clear water, in which case the fly rod and nymphs might be a better choice. Trotting a float is usually very good, however, when the water is still high and coloured after a flood. Also, I tend to choose long trotting as a means of reaching places which cannot be reached in other ways. As such, there is much to recommend it for the wide open beats of the main Wye, especially when the water is high. There are places on the Cefnllysgwynne beat of the Irfon which can really only be reached by a long trot. I am not so sure about the Cammarch Hotel's middle beat of the same river, which was experimentally opened to trotting several years ago. This beat fishes beautifully with the fly rod and you are rarely far away from the fish. You could hardly refer to "long" trotting in the case of the Arrow, which is a tight little river of intimate pools. My personal view is that there is hardly a corner of the Arrow which cannot be reached into with the fly rod and a couple of nymphs and to me that is therefore the more enjoyable method. However, an alternative view has been put to me than the trotting man can do his work on the Arrow from the bank, while the nymph fisher is likely to be wading and possibly disturbing salmon and trout redds; this opinion may well have some validity.
On the subject of reaching fish at a distance, particularly in winter time, here is another suggestion for occasions when trotting is not an option, perhaps on a fly-only beat. This is only a minor tactic, but occasionally a useful one. During November and December, I quite enjoy the old fashioned method of fishing a team of wet flies for grayling. This is very much the same as spider fishing, but using traditional flame tails like Red Tag and Treacle Parkin to appeal to the grayling's predilection for a "bit of colour." Eventually a stage is reached as the winter comes on and the water cools when these flies on a floating line just don't get deep enough. There might be a stage in the day, perhaps during the afternoon, when the grayling are prepared to rise a foot or two off the bottom, but generally the flies fished in this way are travelling too far overhead. Back in the days of Righyni and his grayling fishing friends, a time when heavy nymphing East European-style was something quite unknown, experiments were carried out with sinking lines to fish teams of wet flies in the late season. I have tried a sinking line, but didn't find it particularly satisfactory although occasionally you meet people who still like to use one. Rather more successful was the idea of using a sinking leader butt to create a sort of sink tip outfit. I still carry a Roman Moser sinking leader butt during the autumn. Righyni and others added to the effect by using leaded flies to gain more depth.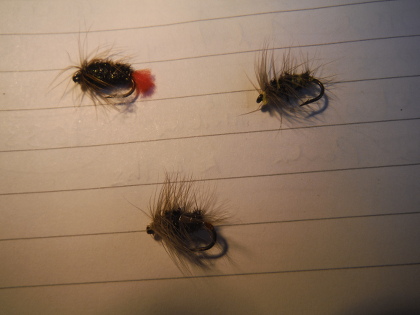 You might well ask why we should bother with this archaic approach, now that the East Europeans have taught us how to fish heavy nymphs along the bottom and to feel for the take with a sensitive rod-tip or to watch the leader for movement. But imagine a situation in which you are on one side of a deep and fast flowing winter pool, while you are fairly certain that a shoal of grayling are located many yards away at depth under the far bank. You can't wade closer and you certainly can't deliver a team of nymphs and fish them efficiently at that distance. However, with some care you can cast your weighted flies over on a long floating line, beginning rather upstream of straight across, followed by a series of upstream mends in quick succession to allow the flies to sink as far as possible while they come down with the current. The idea is that by the time the flies are below you and the line begins to tighten, they will swing up and across just before the eyes of the waiting shoal of grayling. If you get this right, it can work remarkably well and takes are usually very positive. I remember doing this in a strong flow at the bottom of the Llyn Em (or Lower Glanwye) beat and also one freezing January day in the Penlanole Pool of Craig Llyn, where some surprisingly heavy grayling lurk beneath the trees of the far bank. I usually dress these weighted flies on size 14 hooks as it is difficult to incorporate much lead in size 16s or below. Of course it would always be an option to use black tungsten beads at the head of the dressing, even if this rather changes the appearance of the fly. Red Tag on the point followed by Yellow Bumble and Grayling Steel Blue on the top dropper makes a cold weather cast I could recommend.
By the way, be a little careful with Red Tag fished wet at this time of the year. It is surprisingly attractive to out of season salmon and I have had a few accidents over the years. It happened again this month. I was out with an absolute beginner – literally his first ever day of fly fishing – who was hoping to catch a grayling or two. But what he connected with half way through the pool was something much larger than any grayling. The line tightened, a great lunging splash came at the surface and the first fish he ever played on a fly rod turned out to be an out of season salmon, not a grilse, and a real challenge on a long soft 4 weight rod. He did well to stay with it for about 10 minutes, while I gave nervous advice from the side lines. I was even starting to think about finding a position for tailing the fish when the salmon, which had been relatively docile so far, suddenly lost his patience and decided to take off in a hurry, thus ending the connection. I doubt it was much harmed by the encounter and my guest caught some grayling later in the day. Similar accidents happened to other anglers last month; it largely seemed to be the number of aggressive grilse in the river this autumn which caused the problem. However, adventures with out of season salmon are very definitely not to be encouraged. Similarly, if excessive number of unseasonable brown trout are being taken rather than the targeted grayling (I know this can be hard to avoid at times), you might consider changing your location or your method. I would hate to see a situation where salmon and trout anglers become concerned by the activities of grayling fishers during their fence season. Move away if salmon are obviously close by and while wading in the river be very careful to avoid spawning redds, which are usually pretty obvious from the pale colour of disturbed gravel.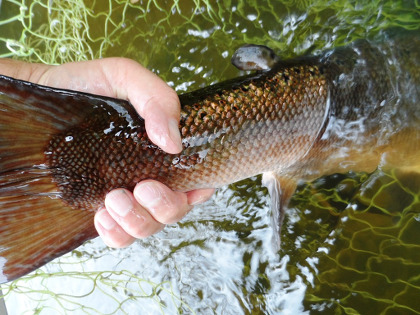 On the subject of salmon angling at the back end of the season, I was surprised to read recently that the idea is still around in some quarters that catching coloured fish is unsporting and that October fishing on our river should therefore be curtailed. I find this hard to understand. Plainly, in the days when salmon were mostly killed for the table, anglers much preferred to take a fresh-run fish, silver on the outside with red flesh on the inside, which would eat really well. Given that today all salmon are going back, it seems to me that the only issue of real importance now is the survival of fish to spawn successfully. If coloured fish had a low survival rate after catch and release, I could understand the argument against October fishing. But I understand the fishery scientists tell us that the opposite is true: that coloured fish in the late season have a much better survival rate after release than that of silver springers. That being so, the logical action if we are concerned about maximising the breeding stock would be to curtail the spring season with a later start, although I haven't seen many individuals arguing for that change. Am I missing something here? Having written the above, I see Stephen has dealt with the same subject in the October salmon letter and makes the additional point that the time of greatest risk is probably when July and August fish are played and released into a low river and warm water. Again, I am seeing no suggestions of suspending mid-summer fishing. It does strike me that if some anglers were a little less concerned with getting a good photograph of a salmon held right up out of the water – or even laid on the grass – survival rates might be improved. If you are fishing alone, I can see no responsible way of taking a photograph of a whole salmon, so why not forget about the "hero picture" and concentrate on keeping the fish breathing in cool water and ensuring that it is ready to go as quickly as possible after unhooking and measuring.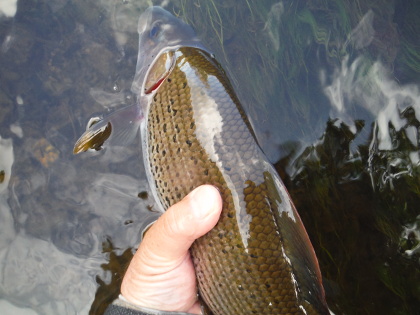 Last month, SC and JT from Bristol got a good 17 inch grayling in a catch made at Ty Newydd, and made a point in their report that the fish was measured with a tape. That's absolutely great I thought to myself on reading this, and a nice fish for Ty Newydd, but surely it goes without saying that we all measure or weigh our fish rather than just take a guess. No? Well, perhaps it would be timely to put in a general plea to everybody on the subject of reporting. Firstly, please, please, do put in a report after you have fished, even if you weren't terribly successful. The blanks also tell us something. Lots of people are interested in your day and whether you enjoyed it. The WUF would like to know how it all went, the fishery owner will be very interested for obvious reasons and other anglers (including the compiler of this newsletter) certainly want to hear from you. I know for a fact that in cities throughout this land there are long-suffering office workers who take a peek at the WUF catch returns first thing in the day after switching the computer on, before turning to more mundane matters with a sigh. (I once saw a man on the Bakerloo Line who was reading about Court of Noke in the Passport with a wistful smile on his face and clearly wishing he was somewhere else than in London).
In fact it's a condition of buying a ticket that you do make a report, and there are some good reasons for this, including the fact that it is very difficult to manage a fishery without knowing the results. How many you caught, of which species and of what size are the obvious questions to be answered, but there is much more information which could be provided if you are willing. If you think it is useful, you could mention any accidental by-catch of fish out of season, parr etc. The actual fly pattern may not be so important, but the fishing method you used, the height of the river and the weather on the day including cloud cover, temperatures and light levels, natural insects seen, will be interesting to many of us. As will problems of access – very important if this is something the owner or the WUF need to take action on – general impressions about river management, wild-life seen, or indeed anything else you saw which you think might be interesting. Many of the reports are already a good read! Also, if you have any nice photographs – better than mine for example – the WUF would be delighted to receive them. If you fish with a guide, he will normally expect you to make the report (and if he didn't look after you properly, it will be an opportunity to get your own back!)
I am going to try to be as delicate as possible about the next part. Please try to be objective and reasonably precise when reporting your catch. If you don't know how many you caught, we aren't in a position to fill in the number. Indeed you may not care what you caught (I know that there's more to fishing than fish), but please understand that most other anglers, the WUF and the fishery owners do. You might merely be enjoying the countryside, which is just great, or you might even have reached a higher philosophical plane like the ancient Chinese sage who fished without hooks in order to prevent troubling either the fish or his own chain of thought - but in my experience most anglers, lesser mortals as we may be, are interested in the nature of the catch. You can either report weight or length as suits you best, but estimating is really something to be avoided. I know from experiment that surprisingly few anglers can accurately tell the weight of, say, a fish of 1 pound, 2 pounds or 3 pounds, just by looking at it. Similarly, if you invite people to take a pencil to a large blank sheet of paper and make marks at 6 inches, 12 inches, 18 inches and 24 inches, again surprisingly few can do it accurately. A few years ago I saw a report of a huge grayling measuring: "...20 or 22 inches." Given that this monster very likely was a British record, that information was pretty interesting to everybody. But did the great fish measure 20, 21, or 22 inches? Or for that matter 19 inches or 23 inches? All this report really told us was that the fish hadn't been measured, but looked pretty big to the man who caught it. Anyway, the solution is extremely easy. If you carry one of those nets with scales built into the handle, by all means report the weight of any larger fish. You will do no harm to the fish by raising it from the water for a moment to take a reading, provided the mesh of the net is fine and will not split fins. Personally, I can't be bothered to carry scales around but I do have the inches marked off in notches on my landing net handle, as well as a scale going from zero to 24 inches on my wading stick, so I can measure length in a matter of seconds. A friend of mine has inches marked with little dots of paint applied to the butt section of his rod. When salmon or sea trout fishing I carry a tape measure weighing almost nothing in my pocket, so that I can report the length even if the weight won't be known. That's good enough for all practical purposes as far as I am concerned. I suppose if I encountered a very large salmon – wouldn't that be nice – I would have the option of measuring the girth as well, without needing to remove the fish from the water. Specimen fish nearly always provoke interest, but you might bear in mind that in many cases the general nature of the catch might be more important. For example, in the case of a tributary previously affected by acid flushes, the capture of a single 15 or 16 inch trout might be much less interesting to the WUF than the news that a healthy number of 9 and 10 inch fish are now present.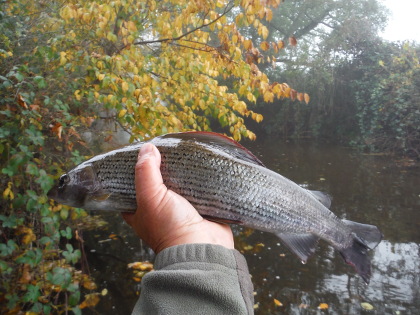 Finally – and I'm going to attempt to be diplomatic again – you might just be wise not to allow trying conditions or an unsuccessful day to affect the objectivity of your report too much. This is only a suggestion, but be at least fair when dispensing your opinions. You will appear the better for it. You know the kind of thing I mean: "Nothing caught...bad parking arrangements...had to crawl under a fence...the gate was locked so I had to climb over it...canoes all day...don't believe there are any fish in this beat...extremely bad value for money...etc, etc" We can all be affected by a disgruntled mood if things don't go exactly as planned and I admit that a blank day has been known to make some of my own reports just slightly terse. But if a lack of success makes an angler collapse mentally, it's probably best for him to put on a smile and keep it to himself. Otherwise, after his bad day and harsh report, you can just bet that the next day another angler will come along to the same beat, catch a nice basket of fish and put in a report which forms a total contrast: "Never did the countryside look so glorious...never did the birds sing so sweetly... what a delightful section of river...great fishing!" And so on, everything positive, because this angler clearly enjoyed his day and in his case is feeling pretty much "gruntled." And ask yourself, which of the two of them would you rather have a drink and a chat with after fishing?
An after-thought on the subject of birds again this month: what is going on at Backney? This is basically a beat for coarse fishing and salmon in season, but I have now seen a series of reports about the crows which seem to attack every car which is parked there – see GW from Devizes on 30th and 31st October. One can't help but bring that Hitchcock movie to mind. I was always told corvids are the most intelligent of birds, so do they have some kind of rationale for this behaviour? Does anybody know why this is, why it happens at that particular place and how best to protect your vehicle?
Oliver Burch www.wyevalleyflyfishing.com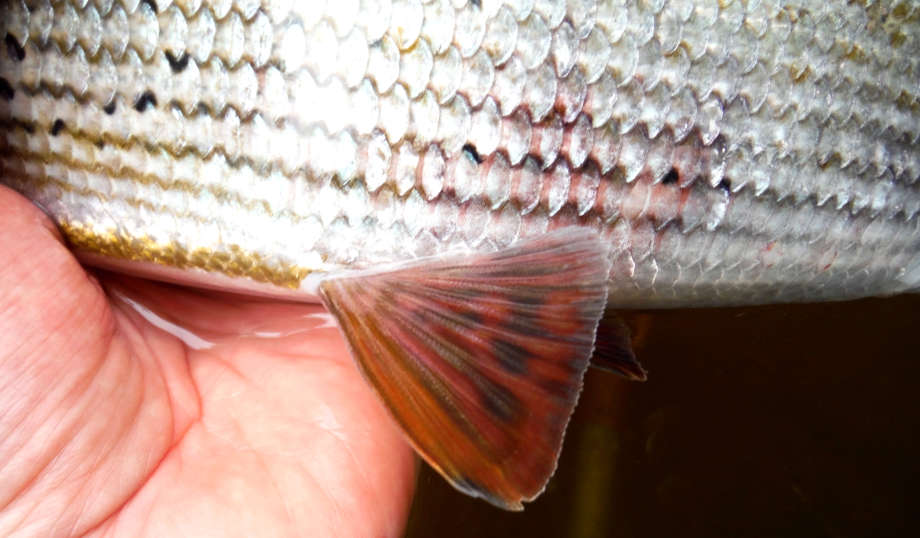 ---
October 2016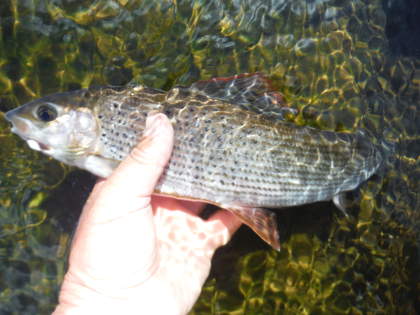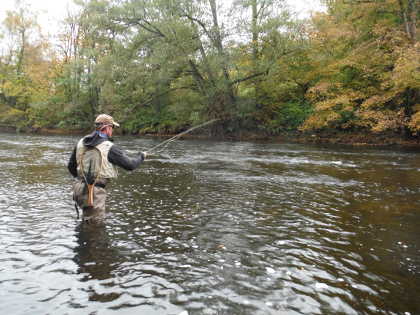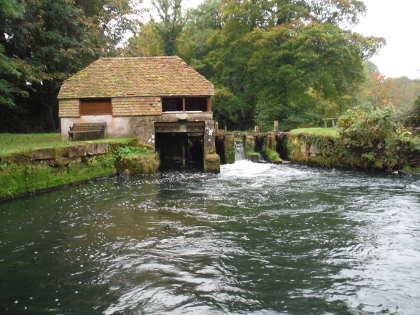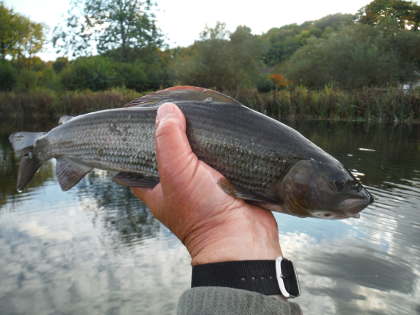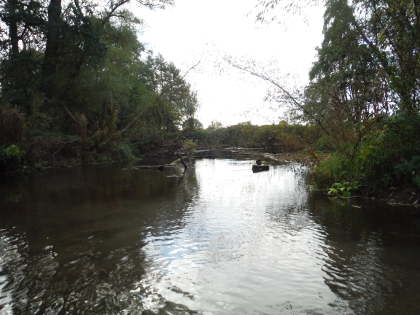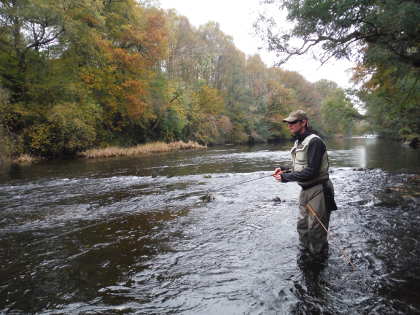 The autumn seems to be in no hurry; most of October was warmer than usual and I saw only the one slight frost early one morning in a forest hollow. As a result, the colour has come into the trees but by the end of the month the main leaf fall has yet to occur. More importantly, the month was overall extremely dry, despite occasional showers. There was high water at the end of September and we had another lift in the main river levels around the 17th, the last day of the salmon season, which probably helped to move migratory fish a little further upstream and into the tributaries. But quite soon the Wye and Irfon had dropped back to relatively low levels again, while the Ithon, Lugg and Arrow remained unaffected throughout. I have rarely seen the Monnow quite so low. Meanwhile the grayling fishing, I have to admit, was somewhat patchy, particularly for those anglers addicted to the dry fly. I have heard some alarm bells ringing recently about a lack of olive nymphs and hatches on Severn tributaries and some of the Cotswold rivers. I believe that our own hatches were about as good as usual, in that there were often pale wateries about, some dark olives (the smaller autumn version of the fly), willow flies and even a few late sedges. But this year those grayling were quite capable of being difficult and at times lived up to their fickle reputation: sometimes they would rise to the natural fly or artificial and sometimes they would not. Good days were certainly had, on dry fly as well as other methods, and some specimen fish have been reported, but there were also days when it was really necessary to follow the fish down to the bottom with nymphs - for no very obvious reason.
A good example was a meeting with Trout and Salmon at the Craig Llyn fishery with what seemed like a straightforward plan to catch grayling amid beautiful autumn scenery. Over coffee in the roadside café near the head of the beat, I suggested to journalist James Beeson that one of us really ought to have a rod prepared for fishing with heavy nymphs, but then added that for myself I thought I would take a chance on fishing the dry fly. James responded that he felt just the same way and that dry fly was also his preference. As it turned out, that decision caused us some hours of tough fishing on a sunless day during which we saw almost no natural rises, despite olives and willow fly being present for most of the time. Eventually we persuaded a few fish up and James had a decent one on a nymph fished New Zealand style below a dry fly, but it was difficult work. I'm sure the heavy nymphs would have been a better choice on that occasion. Meanwhile, our unfortunate photographer was working desperately to get results in poor light levels under low hanging clouds.
In contrast, autumn hatches proved important during a rare day (for me) of chalk stream fishing. This was an expedition with David Burren for grayling on the Wiltshire Avon at Heale. Once away from the main roads, it made a refreshing change to be back in that gentle south country of wide valleys and thatched cottages, pollarded willows and spreading plane trees, weed waving slowly in a clear river with its hatches and carriers not so far below the level of the water meadows. We arrived at Heale early with the temperature quite close to freezing for once, and I was pretty sure that we would not see very much in the way of natural fly or rising fish for a while. However, keeper Peter Major surprised me by saying that may fly were still about and that in fact he had even encountered them here as late as November - which at that chilly moment seemed hardly credible. He even suggested a mayfly pattern might work on this day: an idea which certainly made me smile as my own mayfly boxes had been put away by the end of June! As it was, I started off with a single Tungsten Hare's Ear nymph fished upstream on a greased leader, which worked well enough, and then switched over to a dry fly about midday when the sun warmed the air and we saw rises beginning. Pale wateries were active through the afternoon, as were some dark olives, and before dark there were some late sedges along with spinners above the surface. David, who fishes regularly here, told me he often sees the iron blue, although I saw none on this occasion. But, believe it or not, on this very day, the 21st October, I saw one big green drake mayfly coming sailing down the current beside the sedges along the far bank, to disappear with a great swirl as if to prove Peter's point. In the event I fished all through the afternoon with a size 16 Grayling Steel Blue, simply because there was one on my fly patch when I started and it seemed to be working. The results were 10 grayling, mostly small, but one fish of 15 inches, plus a much larger number of out of season stock brown trout, some of them distinctly hefty to set the reel check buzzing loudly. There were also a couple of chub. Large and voracious stock fish, I am afraid, are a hazard of autumn grayling days on chalk streams which is rather difficult to avoid. Travelling home and reflecting on the day, I recalled that of the five chalk streams tested for invertebrates during the recent national survey by Salmon and Trout Conservation, the Avon was the only one with a really good score - supposedly because of military rather than agricultural use for large parts of the catchment.
Back to the reports from our own freestone rivers and a totally different angling environment. Firstly here is an update from the Upper Wye's Abernant, where, as I reported last month, JM from Kingsland found the Army engaged in a full scale river crossing exercise on his appointed fishing day. It turned out that the Army was at fault in this case as nobody at Brecon had quite got around to asking permission for the occasion. Just another military SNAFU I suppose and it has its funny side. I pictured my old friend Jeremy Mantle (for it was he) wandering alongside Lady Alexander Catch clutching his fly rod and thoroughly bemused by a scene of activity around him like one of the beachhead warfare sets for The Longest Day. Was it a crossing under fire Jeremy? Anyway, the end of the story is that apologies were tendered and Jeremy later had a free day's fishing in peace and quiet and caught some grayling. Also I noticed that PE from St Jean de Luz (definitely one of my favourite parts of France) with two companions visited during late September and early October and they fished Fenni Fach, Disserth, Llangoed and Lower Llanstephan, Doldowlod, Gromain and Craig Llyn. Such visits are a welcome reminder that our rivers have an international reputation these days. On the 28th September AG from Norfolk (who also visited last year, I think) fished the Wye at Abernant in fairly high water and took 8 trout and a dozen grayling. On the 29th he got just 5 small trout and grayling from Ty Newydd from a river which was rising again. On the 30th he managed 4 trout and 8 grayling from Doldowlod. On the same day, MP from Upton had 10 trout and 9 small grayling from the Lugg at Eyton.
With the trout season over except for Severn tributaries and certain lakes, we now go on into October and the grayling fishing. AM from Stockport reported 10 grayling from Abernant, but then became stuck on the far side by a river rising once again: a potentially dangerous situation in fact. There are several places to ford the river at Abernant - as the Army apparently knows - but everything depends on the water height and there is no bridge close by, a circumstance which might tempt an angler to take a risk. Having been nearly caught out in a similar situation, I can only advise to check the water gauges and weather forecast, and worry about the rain which may be falling upstream rather than directly on your head. Push a stick into the margin close to where you are fishing and check at intervals to see if the level is rising or falling. Driftwood on the move downstream is a sure sign of a rising river. On the same day, SF from London had 20 grayling from the Lugg at Lyepole with a dry fly. VM from Bexhill fished the Forest of Dean's Blackpool Brook (a Severn tributary) and got a dozen small trout on a nymph. He also reported lots of wild boar tracks around the stream and I can confirm there certainly are plenty of boar roaming in most parts of the Forest these days. If it is any reassurance, we have had no incidents between humans and boar over the years, although there have been a few with dogs off the lead. Generally the boar disappear quickly enough when they see you. Unfortunately there have been quite a number of collisions with cars, which in my case is a rather sore subject. That's another story. On the 6th, the Lyepole beat was fished again by RB from Bromyard, who experienced a car break-down there. This is a rather remote place to get stuck, but one of the occupants of the holiday cottage helped him to find a phone. On the 8th, KK from Hungerford with a friend took 30 grayling to 1.5 pounds plus a 3 pound chub from the Wye at Abernant. And on the same day, AS from Newent fished upstream at Craig Llyn and reported a truly enormous grayling of 20 inches in his catch of 15. I presume this was a cock fish - the very large ones usually are - and would have weighed in the region of 3.5 pounds. This is the second very large grayling we have had reported lately and there are times when I wonder whether we might one day see a Wye system fish to compete with that series of deep-chested grayling from the Dorset Frome for the British record - currently 4 pounds 4 ounces.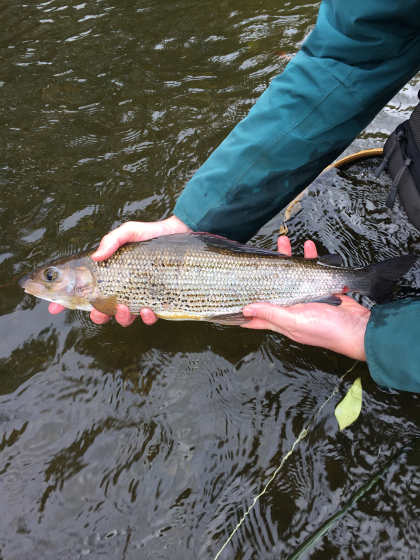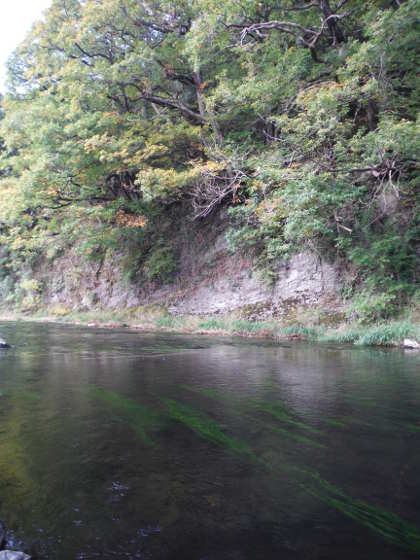 On the 9th, TD from Coleshill fished the Lugg at Lyepole and took 15 grayling on nymphs. He was one of several to comment that this beat (which has been very hard fished this autumn, almost on a daily basis) would benefit from branch clearance on a couple of pools, "...maybe something for the WUF to consider in their next round of work party duties." I think I should clarify, firstly that the winter work parties involve volunteers rather than those duty-bound, and secondly that we tend to concentrate on the wild streams rather than booking office beats like Lyepole. The reasoning is that wild stream fishing is extremely cheap and few of the wild stream owners are making any very significant income from ticket sales which could be used for maintenance expenses. Therefore, if angler/volunteers don't do some maintenance work, it probably won't be done. In the case of the more expensive booking office beats, we look to the owners to carry out the necessary maintenance out of their profits. However, as mentioned before, volunteers for winter maintenance parties are always welcome and anybody who thinks they might be able to help could contact me as a first step.
Also on the 9th October, P and S from Abercynon and Hereford had a large catch of grayling from Craig Llyn. KK from Hungerford with his friend fished Abernant again and matched their previous day with 30 more grayling. On the 12th, JD from Hereford had 15 grayling from the Doldowlod beat. On the 16th, CT from Cardiff had a last try on Talybont reservoir (still open) and had a lovely brown trout of 17.5 inches in a bag of 5. Rain and high water for the main rivers followed and the temptation of a final chance of salmon before the close of season eclipsed the grayling fishing for many. The Lugg remained low nevertheless and PB from Cheltenham enjoyed himself on the 17th, taking 9 small grayling at Lyepole with a dry fly. On the 21st JDG from Monmouth had 14 grayling from Llangoed and Lower Llanstephan while Dave Collins from West Herefordshire had 15 from GPAIAC at Builth Wells (this is the town water for which you can get a ticket from Conti's news agents). He also had an adventure with an unseasonable grilse which grabbed a nymph. On the same day, AS from Newent fished at Doldowlod and took 9 up to 17 inches on nymphs. About this time, Lyn Davies called me about a 49 cm (19 inch) grayling he had taken from the Cammarch Hotel's Irfon water. On the 22nd, HW from Penclawdd had a very nice catch of 8 good fish from the Irfon at Llanfechan, all of them between 14 and 18 inches, again with nymphs. On the same day AS from Newent fished the Irfon at Cefnllysgwyne and commented that the grayling were "...not up to much," but he did have a fish of 18 inches in his bag of 4. On the 26th, SC and JT from Bristol fished the main Wye at Ty Newydd for a dozen grayling including a fish of 17 inches, mostly using nymphs with a French leader. On the 27th PB from Upton upon Severn took 8 from the same beat using a small brown Klinkhammer. On the same day NG from Sutton St Nicholas fished at Gromain and Upper Llanstephan and was able to get 15 by casting to rising fish. RT had 10 from the Rectory and on the 29th AS from Newent had 9 in low water from Abernant.
Looking forward, normally we expect a move away from fishing on the surface as we enter the month of November and autumn moves on towards winter. This year, I am not sure that this will happen as early as usual because the weather has been relatively warm to date. Certainly there is a chance that the main period of leaf fall, yet to come at the time of writing, will after all produce some good dry fly fishing for us. Grayling (and some other species) get quite interested in falling leaves and they must surely do well with the freight of insects they carry. Sunny days, should we have some, also tend to favour surface fishing. Fancy grayling patterns will do better as the natural hatches of fly dwindle, and these can be fished wet in a team as well as dry. Also, the option of long trotting a bait with light float gear now becomes available on a number of our beats. Generally, trotting works best when the rivers are full and perhaps coloured after rain; fly-fishing often scores better when the water is low and clear. Grayling, as we all know, are famous for their tolerance of low temperatures. This is certainly true, although they may well "switch off" for a day or so after the sudden onset of frosts. Once the cold spell is established, they are likely to feed hard. The last hour of daylight during a short winter day is often a good time to be fishing.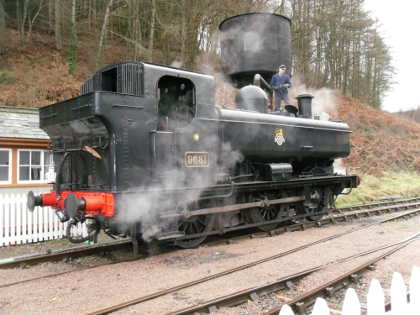 I am writing this last part on a grey morning just before the clocks change and reminding myself of the charms of living where I do. From my office window I can hear the whistle of a locomotive and see puffs of white steam through the trees down in the valley of the Cannop Brook showing me where the train is heading inland from Lydney towards Whitecroft and Parkend. The Forest of Dean steam railway runs every weekend until Christmas. From the back of the house we also get a view of the Severn estuary and the spidery trace of the motorway crossings show up on a clear day. Rarely there is the sight of a ship breasting the current in the far side channel, usually a grain carrier heading for Sharpness docks. The weather has continued to be surprisingly warm and perhaps as a consequence we had an osprey in residence for several weeks on our Forest syndicate trout lake, no doubt helping himself regularly to our stocked rainbows which range in size from 2 to 4 pounds. The consensus among members was that he was more than welcome to them. (Less welcome are those pesky boar, hard to love as they are, who have by night commenced their annual ripping up of the grassy banks of our water, banks which were so carefully and neatly trimmed through the summer. Eventually, even the roots will be gone. As a result there will be a steep and undignified slide down the remaining mud to the water margin on days of winter fishing. Sometimes in wet weather I just sit down in chest waders and glissade). There is in fact something rather un-English about this beautiful lake, which reminds many who see it of Canada. The surrounding trees are giant Douglas Firs, which originally belonged to the great woods of the American north-west, the rainbow trout we stock it with come from the same part of the world, and of course the osprey himself was a tourist. He may have headed south by now, but I first found him sitting on an exposed branch 80 or 100 feet up, peering intently down at the surface. Every half hour or so, if there were not too many walkers on the lakeside path, he would launch himself into the air and there would be a stoop and a splash to the surface. I watched him during one morning when I was fishing and I have to say that I was doing better with my intermediate line than he was fishing on top - every stoop which I observed resulted in a miss. I wondered just how much weight he could actually lift. I dare say he got a 2 pounder regularly enough to keep him interested. After a week's absence I was along to fish the same pool again and by now the word had got out. Although I arrived just after dawn, some 20 cars were already crammed into the car park and twitchers from all over the western counties of Britain were lined up with batteries of cameras and tripod mounted lenses. It turned out that our bird was as publicity shy as Greta Garbo; he never turned up that morning. Meanwhile twitchers had to put up with some distinctly unwitty barracking from local people walking their dogs - "Did you miss him? He just went behind that tree." Eventually the poor bird watchers drifted away in disappointment. I just carried on fishing, noting that the rainbows were not keen to show at the surface as usual during this autumn and wondering whether the osprey's presence had been responsible for that.
I don't claim to know very much about birds but I can see that our local avian populations are changing. I'm not sure whether climate change or conservation should be held responsible; perhaps it is both. A few years ago, you would have had to drive across the Wye and into Wales to see a buzzard. Now they are our commonest local bird of prey, which sit hunched on telegraph poles and pick up the roadkill from our Severnside town. A buzzard's flying swoop on a rabbit in the open fields by the salt marsh is a more spectacular sight. You can see peregrines in the rocky gorge of the lower Wye by Symonds Yat and great goshawks have colonised some of the open spaces of the Forest. Sparrow hawks we see regularly; kestrels less often than before. Ravens are common again. There was another osprey flying up the middle Usk valley this spring and I saw a white egret the other day by the Wye at Goodrich. The beautiful and aerobatic red kite has spread all over Wales (and with man's help to the Chilterns and other southern habitats) but I have not yet seen it much closer to us than the country between Abergavenny and Monmouth. They tell me our wooded and enclosed landscape between the Severn and the Wye would not suit this bird of the open country, addicted as it is to hovering and trimming to keep its place in the wind.
At this time of year, I take stock of items like waders and clothing, so as to be ready for the winter and then for the new season. Nowadays these items use up a major part of any fly fisher's budget and I could perhaps offer some advice. Let's start on the outside, with fishing jackets to shelter us from the weather. There is a huge choice of waterproof jackets and I admit to having only tried out a few. The general philosophy nowadays is that you only really need a shell for your waterproof coat; the warmth comes from the other layers of clothing beneath. Personally I think you need two rain jackets: a really heavy duty one for winter grayling and maybe spring salmon fishing, when the weather can throw everything it has got at you, plus a lightweight one which can be carried in a back pocket of the vest and donned if necessary on a showery summer day. I have two from Simms at the moment and they are very nice, except for the price. No, I am afraid they don't last forever. See what offers you can find. The key features to look for, I think, are the fit of the hood, including fit over a peaked cap if necessary, visibility when wearing the hood which is most important, and a very tidy fit round the wrists which will not foul the fly line you are handling.
I am not even sure I want to write much about fishing hats because it seems that in this country your choice of headgear is likely to be taken as a life style statement or even a badge of class. There are those who insist even today that the "correct" headgear for going fishing is a tweed cap, preferably with a collar and tie, and seem to be upset by other sartorial arrangements. At any rate they write letters to Trout and Salmon about it. I do remember that when my father bought our first family car, which was an ancient pre-war tourer without any heating arrangements, he also obtained a tweed cap, a pair of leather gauntlets and an old army great coat to drive it in. He thought he looked rather dashing. "You look ridiculous," my mother said. "Like Toad of Toad Hall." Mother never had any problem in telling it as she saw it. My father was crestfallen and he never wore the tweed cap again. I never wear one either and I have always tried to reserve neckties for job interviews and funerals. I wear baseball caps on the river, apparently hated by traditionalists, but light and comfortable with good shading for the eyes. In very cold winter weather I wear a woolly hat over the top of the cap, thus giving me warmth without losing that useful peak. A warm scarf or piece of towelling round the neck makes life more comfortable.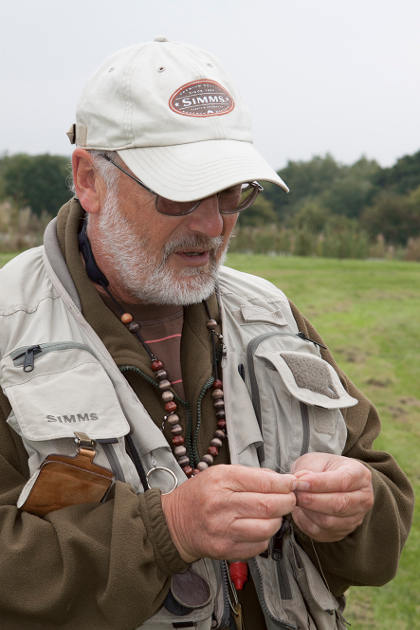 Now for the big item: waders. Up in Aberdeen, Diver Dave and his team are busy at this time of the year. Come October (or in my case come the donning of neoprene waders due to colder river temperatures), anglers from all over the UK send Dave Redmond their breathable waders to be air tested, re-stitched and glued as necessary. They will be returned ready to go next season, guaranteed dry for a year, and all for 45 pounds plus the carriage. Dave learned his trade in the North Sea, where he came to the conclusion that professional divers were being much better served by the manufacturers of their dry suits than anglers were by the makers of fishing waders and wondered why that could be....as we might wonder also. Reputedly Dave owns a neoprene dry suit which, with suitable repairs, lasted for nearly 20 years of marine work. In fact it was said that, like James Bond, Dave might have emerged from this in a dinner jacket which would perhaps have been rumpled, but definitely not wet. True, a sudden ingress of cold water could prove lethal to a diver 100 feet below the surface of winter seas, so the quality of their protective clothing is of vital importance. But why should anglers have to accept second best all the time? Dave opened his wader repair business and has never looked back - see www.wader-repair.co.uk. Waders, the money we pay for them and the service we get from them, together form a subject which has been exercising my mind considerably of late. If you go fishing a lot (up to 6 days a week in my case when I am busy) getting value from waders is a matter of concern.
Chest waders for trout fishermen are something relatively new. It was always assumed that salmon anglers had a need to wade deep, thus permitting a long diagonal downstream cast in order for the fly to swim slowly over the lie. At a time when the slow "wet fly swing" was virtually the only method of catching salmon on the fly, it was thus generally accepted (from about the mid-19th century) that the salmon angler would need what were known as "breast waders" of something like rubberised canvas, these being stocking foot waders used with nailed brogues, so that he could stand well out in the river above his fish. Before that, according to William Scrope in Days and Nights of Salmon Fishing in the Tweed, he marched into the river in his ordinary clothes and just plain got cold and wet, staying in for as long as he could stand it or until his legs gradually turned from blue to black. The wet fly swing is no longer ubiquitous in these times of cross river casting and hand-lining the fly back, but today you will still rarely find a salmon angler without chest waders of some kind.
Trout fishermen, on the other hand, generally managed with thigh waders and this was certainly the case when I started. Historically we waded a lot less and certainly we waded less deep. The exception even now might be some chalk stream beats which do not permit wading in order to protect the river bed from damage. In this case you will see the anglers perambulating the mown and hallowed banks in something like wellington boots. I still wear thigh waders quite often for fishing from the banks of lakes, on the basis that it keeps you nice and dry when kneeling in wet grass, even if you don't plan to go in the water. Thigh waders are also necessary for fishing the Usk Town Water with its extensive shallows; here the Association has made what I believe is a wise ruling to protect their fish on the reasoning that if chest waders were allowed there would be very little refuge for them at all. However, care is needed at Usk Town, now that we have all become so used to chest waders. Watch the plimsoll line when wading deep in thigh waders. Put some studs into cleated rubber soles. And when bending down to net and then release a fish do remember that on this occasion at least you are not wearing chest waders, because a wet behind takes so much pleasure out of the rest of the day. I seem to remember that rubber thigh waders always used to carry the names of the tyre companies such as Dunlop and Goodyear. Today the best ones, albeit expensive, seem to come from Le Chameau of France and I have had good service from a few pairs of these. Be warned again, though, that French anglers seem to like to show an "elegant leg." The fitting, for any given shoe size, is slim. If your calves are of the more solid "John Bull" type, you might have trouble getting them on and off. I sometimes struggle.
The next step up for the trout fisherman wishing to explore more of the river is to follow the salmon angler and invest in a set of boot foot rubberised chest waders. There is still a lot to be said for these. They are relatively cheap to buy - we continue to use them for the winter trimming work on WUF wild streams, being unwilling to risk more expensive breathable waders. The design makes it easy to identify the sites of leaks and they are easy enough to fix using inner tube repair kits. Apart from the UK, many of them seem to be made in places like Norway and Denmark: Ocean, Viking and Vasstech all seem to be quite reliable brands. They do suffer from several disadvantages. As with all rubber waders, you will definitely get hot and bothered trying to walk far on the bank in warm weather. If you walk or work hard in them, they eventually become distinctly damp and clammy inside. This is nothing to do with leaks, but moisture coming from you, now turned unpleasantly cold. The other fault is common to all boot foot waders. Essentially these are wellington boots with extensions welded on to cover you up to arm pit level. That may be fine for keeping the water out, and they will certainly be easy enough to take on and off, but you may be wading on a river bed which is effectively a scree of loose boulders. Imagine yourself walking on a mountain-side composed of such terrain. In that case wellington boots would hardly be your preferred footwear, but rather something like walking or climbing boots with good ankle support. Where the bottom is rough, then, you will be much safer with stocking foot waders and a really good pair of leather boots, including good soles and studs. Finally the seams around the integral boots, or where the boot upper meets the soles, are areas in this design which are not easy to repair. If you crack the rubber over the toe or heel of the boot, the wader set will probably have to be written off. Incidentally, a good test of a set of all-in-one rubber chest waders is to walk into deep water right away. Have the boots collapsed and is the water pressure squeezing down hard on your toes? That indicates to me that the boots are not rugged enough to last long.
The next chest waders to be developed were made of flexible neoprene material. These are good and warm, but like rubber waders still very uncomfortable to wear on the bank in hot weather. When breathable waders came in, the tackle trade predicted that neoprene had become redundant and would vanish from the market. It hasn't happened, simply because, despite all the assurances about carefully selected under wader layering, nothing is quite as warm as neoprene once the weather has turned really cold. They are also easy enough to repair with a tube of Storm Sure or similar. Generally I move into neoprene early in November and stay in it until March - which gives Dave and his team plenty of time to repair the summer breathable waders. One particular brand of neoprene stocking foot waders deserve a mention. These, back on the UK market by popular demand, are the Finnish-made Vision Sub-Zero waders which are constructed to a very high standard from 4mm neoprene. The comfortable warmth to be found from wriggling into a set of these on a frosty grayling morning has to be experienced to be believed. The fit is generous and of course the look is hardly flattering being, if truth be told, rather like that jolly and rubbery Michelin Man figure which used to ride on the cabs of trucks. But my first set lasted for 9 winters (and after repairs is still usable as a back-up set) and I am now 3 winters into my second set. Dave up in Aberdeen has a great respect for the quality of these and indeed all the Vision wader products - more of this later.
Now to stocking foot chest waders made of breathable materials. On the face of it, this was a great idea. They are lighter than anything else, combine nicely with light or heavy boots, and pleasant to move around in, on or off the bank. In anything but the coldest weather and with the right clothing worn underneath, they are the obvious choice. I wear them most of the time. And yet, they develop little leaks here and there which can be the devil to find and to fix. These leaks always seem to arrive sooner than you would hope. Occasionally a seam fails, but generally it's the pin prick leaks which cause that distinctly depressing sogginess. It's either in the crotch area - so very demoralising that - or one stocking foot starts to fill with water due to an unseen leak higher up. Supposedly you can find the leaks by turning them inside out, spraying the inner surface with isopropyl alcohol and marking the dark spots with a pen for the subsequent application of glue. That at least is the received wisdom on the subject. My own repair efforts have been only partially successful; nowadays I send leaking waders off to Dave, who has his own testing system using compressed air and bubbles.
You might perhaps think, as I used to, that the problem of leakage can be dealt with by going to the top end of the market. You get what you pay for after all, surely? Well, wouldn't it be pretty to think so? The market leader for breathable waders, I suppose, must be the Simms Company of Bozeman, Montana (I have no experience of Patagonia waders). The Simms flagship waders until recently were the Guide G3 model, famed around the world and selling, in the UK at least, for a price which is best described as absolutely eye watering. They certainly look good and you can get them in a big range of sizes. This is an important point, because a bad fit usually results in early failure. Overtight round the waist and air will balloon internally when the wearer sits down - resulting in leaks or even a seam split. Over loose or over long in the leg will produce bagging at the knee and friction wear - again resulting in leaks. There are plenty of hooks and zingers provided to attach things to G3s (but then there are similar hooks and pockets on much cheaper waders) and there is an attractive tan and dull orange colour scheme (which has been copied by another brand selling at around a third of the price). None of this is actually important. What really matters with the design is how long do they last and how easy are they to repair? I currently have two sets of G3s which have given years of service, although they have developed leaks as often as any other brand and consequently been repaired again and again. Dave has worked on them regularly to the extent that I can see day light shining through the repaired holes whenever I go to put them on. I get the feeling that what I am actually wearing is a sprayed on suit of Dave's transparent glue, roughly covered by that tan and orange designer Simms outer layer. And just how breathable can a suit of glue be? In any case, Dave has refused to take these old soldiers back again, so when they leak next time, it will be the last time.
The breathability factor needs to be kept in mind or we might as well go back to wearing simple and cheap rubber waders. The upper part of a Simms G3 is built of three layers of material, while from the mid-thigh down there are five layers. All the material wear and leak problems I have had were in the central and crotch area, where there are three layers; there were no failures at all in the lower five layer section. A couple of years ago I noticed that Simms latest and greatest wader product, the Guide G4, has five layers of material right up to the waist. Maybe this would be the solution? So I paid an even more swingeing price for a set of G4s and Dave fell about laughing when I told him. Dave says he likes Simms waders because he makes so much money repairing them. Well, I have worn them through two whole trout seasons and only just now does a certain dampness at the end of a long day in the water tell me there is a pin-prick leak somewhere. I have a comment to make though. How breathable are five layers of material? They certainly make the G4 waders feel pretty heavy and stiff as soon as I get into them, as if I am about to mount a horse for some jousting or to leave the space station for extra-vehicular activity.
Last year I had a delightful guest who actually hailed from Bozeman, Montana, come to fish our rivers. "I certainly have done my bit for the economy of your home town," I told him. I guess Bill could see that by what I was wearing. The question I should probably have asked myself before this point, but will voice now, is: Am I really better off buying these very expensive products, or would I get more wear for less expenditure by buying cheaper ones a little more frequently? Dave was in no doubt about the answer when I consulted him. "Why don't you just buy ordinary Vision breathable waders such as Keepers or Ikons?" he suggested. "It would make much more sense for a man in your position. That factory makes a really good product." I couldn't argue with him. Some years ago I bought a cheap pair of Vision Keepers for my son to use for fishing when he stays with us. They have been no trouble at all after quite a lot of use. About five years ago I bought another pair of Keepers for sewin fishing by night. This is because we do a lot of crawling up banks on hands and knees and rolling under barbed wire in the dark: indignities which I wished to spare an expensive pair of Simms. Five years on, these cheap and much abused waders are still going strong. They are light and comfortable to wear. I think that I might decide to become a man of Vision in future.
Whatever waders you opt for, give them some care. Don't walk around on a gravelly car park in stocking foot waders while changing, because small stones will cut them through. Change on grass or sit on the lip of the car boot. I wear a pair of Simms neoprene wader socks between the waders and boots in order to protect the stocking feet from wear (it's normally necessary to specify wading boots one size above normal to accommodate intervening layers). For this reason I rarely experience a leak actually in the neoprene stocking foot. Don't allow DEET insect repellent or sun cream near your waders (or near plastic fly lines). When you take your waders off at the end of the day, leave them inside out for a while for any dampness to evaporate. If they really get wet inside for some reason, try stuffing the stocking feet with newspaper for a while to absorb the moisture. Otherwise, mould will develop on the inside which is most unpleasant. When you are all finished, hang them up by the straps in a cool, dry place rather than leaving them inside a stuff bag. An attached, secure garage is usually OK, but beware of garden sheds where rodents can get in. Gnawing rats and mice quickly make short work of both waders and nets.
What you wear underneath waders is important. Cotton is very poor material for wicking moisture away from your body, so cotton jeans quickly become damp and uncomfortable. The best under-wader clothing is made of artificial fleece and typically look like jogging trousers and top. I know, it's not very fashionable, but it is warm and comfortable. When temperatures are cold enough, wear a set of thermal underwear underneath that and so give yourself the best chance of remaining comfortable in a winter river. You need good, warm, thick socks inside your wader stockings, especially during the winter. The latest (grey) heavy duty ones from Simms certainly last, but after a few washes they seem to lose all flexibility. It's like pulling on a tube of barbed wire. Currently I'm trying out a brand called Darned Tough which seem to be quite good.
When it comes to boots, I am definitely still a committed fan of Simms however. I have never found anything to compare with the Guide G3 boots, which have recently been further improved. I see that I currently have three pairs of these in various stages of wear. "Burly" is the advertising description of these boots constructed from "waterproof leather" and they look just like a good pair of climbing boots. Most of the lightweight boots on the market are made of canvas, and as mine are rarely given an opportunity to dry out completely (even when put by the radiator in the office at night), the uppers of cheap ones go rotten within a couple of months. I have learned to beware of the boots with interchangeable soles (they come adrift when you don't want them to) and the ones with that ingenious system of wire laces and a spool to dial them up tight with a button to release tension (fine until the wire rusts through and breaks). With Simms, I find that I get about a year of solid wear from a pair of G3 boots and it is the soles which wear out first. Given the nature of our rivers and the slippery rocks in some areas, I normally use felt soles with studs. 10 studs strategically placed on each sole are about right and it's worth paying the extra money for carbide studs, which will usually last as long as the soles. Mild steel studs will always wear out before the soles, and a set of studs worn flush with the sole are more slippery and dangerous than no studs at all. When the soles are worn out, I consider the boots are more or less done as I have had no permanent success with resoling attempts. In my opinion, no artificial material has as yet been developed to compete with felt for grip in slippery conditions over rocks. This is a pity as felt does carry the risk of transporting alien species if not sterilised - not a problem if you don't travel for your fishing.
Felt is not right for every condition. For example, it is totally treacherous on wet grass (a slide on felt soles caused me to pull an Achilles tendon while walking round Llyn Bugeilyn one painful and rainy day). They don't work well in snow, which tends to ball up on felt soles until you are teetering around on lumps of ice like some 70s glam rocker on built up shoes. I also make a point of wearing boots with cleated soles while fishing the Loughor at night. This is because the bottom of this river, although obstructed with fallen timber, has very little exposed rock, being mostly gravel and silt, so felt is not needed. But climbing up and down the tall clay banks on a wet night with felt soles is a dangerous nightmare.
I'm reminded, by the way, that "Jock Scott" (Donald D Ferris Rudd), in his book on AE Wood's greased line fishing method which has caused so much confusion, quotes the master on what were then known as wading brogues: "On no account have hooks and eyes, most dangerous. If you cross your feet or do anything of that sort in the water a hook may hang up in the lace of the other boot. You then find that your feet are locked together, and I have been told of a man who nearly drowned like this." That is an extremely unpleasant thought, and I'm reminded that a large number of modern boots do have hook and eye systems for the upper laces. On the other hand, nearly all modern waders incorporate gravel guards which safely cover up the laced area of the boot. A general point about wading: it is always those who march into the water left-right-left-right who quickly come a cropper. The reason is that they transfer their weight onto the forward foot before a solid grip has been established. Don't march, don't even walk, but shuffle. By this I mean, move one foot forward and establish a firm grip, then move the other foot alongside it. If you are fording the river side on to the current, move the upstream foot forward first and then the downstream one alongside it. This avoids the risk of the current washing one foot into the other so that you trip.
And finally let's turn to vests or as we British call them waistcoats, because I bought myself a nice new one (from Simms) the other day. This garment is not so much an item of clothing as a carrying system and I think was originally an American idea. They come in two types: normal waist length for bank fishermen and shallow wading, and short length ones for use with chest waders. Incidentally, you can always tell the young lions and the deep waders; these are the ones who wear their vests inside their waders so that they can get into the water right up to their armpits without saturating fly boxes, and go bouncing and moon walking through the deepest places. Well, good luck to them, say I!
There is a big choice of vests on the market and only you know how many pockets you really need. I would suggest you try and cultivate the habit of travelling as light as you can. Just look at the photographs in some of the magazines. You see young fellows with various fancy carrying systems bulging on their chests and backs which must contain every fly fishing item they ever bought, just to wade up a brook. I can't think why. As you get older, if not before, you become rather aware of the pressure on your shoulders and if you are sensible you will try to work out what can really be left at home. In this respect there is still something to be said for the old fashioned option of a canvas and leather tackle bag, which can be left on the bank or hung from a branch when you are not using it, providing always that you remember it when you move on. I generally have two vests in use, the first being a heavy duty one for general trout fishing with clients, when I do need to carry quite a lot of items for various eventualities. The second is a lightweight one set up for salmon and sea trout fishing, when the carrying requirements are usually much less. The lightweight one I have is quite old, a model called the Scierra Nevada, which unfortunately is no longer available. I think I paid about 35 pounds for it a dozen years ago. It has an amazing number of pockets and so far the zips are just about holding out. Fishing vests are an interesting subject which we could go further into. It isn't just fly fishermen who wear these items of clothing you know. Consider the following examples:
1. The US Secret Service. We are all more or less accustomed to the sight of the close protection team in black suits, sun glasses and ear pieces who run beside the President's car. But the Service has other jobs for which less formal attire is appropriate. Imagine, if you will, receiving a field visit from a 4 star American general. The Blackhawk arrives in a whirl of dust and clattering rotors. You wait expectantly and, you hope, suitably respectfully, for the great man to appear. But first out the door are two guys with crew-cuts and M16s who break left and right before they drop to one knee, carbines at the ready, and "secure the area." They will be either from the Secret Service or protection specialists from the Military Police. They are dressed in jeans, T shirts, shades of course and - you guessed it - fly fishing vests. Well the spare magazines and what not all have to go somewhere.
2. The UN. Fly fishing vests are absolutely de rigeur for field officers wandering around inspecting refugee camps and the like. This is because there are lots of pockets for notebooks, cigarettes, satellite phones etc, plus the all-important summary of the Geneva Conventions to be waved at people who are being difficult. UNHCR used to do their own particularly natty vest in blue with the organisation's protecting hands logo on the back.
3. The Taliban. The standard dress for Afghan and Pakistani males is the shalwar kameez, consisting of a long cotton shirt and immensely wide baggy trousers gathered at the waist with a sort of pyjama cord. The only other items apart from underwear are a pair of sandals and a chequered cloth with tasselled fringe which can variously be used as a turban or a shawl. This dress is extremely comfortable in a hot climate; fitted clothes are a western invention after all. I know about this kit because I wore it for a year. It didn't fool anybody. Kids on the dirt streets of Afghan towns used to shout after me: "Why are you dressed like us, English?" Early the next spring, following 9/11, evacuation to Pakistan and then re-insertion from Iran at the time of the Coalition invasion, I was alone in the team house in Herat one quiet Sunday afternoon when the compound guard came to tell me: "There's an Englishman come to see you. Only he's dressed like us." It turned out to be Rory Stewart, then on leave of absence from the Foreign Office to go walkabout, later an MP, who was dressed in the full kit including the flat Jihadi hat of the Northern Alliance. Rory had come for advice about local commanders on the Chagcheran road and a planned walk to Kabul. He certainly hadn't fooled my guard though, even if a Scot dressed in Afghan clothes had been confused with an Englishman! Anyway, you have probably guessed the one major disadvantage of this clothing, which is that there are no pockets at all. So, virtually every Pashtun male tops the shalwar kameez off with a fly-fishing vest and very likely a distinctive black turban also. The best vests come in from China over the pass from Kashgar along with other items for the Afghan market like thermos flasks and heavy iron bicycles which look like they are intended for district nurses. Once equipped with his fly-fishing vest, our hero can fill the numerous pockets with...well...whatever. See item 1, US Secret Service.
Tight lines for November!
Oliver Burch www.wyevalleyflyfishing.com
---
September 2016
This was quite a warm September and overall a dry one too in this area, although showers early in the month produced a short-lived spate in both main rivers. There was some reasonably good fishing during the dryer middle period, although the main Wye was still relatively high with cold water running from the dams. At the same time most tributaries remained short of water. Another round of showers in the final week brought the levels up to salmon fishing height, or higher, and this time the water starved Monnow system benefitted from some rain. Some good grayling catches were recorded on the Wye and tributaries and the trout of the Usk came back into the picture to some extent with higher water at the end of the month. Of the small streams, the Edw proved to be rather a star, as it often does, with lots of trout to the dry fly and quite a few 12 and 14 inch fish as well. The trout season ended for most of us with 30th September, although Severn tributaries offer the opportunity to fish on until 7th October.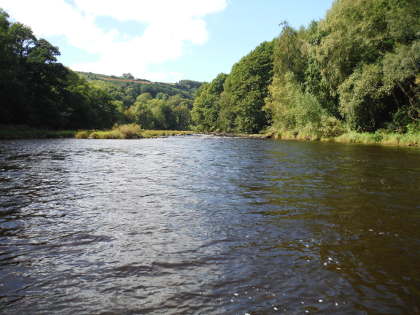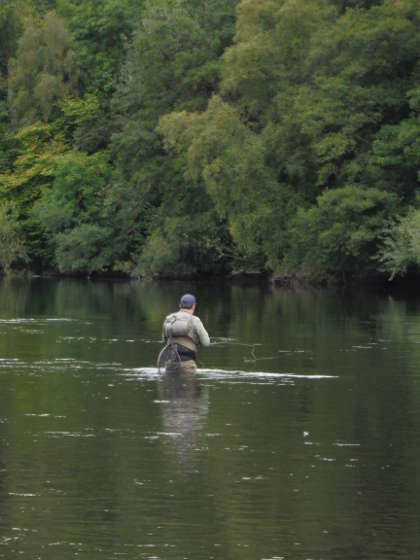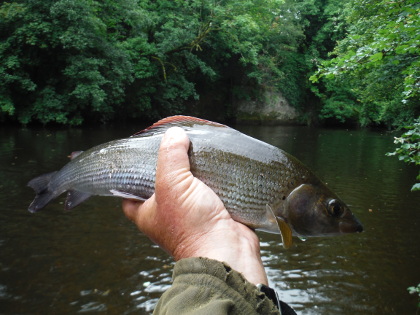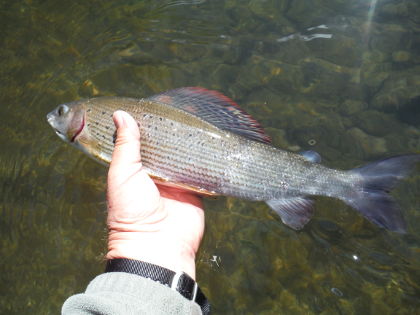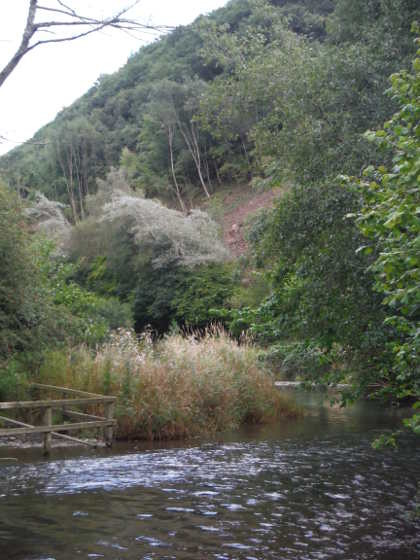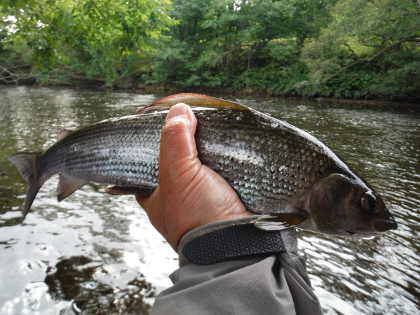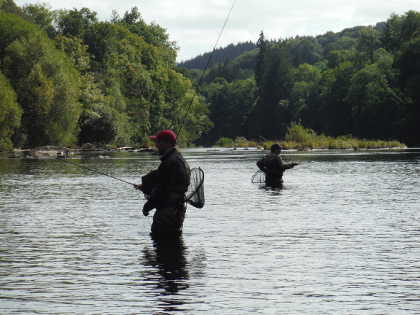 Several of us remarked on a lack of rising fish this month although conditions otherwise looked well enough. There are a number of ideas one might try out if grayling aren't rising, including, oddly enough, fishing a dry fly anyway. If nothing is there to be eaten, it is not too surprising if grayling don't show themselves at the surface. But they might well be persuaded by a carefully presented fly shown to them a few times and the more colourful fancy flies can work well in these circumstances. I fished on one of the Cammarch Hotel's Irfon beats, with plenty of clear water rushing down after rain in the hills, and saw barely a rise all through the day. However, it turned out that a dry Red Tag fished through some of the likely places, would bring the occasional fish up. On what seemed like a difficult day I ended up with half a dozen really nice grayling and three trout. For some reason, nymphs were not working well when I tried them on that occasion. Another time I fished the Wye at Pwll y Faedda, the river being nearly at salmon fishing height and the very cold water showing that familiar peaty brown stain. The sun was bright and nothing at all was rising. I picked on a rock garden at the tail of a pool, a place which usually holds grayling, although most of it was too deep to wade through on this occasion. Instead, I sat like a gnome on the one projecting rock and flicked a Red Tag (again) in various directions in an attempt to provoke a response. Eventually I got nine, which was perhaps better than the day might have turned out. There is something rather delightful about watching a grayling come up below a dry fly in slanting autumn sunlight. A trout somehow wriggles and shimmies up to the fly, but a grayling rises steadily on planed fins like a beautifully coloured ghost.
One of the things any grayling angler notices if the same waters are fished regularly over time is that sport varies through different seasons as the different "year classes" of grayling develop. Arctic grayling, I am told, are a comparatively long-lived and slow growing species. Not so with European grayling, which grow quite rapidly over shorter lives. Also there seems to be a considerable variation in spawning success during different seasons, and the results of a good spawning spring can be followed during the growth of that year class for several years to come. As a result, one autumn or winter on a particular spot an angler may be very gratified to find that most of the grayling he catches are in the 15 or 16 inch class, and plenty of them too. Let joy be unconfined! Encouraged, he returns for several more good fishing days and begins to feel most warmly towards this particular beat. He comes back to it confidently next year to find he catches a much smaller number of fish, but several of these are specimens of 17 and 18 inches. Still there are reasons to be cheerful! In the third year, however, he catches mostly small grayling or "shoats." He may feel disappointed, but there is no particular reason to be concerned. This is no more than nature's natural rotation, provided that grayling of some size are present and all is well with the stream. And assuming, that is, that predators are not too prevalent. I would estimate that getting on for half the large grayling in the upper Wye bear the scars of some near-miss past encounter with a cormorant. At the same time, there are plenty of waters where one might catch a grayling of 18 inches and of 6 inches, and indeed of all the sizes in between, on the same day.
Here is a selection from the September reports. On the 1st of the month, BT from Welshpool drove up to Llyn Bugeilyn, where he caught 8 trout and in his report cautioned about the dangers of the peat bogs and rough terrain around the head of the lake. I very painfully pulled an Achilles tendon in a fall up there a few years ago, so I can echo that warning. On the same day, Jeremy Mantle from Kingsland had a dozen grayling from the Lugg at Lyepole and unfortunately snapped his rod during a moment of double hook-up chaos. DC from Worcester had 2 trout and 13 grayling from the Lugg at Eyton. On the 2nd, RA from Holme Lacy had 4 trout and 10 grayling from the Arrow at Eardisland. On the 4th MVB (I am not sure where from) reported an exceptionally large grayling - 3.5 pounds - from the Wye at Doldowlod along with a half dozen large trout, all being taken with the Czech nymph method. WD from Warwickshire had 18 trout and 7 grayling on nymphs high up the Lugg at Middlemoor. JW from Worcester reported 40 trout from Eyton while CH from Birmingham had 3 trout and 10 grayling from Lyepole, mostly on dries. On the 5th, Dave Collins from West Herefordshire was also on Lyepole and caught 4 trout and 15 grayling, mostly by nymphing. Lypole has proved a very popular venue this year and as an early start was made on the grayling fishing, it was fished intensively, almost on a daily basis This is quite a well maintained beat and easy enough to cover, although a couple of respondents noted that two of the pools now badly need pruning from overhead growth. CH mentioned also that two house guests had been fishing the beat ahead of him. We had a chat with the owner the other day about this particularly charming beat and I think it should be understood that even this quiet valley is likely to get a bit busy during the summer holiday season (silly season, some might say). There are chance-it poachers to be contended with (as almost everywhere) and the other day we bumped into a chap on the water (he said he was a member of Pheasant Tail Fly Fishers as if it was relevant) who had decided for some reason to come on a cray-fishing expedition. And the owners here do retain the right to one rod for the family. However, visit Lyepole in late autumn or winter, when the grayling fishing is equally good, and I can practically guarantee you will not meet another soul. Given low enough water levels, it will even fish quite well in January and February and the valley will provide a little cover while freezing winds are blowing across the exposed pools of the upper Wye. Where would you rather be on such a day?
Back to the 5th September: JE from Kingstone had a dozen trout from the Edw at Hergest on "all sorts" of dry flies. On the 6th, SW from Narberth fished various sections of the Cothi with a dry fly to take 27 small brown trout. On the 8th, NR from Solihull was surprised to encounter a 14 inch grayling in a catch of trout from the Honddu at Lower Stanton. I am trying to remember if grayling have been found quite that far up the Honddu before? They are certainly present in Pandy, the beat immediately below. On the 9th SJ from Abergavenny with a friend had 20 trout from the Usk at Glan yr Afon, and 4 of these fish were over 2 pounds. On the 10th, AS from Newent fished at Lyepole and got 8 trout and 16 grayling to 17 inches. On the 11th, KR from Surrey had 15 trout from Abercynrig on dry flies. The Usk was fining down after a flood at the time. On the same day, JE from Kingstone had 18 trout from the lowest Edw beat at Aberedw, again fishing various dries. Meanwhile, JD from Porthcawl was fishing upstreamat Hergest and had 26 trout on dry flies, helped, he thinks, by coloured water at the time. On the same day, AM from Dorridge fished at Lyepole and had a large catch of grayling along with one trout. KR from Surrey was over on the Usk at Glan yr Afon on the 13th and reported 10 trout to 1.5 pounds. Dave Collins and Louis Noble were on the main Wye at Ty Newydd on the same day and reported 16 grayling to 15 inches and 7 trout. On the 14th, KR from Surrey moved up the Usk to Penpont and got 12 trout to 1.5 pounds on dry flies. On the same day, LW from Winchcombe fished at Lyepole to take 4 trout and 12 grayling to 17 inches. And on the 17th, N from West Sussex got 20 trout, mostly on dries, from the Edw at Hergest. A couple of these trout measured 14 inches, which represent a creditable result for the little Edw. On the 18th, PJ, TBand SW from Pontypridd reported a large catch of trout and grayling from the upper Wye at Craig Llyn taken on French leader and dry flies. On the 19th, ND from Framilode took 20 trout up to an impressive 15 inches on dry fly and nymph from the Edw at Hergest. On the 21st MS from Gloucester with a friend fished the Wye at Whitney Court for 40 trout and 7 grayling and commented rather mysteriously: "The sudden change in the weather did not bring the fish on I'm afraid." JM from Kingsland had his fishing at Abernant rather spoiled by a British Army exercise involving several mass crossings of the Wye at Lady Alexander Catch, the main pool. JD from Porthcawl was also fishing the Edw on the 22nd, and had 15 trout to 12 inches from the Aberedw beat at the bottom end of this charming upper Wye tributary. On the same day, GM from Usk had 9 trout and 3 grayling from Craig Llyn. On the 23rd, RW from Portishead had 9 trout between 7 and 12 inches on dries from the Half Moon water at the top of the Honddu. JD from Porthcawl fished the Hergest beat of the Edw and was very pleased that most of his bag of 9 trout on dries were 12 inch fish and one was 14 inches. On the 24th, HW from Penclawdd had 3 good grayling in a bag of 6 grayling and 3 trout from Craig Llyn. SF from London fished the Irfon at Llanfechan to take 11 trout and 2 grayling on nymphs. And on the 24th AS from Newent fished the main Wye at Llangoed and Lower Llanstephan with nymphs to take 8 trout and 12 grayling, the best grayling being 14, 16 and 17 inches. Trout and grayling reports then slowed slightly as rain brought higher river levels, but on the 28th AM from Dorridge had 4 trout and 18 grayling from Lyepole.
In the newsletter for November 2015, I wrote at some length about the new and mainly European techniques for fishing nymphs which have arrived onto the UK angling scene during recent years. Competition fishing and a young generation of anglers have played the main part in developing these new methods, which for a long time remained in a restricted circle of enthusiasts. In fact there still exist quite a few misunderstandings about these new ideas. "Czech nymphing" really refers to an important new method of presenting flies rather than a class of weighted fly patterns - although certain patterns are associated with the method. Perhaps "heavy nymphing" or "close nymphing" might be better descriptions for this style of fishing originating from Eastern Europe. "French leader fishing" on the other hand refers to an unusual item of tackle and gives a clue where the idea originated, but the method itself involves much more than just fishing with a long leader. And to get an idea of the thinking behind this particular method, it is important to understand at the beginning that it originated in those ultra-clear limestone streams in the Jura region on the French-Swiss border, where trout are very difficult to approach with more conventional tackle. All these ideas still seem to be undergoing rapid development and change.
Previously there was just one book available describing the several new approaches being developed to fishing nymphs: Czech Nymphs and Other Releated Fly Fishing Methods by Karel Krivanec and various other contributors. (By the way, releated is not my mis-type; all the translation of the text is a bit like that, occasionally wandering into wordy and obscure passages. I spent years enough listening to both good and bad interpreters during interminable Balkan meetings to get used to the kind of meandering speeches that party committee members once delighted in. However, it's usually easy enough to work out what the angler/authors intended). Krivanec's useful book was published in 2007 and please forgive me for making fun of the translation. It gave, I thought, a reasonably accurate description of the ideas and developments at that time which were radiating out in several different directions. One of these concerned the tactics being used by the French and Belgian anglers with their long leaders to enable them to win competitions. When I wrote that report back in November last year I suggested that an update was now definitely needed and should be entitled something like: European Heavy Nymphing - the Story So Far. Well, here it comes, or more accurately here is a book to explain the particular directions in which certain methods of nymphing with a long French leader have been taken.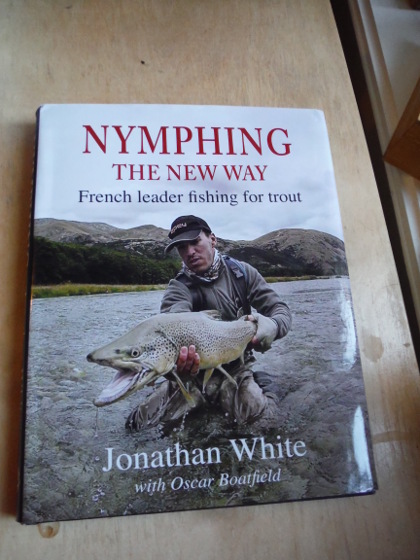 The new book is entitled Nymphing the New Way: French leader fishing for trout, and is published by Merlin Unwin Books. It was written by Jonathan White with help from a young competition angler, Oscar Boatfield. Happily I was able to meet Jonathan earlier on this spring. The occasion was an invitation to talk to the Leintwardine club, of which Jonathan is a member, and we all gathered on their stretch of the River Teme in Shropshire with a picnic in the offing. It was a warm day in early June and the mayfly was up, so I was rather surprised to learn that what the members were really interested in hearing about were some of the new nymphing methods. The Leintwardine club, curiously enough, were renowned for the use of a heavily weighted grayling fly known as the Grasshopper as long as a century ago, so they might be regarded as nymphing pioneers. However later, as I was told, the Grasshopper was banned as a wicked and unsportsmanlike device. Members almost crossed themselves when I mentioned it.
I put a couple of rods together, one with a simple buoyant indicator system designed for learning nymphing under the rod top and one 10 foot 3 weight rod with a couple of heavy nymphs and a long French leader incorporating a short section of indicator braid. I was duly shown a likely looking short run of fast water running over gravel. I addressed this with the French leader outfit using it at short range while the members lined up and watched expectantly from the bank. It was certainly a good choice of water and apparently contained some fish of size because I quickly got into what felt like a reasonably heavy trout, which stayed deep and out of sight for a minute with the rod kicking. This was all very encouraging I thought to myself, and then it suddenly dropped off. Never mind, these things happen. The members behind murmured a bit, while I lobbed the nymphs further upstream to see if I could make another contact. Ah, here was another one; the rod was kicking again. But that one dropped off too. I turned round to see the audience looking distinctly unimpressed. Who would be an instructor? I wiped my brow and pressed on further up the run, only to get into a smaller fish. This one stayed on just long enough to show us that it was an out of season grayling before it too dropped off the hook. "Just a grayling," somebody said. People began to drift away. I had the idea that most of them were dry fly men at heart and why not? They have a lovely water at Leintwardine for it.
Only one of them, it turned out, was not a dedicated dry fly man, or at least not entirely so. Jonathan White, who introduced himself over lunch, already had a French leader outfit made up and winkled out a few fish with it as the warm day went on. Then he told me about his project for the book, then nearing publication. I told him truthfully that I thought his work would be filling a rather large gap which had been developing and that it was certainly a book that somebody needed to write at this time. My copy arrived at the beginning of this month.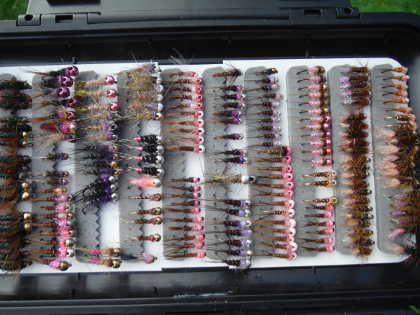 The format chosen by Jonathan and his publisher is an extremely modern one, in which his usefully direct and sparse text is backed up by a plethora of sumptuous colour photographs showing some of the more glamorous angling locations on this planet. I never understand how publishers and printers manage this today; during my own brief forays into the literary world thirty years ago, the publisher would usually suggest three or four pages of black and white photographs and if the author wanted colour, he was told in no uncertain terms that this would add a pound to the retail price and did he really want that? This book reminds me slightly of Topher Browne's Atlantic Salmon Magic, which also has superb photographs and an excellent text along with the eye candy, but which came out in a very hefty coffee table format and for no less than 100 pounds. There was an assumption, I suppose, that salmon anglers could afford to pay almost anything, but I note that the price was soon reduced to 50 pounds, which is what I paid for my copy. Nymphing the New Way will cost you a much more reasonable 20 pounds and it really is a feast for the eyes with pictures of trout fishing on crystal streams in the French Jura, Slovenia, New Zealand, Montana and more. In a way this selection of pictures is understandable, because as already mentioned the whole idea of using a very long leader evolved in the first place because of difficulty in approaching wary fish in ultra-clear rivers on the French-Swiss border. There are a few pictures of English chalk streams also and one or two of the Teme and the Wharfe, but it would also be nice to have seen a few more illustrations of the kind of home waters in which most of the book's readers will be fishing most of the time. For example, there is some excellent French leader fishing going on to good account in still very industrial-looking sections of the Taff in South Wales! Not all our waters permit sight-fishing!
Jonathan has a fine fishing pedigree, having fished the Teme and other border streams for many years, as well as in the USA, Russia, Iceland, Chile and Argentina. He also fishes regularly in Hampshire and Scotland. The Swat valley of the Pakistan Tribal Areas was a slightly less well trodden angling destination. Wisely, his approach to preparing the book included talking to a number of young exponents of the new methods and in particular a collaboration with Oscar Boatfield. He begins with a brief explanation of the background to nymphing, with due reference to GEM Skues, Sawyer and Kite, and also to historic developments in France (Piam), the US ("Big Jim" Leisenring) and the Czech Republic (Milan Janus), before jumping straight into his subject without further delay. He explains how this method developed in France and describes his own first experiments with it. Then we are given directions to construct several different variations of long French Leaders together with some recommendations on monofilament to be used, indicators and tippet material. Knots and attachment methods are explained; all the materials we will need are photographed. Rods, reels and fly lines are discussed. There is a chapter on flies and a number of patterns are given, probably many more than will actually be needed. Note that the earlier book by Karel Krivanec gives an enormous list of fly patterns, which tends to obscure the more important points about how they should be fished. However, this new book by White and Boatfield emphasizes on several occasions that what really matters is that a few patterns are carried in a range of sizes and weights. (If you are interested in collecting modern nymph patterns, I note that they are becoming more and more colourful, with blues, purples and pinks predominating. I swear some of them radiate in the dark!) Importantly, the usefulness of jig hooks to fish a fly upside down along the bottom is explained by the author.
Then we read a series of chapters on techniques, beginning logically enough with sight nymphing at a distance in clear water. Fishing on the Loue and the Doubs in the Jura where a fish could often be watched actually taking the nymph is of course the origin of the method. Casting and line control are explained in detail. There are other parts of the world where this kind of fishing is possible, New Zealand and the Western USA being obvious and famous examples, but there is not so much of it in the UK beyond the chalk streams and a few limestone streams. Occasionally I can watch a trout take a nymph in one of our tributary streams when the water is exceptionally low and clear, but it is not a common event.
The next section deals with tight line nymphing at close range and this, I feel, will be more relevant to the majority of UK trout and grayling anglers. Again, instructions and diagrams are provided to give as much information as possible about leading the nymphs down past fish and how to watch the indicator. The difference between tight line nymphing with the indicator section of the leader controlled at the surface and actually suspending one or more flies from an indicator is explained. This is really practical and useful stuff.
This leads on to a section on longer range indicator nymphing, again using the nymph as a suspension device. Jonathan White mentions in passing that some anglers may have some kind of inhibition about using an indicator in this way, but thankfully he does not spend too much time on the subject. Personally, I could never see the difference between using a greased leader, a bushy dry fly, a length of coloured nylon, a length of curled nylon or a coloured piece of polystyrene to detect bites; they are all indicators of one kind or another.
At this point he mentions, by the way, that one can fish a dry fly with a French leader. Yes indeed, why not? A very long leader has always been a good way to combat drag. It's interesting that at this juncture the French leader idea is not so very far from that of the Tenkara fixed leader method. Alternatively you might think of the thicker part of the French leader as the equivalent of a one or two weight fly line. We go on next to a canter through the various different kinds of water in which the French leader can be used, beginning with sight fishing on chalk streams and spring creeks. Again, this may be of more interest to the chalk stream and/or destination angler. Then we go to the freestone rivers - most of the world's trout streams - where sight fishing may very occasionally be possible but most of the time one is fishing blind. This will certainly be relevant to the majority of readers.
Grayling have a whole chapter to themselves. I particularly enjoyed this part, which has a very British focus with photographs of the Dee as well as the Itchen. I was reminded that most of my own nymphing is done during the colder months for grayling, so I felt right at home here. Then a chapter on carp - whatever pulls your string, I guess, and a lot of people are interested in carp fishing with a fly these days. I gather it is mostly about sight fishing on clear still waters. (At this point I wondered about barbel. I once caught a Wye barbel with a heavy nymph, somewhat accidentally; I must ask Jonathan if there would be any mileage in that for a second edition?) Still waters also have a short section: sight fishing in Tasmania, in a clear Spanish lake, and at Avington Lakes in Hampshire. It struck me that if French leaders are being used at Avington, the clear pool at Big Wells by the lower Wye near Redbrook might also be a suitable case for treatment.
Finally Jonathan turns to his young experts, all of them competition specialists, and we have three master classes, beginning with Julien Daguillanes of Tarbes in the French Pyrenees. They all describe, tackle, flies, methods and general philosophy, along with their native streams. Cody Burgdorff from Colorado makes a number of points about the versatility of the French leader, and that it works best in streams wider than 10 metres and with a depth not more than 2 metres. He also suggests that in the US, the French leader tackle is most often used for fishing close under the rod top, rather like Czech nymphing (and I suspect that may also be true in the UK). "However, while almost all the competition fishermen in the United States now use French leaders, I would say that it is still a very much under-utilised technique amongst recreational fishermen."
I was particularly intrigued by the Bulgarian Stanislav Mankov, who did start me day-dreaming about certain faraway places by mentioning that among his favourite streams is the Tara in Montenegro, the gorge of which under Durmitor is one of the wildest places in Europe. Here you might still see wolf, bear and lynx. In fact at one time we thought you might see more than that; I recall the rumours that some of our indicted Bosnian war criminals were hiding there, across the border and just out of reach of NATO, succoured by one of the remote Orthodox monasteries. We turned out to be wrong about that because crowded Belgrade had proved to be a better hiding place for the gentlemen concerned, at least for a time. Mankov also cites an interest in Herzegovina's limestone Neretva, the blue-green river beside which my wife grew up and in which I once used to swim. The Neretva is a freezing cold and dangerous river, 10 metres deep in places and running like a train through its lower canyon. Local people use a Turkish word, speaking of the Neretva's kharatch, which is the river's tax of drowned children which it exacts without fail every year in return for being so beautiful. And for more than a year, like everybody else in East Mostar at that time, I drank nothing but Neretva water, sucked up by a tanker at night and distributed around the city to queues of people with plastic containers. Muslims penned into the East Mostar ghetto were particularly annoyed and insulted that the sewage outfall from Croatian controlled West Mostar was upstream on the other bank: "They send us this to drink as well as everything else they throw at us...." The rest would be translatable but unprintable. I was told on arrival that I would be quite ill for 2 or 3 days and absolutely fine after that: information which turned out to be right on the button.
I doubt that French leader fishing would work in Mostar city where fishermen still use telescopic rods and something like a 30 gram lead to swim down through the rushing current, but higher up, above the hydro- electric dams and the Rama junction in the remote mountains behind Konjic, the green Neretva always looked to me like a superb sport fishing river. It's like Colorado up there. I would like to hear more about Mankov's fishing in the Neretva and whether there is anything left of that ancient race of great marble trout. The Bosnian Pliva, by the way, is not a chalk stream but a limestone stream.
One thing which Jonathan and I agreed on as we talked that sunny spring day by the Teme is that while some of the new nymphing methods may seem slightly esoteric to traditional and older fly fishers, that is all about to change. Already the main tackle dealers are supplying 10 and 11 foot 2 and 3 weight rods and while some of the other materials are still to be found with niche suppliers (Jonathan's book tells you where), they will soon be stocked by the big mail order companies and fly shops. In a decade or two, we truly believe this will have become the mainstream of fly fishing in this country. The other day I asked friend and nymphing enthusiast Rob Evans why it is that he seems to use a French leader almost exclusively nowadays. He explained that it is because the method is so versatile. He can fish nymphs on a tight line close under the rod top, or go on with the same rod to fish them at a considerable distance, in most cases without much change of tackle. Jonathan would probably encourage him to fish a dry fly as well. If you want to understand what it is all about, and incidentally pick up a very efficient way of catching non-rising fish in numbers which would not have been thought possible a few years ago, Nymphing the New Way; French Leader Fishing for Trout is thoroughly recommended.
With the season coming to a close in a few weeks, I hope to be forgiven for a few words about Wye salmon and I see from the magazines that Kerne Lodge is for sale with its fishing. This was once the home of Robert Pashley, known in his day as the Wye's Wizard, taker of something over 10,000 salmon from this part of the lower river between Ross and Lydbrook, including a string of 40 pounders. Recently I spent a few hours looking through his diaries, 1908 to 1956, which have been photographed by the River Wye Preservation Trust. There is an additional charm today in fishing a beat like Goodrich Court, knowing how many fish he got from these same pools. In one of his best years he personally accounted for 11% of the total rod catch for the river. One feels that any fish taken upstream might have been greeted with the words: "Congratulations on getting past Pashley." He was a wealthy man who, apart from the unwelcome interruption of the Great War in his youth, devoted himself to various committees as a school governor, county councillor and magistrate, but mainly to removing large numbers of salmon from the Wye. Clearly the pocket diaries were never filled in with any idea of publication in mind, because while numbers of fish and weights are faithfully recorded, there is very little information in them about methods or tactics. The entries are clearly only intended as an aide-memoire. Occasionally some fish are noted as fly-caught, but debates continue about how often he used the minnow, as spinning was then known, or how often he waded or fished from a boat. During the early years he roamed a fair bit with invitations from neighbouring beats, and fish are recorded from such places as Homs towards Ross, Ingestone, Boys Rocks, Redbrook Station Stream and Colemans. But as the years go by, the same pools local to his home are repeated again and again: Marl Bed and the Ropes, Vanstone, the V and Dog Hole. I think the first 40 pounder came in 1910: a fish of 46.5 pounds from the Vanstone, and at 51 inches he began a tradition of recording the length and usually the girth of the large ones. He was eventually to take more than thirty 40 pounders, but was perhaps slightly unlucky never to encounter a 50.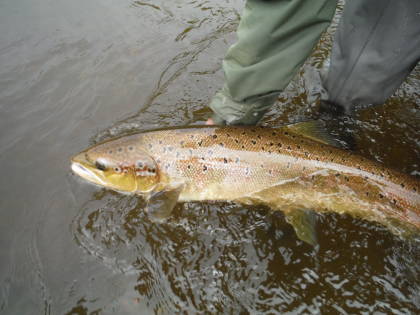 The diaries continue with some truly wonderful catches. With the war in 1914, the fun stops - except for 1915 embarkation leave which he spent fishing of course - and the diary has a few of the terse concerns of a young soldier fitting into army life during wartime: travel warrants, "Boer tobacco" and details of training. Then seriously wounded in Flanders during 1916 and invalided back to Hill Court by October. No fishing or much else then, but in the following year we read a thankful: "Out of doors today." By 1919 he is getting right back to it and large numbers of fish follow, year on year. There are some slight changes as time goes on and record catches follow one on another. The Maddox isn't mentioned until 1926, after which it features regularly. Was 1926 the year the big stones at the head of the Maddox run were tipped in I wonder? There are some brief accounts of shooting rabbits and pigeons during the winters, and remarks on whether many kelts are about when each season opens. But it is mainly about taking salmon and the end of year accounting notes include some quite significant sums paid by Hereford and Ross fishmongers who send vans to collect his catches. CV Hancock is one of the names in his address list and we know that the scale reading pioneer JH Hutton was a great friend. 1939 was another good year, particularly during September and October, and Pashley seems to have fished intensively both before and after the second war is declared. "Now show yourselves men, 'tis for liberty..." he quotes from Henry VI in the diary for the occasion, but fishing on the Wye continues much as before and the 40 pounders keep coming. During the war years he supervises the netting of coarse fish and eels intended to boost the nation's food supply. He invites some military guests down during April 1941, when they apparently had some wonderful fishing.
Post-war he seems to have taken, if possible, a more general interest in the management of the Wye; there are fact finding visits to the Usk and other rivers, and he follows the fortunes of the netting stations in the estuary closely. He is still active as a school governor and a councillor, and later as a magistrate. But by 1949 we can see that he is not fishing so much during certain months and by 1950 there are long periods without fishing. 1951 was a poor fishing year for Pashley: only 124 fish. We know that by this time he was losing his strength, had given up wading the V and the Dog Hole and was making more use of the boat than ever. He spends part of May 1953 in hospital, although he tries to muster the strength to fish when he returns: "26 May - Only fished for half an hour, then phoned for car." There is a grimness about that and to Pashley the writing must have seemed to be on the wall at that particular moment. But then events take a turn for the better and he finds renewed energy; there is an 11 pounder from the Vanstone on the 28th and a 31.5 pound fish from the same pool on 3rd June. By the 18th July he is out with the otter hounds. He takes 142 salmon in 1954 and 52 in 1955. During the later years he is letting fishing and there are notes on which anglers or clubs are supposed to turn up on different banks. In the spring of 1956, the year of his death, he remarks on the number of kelts in the river and gets a fish from the Vanstone before being taken back for an X-ray. He gets a second fish from the Ropes on 19th April. But there is no more fishing after that although the diary continues for a few more months, mainly on the subject of his various committees.
Robert Pashley, by any measure, was certainly a hell of an angler. Also a lucky man, an unusually privileged man, you might conclude? No doubt he was, but the theme of public service continued throughout his life and he was well-liked. Incidentally, the village hall you drive past in Walford near the turn for Goodrich Court was a gift he made to the community. His are achievements to think about as you cast a hopeful line across the Island Stream or the Vanstone.
Did you read the last WUF letter with depressing news from electro-fishing on several Welsh rivers? From our perspective the important ones are the Usk and Towy. While brown trout fry levels were as expected, there were very few salmon fry present. This brings us back to last November and December and do you remember how very warm the weather was at 4.7% above average and in fact the warmest December recorded since 1910? Nobody is absolutely sure about what happened, but we do know that it is cold weather which brings on the spawning activities of salmon and that water temperatures below 10 degrees are needed initially for the survival of the eggs. The Wye may have come through this warm period better because the sources are at a higher altitude and the water was therefore colder. If all salmon lived the same number of seasons and returned to spawn at the same time, the effects of such a failure would continue for generations. However, a consolation is that nature has provided a compensation mechanism to counter a bad spawning year: salmon in these latitudes normally spend two winters in the river, but then return after one, two, three or (rarely) four winters in the sea, and thus the bad effect is diluted. And maybe 1% of salmon actually miss their natal river and run another, which also might guard against a total wipe-out. I'm still hoping for a cold, frosty winter this year, which will be good for the grayling fishing and surely good for the breeding of salmon and trout.
Oliver Burch www.wyevalleyflyfishing.com
---
August 2016
Firstly, belated thanks to Lyn Davies for his photos of small stream fishing in the July newsletter. I quite often get to go fishing with Lyn which is a great pleasure, but only occasionally can I get him to tote along one of his heavy cameras. It is well worth it when he does, because Lyn is a professional who has produced some beautiful shots for the angling press over the years. You might not realise that some of the flies you see in catalogues were photographed by him - painstaking and exacting work. For myself, I make the best amateur pictures I can manage with a little waterproof automatic camera, but I am under no illusions about the results. For that matter, have you seen some of the sumptuous photographs published in Adam Fisher's coarse fishing newsletter? These lovely pictures of Wye scenery also make me truly jealous.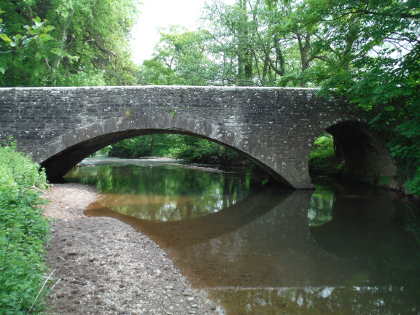 Now then, how were the results for August, which as we know is notoriously reckoned to be the worst of all the fly fishing months? The grayling are perhaps a bit more forward by now and more or less recovered from spawning, but fly hatches during the August dog-days are generally expected to be lean and the trout tend to lie quietly in a low, warm river, waiting for better feeding times to come when the cooler weather of September arrives. This time it turned out to be another rather strange month for river levels because the rainfall we had was again very much localised. The weather was warm and dry, although mostly cloudy, right through until the 19th of August. Some of our farmer friends appreciated this as an early chance for harvest, and traffic on the country roads of Herefordshire and Gloucestershire was slowed down by the big machines and trailers on the move with wheat and straw. We all get used to this in the arable farming areas during August and September and, along with the apples ripening on orchard trees, it's a rather reassuring sight and reminder of the turning of the year. During this dry period the Usk became very low indeed and the Monnow system suffered from a second month of drought. The fishing results from these rivers were accordingly quite poor. The Wye did not fall so low due to the compensation water agreement and also apparently due to some valve replacement works on the Caban Coch dam which released extra water around the 18th of the month. That familiar brown peat stain, which variously comes from the Irfon or the upper river, was also most noticeable on the Wye. Cold compensation water, particularly when it is fluctuating, does tend to affect the fishing negatively. Even grayling, famous for feeding well in a variety of conditions, need a day or two to become accustomed to changes in level and temperature. There were good days on the Wye, particularly at Craig Llyn, but bad days also with few fish rising. During this dry period, the spring-charged streams rising from the Radnor Forest kept their level up well and there was certainly some good fishing on the Lugg which was running clear and sparkling all through the month. The Arrow was low, although rising fish were reported on many evenings. Some heavy and prolonged showers arrived on the 19th along with high winds and by the second day high and dirty water was flushing its way down both Wye and Usk in a much-needed clean-out of the main rivers. Following this high water and a few further showers, the Usk started to produce again at the end of August. Amazingly, this rain seems to have missed the catchment of the unfortunate Monnow again, which remained very low indeed. And by the end of the month, we were back to low levels everywhere.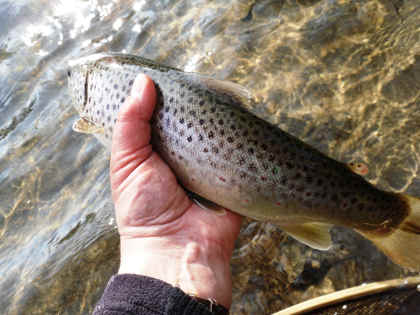 This all sounds very difficult in terms of choices for the angler to make, but some good days were had nevertheless. The following were the reports which caught my eye this month. On the 30th July HW from Penclawdd had an excellent day on the upper Wye at Craig Llyn, taking 20 grayling to 16 inches and 3 trout, mainly on dry flies. On the next day Dave Collins from West Herefordshire had 8 grayling and 2 trout from Doldowlod, but had to work very hard for them. I couldn't help noticing that on the 1st August salmon angler Alan Shuflebotham, who was fishing a floating line and a long leader down at Wyesham, had a 12 inch grayling from the Livox Stream on a Silver Stoat. We don't get so many grayling reported from below Monmouth. (Alan went on to catch a 10 pound hen salmon from Rabbit Hole Run shortly after). On the 2nd , DH from Cardiff had 8 trout and 1 grayling from Craig Llyn. On the 4th, AB from London found the Irfon at Cefnllysgwynne running with a little colour in it, but had trout of 17 and 18 inches in a bag of 3 trout and 4 grayling. On the following day he had a very big trout of 20 inches from the Cammarch Hotel's Lower Water. The Irfon does occasionally these days produce some very nice trout, although it is generally better known for its grayling. It's curious to read angling reports from long ago when this tributary apparently produced very large numbers of rather small trout, significant numbers of late season salmon, and nobody bothered to mention the grayling at all. I used to make a point of fishing right up at the top end of the Irfon system once a year and making a report to the WUF about the results. Usually there would be a lack of small trout, but maybe one large one either caught or seen. The WUF would be worried about the acid flushes caused by coniferous plantations to which this tributary is prone, and which tend to kill off smaller fish while large ones survive. For this reason they are always much happier to have a report of plenty of 8 or 10 inch fish. There are signs that with various measures sponsored by the WUF the situation of the upper Irfon is improving - see the report a couple of paragraphs down.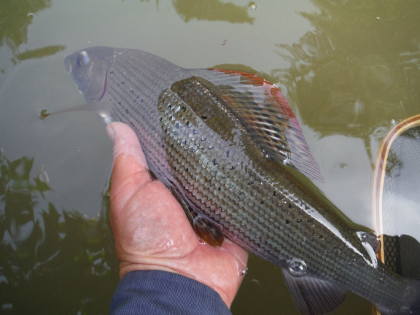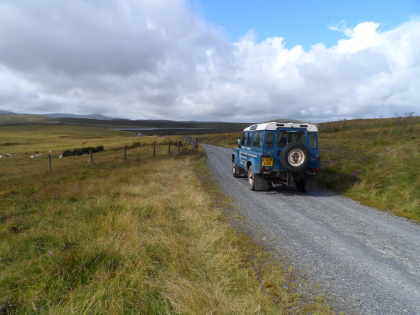 On the 6th, SM from Reading fishing the Forest of Dean's little Cannop Brook had 22 trout to 9 inches using a nymph suspended New Zealand-style. On the same day, SW from Hereford had 7 trout and 11 grayling from Craig Llyn. Meanwhile, AS from Newent fished the Lugg at Lyepole with nymphs and got 7 trout and 20 grayling. On the evening of the 8th, RJ from Abergavenny had a good walk round the shores of Talybont lake and got 6 trout to 18 inches. That day JD from Porthcawl was up on the Middle Cilieni above Sennybridge and found it very overgrown, although he took 11 trout. Sorry about that JD; Middle Cilieni is on our list of work needed. And while I think of it, is anybody living within range of the upper Usk area interested in joining our volunteer teams for winter trimming? Contact me as a first step on oliverburch@btinternet.com.
On the 9th, RW from near Brecon had 11 trout to 3/4 pound from the Edw tributary of the upper Wye (Aberedw beat), mostly on a Parachute Grey Duster. On the same day, HJ fishing upstream at Hergest had 10. At Abernant on the main Wye, AF from Winchester with a companion took 16 trout and 5 grayling. Meanwhile, MN from Bristol fished Craig Llyn and got 4 trout and 23 grayling. On the 10th, JA from Leominster drove up to remote Llyn Bugeilyn to experience a day of mixed sunshine and cloud and caught a dozen black-finned trout by various methods. I gather there were no problems with locked gates this time. On the 11th, AM from Dorridge fished Abernant and took 6 trout and 20 grayling. On the 12th, EW from Yelverton came to fish the Ithon at Llandewi and using a French leader outfit caught 2 trout, 50 grayling and a couple of chub. There were often multiple hook-ups, he reported. On the 13th, FR from Swansea caught 10trout and 2 grayling from the Wye at Plas Gwyn. On the same day, KL from London fished the Upper Irfon and found 15 small trout and a grayling, mostly at the top end of the beat. That news will certainly please the boys at the WUF.
You might recall that in last month's letter I wrote something about ant imitations and mentioned that in years of fishing I had yet to encounter a major fall of flying ants? Well on the 14th, LK from Ashford saw exactly that at Ty Newydd on the Wye; he reported that the fish were clearly excited, but he had great difficulty in matching the naturals, although he did eventually collect a grayling of 16 inches. At the same time DM, SW and BH were upstream at Dolgau, where they saw large numbers of winged red ants on the water. Again, they had great difficulty in matching this fall of insects, although a Greenwells Spider and a Tups were of some use, and eventually managed 11 trout and 9 grayling. JW from Worcester fished the Lugg at Lyepole and caught 15 grayling. BP from Pembridge caught 12 trout and 1 grayling from the Hindwell Combe beat, mainly on nymphs. On the same day, JB from Bristol fished the Wye at Middle Hill Court (for barbel I guess) and at the very least should win our sympathy by reporting his day in great style: "The fishing gods were not with me, I came, I saw, I had a massive blank."
On the 15th, Dave Collins from West Herefordshire had a day on the Wye at Abernant and got a dozen trout and 22 grayling. It was hard work, he reported, but he was quite pleased with the result considering the bright light and heat of the day. On the 16th, MD from Barry encountered a poacher on the Usk at Chainbridge, who refused to leave. As always, a call to the NRW hotline 0800 807060 should be made when poachers are encountered. RW from Portishead fished the upper Grwyne Fawr on the same day and found it in good heart, taking 15 small trout from fast water on the dry fly. Note that the Grwyne Fawr, an Usk tributary, is a reservoir tail water and often has more stable flows than the drought and flood prone Monnow tributaries in neighbouring valleys. RW from Boughrood was fishing the Lugg at Lyepole on the same day and took 2 trout and 23 grayling to just under 16 inches. These were mostly on heavy nymphs, but a Parachute Grey Duster mounted on a spare rod got a half dozen rising fish seen. On the 17th, MR from Monmouth found the fishing at Skenfrith tough, but saw what may well have been a white egret on the river.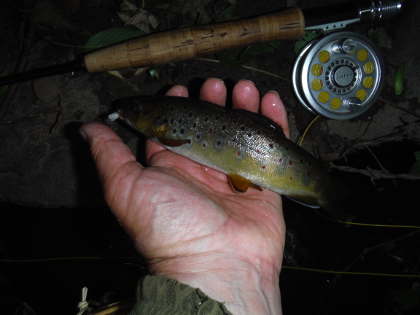 On the 21st DU from Shifnal with a companion took 20 grayling and 6 trout while fishing the Lugg at Lyepole with nymphs. Meanwhile the Wye was rising on the same day and JJ from Taunton salmon fishing at Craig Llyn reported a rare sea trout. SW and PW from Hereford were washed off from their trout fishing at Craig Llyn, but fished the Elan to take 5 trout and 9 grayling to an impressive 18 inches. The Elan, as a reservoir tail water, is often in a different condition to the main Wye, depending on the run-off settings which the controllers have set on the dam immediately upstream. It is a slightly strange waterway, sometimes appearing canal-like when the valves are switched off and in places lacking in the normal gravels to be expected in a natural stream. Still, 18 inches is a very good grayling and with the new compensation regime in place, the Elan will perhaps be flowing more regularly and may be worthy of more consideration. I believe tickets are still available from the Daisy Powell newsagents in Rhayader. Also on the 21st, RM from Blaisdon came to fish the little Bideford Brook, which he found very low. His account of prodding the large white bull and his wives off the cattle drinking spot with a broken branch so he could waste no time in fishing on through demonstrated a certain chutzpah, I thought. There is a public footpath here and the cattle always seem docile. Martin, the very pleasant farmer here, describes his bull as a friendly old fellow and reckons to lean over and scratch it between the ears every time he goes into the field. "But friends in farming tell me that I shouldn't," he adds on a slightly discouraging note. So don't try this trick at home, children. I am sure we will come back to the subject of bulls and fishermen sooner or later; a couple of Friesian bulls have been causing some alarm among anglers in Carmarthenshire this year.
On the 23rd, RW from Portishead using a small grey dry fly took 20 trout to 12 inches from the Edw at Hergest, refreshed now by rain. On the 24th, AM from Dorridge took 36 grayling and a trout from the Lugg at Lyepole, all on a Tungsten Endrick Spider. On the 24th, VG from Feltham had a good catch of trout from the Usk at Glan yr Afon. That was the first good report from the Usk for a while and this river will also have been improved by the rain. On the same day IC from Bristol, I think fishing both on Dinas and Abercynrig, reported 18 trout including a large one using nymphs and the French leader technique. On the 25th, DB from Guildford had 10 from Abercynrig and PB from Hampton had 26 from Dinas on nymphs. And on the same day BK from Ramsbottom reported 9 very good trout, all between 1 and 2 pounds, from the upper Wye at Craig Llyn. On the 26th, JR from Aldershot was brave enough to experiment with the Teme at Bucknell, but found it in the low and still water conditions we associate with this beat in late summer. D and G from Worcester fished the Lugg at Lyepole and had 24 grayling and 3 trout between them, mostly on nymphs. CL from Chippenham fished the Usk at Glan yr Afon with a Gold Ribbed Hare's Ear and reported a wonderful day of 17 trout including a most impressive fish of 20 inches. It's good to see an old pattern still covering itself with glory!
On the 27th HW from Penclawdd fished the Irfon at Cefnllysgwynne with a dry fly for 6 trout and 13 grayling to 16 inches. AS from Newent fished the Lugg at Lyepole on the same day and took 12 trout and 16 grayling to 15 inches, using a combination of nymphs and a dry fly. On the 29th, DP from Neath fished the Taff with a friend and found a little colour in the river, going on to take a good bag of trout between 1/2 and 2 pounds. RW from Canon Pyon with his son fished the Usk at Glan yr Afon on the same day, and they had an 18 inch trout in a bag of 8 fish taken by nymphing with a French leader in the pocket water. AS from Newent fished the upper Wye at Abernant and was disappointed with a lack of rising fish (this has rather been my experience lately), but went on with Czech nymphing tactics to take 10 small trout and 5 grayling between 12 and 16 inches. Also on the 29th, DM, SW and PW from Hereford were on Craig Llyn and had 4 trout and 24 grayling to 2 pounds, mostly on dry sedge patterns. On the 30th, WD from London visited Abbeydore Court and was disappointed to find only about one third of the beat fishable due to uncontrolled growth over the channel. In a similar vein, PJ from Caerphilly expressed his dissatisfaction with poor fishing for rainbow trout at Llyn On reservoir on the 31st. I have some sympathy with this, but having had a bit of experience of trying to manage a stocked rainbow water, certainly never an easy task, I would make the following points. The rainbow is almost an arctic species which thrives in the cold water of its Rocky Mountain home. As a creature it tends to struggle a bit during our July and August, so you are likely to find much better fishing during the colder months of the year. Spring and autumn is the time to score and winter too, on those fisheries which remain open. At Llyn On you might well need to go deep with sinking lines to get results. And I will express a personal opinion that I don't much like mixed method fisheries, which often end up by pleasing nobody. However, I dare say the water company are only responding to the demands of customers.
Back to 30th August when RW from Portishead took 12 trout on dries from the Middle Cilieni, finding clear casting space higher up this long beat. GC from Worcester had 33 small grayling and 5 trout from the Lugg at Eyton using nymphs. Finally, JH from Usk town had two successive tries fishing the Lwyd at Llantarnam Abbey. This Usk tributary is really an urban river, although the Abbey woods form a pleasant green island through which the lower part of the stream flows. JH reported that the Lwyd had that greyish tinge which we usually see in it, but on the second attempt he got a 16 inch trout. This was particularly pleasing to him because he can remember when he was a boy and this stream was polluted with filth and lifeless. Reportedly sewin run it now.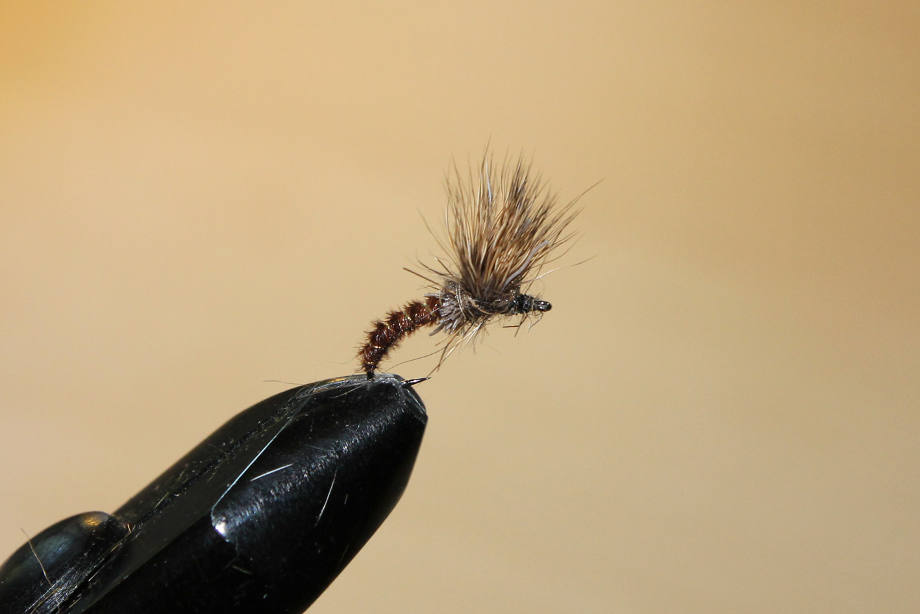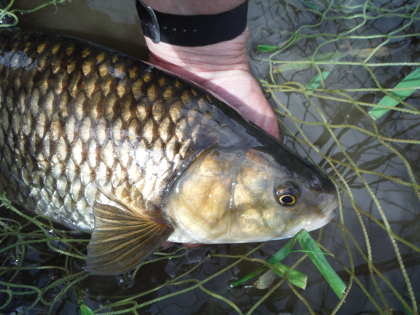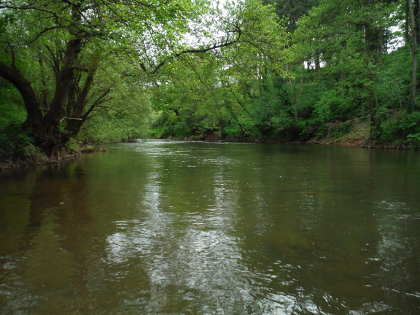 Andy Tobin (AT from Somerset) very kindly wrote in this month to reveal the secret of his "can't fail" fly from a previous report. As he states with a chuckle, it's no big secret, but a size 16 Deer Hair Emerger with a body made of pheasant tail fibres - see Andy's photograph. I'm quite sure that this one works most of the time and in most places because Bob Wyatt's DHE family is one of the very best ideas to have arrived in modern fly fishing. I would certainly rate it along with the Klinkhammer, F-Fly, Pheasant Tail Nymph and one or two others sharing the Hall of Fame. Incidentally, I had a little adventure this month with a Deer Hair Emerger. A steady riser on the far side of the upper Wye turned out to be, not the expected trout, but quite a large chub which eventually arrived on our side of the river looking somewhat bemused. It wouldn't fit into the wooden trout net, so a salmon net was pressed into service. There was a time in my youth when I spent quite a lot of time casting dry flies for chub, which were taken as often as not, provided the fish wasn't spooked. Ideally you used a large and bushy fly and gave the fish plenty of time to take it down before striking. As schoolboys we used to climb trees above chub pools and flick down dart-shaped pieces of fox-tail grass at the surface basking fish below. They would usually take them and chew them reflectively for several seconds before ejecting. Upper Wye chub, it is not always realised, may not fight that hard even when in the pink of winter condition, but they are quite predatory in nature. Chub are prepared to eat almost anything, which is why coarse anglers in the past have baited with everything from cheese paste and worms, to cherries, pieces of steak or live frogs and minnows. On the upper Wye, where in most parts the current is too fast for pike to feel comfortable, the chub fulfil an equivalent role, picking off larger injured fish as well as chasing minnows and fry. People see chub as slow and cautious, which they are, and therefore do not associate them with aggression. However, I know a pool where you can see them hunting purposely in pairs along the margins at dusk; at such times the smaller fish are well aware of what is going on and scatter in panic. Quite a few times a chub has seized a trout or grayling I have been playing and hung on for a while with malicious intent. The size of that mouth, which could easily accommodate a human fist, makes it easy enough.
This month I spent some time with the good folks at Monnow Valley recording studios who are very conscious that access difficulties do inhibit a lot of anglers from fishing their mile of the lower Monnow. Realistically, this rather wild piece of water is never going to be completely easy to fish unless you have a certain amount of agility; the banks are steep and become overgrown very quickly in summer, there are deep places which cannot be waded and quite a number of large fallen trees in parts of the channel. However, note the last two points: good fish refuge usually results in some excellent trout and there are some fine ones in this part of the river. In fact there are some especially beautiful golden trout to be found in the Monnow. Some anglers who visit Monnow Valley for the first time in high summer are defeated because they just don't know where they should be pushing down through the undergrowth to get in. The plan for this winter is, as a minimum, to put in a dozen or 13 marker posts to highlight the places where you can get in to explore some of the pools, there is a ladder to be strengthened at the bottom end, one stile to be mended or replaced, and some strimming will be done as the new season progresses. More traffic will hopefully help to keep the nettles and brambles at bay.
Don't you just love this brave new world of the internet? I know that we can now watch the river levels on webcams and theoretically we should never need to riffle the pages of a dictionary, thesaurus or encyclopaedia again. But just when you get to rely on a system, it goes and lets you down. Your password is blocked, the blackberry doesn't pick up the emails any more, your favourite programmes are alienated from you and your comfortable little world has collapsed. Meanwhile you contemplate with a sinking heart trying to explain the problem to those nice call centre people in Madras. Last month it was BT Internet, which decided for some reason that it would not pass on to its customers emails from the WUF booking system carrying those treasured fishing tickets and maps. Emails should not disappear into a black hole (rather than into the spam folder), but it seems in this case they do. At the same time, BT are happily forwarding to me unwanted messages offering payday loans, a new boiler, double glazing, treatments for erectile dysfunction and the opportunity to meet sexy Russian ladies. Attempts are going on to sort this out, but meanwhile it seems a new G-mail account has put me back in touch with the WUF.
I have now become a very late convert to the idea of switch rods. In fact I admit that I am usually rather late in catching up with the new ideas; it was quite a while before I could see a use for Tenkara rods, although now I am convinced. Six or seven years ago, a series of mainly 11 foot rods described as "switch" began to appear in the catalogues. These were touted for their versatility in that they could be fished single handed or double handed. What confused me very much at the time was the wide range of line weights which some of them were claimed to be able to handle, again depending on whether they were used with one hand or two. About then I spent a night out for sea trout on the Loughor with a client who brought along one of the new 11 foot switch rods which he fished single-handed throughout. At dawn, by way of experiment, I tried it out two handed on one of the few wider pools on this winding river and found I could roll out short single and double Spey casts reasonably well with it. All the same, I couldn't see what it would really do for me and I concluded I was still perfectly happy with the pair of single handed 10 foot 7 weight rods I normally use for sea trout. Nor could I really see a place for it while salmon fishing on a big river like the Wye, which is still largely the domain of 14 and 15 foot double-handers. There is a good case for owning a 13 foot light weight double-hander for a smaller river such as the Usk, but otherwise any low water fishing with small flies could surely be dealt with by reverting to the sea trout single handed rod? Heaven knows, I thought, the stack of rod tubes in my fishing den is big enough as it is!
Circumstances change and I now realise that there is one particular medical condition which fly fishermen really should fear over time. Nowadays usually described as repetitive strain injury, this used to be called "tennis elbow." The problem is that the ideal fly casting action with that famous "accelerate to a stop" movement in order to load and unload the rod, when repeated thousands and thousands of times, gives the elbow joint and fore-arm tendons a hard time. Bad casting with overheavy equipment obviously makes it worse and a good caster using the equipment properly should be making the rod, rather than his own body, do the work. Nevertheless, you only have one arm and as the years of fishing go by (assuming you are not an ambidextrous caster) you are giving it an awful lot of work to do. The other side of the problem is that there is not really a cure for this sort of repetitive strain injury; the only practical option is to stop doing whatever caused the damage in the first place and try to tackle the activity in a different way. Geoffrey Bucknell is one angler who experienced damage, and designed a series of light line rods as compensation. That great American angler and instructor Lefty Kreh damaged his elbow tendons over years of developing salt water fly fishing with some very heavy single handed rods. He also damaged his rotator cuff (the muscles and sinews which hold the shoulder joint in place). As a result, he was forced to evolve some new casting methods and body movements to compensate. Read his book Casting with Lefty Kreh and particularly the chapter by his sports therapist.
All of this was only of passing interest to me until last year when my right elbow began to be quite painful. It was worse after fishing, and eventually when using a long or heavy single-handed rod, there would be a renewed stab of pain after each cast made. If I slept on my right side the elbow would be particularly sore when I woke up. This all came to a head during the sewin season of July and August, which is the only time of year when I now make very much use of 7 and 8 weight single handed rods. I found myself instinctively avoiding some of the sinking lines popularly used later in the night for sea trout in favour of floaters or very short sink tips which were at least pleasanter to cast. A particular problem, though, came with the use of surface lures. These are a fascinating way, perhaps the most exciting way of all, in which to catch a sewin. However, while many of our sub-surface flies for Welsh sewin are large enough, some of the surface lures are very bulky concoctions of foam rubber and deer hair which, once wet, are quite an effort to deliver to the far side of the river. The largest of these must be the Jambo, made in sizes up to 5 inches long if you include the flying treble hook. I don't usually fish a lure as big as that, but on one particular dark night in August, the fish were very active at the surface. There was good reason to be delivering bulky lures across the Towy with hauled casts, trying to do so without too much splashing at the same time. However, I was in severe pain with my elbow at the end of some hours at this and for many days later. I remembered while driving home in the early hours that "Jambo" John Graham reportedly (and most unusually for Welsh sewin fishing) used a 12 or 13 foot double-hander for fishing his big surface lures on the Towy, a plan which at that moment made perfect sense to me.
The sore elbow calmed down a bit during the autumn and winter, but twinges and aches remained. Lighter rods for brown trout and grayling, I found, caused the elbow very little problem. I could fish all day with the 7 foot 3 weight brook rod, or indeed with 9 foot 4 or 5 weight rods for larger waters. Fishing spiders on a 10 foot 4 weight is a pretty relaxed method anyway involving short range and a laid back casting style. Rather surprisingly, switching heavy nymphs forward with a French leader on a 10 foot 3 weight for grayling did not seem to cause much stress to the joint. However, a 10 foot 6 weight used during the winter for rainbow trout did cause a certain amount of pain after hours of use, long casting and playing a few fish. The odd thing was that fishing with a big double-handed rod that autumn (I often use a 38 gram shooting head on a 15 footer for the Wye) seemed to side-step the problem completely. Sharing the work to some extent between two hands (even with shooting heads when the lower hand makes the sudden pull-in) seemed to remove the stress.
I tried some experiments with fishing left handed. Now I found that the main difficulty was not in learning to cast with the left hand, but in learning to manage the line with the right hand. Thinking more about the problem during the winter, it came to me that an 11 foot switch rod used with two hands might solve some of my sewin fishing problems. It probably wouldn't work well on the Loughor, where the fishing is nearly all at short range in tight corners - a single handed 10 footer would still be better there. But out on the wider Towy at night, why couldn't just I wade down a pool with the switch rod, making single Speys when I wanted to send my fly or surface lure at 45 degrees down and across? And it would be particularly easy to make double Speys when I wanted to go at 90 degrees square across and to drop the lure in the shadows under the opposite bank. Making a modified roll cast with only a short D loop formed behind me would solve a lot of the problems involved in fishing a tree-lined river with high banks. No more need for steeple casts and no more worrying about tangling in the vegetation behind. Welsh friends to whom I suggested the idea over a pint after a club meeting were dubious. The Welsh sewin fishing tradition is a conservative one and not so many sewin fishers also fly-fish for salmon. "I don't know that club members fishing down the same pool would approve of Spey casts splashing on the surface," was the first reaction. "My Spey casts aren't that splashy!" I responded, slightly nettled. Still, this was something to think about. For that matter, I could and sometimes did make Spey casts with the single handed rod although the results when casting a big lure, even with double-tapered lines, were not quite as good as I might have hoped. Besides, single handed Spey casting was not going to solve my elbow problem.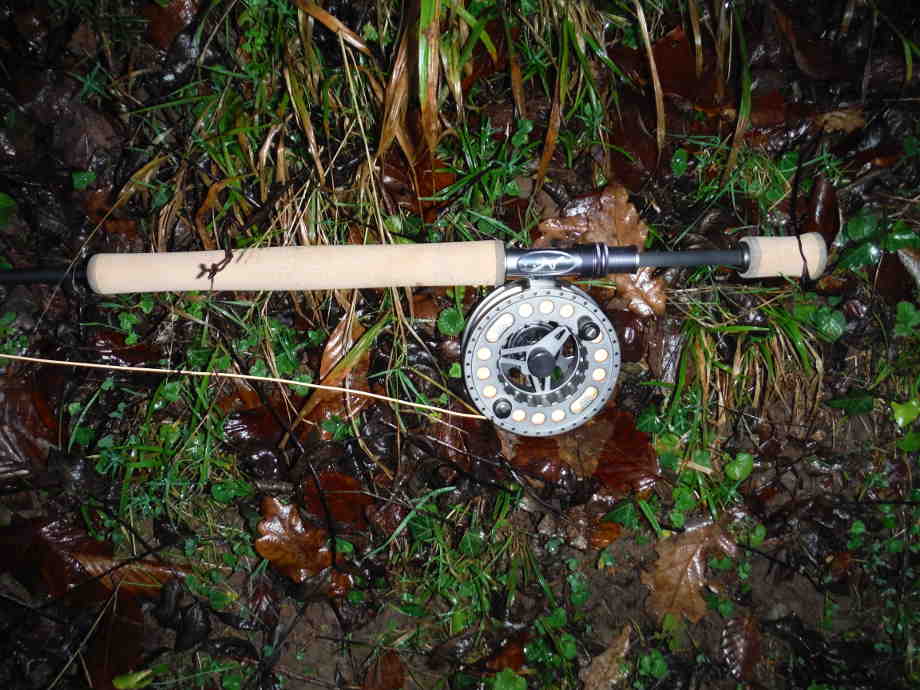 I took the plunge and ordered an 11 foot switch rod, a Guideline LPXE with an extending lower handle, which was twinned with the same company's line system built around a 28 foot shooting head rated as 7 weight or 17 grams. With this you get a choice of three 12 foot tips, floating, medium or fast sinking. One winter day on the upper Wye, when the grayling fishing was quiet, I tried the new rod out with the floating tip attached and a piece of red wool on a dummy tippet. It felt odd at first, with a very soft through action to it. Compared to the 15 foot Loomis Stinger salmon rod with its tip action, very definitely a "big cannon," as you can imagine it was disappointing in terms of distance achieved. I don't know why this would have surprised me, but it also seemed to have slightly less range than a 10 foot single-handed sewin rod would have had. Still, there was enough reach to deliver a fly across the Towy, I thought, and the light line did not seem to disturb the surface much. It was remarkably easy to use. I tried it out with a conventional 7 weight double tapered line, but this was less successful. So at that point I put the new rod away, still with a question mark in my mind as to whether it would really be useful to me.
In 2016 we started late on the Towy, as high and coloured water lasting well into July had made the river unsuitable for night time fly fishing. But when the Manorafon gauge finally dropped to just above 1 metre, a warm Friday evening found me in a layby off the Carmarthenshire section of the A40 making up the tackle ready. I had hopes that this would be a good fishing night; the cloud cover was thick and there was no sign of wind. I made up the old 10 foot Enigma rod with a short sink tip line and Lyn's Secret Weapon fly, an arrangement designed to fish not far beneath the surface. I had a sinking line in my bag in case of need. And the new switch rod was made up using the fully floating line and tip, with a black Towy Intruder surface lure tied to 9 feet of 12 pounds BS nylon.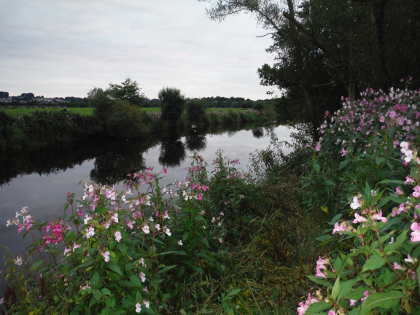 I wasn't the only one to appreciate an apparently perfect weekend evening for sea trout fishing, because I now heard the moan of a decelerating motor cycle coming down through the gears. It could only be Miles, who thinks nothing of riding the 110 miles each way from Bristol to get in three or four hours of sewin fishing. If you see a BMW twin streaking along the M4 on a summer evening with a couple of rods and a gye net strapped to the pillion, it's bound to be Miles. Once in his waders, Miles followed suit with two rods, one with a 10 foot heavy sink tip and tube fly and one with a giant foam rubber based surface lure which looked almost 6 inches long from the eye of the hook to the sting in the tail treble. We crossed several fields and the railway line and were talking by the river watching the evening darken around us when we were joined by Eifion and his son Lyn. It is funny how regularly friends living a hundred miles apart, linked by a common interest, bump into each other on the river. Eifion is chairman of our Pontardulais club, from a family who have fished for sea trout in this part of Wales since the whole idea of fly fishing by night took hold. There is a story, possibly apocryphal, that Eifion's brother Gwynlais, a lovely man of over 70 now, who over a long fishing career has a whole string of double figure sea trout to his credit, has never actually cast a fly in daylight. Eifion once introduced himself to Hugh Falkus at a Game Fair and recounts how the great man very courteously took him off for a long chat over a cup of tea. Falkus was a master of the craft, but I guess he certainly would not have missed the chance to pick the brains of a canny Welsh sewin angler. Meanwhile Eifion's son Lyn has all the enthusiasm of his father and takes good fish every year, even in these days of reduced runs. Before darkness fell, two more club members not known to me arrived across the field. Night fishing on club water can be a solitary or a sociable occasion; either is equally agreeable to me. We stood around talking as shadows lengthened, colours faded and the western sky turned ruby-red. Miles mentioned that today was his wedding anniversary. There were sharp whistling intakes of breath and then a moment of silence as we thought that one through. "You've got more sand than most of us," some-one said. "Well, I did buy some jewellery," Miles muttered. Clearly his conscience was troubling him. We split up the water between us, some opting to fish down the whole section which is nearly a mile long. I was happy with just the bottom pool, which ideally I wanted to fish down twice, once with the sub-surface fly and once with the surface lure.
I slipped down the steep bank through rushes into the water and very quietly made my way up to the head of the pool, making my first cast at about 10.15. Miles, Eifion and Lyn were somewhere above. It was by now a most beautiful night, with piled cumulus clouds burnished a kind of coppery colour by the after-glow of the sun. Later a gibbous moon peeped with a silvery light through the same clouds. Many say that any amount of moonlight is a bad thing for sea trout fishing, but this stretch of the river is well-shaded where the fish lie, which is usually tight to the far bank. There was quite enough light to see the surface. And the night was warm, the thermometer never dropping below 15 degrees. I was mostly casting at 45 degrees, occasionally square, finding it relatively easy using a floating line with a sinking tip of just three feet. The elbow was giving me twinges occasionally with the use of the single handed rod, but not too badly. Nothing happened on the way down the pool, which took rather more than an hour and not even a little brown trout showed interest. Most remarkably the river was quiet and in fact only one sewin had showed all evening, a small one which had jumped near the cover of bushes just before dark. I had my hopes up for the last 50 yards or so, as I came to the tail, and just before a particular bush on the far bank, a place well known to us all, the line suddenly sprang taut, visibly throwing spray off. And within a split second it dropped slack again. Definitely a sewin pull! I stood my ground and repeated the throw a number of times, but the fish would not come again. So I fished on down into the fast-running shallows of the tail, where you can ford the river and where there is very often a fish, but not tonight it seemed.
At this point, I wanted to back up and show fish the fly from another angle. The problem was that I knew that other anglers were fishing down somewhere behind me and to run into someone would be bad form. I may have arrived first but I didn't want to be accused of hogging the river. So if I backed up, I would have to be quick about it. I started to make square casts straight across, or even slightly upstream, followed by walking back upstream on my side and so bringing the fly round in a curve. All the time I was listening for the sound of whistling casts from above. I had reached the bush again when suddenly the fly was taken close to the surface with a big splash and the curving line tightened.
That turned out to be, no large sewin, but a nice one of 19 inches or 3 pounds. After surface splashing it made one high leap - full marks for effort - before pulling down against the rod. A firm and bright silver fish like this would have been nice to eat once, but now we are generally into the habit of catch and release. I had just returned the fish and replaced the gye net back onto my back, when I started to hear the quiet hissing of a line through the air and then a louder cough. It was Eifion, who was now just 50 yards above me. I went up to join him and stood just behind him as he fished the rest of the pool down. I'm not too proud to stand and learn when I can and it was a pleasure to watch a technique which had been refined over 50 years. Eifion is no longer a young man, but he's a former miner and fit as a butcher's dog. He was casting a slow intermediate line using his 8 weight rod which is 30 years old, specially made for him and 10 foot 6 inches long, delivering a tube fly rather below straight across, at about 60 degrees, and slowly letting it swing for a few yards in the current. He stayed in touch with his line management hand not retrieving more than about 6 feet directly to the butt ring during the swing, until the line was removed easily from the water straight above our heads into a steeple cast avoiding the trees behind, and returned without any false casting across the river, shooting the loose couple of yards again as he made the final delivery. It was lovely to watch, quiet and effortless, but there were no more pulls as he moved down the pool. "There can't be many here yet," said Eifion, who has fished this same pool for most of his life. "What do you do," I asked him, "after you get you miss a pull? Do you stand on the spot and repeat the cast? And if so how many times?" Eifion's reply was that it would depend on what the pull was like. "If it's a hard one and I know I've pricked him, he probably isn't going to come again. I would just fish on through. But if it's just a bump, I back up a few yards and fish down to him again. He might make his mind up second time round."
It was towards one o'clock when he finished and then Eifion and Lyn were away for home, probably to return the next night. The two strangers were far upstream somewhere. Miles wanted to try out his spare rod with the surface lure though, just on the last 100 yards of the pool. I wanted to do the same thing with the switch rod, this being its first serious trial. However, afraid of the splashing I might make when Spey-casting, I insisted that Miles go first. I need not have worried on this matter. When I tried it, there was a quiet swish during the D loop setup, the second movement of the double Spey, after which the line unrolled almost silently across to the dark shadows on the far side. Miles will forgive me if I write that his very big surface lure was making quite a racket as it went back and forth on the single handed rod. After 20 minutes, my Towy Intruder was suddenly taken with a great splash somewhat upstream of my own position, I would guess just as the current began to accelerate it down and across by creating a belly in the line. There was a high jump from a well- hooked fish, and then I wound in loose line to play a sewin which suited the rod very well. I love playing a fiery fish on a soft and through action rod. Again, not a big one, but a nice 18 inch 2.5 pounder. We walked back to the vehicles and a hot coffee from my flask at about 1.30 after which Miles, whose waders had been leaking so that he was thoroughly soaked, blasted off for Bristol once more via the M4. Miles has all my respect for his appetite for fishing, motor cycles and indeed life. One evening the following month while on holiday in Carmarthenshire he caught a brace at 6 and 8 pounds. Meanwhile, I left at a more sedate pace in my little car on the other road, marvelling at patterns of moonlight in the clouds as I passed through the mountains around Sennybridge and Brecon. To sum this experience up, I have decided at the end that the little switch rod is going to be useful for this purpose at least.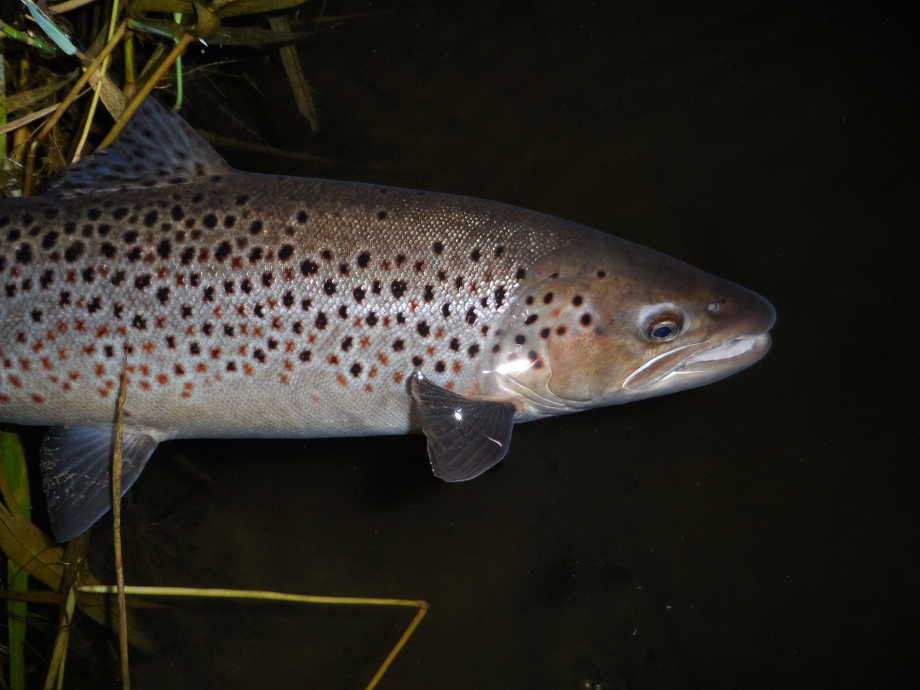 There is a sequel to this story. When you write something about fishing, a codicil always seems to turn up demanding to be added at the end. A few nights later I was out alone on the same pool. Conditions seemed even better: warm, windless and with full cloud cover so that the night was really very dark. It was also very quiet and not a single fish showed at the surface. I fished down the whole pool first with the single handed rod, short sink-tip line and the little black, blue and silver Secret Weapon. Down on the shallows at the tail a couple of little brownies attacked the fly, but there was no sign of a sea trout. I was going to back up then, but I heard the swish of casts telling me another member was approaching from above. I walked quietly up under my own bank to meet him. It was one of those pleasant and slightly odd night time meetings between strangers standing waist deep in the river, voices and advice exchanged in darkness, but necessarily no normal eye to eye contact. We might pass in the street next day and never know each other. Steffan was carrying the same Enigma single handed rod as mine and fishing a very similar short sink tip line with a little teal blue and silver tube. He told me he had caught one small sewin further up. I told him I had been down the pool once without result, but invited him to fish on down while I followed behind with a surface lure. I then slipped up the bank to collect the switch rod and went down behind him. What followed was interesting. Steffan had a different style to Eifion's, wading deep, almost to the middle of the river and casting very square straight across to the far bank. He was taking risks too, and many times I heard the fly flicking into the reed stems behind us and several times he had to pull out of the bushes on the far side. "If you aren't prepared to lose a few flies here," he said, "you won't catch many fish either." He made a lot of interesting points about that steep opposite bank, every foot of which had become familiar to him over more than 40 years fishing this stretch, constantly emphasizing the fact that the sewin lay very tight under it. Here was a little bay overhung by brambles which usually had a sewin in it; here you needed to drop the fly in the gap between overhanging trees; this place used to be good, but a few years ago the farmer had put a cattle trough on the bank just above, since when the sewin had abandoned the place, doubtless due to pollutants draining from above. Seemingly this wasn't just talk. Quite quickly he had a fish on, as I could hear by the thrashing on the surface in the darkness under the trees; this was a two pounder and released. 10 minutes later and further down the pool there was a 3 pounder, which he decided to keep. And below that, just by the famous bush, I heard another outburst of angry splashing, this time caused by something which had real weight by the sound of it. This one turned out to be a six pounder, a really handsome fish, which we released. In fact all of these fish were lovely looking fresh sea trout, silver bright, with small heads and big shoulders.
Meanwhile, I had done no good at all with the surface lure; nothing had even moved at it. I scrambled up the bank again and swapped the switch rod back for the single-hander and began to fish the sink tip line again. Steffan was keen to give me one of his little teal blue and silver tubes with a size 12 treble, but it seemed to me that Lyn's version of the Secret Weapon was a very similar thing, so I carried on with that. While Steffan fished the middle of the pool to see if he could extract another, I backed up from the tail casting square and - bang - here was one for me, another handsome three pounder. I return all my modest sea trout catch these days, although I wouldn't criticise someone who chooses to keep the odd fish. Next year, we probably won't have a choice. I suspected this might have been one of those rare nights when sewin are "on" right through to dawn, but it was now after two and I had run out of energy. I left to trek across the fields for the car, honour satisfied with my single fish, but Steffan was fishing on "just for a bit." And he had to work in the morning. I was thinking as I drove back, that over the years I have met a number of very successful sewin anglers, certainly many of them more successful at the game than I. Every now and then people in the circuit get excited about this or that magic fly, but it seems to me that success is more often linked to the wading line or casting angle chosen. The impression I also have is that the very good ones, often to be found roaming alone on the river late at night, are those who have fished long enough to get a feel (which they may not easily be able to express) for what is the right thing to do in any given circumstances. The knack of it certainly does not come overnight. And here is the problem for those of us still in the long apprenticeship phase: every one of the masters seems to have his own different approach! Like many of us, I have in my time been rather mesmerised by the Falkus book Sea Trout, which was written in the man's famously compelling "this is the way to do it; it's my way or the highway" style. But Falkus was writing mostly about just one river in Cumbria and the experience of other anglers on other rivers has often been different. Illtyd Griffiths has a deep understanding of the Welsh rivers and in his sea trout letter for the WUF he gives a nice mix of information about the progression of the season in Carmarthenshire and what seems to be some very practical fishing advice.
Now we have got through August and the "silly season," we should have some of the best of the season's fly fishing to enjoy as the weather cools and we go through September and October. I will be thinking primarily of grayling from now on, and I cannot think of anywhere better to be on an autumn day than out on the upper Wye or one of its tributaries. The Irfon is the tributary which stands out, but don't forget the Ithon and Herefordshire's more intimate Lugg and Arrow. Surface fishing with dry fly and spiders usually work well for fish which should be more than ready to rise. We are already seeing the natural flies of the late season about on the rivers, particularly pale wateries and also the willow fly, that friendly little creature which perches on your hands and glasses and seems so clumsy in flight, but looks like a neat sharp needle when at rest with its wings closed. These natural flies are characterised by being small and grey, so it's easy enough to suggest the type of dry pattern you might try out, in size 16 or 18: Grey Duster, Griffiths Gnat and my favourite Grayling Steel Blue. Any of the spider patterns should work well, also in small sizes, while insects are still hatching. The next phase to be on the look-out for will be when the natural hatches decline, so there is little to be seen on the surface, but grayling are still prepared to rise. This is the great time for the grayling fancy dry flies; Red Tag, Treacle Parkin, Sturdy's Fancy and Yellow Bumble will all bring grayling up on an autumn day, as will Edward Powell's Orange Otter. Grayling Steel Blue will continue to work at this time and John Storey deserves an honourable mention. These two excellent patterns are often listed as "fancies," although they seem quite imitative to me. At the same time, you can have a very successful grayling day fishing a team of the wet versions of some of these, the difference being that they are made at the vice with soft hen hackles rather than stiff cock hackles. Red Tag on the point, Yellow Bumble on the middle dropper and Grayling Steel Blue on the bob makes an excellent wet fly cast for autumn grayling. And heavy nymphs, of course, will almost always take fish.
Tight lines for September,
Oliver Burch www.wyevalleyflyfishing.com
---
July 2016
July is rarely the best month for trout and grayling fishing....but then again, this was not a typical July. Every day we seemed to see great stacks of dark cumulus cloud in the sky - like one of Constable's landscape paintings somebody remarked - but for much of the time the water remained stored overhead without falling. Where showers did fall, they were heavy. In fact we started the month with a flood on both main rivers, although many of the smaller streams and the entire Monnow system were still fishable for trout. At least, I was thinking to myself at the time, there isn't much sign of a drought developing yet. Anglers must form the only portion of the population who don't wish to see a long hot July with the rivers dwindling. For quite a while we had cool conditions of cumulus cloud with localised showers, mainly in Central Wales. This rainfall was so localised in fact, that it was very difficult to predict what was going to happen with the river levels. Nothing seemed to fall on the Monnow catchment east of the Black Mountains where the feeder streams became very low and remained so until the end of the month. These streams did eventually suffer from real drought. Meanwhile, a few days into the wetter July of Central Wales and the great Elan Valley dams topped out and began to overflow. I guess this must allay any lingering concerns about Birmingham's water supply this winter. The effect on the Wye downstream when the dams are full and overrunning is generally one of clearer water and floods which are significantly slower to drop off. Very heavy rain on North and Central Wales produced a second surprise flood on the Wye by the 17th, which was then followed by a real heat wave for a few days with temperatures into the thirties. As you might expect, the trout fishing slowed down in response, although there were some exceptions. There were some superb coarse fishing results from the Wye by this time, with some very large catches of barbel and chub (which do appreciate warm weather), in the region of 50 to 100 fish per rod in several cases. The high water on the Wye also helped salmon fishers who were able to continue catching from many parts of the river. Salmon were also reported from the Usk and from the Towy by anglers spinning high water by day. Anglers who wished to fly fish the Towy by night for sewin had to wait for the water to drop and clear which only occurred during the final ten days. When we reached the end of the month the temperature was cooler again and light showers continued, although without really significant rain in most places. There was one more short-lived lift on the Wye, but by the time of writing all the rivers were back to summer levels once more. So, it was a curate's egg kind of a month: good in parts.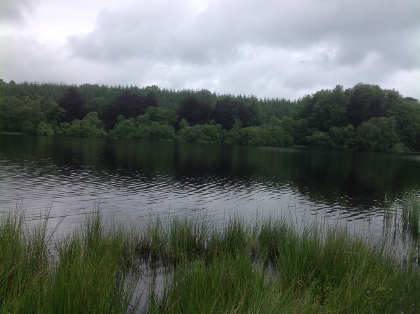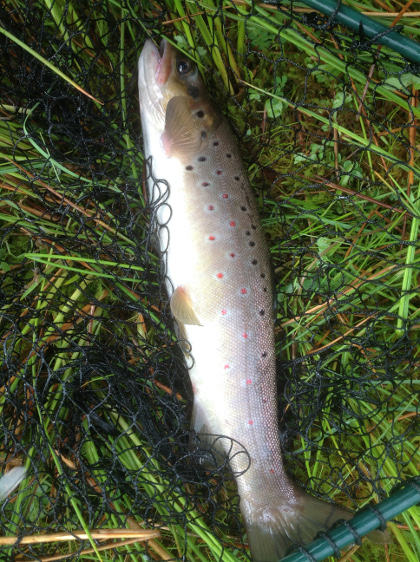 Here are some of the better July catches reported by our anglers. On the 1st of the month, RM from Blaisdon had 11 trout to 10 inches while fishing the Bideford Brook with dry flies and JL from Bristol took 5 small trout and 6 grayling from the Garren using a French leader. On the 2nd, having waited for the water level to drop, MP and two friends from Hereford took 7 trout and 24 grayling from the upper Wye at Craig Llyn, mostly on dry flies. They were "over the moon" with the day, according to MP. On the same date, SF from London reported 20 trout and 2 grayling taken from the Irfon at Cefnllysgwynne, I think over two fishing days. AS from Newent fished the Dore at Chanstone Court, where he found the water learing, and took 12 trout and a grayling. On the 3rd, AS moved to the Bideford Brook where he got 15. On the same day, BP from Pembridge fished the Ithon at Llandewi and took a large catch of mainly small trout using the French leader method. Llandewi was also fished on the 6th by BP from Kingswinford, who had 10 small trout and 5 grayling, mainly on dry flies. On the 7 th , JD from Hereford fished the main Wye at the Rocks and took 5 trout to 16 inches and 22 grayling to 12 inches, on what seems to have been a leash of traditional wet flies. On the 8th, AS from Newent fished the Bideford Brook again and got 11 trout to 12 inches on a small nymph. The water was now very low, he reported, with spooky trout lying out on the pool tails. On the 9th , NG, AM and CE from Hereford and London had a good catch from Llyn Gwgia, mainly by dibbling flies through the surface as their boat drifted. On the same day, JS from Horsham reported poachers on Glan y Cafn, who apparently claimed when challenged to be MTAA members (MTAA have the beat above, known as Mardy). The boundaries are clear enough and we don't believe a genuine member would have behaved in this way. Unfortunately this is one of the sections of the Usk which does have something of a poaching problem and there is a public footpath giving access to Glan y Cafn from Abergavenny. The WUF advice is to call NRW on 0800 807060 promptly in the case of any illegal fishing.
On the 9th, BP from Pembridge had 12 trout from the Edw at Cregrina using dry flies and the duo system. On the 10th, TW from Aberdare encountered three poachers on the Breconshire Fishery - which seems unusual, as this is the town water and relatively well policed. I am quite often asked to show my membership ticket here. As always, if another angler cannot show his ticket when asked politely and therefore illegal fishing is suspected, make the call promptly to NRW. On the 12th, RW from Bristol had a 17 inch fish in a bag of 7 from Glanusk Park. That would indeed be about 2 pounds. On the same day, CT from Cardiff fished the Taff at Merthyr Vale during the late evening and got 10 trout to 15 inches on blue winged olive spinner patterns. On the following day, JD from Australia got a bag of 10 trout at Glan yr Afon. In his report he pointed out that it can be problematic for visiting tourists to find a printer to produce hard copies of tickets and maps for fishing booked. WUF advised in response that anglers should as a minimum have the tickets and maps sent to them saved on some kind of device carried with them while fishing. Clearly there is no other way to prove that you have the right to be fishing or indeed to know where you should be fishing. There is a tendency nowadays to keep documents electronically and save trees by avoiding printing wherever possible, and I suppose that should be applauded. At the same time I can advise that anglers showing up on the bank without a map, or at least the opportunity to view a map, can cause all sorts of needless problems. Even if you are a regular and think you know the beat, something may well have changed since you last fished it. I have been caught out that way myself, so please take the map every time. If you are a tourist in the area with no printer in the hotel or guest house, and no possibility to save on a device, I think the best suggestion would be to visit the WUF during office hours and collect your tickets and maps in person. You will find a warm welcome. The WUF have put a lot of thought into evolving a booking system which is labour efficient and relatively low cost, but any suggestions for improvement will be considered with interest.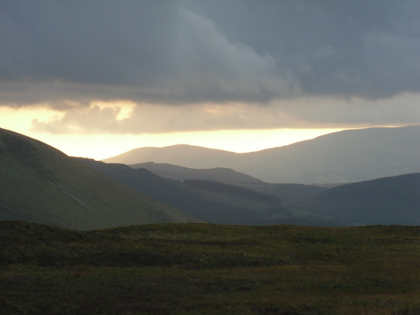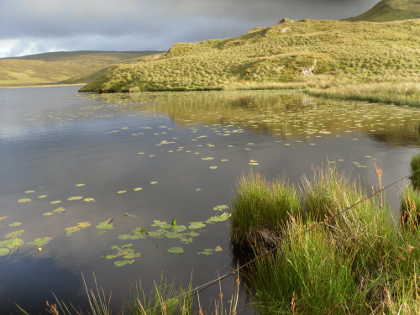 On the 15th, JH from Epsom had a 16.5 inch trout in a bag of 6 from the Ithon at Llandewi. From this point onward trout fishing became really difficult as a proper heat wave by British standards arrived and air temperatures over 30 degrees were recorded for several days in succession. Rising fish were generally few and far between in what were more typical July conditions and generally late evenings provided the best opportunities. Oddly enough, this coincided with a sudden and unexpected flood on the upper Wye which went up to 2 feet 8 inches briefly, due to torrential rain falling locally in north and central Wales. Meanwhile, our more southern valleys remained dry and the Monnow system in particular seemed drought stricken. On the 18th, JV from Cheltenham took 4 trout and 11 grayling with a small nymph from the Lugg at Lyepole. On the same day RW from Canon Pyon avoided swimmers splashing in the Usk at Glan yr Afon and got 19 trout by fishing with a nymph in the fast water at the top of the beat. On the 20th, BP from Pembridge who was fishing after the Royal Welsh Show also had a decent catch from the Edw at Hergest, again by using a nymph through fast water in what had now become really hot weather. Meanwhile AT from Somerset fished the Escley No 4 beat, where the water was very low. Nevertheless, he got 9 trout on his "can't fail" fly. (All right now, AT, you have our attention and we have taken the bait; are you going to tell us what the pattern is?) On the 21st, VR from Llandeilo fished the Usk Reservoir and had some complaints to make about the condition of the bank and the access road. AT from Somerset was out again and took a tumble into deep water while fishing the Dore at Chanstone, but not before taking 7 trout to 12 inches. On the same day, Dave Collins from West Herefordshire fished the upper Wye at Ty Newydd and took 23 grayling and 4 trout with dries, smaller fish predominating. He thought to measure the water temperature which had now reached 18 degrees. On the next day, DM and SW from Hereford fished upstream at Craig Llyn and got 44 grayling and 11 trout, fishing dries on light tackle. On the 24th, LK from Surrey got 8 grayling and 3 trout from Ty Newydd making long casts with a Grayling Steel Blue. Also on the 24th, Dave Collins and Glyn Williams from West Herefordshire and Little Comberton were out again at Abernant and with some difficulty got 10 grayling and 10 trout. Two of our more experienced anglers reported they were struggling on this day, with the river level at 10 inches and the water temperature at 17 degrees.
On the 28th, JA from Leominster enjoyed himself spinning for rainbows and perch at the Usk reservoir. Just as an example of how good the coarse fishing can be in these warmer conditions, on the 27th SF from E Grinstead reported 50 small barbel and 25 chub while trotting down the Wyebank run on the lower river with a centre pin reel. A couple of days later, my son with myself as gillie avoided the canoes by spending an early morning and then a late evening wading and fishing a salmon fly down this lovely piece of fast water. The sunset was wonderful as the rippled surface darkened, but no cigar in our case. On the 29th, DE from Newbridge while fishing the Usk at Chainbridge encountered three men spinning the beat "who obviously hadn't paid." I think it bears repeating that if poachers are encountered you should call the NRW on 0800 807060, and you should make that call immediately, whether you know their car number or not. A subsequent complaint on the catch return about poachers after everybody has gone home is likely to achieve very little.
On the 30th July NW from Cwmbran and a friend fished the remote Llyn Bugeilyn in Central Wales and had 27 trout, all on dry fly. Their fine day was nearly marred, however, by a farmer in a white Landrover who locked one of the gates on the 4 mile access track behind them. This would have trapped their car for the night in some of Britain's wildest country and it's a very long walk to the nearest occupied settlement. Fortunately they managed to lift the gate off its hinges, but I think some inquiries should be made about that problem. Dave Collins from West Herefordshire was fishing the upper Wye at Doldowlod on the same day and found the going very difficult with no rises at all. However, by resorting to nymphs he caught 8 grayling to 16 inches and 2 trout. Finally, a rather curious report from JD of Warwickshire who was fishing the middle Wye for trout at Whitney Court and took 3 small bream on the fly. Certainly unusual, but not unknown, I think. My son once caught quite a large bream from one of the bays of Weirwood Reservoir in Sussex while fishing a Damsel Nymph from a boat. Needless to say, it was not exactly what we were hoping for!
This month we had some sad news from the Llynfi, a medium-sized tributary which drains Llangorse lake and joins the Wye at Glasbury. This one fished rather well earlier this year with several specimen fish seen and reported, and it was particularly good at mayfly time. According to my information there has been a major fish kill in the region of Pontithiel Bridge and the cause is currently under investigation. Currently the WUF have the Pontithiel and Sirhowy AA beats closed for fishing.
Following discussion in this letter a couple of months ago about CV Hancock, formerly angling correspondent of the Birmingham Post, and of the continuing use of his fly "Hancock's Pet," I received an interesting message from Patrick Boyd Maunsell (PBM of Chipping Norton). Patrick remembers that back in August 1973 he enjoyed sharing a boat over several days with Hancock while fishing the Delphi lakes of County Mayo. Anybody who has read Kingsmill Moore's wonderful A Man May Fish will surely have developed an interest in the limestone country of the far west of Ireland and the Delphi fishery. The difference in ages was considerable, but both anglers in the boat shared a knowledge of the Shropshire and Herefordshire streams of "western brookland" - Onny, Clun, Teme and the rest. Patrick still fishes our border streams, and has also had the pleasure of exploring some of the wilder western lakes and rivers of these islands during the years when the sea trout were still running and nobody had heard of farming salmon. He has made good use of the Pet over the years, citing it as particularly effective in size 12 after dark on the Slaney in Wexford for white (sea) trout, and by day for grilse and white trout on the Glen River in Donegal. While on the subject of CV Hancock (who was also once a chairman of Midland Flyfishers), I am reminded that he had another pattern for salmon and sea trout, named the Dipper, which found its way into Courtney Williams' Dictionary. It would certainly have been used by Hancock on the Dee. Here is the recipe in case anybody is minded to make an experiment:
Hook (for sea trout) 6-9
Tag: Oval silver tinsel
Tail: Golden pheasant tippet
Rib: Oval silver tinsel
Body: Rear half - fiery brown floss followed by fiery brown seal's fur; front half - black seal's fur
Throat: Guinea fowl
Wings: bronze peacock herl under white tipped black turkey
Cheeks (optional): Jungle cock.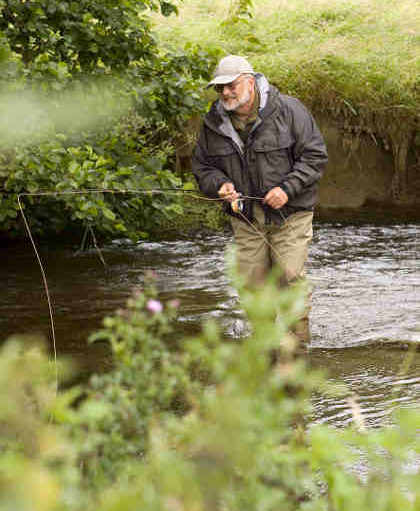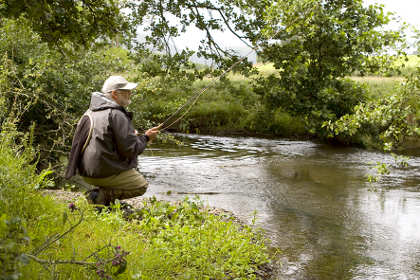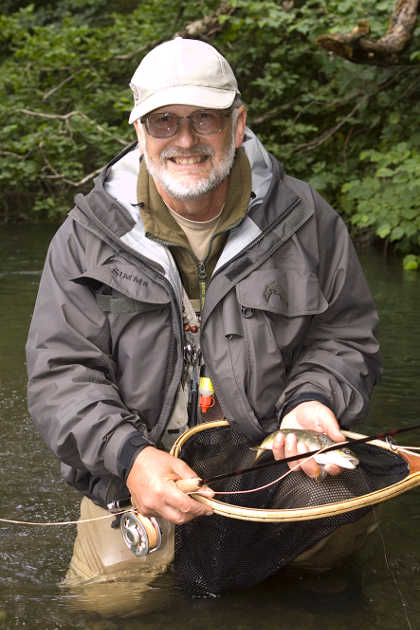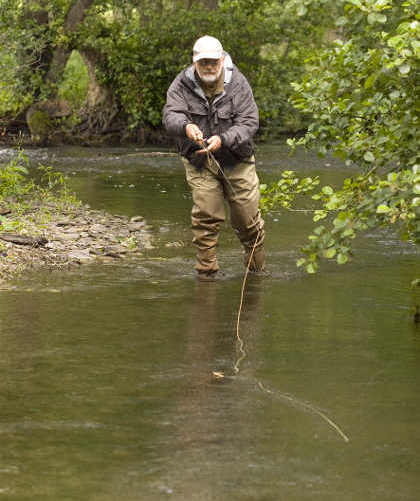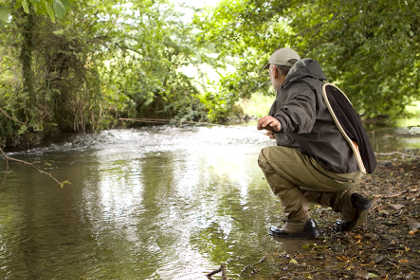 Recently some extra thoughts about fishing on the WUF Wild Streams have come to mind. These are random thoughts, but I offer them for whatever they may be worth. Firstly, there is the matter of rods. Bearing in mind that that the "wild streams" description in most cases means "small brooks," I think I am still convinced that a 7 foot rod is the useful length to have, even on tiny rivulets such as Bideford or Cannop, and I see no need to go any shorter. Now that small stream fishing has become so popular you can certainly buy rods of 6 feet and even 5 feet to go with lines as light as 2 weight, but this seems to me like something of an affectation. Bear in mind that whatever daft fashion anglers engage with, the manufacturers will always come up with products for them to spend their money on. I recently tried out a 6 foot rod for a 2 weight line weighing just one ounce, which sounds wonderfully delicate and subtle - but actually it wasn't and I had great difficulty in delivering the fly accurately or even setting the hook when a fish rose. Consider also that if you buy a 2 weight you are going to have a very limited range of fly lines to choose from. A 3 weight line is quite light enough for me.
Another point is that small stream fly rods are not like ordinary fly rods. By this I mean that very rarely do you have that nominal 30 feet of line outside the tip which theoretically should load the rod. Most of the time you will be working with 10-20 feet of line beyond the rod. In practice, the best small stream rods have a through action and more or less load themselves with the caster practising a continuous switching action. Makers of traditional bamboo fly rods appreciate this and point out that short split cane designs with an intrinsically slow through action can work quite well on small streams. I will concede that point to them, although for myself I'm not so keen to take on the extra weight and pay 800 pounds or more when I can have a lighter and stronger carbon rod for less than a third of the price. But, if you want to pretend you are living in the 1930s, go right ahead!
When you find yourself working in a really tight spot, for example let us imagine looking upstream through a tunnel of bushes laced overhead, there is an easy way to effectively shorten the length of your rod and minimise tangles. This is by casting on the "wrong" side of your body. Let us assume you are a naturally right handed caster. Your instinct will be to approach this tunnel by tucking yourself into the left side (looking upstream) as much as you can, facing upstream of course, and casting sideways with your right hand. Add the effective length of your arm (2 feet plus) to the length of the rod (7 feet) and you will see that the rod tip will be working 9 feet or possibly more beyond your right shoulder. This is likely to be well to the right of the centre line of the stream and probably tangling your leader with the vegetation on the far side.
Another approach, however, is to tuck yourself into the right bank (looking upstream), right into the bushes if you can manage it, continue to face your target upstream, but now hold the rod, still in your right hand, across your chest. Cast as before (from the elbow, not the wrist or shoulder) keep the strokes short and the loops narrow. Some find it easier to do this from the "wrong" side as their own chest acts as a stop to over-long casting strokes. As most of us are around 2 feet wide across the shoulders, this means you have effectively turned a 7 foot rod into a 5 foot rod. The rod tip should now work more in the centre of the narrow channel and the result will be less tangles. Incidentally, this is not "back-handed casting." Keep your grip with the thumb 180 degrees from the front of the rod handle and avoid the temptation to look backwards over your left shoulder when practising casting "wrong side" casting; there is no need for it and you will get better results and tighter loops by facing forward and focussing your eyes on the target patch of water. In general, try to false cast as little as possible - it may occasionally have a value to dry out a soaked dry fly but it's a very good way to scare fish. Also, when casting parallel watch out for a tendency for the fly to rise slightly as it comes to the end of the stroke. Try to avoid your rod tip following a figure of eight path.
I was intrigued to read some while ago that the Rev Eward Powell, the famous early 20th century dry fly angler on the Onny, Clun and various other narrow border streams, spent a lot of his time casting on his "wrong" side in this way. Do try it out and I promise you will find it extremely useful. Of course, on wider rivers and on lakes, it is also a viable alternative to casting with your other, non-master, hand - for example if a strong wind is blowing into your rod side or an awkward bank is in the way. We all know that in practical fishing, these circumstances occur very often. Alternatively, if you want to be able to work with either hand, the way to train your non-master hand to cast is to take a pair of similar rods and try casting them both simultaneously, so that the unskilled hand follows the skilled hand. However, most people are not ambidextrous and most of us find the "wrong shoulder or wrong side" idea described above is easier to pick up.
When I have an absolute beginner wanting to learn casting with the idea of fishing rivers, we start on grass with the basic overhead cast. The next thing is to transfer that cast to the "wrong" shoulder to see how he or she gets on with that. Then both those casts are made, not overhead but sideways parallel with the ground, again on both sides of the body. Generally I recommend that a beginner starts with easier fishing on larger rivers, but I emphasize that if small streams are going to be involed, an overhead cast is a rare luxury; nearly all the casts will have to be made sideways under the trees. The beginner learns at this point that, when casting horizontally off the right side, an over-early release with the line management hand sends the fly off to the right and an over-late release sends it hooking off to the left. And conversely, if casting horizontally off the left side, an early release sends the fly left and a late release sends it right. After looking at these matters, we find some water somewhere and use the surface to practise a roll cast (which doesn't work well on slippery grass without a special practice leader because there is so little friction). A bow and arrow or catapult cast can just occasionally be useful and of course there are many others to learn, along with line mending and other things, but with some understanding of those basic casts, by now it's time to go fishing.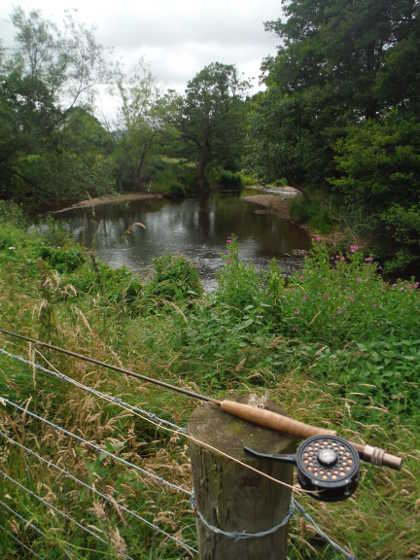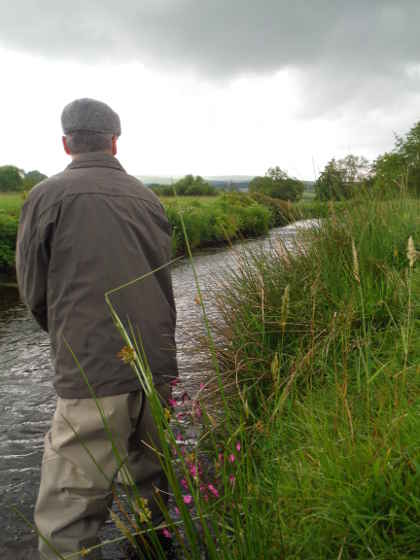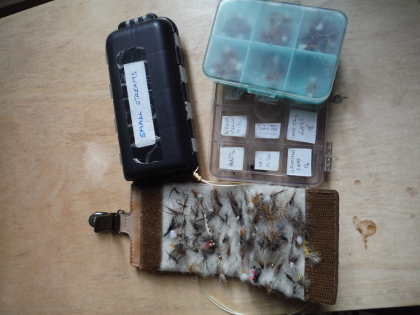 Back to fishing rods. Your 7 footer will probably be your most frequently used tool on the small streams, but there are quite a few places where an 8 footer will be useful. On our main rivers where there is unlimited space I generally use a 9 footer for dry fly (the chalk stream people often opt for an 8ft 6 inch rod) and a 10 foot rod for wet flies and nymphs. There are however, those in between sorts of places, large brooks or small rivers, quite a few of them on the Wild Streams list, where the tree canopy is relatively high and you have a bit of room. I'm thinking perhaps of the main stem of the Monnow around Cloddock, some of the more open Honddu beats, the Upper Irfon, lower Llynfi, parts of the Arrow and Lugg, and one or two others. For several years on streams like these I have been using an 8 foot Greys Streamflex twinned with that little Vivarelli automatic reel loaded with a 4 weight line and the whole light weight outfit is delightful to fish with. It's slightly surprising to record that, given the conditions in which there is room to use an 8 foot rod, there is also room for a long leader, provided of course that it will turn over. I use a short leader of 7 feet with the 7 foot rod, but working in more open space with the 8 footer I have lately been using leaders of up to 14 and 15 feet. Provided that the taper is designed appropriately, these can still deliver the fly quite accurately. This may not suit everybody but the great advantage of a long leader is that it is very helpful in avoiding drag on the fly.
Which brings me to another thought about tapered leaders for dry fly fishing. I have always quite liked the Rio ones, which are generally available in fly shops, but they do have a defect in that over time the thick part of the butt tends to develop kinks during storage on the reel. This can be worse in cold weather and a good stretch of the leader before fishing can help to some extent, but still the tendency remains. You may have a little more trouble in finding them, but the Varivas firm makes some excellent leaders which do not seem to have this memory fault. I prefer their standard tapered leader to the delicate presentation version. Braided loops on the ends of fly lines are useful only when you need versatility, perhaps the facility to attach different kinds of leader. If you know which leader you wish to use, it is much neater to attach the butt section to the fly line permanently with a needle knot (a nail knot makes a good second choice). If your fly line is produced with a clumsy welded loop on the point, cut it off. The great advantage is that if you make a neat joint between fly line and leader butt, you should avoid that horrible fish disturbing "suck" every time you lift off the surface. Recently someone asked me exactly which section he should cut out from a long commercial leader in order to make a 5 foot tapered butt as a base for a short 7 foot leader overall. The general rule is that the thick end of the leader butt should be about 2/3 the diameter of the end of the fly line.
And then there is that slightly vexed matter of fly choice. What follows is more of an admission than anything in the way of helpful information. I am on record as saying that, generally, you don't need a huge range of fly patterns to fish small streams. More often than not, a "little brown job" of a dry fly will get you rises and a Rusty Klinkhammer or an Adams will serve well enough. Note the use of "generally" and "more often than not." At any rate it's unwise to use the words "always" and "never" while discussing anything about fishing; that much I have learned. I was reminded of this last month when one of our regulars, JD from Porthcawl, fished the Lower Crai and reported that he found a Blue Dun rose many more trout than his usual Parachute Adams on that day. This made me smile somewhat ruefully and take a look into the fly boxes which usually travel in my waistcoat pockets when fishing small streams. Altogether I have an awful lot of fly boxes, from the main bulk storage ones which remain at home, to the various ones which travel with me on different kinds of fishing trips. These vary from elegant Wheatley boxes to those cheap but useful little plastic containers you can get from Yorkshire Game Angling. There are made-up boxes with a particular theme - mayfly; spring and early summer on the Monnow; spiders; various boxes of nymphs; historic river patterns for Wye and Usk; autumn grayling patterns; specialist CDC patterns; loch style flies for lakes; and also some huge wooden boxes of rainbow trout patterns intended to sit on the boat seat when I am fishing reservoirs. Then there are the salmon and sea trout fly boxes. The more I think about all these boxes, the more I realise that I have collected too many flies, far more than I actually fish with, and I'm afraid I tend to get them in a proper muddle. Every so often I have a clear-out, beginning by taking all the used flies off the fly patches, holding them briefly with needle nosed pliers in the steam jet of a boiling kettle to restore the fibres and hackles, drying them off and finally rearranging them as best I can in the right fly box compartments. I'm always planning to evolve some kind of fail-me-never system, but any box which goes out with me by the day eventually ends up housing an eclectic mix of patterns, ranging from the ones I definitely think I "must have," to those which have been put in there as "might be worth trying out sometime." This is simply the way things have panned out over the years, despite the best intentions. I have just now looked at the little box marked "small streams," and currently this one is as muddled as the rest of them. In fact it could do with a good sort out again. This is despite or because of the fact that there are lots of compartments, many more than one should strictly need for dealing with a small stream.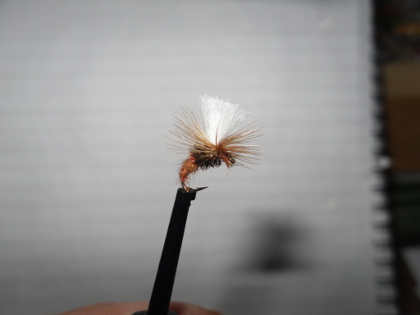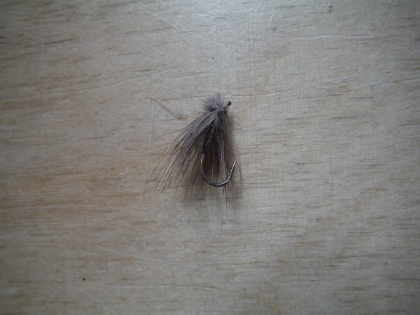 So, to begin with the nymphs, here in the small stream box are simple Gold Bead Hare's Ears in size 14 and 16, which I think are really all you should need for a brook in early spring. But I also have Sawyer's Pheasant Tail Nymphs in different sizes, plus heavy size 14 Tungsten Hare's Ears which are really more use in the main rivers, but carried just in the case of a swirling pot in the stream where it's difficult to reach bottom with anything lighter. A few Pink Shrimps must have been put in with winter grayling in mind. Then there is a large compartment with lots and lots of Rusty Klinkhammers, mainly size 16 but a few in size 14, plus a few with orange wing posts for use in difficult light conditions. That should take care of the dry fly requirement, but in case it doesn't, here is the Deer Hair Emerger in size 14 and 16, the pattern which would usually be my next choice. Also the Hair Wing Sedge, another simple concoction of deer hair and hare's ear, but a very useful one. We have Grey Dusters and Cree Dusters, the last variant having been in favour with me a few years ago. Also some examples of the Gold Ribbed Hare's Ear tied with a pale fawn hackle, a very useful dry fly at times, along with Dirty Dusters and a collection of CDC F-flies which I wouldn't be without. One compartment contains black foam beetles, some of them made with little kicking legs of rubber. Here is an Arrow Fly, invented by Courtney Williams and intended to imitate a green caterpillar; I can't remember how that got in or when it was last used. Something to imitate a dung fly; now whenever did I last use that? And on the fly patch I see that I still have a couple of big mayfly patterns left over from June.
Then there are two other small plastic boxes which live permanently in the trout fishing waist coat. One has even more Klinkhammers, lots of the little rusty coloured ones again, but also some alternatives in olive, grey and black. This box is resorted to quite often. Note that Klinkhammers as I use them are somewhat different from what Hans Van Klinken envisaged when he came up with his relatively large pattern on a long curved hook to imitate arctic sedges in the process of emerging. Mine are compact flies and mostly tied on the size 16 Kamasan B100, which is a small hook, but a "darned good hooker" none the less. The gape is excellent. If I ever buy commercially made Klinks for clients, I find myself opening up the gape with the pliers. The other is the box of very small flies, which is stocked mainly with patterns in size 18 down to 24). "6X tippet with these" is marked as a reminder on the lid in case I get lazy about changing the tippet. There is some logic about the use of this box, based on observation of the surface. If what is seen is small and grey, a little Grey Duster or Griffiths Gnat might be selected. If the natural seen is small and black, a dry Williams' Favourite might be the choice. There are also some American patterns, Trico Midge and Herl Midge, as well as Mike Weaver's Black Midge. Also one of my own, the Storm Fly, a scrap of black and orange which imitates some very small terrestrials. It received its name after doing great execution with rainbow trout on a stormy autumn day while debris was blowing along the surface of our forest pool. It's amazing how a size 20 hook will hold on to a big rainbow if embedded in the gristle of the upper jaw.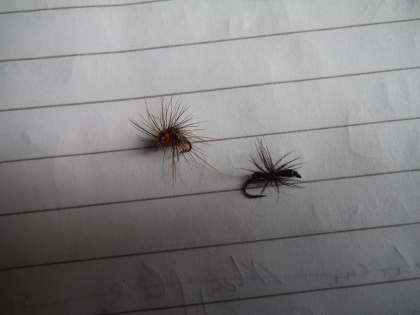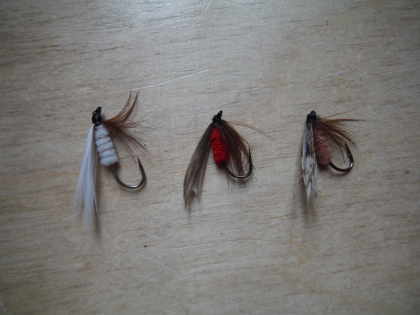 Finally this box of miniatures includes some ant imitations in red and black, and about these I will make a confession. They have never been used, because I have never actually witnessed a major fall of flying ants on the surface of either river or lake. Ants equipped with wings, as I recall from my childhood, used to be quite a common sight, but it seems much less so today. In any case the mating flight from the nest of winged ants occurs just once a year, on a hot day in July or August, and I have always been told that if they come within the range of trout, the fish go mad for them. Some older syndicate members who used to fish our forest lake remembered that a fall of the big red wood ants in particular was a sight to marvel at as the trout rushed to mop them up. I'm still waiting to see it, but in case it does ever occur when I am there, I have the patterns ready for deployment.
We may well have some more difficult fishing to get through before we reach the cooler days of September. Whether the temperatures are warm or cold, by July and onward the trout are beginning to be distinctly interested in sedges, one or other species of which are usually in evidence on or over the surface during every summer evening. I find myself relying heavily on a small Hair Wing Sedge (an Elk Hair Caddis without the body hackle) for much of my main river fishing at this time of year. Sedges like to scuttle on the surface, with surprising speed at times, and accordingly the trout can be attracted by movement, either a twitched or even a dragging fly. This was certainly the case during a couple of recent evening visits to the Monnow and the lower Usk. In both cases the hoped for blue winged olives failed to show up and nothing was rising. However, the usual efforts to achieve dead drift while prospecting with a dry fly seemed redundant when trout rose explosively in an attempt to nail a sedge pattern every time it was allowed to drag. Admittedly, as often as not the fish missed, but it was exciting fishing! Working on the same principle at the end of a summer evening, it might be worth trying a few last casts with a Bustard Fly as darkness falls. Look away now, gentle reader, if you are one of those who might be upset by what can be described as a lure fishing method from the north! I wrote in some detail about this in the newsletter of July 2014. Briefly again, bustards are an old Cumbrian word for sedge or caddis flies, and the idea is that in the dusk you cast over to the far bank a size 8 or 10 traditional winged wet fly which must be intended to imitate a moving sedge or possibly a moth, and then bring it back pretty briskly just through or under the surface until a fish nails it. There are versions of the fly in white, brown, and brown and red. There is also a yellow one, which has never proved very effective for me. The period in which the Bustard works only lasts for half an hour or so, but the results can be spectacular and it might be an antidote for an otherwise difficult evening. I sometimes take along a 6 weight rod made up ready and try this method out as a last hurrah in the fading light before heading for home. It's a muscular kind of fishing, this, and one which works as well on lakes as on rivers. In the case of lakes and rainbow trout, I would suggest a brisk hand-twisting figure of eight retrieve while pointing the rod down the line. As usual, rainbows tend to follow for a while nipping at the tail of the fly, so you get a peck, peck, peck, bang kind of reaction. Wild brown trout usually behave quite differently and make one solid commitment, a smash and grab take, once their mind is made up. For these, I would suggest a series of yard long strips until suddenly everything locks tight - then you know you have got one! It works very well on the reservoir at Talybont, even when the fish have been dour all evening. Oh dear! Frederic Halford must be turning in his grave. I'm off now to wrestle with my conscience.
Tight lines for August!
Oliver Burch www.wyevalleyflyfishing.com
---
June 2016
The first 10 days of June were pretty hot, proper blazing early summer weather in fact, and catches slowed down accordingly. Some of our more canny local anglers started to fish early and late to avoid the heat. The heat wave didn't last for too long, eventually breaking up into cooler days with intermittent showers. These showers, although they were very much localised, became steadily heavier, eventually becoming thunderstorms with real downpours. At first the landscape with its tall summer grasses and trees in full leaf absorbed the extra water, but eventually saturation was reached in places and the different rivers and streams began hopping up and down with dirty flash-floods. Anglers were kept busy looking at webcams and moving between different valleys in an attempt to find fishable water. The month continued cool and wet, conditions which were really quite good from a fishing point of view and despite high water on occasions, there was usually somewhere to be found with reasonable river fishing. Even when, at the end of the month, enough rain arrived to produce a proper flood on most rivers of the region, the Monnow system somehow escaped. Generally, with cloudy skies and temperatures in the mid-teens rather than the mid-twenties, trout fishing continued to be good. On the relevant streams we had another couple of weeks of mayfly fishing, rather more than expected, after which the big white flies became rarer and we were back to fishing with the smaller fly patterns of summer.
It's always difficult to know which of the many reports to highlight, but these ones caught my eye this month. On the 30th May, BP from Pembridge had a dozen trout from the Edw at Hundred House. This upper Wye tributary is fished quite a lot, but it certainly seems to go on producing fish. AS from Newent had 25 trout from Chanstone Court, fishing the fast water with Olive CDC Duns. On the 31st , JT from Macclesfield had a couple of large fish in a bag of 8 from the Usk at Ashford House. The same angler fished the Monnow at Skenfrith on the following day and had a large bag of trout to 15 inches using mayfly patterns. JD from London fished the same water for 10 fish. Meanwhile, MN from Bristol was fishing the Ithon up at Llandewi and had 15 trout to 14 inches. ND from Gloucestershire had a large bag of small fish from the Edw, this time at Hergest.
On the 3rd June AS from Newent had 11 trout to 12 inches from the little Dulas brook, again using Olive Duns. On the 4th , DP from Neath reported 34 trout to 2 pounds from the Taff and Taff Fechan. He was using a Klinkhammer and the duo method. On the same day, HW from Penclawdd had a 16 inch fish in a bag of 8 from the Usk at Cefn Rhosan Fawr, fishing mainly with nymphs. Not far away at Cwmwysg Ganol, BS from Bristol reported yet more illegal canoeing. On the same day, MN from Bristol was fishing the famous Tregaron Angling water of the Teifi and caught 20 trout to 14 inches. I have heard it said (perhaps with tongue in cheek) that this water with its beds of water crowfoot is the nearest thing Wales has to a chalk stream. NG was fishing the Usk at Glan y Cafn and had 12 trout on nymphs. And AS from Newent fished the Honddu at Lower Stanton and had 16 trout from 8-13 inches.
On the 6th June, BW from Fownhope reported a large trout on a size 8 spent mayfly pattern from the Arrow at Mowley Wood, while RG had a 14 inch trout from the junction pool of the Monnow and Escley Brook at Lower Longtown. On the 7th June, GS from Leominster had 19 trout from the Lugg at Litton, mostly with a Parachute Adams. On the 8th, G from Oxford with a friend poured a hopeful libation of beer from the Bridge Inn into the Monnow at Skenfrith, an offering which they believe resulted in 8 trout for them. Now there's a good old Mesopotamian/Greek tradition continued. (As for Tigris carp, they might be interested to know that once or twice I have eaten a steak from one of those, but wouldn't particularly recommend it. Like all carp, it needs a sauce). On the 9th, GS from Leominster reported 20 trout on nymphs from the Arrow at Titley. On the 10th, BS from Bristol had a dozen from Skenfrith on dries, but he was troubled with rain and muddy water later. The Monnow is certainly very prone to colour these days - more on this later. On the 11th, RW from Boughrood got 10 from the Edwat Hergest using an Adams and a Grey Duster. SC from Llandeilo Graban fished the Ithon at Llandewi and got a dozen small fish on Parachute Adams, Greenwells and a Tups. AS from Newent got 10 fish up to 14 inches from the Garren and noted that fish were still rising to mayfly in the upper section above the gutter.
On the 12th, JD from Porthcawl got 9 trout to 12 inches from the Lower Crai tributary of the Usk. He caught the attention of several of us by writing that this was one of the occasions on a small stream where fly pattern really did seem to matter. In this case, a Blue Dun outperformed his accustomed Parachute Adams with which he had fished earlier in the day. The Blue Dun in its various dressings certainly has an honourable record as a pattern and it goes back at least as far as the 17th century and Charles Cotton. Theoretically it imitates dark olives and iron blues, but...who really knows? We can add that to the list of questions when a trout finally grants us an interview. I am on record as being generally happy with one small dry fly pattern on brooks, but I can remember one spring occasion on the Crai where my regular little brown Klinkhammer did me no good at all with a steady olive feeder on a corner. Changing to a Deer Hair Emerger did the trick at once on that occasion. It's also worth remarking that the Crai, a high altitude stream which in the past has been criticised for low water temperatures (it is a tail water drawing from the depths of the reservoir just above) seems to be fishing rather better lately. There is certainly plenty of insect life on the stones. On the 13th, BP from Kingswinford had 15 trout to 10 inches from the Sirhowy AA water of the Llynfi while fishing the duo method. On the following day PW from Nuneaton got 10 from the Breconshire Fishery on the Usk and RW from Portishead fished the Honddu at Maes y Beran to take 14 trout to 11 inches on various dries.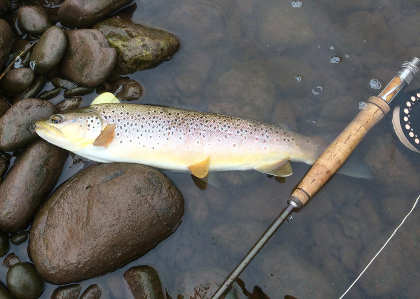 On the 17th, RM from Blaisdon got 15 trout to 10 inches from the Bideford Brook on various dries. (I can vouch for this because he was using my rod and I was standing next to him tying on the flies. We counted ourselves lucky on this day to find a fishable water, given the heavy rain and widespread flooding of various streams by this time). On the 18th, JG from Malvern had a large trout in a bag of 8 from the Usk at Dan y Warren. D from Shropshire fishing the Irfon at Cefnllysgwynne with a friend reported a trout of 2 pounds 13 ounces in a bag of 5. The water was high and they were fishing with spiders. On the same day, AS from Newent had 14 trout and 2 grayling from the Ithon at Llandewi. On the following day, HC from Aberangell and a friend had 18 from Lyn Bugeilyn. On the 22nd June JH from Usk had 16 trout and a grayling from the Monnow at Skenfrith. On the same day and same beat, BS from Bristol had 18 trout and 2 grayling. On the 24th, JJ from Stourbridge with a friend had 17 trout to 2 pounds using nymphs and spiders on the Glanusk Ty Mawr / Canal and Rivers Trust beat of the Usk. On the 25th, AS from Newent had a large bag from the Bideford Brook on a blue winged olive pattern before being driven off by a thunderstorm. HW from Penclawdd had 19 trout from Fenni Fach using the duo method and French leader. On the 26th, Jonathan Evans from Kingston on Thames reported a superb trout (see photograph) in a catch of 4 from the Usk at Dinas. Meanwhile, MN from Bristol reported an unusual catch from the upper Usk at Fenni Fach. He was nymphing with the French leader and while he was making up a catch of 11 found himself at one moment attached to a trout on the point and a Sage rod with Hardy reel entangled in the dropper. (I would surely like to have seen MN's face when that lot broke surface). The tackle is going to be returned to the French angler who lost it last month. On the 25th and 26th Roger Smith and Glynn Williams held a Tenkara day on the upper Wye and it seems a good time was had by all. By the 29th and 30th, flooding had brought most angling to a temporary halt.
The Teme has always been a relatively unknown river to me, although only a few miles north of my regular stamping grounds on the Lugg and Arrow. I took a new view of it this month. The story is that I have always been slightly intrigued by accounts of the Bucknell beat, which has been on the WUF portfolio for a number of years. Reading through the returns, nobody seemed to catch much from it and there were complaints about low flows. But apparently it has been known to produce three pounders on occasions. How could this be? Bucknell was for a long time on my "must have a look at this one sometime" list, but I never quite got round to fishing it. Then, at the beginning of October last year when all our other Usk and Wye system trout fishing had closed, it struck me that the Teme, as a Severn tributary, would be still be open for trout until the 7th of the month. I rang up Seth at the Foundation and he told me that unfortunately the beat was currently closed. He also explained that Bucknell has a particular geological problem, in that the Teme here has a porous bed and that during dry summers the flow can virtually disappear, leaving the fish trapped in a few pools. In the past, the Foundation has closed the beat during extended periods of drought and on occasions the EA have had to carry out a rescue operation, netting fish out and taking them to sections of the river more blessed with water. During the 2015 summer Bucknell had been closed again due to low flows, but Seth volunteered that if I wanted to give it a try during the last days of the season, the Foundation would re-open it.
I went up on a beautiful early autumn afternoon, warm and very still, and liked the place at once. The valley at Bucknell is typical of the quiet southern Shropshire landscape: you pass little villages with country garages, then an old saw mill, take a left turn by a railway crossing before ducking down from the lane onto a dirt track and ending up at the edge of a cricket bat willow plantation through which the mostly very shallow waters of the Teme can be seen glistening. I don't know who makes cricket bats here, but it seems like a suitable rural occupation for this part of the world which jogs along at a pretty slow pace. As it turned out, I never encountered another human being during a day spent in delightful surroundings. I started by walking down to the bottom end of the 1.5 miles of the beat, and eventually left the willow plantation for open sheep pastures through which the stream meandered. Near the bottom of the beat I could just see some cars moving along a road in the distance. The stream certainly was remarkably thin in this section and although there were occasional deep holes with virtually no flow, there was no sign of life at all. Even in the holes, the water was so clear and still that I could see every dead willow leaf on the bottom. Rivers with sections of disappearing water are not exactly unknown. Part of our Blackpool Brook in the Forest of Dean tends to burrow into old mine workings during dry summers and the Mole in Surrey can famously get a bit lost in the section near Fetcham. There are limestone streams in Yugoslavia which disappear into swallow holes on the high moors and reappear miles away and a thousand feet lower. Certainly the shrunken Teme struck me on this day and at this place as little more than the ghost of a river. I walked up while flicking a little dry fly into some of the deep places. In one there was a little dimpling rise from something which I missed. And in another there was very small chub. As it turned out, that was it for the day. After sandwiches at the car I went right up to the top and did no better, although the stream here seemed stronger, faster and more overgrown by trees. Walking back I started a hare bounding across the stubble, a sighting which I normally consider to be a lucky one, although it certainly wasn't lucky in terms of the catch on this occasion. At the end of it all, I reported to Seth that I had enjoyed a lovely day in a beautiful valley with lots of birds and wildlife to look at, but had achieved no success with the fishing. He suggested I should try the beat again in the spring when winter floods would perhaps have restocked the water.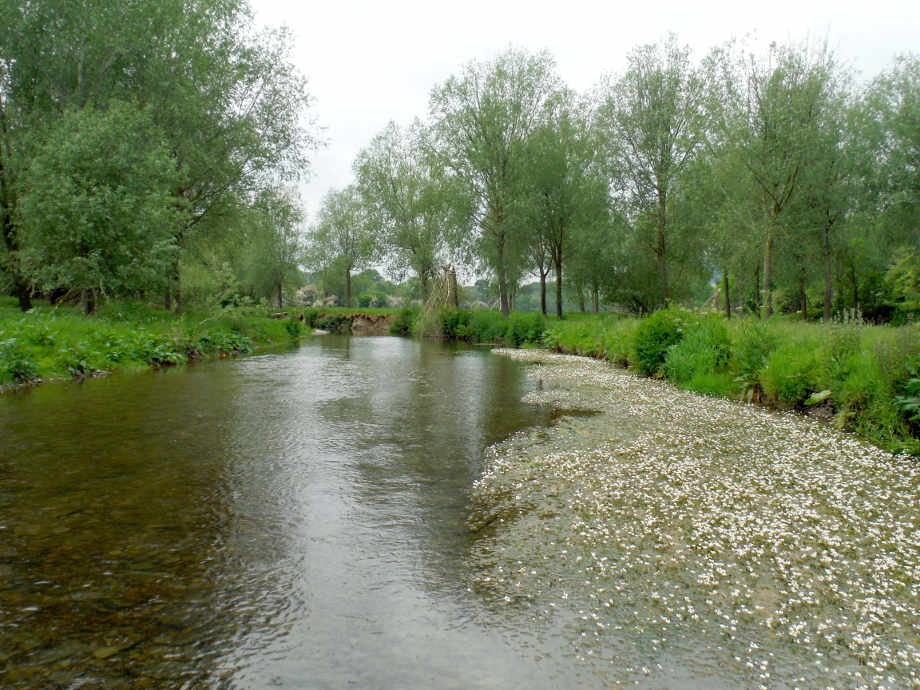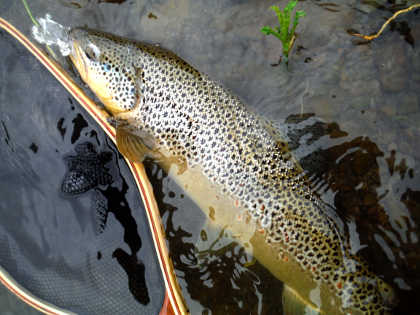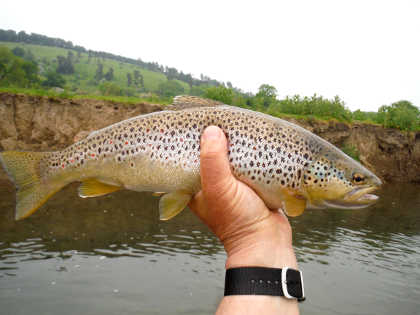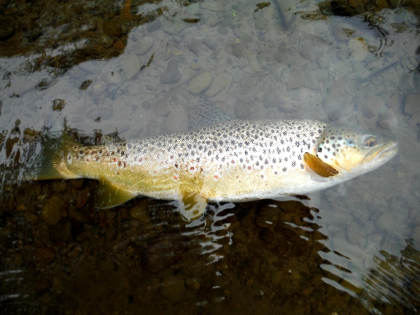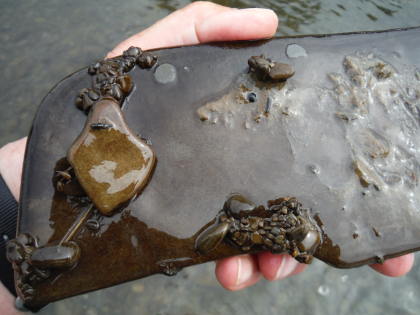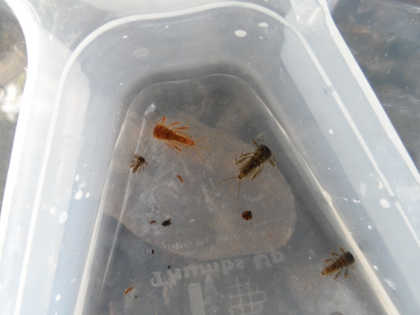 So I forgot all about Bucknell through the winter and it remained more or less out of my mind until I saw a late May report from David Cooksey of Telford that he had just caught half a dozen trout there including an 18 inch fish. Accordingly, about the final sentence I typed into the May newsletter before sending it in to the Foundation was a remark that around now might be a good time to try Bucknell. And then the rather obvious thought came to me: why shouldn't I try Bucknell again myself? After all, it was mayfly time; so now or never. I booked in and a couple of days later drove up to Shropshire to find the little valley looking more or less as I had left it. The day was cloudy but now quite hot. Once more I walked down to the bottom end past grazing sheep and there didn't seem to me to be much more water flowing in the river than there had been the year before. I saw no fish move and I remember thinking to myself that these open sections of streams where sheep have full access to the water at all points never seem to be much good. There was plenty of fly life, however. I turned over a few stones to find them alive with nymphs. I then remembered a bug-hunting session I attended once upstream at Knighton, when we had found equally prolific invertebrate life. By 10 o'clock, I had seen quite a few olive uprights on the wing and some iron blue duns along with black gnats. Early in the day as it was, there was no sign of mayfly though. I had an 8 foot 4 weight rod with me, a shorter tool chosen because of the more restricted overhead space in the woods at the top end. I fished up for some distance, prospecting without result through some gentle rather barren looking runs and walking straight on past long stretches of shallows.
Then, as I approached one of the deep holes, only just big enough to be called a pool, I suddenly saw a nice rise in the tail. And then another. Several fish were clearly there and one of them at least, or so it seemed to me, was quite a decent one. I sent up the Parachute Adams I already had attached to the leader several times without result. What were they feeding on? I tried a little Griffiths Gnat and then an Iron Blue without result. By now I had probably managed to put down the fish which had been feeding in the tail. But something was still rising occasionally in the faster water running into the head of the pool. I trickled my Parachute Iron Blue down the line of foam several times without result. And then I wondered whether a mayfly pattern would work? No mayfly were hatching yet today, but quite possibly the fish had large flies on their minds from previous days. I put on a size 12 Monnow Gosling and as soon as it was shown on the surface something large took it with a thumping splash. By the time the 8 footer had been bent into a hoop for a few seconds I realised I was now attached to a very good trout in an unusually tight space. There were a series of lunges towards the single snag in the tail, parried with some difficulty, and then we seemed to get into a slogging match with the fish constantly boring into the bottom. It all went on for many minutes, the fish plunging down on a fixed line without much sign of tiring while I bit my tongue hoping the tackle would hold. Towards the end, when it did begin to lose some strength, I could see clearly a fat and very handsomely marked fish and I became more afraid than ever that the hook hold might fail. For once all went well, and eventually I netted a quite beautifully conditioned brown trout of 19 inches.
Given the commotion we had caused between us, there was no more to be done with that little pool. But when I had photographed and released the fish with many thanks for its co-operation, checked the fly and the leader, I went on to the next pool above which had a long run into it. Guess what? Here was another fish rising in the run and when I cast the Monnow Gosling up to the place, the fly was taken at once. This was clearly another good fish, but one which caused me somewhat less trouble as it stayed above me fighting the current. There was really nowhere for it to go to cause trouble. This fish turned out to be 16 inches, and equally handsome. After that I carried on up with the same fly, catching a few fish here and there which were of a more normal size for a border stream of this type -from 6 up to 13 inches. The Monnow Gosling continued to work so I kept it on the leader. I stopped for lunch at the car and then well into the hot afternoon, nearing the top end, I saw another good rise in a long deep pool and hooked another very good trout of 17 inches. I finished about 4 o'clock having taken 15 fish and every one of them, large or small, had been in the pink of condition, pristine and unmarked. Given the uncertainty of life in this leaky section of river, I wondered that at times it seems to hold such particularly beautiful trout. Certainly it was a glorious day of mayfly fishing to remember. Oddly enough, later in the same week I was invited to spend another day on the Teme further downstream with the Leintwardine club. The river is much larger there, we were looking by request at close nymphing techniques and the day was even hotter, so perhaps not ideal conditions. However, I saw enough at Leintwardine to convince me again that the Teme can produce some remarkably fine trout. A member there has taken a fish of 5 pounds this season.
For a couple of years now I have been carrying out a monthly sampling of the invertebrates in my local stream, the Bideford Brook which is in the Wild Streams portfolio. The results go towards a national database being assembled by the Riverfly Partnership in association with the EA. This is not too onerous a task, involving a kick-sample survey and net sweep in the same spot every time, the resulting count of different bugs being logged and then emailed in to the central data collectors. As anglers we already know this is as a reasonably healthy little stream, with a good population of small trout living along with salmon parr, bullheads and eels. A couple of miles downstream where the tide from the Severn estuary gets in there are even dabs to be found in sandy parts of the bed.
However, the picture isn't quite perfect. While most of the small catchment area consists of wooded hills with mainly deciduous forest, managed these days by the Forestry Commission on a sound ecological basis, one branch of the stream also drains the valley of Cinderford. This small urban area has a long industrial history, including extensive coal mining, steel production, tin plate works, lime kilns and a brick works. Presumably for that reason, EA sampling of water quality reveals the presence of small quantities of heavy metals which the brook could doubtless do without. Meanwhile I'm finding quite a list of invertebrate species, but I also note that several are missing. Stone fly nymphs, which have very high requirements for water purity, never seem to turn up in the sample. Nor do blue winged olives, although I have seen the adult over the stream on occasions in the past. Mayfly are present in the silty areas, although not in very large numbers. There are usually modest quantities (20 to 30 per sample) of Baetis nymphs and a smaller quantity (10 to 20) of Heptagenid nymphs. Both cased and caseless caddis are always represented, maybe 30 cased and 10 caseless being a typical result. The most prolific invertebrate is always, without exception, the gammarus shrimp, of which the numbers will fluctuate according to season between around 100-250. The large numbers of shrimp would be pretty good trout food, whatever else is present, and the gammarus count is encouraging considering falling numbers elsewhere. However, looking at these results and knowing that other streams have much higher counts of the upwinged flies, I do sometimes wonder why our Forest trout are as free-rising as they usually are. It may well be the effect of the terrestrials which fall onto the water from the bushes and trees which everywhere shade the stream. In fact many of those streams which have impressively high counts of upwinged flies seem to have rather less trout in them than the Forest brooks, which is something of a curiosity.
With that limited experience of bug-hunting as a background, I was interested to read the results of a similar survey carried out on 12 English rivers by Aquascience Consultancy Ltd on behalf of Salmon and Trout Conservation UK. The selected rivers were the following: (chalk streams) Wiltshire Avon, Upper Itchen, Test, Wensum and Lambourn; and (freestone rivers) Axe, Camel, Coquet, Eden, Dove, Ure and Welland.
Certain species such as the gammarus shrimp and blue winged olive were highlighted as obvious and noticeable disappearances from many of these rivers (some might also suggest the iron blue as an insect now very much less common than it was). In general, the news is bleak and the conclusion to be drawn seems to be that while we may have successfully tackled some of the more obvious industrial pollution of the past, we are failing in the area of water abstraction leading to loss of flow and siltation, and also in tackling more subtle agricultural pollution including organic enrichment and nutrient (phosphate) enrichment. The gammarus count alone, for which you would naturally expect to get a high reading in chalk stream environments, makes interesting reading: Upper Avon 2,382, Upper Itchen 144, Test 162, Wensum 205, Lambourn 536, Axe 17, Camel 491, Coquet 21, Eden 79, Dove 63, Ure 2, Welland 4. (These are averaged results). The first figure is not a mistake; no less than an average of 2,382 shrimp were counted in kick samples from the Upper Avon. In fact the Wiltshire Avon is the only chalk stream monitored for which the surveyors were reasonably happy about the overall results. This, they suggest, might be because a large part of the catchment on Salisbury Plain is reserved for military rather than agricultural use. The Cornish Camel has an impressively high gammarus count for a freestone river, but on reflection that too is without much intensive agricultural activity along much of its wooded course. The count of just 2 shrimp on the Ure seems extraordinary despite the presence of other compensating species. Friends have told me recently that Yorkshire grayling fishing is nothing like what it used to be. It would have been interesting, I was thinking, if they had included samples from a restored river such as the Taff.
The whole survey can be downloaded from www.salmon-trout.org. I am afraid that the picture, although complex, is rather a grim one, particularly regarding the chalk streams. The majority of the world's precious chalk stream environments are in England, and the majority of our chalk streams are in the south-east, which is also the area of the greatest population growth and associated pressures on building space and water supply. It is difficult to understand how problems caused by reduced flows and the general lack of water due to more and more boreholes for domestic supply are going to be overcome. Some of the streams which I knew as a boy in Surrey and Hampshire now look to be half the size which they were fifty years ago and I don't suppose this is just because I have become larger! I can remember seeing trout on the fin over golden gravel and white flowered water crowfoot where now there are only silt and rushes.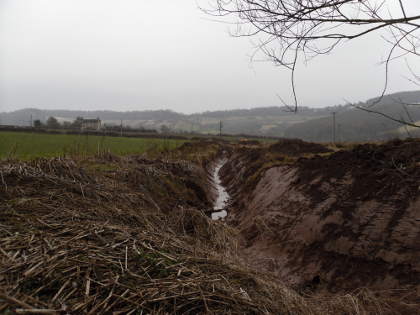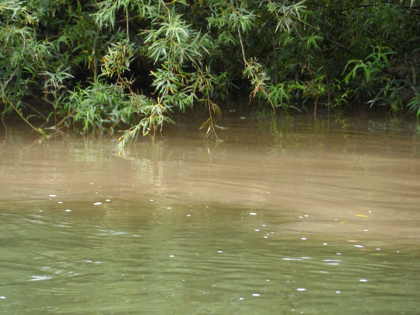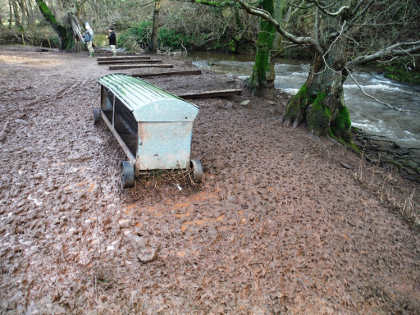 In the case of our own freestone rivers in the border country, the situation may be a little better. We still have our mayfly streams, we still have the blue winged olive on Usk and Monnow, the March brown seems to be back and iron blues are still seen on occasions. However, overall numbers of insects have declined and I suppose we should worry most about the management of agriculture in a way which will afford some better protection to the environment. As things are, sheep farming is much more intensive than it used to be, while many riverside fields have been turned over from pasture to crops like potatoes, with additional requirements for irrigation water and associated problems with drainage. I know this area is a priority of the Foundation whose staff are in constant contact with farmers. Nevertheless we continue to see agricultural practices which seem remarkably thoughtless.
Look at the accompanying photographs of field drains which flood the Monnow with red silt after half an hour of rain, and of feed bins for shee which have been placed right on the very bank of the Honddu (upper Monnow tributary), resulting in a complete mess in winter when the animals have trodden the pasture into mud, all of it running straight into the river.
A recent salmon fishing day with a client at Goodrich Court was rather spoiled by a dense algal bloom caused by hot sun and nutrients in the water which had turned the lower Wye a thick brown colour. Odd salmon moved here and there, but seemingly they weren't much in the mood to take. This wasn't the end of the world; Goodrich in low water is a good place to cast and try out tackle and the main point of this day was practice for the client's trip to Iceland later in the month (where he had a great success I learned later). What is a great pleasure now when fishing this beat is the result of all the strimming, step-building and general access work undertaken by recently appointed resident gillie Mick Sutton. In its unreconstructed and overgrown state, the upper part of the beat could be quite hard work in terms of pushing through the nettles and finding (sliding?) your way down the bank, but life is certainly much easier now. Mick has a very long knowledge of this fishery, the kind of knowledge which at one time we feared might be lost, and time with him would be well spent. He can be contacted on 07968 650893.
I was very sorry to hear of the death of Stuart Jarvis last month. Stuart was known to many as the long-term gillie at Glanusk Park before his retirement a few years ago. In another life Stuart had once been a military policeman, a background which might well have helped him when seeing poachers off (he could be quite magisterial when he needed to be), but fishing for trout and salmon in the Usk were his lifelong fascinations. He used to look after the shooting at Glanusk also and once told me that he believed a professional keeper should be able to construct flies using entirely locally sourced materials. Thus he devised a couple of wet fly patterns using Welsh grouse hackles from the Black Mountains and silver and gold bodies respectively, the bodies being taken from Christmas tree decorations (which were local to him or his family!) A couple of times in this newsletter I have featured his Bastard Adams pattern as an effective large dark olive imitation for the spring. His fly box was always well worth looking into and included beautifully tied examples of classics like the Usk Naylor. He was also a great fan of the Waterhen Bloa spider. "An angler from Yorkshire first showed it to me; I tried it out, it worked and I've never looked back." I'm reminded now that the first time I met him I was fishing at Glanusk using a team of wets with a Brecon Cob on the point. It was September and Stuart smiled to see my choice. "The Brecon Cob is actually a March brown imitation," he said. "So it's an odd one to choose for this month. But if you have had seven fish with it, you can't be completely wrong can you?" Stuart was far too old and wise an angler to make absolute decrees about what others should and shouldn't do. He did think my leader was a bit long. But then he pointed out a rising fish he had seen over my shoulder while we were talking, told me exactly where to cast and we got it. Stuart always had an eye for a moving fish.
Another meeting at Glanusk came on opening day, March 3rd. There was a very cold wind that day and the Black Mountains above were white with snow. Stuart turned up with his dog after lunch and was very disappointed to hear that I had done no good at all. "Let's find you somewhere more sheltered," he said and took me on a drive down to the lower end of the beat in the woods where he pointed out a hole under a stump on the opposite bank. "It's about 9 foot deep in there," he said. "It's a bit of a long cast, but if you can get your flies under the stump, you might have a chance of a good one. Be ready for a hard pull though." I should have paid more attention, because when I finally managed to deliver my flies to the spot there came a very hard pull which took me by surprise, the fish came off and I got my hook back opened right up at the gape. Stuart looked slightly disgusted, but he said not a word. He stayed with me though, and helped me catch a couple of small trout further upstream, after which, honour being satisfied, he and his spaniel went home for their tea. I hung around though, younger and perhaps keener in those days, and before darkness came on I saw a rise under that same stump. I essayed a few more casts, got another take and this time the trout stayed on although it jumped all over the river. It was a most beautifully marked Usk two pounder and (as I told him via the catch return) I reckoned Stuart had caught that fish rather than I.
As a salmon angler, Stuart believed in relatively small flies for the later part of the season and he tended to pick little size 14 and 16 Dee Specials out of my fly box. He also encouraged me to fish a dropper for salmon, tied into the leader just 20 inches up from the point. "It looks like one thing chasing another thing, and I reckon they find that interesting. And don't worry about the tail fly snagging if you hook a salmon on the dropper, because it will just wrap round the salmon's body while you are playing it." Stuart also had an impressive general knowledge of natural history which he rather assumed his guests would share. I remember standing with another salmon rod while Stuart instructed us how to fish a certain pool. "You start with the fly rod opposite the hornbeam on the far bank and fish the top part all the way down. When you get to the wych-elm, you change over to the spinning rod and do the slower part." The other rod and I exchanged baffled glances behind his back. Clearly neither of us knew what a wych-elm looked like (we weren't too sure about a hornbeam for that matter), but we were both too embarrassed to ask.
Stuart seemed to fish just as much as ever after his retirement and age was something he more or less disregarded. I used to bump into him on the Breconshire Fishery and also at Dinas and Abercynrig where he had a rod. We shared the last beat one very difficult day in early March and agreed that during the morning he would go up while I went down. We met at the parking place at lunch-time, neither of us having touched a thing. But the sun was out, so Stuart got a couple of folding chairs out of his truck and we sat down to eat our sandwiches. As usual we chatted quietly about this and that, river talk apart from the fishing. Gillies learn a lot about human nature, although Stuart was no gossip. Stuart had just lit his pipe when he suddenly sat up. "I definitely saw a rise down there," he said, looking down at the glittering surface just below the Cynrig junction. He was over the stile in an instant with his rod and swung a nymph over the spot. First try he had a tweak from the fish and on the second attempt it was on solidly. There was a quiet buzz from the old Model Perfect reel he was using. It was always interesting to watch Stuart play a good trout. He would manoeuvre it into a position where it was working hard against the current and then stand like a statue with the rod canted over sideways while the fish tired itself out. Swinging it into the net was almost like an afterthought, a procedure without drama. This was a fine looking hen fish of about 1.75 pounds, which probably hadn't spawned. It turned out to be the only fish of the day. When it was released we went back to the chairs and Stuart's pipe was still alight.
The last time I saw Stuart was in a photograph. Last October before the season ended, Brian Skinner brought him over to the Wye at Pwll y Faedda and they got a late salmon out of Isaacson's pool. In the picture, the pair of them look as pleased as punch with a coloured autumn fish just going back into the water. Stuart will be much missed; condolences to his family.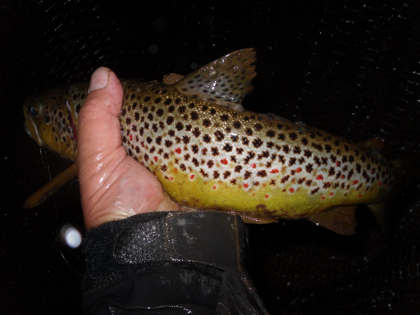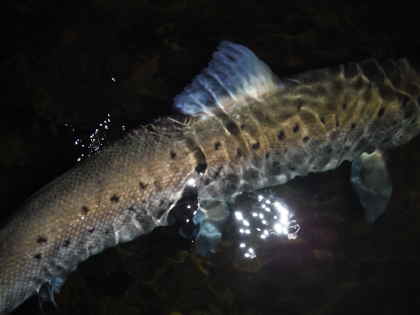 What to do in July? Well, certainly carry on fishing the wild (small) streams which have been producing very good results so far. We have so many in the Passport now I don't think I will ever get round them all, and we are all more than interested in your experiences - do please file a catch return after fishing! It's also a good time of year to try out some of the high mountain lakes and plan a visit to somewhere like Bugeilyn or Teifi Pools. Talybont Reservoir has been fishing well during late evenings, and I heard the other day that a call to the Glanusk Estate office on 01 873 810414 may get you a ticket to fish Grwyne Fawr reservoir which lies at 1,800 feet in the Black Mountains. However, be prepared for a long hike up there. If you ever thought to try sewin fishing, now is the time for it. I know the whole logistics of fishing by night is a bit difficult to arrange (not to mention anti-social from your family's point of view) if you don't actually live near a sea trout river. However, fly fishing for sewin is quite a thrill and a distinctly addictive version of the sport. Be careful about the last point. A few years ago a Welsh friend warned me: "Don't get into that. Before you know it your family will have left you and you will be living on benefits in a caravan on the bank. Seriously, I know people like that!" By the way if you are one of those (like me) who read the Falkus book with furrowed brow every year when sea trout fishing starts, don't pay too much attention to the great man's insistence that you must fish right the way through the night until "extra time" at dawn. I try to do it once a year, mainly to convince myself I'm not as old as I often feel, but Chris Newton in A Life on the Edge informed us that Falkus himself didn't do it much beyond his thirties. You will find most of the locals concentrate on the early part of the night, but visit regularly. In general, one of the advantages of fishing for migratory fish at this time of year is that if the river is low it will be just right for night fly fishing for sewin, but if the level is high, you have a chance of a salmon by day.
Otherwise, our main rivers will probably be best fished for trout early and late. We have already had some good blue winged olive evenings on the Usk, and the hatches and falls should continue for a quite a while. The BWO is a fascinating and sometimes quite frustrating insect, for several reasons. One is the variation in the body colour of the dun, which can run from (Richard Walker's description) a "ripe greengage" through brown-olive to something like orange. Another is that while duns are likely to be about during the day, there may be duns and spinners present at the same time during the evening. Thus you might see a trout taking regularly with a characteristic swirl, while one a few yards up, maybe even the same fish on a different occasion, takes with a gentle sip - the targets on the surface being respectively lively duns just about to fly off and dying spinners. When fishing spiders, the useful wet fly is generally considered to be Little Dark Watchet, the elements of which combine orange, purple and grey in a fair imitation of something plum-coloured. I often find it pays to tweak several of these in a quite lively way across the current. This may, or so I like to think, imitate the behaviour of the blue winged olive nymph on its way to the surface. The classic dry imitation for the dun is Skues' Orange Quill and for the spinner, Lunn's Sherry Spinner, but nearly all the fly-designing pundits have come up with imitations of their own. I often use a BWO Comparadun or Rusty Spinner, but it's also often the case that a Tups Indispensable can work well enough. I believe this is due to the amber/pink body of the Tups often being about right as an imitation for the BWO. The Parachute version of the Tups with a horizontal pale blue dun hackle and longish tail of the same colour can also be taken for the spinner.
Tight lines to everybody for July.
Oliver Burch www.wyevalleyflyfishing.com
---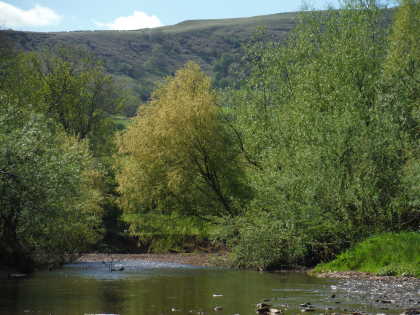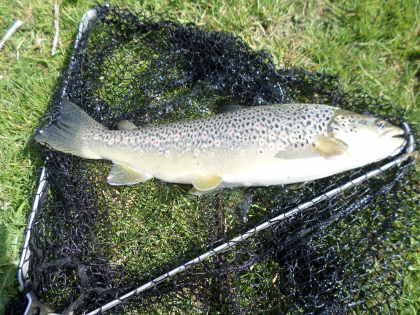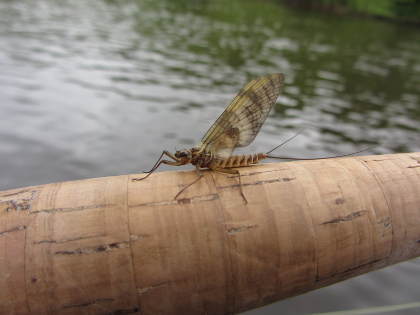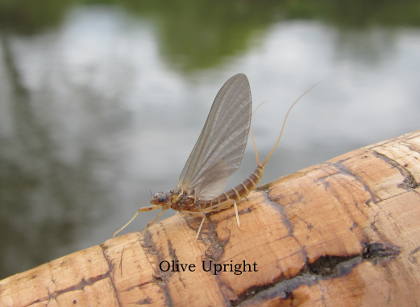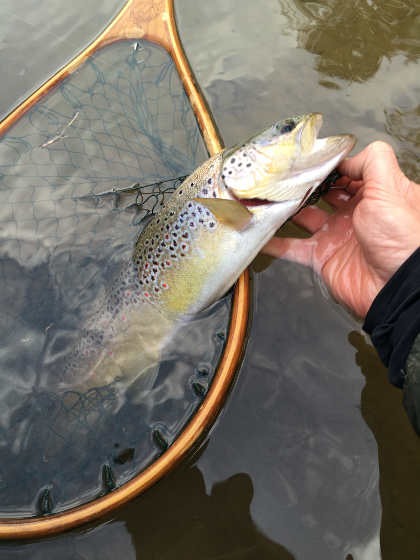 May 2016
May certainly should be one of the great angling months and May this year did not let us down. We had a cold start with the water temperatures lower than some of us would have liked, but then some proper spring weather of mixed sunshine and showers followed and all our river valleys, even the upper ones, finally decided that winter had gone and turned a glorious green. The showers produced three short-lived freshets, around the 11th , 21st and 28th May, which very briefly produced high and muddy water on both the Wye and Usk. These mini-floods certainly will have pleased the salmon anglers, who in any case were enjoying the best May salmon run on the Wye for many years. There is much cause for celebration there. The trout anglers were put out of action by the muddy water for a day or so each time, but the rivers will have benefited from being flushed through. As soon as the levels dropped, the trout carried on feeding hard and the ones I netted for myself and others now seemed to be as fat as butter, no doubt full of flies and nymphs, and very different from the slim fish we were seeing in March. By this time the smaller streams had also woken up to provide some superb sport to equal that on the main Wye and Usk.
I saw most of the anticipated insects during the past month, including a fall of hawthorns on the lower Wye which the chub were enjoying. The olive upright, such an important fly for the late spring and early summer angler, appeared as expected in most places. I was out with a client on the upper Wye when we came across the diminutive iron blue duns, which on that day trout were dining on in fast water and in preference to everything else on or just under the surface. My guest picked up a couple of fish with a Snipe and Purple spider, which did not surprise me. I also had a couple of days of "small things" when little midge patterns were needed for the trout on smooth pool tails and a size 18 Griffiths Gnat worked best. Yellow mays, in small numbers so far, were usually around here and there. Danica, the true mayfly, both the big green drake females and smaller grey drake males, began to be reported from the beginning of the month, but really got going by about the 20th . Some of us then had some really nice mayfly fishing on the Monnow and some of the other Wye tributaries. Towards the end of the month we also began to see some of the early sedge varieties and the little pale wateries put in the first of their two main annual appearances. Large brook duns were reported on a number of occasions. Incidentally the large brook dun is an impressive looking fly which is quite often encountered during May and is also very often confused by people with the March Brown. With a glass, at least, it's plain enough for the specialist to see the defining differences, which include the pattern of veining on the fore wings and the presence or absence of brown flecks on the thighs. But for most of us it suffices to know that large brook duns can be found in smaller streams where March browns, generally, are not, and also that the large brook dun has a distinct yellowish tinge to it. In any case, you are quite unlikely to see a March brown on the wing as late as May. The trout, by the way, don't care either way and take both species with relish, so you can tie on a March brown artificial pattern and fish for them with confidence.
Our rivers seem to have been appropriately busy with both local and visiting fishermen during May and some fine wild trout were caught. At the same time, looking through the reports and especially reading a few of the comments, it did strike me that some of our anglers have rather high expectations of beats which in the majority of cases rely on wild fish and are not stocked. My own view is that, whatever we might wish for, every single fishing day can't be a red letter day in terms of the bag; nevertheless let's enjoy it for what we can get out of it, which is a great deal. You might have had a great day on some particular beat with a dozen or more good fish; it doesn't follow that a subsequent day with a catch of half a dozen or a brace is a disaster. Conditions are changing all the time and you can't keep taking the same pitcher to the same well and getting the same result! I may be muddling my metaphors there, but I'm sure you understand. Fishing pressure has its effect sooner or later. And thankfully there are so many more beats to explore.
Let's start with some late April reports which didn't make the last newsletter. On the 28th CH from Devon had 10 trout from Cefnllysgwynne on the Irfon, a beat which usually does not feature so much in spring reports. Despite cold winds, PCR and a friend had 20 trout between 13 and 16 inches from the Usk at Fenni Fach during hatches of large dark olives. MN from Bristol and a friend had an 18 inch trout in a bag of a dozen from Glan y Cafn, lower down the river and saw an otter at Fenni Fach next day. On the 29th , RA from Holme Lacey had 8 trout on a nymph from the little Dore at Chanstone Court. BD from Swansea and a friend had a dozen from the Usk Reservoir during a morning snow storm. Back to the River Usk and on the 30th , JJ from Stourbridge and a friend were pleased with a 2 pounder in a bag of 9 fish from Ashford House - "...a great day." On the same beat and same day, PCR and a friend had a bag of 15 trout to 15 inches - "...a disappointing day." Further upstream, DP from the Barbican seemed to have double-booked Dinas and reported a poacher on the beat. There isn't a house rod here and there does seem to be something of a poaching problem in the Brecon area so please remain watchful. It's perfectly acceptable to show your own fishing ticket and ask a stranger to see his. Meanwhile, regular angler AS from Newent reported seeing a true mayfly on the Llynfi at Pontithiel. 30th April for the mayfly does seem very early indeed - I would normally make a rough prediction of the last week or 10 days in May and first two weeks in June, followed by a few individuals showing up through the rest of the summer, although the trend has recently been towards earlier hatches. A much rarer creature to look out for perhaps is Potamanthus luteus or the yellow mayfly, not to be confused with Heptagenia sulphurea, the relatively common yellow may dun which we will see on through the summer. Potamanthus is specifically associated with the Wye and I believe I have seen it on occasions, although not lately. It is, as the name implies, yellower and also rather smaller than the regular mayfly, Ephemera Danica, and it hatches May to September. It would be interesting to know if it is still with us.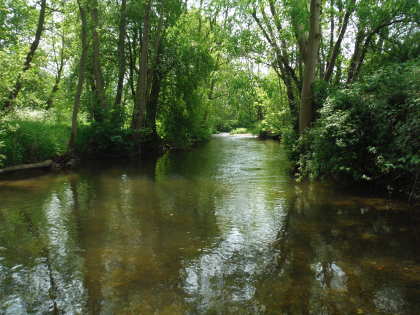 On into May. On the 1st , DR from Stoke on Trent with a friend got just 4 trout from Craig Llyn on the upper Wye, although a 2 pounder was included. JJ from Stourbridge had a 2.5 pound fish in a bag of 11 from the Usk at Dinas. AM from Scotland had 20 trout from the Wye at Gromain and also reported a rare Wye sea trout of 1.5 pounds. On the 3rd AS from Newent recorded disappointment with a bag of 7 trout from 12-16 inches on nymphs from the new Llynfi - Sirhowy AA water "....nice piece of water, sadly today never produced the goods." Also reporting on the 3rd, JT from High Wycombe gave a quite delightful description of the Monnow at Skenfrith, where his grandfather once had a rod and where he was taught to fish. I did appreciate reading this one. I am not sure JT caught anything on this occasion, but he certainly enjoyed himself on one of our prettiest beats. He recommended a Tups Indispensable, which is not bad advice at all. On the 5th , AS from Newent had 11 fish of 11-13 inches from the Arrow at Whittern and MG from Bristol had a dozen to 12 inches from the Monnow at Lower Longtown. On the 6th , FB from London with a friend had a large trout in a bag of 6 from Abercynrig (other fish reported in the same catch were measured at 18, 16 and 15 inches). On the same day SM from Hereford had 14 trout to 15 inches fishing with nymphs in fast water at the Rectory beat of the upper Wye. On the 7th , FB from London with his companion had a remarkable 20 inch fish in a bag of 7 taken with the dry fly from the Usk at Cwmwysg Ganol. On the same day, NW from Cwmbran together with 2 friends apparently managed to get a 2WD safely down the track to Llyn Bugeilyn and enjoyed catching 29 brown trout, mostly on dry flies. It was raining of course - in my experience that is pretty much normal up there in the clouds! AS from Newent had 16 trout from the Llynfi Dulas brook on nymphs. On the 8th , AD from Nottingham had an 18 inch trout in a bag of 5 from the Usk at Glan y Cafn. On the same day, PK from Marlborough had a disturbing experience on the Irfon at Llanfechan, where he saw a suspicious character wearing gloves and a respirator apparently trying to introduce some substance to the water. The man beat a retreat as PK approached. I can think of no explanation other than the obvious sinister one for this sighting. This is a remote area with, I'm sorry to note, something of a reputation for poaching although this usually takes the form of clicking red salmon off the spawning redds in the depths of winter and boasting about it in the pub afterwards. Without going into details about the illegal use of lime and other chemical methods to kill or stun fish in a pool, this is worrying news - NRW have been informed.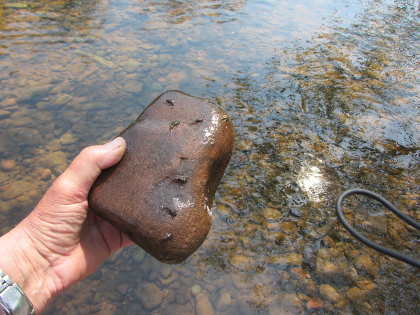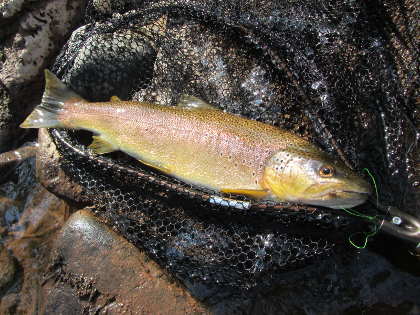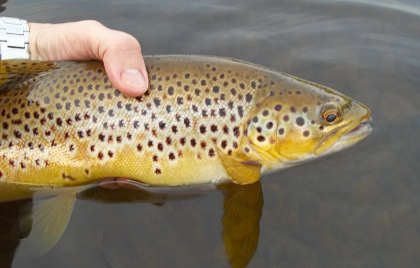 On the 12th , DA from Southampton had 8 trout on dries from the Usk at Ashford House and saw a dog otter. MN took 15 trout to 18 inches from Glan yr Afon using a nymph and French leader. On the 13th , NH from Worcester had a dozen from the Arrow at Hergest Court and I note that he was successfully using a mayfly imitation. This is a lovely spring beat and mayfly were being reported from several parts of the Arrow by this time. Meanwhile SC from Blagdon had a large trout from the Teme at Bucknell and noted that other fish were rising at the lower end of the beat. I read this report with interest. It seems that this very beautiful beat suffers with low flows during a dry summer so that eventually most fish abandon it (or the EA mount a rescue operation), yet it becomes naturally restocked during the floods of winter. Also on the 13th , Dave Collins from West Herefordshire had a great day on the Usk at Penpont, catching 18 fish to 18 inches on dry fly. He mainly took advantage of a large hatch of olive uprights during his session, but noted that some may fly were showing there also. After turning over a few stones, he remarked also on the very healthy number of nymphs present on this fishery - see photographs.
Another report from the 13th came from CD of Cardiff who had a wonderful evening on Talybont reservoir, catching 7 trout to 2.5 pounds and commented "...possibly the best still water fishing for wild trout in Wales." That comment was great to read, but could I put in a personal plea at this point? Currently the water company owners of Talybont offer the same type of catch and kill ticket as for their other reservoirs, which are of course stocked with rainbows. This doesn't seem appropriate for Talybont, which today relies on natural spawning to keep up the stock of wild trout. At the same time, the spawning gravels in the feeder stream are rather limited. A catch and release rule would seem more sensible in these circumstances; the subject is due to be discussed between the WUF and the water company for day tickets, but would anglers in the meanwhile show restraint rather than reach for the priest? On the 14th , AS from Newent had a big catch from the little Olchon brook, a Monnow tributary tucked under the Black Mountains, some of them taken with mayfly patterns. On the 15th , BP from Pembridge took 16 small trout from the Edw at Cregrina using various methods. On the 16th , ST from Galway city with a friend had 20 trout from Abercynrig using various dry flies. There seems to have been some confusion about the new boundary lines between Dinas and Abercynrig beats on left and right banks, but the WUF maps issued with the tickets for these beats have them marked correctly - be sure to take the map with you when fishing. On the same day, RW from Canon Pyon had 15 trout from Penpont, mostly with the French leader method, and BP from Pembridge had a dozen with the Tenkara rod from the Arrow at Kington. On the 17th , NB from Wigan expressed his pleasure with a few hours on the Usk at Dan y Warren where he caught 5 trout to 2 pounds. The main thing to remember about Dan Y Warren is that it is not a whole day's fishing, but it's excellent for a few hours or a warm evening on a very pretty tree-shaded pool where the Grwyne Fawr enters the main river. Why not take your significant other and a picnic basket with a bottle of wine?
Also on the 17th , RW from Portishead had 20 trout from the Edw at Hergest on dry flies. On the 19th , JE from Kingston came to the same beat and had 19 trout to 13 inches, also on dry flies. Lower down the Edw valley, JD from Porthcawl had 20 on dries from Aberedw, but also expressed concern that (after he fished) this much-loved wild stream beat was apparently taken off the website. Allyson at the Foundation reassures me that the problem should only be temporary - due to a new gate there is a need to identify different parking arrangements. Similarly, the council currently are undertaking works using the layby parking for Pontithiel on the Llynfi. This will be available again when parking arrangements have been re-organised. On the Usk at Abercynrig, MD from Barry had 10 trout and a larger fish attacked a parr he was playing in. However I rather doubt that he saw rising grayling, which are not present in the Usk. Over on the Honddu, AS from Newent had 10 trout to 14 inches from the Lower Stanton beat. On the following day, JD from Porthcawl had 17 trout to 14 inches fishing the Lower Henllan and Maes y Beran beats with dry flies (this certainly seem to indicate that the Honddu is on good form). Back to the Arrow, where GS from Leominster had 16 from the Kington beat. And EM from Hereford took time out from the WUF conference at Hay and took a dozen trout to 1.5 pounds from the Rectory beat of the upper Wye. On the 21st , JE from Kingston-upon-Thames fished the Edw again, this time at Aberedw, and caught 19. JD from Porthcawl had moved on to the Hergest beat of the same stream, and caught 26 before the stream coloured up with rain. On the same day, NG and JP from Sutton St Nicholas had a good catch of trout on nymphs and dries from Abbeydore Court, fishing also the cleared garden section (which is not included in the regular beat).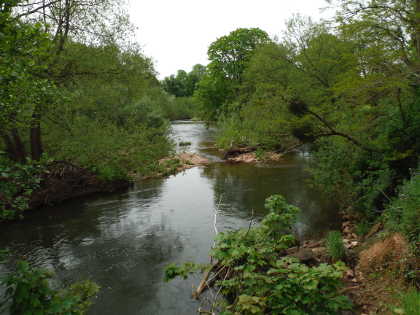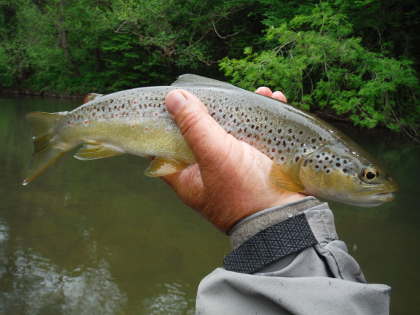 On the 22nd May, NH from Truro fished at Clochfaen at the top of the Wye and got 10 trout, turning over a couple of large ones during the day. BS from Bristol got 20 from Dinas on dry flies. JD from Porthcawl got 13 from the Upper Grwyne Fawr beat after the water level dropped (note that this stream is controlled by a dam at the head of the valley). On the 23rd GS from Leominster had 11 from the little Hindwell Brook using the duo method. CH from Barnt Green had a big catch of trout and a couple of chub on mayfly patterns while fishing the Monnow at Skenfrith. And JA from Lemoninster made the trek up to Llyn Bugeilyn where he got 11 trout on small dries. On the following day, GR from Totnes in Devon fished the Usk at Dinas with a friend for a bag of 18 trout including four fish of 2 pounds. BS from Bristol had 10 fish to 18 inches from Penpont on various dries. CH from Birmingham had 9 including a couple of big ones (not measured) at Ashford House. RW from Portishead had 16 from the Honddu Half Moon water on a Parachute Adams. On the following day, GR and friend from Totnes moved to Ashford house where they had a couple of 2 pound fish in a bag of 14. NH from Truro had 12 to 2.5 pounds from Penpont, while RW from Canon Pyon had 18 from Glan yr Afon. On the same day, AB from Barnt Green took 17 from the Sirhowy AA water of the Llynfi.
On the 26th May NG from Sutton St Nicholas had a large catch from the Arrow at Whittern including 3 fish of a pound each. WD from Warwickshire had 10 from the neighbouring Titley beat. AS from Newent had 15 from the Edw at Hergest before the water coloured. Meanwhile VG from Feltham was on the "maintenance-free" beat of the Dore at Abbeydore Court, where he managed 12 fish to 12 inches on mayfly patterns, flicking bow and arrow casts through the trees. It would be really nice if the owners would arrange some pruning in order to realise the potential of this beat. CH from Birmingham had a fabulous trout of 20 inches in a bag of 8 from the Usk at Glan yr Afon, the memory of which I am sure he will appreciate for a long time. PB from Churchdown with a friend fished the new No 3 beat of the Escley Brook, where they had just 4 trout. However, the measurements were 12", a brace at 14", and a very impressive 16". That is quite a result for a small brook. On the 27th , JR from Aldershot got himself a small salmon (and a wet chase after it) while fishing nymphs with a trout rod at Ty Newydd on the upper Wye. Over on the Ithon, which was running low, AS from Newent had 14 on very small dries from the Tyllwyd section while PT from Kidderminster, who describes himself as a beginner, had 15 on upstream dries from Llandewi further upstream.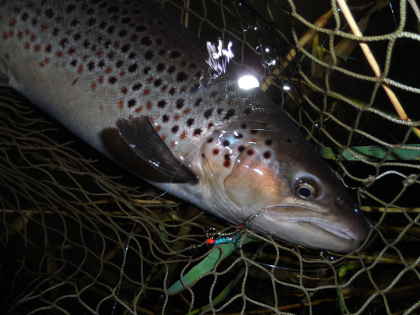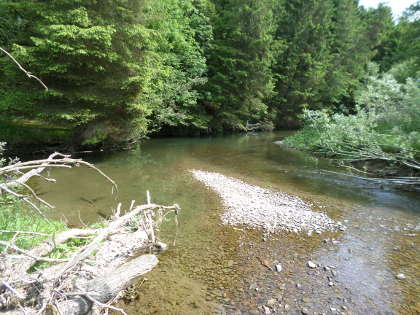 On the 28th May, FB and his friend from London went on to fish the River Loughor where they took some advice from my good friend Lyn Davies, who is the general secretary of the Pontardulais AA. There isn't much Lyn doesn't know about this river as his family have fished it for time out of mind. See his website at www.capturedonline.co.uk. They had 15 small brown trout during the day, and then went on to try after dark for sewin, losing a big one which hit the Surface Lure but catching a 2 pounder on an intermediate line. I felt rather jealous when reading this. We are still fishing the mayfly over here, but the Loughor is already producing sea trout and I haven't even fished it this year! FB's report catches the magic of sudden contact with a sewin in the darkness, which I think is the most exciting experience in fly-fishing. On the 29th , MS from Maidenhead got 9 trout to 14 inches from the Dore at Chanstone Court. On the 30th May we had another canoe trespass incident on the Usk, where BS from Bristol warned a paddler off the Dinas beat. And D from Telford got 6 trout to an impressive 18 inches from the Teme at Bucknell. His account made interesting reading: "...there was so much life in this river." Obviously now is the time to go!
I certainly enjoyed reading through these reports and I think you will agree that that was a most successful month of angling on our waters. With luck and with plenty of flow still in most of our rivers, we should have at least another week or 10 days of mayfly fishing as we go into June. Fishing the mayfly can be tremendously exciting, but it's not always quite as easy as that "duffer's fortnight" description would indicate - fish can become quite sated after a few days of hard feeding on the big white fly. If I had my druthers to choose a good mayfly fishing day, I think I would pick a damp or even wet one, ideally a warm cloudy day with a steady drizzle. Mayfly never seem to mind rain, even heavy rain or thunder storms and the fish certainly are not put off.
After that much depends on the weather, but if we get too much bright sun or even a heat wave later in the month, the hatches and consequently the fishing action are likely to slow down on the main rivers, at least during the day time. Consider fishing early mornings or during the evenings when the full heat of the sun is off the water. The grayling closed season will come to an end on the 15th and I can see the pale patches on the gravel they have made while spawning recently on some of the beats I fish...and I will take care to avoid such places for a while. Nevertheless, whether in season or not, a post-spawning July or August grayling is not usually such an exciting creature to encounter. By September they will come back into condition; until then I would rather avoid them if possible. June is in fact just the time to go fishing on the brooks, the wild streams which are shaded by a canopy of trees. Apart from the mayflies, the olive uprights and perhaps medium olives should be a mainstay for trout fishing for a while - I find a size 14 or 16 Parachute Adams usually serves as a general olive imitation and I still like to fish the standard Adams on occasions. The olive upright is a medium-sized fly with a body best described as brown-olive; the general impression I get from a distance is of a straw-coloured insect. Smaller creatures like gnats and midges can preoccupy trout now, particularly on smooth-gliding water, and at such times I find a size 18 Griffiths Gnat or a greased up Williams Favourite on 6X tippet usually works well. Personally I would carrying on fishing any small dull coloured dry fly - make it an Adams if you like - on the smaller brooks. However, if you like to experiment, by now the terrestrial insects are starting to fall from trees on breezy days and patterns like foam beetles can be equally effective. The very distinctive yellow may will surely be with us on the main rivers as we go through the summer. There is an old tradition on the chalk streams that trout dislike eating this bright yellow insect and therefore anglers may as well ignore it (the northern angler Oliver Edwards in a recent magazine article was castigating the late John Goddard for propagating this idea). Well, on occasions I have seen the yellow may being ignored on our rivers, but I have also watched it being eaten with great enthusiasm by everything from chub to trout and grayling, so I would advise having a small yellow artificial ready in case. I use a Yellow May Sparkle Dun or Comparadun. By the end of the month we should start to see the blue winged olive (which is a whole subject on its own) and various sedge species will become more prominent. A few Hair Wing Sedges in your fly box will earn their keep through the summer.
Here is something to be placed under the heading of "odds and ends," or possibly it should be "reels again." I see that John Norris of Penrith are offering the beautifully made Einarsson Plus trout reels at around half price: 179.99 and 195.99. The same firm will apparently sell you a traditional Hardy Marquis salmon reel for 119.99 or the modern Hardy Fortuna for 324.50, both being very significant reductions. Still on the subject of reels and as I understand that at the Hay Festival they are discussing the evolution of the English language, I found this gem of advertising puff in an advertisement for Hatch, the upmarket American salmon and big game reel. I quote:
"Where the rubber meets the road my friends! If you've been dreaming of a reel that has the look, feel and performance of a Ferrari, then look no further. Capable of running 9-12 weight lines, and your choice of mid or large arbor spools, this reel is one versatile hombre."
Isn't that just marvellous? It warms my heart to think that somewhere in the USA there is still an advertising copy-writer capable of making an assault of that kind on the language of Shakespeare. Meanwhile, Roger Smith who fishes many of our streams has an interesting article in the June edition of Fly Fishing and Fly Tying about his modifications to the duo method - or New Zealand style or "Klink and Dink" as it is often known. This combination of a small nymph under a dry fly is especially worth looking at when you need to get a sub-surface fly into a tight spot, where a team of spiders, for example, can't be manoeuvred.
I'm afraid I spent rather more than a week during this last month stuck in a classroom at the Defence Academy, wondering how one of the best fishing periods of the year was going on outside. A small consolation during these Shrivenham stints is that invariably someone, whether a student officer, directing staff member or visitor, hears about what I do and wants to talk to me about fishing. Now even I, as a scruffy and undisciplined civilian, tend to sort of brace up when button-holed by an Air Vice-Marshall, albeit a retired one. However, what Paul Colley wanted to talk about was not the Chapter 7 peace enforcement exercise which we were supposed to be advising on, but fly fishing and more particular underwater photography. Paul has done some wonderful things in this field, particularly his pictures of blue sharks. He has also constructed some special wide angle lens cameras which work by remote control. Now he is turning to trout and grayling in the chalk streams along with photographs of invertebrates scuttling about in their natural environments - normally, of course, our insect pictures are obtained on the surface or in aquarium or laboratory conditions. Rather reluctantly, we came to the conclusion after discussion that most of our western rivers, the Wye, Usk and tributaries, have rather too much colour in them for much of the time to make Paul's work really practical and thus filtered chalk streams will offer more opportunities for now. I suppose the almost painfully clear waters of the upper Wye during a cold, dry winter might suit, but the life in the river might be hard to track down during low temperatures and low light levels. See Paul's website at www.mpcolley.com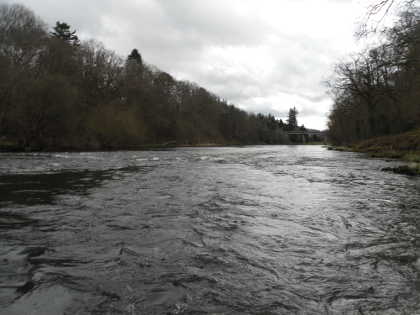 Once home from Shrivenham, I was desperate to go fishing the very next morning. A dry fly day on the Monnow in May would have been just the ticket. But rain fell heavily during the night and the Monnow was first to go up in flood. Instead I decided to try the upper Wye, which had risen about 10 inches, in the hope that one of the resident salmon might have been stirred up by the increased flow. The river was pretty muddy when I got to it, so I opted to spin. And so it was that I found myself later that morning engaged in half an hour's stand-up fight with a large cock salmon in the House Pool at Pwll y Faedda. (What follows is nothing to do with trout and grayling, but bear with me). The fish had been hooked in the fast-running tail, which accelerates into a gutter. Rain was still falling and my wading stance on slippery rocks was not particularly secure; moreover the fish made a good half dozen attempts to leave the pool via the gutter and drop over the rapids into the one below, which is a very difficult trip (at least for an angler of my age) to follow. The downstream runs were countered in the usual way, by slackening right off on the drag so that the fish turned back up with the pull of the line coming from below. Then the drag could be retightened and contact resumed. What I couldn't persuade the fish to do was to move upstream from my own position - I hate salmon "hanging on the rod" in a current, which puts all the strain on the angler and the tackle while the fish rests. Still, eventually I seemed to be winning, the fish was wallowing now in slower, shallower water and it went over onto its side once or twice. At this point I had a very good view of him. I can't think what then tempted me to rush things, but I had my left hand stretched out with the shaft of the 30 inch diameter net, my right hand with the rod held way back behind my head and as the fish's head came to the rim of the net it gave one last angry shake and out popped the single hook Flying C. A second later the salmon had vanished into the murky water.
"Pish!" I remarked to myself, or some such expression. It was not the best of moments. My arms and shoulders were still shaking from the strain of it all. I crawled ashore and went for a coffee at the car and then began to feel better. After all, I thought, what was really lost? The opportunity to measure and photograph the fish was perhaps not so very important. I had enjoyed some excitement and the fish had released itself presumably without coming to much harm. A few words of Saki came to mind which I will now misquote (he was actually writing about a domestic cook):
The salmon was a good salmon,
As salmon go;
And as good salmon go,
He went.
I had a couple more interesting experiences this month. One occurred with a client at Glanusk Park while we were fishing a team of spiders in the fast head of the Solomon's Seat pool. I was demonstrating mending the line when there was a fairly solid take. I set the hook, or thought I did, something seemed to slip and then catch again, after which a quiet couple of seconds were followed by a pretty much inexorable pull downstream. 20 feet went off the reel before it stopped moving. There were a few more seconds, then another 20 feet. I know what this is, I thought. I have a decent trout foul-hooked in the tail; he's headed downstream and starts to drown whenever I hold him, so I am going to have to follow and try to shorten line on him in shallow water somewhere. Something was odd, however, because a foul-hooked trout more often makes one long fiery charge. The sequence of downstream travel followed by a pause continued. I thought I could feel a head shake. All the same, 20 feet at a time, the fish was making better progress than we were as we stumbled across the boulders. More and more line was taken out until the backing came out of the tip ring, the whole line hung in a great curve and suddenly the hook-hold, not very surprisingly, gave way. A moment later, a coloured salmon lunged at the surface down there in the main pool - the first Usk fish I had seen this year above Crickhowell. A few seconds later he showed again with an angry crash. Did he have an irritating pricking in his jaw? I can usually tell what I am attached to, whether I see it or not, but in this case I still can't make my mind up whether we had a foul-hooked trout, or whether a salmon had come to the head of the run, picked up one of the spiders and subsequently backed in stages down to the deeper water of the pool where he felt comfortable.
The other occasion (with a happier ending) was during river floods when I popped down one pleasantly warm evening to our syndicate rainbow trout fishery in the Forest of Dean. I had not fished this pool at all since late February, but this place is a godsend to me when the rivers are unfishable, as is sometimes the case for weeks on end during the winter. Fish were showing at the surface, so I started off with a Chocolate Drop dry fly on the point and a Traffic Light buzzer on the dropper. There was not much interest in the suspended buzzer, but the dry fly was taken very confidently three times in a row, so I was able to play and release three nice spring rainbows. After this, the takes became more hesitant and nervous, so that I missed several fish, and eventually the size 12 sedge imitation was inspected a number of times but only produced swirls beneath the surface. Something had changed, but the odd fish was still showing, very slowly rolling up to take something gently and going down with the tip of the tail just scything the surface.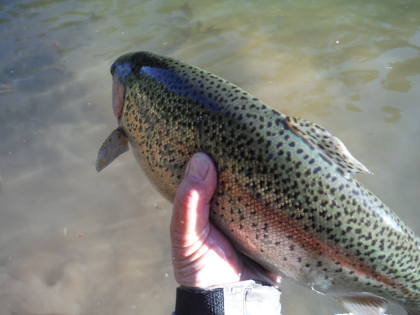 I guessed that emerging midges were the most likely candidate, and so put up a small single dry fly on a long leader. This was Bob Carnhill's Shuttlecock Buzzer with a CDC wing and a body of ginger herl tied on a size 16 Kamasan B100 hook. I suppose it must have been the right choice because this little speck of CDC was out on the surface lying still for only a few seconds before it disappeared in a great swirl. I set the hook and then my jaw dropped as the most tremendous run began towards the head of the lake. This one just didn't stop. Foul-hooked again I was thinking as the whole line went out to the tune of a buzzing reel, the backing knot bumped through the tip ring and the backing itself began to diminish on the spool. I pointed the 6 weight rod down the line to reduce the strain and eventually the run stopped, mainly because the fish had reached the head of the lake. I recovered line for a while, feeding it as evenly onto the spool as I could, before a second run got me well into the backing again. To cut a long story short, I did get the fish back and eventually netted an over-wintered rainbow of about 3 pounds, and it was perfectly fairly hooked in the scissors. The little fine wire hook had stood up to the stress without any problems. I have had a few more experiences like this in the days when I used to fish more regularly for rainbow trout in the spring, a time when these fish are pretty well at their best, packing on the muscle after a few weeks of feeding on midge pupae. At the same time the water is still cool and well oxygenated. A full-finned 3 pounder is a rainbow at the top of its game; the larger ones are almost always slower.
This story is about river trout fishing. It happened one summer day as I was fishing the Bull Hotel water at Fairford on the River Coln. Charmed by the clear waters of the nearest thing we have to a chalk stream in Gloucestershire, I had roamed along the path through flat meadows and past pollarded willows until I saw a good fish rising under the bank on a bend. I took a lot of time to get into position, crouching down in a bed of wild cress below, and very carefully made a throw up to the spot. It was not a bad shot, as it turned out, and for a second I held my breath, fully expecting the fly to disappear. Then suddenly something tawny flashed into my peripheral vision from above and, with a great crash, a golden retriever belly-flopped on top of the fly and presumably on top of the trout...or where the trout would have been if there was any possibility it was still there. I stood up, momentarily speechless, while the dog paddled eagerly round in a circle. The lady owner appeared above and waved gaily. "Good girl" she chortled at the dog who was apparently supposed to be retrieving a ball she had thrown in. Then, apparently to the dog but actually, of course, for my benefit: "I hope the man doesn't think you are spoiling his fishing."
It's on record that Oliver Kite had a similar experience, upon which with great deliberation he raised his hat (which was surely unusual as he did not normally wear one) and said: "My congratulations to you Madam! And have you come far to do this?" I wished I could have come up with something as cutting on this occasion, but I didn't manage it. Have you had a similar angling experience? It seems to happen to me often enough. The fact is that most anglers come into contact with the non-fishing public on at least some of the rivers and lakes we fish and an exasperating business it can be at times. I don't want to be thought a misanthrope and I would rather not be rude to people if I can avoid it, but there are moments when I find myself being driven to sarcasm. The uncontrolled dogs are a special case and there are certain warning signs as the noisy circus - invariably it's noisy - approaches along the bank. The main feature to look out for, apart from dogs off the lead, or even a whole crowd of dogs off the lead, is a continuous one-sided conversation, usually at very high volume, going on between owner and dog (or dogs). I also have owned and loved dogs, but I never yet met one which could understand anything beyond simple English commands like heel, sit, stay etc. However, immediately after Rover (following preliminary barking from the bank) has tried to jump on top of the fish you are netting you will hear: "Oh Rover, no, the man doesn't want to play with you. He is too busy for you". And so the dreary business goes on. Lady owners tend to be the worst offenders, but men do it too. One thing I have noticed is that such owners always put the dog on a lead when entering a road (to protect the dog from traffic) but never when passing other walkers or anglers (to protect the public from the dog).
Another irritating and quite common event is that you are fishing your way up a pool and an owner appears with a dog on the bank above you and promptly throws in a stick to be retrieved from the water. This may happen several times, but when the angler (if he bothers to carry on fishing) draws level, the dog owner will say: "I hope we haven't spoiled your fishing?" Of course they have, and the owner knows it, but there is nothing to be done about it now. Then during furious barking sessions on the bank, while the angler stands at bay trying to protect his rod and gear from an unleashed dog jumping up at him and clawing his waders, some singularly unhelpful explanations might be directed at the human victim, such as "He's upset because you are in his usual place." "Oh really, has he bought a ticket then?" as a response will only produce a look of deep offence. Or possibly you might hear, as I did once: "He thinks your fishing rod is a stick and just wants to play." "It's worth 600 quid so he had better be careful" would probably be met by blank incomprehension. All these have happened to me. What anglers would really like to say (only please don't, because it won't turned out well) is: "I have no interest in Rover's psychology, but if he won't obey commands and stop hassling people, please put him on a lead." I have come to the point of saying that on one occasion and the dog owner concerned, deeply offended, has never spoken to me again. Now my father was a shooting man and a great lover of dogs, having owned a series of labradors and spaniels. But he also taught his children a very simple country code, based on common sense and good manners. You know the sort of thing - don't leave gates open; never point a gun at anybody whether it's loaded or not...and don't ever let your dog make a nuisance of itself to other people or livestock. In the Forest of Dean there was a particular sensitivity to any tendency to chase sheep. Sheep worrying in those days was likely to result in a death sentence for the dog involved.
If by any chance a non-angling dog owner should chance to read this, please don't be offended and understand that we ask very little of you. Only that you put your dog on a lead when passing anglers and do not swim your dog in a river or lake that anglers are fishing in. If you can do those two simple things, all will be well. And anglers, please don't forget to thank for their good sense and courtesy those who call their dogs to heel or put them on the lead when approaching you.
So much for the dog walkers, but there is more. Remarks made and questions posited to anglers by those non-fishing members of the public who pass on footpaths can be extraordinarily exasperating, although I am sure they are not usually intended to be. Take these examples:
"Oh you are fishing. You must have tremendous patience." Non-fishing people always say this although I am sure they mean well. I am tempted to reply, quite truthfully: "Patience? Not really. I find myself biting my nails with excitement." But I try to restrain myself.
"Fishing?" If you as a non-angler see somebody busy with rod and line, I think you could skip this question as a conversation opener. It will only make the angler assume the rest of the exchange will be equally moronic. "What are you fishing for?" would be a better start and might lead to something interesting.
"Any luck?" For heaven's sake, why do people come up with this one? This is a question for a roulette player or a lottery ticket buyer. There may be an element of chance in what we do, but you might credit anglers with having some skills they are at least trying to apply. I notice that people who go shooting are not normally asked if they had luck, but whether they had a good day. Do you think passers-by asked Van Gogh while busy in the French countryside with his easel if he was having any luck with the picture he was painting? (Or did they perhaps lean over his shoulder and remark: "It's not really working out, is it?" Probably they did; no wonder the poor fellow got in such a state). Instead of the luck question, why not just ask what the angler has caught today and how are the conditions?
"No luck then?" The negative assumption as a question is even worse. Is this in fact a statement or a question? And is there a grammatical description for these three annoying words? Possibly it should be Interrogative with Negative Assumption? It throws the angler on the back foot and he immediately has to go on the defensive with his reply, unless of course he really has caught nothing. But you sound like an arrogant idiot if you reply: "Actually I have just returned my eleventh fish today." The Basil Fawlty within me tends to rise up when I hear "no luck then" so that I am tempted to respond to it with a question of my own: "Why do you assume that?"
"Giving it best then?" while the angler is walking back to his car for a coffee. Another negative assumption. Well you could state, truthfully, I hope, that you have caught a dozen now so you are calling it a day. Unfortunately it doesn't sound truthful, does it? There is this tendency for non-anglers to assume that the angler is some kind of lunatic who never catches anything, but continues to persist. A few years ago, in the spring on the Usk, I was just netting a nice brown trout from one of the town waters, when I heard a loud voice behind me on the footpath. "Good heavens!" said the speaker to a group of fellow walkers. "Just look at that! I have been walking here for most of my life and I never saw anybody catch anything before." He must be particularly unobservant, I was thinking to myself. So I piped up: "Funny you should say that. I have been fishing here man and boy and this is the first time I ever caught anything. It must be a special day for both of us." Sarcasm of the lowest kind in fact. I got an old-fashioned look, probably well deserved, and he flounced off.
"You must be mad, standing out in this rain." This is the standard one coming from passers-by during bad weather. You could try: "Well you're out in it. What's your excuse?"
"Caught your breakfast yet?" It's meant to be a joke, but such an old joke and was it ever funny? Also deeply exasperating for a catch and release angler. You could say: "I'm having a coffee and croissant myself, when I get home. What about you?" Or you can explain in detail that you don't like eating fish or the details of your catch and release rationale and in doing so bore the pants off the other party who will think you have no sense of humour. (Whether the other party has a sense of humour is questionable though).
"They were jumping all over the place yesterday." This statement gives the angler a choice between starting a long explanation of why salmonids sometimes leap from the surface due to boredom, irritation, parasites etc, or just replying rather rudely: "So what?" I might explain that what I am actually looking for is a feeding or taking fish and try to explain the difference. But lacking the energy I usually say soothingly: "I'm sure they were. I'm sure they were."
"Look! There's one just jumped over there!" The expectation is that the angler will stop what he is doing, take his rod and rush over to the spot to start casting frantically. I think this one really does deserve a reply of: "So what?"
"Are there any fish in this lake?" Really, I am not making this up. This has happened to me more than once. The almost overwhelming temptation is to respond: "No. I'm fishing here because I'm mentally challenged." Basil Fawlty again, you see. But I am absolutely sure such an angler would be put down and subsequently shunned as a miserable old fellow who can't be bothered to have a civilised conversation with his fellow man. And we wouldn't want that, would we?
"That was a bit of a bum cast you made there, wasn't it boyo?" This is admittedly a rather extreme example, heard when fishing the top pool of the Breconshire Fishery just below the town bridge. There is a pub on the opposite bank, and after opening time on any sunny day you are likely to find a line of wags sitting on the wall with legs dangling, each with a pint at his elbow, happily watching the river and any angler prepared to risk a bit of barracking. Stay with it if you are brave enough. This is after all quite a good pool and sooner or later you will catch one, which should earn you a round of friendly applause.
To sum all this up, if you don't fish and pass somebody by the waterside who does, please do stop and give him good morning by all means. If you are genuinely interested, I am sure you will find that the angler, although he will be concentrating on his work, will also be quite pleased to explain how he is fishing and what the water is like. He may not want to be interrupted while he is actually playing a fish. And in the case of a game angler, if you avoid standing behind his casting arm, he will be able to fish on while he talks to you. Finally, please don't throw stones or other objects into a river or a lake where anglers are fishing. I'm reminded of the day at Abergavenny when three giggling school girls pushing a supermarket trolley suddenly appeared on the bank high above where I was wading in the middle of the river. They looked at me and I looked at them. "You were not," I said after a minute, "thinking of throwing that into the Usk, were you?" Obviously they were, but they had the grace to retreat.
There now. It's done. I have got my rant over and I feel better now. My inner Basil Fawlty has subsided. And I have met some lovely people by the water side, along with their dogs.
Tight lines for June!
Oliver Burch www.wyevalleyflyfishing.com
---
April 2016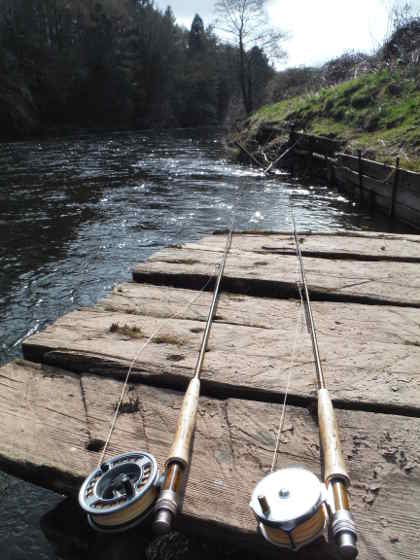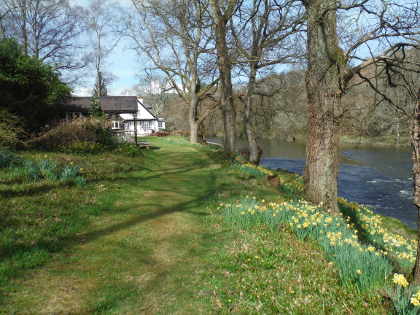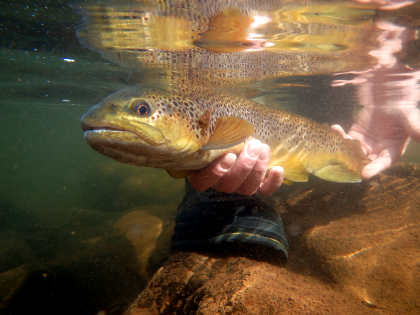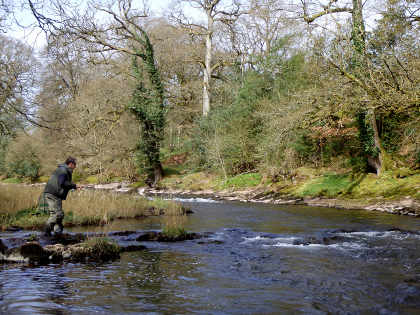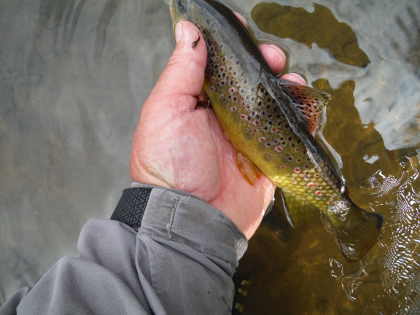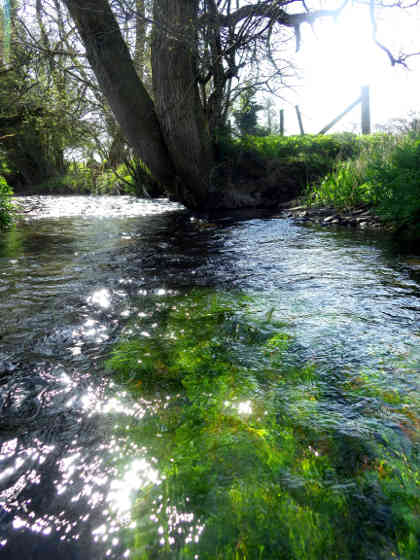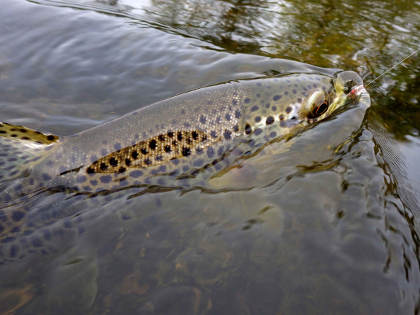 By any standards that has been an interesting April! The temperatures were generally low for the time of year and, if anything, seemed to get lower as the month went on. After some quite pleasant, even sunny days earlier, the last week of the month was one of overnight frosts, single figure air temperatures during the day, bitter arctic winds (which of course always seemed to blow downstream) and showers of sleet and hail. The Welsh mountains received a surprise dose of snow which had been generally lacking during the winter and one morning I found myself fishing a dry fly in a snow storm while standing in the upper Wye, an unfamiliar process to me and one which I cannot honestly recommend. Water temperatures also remained very low, and while showers during the first part of April kept both rivers pretty full and even produced a couple of small floods, by the end of the month levels had dropped off to around 10 inches and 6 inches respectively on the Llanstephan and Brecon gauges.
Cold weather certainly inhibited plant growth and it was interesting to watch sprays of fresh green leaves and occasional white blossom creeping their way very slowly up our river valleys while the higher parts remained in grey winter. In many places we seemed rather confusingly to have daffodils, primroses and bluebells all out together for weeks on end. Other familiar sights, the kind we link to the expected onset of warm weather, seemed to happen more or less on time, from frog spawn to bumble bees, the first broods of ducklings on the water and the arrival of martins and swallows. I heard cuckoos in both Herefordshire and Wales before the end of the month, which seemed early if anything. I also had a very pleasant and instructive day with a bird watcher on the middle Usk, a chap who kept his eye out while fishing, and apart from the expected swallows, martins and sand pipers trying to make a living in the cold, there was a hobby hawk and the considerable surprise of an osprey. Day by day out on the rivers I found myself thinking that even a retarded British spring like this is a rather reassuring process to watch. I certainly would not exchange it for a Balkan one in which the snow which has been lying on the ground for 5 months suddenly melts one day and you are feeling uncomfortably hot a week later. And summer must surely arrive to our countryside, sooner or later?
Rather encouragingly, the aquatic insects were among the fauna which did manage to arrive on time, whatever the weather and whatever the water temperature. The expected large dark olives, grannom sedge and March browns were all in evidence on both rivers and on most days I saw all three of them in varying quantities. And in most cases the trout responded, sometimes in a quite spectacular way. Quite a number of anglers were rewarded with trout of 2 pounds and larger. There was some excellent dry fly fishing and also other occasions when fishing just under the surface with spiders or similar worked better. As usual, the nymphing specialists also produced some good results. Judging from the many pages of reports, we had a big angling effort during the month and it seems that as time went on some really good days were had. The Usk during a cold spring is not an easy river to fish, so congratulations to all those who tried it, whether your bag or the size of the fish was large or small. Later in the month, as perhaps is usual, the Wye also started to come on song and several beats produced some nice trout. With a few exceptions, mostly from low altitude waters, there have not yet been many good reports from the wild streams and I guess we can attribute this to the low temperatures.
Now to our "selected highlights" from the fishing reports. On the 31st March, AS from Newent made an early visit to the Blackpool Brook, a Forest of Dean stream which must be about the smallest in the whole Passport, and got 12 of its little trout on a small Baetis nymph pattern. On the 1st April, TD from Amport found occasional large dark olives hatching from the Usk at Dinas and got a bag of 14 trout between 11 and 15 inches. On the 2nd , AS from Newent was fishing in the Forest again and reported 28 from the Bideford Brook using nymphs. On the same day, AL and AT from London reported 4 canoes making their way illegally down the Usk at Ashford House - I will come back to this problem. On the 3rd, HW from Penclawdd used nymphs to take a bag of 7 trout including a superb brace of 18 inch fish from the upper Usk at Trallong and Abercamlais. On the same day, AK from Leominster had an 18 inch trout in a bag of 4 from Ashford House. On the 5th , AS from Newent fishing the Llynfi at Pontithiel in high water with nymphs had a bag of 13 trout including a couple of large ones. On the 8th April, Dave Collins of West Herefordshire sent in an interesting report after fishing the Usk at Gilwern on the Gwent Angling water. All three of the expected natural flies, large dark olives, grannom and March browns, were hatching at different times during the day and he had a bag of a dozen trout, many between 15 and 16 inches, mostly on a March Brown Duck's Dun. On the 9th , AS from Newent reported two large fish in a bag of 3 taken with nymphs on a very cold day from the Arrow at Titley. He advised the beat would fish better in May.
Also on the 9th , PC from Bristol reported two more illegal canoeing parties of 5 or 6 boats each travelling through Fenni Fach on the Usk. I should remark that all those of us who fish in Wales should be concerned about illegal canoeing, which does seem to be on the increase. The WUF along with the proprietors have done their best to broker voluntary agreements which give canoeists an opportunity to enjoy themselves at times when anglers will be off the water. However, be aware that there is still a hard-line lobby of canoeists who continue to agitate for rights to paddle everywhere in Wales and who persist in using the internet to misrepresent the legal situation about navigation rights. Should the law eventually be changed, small rivers such as the Usk will certainly not accommodate both unfettered canoe access at all times and the quality of fishing we have experienced up to now. My advice is to challenge, politely, everybody you see trespassing in this way and make sure they do know how the law stands and what inconvenience they are causing to others. Ask them to leave the river - they may not do so and I am not suggesting you get into a violent conflict, but ask. Trespassers and poachers both tend to take maximum advantage of an uncertain response.
Back to the fishing. On the 12th April TD from Amport got 9 trout to 16 inches from Ashford House, mostly on nymphs. On the following day he fished at Dinas, where he got 8 good fish, including two at 16 inches and one at 19 inches. Large dark olives and a few March browns were hatching during the session. TD was one of several (including me) who mentioned access problems at Dinas, hopefully now resolved. Also on the 13th , JD from Gloucester was busy in the Forest of Dean on the little Cannop Brook where he got 9 trout. He was using a 6 foot 2 weight rod - truly miniature fishing! On the 14th , SC from Llandeilo got 8 trout from the Llandewi beat of the Ithon using dry flies while various natural flies were hatching. We have not heard so many good reports from the Ithon recently, but Llandewi on the upper part of this Wye tributary does seem to be an exception. AS from Newent was out again on the Blackpool brook and got a good bag, again with nymphs. And TD from Amport, after fishing at Penpont, reported an unusually deep and well-conditioned trout in a bag of 5 taken during a March brown hatch. This fish was 17 inches long and weighed in the net at 3 pounds, which I think surely qualifies it for "Penpont Porker" status. An average 17 inch trout would be more like 2 pounds. On the next day GL from Merthyr Tydfil got just a brace from Penpont during a large dark olive hatch in the middle of the day, but they weighed 2 and 2.5 pounds. On the 17th , again while March browns were hatching, PK from Billinghurst got 10 trout on nymphs and dries from the Glanusk Park water. On the 18th , DR from Truro got 16 from Glan yr Afon while both olives and March browns were coming off. During a similar hatch on the 19th , EH from London got 8 from Dinas using various imitative flies. On the following day, AB from Colchester and a friend had 18 from the same beat. BP from Pembridge visited Chanstone Court on the Golden Valley's River Dore and took 6 trout, mainly on nymphs. On the 21st , KM from Maidstone, fishing I think both Dinas and Abercynrig, had 15 trout on dries.
Over on the Wye meanwhile, James Doran of Hereford told us he had a dozen trout from the beautiful Abernant beat and that 8 of them were on a Hancock's Pet fished on the top dropper. The "Pet" is an obscure fly nowadays and this may require a little explanation. CV Hancock was the Literary Editor and angling correspondent of the Birming Post and fished our border streams in the years before, during and after World War 2. He also wrote a wonderfully amusing and also instructive book, Rod in Hand, which you really should read if you can find a copy. I'm not sure where the copyright now lies, but it would be wonderful if some publisher like Coch y Bonddhu Books could be persuaded to reprint it. Hancock gave the following dressing for his "Pet", which has some quite fancy colouring to it. It was intended for trout and grayling, but, dressed on a size 8, he also killed salmon with it. Hancock also fished it on the top dropper:
Hook: size 14 or 15
Tail: none
Body: rear half - narrow oval tinsel; front half - scarlet seal's fur ribbed with the same tinsel.
Hackle: black, and not too soft. The scarlet seal's fur should be pricked out to mingle with the hackle.
I'm wandering off my graze yet again so once more let's get back to the fishing. On the 22nd, DC visiting from Canada fished at Skenfrith to get 6 trout, mainly on a Prince Nymph - and, wrote DC, this welcome success with the fly can form a little homage to the Artist Formerly Known As... On the same day FB from London with a friend had a fish of 3 pounds in a bag of 7 trout from the Taff at Merthyr. JE from London, also with a friend, fished the Glanusk Ty Mawr / Canal and Rivers Trust beat of the Usk and was disappointed with a wet day including a trout of 2.5 pounds in a bag of 5. The 22nd was, I remember, a warmish overcast day of steady drizzle, flies were hatching all the time and I thought the fishing was really good. I had a client at Abergavenny with a 2 pounder and one not much off that weight included in his bag - result happiness! Meanwhile on the same day at Abercynrig, EH from London had 10 on dry olive patterns and VC from Kent had 10 to 1.75 pounds during a steady rise to olives. On the 23rd, AS from Newent fished the Llynfi Dulais with nymphs and got 18. On the same day, DB from St Albans went to fish the upper Usk and at Cwmwysg Ganol and was confronted with around 15 canoeists practising in the waterfalls. I can't imagine how an angler can be expected to produce good results in those circumstances. On the 24th , Dave Collins was fishing his local Red Lion water on the middle Wye at Moccas and got 20 trout on dries. FB from London with a friend had a 19 inch trout in a bag of 6 from the Usk at Fenni Fach. SC from Llandeilo Graban fished the little Edw at Cregrina and had 10 trout on a size 16 Greenwells. Once more on this day there were problems with canoes on the Usk. MB from Wimbledon was addressing the beginnings of a hatch at Glan yr Afon when three groups of 6/7 canoes each came through at intervals. This, as I can well imagine, ruined his day and he does have my sympathy. The canoeists, he reported, lied and told him they had permission from NRW and other authorities - which is, of course, a nice piece of nonsense as only the riparian owners can give permission for canoe passage on waters without navigation rights. Fishing results were generally rather poor during the final week of the month, as the weather now became extremely cold.
Having just been rather unkind about the selfishness of illegal canoeists, the other day I found myself rather "surprised" - I am using the word politely - during a conversation with a WUF fishing customer who had strayed off his own beat as he didn't have the map with him. He explained with disarming innocence that his group were in the habit of booking up all the spare rods in beats which they used, thus ensuring they had exclusive use of the water. This rather reminds me of those supermarket chains which buy up land with planning permission, not to use it themselves, but merely to ensure that competitors don't use it. I suppose if you regard other anglers as competitors this is perfectly logical and it is difficult to see how the WUF can guard itself against the practice. But it does seem a thoroughly unsporting approach to spend money in order to deprive other anglers of a pleasure which they might otherwise have. The WUF do not over-rod their beats.
That strange creature the shad, best described as a kind of herring, has already arrived in the lower Wye and will doubtless soon be in the Usk. Like the salmon and the lampreys, they come in for the purpose of spawning. It is a protected species, so please try to avoid catching it if you can. The twaite shad is the one we usually see, the males weighing about 1 to 1.5 pounds, while the females weigh up to 2 pounds or slightly more. However, there is a much rarer if very similar species (different only in the gill arches and the size), the allis shad, which is reputed to weigh up to 7 or 8 pounds. To my knowledge I have never seen one of these, but Stephen Marsh-Smith while salmon fishing on the lower Wye this month caught a shad of well over 3 pounds and we are wondering if this was, in fact, an allis shad.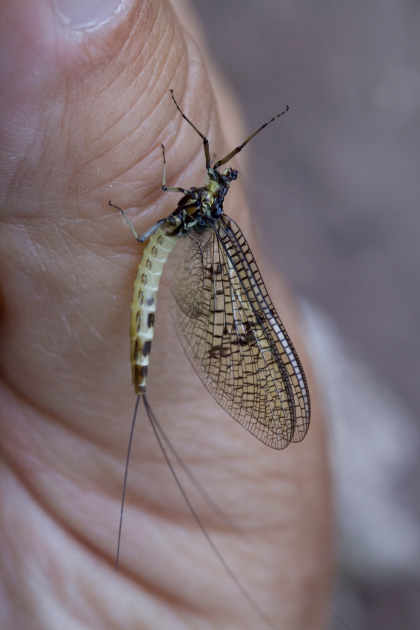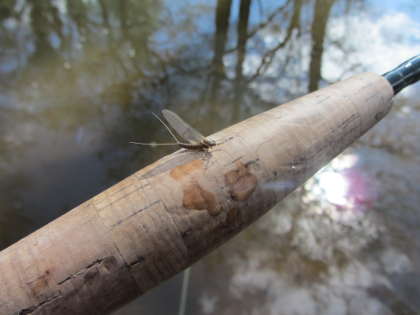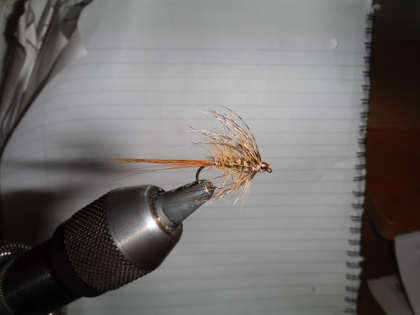 Here's something of interest which I noticed the other day in the Glasgow Angling Centre catalogue. GA have a rather nice habit of promptly selling off items which have been replaced or superseded by the manufacturers and at a very good price to boot. Right now those neat little Wychwood River and Stream fly reels (2/3 and 4/5 sizes) are on offer for 70 pounds, which is half the original price. I presume they are no longer in production. These reels were always remarkable because of their light weight (50g and 58g), which is the main requirement for a reel to balance a 7 foot brook rod. These days I am starting to think that a genuinely light click check reel is getting to be as rare as a 19 pound salmon - think about that one for a bit - but this certainly looks to be a good buy for anybody setting out to fish small streams who doesn't want to overload a light rod. Alternatively, GA are also offering a baby Sage click check reel for 150 pounds, a small object of desire at a substantial reduction if you were thinking of treating yourself.
I have some great hopes for May, the more immediate ones being that perhaps the sun will shine for a bit and the world will become a little warmer. If it does, perhaps we will see some of the expected terrestrials such as the hawthorn fly, which I haven't spotted yet. May should be one of the very best of our fishing months. At the very least we should be able to carry on with dries on the surface, or alternatively fishing j ust under the surface with spiders or perhaps a New Zealand-style nymph under a dry. I usually associate the coming of May with the olive upright, which is a very important fly from this time on most of our streams. If you start out with a Parachute Adams, or if you prefer it the conventional Adams or even a Greenwell's Glory, you won't go far wrong. Personally I haven't seen the little iron blue yet this year, but I fully expect to and I would suggest a small Parachute Iron Blue as an imitation.
Orange Partridge or Dark Moorgame along with Snipe and Purple are good spider patterns for May. Towards the end of the month we can expect the mayfly on those of our streams where it is significant, including most of the main Wye and its tributaries. There seem to be a thousand and one mayfly patterns, but three I have faith in are the Mosely Mayfly and Mike Weaver's Hackle Mayfly, along with a variant of the Irish Gosling wet fly I came up with a few years ago. Try this:
Monnow Gosling
Hook: Partridge Captain Hamilton size 12
Thread: brown
Tail: fairly thick bunch of long ginger cock fibres
Rib: fine gold wire
Body: pale hare's fur
Body hackle: palmered ginger cock
Head hackle: two turns of brown partridge
This one fishes best in the film, slightly awash in fact, and I have a theory that the rather oversized ginger tail may suggest a shuck from which the insect is emerging.
It's worth reminding that we are still relatively lucky to have significant hatches of surface flies on our rivers, while on other streams, sometimes quite famous ones, the great hatches have been lost and much of the activity is now focussed on the bottom where the fish concern themselves with shrimps and larvae. If you are new to river fishing and somewhat bemused by all the discussion of duns and spinners and the different hatches of up-wings and caddis flies which you will certainly hear, you can solve a lot of problems for yourself by carrying in your tackle bag one of those little fly recognition books with photographs and emergence tables. With the exception of a few very rare species which aren't of much importance to anglers, usually the subject isn't nearly as complicated as it initially sounds. Here are three useful ones: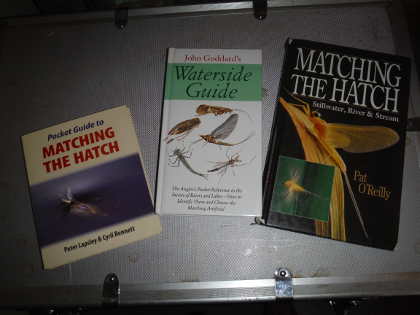 Pocket Guide to Matching the Hatch by Peter Lapsley and Cyril Bennet. This booklet tackles the subject about as briefly and simply as could possibly be managed, but nearly all the important information is there and quite possibly a simple approach was what you were looking for. It includes recognition pictures and emergence tables with some suggested fly patterns.
John Goddard's Waterside Guide. This one is practically a classic by an author who, in his day, was a real pioneer in investigating insect life in our waters. There is a lot more information in this one although possibly more than some may want. The list of fly patterns is also now somewhat dated.
Matching the Hatch by Pat O'Reilly. This takes a slightly more literary approach, but covers the subject very well and is in fact a pleasure to sit down and read. There are also delightful photographs on almost every page and the fact that the author is based in Wales is hardly a disadvantage.
Last month I included some comments and personal thoughts provoked by Bob Wyatt's book: What Trout Want: Selective Trout and Other Myths. Many thanks to those interested enough to write in with opinions about this. I'm sure the discussions will run on for quite a while. A question from AK of Blakeney this month about difficult rising trout on the Usk at Penpont might be answered partially by the following account. I was thinking of Mr Wyatt at one point during a rather difficult if interesting day with a client near Brecon early in April. It was difficult because of heavy rain during the night and fairly persistent driving rain during the day as we fished. I was fully expecting the river to rise, which it eventually did about 3 in the afternoon. Before that, my client using wet flies had caught a few trout here and there, including one good one, so we were not doing too badly in the circumstances, or so I thought. There were a few March browns about, but very few rises. Towards the end, with colour already in the water, we came across what looked like a good trout rising steadily in fairly shallow water upstream close under our own high bank. This might be our last chance of the day, but in the rain, we couldn't see what he was taking. Sometimes he took with a swirl, sometimes with a gentle sip. Whatever it was, none of them were getting past him to float down to us. My client cast up to the fish with the Deer Hair Emerger already mounted on the dry fly rod (for the sake of the March browns seen earlier) and made what I thought was a pretty good presentation a number of times. The fly was ignored. Straining my eyes to see through the rain, I tried another three or four patterns at a variance, with no result at all when my man presented them. Finally, a surviving natural fly did drift down to us and it proved to be, logically enough for the season, a rather small dark olive struggling in the surface film. I put on an Olive Jingler, the Scotsman's choice for olive imitation, and the fish had it on the first try. This sort of event is familiar enough to those of us who fish the Usk. But if that isn't a selectively feeding trout, I don't know what is.
Which leads me nicely on to another recently published book, Fly Fishing Outside the Box: Emerging Heresies, by Peter Hayes. This one also makes claims to rock the boat of conventional angling opinion and is published by Coch y Bonddu Books (thanks to the publisher for permission to quote from it). Peter Hayes, a retired business market researcher, is another well-travelled angler with a dozen or so trips to New Zealand under his belt. He has fished in the Western USA, and is also familiar with Derbyshire limestone waters and apparently our own River Usk. Essentially, though, it seems to me that he is grounded in his decades of fishing the chalk streams of Hampshire and Wiltshire with a preference for the dry fly and for sight fishing. This background to a busy angling life may be important to remember when considering his arguments. Mr Hayes is well connected in his membership of angling bodies and with links to many angling writers. He is also extremely well read in the subject; thus he marshals a wide range of quotes from the writings of past centuries in support of his arguments. From the introduction, his book expresses his intention to challenge our comfortable assumptions: "If I achieve my objective, you will get a short read and a long think." But don't worry - the read is not that short, and Mr Hayes takes us in all sorts of interesting directions. He also wisely states that in angling "...never say always, never say never". I find myself reminding myself of that advice constantly. I have tried here to summarise the main points which he makes in his book (my own comments in italics):
Trout always prefer cripples to successfully emerged duns. For this reason emerger patterns are more effective when fishing the surface. He doesn't like split wing dry flies and, like every modern angler I suppose, applauds the experiments which Skues made with emerging nymphs. Halford "...by ensuring that his fly fished perfectly dry, ensured that he remained a relatively unsuccessful angler."

It is wrong to present dry flies (and nymphs) upstream, but with the heads of the artificial patterns facing downstream. In the case of the natural nymph rising or falling in the water column, the head normally faces upstream into the current (he provides observation evidence for this). But we also cast our artificial nymphs upstream with the head tied to pointing downstream. In the case of naturally hatched duns, the heads are normally pointing upstream as they drift on the current - unless there is a strong upstream wind, in which case they will face into the wind, or downstream "...the wings on the hatched fly are not shaped like the tail of an aeroplane for nothing." Now if this matter of imitating the correct facing direction matters, and Hayes feels it does, there is a strong argument for having reverse tied flies available. (And of course one does not have to cast upstream).

Many of the classic angling writers, going back at least as far as Leonard Mascall in 1590, those famous pioneers normally assumed by us to have been fishing wet, were actually fishing dry. Hayes believes that the idea of a revolution from wet to dry occurring during the 19th century (with a couple of early exceptions such as the "Carshalton Dodge" on the Wandle which Nelson might have known about) is actually a myth and goes on to refer to the "350 year British floating fly legacy." He produces a huge amount of written evidence to prove that these early practitioners with long rods and horse hair lines were fishing their flies on the surface. Much depends here on the earlier meaning of the English word "swim" and did it actually imply "float." Hayes emphasizes again and again, that while a horse hair line would not cast into the wind and that a down-wind casting angler might therefore be casting upstream or down, such an early angler would be fishing the surface. He also makes the point that the artificial flies of the day, made with backward sloping wings, when cast down-wind would achieve the correct orientation on the surface. It was the upstream dry fly supremacists led by Halford who accused others of fishing wet. In fact the arrival of heavier silk lines and gut leaders may in itself have resulted in teams of flies cast at distance being unintentionally pulled below the surface.

Presentation and the matter of tippet tethering. Or "....we would all catch more fish if half of them didn't come off!" Hayes has relatively conventional views on slack line casting and the risks of down and across fishing on a tight line. His leaders are made up with Polyleader butts and he likes the tippet to float. He doesn't degrease the tippet but cleans it with a blade of grass (which seems to me like the same thing!) He gives quite a list of favoured floatants or similar products.

Pattern and presentation. Peter Hayes does not agree with Bob Wyatt on this subject. "In fact, most if not all of the thinking, experimental and observational angling writers over the last century have addressed the issue of how successful it is to concentrate entirely on presentation - with the pattern being immaterial - or alternatively to concentrate entirely on pattern rather than presentation: and have come to the conclusion that both these extreme strategies reduce the angler's effectiveness. Whilst sometimes pattern can be paramount, and sometimes presentation, the outcome of their deliberations is that you really have to pay attention to both. None of Ronalds, Halford, Mottram, Skues, Marinaro, Proper, LaFontaine, Cutter, Schullery or Herd would disagree. So don't listen to the siren voices of those who tell you that a "little brown job" is all you need. It may work some of the time but you will fail to maximise your chances." On this issue, Hayes' 30 year experience of fishing the Wyle clearly comes to the fore. When a fish refuses, his instinct is to rest it and probably change the fly. Wyatt would advise to keep on presenting until the fish changes its mind. Peter Hayes also makes the point that it is something of a myth that there is always something hatching to generate activity. Often enough, nothing is going on at all. He fishes the water when he has to or fishes with a friend so that they can help each other to spot trout. He confirms the general loss of fly hatches over so many rivers and suggests we should try to imagine a river where a 3 minute kick sample would find you more than 1,000 Baetis nymphs. Such rivers would once have been the norm and do still exist (but not where I am fishing, I fear). For now, Hayes points out that some flies may have moved to night hatching and also emphasizes the importance of Chironomid midges to trout on rivers as well as lakes - a fact which seems better understood by anglers across the Atlantic.

Hayes gives generally good, if conventional, advice about watercraft and concealment. He believes in wading to a new position to get a better angle on fish rather than trying long and difficult casts. Like virtually all anglers in New Zealand, he is a firm believer in using a dull or olive colour of floating line and is certain that white, pink or orange fly lines spook fish.

It is interesting to compare Peter Hayes' views on fly patterns with those of Bob Wyatt last month. The following are recommended by Hayes as good general purpose tools which anybody can select from the lists of well-known patterns: Kite's Imperial, Tup's Indispensible, Greenwell's Glory, Grey Duster, Orange Quill, Wickham's Fancy and Adams (parachute version). There is certainly some overlap with Wyatt there. I'm intrigued that they both like the Royal Wulff which seems to have gained an international reputation for itself. But then he goes on to recommend a long list of his own patterns: PhD; Upside Down Phd; Reversed PhD; Muskrax; Kiss My Cul; Reversed Kiss My Cul; Spinnermalist; Black-cadder; Hayestuck; Coot.com; Mayfly; Ookey Rat; CDC Wing GRHE; Suspender GRHE Nymph; Black Wing Case GRHE Nymph; Devi-Ant; Better Blue Winged Olive Nymph; Midriff Copper John; Reversed GRHE; Itchen Nymph; Copperknob; Gam 'R'Us; Monorchid. There may be some more in there which I missed, but I think you will agree that is quite a list already. Peter Hayes does believe in the experienced trout and described a New Zealand pool where the introduction of a bright goldhead nymph would induce panic amongst previously calm fish. Rather use dull coloured beads to weight your flies he advises.

He gives generally good advice about playing and netting big trout: "...the main thing to do with any big fish is to keep it upstream of you." That is if you can, of course. And "....on the whole, if you start to see your backing you have lost three quarters of your chance of landing the fish." Accurate if sad words. But also he states "...for heaven's sake don't use rods which don't have enough backbone....I use a 5 weight the whole time and I can't think of a single reason why I would want to go any lighter if big trout were anywhere in prospect. As for Tenkara - don't make me laugh." We will come back to those two statements. Of a big fish on Iceland's Laxa he wrote: "...for quite ten minutes he alternately head-butted towards the rock, sometimes hitting it but never gaining its sanctuary, or shot sideways across the current hoping to drown my line and/or bury me in the weed." Bob Wyatt would surely not have let that example of anthropomorphism pass and would have asked: "What trout could possibly have an idea of the function of a fly line and how or why it would be to his advantage to drown it?"

Towards the end there is a chapter on Hayes' philosophy of fishing: "You are allowed to go and get help in developing yourself, but you have to seek personal development and choose it. Being spoon-fed with it isn't going to get you there. Extraneous gods and religion and canons just make you worth less - not worthless, but worth less. It is not a side issue that all of this applies to fishing as well as to life in general. You might think, for example, that the issue of catch and release versus killing trout is a moral issue....It is in fact a mistake, in my view, to make it an issue at all."
Those are the main themes and arguments expressed by Hayes. So what do you think, ladies and gentlemen - are you convinced by him? If you ask me what do I think - well, speaking personally, I am convinced by some of it, but only partly. And as you are asking for my view, I will have the arrogance to comment using the same numbers for the themes:
Emergers are always preferred to flies floating high and dry. I think we have learned in modern times that this is often the case (where would we be without our Klinkhammers etc), but I certainly don't believe it is always the case. Grayling in particular on our border streams, in my experience, often seem to prefer a small conventional dry fly greased to stand up on its hackles to one which is awash.

It is wrong to present dry flies (and nymphs) upstream but with the heads facing downstream, while the natural faces the other way or into the wind. And this makes a case for reversed hackled dry flies. This certainly is an original idea and I'm still thinking about it. To tell the truth, I have experimented with reverse hackle dry flies for which there is a tradition in our area and have not found them a huge advantage. It might be an argument to cast conventional dry flies downwind under all circumstances, whether that leads to casting upstream or down. I have always felt there is a place for the downstream dry fly. (Hayes refers several times to those Americans across the pond who are in the habit of casting their dry flies downstream. God bless the dear man - in the west and the north of this country, we have been casting dries downstream for years! I know - it doesn't happen on the chalk streams of Hampshire!)

The classic anglers of past centuries were not fishing wet, but dry. So called wet flies with swept back wings were actually dry flies with weather vane wings designed to make them face upwind on the surface. This is a radical suggestion and I am afraid that I am not convinced, despite the body of written evidence produced by Mr Hayes. Does a reference by early writers to a fly being cast to the surface to "swim" down the river, mean that the fly would remain on the surface? As a specific example, I cannot believe that the very thinly dressed spider patterns of past centuries would float actually on the surface for more than a few seconds. I can believe - I do believe - that the fly anglers of yore with their horse hair lines were fishing in the top foot of water, just as unweighted spiders are normally fished now, even when cast down and across. Even today I regard spiders and either dry flies or emergers as alternatives, to be delivered to fish which must in any case be prepared to rise high in the water.

Tippet tethering. Peter Hayes likes a floating tippet. So do I, but I do like a degreased tippet. I think that any greasy substance on a tippet embedded in the surface film makes it look like a cable and I suspect (I can do no more) that fish do not like it. So I degrease the last few inches, which it seems Peter Hayes does too, with his blade of grass.

Fly pattern versus presentation. I think I am closer to Peter Hayes than to Bob Wyatt on this one. I believe a "little brown job" of a dry fly, the same one every time, would serve you well enough on our small brooks. However, it would probably let you down sooner rather than later on the Usk. Different imitations are sometimes needed (Hayes actually cites the March brown hatch on the Usk). Also, we do have multiple hatches on our rivers. This may be something of a difference between old world and new world trout fishing.

Watercraft. Mr Hayes has that New Zealand prejudice against white or brightly coloured floating fly lines. I wonder whether we will ever be able to resolve this old chestnut? When a trout or grayling agrees to an interview perhaps. Personally, I hold to the belief that from below they all look like a frightening black line and that therefore fly lines should be kept as fine as possible and as far from fish as possible. In the past I have used olive coloured floating lines as well as the salmon pink Cortlands 444, which I still like very much, and I can detect no difference.

Experienced trout and the lists of fly patterns. I certainly like Peter Hayes' list of reliable standards, just as I liked the even shorter list provided by Bob Wyatt. However, I must admit at the outset that I haven't tied up Hayes' longer list of personal inventions, most of which somehow don't convince me. I often think there is something about the chalk streams which drives people to keep coming up with new fly patterns. Magazine editors are also much, if understandably, to blame. New fly patterns equal increased magazine sales, it seems. I may be unimaginative, but if one of the old standards is working for me on our border streams, I feel no particular impulse to go further. I would be more than happy to be proved wrong about this.

On playing big trout. Mr Hayes believes you have to use 5 weights to play big fish and about the idea of a big fish on a Tenkara rod, he states: "...don't make me laugh." Now I'm not going to get into a long technical debate about 4 and 5 weight trout rods. The difference, after all, is not so huge as to be anywhere near critical. I suspect Mr Hayes is like most of us - we started out with either 4 or 5 weight river rods and we have stayed in our comfort zone. But I do take issue with the idea of a rod as a tool selected mainly with the size of fish in mind. A fly rod is much more than a fish fighting tool. Rather I would ask myself: "What size of fly do I need to deliver, in what manner and how far?" Having decided on the fly, you work back to the leader, the line, and then you will have the answer as to what rod is needed to make it all work. Over the years I have played the odd accidental salmon up to 18 pounds on both 4 and 5 weight trout rods, quite soft rods on occasions, and in fact (to my initial surprise) landed the large fish in not much more time than would have been taken with the double hander. I am not necessarily recommending an irresponsible change to ultralight tackle, but I do want to make the point that rods are designed primarily to deliver flies. The reason we use double handers for Atlantic salmon is that we often need to make long casts to cover deep water lies in the centre of the river, sometimes with heavy tube flies. And the reason the Western American angler can manage with a single hander, even for heavier chinook salmon, is because his quarry runs up the shallows of the river margins and is in closer range. On the subject of Tenkara rods....well, Mr Hayes states that he has not bought one yet, which seems telling. Despite this, he discusses the Tenkara fishing of friends at some length. I think he should buy a Tenkara rod, perhaps a 12 footer rated 6:4 as a first experiment, because he might be quite amazed at its performance at playing a big fish through its sheer flexibility. Come to think of it, I know a man who has landed a salmon with a Tenkara rod. Also I am definitely convinced there is more to Tenkara than just a return to some kind of imagined pre-technical age of fishing simplicity. Given that these rods are made from modern carbon, there is extraordinary lightness and delicacy not to be found elsewhere. I do not, however, see the Tenkara rod as the solution to every fishing problem, as some seem to. I also wonder if Mr Hayes has experienced nymph fishing with a 10 or 11 foot 3 weight conventional rod? Generally the information on Czech nymphing, French leaders and other new techniques in his book is light, although he does express interest in them.

Philosophy of angling. The only comment I have to make is agreement with Mr Hayes that it is a pity we have become so very much obsessed with the matter of catch and release or catch and kill, which in his (and my) opinion is not a moral issue at all. Either can be the right or acceptable course, depending on the circumstances.
Otherwise, because Hayes has such a wide knowledge of the history and literature of the sport, his book is full of fascinating nuggets of extra information. For example, I was quite fascinated to read the story of Dr Thomas Sanctuary's 19th century forgery of his fishing diary in a successful attempt to claim the British grayling record at 4 pounds 9 ounces (the fish in question had been originally recorded at 1 pound 9 ounces). There seems to be no doubt about this. Something about large grayling seems to promote dishonesty. What a pleasure it is to see bad behaviour (by others) exposed! His examination of the feud between Halford and Skues and their supporters is sensitive and revealing. He champions the Itchen as so much better in condition today than the overworked and overstocked Test which he calls "a disgrace." But he also wisely reminds us and perhaps himself that 98% of the UK's estimated 170 million pound spend on trout fishing lies elsewhere than on those two famous chalk country rivers. Peter Hayes has written a thought-provoking and thoroughly recommended book.
Tight lines for May!
Oliver Burch www.wyevalleyflyfishing.com
---
March 2016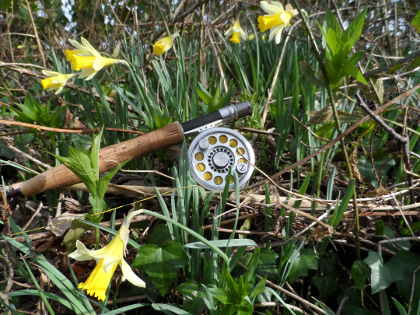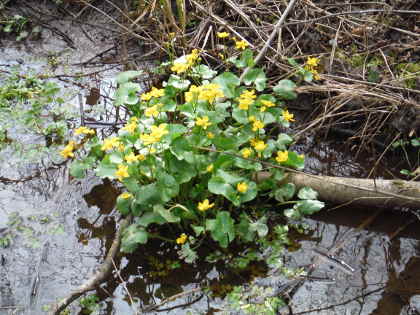 I will remember this March as the winter we never had. After a strangely warm January and February, we started the new month with the spring already much advanced and with all sorts of plants flowering ahead of the usual time (I found Monmouthshire king cups in full bloom on 3rd March). There was then one night of storm and rain which produced a very brief flood on both rivers, which was followed by a very different period of high pressure, cold and dry weather lasting three weeks. Spring now seemed to have been put on hold, the sun wasn't seen much and when the wind blew it seemed to come from the north or east. Snow remained in patches on the Beacons and Black Mountains throughout. here were some truly raw early season days due to the wind chill effect and if you fish through enough of these in quick succession you can find your fingers beginning to split open just due to handling the line. I kept all my winter clothing on and still felt cold, in or out of the river. The expected hatches appeared, but were mostly very sparse. Dry fly opportunities were consequently somewhat rare to begin with although spiders and nymphs worked more reliably.
Generally, most of us found the fishing pretty tough. A few nice trout were taken although, as is often the case after a winter of flood water, their colours tended to be washed out, silvery and pale. I am sure that under these circumstances brown trout are sometimes mistaken for sea trout. And some, of course, were thin after spawning (although not all trout spawn every year and a few weeks of good feeding will rectify the condition of fish which have endured a hard winter). Meanwhile, the river bank and the countryside looked battered by the effects of storm and flood, littered with broken trunks and branches, as yet unconcealed by new leaf growth. On a pool very familiar to me on the upper Wye a great bank of shingle has appeared, a sort of Chesil Beach where once the margin was lined with young willows and the main current has moved completely over from the Radnor bank to the Brecon bank. At the end of the Easter holiday came Hurricane Katie which caused damage over the country, delayed flights and produced new floods in our rivers to end the month with angling once more brought to a temporary halt.
First, some late grayling reports which missed this letter "going to press" at the end of February. At this time, our rivers were slowly coming down to a fishable level. On the 27th , PJ from Pontypridd plus two friends had a large bag of grayling up to 2 pounds from the upper Wye at Craig Llyn. On the same day, I read that JD from Hereford arrived at Abernant where his jaw rather dropped on finding he had packed a 7 foot 3 weight rather than the 10 foot 4 weight rod he had intended. (Ah now JD, I can sympathise with this, because rod tubes often look much the same as you stagger bleary-eyed to the car first thing in the morning. I once did exactly the opposite, arriving at the heavily treed Llynfi Dulas brook with what turned out to be a 10 foot 4 weight weapon. A tube for a five piece rod had looked much like one for a three piece rod. It wasn't a good day for me). On the 28th , ST from Porth got a limit bag of rainbows from Llyn On reservoir. And on the 29th , AS from Newent fishing heavy nymphs in what must have been high water very creditably managed to get 11 grayling to 18 inches from the Lugg at Lyepole.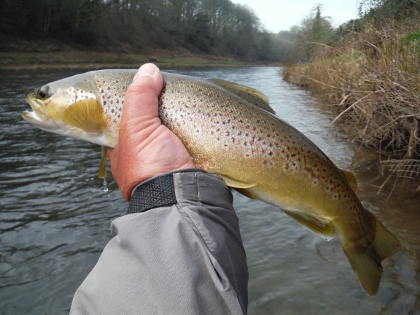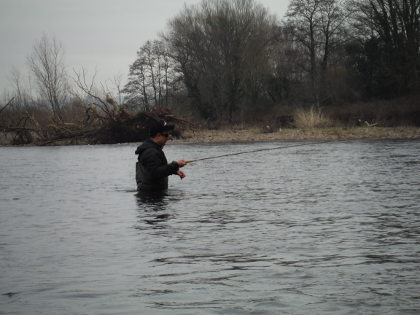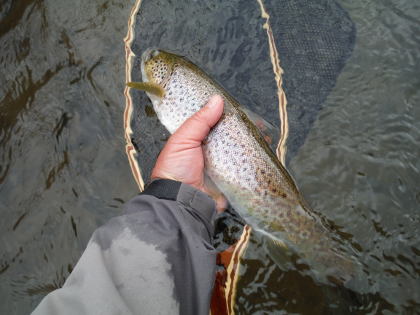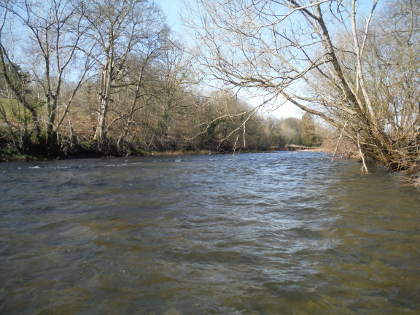 After more rain and quite a dose of snow on the surrounding hills, by the 3rd March the main rivers were again running very high indeed and I am not aware of any significant catches from them on the first day of the new season. Instead, anglers necessarily turned to the brooks and the star wild stream fish of opening day must have been a 15 inch trout taken in a bag of 5 from the Monnow at Upper Longtown by NG from Sutton St Nicholas. (My own achievement on opening day was just a single fish of 7 inches from the Honddu at Pandy, but at least it was a start, or so I thought). Meanwhile the upper Taff was apparently in reasonable condition and DP from Neath opened it with a shout, using heavy nymphs and a French leader to report exactly 24 trout to 2.5 pounds. He had another large bag on the following day. Meanwhile a cheery group known as the Oxford Ice Fishers were out and about on the Usk as it gradually came down towards a fishable level, although conditions were still relatively tough due to the high water and very cold air temperatures. Quite a few limit bags of rainbows were now reported by parties of anglers fishing the Welsh Water reservoirs at Llyn On and Usk. On the 13th , PW from Preston on Wye together with a friend ended the grayling season with a bag of 17 along with 5 trout from Craig Llyn on the Upper Wye. On the same day, MN had a bag of 5 trout from Abercynrig on the Usk using nymphs on a long leader and then dry fly. On the 19th , John Philips had a bag of 6 Usk trout from Chainbridge and on the 21st AS from Newent had 9 trout from the Lugg at Lyepole using nymphs. On the same day, JL from Liverpool was asking about flies for fishing the little River Alyn, a tributary of the Welsh Dee. Can anybody advise us about that - I am afraid that this one is beyond my normal sphere of activity? (In fact I'm reminded that the last time I fished the Dee itself was during a winter grayling festival at Llangollen and that the air temperature was minus 10 degrees on the final morning. We fished with ropes of ice dangling from our rod tops, nets frozen solid and clutching grayling to our chests in order to show them to the invigilators. I will doubtless be remembered by other contestants as the man whose Landrover wouldn't start).
As we came up to the Easter holiday, things seemed to improve a little. On the 25th , AH from Sherborne fished the Usk at Ashford House and had 6 trout to 15 inches, all of them between 12.30 and 3 while hatches were producing a few rises. And on the following day, JL from London with a friend got 8 fish between them from the same beat, trout ranging from 12 to 18 inches and mostly taken with a Copper John nymph. This was despite the anglers being battered by rain and stormy winds. I would like to think that these two days at Ashford House were quintessentially Usk early spring fishing, not exactly easy, but rewarding none the less.
March is always a month of change although the timing is rarely predictable. This year, Easter does seem to have marked the turning point. Consider the following days from my own diary. Just before the holiday, with about 1 foot on the Llanstephan gauge, I turned out on an upper Wye beat where the water was by now very clear. The downstream wind was cold and I had all my winter thermals on as well as a woolly hat. A few large dark olives, never likely to be put off by the cold, were hatching and a few fish were rising as well, so I was truly hopeful at first. But every darned one turned out to be an out of season grayling, including some quite nice fish to 16 inches. They seemed to know that 15th March and their season had come and gone. After a dozen of the unwanted species I gave up in disgust, having only achieved a couple of 6 inch trout; the other members of the trout tribe, I supposed, were static on the bottom of the pools. Instead I got the salmon rod and put a tube fly rather mechanically through some of the deeper places for the rest of the day.
I was out with the salmon rod again on Good Friday, fishing at Chainbridge on the lower Usk by the kind invitation of owner Barry Paraskevas. This was an altogether different kind of day, warm and sunny, virtually without wind. It felt good to be casting again, trying to send single Speys diagonally down the pools with a Black and Yellow tube and a fast sink tip while wading carefully to work out how the winter floods had affected the river bed. It was, by any standards, a very pleasant morning. By midday, I was starting to think that perhaps I had been rather optimistic to hope for an Usk fish so early and so wandered off for what turned out to be a rather protracted lunch. More fool me, because I came back to find a really dramatic grannom hatch under way and seemingly every trout in the river rising, both visibly and audibly. I put a trout rod together as quickly as I could, but by the time I got down into the rippling water at the head of the pool a thick raft of cloud was already drifting across the sky to obscure the sun. The hatch was also visibly coming to an end. Casting from just one stance I got three fish with a CDC F-fly, thrilling to hear the buzz of the reel check again, and then the rises abruptly stopped. By mid-afternoon the river seemed quite lifeless.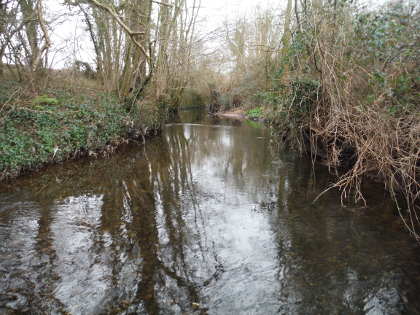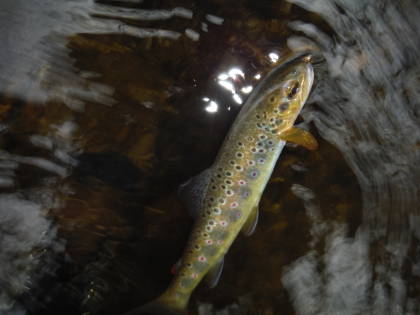 The morning of Easter Saturday was dark and stormy, with rain on the way for the afternoon. I had no time for a whole day's fishing, but wanted to get outside for a morning at least. So, despite a strengthening gale and droplets already arriving on the windscreen I went down to fish my local Bideford brook and was glad I had done so as soon as I arrived by the stone bridge. Not for the first time I considered that if I had to give up all other types of fishing, I would like to keep on with these small streams. Alive on a windy day (to misquote Geoffrey Bucknell) I thought happily to myself. It was a warmer wind than of late. And as always when the wind is in the south, I could hear the distant horns of the big diesels hauling freight on the main South Wales line. Here, by the brook under the old plane tree, I could look across sheets of wild daffodils in the fields, while the distant grey and tan houses of Blakeney village showed against sprays of new green and white blossom in the hedges. Rooks were tumbling in the sky above their nests in the trees behind. Rooks are the most amusing birds to watch during March and I particularly like their efforts to see off any larger birds of prey, usually comprising buzzards in my part of the world. (But this week in Wales I have watched a circling red kite, an aerobatic bird in its own right, wonderful to see feathering and adjusting its glide against the wind, forced higher and higher by rooks below, and in the Forest the other day a couple of rooks were harassing a great goshawk at close range through the trees).
March is early to be fishing a small stream and it seemed unduly optimistic to put a dry fly on. So I fished up with a little Goldbead Hare's Ear nymph and got half a dozen trout between 6 and 8 inches with it. There were also some salmon smolts, already beginning to put on their sea-going silver coats. I pruned this stream in November and yet I was quite amazed to see what the floods had done in the meanwhile. In one place I had taken the trouble to peg a couple of waterlogged trunks, too heavy to lift, into opposite banks, in order to ensure they would not drift together and begin a block. Now, testament to a force of water difficult to imagine, both trunks were completely gone, to places unknown downstream or even into the tidal Severn. Any river or stream which meanders through silt meadows is going to move to a surprising degree, filling up pools with gravel and forming new pools during no more than a couple of floods. At a favourite beat on the Upper Monnow, this winter we lost a wide bend when the river cut through the base of a peninsula. Nearly 150 yards, water which used to be good especially at mayfly time, is now destined to be no more than an oxbow pond and eventually a swamp. But the river gives back as well as takes away; there is now a new run and pool in the cut-through and who knows what fish may take up residence? Here on the Bideford brook the wind was getting stronger as the storm came on. At the top end, to my delight, some large dark olives were drifting down under a trunk which has fallen across the stream and I saw several explosive rises. Not from anything large, I think, because I caught two more trout here on a Deer Hair Emerger and they were each about 8 inches, but finishing with a dry fly after all was more than I had expected.
On Easter Sunday morning, having retimed the clocks, I checked the water gauges online after a night of heavy rain. The Usk was in flood and so was the upper Wye, although the high water had not yet affected the lower river. I toyed with the idea of fishing a salmon beat on the lower river in the hope that rising water later in the day might bring a fish onto the take. But in the end I just took the little trout rod up the valley to fish the Cannop brook and worked up it with a Goldbead Hare's Ear nymph, rolling the fly upstream and watching a greased leader butt for takes. As you might expect on a holiday, the valley was quite busy with the steam excursion trains puffing up and down between Lydney and Parkend. It's not generally known, but the bed of the Cannop brook here was moved getting on for 100 years ago when they built the sealed road on its causeway through the marshy wooded valley - the Forester showed me the meandering depression left by the old bed under the railway embankment, which is in fact much older than the road. So during the 1920s the road engineers moved the whole stream out of their way and dug a straight channel for it off to one side, and this is the section which now forms the middle of the beat. Running as it does through soft clay and silt, it is not surprising that this stream moves its bed so drastically every winter, cutting new dubs and curling around the stumps of trees. It won't be happy until the natural meanders have been recreated. Meanwhile this centre section is rather a mess at the moment as contractors are still working to thin the trees in the woods around, having been delayed by wet conditions during the winter. Apart from grabbing out some of the rubbish, the contractor has also promised to avoid leaving trimmings in the stream bed (which in places has quite enough woody debris jammed in it already). In the long run, I'm hoping that a slightly higher tree canopy and more light will benefit this already prolific little forest stream. Even as it is, there is a good 4 hours of fishing to be had on this beat which also seems to have woken up. On this morning I got 13 little trout between 6 and 8 inches, all on the nymph as I saw nothing rising. The fish were already in the fast runs rather than the pools, where they have plenty of shrimp and larvae to fee on. There was yet another storm of much heavier rain that night (this was Hurricane Katie), and by Easter Monday, as I far as I could tell, every size of river and stream was in full muddy flood, so all angling on moving water would necessarily stop for a while.
Even dyed in the wool trout anglers can hardly have missed the very welcome report that the first 2016 Wye salmon was a portmanteau fish of 40 pounds taken from the upper river on the 12th while levels were falling slowly. When I heard the news, I was so delighted that I kept chuckling to myself for the rest of the day. Given the winter of floods we have just had, it is not surprising to find springers spread well upstream (there was another from the Rectory and we had a fish at Pwll y Faedda a few days later, although most of the action has been in the Ross to Hereford section). You may view this heavy springer as no more than a lonely reminder of the river's glory days. Or maybe, just maybe, you might hope that it is a harbinger of better days which are yet to come, on what the recent statistics clearly show is an improving river. It just depends on whether you are a glass half empty or glass half full sort of person. Curiously enough, for some reason the Gillies Association seemed to be rather down in the mouth about it.
The wild stream pruning teams would like to have done more during the past winter, but similarly to the grayling fishers we were hindered by the floods. We are already preparing lists of priority work for next close season. However, you will find that the whole Escley brook has been pruned, along with the middle Llynfi Dulas. Please note that the Escley brook beats have been re-organised with new stop/start and access points. The Monnow Fisheries Association boys have taken care of some of the other tributaries, for which much thanks, while the WUF northern team has carried out a much needed pruning of the little Duhonow and some of the Edw. Note that the pruning we do is deliberately restrained and that a certain amount of fallen timber (woody debris) is deliberately left in the stream, so please be patient with us when you find an annoying branch or log tangle is getting in your way. Apart from the fact that we certainly can't look at every stream every year, I am very clear in my own mind that over-pruning and cleaning may make casting easier, but quite quickly results in less trout - the fish need cover and hiding space. Also there is the matter of what kind of work is going to be of much practical use to you and for how long. You won't find, for example, that hanging curtains of bramble and other vines will be trimmed on streams which are only visited every couple of years. There is no point in such work, as brambles will have grown back during a couple of spring months. Water considered too thin to hold trout is normally left with a good covering of branches which might as well remain to consign their freight of beetles and caterpillars to the surface.
The new Passport landed with a bump on the doormat the other day. I was pleasantly shocked to see that the WUF's portfolio of running water to let has now reached 500 kilometres, covering virtually the whole of Wales and the borders almost up to Liverpool. There was a time, about a decade ago, when I set myself the task of doing the whole lot. I liked the idea of being able to say that I had been and fished, at least once, on every WUF stream. I never made it and I can see now that I never will. The problem is that when you find one you really like, which is often enough, you say to yourself that you must now make a point of fishing this beat at least once every year to remind yourself how nice it is. Eventually you reach the point when just doing the year's round of "annual" beats takes up all your free time and there is none left for exploring new ones! Speaking personally as a consumer rather than for the WUF, I have to say that I was disappointed to see the Dinas and Abercynrig beat on the Usk divided into two for 2016. The old D&A, at 30 pounds for a day ticket, used to be rather expensive for trout fishing in this part of the world, but you did get 1.5 miles of varied and interesting middle Usk fishing which would certainly keep you busy all day. I used it regularly. The divided beats, neither of which will quite fill the day on its own, will now cost you a total of 50 pounds (plus booking charge) for exactly the same fishing, which does seem rather inflationary.
April? Well that's a lovely fly fishing month or should be and I'm hoping that nothing more than some milder temperatures will make our angling life easier. It's normally a great month on the Usk, and the Wye too should be on song by now. I would expect to see continuing hatches of large dark olives for a while and if recent years are any guide, some more concentrated hatches of March browns, rather than the odd individuals we have seen so far this year. Despite its ancient name, in modern times the March brown seems to me to be more of an April fly. We can certainly hope to see some more hatches of grannom, a creature which likes sunny spring mornings - methods as discussed last month. Don't overlook the iron blue, a small fly which usually first shows on the Usk during April days and is quite easy to miss unless you are down in the water keeping an eye on the surface. Trout have a definite preference for them. A size 18 dark grey F-fly or a Parachute Iron Blue should be good medicine in this case, or if you are fishing wet flies a Snipe and Purple spider is usually associated with the iron blue. By late April you might see some of the terrestrials being taken, particularly the hawthorn fly if it is blown on the river, together with those various small dark flies such as gnats and aquatic midges which become more important as the year moves on. Was it Skues who wrote about "persistent black gnatitude?" At any rate, have something small and black available in the fly box with a fine tippet to fish it on in case circumstances require it.
Midges of course are tremendously important to the lake angler and the "buzzer fishing" of spring can be some of the best of the year. The alder fly is a curious one. Superficially a little like a blackish sedge, the adult is most visible when it bumbles clumsily around above the edge of lakes on sunny spring days. There seems to be an idea current in modern times that lake trout won't take the adult alder, and yet anglers of past centuries spent a lot of time imitating this curious creature which hatches from an aquatic larva living in lakes or slow moving water. I certainly have seen rainbow trout polishing off alder flies which found themselves stranded on the surface, but I can't recall much success with artificials, although I still have the Charles Kingsley version of the adult in one of my lake fly boxes. It is certainly worth imitating the larva, which is rather a vicious brown creature with a single tail which eats pretty well everything which it finds on the bed of the lake before it eventually migrates towards the bank for hatching. Fish a leaded imitation slowly along the bottom on a floating line and a long leader.
During the quiet days after Christmas I worked my way through one of the most thought provoking books on fly-fishing I have read in a long time. Bob Wyatt, with What Trout Want:The Educated Trout and Other Myths certainly has challenged several centuries of accepted views on fly choices, selectively feeding trout, and the seemingly endless search for better imitations of natural flies. If you haven't read this one, I wonder what you might think of his conclusions? To put it briefly, Mr Wyatt states that most of us have been wasting our time by filling our boxes with more and more fly patterns, and if we would just content ourselves with half a dozen patterns (or perhaps even two or three patterns if push comes to shove) and concentrate instead on improving our lamentable presentation, we would all catch many more fish. It's almost painful to admit it, but I think Wyatt might well be right - or at any rate, right for much of the time.
Bob Wyatt has a pretty good angling pedigree, somehow managing to start his long fishing career in the West of Canada and the USA, Alberta and Montana, moving on to 15 years in Scotland, and finally to his present fishing base in the back country of New Zealand's South Island. To put it another way, he has moved from impressive Rocky Mountain rainbows and cut-throats, to an apprenticeship with traditional methods and relatively modest sized Scottish brown trout, and at last to truly huge New Zealand brown trout. With that background he seems to be the prototype of the Global Angler. He is clearly widely read on the subject and has fished with some of the world's best dry fly men. He fishes rivers and the dry fly by preference, but he has plenty to say about lakes and nymph fishing. He writes for Fly Fishing and Fly Tying on occasions, he paints, and he seems to fish almost all the time. The main points he makes in his book can be summarised as:
Trout are not that intelligent (a brain about equivalent in size and power to that of a frog), nor do they have a concept of "real" or "unreal" food items.

Trout are not reasoning creatures. They do not "learn" from the process of being caught and released, nor do they "learn" to avoid particular fly patterns. Anglers think they do, because so much of angling lore and literature tells us that they do.

Generalist fly patterns, which major on overall impression and certain trigger features, are much more likely to catch a trout's attention than exact imitation patterns. The size and possibly colour are likely to be more important than the design detail.

The "rejection" of a pattern by a trout on any occasion is much more likely to be connected to poor presentation rather than it being the "wrong" pattern.

The angler's response, therefore, should be to continue to present the fly in different or improved ways, rather than change it.

Trout on hard-fished waters do become "spooky" with a well-founded fear of predators (such as us) and are easily scared off by incautious wading, poor presentation and above all by constant false casting. These are the aspects which anglers should try to improve.

Fly tying, it now follows, can be relegated to the business of reproducing a handful of simple patterns - a few good tools - in different sizes, effectively restocking the angler's ammunition.
These points prompt further thoughts from my own experience, most of which support Bob Wyatt's view, although several do not. On point 3, the fact that the first two generalist patterns which Wyatt recommends are already known and used frequently by me as highly prized "get out of jail free cards" is very encouraging. Wyatt recommends tying them in awide range of sizes for different purposes. The first is his own Deer Hair Emerger, that non-descript concoction of hare's fur with a prominent hair wing, which is good for fish feeding on march browns or olives, on small streams or main rivers when there is no particular hatch, or in fact at almost any time. I worked out a long time ago that a large trout rising steadily would usually take this fly sooner or later. After reading Wyatt's book I may fish it even more. The second is the Deer Hair Sedge, also known as the Hair Wing Sedge. It's a little unclear who actually invented this one, but effectively it is an Elk Hair Caddis without the palmered body hackle. Wyatt opines that this pattern fishes better without the body hackle and this has certainly been my experience. I have tended to fish it from mid-summer on until the end of the season, or in other words during the time when caddis are likely to be out and about on the surface. Used in this way, it has been successful for me. Wyatt uses it for all sorts of purposes in sizes up to 6 (for the big cicadas of the American West) and I can confirm that it certainly takes trout when no caddis flies are in evidence at all. This reminds me of a mayfly evening fishing the Monnow at Kentchurch as a guest of Dave Smith of Garway Fly Fishers. It was a pleasantly warm evening and fish were rising, so there was plenty of activity for both of us. I had a couple of refusals, or thought I did, and spent much time changing around between various dedicated mayfly patterns in an attempt to keep the takes coming. Dave had on some kind of Elk Hair Caddis variant with a coloured tag, definitely not a mayfly imitation, but a dry fly pattern he is fond of. If he didn't get a take, he continued to present it. He kept this fly on all evening until darkness fell and we went to the pub, and he did at least as well as I did, rather better in fact. QED, Mr Wyatt might have commented. The Elk Hair Caddis may not have looked exactly like an emerging or emerged mayfly, but it was about the right size and looked near enough. Wyatt's third pattern, a simple Hare's Ear nymph, with or without a gold bead, is also very familiar to me and is the only nymph I use much on small streams. So far, this all makes sense, doesn't it?
But then we have point 2 and Wyatt's conviction that trout do not learn caution from the catch and release process or become wary about a fly pattern which has pricked or scared them. It seems to me that sometimes they do. I know that on occasion I have caught individual trout, and more often grayling, twice or even more within a very short period. On the other hand there are plenty of examples, if not exactly irrefutable evidence, of the effect of fishing pressure on waters and their fishy population. I certainly don't want to fish a WUF water behind another angler on the same day (in fact I wouldn't be allowed to) and I believe I can tell the difference if I fish on the day following a good angler who has been successful on the water. Kingsmill Moore, in his wonderful book A Man May Fish, described Shanawona in the remote limestone mountains of the Irish West, a sea trout lough half a mile long by 200 yards wide, with a single boat on it. Shanawona, he found over the years, would fish well for two consecutive days at the most, and would then need to be rested for two days before the fishing perked up again. Catch and release would not have been the issue in those days, Kingsmill Moore's white trout being taken, but the lake's population of migratory fish would only stand so much casting and drifting over them.
Anybody who has fished stocked fisheries will have formed a strong view about the effect of catch and release. To give an extreme example, a while ago when I was home on leave, we sometimes used to look after a small farm while the owner himself took a summer holiday. The farm included a fishing lake and usually, because he was a nice chap, the owner would tell me on departure: "I had 60 rainbows put in for you yesterday, Oliver. Enjoy them." I wouldn't overdo it, but I had the clear-water lake in its pretty little valley below the farmhouse to myself (yes, it was something like paradise), and I would have an hour or two down there each evening before dark. Lots of takes to begin with, but by the end of the week I had caught all the new trout at least once and they had become spooky as hell. As always in this type of fishing, changing the fly would very often make the difference. Many regular rainbow trout fishermen will tell you of a situation in which after many, many casts and retrieves without interest, a change to a new fly will on the first cast produce a solid take and a fish. But just one fish, after which the frustrated angler is once more rifling through his fly box in an attempt to generate a fresh result. One theory, of course, is that the newly applied fly has a coating of fine silvery air bubbles showing on it when it is first cast to the water. You can say such fish are spooked by the continuous casting and they surely are, but most of us believe they have also become nervous and fussy - selective if you like - about fly pattern. And that is why I have ended up with so many boxes of rainbow trout flies.
Incidentally, that small lake gave me the perfect example of anthropomorphism applied to a trout, and I myself was the guilty party. There was a large brown trout put in at about 5 pounds, and although he grew leaner and lighter, he managed to hang around for years. I caught him now and then, invariably unexpectedly when fishing deep, and eventually came to look on him as an old friend. This was a cock fish, in the days before triploids, and his kype steadily grew, which along with his rather pike-like olive mottling and black spots, gave him a rakish and piratical appearance, almost grinning. Perhaps for that reason, I came to form the opinion that he recognized me too. It certainly was always a pleasure to see him again. Such was our relationship that one evening I was heard claiming in the bar of the village's Rising Sun inn that the last time I caught this fish, he been familiar enough to try to borrow money from me. Wyatt would surely have scorned such pitiful stuff!
I could take issue with several more points made by Wyatt. One is his statement that "complex" hatches during which several species of prey item are on the water together are comparatively rare. Other New World anglers have told me the same about their western rivers. It isn't so for us; I can think of many occasions on the Usk and Wye also when I have counted three, four or even five species of fly around at the same time. Iron blues hatching when Olive Uprights are also more visibly on the water is a typical example, and a change to the right imitation has made all the difference to the fishing. Or I can remember fishing with an (American) client who raised the same trout no less than four times without hooking it. Each time I had put on a new fly pattern and each time he came up for it the first time it was presented - just once. The trout had the best of it on that occasion. I am absolutely convinced that a shoal of grayling may become nervous when several of their number have been taken by one particular dry fly, and that a change of pattern usually changes refusals back into solid takes again. I have seen this on numerous occasions and in this case we are talking about a collective nervousness among the shoal caused by a particular fly pattern. Bob Wyatt might say that this was all about how I was presenting the fly and of course I don't have a way to disprove that assertion.
I am as convinced as Wyatt that the generalist patterns do well on the small streams, where large hatches are not so common and trout are ready to take whatever they can get, but I also feel that something more accurate is often required for our larger rivers where significant hatches are occurring at times. It is not easy to prove such a feeling in any scientific way, however. I remember an experiment I made once on the upper Arrow, where I began fishing only with the Rev Edward Powell's collection of furry and very well-hackled dry flies. I caught a few with the vintage flies until late morning, when I changed to my accustomed Rusty Klinkhammer and immediately began to catch significantly more fish. You might conclude that the Rusty Klinkhammer is therefore a better-designed fly than the Paragon and others from the Powell stable. But you could also argue that it was now 11 o'clock and the fish had "come on." Or that I had reached a portion of the stream with a bigger population of trout. Wyatt would probably claim that I was just presenting the fly better.
On point 7, the need for a very limited selection of simple flies: this will surely seem like good news for those just starting out in fly tying or buying in flies to stock their box. But the rest of us, those who have spent a lifetime collecting or making huge numbers of different flies according to advice from the books and magazines on the basis that at least we will be "ready for anything" - well, Mr Wyatt, if he is to be believed, has taken the wind out of our sails now, has he not? All that historical research into ancient patterns and materials, all those books written on the subject, all those experiments - was it for nothing? Apparently so, because now here comes Mr Wyatt to climb up on his metaphorical soap box and shout through a metaphorical megaphone: "You have all been wasting your time!" I think most of us already realised this truth, if only on a sub-conscious level. I have literally thousands of flies for lakes and rivers, and it has been great fun making them all up. If I had the time and the energy, I could go on to make up hundreds more of Czech Nymph patterns to go with the new bugging styles arrived from Eastern Europe. But if truth be told, at the end of the season, I go through my fishing diary and make a note of all the patterns which have taken more than, say, 10 trout or grayling. On that basis, I end up with quite a short list of the flies which are really useful. In reality, although I possess a very large number in store, the patterns which go out with me in a "day box" made up according to the time of year, are about as limited in number as those recommended in Bob Wyatt's book. The angling magazines have a lot to answer for here. If you write an article, the editor will always ask for a picture and the dressing of at least one new pattern to go with the text. He knows that fly patterns sell magazines. I remember writing an article about float tubing in which the Diawl Bach featured as the most useful fly on the day of fishing. The editor wanted me to list all the range of Diawl Bach variants to print with it: Diawl Bachs tied on red hooks, with split jungle cock eyes, with ribs of holographic tinsel, Black Diawl Bachs, Gold Diawl Bachs etc etc. But "....no need for any of those," I told the editor, "...the standard version will do the job just fine." It wasn't what he wanted to hear at all.
Of course Wyatt is not the first to recommend working with a small number of flies. Falkus did exactly that when writing about lures for salmon and sea trout. But both Wyatt and Falkus were kind enough to admit that it can be fun collecting flies, so why not continue to do so if it pleases you? Just don't imagine that you actually need them! I think I certainly fall into this category of fly dresser. In the past I have tied up just about every spider pattern recommended by Pritt and Edmunds and Lea, and put them in a box which is occasionally looked at for historic interest. But I actually fish with around 6 spider patterns which live in a "working box." I have most of the old Wye and Usk trout wet fly patterns for the same reason, but they are rarely used. Most of my salmon fishing is done with four patterns which I keep in different sizes, but I own many more, most of which have never even had a swim. They are nice to look at though. The same situation applies to my sea trout flies. Fly collection ends up being much like the collection of old stamps or coins, pleasant for its own sake.
The text of the book, which is peppered with photographs of Mr Wyatt and friends holding a bewildering array of enormous New World trout, has something of a scattergun approach which could do with better editing. The grammar is "modern." Nevertheless, Bob Wyatt has a knack for describing what seem like undeniable truths; some of his sound bites make his point like a blow in the solar plexus:
"A few centuries of trial and error has resulted in an astronomical number of trout flies, [an ocean of flies] of which a handful of standard patterns have risen to the top. The Adams, Greenwell's Glory, Grey Duster, and Red Tag spring immediately to mind. They continue to work no matter how many times a trout has seen one."
"Rather than thinking of the trout as being choosy, we should think of it as being occasionally single-minded."
"What we call selectivity is a function of a specific set of circumstances and is relatively rare, especially these days, when many famous hatches are diminishing or have even vanished entirely....It takes repeated encounters with a specific prey item for the trout to get into a feeding groove, key exclusively on it, and narrow its search image to such a degree that it ignores all other food. Even so, this is only our interpretation of what's going on, although most of the time what's really being masked is the quality of our presentation."
"...one thing that has taken more than a few anglers by surprise is the need to raise their technical game. Less available water and more anglers means the fishing isn't as easy as it used to be. The likelihood of fishing behind someone else - often just hours, even minutes later – changes things. In other words, New Zealand is getting a lot like everywhere else.
Let's look at what this change in angling pressure does and does not mean.
The trout are getting smarter.
No, they're not.
The trout are getting more selective.
Nope. Stay awake at the back there.
Okay, then, the trout are definitely getting spookier.
Maybe, so let's stay on this point for a moment."
So in his final section Bob Wyatt goes on to give a lot of good advice about approach and presentation. Nobody who has ever spooked a wary trout could disagree with this; we can all surely work to advantage in order to improve our river craft and our casting. So here's a toast to Wyatt's recommended generalist patterns which we should now promise to deliver to the water more carefully: the Deer Hair Emerger, Snowshoe Hare Emerger, Dirty Duster, No Hackle Deer Hair Sedge, Hare's Ear Nymph, Grey Hackle and Grey Boy. I can accept that these are all good medicine. At the same time, for trout and grayling I still reserve the right to go looking for a specific imitation if I feel I need it. Also, I'm definitely not giving up my box of Klinkhammers! Meanwhile, however, Mr Wyatt's book is thoroughly recommended.
Next month, let's take a look at another recently published book which purports to challenge accepted beliefs: Fly Fishing Outside the Box: Emerging Heresies by Peter Hayes.
Oliver Burch www.wyevalleyflyfishing.com
---
February 2016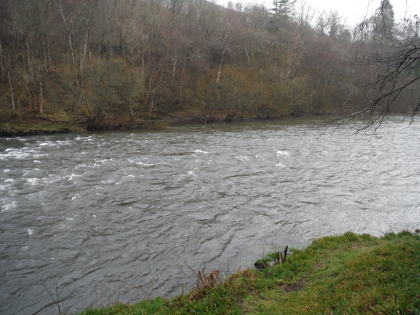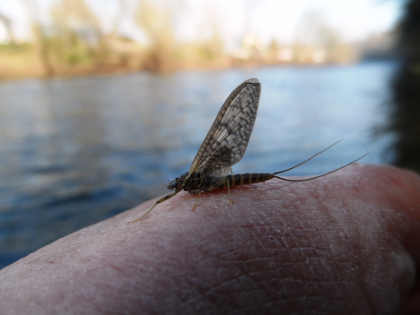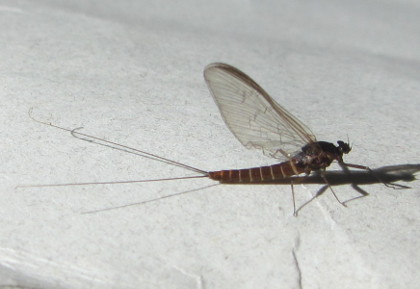 I am afraid the grayling fishing results for February have not improved and there is little to report. The series of wet weather fronts which have dogged us all winter seemed to continue, although towards the end of the month the conditions became drier and somewhat colder, more like the weather we might expect for February. At the same time, the ground was so saturated that any light showers seemed to go straight to the rivers, which still remained high. I know people who haven't been out since September. When conditions allowed I had a few trips, on my own and with clients, and we winkled a few grayling out here and there mainly by trotting, but it was nothing to boast about. I think the past grayling season will be summarised as a pretty good dry fly September and October, followed by a winter-long wash-out!
3rd March is now almost upon us, so what are the expectations for the new season? Certainly we can anticipate strong flows in both rivers lasting well into the spring. For trout fishing, this is all to the good, and personally I relish a good push of water in the Usk when it's time to start. The Usk usually wakes up a little ahead of the Wye, but this is not always the case. Actually there is quite a lot to say about March, which - quite apart from the fact that we get to fish for trout again - is a month during which the life of our rivers changes rapidly and serious fly hatches begin. During recent years, presumably due to warm winters, the hatches have tended to be earlier. If that continues we can now hope to see, in reasonably rapid progression, first large dark olives, followed by March browns and perhaps even grannom sedge. The grannom, the first of the sedges, used to be considered more of an April fly, but it has turned up during the last week of March during recent seasons.
Of course you can press on with the nymphing tactics you used during the winter for grayling, but it does seem to be a shame to miss an opportunity to target rising fish. During early spring I tend to go to the water with two rods made up: a fairly accurate 9 foot rod made up with a dry fly leader and a softer action 10 footer with a team of spiders. These hatches tend to be intermittent and less than predictable so it pays to roam around and keep your eyes open. If you really know a pool well, you might sit down, watch and wait. Otherwise, if the water seems to be quiet, you can always prospect with the spider team until the action starts. Early morning and late evening fishing will probably not be productive for the dry fly, but it can be worth concentrating on the 11 o'clock to 3 o'clock period in the middle of the day. Large dark olives are what we will be hoping to see first (in fact I have been seeing them already during the rare grayling fishing opportunities we had last month) and trout usually react by rising quite quickly when more than one or two of them appear. The sense of excitement is palpable; they surely do like dining on this fly. Kite's Imperial is the traditional dry imitation for dark olive feeders, or I can also recommend the Jingler, which is popular in the north. During recent springs on our rivers I have had excellent result with Stuart Jarvis' Bastard Adams in size 14 or 16. In fact I'm reminded now that Stuart telephoned me a few months ago and told me he thought he had improved it by substituting Spanish Coq de Leon for blue dun fibres in the tail. Coq de Leon is expensive stuff, but very stiff with a wonderful steely glitter to it. Here is the revised dressing for this local pattern: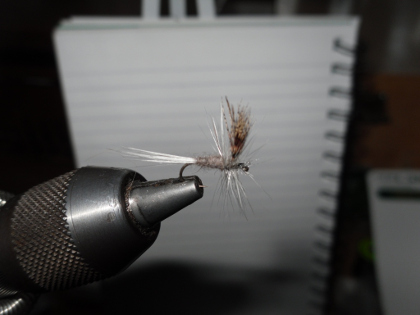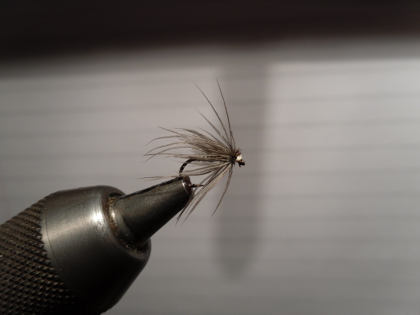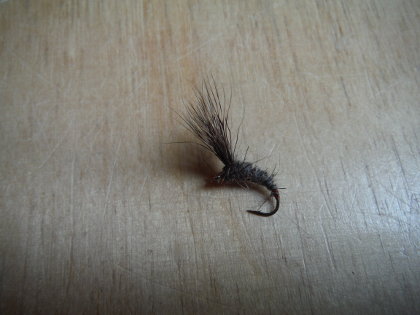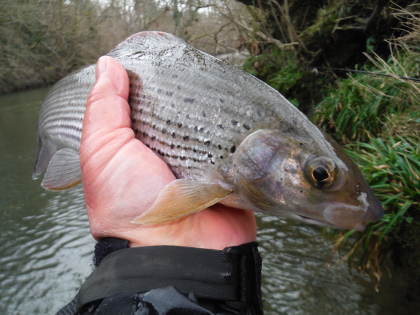 Hook: 14 or 16
Tail: Coq de Leon fibres
Body: slate blue underfur of rabbit or muskrat
Hackle: 4 or 5 turns of dark blue dun
Wing: Brown fibres from partridge back feather tied upright
While fishing a team of wet flies, Waterhen Bloa is the very well-known spider pattern which has been taking dark olive feeders for a couple of centuries now; take my word for it that you can certainly rely on this one.
Much depends on weather and temperature, but I would expect the March browns to appear slightly later. You have a big choice of dry March brown patterns, but of the old ones I am fond of this version by Dai Lewis:
Alternatively, a very effective modern fly during a March brown hatch is Bob Wyatt's Deer Hair Emerger in size 12 or 14. In fact this is a wonderfully useful pattern which in different sizes will fill a number of roles. I think of it as my "get out of jail free" fly. The Woodcock and Hare's Lug spider is a good choice if fishing wet flies when march brown nymphs are rising to the surface and be prepared for some really hard takes.
It seems strange to be writing this on a cold day at the end of February, but changes can occur quickly in March and we may well get to see some grannom before the month ends. Let us assume the real spring will arrive quickly now. A really big grannom sedge hatch, once seen, is never forgotten. The air is suddenly full of little whirling brown scraps which also cover the surface. You might hope, though, for a trickle hatch which will be more use to you. Try one of the emerger patterns by Dave Collins. However, the problem for the angler in the more commonly seen big hatch is that the naturals emerge in such numbers, prompting the trout to dash hither and thither for them, that a single artificial pattern on the surface is often missed. For this reason I often find that a team of spiders cast across the current is more likely to result in an interception during the early part of the hatch while the pupae are rising. Hare's Lug and Plover is a good spider pattern when grannom are about. Don't waste time when you see the hatch start, because it usually does not last for long.
For small stream aficionados, it will probably be wise to fish the nymph rather than the dry fly until the water warms and to start off by choosing those streams lying at lower altitudes. By the standards of the rest of the UK, our trout season opens relatively early - you will note some of the beats on other river systems which are now included in the Passport have later dates.
(This is outside my remit, but from an early salmon fishing point of view, I must admit that I prefer a colder and drier spring with low flows so that some of the bottom beats of the Wye may be fly-fished more easily. The much prized springers, I believe, would then be shuffling more slowly on their way upstream, still concentrated at the lower part of the river. Following the winter of floods we have just experienced, I imagine there will be few well-mended kelts remaining in fresh water and it's perfectly possible that the first clean fish will come from well upstream on the Wye. The Usk is usually a slightly later river for salmon. I am sure Stephen and Simon will have some advice on this).
Whatever species you are fishing for, I will add a word of caution. The winter's floods have been extremely powerful and there is no doubt that thousands of tons of gravel have been moved around in the beds of both Wye and Usk. This is something which you should consider as you start to wade the main rivers and even at times in the brooks. Unless it consists of bedrock, do not assume that the bottom of a familiar pool will be exactly as you left it at the end of September. Dubs may have filled in, while new and deep trenches may been scoured. Take a wading staff and prod around a bit before you assume all is safe.
Also bear in mind that some of the head waters can rise very quickly with relatively light showers while the ground is as wet as it is at present. Take note of rain in the nearby hills, even if it does not fall in the river valley; a sudden rise may be on its way down to you. A couple of years ago I had a nasty experience trying to cross the Usk in early spring. It was entirely my own fault, having discounted the hour of rain I had driven through on the way to the river and also having failed to note that the bed of the "ford" had eroded at the far side during the winter to a depth which I could not possibly have crossed. In fact that place is no longer a ford! Precautions are simple enough to take. Have with you a good solid wading staff, ideally a weighted one, and check the level before you start. It's easy enough to see whether the river is rising or falling by looking at a stone or a piece of timber breaking the surface in any quiet bay. If the meniscus of the surface is sagging and the object has a damp band on it, the river is falling. If the meniscus is bulging where it touches your marker, the surface of which is dry, the river is rising. If in doubt, push a twig into marginal mud right at the edge and check it after half an hour. Increased colour and floating debris will be a more urgent warning sign. Your staff should be a comfort to you as well as your rod - use it to feel your way in safety rather than wade into stronger currents than you otherwise would. (The decision to wear a life jacket might be a harder one to make as it is a significant amount of extra weight to carry around. I make them available to clients, but I admit that I do not normally choose to wear one myself unless in a boat). In any case, don't make assumptions or take chances. A slip in calm or slow moving water will result in nothing worse than a dose of cold water down the front of your waders before you regain your footing, usually followed by a sense of annoyance and embarrassment.
You should never, ever get yourself into a situation where the river takes you away. But if the worst should happen, the simple advice of Hugh Falkus still holds good: drop the rod, lie on your back and float down, try not to struggle or panic. Crawl out when eventually the current takes you into shallows; do not exhaust yourself by trying to climb a steep bank with waders full of water.
A brief note that the other day farmer Martin Penn at the Bideford Brook found a fly box which somebody must have dropped last year. Contact me with a description and we will arrange to return it to you.
---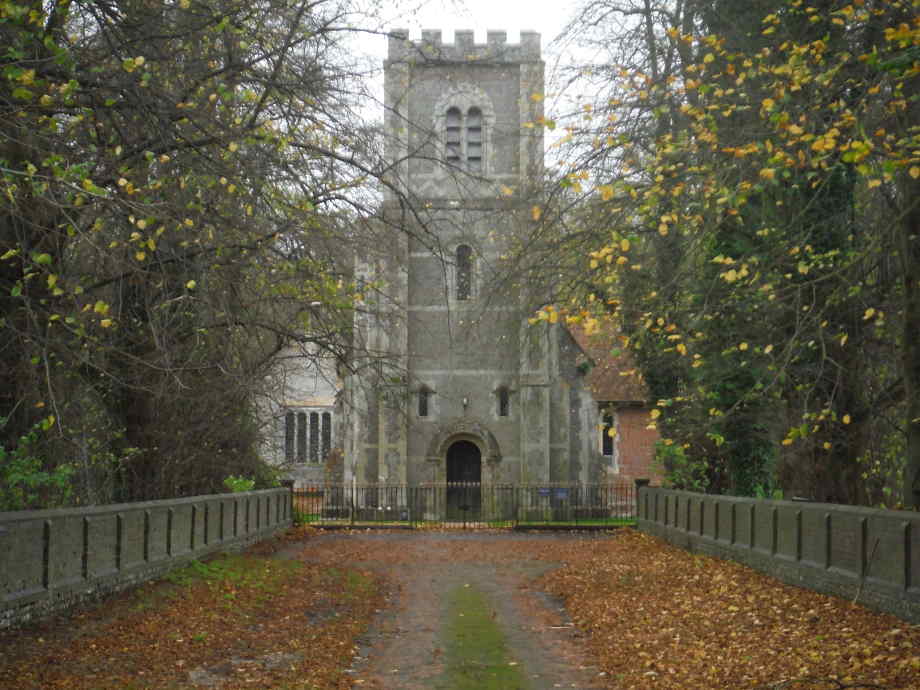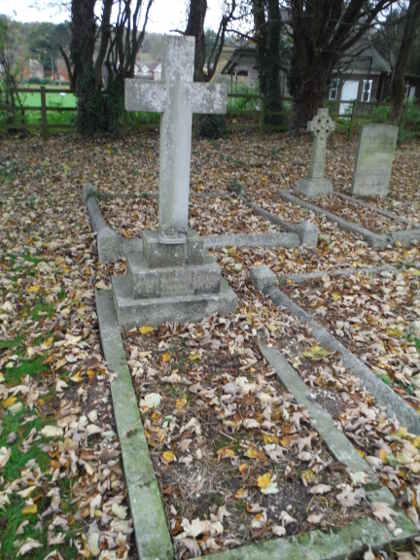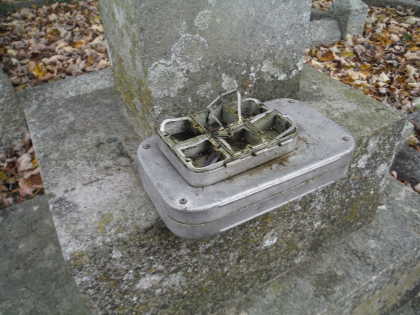 We made a trip to the Army Training Regiment a few months ago, at the beginning of what now seems to have been a long winter of nothing but storms and rain. Three of us went in the car to Winchester and two came back. It was a bleak sort of day in late autumn, windy with a grey sky and the tall swaying trees of Hampshire carrying untenanted rooks nests. And despite all the re-assurances given by what I like to think of as the Army family, there is something sobering about watching your youngest child facing the start of basic infantry training, marched away in a squad by a warrant officer with a swagger stick. In that brief moment she looked suddenly pale and uncertain, younger and smaller than she actually was. We all knew she was facing the biggest challenge of her life and we wouldn't see her again for long weeks. Thoughtful and slightly worried in the way that parents naturally are at such times, my wife and I took the A34 in the direction of home, trying to reassure each other as I drove. After a few miles, however, I turned off the race track of the busy modern dual carriageway and within minutes we found ourselves in a quiet Hampshire village which seemed to have dreamed away unchanged for a century or more, surrounded by the rolling fields and scattered spinneys of the chalk country. This was a little journey I had wanted to make for years and my poor wife was in the mood to welcome any diversion at this moment. What I saw now was somehow immediately familiar, although I had never before in my life been here. From photographs in a book I had at home, there was much I recognised in the place, from the tall trees and elegant houses - you could hardly call them cottages - to the cricket field and pavilion. The colours were muted shades of sepia and tan; the broad roofs and brick chimneys seemed designed to match the background of beech tree woods. Nobody was in sight, but houses, gardens and verges were all beautifully tended. This whole village once belonged to a single landowner, Lord Portsmouth. You would need some money, we thought, to live in Hurstbourne Priors today.
I stopped the car by the church, at the end of its avenue of trees, and we sat quietly for a moment, glad to have escaped the rush of the modern roads. Autumn leaves were swirling in the lane and the surrounding fields were full of cattle - red and white cattle as I noticed. So we entered the churchyard with its giant central yew tree, supposedly nearly a thousand years old, and then split up on either side to check the names on gravestones. After about 10 minutes of peering at stones in the wind and blowing leaves, by which time I had begun to worry that the inscription we wanted was one of those obscured by moss and age, Nerma found it: Harry Plunket Greene, Singer, 1865 - 1936. A simple enough epitaph, although perhaps Singer, Angler, Writer might have been more appropriate. His wife is not here (they parted in 1920) but his sons are buried close by.
There is an angler's tradition attached to this grave. A couple of battered metal fly boxes were already lying there under the cross, but they seemed to contain nothing but rain water. From a box in my own pocket, I now took out a couple of hand tied Iron Blue Duns with quill bodies. I'm not sure if Plunket Greene (who bought his own flies from a professional) would have approved of my dressing - split wing dry flies are not exactly my forte - but I hooked one of the tiny dark grey flies into the moss on the stone and left another in a compartment of one of the tin fly boxes. Then we went back to the car and drove up the valley of the tiny Bourne for a short way. Again I seemed to be on familiar ground from the photographs in Plunket Greene's book. We came to Chapmansford farm with its river crossing and the great arched Railway Viaduct, where a London-bound train now rushed at high speed over the valley and its willows and poplars. Here and there we stopped to take glimpses of what must be the most famous small stream in angling literature.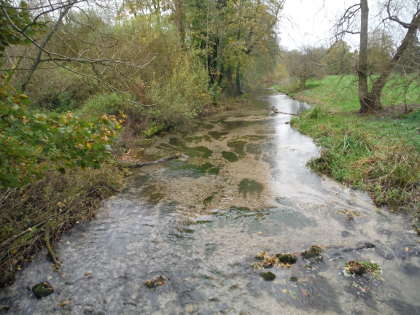 The Hampshire Bourne, often called a rivulet, is really very short, less than a dozen miles (according to the winter's rainfall) from its spring by St Mary Bourne to the junction with the Test at Longparish. Harry Plunket Greene, who lived and fished in this valley, knew its waters intimately from 1903 until the early 1930s. He was a tall Irishman with a kind smile, a concert singer in pre-microphone days, in fact a confident and competent man who had travelled the world, by all accounts full of fun and great company. He found his peace and happiness with friends and family, playing cricket and fishing in this quiet and beautiful place. The story of the Bourne is well documented in his book, Where the Bright Waters Meet, which describes a stream once remarkable for its head of wild Test trout, two and even three pounders regularly being caught in it, with large fish coming in to spawn from the main river. Eventually it was nearly ruined by pollution and anglers' disastrous determination to stock with extra fish. The disaster of 1904 happened under Plunket Greene's sorrowful eyes and was not repaired in his own time, although efforts have been made to remedy the situation ever since. Plunket Greene blamed the stocking attempt, the watercress farm upstream (still a problem at times by all accounts) and finally the tarring of the roads for polluting his stream. He had a suggestion that all motor roads should be left untarred for a half mile either side of valuable fishing rivers and water carts provided to lay the dust. What a wonderful idea, but I wonder what luck would we have with that suggestion today! He was, I think, the first to speak out against stocking perfectly good natural waters, and his observations and cogent arguments seem perfectly convincing to me.
At one of the iron railed bridges we stopped and looked out over a shallow stream certainly no larger than one of the WUF's wild brooks. The water here was crystal clear over a bed of white chalk. So many small southern streams have the name Bourne. I used to be surrounded by them, Bournes and Winterbournes (which flow only during the wet season). It is the old English equivalent of Afon or Avon for a river. This one reminded me of Surrey's Tillingbourne, which in childhood I used to fish (or rather poach, let's be frank), a little Wey tributary which might be counted as partly a chalk stream because half its springs are on the white north downs and half on the sandstone weald to the south. These two Bournes, lined with sedges and flowing through pastures, are both the kind of river you fish on one knee from the bank by making short casts up to fish which are visible as they hover on station. Now, in November, we tried to spot trout from the bridge and I remembered Plunket Greene's description of approaching one notoriously difficult trout on this stream, perhaps even at this very place: "It was possible to see him by crawling up to the bridge and putting one's eye round the corner like a fox-terrier waiting for the postman." It strikes me that if Plunket Greene has a ghost haunting this valley, it must be a friendly one, fond of children and dogs and with a very soft spot for anglers. On this autumn day, perhaps, the fish of this more famous Bourne might have been expected to be spawning somewhere upstream near the Viaduct and the watercress farm. However, when we looked for a while, in one of the deeper pools below the bridge, we could see the trout wavering on station there in the current. Several of them looked like pounders and one darker fish looked like it might be two.
Where the Bright waters Meet is one of the truly great angling books, and although I am not a chalk stream fisher - our border rivers are so very different in character - it has always been one of my favourites. In fact the book is not all about chalk streams: apart from the Bourne, the main Test and the Kennet, there is writing here about Englishmen fishing in Bavaria before the Great War, about the excitement of fishing for large rainbows during the early years at Blagdon, fishing for bass and salmon, and even about adventures with hackney carriages and bicycles, dogs and horses. He was a wonderful writer, although he apparently never found it easy, and at times there is a strong romantic streak revealing itself and a puckish kind of Irish charm to his words. Plunket Greene's final paragraph, his final sentence in fact, describing his hopes for the resurrection of the Bourne, would probably have sounded mawkishly sentimental expressed in the words of any other writer:
"...somewhere, deep down, I have a dim hope that one night the fairy godmother will walk along the tarry road and stop on the bridge and listen, and send a message to me in the dark; and that when the mists begin to lift, and the poplars to shiver and the cock-pheasants to crow in the beech-woods, the little Bourne will wake and open her eyes and find in her bosom again the exiles that she thought were gone for good - the silver trout, and the golden gravel, and the shrimp and the duns - and smell the dust of the road, and see the sun once more, and the red and white cows in the grass, and the yellow buttercups in the meadow and the blue smoke of the cottages against the black elms of the Andover hill - and me too, perhaps, kneeling beside her as of old and watching the little iron-blue, happy, laughing, come bobbing down to me under the trees below the Beehive Bridge on the Whitchurch road."
Yesterday, just before the opening of our new spring season, Nerma and I passed the tiny Bourne valley again by the main road, but this time drove right on in the direction of Winchester. Now there are certain things an amateur angling historian might like to do in that city, such as take a look at the Itchen running through the town and the Abbotts Barton fishery of GEM Skues, or find the tombs of Izaak Walton and Francis Francis in the cathedral. Not today, however - it would have been more than my life was worth! The whole family was gathering, because this was the day of the pass-out parade.
I won't tell you all about what had happened in the meantime, except that we had been kept well informed by texts. Recruits get by on adrenalin for the most part; it is rather the family and friends who are left anxiously biting their nails! Over 14 weeks, during the long wet nights of this winter we had been worrying about our daughter roaming over the Brecon Beacons, sheltering under a poncho on Salisbury Plain or lying out on stag position with her rifle; now she tells us: "There were dark days of course, when you think you won't make it, but then later you realise how much fun you had!" Now, despite the cold wind, rooks were already repairing their nests in the high trees around the square. So with other parents and friends we watched the parade to the music of the Rifles band, the 14 steps towards us representing the 14 weeks of training, and then the salute with presented arms. Medina and the other medics, as primarily defensive forces, remained symbolically without their bayonets fixed. I would share a photograph with you, but in these sad days the Army don't like to see them on the net. Back in the car we found ourselves with almost a stranger to get to know again, a confident and happy young soldier. Time to celebrate and (my idea) the Greyhound at Stockbridge would be just the place!
---
Once upon a time in Yugoslavia, my wife, who is a pianist, had the use of a Steinway concert grand. She didn't own it, you understand, but she could play it whenever she wanted. Communism had its advantages, I guess. With this in mind, I noticed the other day that Monnow Valley recording studio are selling their Yamaha grand piano. I have walked past this many a time on my way down to the river with a trout rod. Not a Steinway, but this fine instrument would be something for our household, would it not? However, even if we could afford it, where would it go? Could it fit in the garage, I pondered - certainly nowhere else? But there again, I need the garage for the drying of nets, waders and the like. So I'm wondering now if there is a Monnow trout fisher reading this who plays the piano in his spare moments and is perhaps also interested in rock memorabilia? This particular piano has been in place at Monnow Valley and at the neighbouring Rockfield studio since 1973. It has been honourably scarred by cigarettes and wine glasses over the years, but the works are reported to be in good order. In the past Oasis and Manic Street Preachers have both recorded albums using it. It is not, unfortunately, the one Queen used to record Bohemian Rhapsody; Freddie brought his own instrument on that occasion. I suppose you could play Schubert's Die Forelle on it and I am sure Plunket Greene would have done so. Bidding on E-bay currently stands at around 8,000 pounds.
Tight lines for the new season!
Oliver Burch www.wyevalleyflyfishing.com
---
January 2016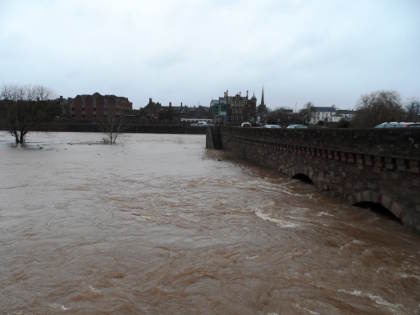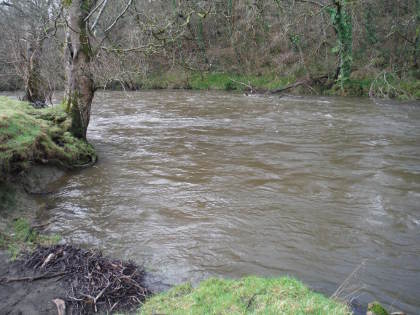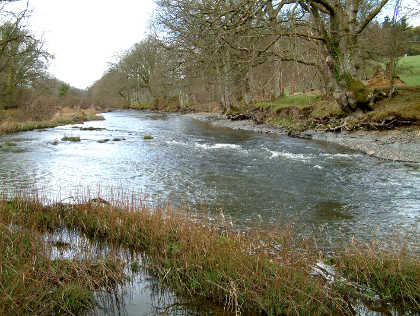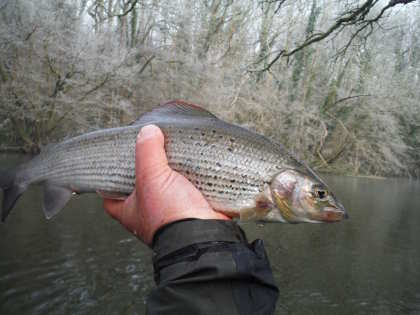 Grayling fishers have experienced yet another very frustrating month, I am afraid. With the exception of one brief period involving a few days of high pressure, cold and dry weather, January for the most part continued this winter's pattern of exceptional warmth. The snow drops were out (nothing surprising in that) but so were daffodils and even cherry blossom in Winchester the other day. Yellow flag irises around one of our Forest pools have new shoots showing already, though the few frosts have not yet been severe enough to burn down the old stems. And it rained enough to keep the rivers high, far too high for fishing for much of the time. With the ground already saturated, not so very much rain was needed to top up the rivers each time new systems arrived from the Atlantic. Anglers were watching the river gauges all through, the Irfon being seen as the most likely one to come first into condition. A few managed a day of sport, but most were disappointed. We think congratulations are certainly due to all those who tried in difficult high water conditions. One pair who managed to find the conditions at least viable were CD from near Northwich and a friend who came to try the Irfon just after Christmas (December 27th ) and (once the fish were located) managed 20 grayling and 3 chub between them. "The jewel in the crown," CD commented about the Cefnllysgwynne beat which, when it is good, can be very good indeed.
Floods then reigned everywhere until the 12th January, when it was your own correspondent no less, driven almost mad by winter "cabin fever" and an enforced lack of river fishing, who also thought he might try at Cefnllysgwynne. The Cilmery gauge showed 0.98 the night before and the direction was downward, so I had evolved this theory that it might be down to 0.75 the next day, which might perhaps allow some carefully considered trotting. After all, only light showers were predicted during the morning which hopefully would not affect the river. Such optimism and how unwise can you be! The "light showers" turned out to be the relentless kind of driving Welsh rain, the Irfon reacted quickly of course, as it usually does, and during my stay it rose to 1.31 metres, more than twice the ideal maximum. I got just a couple of small grayling trotting from the bank before the fish switched off in the now muddy torrent. At that point I admitted defeat and went home. On the 17th , AC from North Somerset and a friend had a better day at Cefnllysgwynne with the gauge now showing 0.70. Using trotting gear, between them they had a dozen grayling and a chub. I was back at the same beat on the 20th and had some better luck this time. This was during the cold snap, the level had dropped back to 0.60 and the Irfon was surprisingly clear. So I had no problems with the water levels, but there was a hard frost and thick fog lying over the valley, so that the air temperature did not rise above freezing until 2 in the afternoon. As everybody who trots in winter knows, it can be pretty frustrating when rod rings are constantly icing. There is always something to complain about, isn't there? Still, by using the Tenkara rod much of the time and the trotting rod at the end of the day, I did manage 10 grayling and some of them were quite nice fish. I picked up one dark olive hatched on the surface: a harbinger of spring days shortly to come.
Meanwhile the main Wye had remained relatively high as did the Monnow, Lugg and Arrow. Nevertheless, on the 23rd the Grayling Society had beats block-booked for members based in Builth Wells and fished the main river along with the Irfon and Ithon. The combined result of the day was 93 grayling and a chub between 19 rods, and not at all bad in the circumstances. The cold, dry snap did not last long, soon it was raining again and the rivers returned once more to flood. Writing on the 29th of the month, we are again beset by wild and stormy weather and the water levels seem to be as high as ever.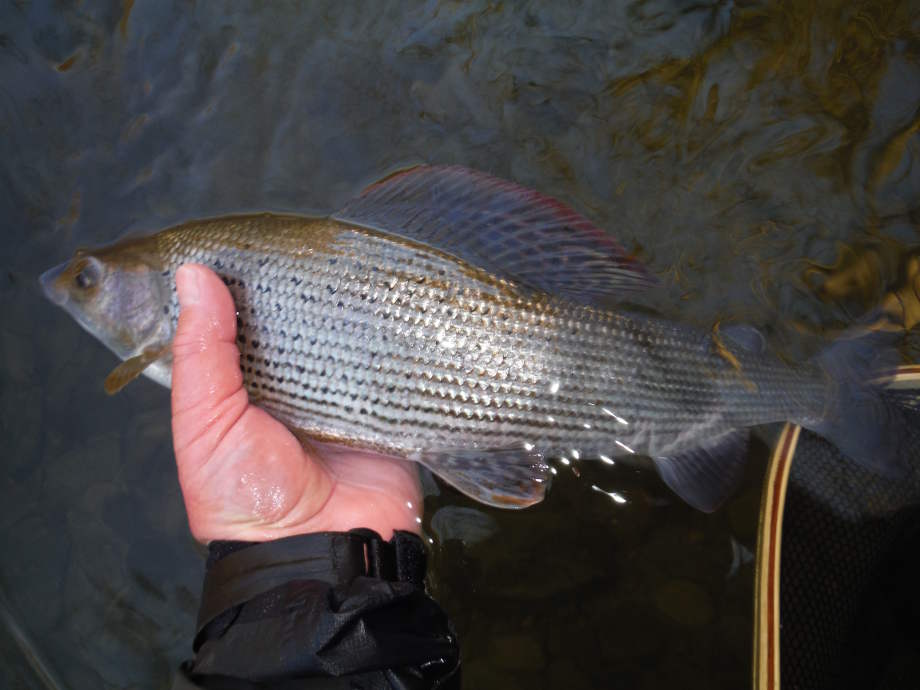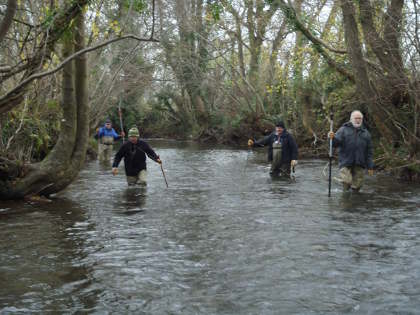 High water also caused long delays to our winter pruning programme for the wild streams, but we did manage to get some work done. The ever-popular Escley Brook is our current priority and the middle beat has already been completed. If, like me, you are an aficionado of the 7 foot fly rod and the small streams in the Passport, you might well remark on how very different these rivers and valleys are in their characteristics. The Escley Brook is a good example. It is separated only by one line of low hills from the Dore (in Hereford's Golden Valley) and yet the two streams are as different as chalk and cheese, one flowing over sandstone slabs and the other over gravel and silt. Roger Smith, who leads our southern maintenance team (and is more than a bit of an amateur geographer), has written the following for us on the subject:
A Closer Look at the Wild Streams,
by Roger Smith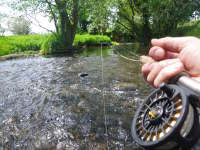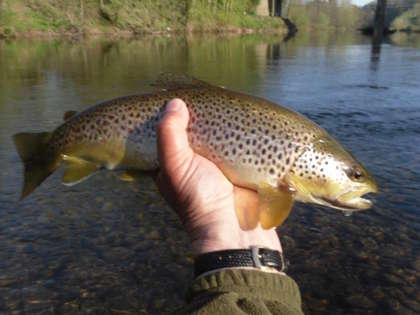 Opportunities for February fishing? Well of course I suppose there will be, if only it will stop raining. Let's hope from some high pressure systems and cold, dry weather. Meanwhile I console myself by thinking that it's barely a short month now, till the opening of the new season. Once we get into March, my concentration can turn to the glories of the Usk. I am definitely resolved to reserve some days for myself and this spring I plan to fish round all my favourite day ticket beats as well as all the town waters at least once. Some visitors rather under-rate the town waters, which seems a shame. If I had to pick a favourite from these famous association fisheries, it might be the Usk Town Water at the lower end of the river. This is partly because a morning here is also a kind of social occasion. I used to fish it a lot, although perhaps less often in recent years due to the Association's tendency to rely rather more on stock fish. However, it's still a pleasant experience, with wide gravel flats suitable for fishing spiders and the dry fly and plenty of different pools to try. I have seen some great spring hatches here. If you want some peaceful fishing you can choose the upper part, buried in the countryside by the Llancayo windmill, and work your way up as far as Monkswood. Or you can choose the more overlooked section in the town itself, which has particular charms of its own. I usually finish a morning on the river with a visit to Sweet's Tackle Shop or one of the town's pubs, very likely both.
To my way of thinking, the town of Usk is an entirely likable place. We have numerous pleasant settlements in our valleys, but this one seems to possess almost everything a small country town should have: shops and one supermarket, a nice selection of hotels, pubs and restaurants (the Three Salmons and the King's Head stand out), castle, museum, police station, fire station, and of course not forgetting the gaol. Who could ask for more? The lower river, wide and beautiful here with walks on either side, makes the place what it is. Of course there is the Town Water and a long-established fishing tradition. People from all over the world come to stay in Usk's hotels and to cast a fly in its river. Llandegfedd reservoir is just up the road. Local people walking the banks by the playing fields and promenade always seem to have time to stop and chat and, being familiar with anglers even if they don't fish themselves, usually don't ask the silliest of questions. At the end of the High Street, upstream from a low weir and a deep salmon pool which is also famous for spawning shad, there is a most impressive stone bridge over the river, which the council hangs at appropriate seasons with fine baskets of flowers. This operation came to a halt once while I was wading the shallows upstream, while the workmen were busy trying to guide me onto a sea trout which they had spotted from above. That's just typical of Usk people, easily distracted by the river. Unfortunately this particular fish, nervous in the daylight, wouldn't take. From the same bridge one Christmas Eve, we looked down to watch salmon spawning on the gravel flats before adjourning for lunch in the Kings Head Hotel, where the dining room (Lionel Sweet Room) is adorned with vintage fishing tackle.
Apart from being a generally friendly place, I sometimes have the strange impression that Usk is stuck in some sort of time warp, and at a guess I would assign the period to somewhere in the 1950s. Crossing the town bridge by the footpath, as like as not a side valve BSA motorcycle will be thumping its way past me, heading for Pontypool, while someone driving a classic MG sports car approaches from the other side, heading for the high street. These sightings of antique vehicles can't all be coincidental. In fact, now that I think of it, Usk is not the only town in our area to create this impression of living pleasantly and comfortably in the past. The other is Llandrindod Wells, which, finding the name difficult to pronounce, I tend to call Llandod, as the locals do. Llandod with its Metropole Hotel is a spa town (or perhaps like me you might come to think of it as the Torquay of Central Wales) and actually has a vacant car show room near the town centre (Pritchards) with headboard signs from which the names Singer, Humber and Sunbeam have yet to be painted out. How long is it since those makes were on sale? However, I'm diverting from my present purpose and I reckon that Usk, with its streets of elegant old houses, high street shops and friendly population, can beat Llandod for nostalgia. According to legend there used to be a traffic warden here who would wear his war time medals while patrolling. If there is any truth in that story, you could almost believe that we are in a Welsh version of Last of the Summer Wine country. One imagines the prison, carefully hidden on the outside of town, might house the cast of Porridge. In the King's Head, might we perhaps bump into Mr Mackay, sipping his accustomed single whisky after work before going home to bark at his family? I dare say those who actually live in Usk, rather than just come fishing here, will consider all this foolishness an outsider's rose-tinted view of their town. Young people will probably insist that it's a very modern and forward looking kind of place. At any rate, it's still a community, a place where people know each other, and seemingly happy with itself. The house prices reflect its attraction, unlike those in the valleys not many miles away.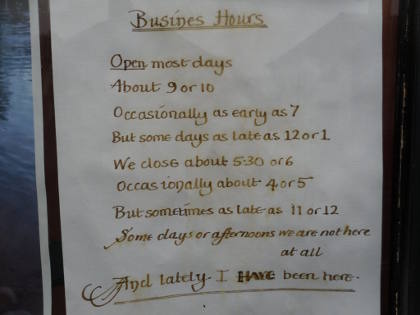 And of course there is Sweet's Tackle Shop, which can be found tucked away in Porthycarne Street beyond the Three Salmons Hotel, where the road leads away up the valley towards Abergavenny. You will need to look carefully to find a small shop doorway in a white-painted building behind iron railings and a faded sign showing two famous local flies, the Usk Grub for salmon and the Dogsbody for trout. Opposite is a cul de sac of pleasant 1930s villas from which a footpath leads to the river. Reputedly the oldest business of its kind in Wales, Sweet's is completely successful in being the sort of tackle shop which men of a certain age remember from their boyhood. Or if they didn't know a tackle shop like this, then it is what they always imagined a traditional tackle shop should be like. The most important, almost the only, rule of this establishment is that if possible nothing should ever change. That is why people love it. You will find no website listing the stock held at Sweet's, nor can you send an email. The only reason Jean has a push-button phone on the counter amongst the fly boxes and tea cups is because the dial phone finally broke. The tiny interior with its varnished wooden cabinets is full of old photographs, much- thumbed fishing books, stuffed fish, the cast of a 35 pound Usk salmon, rods, nets, floats and trays of flies. Mr Crabtree would be at home here. I don't want to give the impression that this is a museum (although in the nicest way it is), because Jean also has what anybody needs for modern fishing. There are extensive rooms behind where the fly dressing still goes on.
Here is the history of this famous tackle shop and institution, according to the best information I have. During the 1920s, a hair dresser named Harry Powell had a shop on Bridge Street. I have seen a photograph and he seems to have been a rather debonair looking chap, with pomaded hair and moustache as befitted somebody in that trade. He was also an angler and he used to dress flies in between clients in the shop and sell these to other anglers who called in. A tackle firm representative, Ted Rudge, called in and suggested he should try selling a few rods and reels from the shop as well and this was quite successful. According to some accounts, Powell also made rods for sale, buying in the blanks and adding handles and rings.
After a few years, the shop was moved around the corner to its present location in Porthycarne Street. There are several stories about the invention of the famous Dogsbody fly, but the most likely one seems to be that a client brought in some combings from a golden spaniel to have some flies made up. "Here's your old dogsbody fly" he was told when he came to collect his order and the name stuck. It's not a bad mayfly imitation and a general purpose pattern which I still use on occasion. Also one Mrs Salter came in to have her hair done one day and Harry told her he needed some help in the shop. Mr and Mrs Salter had a daughter, Molly, who was about to leave school and needed something to do. The Salters were somewhat protective of their daughter - Harry could be temperamental at times - and in those different days they were concerned about the propriety of the arrangement. But after much discussion the young lady was told she could "start on Monday" Molly was a great success, quickly understanding the fishing tackle side of the business and learning to dress flies. For a time she also was "walking out" with a young man named Lionel Sweet, a local builder and decorator. It seems they parted for a while, but Lionel, who was also a keen fisherman, had his interest rekindled when he called in at the shop and found her behind the counter.
Molly took the lion's share of running the shop during the wartime years as Harry Powell was no longer well - by now the hairdressing part of the business seems to have faded away. Before he died, Powell apparently asked Lionel to "look after Molly." He did just that by marrying her in 1946. "I only married her to get some hooks," he used to say. That might sound rather unfeeling, but in fact the Sweets seem to have been a highly successful partnership. Molly continued to run the shop, presiding over the counter with smiles and an ever-lit cigarette. Lionel kept his business, but also became a highly successful fisherman and British casting champion. His first ever salmon, rather than being sold as was the custom, was given to the family of a sick little girl. She died before his next salmon. After that, his first salmon of every season was given to the poor of the town. He was famed on the Usk, at Blagdon reservoir and beyond. He was well known to the first editor of Trout and Salmon magazine and wrote the Usk river report until his death in 1978. A sedge pupa pattern he designed for Blagdon still lives in one of my fly boxes.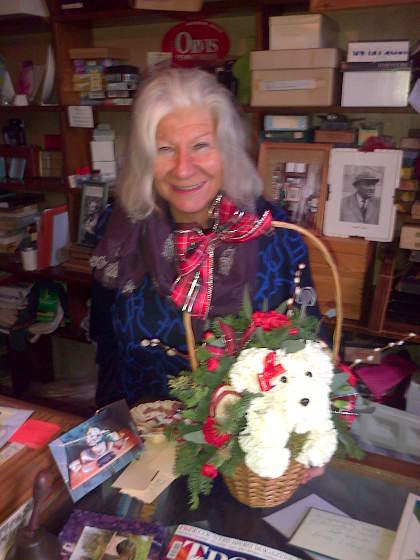 Now the Sweets in turn needed some help with the shop and history repeated itself. Jean Williams, the present proprietor, takes up the story. Jean's aunt and Molly Sweet got chatting in town as women do and Molly explained she was looking for somebody to help. Jean was 16 or 17 then, still at school, and had ideas of becoming a hair dresser or a telephonist. Instead she was persuaded to come into the tackle shop on Saturday mornings to see how she liked it. She began by learning to tie flies and remembers that the first one was a March Brown and that she put the tail in the wrong way round. What she did like was the fact that people from all walks of life were popping in and out of the shop. The river chat over the counter was continuous and amusing; Molly would be lighting cigarette after cigarette and holding court, while Lionel would be chipping in and forgetting to meet "clients" who had engaged him for casting lessons (he wouldn't charge). Jean worked full time in the shop after leaving school. She learned the business and with the help of the Sweets she learned to fish, on the Town Water and from boats at Blagdon and Llandegfedd, using a team of flies like Teal Blue and Silver, Connemara Black and Dunkeld. She remembers her first trout at Blagdon, taken with a Worm Fly on the point, and days fishing the Lugg for brown trout near Presteigne. When the Sweets went off to casting competitions, Jean would keep the shop running. She can remember all of them getting up at 4.30 to run a Sweets stall at a game fair held at Glanusk Park. Most of the shop's stock was up there and Prince Charles called in on them. When Molly died in 1974, Lionel wanted Jean to continue the shop. After Lionel's death in 1978, Jean and her husband bought the shop and they still have it. The Trout and Salmon report also devolved on Jean and she still writes it.
It is rather remarkable that a shop of this kind still exists. Jean is realistic about the tackle trade today and the damage done to the small shops by the big mail order companies since as far back as the seventies. Many small shops have gone, but this one stays partly because its customers want to keep it. In a sense it is a club. Everybody who fishes the Usk knows it. Anglers who come for a fishing holiday every year from London, France and further afield make for Sweets as soon as they hit town, eager for the latest news. There are anglers in Italy, Japan, the USA and Canada who are in contact with Sweets. If you are in there for more than 5 minutes, Jean almost invariably serves up tea and coffee, very likely with home-made cakes as well. A Dutch angler who knows the shop well was busy with a bowl of soup and a roll when I dropped in the other day, catching up on the gossip of the past year. "The thing about men," says Jean, "is that they never grow up. It's just that the toys get larger and more expensive." I don't know an angler who would feel able to argue with her on that. So dealing all day mainly with boys, large and small, in the shop, Jean took an interest in girls during the evening also and got herself a second career with the Brownie and Guide movement, eventually becoming District Commissioner. She is still in the scouting movement, now with a second generation of Brownies, and always asks after my own daughter. That career led to a royal garden party invitation, a story probably best left to Jean herself to tell.
In fact, it's quite remarkable the list of people whom Jean knows if she will admit to it, because almost everybody comes into her shop sooner or later, from poachers to the good and the great of the land. I sometimes think Sweets is one step ahead of Piccadilly Circus in this sense, because in this shop, given enough time, you not only meet everybody you ever knew, you might well meet everybody you ever heard of. You might find a pair of little boys, looking for some advice on worming the tiny Olway brook for which Jean sells the tickets. It might be the local chap who makes salmon rods or the one who makes silk fly lines (Usk is becoming the new Redditch, Jean and I reckon), perhaps somebody looking for a cheap fly rod, a river proprietor from Talybont upstream who needs to "stock up on some spinners" or an angler wanting a season ticket on the Town Water. Somebody caught a salmon this morning and wants it entered in Jean's book for the Trout and Salmon report. Then there have always been the celebrities of course, from angling and from other walks of life, local and more widely known. John Henderson of Ashford House would have known Sweets in the early days. Moc Morgan was a regular visitor and made a TV programme about the shop as well as writing articles. Cliff Morgan once made a TV programme with Lionel Sweet. More recently I have bumped into Jon Beer in the shop more than once. I also remember talking with the late Roger Wyndham Barnes, last of the Thames professional fishermen, who liked to pay an annual fishing visit to Usk. You might guess that Gareth Edwards, the rugby player, is on the list but would you expect 007 Timothy Dalton, Vanessa Redgrave and Anton Rodgers? Some past visitors you might find quite surprising. Michael Eddowes, the lawyer responsible for obtaining a posthumous pardon for Timothy Evans and who investigated the JFK assassination, was one. Most surprising of all, Mandy Rice-Davies and Christine Keeler during the Stephen Ward trial, brought down to Usk for the weekend by their solicitor in an attempt to get them away from the London press, came into the shop on a Saturday morning. " Did they buy anything," I wondered? Jean couldn't remember that detail, but only that they were "remarkably beautiful women."
The banter continues in Sweets, just as it has always has, even on a quiet day. A while ago Jean and I were leaning on the counter over the coffee cups while discussing the great salmon seen in the tiny Olway Brook over the winter. I was feeling happy enough, having just bought a rare second hand angling book which Jean had found somewhere. Cards of little trout flies such as Yellow Badger and Usk Naylor were laid out ready for collection. As tends to happen, we were waxing a bit into purple prose while describing the drama of salmon spawning.
"The salmon is a rather noble creature, isn't it?" mused Jean.
"Absolutely. Of course you have to admire it," I responded, pontificating rather grandiloquently. "What impresses me are the risks a salmon takes. Just consider that almost suicidal determination to procreate."
"Determination to procreate eh? I don't see what's so special about that," interrupted another customer looking up from selecting leaders on the other side of the shop, his tone level and his expression quite dead-pan. "You can see that any Saturday night in central Newport."
Oliver Burch www.wyevalleyflyfishing.com
---